Well, I can't tell if these are the same.
I hope it will perform better with 21700 batteries

Concerning "the High and the Turbo mode practically have the same brightness" from RelakS, it happens the same with the H1-A driver from CDM between mid and high modes (actual mode stepping: ≈0.4% - 10% - 33.3̅% - 100%). It sort of serves as a low battery indicator.
My Convoy L4 does that - high mode slowly drops as the cells deplete, until it's the same as medium mode. Just the way that type of driver works. I normally use it on medium, so it's fine for me.
I rarely (if ever) fully charge my cells, so that Convoy driver behaviour is not really of my liking. The H1-A only lessens its high mode when cell voltage is really low (as described in Jensen567's Buck and Boost Drivers, Testing, Modding, and Discussion).
Does Simon offer Convoy S2+ with TIR optic mounted by him?
So, if I put some driver between the flashlight and the batteries, which can provide constant 4.1-ish V, this behaviour disappears


I am thinking in some buck converter of course. The problem is the about 6A current

Simon when will be available xhp35 driver with tact switch?
Not have side (tactile) switch
My Convoy S12 and M21B from Banggood arrived yesterday. Both of them worked well with 18650 battery size.
Only S12's tube can fit with 27100 battery, M21B's tube is smaller 27100 size!
Does anyone have same problem?
I attached here some pictures: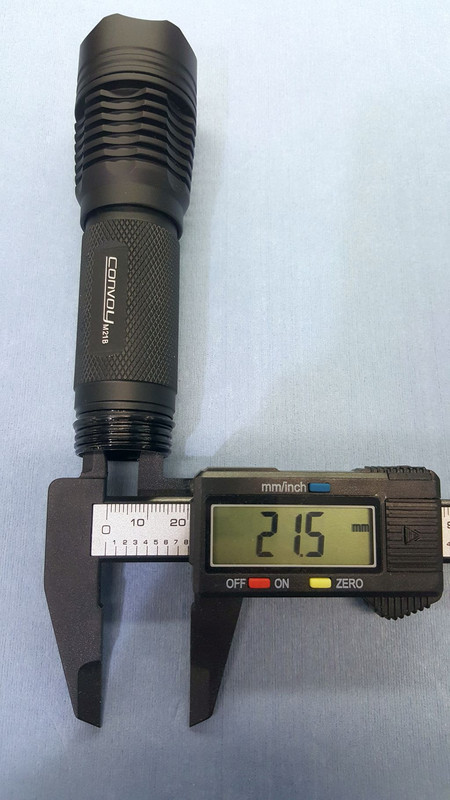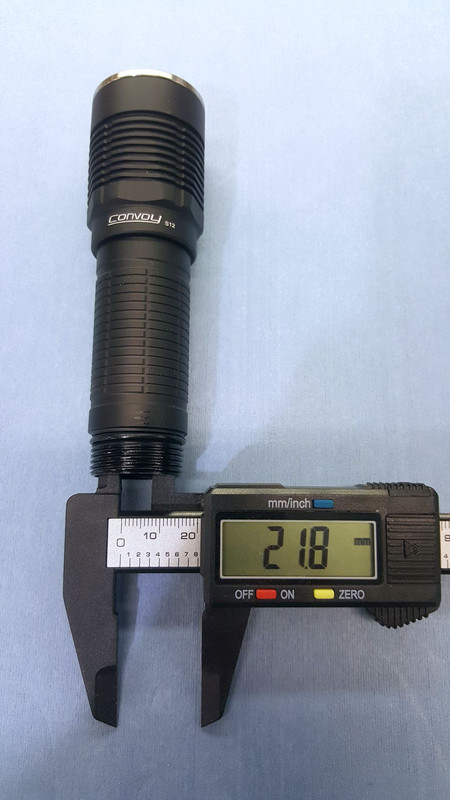 My M21B works with Samsung 40Ts, an Aspire 21700, and a protected, button-top Wuben 21700 that measures ~21.5mm.
What cells are you trying to use?
I think he is trying to use some very fat cells…

Glad you were able to press it into S12

Uch sorry, I just have to

E.g Liitokala Lii-40A won't fit.
I think it would be able to fit it without this plastic yellow wrapping, but I just can't unwrap it…this yellow looks so nice.
Same problem with Jetbeam PC20, won't fit this Lii-40A
And Simon said it will be fixed in next batch and will fit all 21700 cells like S12 (if I remember correctly)
I dont recommend this but if it's that close you could probably take the head and tail cap off and slide it in just the tube then thread both ends on
Yes, you're right.
I'm using Lii-40A battery for my testing. I have that kind of battery only!


You mean using a hammer to jammed it into? It could work with Jetbeam PC20, this Lii-40A could be pressed by using a lot of force, but it seems the M21B is 0,1mm thinner and Lii-40A will not fit even a little bit.
When measuring thickness of this yellow wrapping, it is 0,1mm, so both sides are 0,2mm and without it a cell has 21,5mm, so…I guess it could bre pressed… I guess…
Someone here mentioned new yellow Liitokala 5000mAh has 21,3mm, so more capacity and will fit

I only say that because some times tight fitting batteries are hard to insert because there is no way for air to escape the tube. They create a nice seal and feel stuck
Excessively tight fitting battery tubes is a manufacturer's blunder. Some "21" cells may be slightly thicker, and the same happens with certain "26" cells (the overall best 26650s are in fact the thickest at ∅26.7mm).
Nothing to gain with excessively tight fitting battery tubes except unsatisfied customers.
Do I just remove the NTC or remove and bridge NTC?