.
I tell myself I should do this for real to ease my occasional "collecting-guilt" a bit. My five keepers off top of head:
McBob 219b-modded ZL SC64c LE
D4V2 XP-L Hi 5D
Sofirn C01R (need a deep red)
Acebeam K30GT
Sofirn SD05 (mag switch)
Geez that leaves out a bunch I would not want to part with. Maybe more realistic to get down to a dozen…?
Sc 31 pro
D4
Sp 36
M3-C
FT03
All have charging except D4
edit - 6th would be Amutorch X9
From lights I own and use:
Surefire U2 modded with MC-E and 18650 for it's perfection
Acebeam K75 for insane throw
Acebeam K40M for wall of light from overdriven MT-G2
Zebralight SC600W MK3 HI for pocket versatility
Lumintop Tool AAA Ti with 219B onboard because I like it.
Pity only 5, if 6 I could add Nitecore Tube at my car keys.
Mike
Imalent MS18
Maxtoch L2K
BLF GT90
Fireflies E07 Osram
D4V2 660nm
My 5 favorite lights...
Lumintop FW3A
BLF-D80v2 - used to be cheaper
RovyVon Aurora A3 - expensive for what it is, but very nice
Lumintop HL3A
Zanflare F3 - used to be dirt cheap
These 4 edc lights with the same battery format and a thrower. Probably my L21a.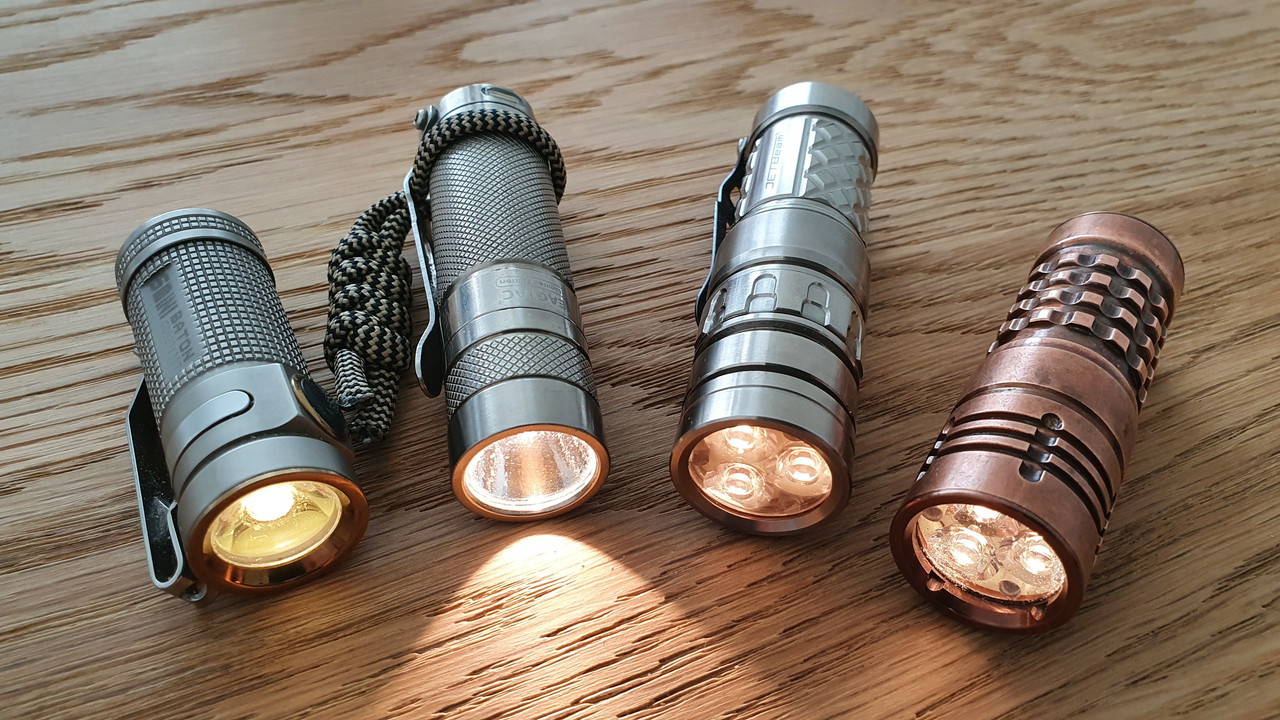 Oh man everybody's choices are awesome .


I almost made it top six or even 12, but five and Friday had a ring to it. I started narrowing down from my top 14 this morning LOL.


I have a K 75 and I would never get rid of it. But choosing between that and WT90 is ALMOST impossible
I could never do just five, probably 10.
maybe a [TLT] Ten Light Tuesday thread next week :))
Hey Artie if you had to go to war. What 5 lights would you take

Impossible. I thought I could do it it … but I can not .

My five fav lights are BLF GT94 light orange peel, BLF GT94 smooth, MF05, MT90 Plus vn, HK90 and HK90vn.
There are five kinds of flashoholics: Those who like small edc, those who like large edc, those who like medium size edc, those who like small throwers, those who like large throwers, and those who like large power throwers.
Convoy M3C, Convoy M1, Xtar Moon RC2, Nitecore P30, Olight i3e
The rest are in the mail, after your cheque clears for the shipping and "handling" fee

K75, GT94, X70, MT70 Plus, MT18s :))
c'mon jimo... share the picture man! haha
HAHA! alright! ;)
nice selection!
I would expect nothing less than this selection, amazing! although, i thought at least one of those smaller powerhouses you love would be on there (i share your love for the ec03 xhp50 version!) or even the FW4aVn Osram, i think is what you have? but hey, flashlights are for LIGHTING things up, right? what better than some gt94's and MF05's!
how is the HK90 in real life, anyway? always wondered about that "unsung hero"? you dont hear much about it. like a gt94 lil cousin vinny or something..
this is a nice selection, very.. regulated!
Your total is $1000USD including tip.
That is with the 50% friends and family discount valid for a limited time.
Thanks

I look at it as utility:
lumen monster, all purpose, beam pattern, thrower and keychain.
I don't even know what you have and I'd be willing to bet that is a good deal lol..
yea that selection makes since to me, I kind of tried to do the same thing :)
Bort is a generous guy

I would do some upgrading if i was starting over, i would not mind an even higher lumen monster if i was only keeping 5 lights, and the P30 is also dated. Not to mention the M1 is now superseded by the M21B and the Moon RC2 to the RC2 200.
That last one is an interesing light, i had won the first one in a contest and ended up buying two more, the beam pattern is just useful for indoor work, more so than a headlight.
I never would have bought it so i only found out about its utility thanks to the giveaway.
A tough decision, but here are my 5 choices (from left to right):
Zebralight SC52w L2 - A great compact flashlight.
Supfire M6 - Custom built by Richard at Mountain Electronics. It has awesome lumens and throw!
M2 quad – Probably my favorite CCT and tint of all my flashlights. It has Nichia NVSL219BT-V1 D200 L2 R9080 4000K LEDs.
S8 – Has nice rosy quad Nichia E17A SM453-B12-R9080 4500K LEDs.
S2+ blue triple – Has incredible CRI with Nichia Optisolis SM653-P9-Rfa00 6500K LEDs.