You can order by email or from my website:
www.3tronics.co.uk
Emitters:
XPG2
XP-L
XPL HI
XML2
XHP50
XHP70
MTG2
on
10/16/20/26/31/32mm Copper Direct thermal path MCPCB's.
E-mail: ledjames92@yahoo.com
I've added de domed price in as default, let me know if you don't want the emitters de domed.
I can also offer flashlight modifications, you can either send me yours, or I can buy it and modify it then ship to you. (Competitive pricing)
I can do most budget lights and some higher end ones, check with me first, driver swaps (mostly qlite 3.04A,direct drive 2 mode and direct drive 5 mode) emitter swaps, copper mounting, dedoming, spring mods, AS thermal, thermal cubes, AR glass if avaliable.
I dont tend to modify existing drivers (sense resistors etc.) but may occasionally do it.
I will reserve items for 24 hours only after the 24 hours they will go back on sale or to the next person in line who wants them
XPG2:
De-domed XPG2 16mm- £5.30
De-domed XPG2 20mm - £5.30
De-domed XPG2 32mm- £6.30
XPG2 S2 2B 5700-6000K
XPG2 R5 1A 6500-7000K
XML2:
De-domed XML2 16mm - £6.50
De-domed XML2 20mm - £6.50
XML2 T6 3B 5000-5500K
XML2 U3 1A 6500-7000K
XML2 U4 1A 6500-7000K
XP-L:
De-domed XP-L 16mm - £6.40
De-domed XP-L 20mm - £6.40
De-domed XP-L 32mm - £7.00
XP-L V5 2A 5700-6100K
XP-L V6 2C 5350-5700K
XPL HI:
XP-L HI 16mm - £6.90
XP-L HI 20mm - £6.90
XP-L HI 32mm - £7.90
XP-L HI V2 1A 6500K
XP-L HI V2 1C 6500K coming soon
XP-L HI V3 2B 5700-6100K coming soon
MTG2:
De-domed MTG2 16/20/25mm - £15.00
Q0-5000K
XHP50:
J4 3C 5500K 16/20mm £11.00 (shaved +£1.00)
J4 1C 6500K 16/20mm £10.00 (shaved +£1.00)
XHP70:
N4 3C 5000K 21mm £16.00 (shaved +£2.00)
M2 1A 6500K 21mm £15.00 (shaved +£2.00)
Triple:
De-domed Triple XPG2 20mm - £8.50
De-domed Triple XPL 20mm - £14.50
De-domed Triple XPL HI 20mm -
(32mm triples also available)
FREE 22AWG silicone wire with each order!
Extras:
-x5 XML2/XHP50 GITD insulation gasket 16mm £2.50
-x5 XPG2/XPL GITD insulation gasket 14mm £2.40
- Silicone grease 20g tub (Jetbeam) very nice quality, better that nitecore grease
-Silicone thermal cubes (for driver)
-Silicone pads
-Thermal adhesive squares
-Drivers (mostly qlite 3.04A and direct drive 2 or 5 mode)
-led centering
-small snap bags (for components, also what leds from me are sent in)
- red bubble bags (for components, also what leds from me are sent in)
-scraps (used MCPCBS, Alu boards)
-optics
-sense resistors
-general flashlight parts
-other LEDS (MKR,XHP,XPE etc)
-Orings
-switches/ e-switches
–5mm colour leds
Cut to length:
-high quality solder
-silicone wire (18/20/22/24/30AWG)
-copper tape
-aluminium tape
-copper braid
-Kapton tape
I may have other stuff so let me know if you need something specific
As a rule of thumb, the smaller emitter, the better the throw, the bigger emitter the better the flood.
Delivery - PM or Email me with your order and I'll give you a delivery quote, roughly £2 UK and £4 international
!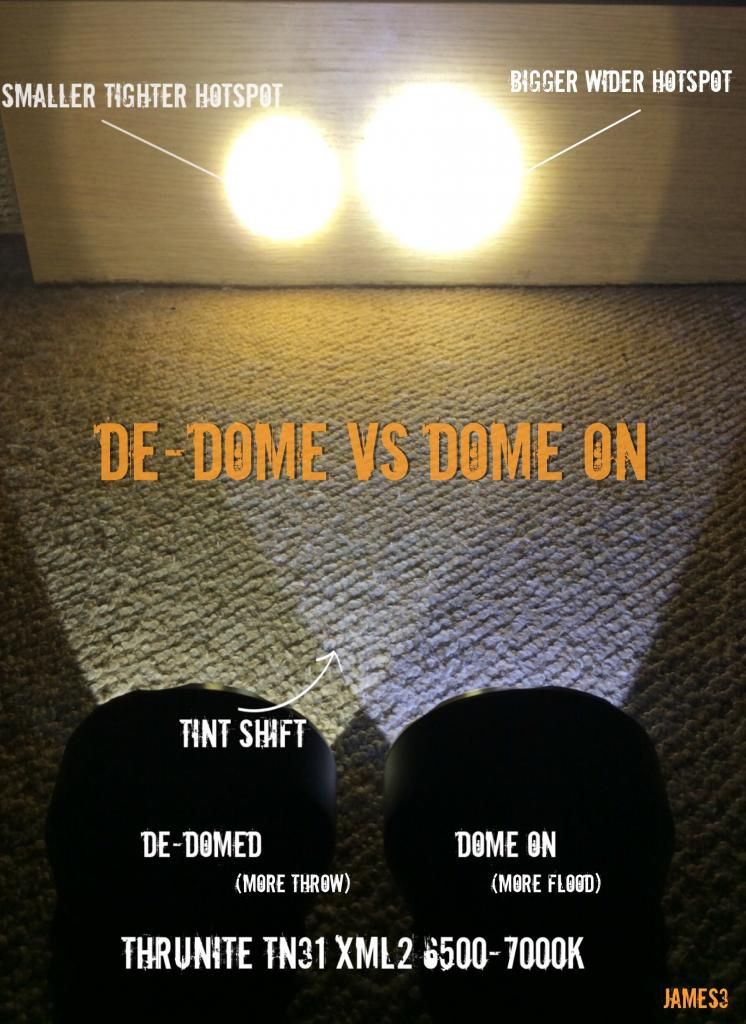 !
_Remember warmer tint after dedome.
Posted from UK
Prices in GBP
PayPal only
Email or PM me to order as I may not monitor this thread, this is also the PayPal payment email.
This is a perfect upgrade for your light, it helps a lot with heat management which in turn prolongs the life of the emitter the copper MCPCB can be pushed a lot harder than an aluminium one.
Sent In bubble packaging inside a bubble envelope, probably cheaper in an envelope but damage is riskier.
All items tested and confirmed to be in working order before dispatch.
Disclaimer:
Usual rules apply, after postage it is not my responsibility, but I will give you a tracking number if purchased.
I reserve the right to refuse sales.
All emitters are tested at 4.2V and confirmed to be working perfectly before dispatch, they are all protectively packed.
I will not take responsibility for damage caused by wrong installation, reverse polarity etc.
please check the items bought are compatible with the item you are buying them for, check the CREE website if you are unsure of led specs.
The maximum Amperage you can drive the emitter at is the same as if it were a dome on emitter. I will not be liable for overdriven emitters burning out.
Emitters driven at a high current may develop a very small brown spot over time but this does not effect the beam or the emitter.
It is seen in many other de-domed modifications but is nothing to worry about.
The bond wires are left with a small amount of silicone from the dome to offer protection of the bond wires against drops etc. this has no effect on the beam quality after de dome and is purely cosmetic.
I will send a picture of your order before dispatch if requested
Any questions feel free to email me.
(Prices may change without notice, but if I've sent you a quote that is what you pay)_