90+CRI instead of 70CRI
and
5000K instead of 6500K
Other specs are the same than original.
Okay thanks. Such a beautiful well designed light. I just wish they used LH351D or nichias.
One TO64R
One TO10R
Should have posted sooner so I can get the TO64R… waiting list it is…
I was aware the WB was marked on the photos, that's why I mentioned they were set differently.
Thanks for this new set of photos with equal WB. Now the Samsung looks much less white than in the previous photo, but in comparison it makes the Cree's look blue and ugly. And the Samsung's have a much nicer large/even beam compared to the Cree's.
I'd like to try one but I'm not sure where to buy them, I didn't want to invest in 20 pcs. but it looks like they're not currently available from e.a.s. anyhow.
Thanks for the link.
A light in one of the photos caught my eye and I REALLY like it! (YLP Gryphon G18)
Couldn't find a description of the UI though. Gryphon G18 — Online store — YLP light
.
Another YLP model I like is the G180, I learned of it from maukka's review back in April.
Just grab a triple nichia mcpcb from Richard if you don't like it. I had the old low cri xpg3's in mine, and swapped out to a triple nichia. Took 5 minutes
For us who have already paid for our orders, now since the go-ahead signal has been released, will we get an email notification from Wuben regarding the tracking number for our order?
Yea I'm going to get a triple Noctigon board from Clemence with the 219B 9080 that he is hosting a GB for right now.
The G18 does look really good and thoughtfully designed. However, the Wuben TO46R has two buttons, 90 CRI emitters (too green for me though) and is half the price. I've also been very interested in the G180 for its optimally compact 3x18650 form factor but the driver only makes 3000 lumens so there's not much potential with that light even with mods.
Got an email from Jason (Wuben) with my tracking number !

Thanks the for this GB ! :+1:
Good to hear!
Jason told me that they are shipping in the order of payments. "1st paid, 1st shipped".
You will get the tracking number to your email (using the address you are using in PayPal).
"White balance" can also be considered to be happening in real life when your eyes adapt to ambient light: From the earlier samples, I have swapped the 10r emitters to Nichia 4000K and left the 46r to CREE 5000K. Indoors, with eyes adapted to halogen light below 3000K, I tend to grab the 10r. BUT outdoors I feel it's way too yellow to me and grab the 46r instead.
Thanks, I feel exactly the same about the indoors/outdoors inference.
Yep mine shipped too. Thanks for organizing this and keeping everyone up to date when it got tricky.
.
I'll have to see how I like Wuben's 2-button switch, I've used another similar 2-button light and the switch is a little hard to press and just doesn't feel as nice as a single button switch, but it is more convenient with the separate mode functions.
What I really like is the G18's compact size compared to the longer and chunkier TO46R.
Plus it has the magnetic tail: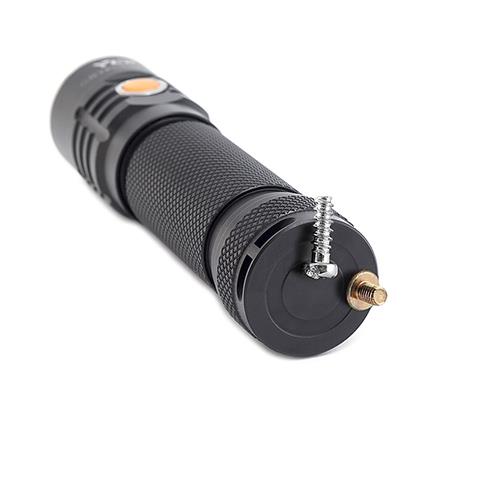 Real pity about the price though, plus $8.00 for shipping to the states for a whopping total of $71.00!
Another one shipped here :+1:
Thanks =the= , maukka, and Wuben for this!!! :partying_face:
Just got my shipping notice too. :laughing: Thank you all!
That does look like a nice light. One major downside however is the large gap between high and turbo modes. I've tested the runtimes on my stock TO46R and on high mode (600 lumens) it was still going strong after 2 ours on a Basen 3400mah protected cell, and I'm gonna push it even further this weekend.