Just got in my A8 clone from eBay, and found it fit really well on the DST, as described here, so, I broke out a few of my 26650 lights to see what else might match up and found a really nice combo.
For you HD2010 aficionados, I think this is a real nice HD2010 upgrade: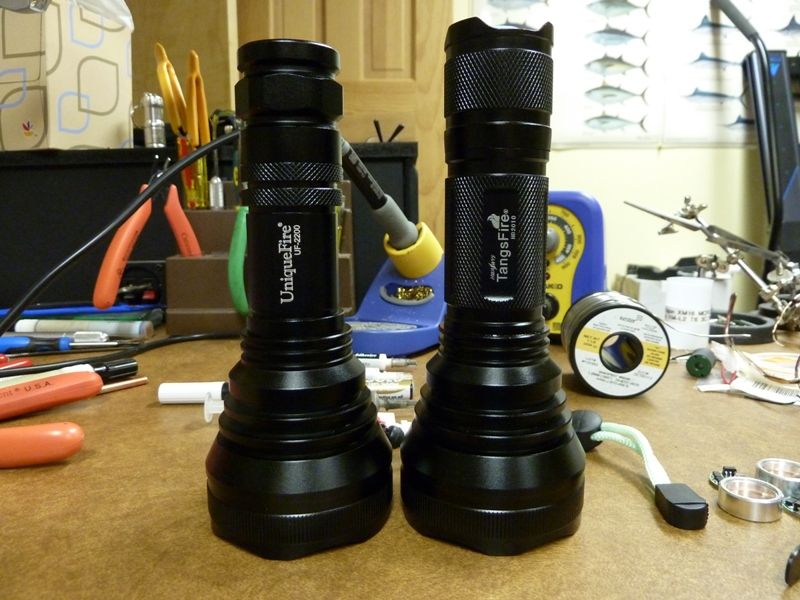 The UF-2200 is a nice quality light and host, but never had me too excited because of it's being somewhat under-sized head, limited output and throw, so I never got around to modding it. But now, I think I found a perfect home for it. I feel the HD2010 is a step up with the UF-2200 body and tail. I've always found many of the UniqueFire lights to be better quality, better finish. The matt black finish match's the black HD2010's perfectly (TMART's no-name and TangsFire branded), shortens the overall length, feels better in the hand with a thinner body, and the tail and lanyard is definitely better quality.
So if you are like me and throwing $$$ at your HD2010's with de-domed XM-L2 U2's on copper, copper pills, AR lens, stacked drivers, and maybe an aspheric now with a custom built adapter ring, this is yet another upgrade improvement -- for a few more $$$, but, it's an HD2010 and deserves the best!
Ohh -- it does work. Only tried it with unprotected 26650's but fits and works fine.