Olight has another raw copper light out for all you copper fans with the Olight i5T Cu. This is a special edition of the i5T which has been released in several different editions in 2020. It's a 2 mode light taking a AA battery with a deep cary pocket clip. It's similar to the Olight i3T but larger. Thanks to SkyBen (Affiliate Link) for sending this to me to review.
YouTube Version of this Review: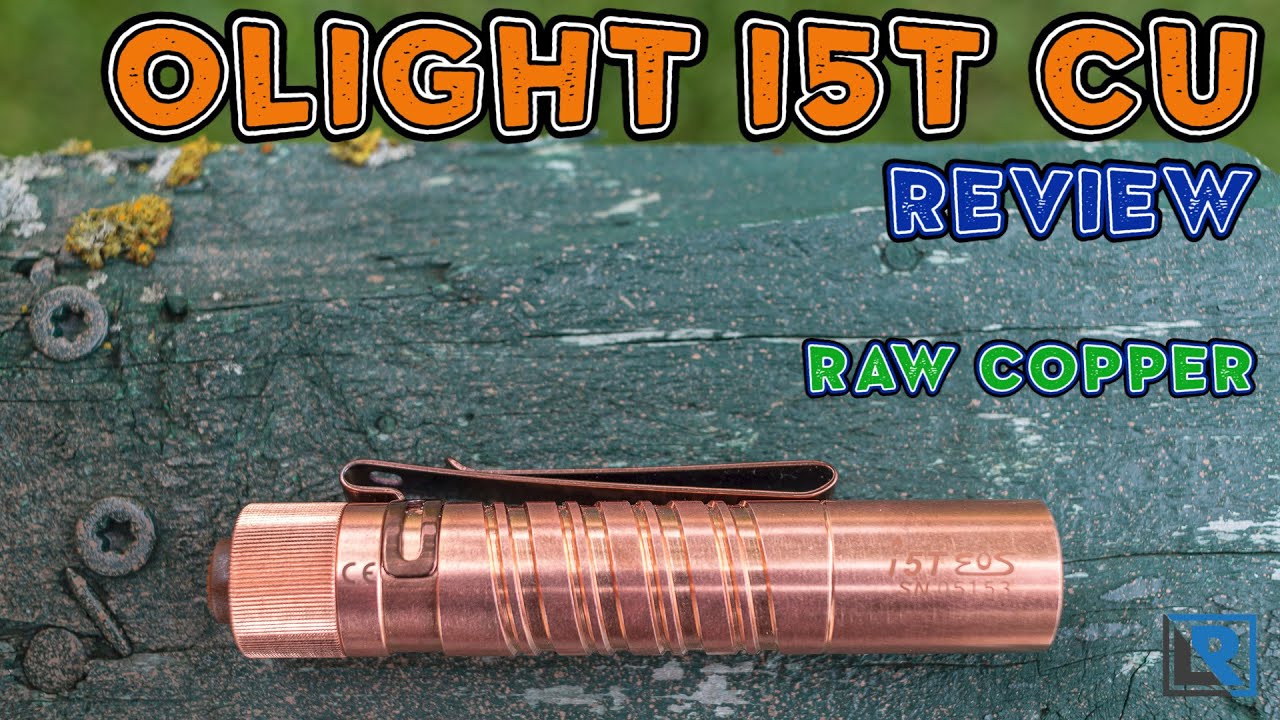 Join the Facebook Page: Liquidretro Gear & Reviews
Follow me on Instagram: https://www.instagram.com/liquidretro/
Versions
There are a couple of versions of the i5T from Olight. There as a Shot Show edition they gave out to people, it was aluminum with a neutral white emitter, A CoVID relief special edition that was sold, it was aluminum and had some blue anodized accents on it, a normal black anodize and desert tan models, and the one I have here the in copper. Everything except the shot show edition has the standard cool white emitter.

Packaging and Accessories
The i5Tcu came in what I would call a gift box. It's a heavy duty white cardboard that's finished nicely with a color photo on the front and a limited amount of details on the back. Inside the light was vacuum sealed in plastic with an anti oxidizer packet to prevent any patina from forming until it arrives in your hands. The only included accessory was the manual and GemTec AA battery that came preinstalled.

Construction
No complaints here on construction quality, Olight does a nice job with these, and is one of my favorites when it comes to their raw copper machining. Everything is nicely chamfered, and polished. It also comes in the least oxidized state of any of the copper flashlights I have. The overall design here is a largely a scaled up version of the Olight i3T with a few differences. At the tail the buttons appear to be the same, as the i3T. The proud switch has a hard plastic edge and then a rubberized grip at the very top. It takes quite a bit of force to active the switch which I like. This one won't come on in your pocket on accident. I do feel a bit of cell movement internally when pressing the switch which feels a little unnatural.

The knurling on the tail cap is mostly horizontal with just a touch of vertical, mine seems to be not perfectly centered, like it is on the i3T. Not sure if this is intentional or just a slight manufacturing issue, either way it adds a nice amount of grip to unscrew the tail for battery replacement and style. Internally the tail section is made of copper too, and has nicely cut square threads that need a bit of grease.

The pocket clip is push on style but fits tightly, more on retention in a minute. The body itself has the double line spiral as the i3T does. It's fairly deeply cut and the walls have minimal chamfer. It's mostly for style but adds some grip to. The head is very plain, it has the model number and serial engraved into it and does not appear to come apart or it's a one piece design. The lens appears to be plastic and be a one piece with the optic and reflector.

Size & Weight
I measured the length of the light at 95.5mm, diameter at 17.9mm and weight with an Amazon Basics High Capacity NiHM and clip at 112.3g. It's a pretty heavy light, but that's what you expect for copper

When I compare it to other similar lights I have, the diameter is a little smaller than my Reylight Pineapples or Ti LAN or the copper variants. Length wise it's a little shorter too. If you liked the Olight i3T it's just a little longer and slightly larger in diameter. It's fairly comparable in size to the Olight M1T Raider, but smaller diameter and slightly longer.

Retention
Retention on the i5T is good. I like to EDC 14500 lights, they are a good balance of size, weight, and most importantly diameter. This is especially true when I am wearing shorts. The i5T has a reasonably deep carry pocket clip, and on the copper model it's a bronze PVD colored finish that fits pretty well especially after the light takes on some patina. It has a reasonable amount of room for material at the top too. It is using Olights dual direction clip which some love to hate. I will say my original clip on my i3T did snag not go back into shape. Olight did offer a replacement but it was only available in black, not the original PVD bronze copper it came with. It would be kind of nice if Olight included an extra clip with these special editions since they don't seem to have spares.

LED & Beamshot
The i5T Cu here is running an Osram P9 LED in cool white. That said it's not Olights typical 6500k, it's warmer and more neutral, I would guess somewhere about 5500k or so. It does have a bit of a green tinge. The beam is using what Olight calls a PMMA lens. It creates a beam that is mostly a spot, with minimal flood. Good for EDC. There is a bit of PMW on low according to my oscilloscope and camera but I don't notice it with my eye. If you are sensitive this may bother you.

Runtime & Heat
The i5T Cu is designed to run with 1.301.5V batteries so Alkaline and Ni-Mh batteries primarily. As you know from watching my other reviews I don't run any light with Alkalines because they leak. Olight has provided the i5T with an Alkaline from the factory, so get it out and replace it with a high quality rechargeable Nickel metal hydride instead.
For my testing I used an Amazon Basics High Drain cell, Previous testing shows these are slightly above 2500mAh, so basically on par with Eneloop Pro's for half the cost. Peak output is right at 300 lumens and the light holds this for a timed 3 minutes before stepping down to right at 50% output where it runs for for just short of 2 hours and 30 minutes before stepping down and ran at it's lowest mode. This time was the FL1 standard of 10% relative output. It eventually turned off completely at 5 hours and 45 min. There is no Low Voltage protection built in to this light, so my battery had a voltage of 0.9V when I pulled it out. So when the light gets very dim, it's time to switch the battery. Maximum heat I saw was 30.4C at the 3:30 mark.

I had read a few accounts of people running this light with Lithium Ion batteries so I wanted to test that too. Olight doesn't recommend this and neither do I after testing. The light isn't built for this at all, while it does substantially increase the output you will damage the light if you continue to do this due to the immense heat and increased voltage lowering the life of the LED. The light also doesn't have low voltage protection so I used a protected KeepPower 800mAh cell to protect the battery from damage.
Total runtime with the Liion was 23 minutes to the FL1 standard, 31 minutes till protection kicked in. It's a pretty linear decline until the 20 minute mark where voltage really starts having an impact on output. Temps are the big story here, this is the hottest light I tested when run this way and that makes sense given this is outside it's designed mode of operation. Here a bit of a table of time and temps.

As you can see the light gets dangerously hot, super fast. At 30 seconds it's 36.1C at 3 minutes it's 53.4C, at 9 minutes it's 69.3 C, and at 15 minutes it's 72.7C. To put this into a frame of reference most adults will have 3rd degree burns after 2 second exposure above 65C. So for this reason alone this light should not be run with Liion batteries it's unsafe.
UI
UI here is super basic as it's a 2 mode light. The light always comes on in it's lowest 15 lumen mode and then if you press again you get the higher 300 lumen mode. There are no flashers or anything else. It would have been nice to see another mode to give you an ultra low 1 lumen mode.
Pro's
Copper! With a great surface finish
Carries Well in the pocket
Good beam characteristics for EDC
Con's
Only Cool White is offered to the Public, there are probably better LED choices here too.
Pretty Middle of the road performance here. It would be nice to see 14500 support.
Conclusion
The Olight i5T Cu is a nice special edition light for general EDC, especially if you like the patina and characteristics that raw copper can develop over time. Olight's timing is pretty good too with the positive antimicrobial characteristics of copper.That said you pay the price in weight here for copper, and I wish they would have went with a different LED and a more advanced driver. This is a basic light and it's low mode is still too high for many who want a 1 lumen or less mode. Other then that it's a nice high quality light I enjoy having around and I think you will too if you are a fan of raw copper.
Full Image Gallery Olight i5T Cu Review - Album on Imgur