This is a quick mini review. I bought this light for the listed price from farfarled (BLF username) who has a store on DHGate, product listing here:
Features:
XM-L2 emitter (probably T6 1A)
plastic aspheric lens
nice SupFire quality, similar style as the M6, L6, SupFire C8, etc.
excellent tail-stander
wide flood (only stock zoom light I have that beats it is the T6-875)
comes with a typical triple AAA carrier
typical 5 modes, no memory, but reset to 1st mode (high) in about 3 secs
nice size pill - solid pill top, but machined out to fit a 16mm MCPCB
Shown here with am assortment of zoomies: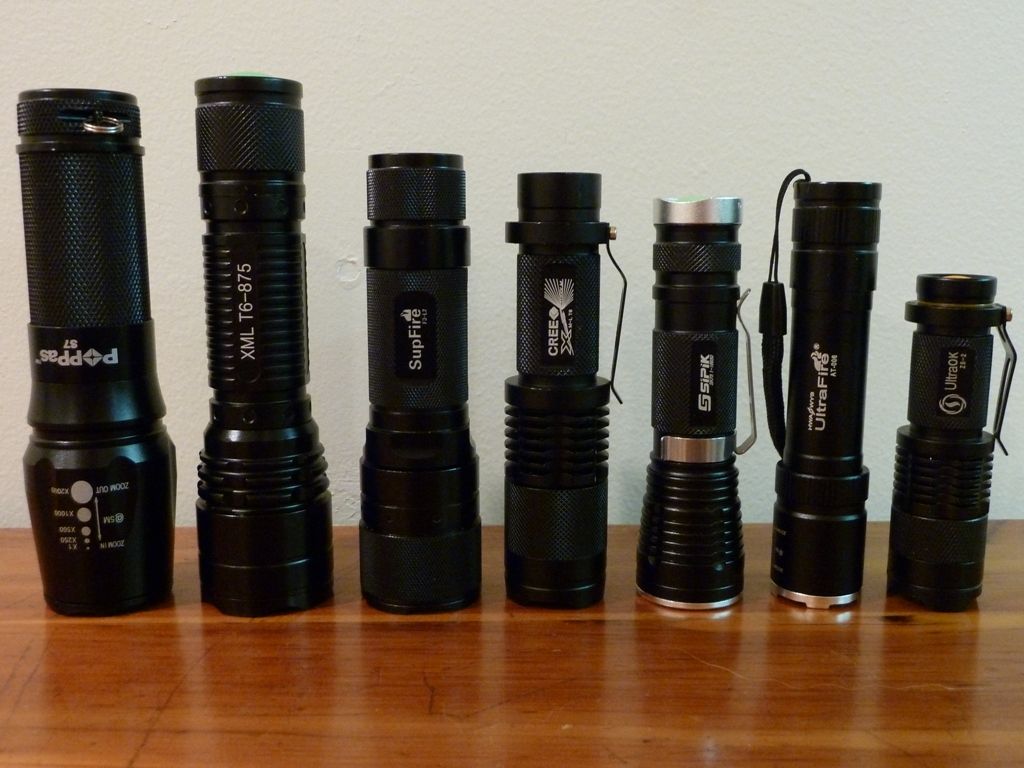 Here it is with a SK98 clone and a Sipik SK73 original:
The F3's head is larger but so is the lens:
The F3 on the left, and SK73 on the right:
The SK73 on left, F3 middle, and the 875 on the right. The SK73 has a DD stock driver, so it cranks output and heat (does 3.75A tail). The 875 is modded with a U2 2C, 3.5 amps - it also is the widest flood light I have. The F3 does well against it, pretty much equal to a Poppas 26650 zoomie (sold under many generic names):
The pill:
View of the inset MCPCB:
The driver. This is the style where you can easily bypass the current limiting resistors by moving the + LED wire to the pad on the left that is before the resistor bank Simple way to boost the amps. Mine went up from 1.52A to 2.2 or 2.5A on a better cell, keeping the stock wires. A very simple amp boost mod!! -->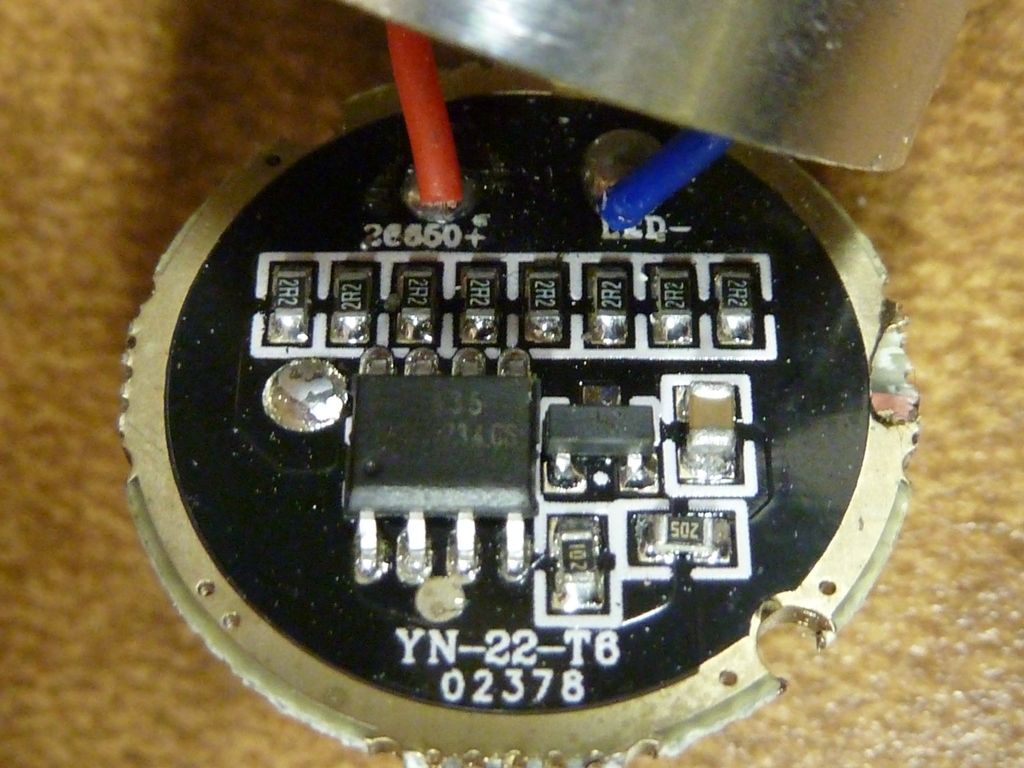 Tailcap parts. Typical for zoomies - this the type of switch that makes contact with the housing by a tab. I'd rather have a more reliable PCB mounted switch - easier to replace with an Omten, better contact, more reliable: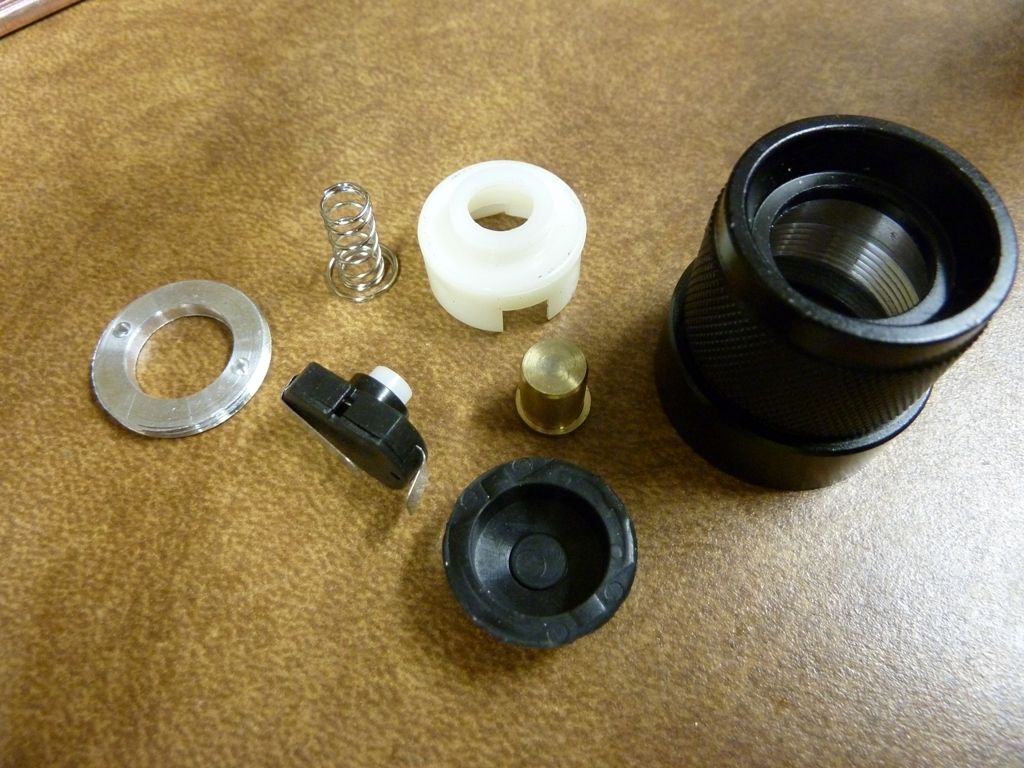 I took measurements on the stock light, but had some inconsistencies. I'm not sure if it's the switch, driver or something else. My first guess was the switch, replaced it, and still has the inconsistent readings. Tailcap amps is about 1.9A, OTF lumens is roughly 350-425, and throw about 10-14 kcd. I can't say for certain that it's just my specific unit or common to this design.
Currently this light is $12 shipped to the US, and the listing says this reduced price is good for only 3 days. The quality for this price is excellent, so for me, it's worthwhile keeping and improving. It sure would be nice to know if any other F3's exhibit this problem, but I only notice it in the lightbox. It doesn't flicker, but usually when first turned on, it does well, maybe about 425 lumens, then switching modes and returning back to hi, it does lower output. Sometimes cycling it goes back to the hi-hi, or somewhere in-between. At least there is no flickering, so most users would probably not notice it, but sure bugs me.
Overall I'd recommend it - excellent value, and looks easy to crank up the amps by moving the LED wire. The zoom works by sliding the head in-out, and works very smoothly, not too loose, with an o-ring on the pill, and one other lower down. With the head pulled out, it focuses well - you can see the dots on the XM-L2 dye clearly.
Update 07/31/2014:
Certain I found the cause of the lower output - it is the switch. Stupid me - easy to isolate it by jumpering the battery with the light in the lightbox. When jumpered, it measured consistently higher, about 100 lumens higher. I have an Omten in the same form factor (from FT), but it's not exactly the same fit - Omten is slightly larger, so, I'm trying to dremel and cut the plastic retainer to fit the new switch - out of time right now, will try again this eve.
Update 08/01/2014:
Ok - got some more modding done, keeping the stock driver. I tried moving the + LED wire before the resistor bank and after upgrading to 22 AWG wires, and amps went way up, getting close to 4A, but in further testing, it would only work in hi mode after it heated up, then cools down - back to normal modes. So stock driver has 8 2R2's (2.2 ohms), I removed 4, and added two R220's (0.22 ohms). Now I'm getting 3.35A or so on a Efest 35A or LG HE2. Less output, but still has the loss of modes problem
. So decided to go with a Samsung 28A cell (4.35v type), and with this cell it does 3.0A. Oops - testing while I write this and it still locks up in hi on the Samsung, just takes a little longer. Here, as it is, is the details of the mod:
XM-L2 T6 4D (from FT) on a 16mm Noctigon
GC Extreme thermal grease, sanded pill top smooth, sanded down the Noctigon to reduce thickness to try to get better focus (stock MCPCB is 1.0 mm thin)
22 AWG LED wires
resistor mods as described as above: removed two 2.2 Ohm, added two 0.22 Ohm resistors
22 AWG wires on both springs
replaced defective switch with a Omten (needed minor dremeling to fit it
NO-OX-ID applied on contact areas and pill thread
Nyogel on tail threads and O-rings for the zoom slider
These are numbers using an Efest 35A cell:
| | | | |
| --- | --- | --- | --- |
| Mode | Amps | Lumens | Throw (zoomed) |
| Hi | 3.35A | 850-792 | 28 kcd |
| Med | 1.62A | 476-466 | |
| Lo | 0.79A | 241 | |
I'm really liking the neutral tints in zoomies. The flood and zoom-in modes are so much nicer - eliminates the blues
. The mode spacing is not so great, for me. This is like 100%-50%-25%, but I'd prefer 100%-30%-5%, or a lower scale of 100%-25%-2%.