Hi guys, i`m back with review of fresh release from Fenix. LR50R with its 12000 lumens and battery pack of 4x21700 batteries.
official model page at Fenix website
manual
you can buy it here
SPECIFICATION
12000 lumens maximum output; 950 meters maximum beam distance.
4 Luminus SST70 LED's with a lifespan of 50,000 hours.
Included a 3.6V/16000 mAh rechargeable LI-ion battery pack; compatible with 1-4 21700 Li-ion battery.
Intelligent brightness downshifting sensor to avoid high temperature at close-range lighting.
Instant Turbo activation rapidly responds to emergency situations.
USB Type-C charging and discharging interface, supports PD3.0/PD2.0, QC3.0/QC2.0 fast-charging protocols.
Battery level indication for instant checking of remaining battery level.
Made of durable A6061-T6 aluminum.
Premium type HAIII hard-anodized anti-abrasive finish.
PACKAGE AND APPEARANCE
Paying this much for a flashlight, you expect to get simply the best. And in the case of Fenix ​​LR50R, you get it. The box is large and extremely attractive. If you take it as a gift, it will look damn impressive.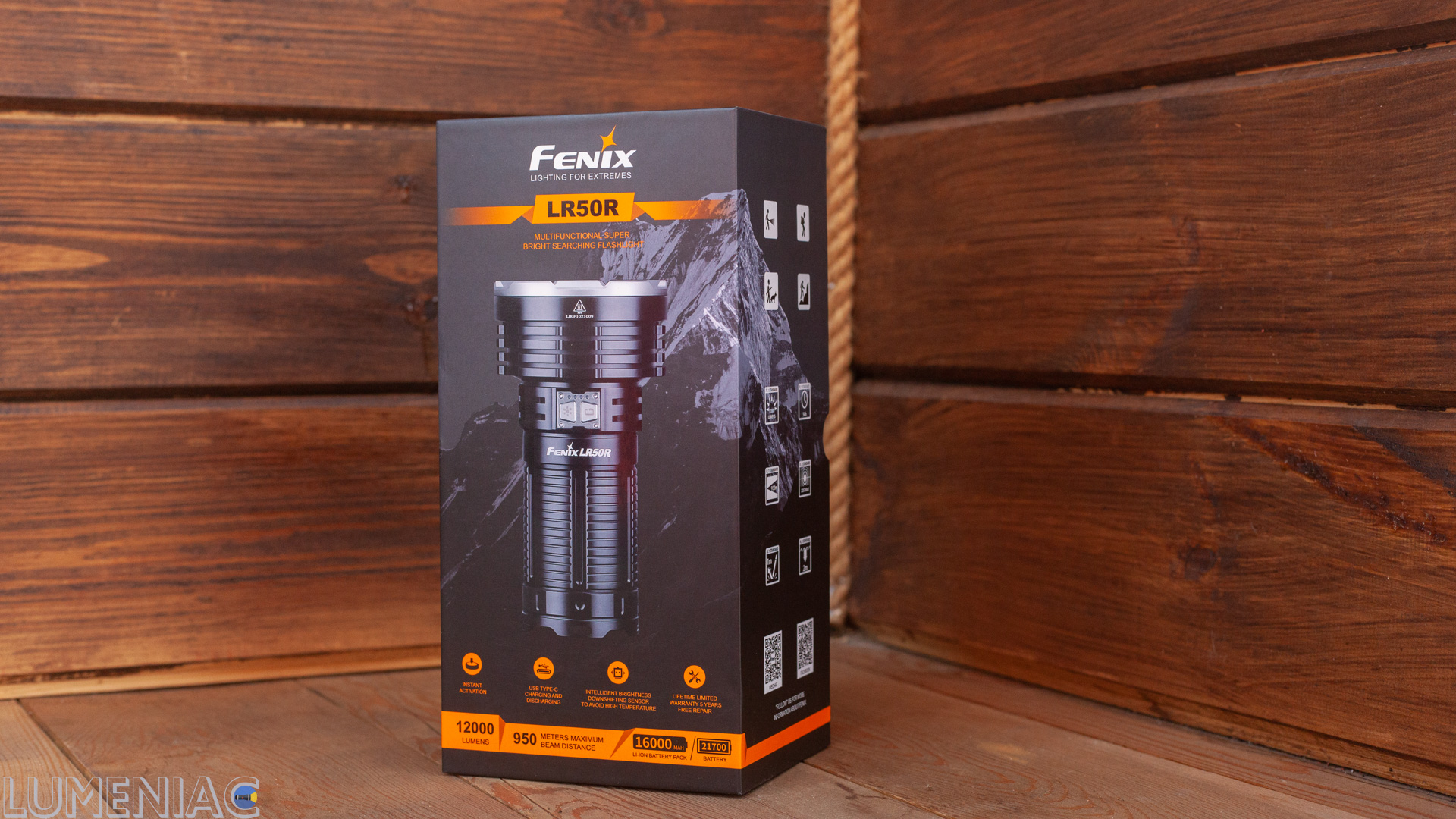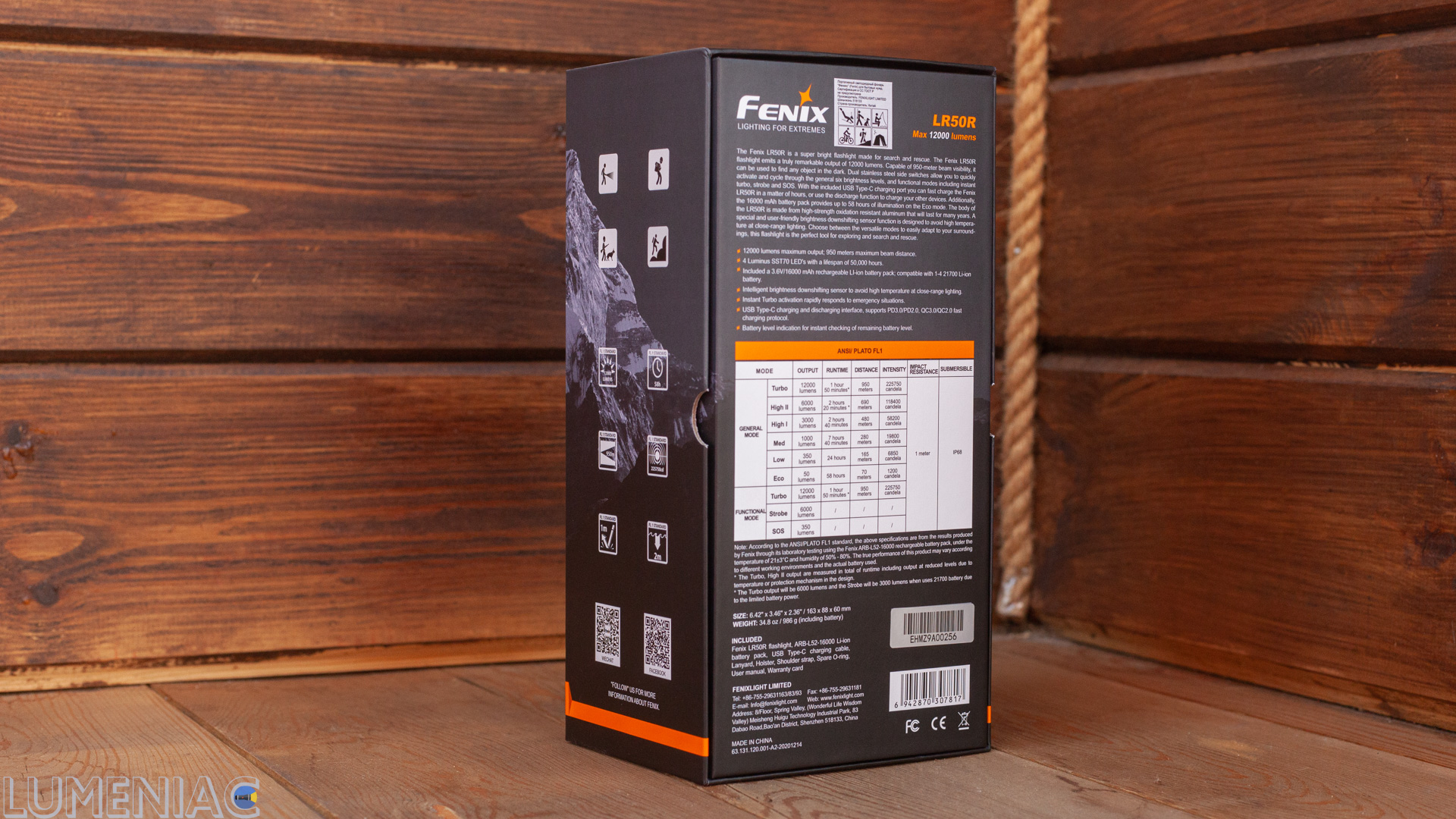 The set includes the flashlight itself, a battery pack of 4 * 21700 4000 mAh batteries, a lanyard, a holster, a tripod mount, a shoulder strap, a manual, a warranty card, a charging cable.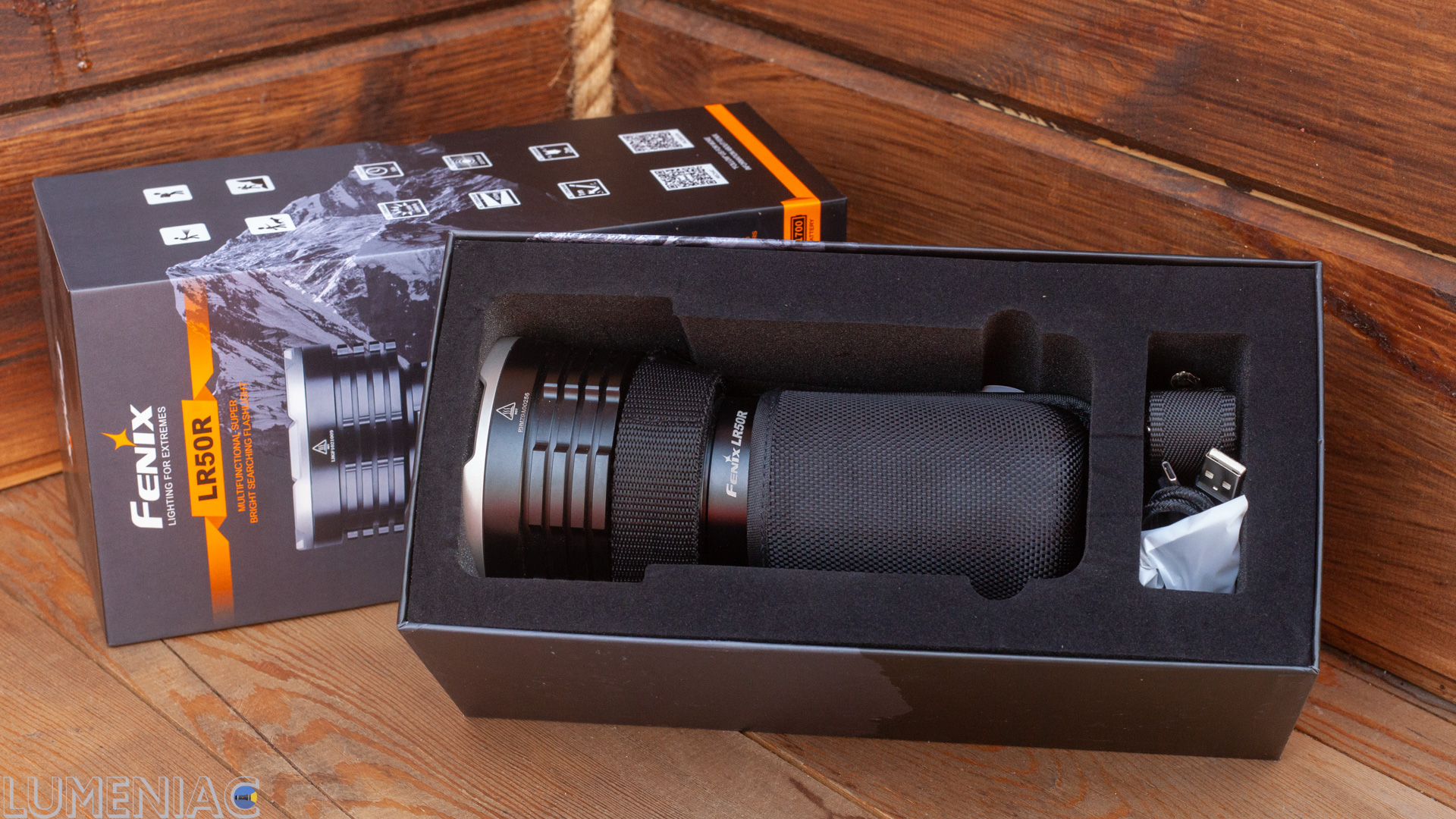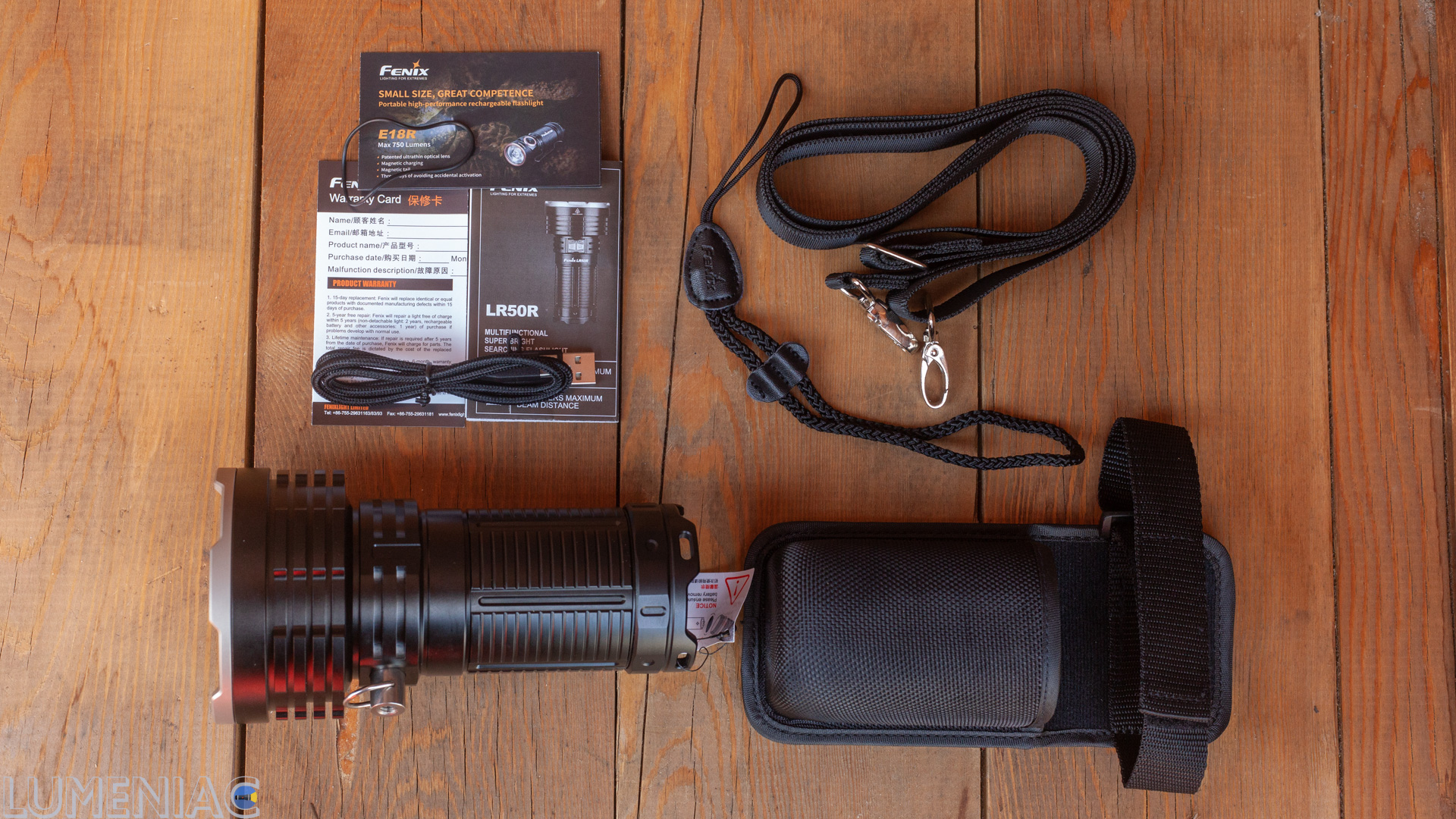 The flashlight was perhaps the most expensive of the modern Fenix ​​models at the recent time of release (now it is LR80R), so Fenix paid most attention to all the details included in kit.
For example, the holster. Excellent, thick, comfortable.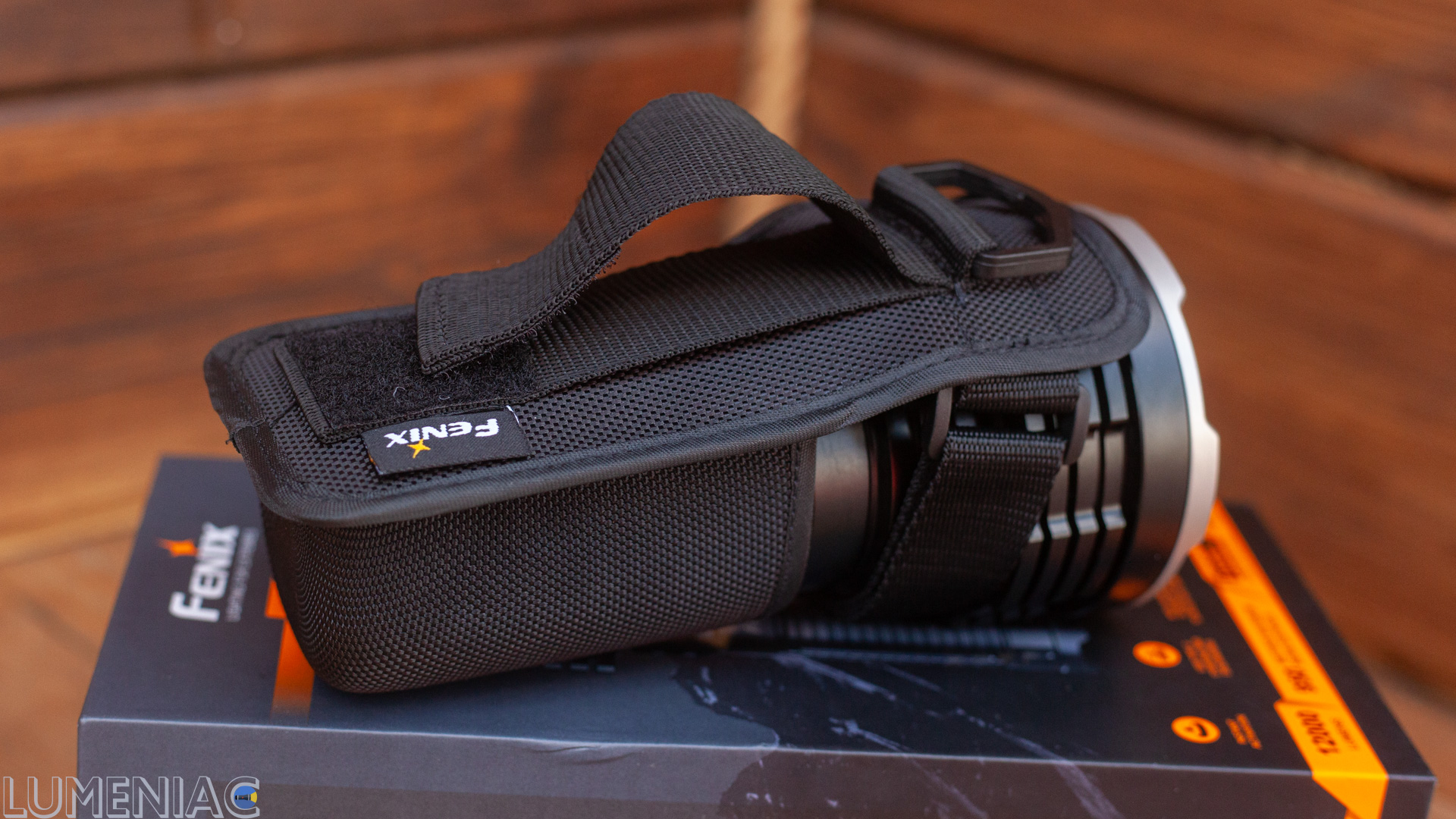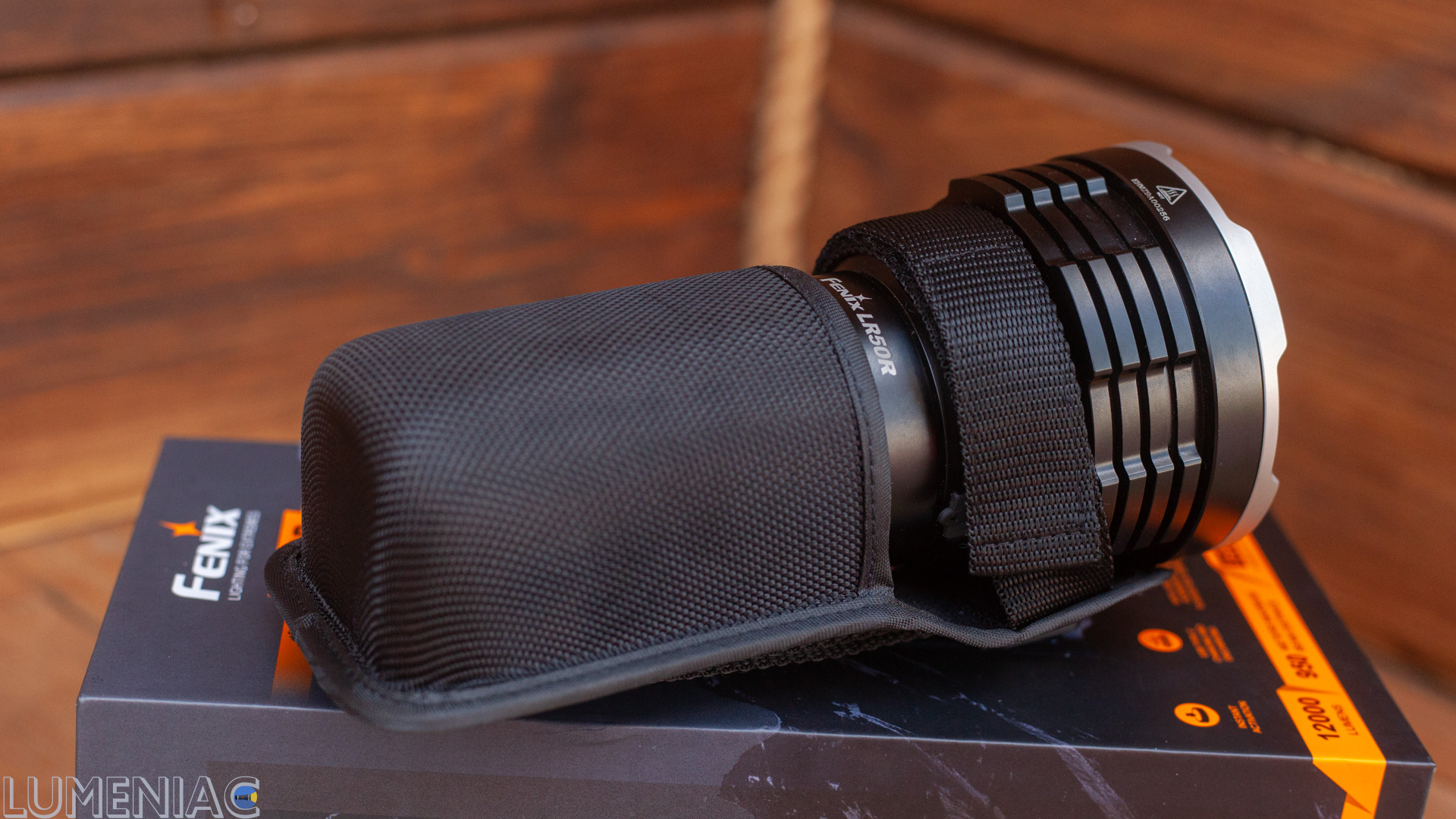 But most of all I was surprised by such a trifle as a lanyard - without a doubt, the fattest and most stylish one I have ever seen.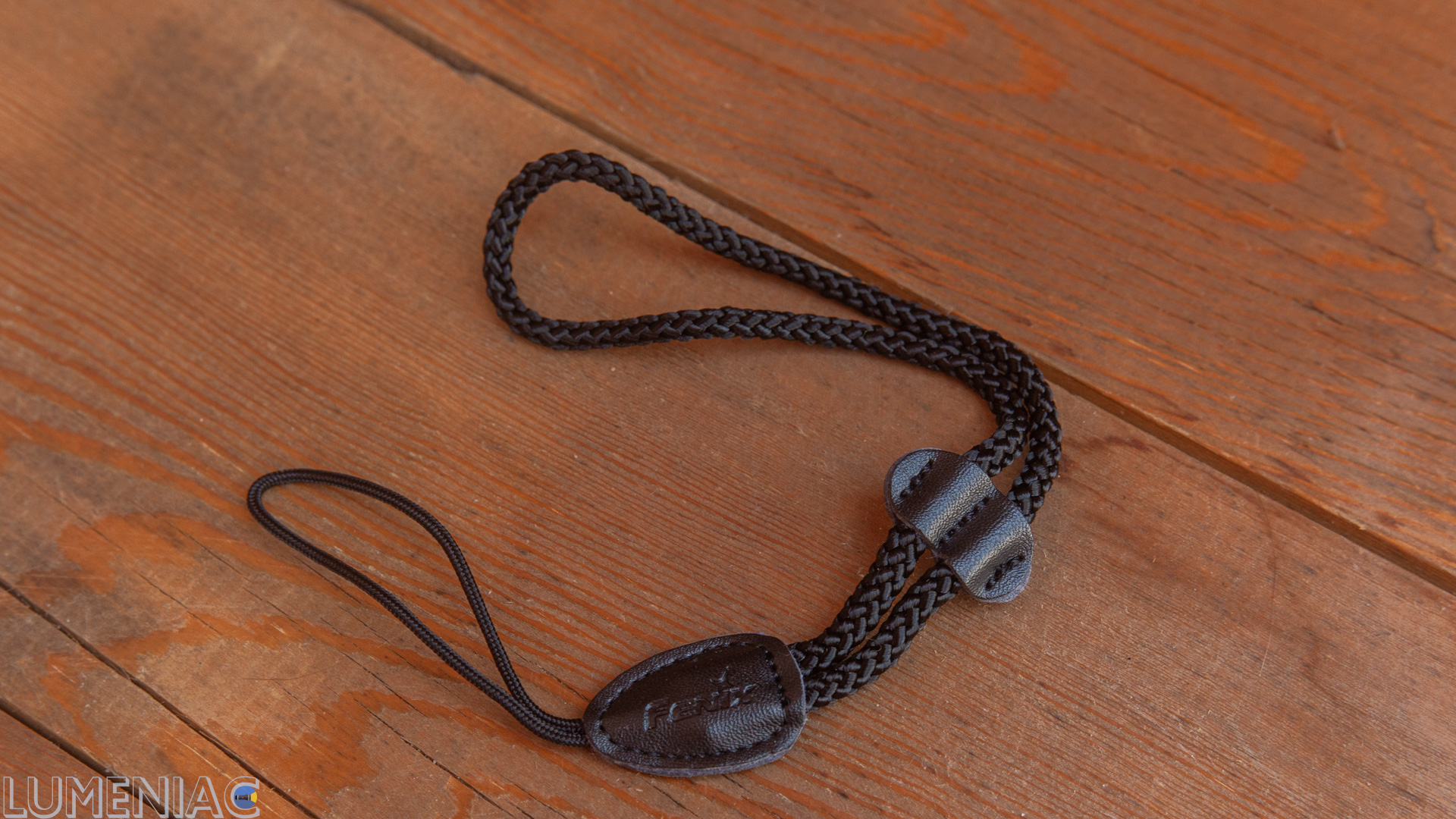 The charging cable is also good, it is a double-sided Type-C with a USB-A adaptor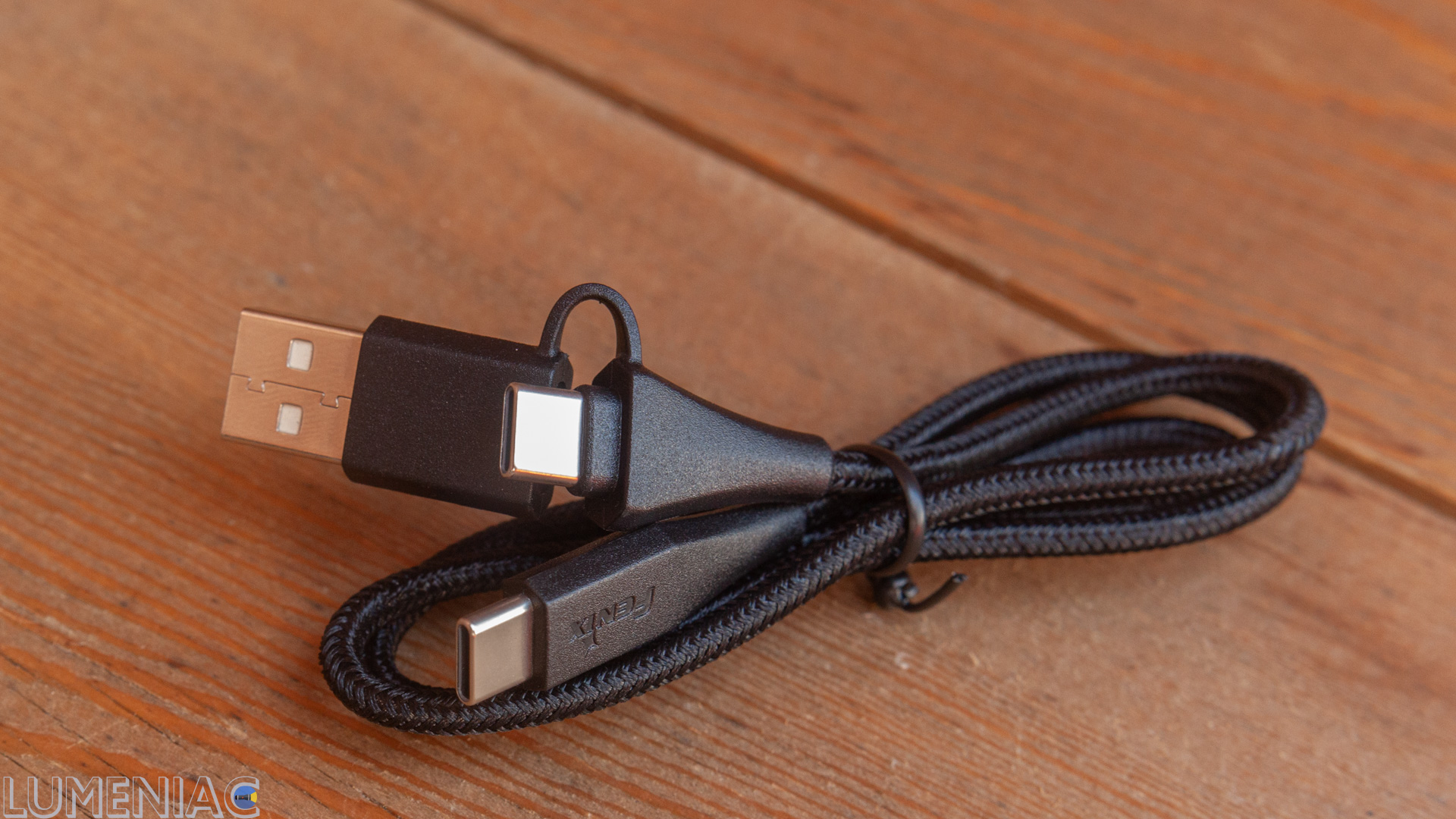 The flashlight, of course, is far from small - 16.3 (length) * 8.8 (head) * 6 (body) centimeters. But I cannot call it frankly big. You can't put it in your pocket, of course. But when carried in a holster, it will not cause any inconvenience.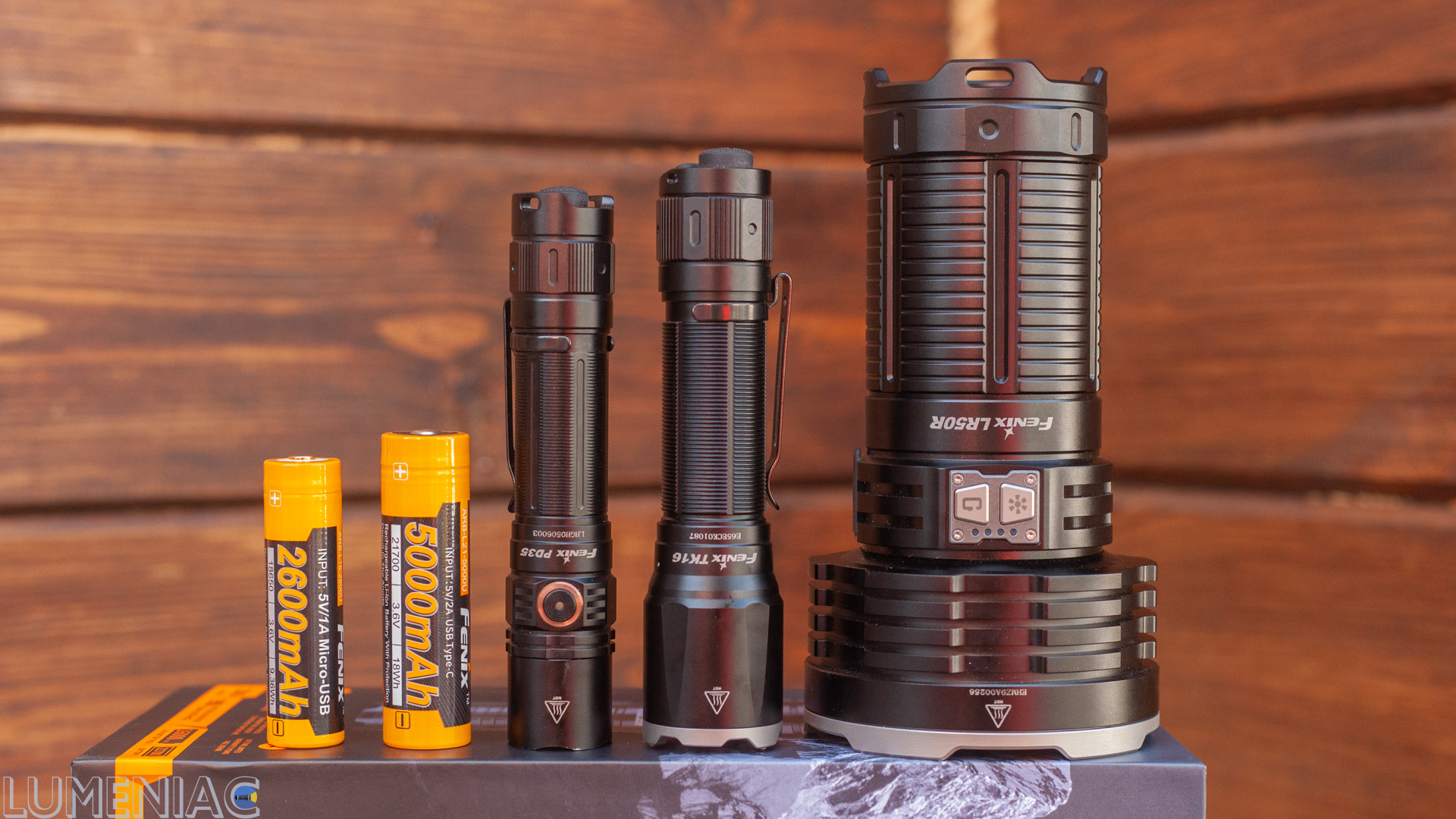 The exterior of the Fenix ​​LR50R is quite impressive. This heavy piece of black metal (kulde, mørke og torner) with a bunch of cooling fins and a platform with two buttons is definitely an eye-catcher. It costs frankly a lot, but it also looks befitting the price. And this is, undoubtly, good because design of Fenix ​​flashlights is often extremely similar.
For the sake of fairness, i cannot say that there is any grace or high design finds here. The appearance of the flashlight is quite simple. But it is precisely that combination of size, weight and brutal simplicity of design that gives the overall winning effect.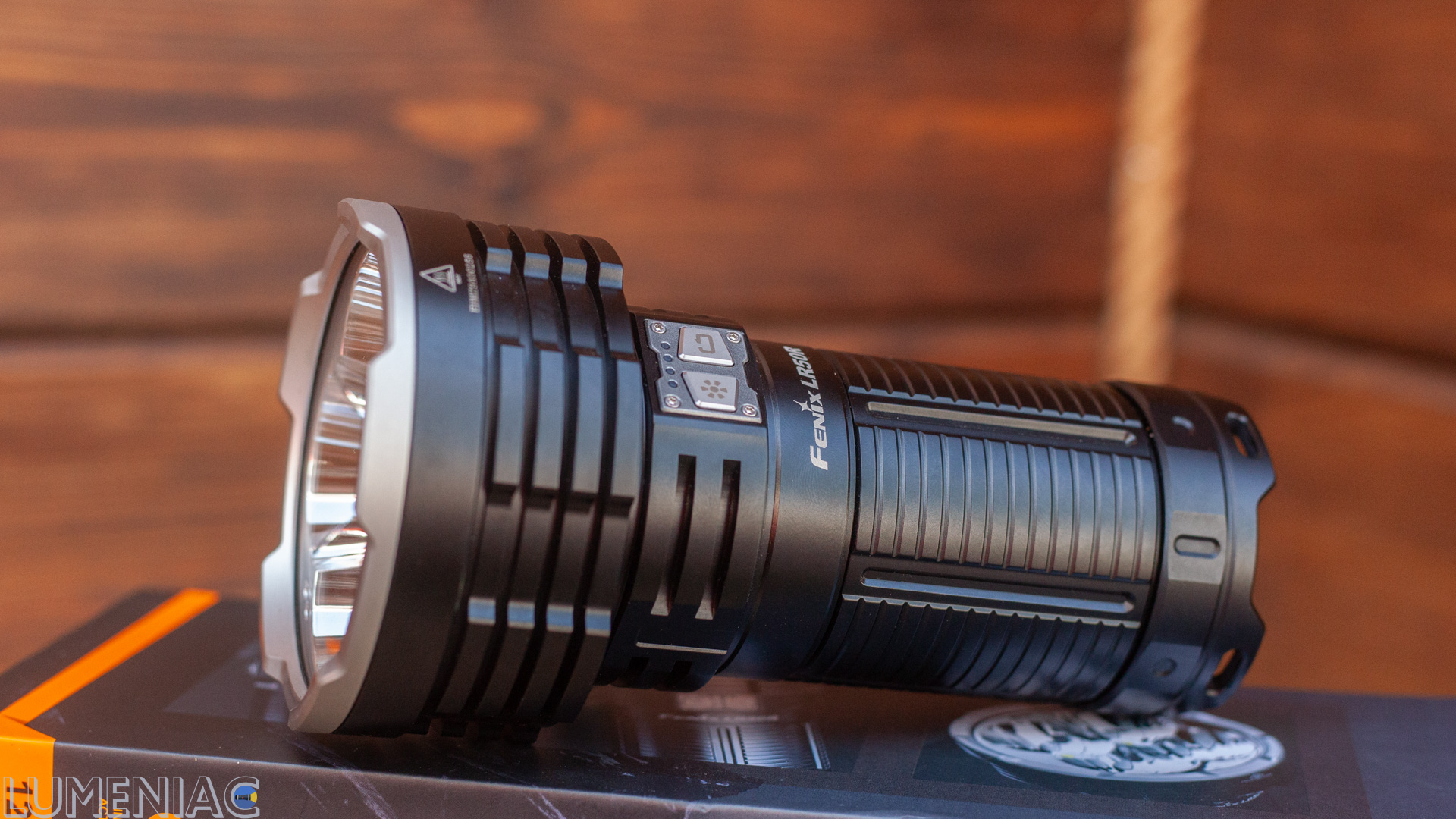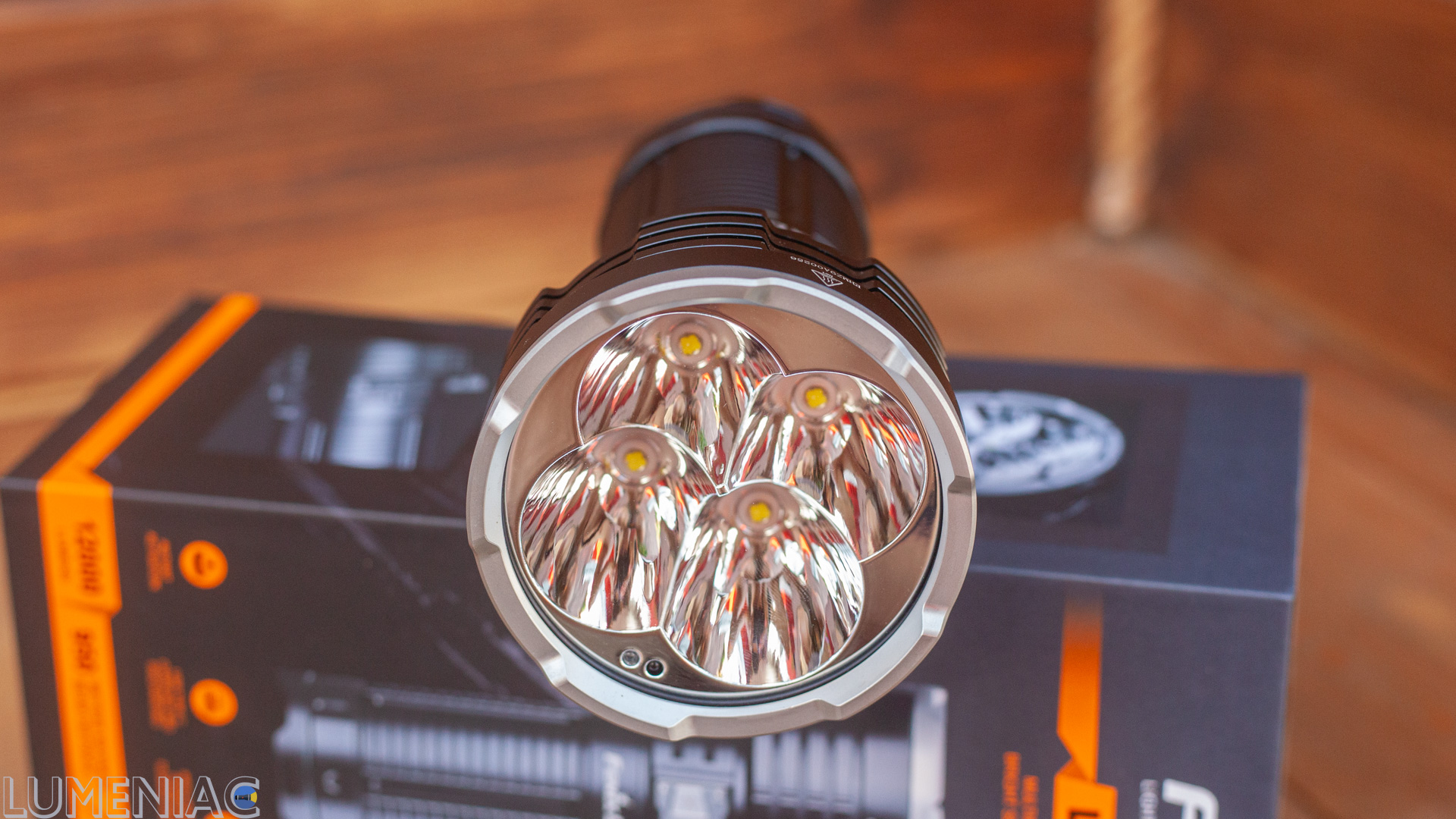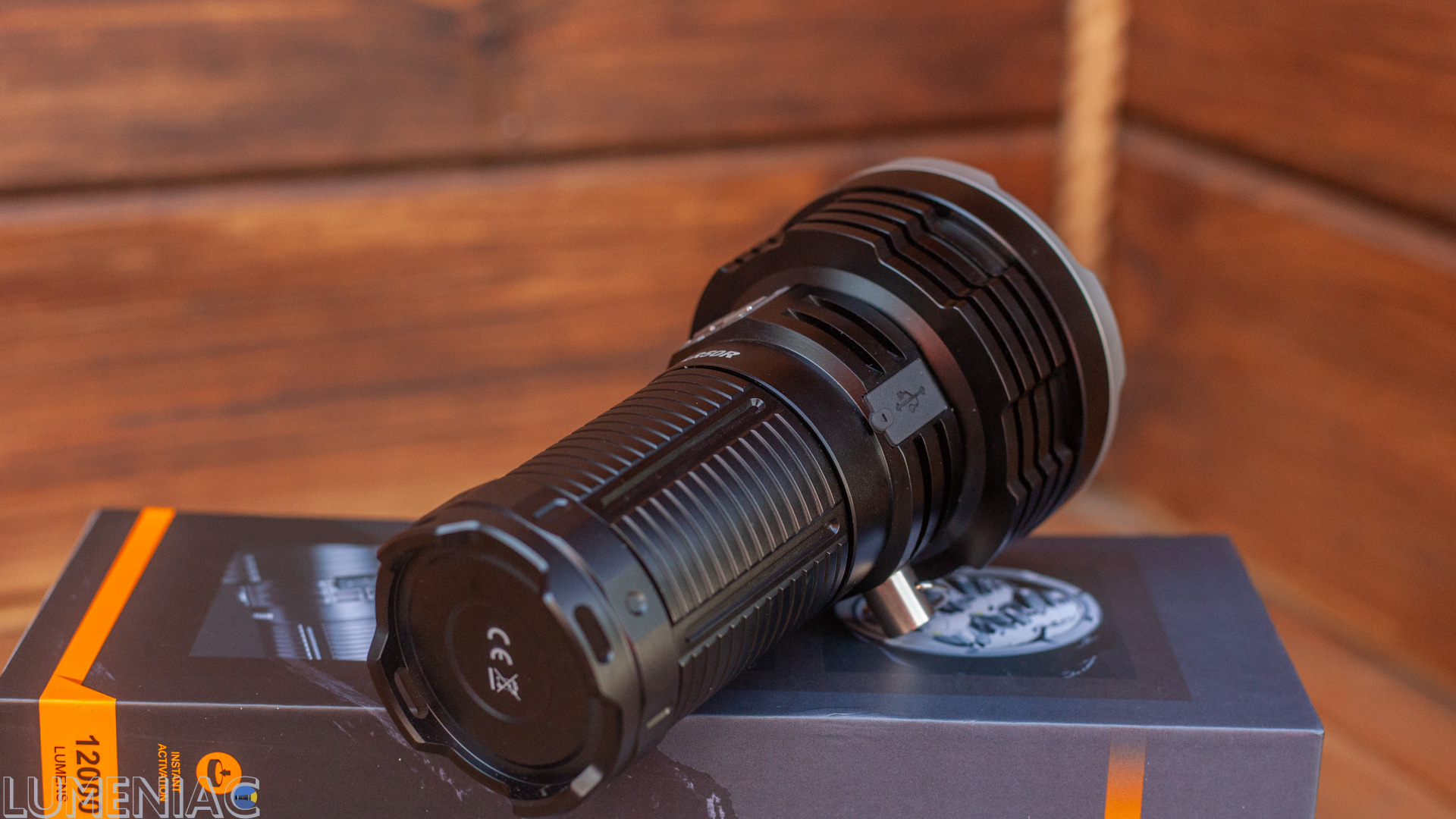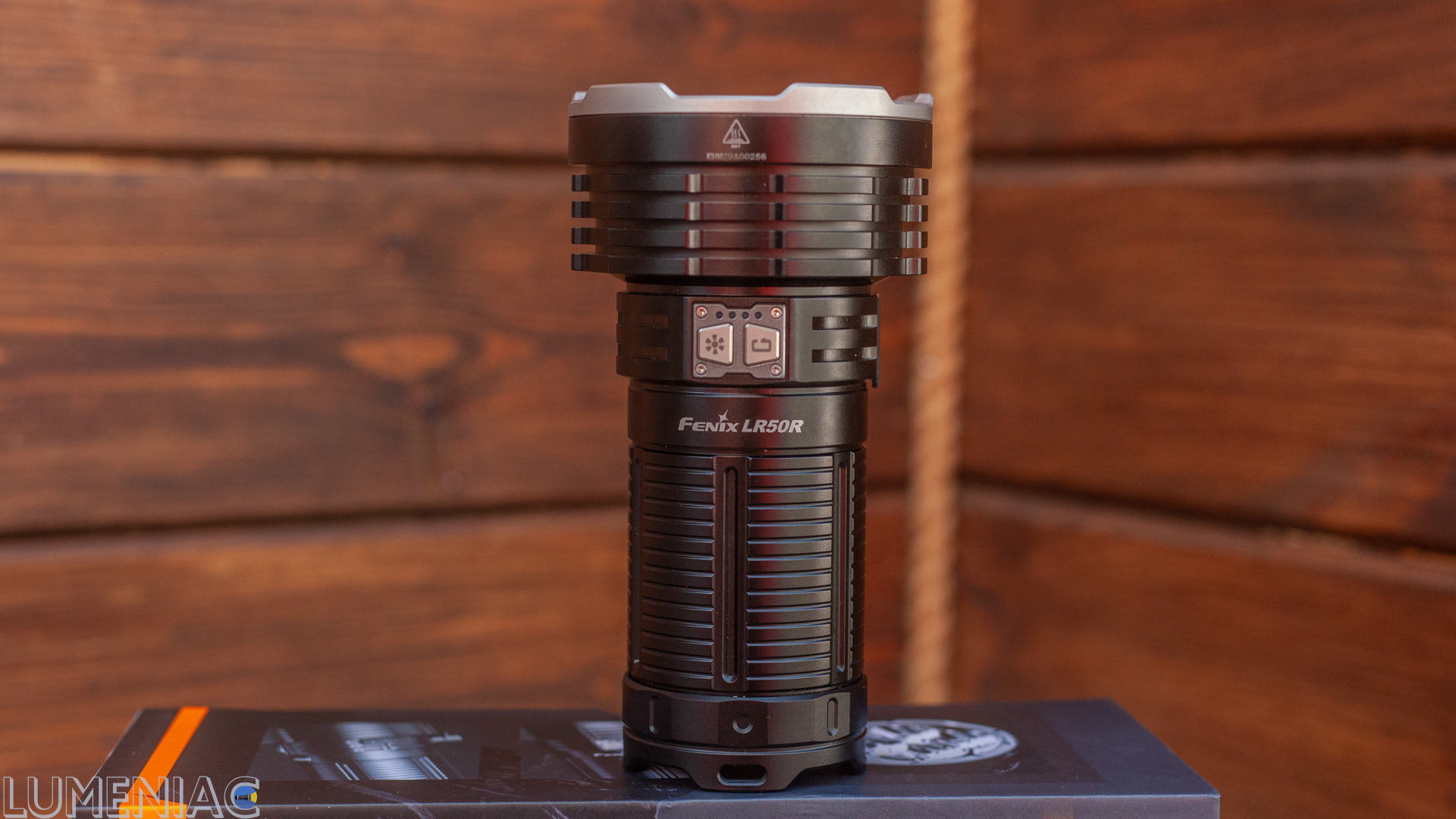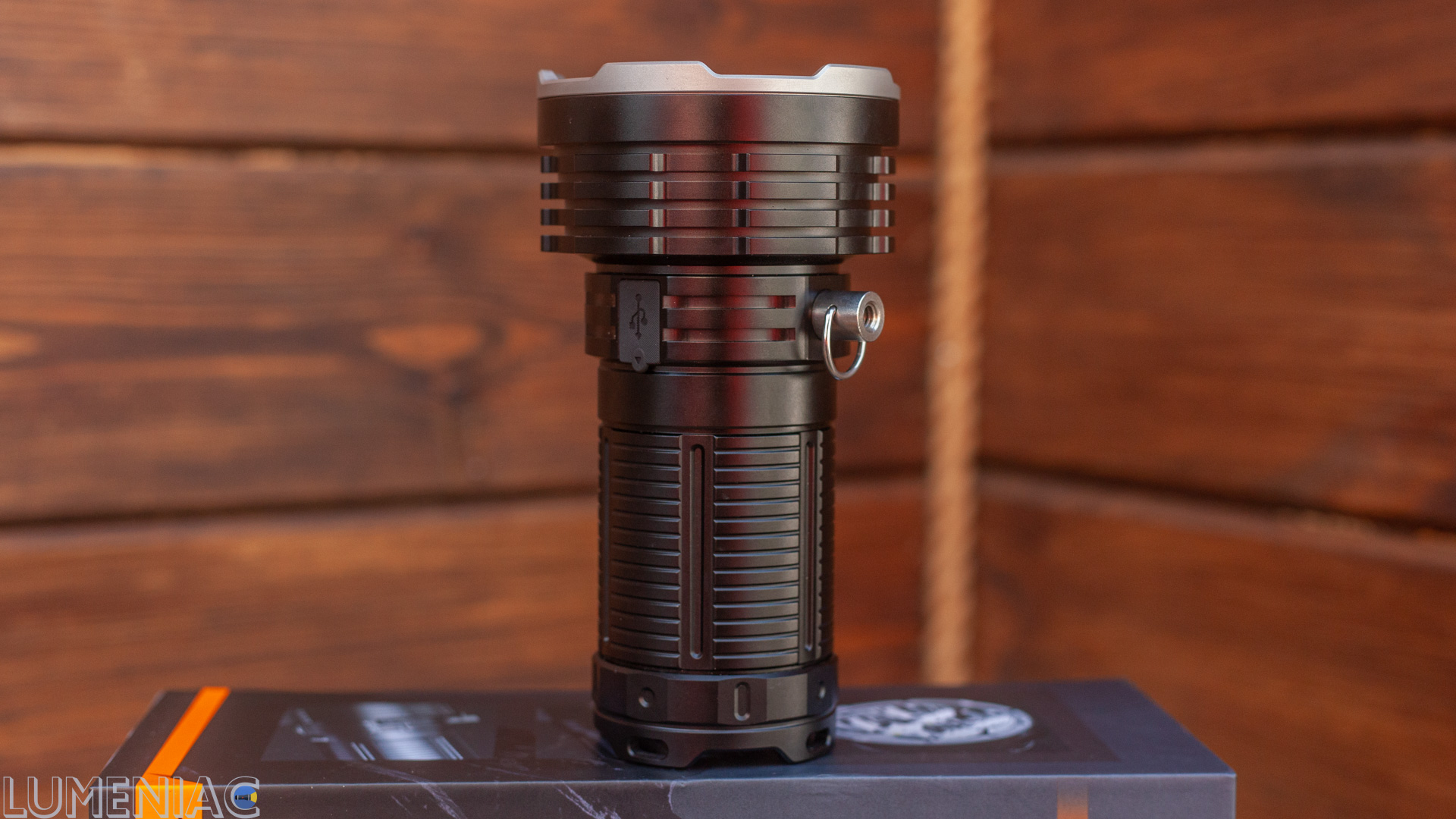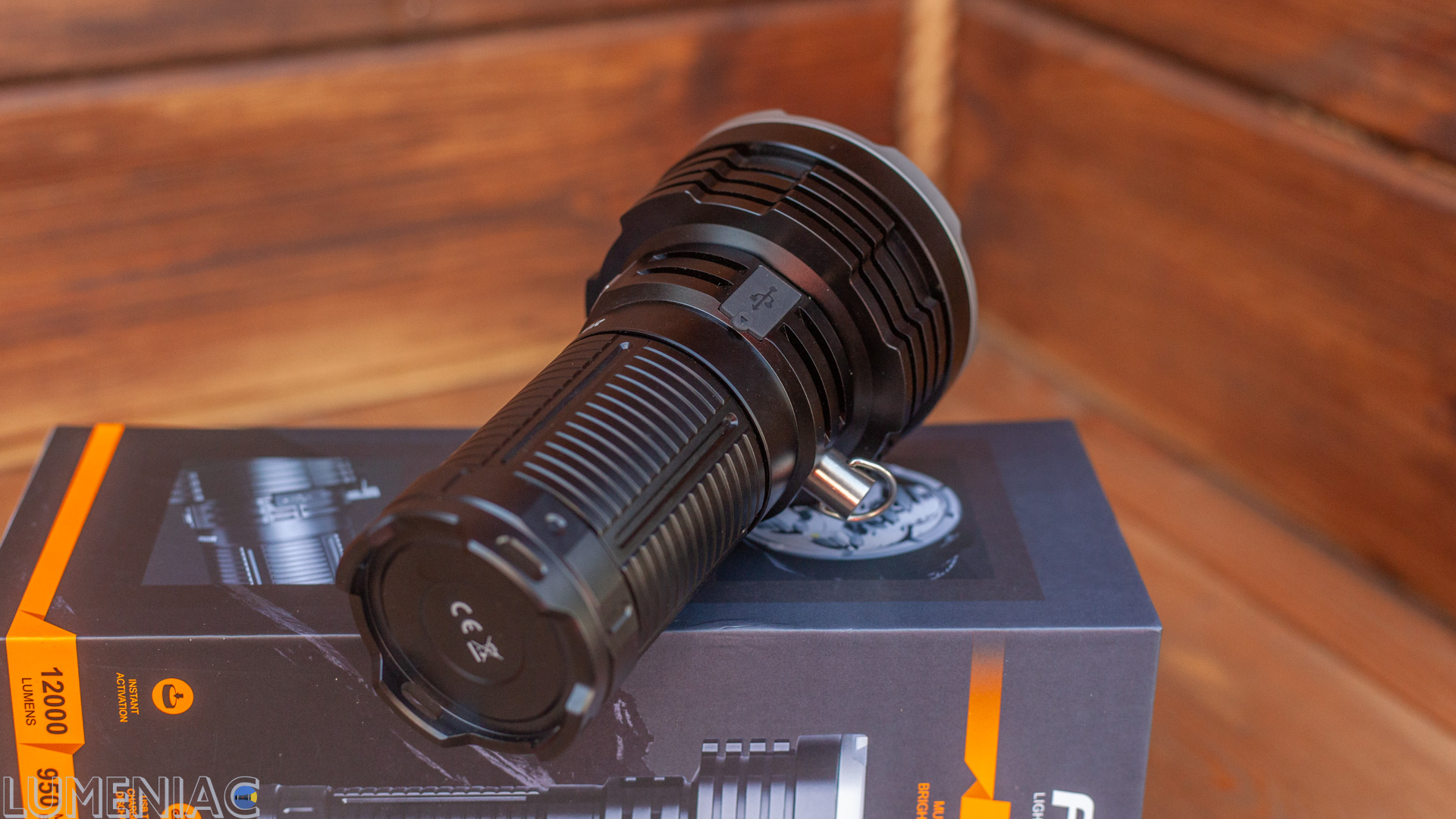 The flashlight can be disassembled into 2 parts.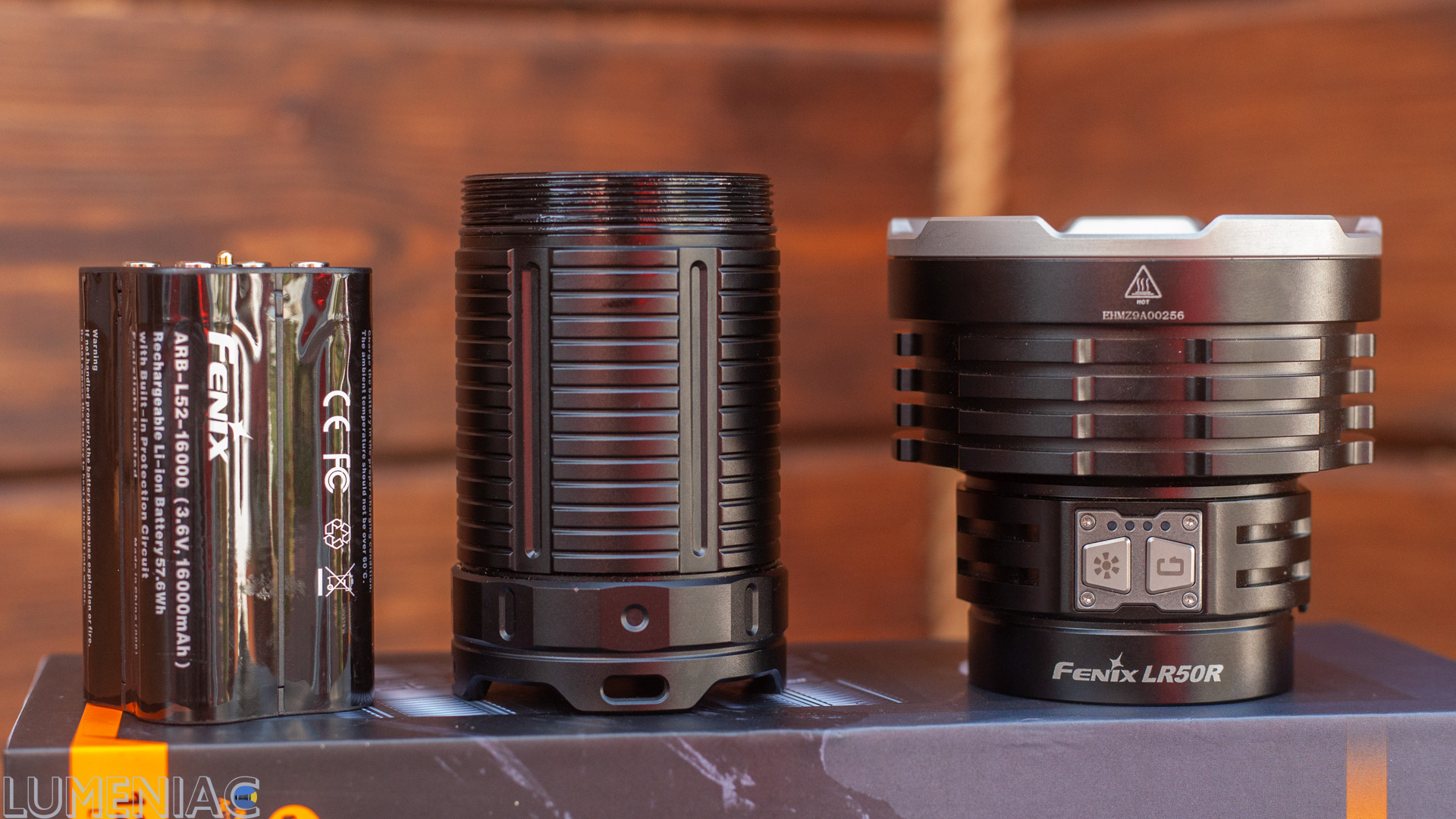 The thread is well lubricated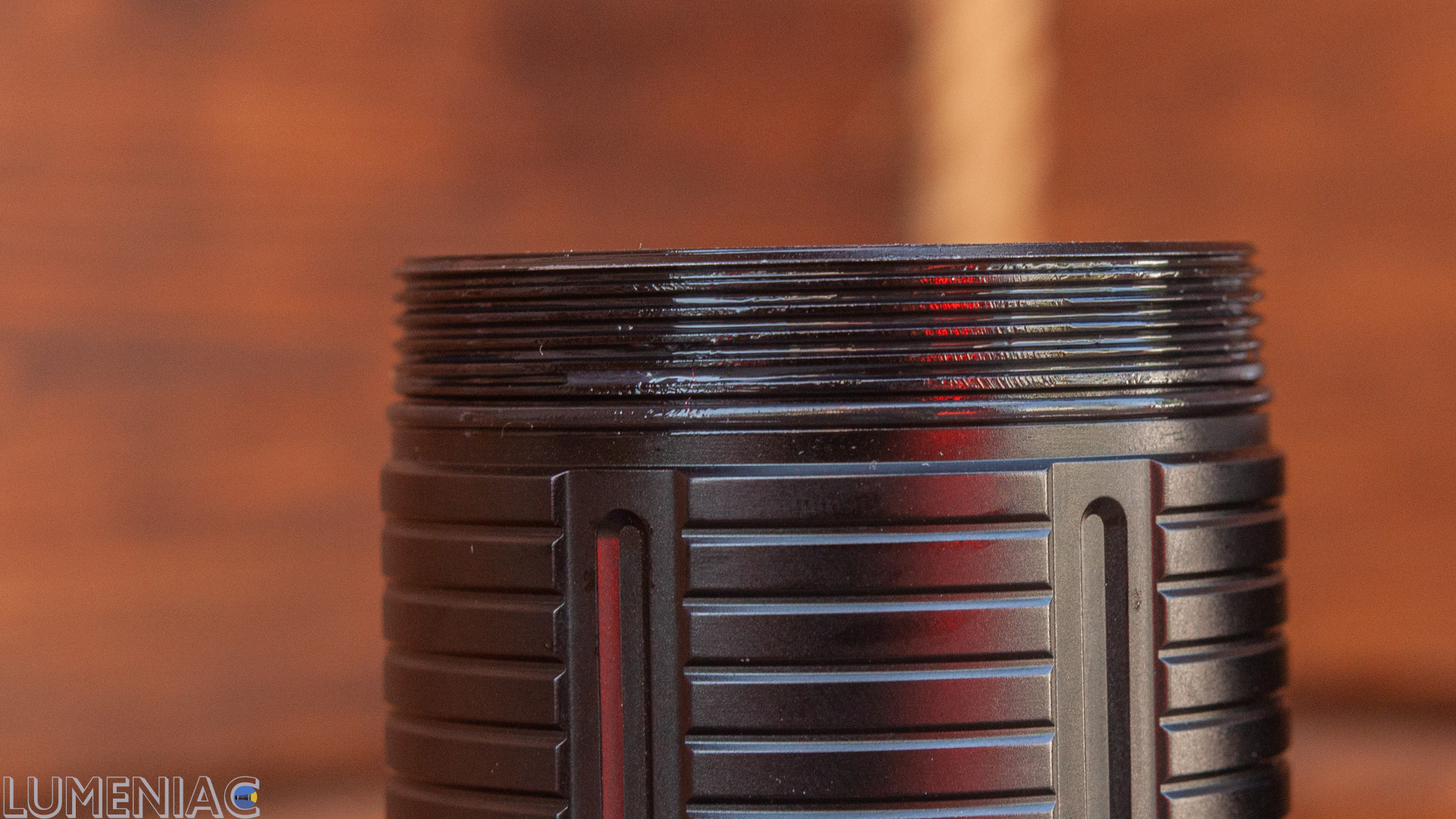 A battery pack consists of 4*21700 4000mah. In general, a tolerable option, the main thing is that the battery is not built-in here. If you already have the money for such a flashlight, then you will probably find finances for a spare battery. I must also say my thanx to Fenix because they let LR50R support individual 21700 batteries in case of urgent need. I have to notice that you`ll not get access to turbo mode this way, and 21700 battery should be at least button-top to touch contact ring at head.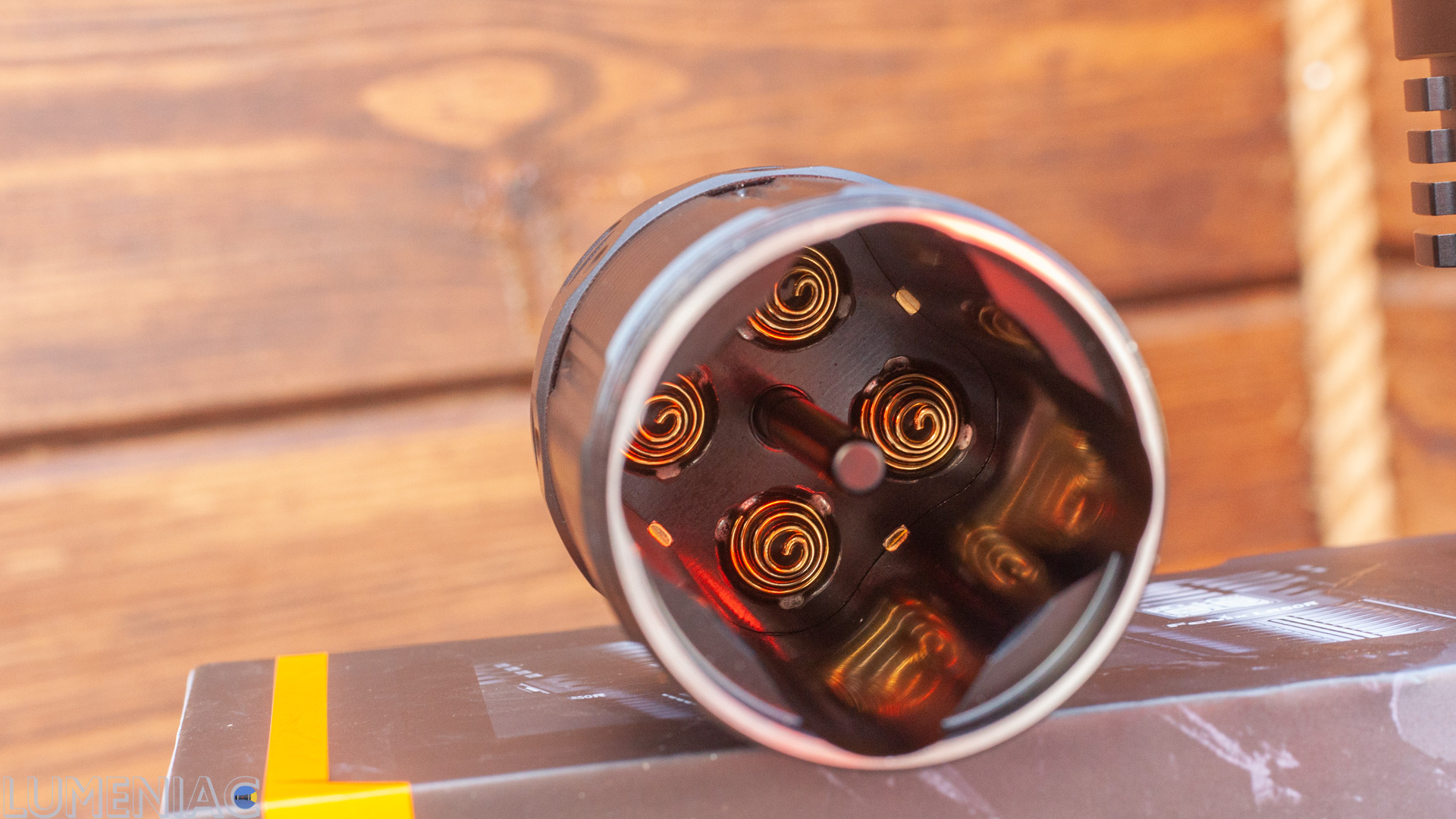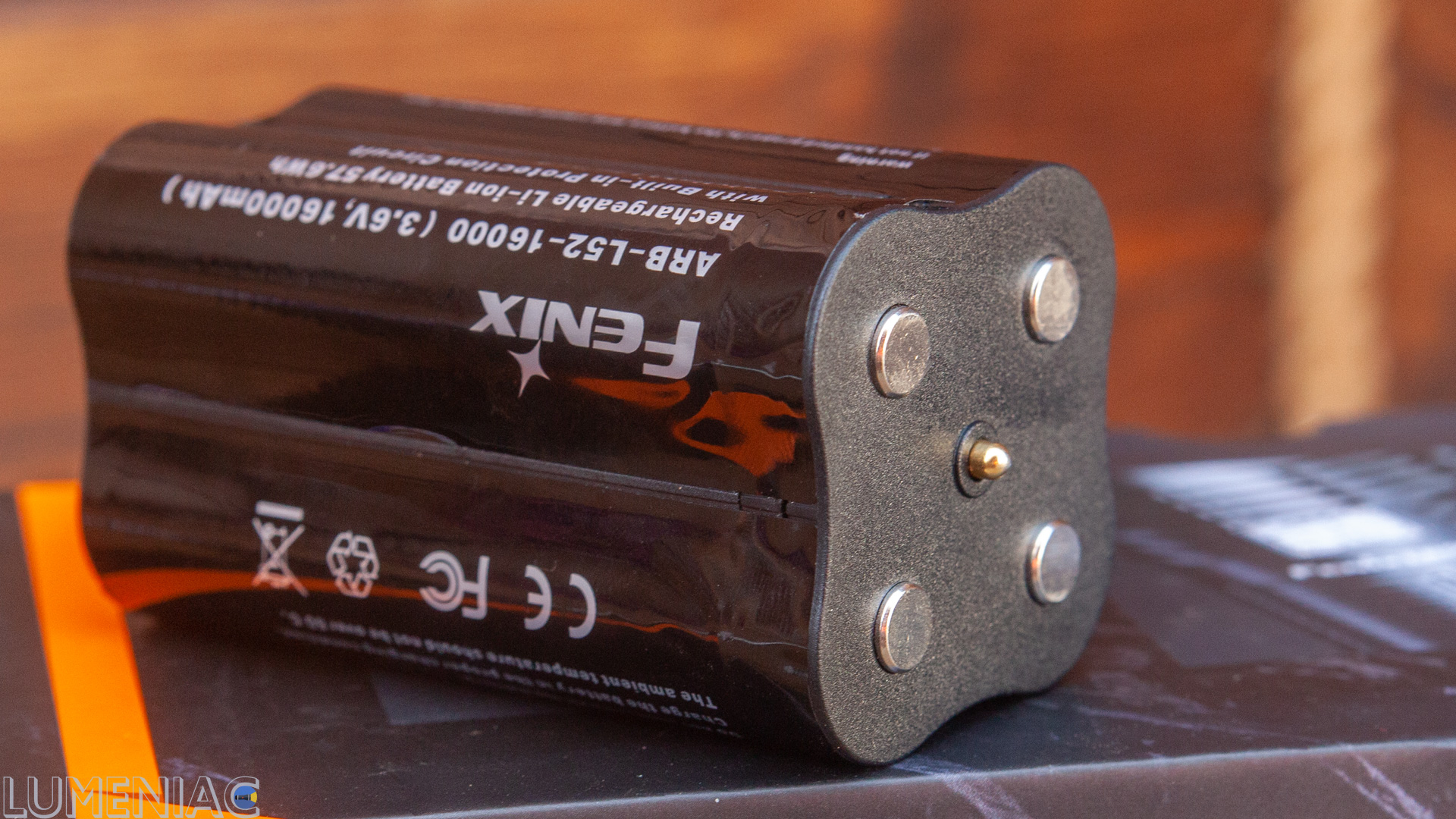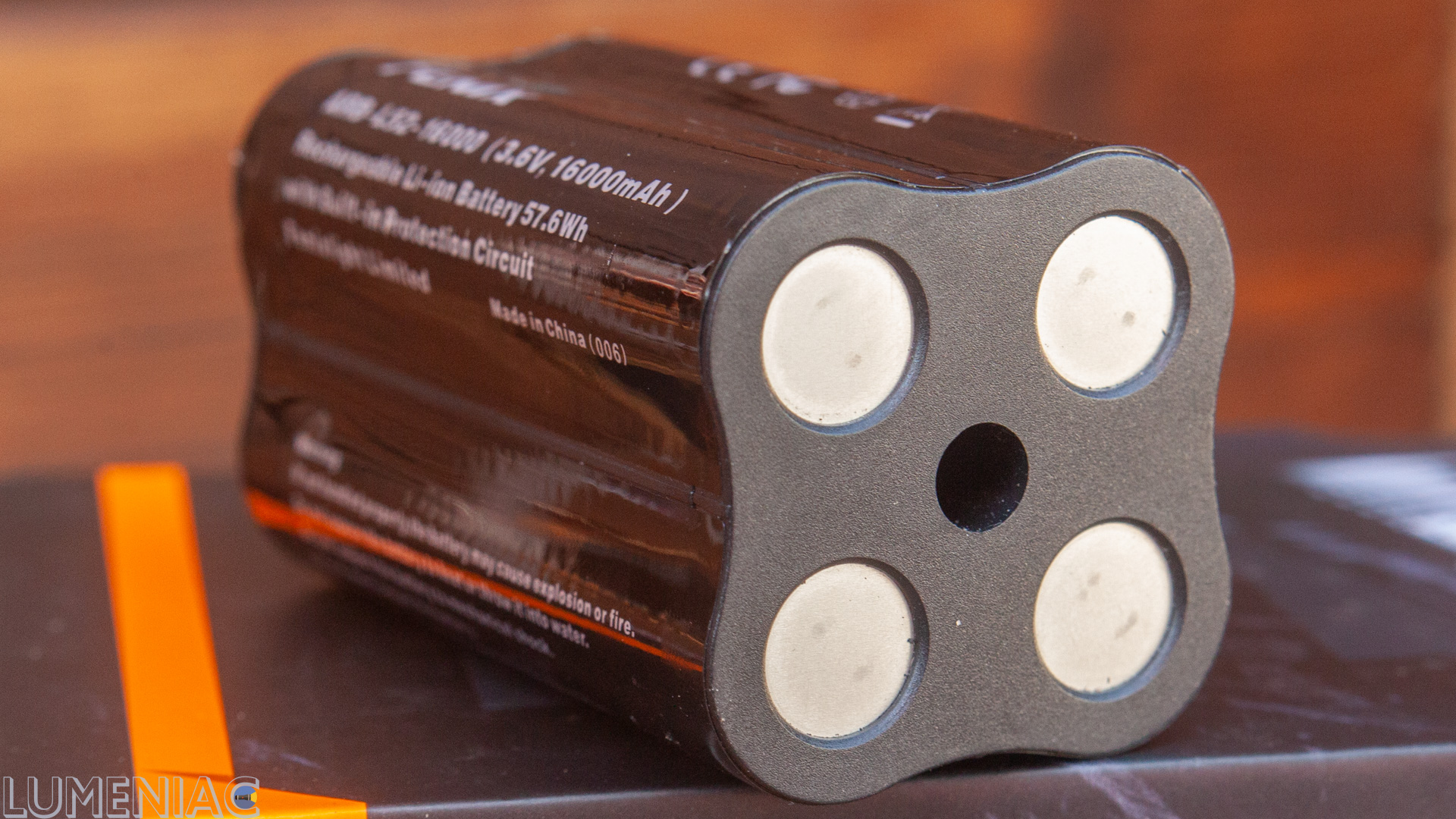 Here is is, by the way.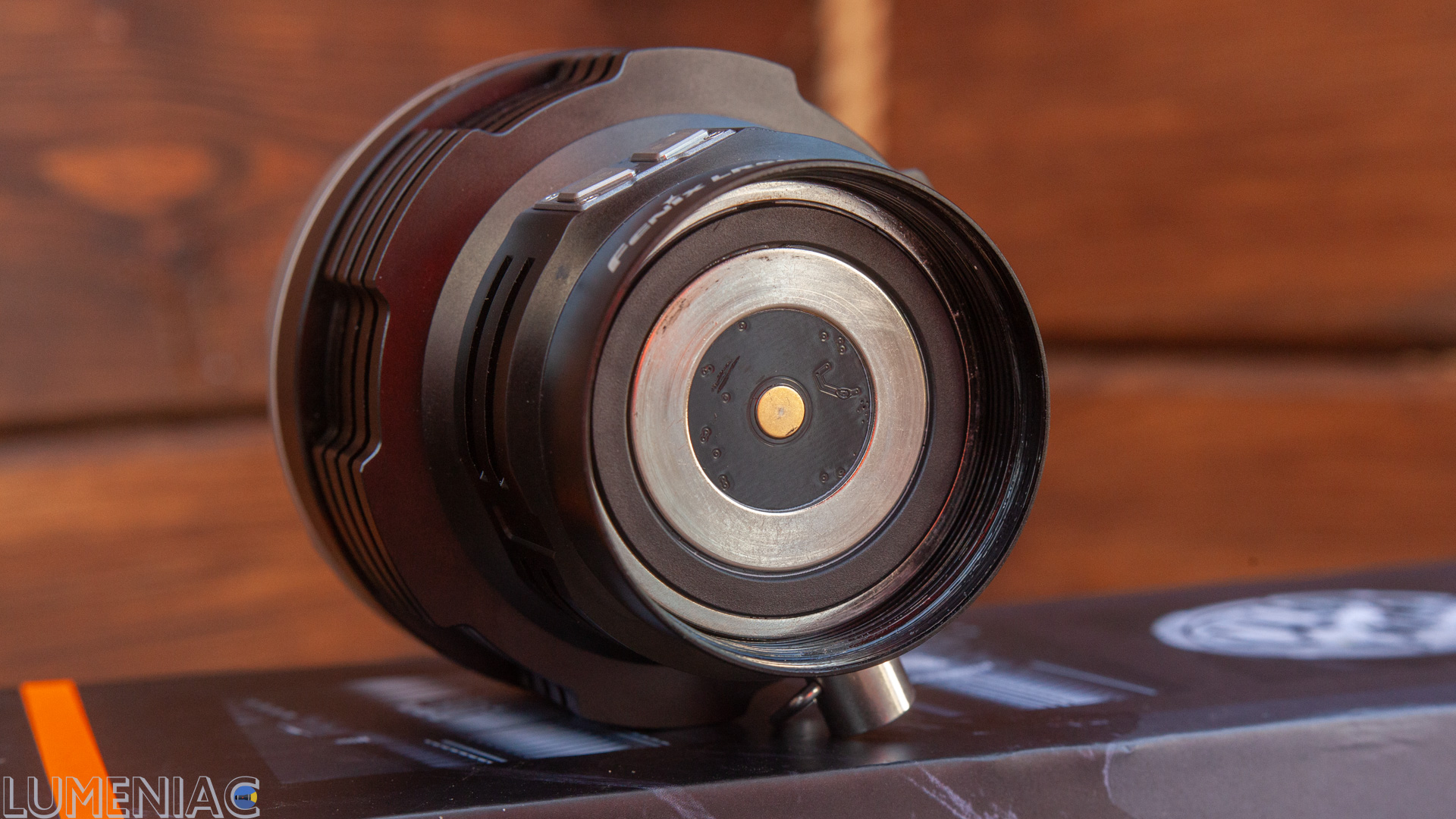 The knurling is deep and tenacious.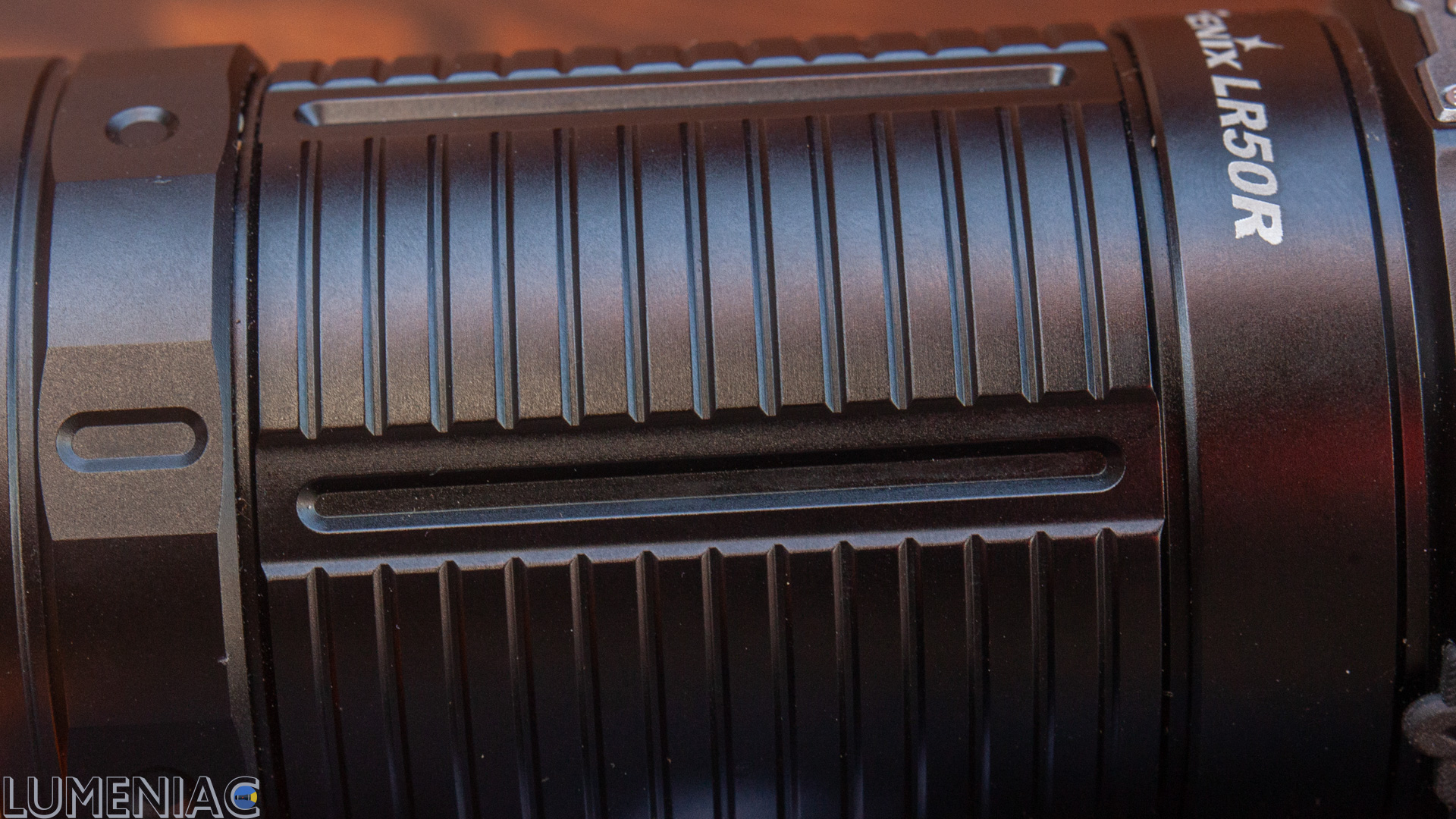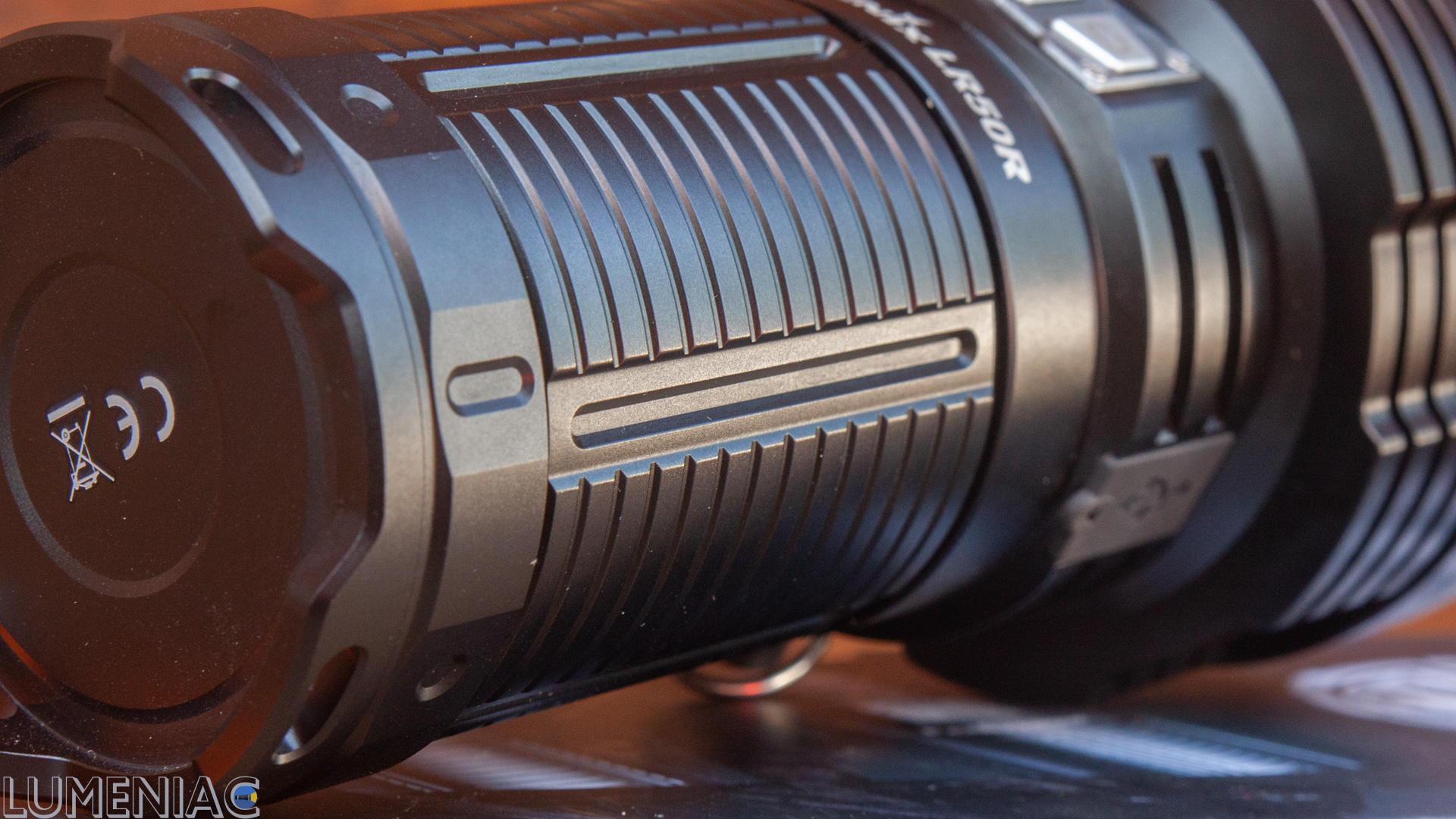 But still, a medium-sized palm will not fully cover such a flashlight. A truly comfortable and reliable grip will be available only for those who have really large palms. Given that the weight of the flashlight implies using a shoulder strap during long-term use, I don't see any obvious problem with this.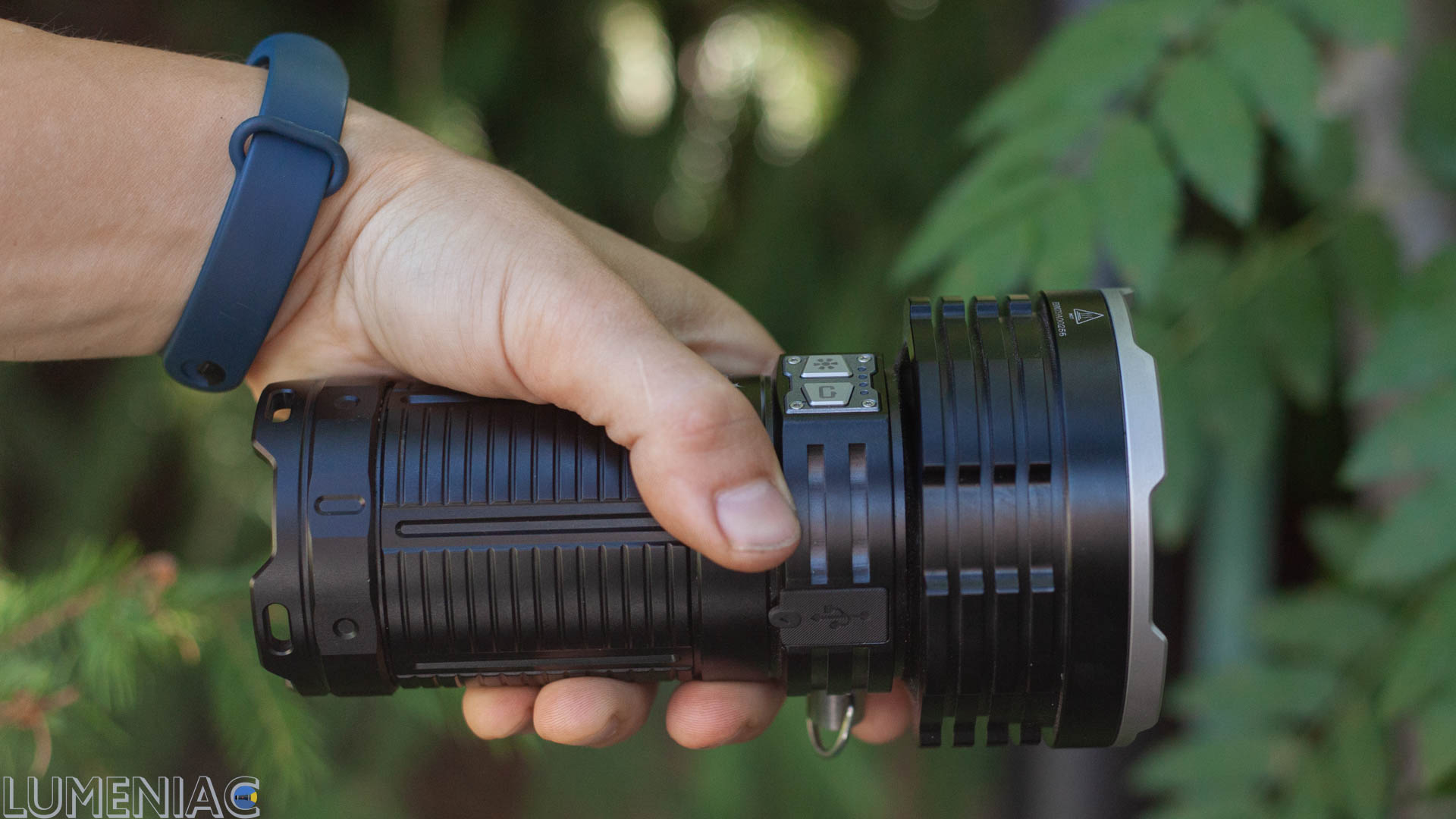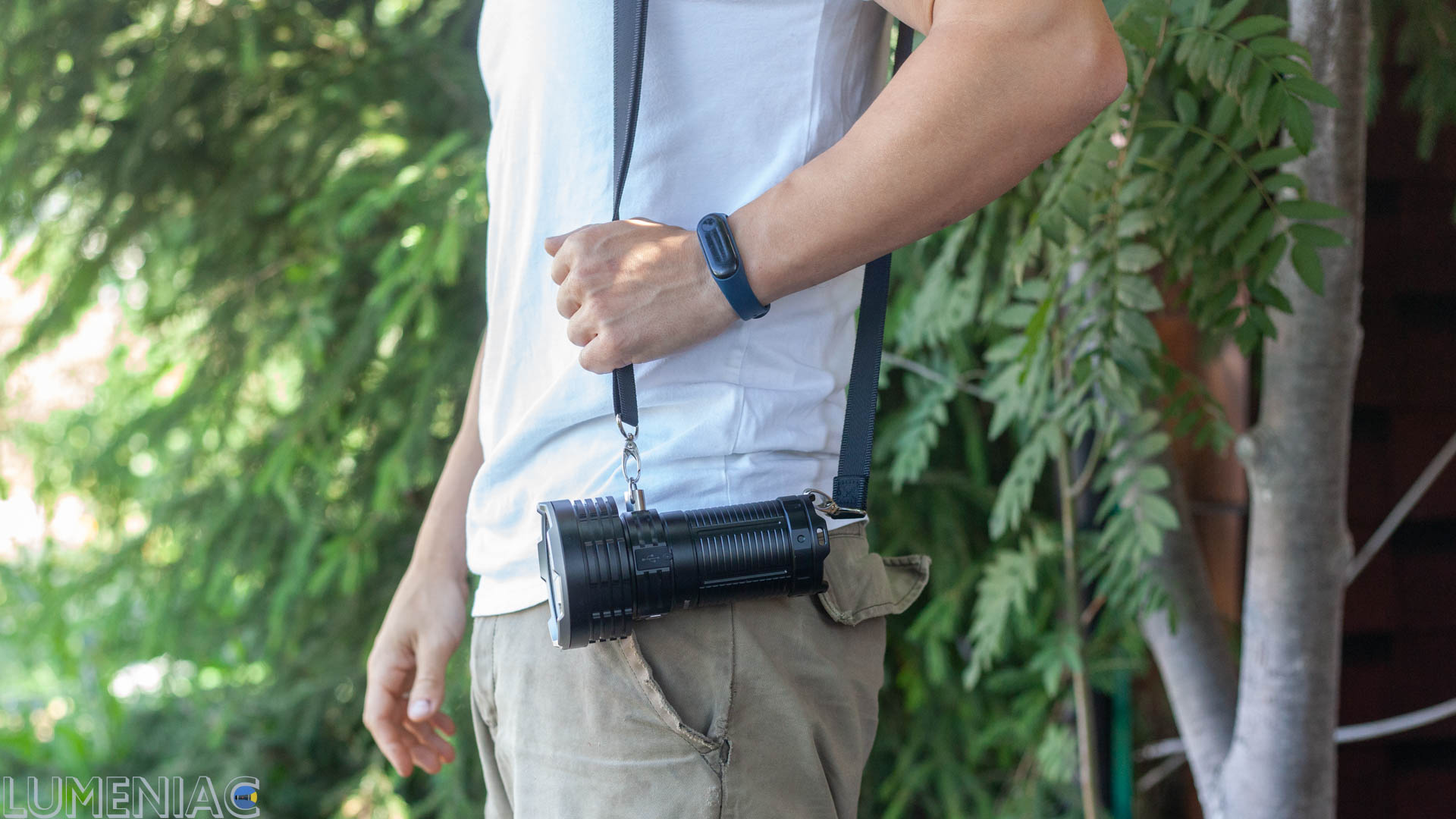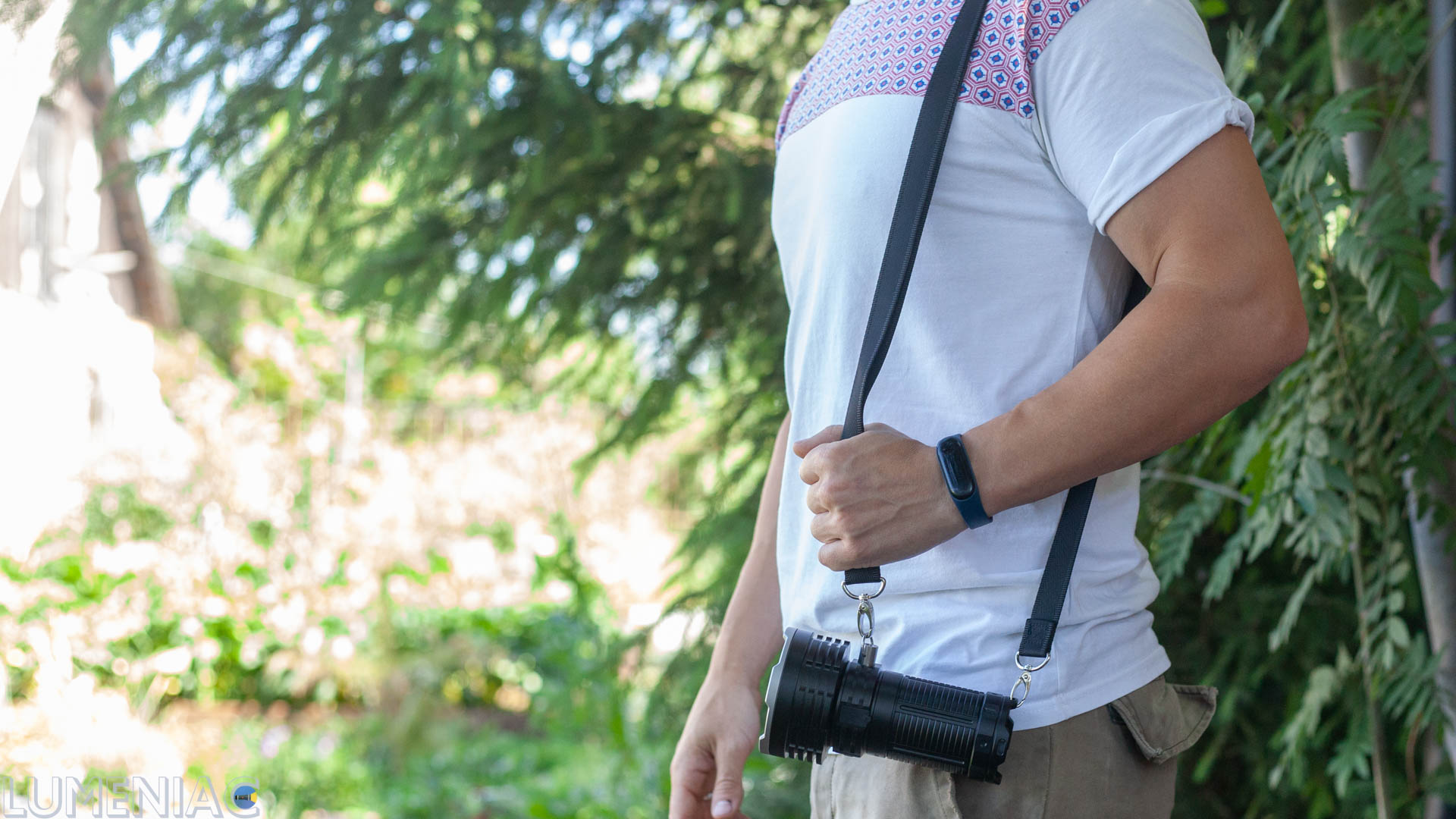 2 buttons on the head help to bypass that simplicity of Fenix UI that i dont like so much. U get quick access to turbo, strobe, and lock mode. I dont see any disadvantages here, only cool design.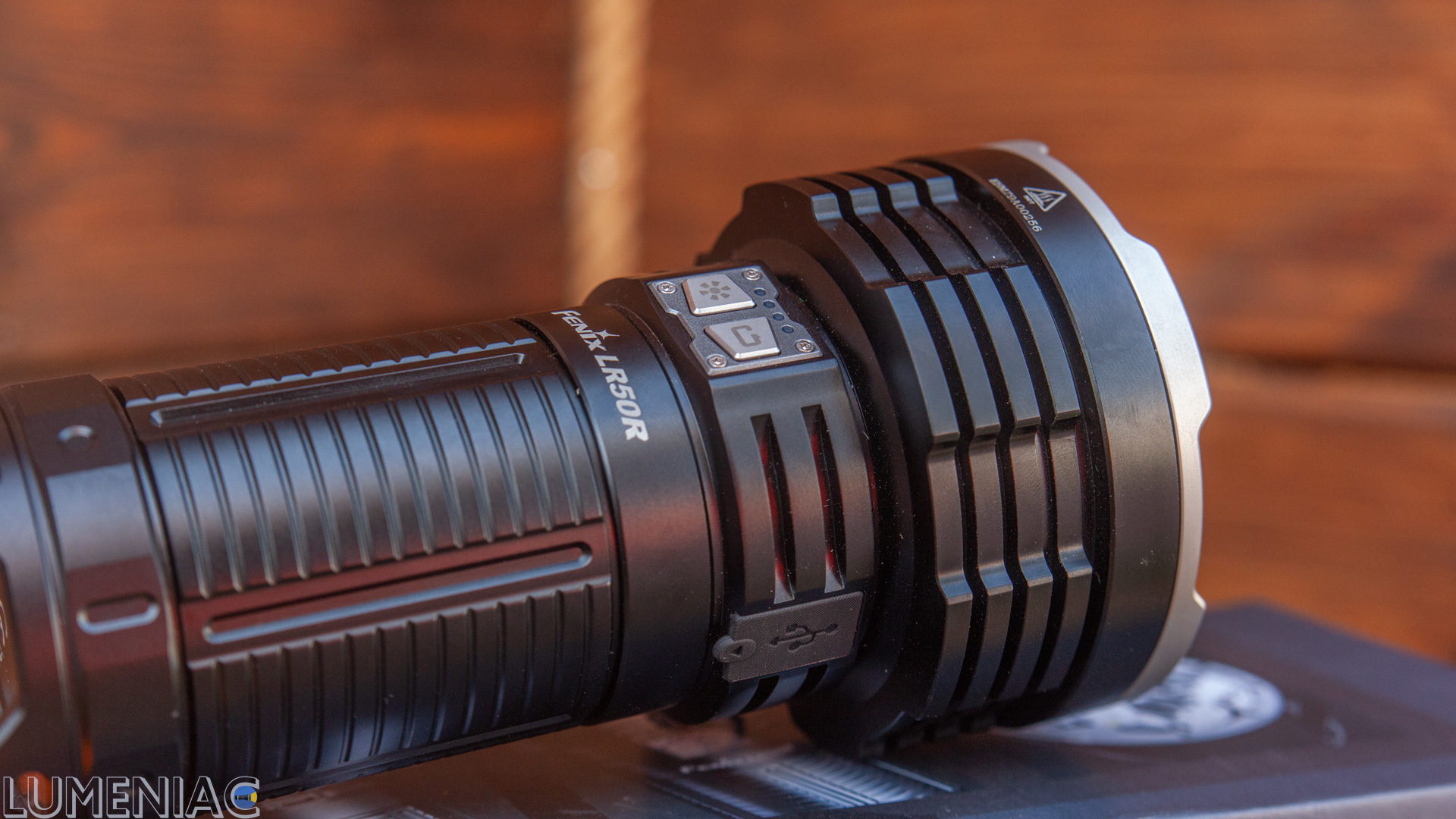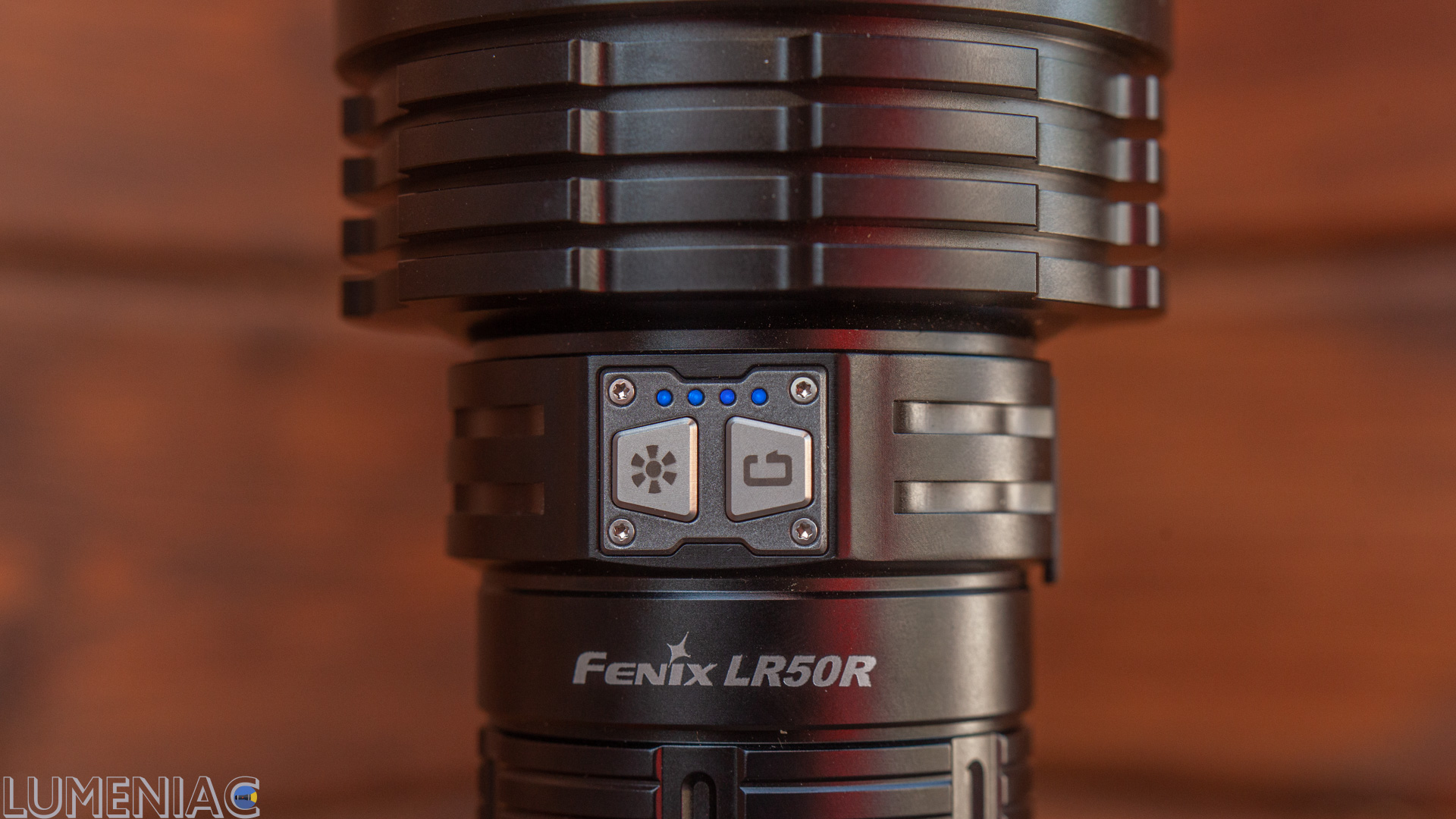 Slightly to the side of them is a flat and rough Type-C charging port cover.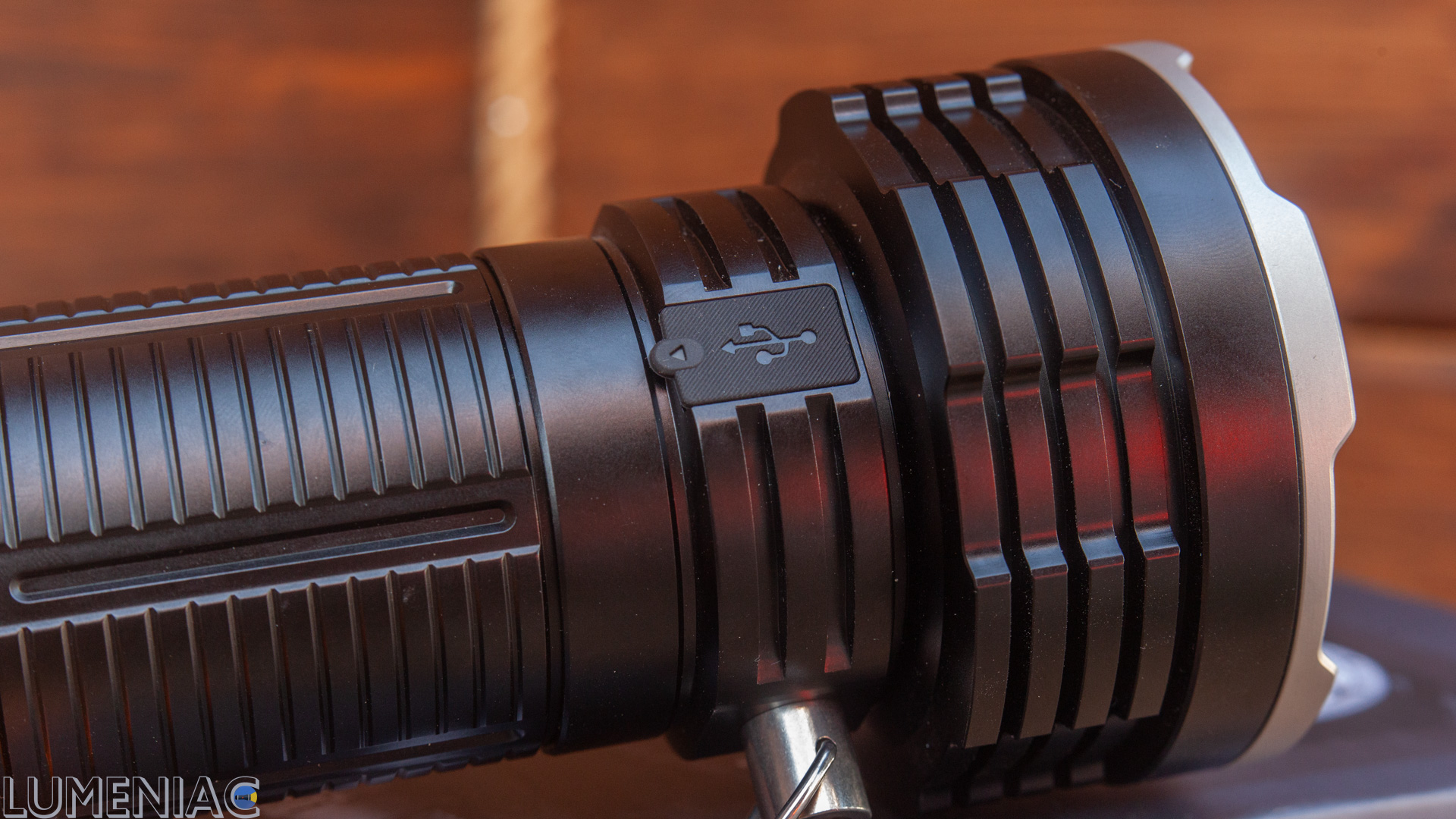 With 18W charging power it takes just 3 hours to charge 16000mah battery pack. WOW!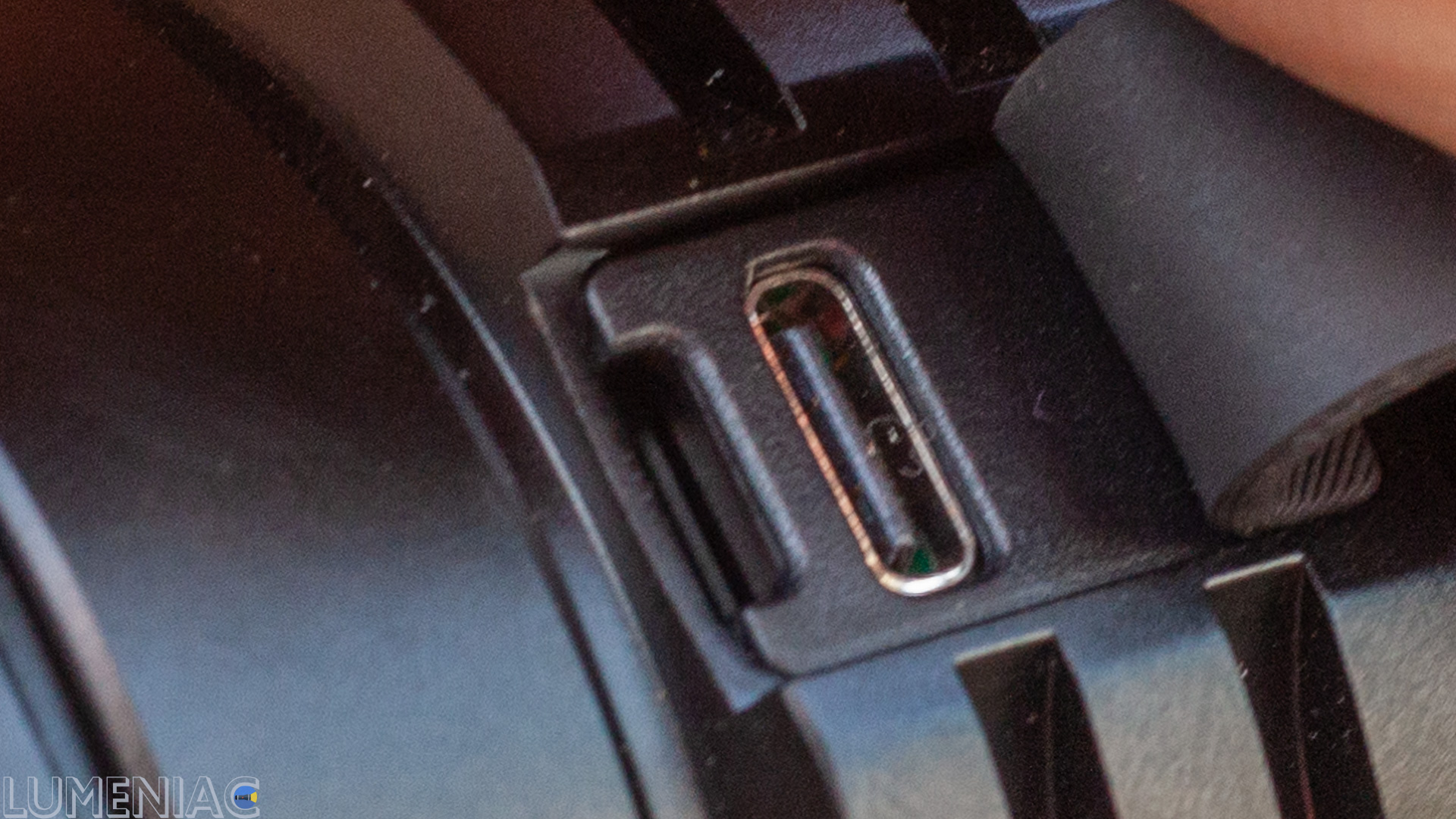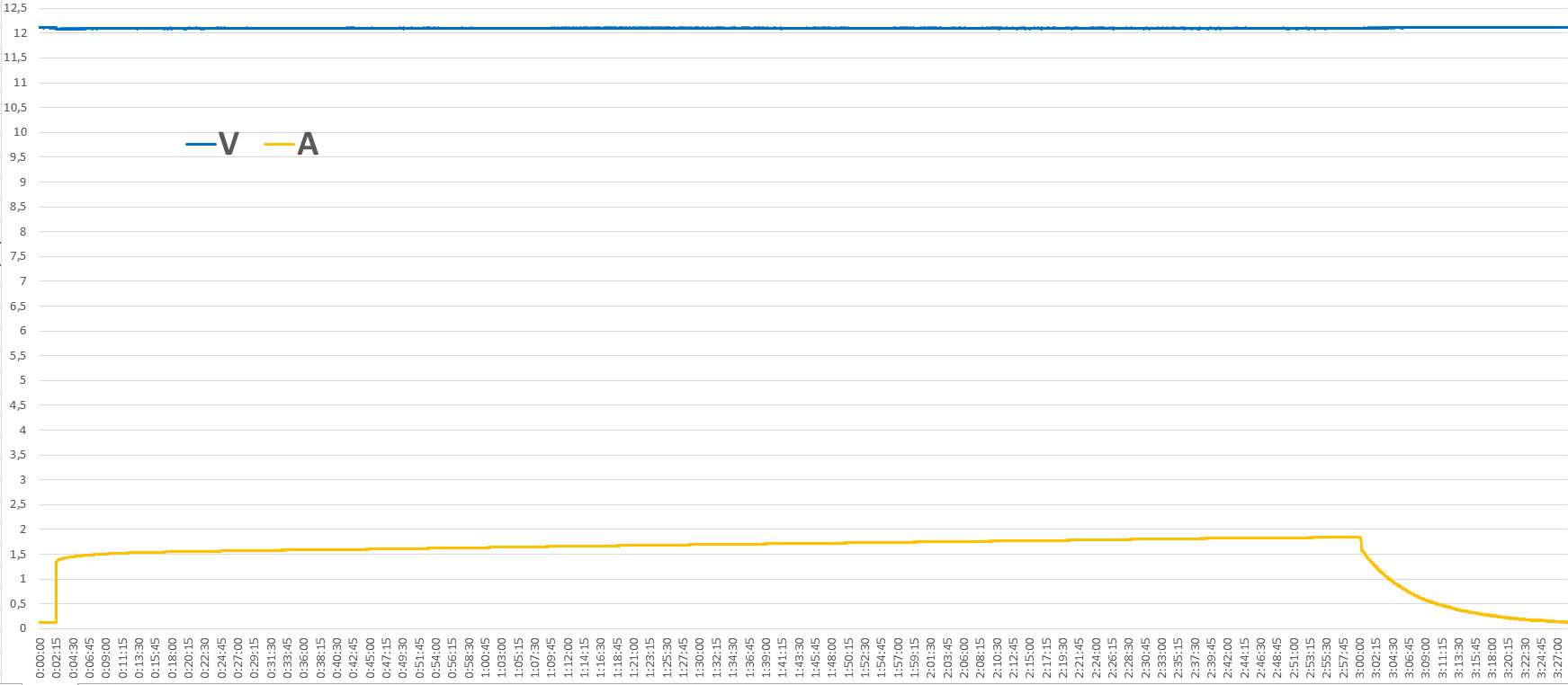 The power bank mode has the same power.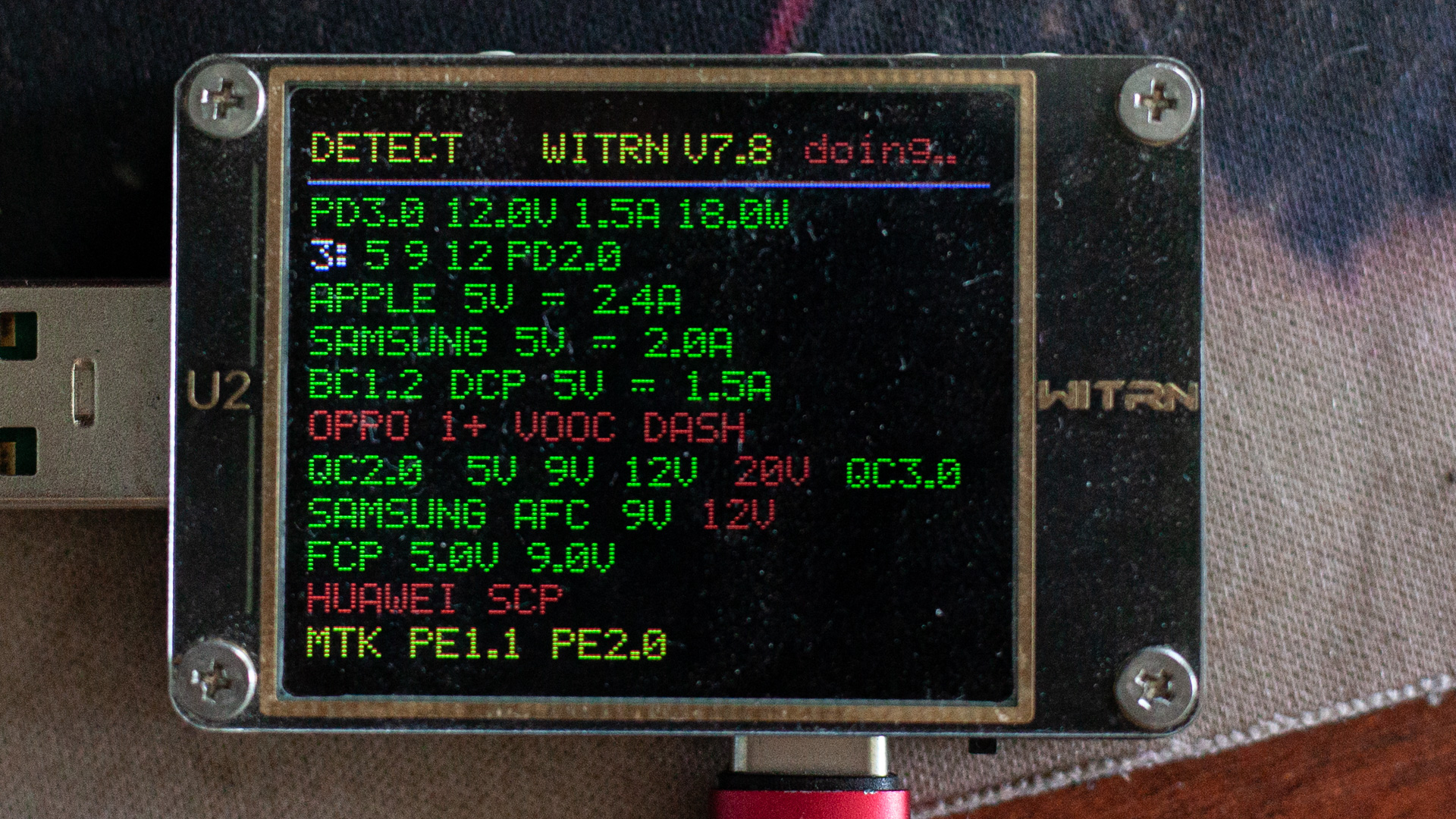 There is also a hole for a tripod mount. In my case, this cylinder was tightened so strong, that i though it was glued. This adaptor will be as useless for some people, as invaluable to others.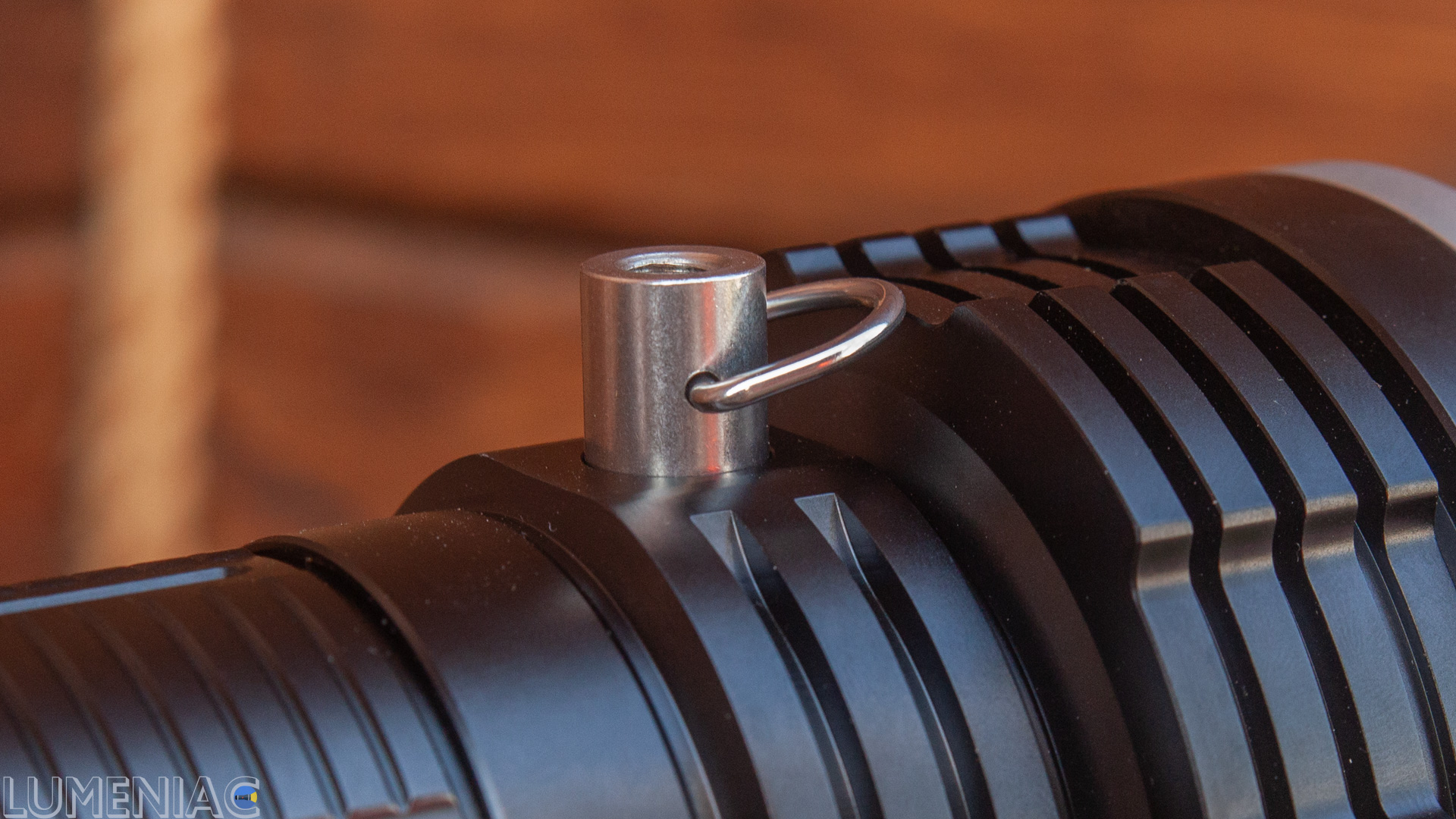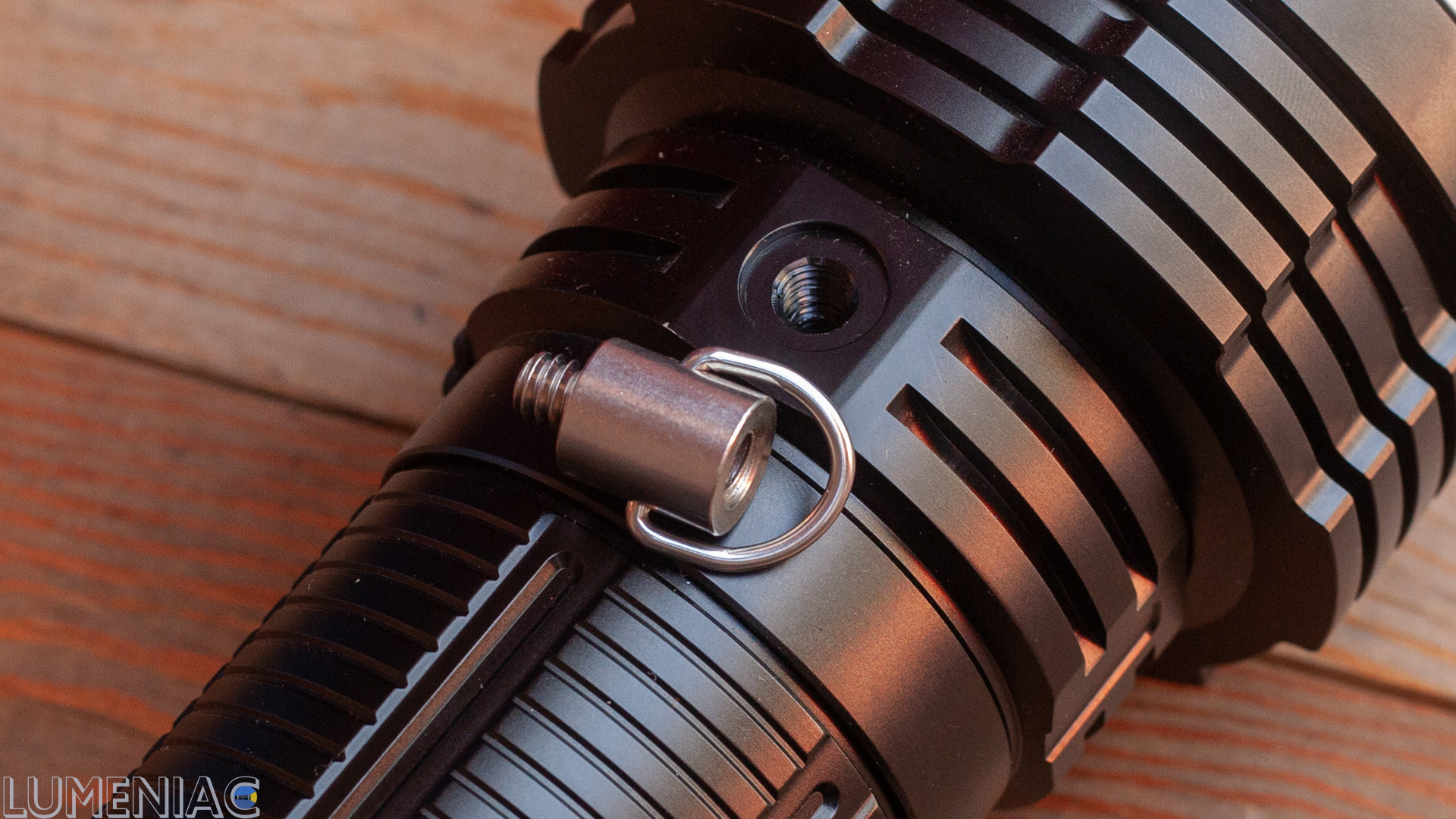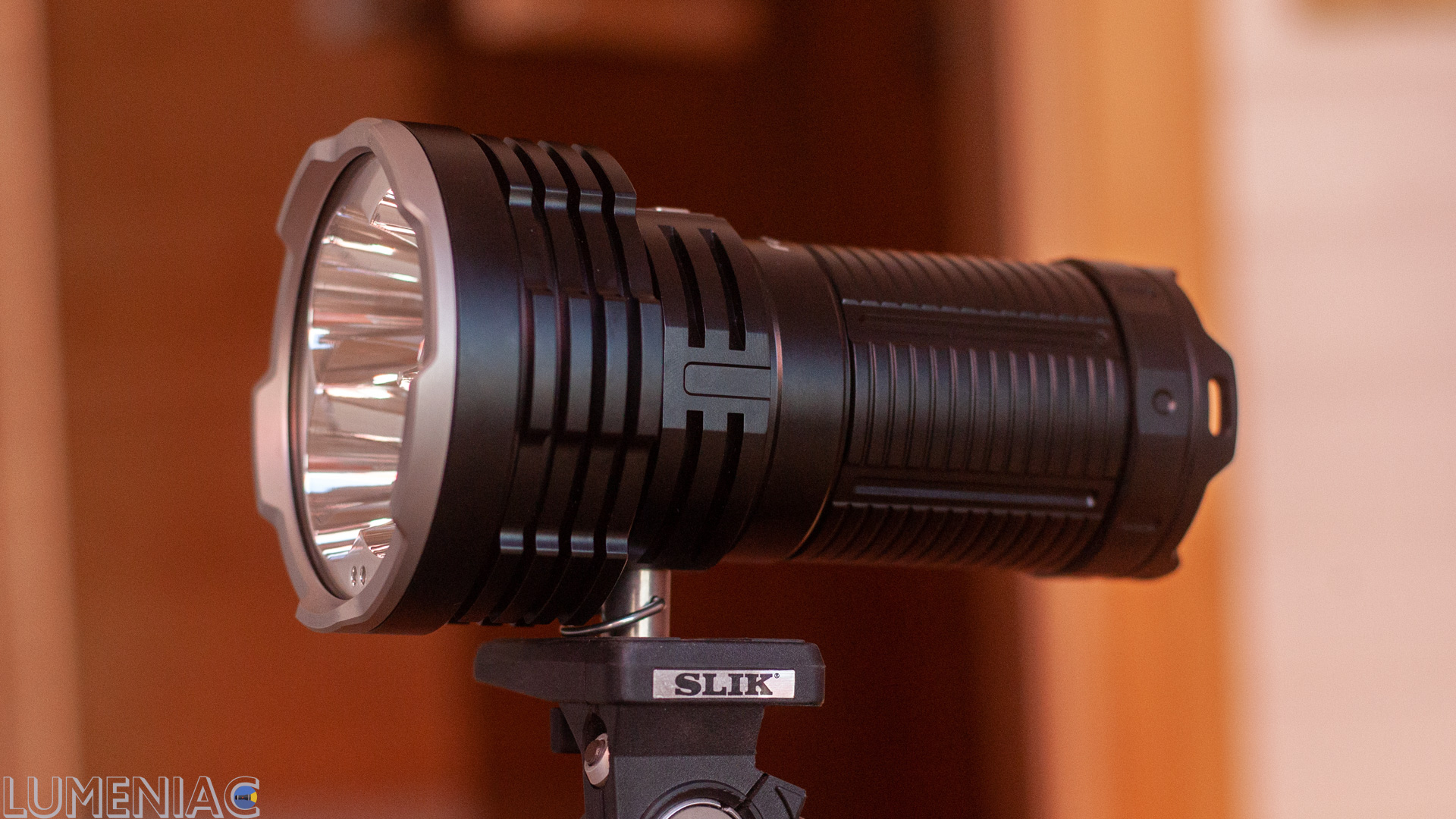 Fenix LR50R has really large head. I, of course, have seen even seen some long-range flashlights with bigger heads. But still, it is undoubtedly large. Studded with deep cooling fins, it looks pretty impressive!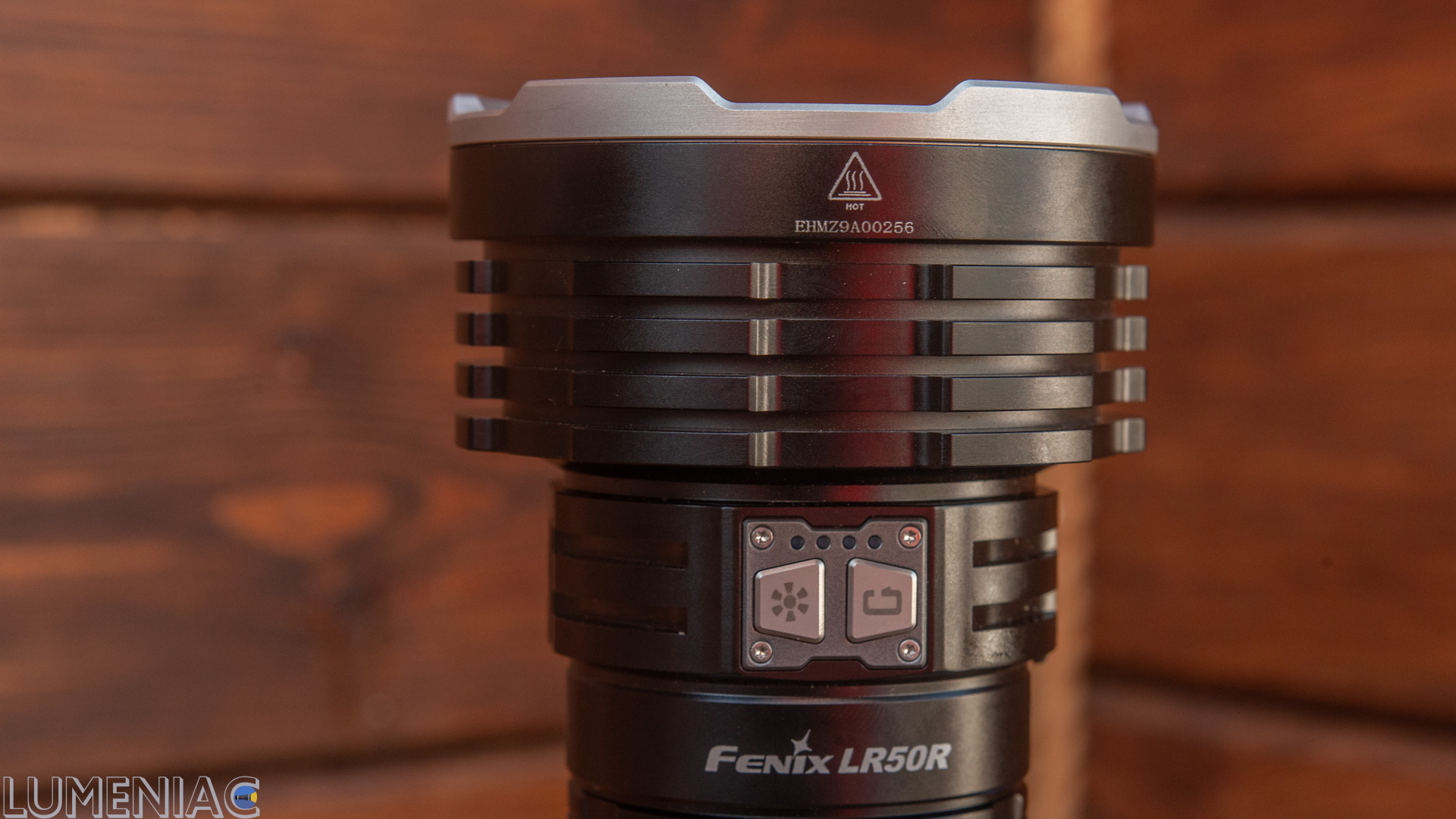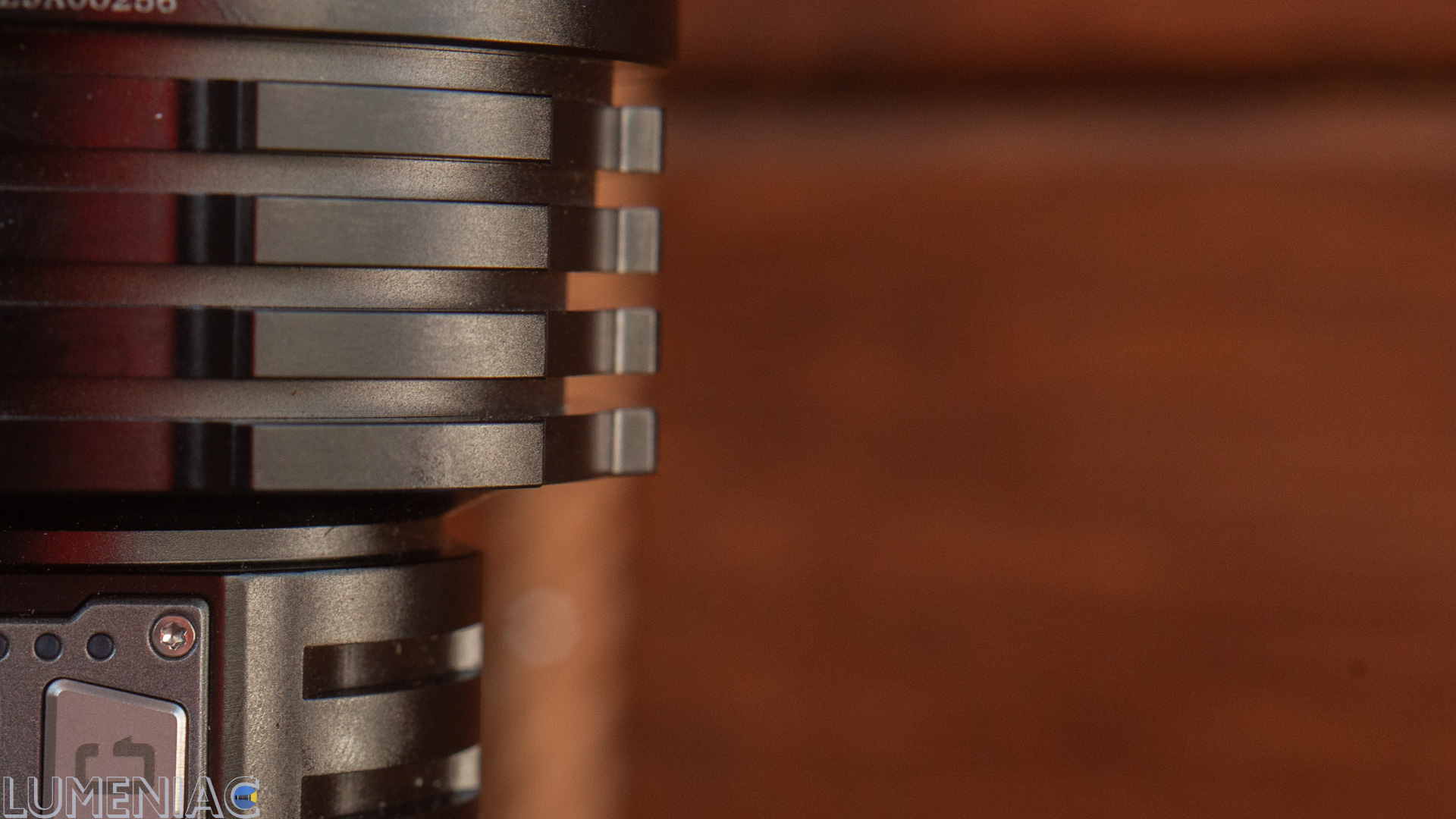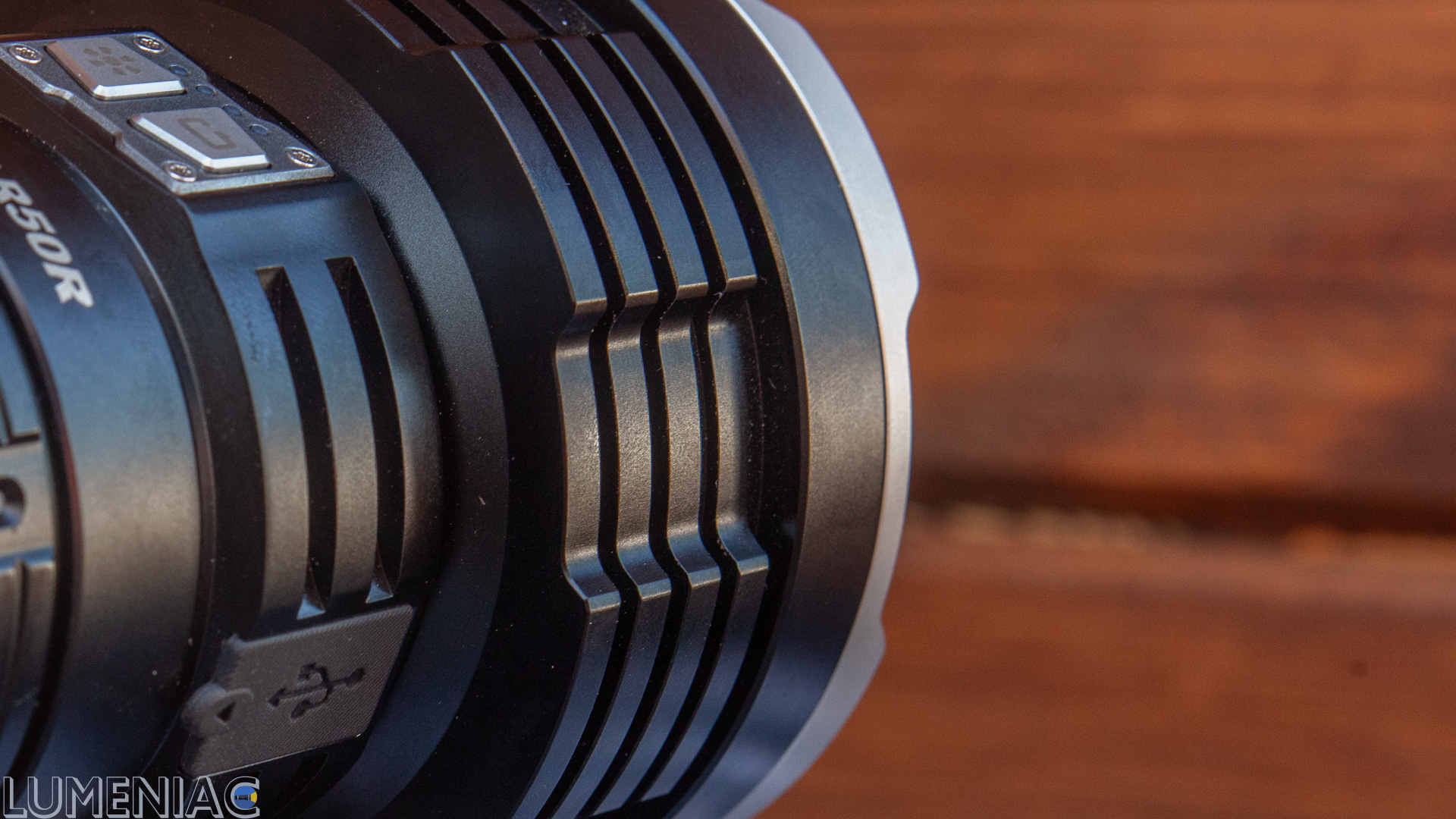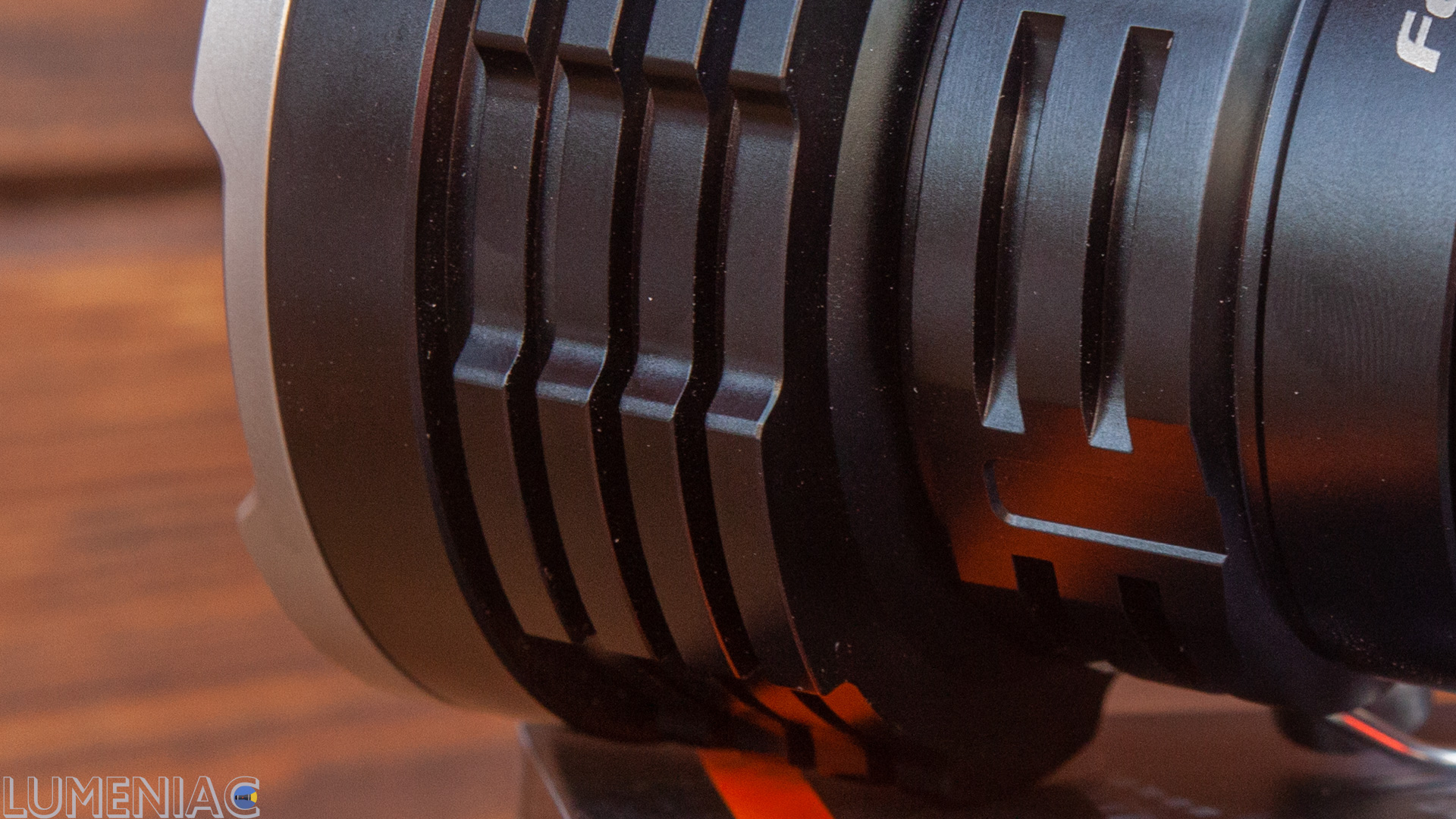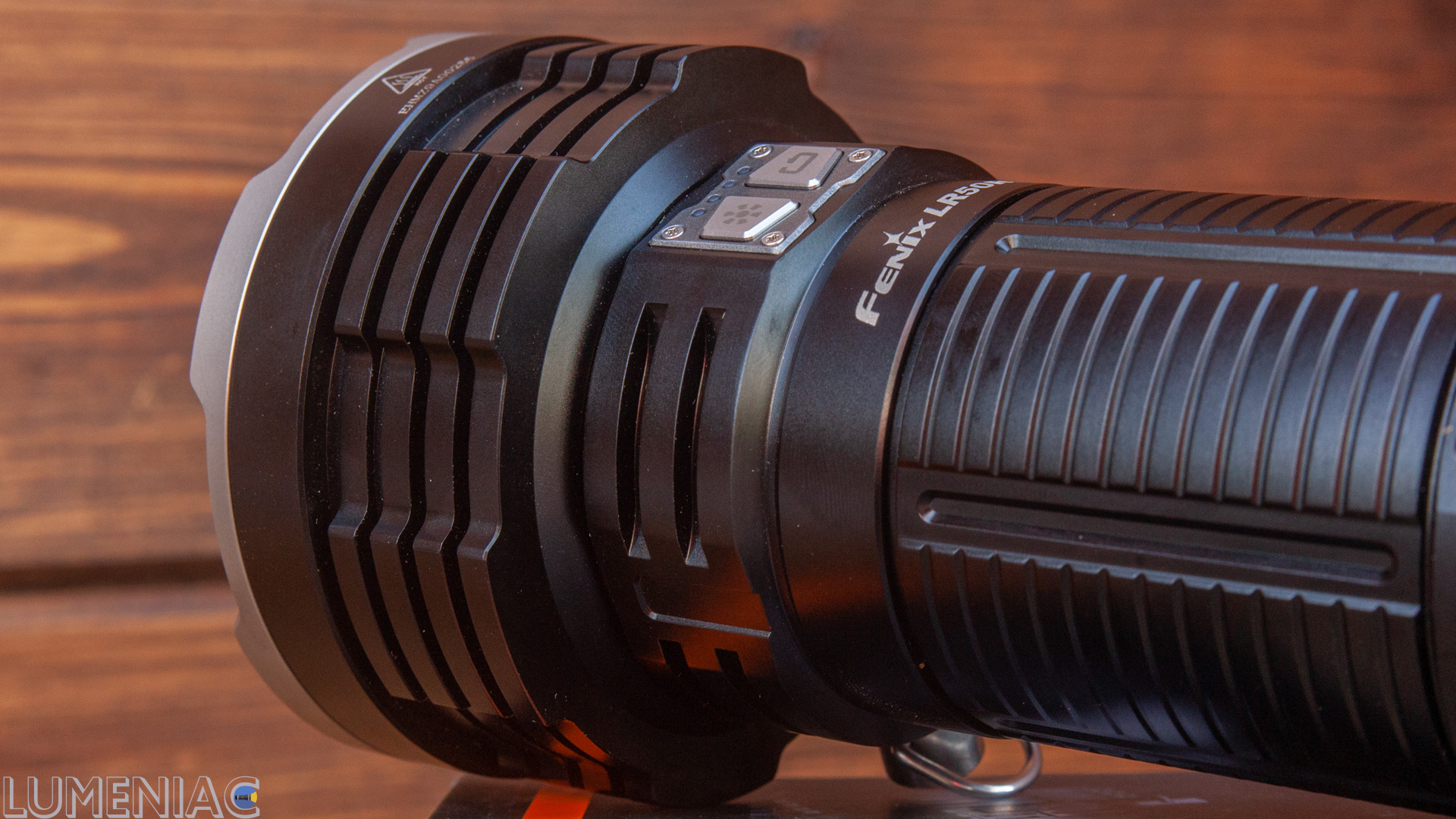 Bezel has wide shallow teeth, and is glued of course.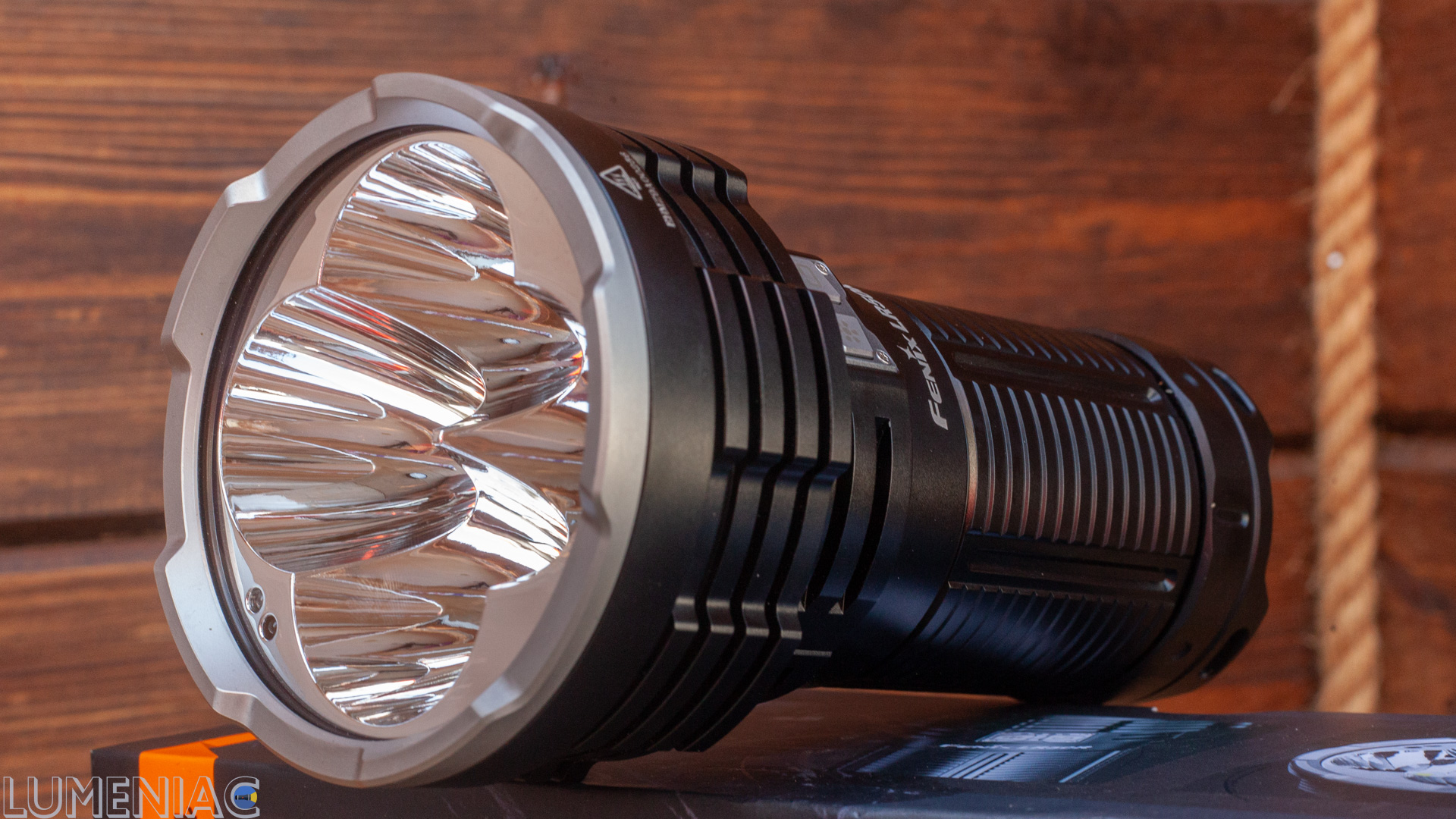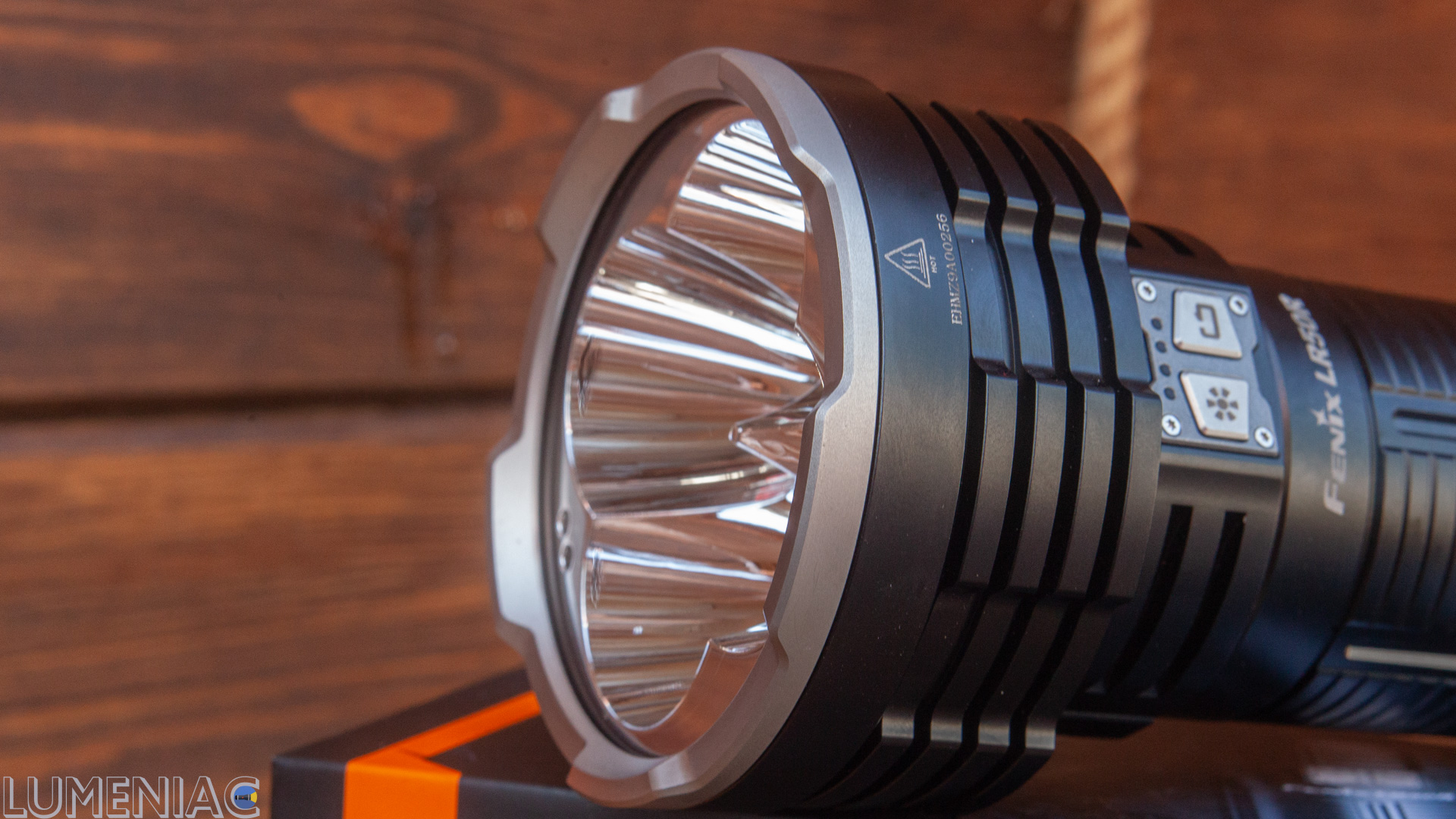 Under bezel, behind a tempered glass with anti-reflective coating, there are 4 relatively deep smooth reflectors with SST70 LEDs. The specificity of these LEDs is that with comparable, in general, brightness with the XHP70.2, they have slightly better throw. Although dedomed (i.e. without the light-diffusing silicone dome) XHP70.2 LED, it seems to me, would be definitely more better for a flashlight of this format. However, it is naive to wait for such a step from Fenix… I, personally, dont like SST70. At least how CW version of this LED performs.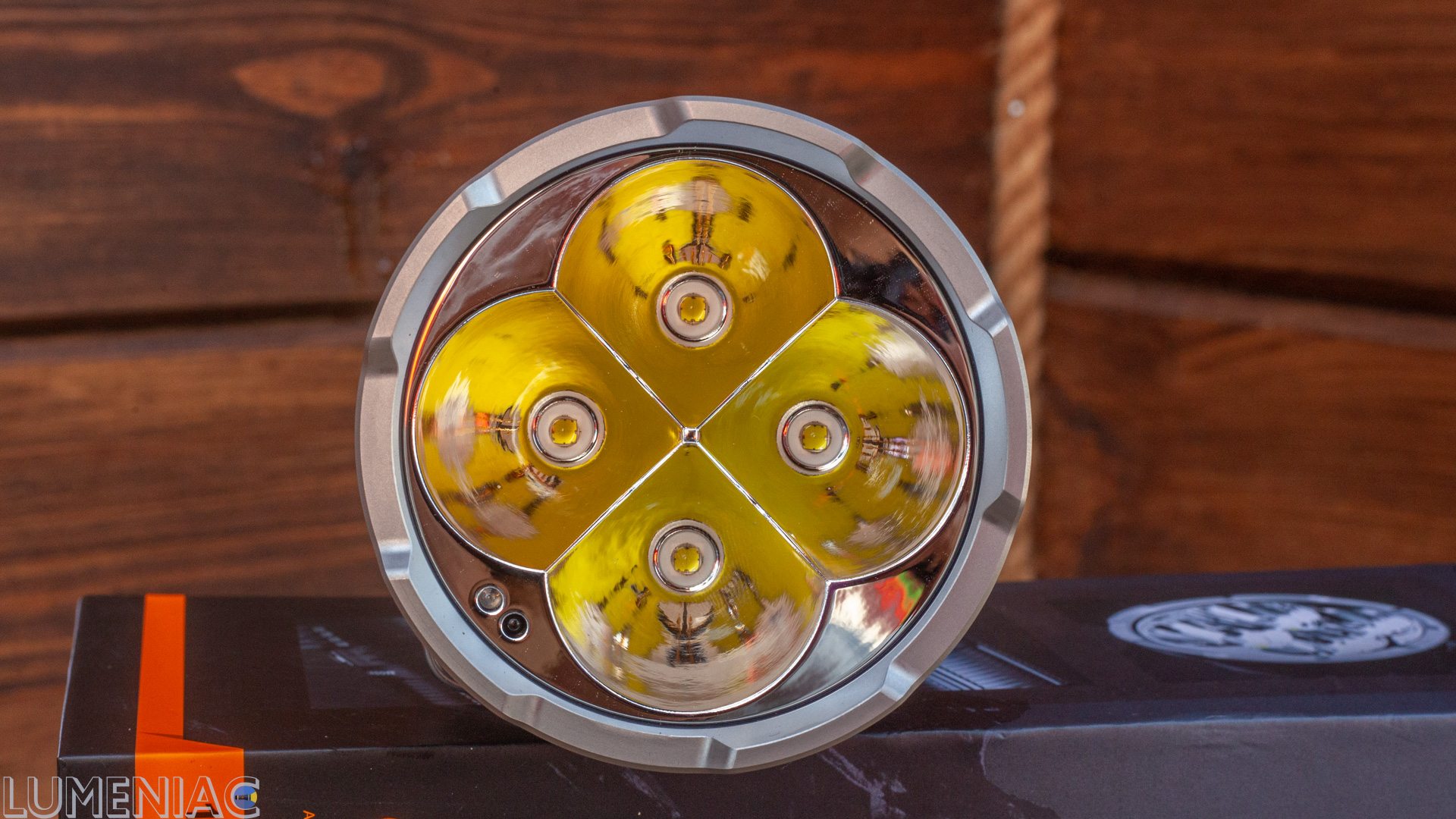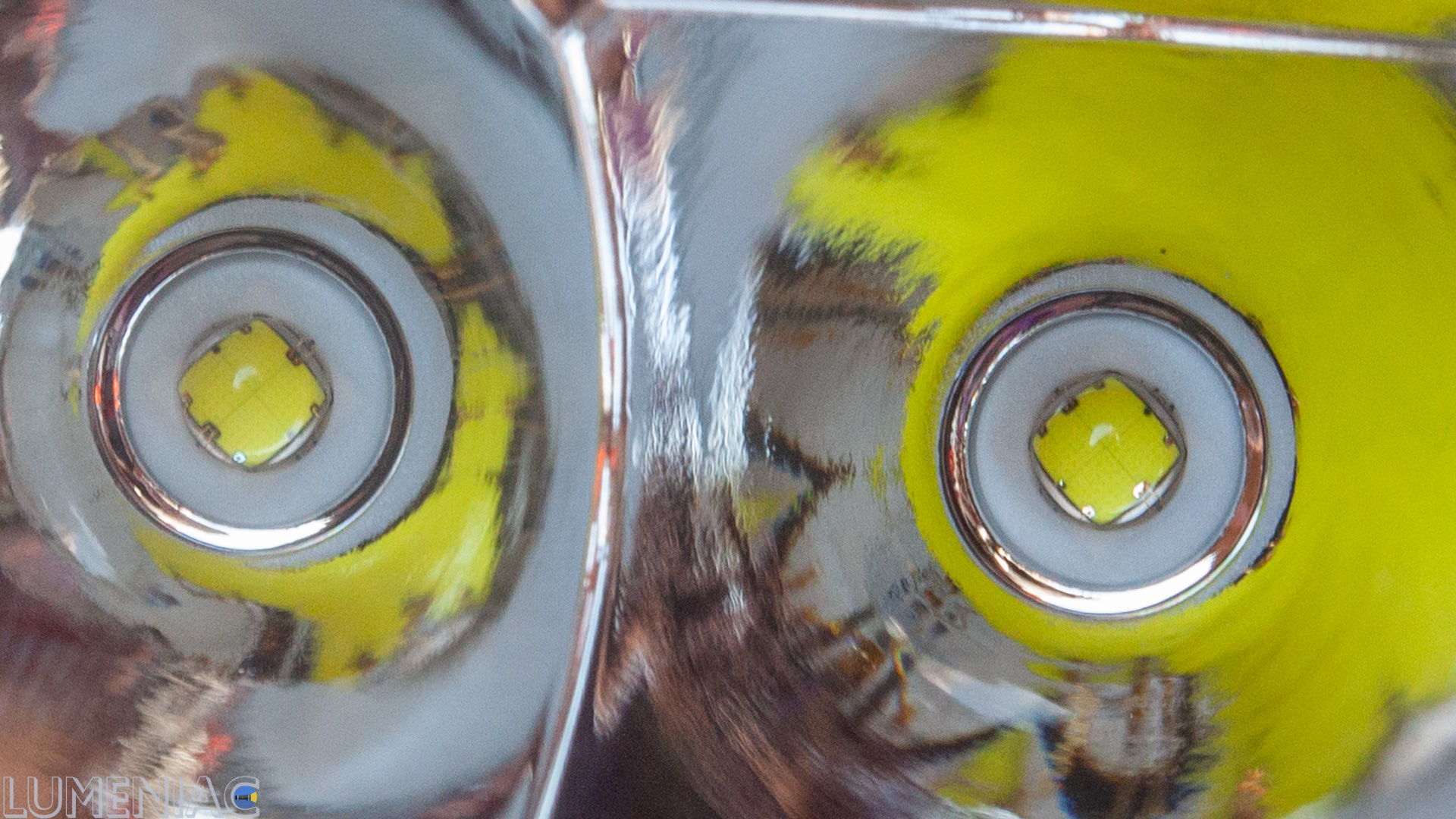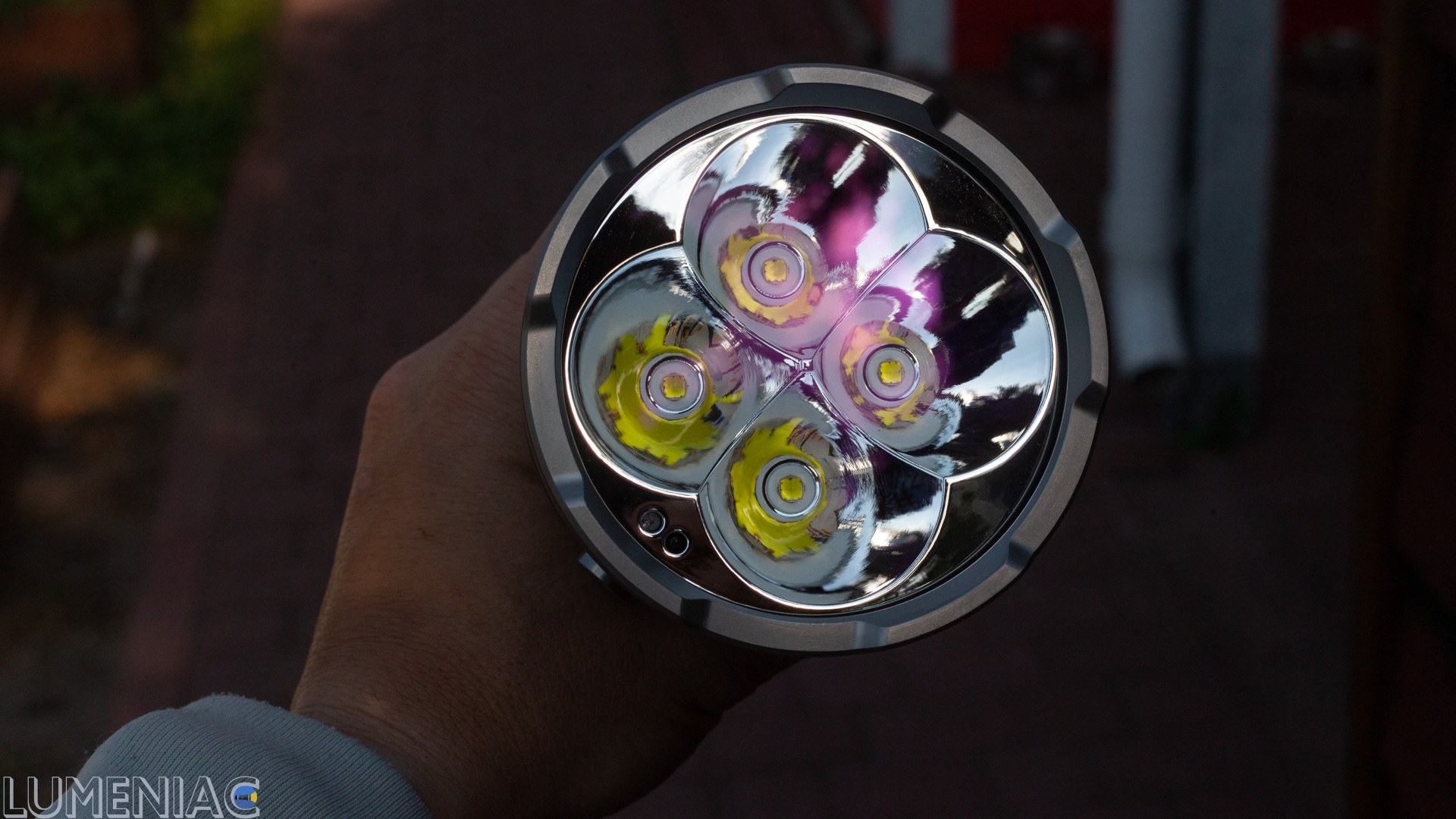 There is a pair of sensors designed to disable higher modes when there is some obstacle nearby. Basically, that prevents burning holster and stuff in your backpack. Good idea.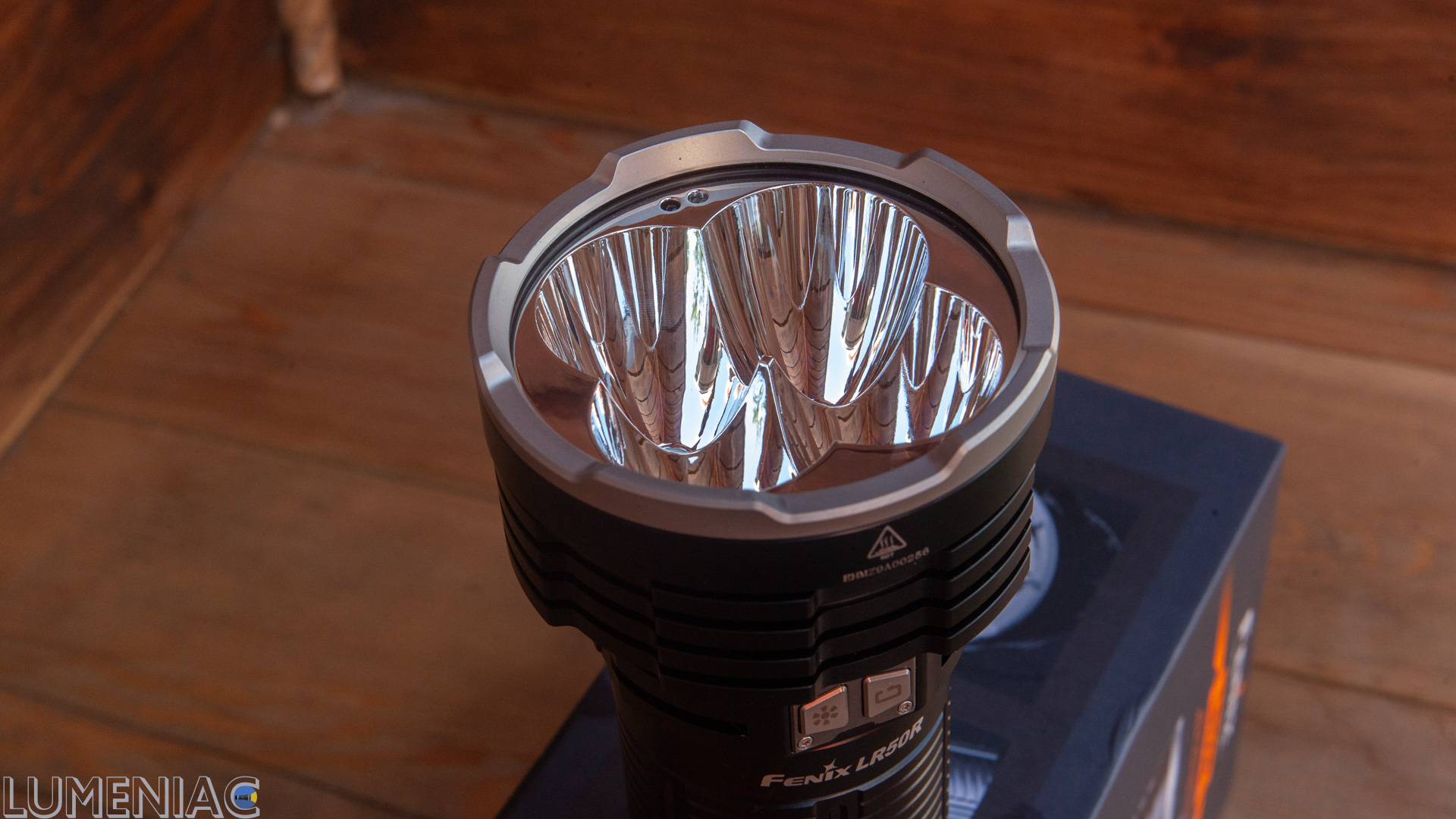 UI

I criticize primitivness of Fenix's UI in each my review. But i rate UI here as "okay, it will do." After all, there is instant turbo and lock mode. REally flexible UI by Fenix ​​standards.
Right button:
Traditionally turns on and off the flashlight by holding button.
A single click from ON switched brightnesses.
Left button
Hold turns on the turbo from OFF, on a further click toggles between turbo-strobe-sos.
Clicking any button from OFF you turn on charge indicator.
Holding both buttons for a short time (un)locks the flashlight, which is undoubtedly cool. I especially like that brightness is reset to ECO mode after unlocking - you will not get blinded.
In short, undoubtedly it could have been better, but everything is just right here, you can use it
HOW FENIX ​​LR50R ILLUMINATES
Flashlight size and capacity of battery pack allow you to expect a good runtime at the higher levels, and you really have the one. Moreover, cooling has a clear effect even on very bright and hot turbo mode.
I think that in terms of stabilization and runtime at higher levels, Fenix ​​LR50R does everything right, there is nothing to complain about at all, well done.
Most chances to see crazy thermoregulation saw in Mid mode are only when working indoor. And who takes such a flashlight to work indoor?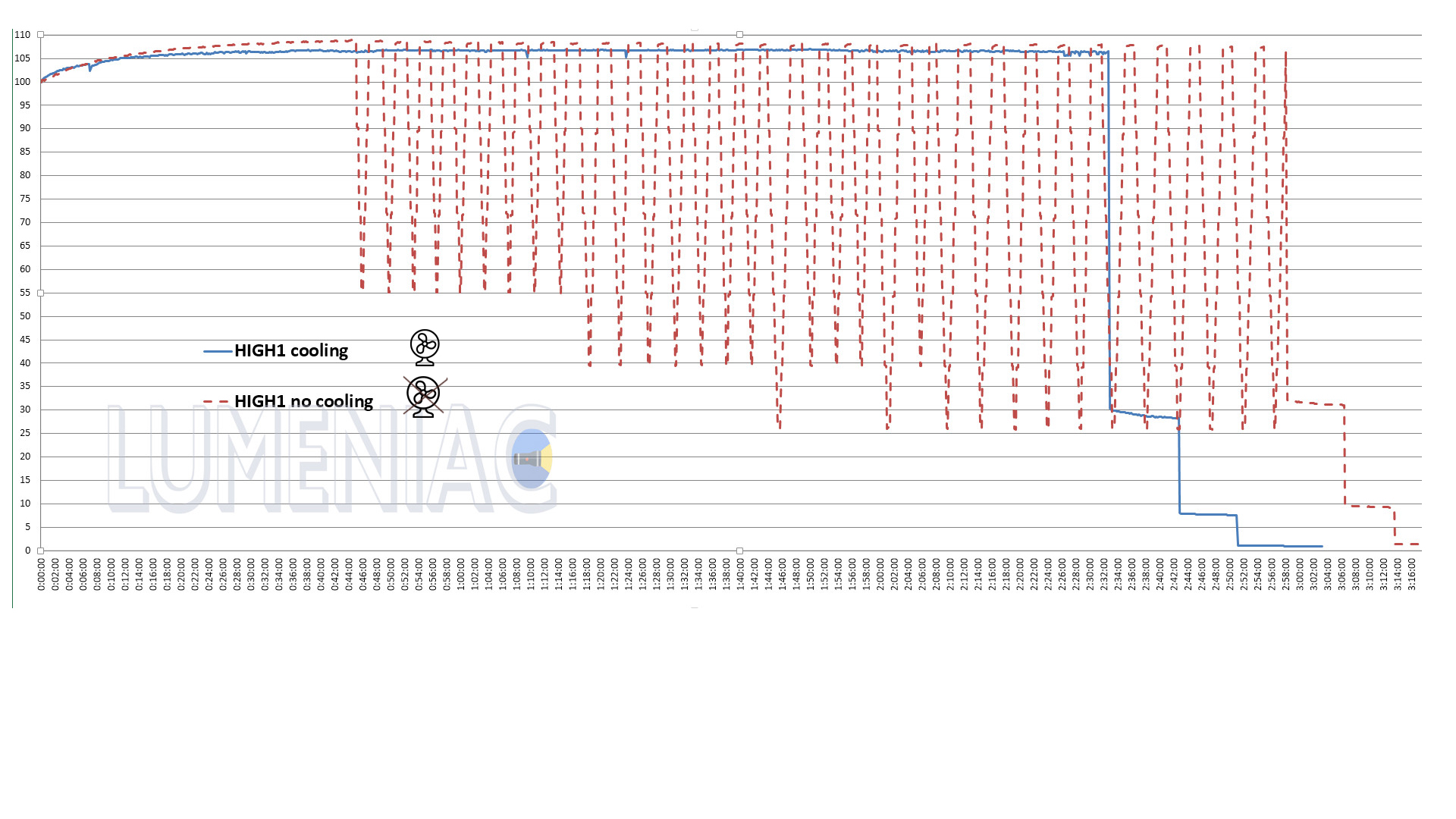 It is noteworthy that when working in a turbo without cooling, there is no "saw" visible in the previous modes.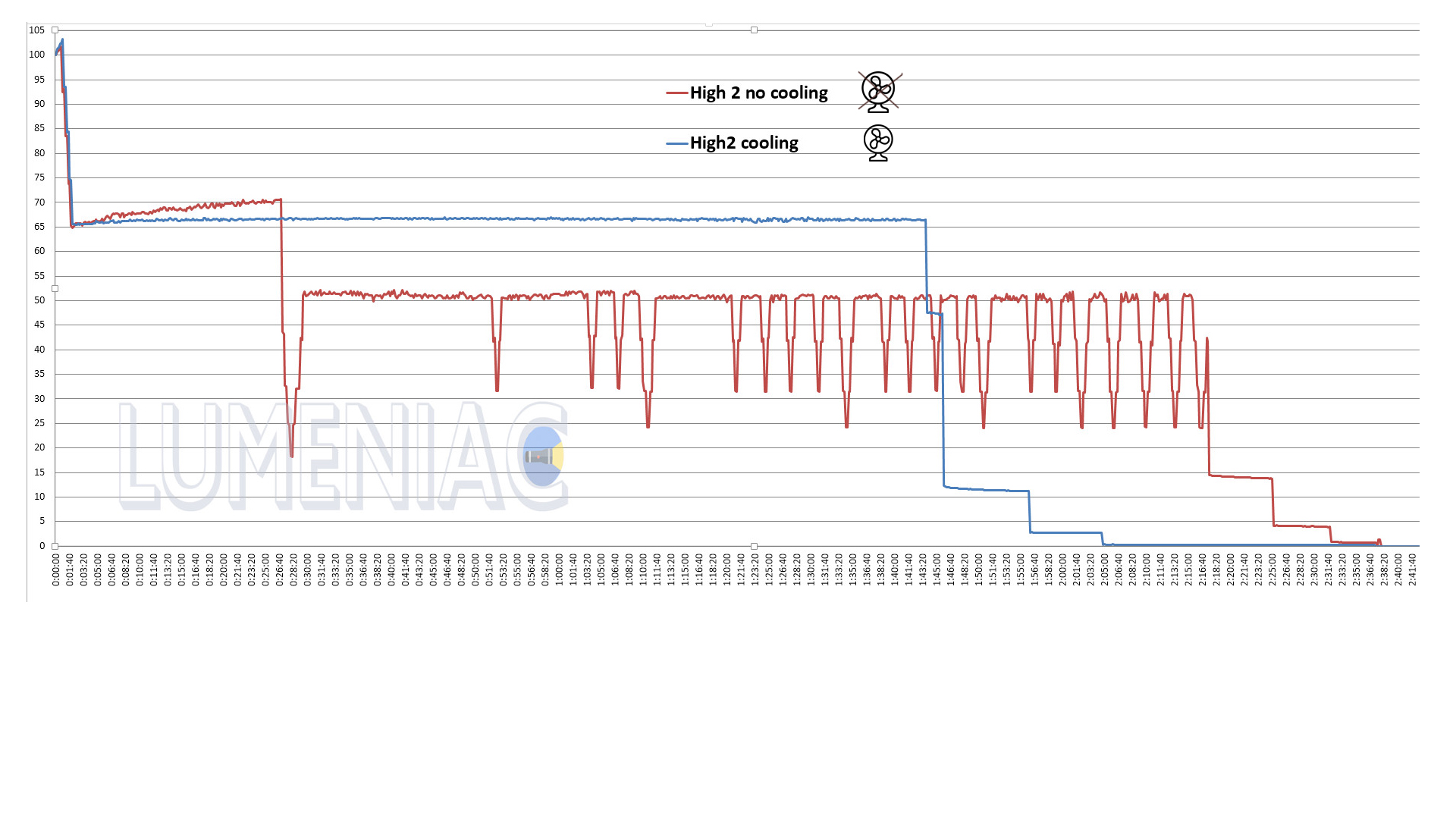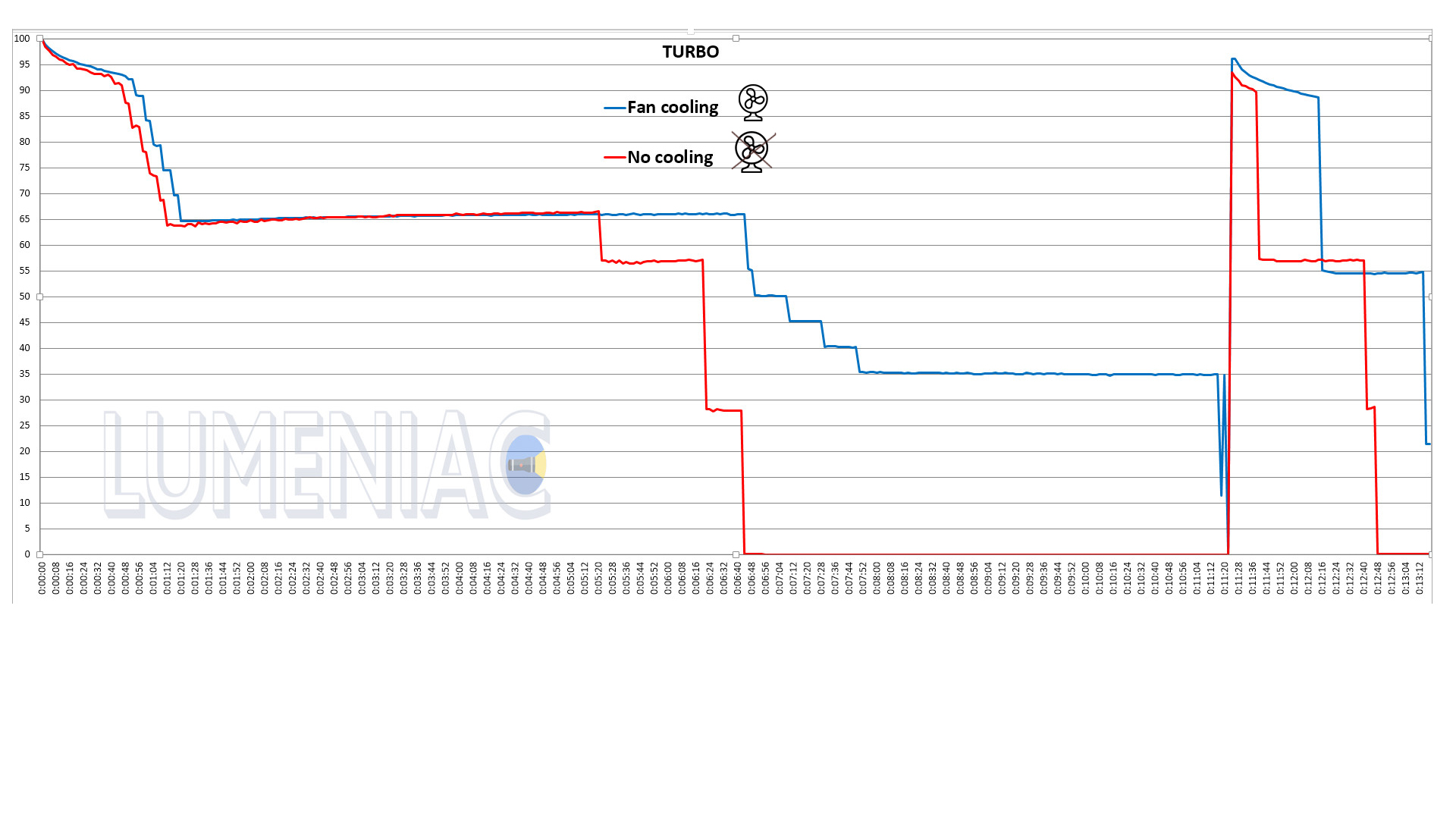 Ehh…SST70 LEDs used here is damn greenish at modes up to MID1. However, as I mentioned a little earlier, the flashlight will be used outdoors and in most situations this green tint will not be seen. One more disadvantage is cold light, so much uncomfortable and inappropriate for working in fog or rain comparing to 4000K-5000k LED.
As far as I remember, SST70 has 5000K version, which, I believe, will significantly improve the situation both with the greenery and the practicality of working at a distance.
It is unpleasantly surprising that a manufacturer with such a long history is still chasing a small increase in brightness at the expense of usability.
that is clearly seen even on promo pics. LR50R is in turbo mode here, so imagine what it looks like in lower mode…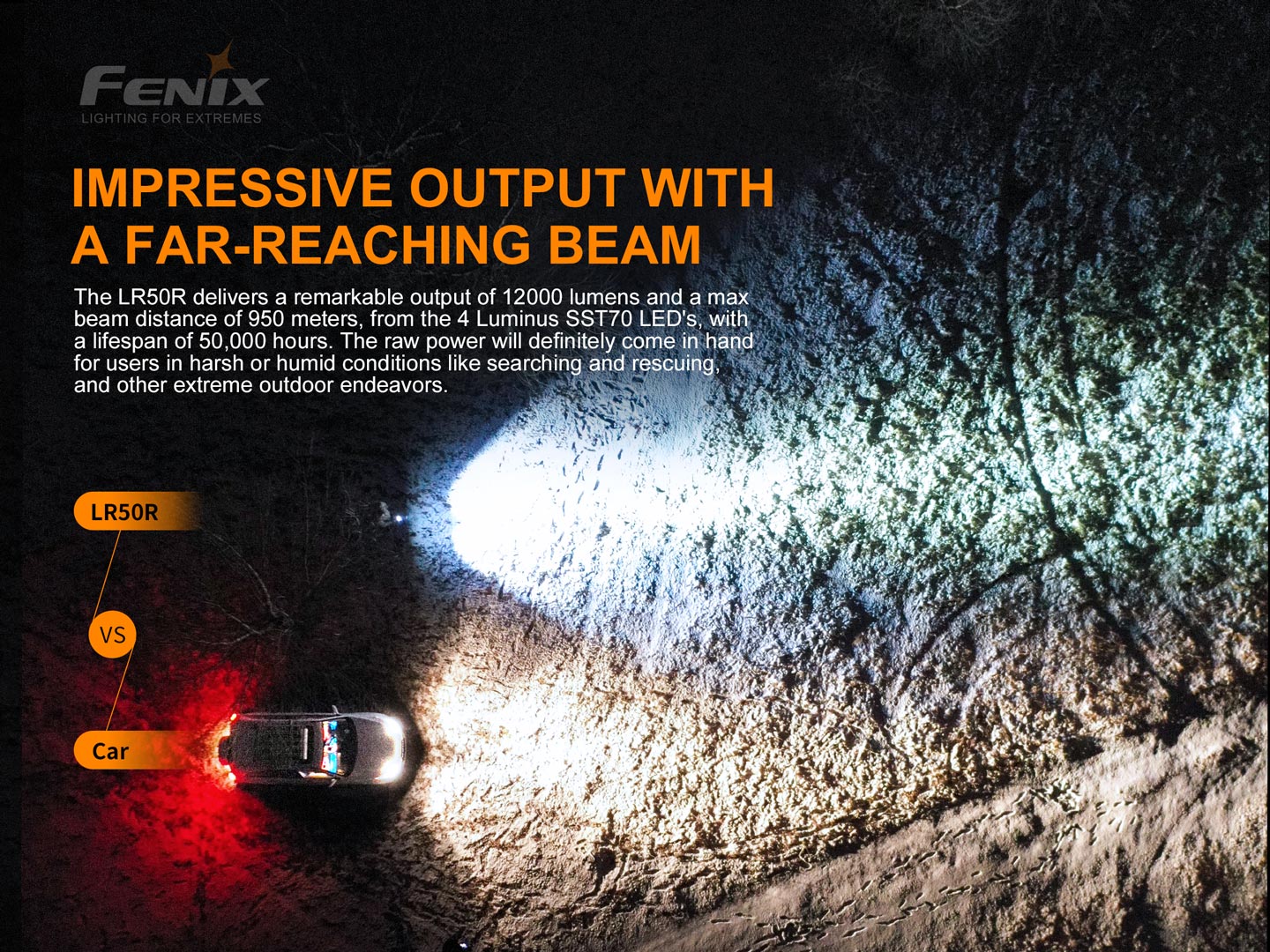 Nevertheless, I definitely like the light distribution of Fenix LR50R. This is a clear example of what many buyers are asking for - combination of good throw and side light. The flashlight is quite convenient at both nearest and at the maximum range. It's just a pity that the throw is definitely not the strong side of Fenix ​​LR50R, and there promised 950m are just virtual.
Fenix LR50R somehow penetrates 500 meters in turbo mode. In High 1 mode, the one which will last for two and a half hours without stepdown, the flashlight covers about 200m, which is more than good. The aforementioned dedomed XHP70.2 would give a good increase in throw, not speaking about SBT90.2…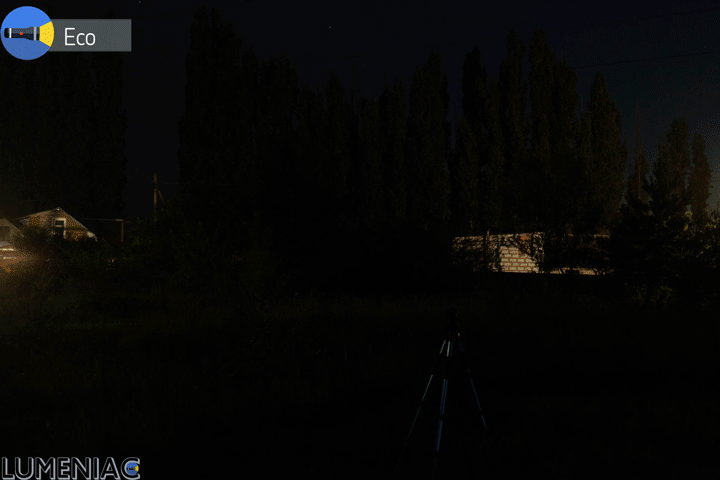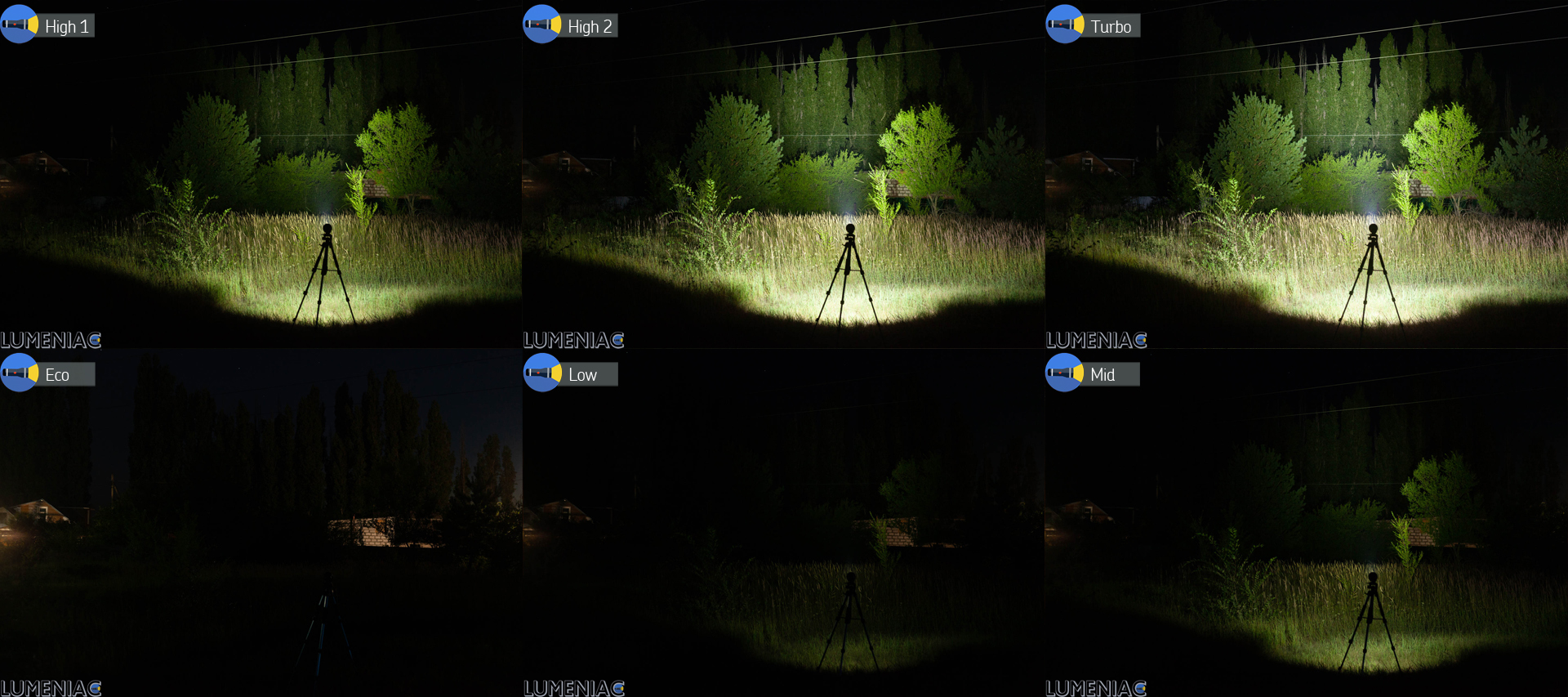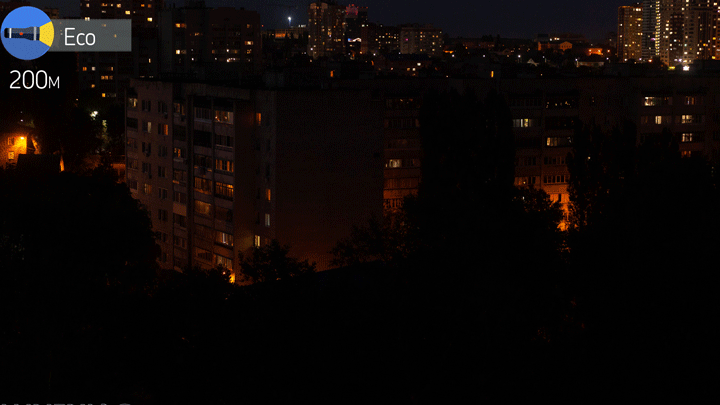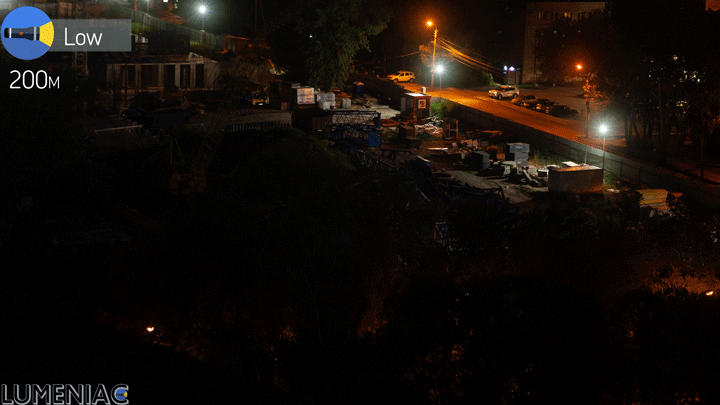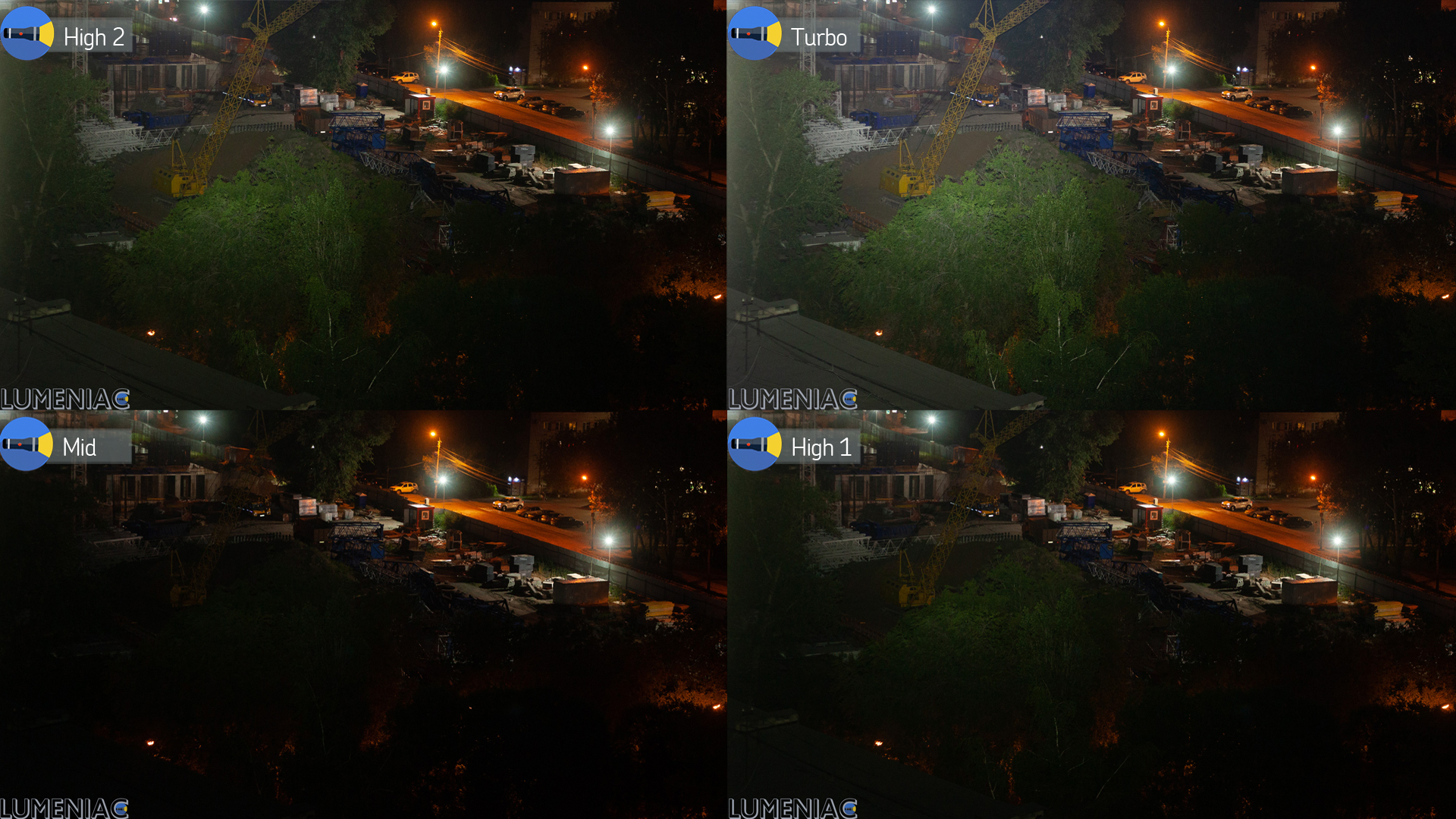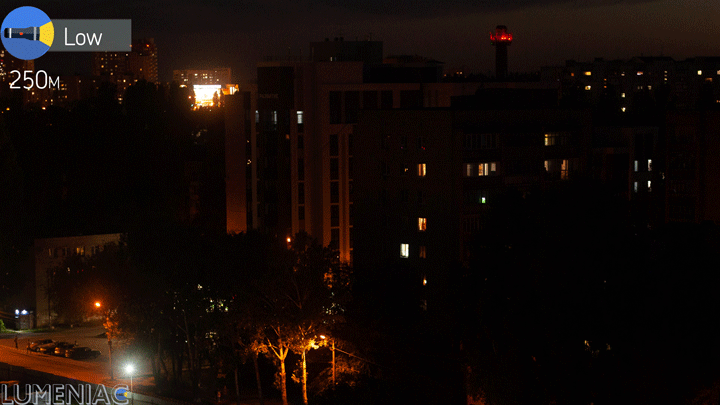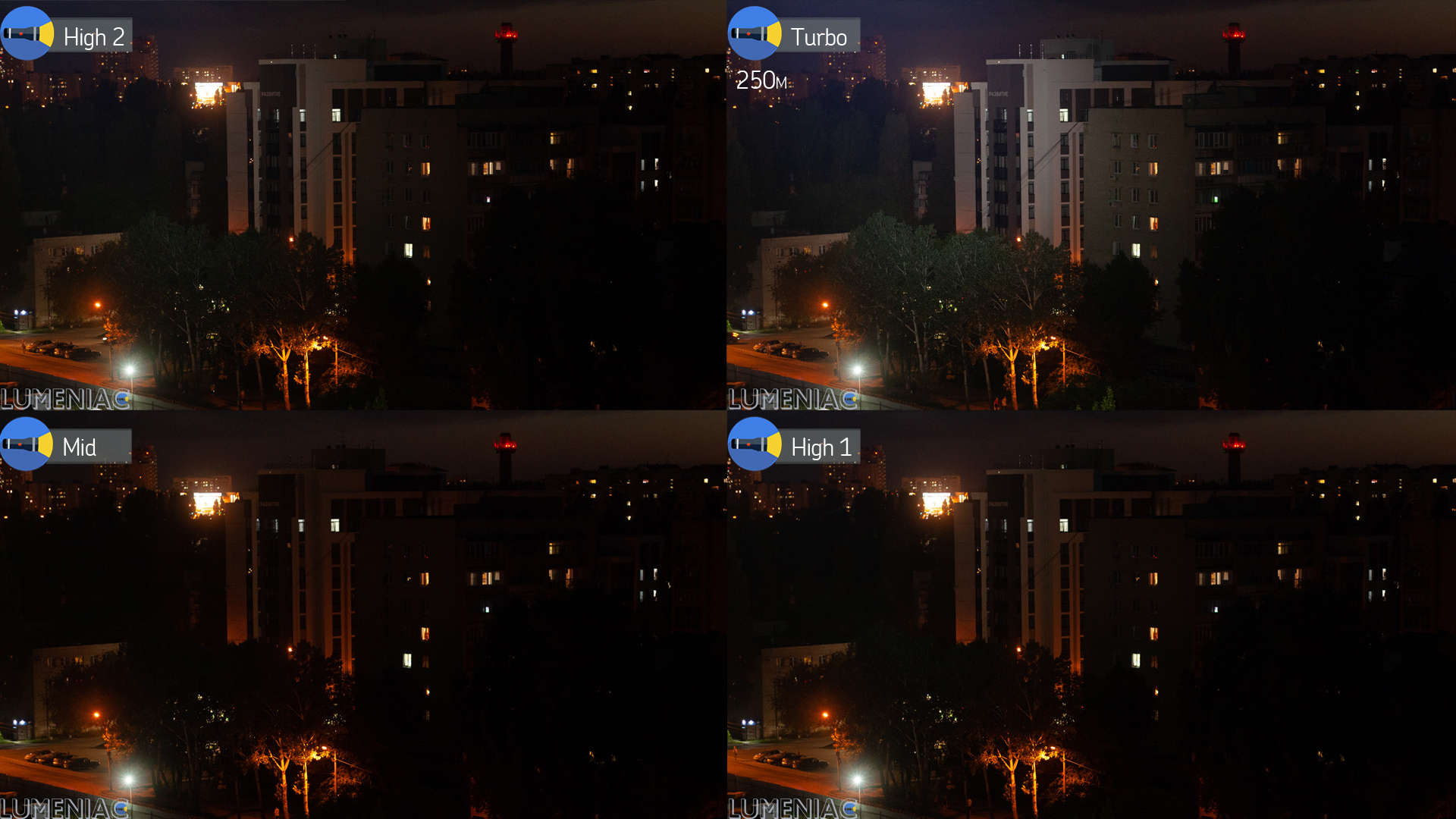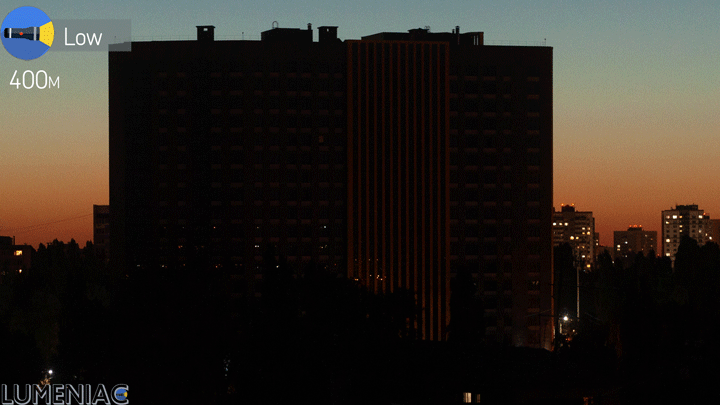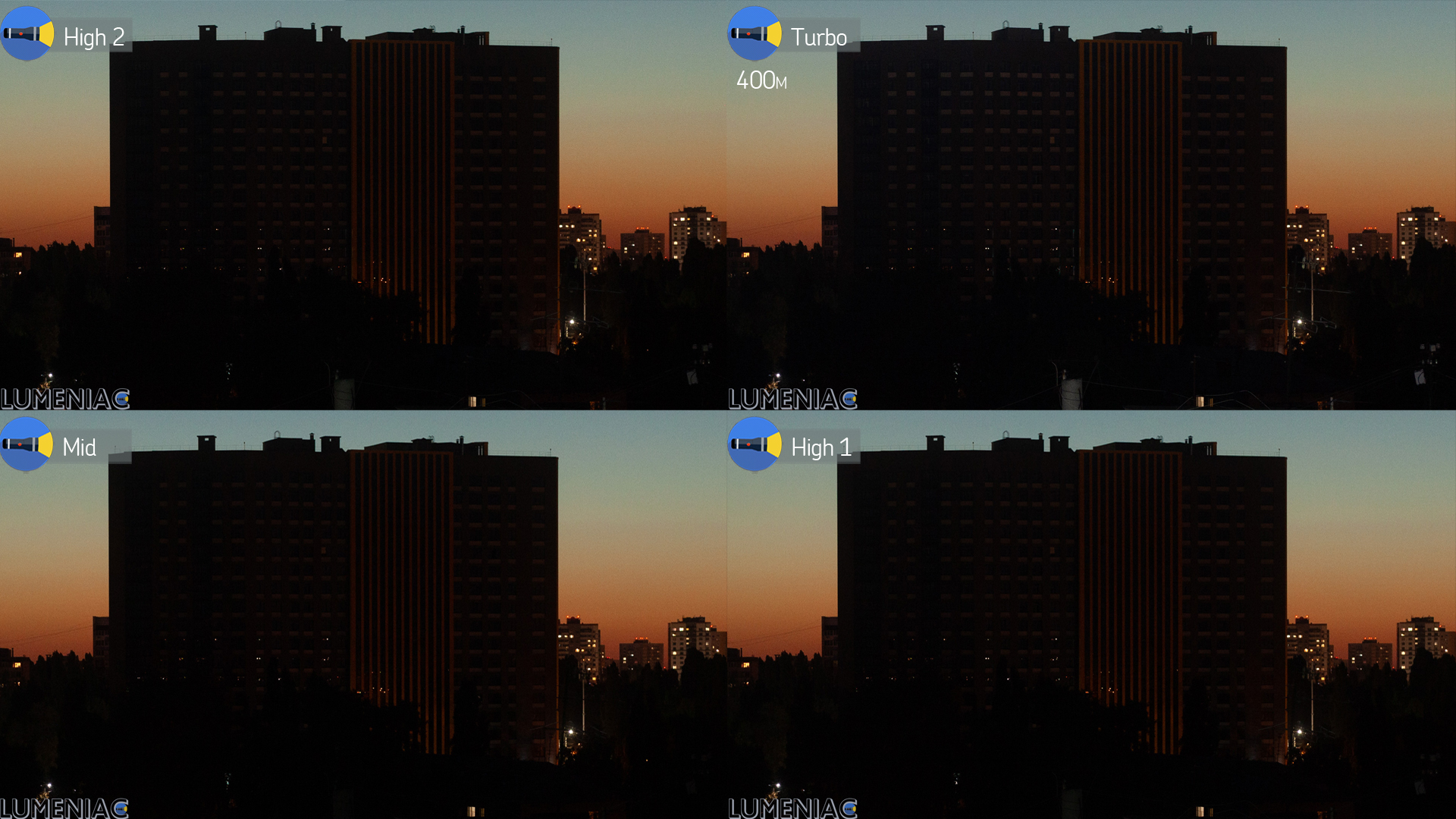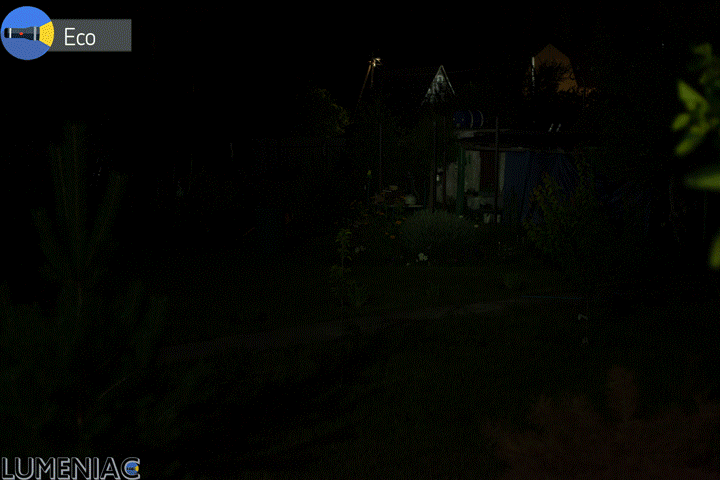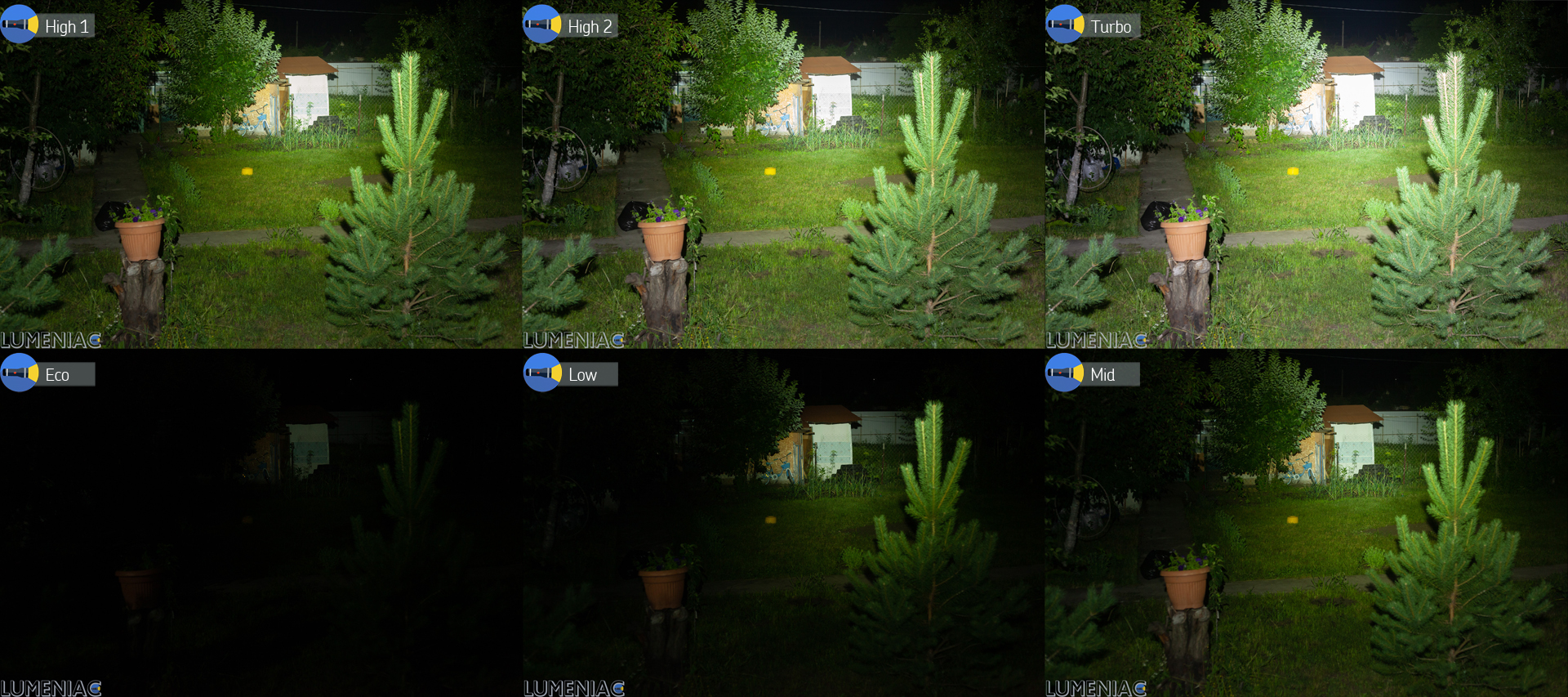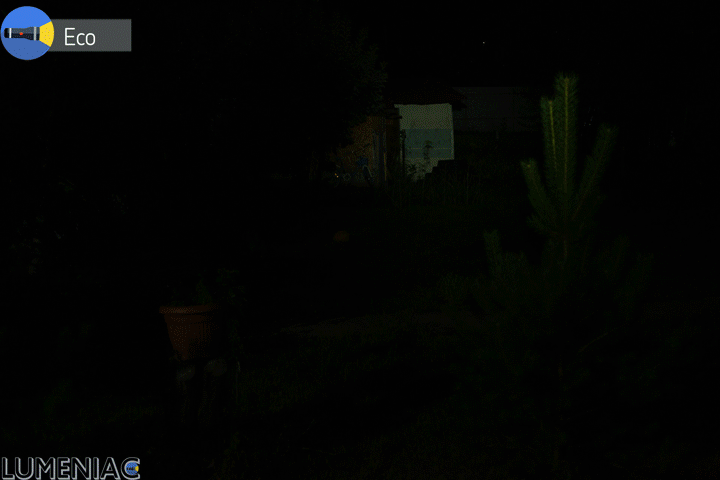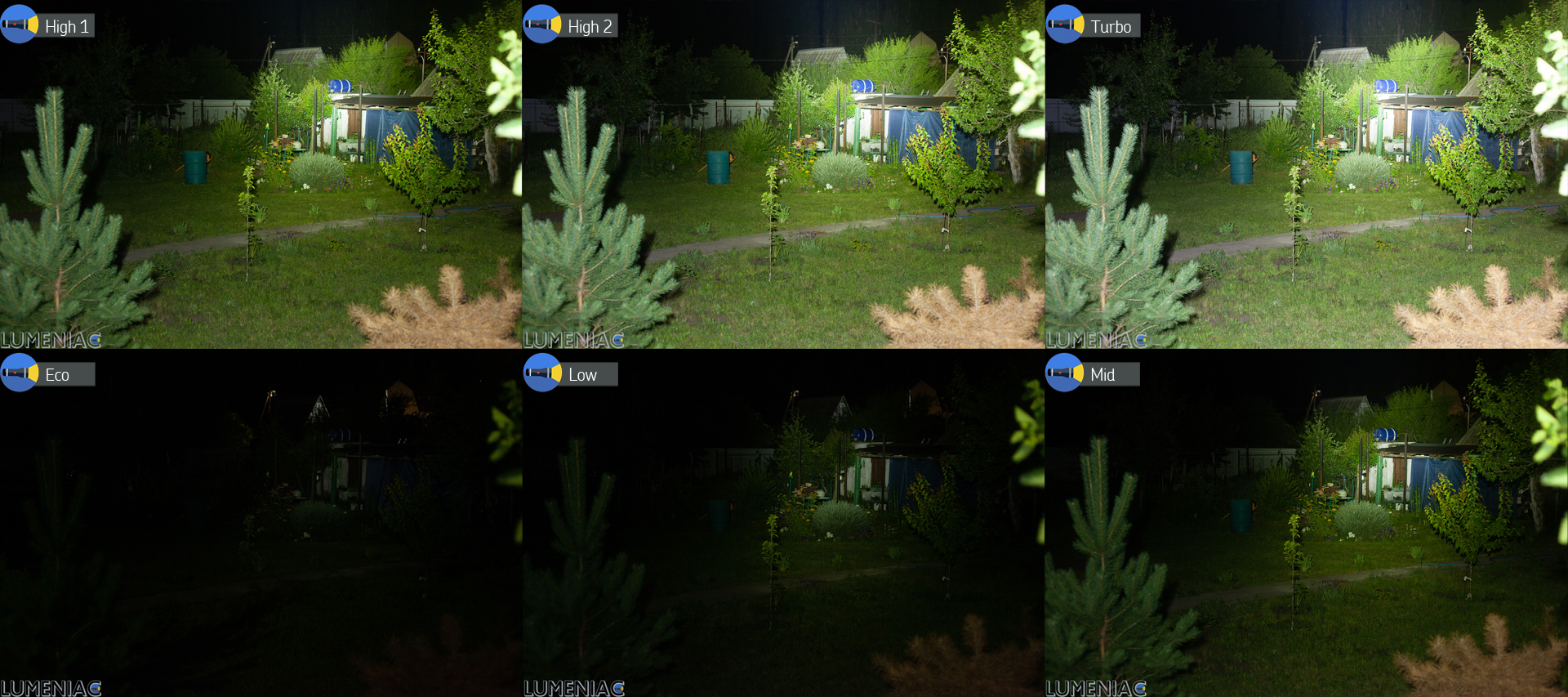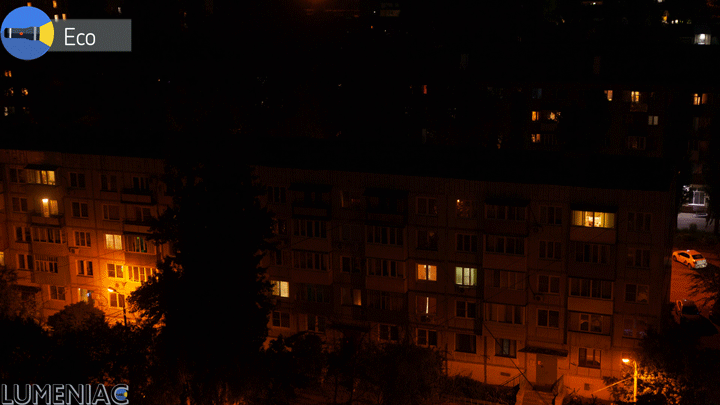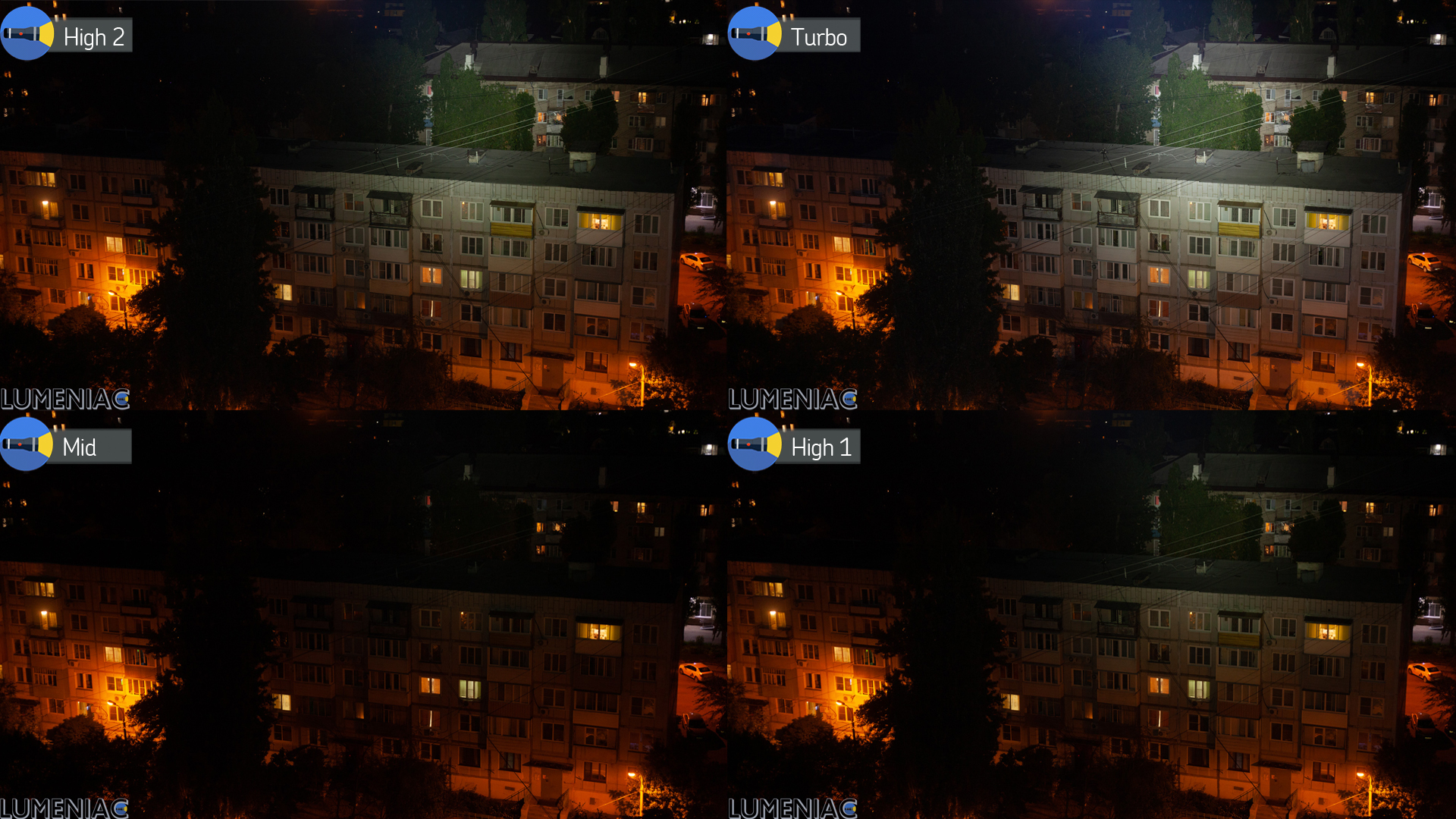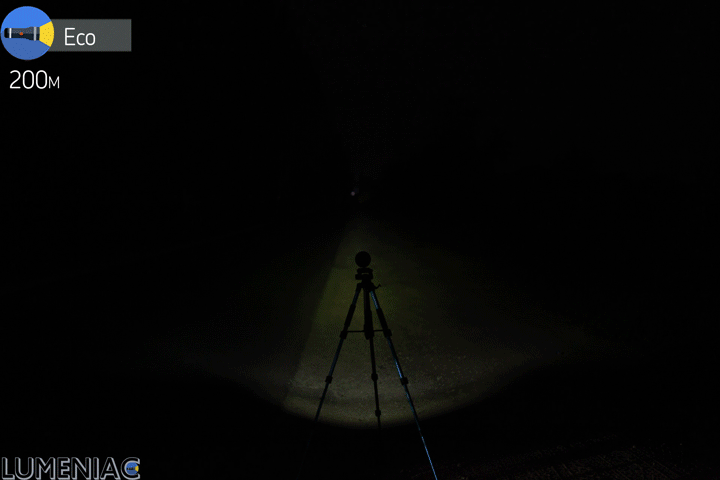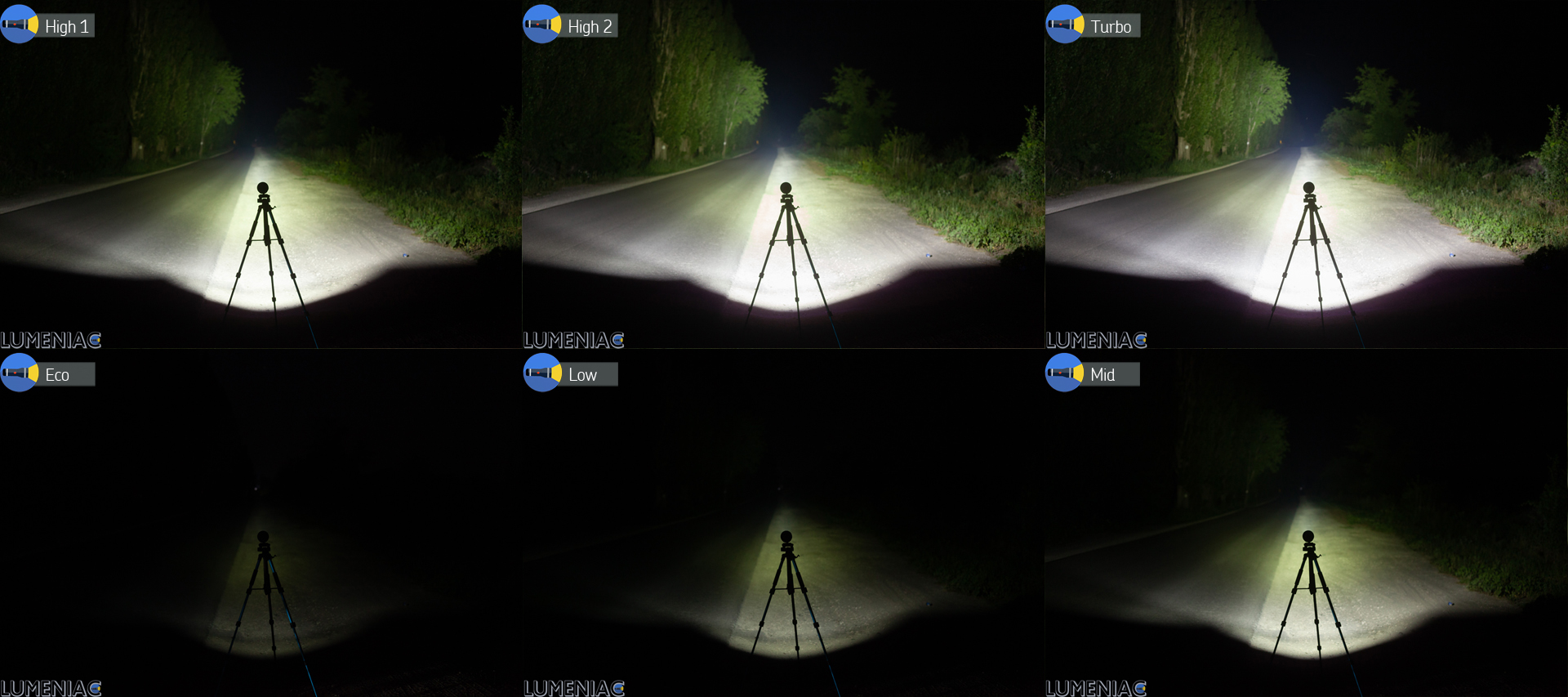 here is video review of Fenix LR50R with more examples of how it performs
OVERALL IMPRESSIONS
Fenix ​​LR50R is clearly a step forward for Fenix. The manufacturer went the right way, equipping the flashlight with 4 * 21700 batteries. The overall increase in capacity, coupled with the corresponding size increase, made it possible to get really impressive runtime in general and in bright upper modes in particular. Stable 2.5 hours at 3500 lumens modes is undoubtedly an outstanding result. And the increase in size did not affect the convenience of use in any way - the shoulder strap will allow you to completely relieve your hands.
What else…the flashlight is really bright, even though 12000 lumens are a fairly common brightness by modern standards .
Fast charging with power bank mode is undoubtly good feature. Oh, yes, Fenix LR50R also lets you to use regular 21700 batteries, which is unique feature for a model with a battery pack.
Fenix ​​LR50R has an excellent, impressively brutal appearance and package with remarkable gift potential.
Of course, there is something to put on the back of the scale as well. The cool light of the flashlight is complemented by a pronounced green tint in lower modes. I believe that user most likely will not see this (as well as freaking thermoregulation saw) in summer outdoor user. The problem is that cold light, reflecting all the moisture and dust scattered in air, is certainly impractical for a throw. The good old 4000K XHP70.2 would undoubtedly be a much, much more justified choice for this flashlight. So, in my opinion, real 500m in turbo allows Fenix ​​LR50R to be called a search light only by fairly old standards.
For me personally, this is a really powerful mid-range flashlight with good long-range potential. Is it bad? Not! It's all about the marketing game with definitions. So, if you need a really bright and long lasting light with no stepdown within a range of couple of hundred meters - Fenix ​​LR50R will give it to you. At this distance, it will fully illuminate a 7-10 floors building! A classical long-range flashlight will illuminate less area at this distance. As well as almost any flashlight comparable in brightness will be smaller, which means that the thermal step down will drop brightess to some lower mode, such flashlight will not work for 2.5 hours like Fenix ​​LR50R does.
And most important point. You can buy several top models for the price of Fenix ​​LR50R. In this regard, the price is colossal even for Fenix. That seriously limits the circle of potential buyers to those wealthy people who choose according to the principle "give me the most expensive you have in store". I don't see anything in Fenix ​​LR50R that justifies the price tag besides "ok, that`s top model, so it should cost according to this". Here LR40R seems to be more balanced models, IMO. Though, i must admit, price may decrease to some reasonable level when LR50R not already be fresh model. This happened before with other models, so it may repeat this time as well.
To summarize: this is a very functionally cool model by Fenix standards. The ordinary user (i.e. Fenix target audience) who buys it will undoubtly be damn happy as Fenix LR50R has almost he looks for besides serious throw (Osram and SBT90.2 set really high standarts of throw). And feedback at fenix-store confirms this, people are happy.
Will Fenix LR50R be interesting for experienced users, for BLFers? I have serious doubts , as long as it has such color temperature and green tint. With the 4000K XHP70.2 HI and a lower price tag, Fenix LR50R would actually be way more interesting flashlight for experienced and picky users. At least with 5000k SST70.