High brightness and relative compactness are the undoubted advantages of 1x26650 XHP70 \ XHP70.2 flashlights. Such a flashlight can easily fit in a jacket pocket and gives about 3000 lumens of brightness, which is more than enough for almost any need. A lot of brand models of this type have been released, but the price tag revolves around 80-100 bucks. So, taking into account the traditionally democratic price tag, the Convoy M3 may well become what the Convoy L6 once became - a flashlight that is bright and accessible to the masses. With it, as well as with a pretty bright 26650 Convoy S11 flashlight, I'm down below and compare this model. So, the Convoy M3 review.
You can buy Convoy M3 at:
I dont recommend buying smooth reflector as it doesnt increase throw, but definetely makes light distibution worse.
The specification is traditionally laconic.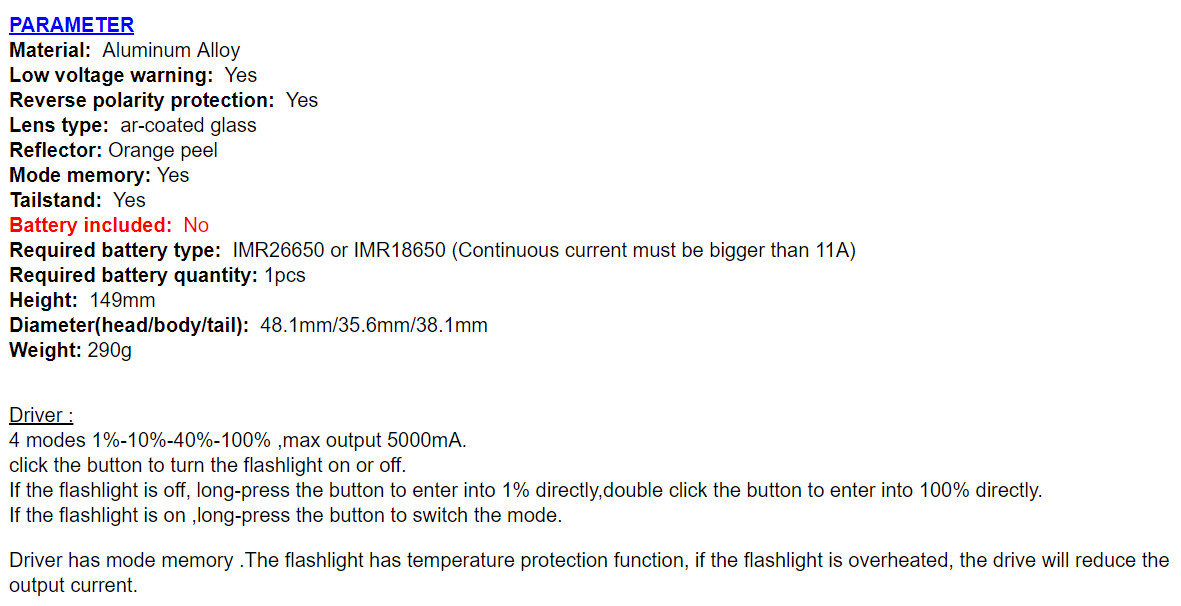 Package and appearance.
The packaging is symbolic. A simple white box with a sticker for the model name and color temperature. That`s all.

Inside ., there is the flashlight itself and a pair of adapter rings at 18650.

As for the flashlight itself, then personally to me, it looks like a hell of a grenade from the Second World War.

agree, there is a similarity, except that the handle at the flashlight is shorter, and the head is longer.
Be that as it may, the flashlight looks quite "convoyish". Brutal black body with a bunch of cooling fins and a massive knurling. This is a purely man`s flashlight, not like some little DQG Tiny or Imalent DN35 type flashlight.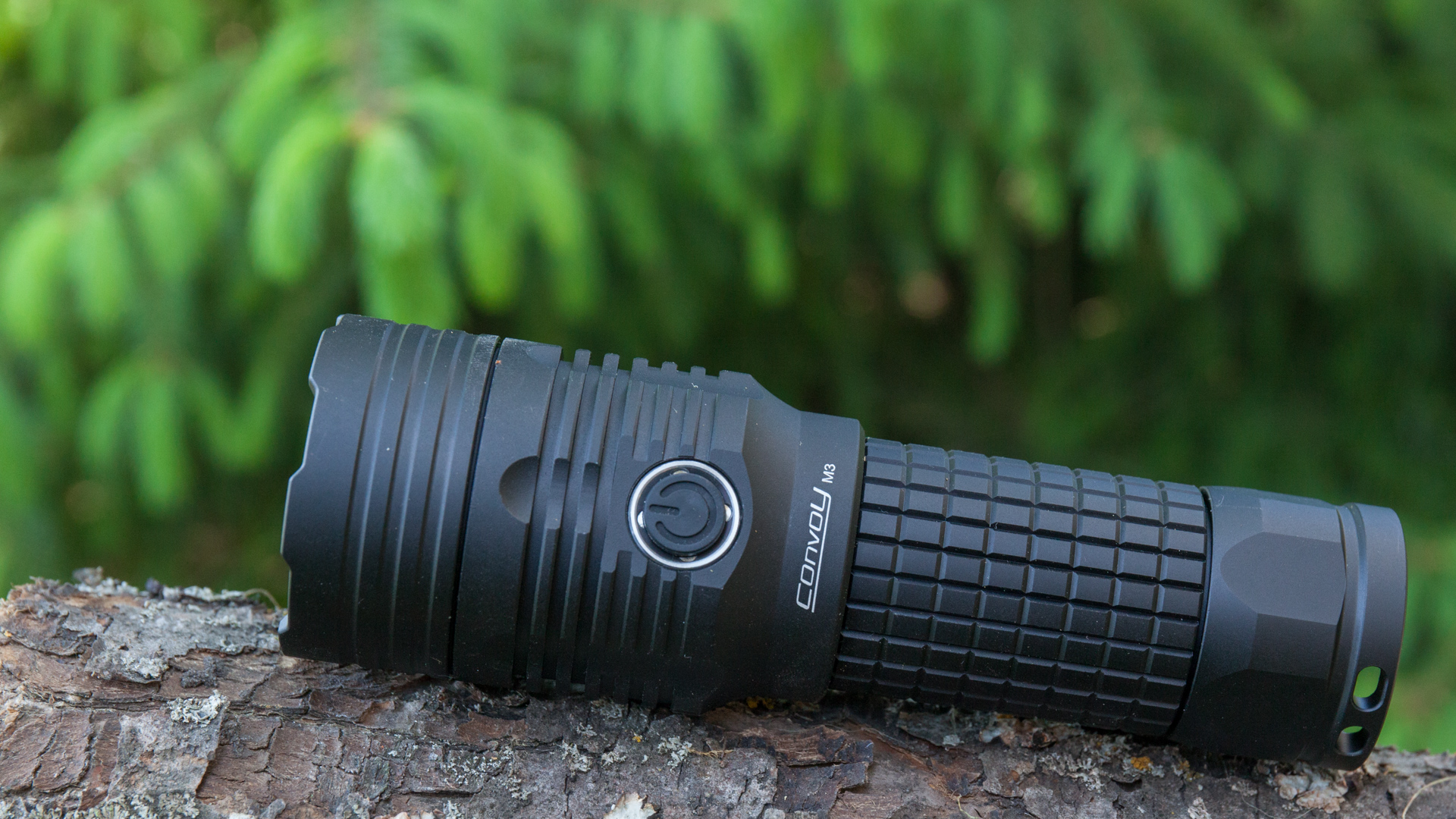 As for the size, the flashlight is clearly beyond the pocket. So of course you can shove it in your jacket pocket, but it will be very significant to delay it. After all, the total weight with the battery is 389g (293 without it) and if you like, you can break the glass in the car as well. Other sizes: length 150mm, diameter (head \ carcass \ tail) 48.1 \ 35.6 \ 38.1 mm. In general, it is enough overall for 1x26650 power flashlight.

For comparison, here is the recent bright and more compact 266650 flashlight Convoy S11.
A little later, I got a Convoy L6 and, against its background, the Convoy M3 no longer looks so big. At the same time, I crammed in here all the other models I had in my hands. This picture illustrates the size of the best, but just a photo at the top too much I like to clean it. Let it remain.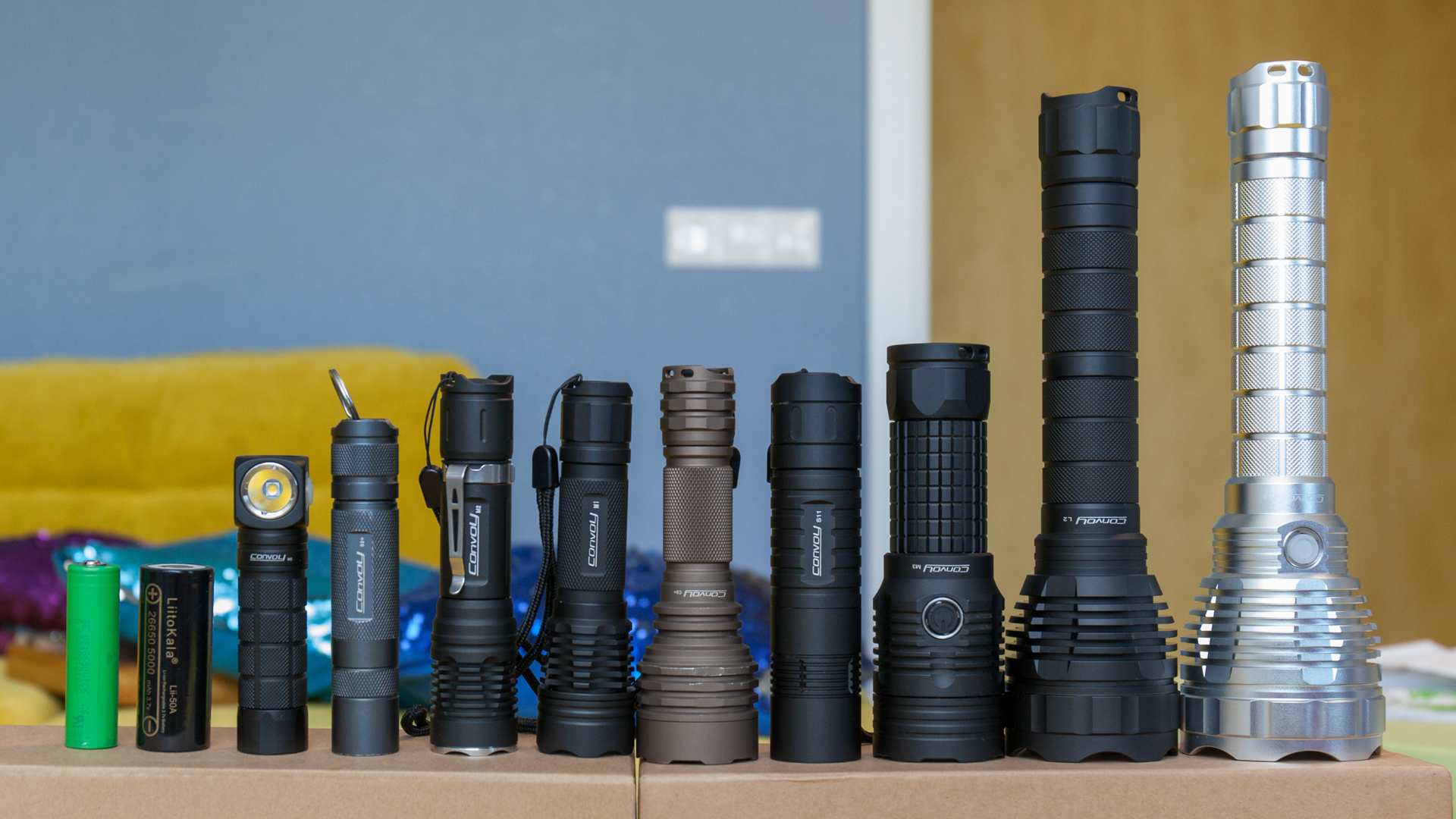 However, there are lanterns, on the background of which the L6 also looks inconspicuous. How do you like that? BLF GT70 pic from my old review.
The length of the flashlight could be reduced by removing the rim from the tail, which is needed only for the lanyard eye.
The spring on the tailcap is medium thick for such current , but this is compensated for by the fact that it is shunted.

But the walls of the body are just very, very thick.

Knurling tenacious, large squares.

In addition, the grip is positively influenced by the fact that the middle part of the body is smaller in diameter than the head and tail, alike saddle.
The grip is quite convenient, both direct and reverse.

The threads on both sides are normally lubircated with graphite grease. Knurling , traditionally, without frills, but neat.
The spring from the side of the head is the same as on the tail, 0.8mm and similarly shunted to it.

The head is massive and as I mentioned at the very beginning, with good ribbing. Yes, for something long-range on the XHP35, such massiveness could be redundant, but considering how much heat is generated from the XHP70.2, such a difference in weight will play into the hands of a heatsink. btw, middle part on pic below is in reverse position in reality, smaller anodized threads to tailcap. I was too busy to notice that when shot photos.
The button is medium in size, moves quite deep with a noticeable click. Blind search is not difficult as it is located on a flat site. It would be nice to also make an indication for this button, I do not think that this would seriously increase the cost.
The button protrudes a bit , so (and this is underlined on the product page) you should take care that the flashlight does not turn on accidentally and unscrew the tailcapwhen it is not in use.

What I liked about the design of the head is the longitudinal grooves.
The wide bezel can be unscrewed easily , so if you want to get to the giblets or change the reflector will not be the slightest effort. Like usually with all the Convoys.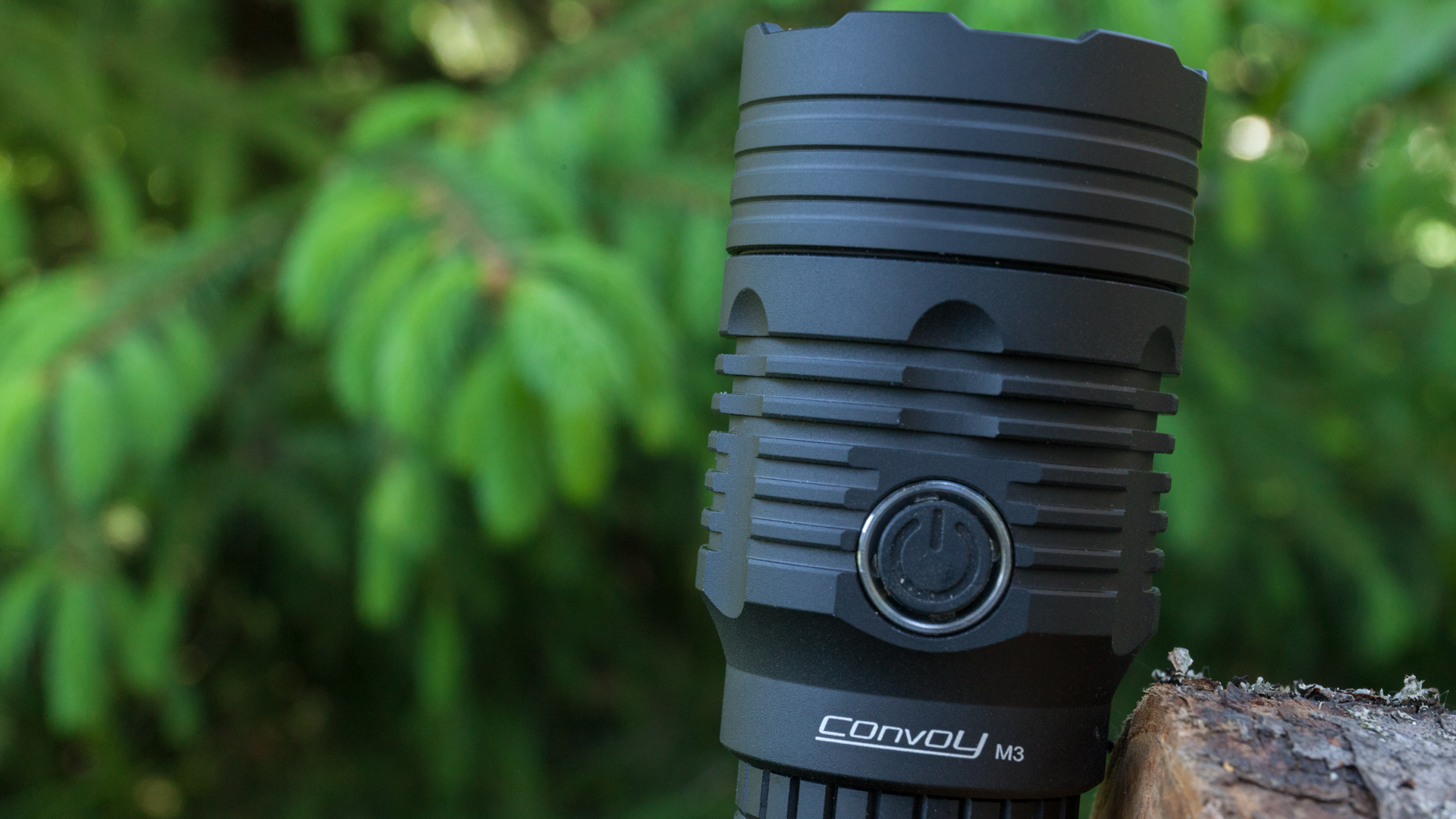 here i positioned glass upside down, of course, o-ring should look upward.

At the bottom of the textured reflector (dimensions at the beginning of the review) is XHP70.2. The traditional big advantage of buying from Simon at the Convoy official store is the ability to choose a color temperature, for example, a 3000K version for working in fog or dust.
As usual, glass with anti-glare coating

General impressions.
By it`s style, Convoy M3 is definetely similar to all other convoys I have seen. No shic and high-design (hey, Mecarmy, how`s going?) , all for an affordable price and functionality. However, visual simplicity of this model seems to be a conscious design decision. Convoy M3 looks like a purely male flashlight. Solid, well built and bright… Constructively, everything in it suited me, except that I would add button illumination.
UI
unusual for convoy
ON\OFF - click
mode change - button hold
there is instant access to 1% from OFF by button hold, great!
2 clicks - turbo
there is mode memory
PERFORMANCE
I plan to make a large summary review of Convoy flashlights, so now I have almost all of the bestsellers and have something to compare with. Specifically, I will compare with S2 + (even if it doesn't fit here either in brightness or in size - but everyone knows it), S11 (like another recent flashlight with the same power) and Convoy L6 XHP 70.2 (relatively similar flashlight on the same LED).
So, the nature of the light distribution here is specific. Despite the same LED, the M3 and L6 are pretty different. The latter has a brighter hotspot, which is not surprising - it has a much larger reflector. Here you are, by the way, a small announcement attached to this footcloth. I will do a comparative review of all popular Convoy models. It seems like no one else did it, so it will be extremely clear.
I slightly reduced the aperture, so that the difference between the M3 \ L6 became more visual, look. more sidelight VS more hotspot.
Well, it will be useful to compare the M3 with a recently released bright flashlight with the same 26650 power supply, with S11.
It is seen that at its 40% brightness, the M3 is only slightly dimmer than the S11 at the maximum for that. In fairness, the difference in size here is also preizryadnaya.
There is no PWM shimmering at any mode.
consumption currents - 0.046-0.7-3.2-10A
leakage current - 187 μA
I remind you that the adapter rings allow you to supply 18650 batteries, so long as they give out 10A permanently, with which a sufficiently large number of batteries can cope. I think that a reasonable choice here would be 30q or VTC6. I strongly recommend not buying them at Ali.

S11 showed a good stabilization unexpected for the convoy, and I was hoping that the M3 would show up just as well. I would not like to see here the usual smooth drop in brightness as the battery is discharged. Hooray, did not see. It's all good.
It can be seen that the thermoregulation works, pleased that after cooling, the brightness rises in fact to the original.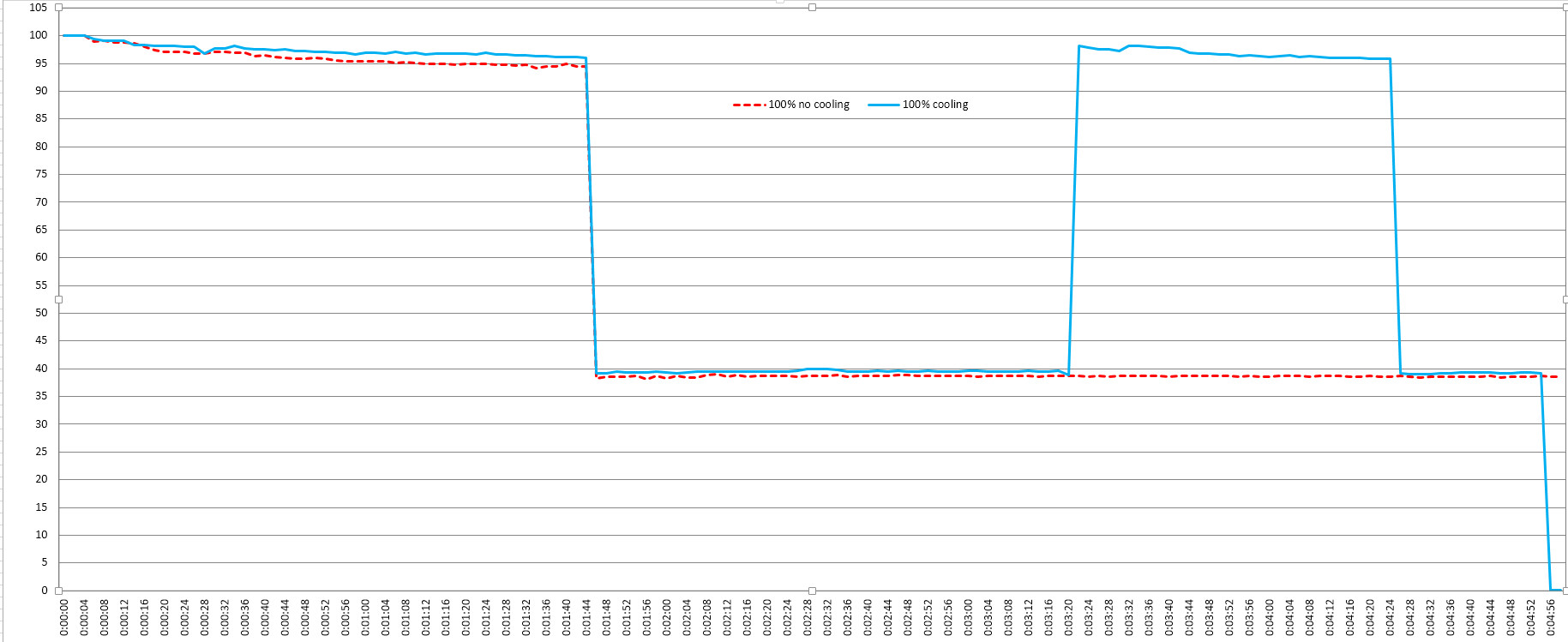 It is appropriate to mention (if I will continue to compare with the L6) that the Convoy L6 turbo is much more stable. But this is a nominal plus, as it is impossible to hold such a hot body in hands unless it is in severe frost and\or in thick mittens.
po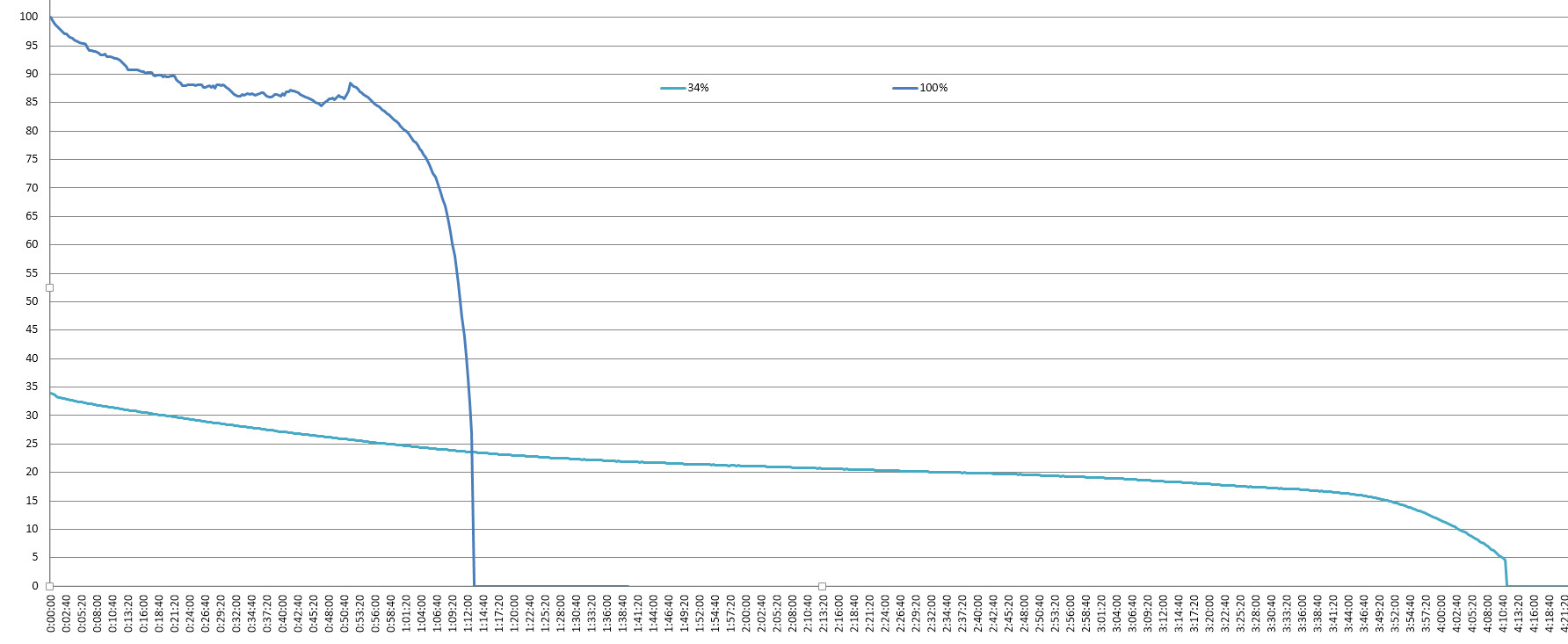 The main two modes: 10 and 40% last really long. With the first you can generally count on the light throughout the summer night, and the light is bright. Yes, and 2 hours of stabilized, really high brightness by 40% is also frankly a lot. With the diffusor on (if you find one that wide ) you will have an extremely bright camping light. The scale of a normal room should be no dimmer than 100W incandescent bulbs.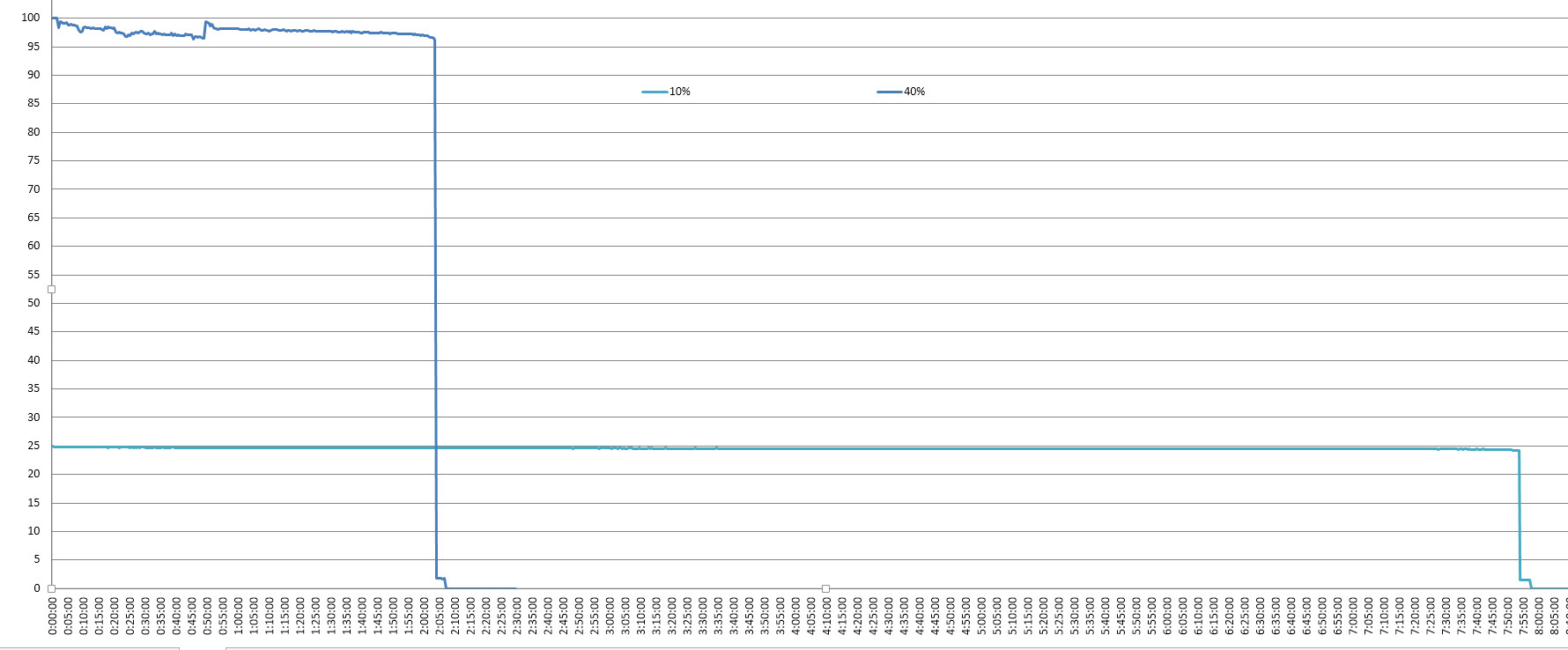 As for the light. By and large, the selection of modes is quite good, except that I would add moonlight and smt between 1-10% . He asked Simon, he said that there were some technological difficulties with moonlight. But as it is, the mode spacing makes it possible to cover almost all the needs and the week during which I did the review, showed that as is , using Convoy M3 does not cause inconvenience.
1% is a dim, non-blinding light, instant access is a big PRO. It is convenient to use when the eyes have become accustomed to the dark.
*10%* - the most decent in terms of duration of work and brightness, something about 300-400 lumens. In my pocket flashlight, this is the maximum brightness and I do not always turn it on. In general, it is quite enough for a garden distance of up to 25m or more. Here I mean a good detailed light, so (see below) and there is some use withing 50 meters range.
*40* is radically brighter than 100 for S2 + 4x7135, that is, in this mode you can shine brightly and far enough. Below it can be seen that the distance of 75m to this mode is quite within its power, we can safely work. Somehow you can enlighten and at 150m, you can see something in general.
*100% *- bright and quite throwy due to this. A real thrower will perform better, no surprise, but even here you can highlight something within like 200m, and the runtime until the stepdown will be enough to examine everything you need in detail. In principle, it is possible to light up at 400m, but the brightness here will be significantly lower than that of the more preferred L6 distance for such a distance.
Summarizing all the above, for everyday household purposes - more than enough. People who have not dealt with something brighter than a penny flashlight (like crappy Zoom) will be astonished, that such affordable flashlight can be THAT bright.
ok, i made A LOT of pics, so enjoy
15-20m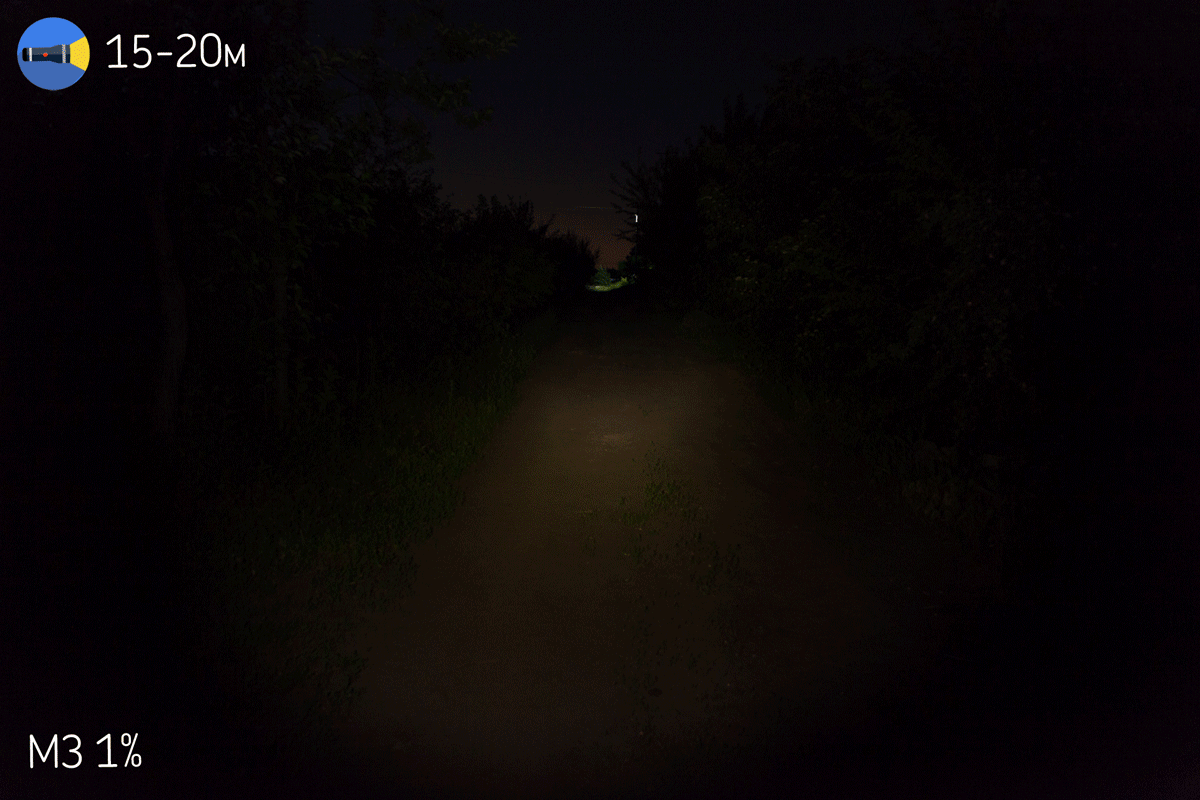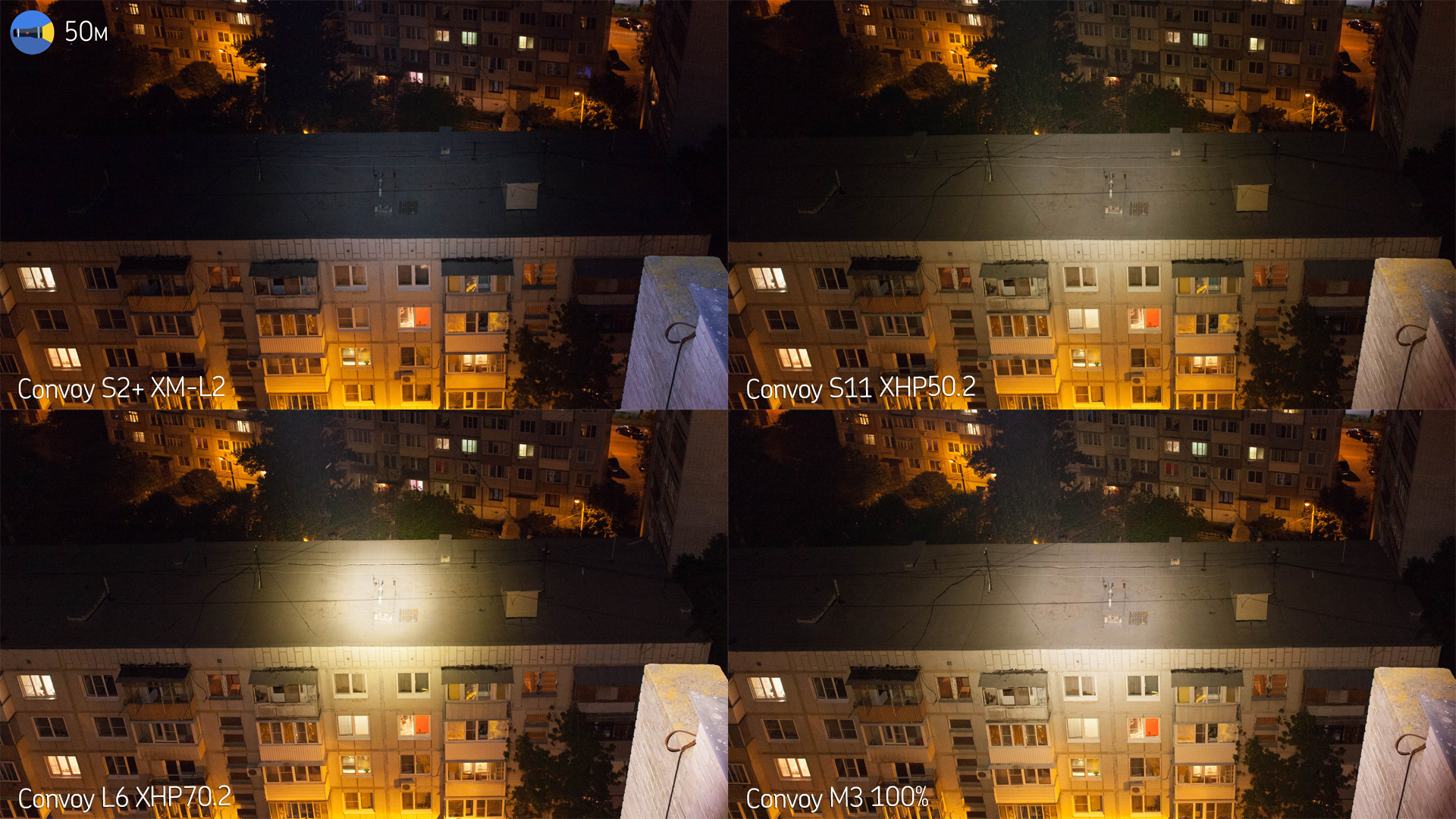 75m, time to add some throwers.
175m
400m not impressive, but still can reach this distance.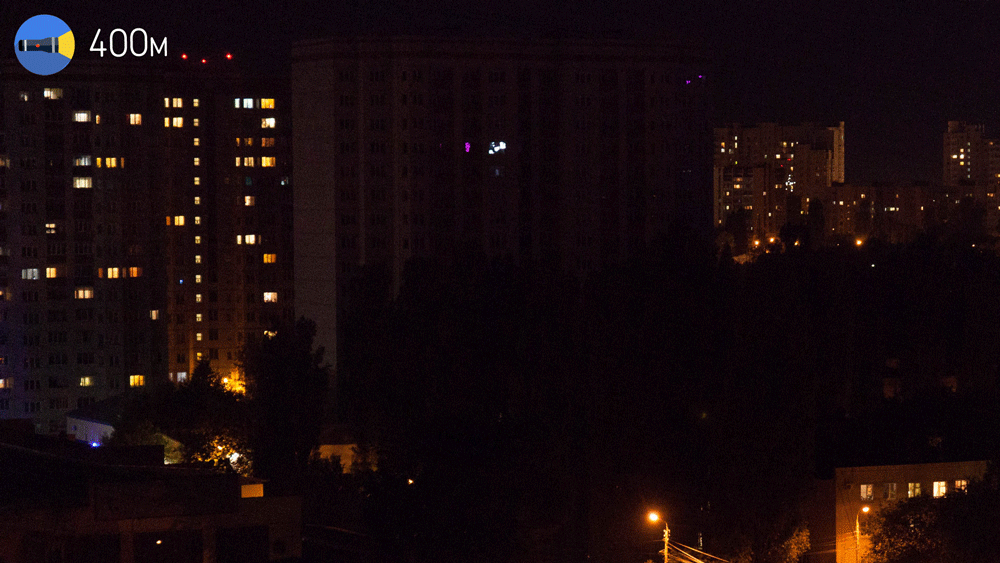 there is a bunch alive video at the end of my video review, check it.
Overall impressions.
Convoy M3 logically complements the other models. It is bigger and brighter than the Convoy S11, but the latter is still relatively compact (relative to M3, actually). At the same time, the Convoy M3 itself is smaller in size than the other bestseller, the Convoy L6. Not everyone would like to carry such a cudgel along, and if there is no need to work at a distance beyond a couple of hundred meters, then it is quite possible to get along with the M3.
Given the fact that there are a lot of 1x26650 flashlights with the XHP70.2 on the market, release of the same budget model is a good move and surely the Convoy M3 will find its customers. According to my impressions, it should not be dead branch on evolution tree like some other models that i wouldn`t name here )
Buying a Convoy M3 will not break a hole in your wallet, so it is quite possible that for many it will be the first truly bright flashlight.
+ brightness
price
runtime
stabilization and good thermoregulation in turbo
the ability to custonize a flashlight for yourself (choice of color temperature and reflector)
UI
- gap between 1-10, it is here that I would add an intermediate mode
- weight and size more than the mass of other competitors on 1x26650 power. (although this has a positive effect on the heat sink)
- double springe will look better then bypass wire
seems that cutoff for 100% is at too high level, as far as i understand, that is around 3.9V
At current moment I don't see more disadvantages for this price-performance ratio. if you want somehting brighter , with longer runtime and better throw - check my review of Convoy 4x18A