Choosing between keylight with built-in battery and classic AAA model, I will prefer 1st one. It`s maximum brightness is significantly higher, there is an additional light and, which is important for me personally, there is no need for separe external charger.
The prospect of a drop in battery capacity does not bother me at all - the experience of use has shown that even after three years it is still more than enough for the usual situations for keylight when you just need to shine a light under your feet on the way to the house or look under the hood of a car. So I was quite enthusiastic about the opportunity to review Fenix ​​E03R, which (of course,review, not a flashlight) I will share with you.
you can buy Fenix E20 v2.0 at:
AMAZON
BANGGOOD
ALIEXPRESS
NITETORCH they generously offered 20% code HJK5KDNQ valid for all the items in store, including other brands
official page | manual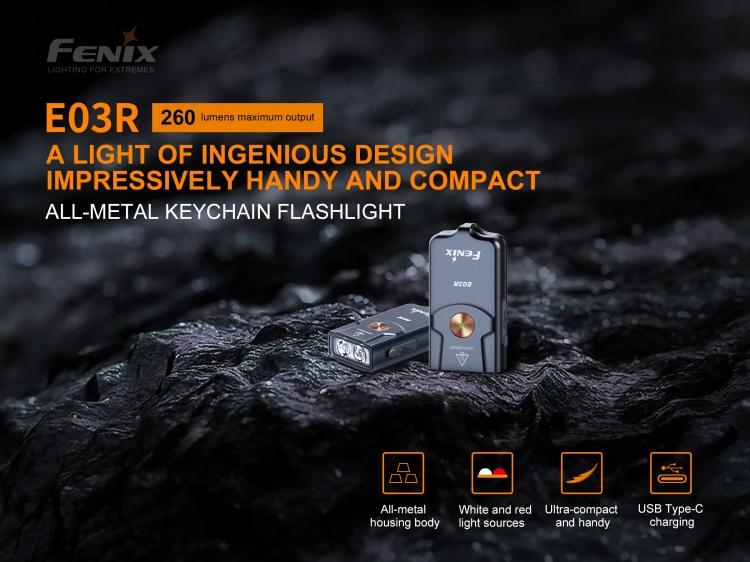 i also can recomment best battery store ever – NKON.NL
i buy batteries there for years
MATCH CA18 white light and EVERLIGHT 2835 red light, 50,000 hours lifetime
Built-in 200mAh Li-Po battery
Battery level indication and low voltage warning
Automatic overheating protection to avoid high surface temperatures
High precision machined metal body
Body finish: Premium high strength HAIII hardness anodizing, scratch resistant
Recessed button with lock function
Dimensions: 47 x 24 x 12mm
Weight: 22g
PACKAGE AND APPEARANCE
The flashlight is packed in a dense black and yellow blister. It looks pretty good and will be quite acceptable in terms of a gift.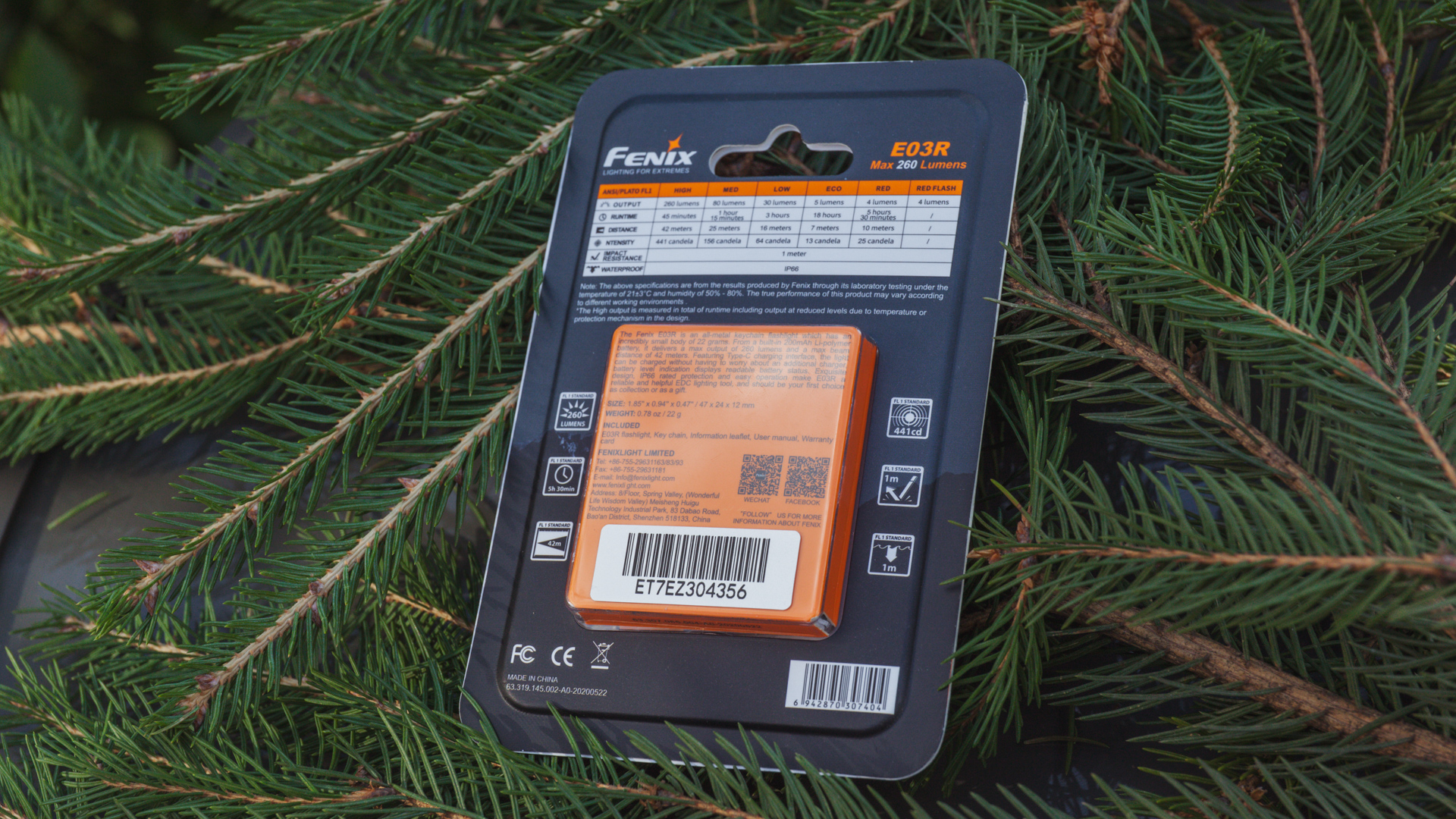 In addition to the flashlight itself, the kit includes manual, awarratny card, and a tiny ring for fastening. In general, there is everything you need . I would only add micro-usb -> type-c adapters. Not everyone has type-c cables, but everyone has bunch of micro-USB ones. And it would be very inconvenient to fit even short cable into the blister.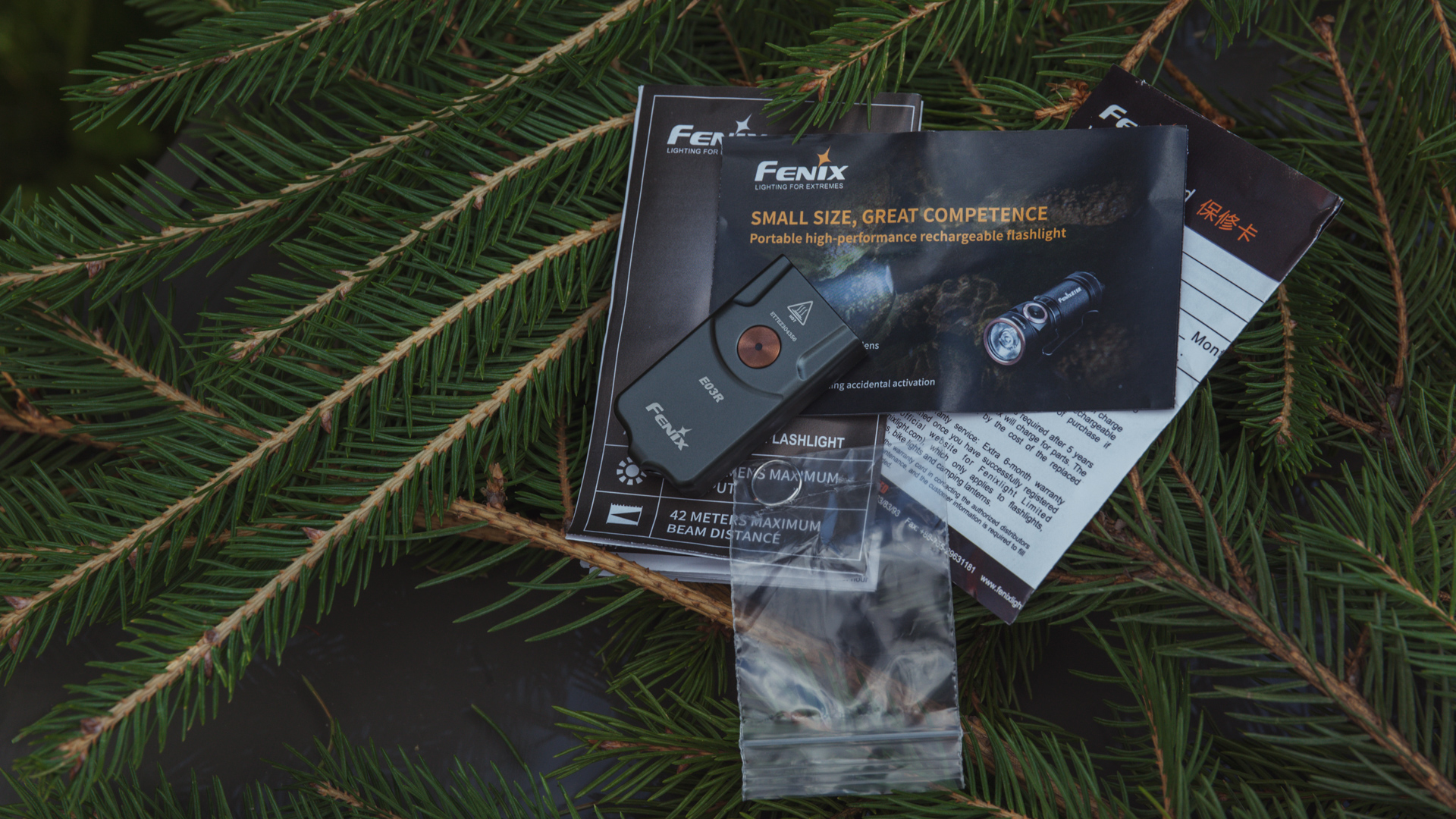 The flashlight has a really nice appearance as a tiny steel-gray block with a large button on top.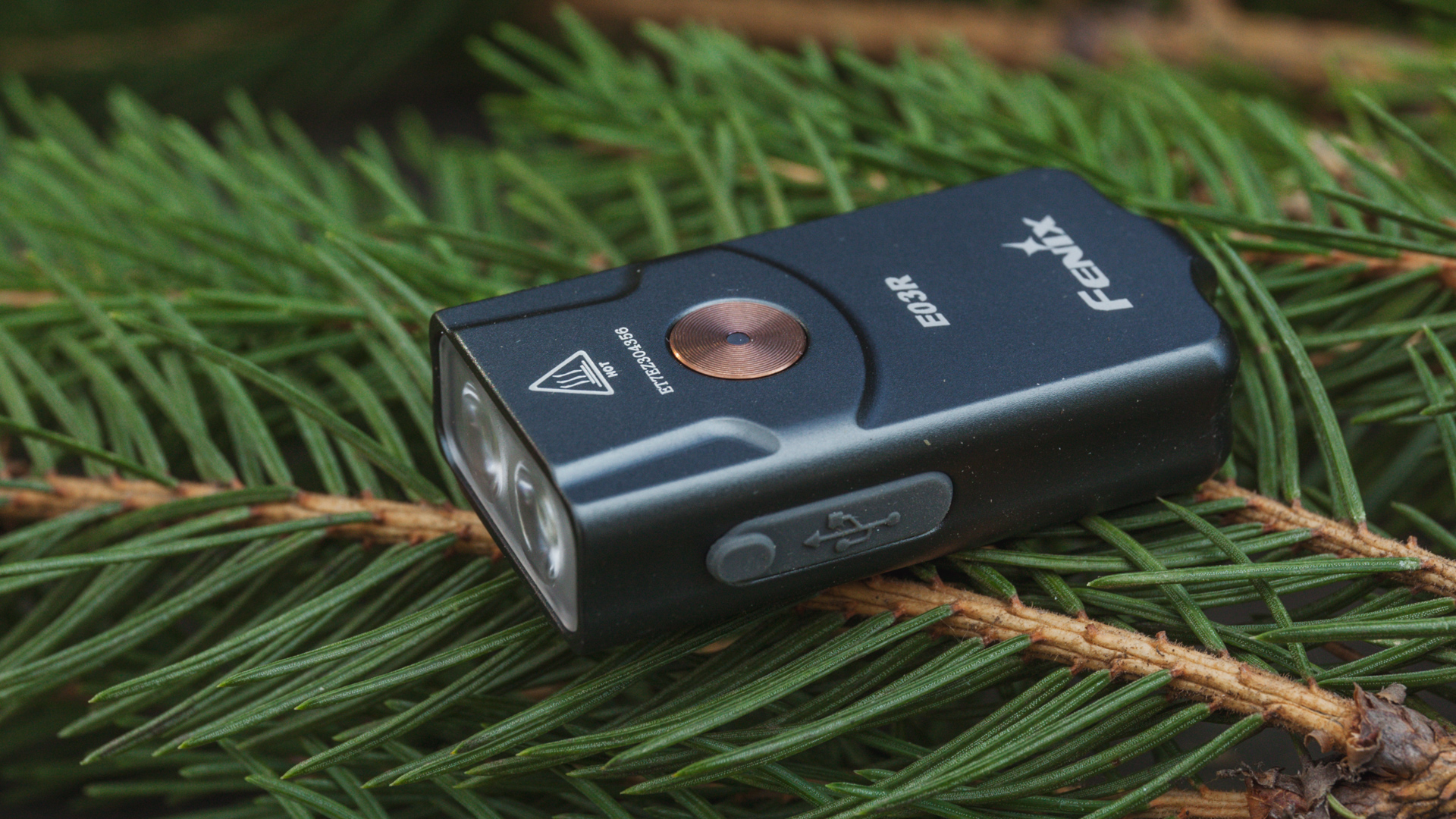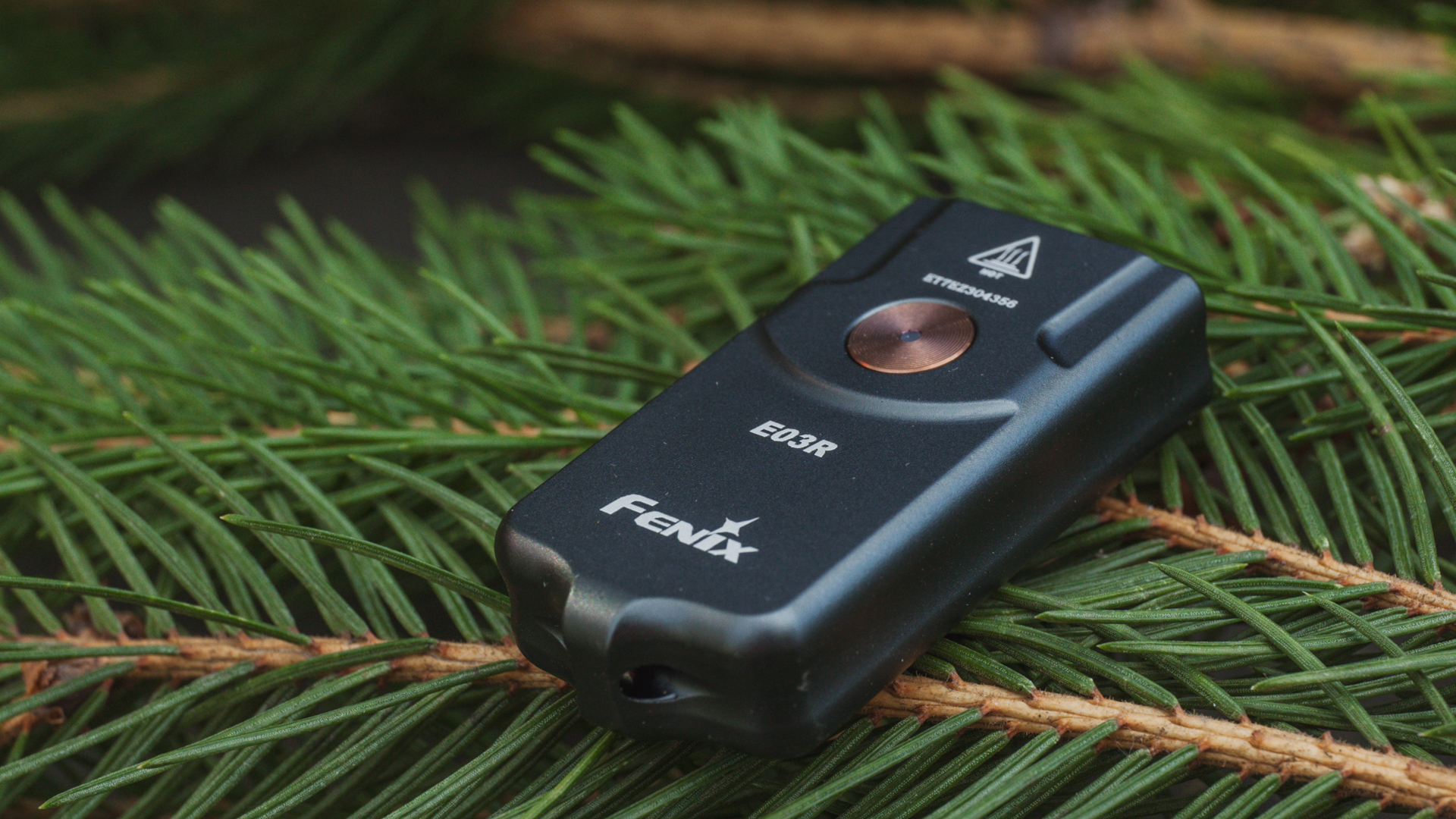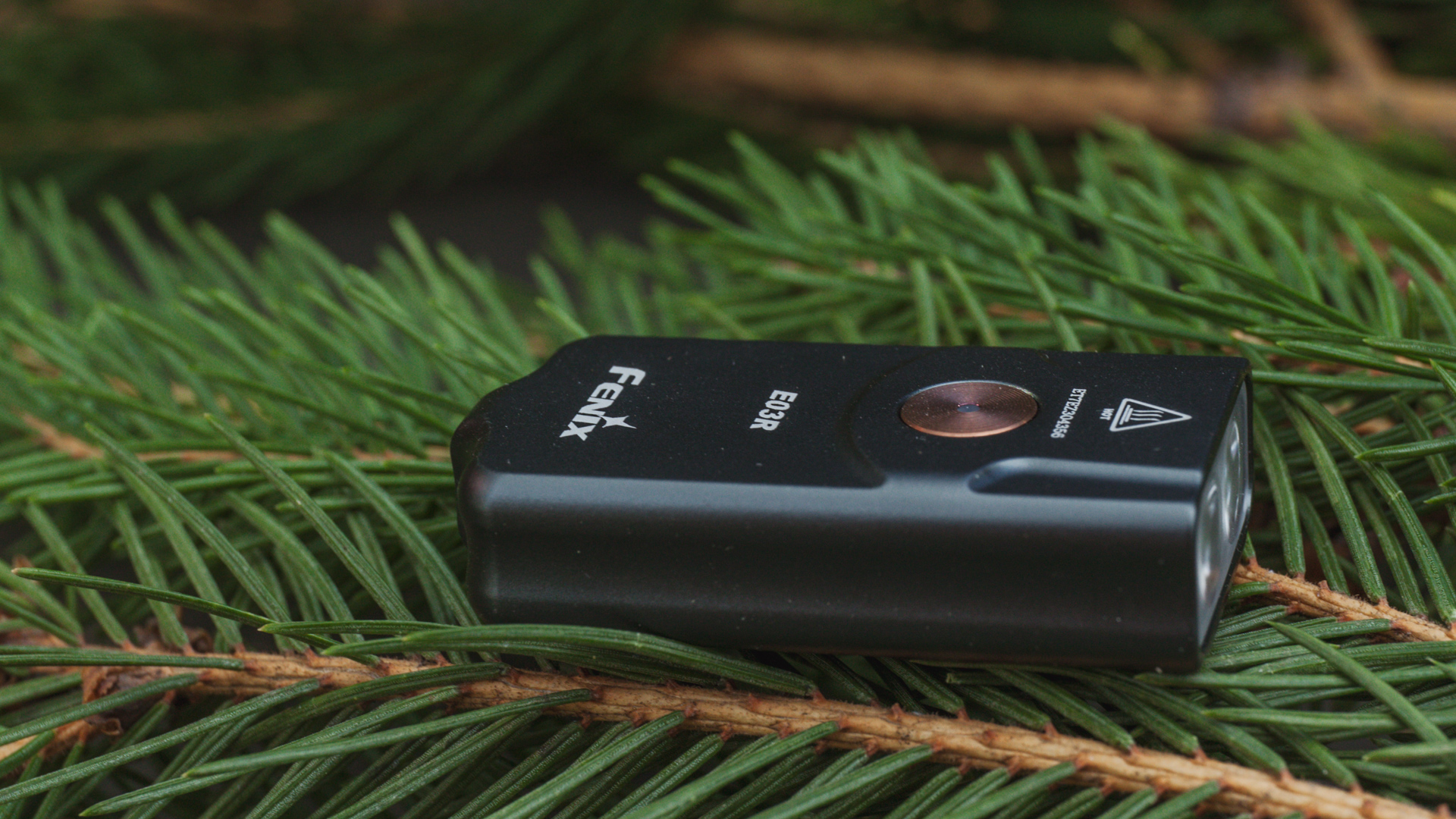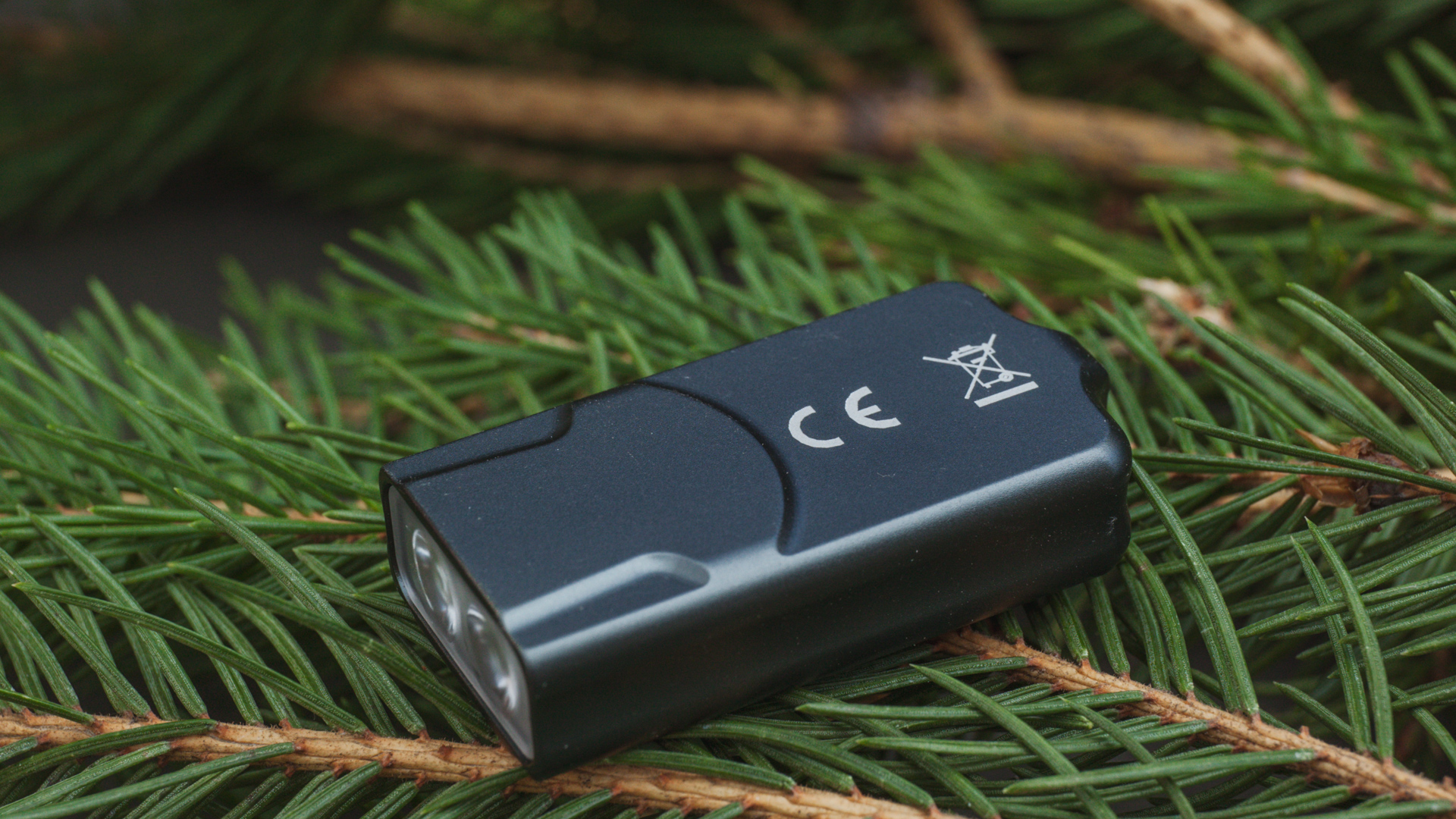 The dimensions, as mentioned, are small.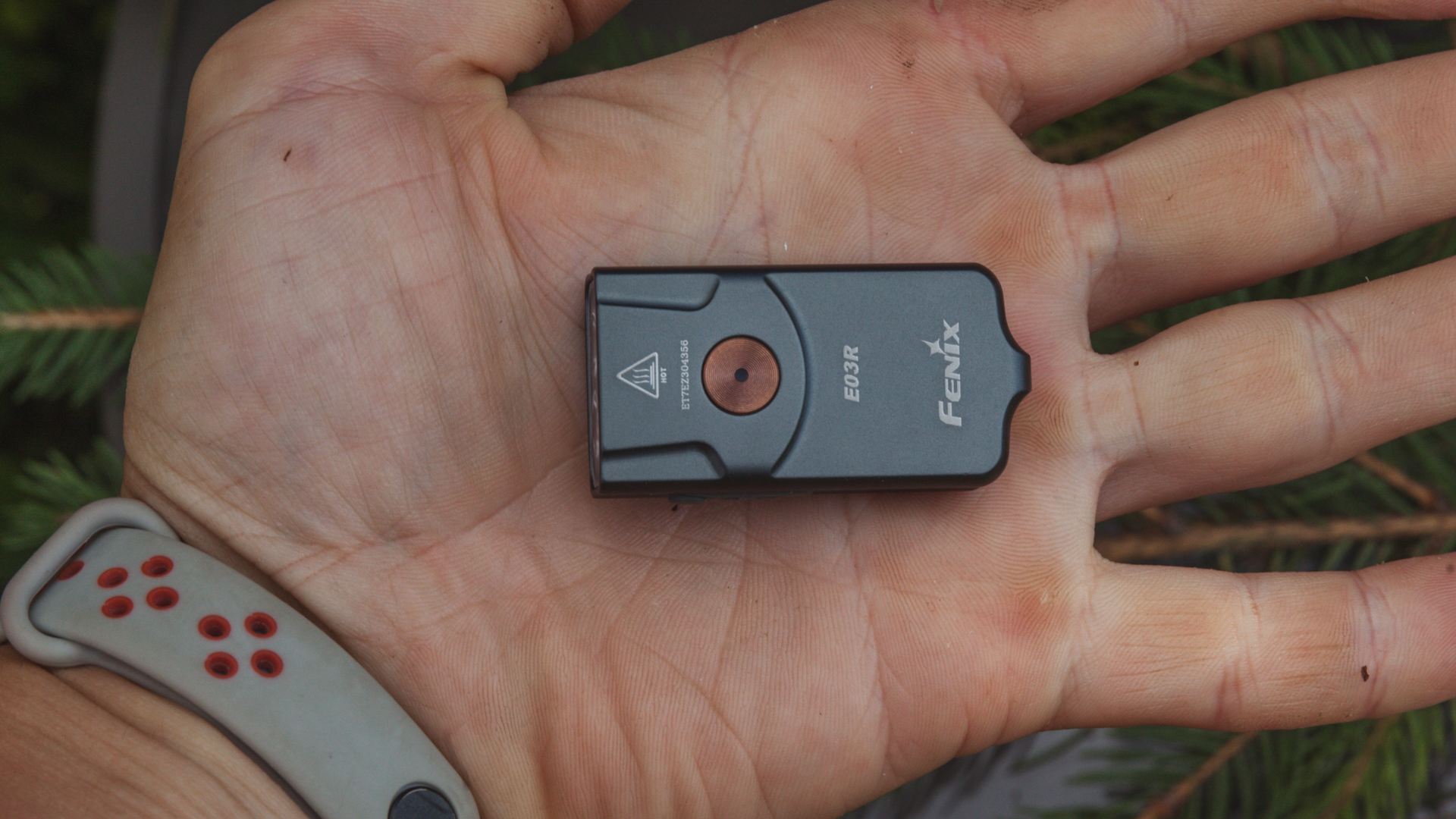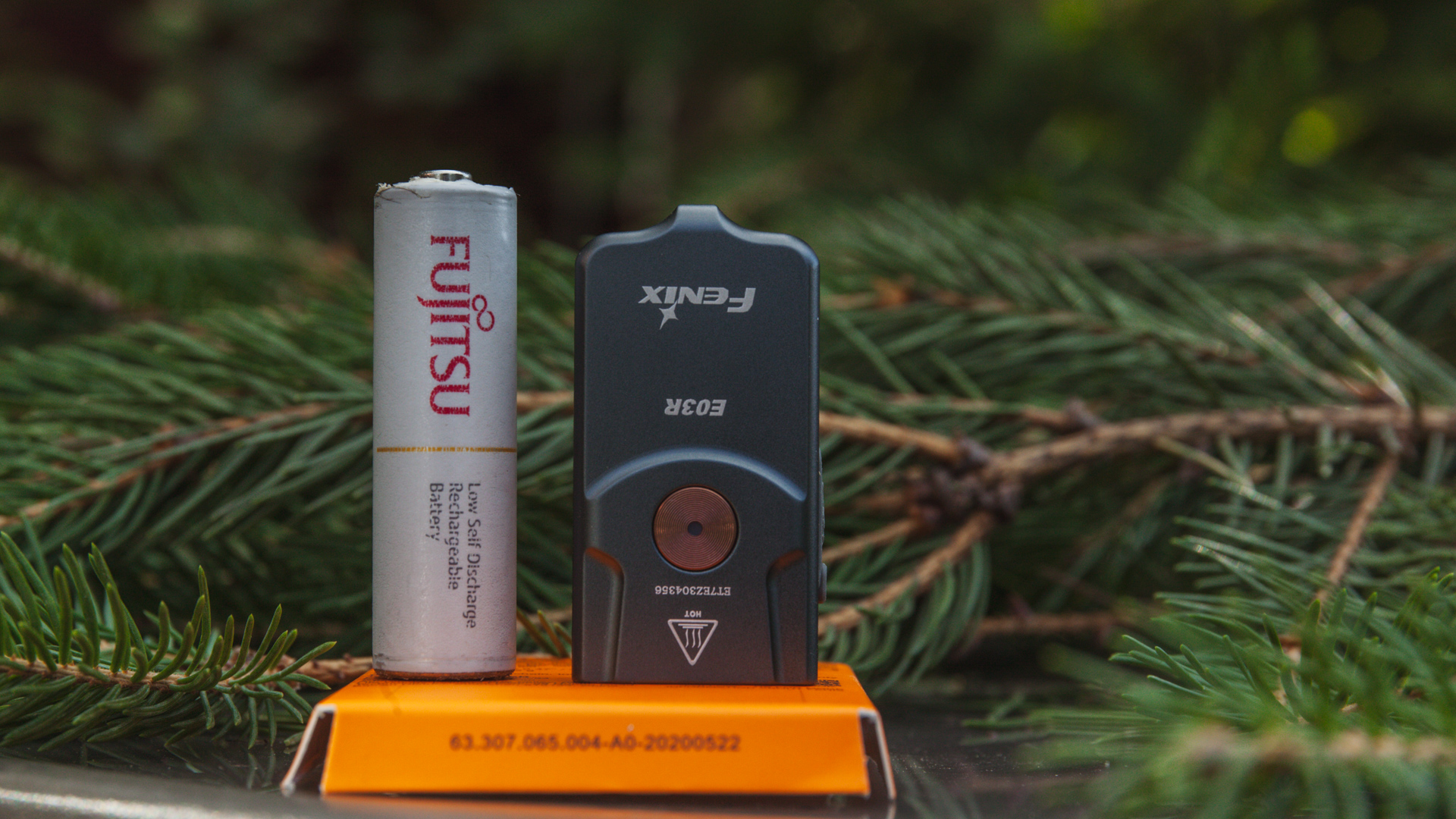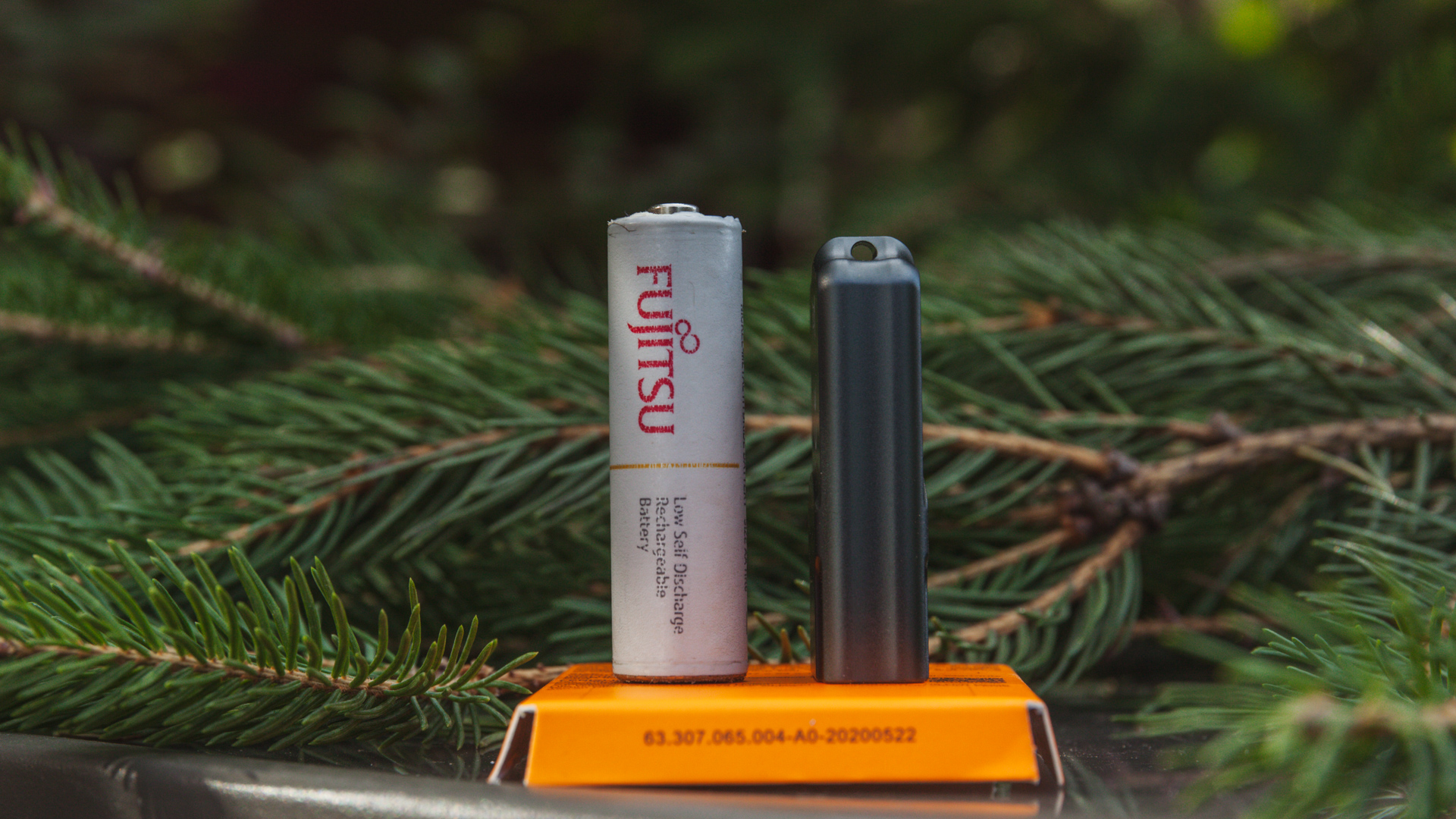 The flashlight looks perfectly harmonious with a bunch of keys. Does not burden it or bulge.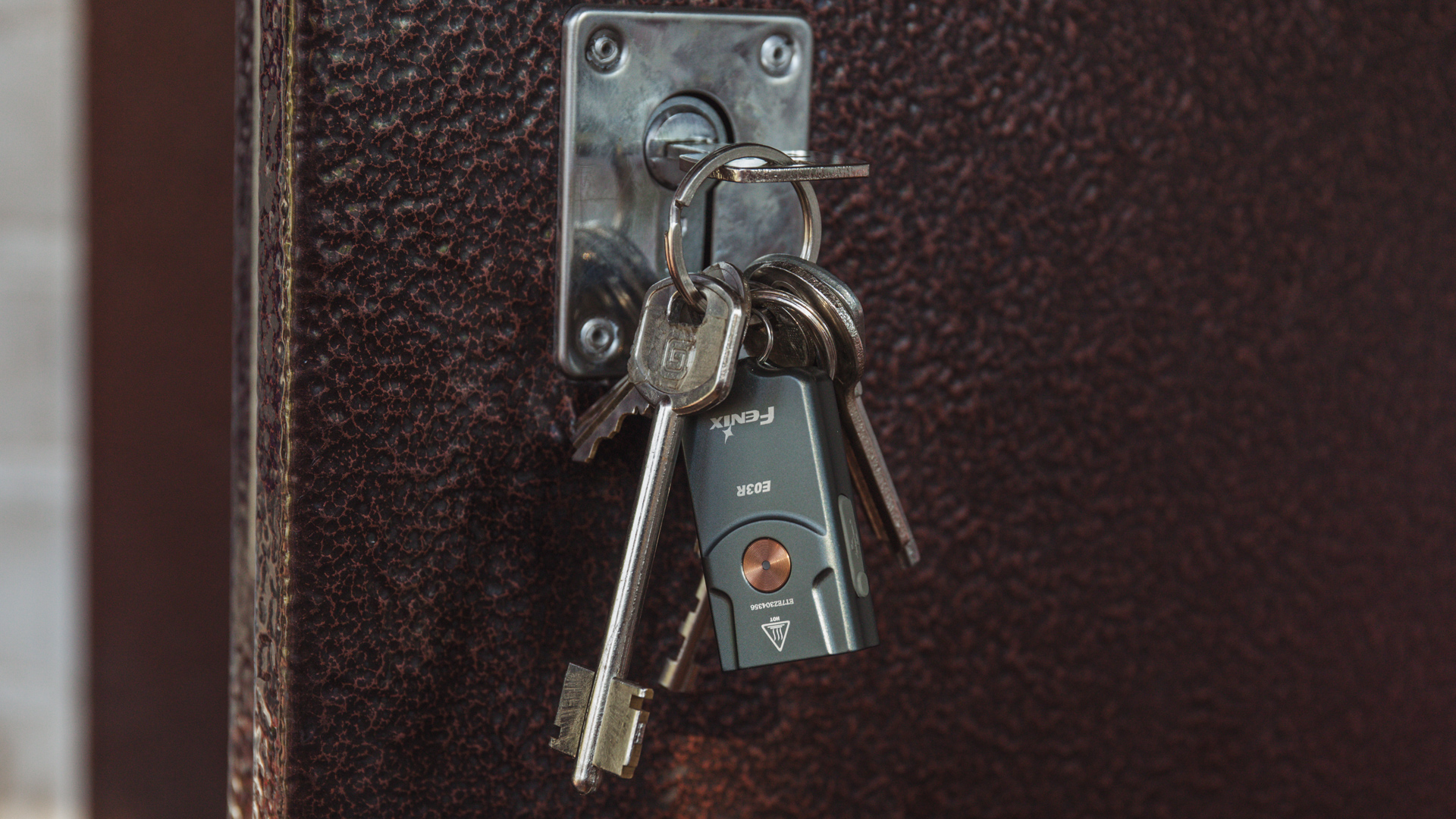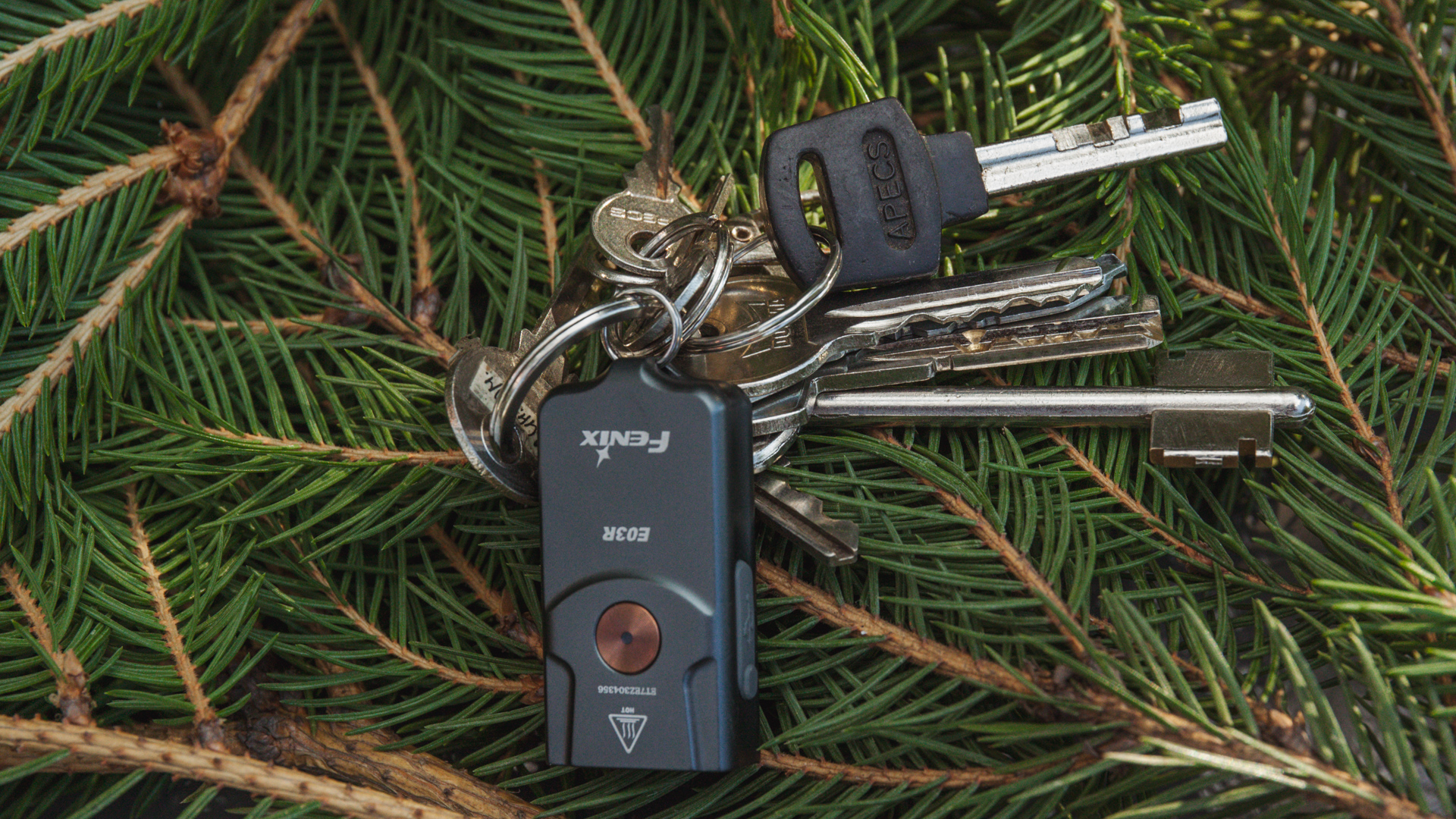 This is the first keylight I've seen with a Type-C charging connector.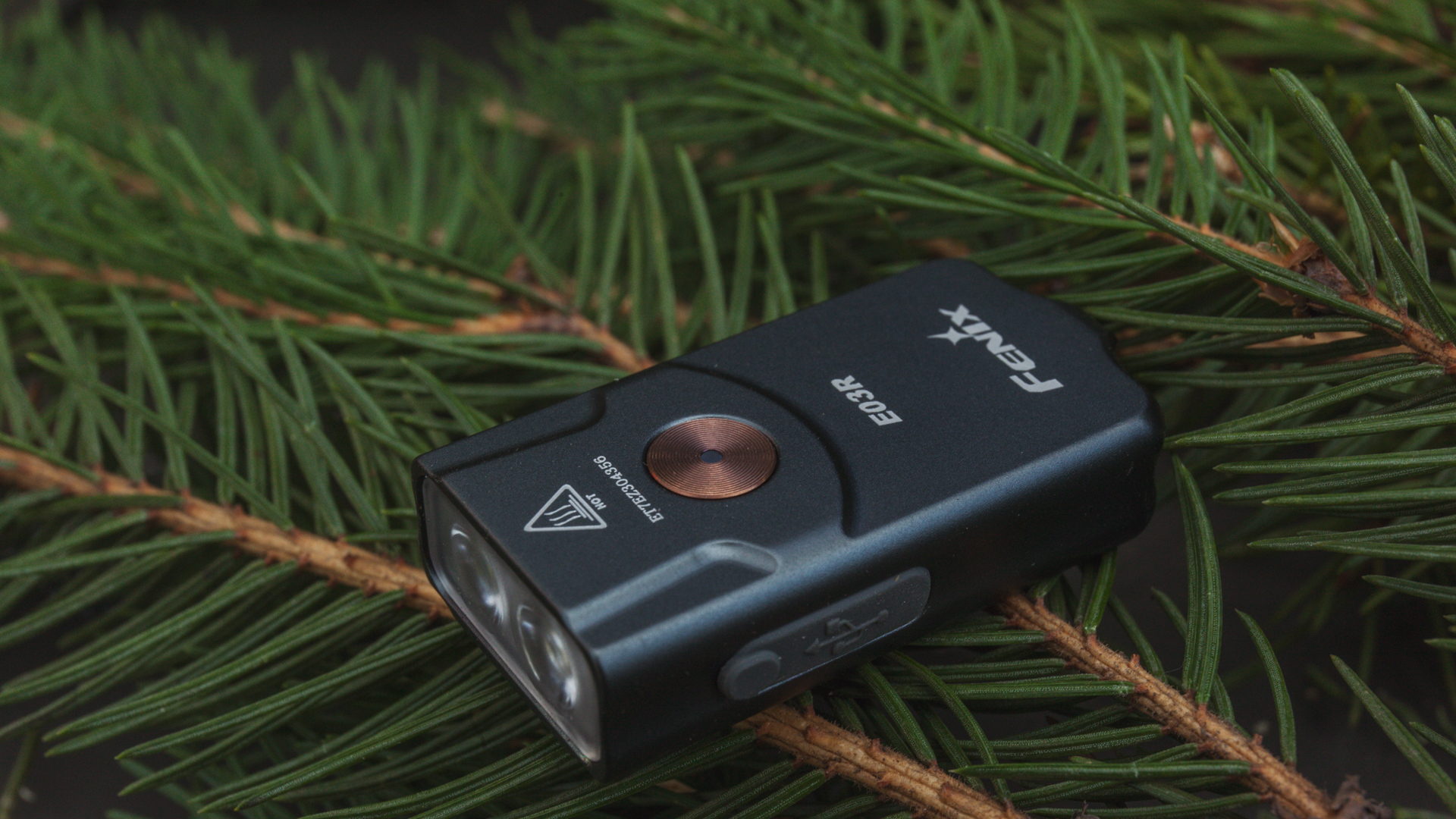 The battery here is not the most capacious, 200mah. For example, my YAL Scorpio has 400mah. But! I extremely, extremely rarely use it for more than 10-15 minutes. Typically, i (and believe - rest of people) use it to shine a light under your feet on the way to the car door or home entrance. And this capacity is enough for more than one such trip.
Charge currency is 0.2A, i.e 1C - thich is quite high.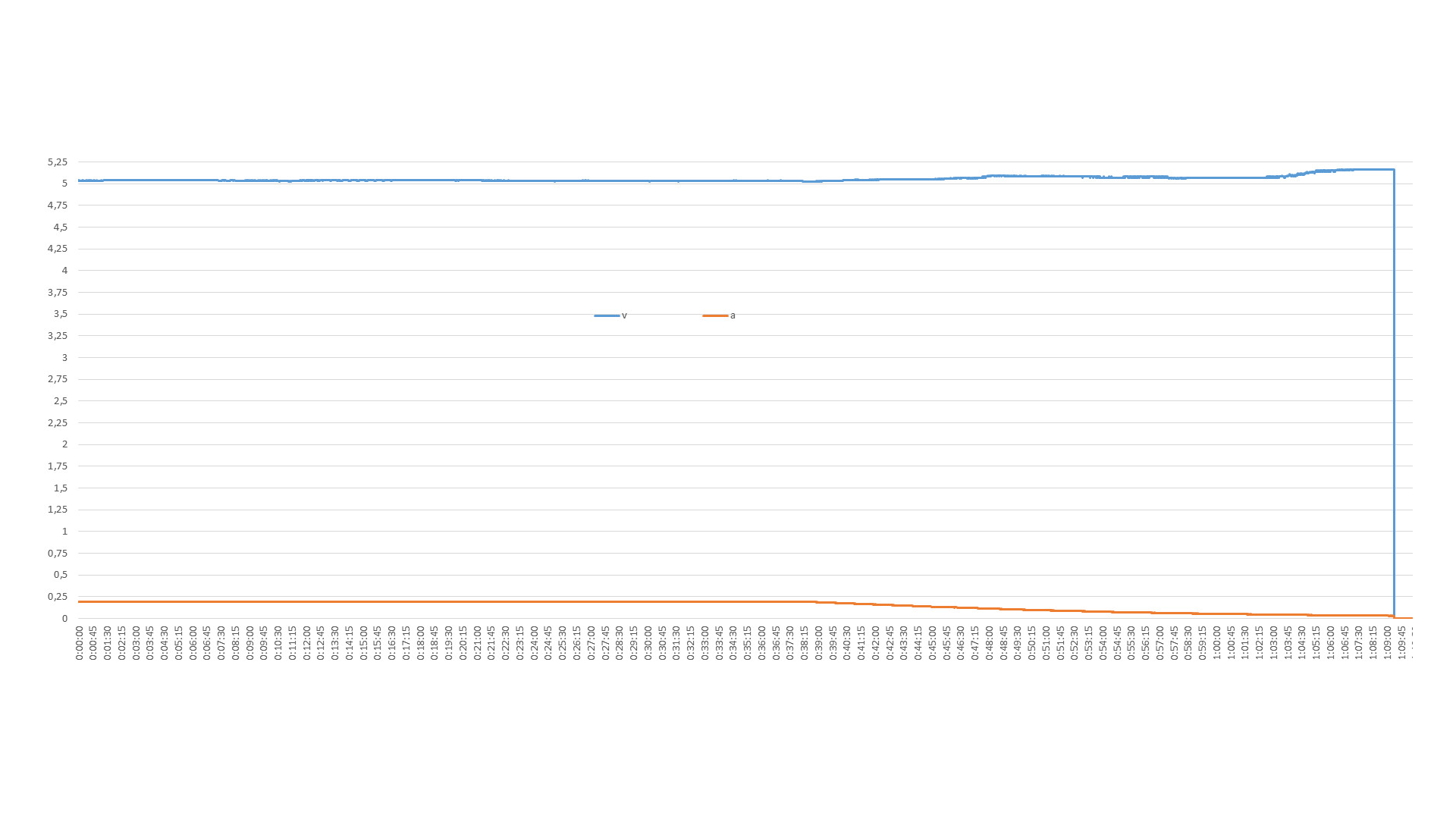 I liked the design of the button. And a harmonious combination of color, and rough texture. It is easily felt with a finger. And, importantly, there is the simplest locking mode! That keylight that i use, turns on in pocket quite often, for example. Probably unconsciously, but the bulge with the button is stylized as a Thor hammer.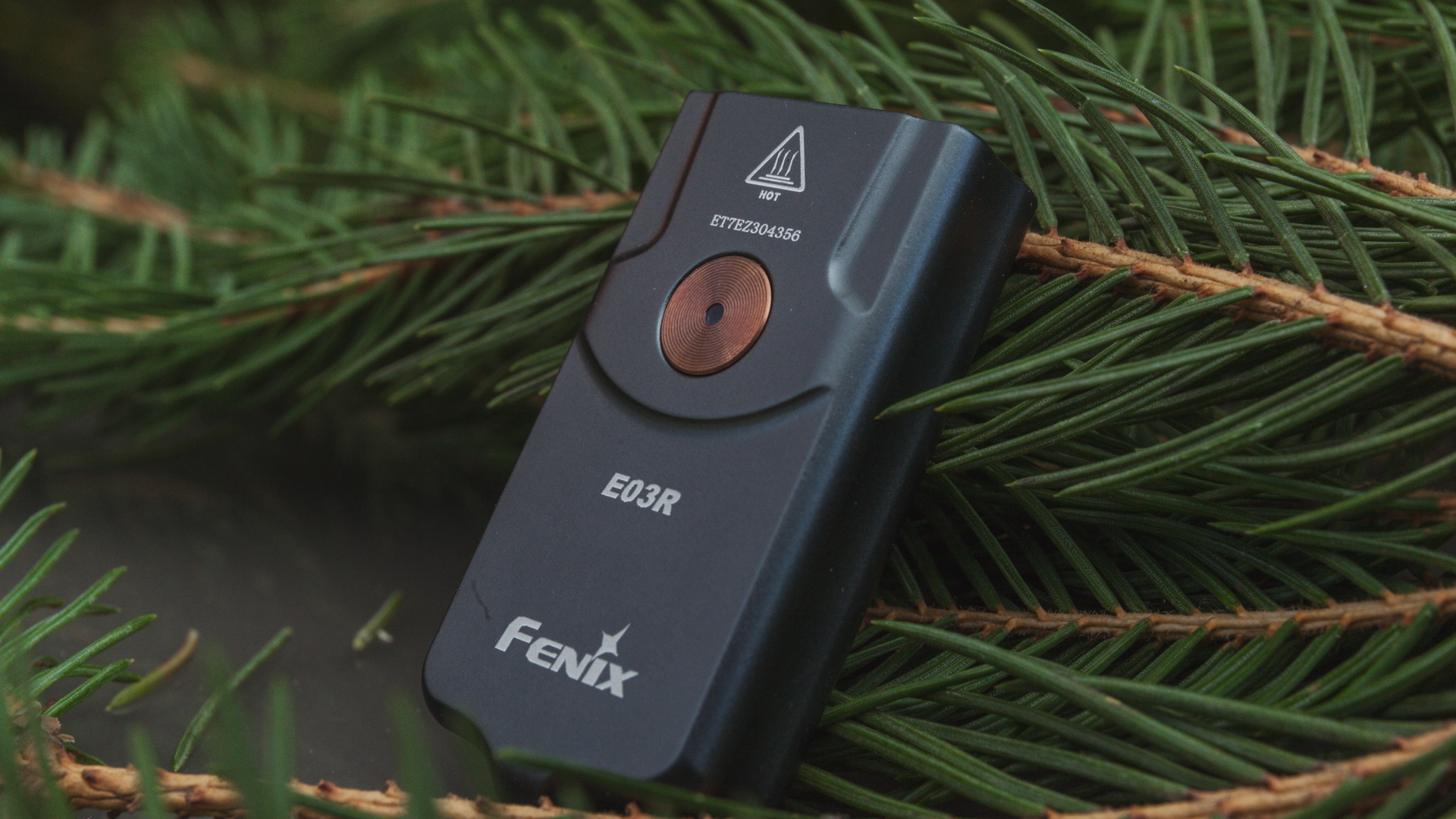 By the way, the button is recessed , which also reduces the chances of accidental activation.
The charging indicator, of course, is also there, a red-green baclight in the center.
A pair of LEDs besides TIR optics: a red Match-CA18 and a white light Everlight 2835.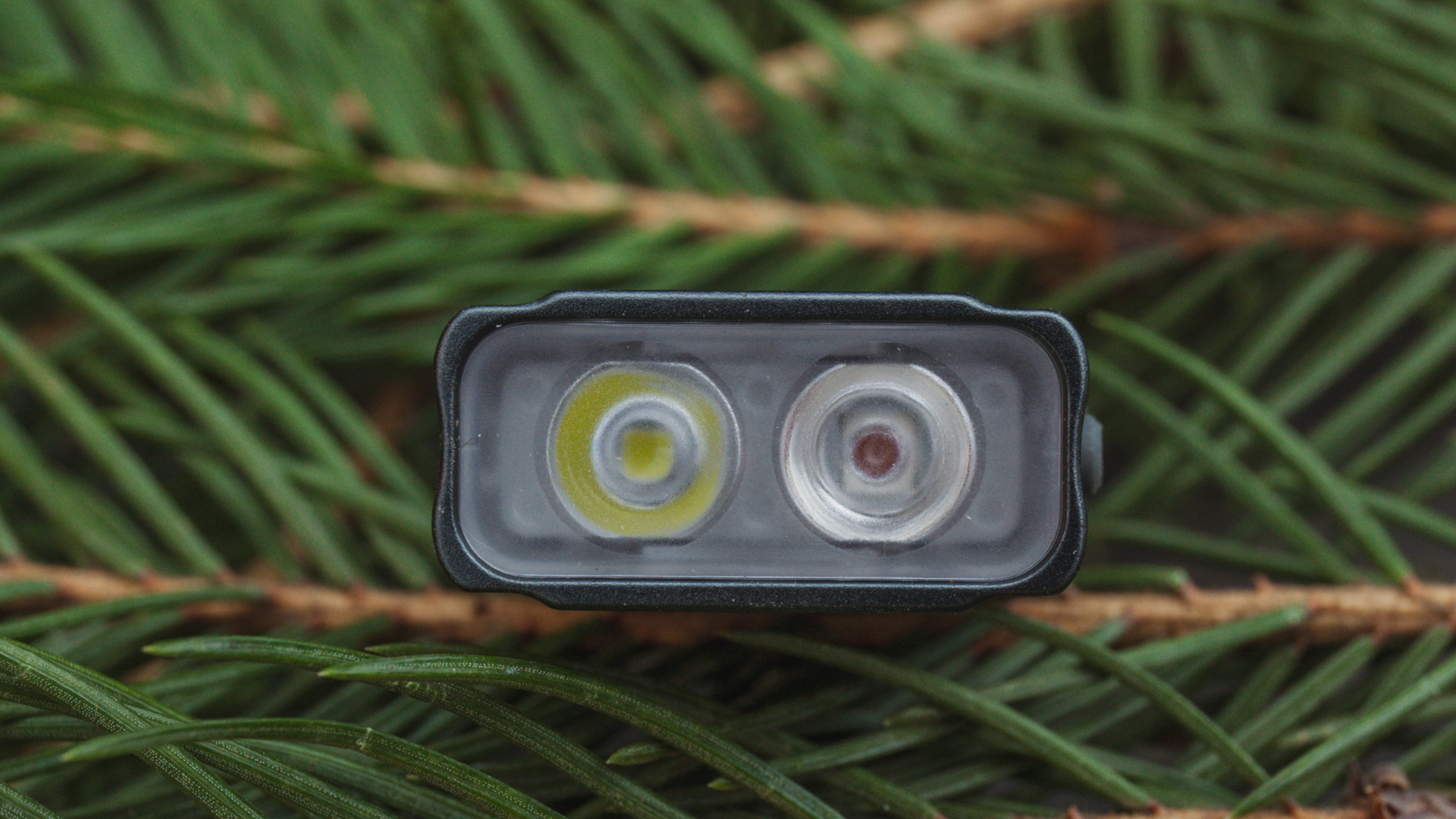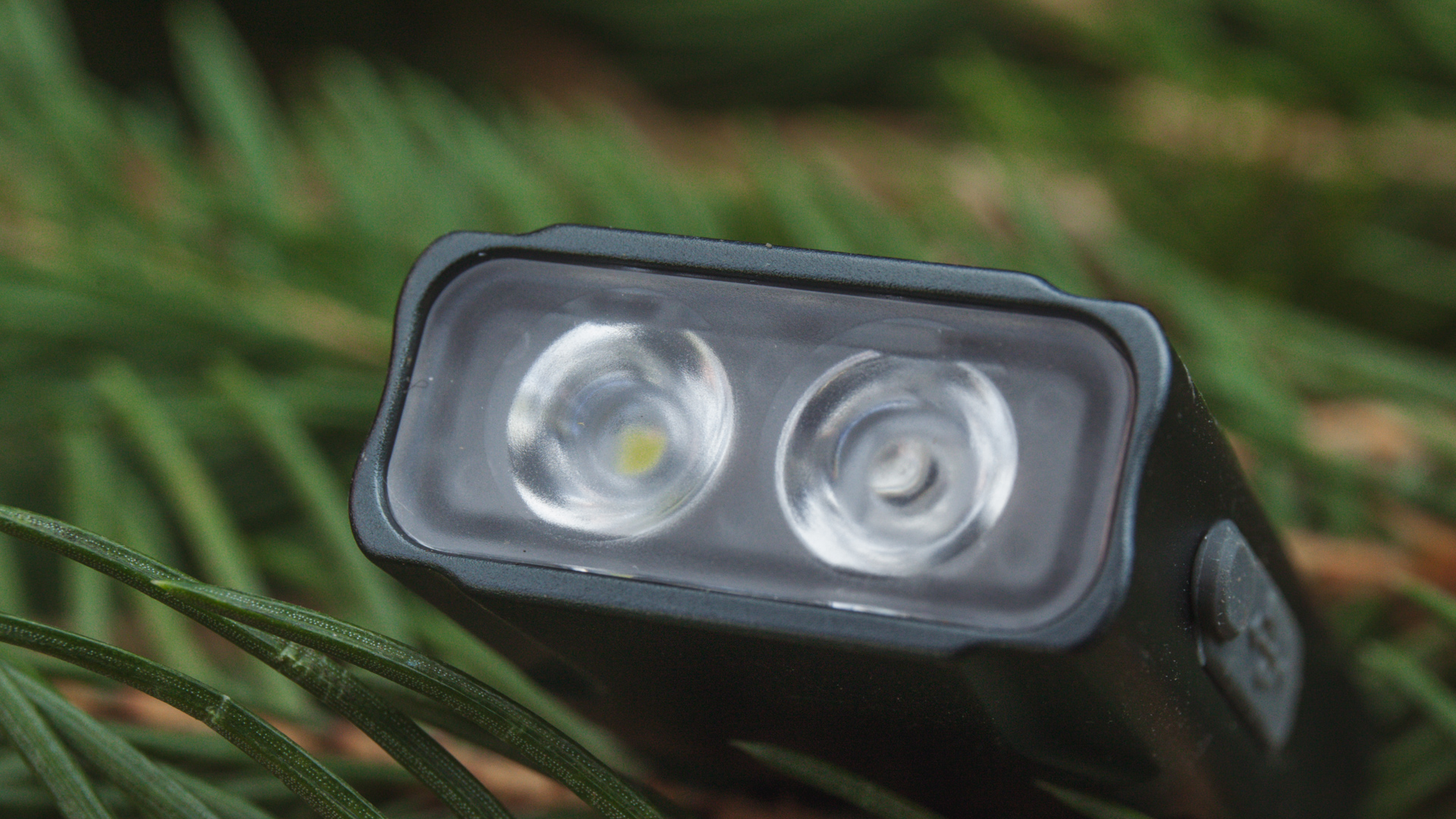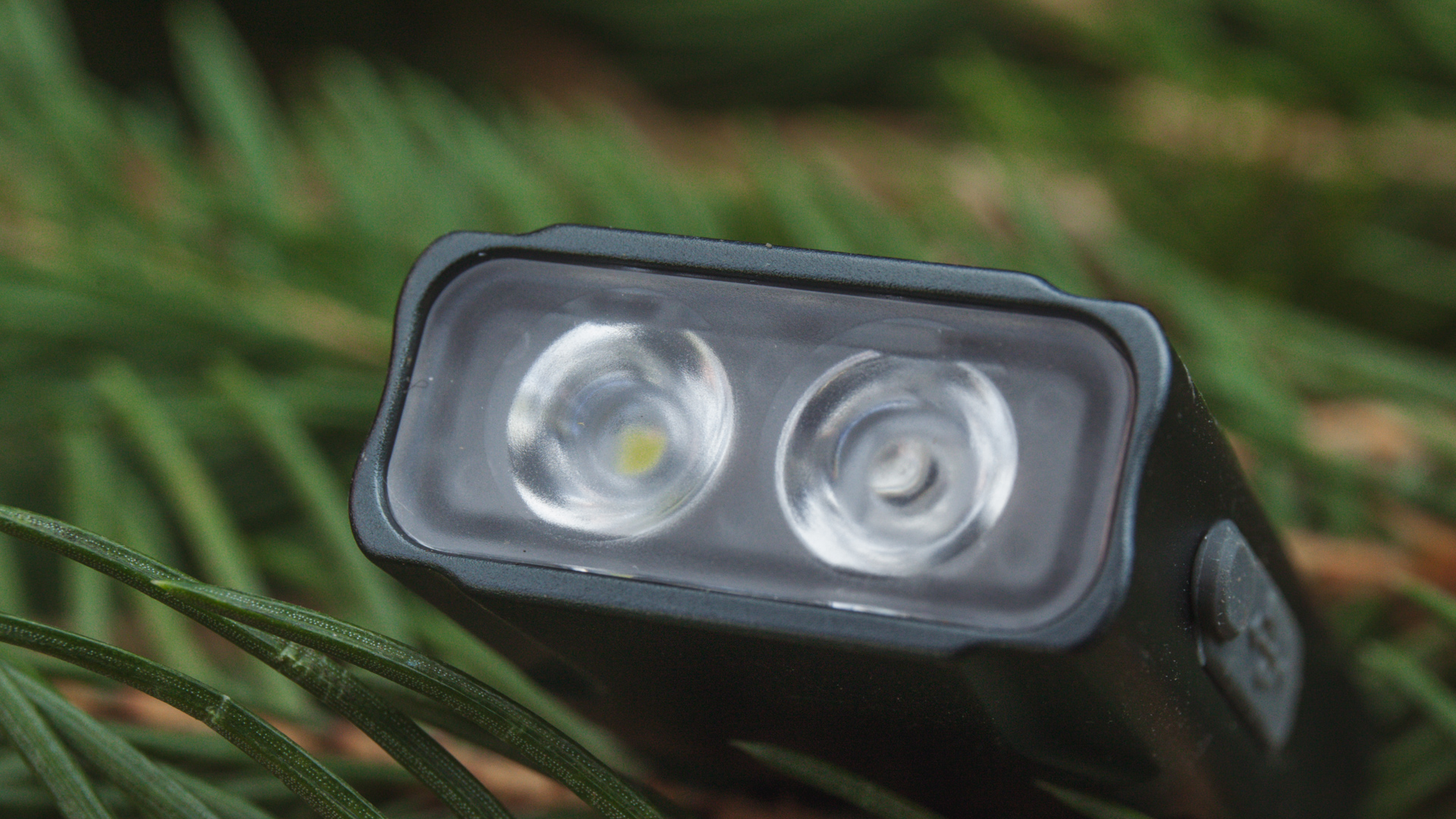 In terms of appearance, everything is fine. The flashlight gives the impression of a solid branded thing without any visible flaws in workmanship or design.
UI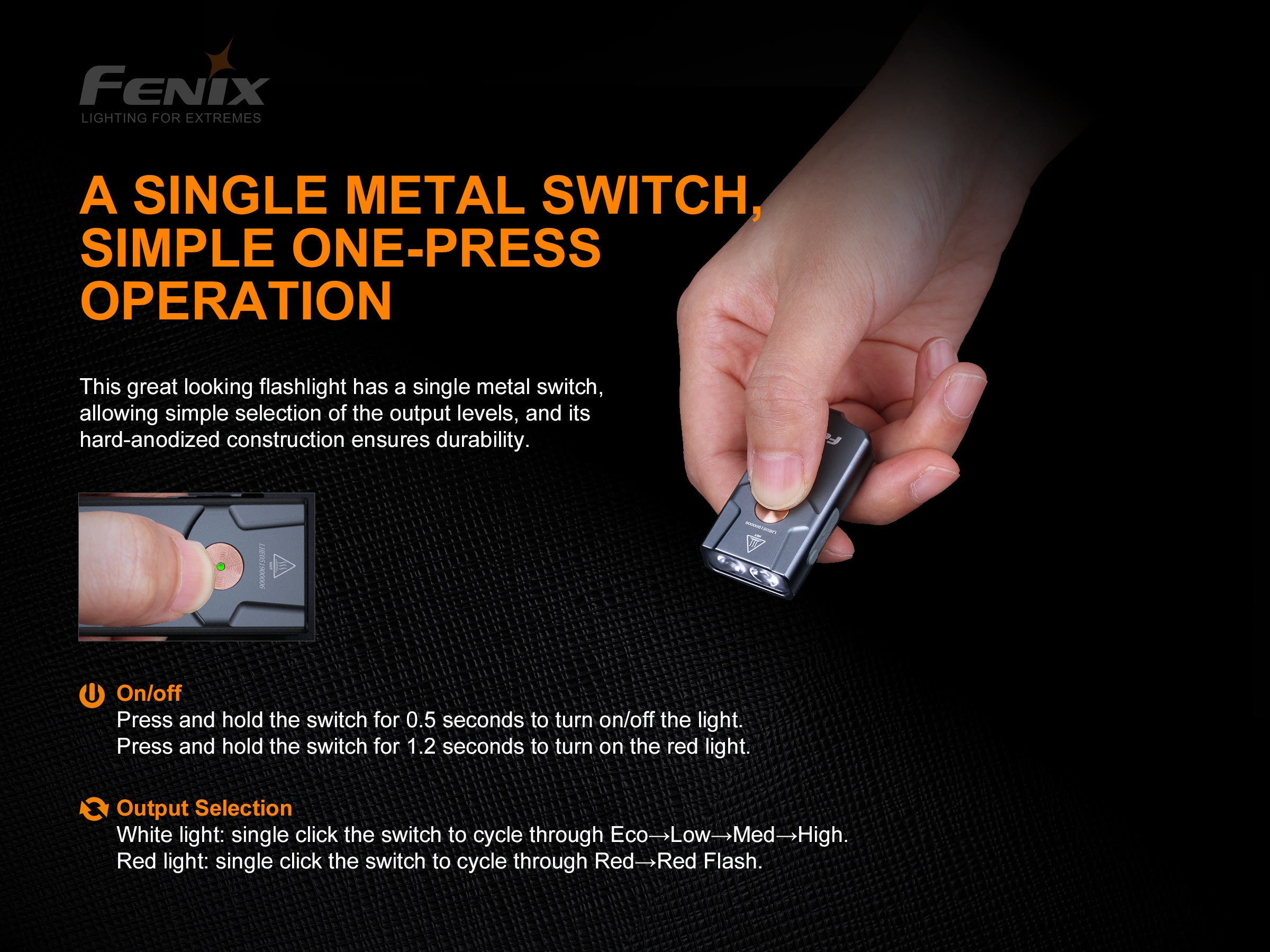 True, for the sake of variety, i am so glaad to see that at least in this model Fenix ​​did good UI! i`ve got no complaints about it at all.
OFF-ON - hold
start with Low mode, which is good. you can get to High in 1-2 seconds and will not be blinded when turn it on at night.
1.5 sec hold from ON triggers toggles between red and white light.
Switching modes by pressing eco-low-mid-high \ red-flashing red
There is also a lock - 2 clicks.
How it shines
There is no fullstabilization. But for such sort of flashlght, I do not see this as a problem. Over the years, I have never ever used this kind of flashlights for more than 10 minutes. During this time, the brightness will drop insignificantly. So even taking into account the drop somewhere up to 60 lumens, the same hour in High is more than enough for you, look at the photo below what you can count on.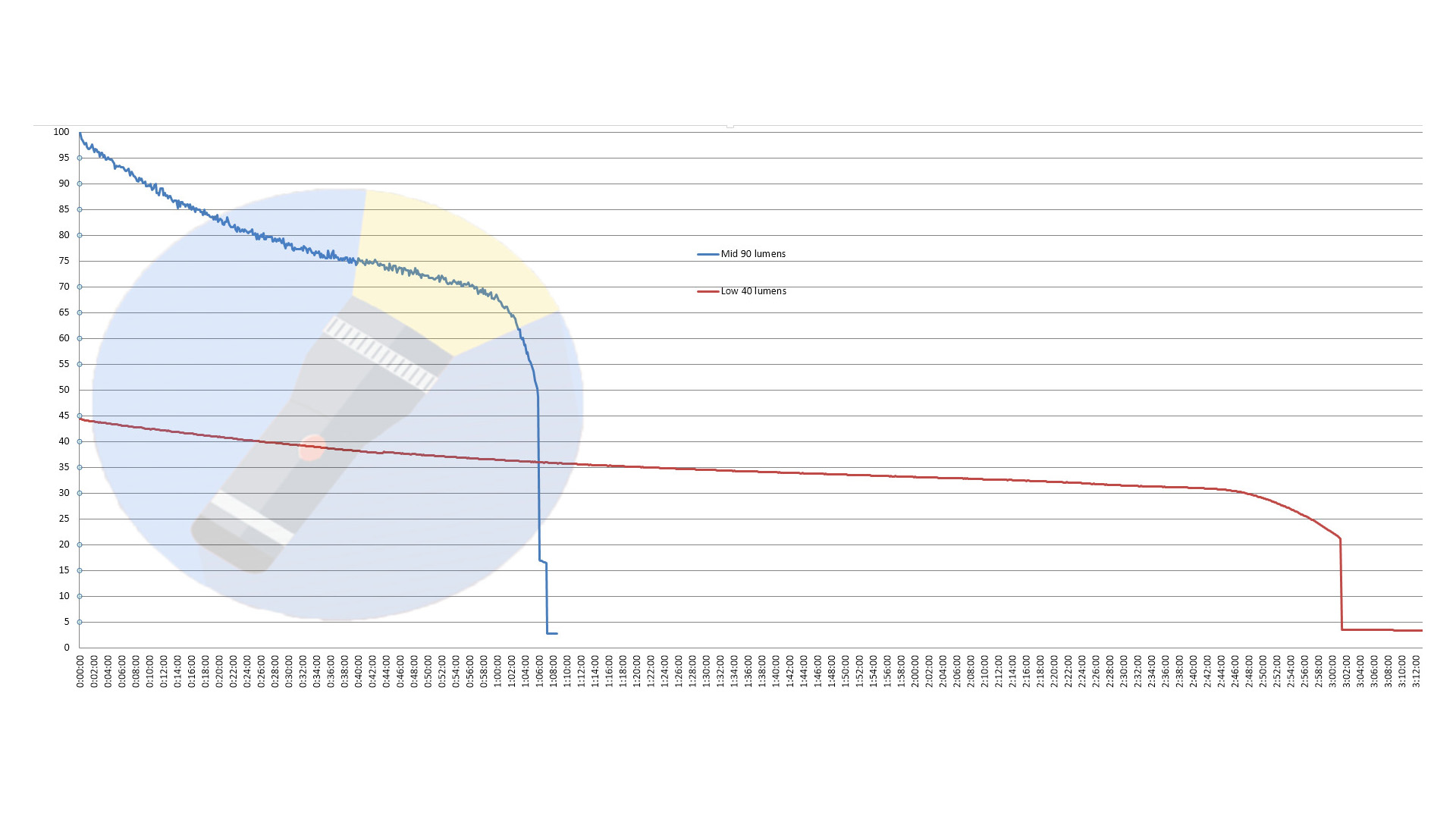 As for the maximum brightness, it actually drops immediately, but insignificantly. And if it were not for the light meter, I would not have known about it - the eye quickly adapted to this 10% drop. And the brightness after the fall is still much higher than that of the AAA \ 10700 models. It is actually more than enough in terms of brightness and duration.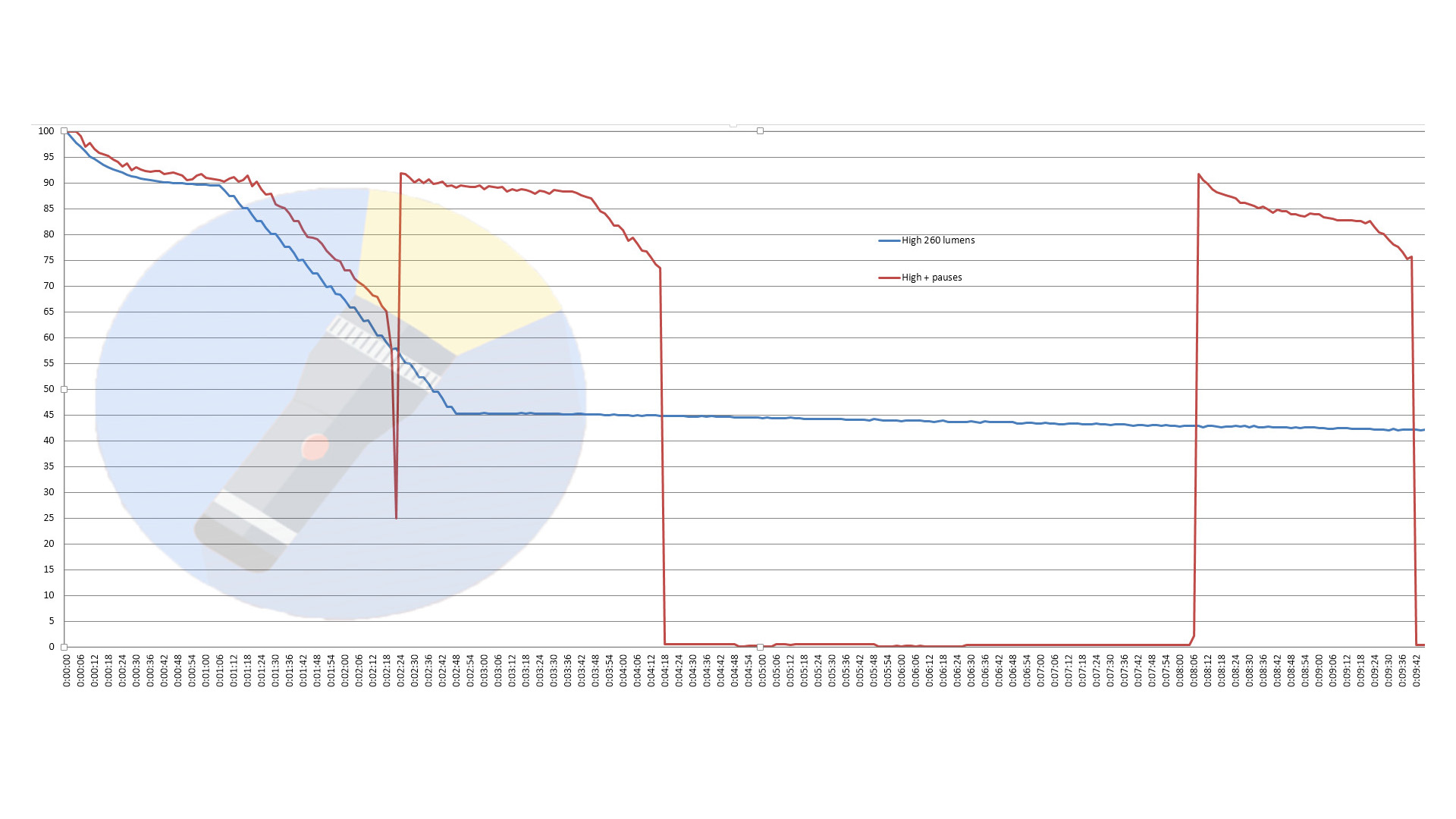 It is clear that 260 lumens with this size is a short-lived mode, but it is more than enough to light up, for example, the other end of the garden during this interval. And in order to shine under your feet, it is generally excessive - 90 lumens is more than enough for this.
The light is somewhere in 5500K. Quite pleasant and sufficient to shine under your feet and illuminate the path in front of you.
It is clear that there is no need to wait for some throw here, but a beam with such focusing will be rather inconvenient in normal use situations for a keylight.
Overall impressions
Quite a good thing, in my opinion. Maximum brightness is not an impractical marketing decoration here, and you can safely rely on it when needed. And so an average mode of 90 lumens should be more than enough.
The modes set is good as well.
The UI is sane, undoubtly better than what I would expect from the Fenix. Type-C charging is too, although a small feature, but save you time when insert plug.
The appearance is damn good. Use it yourself, or give away is gift - it will work well in any case.
I also like price tag. I believe you might expect more for this kind of flashlight. Anyone who has an idea of ​​the cost of this type of flashlight is sure to agree that Fenix ​​here did not become greedy at all here.
In short, this is a rare situation, when i`m 100% satisfied with Fenix flashlight in almost each everything. Ah, well, more capacity would be cool, but, I repeat, this capacity is enough for this kind of light source. Who will use the key light as a light source all night? But am extra centimeter of length, which would allow to install more capacious battery, would definitely affect convenience. In the segment of such flashlights, manufacturer struggle for each millimeter, and here the dimensions of the flashlight are completely comfortable.
Great job, overall!