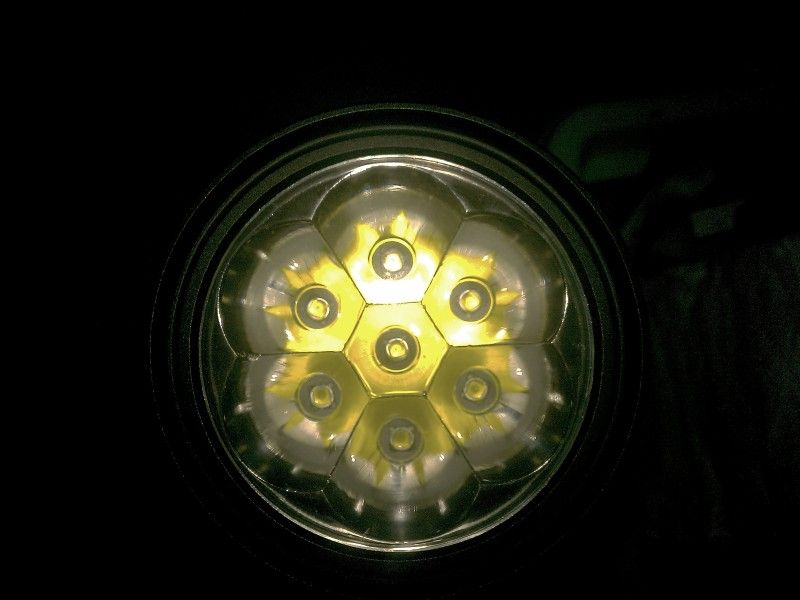 http://www.fit-electric.com/html_products/Aluminium-flashlight-402.html
This review is down to following the traditional manc reaction to something we dont fully accept - gobbing off….
https://budgetlightforum.com/t/-/14849
This usually results in a seller giving up and going home, in this case, Jill Yao didn't back down, she was not a representative of a sales team, she represented a manufacturer, fit-electric, and she was prepared to stand behind her product. To the point she made an offer that shocked me, and firmly put the ball back in my court, your move gords….
What she did was sent me the light in question for a review, she included the cells and charger the company would supply in a complete package, leaving me no option but to try and write an honest and thorough review to dispell the belief I'm little more than a wind bag.
Two weeks later, i recieved this light.
shown next to the trusty fancy flashlights 18650 sized edc for size comparison.
Manufacturers specification:-
Product name:Aluminium flashlight
Item:FIT-40s
Details:
Product name:super power flashlight
Item:FIT-40S
Details:
Emitter:CREE
Lifespan :Over 100,000hrs
Circuit Constant current circuit, memory function ,High-Temperature Protection
Output Low-Mid-High-Strobe-SOS
Batteries 3*18650
Material T6061 aircraft-grade aluminum, military grade
ReflectorAluminum reflector
LensGlass lens
Appearance Black color, hand anodizing oxidation, wear resistant and
good hand feeling
Accessories With Lanyard
Switch Tail cap clicky switch
Waterproof IP-66, anti dust, living water and rain
Package Neutral white box/Black gift box
Product size 80(Head dia.) *38(Body dia.) *30(Tail dia.)*340(Length)mm*630g
Gift box size 272(L) * 90(W) * 80(H)mm
Features Ultra brightness, Seeking, Hunting, Reparing, Guiding,
lighting for large area, etc…
Application Promotion, Display and sale, Opening ceremony, outdoor
activities…
Accessories Neutral white box Flashlight * 1 Manual * 1
Two dimension code * 1
Optional Black gift box * 1 18650 with protection(2400mAh) * 3 Battery
charger*1 CE plug converter
Volt : 9-15V Current/A: 7.5A
Lumens:4500lumens
Irradiation/m:300m
Runtime:1-2hrs
Initial impressions, its hefty, tipping the kitchen scales at 620g dry, it also arrived in a rather battered display package, along with three no name 2400mah cells, a wall wart charger and uk adaptor.
I quickly loaded it up and cycled through the modes, yep, it works. One thing though, the specs say its five mode, hi-mid-low-strobe-sos. Now, I tried everything, loosening the head, double clicking, sacrificing a goat. Sorry guys, I just cant find strobe OR sos, All I have is high, medium and low. GET **G IN!
The driver has mode memory, it seems to be on after a couple of seconds of lumen fix - once your on for a few seconds, its a douple click to change modes, then you can cycle through to select how much you wish to beat the crap out of the dark. Did I mentioun this things pretty damm bright?
The tail cap readings and emitter readings tell the story -
@ 3.8v
Hi:- 2.66a
Mid:–0.97a
Low:–0.25a
Calculating out (thanks Johnnymac for this) on high we have 1.14a/emitter so 400 lumen/emitter or 2800 emitter lumens, ball park 2500 lumen out the front. Not too shabby, not the quoted 4500 lumens, but still, not behind it competitors either.
The clamp meter backs up the maths, on high, 1.1a on the series wired circuit.
A quick look at the driver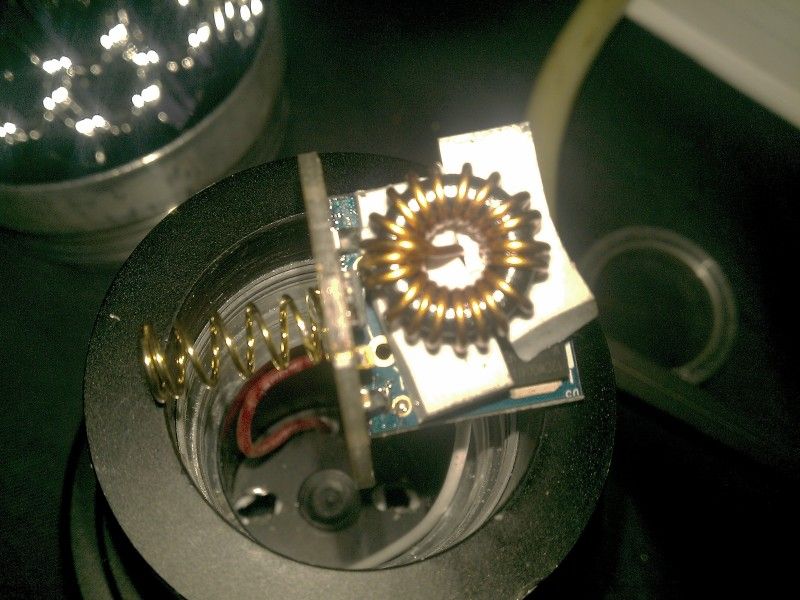 Reveals a familiar assembly, even if i dont know the exact model. It does have pwm on all three modes, sorry, no frequency, but a test on an engine pulley running @900rpm reveals that even on low, its not a long way behaind a nanjg driver, noticable but not annoying and much higher frequency than the keygos m10's stock driver in direct comparison. Its od is 30mm, meaning a little work to fit the intloutdoor 7*xm=l driver, but still doable. The driver is secured with a decent sized threaded aluminium ring, so driver swaps or reflector removal is not a bind (reflector is secured by two screws accessed from the driver cavity)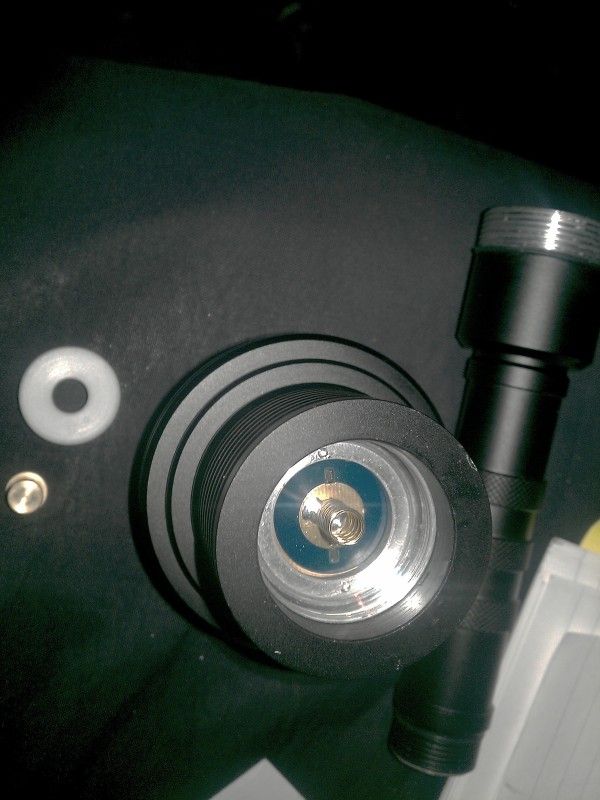 Seen in this picture with the delrin plunger locator. The light itself is well assembled, and definitely on the large side, comparing the head to the fancy flashlights edc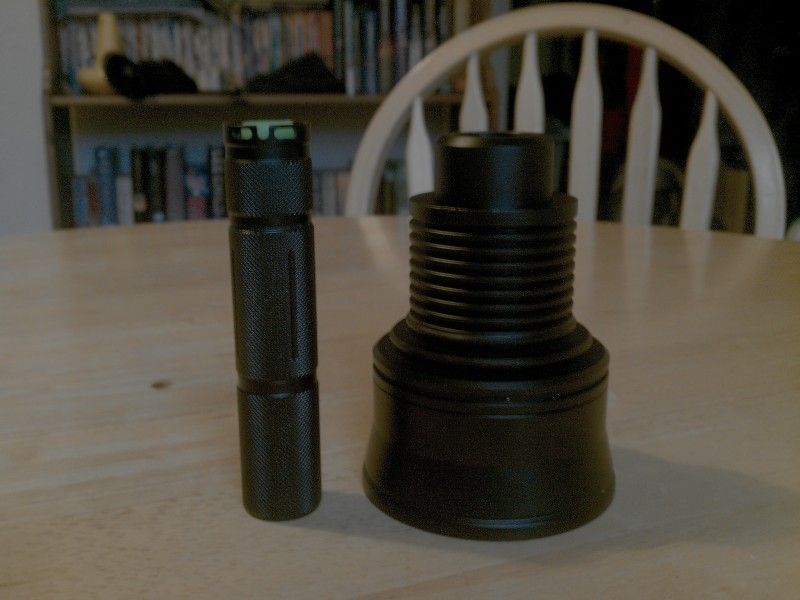 gives an idea of the size. The outer bezel measures 81mm od, with the reflector and lense measuring 67.8mm, the head then necks down to 50mm at the cooling fins before finally reducing down to the 18650 tube. The body tube is in three parts, a two cell section that screws into the head (two cell operation is possible, but only on low) and a fatter single cell tail section, both have square cut anodized threads so tail cap lock out is possible.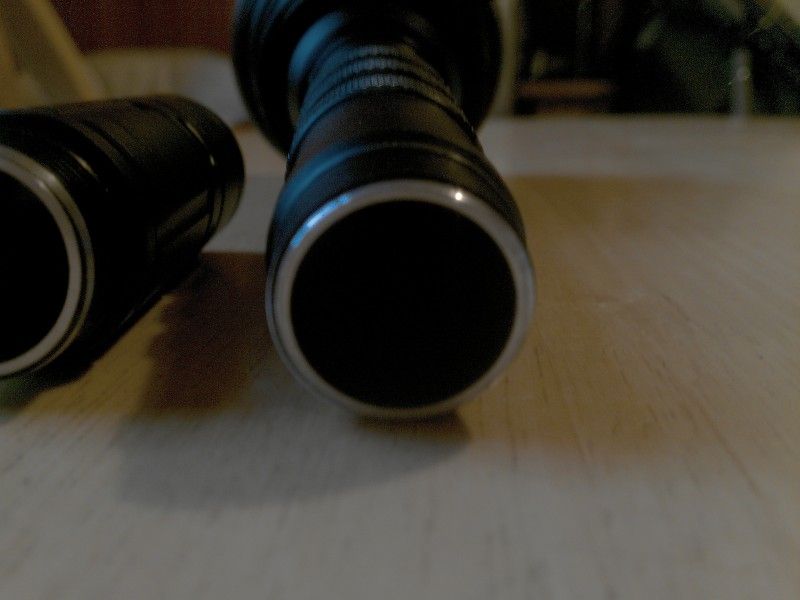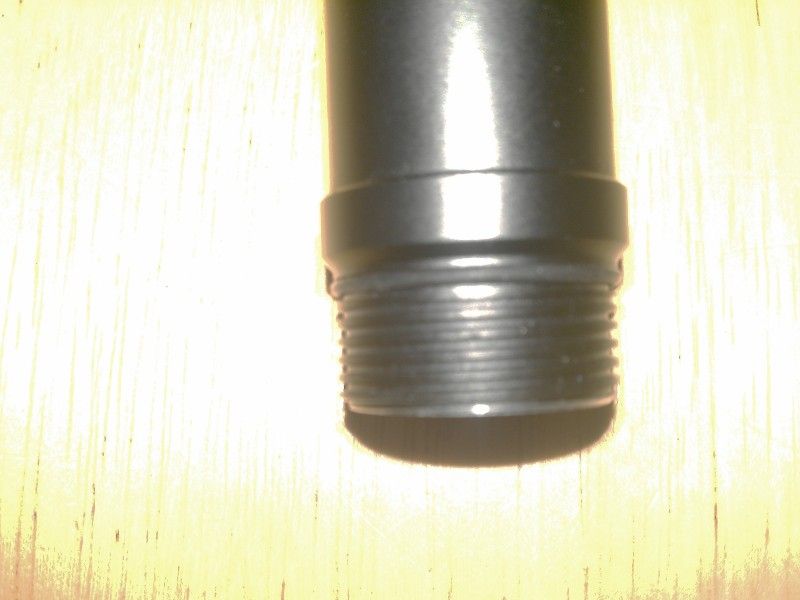 A run time/temp test on the light using the supplied cells gave the following results, pictures taken at ten minute intervals and terminating when the light stepped down to low. Top temp is light head temp (probe taped level with the stars), bottom temp is ambient.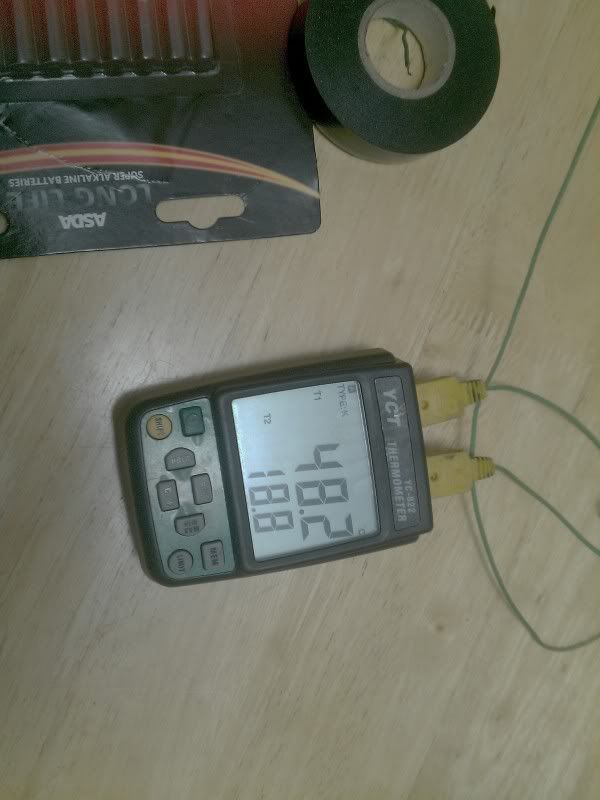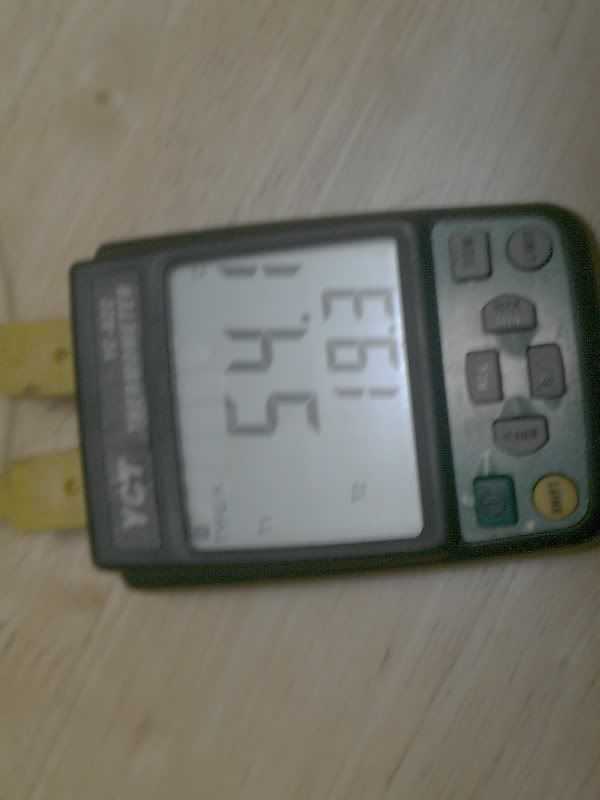 At this point, after the second needed to work out why the room had gone dark (the light stepped down to low) the test was terminated and the cells pulled as quickly as possible, the whole light was warm to the touch (tail stood, no cooling) and the pulledcells were warm too. From head to tail, the cells read 3.28v, 3.43v, 3.49v.
After ten minutes rest period they read from head cell to tail cell 3.45v, 3.46v, 3.46v. I assume the low reading from the head cell is due to voltage sag under heat and that the light stepped down due to low voltage rather than heat, as the photo's show, the temperature quickly rose to 50 degrees c, then fairly levelled off. I will have to repeat the test with three keeppower 3400mah cells (yes they do fit, already tried) to tell for sure.
Well, that's about it for now, I shall leave you with some attemps at arty farty pictures, but I'm not foy or johhny mac or the, and my mobile is no $200 camera either…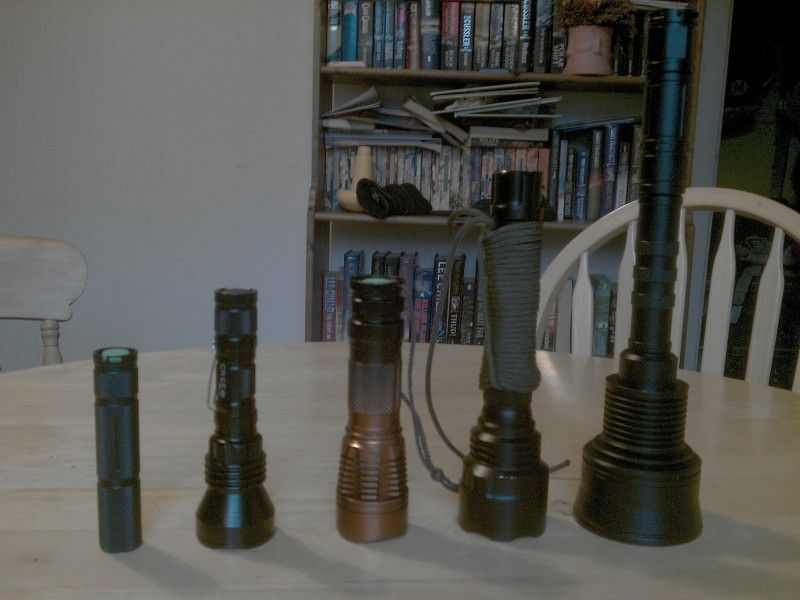 First we have a size comparison, from left to right:-
Fancy flashlights 18650 edc
Uf-v3
keygos m10
trustfire t1
fit-40s
reflector shot
profile shot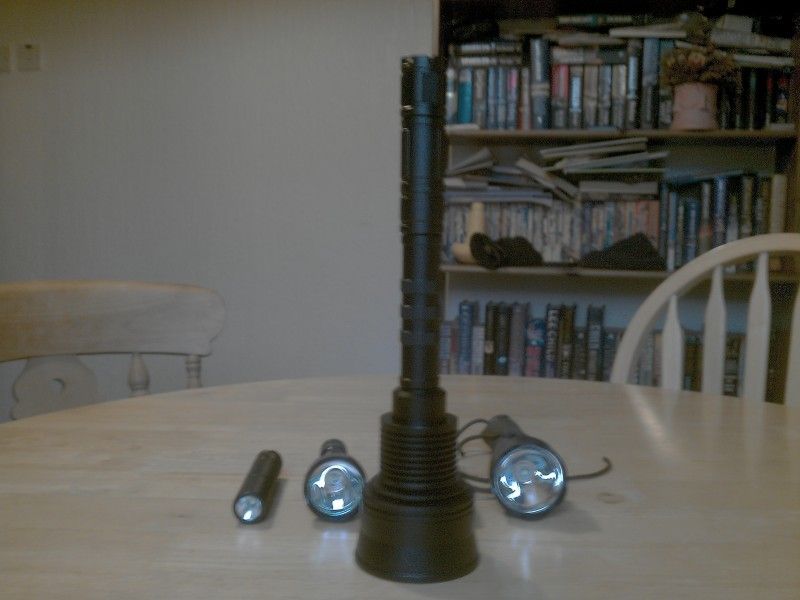 Tail standing, despite the slightly raised button, the bulk seems to deal with it, wou want a stable level surface though, given the length vs the tailcap width.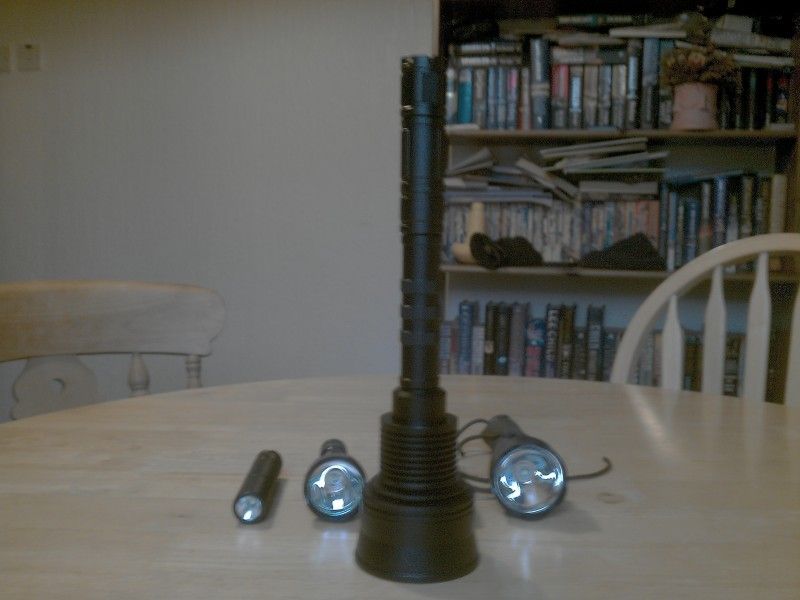 Final thoughts, The recommended retail price of this light is $77, which i feel puts it in amongst its competitors, looking around the fit website, they have a number of interesting lights, some are admittedly clones or to be more accurate, the hosts have been "sourced" some including their range of dive lights are interesting in their own right. I was especially interested in the selection of lights listed as using 18650/3aaa.
I feel that the manfacture of this light at least is really up to the task, i regret it is not a 26650 sized light as it would be as perfect as a standard light could be, but it is what it is, well made, well specc'd, cell unfussy and i would not be disappointed had I aid out and waited patiently for this to arrive. The chargers need changing, and i feel 2400mah cells are really behind the cutting edge. but the light itself would be a valued addition to anyones collection. I intend to suggest the brand to fasttech as i feel fasttech would do well with the brand, and they may be able to move it for a little less than rrp. That tough is between fit and fasttech, pending further tests……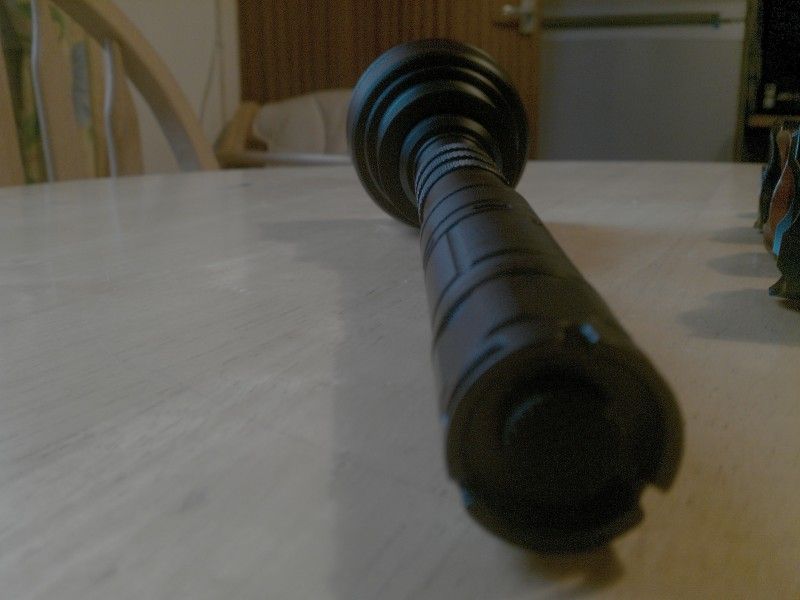 the end.
Gords.