Hypetac P1A SS 1xAAA
Reviewer's Overall Rating: 90%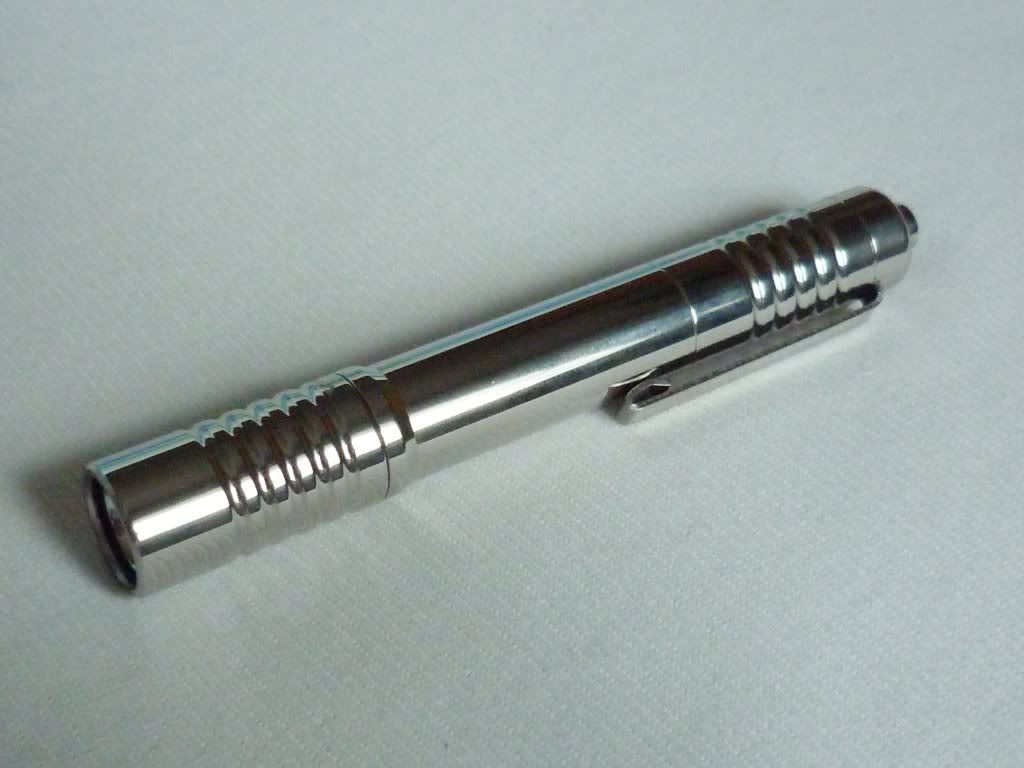 Summary:
| | |
| --- | --- |
| Battery: | 1x AAA |
| Switch: | Reverse Clicky |
| Modes: | Mid - High - Low |
| LED Type: | XP-G R5 |
| Lens: | Glass |
| Tailstands: | No |
| Price Payed: | USD 23,45 |
| From: | http://www.shiningbeam.com/ |
| Date Ordered: | May 2012 |
Pros:
Build quality
Fit & finish
very practical brightness levels
no strobe
Cons:
weak pocket clip
switch could eventually be engaged in your pocket
(With this review I changed from the five stars rating to a percentage rating. I think it is more flexible that way. So, one star equals 20% if you want to compare.)


Although I do have a couple of 1xAAA lights, I was still looking for my perfect edc light.

For me, an edc flashlight needs three modes:

- low has to be low enough for comfortable reading and to provide long runtimes even from a single AAA
- medium as the allround mode with reasonable output for everyday situations, like looking for dropped keys or checking dark corners for spiders etc.
- a high mode for emergency use that squeezes as much light as possible out of the battery

I don't need a split ring because I don't like a flashlight hanging on my keys, and I favour a pocket clip over a lanyard on a light of such a small size. Besides, I don't like twisty lights, so my options are greatly reduced.

Now we all know that there is no such thing as a perfect flashlight (or else we wouldn't constantly be buying new ones), but this one comes close.


So, what is it? Here are some specs:

* LED: Cree XP-G R5 LED, Max 90 Lumens
* Battery: 1x AAA alkaline or NIMH
* Materials: Stainless steel
* IPX8 waterproofing
* Reflector: Orange peel
* Accessories: two spare O-ring
Output & Runtime:
Medium 28 lumens / 3.5 hours - High 90 lumens / 1.2 hours - Low 3 lumens / 40 hours

Operation:
Press the tail switch will turn on/off the flashlight
Chang brightness levels (medium - high - low)by pressing light tail switch
Flashlight will go to medium automatically for every start if turning light off over 5 seconds

Dimension: 11.3cm x 1.4cm <-- This is actually wrong, the length is 10.2 cm!
Weight: 44.5g (excluding battery)
Features / Value: 95%
It comes in a nice package which looks very non-budget. Instructions are on the back of the box, only accessory inside is a little plastic bag with two o-rings. Bright and shiny stainless steel finish. Overall feel is that of a non-budget, high quality light. But: No attachment point for a lanyard (only -5% because I don't like lanyards on small AAA flashlights anyway).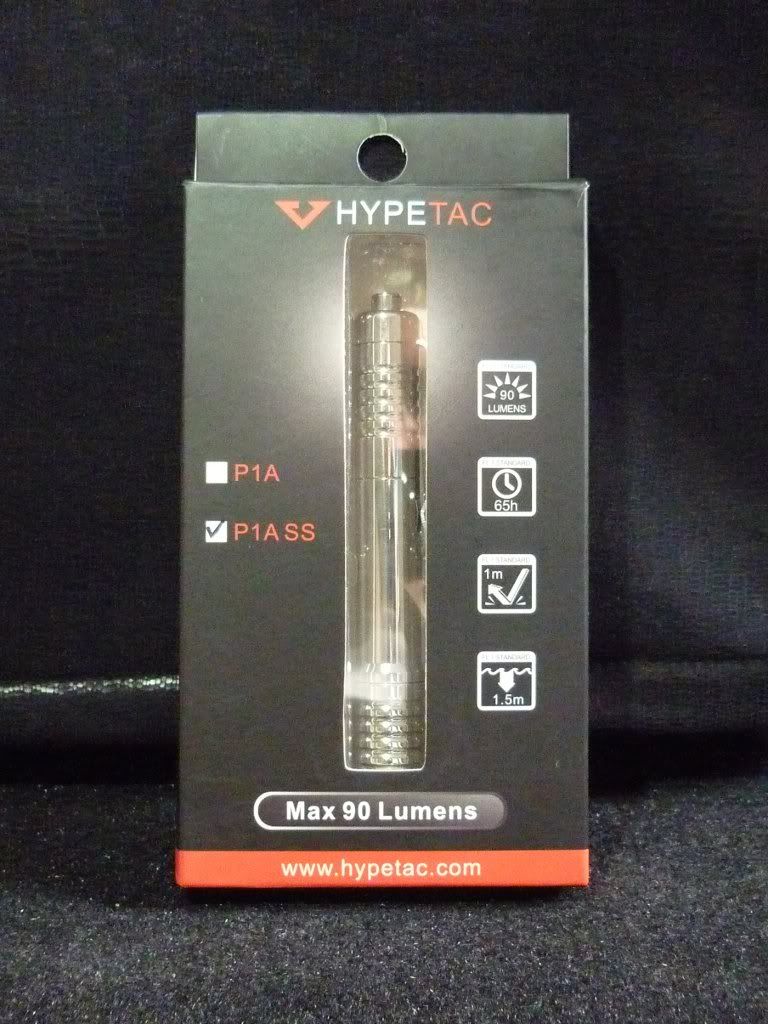 Design / Build Quality: 70%
It is not exactly the smallest light for a 1xAAA, but it should fit in any kind of pocket there is. The stainless steel should make it durable enough to take some beating.
When I first got it in my hands, I was suprised how hefty it feels. Probably too heavy for a dress shirt pocket. Now some folks might prefer an EDC to be as light as possible, but I think heavy is good. Heavy is reliable. If you run out of batteries, you can always hit someone with it (thumbs up if you get the movie reference).
Of course you could buy the aluminum version if you prefer a lighter flashlight.

The surface is bright and shiny, absolutely flawless. The reverse clicky switch is a lot quieter to click than the usual rubber-booted tailcap switch. It feels like something you would find on a precision instrument. However, you don't need to use great force to engage it and thus it might accidentally get turned on when loosely flying around in your pocket (-5%). Furthermore, with the protruding switch the light cannot tailstand (-5%).
If I were to make an improved version, I would leave a metal rim around the switch. That way the switch would be protected inside your pocket and the light would be able to tailstand.

When I first put a battery in and screwed the light together, a bit of the o-ring got stuck and squeezed out between the two parts. When you screw it together, you have to pay attention that the o-ring sits firmly in its groove and doesn't get squeezed out of it. The head part seems to put a lot of pressure on the o-ring to achieve IPX8 waterproofing. Two spare o-rings are supplied, so this shouldn't be an issue.

The lens is made of glass and the reflector is a very low orange peel type.
The beam is a very practical flood kind with a large hotspot.

About the only drawback I can find is the pocket clip. It looks like one from a cheap ballpoint pen and doesn't match the high quality finishing of the flashlight. Besides, it feels a little flimsy and there's not much pressure on it (-20%). And I would absolutely love it if the clip would be reversible.


A closeup of the clip

Battery Life: 100%
Current draw with eneloop cell (runtime calculated):

Mid: 0.3 A (2.7 hours)
High: 0.9 A (0.9 hours)
Low: 0.1 A (8 hours)

Measured values are rounded because it was a little hard to maintain a good connection (on this light the head screws off so you can't measure at the tailcap).
So it maintains the highest brightness for almost an hour or gives you an emergency light for a whole night. Nice!
Light Output: 95%
The stated brightness levels of 90, 28 and 3 lumens are very reasonable. Compared to my Ultrafire A3 (which draws 2 ampere and delivers maybe 60-80 lumens), this provides more light with longer runtime. Nice!
The brightness levels are exactly what I need for daily use. And it starts in medium mode, which is convenient becasuse that one will probably get the most use.
The lower modes are achieved by PWM, but the frequency seems to be quite high. You can hear the buzz only if you hold the flashlight close to your ear. But, -5% because the buzz is there.


Summary: 90%
Hypetac surely put some thought in creating this sexy looking flashlight. Brightness levels are fine, machining is fine, overall feeling is fine. In an improved version I'd like to see a protected tailcap switch and a better, stronger pocket clip. Make it reversible and you've got a happy customer!
Some Pictures:

Reflector and XPG LED

Size comparison: Hypetac P1A, MXDL 3w clicky, Ultrafire A3, Maglite Solitaire

White wall shot (spill area is bigger than the picture):

If you have any questions or if you would like to see more pictures, feel free to ask.
Have a nice day!