Heh, a couple of years ago I was astonished with EC4, last summer it was L6, what was sooo bright, 2017 gave me a chance to get to 10klumen limit with MT03 and X7…and, when I saw specs of DX80, it just stuck in my mind. I had do see what it is in reality. So, after some time I got it at Gearbest (link at the end of review) and offer you, guys, to take one more look at this lumen beast.
You can buy Imalent DX80 at
➤ ALIEXPRESS
➤ AMAZON
➤IMALENT STORE with 10% off code LUMENIAC941
➤ Nkon.nl - i`ve bought batteries here since 2015. Recommend.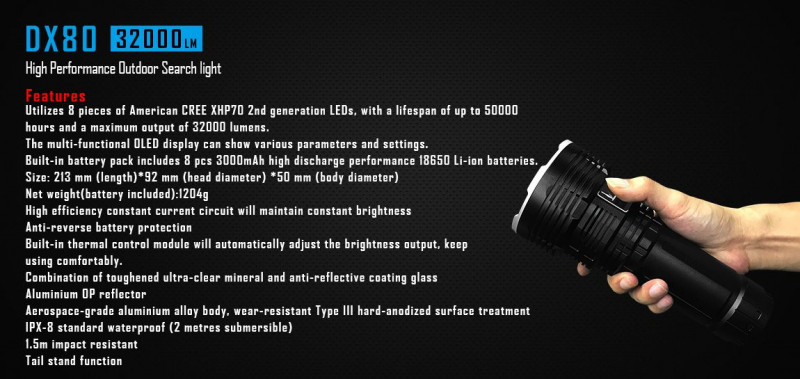 PACKAGE and APPEARANCE.
No surprise that BIG light came in BIG box. It would had looked really cheap, if there was no Imalent sticker (big as well). Well, with sticker it looks a way better. Even OK for gift.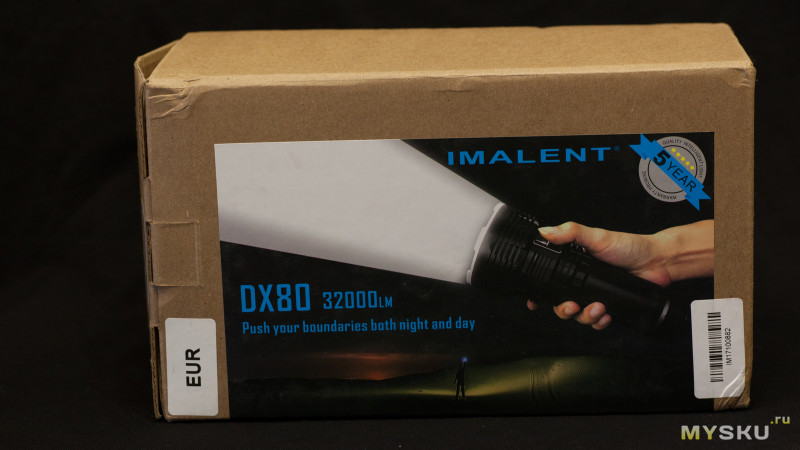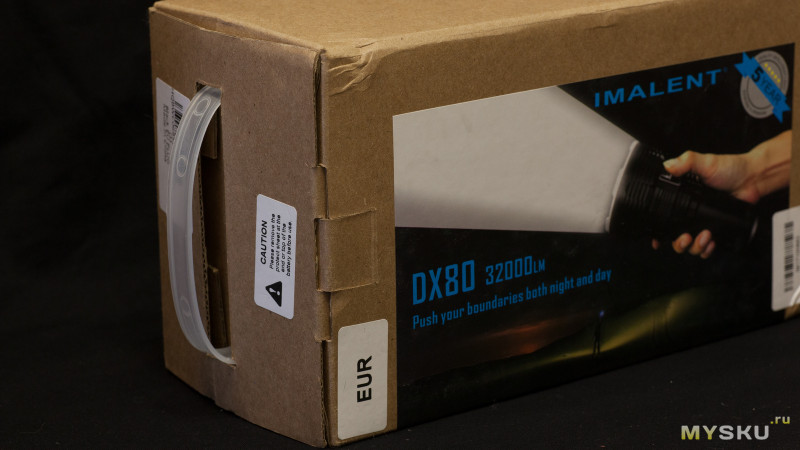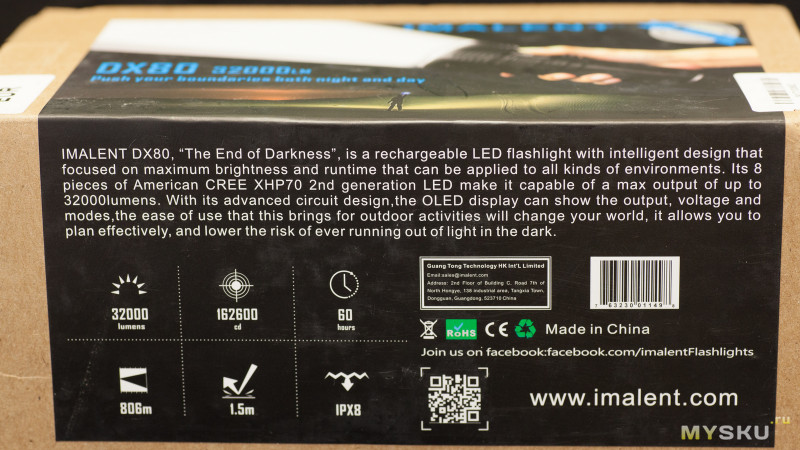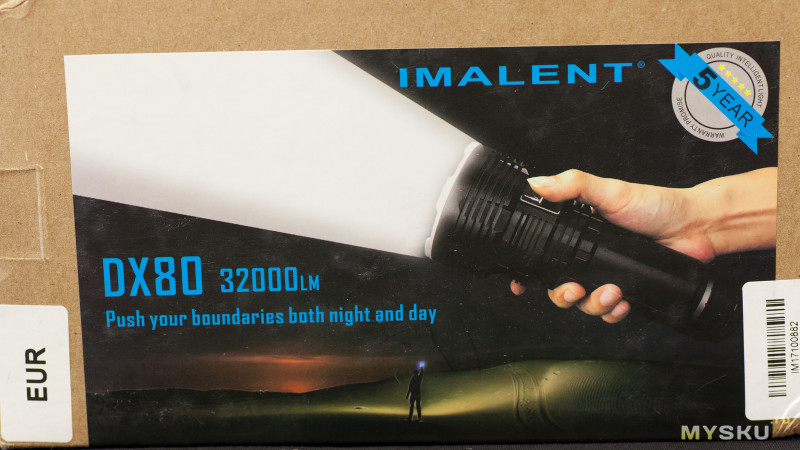 Inside, between a pieces of foam rubber, levitates DX80.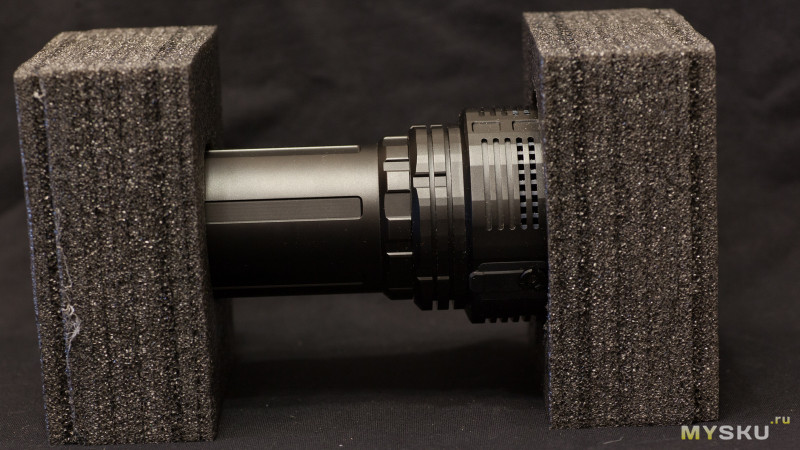 Besides it, package includes:
Wall charger (19v\2А)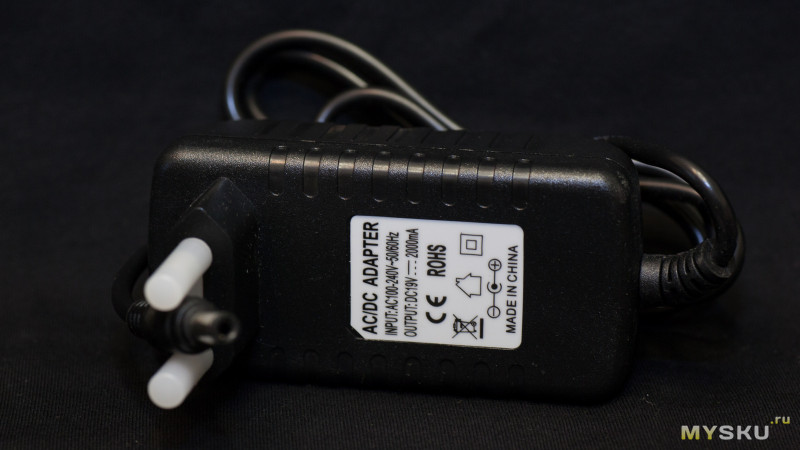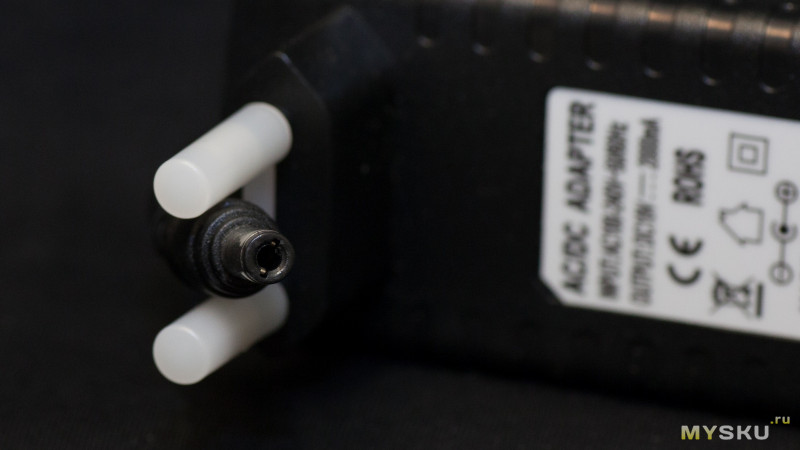 O-rings.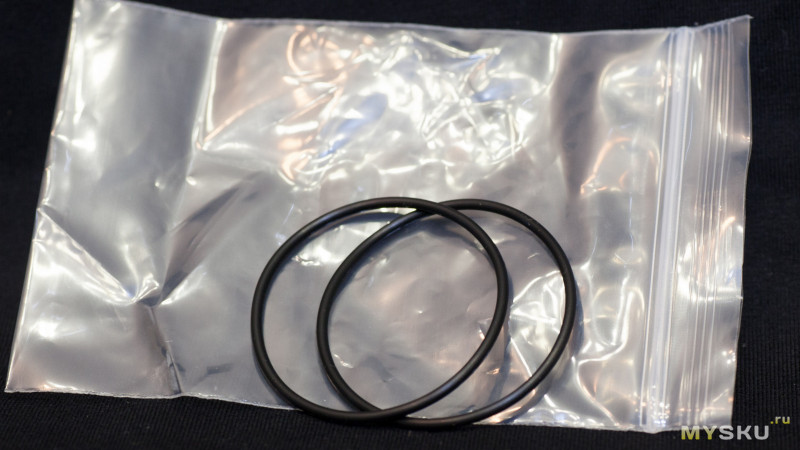 Holster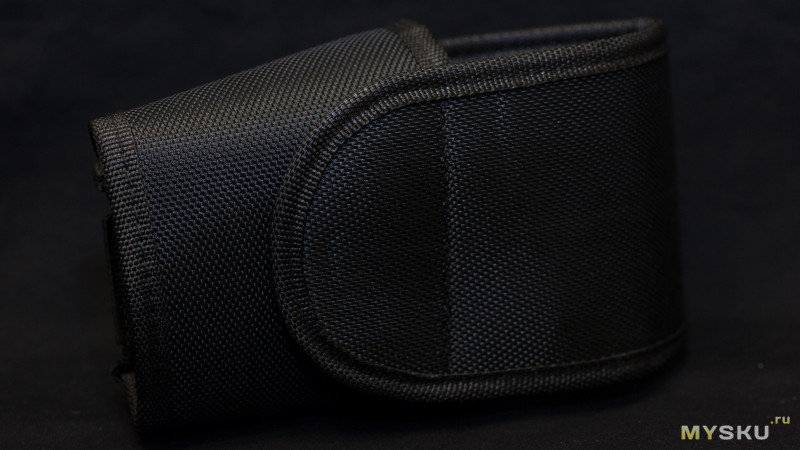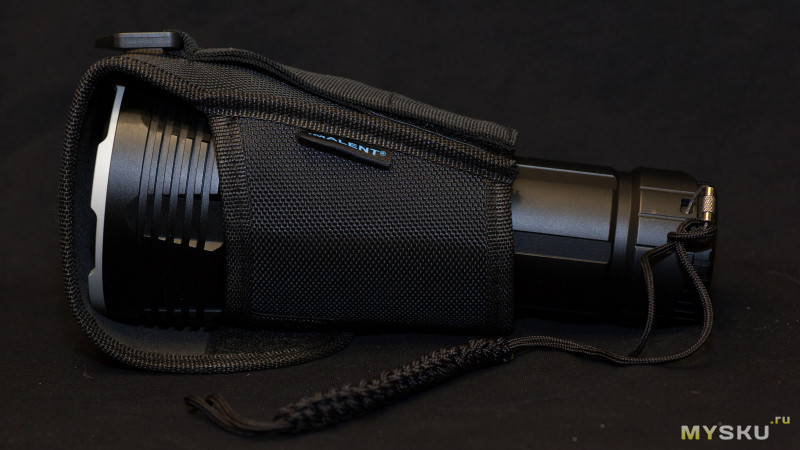 Paracord lanyard, similar to the one of X7R.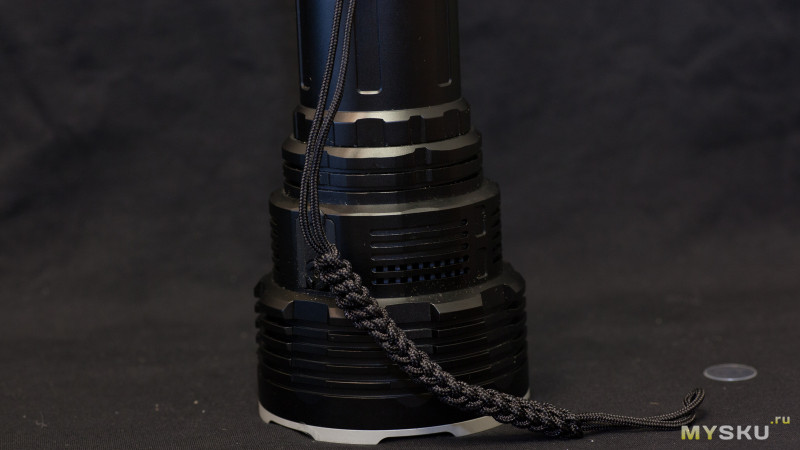 And here is the review hero!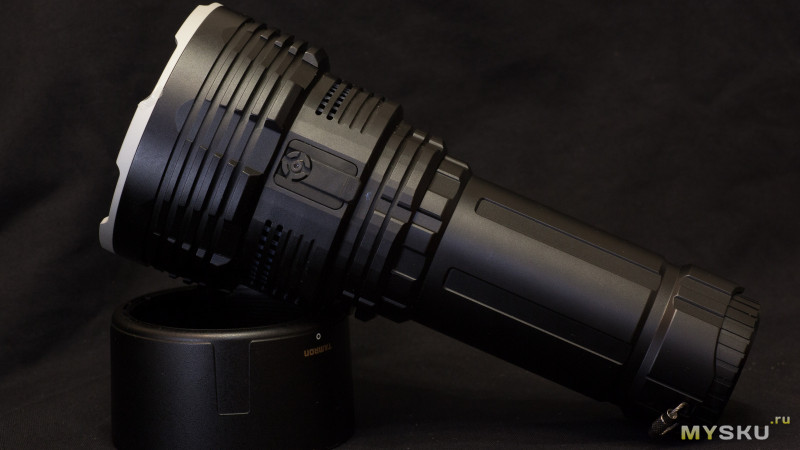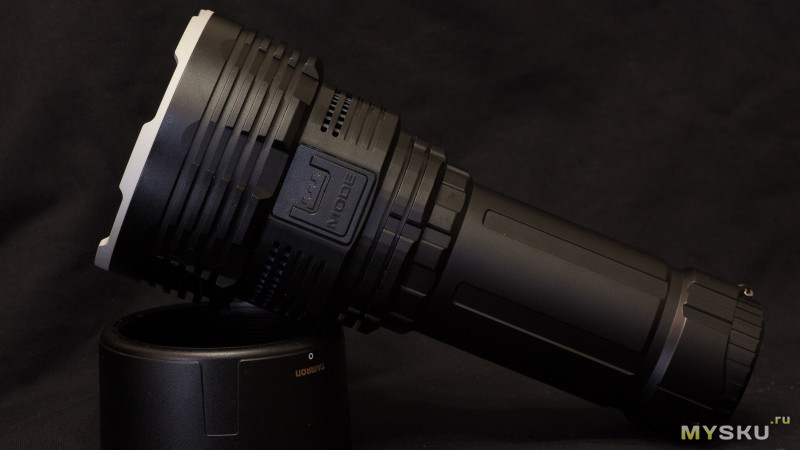 Obvious question – how big is it? Guys, it is big as **f! Really.
213mm long, 90\50mm head\body diameter, 1200g weight!
Look.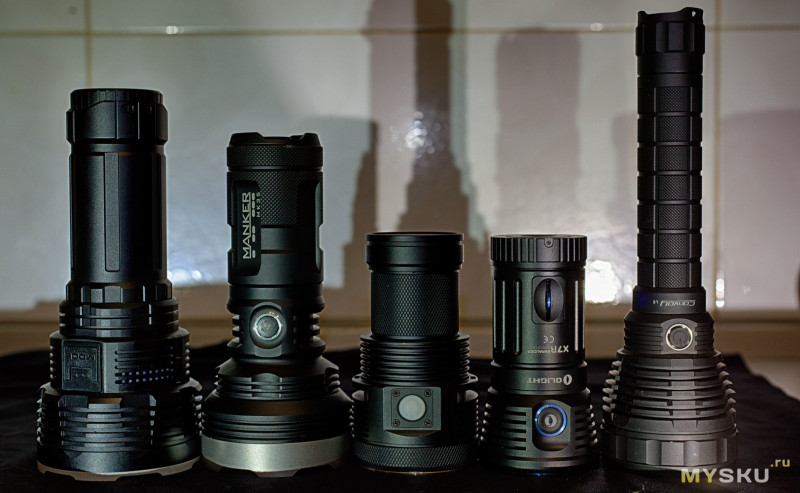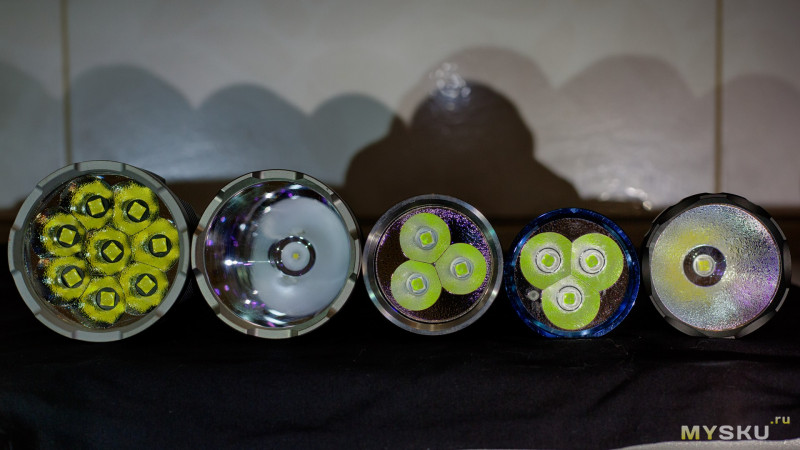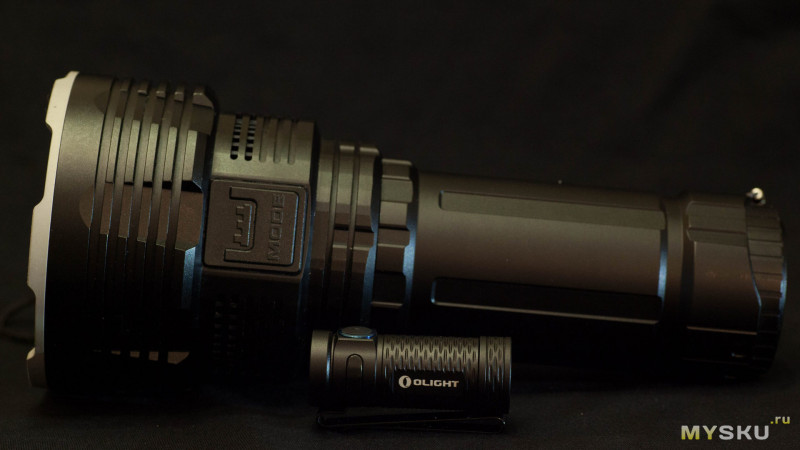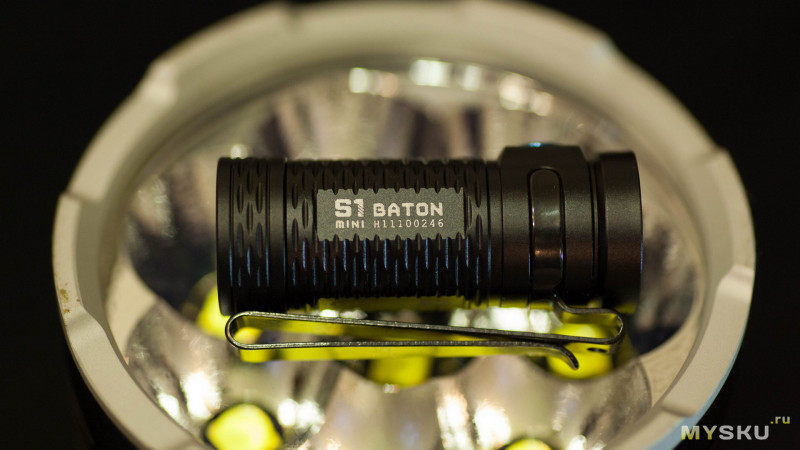 That was a good idea to use paracord lanyard because flashlight is THAT heavy. For the same reasons, Imalent didn`t use regular hole in flashlight body to attach lanyard and use metal ring instead.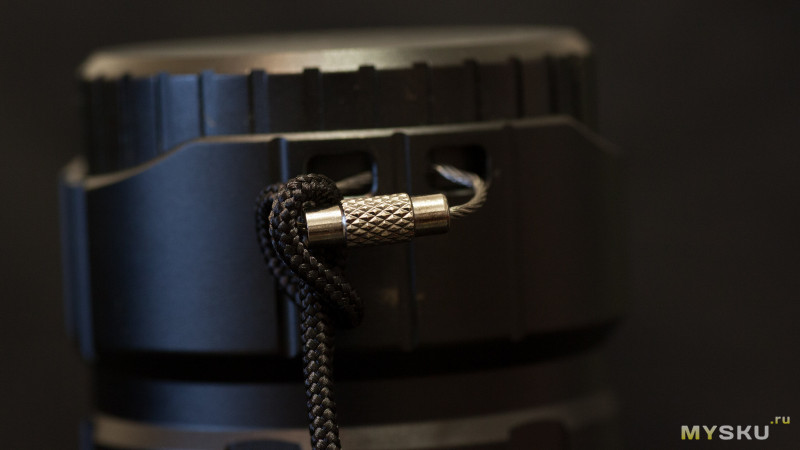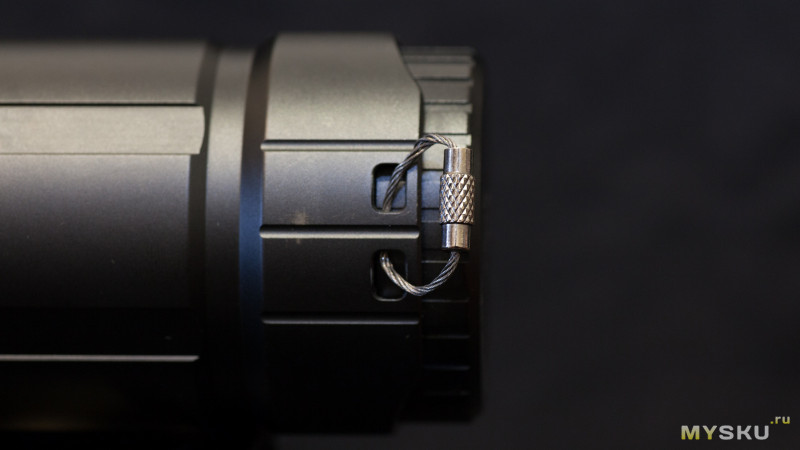 Hm, there are 2 pairs of holes for this metal ring at opposite sides of tail.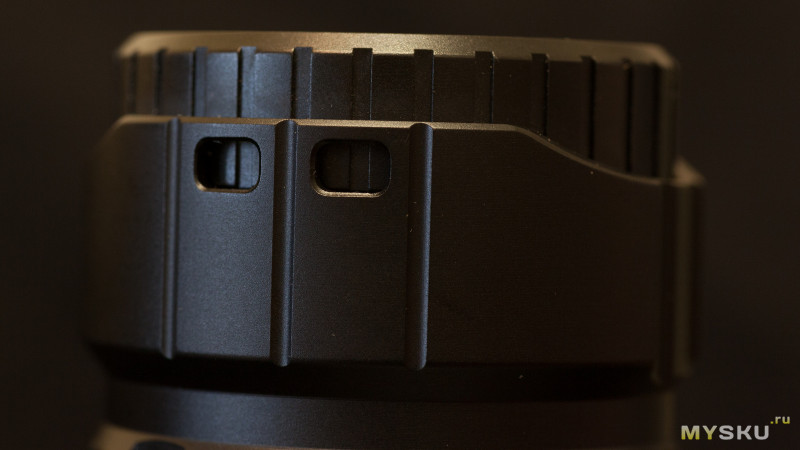 Actually, I`d like to see some shoulder strap like the one from Jaxman X6. Similar and surprisingly unused feature.
!https://pic.mysku-st.ru/uploads/pictures/03/92/45/2017/12/13/f42ffc.jpg" alt="" />
Knurling at tail, and it`s shape almost shout "rotate, totate me totally!". In reality you cannot disassemble neither tail, nor battery, nor head.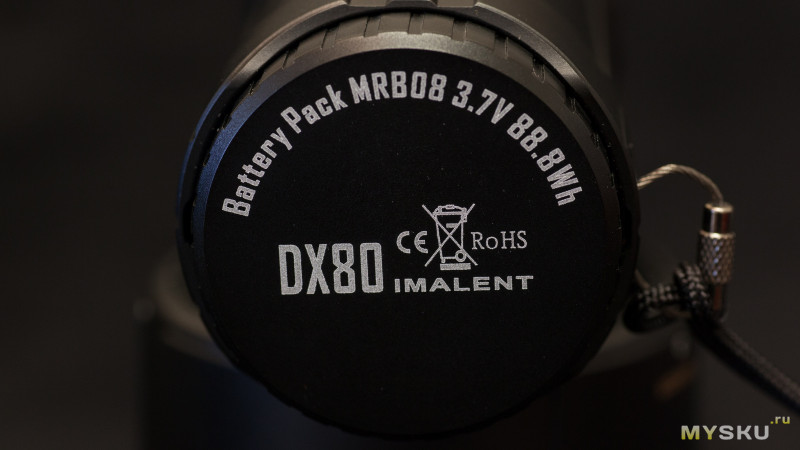 There is no regular knurling like "square"/"rhomb"/"pineapple", instead there are some emm…trenches? Nevertheless, grip is firm.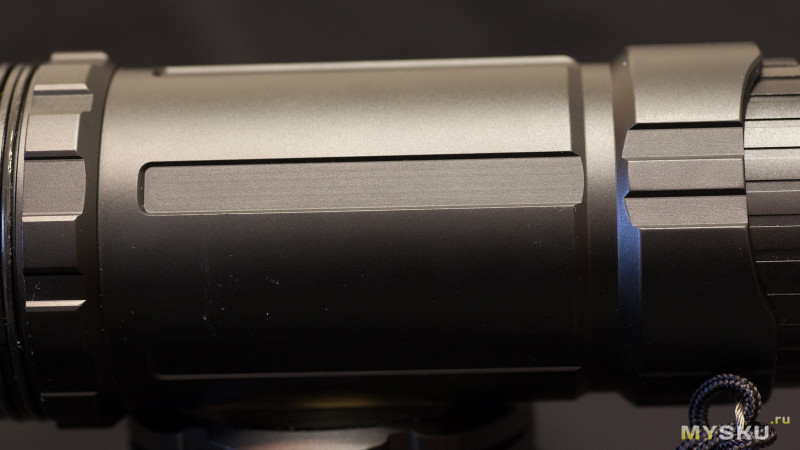 Imalent says that battery compartment includes 8x18650 batteries, probably 30q. That`s all I can say. Compartment looks accurate and attractive. You can also see here transparent piece of plastic that isolates battery block.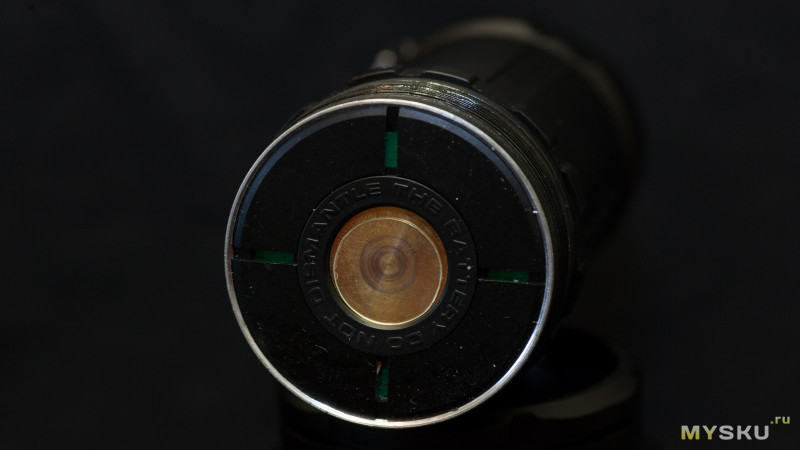 I expected to see something like round contact plate here, but there is a spring instead.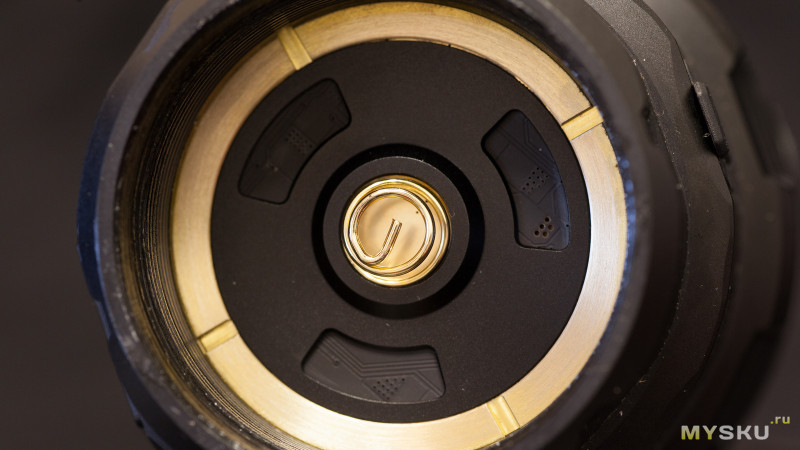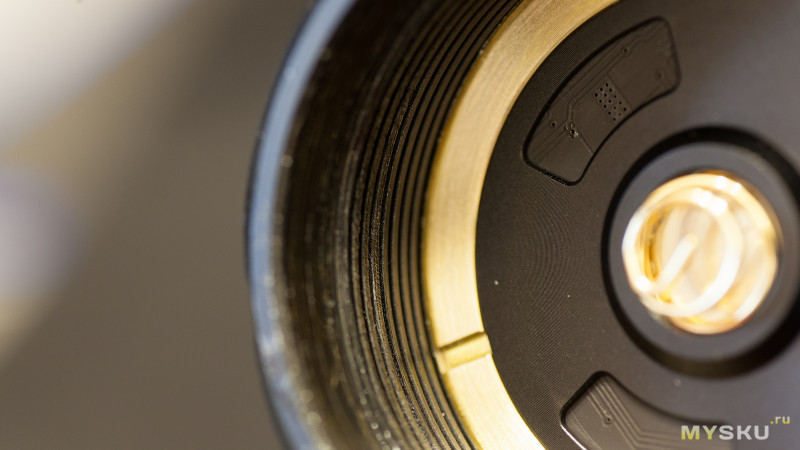 Excellent thread lubrication.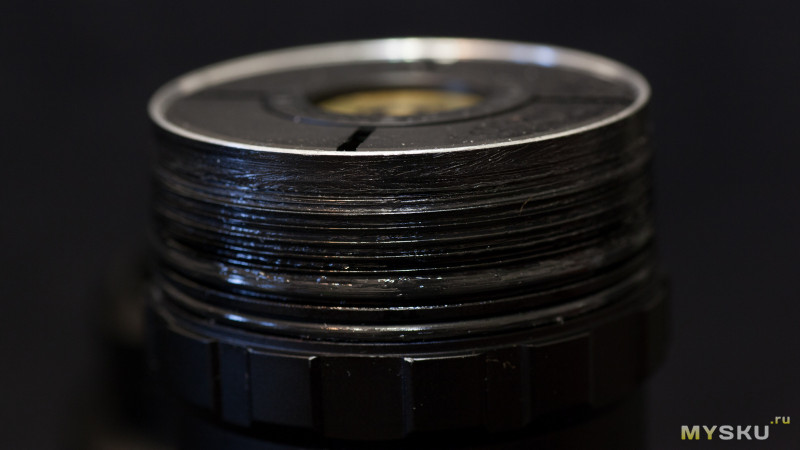 Cooling ribs? There are so many ribs you can start BBQ party.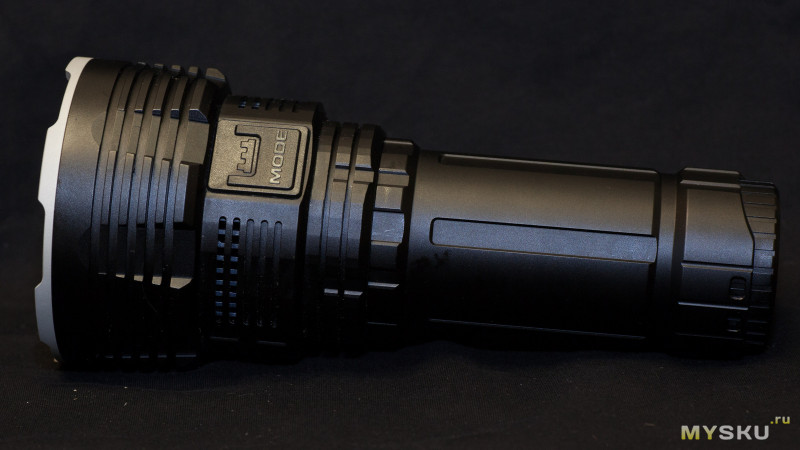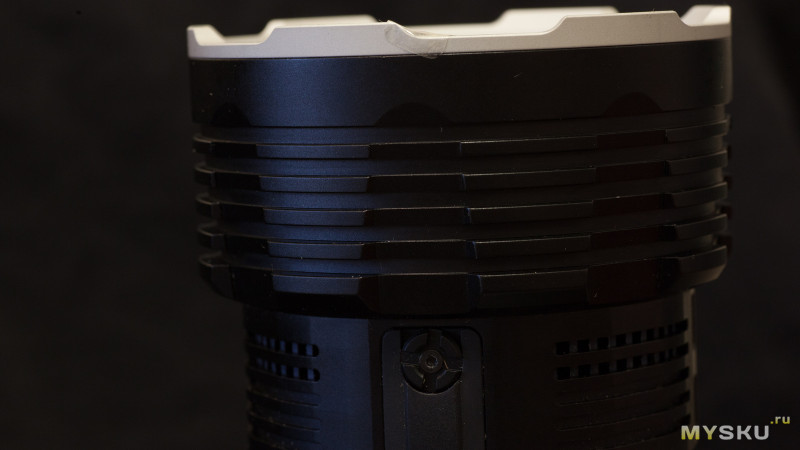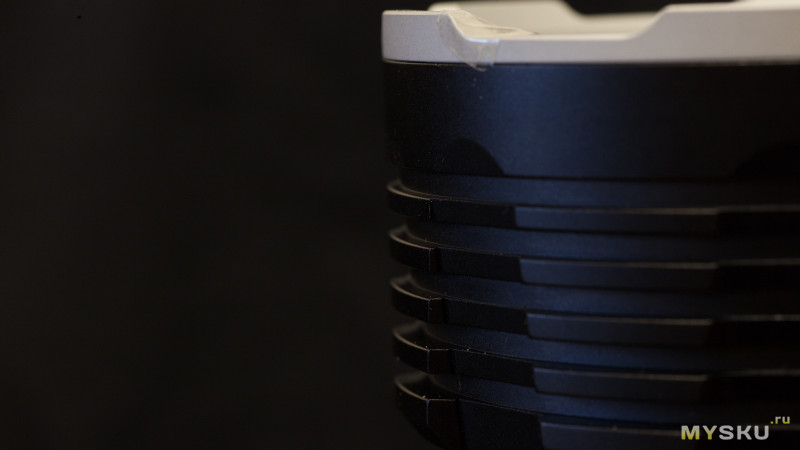 Here is a GIF as well, to give a better idea of head appearance.
Also you can see button here, the part that I definitely don`t like. Yes, it is big, like postal stamp. But as there are a bunch of details on head surface, button is almost undetectable for fingers.
There are a pair of small blue LEDs , glowing while light is on, to help to locate button.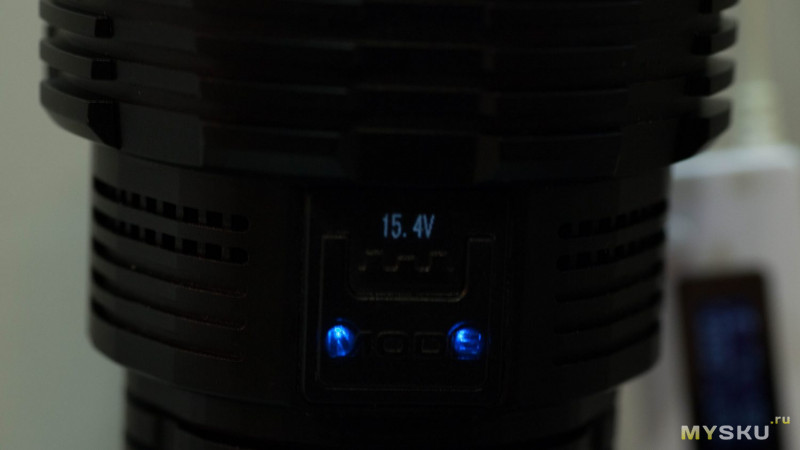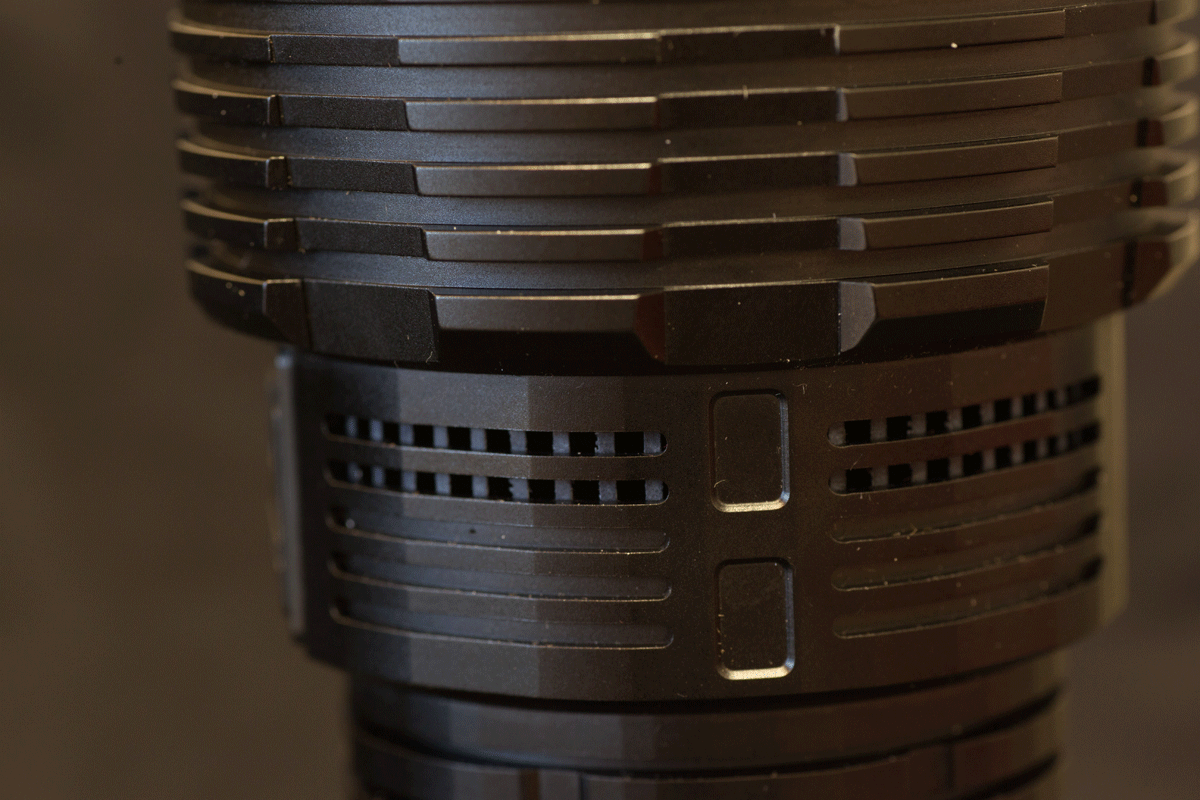 There is a charging port at opposite side of head. It is covered with thick and deep rubber plug.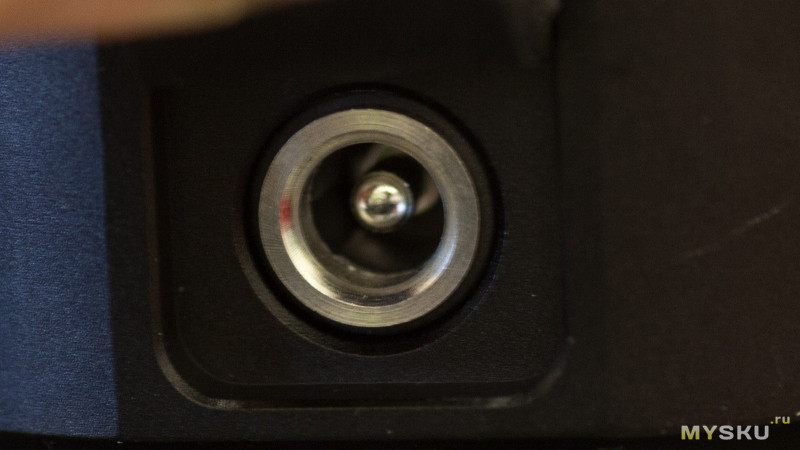 Is there anyone, who suffer tripophobia? Hope no and all you can see the same beauty that I see here in this honeycombs. Also notice teeth of bezels and OP glass.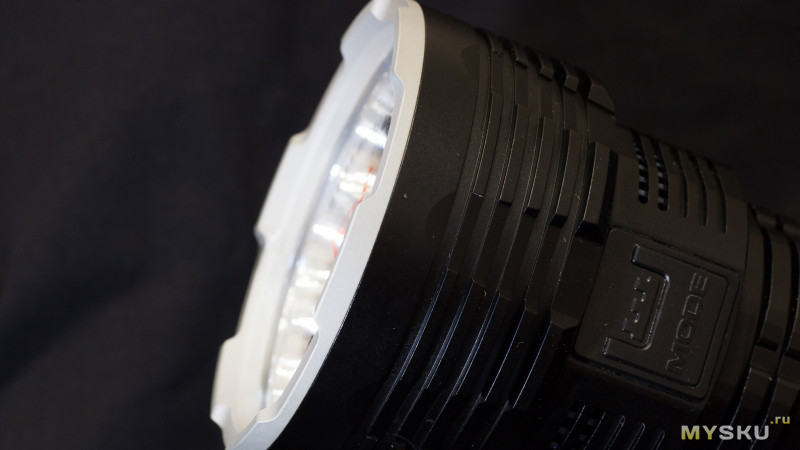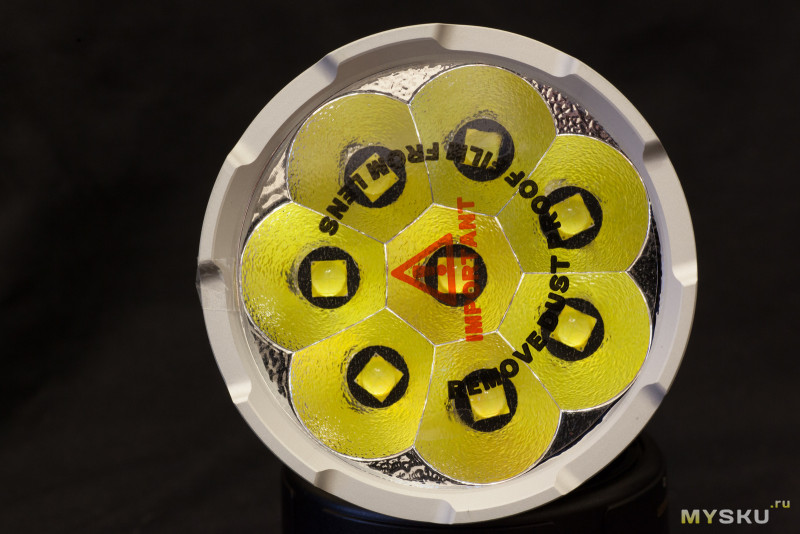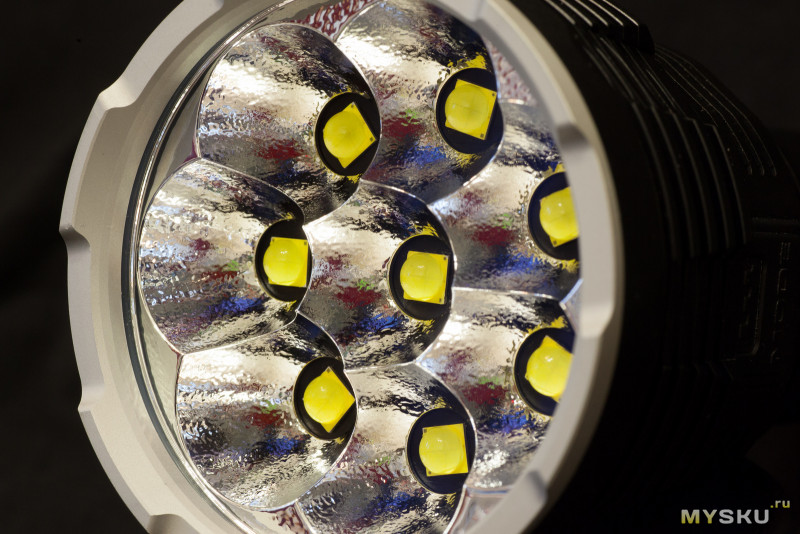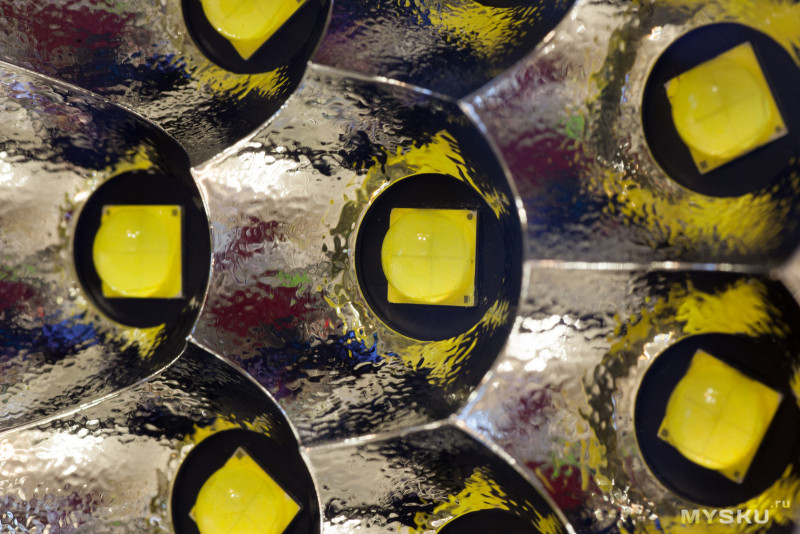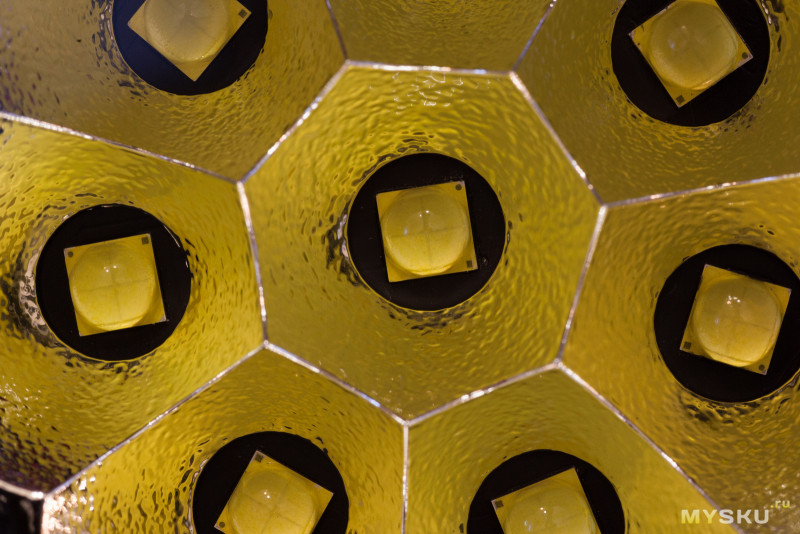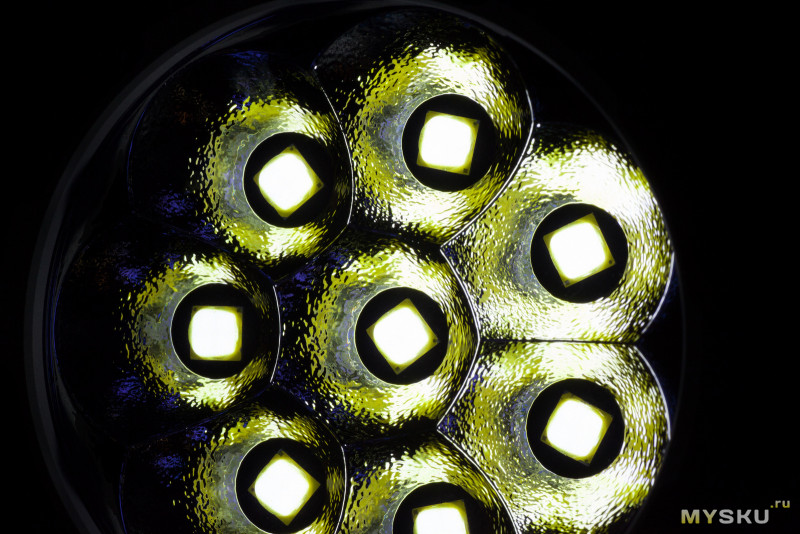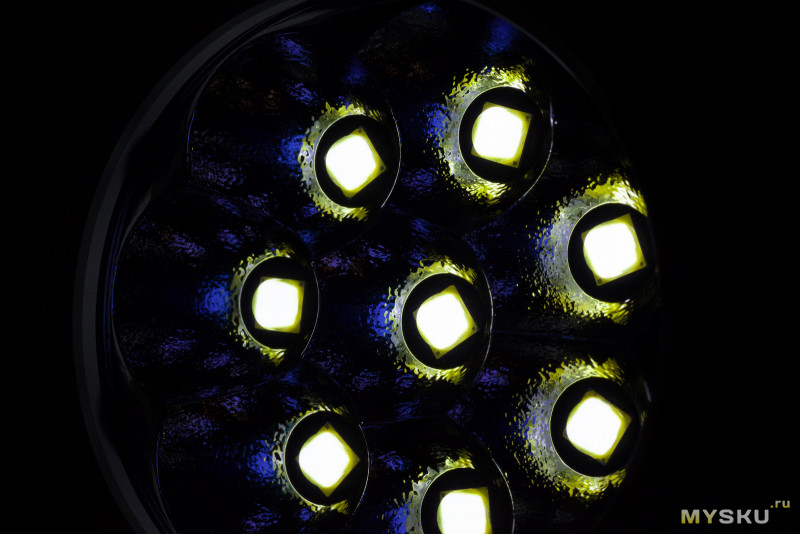 So, appearance is futuristic and attractive. Actually, any light of such size will draw attention. I cannot see any bugs of build, but as all the DX80 is eee…undisassemblable…there are no way to detect them
For me, serious dislike is button and display is a potentially weak part.
UI
Simple. Really.
Lock-unlock by 2 sec hold button. Good as idea and bad in reality. 2 seconds is too short for such a big light. You easily can turn light on in your backpack. I`d like to see some more complicated way like 2 seconds + 2 short clicks.
On\Off by short\about 1 second click.
Mode switching by short ckick. Display will aslo show mode you`re in.
Turbo – 2 clicks from any unlocked mode.
One more 2clicks will activate strobe.
3 clicks wil show voltage.
Mode memory – yes.
UI is ok in everything except lock-unlock.
PERFORMANCE
CW, no surpise.
No PWM-shimmering in any mode.
Some details to notice:
there is a kinda of progress bar that you can see on display, well known 4segments of battery, the same you seen on your phone when it is being charged.
The same battery, but empty, starts to blink when voltage gets below 11v
It takes about 4-5 hours to fully charge battery, you can use solar panel for it (comment to other review)
when internal temperature reaches 50c, triangle overheating warning sign starts to blink.
There is another review of this light, where author tested performance with\without cooling.
The only significant difference I could see with cooling was at 13000 lum mode. I used 2 Xiaomi usb fans and managed to keep temperature below 50c, so runtime was shorter, but brightness was constant. Please look at chart (clickable) below. In extreme cold or windy condition you can face the same.
I consider thermal dissipation really good (and 50c limit also works), so you can hold light barehand in all the modes.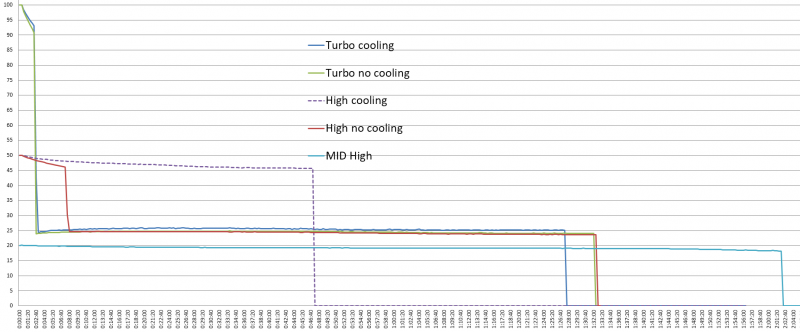 And here is an important part.
1)I agree with other review that light is below stated 32klumens and is about 26-28k. Of course even these numbers are terribly bright and light is the most bight at market (not count custom modes). But, again, 26-28 is not 32.
2) 2 hours in 13000 mode, no 3 promised. i did some re-tests, result the same. and another reviewer also had this result as well. I checked - light cuts off at 13v. So, there is a decent capacity left, at lest light could work in 120-1500 modes, but not here, where you get 2 hours and battery with some thousands Mahs left which you cannout use. I think this is a serious disadvantage.
Seems imalent just caulcated estimated time without real tests. Bad, Bad, Bad!
And most interesting part. See, L6, really bright thing is the total outsider ) I couldn`t imagine this 2016 summer.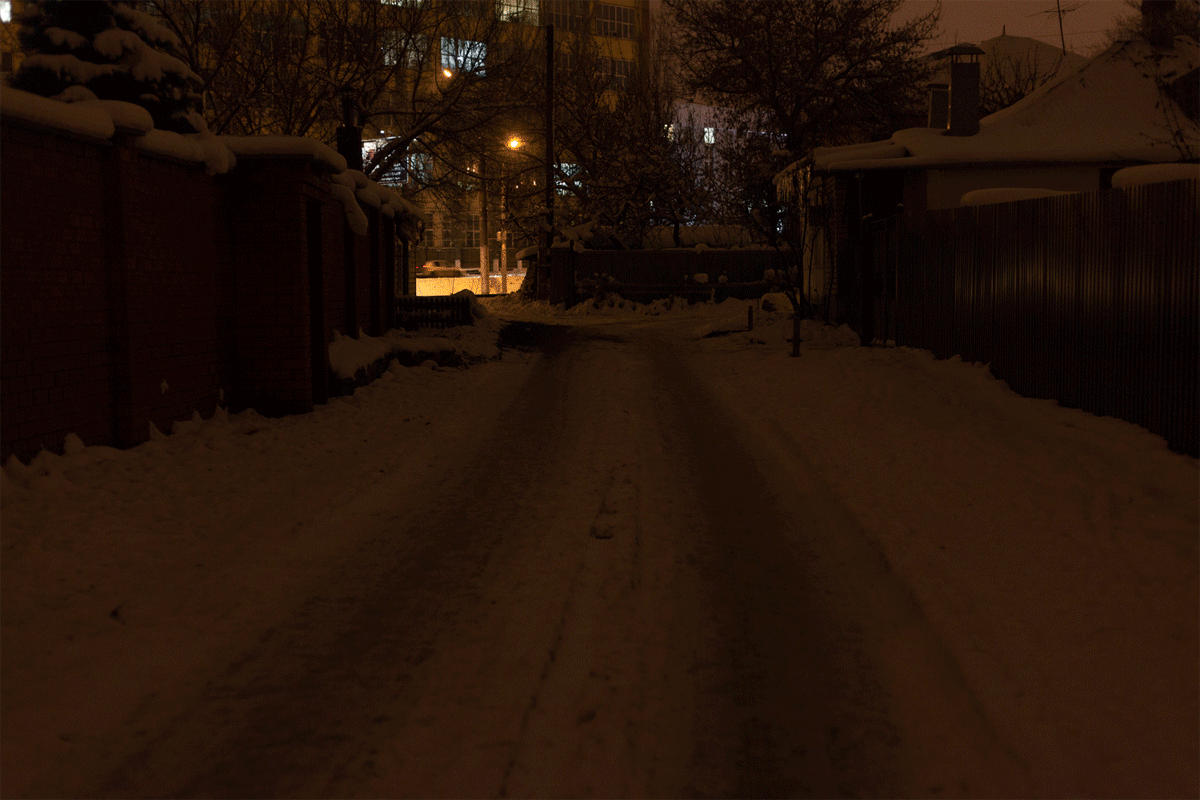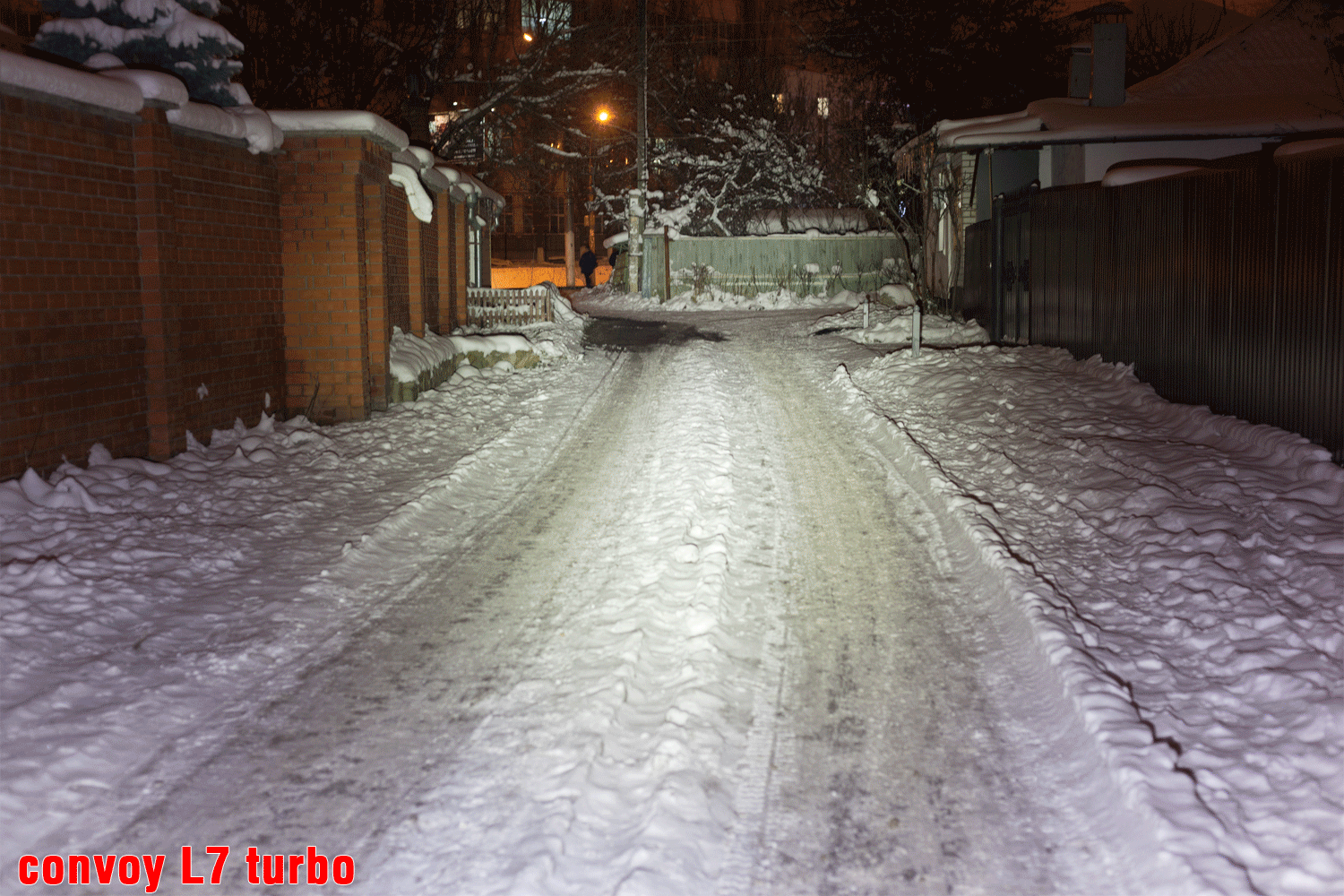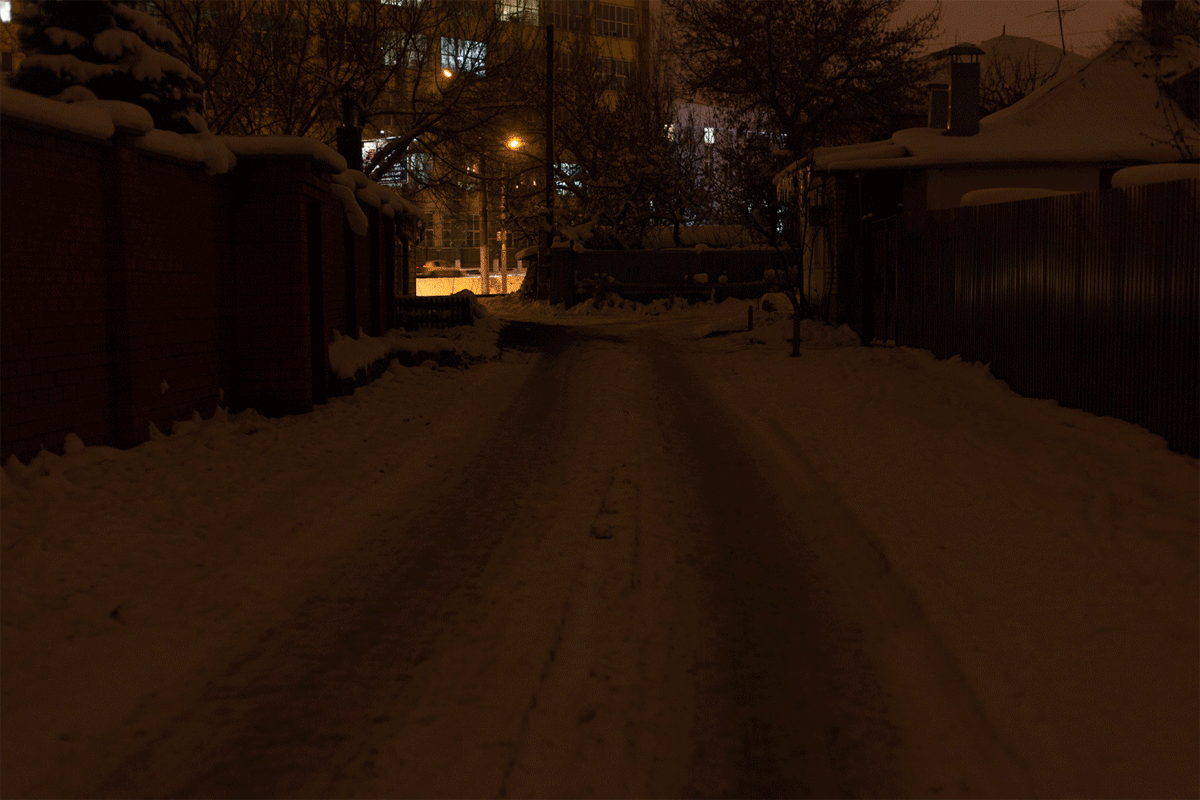 border="0" />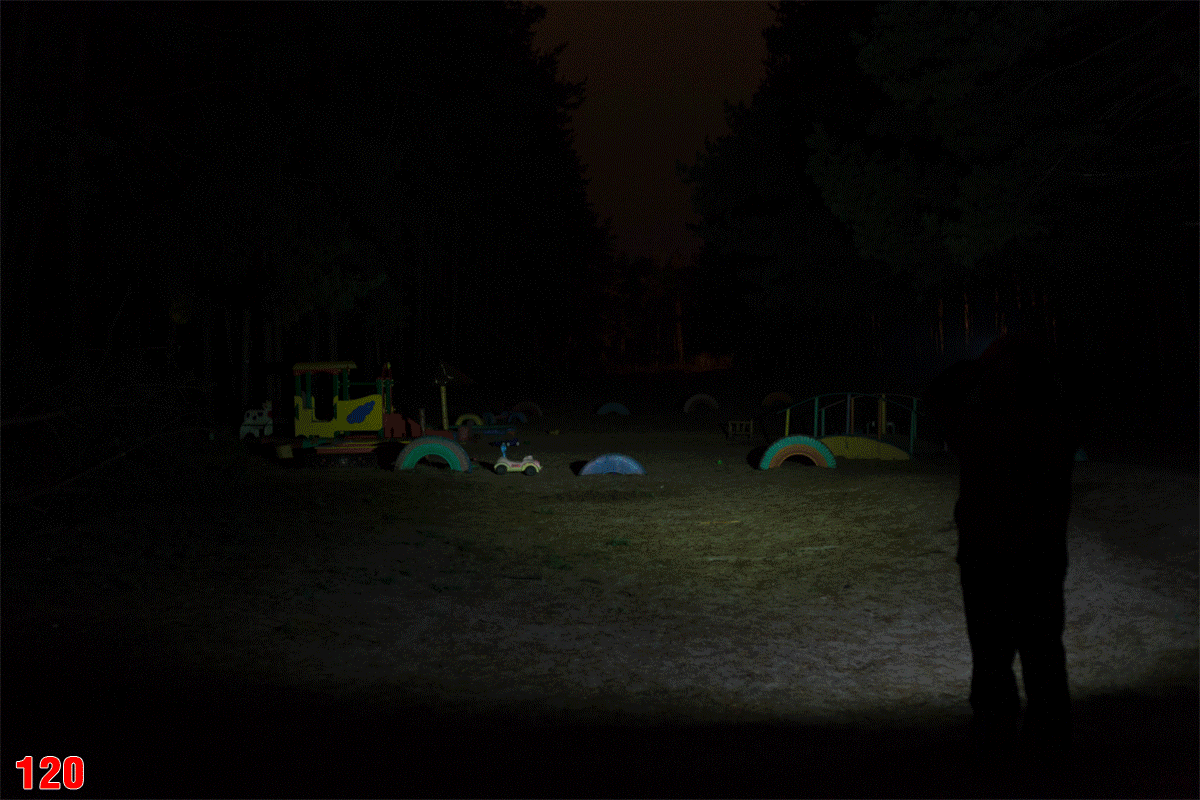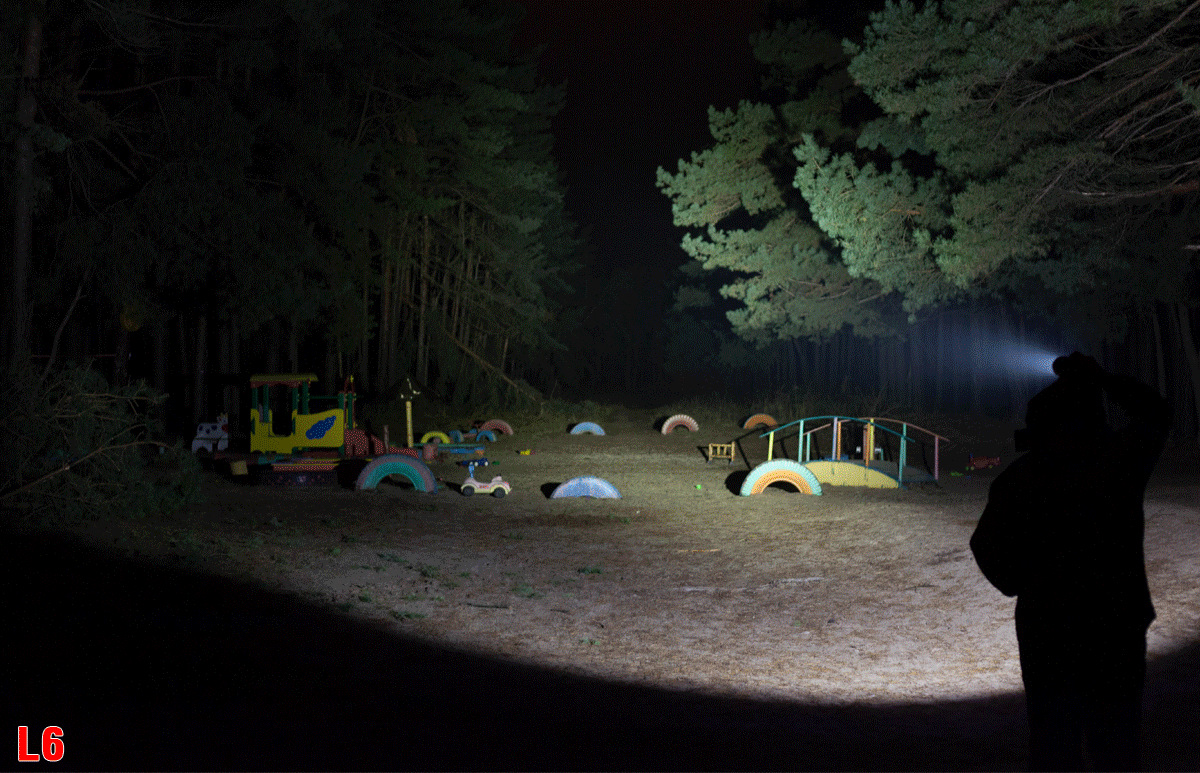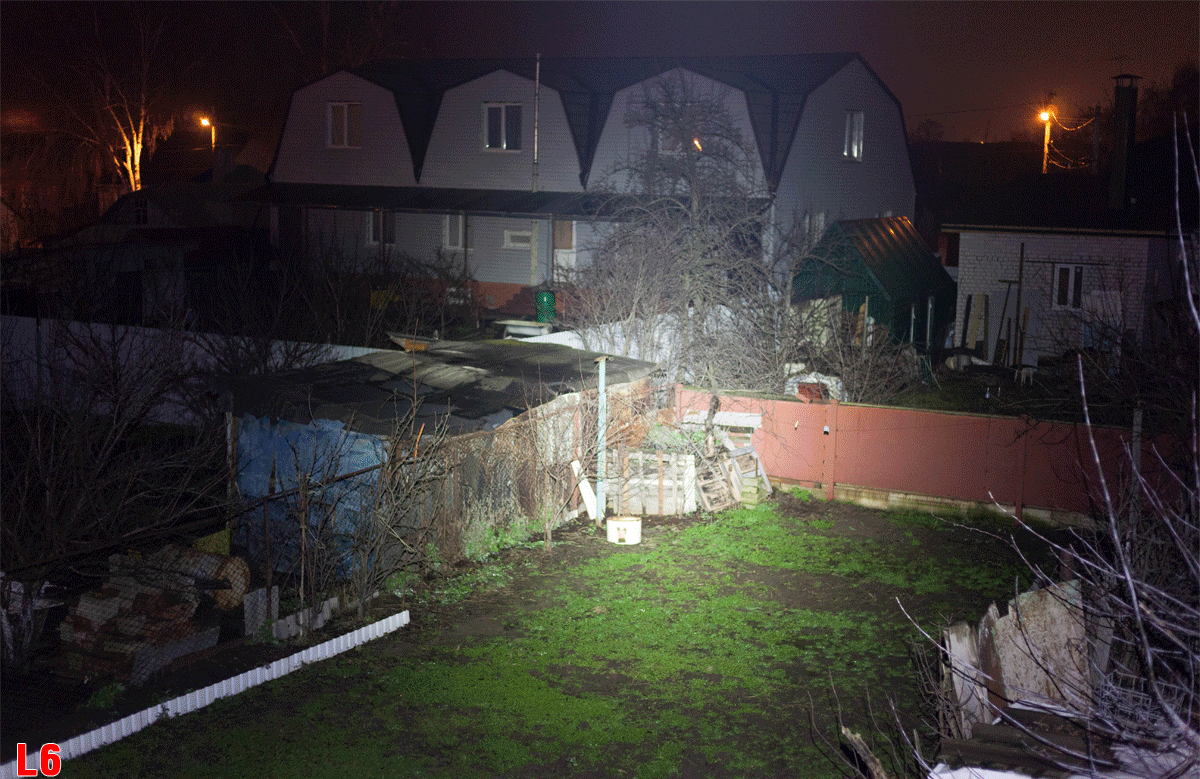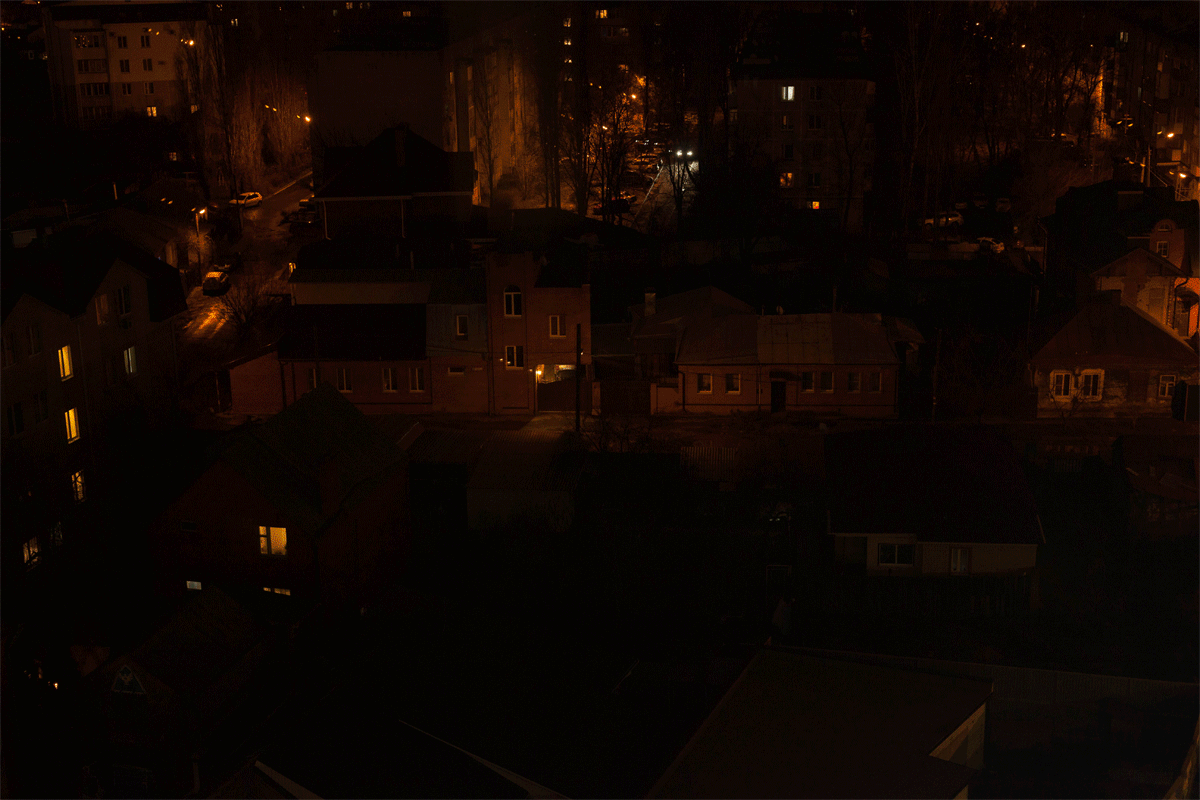 There some live videos with turbo mode on, I suppose you`d like to see this. just see the final part of video
OVERALL IMPRESSION.
That is the flashlight in its extremes: size and brightness.
It can help you to forget about darkness for a nitelong. I`m neither fisher, no hunter, so I cannot recommend it for these people. But i`m a flashaholic and can definitely say that if you (I bet you do, actually) want more, MORE, lumes, DX80 will help to shut this lumen hunger down. In reality you can use to inspect big territories. It can illuminate long and wide at the same time.
But, I`d like to see better lock mode. For the rest I got what I wanted to get
PROs
Insane brightness in turbo and even after stepdown it is far away from other light`s turbo.
Good runtime and stabilization.
Good light distribution, ok for both close and distant works
DISPUTABLE
In real use 1200g will be a serious load for you arms. Have to make kinda of headstrap or buy premium account at brazzers, to make your arms stronger -)
I`d like to be able to change batteries with fresh, but I understand concern of manufacturer. and carrying extra 8-pack of 18650…hm…disputable also.
. I`ll also try to ask Imalent representative if 12v supported, I think that is a useful info for those who want to charge battery in car.
CONS
Button is uneasy to locate.
Lock mode is too simple to prevent occasional turning on.
2 hours in mid-high instead of 3
I bought this light at Gearbest here
with discount code GBLED110903 price will be 215.99$