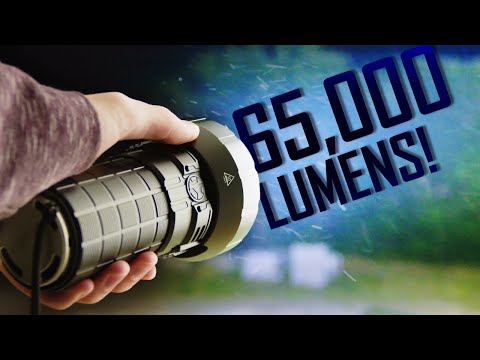 Finally completed the MS12 Mini review, and while it was a lot of fun, there are unfortunately some issues that prevent me from recommending this light.
It can be purchased here: IMALENT MS12 MINI Powerful Flashlight - IMALENT®
Imalent is charging a hefty $409 for this light, which is definitely too much for what you are getting.
TLDR - The MS12 Mini is the brightest flashlight that isn't the MS18, with an absurd output on Turbo. Unfortunately, it has overheating issues, a questionable UI, is not properly serviceable, and is overpriced. For $400, you should get the Acebeam X75 instead.
---
The MS12 Mini is a sodacan style light with a sealed 4*21700 battery pack with an included barrel plug charger, which fills the pack in just 2 hours. I would have liked to see USB-C charging. We all love proprietary battery packs here, and Imalent did us some favors by sealing the pack and charging $130 for replacements! Awesome.
This pack is weirdly labeled 3.6v, but testing with a multi-meter confirmed it was a 16v series pack. The 12 Cree XHP70.2 LEDs are wired in parallel, and the light utilizes a pretty basic Linear+FET driver, which allows for crazy high output but is inefficient and gets extremely hot.
To deal with this heat, three small cooling fans are arrayed around the pill. They are loud and annoying, and run at a constant speed. They are also pretty weak and lose a lot of power when you shake the light around, but do a lot to keep the light from overheating. They are not easily replaceable, disassembly is required to access them and the head (at least on my unit) is sealed wih loctite.
Build quality overall is very good, the light is well-machined and solid. Even with the fans the light carries an IP68 rating, which seems a little optimistic to me but it does hold up well to rain and moisture.
Let's start with output numbers - Turbo is full direct drive, and because of this output is very dependant on battery charge level, and voltage sag causes a rapid drop.
Nonetheless I found that the light easily met and exceeded Imalent's 65,000 lumen rating, with 67,000 lumens being easy to hit, and a fresh charge producing 75,000+ at startup. In fact, immediately after a fresh charge, the instant Turbo was hit, I got an almost unbelievable 82,980 lumens - which makes this the second-brightest light you can buy (for a split second anyways)
Turbo - First 90 Seconds

The light holds 70,000+ for the first 24 seconds, then smoothly drops down to it's sustained level of 13,000 lumens after 50 seconds - which is held flat for the remaning 44 minutes of the run!
Runtimes on the high modes are pretty short, as expected for such a powerful light. Stability is very impressive, with the top three modes sustaining a flat 10,000+ lumens each.
Runtime Graphs - All modes

Runtime Graphs - All modes (zoomed y-axis)

Output levels:
Turbo - 70k+ lumens

………13,000 Sustained
LV5 - 28,000 lumens

………11,500 sustained
LV4 - 11,900 lumens

………11,500 sustained
LV3 - 5,000 lumens
LV2 - 3,400 lumens
LV1 - 1,990 lumens
Everything is very bright, and the modes are well-spaced… except for the bottom two levels. Both are visually very similar to each other and are basically redundant, level 2 should be removed entirely.
Worse, the lowest level of 1,900 lumens is simply ridiculous, that's way too bright to be considered a proper low mode, and it only runs for 4 hours and 40 minutes… which means this light is incapable of running for an entire night's worth of usage - a serious problem for such a large, expensive light, especially one that claims to be practical. (Decent runtime though at that level)
The interface is pretty simple.
Press the button for on/off
press and hold while on to ramp up through the modes
Double-press for turbo
triple-press for low
While off, press and hold for three seconds to turn the fans on/off.
A quadruple-press locks/unlocks the light.
On level 3-Turbo, the fans will turn on automatically, and turn off with the light - there is no active temperature monitoring here. This is another serious issue, as the light gets extremely hot on Turbo and the fans are really needed to keep this under control - they SHOULD NOT be turning off with the light, and should instead be reacting to the internal temperature of the light itself to prevent overheating.
The fans can of course be turned on manually, which allows them to run constantly until turned back off. This is what I recommend for any extended usage, though again they run at a constant speed and are quite annoying.
Another issue is the press and hold required to activate the fans - since the button is metal it too will get very hot, and you can burn your thumb trying to turn the fans on. Not a good design, I definitely think the triple-click should be remapped to the fan control instead of low.
Another issue with the fans - during my runtime tests I found that the fans actually shut off before the light itself, allowing it to sit and cook under a 13,000 lumen load for a full 3 minutes… this is bad.
Finally, ANOTHER heat-related issue: the low mode likes to not work sometimes, it seems to be due to low battery levels, though I can't figure why this would be the case. During usage one night, the battery ran out and it would not longer turn on to low. I plugged it in to charge, and apparently the light was still 'on' in low (it just didn't light up) because when I came back almost an hour later, the light was on while connected to the charger and had gotten extremely hot. Of course, the fans did not activate and the light did not dim, so the MS12 Mini can be a potential fire hazard with it's poorly implemented thermal control. Classic Imalent refinement!
Beam quality is pretty good, these are low-CRI emitters but are a nice ~5600K and look decent. Tint-shift isn't too bad for XHP70s, and there aren't any major artifacts in the beam.
I measured about 2.5 cd/l, for a theoretical maximum peak cd of 167,370 cd (at 83K lumens) - far short of the 268.6kcd Imalent advertises. However this isn't an issue, the light is clearly a flooder anyways and does an excellent job at that. Distant objects are somewhat illuminated but will be mostly obscured by blindingly bright foreground objects and beam backscatter.
Overall I quite like the beam from this light, it's an exellent high-power flooder that effectively lights up large areas.
---
Well that's it for this review, I hope it was helpful, and I hope you maybe enjoyed the video

Imalent did send this light to me free of charge, and I really appreicate their patience as the video took a long time to put together.
They probably won't send me anything else after this, so here's my Patreon if you want to support me: