Affordable bike light witn support of both 18650 and capacious 21700 batteries. That seems to be quite interestin thing. Is that so , or no? lets take a look
warning! place order and leave message to the seller - *"B01*", do not pay, wait.
Then seller will adjust the price, make a $ 5 discount, then you can and pay.
You can buy Lumintop B01 at
➤ AMAZON
➤ ALIEXPRESS
➤ BANGGOOD
For the specification, it is important to emphasize that the runtime was taken with 2600mah 18650 battery.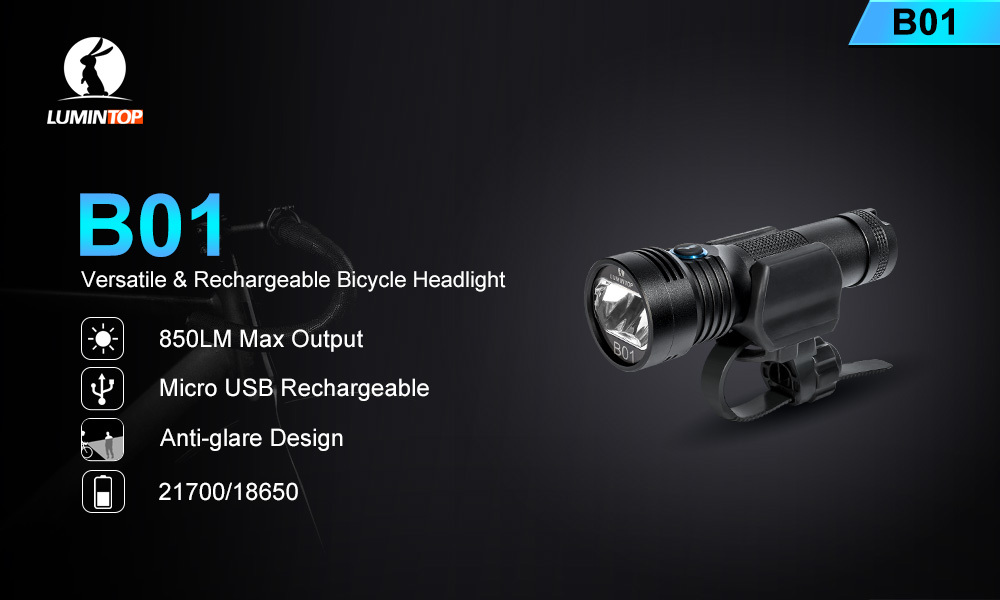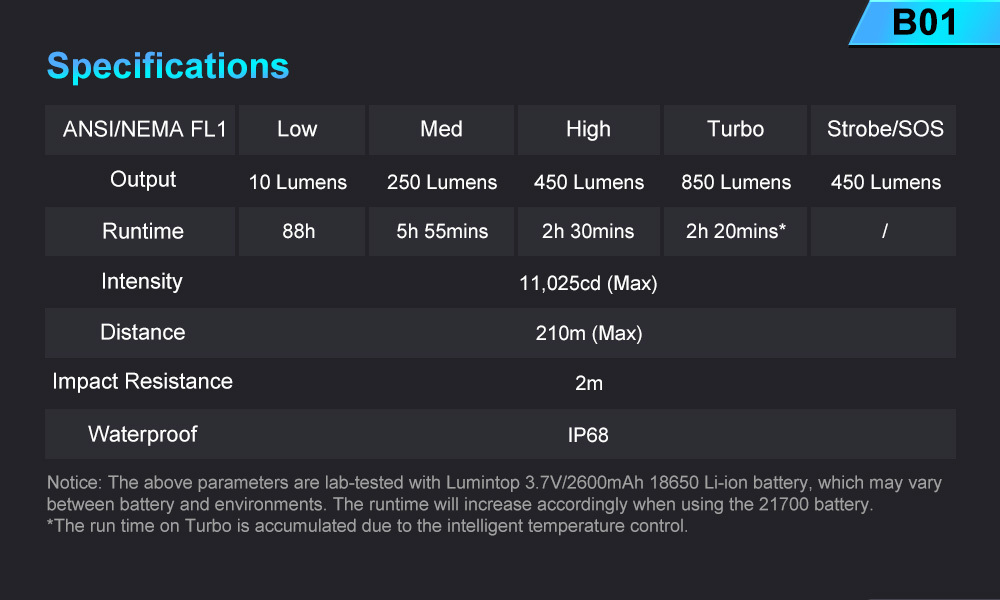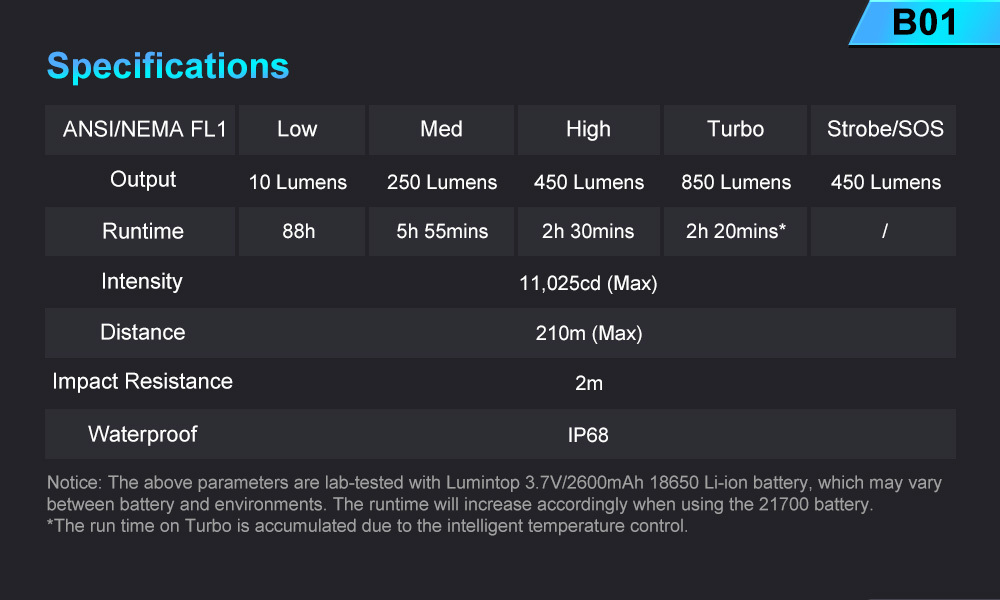 PACKAGE AND APPEARANCE
Packacke is the same as in some fresh models of Lumintop. The usual simple beige cardboard box with the logo, they also added a "dust jacket" with the outline of a flashlight inside. It looks modest and neat.
Inside in foam rubber is the headlight itself and the rest of belongings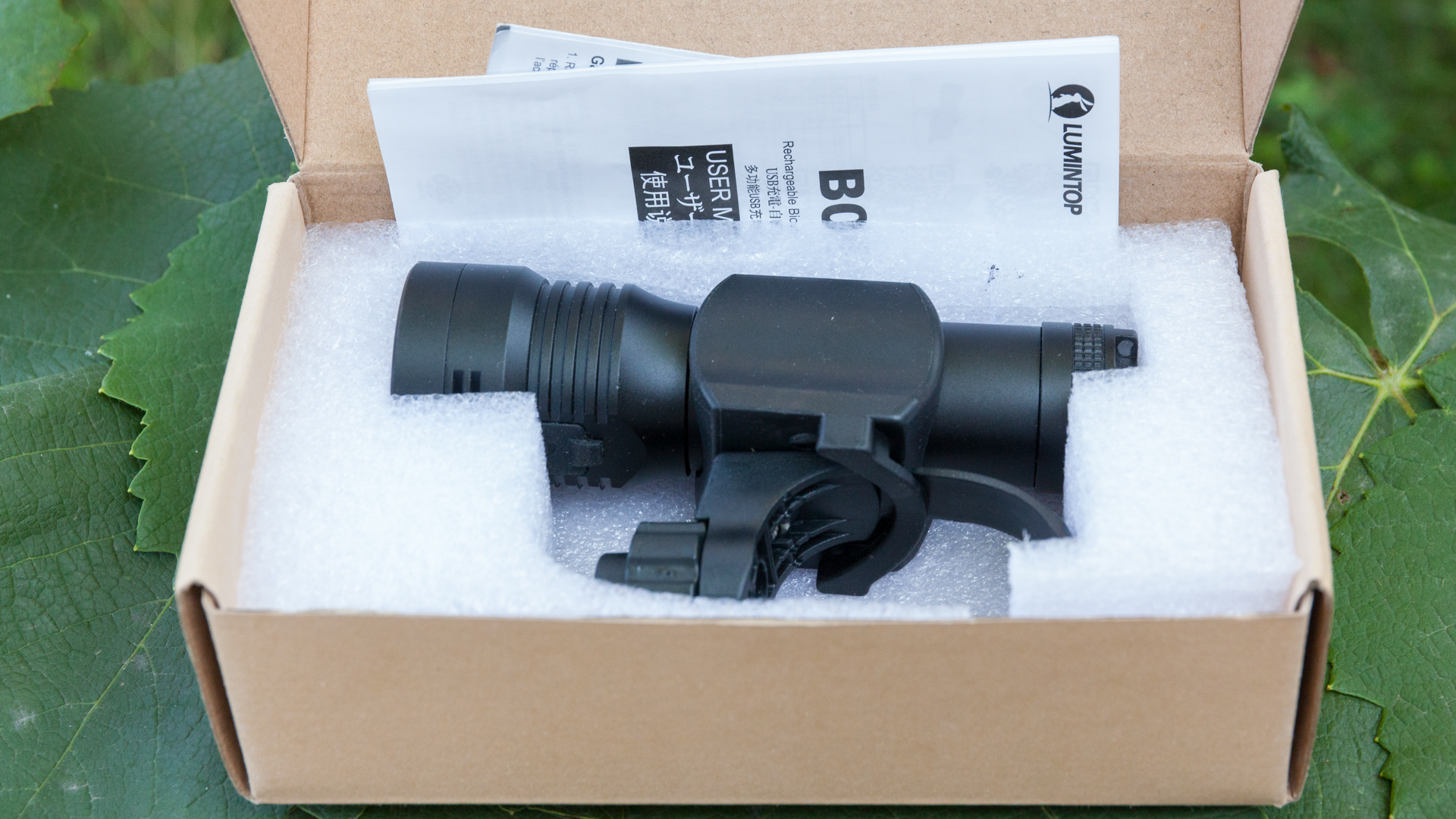 Here is the whole kit, there is everything you need. The headlight itself with a bike mount, instruction, o-rings, lanyard, 18650 2600mah battery with adapter, charging cable.
Lumintop B01 is made in the form factor of an ordinary pocket flashlight. It is only symbolically bigger than the convoy S2 +. Here you can clearly see the potential of the flashlights with 21700 battery - the same size with a significantly better runtime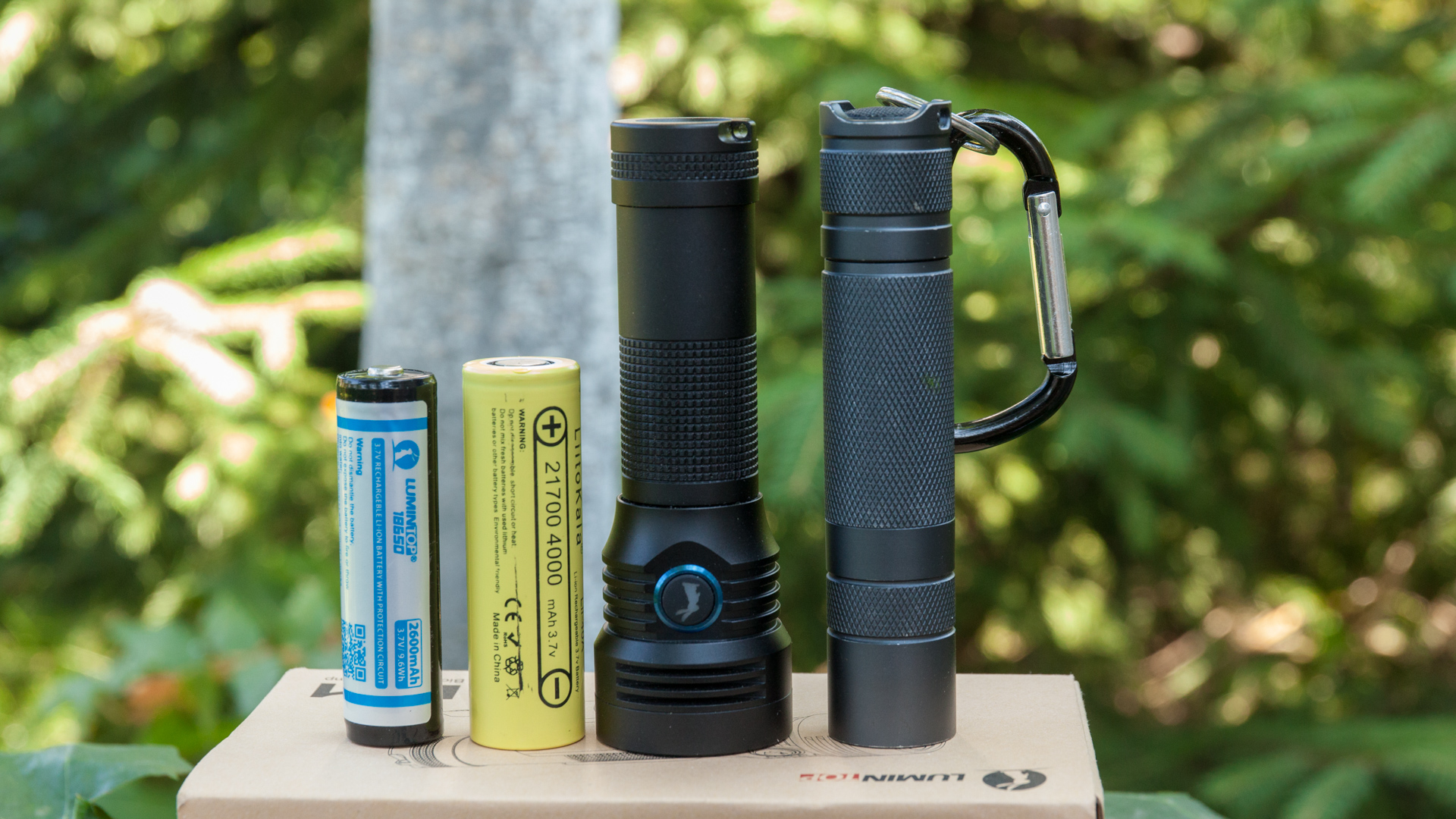 And if you do not look at the flashlight "in the face", then you will not see something new. And just looking, it becomes clear that this is still a bicycle lamp, and not a flashlight. Looks pretty nice in my opinion.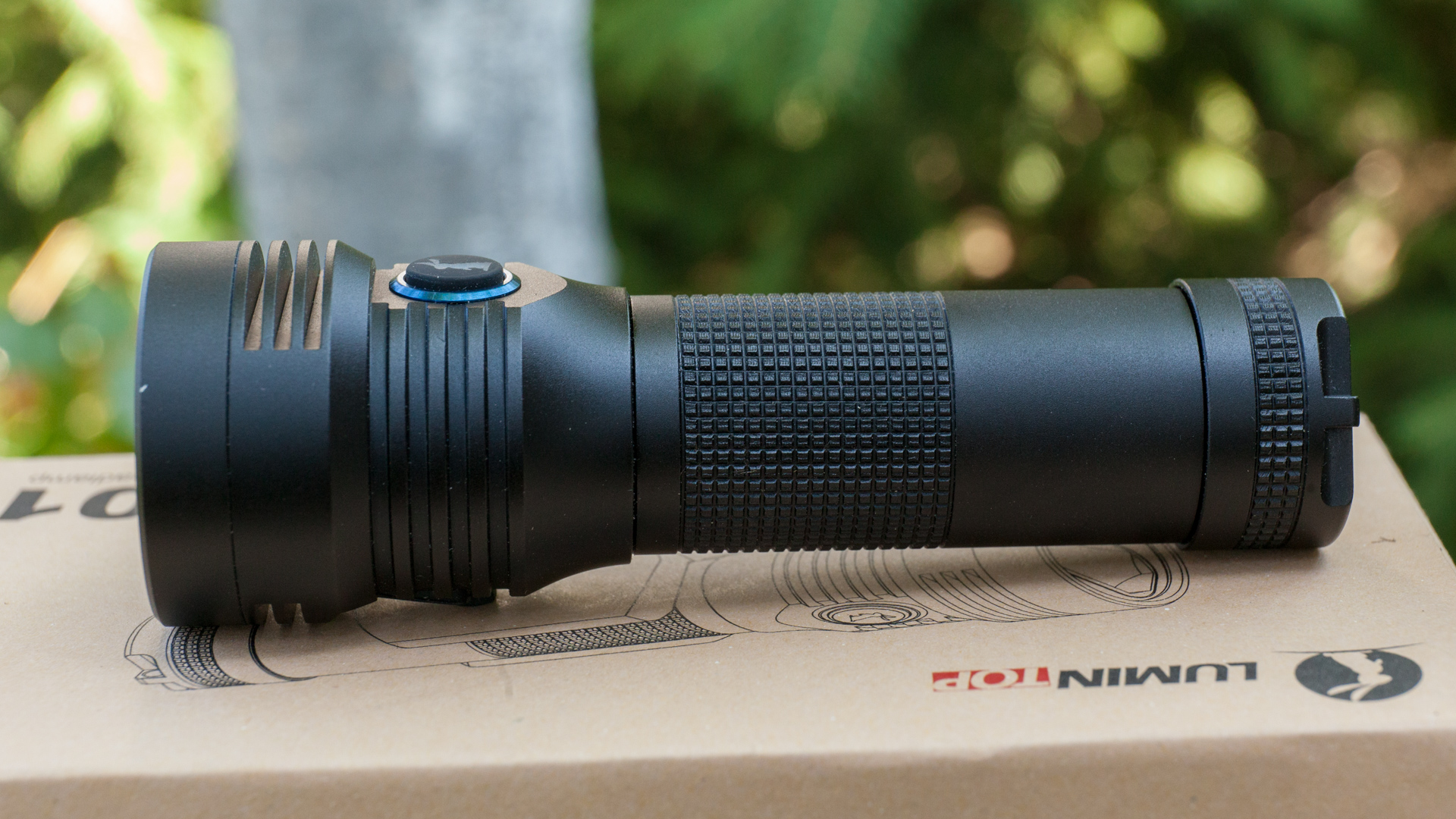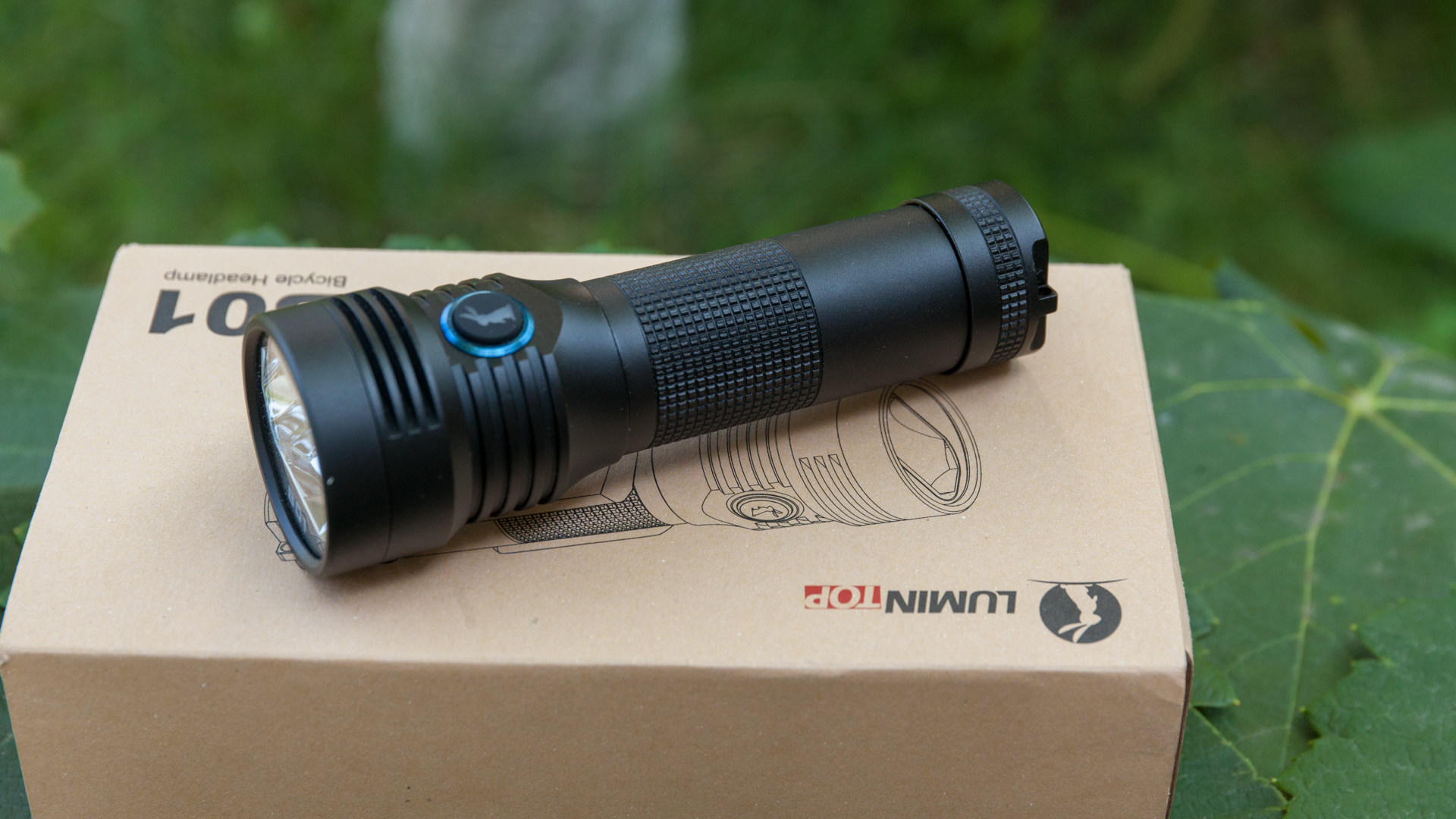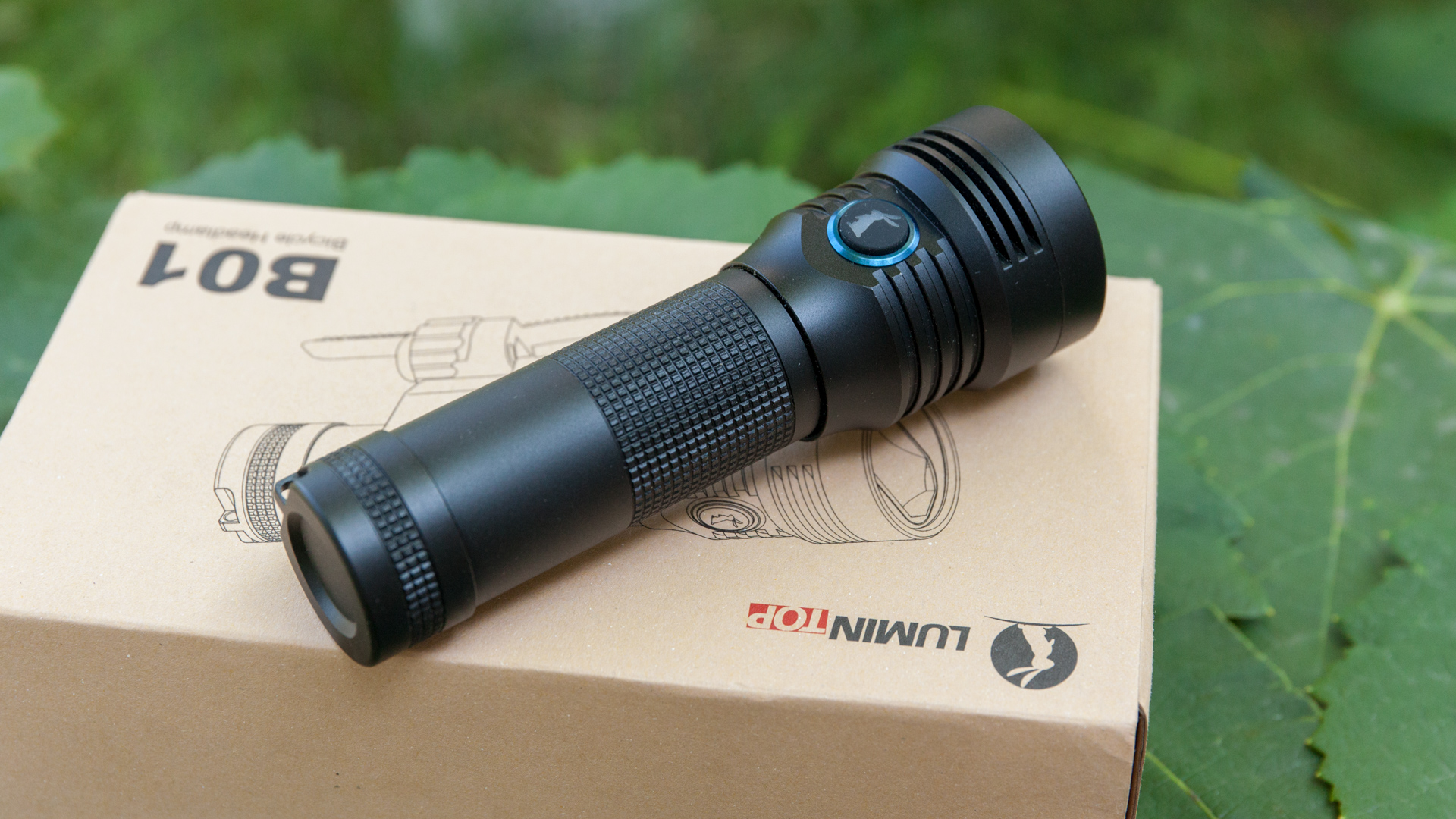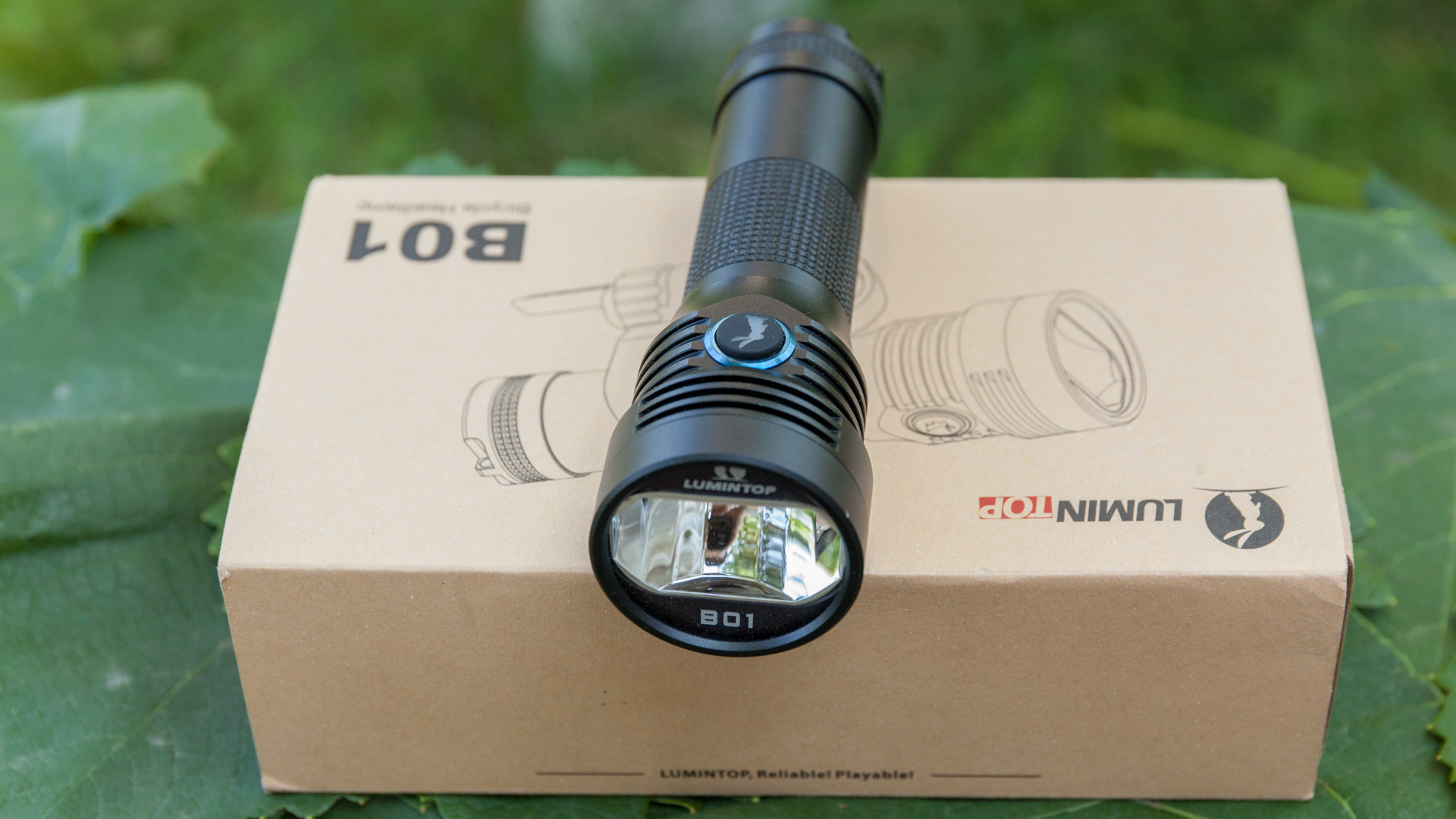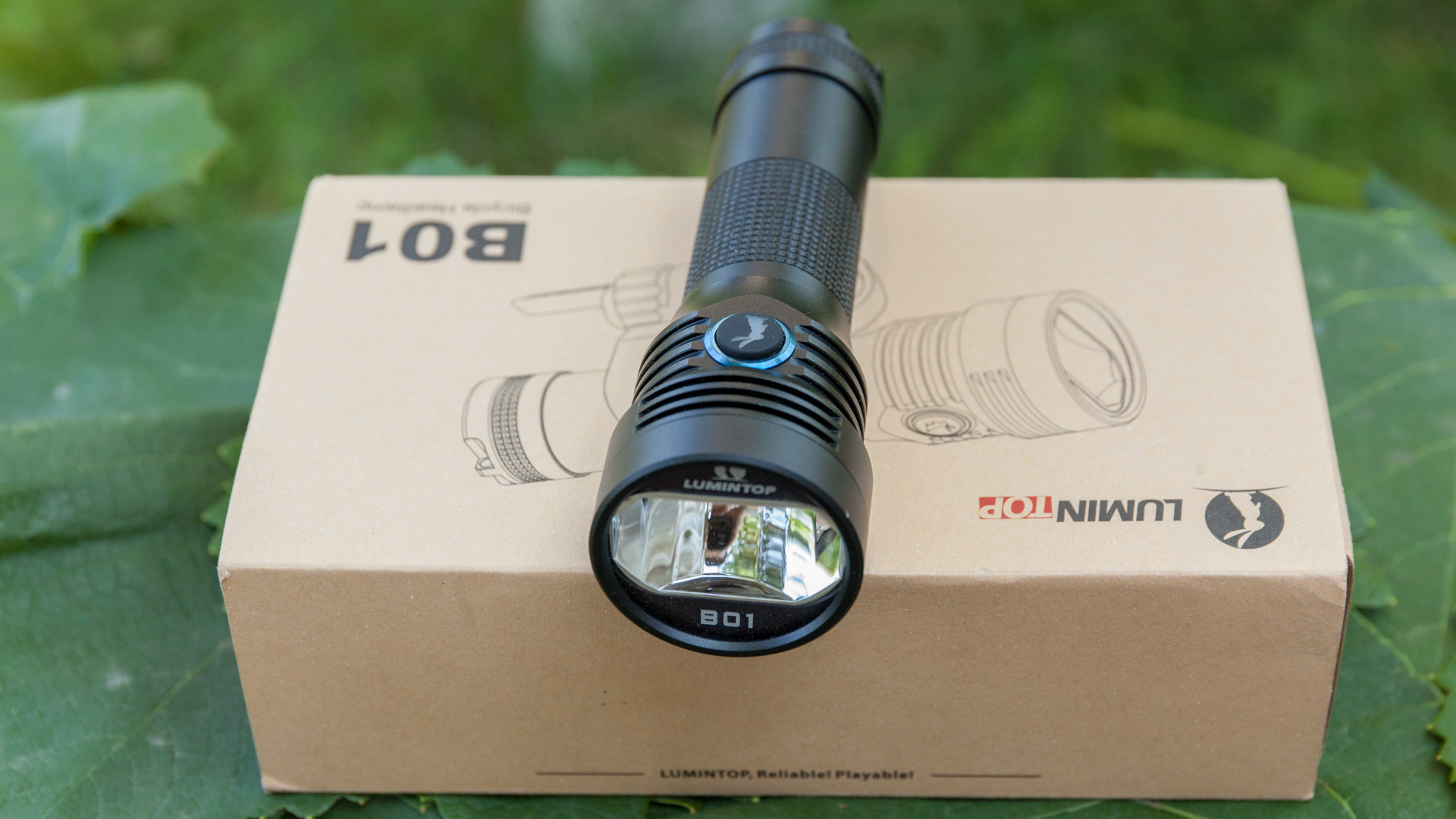 Actually, if you are not against specific light distribution, then nothing prevents you from using the B01 as a flashlight.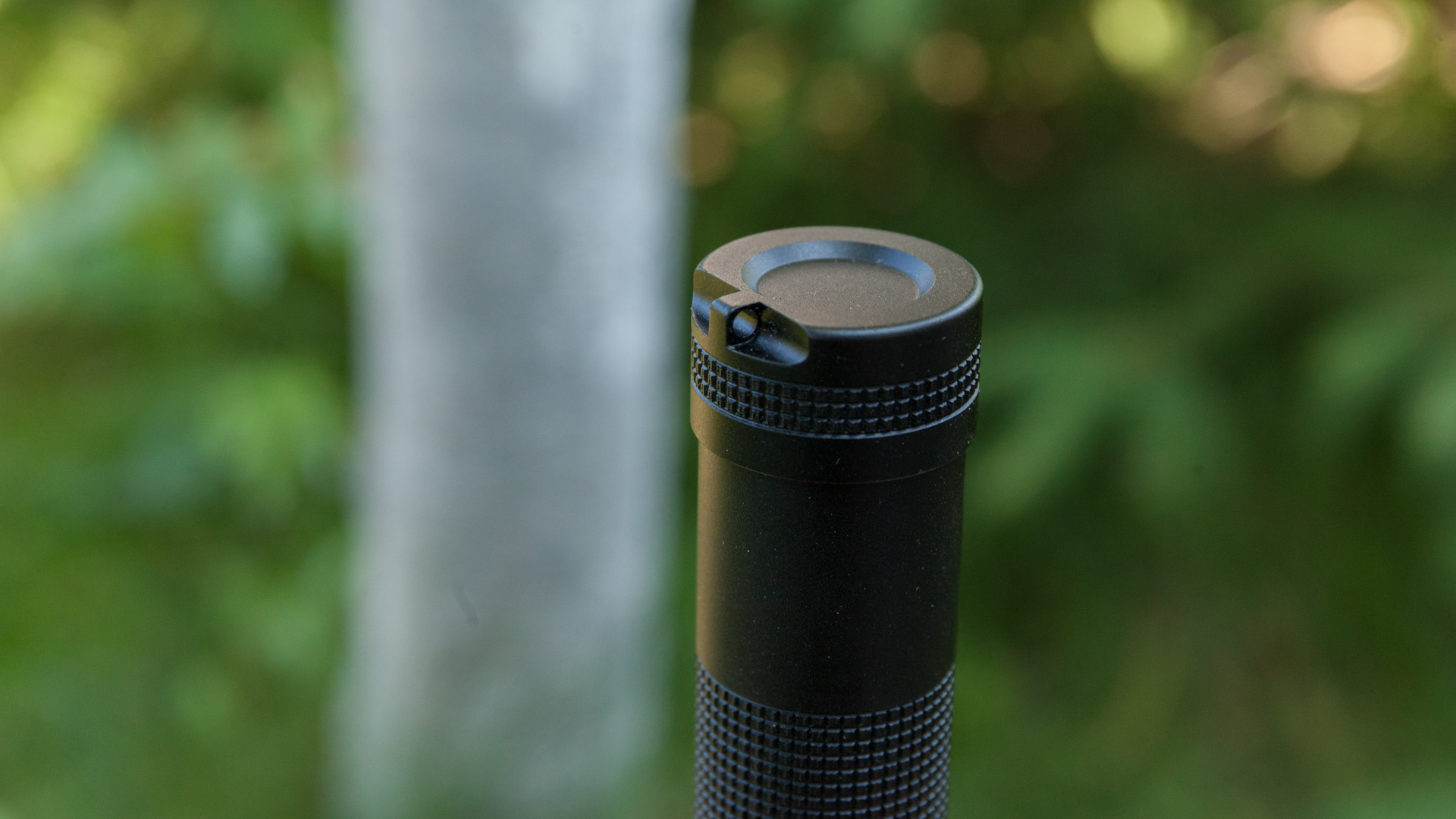 The spring is unexpectedly thick, apparently with an excess for such a small brightness. It is reasonable that from the side of the head they decided to put a spring instead of a contact pad, the road is not always on smooth asphalt, but also on gully with protruding roots. And sometimes asphalt is far from being flat.
The threads are neat, enough lubrication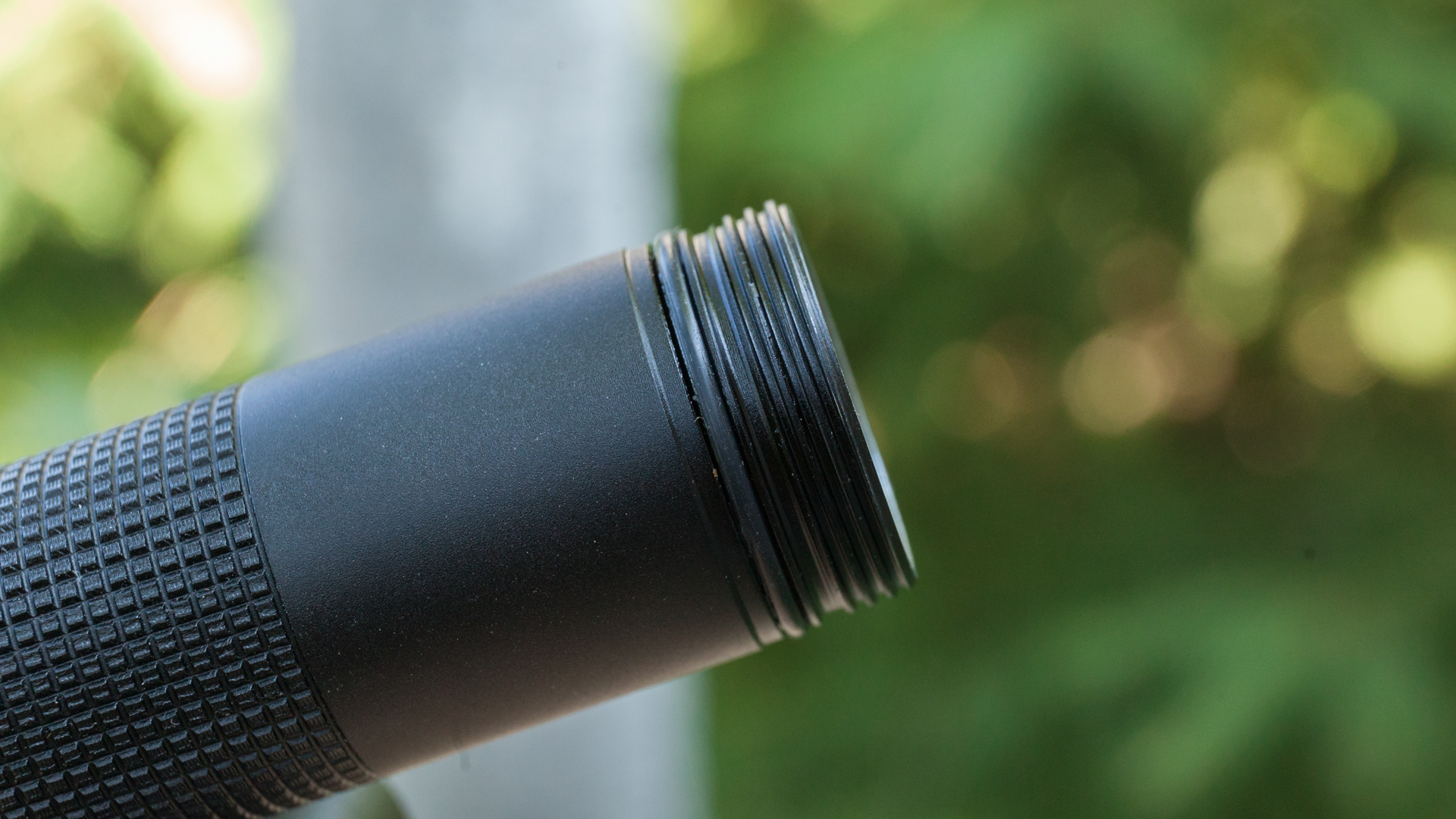 Knurling , in general, is ok. not great, but ok .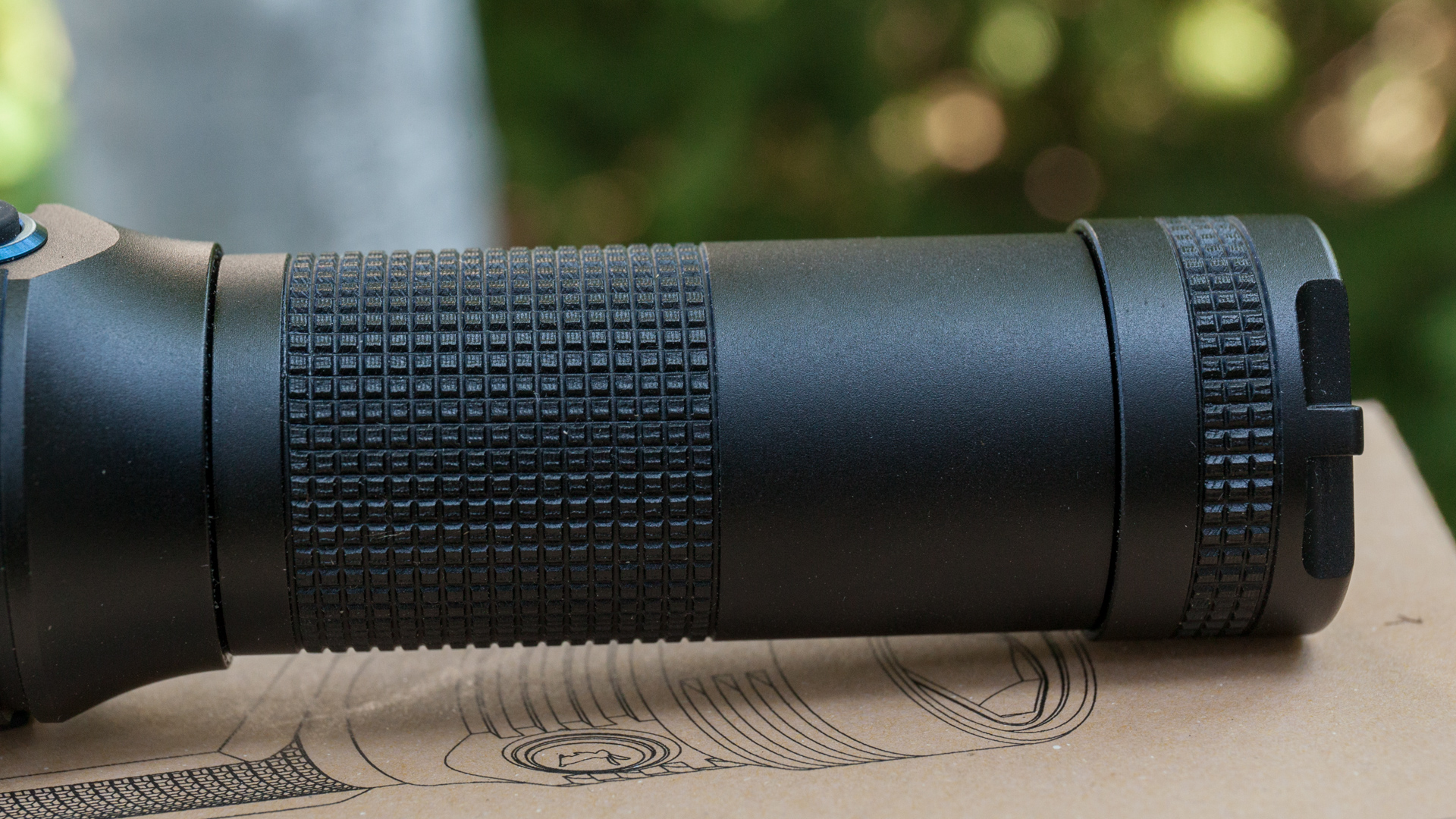 21700 battery fits without a gap, 18650 even with an adapter slightly dangles. However, when the spring presses it, then everything is perfect
Still, the headlight is made for use as a bikelite and so dont expect much grip from this knurling , still it is quite comfortable.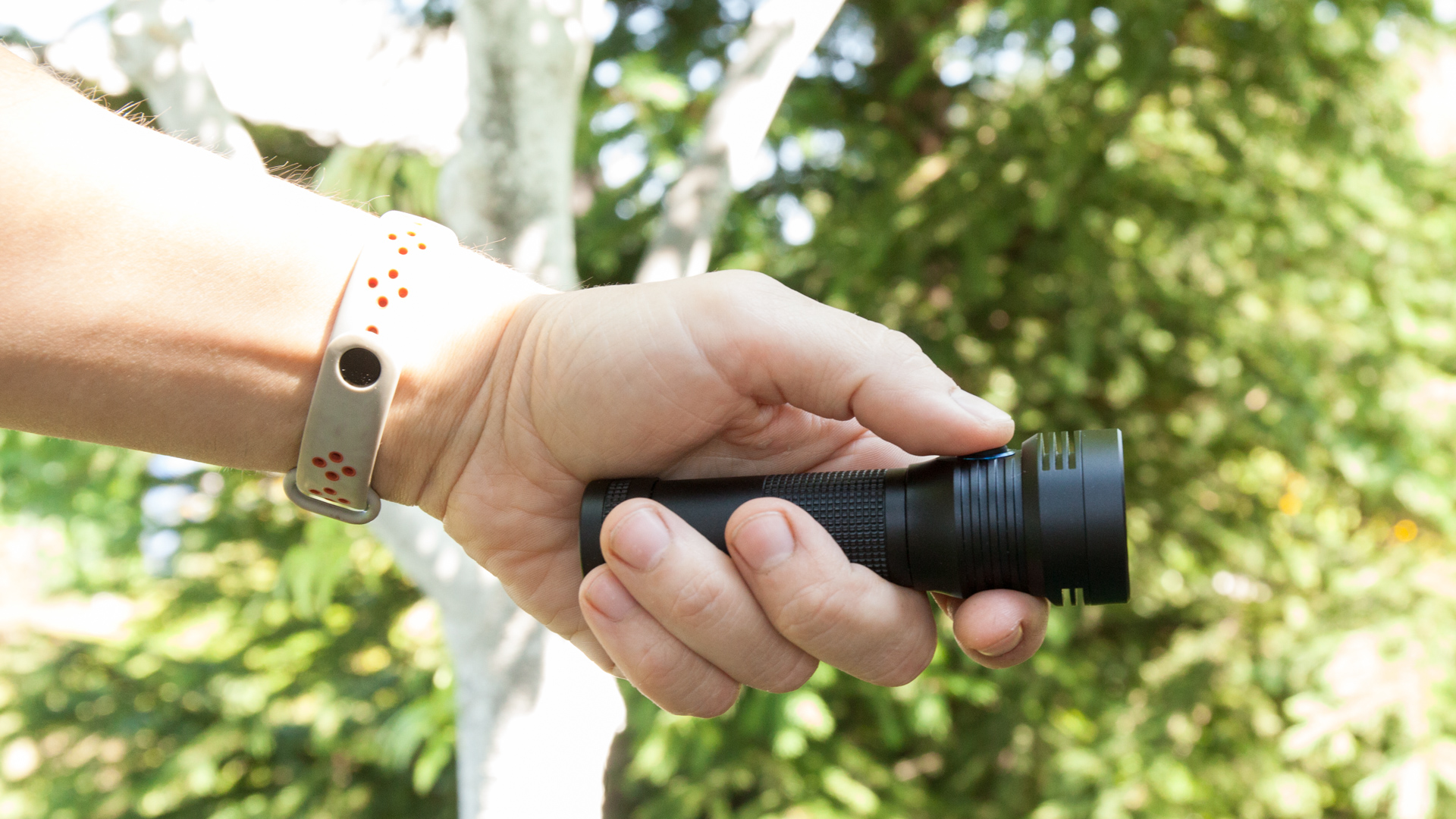 Medium-sized soft rubber round buttons have a shallow stroke with a clear click. There is an indicator light. Red-blue while charging, green glows during operation (flashes when deeply discharged). By the way, the azure ring around the button was frankly dragged away from the olight,… ay-ay-ay.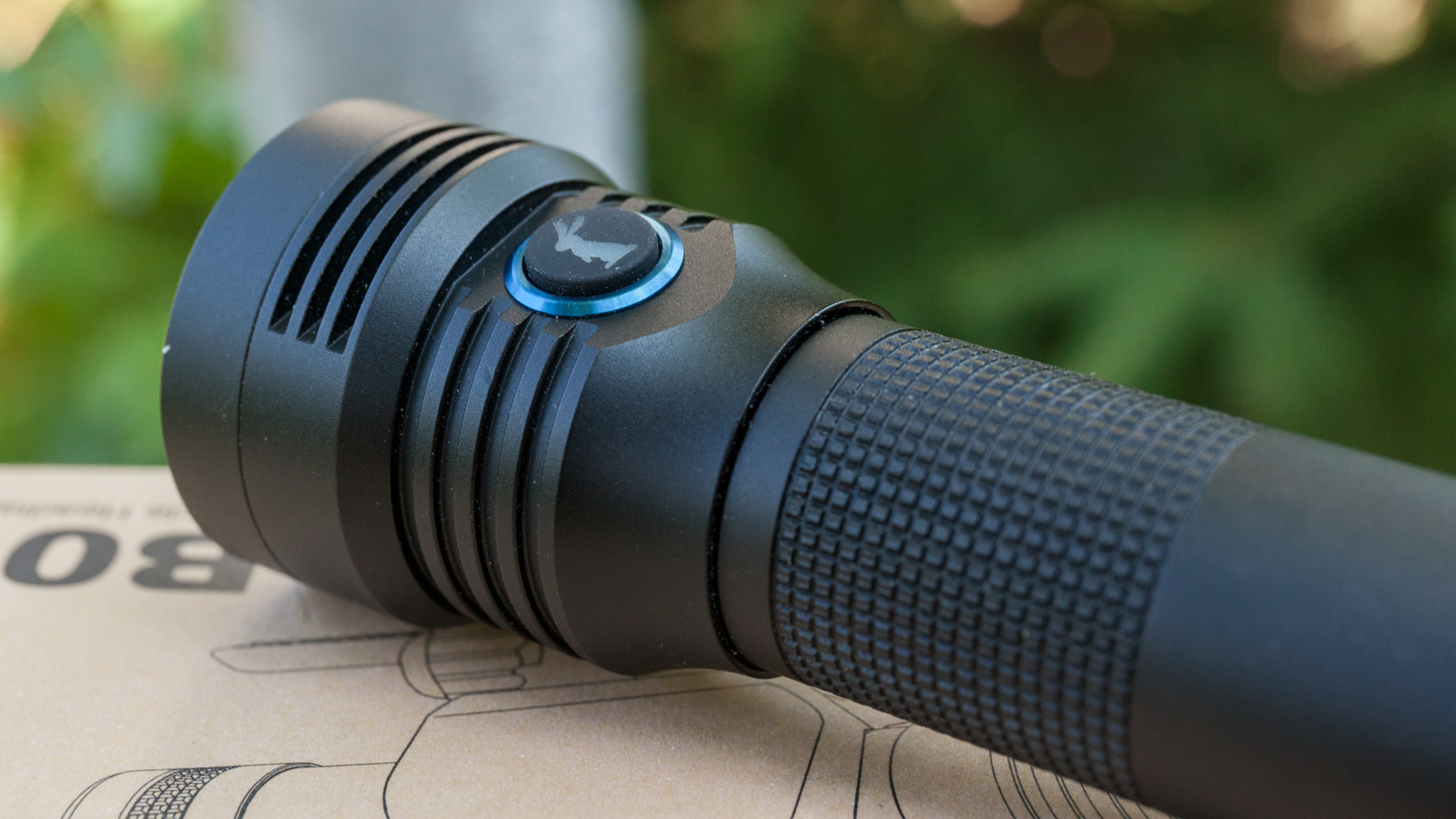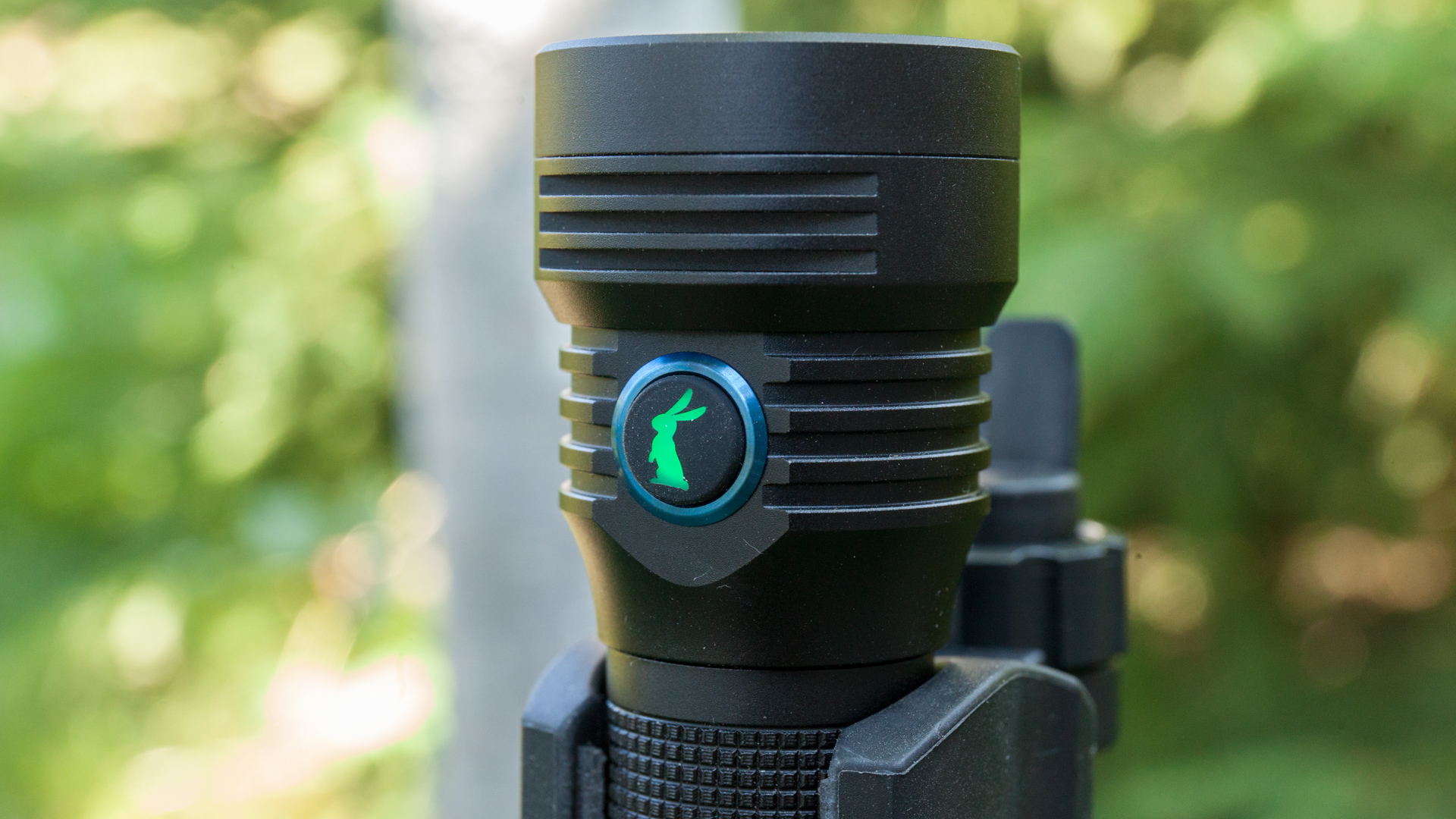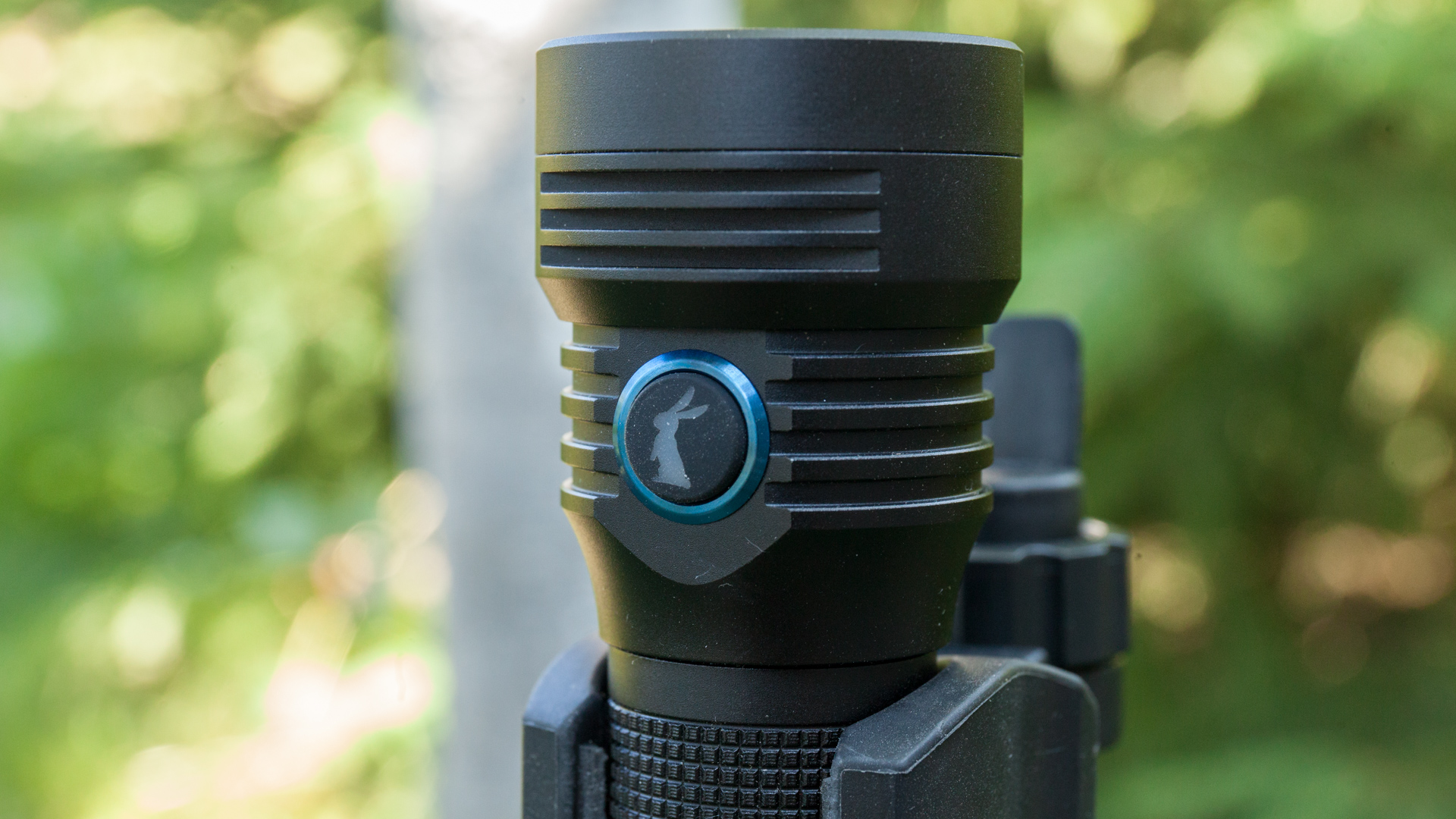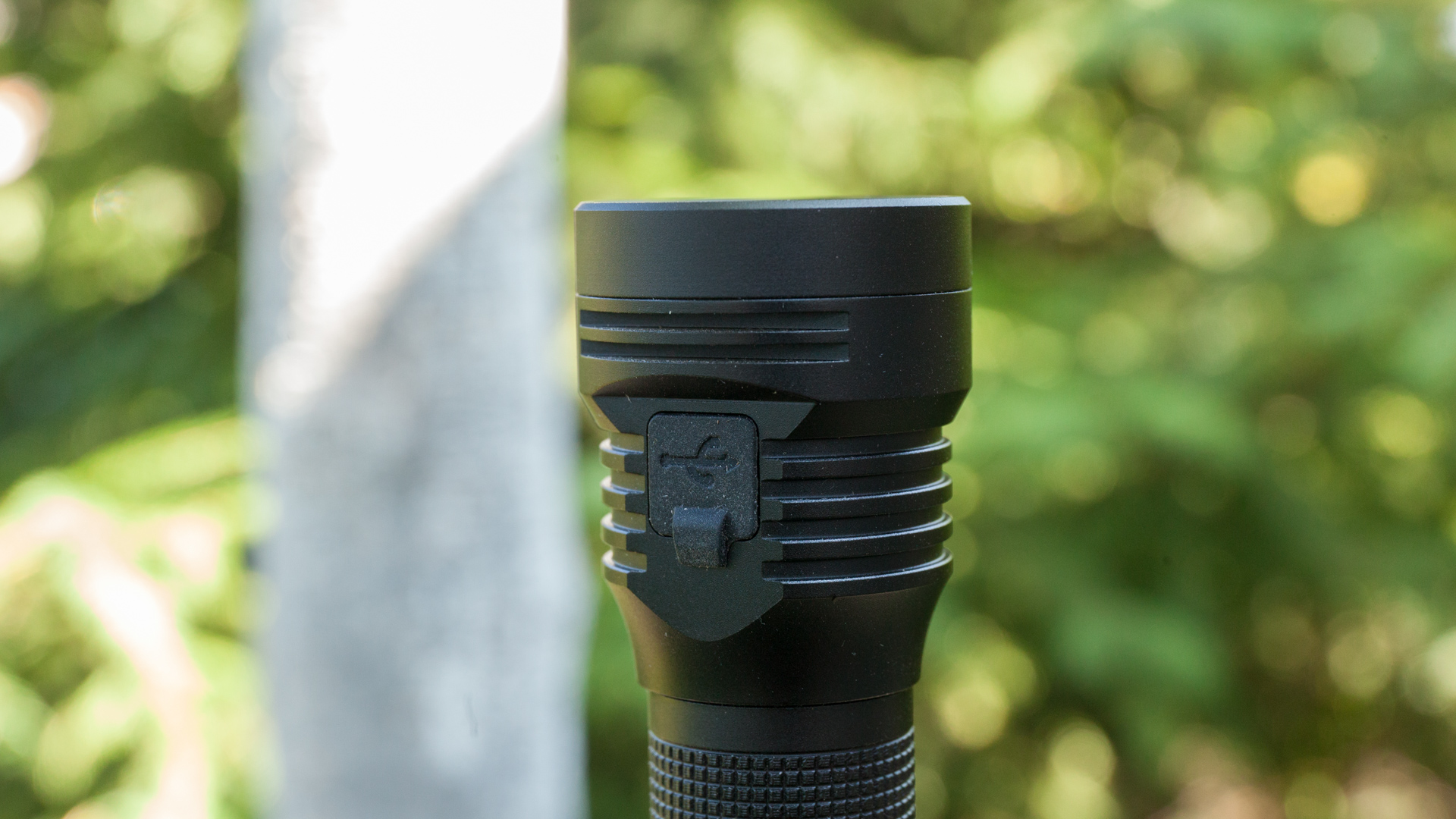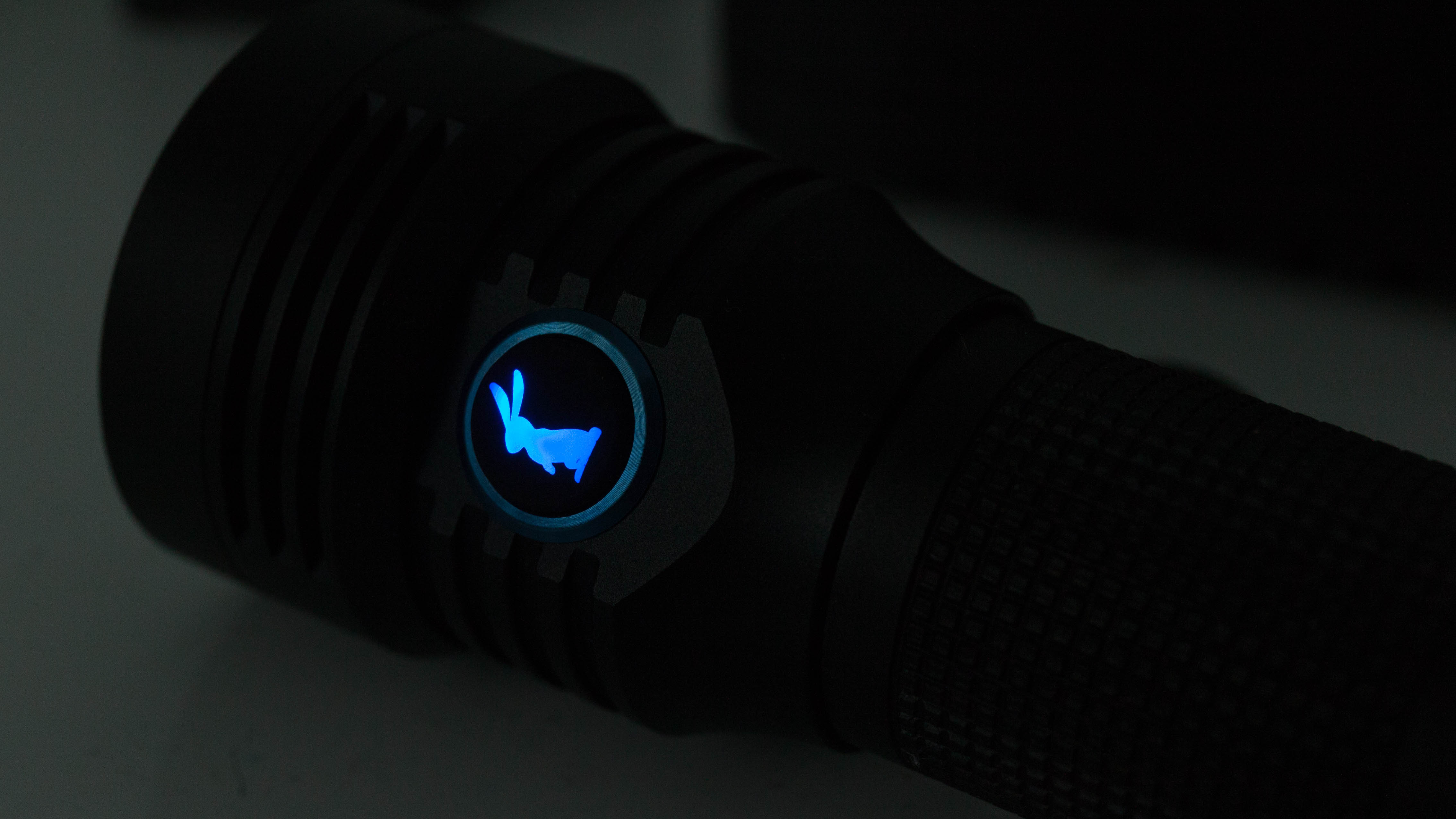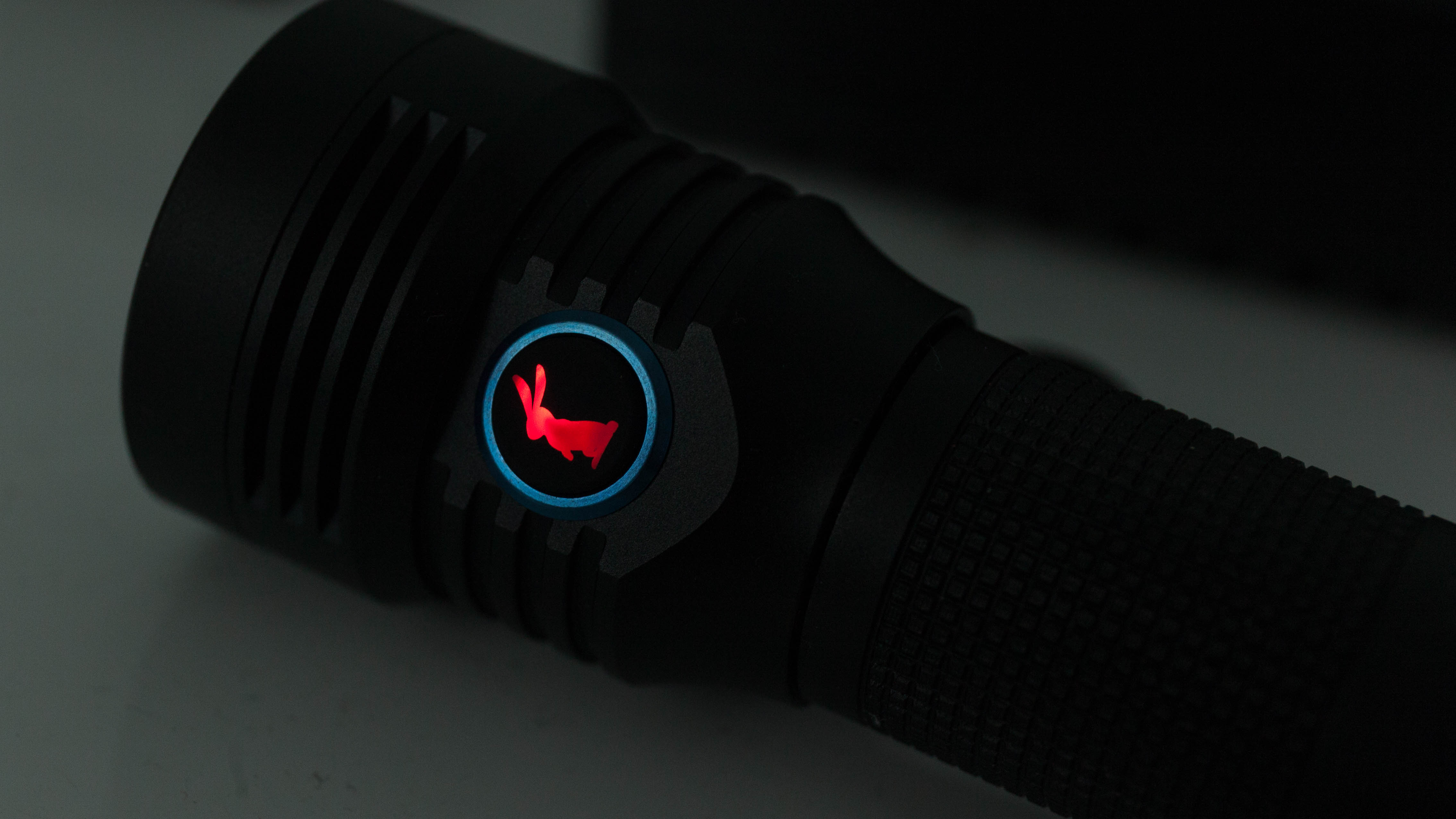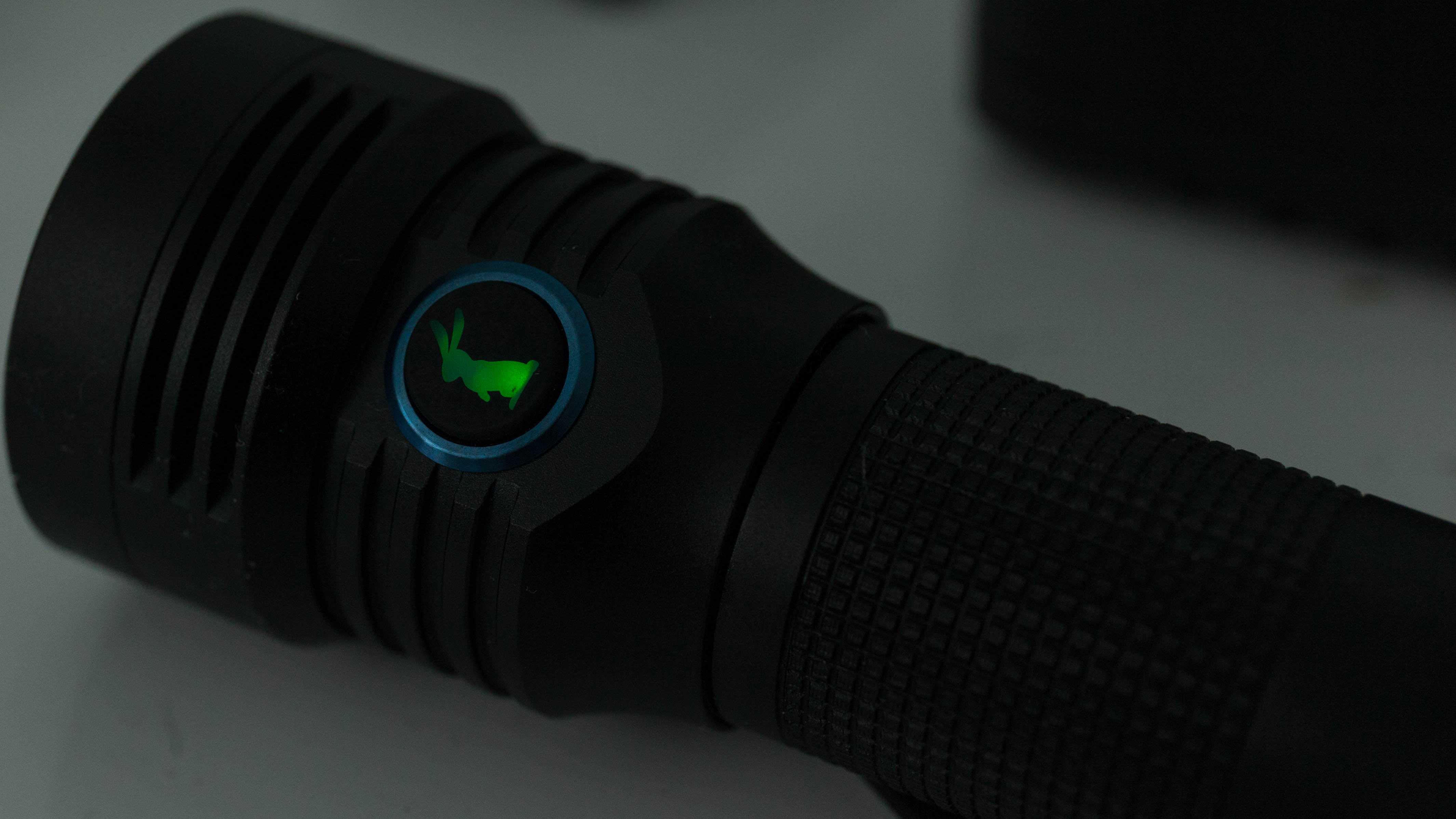 On the reverse side is a micro-usb. The lid is tight, the groove under the connector is deep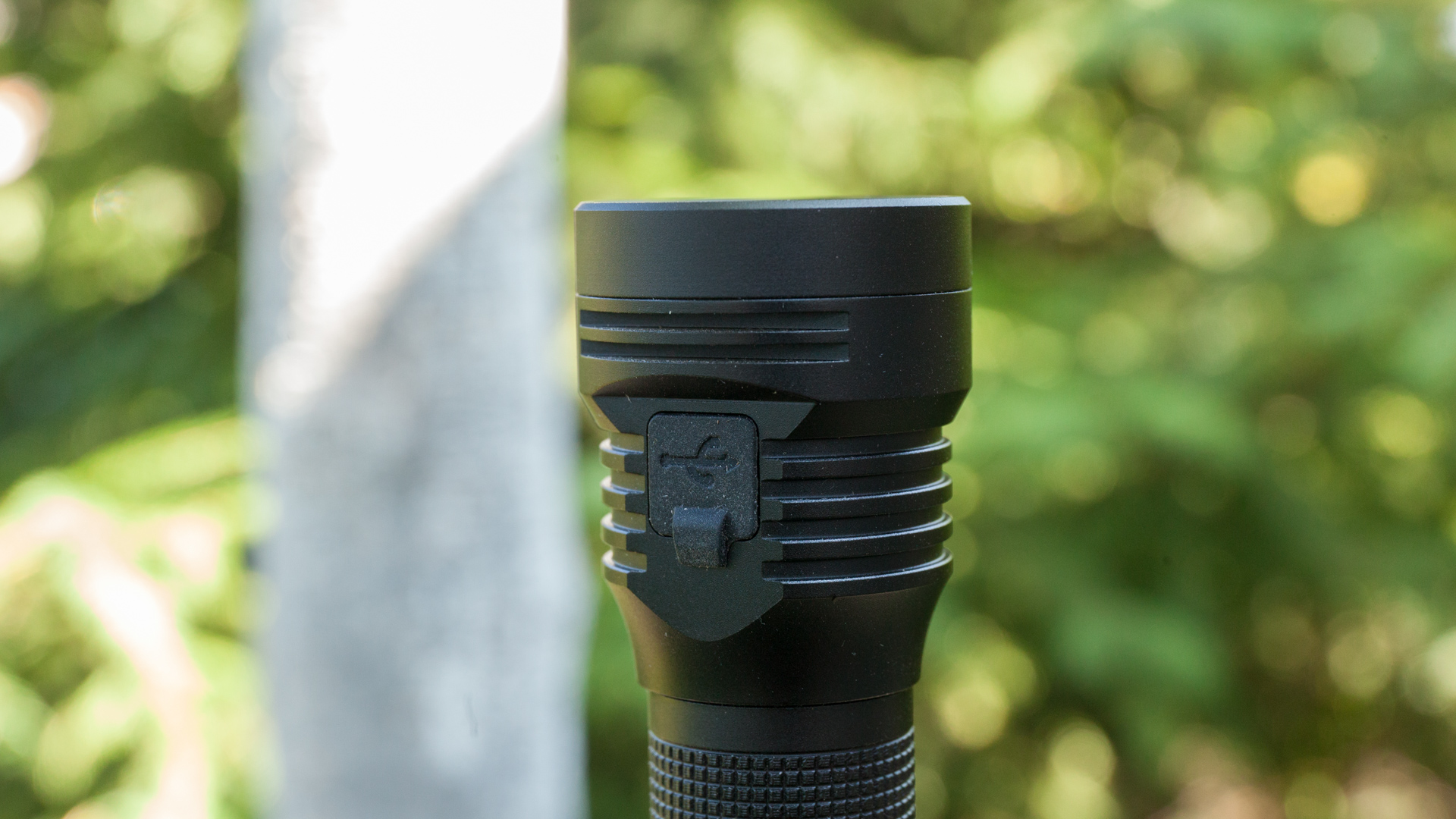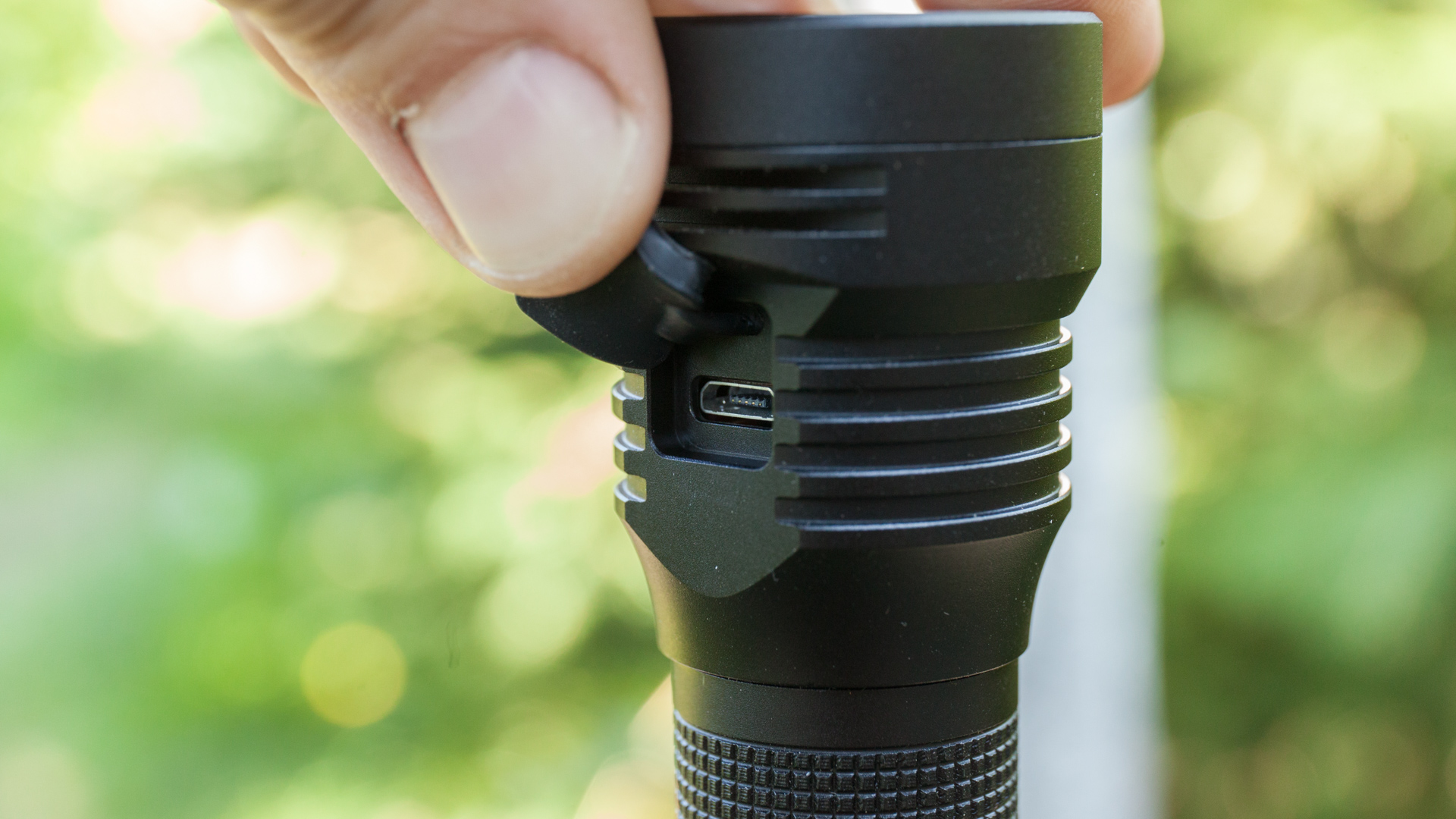 The cooling fins are quite decent for this size of flashlight and it`s maximum brightness. Taking into account the fact that use implies a fair amount of airflow with headwind, everything should be fine here.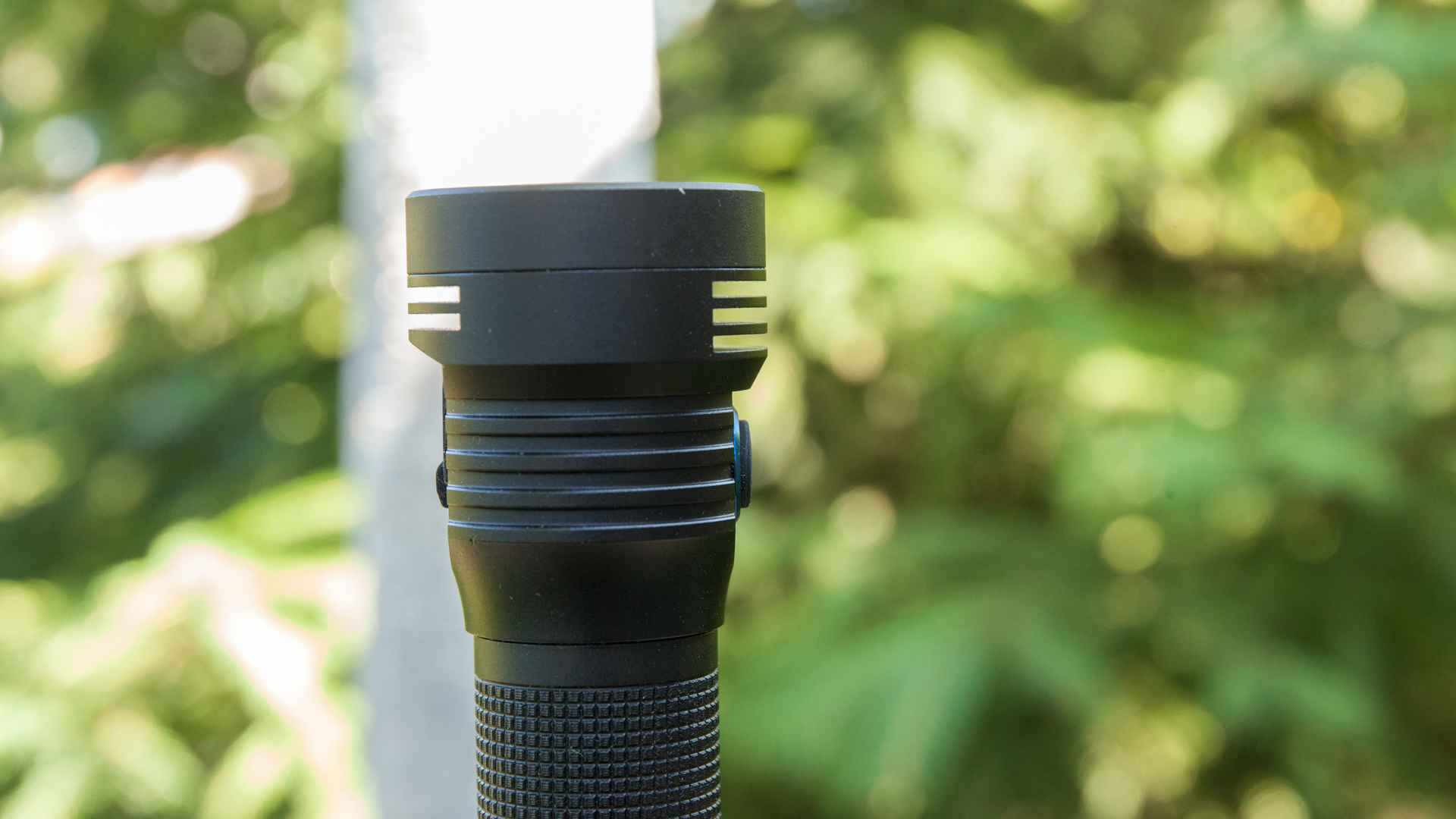 Optics here are unusual. To say more precisely, unusual for a flashlight, but, as far as I understood, it is quite common for bike light. Here in the younger version of the LUMINTOP C01 - not bad, by the way, a gizmo, for its small price tag. In meilan X1 is also something similar.
XPL-HD as light source. I see such optics frankly unusual. Unfortunately, in contrast to the pleasant neutral light of C01, here in B01 a cold light was set for the sake of greater brightness. Glass with anti-glare and enlightenment. The bezel is glued.
And yes, bike mount. Structurally simple thing, photos of which all speak for themselves. It holds position firmly.
Here, perhaps that is all. It looks like a good thing without conspicuous constructive joints.
UI
Given the specifics of use, I do not see any minuses. I do not think that cycling implies something other than "chose the regime and ride." Well, except that the situational turbo, access to which is traditional and simple here.
Lumintop B01 performance
As mentioned above, cold light. However, the manufacturer indicated that there is 6500K. At the same time, in reality, the difference between the Lumintop B01 and the Convoy S2 + is cardinal, the latter looks really bluish. To me personally, this is more like quite acceptable 5000-5500K
There is no visible PWM blink in any mode. For high-speed cycling, this is important, no one needs a strobe at the sides.
The light distribution is very peculiar. It seems like from the point of view of cycling it has its own logic - the blinding oncoming top light is cut off, and there is good lateral illumination. But, for the sake of justice, I do not presume to judge - those carefree times, when bike was the main mean of transportation, away from me, alas, for a couple of decades already. BTW, Lumintop claims that B01 fulfil STVZO standards. (bikers know)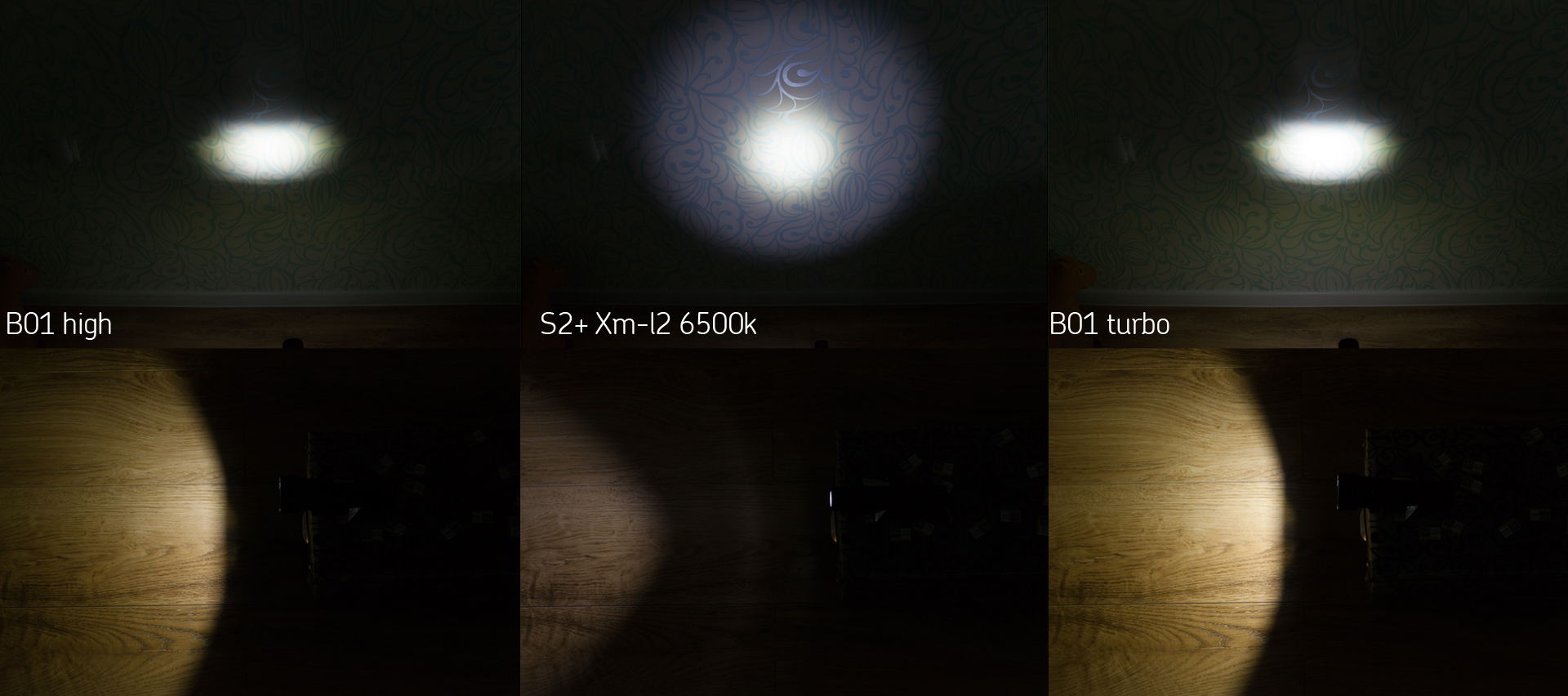 I was unpleasantly surprised by the 2600mah battery, that is really gready from Lumintop. Well, maybe not 3500mah, but already 3000-3200 could be way better. And in general, if it is a 21700 bicycle headlight, then complete it with such a battery.
By the way, what about charging? But with the charging current, they did not save, at some points it reaches 1.75A - excellent! The chart is for 2600mah battery.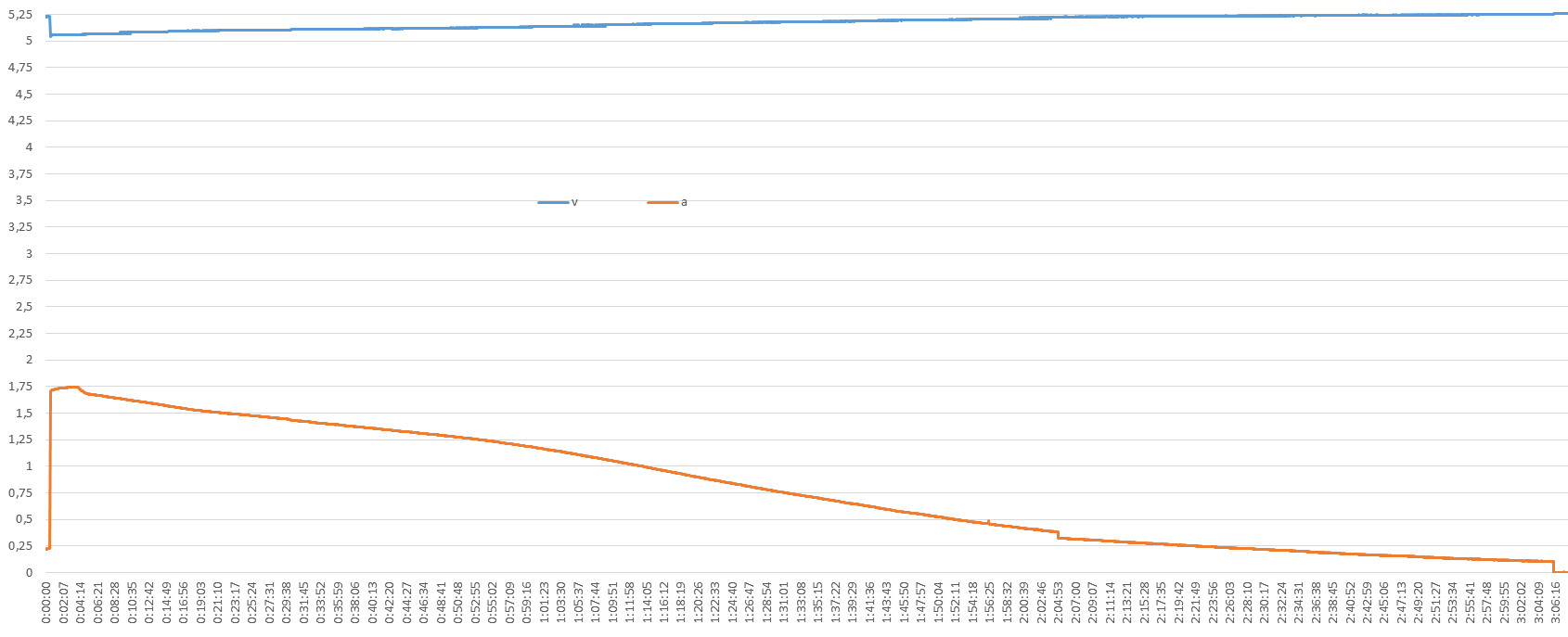 When checking consumed currents, it became interesting how the bicycle lamp behaves when connected to an external power supply.
In my case, it was the top 10000mah Xiaomi powerbank. The consumption currents in this case (from the internal power supply by the tester on the bank). For verification, I used a completely discharger battery:
low: 0.19 \ 1.385A mid: 0.42 \ 1.517A high: 1.13 \ 1.675A turbo: 1.77 \ 1, 753A
Cool! It turns out that charging from an external battery fully compensates for the current consumed and you should expect a full-fledged operation from external power.
So what's there on the time of work and stabilization? An extremely important parameter, since there is little joy in getting half of the original brightness after an hour of use.
I gave the graphics for the complete and for an affordable 4000mah battery, the link to which I gave at the beginning of the review.
The length of work in the Mid is impressive in both cases. With 21,700 meals enough to go all night. Surely, of course, the brightness here does not imply great speed.
High is fully stabilized and great. With a complete battery, you don't go for a ride, but it's enough to just go for a drive in the evening. Installation 2170 removes this problem.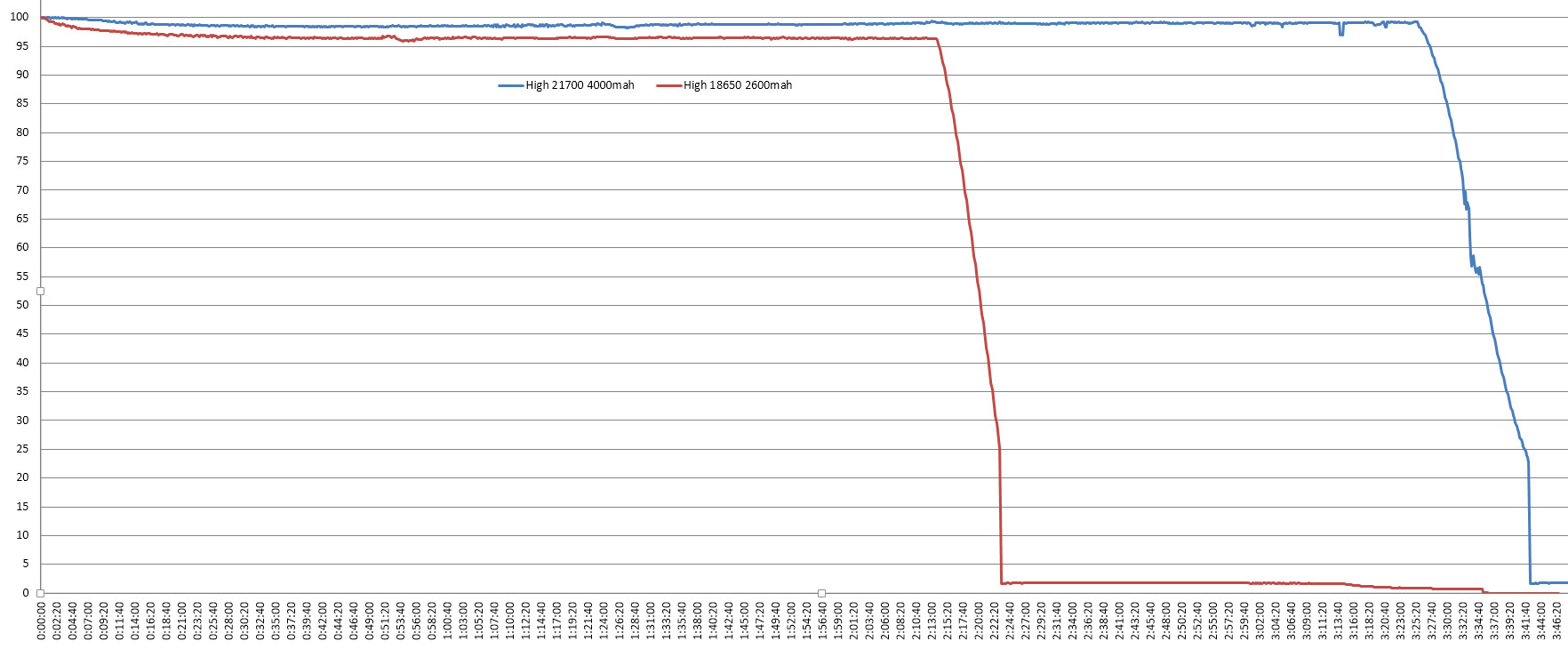 I did not see some thermoregulation in the turbo, which did not surprise me, in principle, a carcass of this size should easily digest this brightness. So what's the stepdown timer? There are pros and cons
On the one hand, by stubbornly switching on, giblets can be overcooked over and over again; on the other hand, when need, it can be done several times without significant loss of brightness. Situations are different. That's the way it is, a minute turbo is more than enough, it seems to me. Especially considering the fact that high gives enough light here. Yes, it can be seen that as far as the discharge, the turbo still sags in brightness. So after some threshold, it will simply not turn on. Well, it is not surprising, however.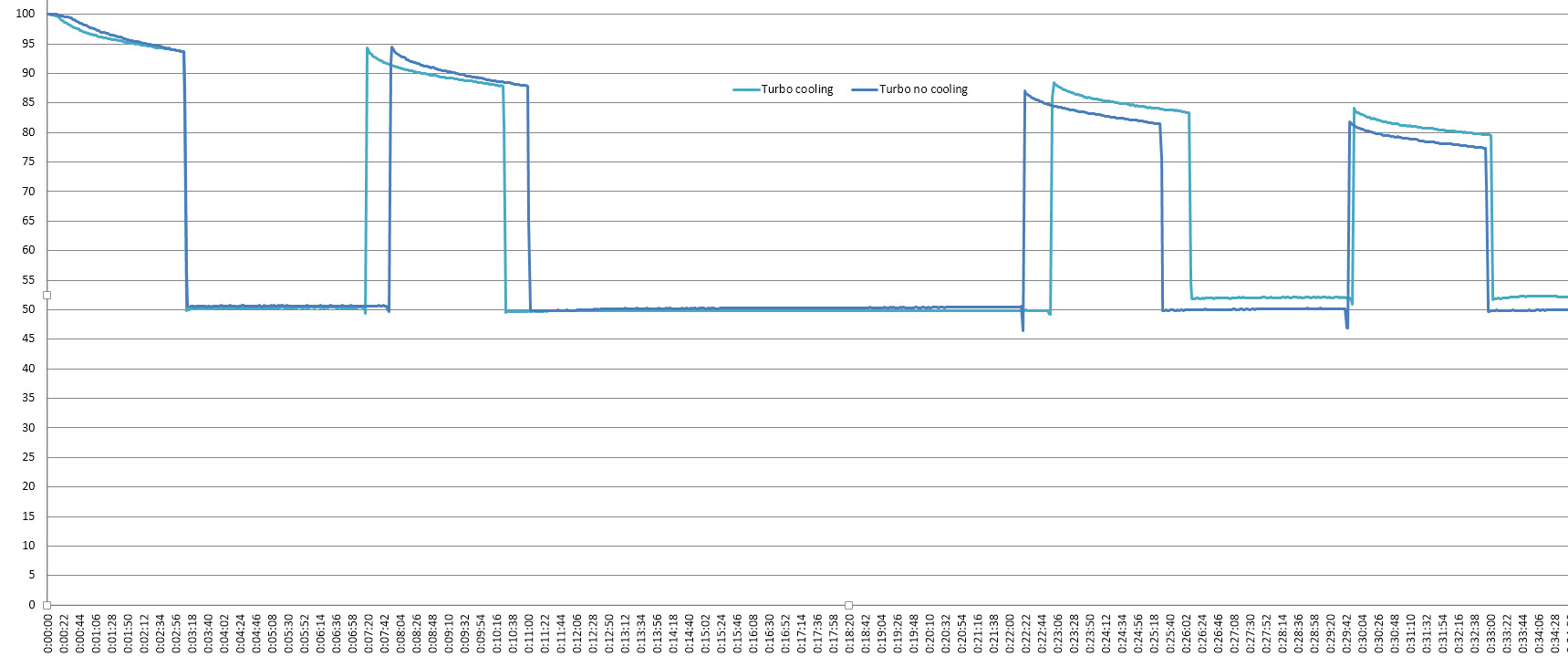 Wow! If you plug a wire and pick up a powerbank, then you can generally forget about the charge and drive with High as you please.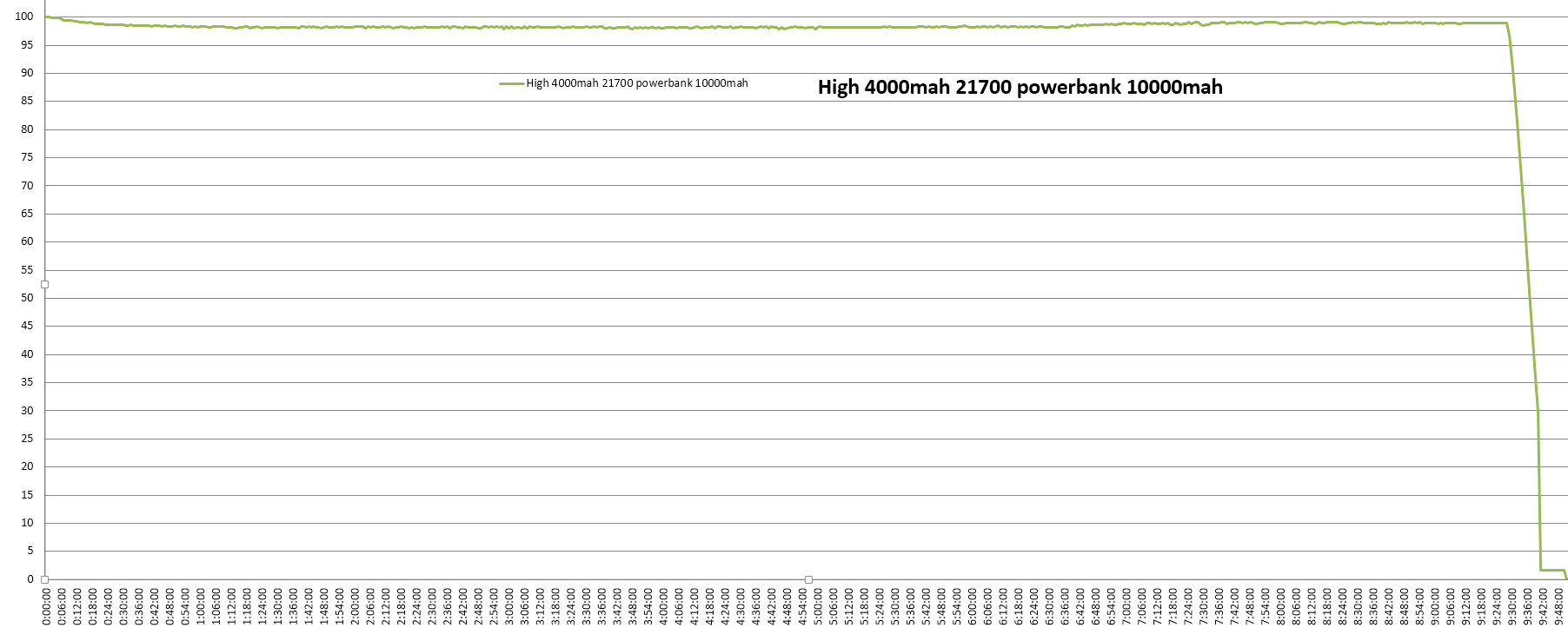 Well, that's how this bicycle flashlight shines. This time, I do not undertake to assess the quality and convenience of this light, here I will give everything to the mercy of those who actually ride a lot. The only thing is that Low here seems to me to be generally useless in terms of brightness. Mid seems bright enough for an ordinary unhurried ride, with high already
here is video, there are more live pics.
Overall impression
from my amateur point of view, that is almost flawless attempt. The only thing i can complain about is 2600mah battery.
the rest is great:
price
build quality
can be used as hand flashlight
buil-in charge
full support of external power
full stabilization
brightness
mode spacing
light distibution prevents from blinding ongoing people
i cannot evaluate light distribution. for me that`s ok. but i`m not biker. decide yourself.