NEW-612 Cree XP-G R5*
Bought from DX,10$. LINK
I guess this light will always be NEW, since it holds that strange name…


This is not a P60 light (compatible with P60 drop-ins), but its P60 sized, and basically have a reflector the same size of a P60 (without threads).
Its a very good alternative to a P60 host if you can do basic modding stuff. I consider this light to be a nice mod-host. Difference between an empty host and this is that you get a free emitter and useless driver included in the price.

Numbers measured by me:
Weight: 70g (That is not much for a complete flashlight without battery)
Length: 131,38mm
Body thickness: 22,98mm
Tail cap thickness: 24,99mm
Head thickness (front) :31,01mm
In comparison with some known lights. (OEM D4/Convoy M1 - Ultrafire 501B - NEW 612 - Solarforce L2T

Look at that! Its got a decent pill! And its not hollow. Good room for a driver.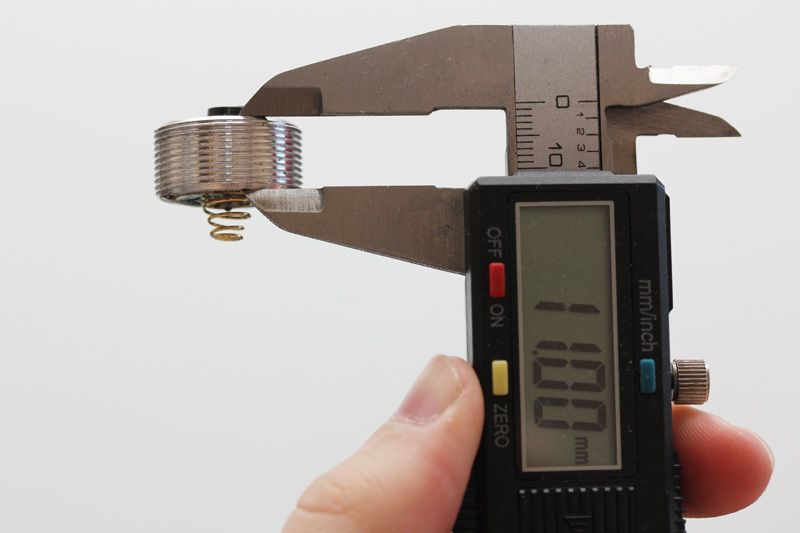 XP-G with centering ring and a plastic bit to raise it. 16mm PCB.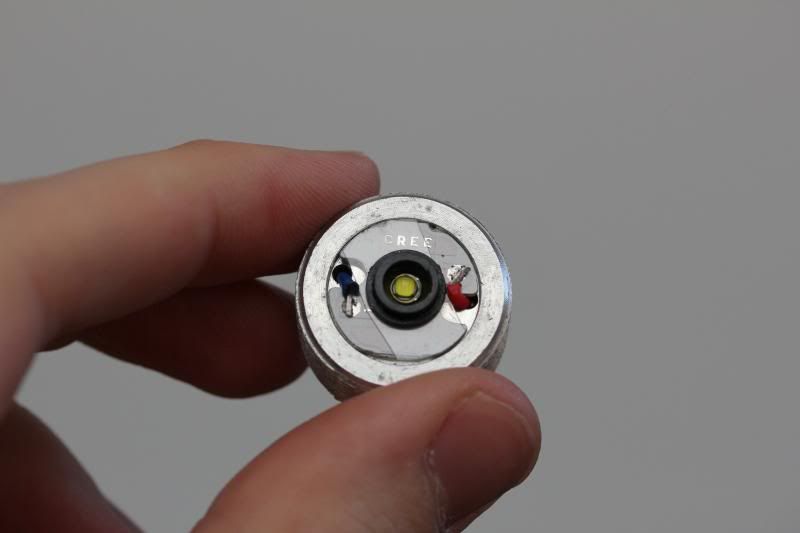 Pill is screwed in from the back. Holds a 17mm driver.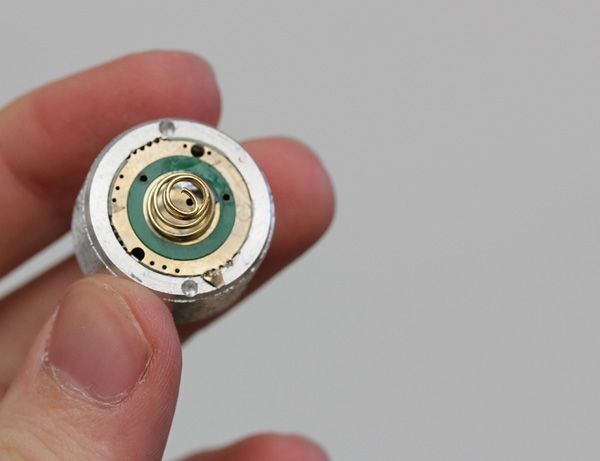 Driver circuit have next mode memory mode. Tail cap reading up towards 2,2A with a good battery. Around 1,7A @ 3,88V. I never measured to the emitter. Drivers with next mode memory are not worth my time. This light was bought with the intention of being modded. With a driver swap as a minimum.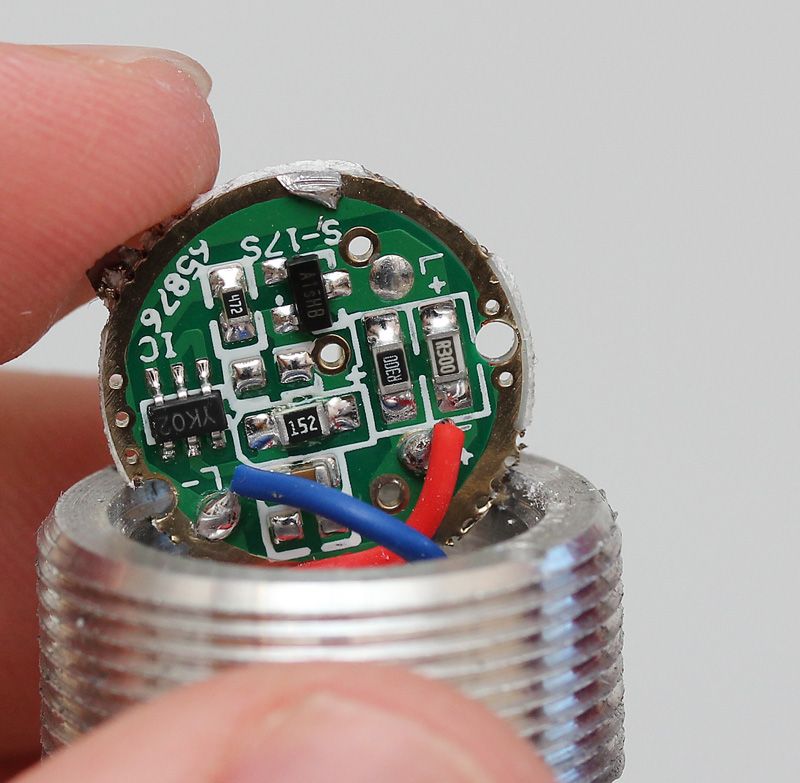 Threads inside the head. Very flexible since the pill go much higher and lower than needed (mod friendly, see mod post below)

Tailstands, and one lanyard hole. A small mark in the paint.

Unscrew the ring of the back and you get this view. You can easily swap the button to about any type of button you want since there is so much space. Very simple, easy and mod friendly.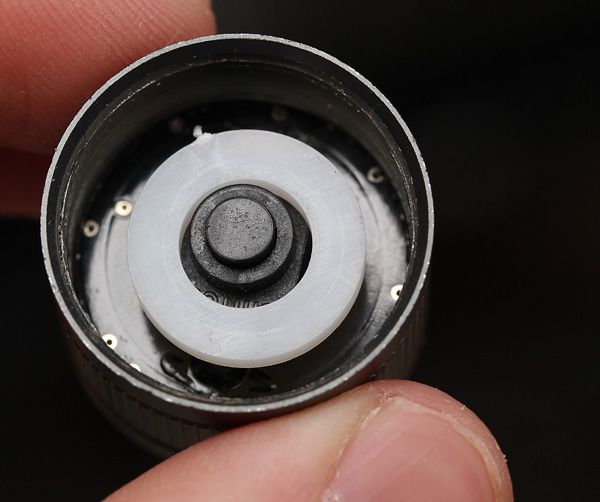 Omten switch. No amp ratings visible from the top (have not opened it up, yet).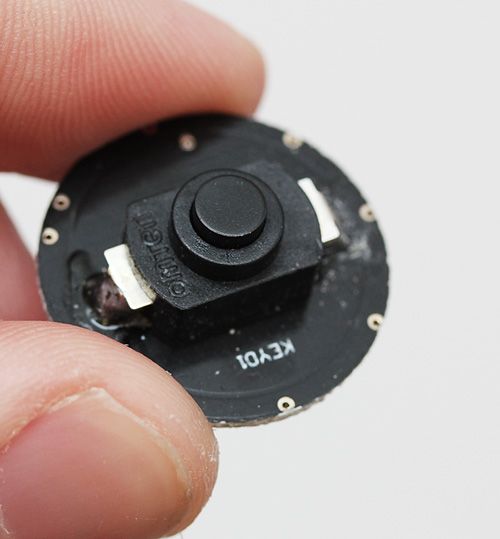 Backside of the 22mm switch board. A nice gold plated spring. Nicely attached soldiered onto from 1 of the 3 points… Not so good from the other 2 (easy fix that is not really needed)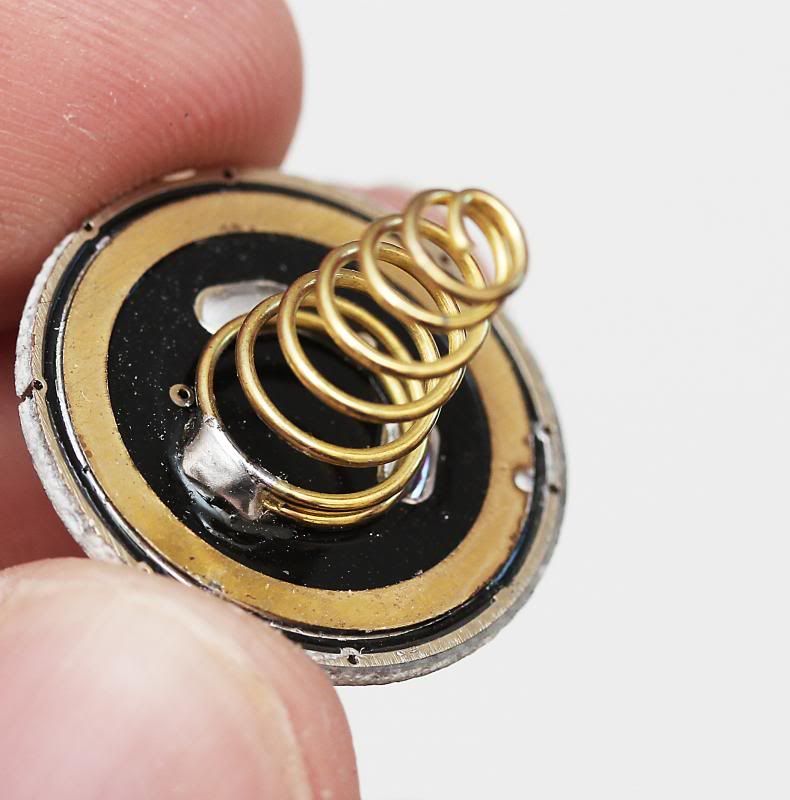 Between the body and the head there is a thin and very soft spring. The light can work without it, but its recommended to have it there for good contact to the driver. The light can flicker and even turn of if its not there.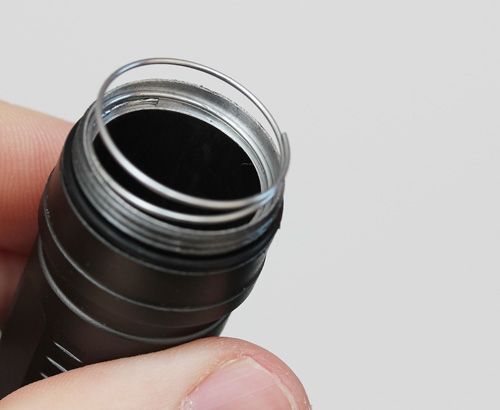 All the parts. The inside of the SMO reflector is essentially like a P60 reflector. It seems to fit XM-L too.


Slightly ringy beam on the edges when you light up a wall from very close range. I know it looks bad on the picture since I am very close to a wall. But not really noticeable in real life use. From 3 meters its not really much noticeable at all. You have to look for it.

Anti roll-ring does not work on a flat surface for obvious reason.

Good stuff!
-»P60» sized, but very compact and lightweight
-Gun metal grey… Looks really nice!
-Nice clean design
-Bright and good throw for a 10$ light (emitter seems to be well driven based on tail cap reading and brightness)
-A fairly good screw in pill (considering size of the light and price)
-Heat sinking fins on the body
-Takes 16mm emitter and 17mm board
-Super easy to change emitter and board (see cons)
-Comes with centering ring for the reflector
-Aluminium reflector
-Tailstands
-Lanyard hole
-No branding on the light (makes it clean looking and not associated with cheap Chinese lights)
-Takes batteries up towards 71+mm. Take most thick batteries out there too 18,85 (mm wide tube).
Okay, as expected
-Not 100% perfect paint, but for the price, I would consider the overall impression to be good.
-XP-G with CW tint. Not that much blue tint.
-Threads are not premium quality, but for the price, they are good.
-Threads and O-rings were lubed but it was close to nothing.
-Flimsy soft thing spring in the middle of the body (flashlight works without it). Probably to improve connection.
Modes are: High- Low- Strobe
Not so good stuff:
-Next mode memory
-A slight donut hole in the hotspot (not much)
-Edgy spill (see beamshot) when used on close range on a white wall (not an issue «in real life»).
-Plastic lens
-No O-ring on the lens (I would not gamble that its waterproof without an O-ring there!)
-No thermal paste/silicone under emitter
-Press fit driver circuit (not soldiered for best possible contact)
-No lanyard
-Anti-roll ring does not work
Summary:
Due to next mode memory this is not a light I would buy with the intention of using the stock driver circuit. As a mod-host I think this is a great light! Most cons are easily fixed. This light is also easy and fast to change out parts on.
I really like the tail-cap "engineering/design". I don't know why more manufactures don't use it. Simple and does not take a lot of space. It basically makes the light shorter.
This light is a very nice alternative to a P60 light! (Id you don't need a P60 drop-in that is

)
When this light have had some parts changed out I am fairly sure I will be taking this light over a typical P60 thanks to its compact size, light weight, looks and feel, all combined with decent heat sinking.
This light also have the potential to become a quite awesome pocket rocket thrower!
Mods to come in the future…
Rating:
Stock light: 3,5/5 (I would have given it a 4 if it had mode memory.)
Modded light: 5/5
Thanks for reading. Hoped you liked my first review.