One more new Nitecore priduct, this time a small and light 2xAA powered headlamp.
You can buy Nitecore HA23
➤ AMAZON
➤ ALIEXPRESS
➤ BANGGOOD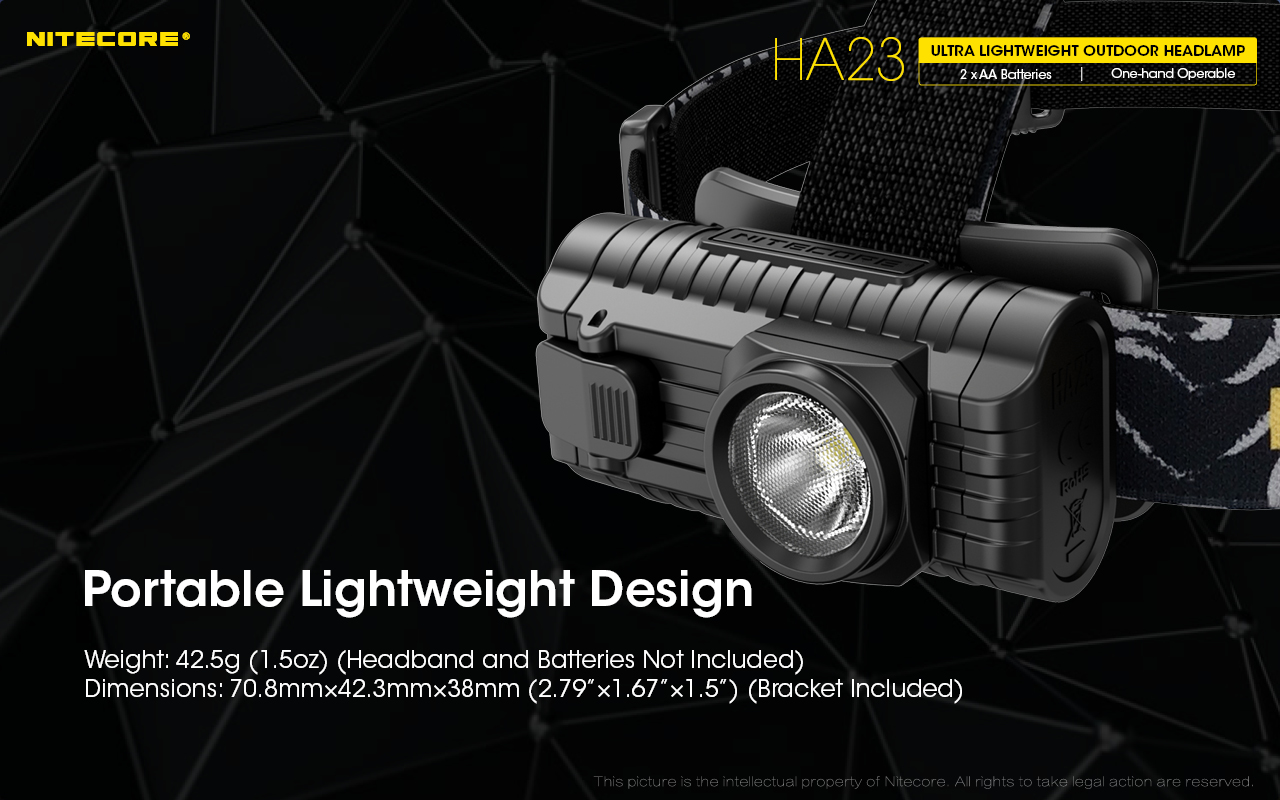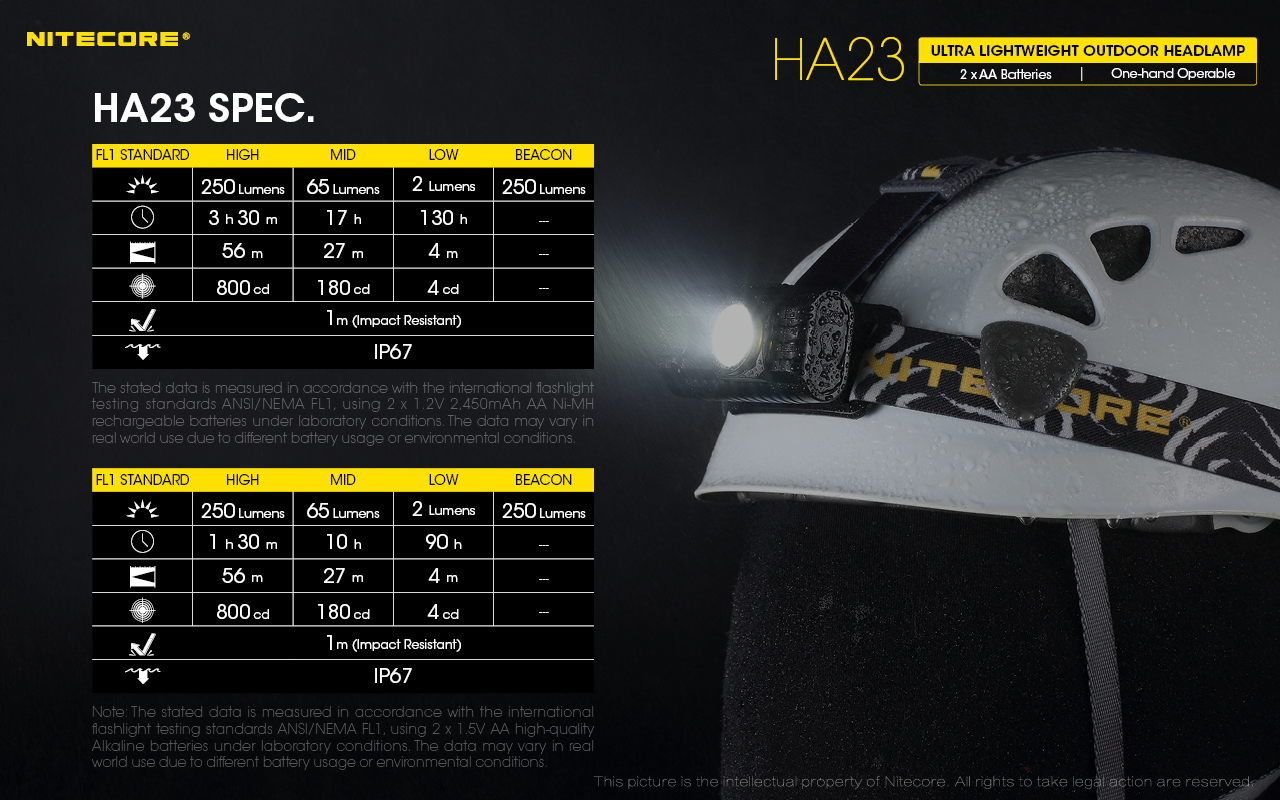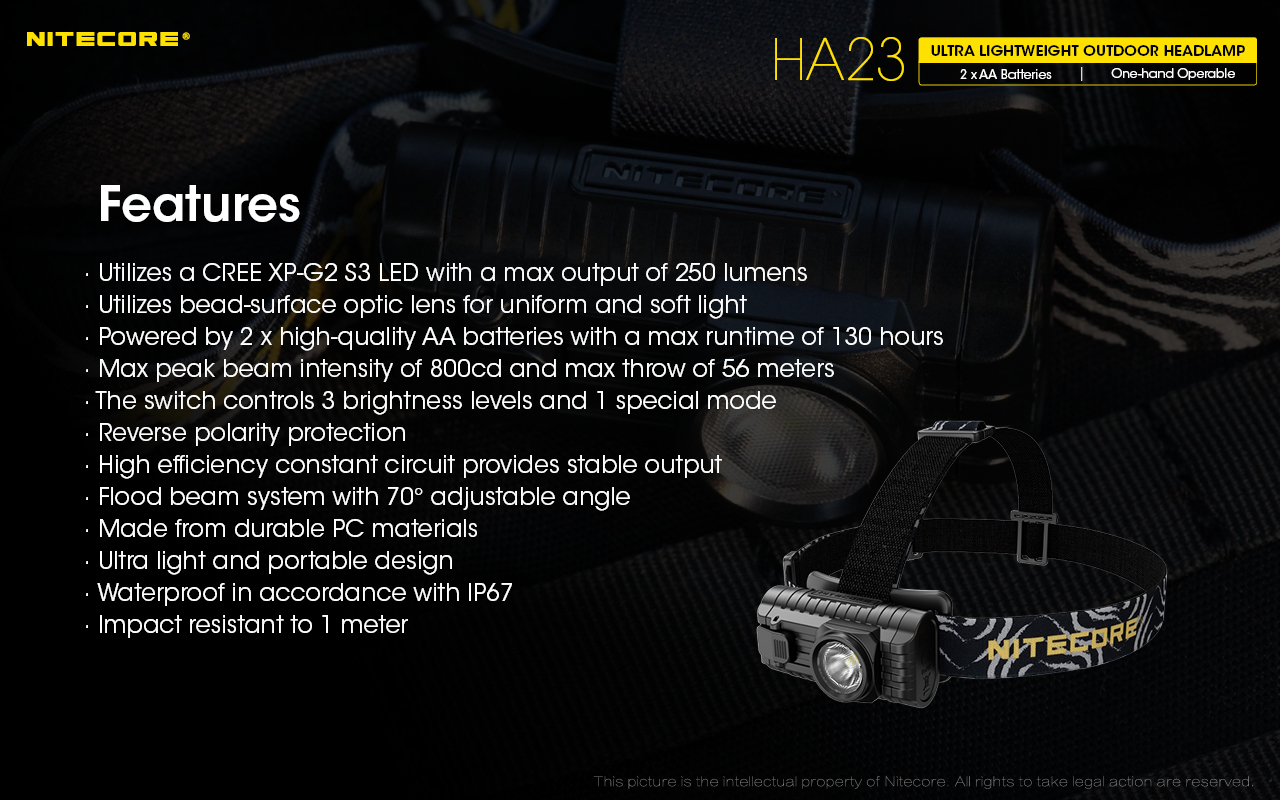 PACKAGE AND APPEARANCE
Usual black and yellow cardboard box. Not bad, but without any high design there.
Inside, in a transparent blister, there is the forehead itself with a pair of some nameless batteries and instructions.
And here he is. It looks simple, but definitely nice. Lightweight, 42.5g (traditional polycarbonate) and ribbed. Suppose comparing to other ones, this small headlamps may look more like a toy, but i tested almost all of Nitecore NU stuff and almost all them are useful
As for the overall size, here's a comparison with AA.
Headband - classic "underpants". Material without any gel strips or reflective parts outside It is removable and can be replaced if desired.
The tilt, of course, is adjustable and fixed with a standard ratchet.

A spring-loaded latch in front secures the battery compartment. There is absolutely nothing interesting except that it is the only moving part and there is no backlash, all that needs to move is moving smoothly and accurately.
There is also an on-off button. The move is pretty deep with a noticeable click.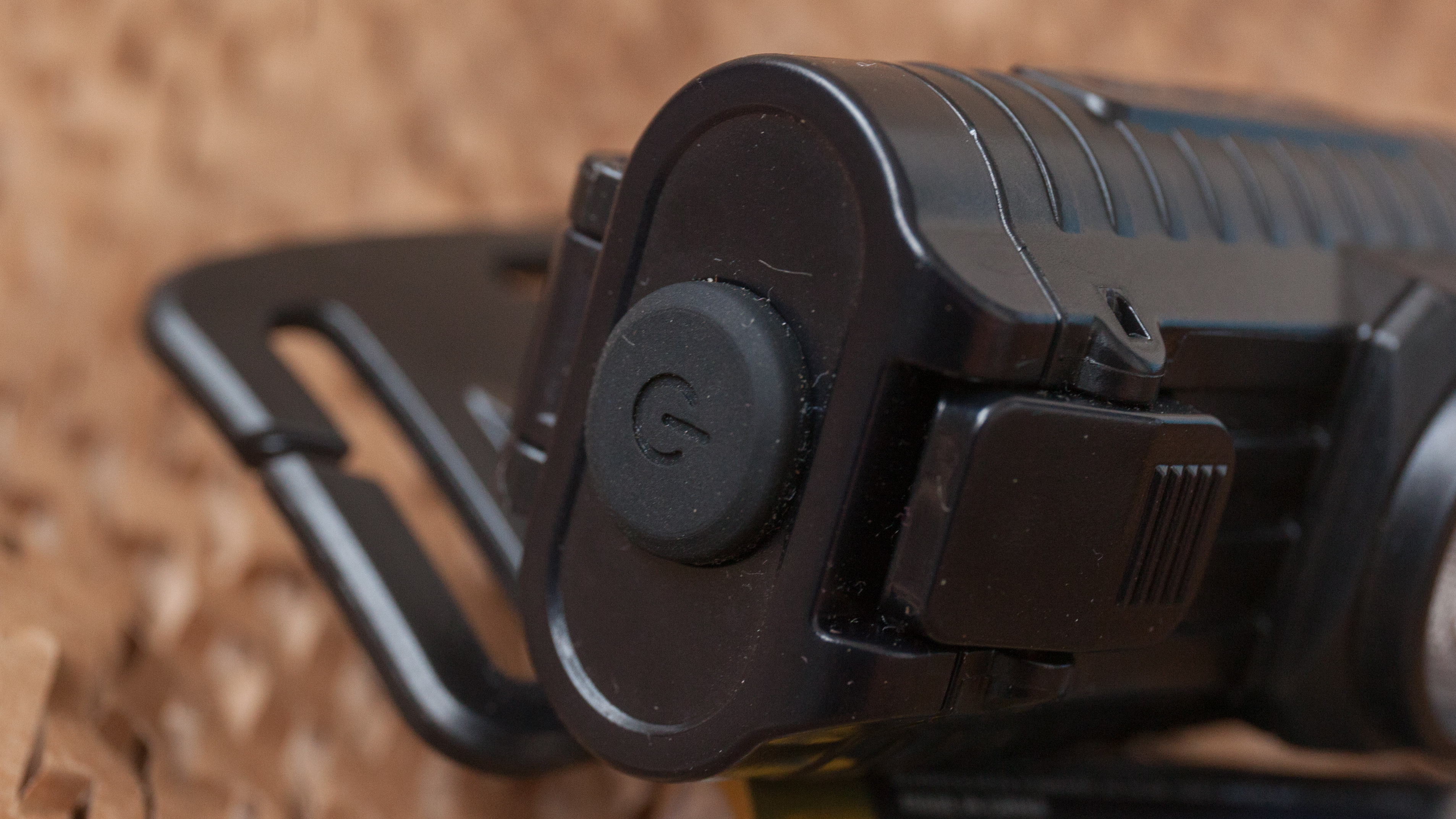 The TIR optics here are quite huge relative to the overall size of the forehead. At the bottom is the expected XP-G2 S3.
That's all. The appearance and design are really simple and there is nothing to pickle here. Although the thing is plastic, everything seems to be done soundly.
UI
really simple
Just press the button for ON\OFF
Switching modes by half-clicks or quick full clicks a low-mid-high-beacon
There is no memory of modes, if you turn off the flashlight for more than 5 seconds, it starts in LOW.
Everything is extremely simple.
*How Nitecore HA23 shines*
As for the stabilization and runtime, everything is fine here except for a small initial stepdown in each mode. Well in HIGH (and then after 10 minutes) that is ok, but in MID? Anyway, 2.5 hours in the first and 13 hours in the second is quite good. And this is from not the most capacious battery …
Cold white light, 6000K and Nitecore ignores anything close to NW as usually.
In fairness, live light looks much warmer, which can be seen with on pics below, comparing to S2 +.
Light is diffused, which is a good for the headlamp. But! Since even after the stepdown in High the maximum brightness is still decent + the light finally stabilizes at this level for a very long time, you can consider this model as suitable for jogging, still the total weight with two good accs will be around 95g (and even less with cheap batteries).
Low will fit for arm-distance . Since the Nitecore HA23 is turned on precisely in this mode, it will be very convenient from a position of night view. When eyes are got used to dark, Low can be quite convenient.
Since the light is scattered, you should not wait for some throw (and you generally will not get it from Headlamps), in the open air , MID range lays within 3 meters, High - 5-7 meters.
Here I mean brightness with good detalization. The Headlamp can give you some light at longer distance, but the practical output of this will rapidly fall.
Of course, indoor, where walls will not allow the light to go around, the brightness will look definitely higher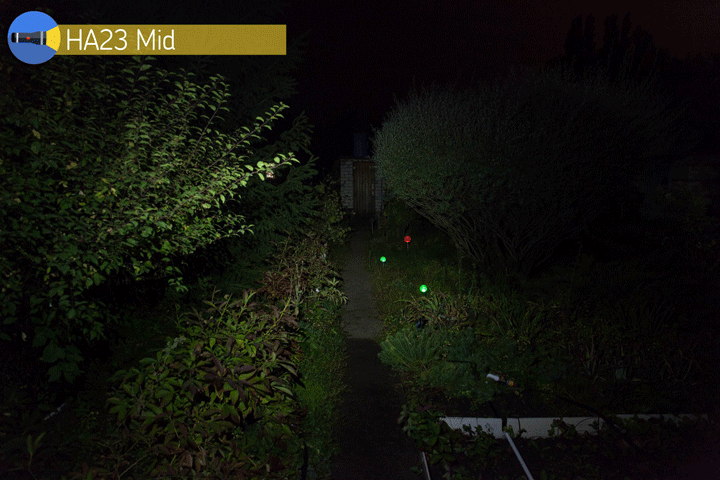 Overall impressions.
As alsmot any AA powered product, Nitecore HA23 is specific thing for specific needs. Of course, if you need to buy the brightest headlamp on aliexpress, then this is far from the choice.
Nowadays, the total dominance of Li-Ion 2xAA headbands is far from being as popular as it used to be. Although, believe it or not, it was just yesterday that I was struck in PM with a request to advise a good headlamp on AA power. In short, such headbands have their own audience.
Whatever the case, the Nitecore HA23 is quite good as a simple and backup light source. And even may be primary one, if you are not confused by this type of battery . The price tag in comparison with other models of the manufacturer is quite modest, but still it already enters the territory where you can take some other budget 18650 headband.
+ lightness
convenient near light
price tag available relative to other models of lightcore.
stabilized light
+ - ease of UI
- Well, I don't see it for flashlights of this type. Something needs to be called, but it never occurs. you can mention it in comments if found.