Nitenumen TK25 Tactical Flashlight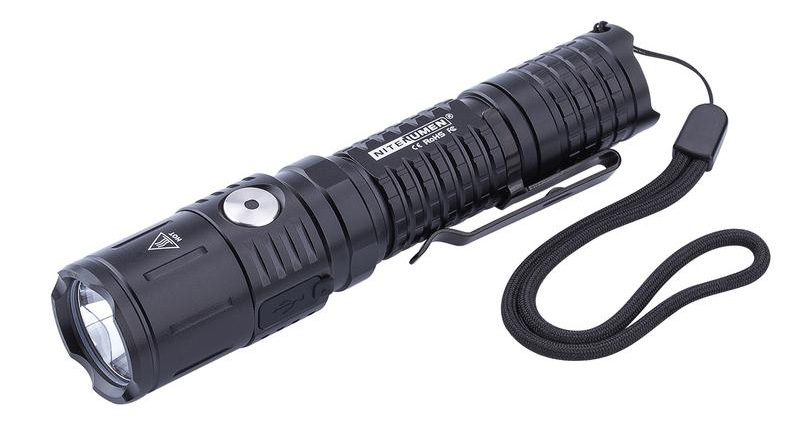 I have received a Nitenumen TK25 tactical flashlight for review, with no compensation other than to keep the flashlight.
The TK25 tactical flashlight was released in early 2019 as part of the Nitenumen Multitask Hybrid Series.
CREE XP-L V5 LED that is rated to produce 1060 lumens.
150 hours run time on low, nearly 2 hours on highest mode (with thermal step down).
Powered by included Panasonic IMR 18650 battery (which also supports 2 x CR123A)
It has a dual switch control interface, one mechanical and one electronic.
The overall body has a rugged design made of thick aircraft grade hard anodized aluminum. It has 2 primary body parts with main tube and tail cap integrated for water resistance up to 2 meters for a maximum of 30 minutes.
It has a micro USB charge port with thick rubber stopper, for recharging the installed 18650 battery (RCR123 batteries are compatible).
Protection for low voltage and reverse polarity.
Dimensions: 5.6" x 1.2"; Weight: 4.5 oz.
This is the flashlight on Amazon LINK. Official Nitenumen product site page LINK. This is not to be confused with the Fenix TK25. It seems Nitenumen chose an existing Fenix tactical flashlight model designation (TK) as they are a competitor in this space. It's easy to see from a design and quality perspective that Nitenumen is potentially competing with the long established Fenix brand, as overall it as some Fenix and Olight design qualities to it (shape, body grip moldings, tail cap, etc.).
There are some interesting aspects to this flashlight model that are appealing:
It uses a 2-switch system — a forward clicky mechanical switch in the rear and a lit electronic switch on the side. The unit casing is constructed in 3 pieces (made of thick aluminum alloy with HA III anodized black coating), but not as you'd expect — tail cap and body are one piece and the head is in 2 pieces. The tail cap switch is accessible via the loosening of an internal retaining ring. It appears that the pill in not potted, plus there's easy access in the 2-piece head, so it opens up possibilities for modding.
CLICK on THUMBNAIL IMAGES to EXPAND
IN THE BOX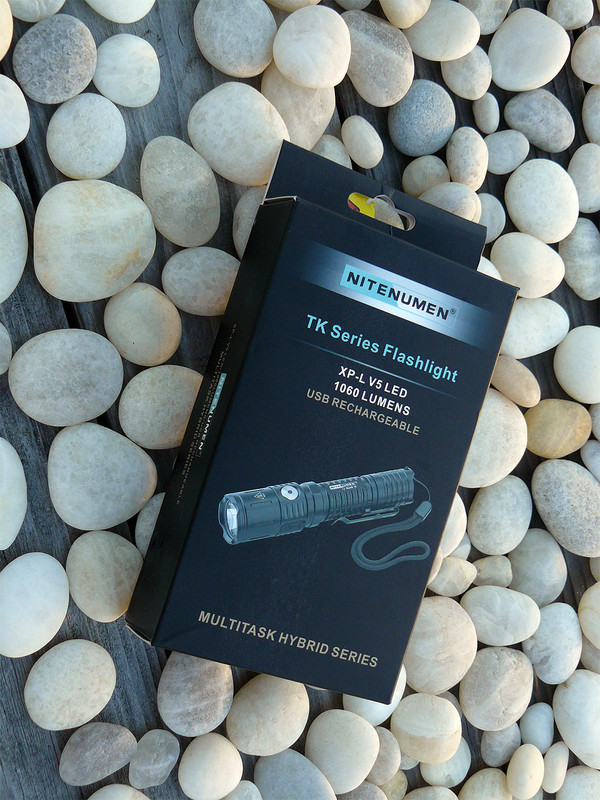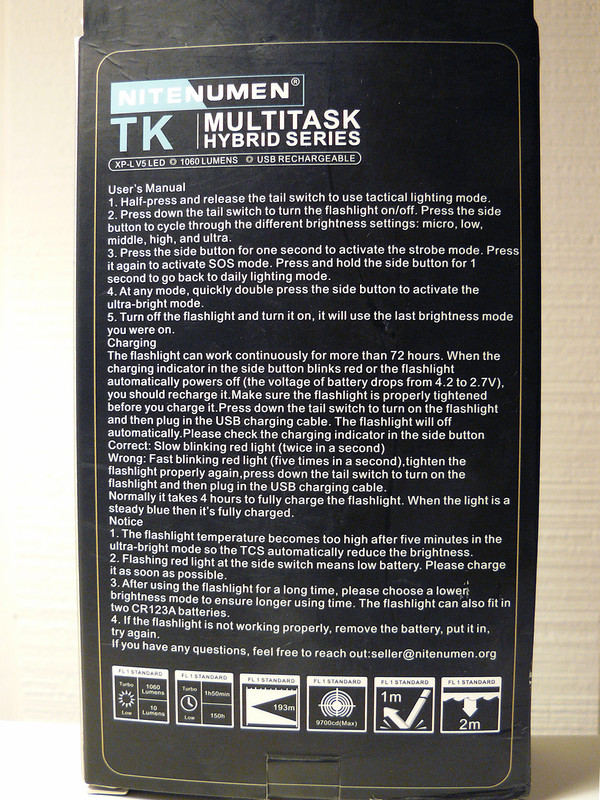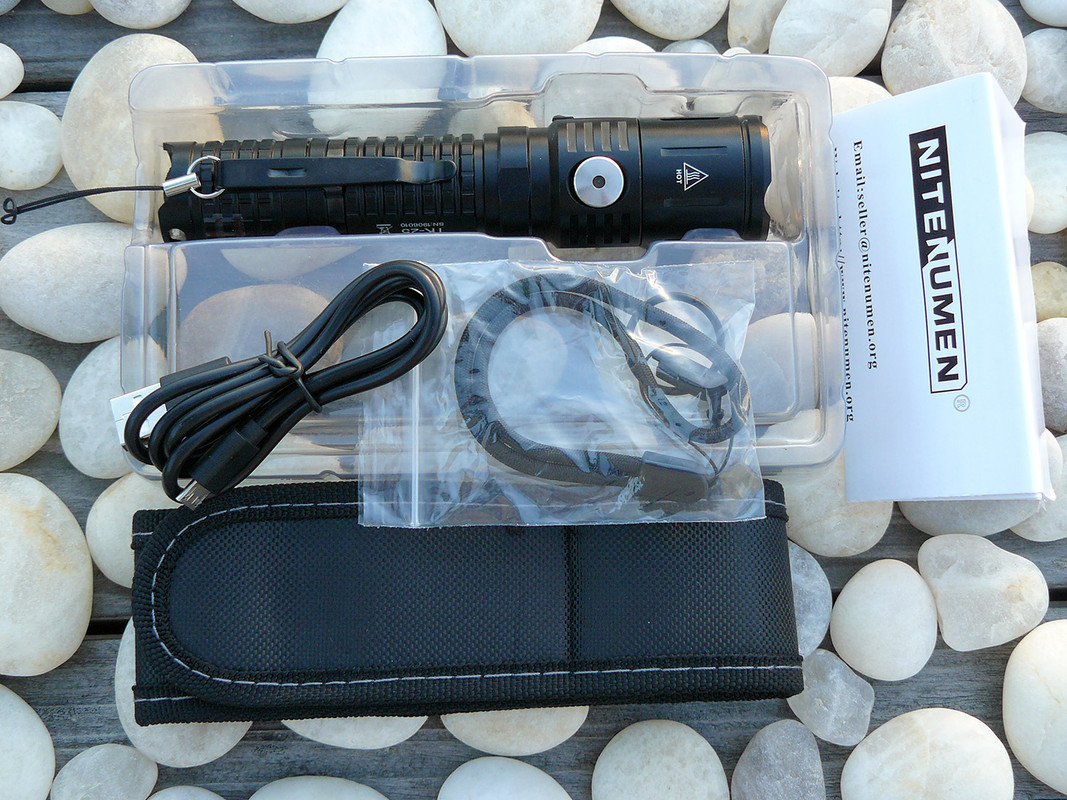 The TK25 comes in a fairly standard sturdy black card stock box with color graphics, and everything is packaged well inside with a clear plastic support. You get the TK25 flashlight with Panasonic NCR18650BD Li-ION battery having 3180mAh installed partially charged and a sturdy bezel down clip. Also included is a thick velcro pouch, a micro USB charging cable, a wrist leash, and a spare charge port plug. A small yellow caution tag is included with a quality split ring tether that could also be used for other attachments.
DESIGN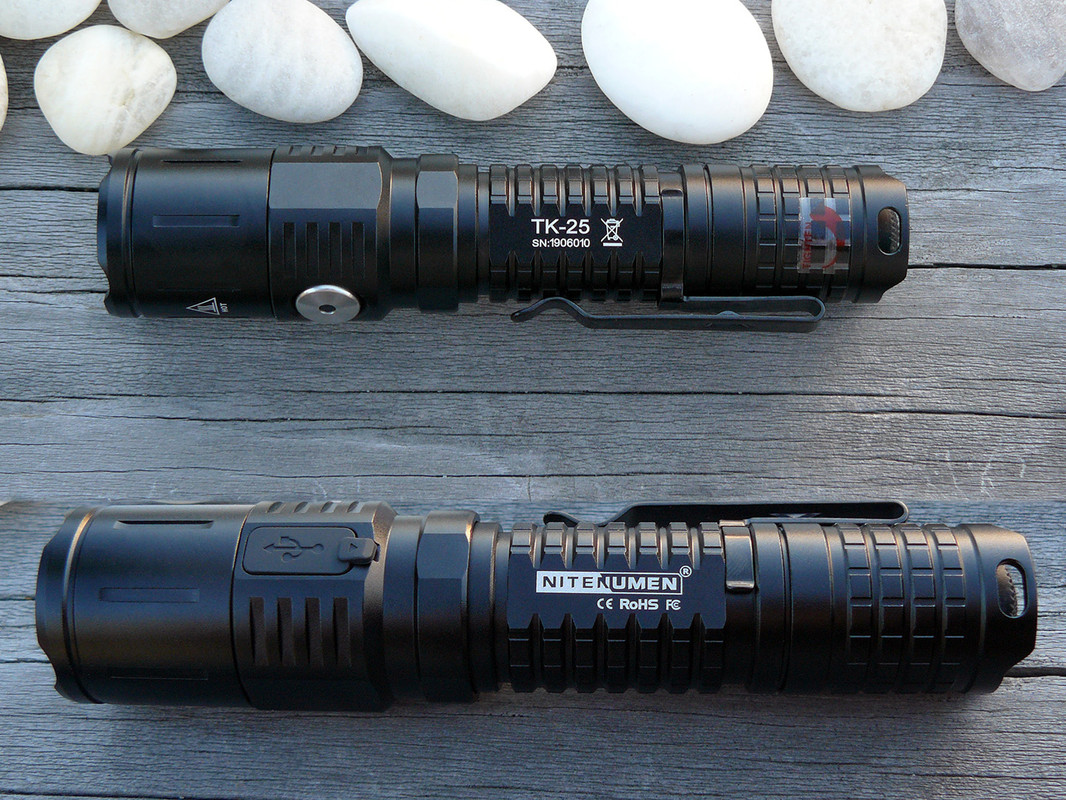 The TK25 has most of the design elements that have come to be expected for tactical flashlights. While there is a trend for reducing the body length for 18650 cells, the TK25 is still a bit generous simply for the matter of comfortable hand grip. For a large man's hand, this light feels just about right (I wouldn't want it smaller or larger). The body and head have rectangular grip moldings that work well. The tubular head has several flat facets that work well for anti-roll purposes. The electronic switch reaches naturally under the thumb when holding the light.
DRIVER / UI
This has a fairly simple multi-function UI for 5 brightness levels and strobes. Once the tail cap is activated, the electronic switch lights up with a small blue dot. It has mode memory, so last mode will be remembered. The lowest setting is not quite moonlight at 10 lumens, but it's certainly not bright enough to daze you if looked at head-on. The mode spacing is useful with Very low, Low, Mid, High, and Turbo set at noticeably different output levels. Once the tail cap is activated, single clicks step through the brightness levels from Low to Turbo, then cycles back to Low. If you double-click at any time, mode switches directly to turbo. At any time, if you click and hold for 1 second, the strobe group is activated. The fast strobe appears first. A single click changes to SOS flashes. Another single click activates turbo, although the instruction sheet says "slow flash." Another click cycles back to rapid strobe. To exit back to normal brightness control, either double-click or press+hold for 1 second.
EMITTER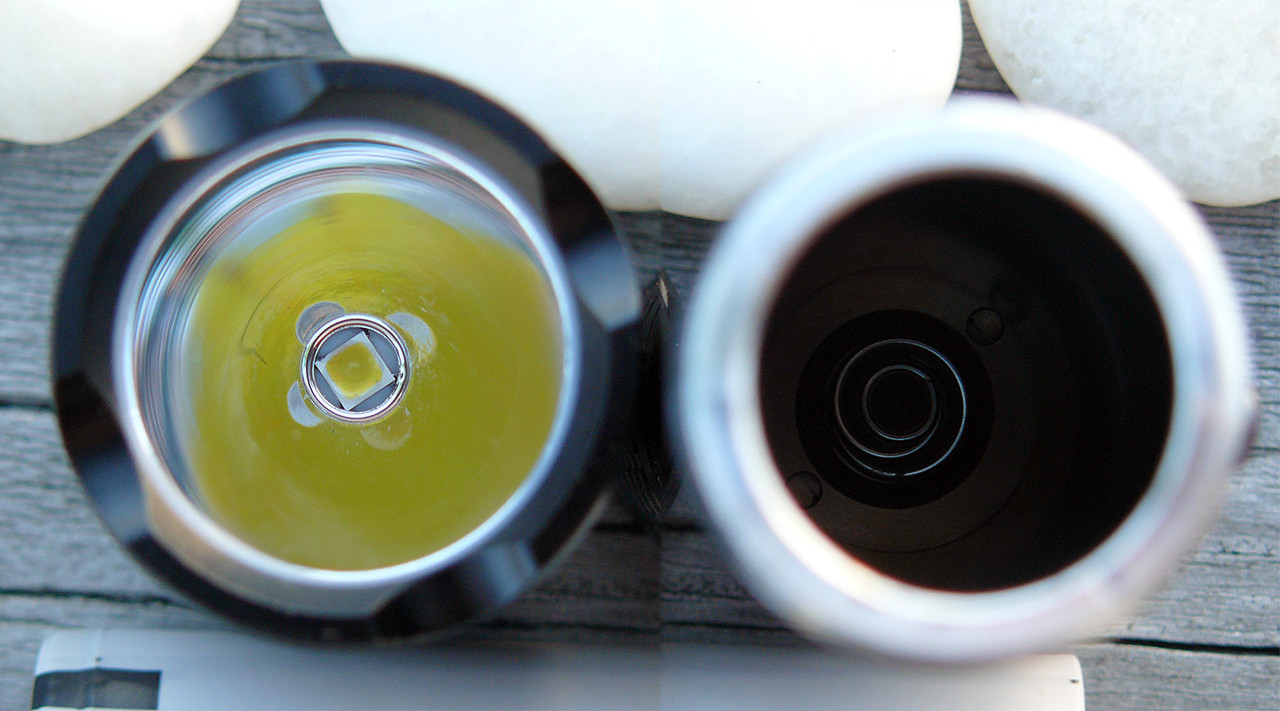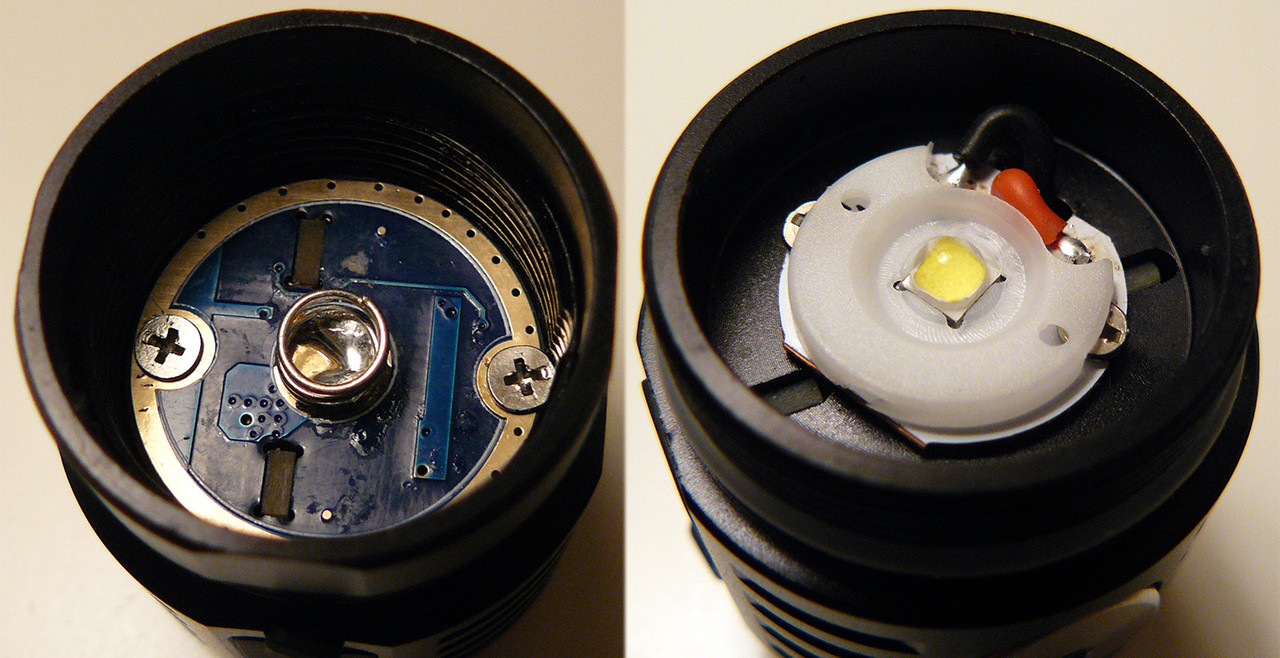 Nitenumen chose a CREE XP-L V5 emitter, which puts out a very useful beam over 1000 lumens on turbo. The tint and CCT are not stated, but I'd guess it's about 6000K with a CW tint. There is a definite hot spot, with some slight tint shift in transition to the spill, with an overall useful spill scope. On turbo, it is spec'd to reach nearly 200 meters.
APPEARANCE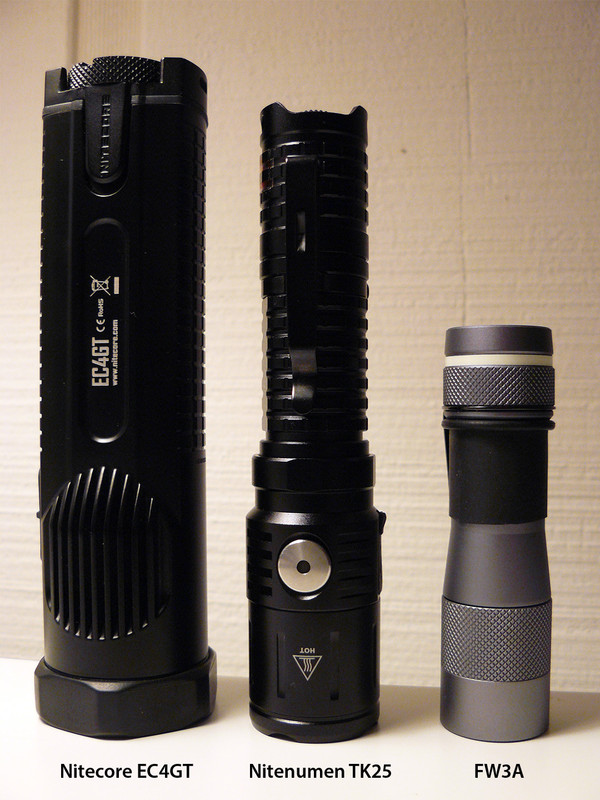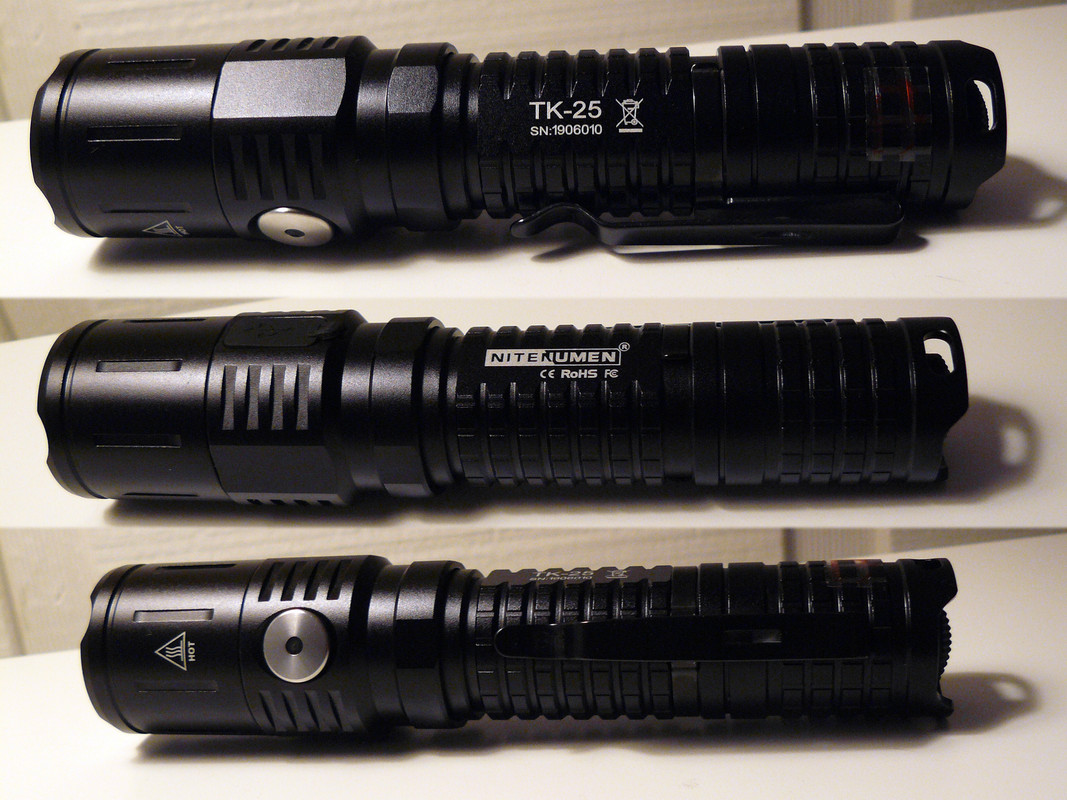 This looks like a classic kind of tactical flashlight. There are some white markings on the completely black body, with one panel featuring the "Nitenumen" company logo and another panel stating "TK-25" with a serial number below it. The only other marking is a small triangle caution icon for "HOT" on the head. If you really wanted full stealth, it would be easy to apply a few small bits of electrical tape for full blackout. The rubber switch boot is also in black.
SWITCHES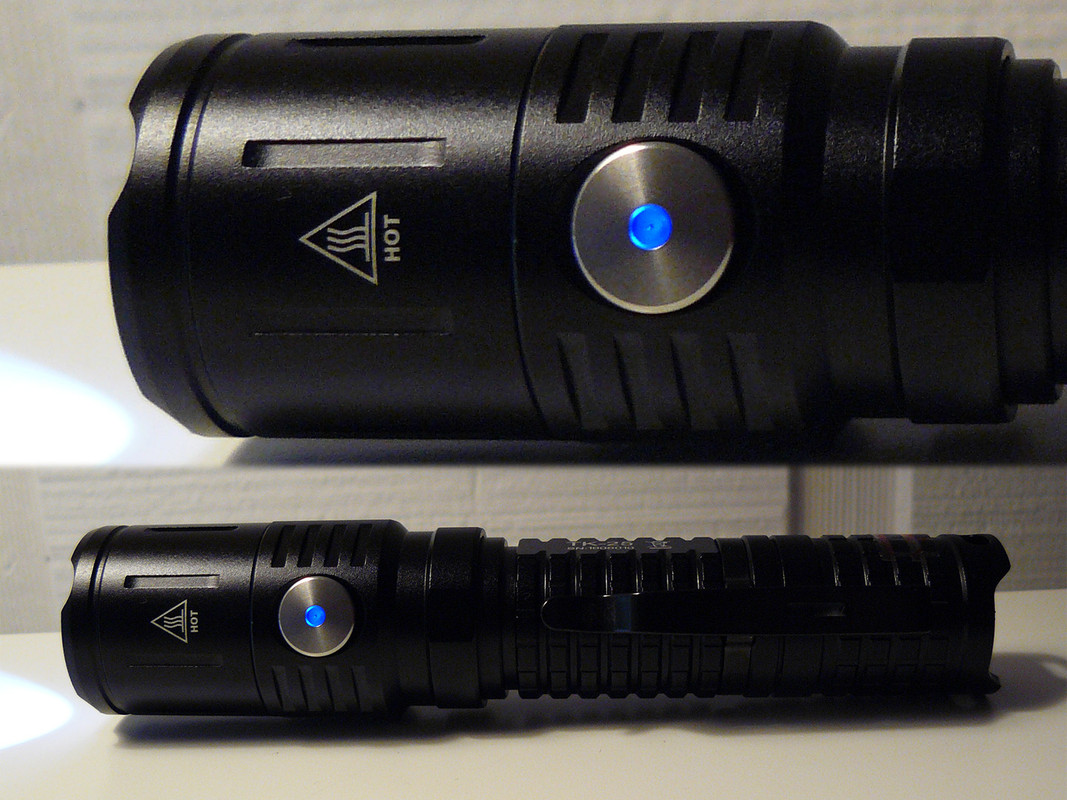 Most flashlights come with a single switch. Generally that is the most convenient. But 2 switches can provide additional flexibility. In this design the rear tail cap switch is mechanical and the side is electronic. The rear simply acts like a lock-out — either the light is on or completely off. Being a forward clicky, a half-press momentarily activates the circuit using last mode memory. Still, to avoid accidental activation, a very slight 2mm turn of the body will disconnect the current to the tail cap and completely lockout the light. The click action is a bit loud and I'd prefer it to be a little softer, especially considering that this is a tactical flashlight. The electronic switch always glows blue when active with sufficient charge. Once charge drops below 20%, it will start flashing red. The tactile feel of the side switch is very good. It isn't loud and it's slightly recessed. It's easy to activate with a glove.
HEAD / TAIL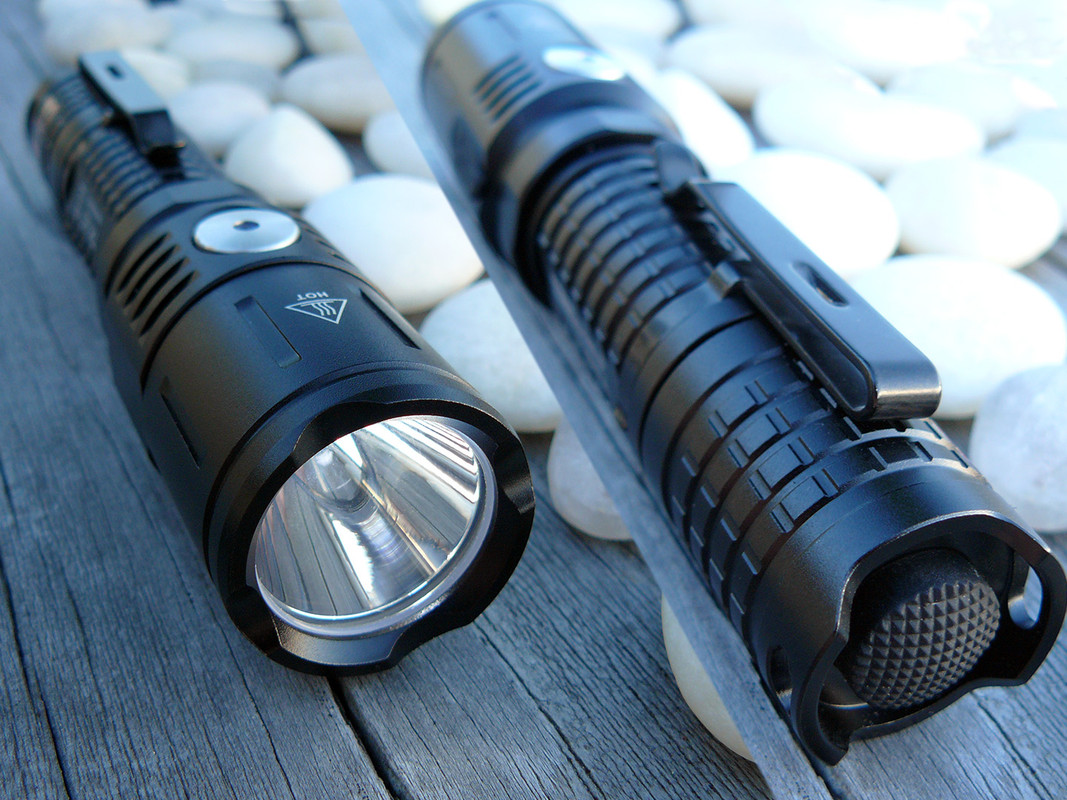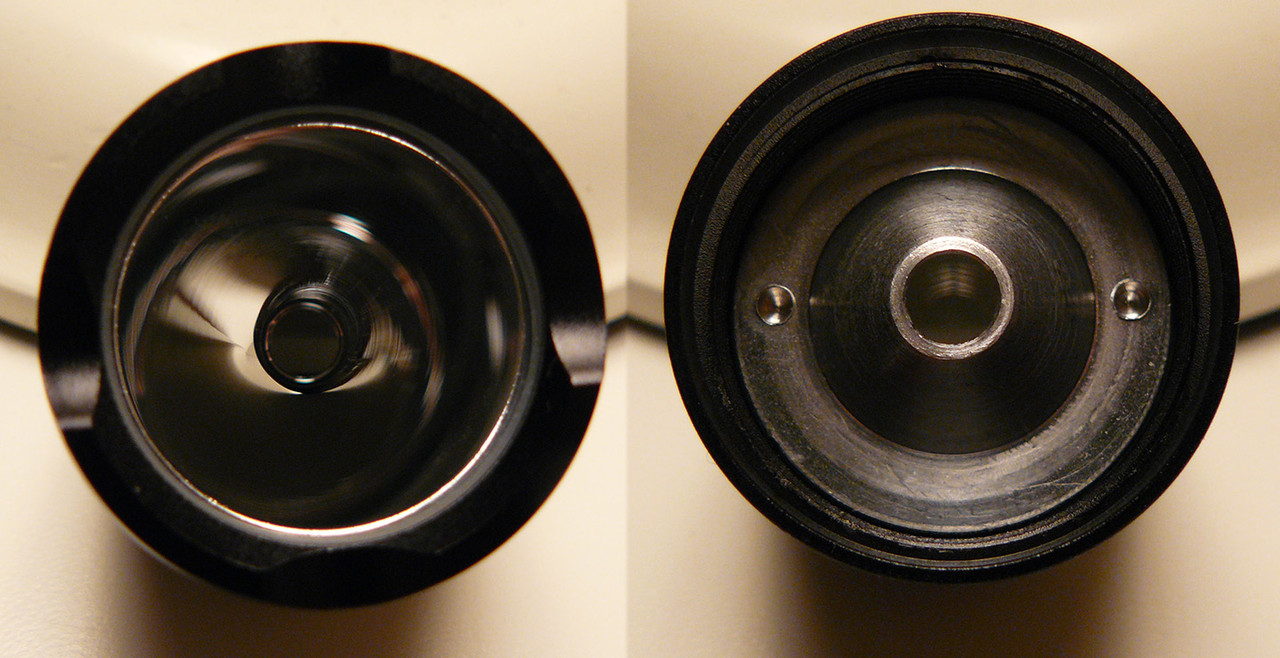 Unlike most flashlight with a single piece head, this one comes in 2 parts. The front piece unscrews from the rear piece revealing a thick translucent o-ring. The screw threads are standard type (not squared off) but thread together easily. The head screw threads were not lubed and it took some strong force to loosen. No loctite but there did appear to be a trace of adhesive substance. No thread lube. The top piece contains the reflector and front glass. The smooth reflector appears to be screwed into place with 2 indents meant for split ring pliers. The driver pill with emitter has a plastic flange surrounding the emitter and there are 2 screws underneath it. There are also two screws on the other end. I'm presuming these can be loosened to remove the pill and perform upgrades. Note that there is no detachable bezel—the groove you see is the simulation of a faux bezel with slight crenelation (4 divots). The tail is designed for standing with two large "feet" that also have cut outs for lanyards or leashes. It does work, but the rubber boot sticks out ever so slightly to create a little bit of wobble on some smooth flat surfaces.
BODY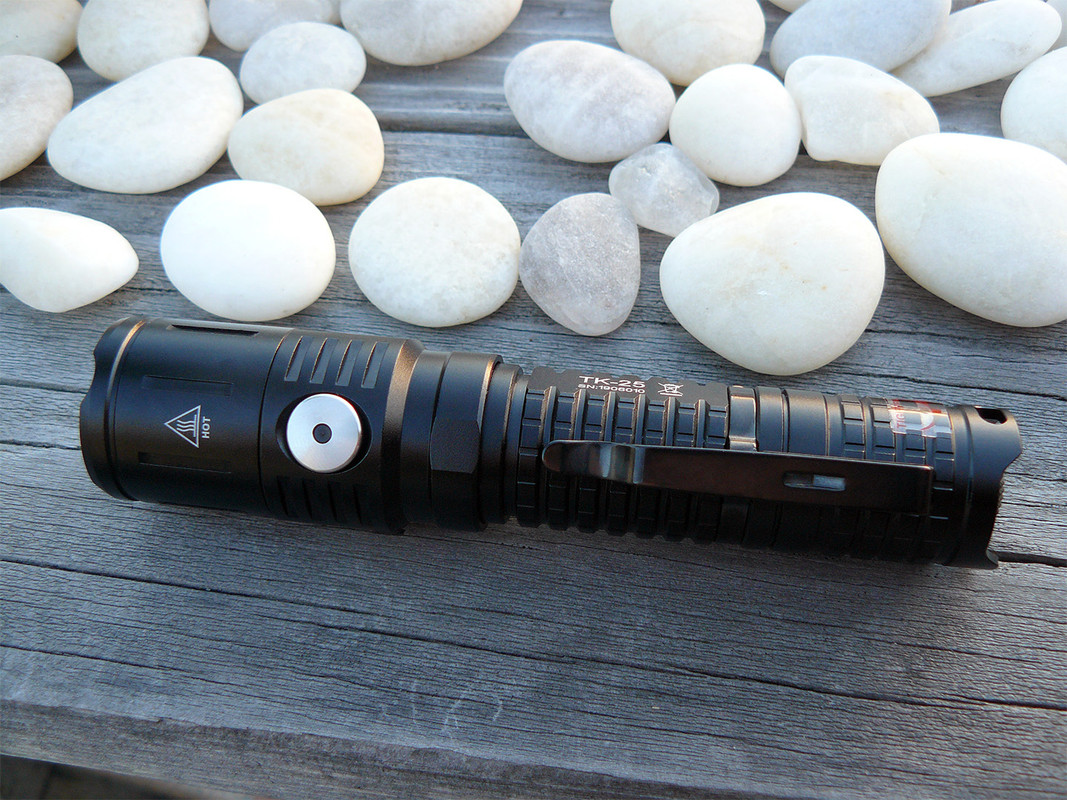 The body and tail cap appear to be one piece. The top end of the body screws into the head, fitting inside a "socket" with a thick o-ring for moisture resistance. The integration works well, because thermal dissipation from the head travels through to the body. As for the tail cap, the switch can be removed using long split ring pliers inserted into the body towards the spring. Overall, it is rated for 2 meters water resistance for up to 30 mins.
CLIP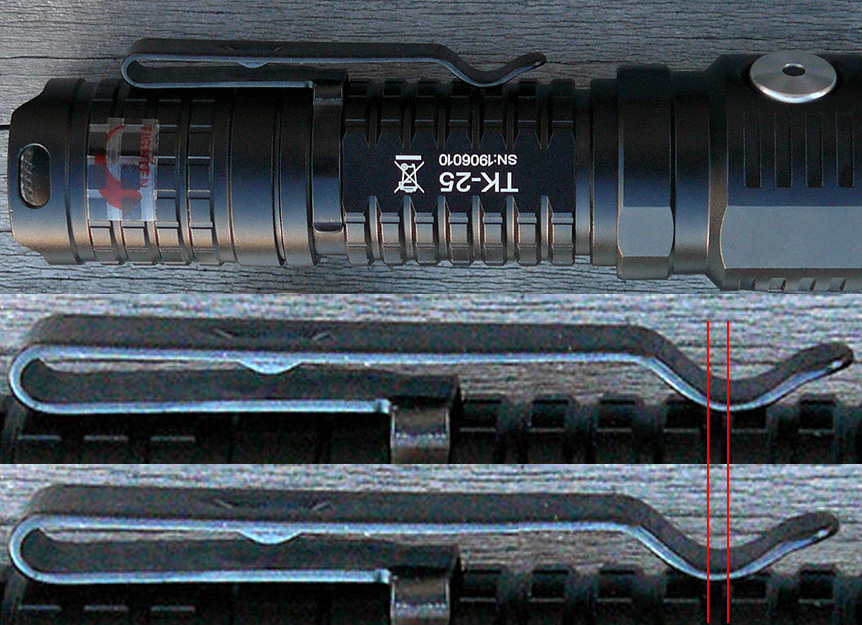 The bezel down clip hooks onto the body just before the "faux" end of the tail cap section and loops down to the tail cap, not quite all the way (ends about 0.5" short). For a light this length, you don't need a flush clip as it will generally be stowed in a jacket pocket or holster. It has no sharp edges, is moderately stiff, and has reasonable flex for easy attaching to a pocket. It also has a slight indent in the clip for looping a split ring through it. My only gripe about the clip is that the front curved piece extends about 2mm past the point of resting nicely on a groove in the grip molding (see red lines highlight in photo). It is VERY tightly attached to the body. I tried to remove it by pulling hard with my fingers and it wouldn't budge. But it's loose enough that you can apply enough force to rotate it into a different position.
POWER
The TK25 runs on an included Panasonic IMR 18650 cell. When running on 2 x CR123A, there is a slight increase in output but of course much shorter runtime. Generally, I'd stick with 18650 cells for the TK25, but it's nice to know CR123 type cells can serve in an emergency.
CHARGING
The included micro USB cable is nicely thick and the plug inserts firmly into the socket. When you first plug in the flashlight, the switch will show a rapid dim flashing of red. This means a power source is detected but the light is not charging. You need to click the tail cap to then engage charging (a single click, as if you were turning on the light). The switch LED will change over to a slow flashing red. Once the battery is fully charged, the light will switch to a steady blue as it does when the light is normally used. Note that the front emitter never turns on when the micro USB port is receiving current. This is all regarding an 18650 cell installed. The TK25 can also recharge 2 x RCR123 cells, but in principle it's better to recharge cells in parallel, not serial. Thus, it's best to only do it occasionally and not as a regular practice.
NOTE: If you do have 2 x CR123A batteries installed, the TK25 will detect this and not attempt to charge them if you plug it in via USB.
PERFORMANCE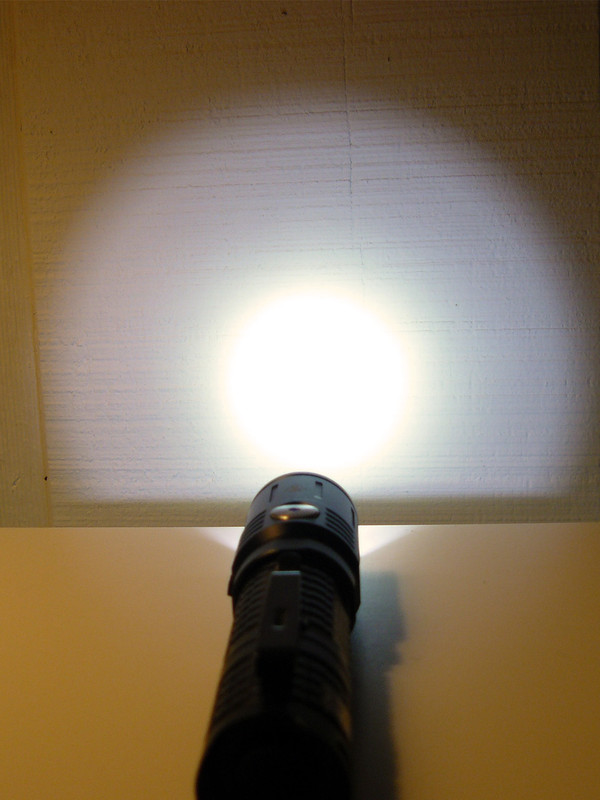 Specs state it can run 150 hours continuously on moonlight (10 lumens) and just short of 2 hours on turbo. I ran it continuously for 30 mins on turbo, checking it every 5 minutes for temperature. Thermal management seems to be very good. After 5 mins the head was slightly warm. After 10 minutes it was considerably warm and the body began to warm up. After 20 minutes the head was extremely warm, not enough to burn but a bit uncomfortable to hold if you grip the head firmly for a long while. After 30 minutes, the temperature appeared to stabilize. The body became very warm, but still easy to handle. The electronic switch remained cool throughout. I turned off the light at this point and had not observed any thermal step-down at that point. Specs do say that there is built-in thermal management and it will step down to next lower level with sufficient heat. The reflector creates a pretty smooth beam pattern with very minor artifacts. The cool bright white spot does have a yellowish cast ring around it that then fades off into a neutral white spill. It would be interesting to see what an orange peel reflector would do. In any case, the beam pattern works well, as a tactical flashlight needs a good powerful throwy spot and a moderately useful spill.
Note that the TK25 appears to have LVP (low voltage protection) and will auto shutoff when the 18650 cell reaches 2.7v. This LVP does not appear to work for 2 x CR123A cells.
CONCLUSION
Overall, the TK25 is a well made flashlight that I would be confident to put to use for tactical situations where a 2 switch setup is workable. The momentary use of the tail cap makes for quick on/off control, activating current mode memory. Plus, this light is useful as a general purpose search flashlight in non-tactical situations. The body materials and machining quality is very good. The on-board USB charging works well. I like that it can tail stand reasonably well and it serves as an "electric candle" when in the lowest mode.
WISH LIST
I don't rely on strobes a lot, but it would be nice if the 3rd mode in the group provided a slow flash or beacon instead of a steady beam in high. Also, the thickness of the rubber switch boot could be thinned by 1mm so that it doesn't interfere with steady tail standing. It would be nice to have an orange peel reflector accessory to swap in, as the smooth reflector isn't always desirable (depending upon application). Lastly, direct access to moonlight is a very useful feature I've come to enjoy in many flashlights. If I could request a change in the UI it would be this: Press+hold for 1 second forces the brightness mode to moonlight from any level. To enter strobe mode, you would triple-click+hold for 1 second, then simple press+hold or 2 rapid clicks to exit back to brightness control. Maybe Nitenumen will consider this for the next version.