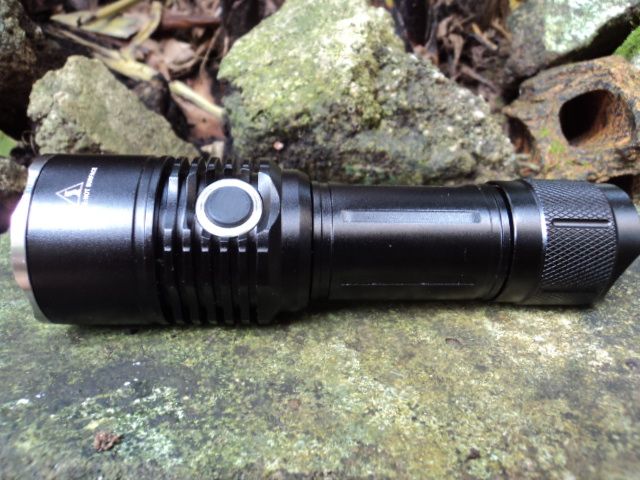 The new Shadow JM07 with Side-clicky.
In my quest to find the perfect cycling flashlight, I've decided that pairs is the way to go, for looks, a clean beam profile void of different tints and double the lumens, and that flashlight just got a little better. The new look JM07 compared to the old looks like it's finished a hard day in the woods, blinged and tuxed out and ready for a dinner party.
The new look JM07 is definitely JRapproved!
My new addiction to flashlights go hand in hand with my latest night riding hobby, and there is rarely a night where the first flashlight I pick isn't the JM07.
What I like:
• Wider OP beam profile, much better at distance for cycling than a more spotty C8
• Seems to throw as well as my Ultrafire C8 and JM05 clone
• 2 hour runtime
• Wider 26650 girth
• Side clicky
• Feels natural in hand
• Stainless steel bezel
• Beautiful sleek new Mercedes like finish
• Heatsinking and heat fins
What I don't like:
• 3 Amps would be nice or a turbo mode would be nice.
• Less heat fins compared to the old pro
• Side clicky sometimes looks a little funny and doesn't suit, although I keep changing my mind.
• Retaining SS ring around the clicky could have used some more polish
• No mode memory
Summary
The JM07 is a compact all purpose light, not a dedicated thrower but almost throws as well as a C8, and produces a wide enough beam and wide spill to be considered floody. With its wider 26650 girth, heat fins and solidish feel it's a fairly masculine light, and well balanced between brightness and long runtime. At 2.45A I wouldn't say it's under driven and it's plently bright, although 3A or a turbo mode would be nice.
Features: (form Int'l outdoors)
*Material: 6061-T6 Aircraft Aluminum
*Bulb: CREE XM-L T6 LED
*Power supply: 1/2*26650 Li-ion
*Orange Peel Aluminum reflector
*Brightness: 800 lumens
*Modes: High-Medium-Low
*Hidden Strobe, accessible by double tap
*Mode spacing: 100–50–10%
*Switch: Tailcap tactical switch/head sideswitch
*Regulated current circuit, constant brightness (2 Batteries)
*Low battery voltage warning function
*Finish: Hard Anodize 3
*Stainless steel bezel
*Low voltage warning function
*Reverse polarity protection
*IPX8 Waterproof
*Dimension( mm ):
Single cell:146( length) x 32(body) x 43( head)
Double cell: 215( length) x 32(body) x 43( head)
*Weight (without batteries):
Single cell: 220g
Double cell:240g
Output:
So after some further testing, JM07 current measurements as follows off a fully charged King Kong ICR 26650.
1 cell : 2.38A
2 cells: 1.25A (2.5A)
Trustfire 26650:
1 cell: 2.2A
2 cells: 1.25A (2.5A)
Looks like it regulates and performs better in the 2 cell format.
Here's a runtime test comparison with the old pro in single cell format.
Tailcap readings every 15mins with 5min cooldown with a King Kong 26650ICR:
Voltage:
I got 2.5 hours runtime on the new JM07 on a different test before voltage warning kicked in, the old JM07 2hrs and 6mins.
A win on performance for the old Pro in single cell format, unless you want more runtime. Of course the new JM07 can be run with an extension tube with 2 cells.
Out of the box

No problems with the packaging. Spare O rings, Lanyard and lense.
The side-Clicky

The main selling point of the new version. At first I wasn't sold on the clicky, I thought it kind of looked a little out of place amongst the fins. You can also see from the picture the retaining metallic ring could have used some polish, probably the only blemish on the otherwise sleek finish. However the more I look at it the more I like it. Being recessed amongst the fins means your thumb rests perfectly on the button.
Mode changing has never been more convenient, and the new double click hidden strobe feature is highly practical. If ever you needed to use this feature for self defense you would most likely need it in a nano-second, this is now feasible with a fast double click. There are 3 modes (high-med-low) not including strobe. Those with well defined play station thumbs may need to learn how to be patient with mode changing, however it's hardly a con worth mentioning.
The tailcap has forward clicky functionality and functions only as an on/off (no mode changing) and there is no mode memory.
The new bezel: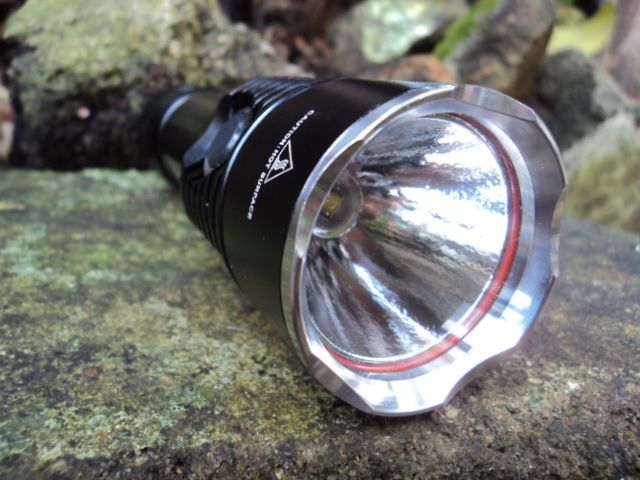 Real classy.
Bezel and head design is one of my biggest bug bears when it comes to flashlights. It's especially noticeable when using the bare reflector to see how much spill is unnecessarily cut, not to mention loss of lumens. See below: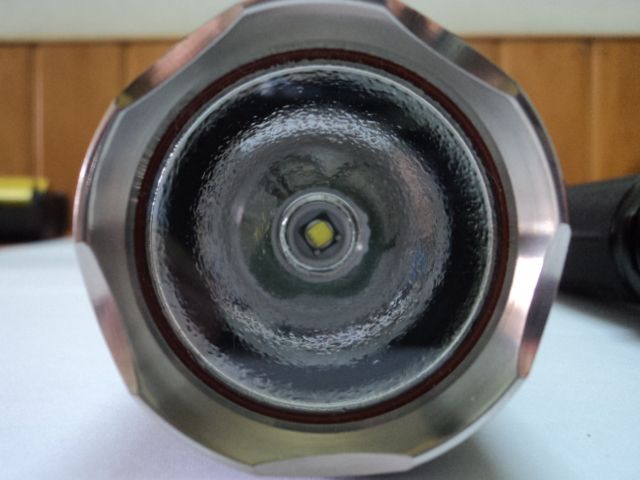 You can see from this picture the inner bezel diameter is much wider than the reflector, and yes the already wide spill of the JM07 just got noticeably wider.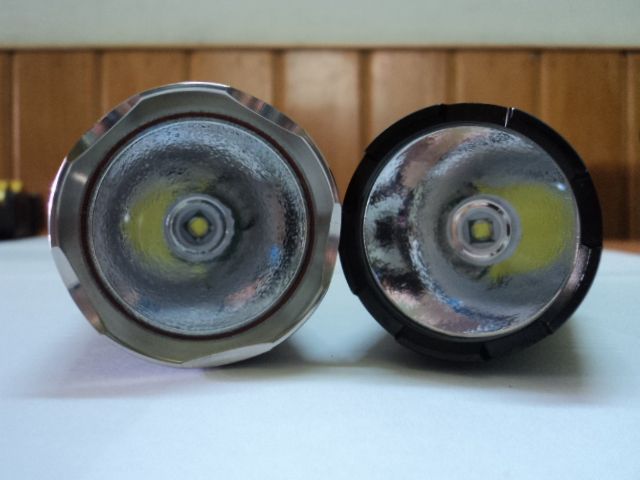 The above pic shows the wider bezel design when compared to the old pro.
Internals

From left the new JM07.
The old JM07 had a flaw in its tailcap design, although this may depend on where you got yours from. For mine the inner tailcap was too far recessed and caused eventual connection issues, a problem easily resolved by placing 2 thin washers underneath.
The new version isn't as recessed, and I've had no issues in single cell format.

New Jm07 on the left.
Nothing here really to see, I couldn't remove the driver without force, it's either press fixed, bridge soldered or glued in place. I'm not yet willing to mess with it. Further the bezel is also fixed/glued, and I really don't want to try and remove it just now for fear of getting it scratched. Perhaps in a couple of weeks I'll freeze it and try and remove it, for now I can't show much of the internals.
Old vs new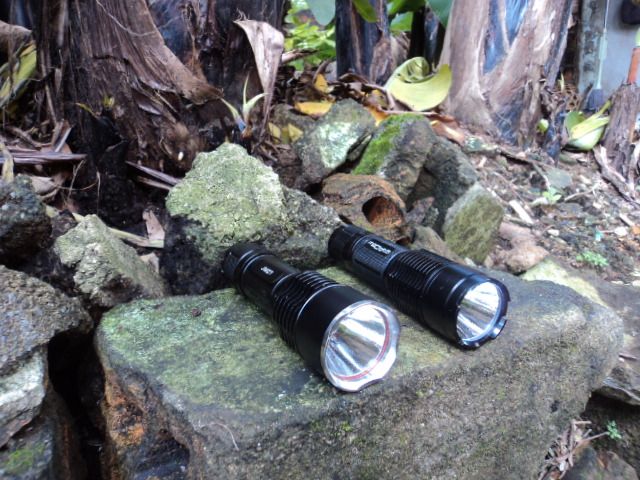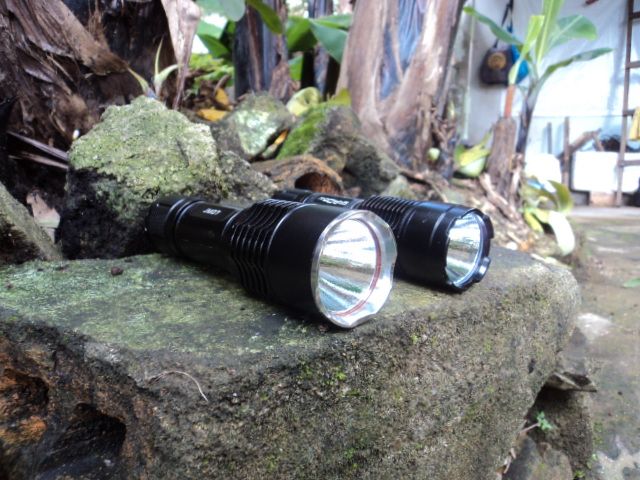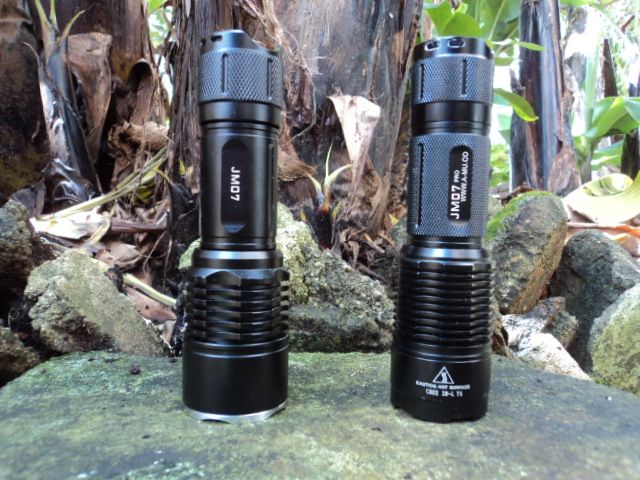 Overall, a win for the new JM07 for its sleeker look, the Bezel is a real winner and goes better with the smoother body…….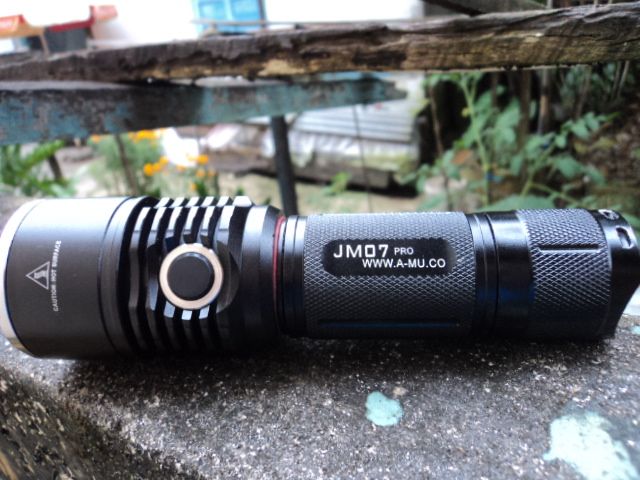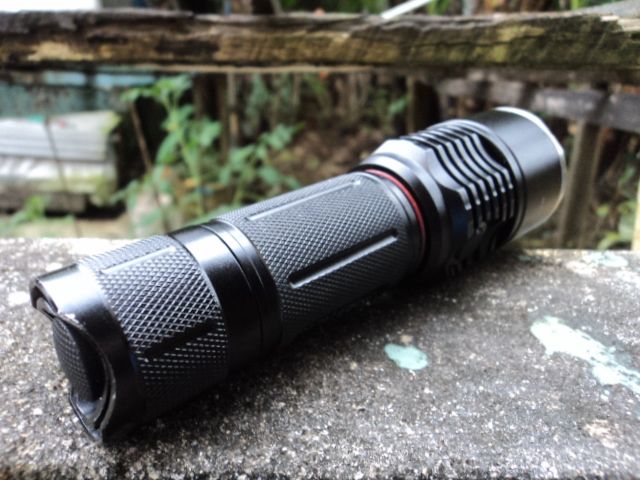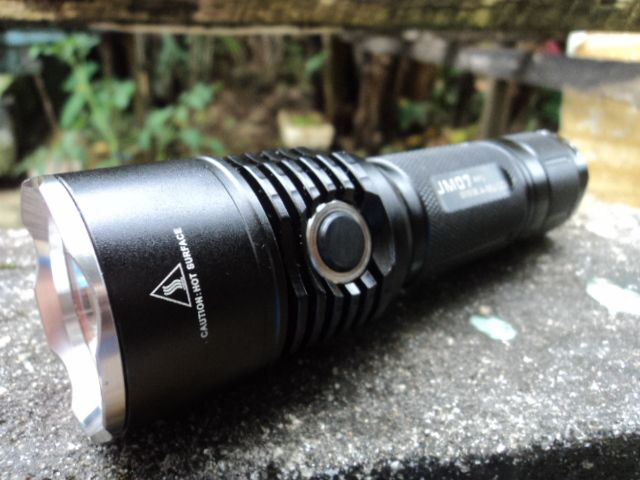 Or does it?? I can't decide. I do prefer the old body for its grippyness.
Which brings me to my next point, you can play lego with the new and old! But not that well:

New version on the left.
Tube is shorter with a taller and slightly wider tail cap. The old tube does fit almost perfect with the new version and works (note: my pics show the old tube with the o-ring exposed, when flipped around it fits fine) , but the new didn't work so well with the old, although I'm sure with some minor adjustments it would.

An URL that actually works, who woulda thought!
Close ups
Inspired by Foy's masterful reviews: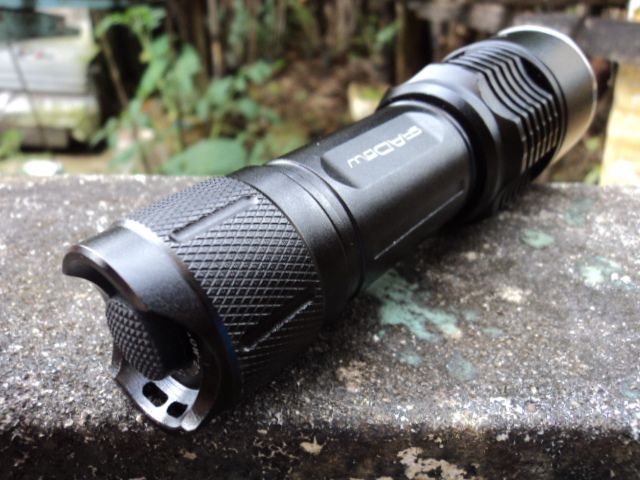 As you'd expect from shadow's quality knurling and ano is flawless.
Here's a close up of the fins:

And the tube: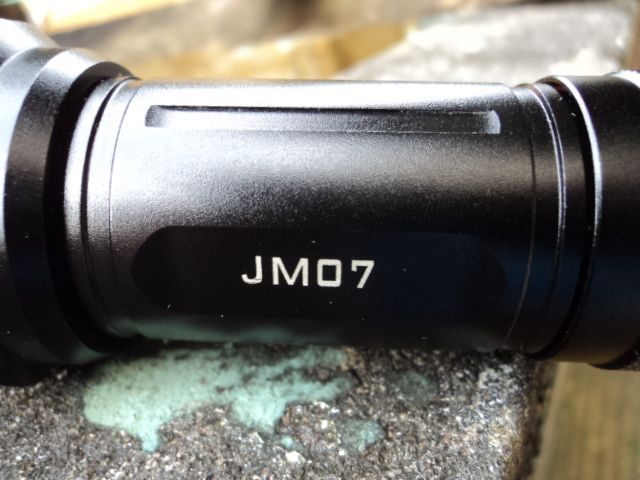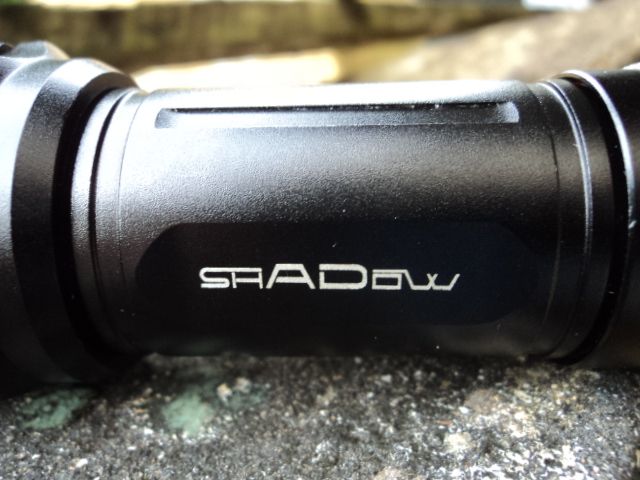 The finish does seem to attract dust particles……
Pn the mountainbike: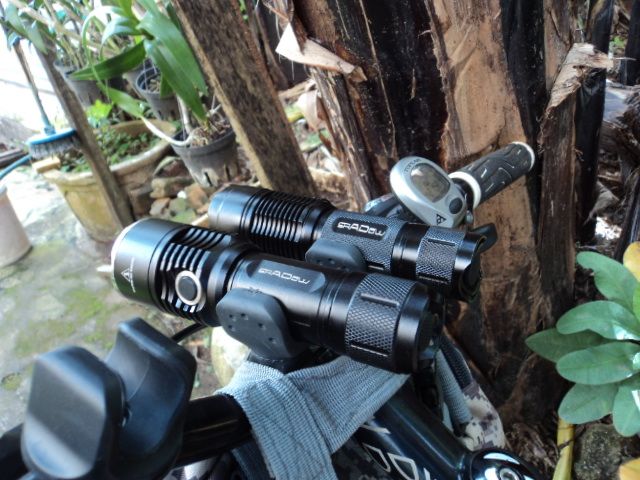 Now that is sleek……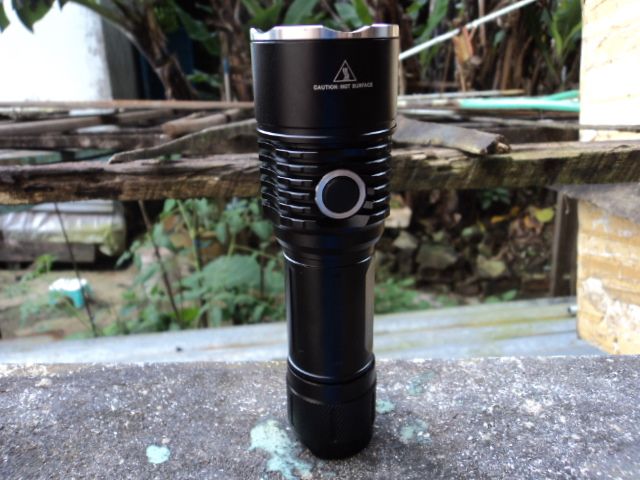 And here it is tail-standing like an old pro. Yes I know very punny! (O.k I'm just tired……)
Overall Impressions
Very happy, Shadow as always have put a lot of thought into their design. It's a slight improvement on the old version, and they look great side by side on the mountain bike. I'm sure the JM07 could find a welcome home in any flashaholics collection, and it's there to be used.
Hope you enjoyed the review.
P.S I'll add some more pics with comparisons to other flashlights later.