Back in 2015, Olight released one of their most popular models - the M3XS-UT Javelot, which, even after almost 5 years remains a decent long-thrower.
And now, Olight Javelot Pro, twice as bright, has entered the market.Lets test this thing.
product page at Olight website
you can buy Olight Javelot Pro at AMAZON or ALIEXPESS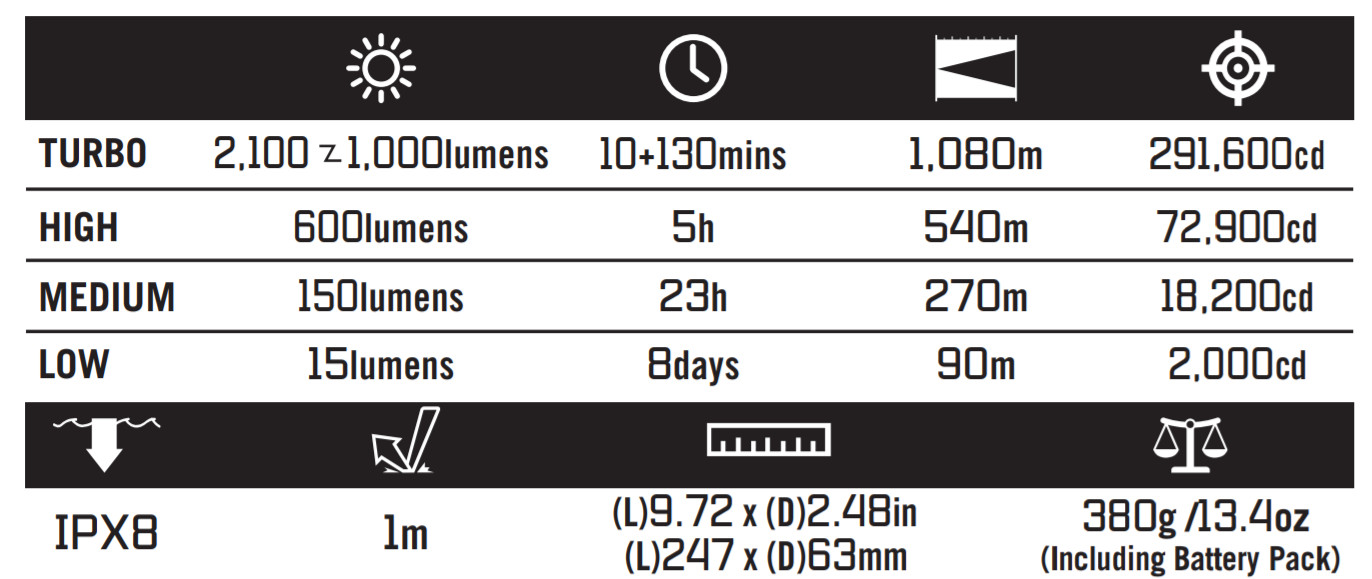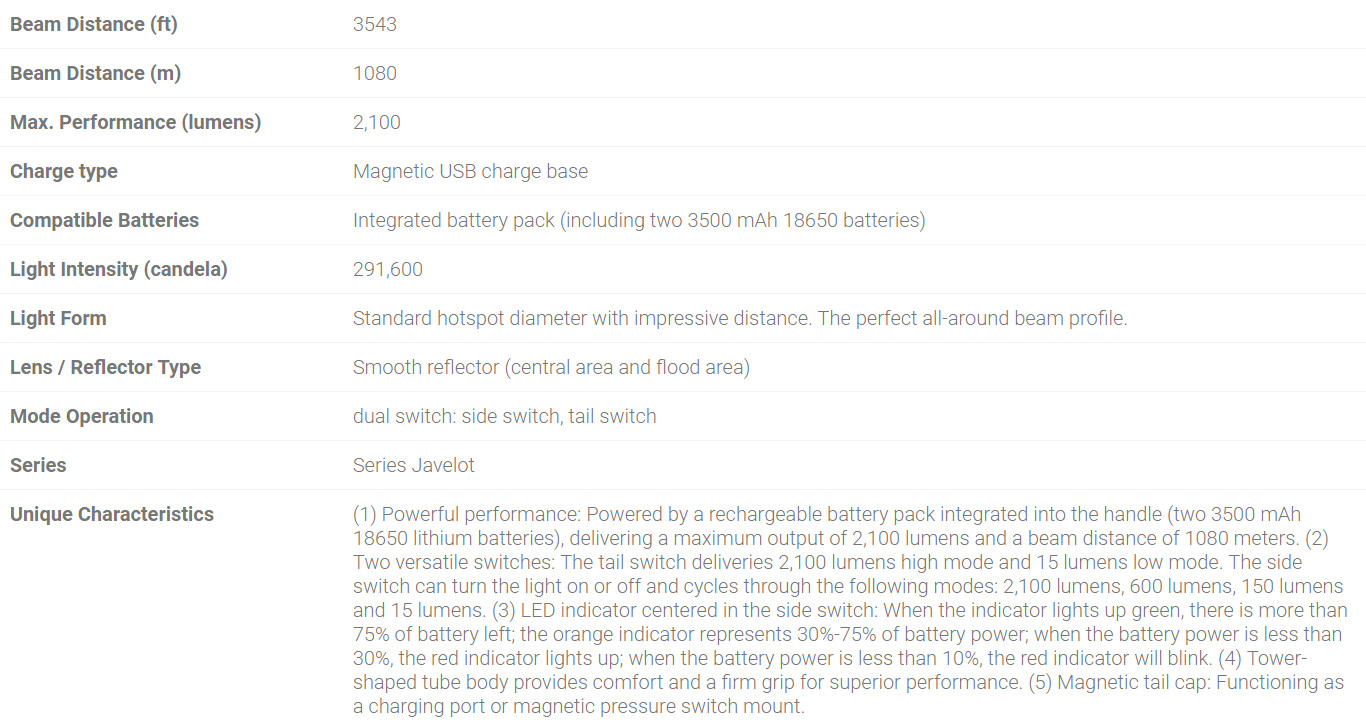 Package and appearance
All the models in this lineup of javelot (up to the original Triton) came in hard cases. And I can tell you that it looks very cool. This flashlight is expensive (at least at release point). And for this money you get what you want in matter of appearance. And I am sure that I will not be mistaken if I say that most men like such hard cases with foam rubber with different stuff inside, from set of tools to a sniper rifle). That definetely pleases man`s eye.
Case looks like professional, good for a gift.
Inside, in foam rubber are: a flashlight, muanual, charging cable, holster. There is also a Olight Javelot Pro Hunting Kit with color filters, a remote button and gun mount. Everything is extremely neat.
Holster as holster, nothing more to say. Just good one, that`s it.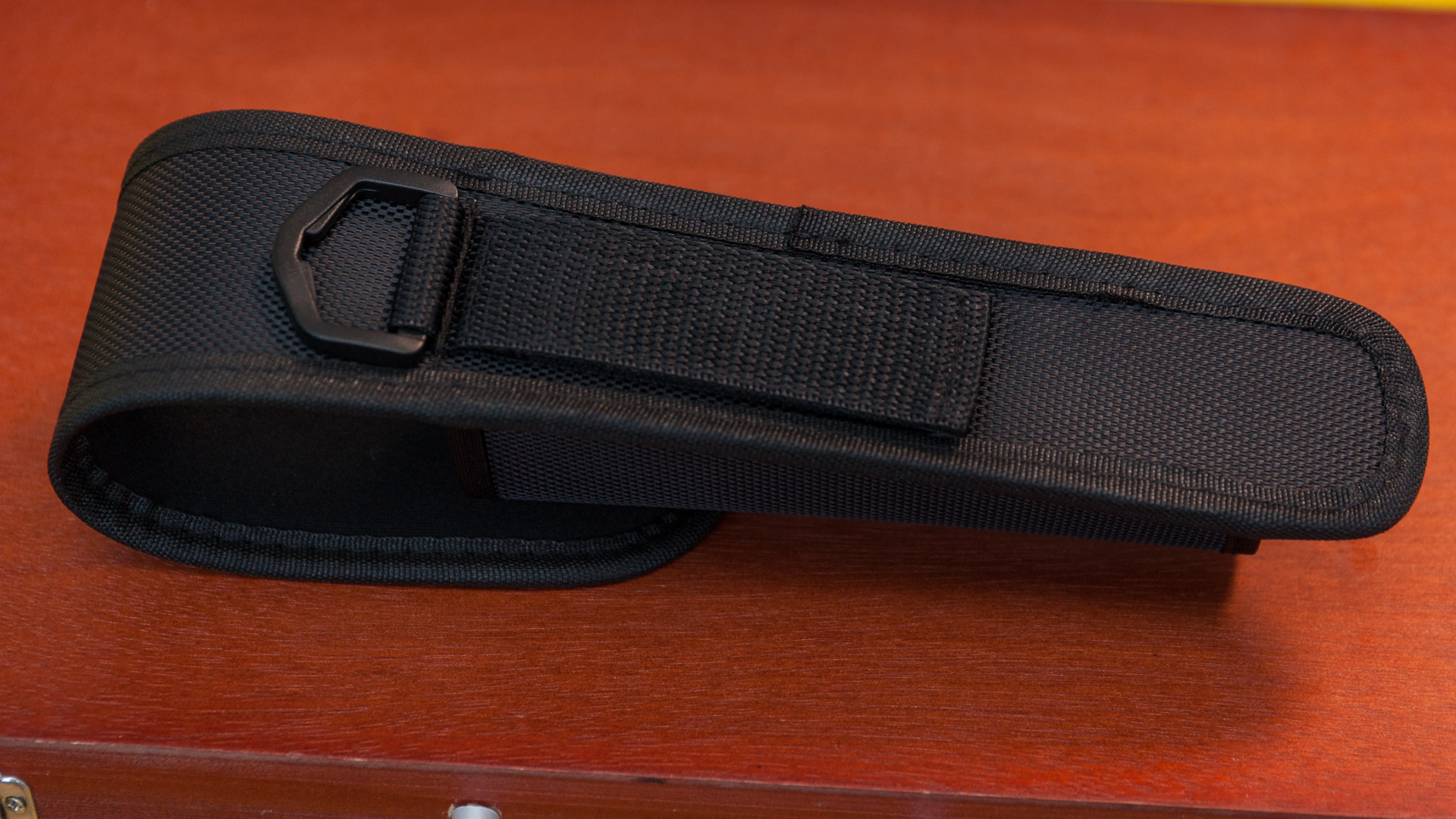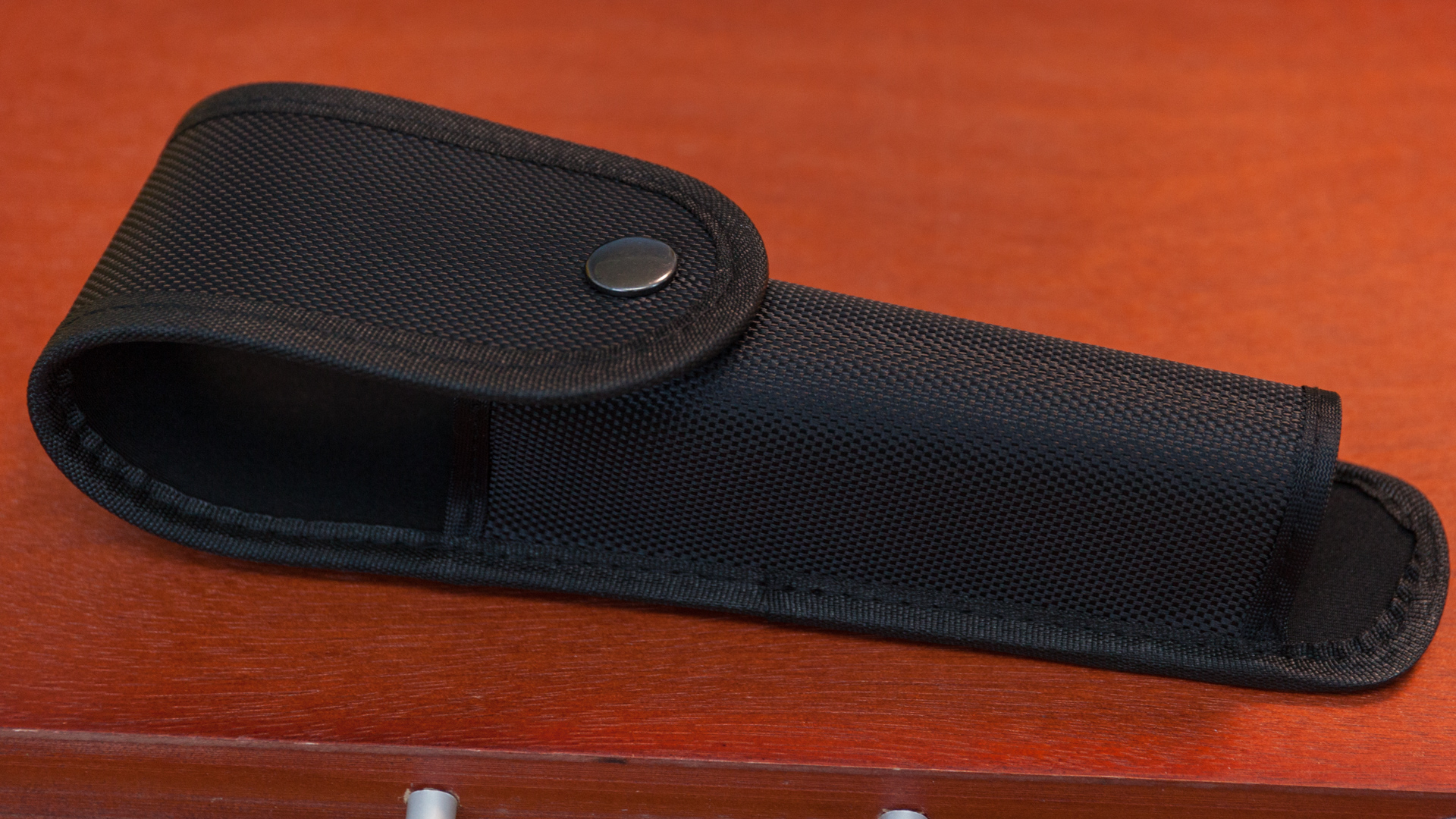 Blue round of magnet charge plate. Neat and good-looking.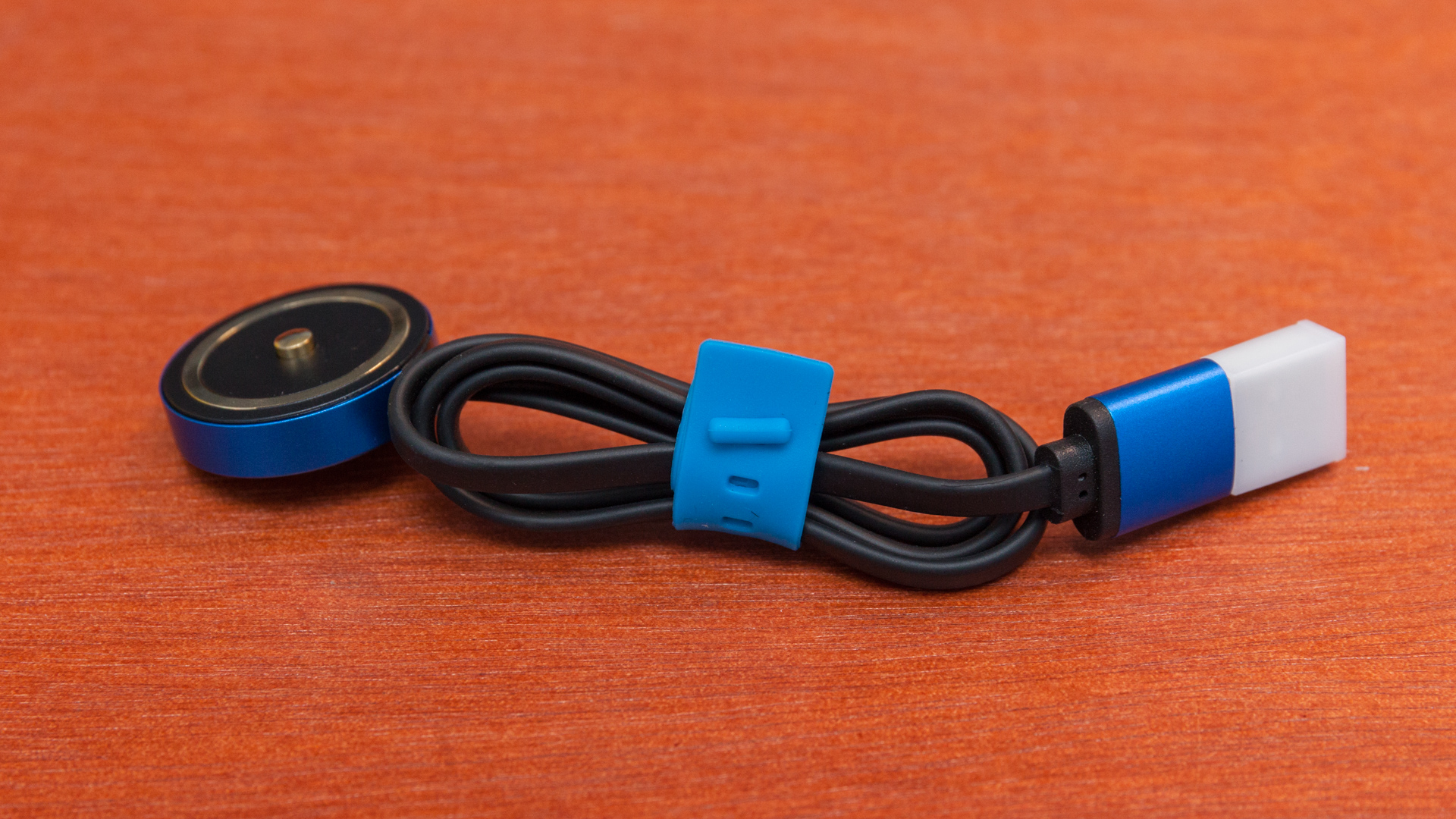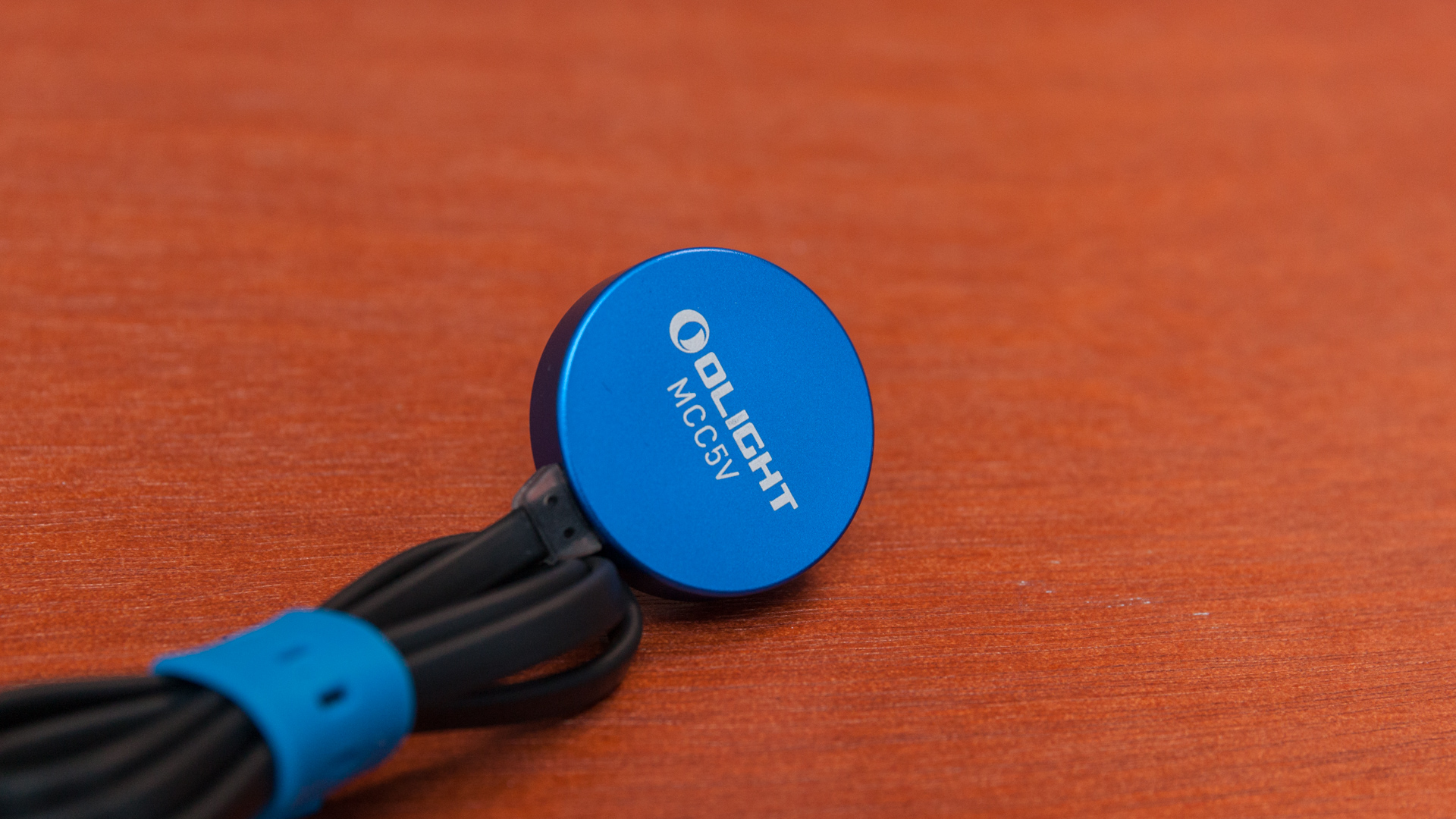 Well, here is the Olight Javelot Pro. This is quite an elegant and long body with a nice design. Somheow it remiinds me a rose. 25 cm length - quite a common size for this kind of flashlight.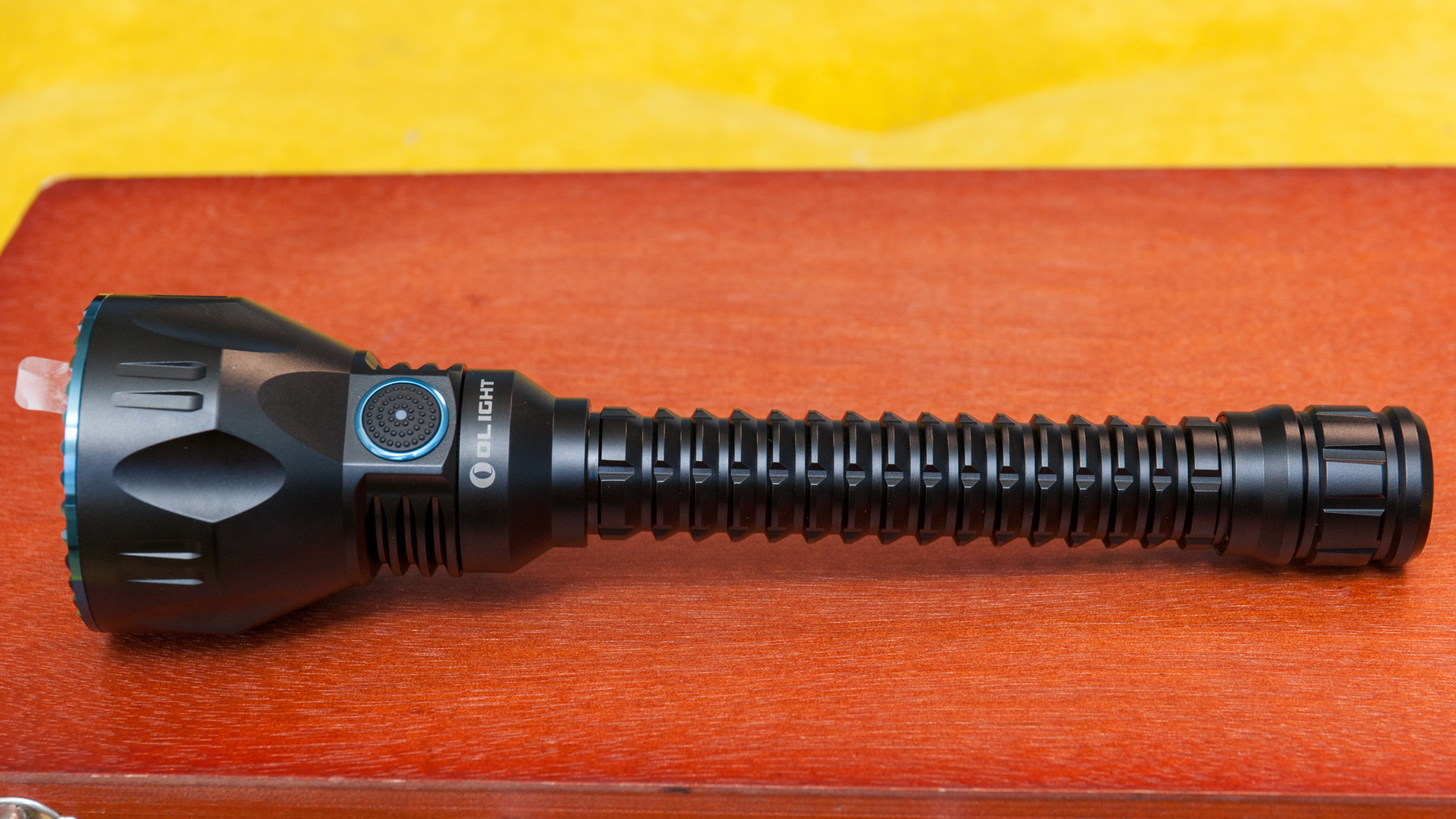 Well, now take a closer look.
The button on the tailcap serves as a contact for charge plate. Matte gray round with a soft and silent move. There are two positions, as well as in the camera shutter.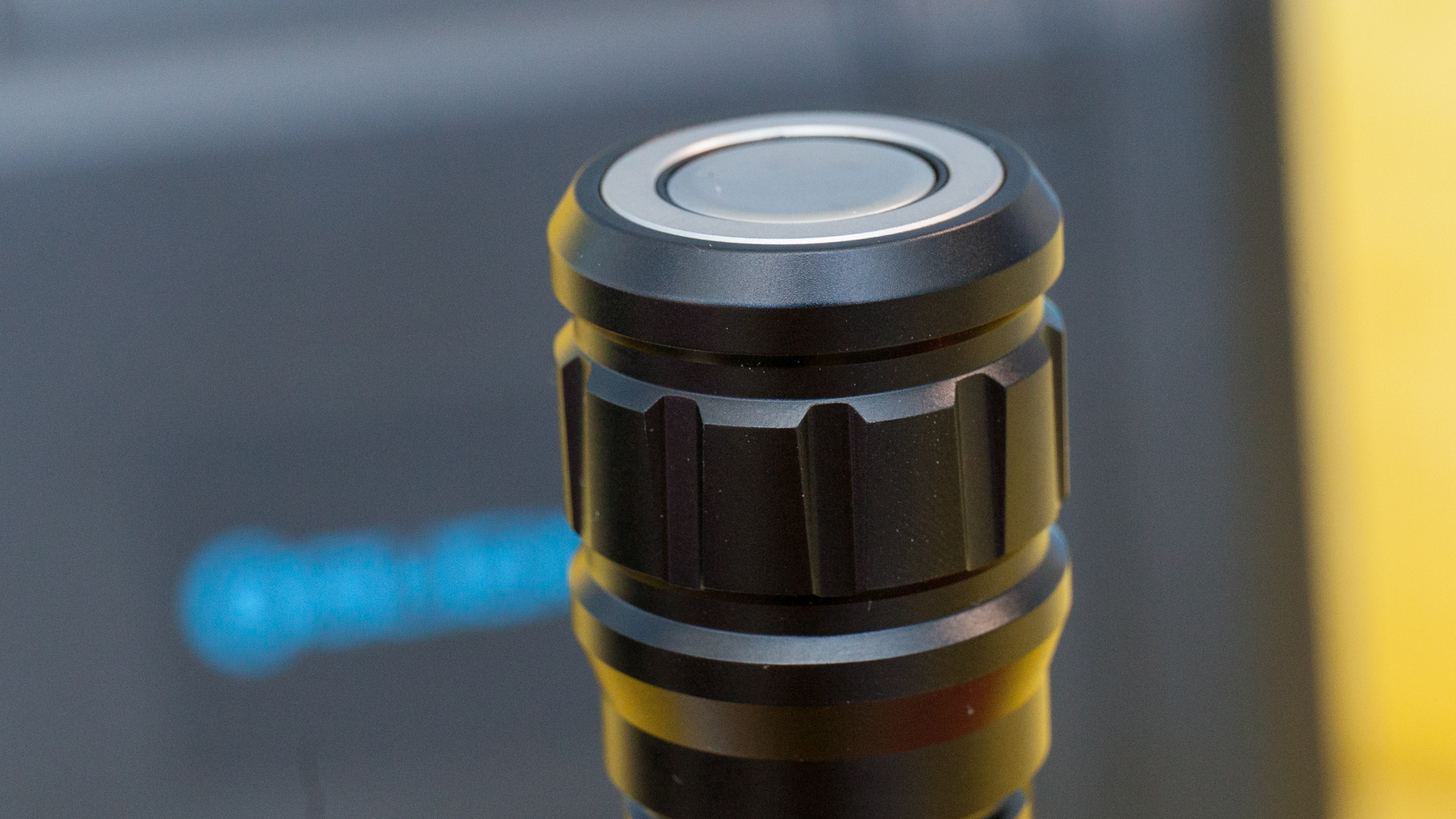 Magnetic button and charge plate sticks to each other tightly. There is a red-green indication of the charging process.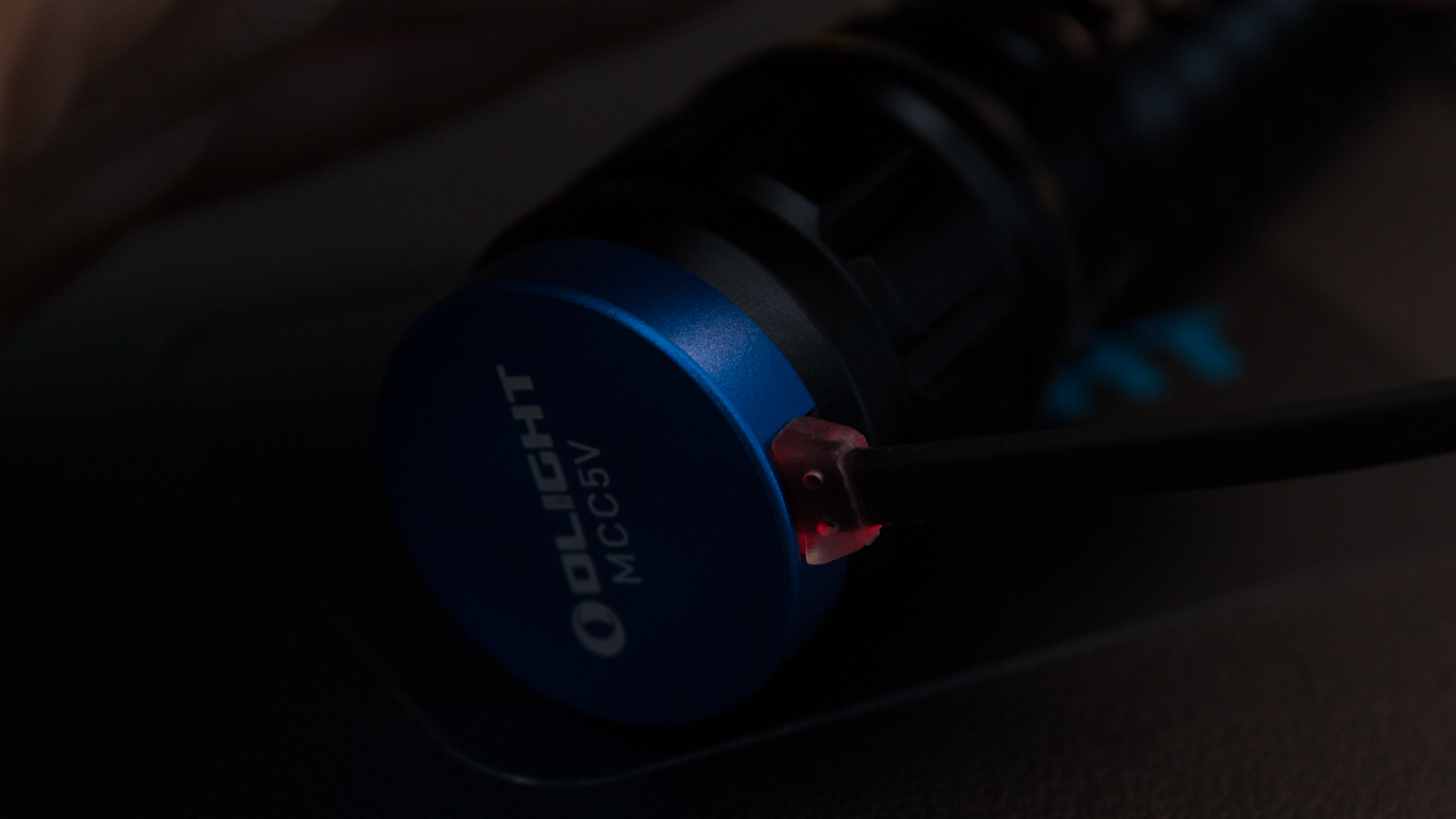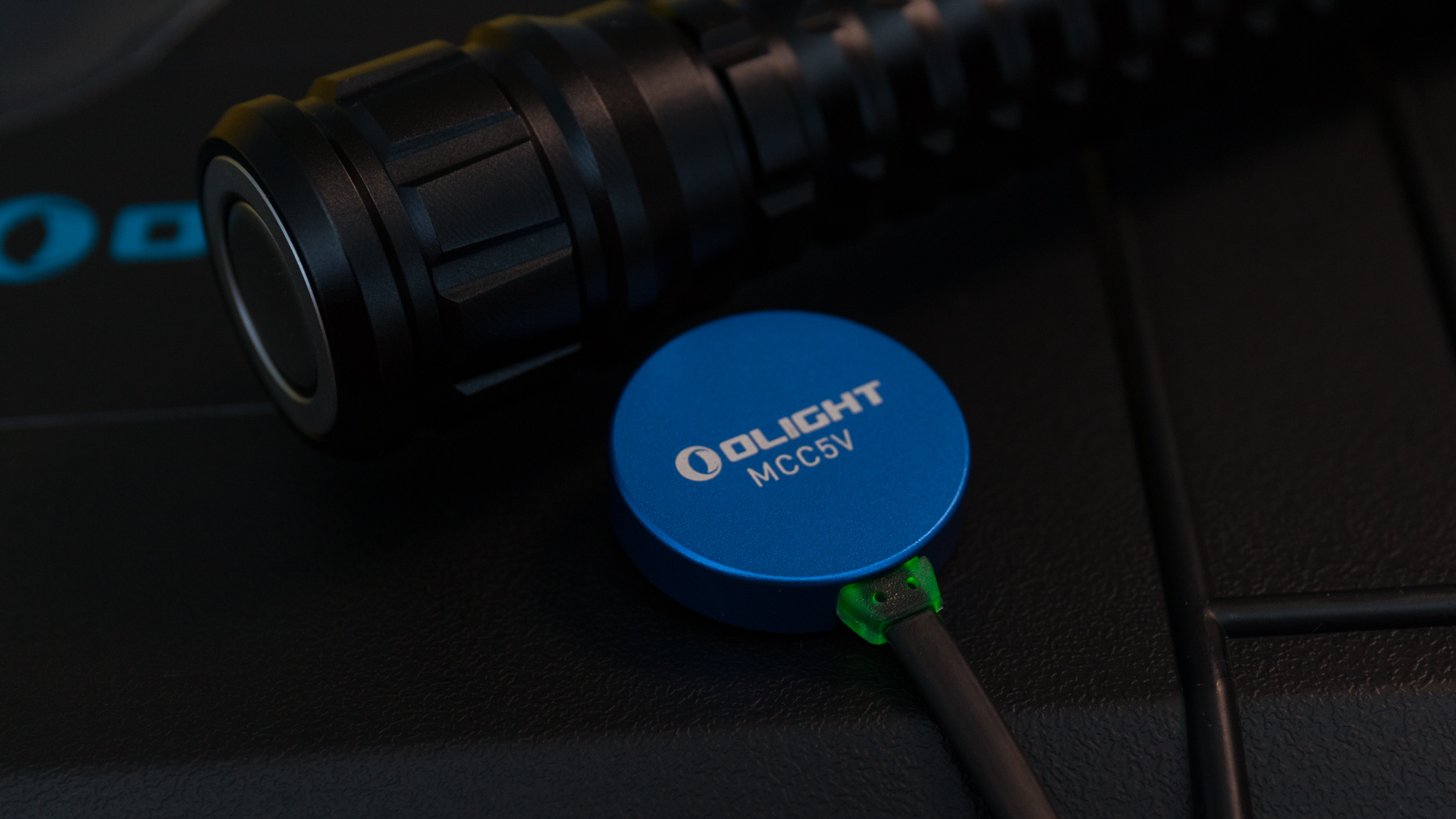 In addition to the button, you can also attach the remote button. The same method of attachment was in M2R \ M3R. But this has a downside, and more on that later.
For some reason, Olight decided that user will not need lanyard here , so here is no holes for it in the tailcap. And here I disagree with Olight. Yes, when mounterd on the gun it is not needed, but, well people also carry flashlights in hand.
The knurling is very tenacious and large, you can twist the tailcap without any effort at all.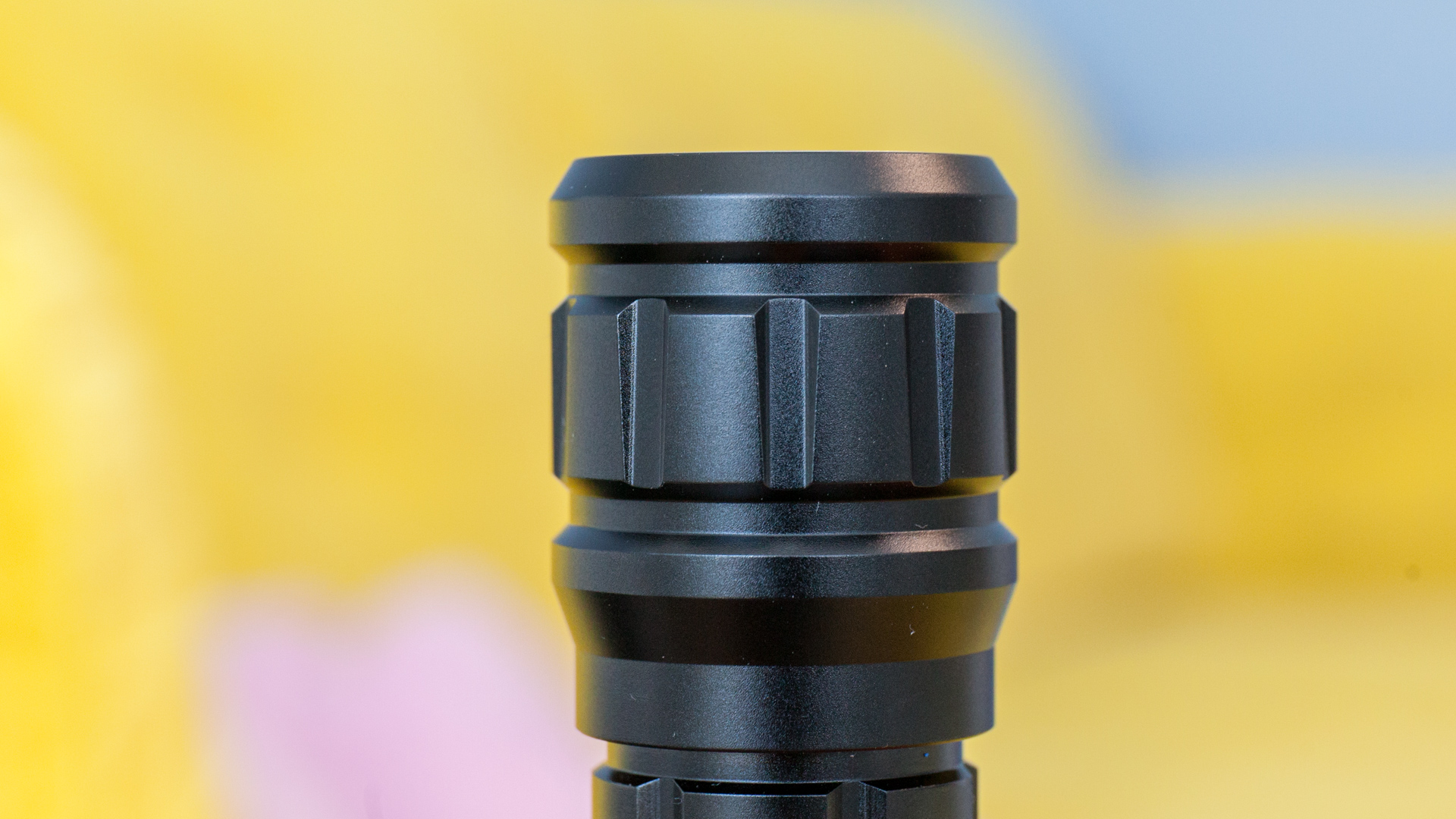 There is spring-loaded contact plate at tailcap and a good double spring at head side.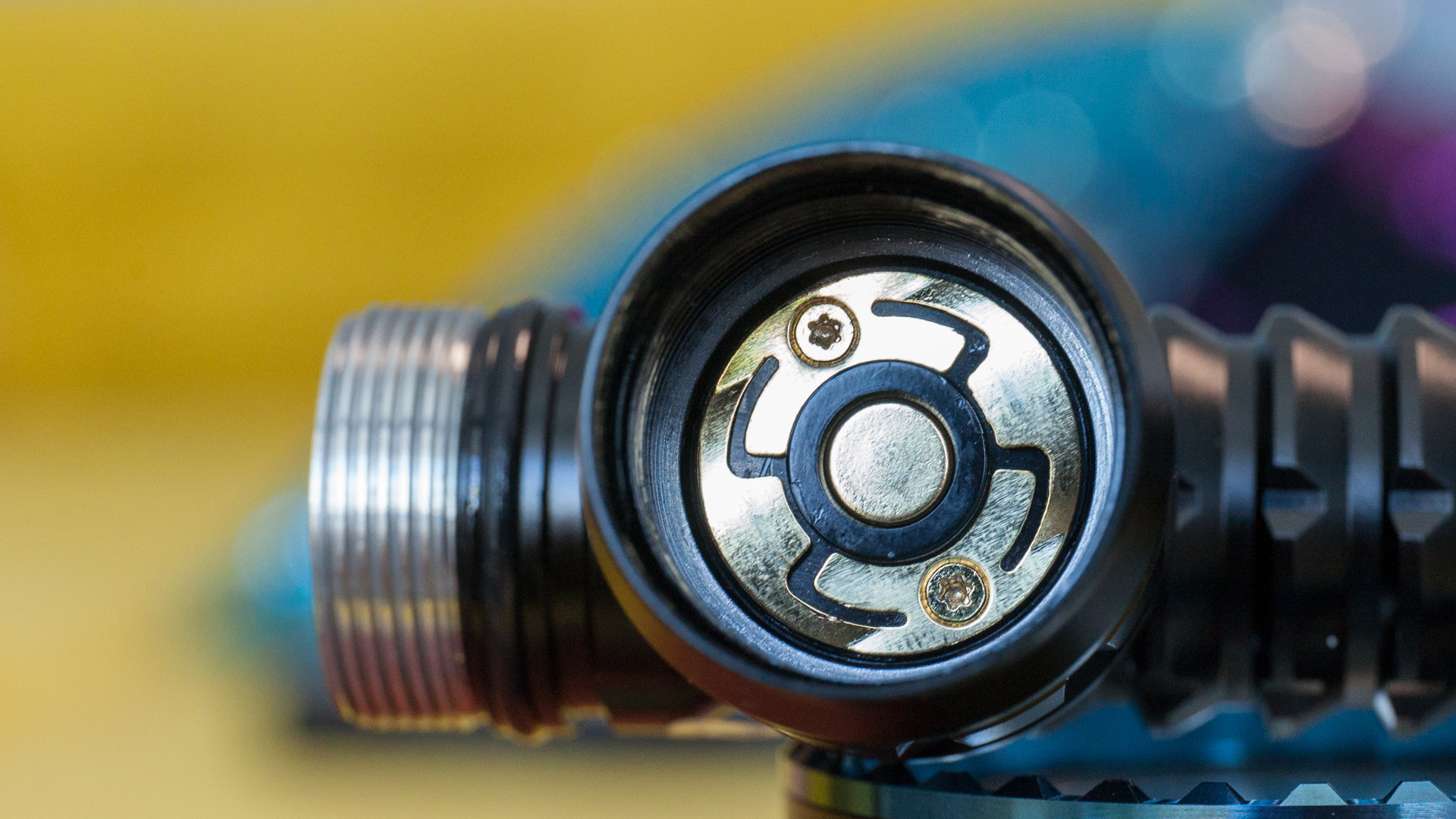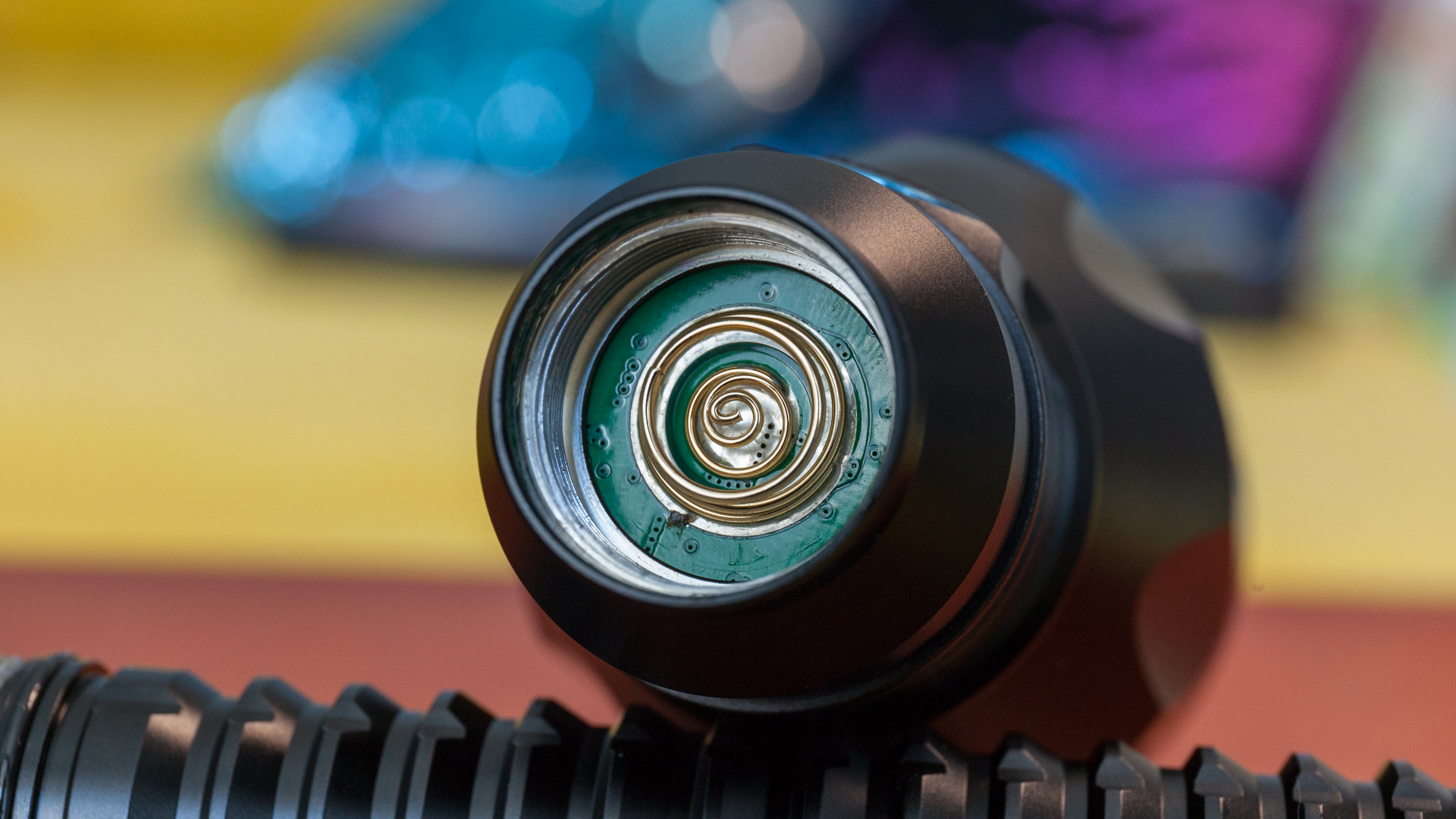 And now the most interesting. I'd rather give up on built-in charging (in the end, almost all 2x18650 flashlights dont have it) to be able to put fresh batteries in, when needed. And, well, in case of loss \ breakage of the included small charge plate, you will have to buy a new one, not that cheap btw.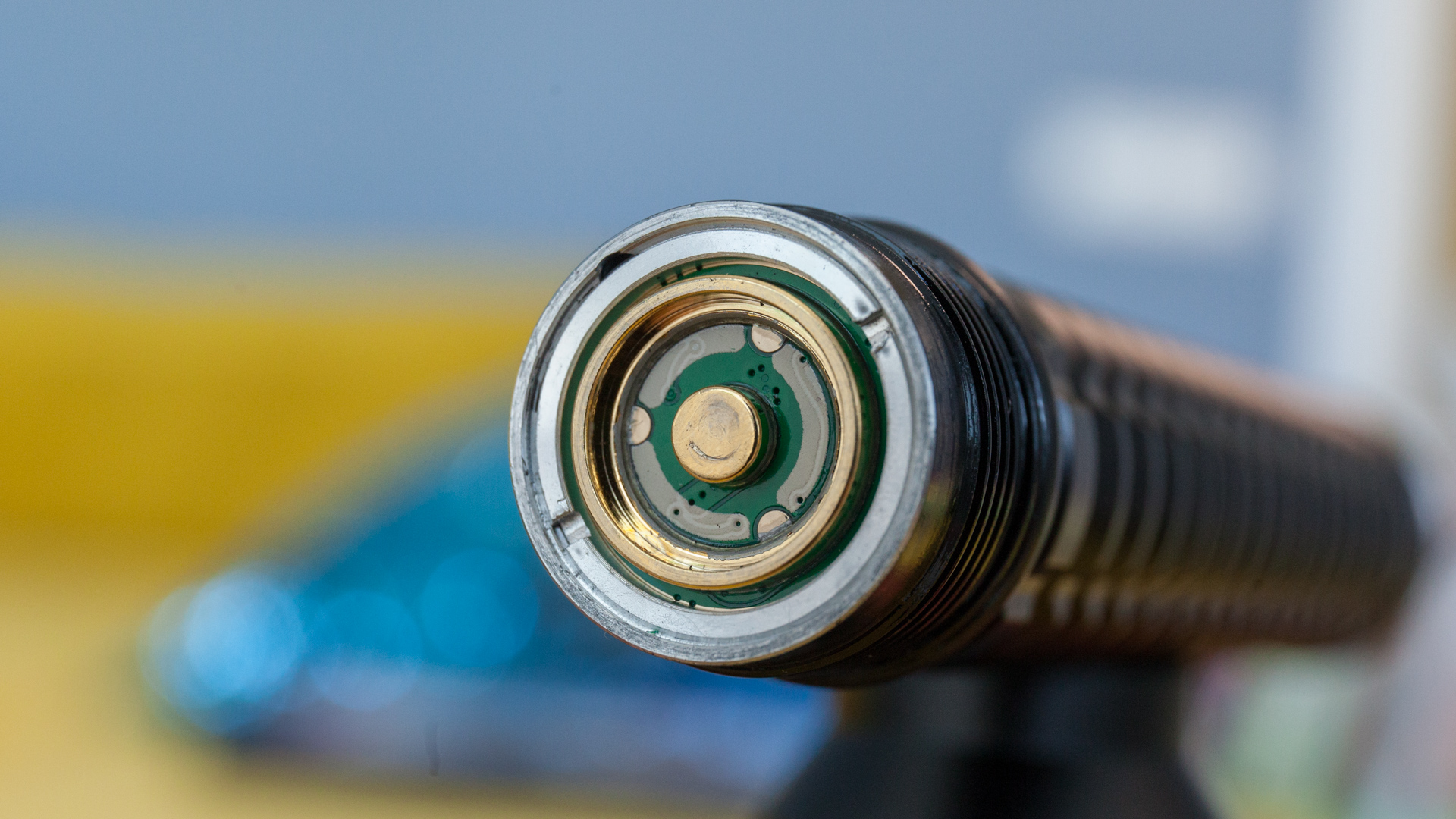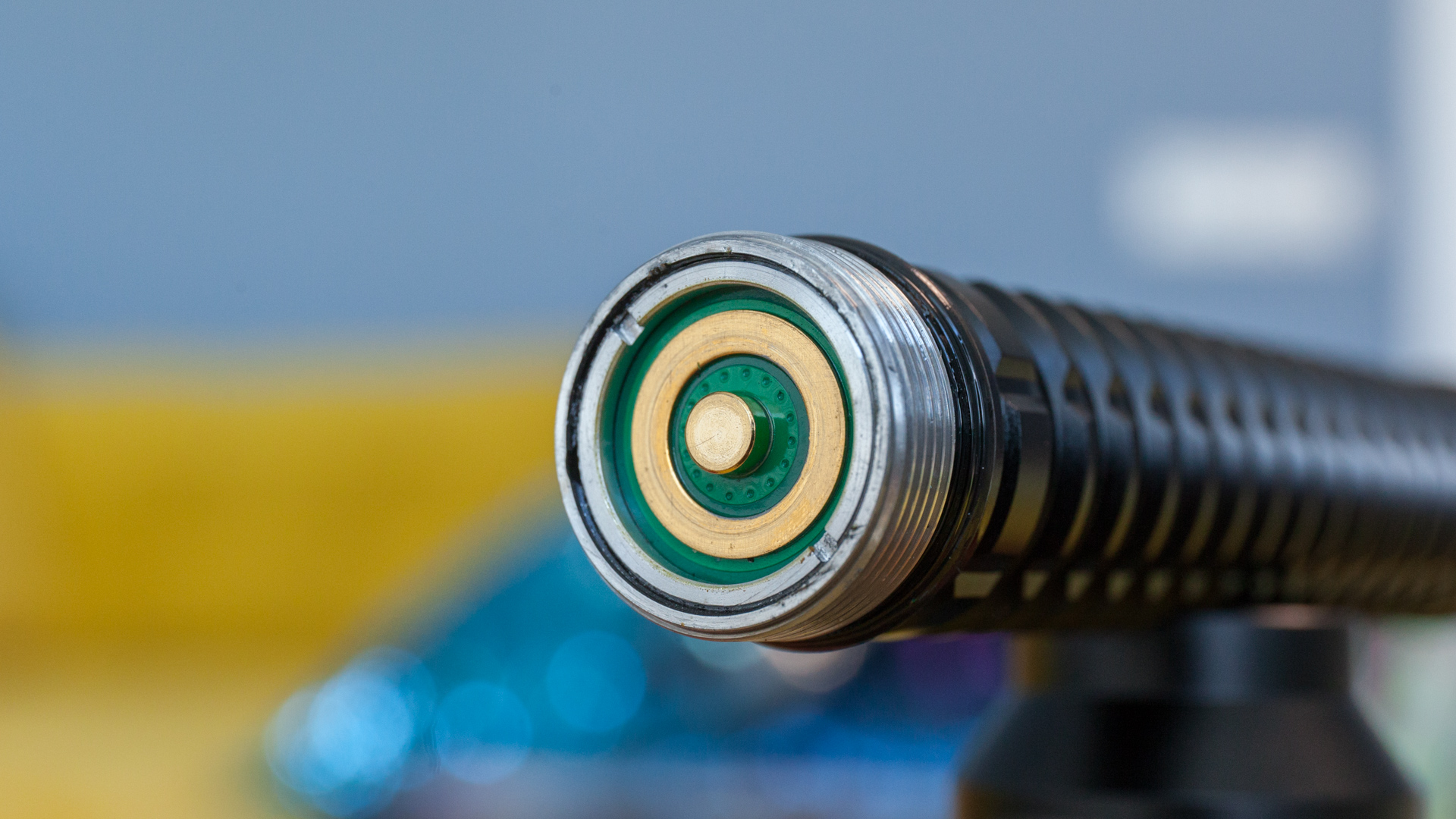 But, to be fair. Olight Javelot Pro battery pack has very capacious chemistry of 3500mah and the runtime will be really good. There is few situations when 5 hours of HIGH is not enough.
And dont forget the throw and runtime of the MID, which is enough for you in the maximum of cases, up to a 150m distance you can actually count on a full day of work in MID. this mostly compensates having battery pack. A, you can also buy spare one and use it while primary one gets charged.
The threads are well lubricated. Although battery pack implies that you do not have to twist the body really often.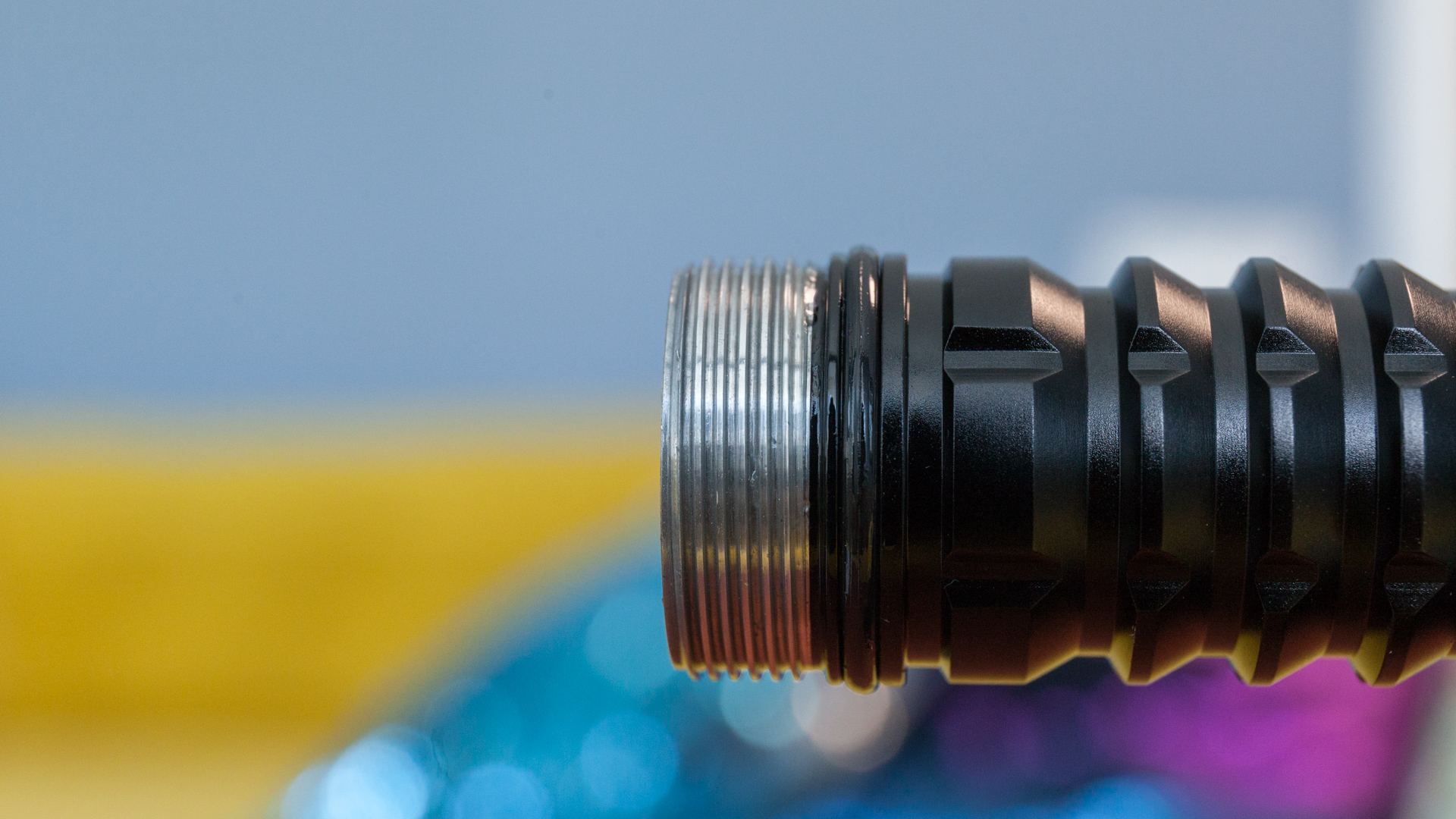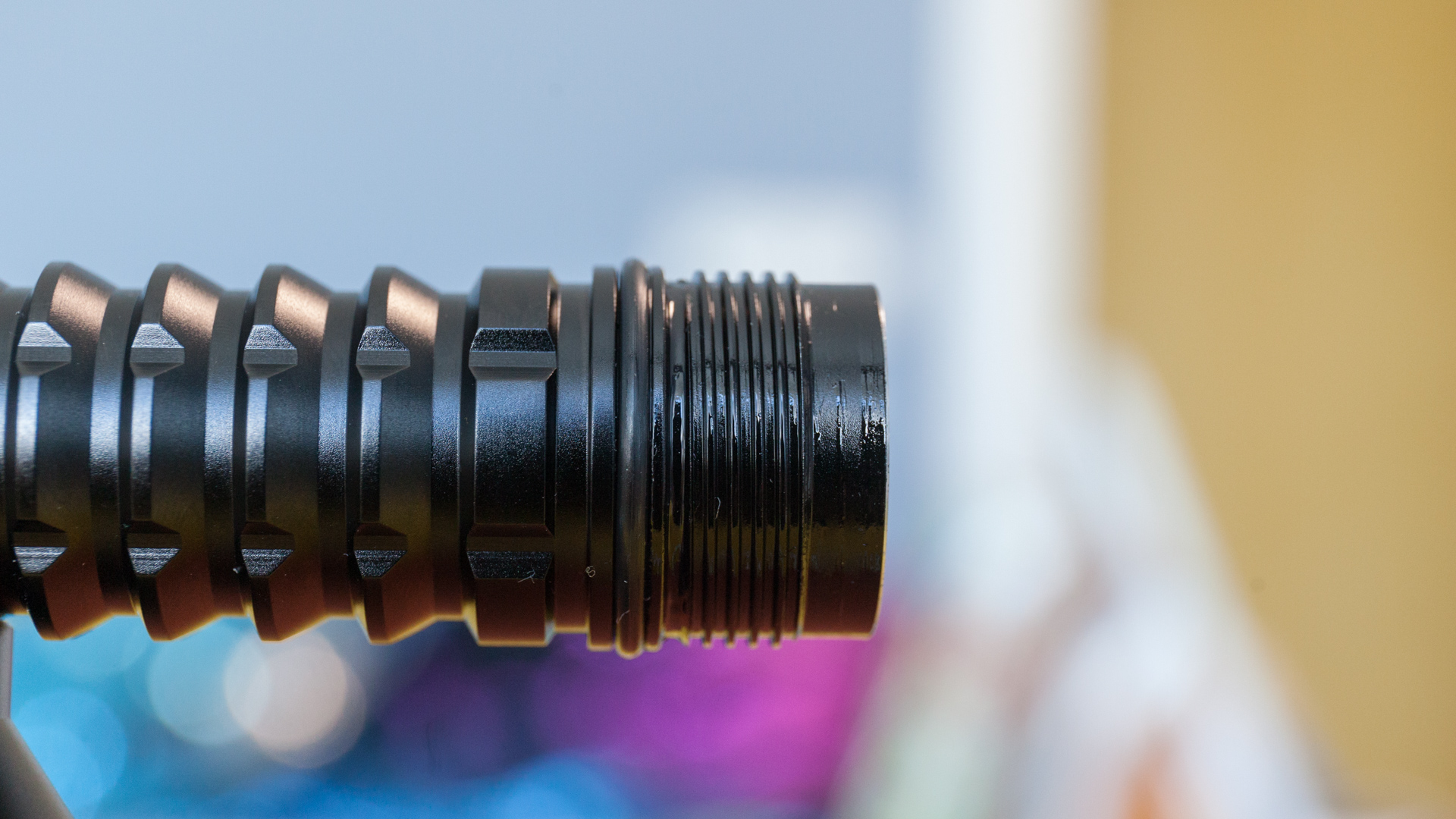 What is good is knurling. This is the most grippy knurling of all I have seen. I think it is possible to attach a lanyard, somewhere near tailcap. If you tighten it properly, I think it will hold. The grip is comfortable and exceptionally, exceptionally reliable.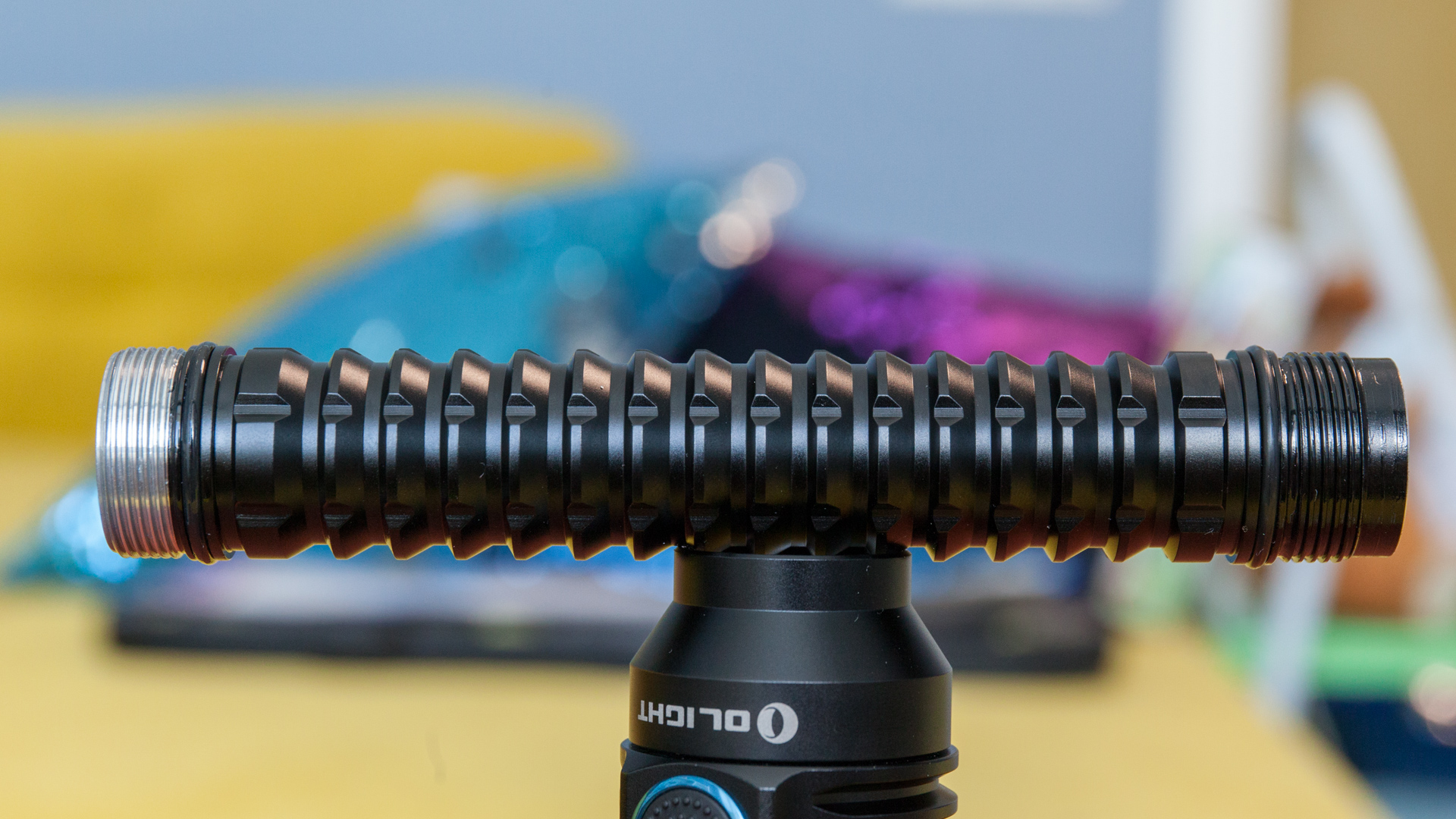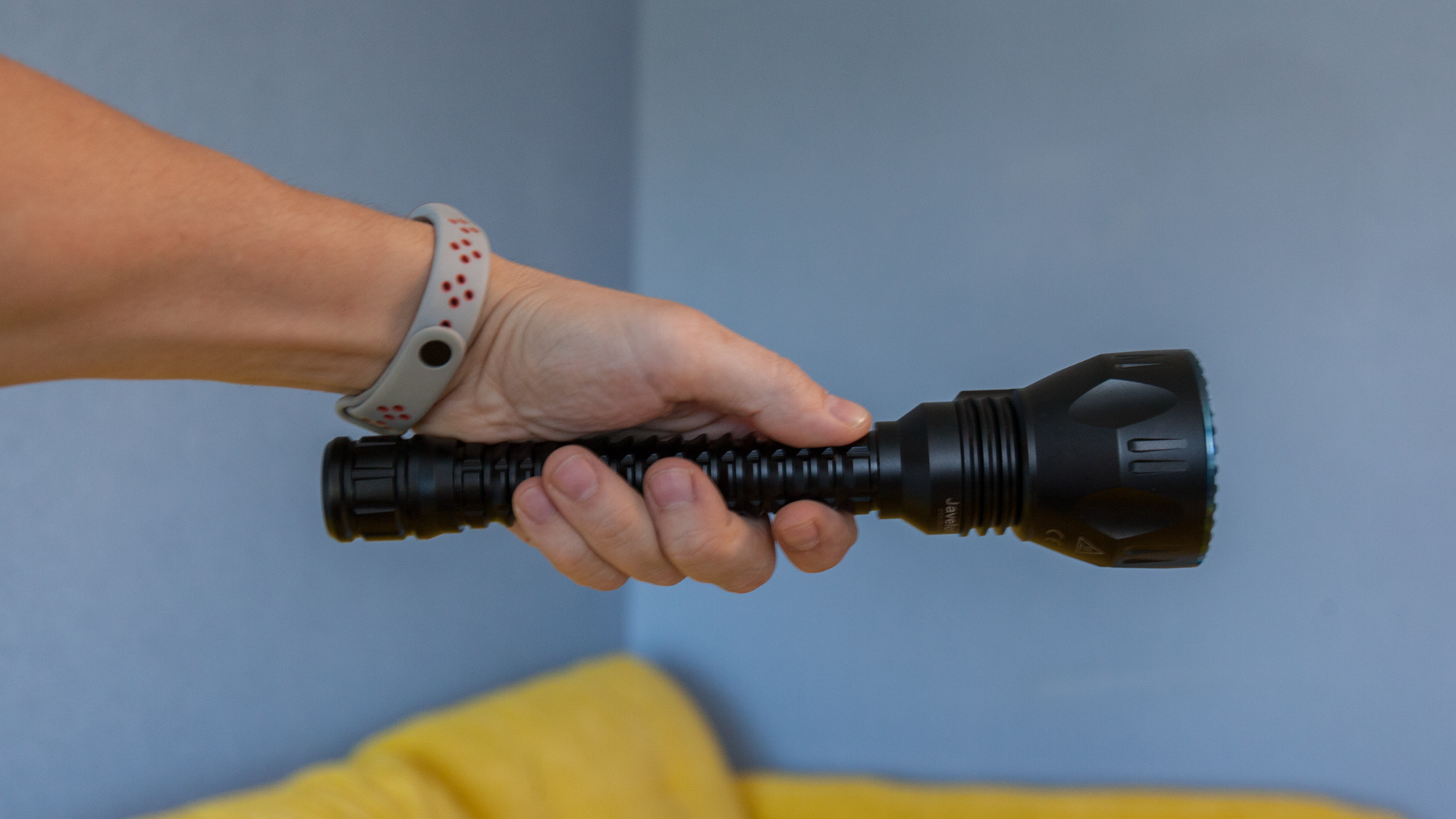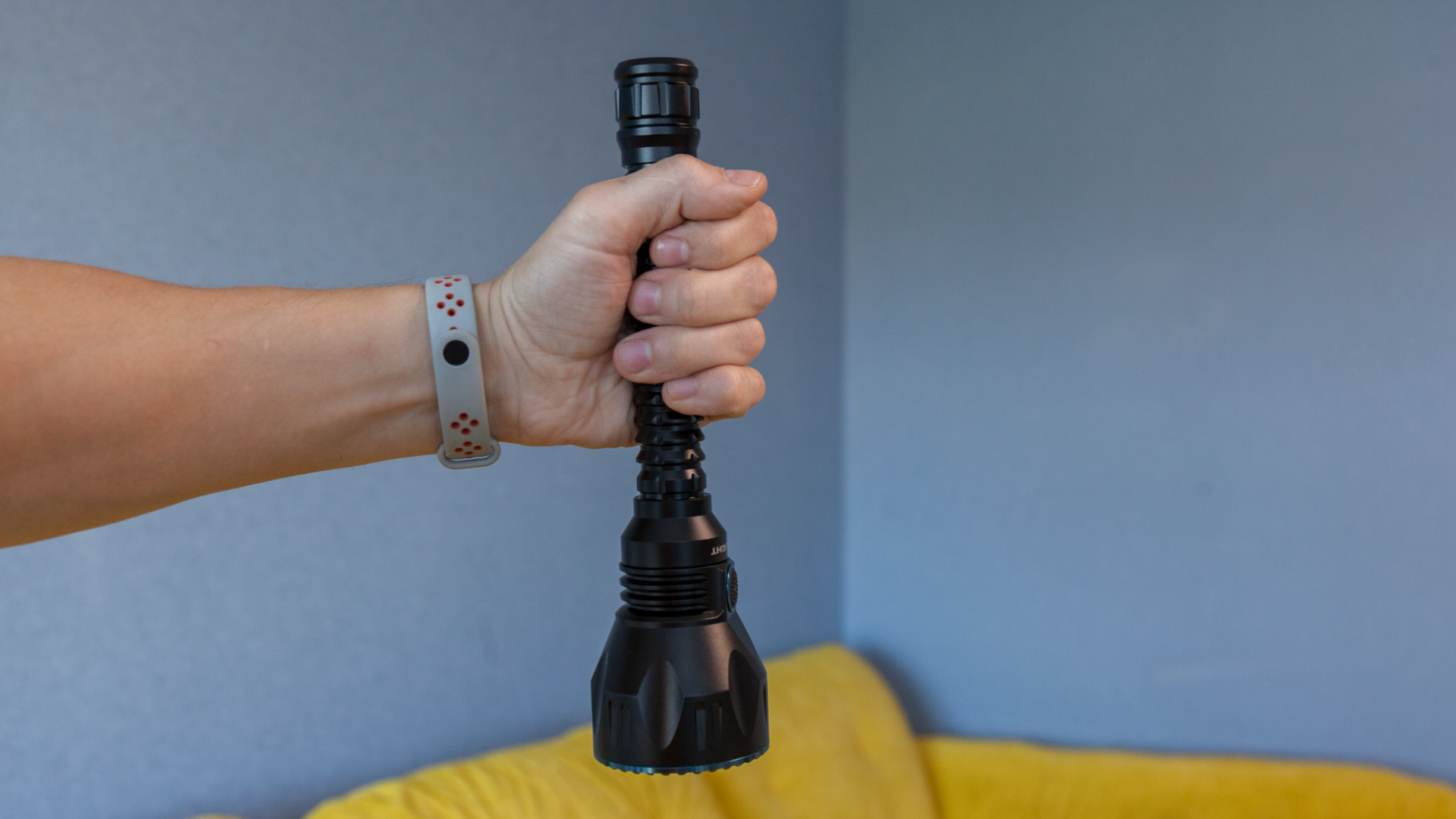 Button can be found easily. move is silent, soft and medium deep.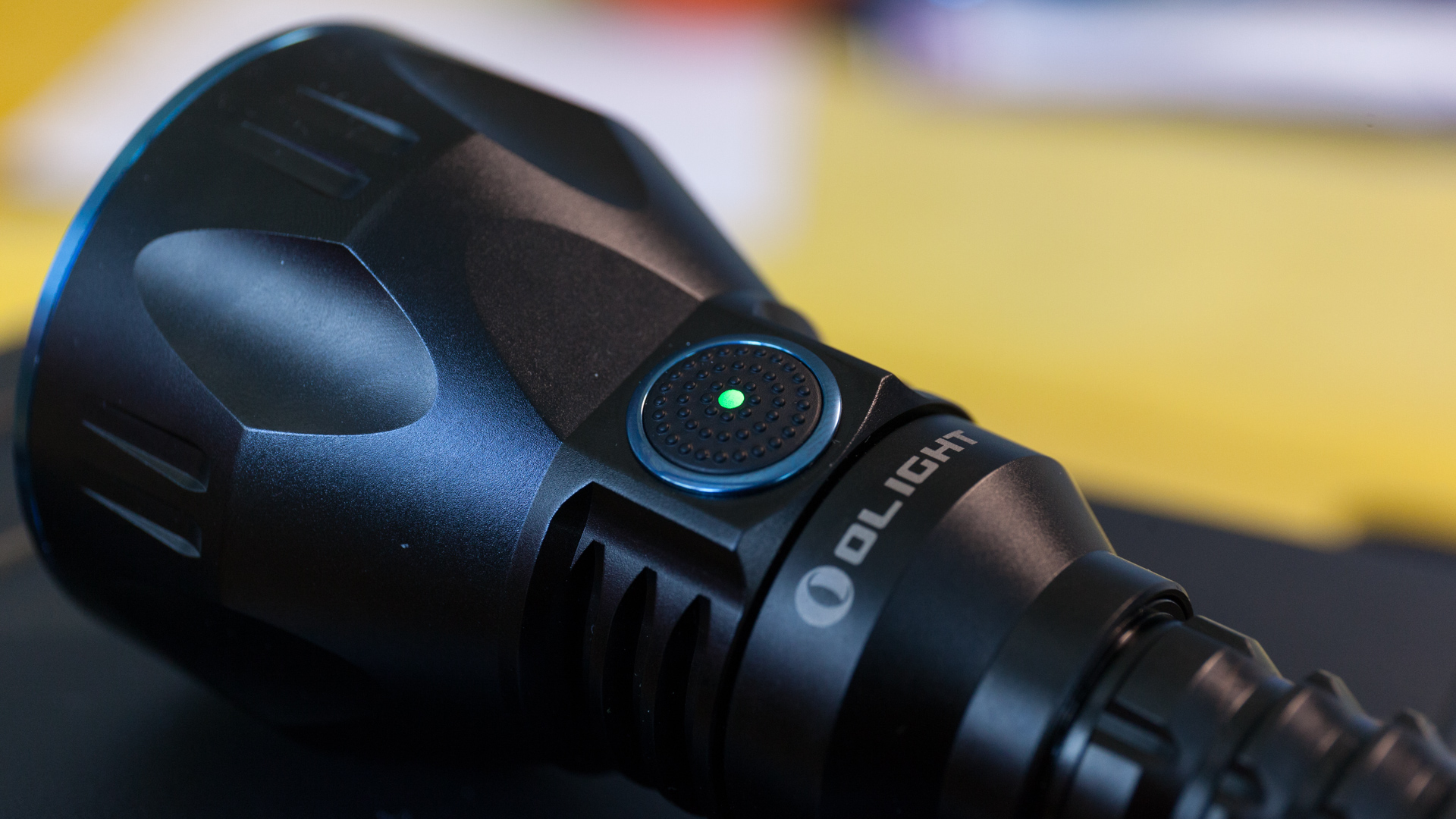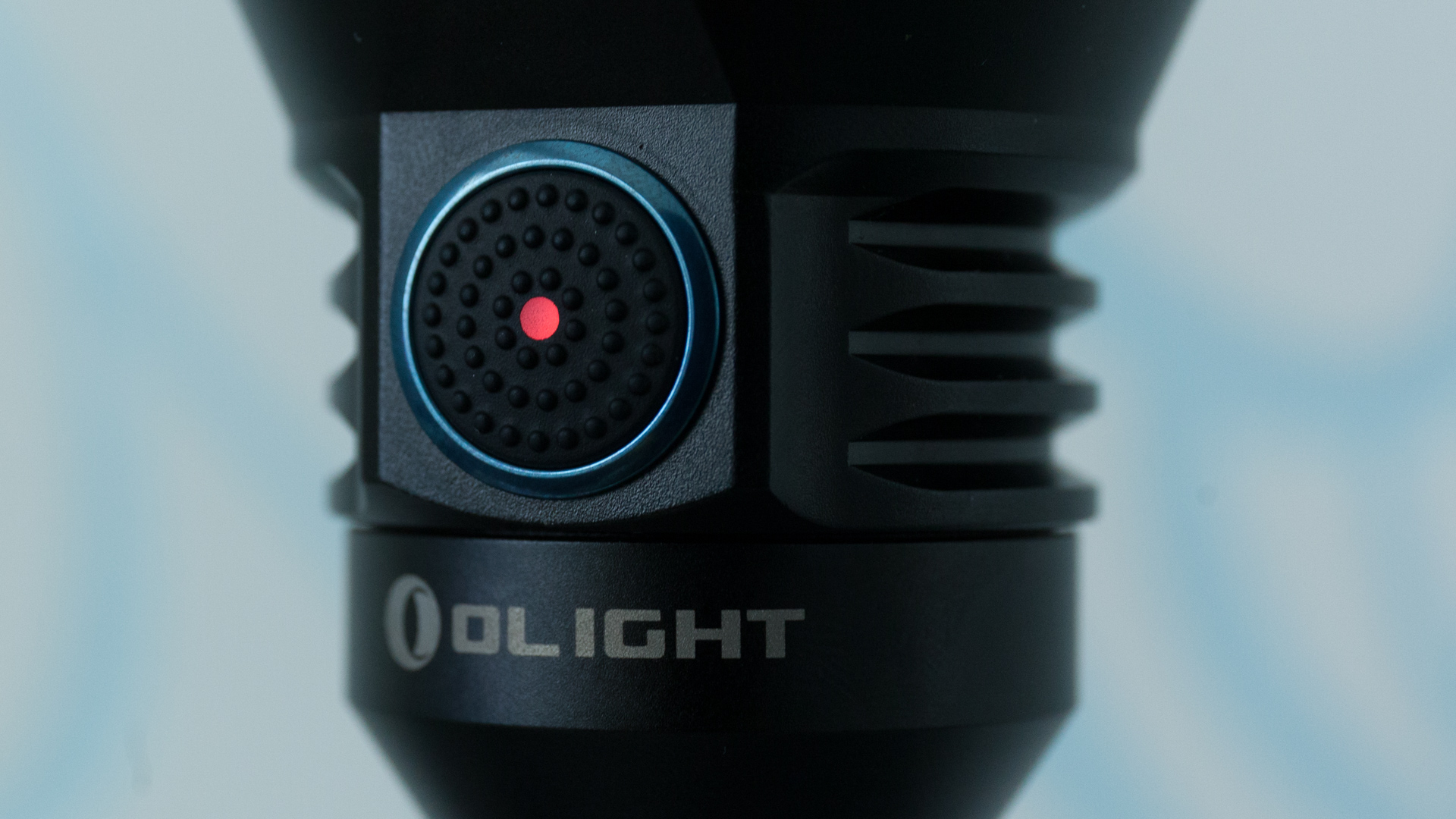 There is discharge indicator. When in use, green LED (75-100%) glow change to:
Orange - charge 30% –75%
Red - charge 10% –30%
Red blinking - charge less than 10%
The cooling fins are deep.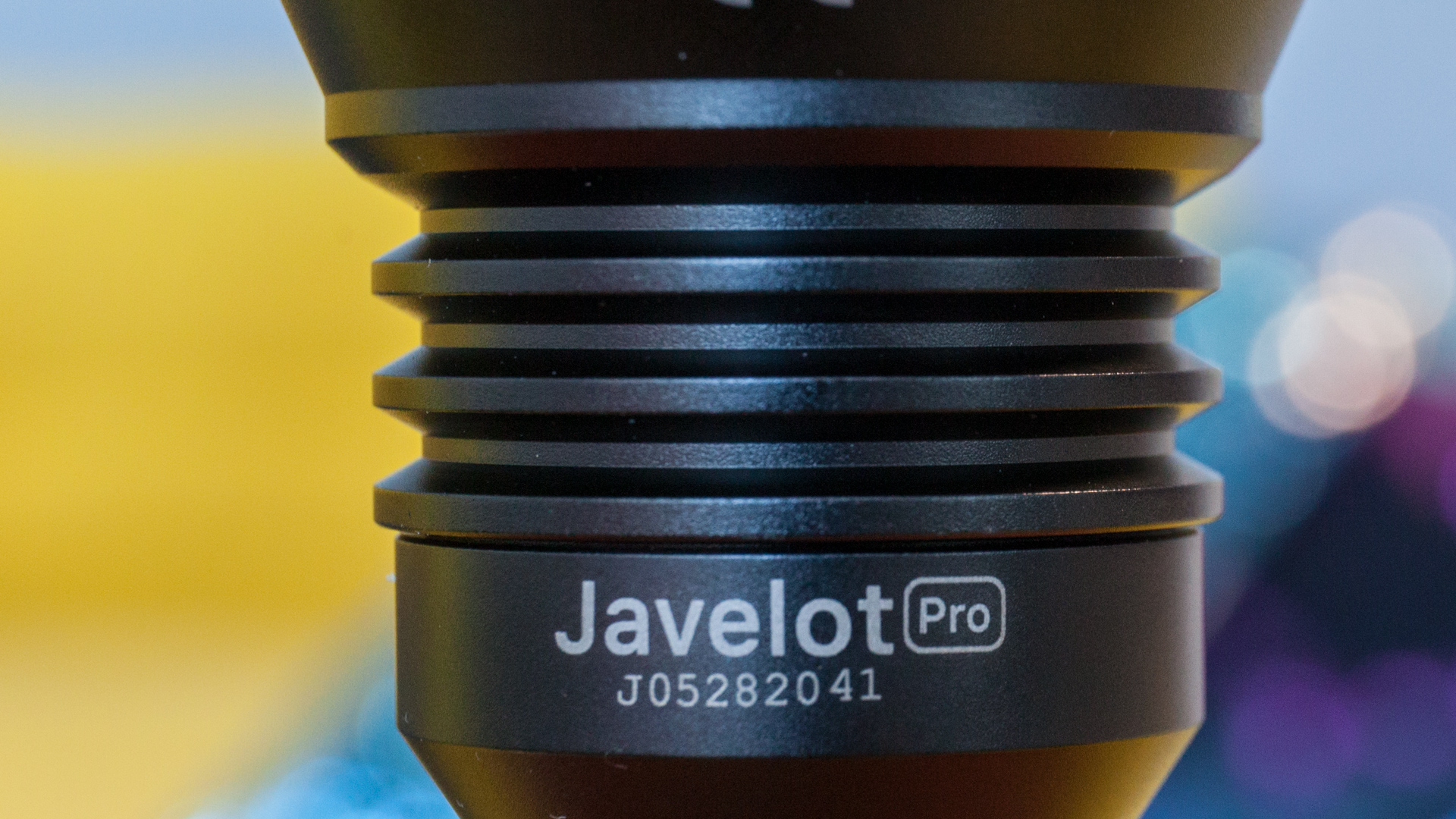 The head itself, traditionally, does not provide easy access to insides. I do not think that Olight customers have to do with customization, so that is not problem at all.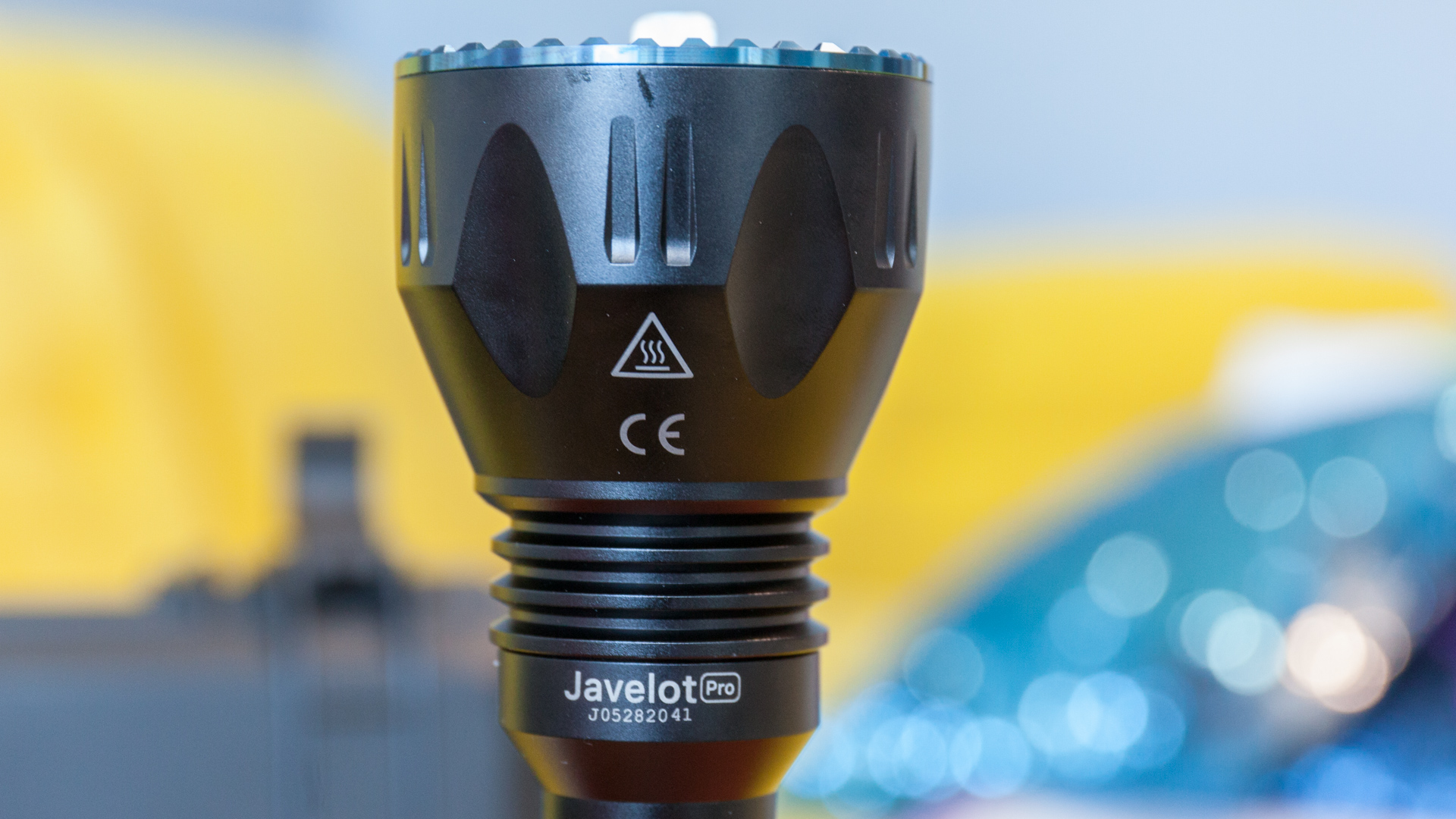 I always liked the color design of the bezel in Olight flashlights. And here the same thing - the sharp-toothed bezel is decorated in the same azure color. Outwardly, it looks very, very nice.

Numerous teeth appear shallow, but only relative to the overall size of the head. So they are larger than ordinary teeth 1x18650 tactical flashlight.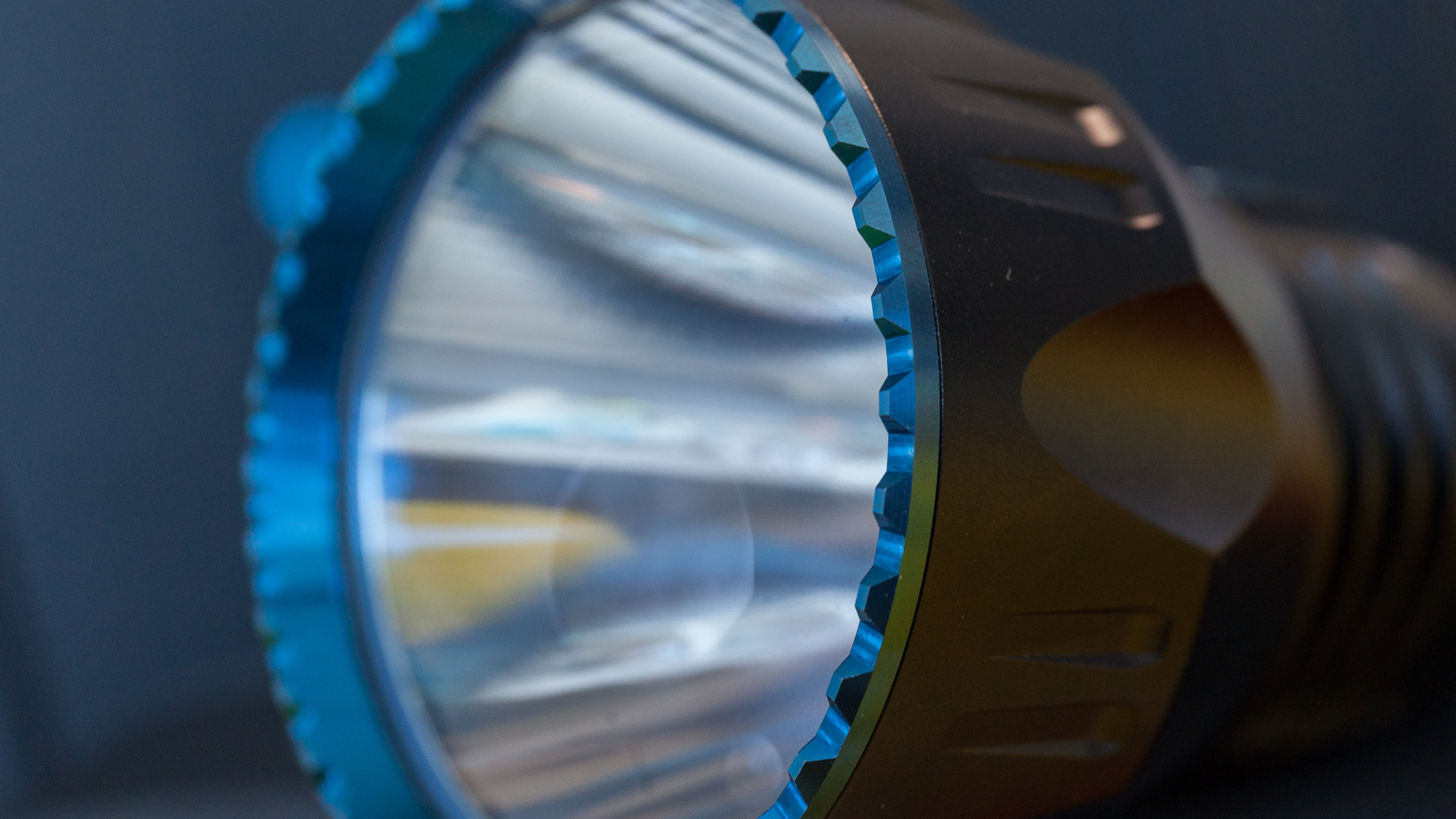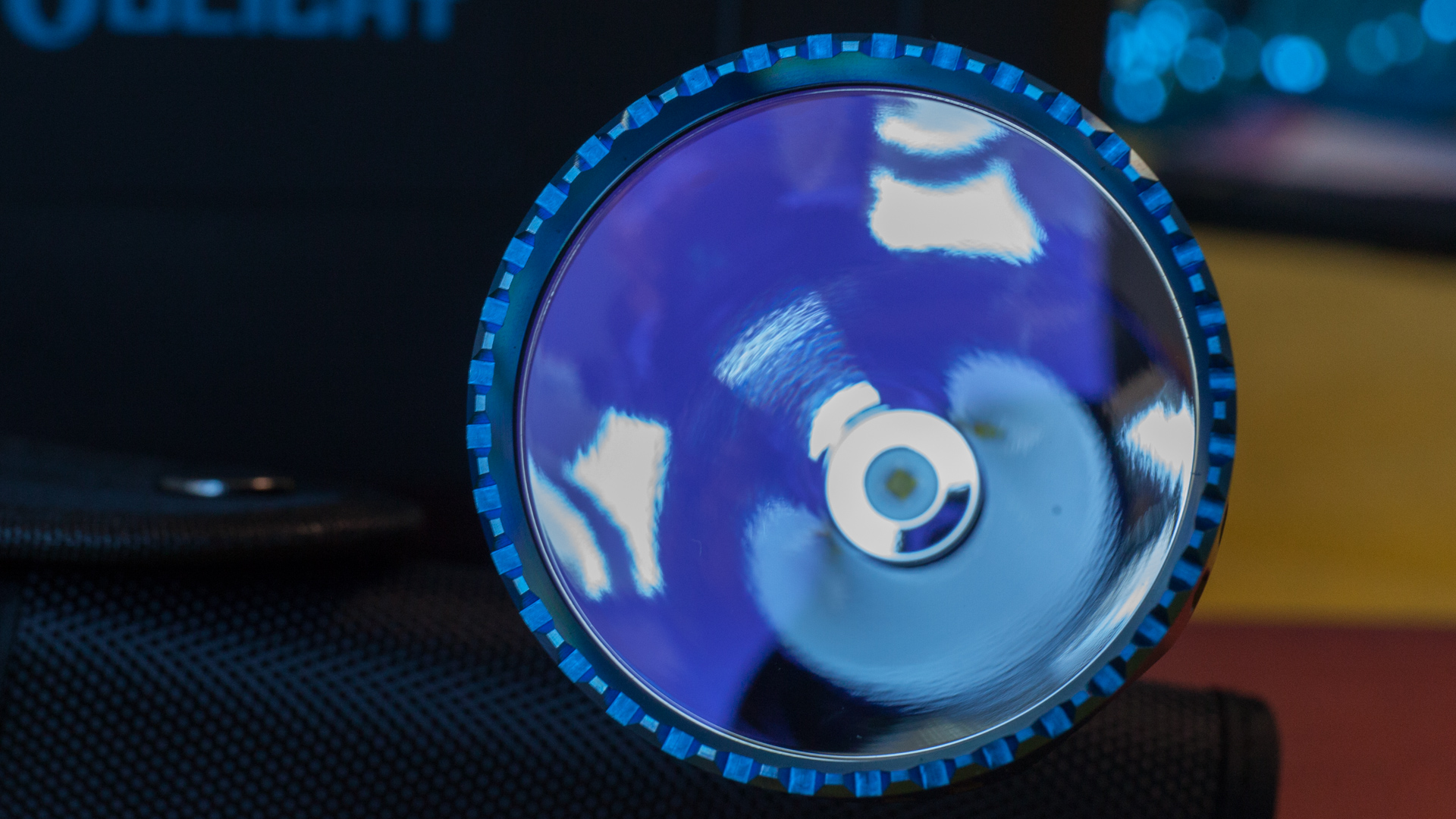 Tempered glass with anti-reflective and antiglare coating.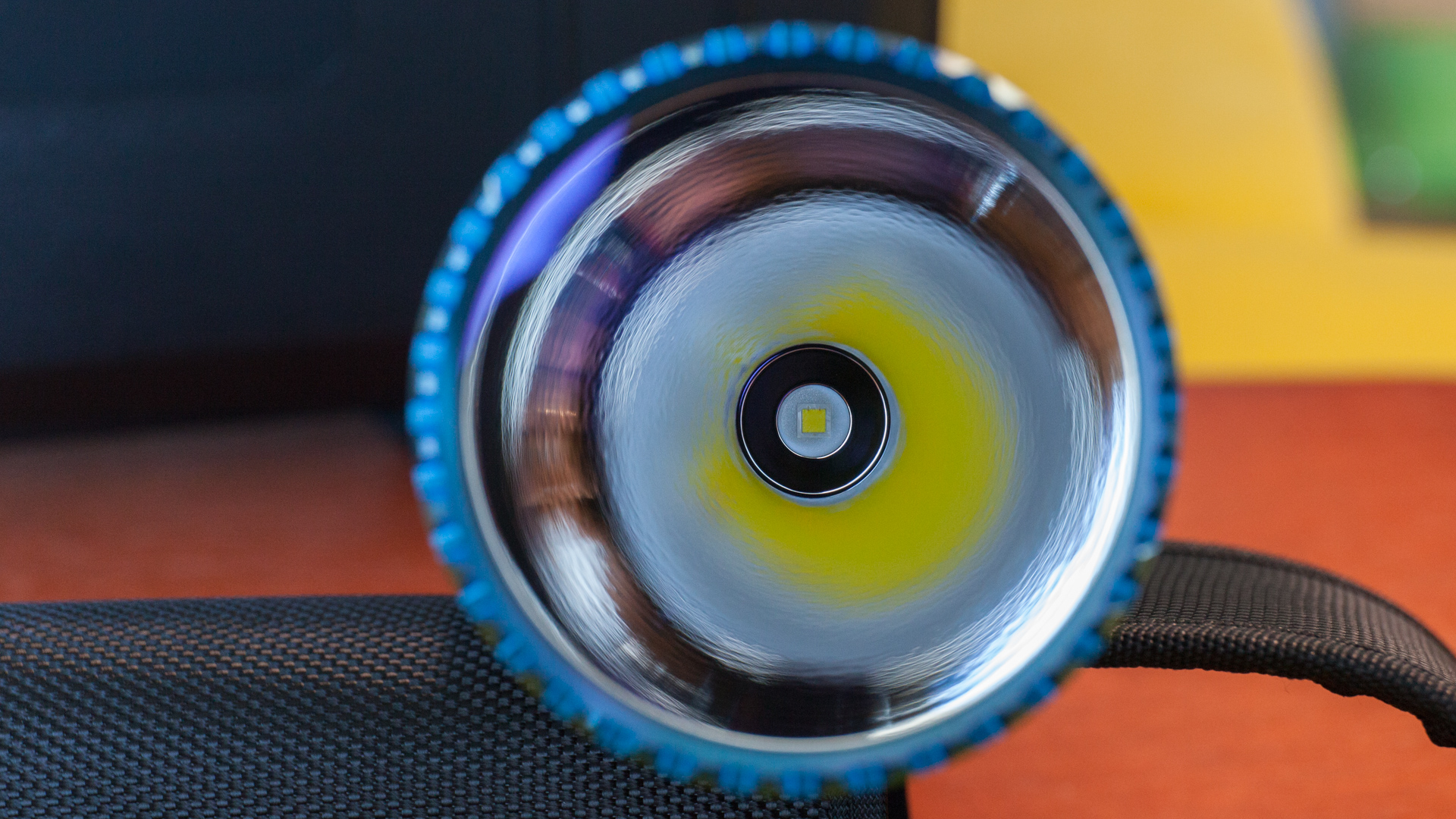 At the bottom of the smooth reflector, there is a dedomed XHP35.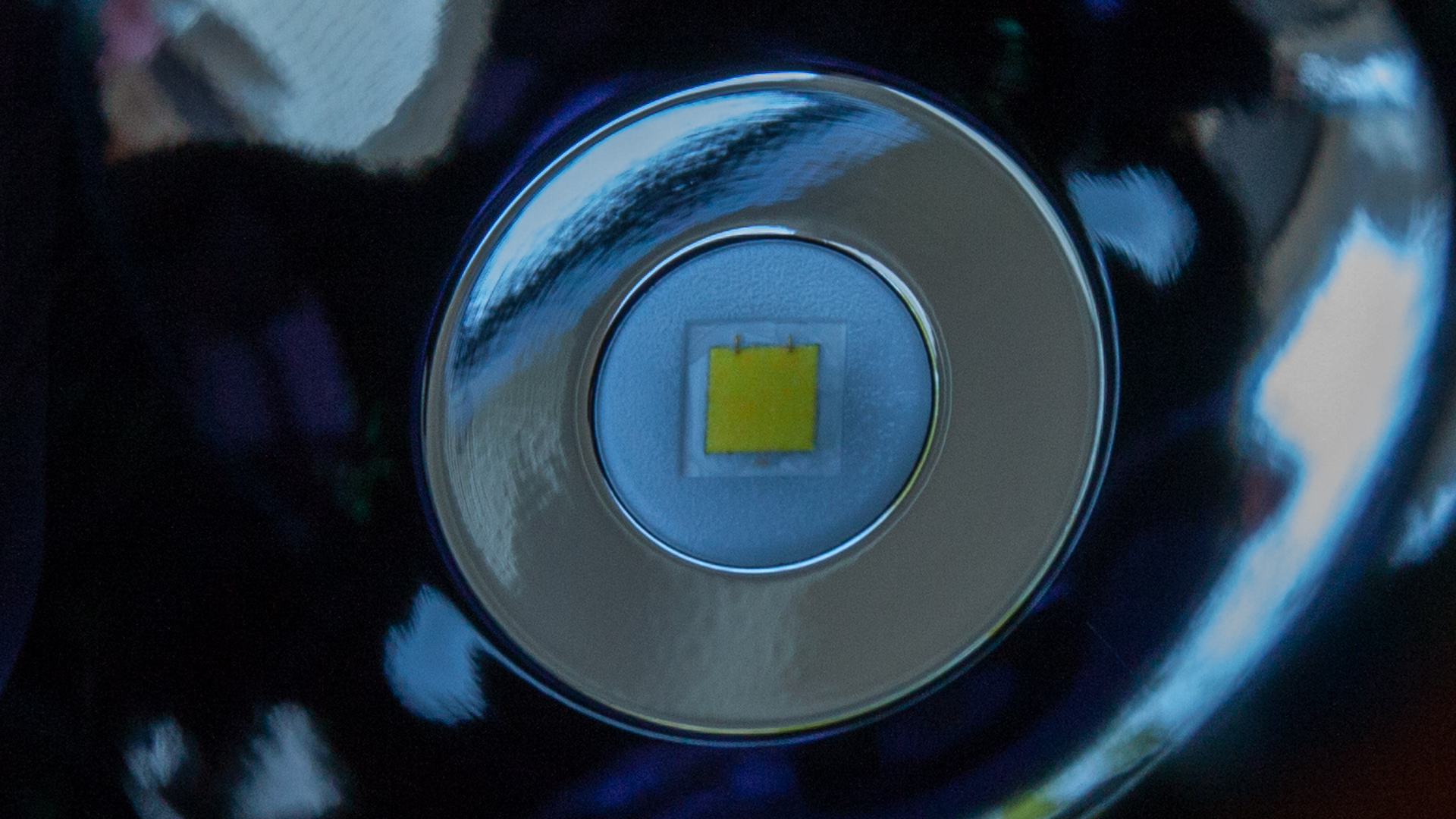 Overall impressions about appearance are exceptionally good. The flashlight is nice, has excellent gift potential and qulity of package. From constructive, I note that built-in charge featuure turns into non-replaceable batteries.
UI
I found it very convenient for myself, you can get used to it intuitively very quickly
I note only the absence of a lock button.
It is worth noting a point that the manual seems to have mistake. The set of modes in the side button includes a turbo, i.e. Looks like this: LOW-> MID-> HIGH-> TURBO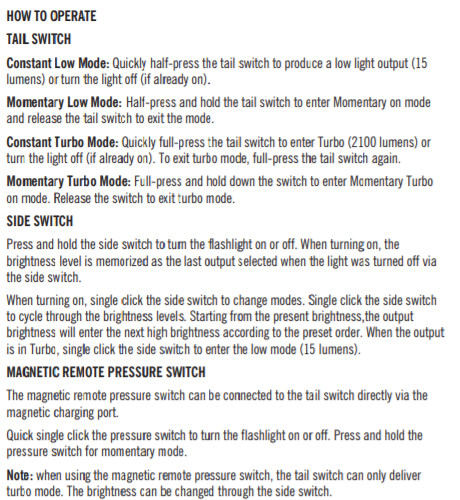 Flashlight performance
No PWM-shimmering at any mode.
Olight placed NW LED in this model, good surprise. Of the Big 3 (to which I also include Fenix and Nightcore), only Olight quite often gives the choice of CW and NW.
Light distribution, of course, typical of a good thrower. Maximum brightness in a hot spot and minimum sidelight. The classic "piercer".
Charging current does not reach stated 2A, but still not bad. What I liked - in the process of charging the flashlight works fully. In this case, you can throw the paverbank in your pocket, attach magnet charge plate on the tailcap and use flashlight.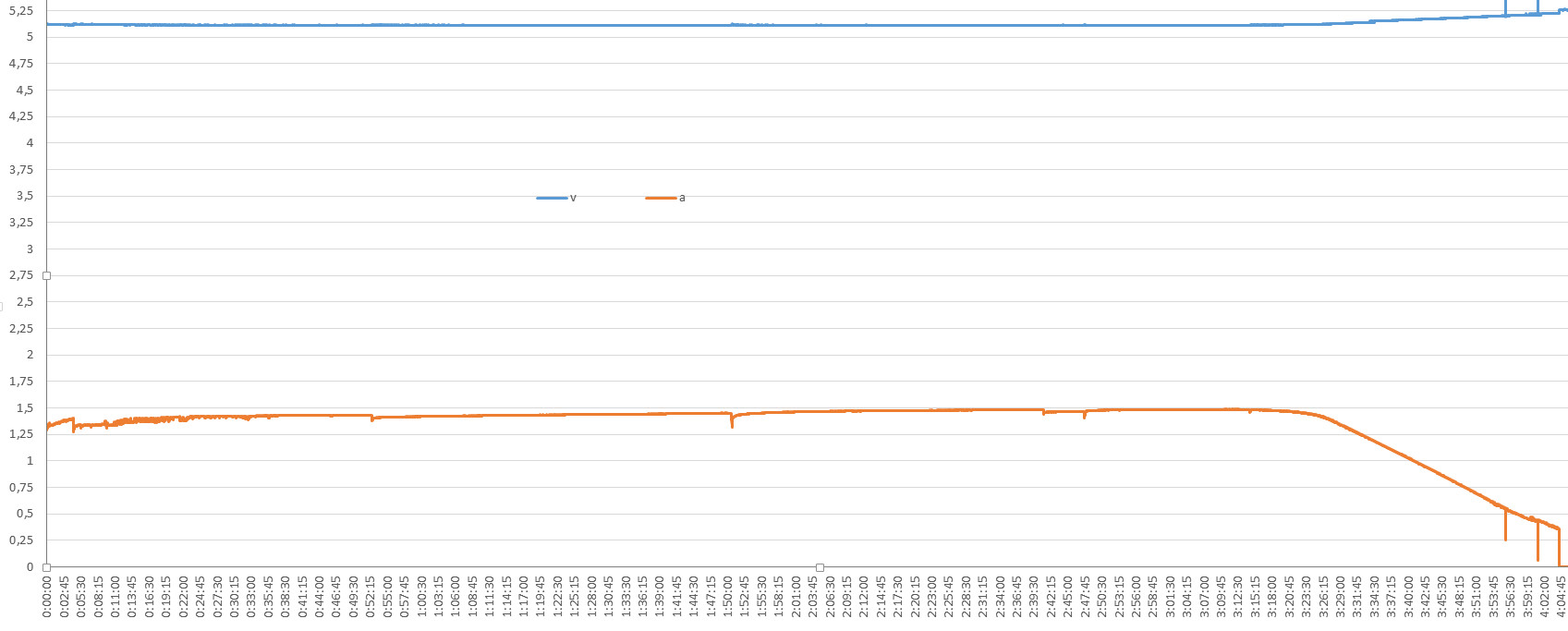 The light is well stabilized. I note that on a deep discharge the brightness with HIGH immediately drops to zero and now it is difficult for me to assess whether this is good or bad. On the one hand, if it stepped down to MID, and then to LOW, then the user would have some kind light reserved. On the other hand, now in HIGH you can use this mode as long as possible without any compromise in brightness. And, damn it. 5 hours is really long. If you check the indicator and go to a MID\LOW in time, there will be no surprises.
Thermoregulation is working. Runtime in TURBO is long enough even when with no cooling.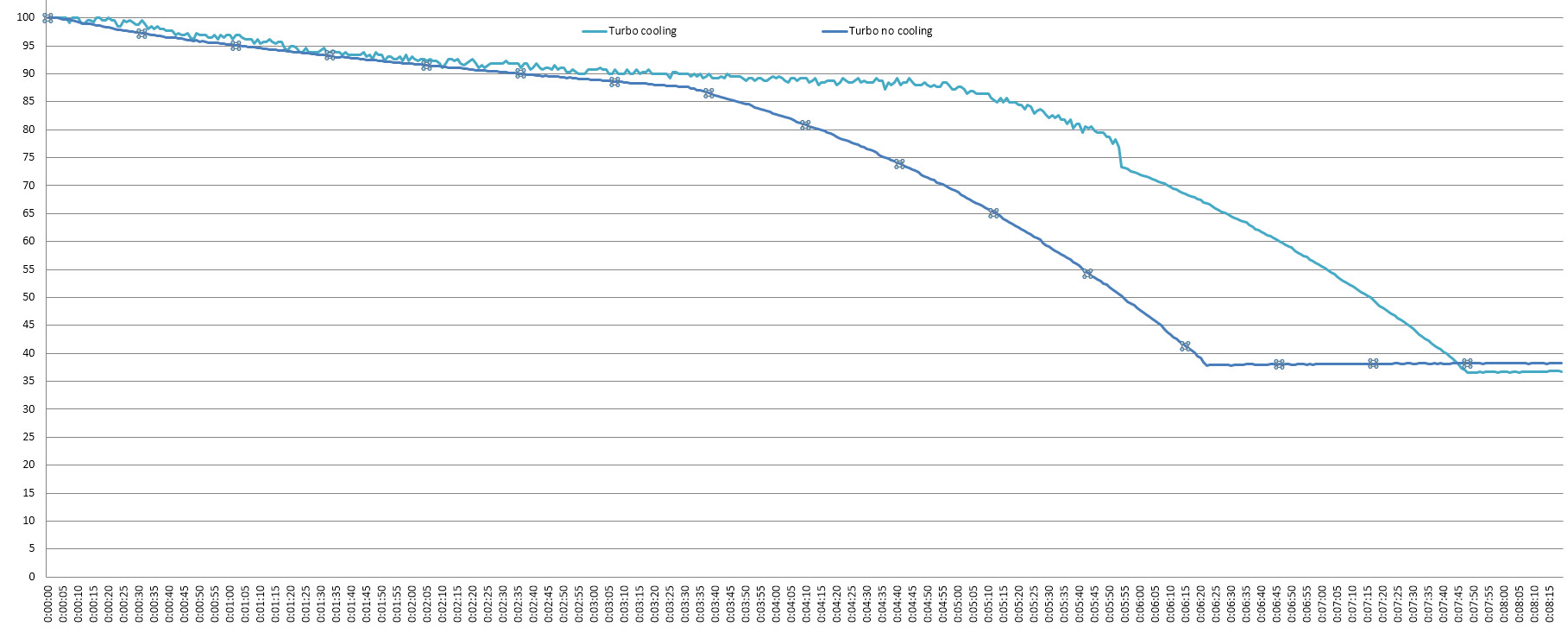 Well, what about throw.
LOW - despite the low brightness, in this mode, the ventilation output on the roof 75m away from me is well visible. 8 days in this mode! Brightness and throw is enough for slow walking around. The only thing is to understand that it is still an uncomfortable light for near-range work.
MID is the most balanced mode. 23 hours of work and at the same time you will be able to light up things rather well at a distance of about one and a half hundred meters.
HIGH - very good throw. 400 meters - easily. in HIGH mode Olight Javelot Pro has a longer throw than the Convoy C8 + XPL-Hi! 5 hours without stepdown (unlike C8+). Very very good.
TURBO - what can I say. This is a bright and very long-range mode. Within 200 meters everything is visible as in the afternoon. 400 meters with a very good degree of ilumintation. Well, I highlighted even 800 meters, it was clearly visible that at this distance you could also work (although optics would already be needed here, the naked eye does not see anything). Excellent throw.
See for yourself. Let me remind you that here Olight states 291,600. 50,000 more than the previous model.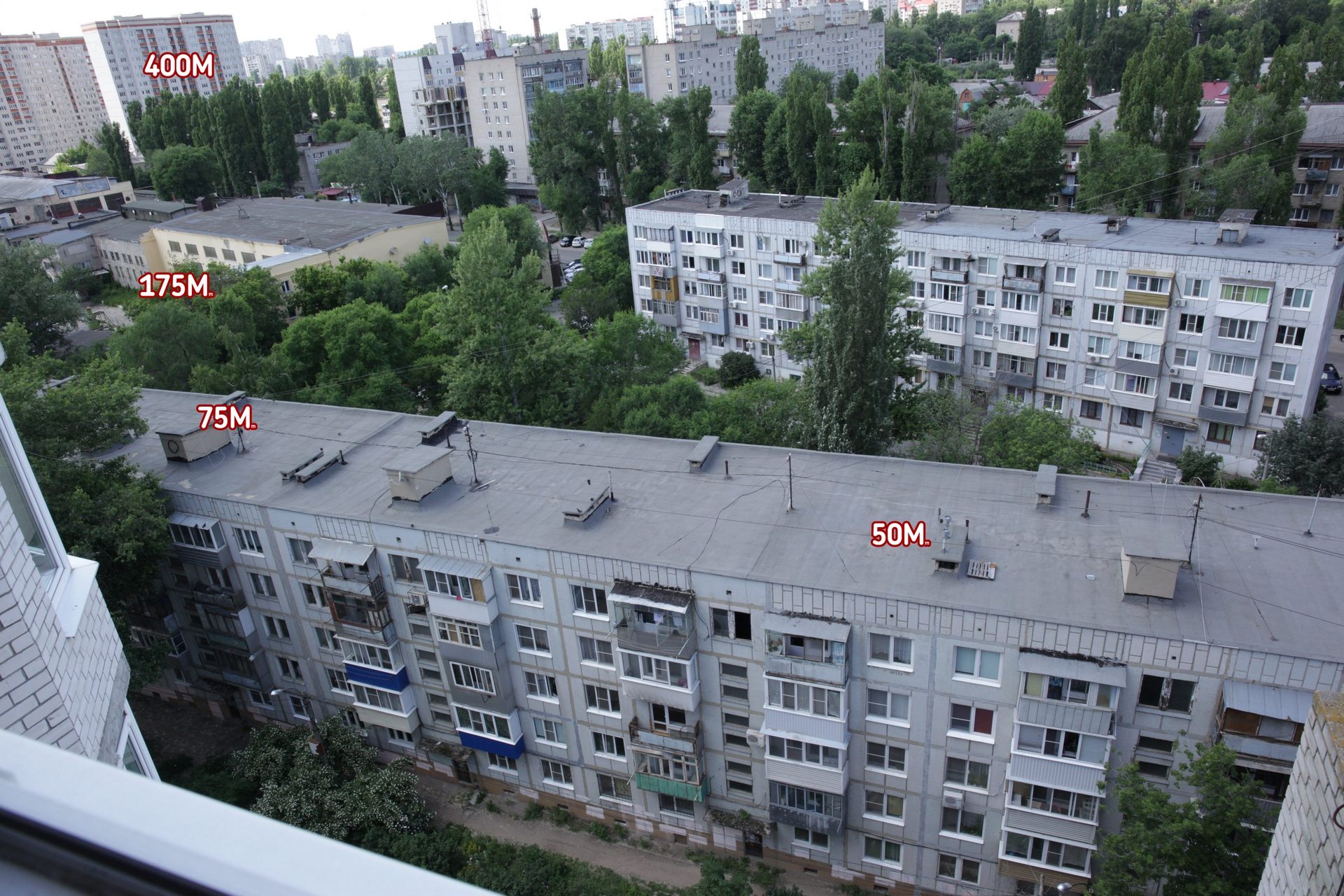 I dont include usual 50m, distance. because there is a very strong overexposure of hotsport in the TURBO and HIGH.
75m
note, even LOW (!) on this mode gives enough light to light up this ventilation box on roof. see, left part of pic is LOW mode and right part is No light mode.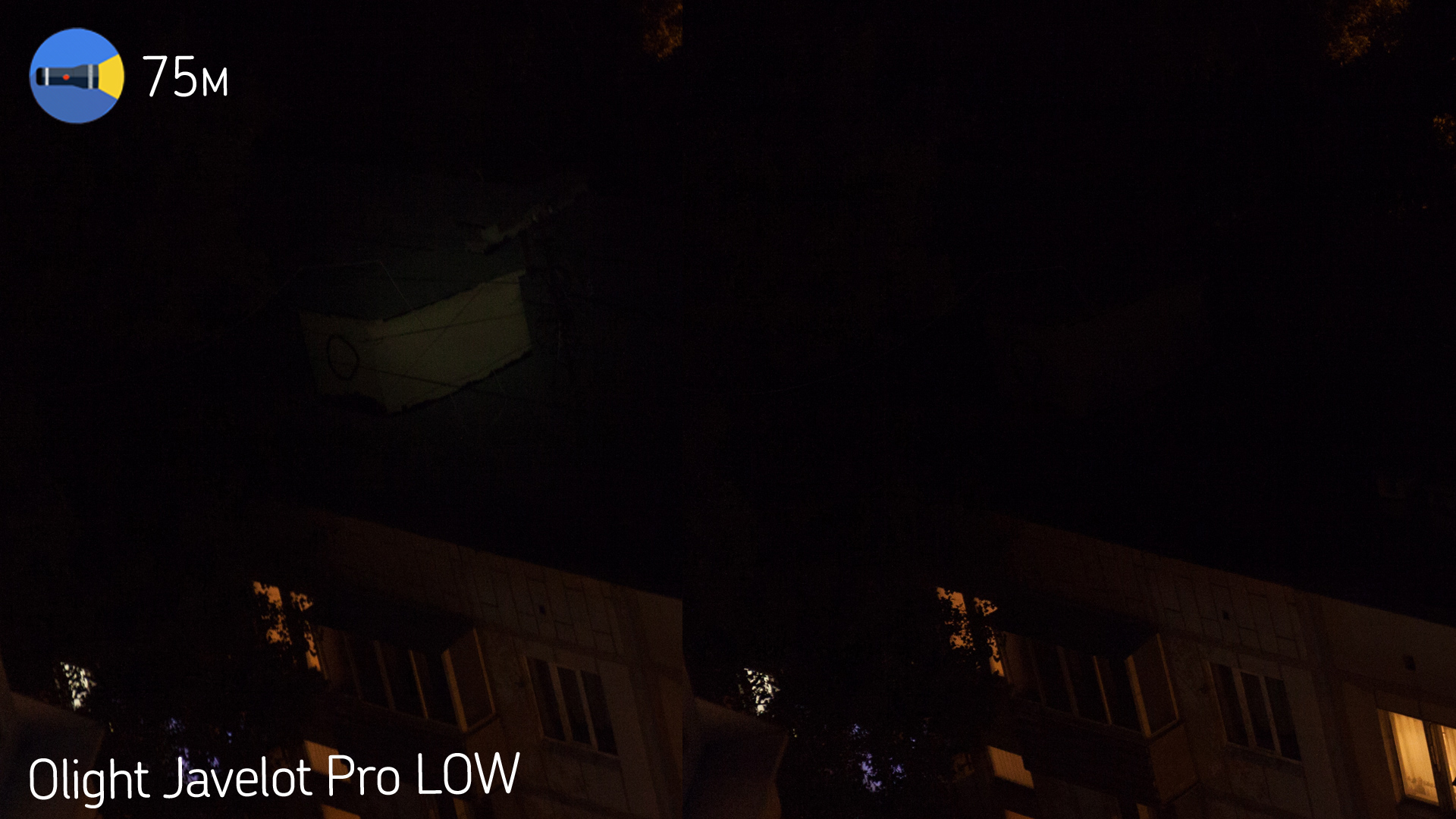 175m Even here there is some insignificant light from LOW again.

400m
excllent throw at High. In turbo mode everything is clears as in daylight.
800m
It is difficult to imagine that someone will have a real need for light at this distance, but if this is a review of Olight Javelot Pro, then you need to test and work at this distance.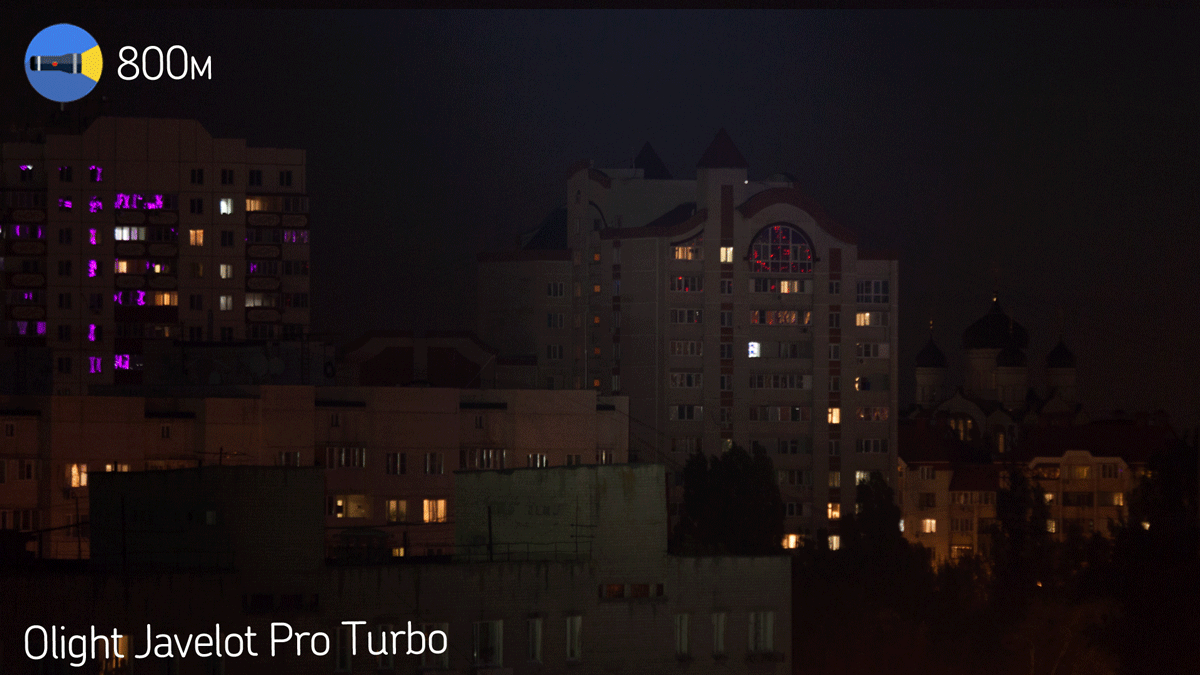 Well, in the video review there is a visual video, here it is even better shown how the flashlight works at different range. I also translated subtitles for you, in case you wanna share it (which will be appreciated)
Overall impressions.
Olight Javelot Pro is gorgeous packed and looks gorgeous. If the flashlight is bought for a gift - will not disappoint.
This flashlight is in TOP-5 throwers (in matter of throw) from that i`ve seen, and may be one or two 2x18650 flashlights can compete with this mode in throw.
So, in this case Olight Javelot Pro will deal with in all situations when you need to enlighten as far as possible. The range of the flashlight in the turbo is far beyond the resolution of the human eye.
If you are purposefully looking for a 2x18650 long-range flashlight, especially for the hunt - throw and ease of operation should not disappoint you. Due to the magnetic contact of the remote button, it can be quickly transferred from a gun mounted to a hand held.
+ throw and brightness
appearance and giftness
UI
built-in charging
modes spacing
neutral light
Remote button on the magnet, you can remove rapidly and use the flashlight from your hand.
- battery pack instead of replaceble batteries (reverse side of built in charging).
- Olight charge plate, you will need to buy a new one in case of loss / damage.
I never managed to see the charge current above 1.5A