Hello
This is my first review on the new server :bigsmile: .
Many of you are very familiar with this light.This is one of the smallest CR123 size lights and often used as EDC light.
Olight S10 is now upgraded with XM-L2 LED and has maximum output of 400 lumens.This is just great output of such a small light.
The user interface is also changed and now is even more convenient and easy to use.
I tested this light in the last month,I used it as EDC light and when I were outdoor late at night to take beamshots.Olight S10 L2 was very helpful light.

Simple and practical design with straight lines makes it excellent choice of an EDC flashlight.
Beautiful matte,black finish,excellent anodizing all over the body.
Big,convenient,easy to use 'electronic' type side switch.It has a quiet click sound.
Good sturdy pocket clip-removable.


The S10 L2 comes in a nice transparent plastic package.
Accessories-very nice lanyard,split ring,two spare O-rings,black silicon pad to replace the magnet in the tail(if you want to remove it),User Manual.

Specifications (from Olight website)
a)Aviation grade aluminum body, with anti-scratch type III hard anodizing.
b)Updated the LED to the latest Cree XM-L2.
c)There are four brightness levels: Moon-light, low, middle and high. These levels can be memorized when the light turned off; one special mode: strobe.
d)Under off status, single click will turn on the light, quick double clicking can get high brightness, triple-click enable strobe mode, while long time press enable moon light.
e)With strong magnet in the end of tail, the flashlight can be stick on the iron surface. The magnet can be removed and replaced by users.
f)Invertible U-shape embrace clip.
g)Stainless steel head ring, which can bear higher tensile impaction
h)Flat tail cap, can be easily head stood.
i)S10 has high efficient synchronous boost-buck driver circuit, perfectly support CR123A & RCR123A battery.
j)Time based thermal management, after lighting on high mode for 4.5 minutes, the output ramps down to 50% of high brightness to avoid overheating.
Dimension
Length 70,5mm
Diameter 23mm
Weight 42gr
Nice compact flashlight.

Flat tail cap for secure tail-standing.


[
Compared to other CR123 EDC flashlights.
JETBeam RRT-0 and Sunwayman S10R.


Nitecore RCR123A on the left,AA battery on the right.


Nitecore RCR123A,Olight S10 L2,Sunwayman S10R,Jetbeam RRT-0,Klarus RS16,AA battery.


Very good machining.Excellent anodizing and knurling.I like the square shape knurling.Provides very good grip and is easy to clean.
Triangular-cut threads,very well made.Anodized for wear resistance.

There is a strong magnet under the spring in the tail.It gives a great possibility of attaching the flashlight to metal objects and hands free use.
The magnet can be easily removed with tweezers.
The battery tube is of good thickness.
Reverse polarity protection in the head.


The battery tube is sized for standard CR123A batteries and longer protected 16340 batteries don't fit.
I use a Nitecore NL166 battery.It has minimal dimensions for protected battery and fits well.
The S10 L2 is equipped with the latest and most efficient LED,Cree XM-L2.
Aluminum orange peel reflector for smooth floody beam.
Diameter 16 mm.
Ultra clear glass lens with anti-reflective coating.
Thick stainless steel bezel protects the glass and reflector from impact.

Perfectly centered LED.


User Interface
The UI is simple-convenient and easy to remember.
4 constant brightness modes and one flashing mode-Strobe (10Hz).
High 400 Lumens / 1h 15min
Mid 85 Lumens / 7,5h
Low 5 Lumens /108h
Moonlight 0,5 Lumens / 360h
Press the side switch to activate/deactivate the light.
Press and hold the switch to cycle thru the different brightness levels Low-Mid-High(repeating in this order).
To activate Strobe-quick double press from any mode.Press and hold the switch to return to the previously used mode.Short click will turn off the light!
Olight S10 L2 memorizes the last used mode and next time when you turn on the light,it will start with the last used mode.
It does not memorize Strobe mode.
There is a very nice feature in the new L2 version of the S10 flashlight for quick access to High and Moonlight mode.
From Off, press and hold the switch for 1 second to activate Moonlight mode.(Actually this is the only way to activate Moonlight mode)
From Off, quick double press activates High mode directly.It's a very useful EDC feature.
There is also locking function. From OFF,press and hold the switch for more than a second (the Moonlight mode will start and stop) to lock the switch.
To unlock,press and hold for a second will activate Moonligh and the switch is then unlocked.(the flashlight comes always on Moonlight mode after unlocking)
This is good protection of accidental activating the light when carried in the pocket.
Runtime and measurements
I tested the flashlight with a Nitecore RCR123A battery.
Battery voltage(no load)=4,16V
Current draw
I High= 960mA
I Mid= 156mA
I Low= 18mA
I Moonlight =8mA
When the light is off,it is actually in stand by mode and takes a little current 5 μA for that.This is a really low value,so it will not affect the battery lasting.
The S10 L2 makes a brightness step down after 4 minutes on High.
This is made to protect the flashlight from overheating.
After the step down the brightness is flat for about 45 minutes.Excellent result
And then a little surprising cut-off.

Measurements taken with a lux meter.
The four current draw levels in percentages.

HD Video
No voice,but added annotations.
http://youtu.be/4Au1wjg3IFs
Turn on the annotations.
Beamshots
The light from the XM-L2 LED used here is warmer tint than most flashlights I've tested.It is not clean white color.
Floody beam with big hotspot and quite enough throw for EDC use.The hotspot is very bright used at close distance.

1 meter,White wall,1/20 sec,WB Cloudy

Olight S10 L2 Low-Medium-High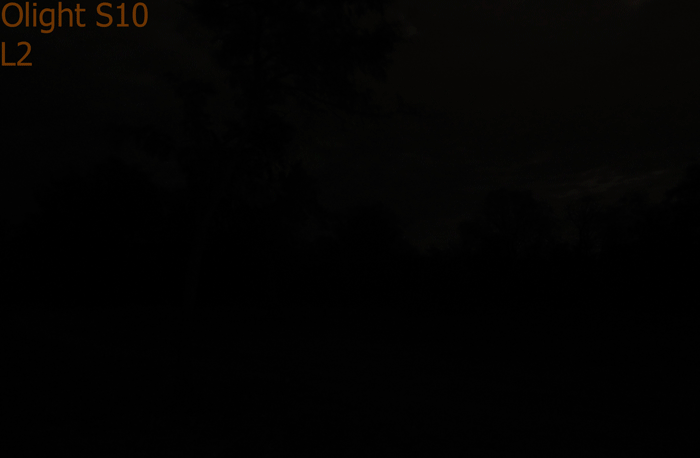 Comparing to other flashlights. Distance 30 meters.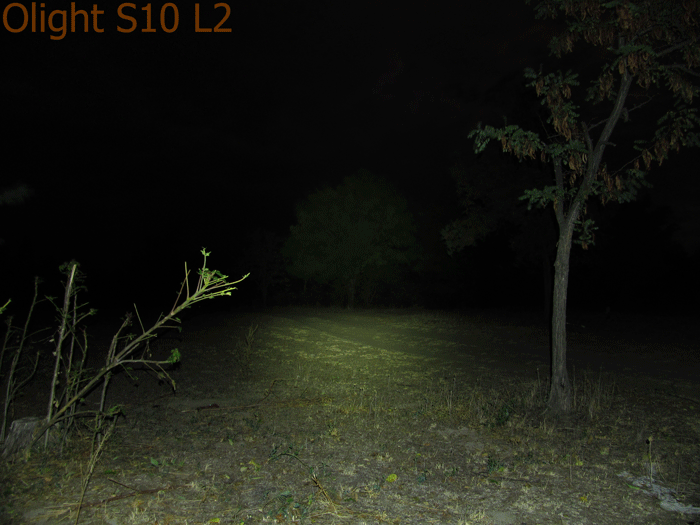 As usual I tested the waterproofness of the Olight S10 L2.
Waterproof IPX-8 rated.
Olight S10 successfully passed the test without any problem.No leaks,no fog under the lens.
Fully functional,even if it is wet.

The magnet in the tail provides many possibilities for attaching this small light to different objects.
This makes it very useful hands free light.
My full equipment. :bigsmile:

A few 3D pictures for the fans! 8)

Check out the 3D spring, it is very attractive. 8)

Link to the gallery,to see these 3D pictures in full size and with black surrounding.
http://flic.kr/s/aHsjJUaxgL
Thanks For Reading!
Olight S10 L2 Baton was provided by Olight for test and review.