A few words for ThruNite TC12 V2 :
TC12 V2 is a compact and practical USB rechargeable EDC LED flashlight, which combines TN12 2016 and TC10 V2 characteristics,
ideal for military, army, law enforcement, firefighters, police, emergency, security, hunting, camping and other outdoor activities use. It adopts one CREE XP-L V6 LED and can make output up to 1100 lumens - more than enough to cover everyday use. Equipped with ThruNite ITC technology, and virtually unbreakable aircraft grade aluminum body, TC12 V2 will be absolutely a great Rechargeable LED Flashlight for your choice.
Overview/Specifications :
LED: CREE XP-L V6 LED with a lifespan of 20+ years of run time.
Runs on: 1x18650 battery (included).
Working voltage: 2.75V-6.0V.
Charging current/voltage: 5V, 1A.
Output & Runtime (Tested with ThruNite 3400mAh 18650 battery):
Strobe(1100 lumens /3.6 hrs),
Turbo(1100 lumens/2.2 hrs),
High(472 lumens /3.4 hrs),
Medium(200 lumens /8.7 hrs),
Low(21 lumens /2.5 days),
Firefly (0.5 lumens /49 days).
Peak beam intensity: 14399cd.
Max beam distance: 240m.
Power interface: 1 * micro USB charging port.
Waterproof to IPX-8 Standard (2 meters).
Impact resistant: 1 meters.
Working Temperature: –40℃-80℃.
Dimensions: 140mm (length) x 25.4mm (body diameter).
Weight: 87g (excluding battery).
Accessories: Holster x1, Spare O ring x2, Lanyard x1, Pocket Clip x1,
18650 3400mAh Battery x1, USB Charging Cord x1.
First Look :
Flashlight in it's box , classic brown Thrunite box :
Package Contains :
Flashlight
Holster
User manual
"Thank you" card
Lanyard
2x O-rings
Pocket Clip
Extra rubber boot
E-switch rubber "sealing"
Extra charging port rubber sealing
Thrunite 18650 3400mAh battery
A closer look :
Flashlight is slightly longer compared to classic 18650 lights (140mm) :
Flashlight has a SMO reflector and AR coated lens :
It changes modes through the e-switch (and tailcap switch works as an on/off switch) . Note also the little led in the center of the switch , which works as a battery indicator (more info below) :
Back side , with the USB charging port :
Tail switch (on/off function) :
Clip (removable) :
Nice , "square" & anodized threads :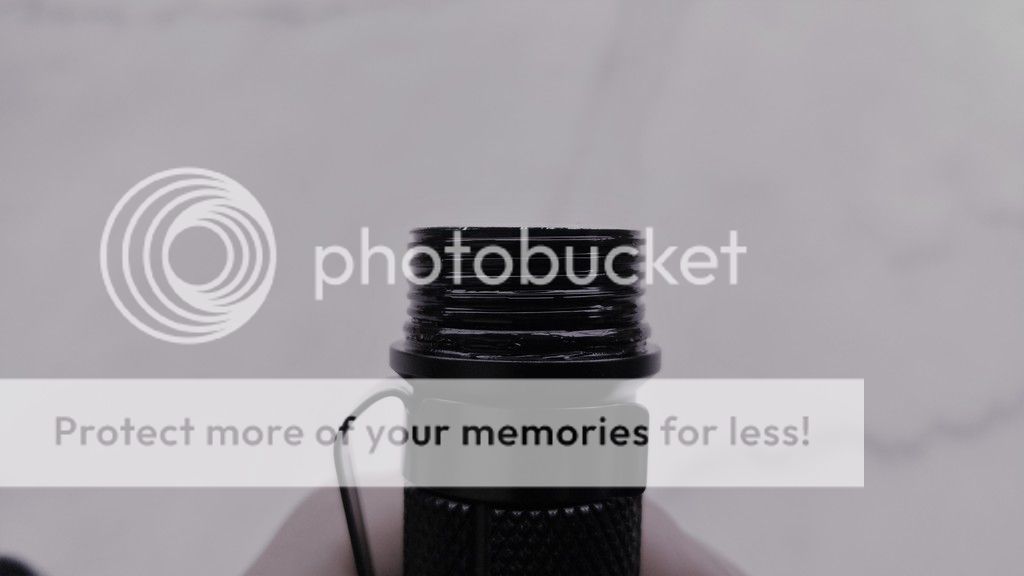 Flashlight's Parts :
Flashlight head :
Photo coming soon…
Tailcap :
Flashlight's Holster :
Holster is designed for TC12 , flashlight fits very nice! :
Battery :
This is the battery that comes with the light :
It is button top , protected :
Perfect fit , with enough space for the springs :
Actual capacity tested : 3422 mAh
How it works (&modes) :
Flashlight uses the switch at the tailcap for on/off function . E-switch navigates easilly through modes , with a short press(Firefly - Low - Medium - High - Turbo) . Long press activates Strobe . Also flashlight has mode memory .
If the flashlight is on for more than 4-5 seconds in one mode , if you attempt to change mode it will enter Firefly , and not the next mode (Next click will enter Low , etc ) .
In other words :
Turn On/Off :
Press the tail switch halfway to momentarily ACTIVATE the light. Click the tail switch to turn the light on and off.
Change Modes :
With the light turns on, press the side switch to circle through five different mode outputs from Firefly, Low, Medium, High, and Turbo.
One Key to Strobe :
With the light on, press and hold the side switch for about 1 second to enter into Strobe mode (12.5HZ),
and a single press the side switch will return to the last mode before Strobe.
Note : Firefly mode is great

! It is really low , i like it!
Battery Indicator :
In all modes except firefly , the led in the e-switch indicates the % battery capacity :
When Blue light is ON : Battery capacity: >20%
When Red light is flashing : Battery capacity: 10–20 (around 3.5 Volts , after 1 hour and 15 minutes in turbo)
When Red light is on , means battery needs charging : Battery capacity: <10%
Usb Charging :
When you plug the Micro-USB charge cable into the power adapter , LED indicator will flash purple. It means that you need to click the tail switch .
When the flashlight is being charged , RED led is on. Now the light should be ON . This happens because you can even access firefly and low mode while flashlight is charging . Short e-switch press changes modes and long press turns the light off .
After being fully charged, Blue Led will be on. It takes around 4.5-5 hours to fully charge the 3400mAh battery.
Charging Current : 1.00 A
Termination Voltage : 4.21 V
Measurements :
Thrunite 3400mAh battery was used in all measurements
Lumens on highest setting (highest mode) : 1044
Tailcap measurements (amp draw) :
Firefly - 2.8mA
Low - 32mA
Medium - 0.347A
High - 0.916A
Turbo - 3.18A
Runtimes :
Turbo (2.2 hours)
Strobe (3.6 hours)
High (3.4 hours)
Medium (8.7 hours)
Low (2.5 days)
Firefly (49 days)
My test , with thermal data :
Turbo mode :
Intensity :
TC12 V2 : 11,7 kcd
Beamshots :
Wall @ 12m ( ISO 200 , S 1/4 ) :
Control shot :
Turbo :
High :
Conclusion :
A great light , or a better all-in-one solution if i could describe it in other words . A great light , with over 1000 lumens , a nice battery indicator and a fast usb charger inside the light . More info can be found in my detailed review

Comment if you want me to check something on the flashlight , or tell your opinion . Thanks !
Official Website: (5% OFF with Coupon Code: THRUNITE , limited time!) : http://www.thrunite.com
Amazon US : Amazon.com: ThruNite