The UltraFire XG-V3
This is certainly a strange looking light, but it's not alone. In fact, it wasn't even first. The XG-V3 takes it's design cues from the Lumencraft Gatlight which is itself, as the name suggests, somewhat reminiscent of the business end of a Gatling Gun. But this UltraFire branded incarnation is far from a straight up clone and offers some unique and useful features, along with some somewhat perplexing ones as well. Overall it's been fun to play with so far, and I'd have to say that while I do have some criticisms, I like it quite a lot.
Summary:
Battery:

1 x 18650

LED Type:
Cree XP-G (CW)

Switch:

Reverse clicky

Modes:

High, custom (programmable), strobe, SOS

Mode memory:

Yes

(2 seconds)

Reflector:

Smooth

Lens:

Glass

Tailstands:

Yes

Price Paid:
$0.00 (provided by DX for review in a recent giveaway)

From:
Dealxtreme
What I like:
Solid stainless steel construction
Feels nice and solid in the hand
Interesting design
Programmable mode 2
Rich feature set appeals to the gadget lover in me
Has no trouble with longer protected 18650s
Nice smooth high quality threads
What I don't like:
One aspect of the UI bothers me a little (more on that later)
Coloured LEDs are kinda gimmicky, and potentially "cheapen" the light
Quite heavy for it's size
Disco modes
Features / UI:
The four standard modes (high, custom, stobe, SOS) are accessible in the usual manner for a reverse clicky: turn the light on, and half-press the tail switch to cycle through them.
Heading into an exploration of the XG-V3's advanced features, it's probably most useful to think of modes 1 and 2 (high and custom) as having sub-modes. These sub-modes are accessible via a double half-press of the tail switch at the correct moment. The UI for the coloured LEDs is a sub-mode of mode 1 (high), and the programming interface for mode 2 is a sub-mode of mode 2 itself. Here's how it works:
About 2 seconds after first entering mode 1 or mode 2, the light will blink momentarily. This is your cue. If you perform a double half-press within the allotted time, you will enter the sub-mode. If you miss the window (which is about a second or so), you'll have to try again either by cycling back through the main modes, or by power cycling the light. But there's nothing to be concerned about here. It might sound a little complicated, but it's actually very easy.
UI for Coloured LEDs: As mentioned above, the UI for these is accessible from mode 1 (high). When entering this sub-mode, all 8 coloured LEDs (2 white, 2 red, 2 green and 2 blue) will illuminate, and the main LED with turn off. Within this sub-mode itself there are 2 modes. In mode 1, all 8 LEDs are illuminated simultaneously. In mode 2, coloured pairs illuminate sequentially in a counter-clockwise direction. In other words, the reds will illuminate for about half a second, then the greens will illuminate for about half a second, then the blues, then the whites, and so on. You can cycle through these two modes with a half press, just like the main flashlight modes. Exiting back to flashlight mode is done from mode 1 of this sub-mode, again by waiting for the coloured LEDs to blink, then executing a double half-press.
UI for programming mode 2: Again, as mentioned earlier, this is accessible from mode 2 (custom). When entering this sub-mode, the light will begin ramping it's brightness from low to high. After reaching maximum brightness, it will jump back to low and begin ramping up again. This cycle will continue until you either perform a single half press, or turn the light off. At that point mode 2 will be programmed with whatever output level it reached before you ended the ramping cycle.
I hope all that wasn't too convoluted. Again, it's much easier to do than it is to explain.
Performance:
My DMM is quite accurate when it comes to measuring straight up constant current, but I'm not sure how accurately it averages pulses, so while you can trust the numbers obtained on mode 1 (high), take the measurements of the possible current range selectable for mode 2 with a grain of salt. It's averaging strobe as well, but I'm positive that strobe is pulling the same amount of current with each pulse that SOS is.
Protected Panasonic NCR18650A @ 4.04v:

High:

1.21A

Custom (range):

0.06A - 1.12A

Strobe:

0.57A

SOS:

1.15A

F5 Mode 1:

0.02A

F5 Mode 2:

0.01A
PWM is very noticeable at the bottom end of the range of selectable values for mode 2, and becomes less noticeable as you ramp up.
I don't have an integrating sphere, but comparing against the known values of my Zebralight SC600, using a light meter, I'd estimate output on high to be somewhere between 250 and 300 lumens. A possible upgrade to a higher binned XP-G or XP-G2 is on the cards for this light.
Having said that however, lumens aren't everything. The XG-V3 has a very nice beam profile, with a nice bright hotspot and plenty of spill. It's still enough light for most of the everyday things I get up to. Here's a beam shot: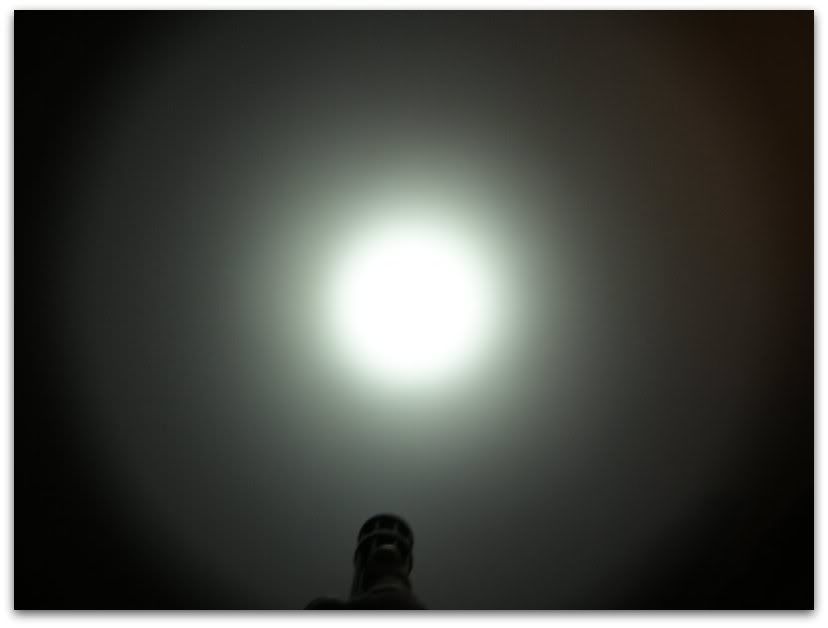 Thoughts and opinions:
I've shown this light to a number of friends and relatives for the purpose of soliciting opinions. Surprisingly the aesthetics have been met with universal praise. I liked the design immediately myself, but I honestly expected it to be a love it or hate it kinda thing, and I thought at least a couple of people were going to turn there noses up at it. But then again, my sample size was small. Still, the most common observation was that it looked and felt like a solid, well built light, and it does and it is. I haven't disassembled it yet, but if you're interested in the innards, _the_ did a tear down as part of his own previously published review here. Also see JohnnyMac's LED mod for this light here.
One of my friends in particular became less enthused with this light when I demonstrated the coloured LEDs in action. He said that it "cheapened" the light somehow, and I have to agree. I'm not sure what the engineers were thinking when they decided to include these, but I think it was a mistake. Who were they trying to appeal to? Children? A case could be made for the utility of 8 white LEDs, as the light could then become something of a low power low output lantern, but ultimately the coloured LEDs seem to be little more than a failed attempt to trick out the light in an impressive way.
Not everyone is going to agree with me on this however. Some people said they were "cool". The funny thing is that while I obviously disagree, I have to admit that I find myself playing with those modes anyway, kinda like how you occasionally catch yourself singing a few lines of a song you hate. It's all part of the struggle between your intellect, and your inner child, or whatever. In any case, they are definitely not practical.
One other thing I dislike a little is the momentary blink that occurs a couple of seconds after you turn the light on in mode 1 or 2. I understand it's there as a prompt, but the UI could be designed without it. I like my lights to come on and stay on. But this is a minor complaint.
Final words:
Overall, the interesting and unique design, the excellent build quality, the pleasant beam profile, and the simultaneously intriguing and perplexing feature set, definitely make this a worthy addition to a flashlight collection. It's a light like no other.