Hello Everybody!
This is a review about Wuben T70. I got it directly from Wuben manufacturer. They sent me the light and I make a honest review for it. No other compensation recieved for this review other than the flashlight.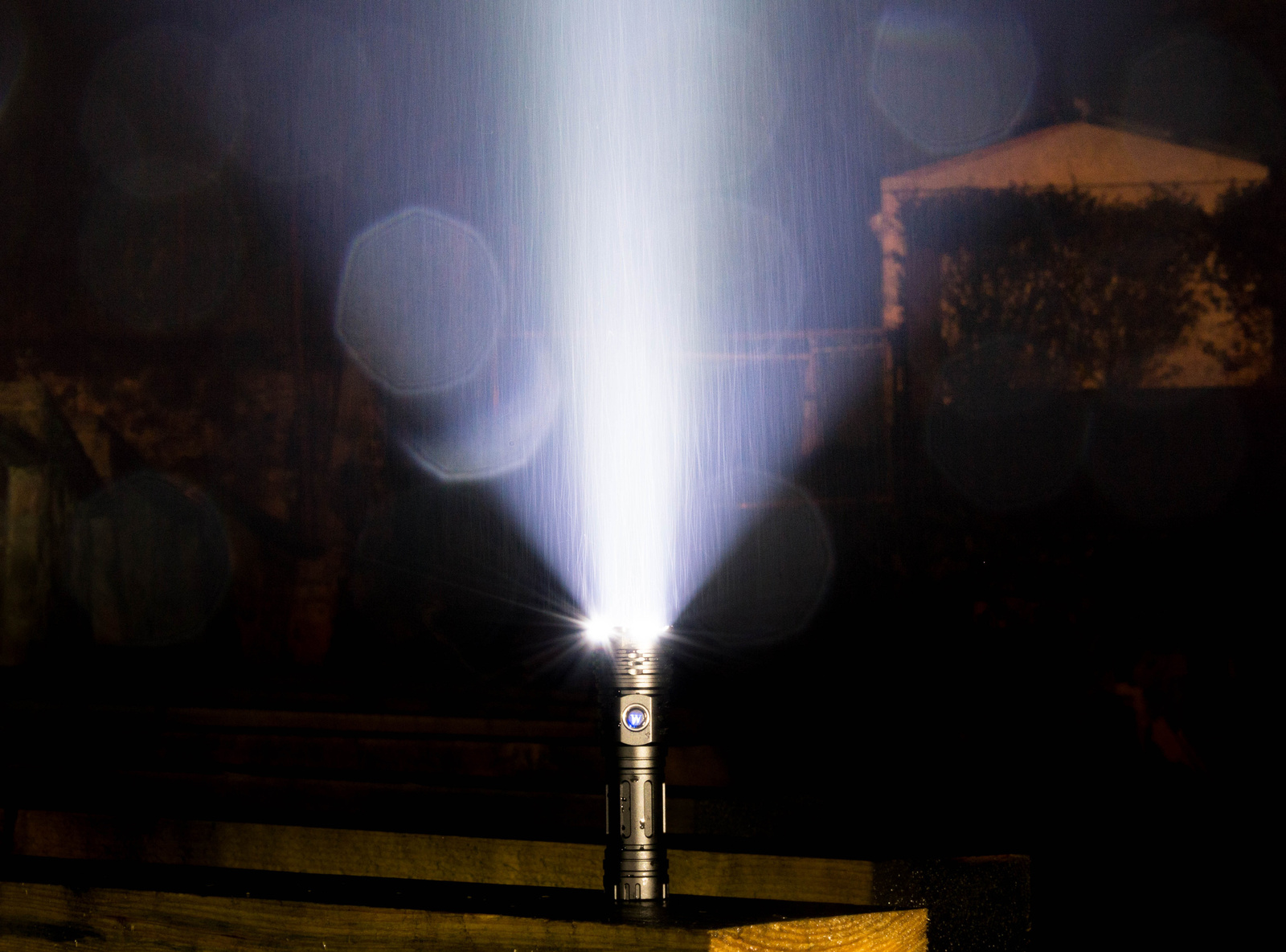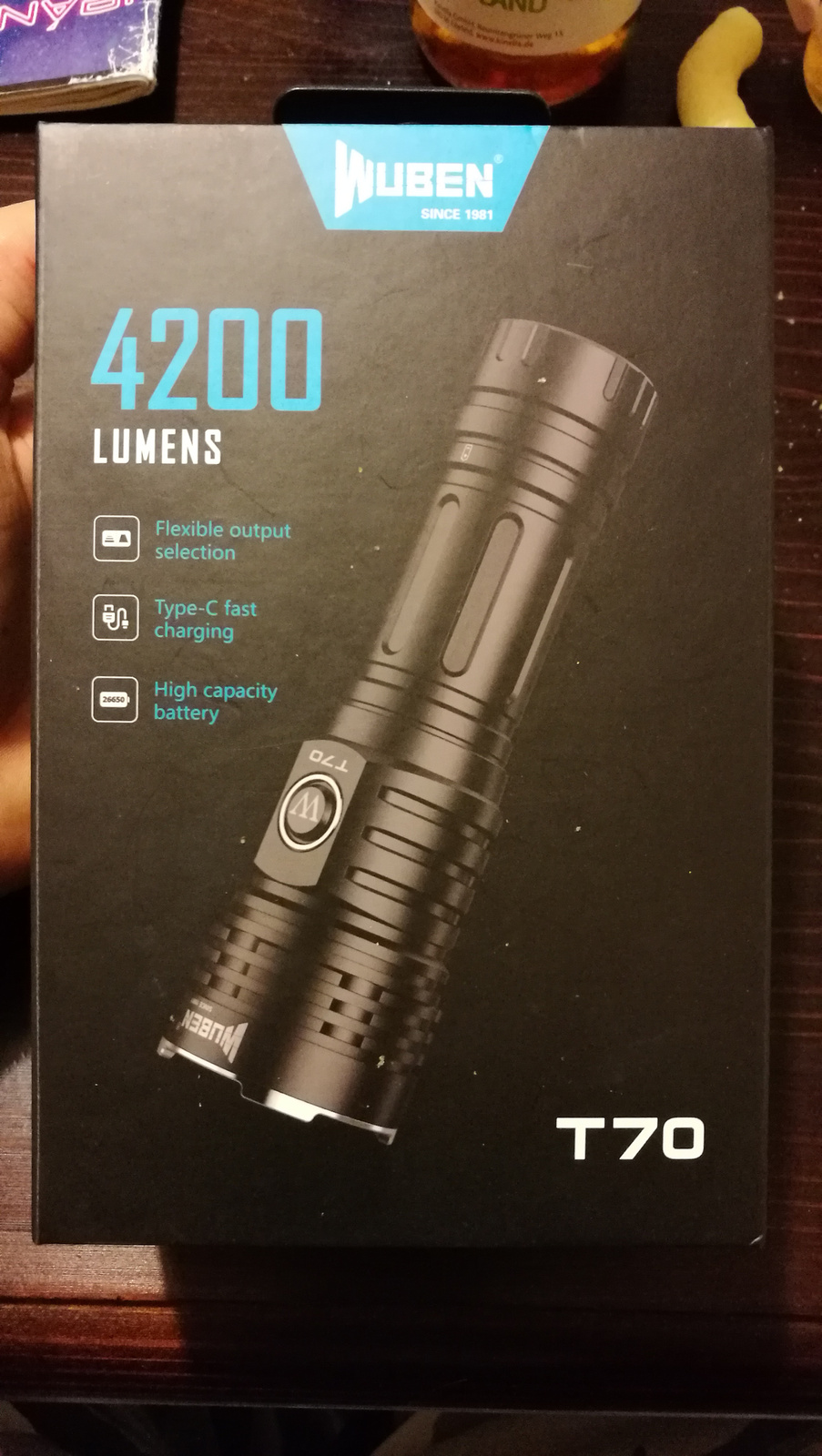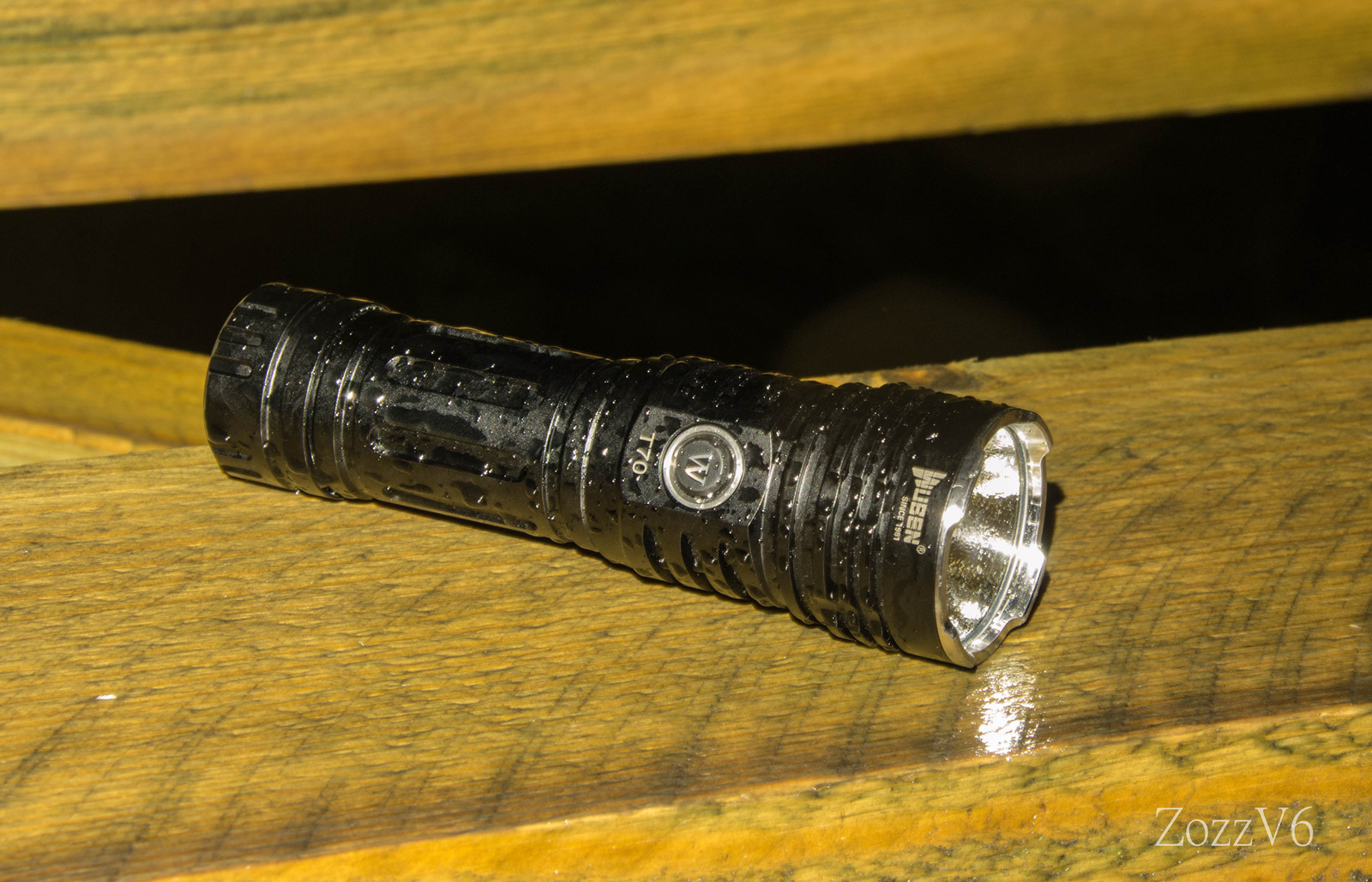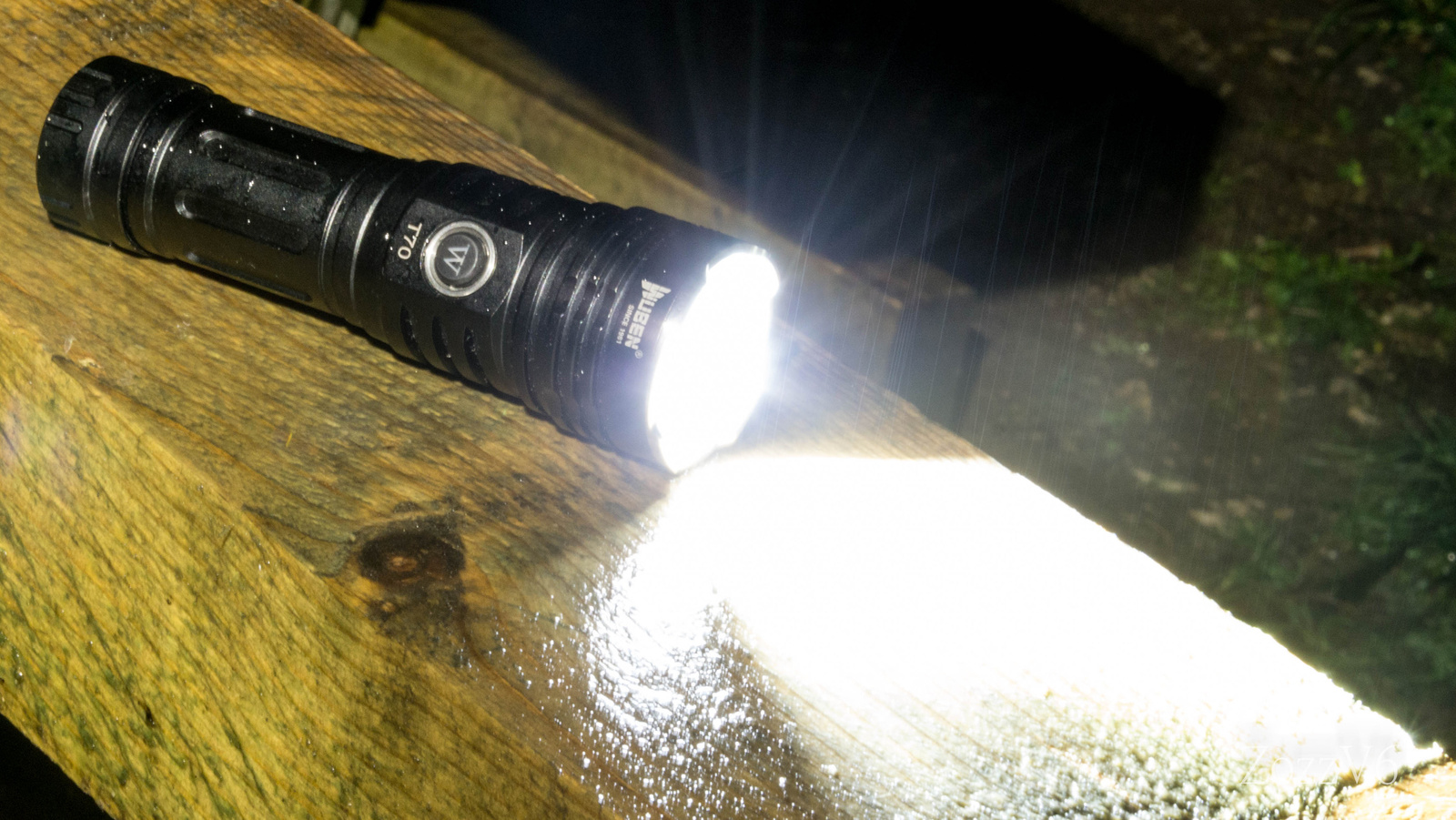 First here is my video review. I advice that watch the video and also read this text review to have a complete picture of the flashlight and to get everything because maybe I forgot to mention some things here or in the video. So the text and the video make this a complete review.
https://www.youtube.com/watch?v=j0V7IU7cEzg
The flashlight uses Cree XHP70.2 neutral white led on a copper DTP MCPCB and the factory data claimed 4200 lumens with Wuben branded 26650 li-Ion battery.
It also accepts button top and flat top batteries but it came with a battery installed.
Packaging and contents of box: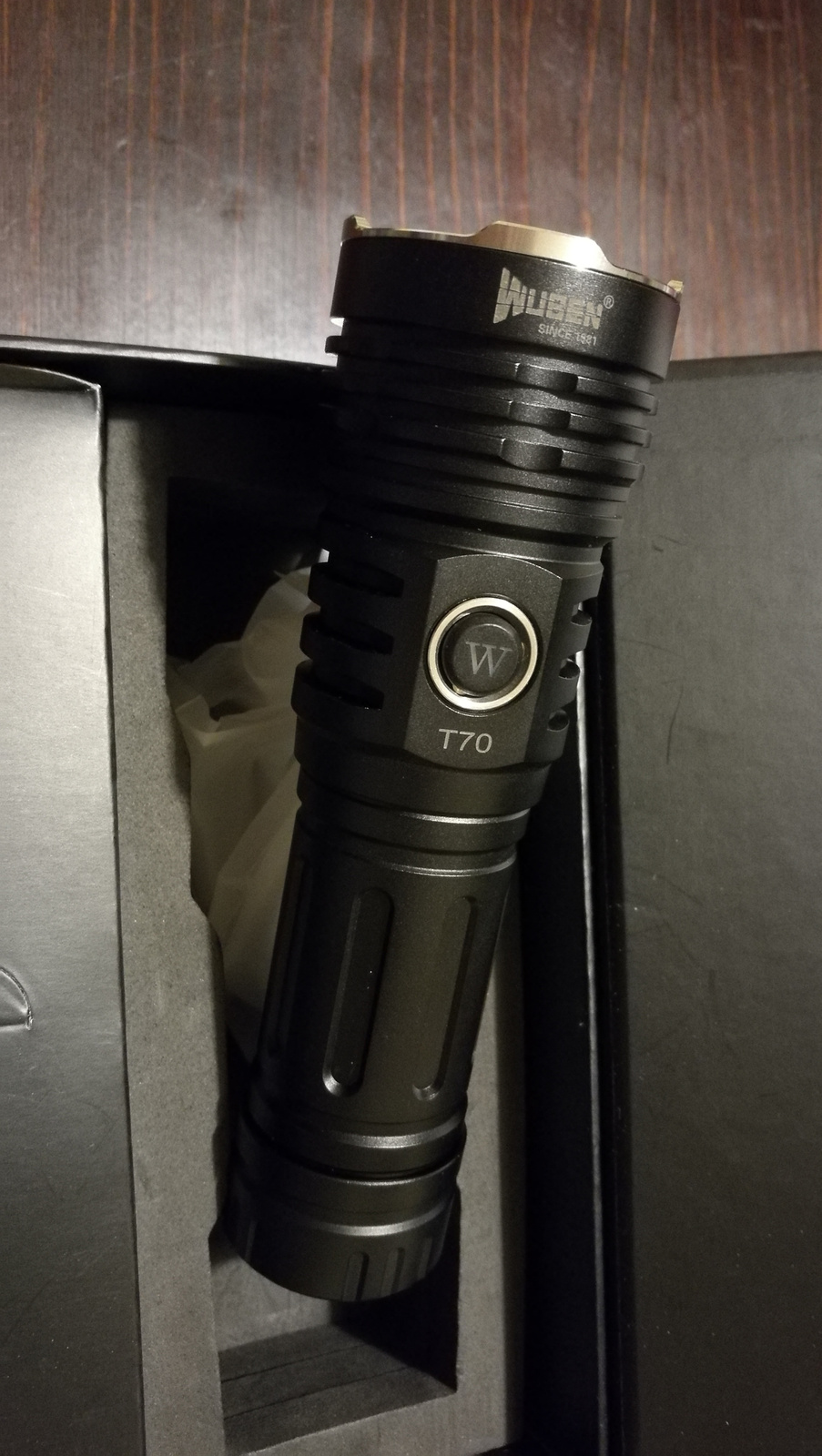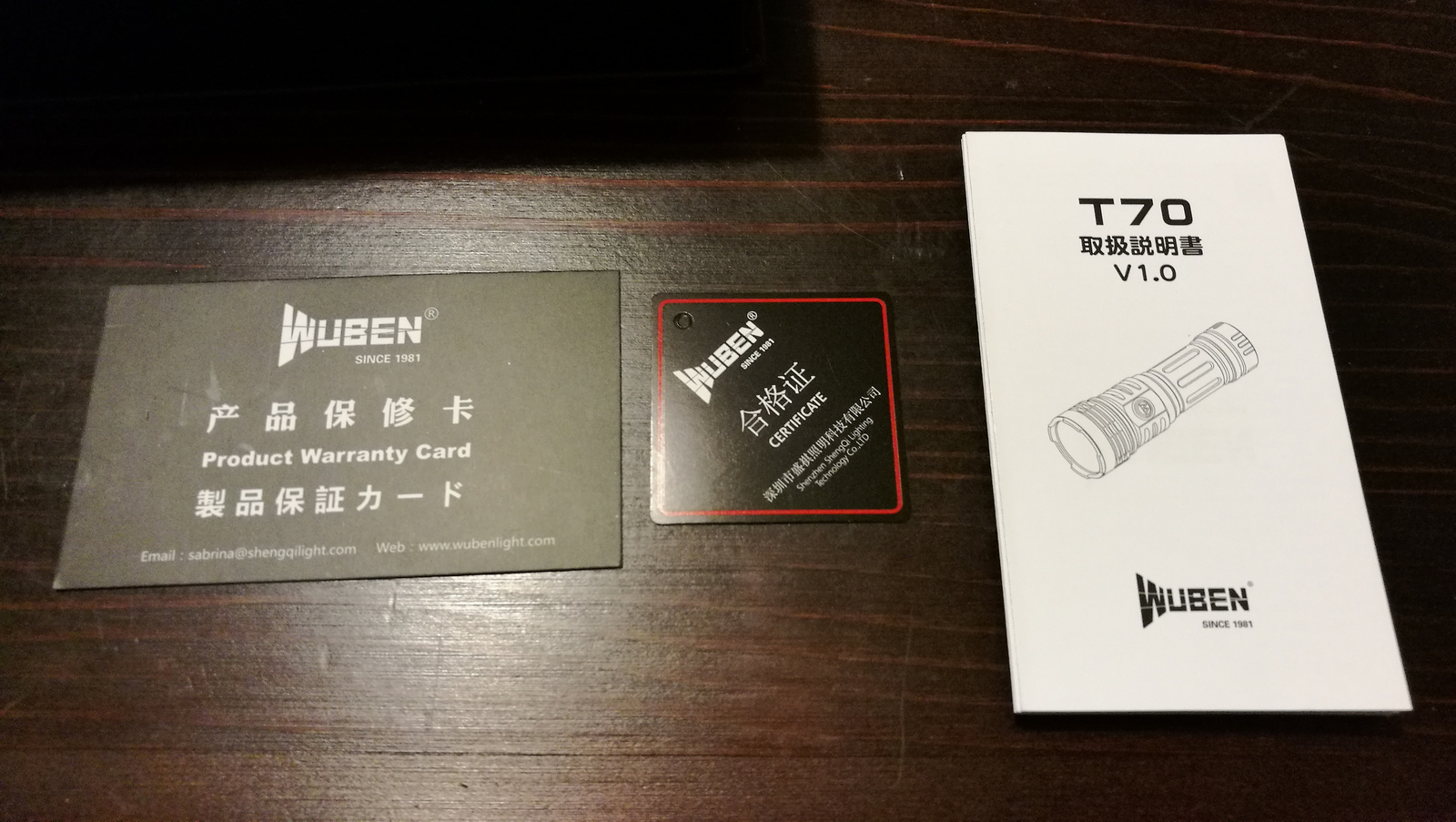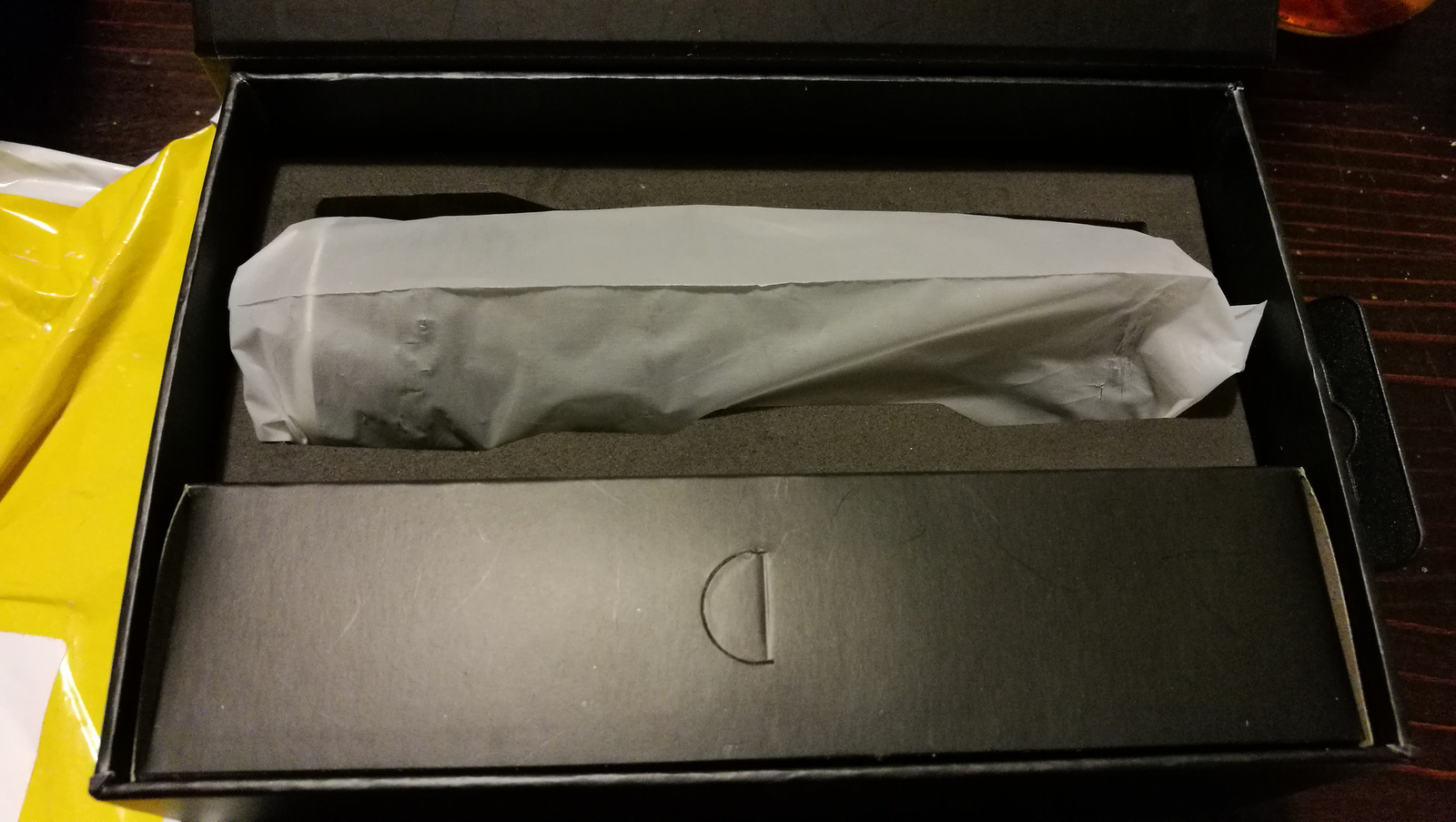 Accessories:
-Holster
-Battery
-Lanyard
-Spare O-rings
-Charging cable
-User manual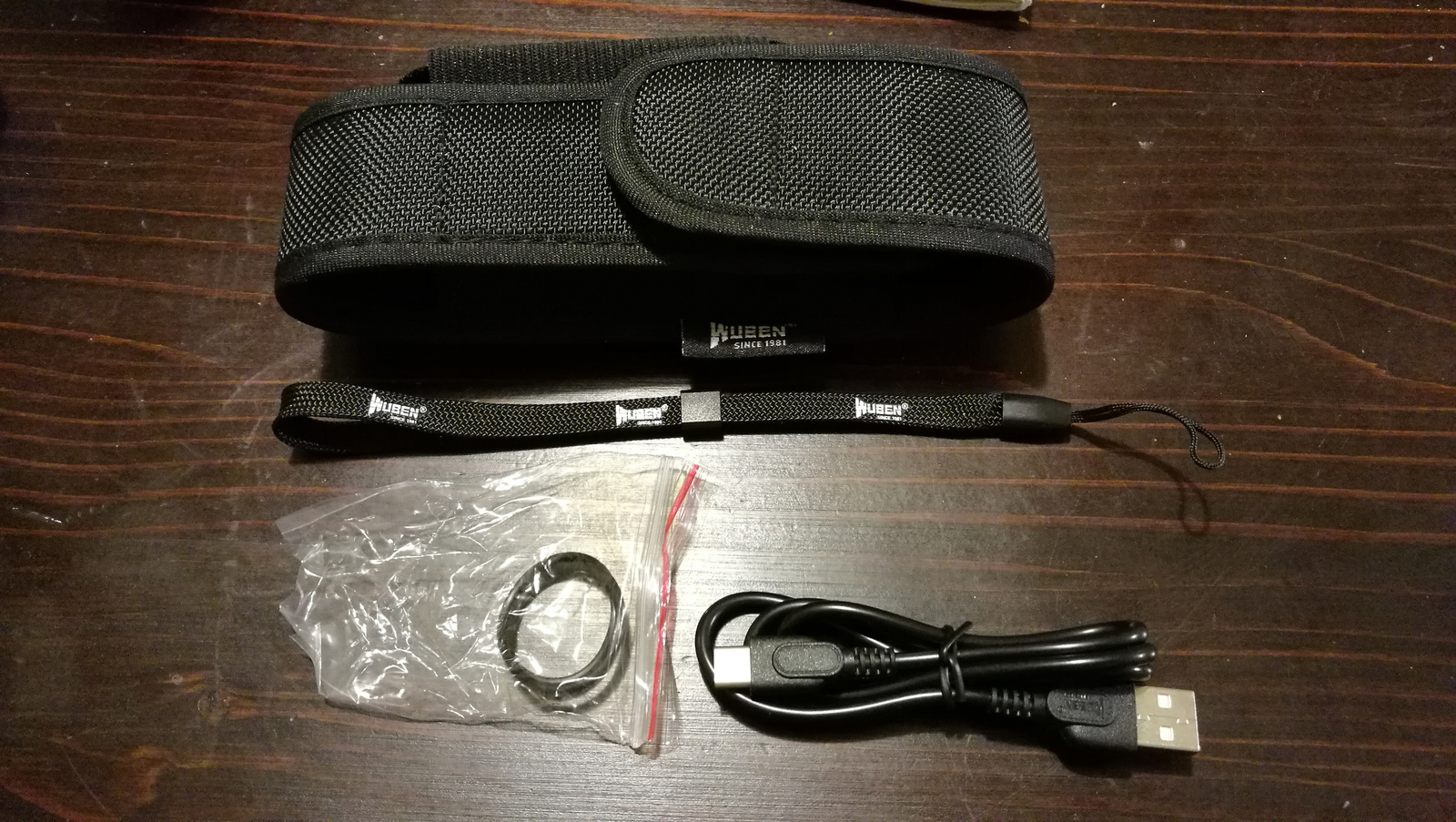 The T70 has built in USB Type C charging port which capable of 2A fast charging: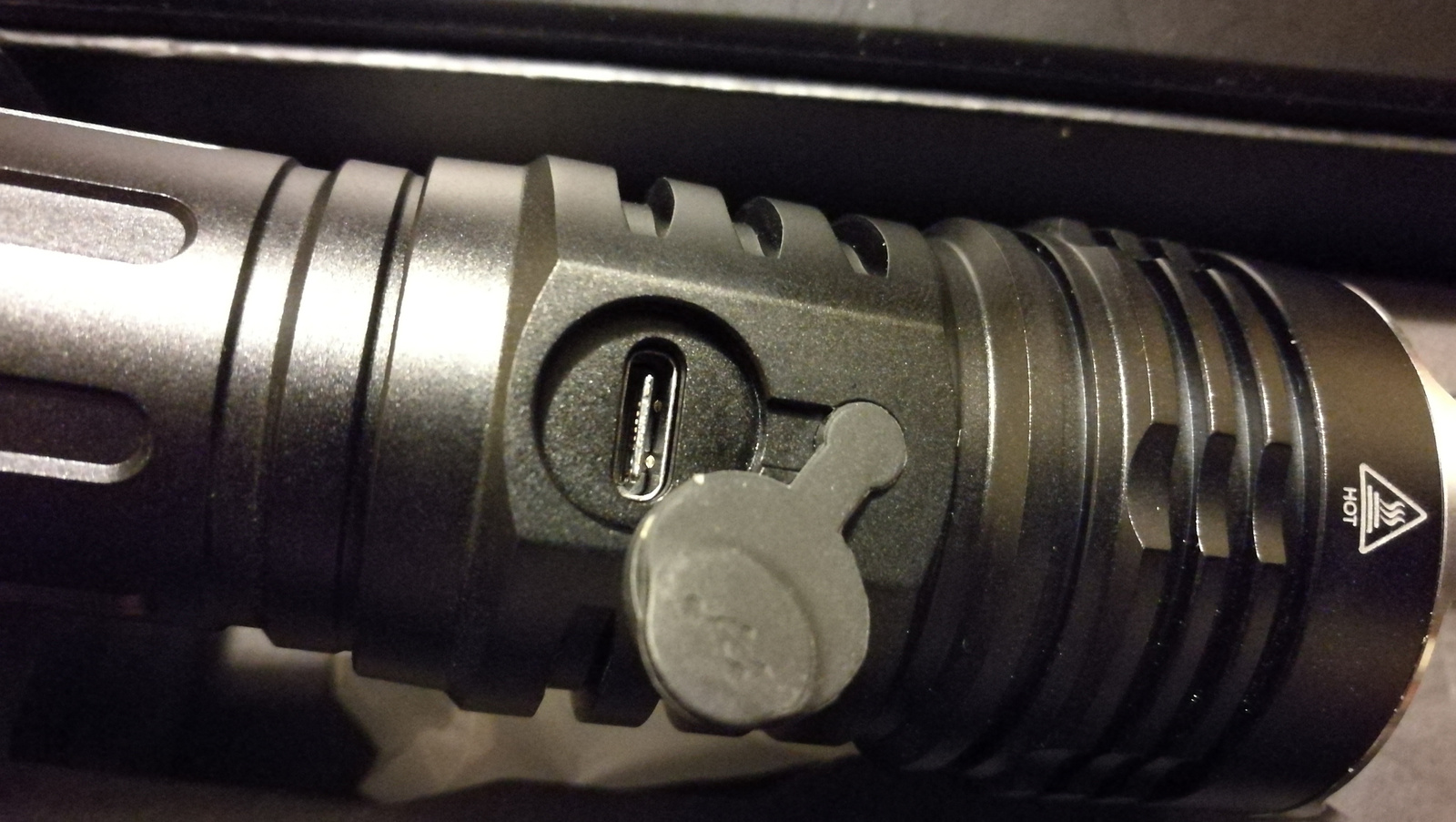 The battery disconnected with a plastic circle in the flashlight.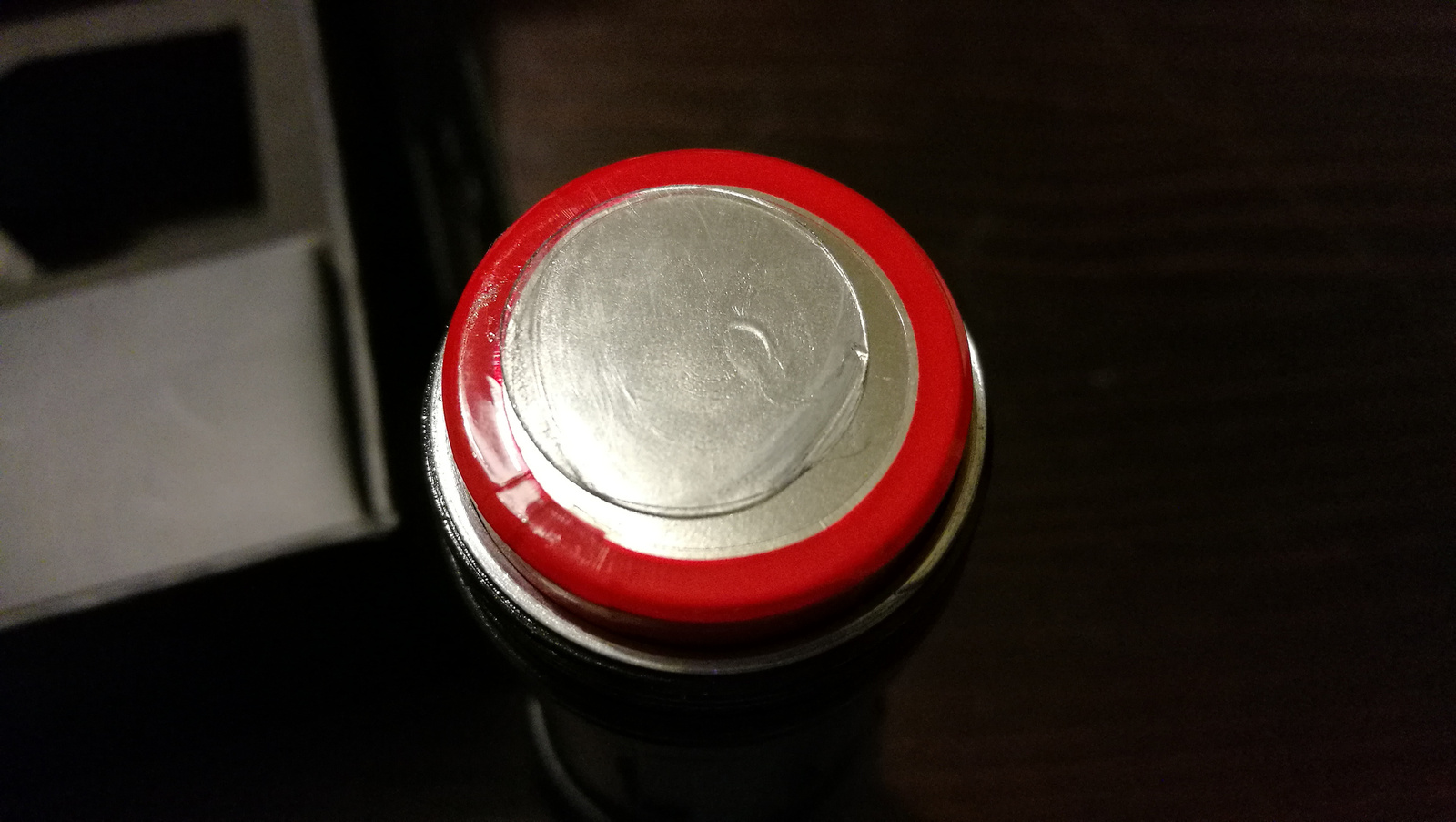 The battery is a Wuben brand 5000mAh button top protected 26650 Li-Ion: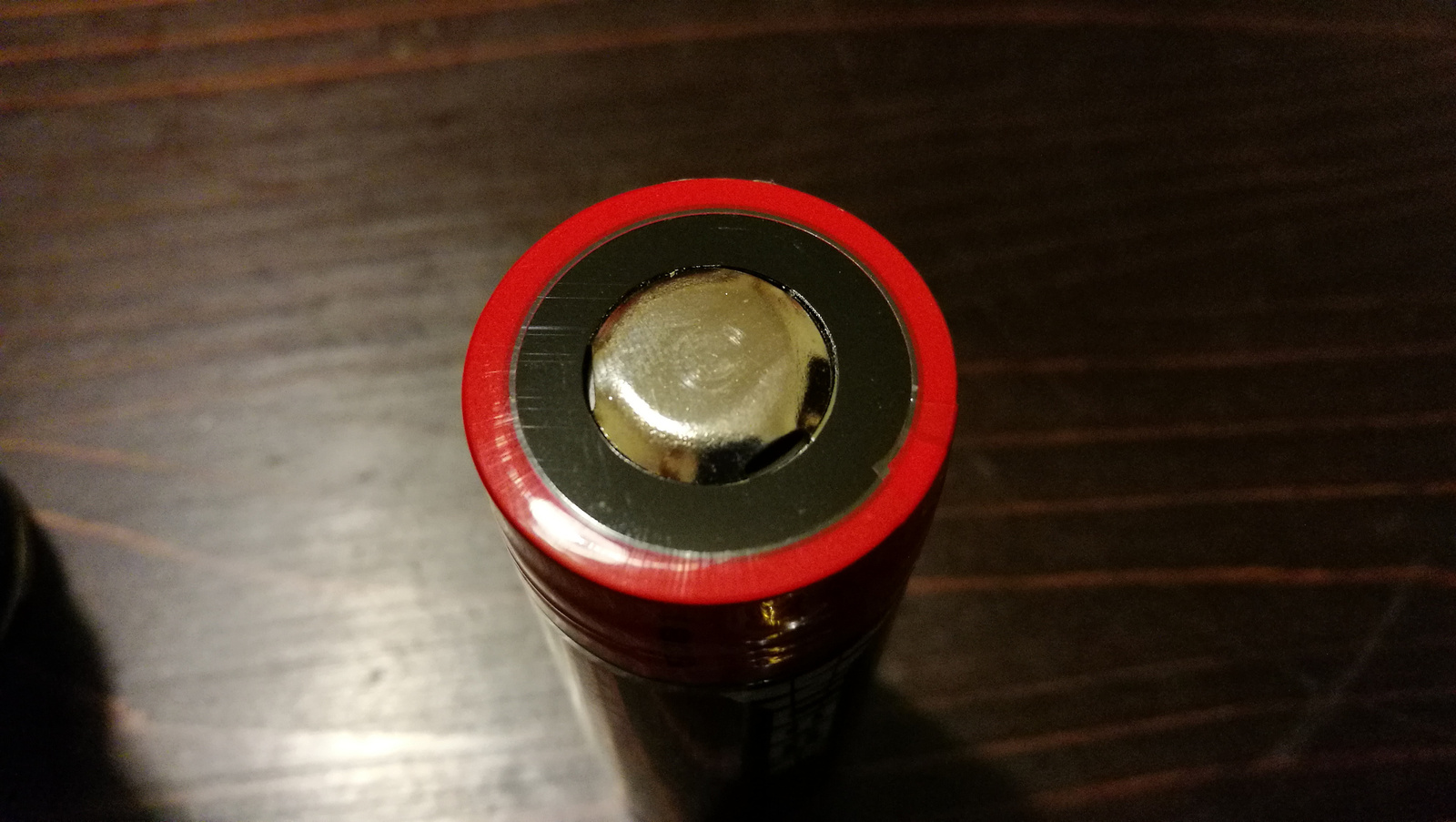 The tailcap has double springs: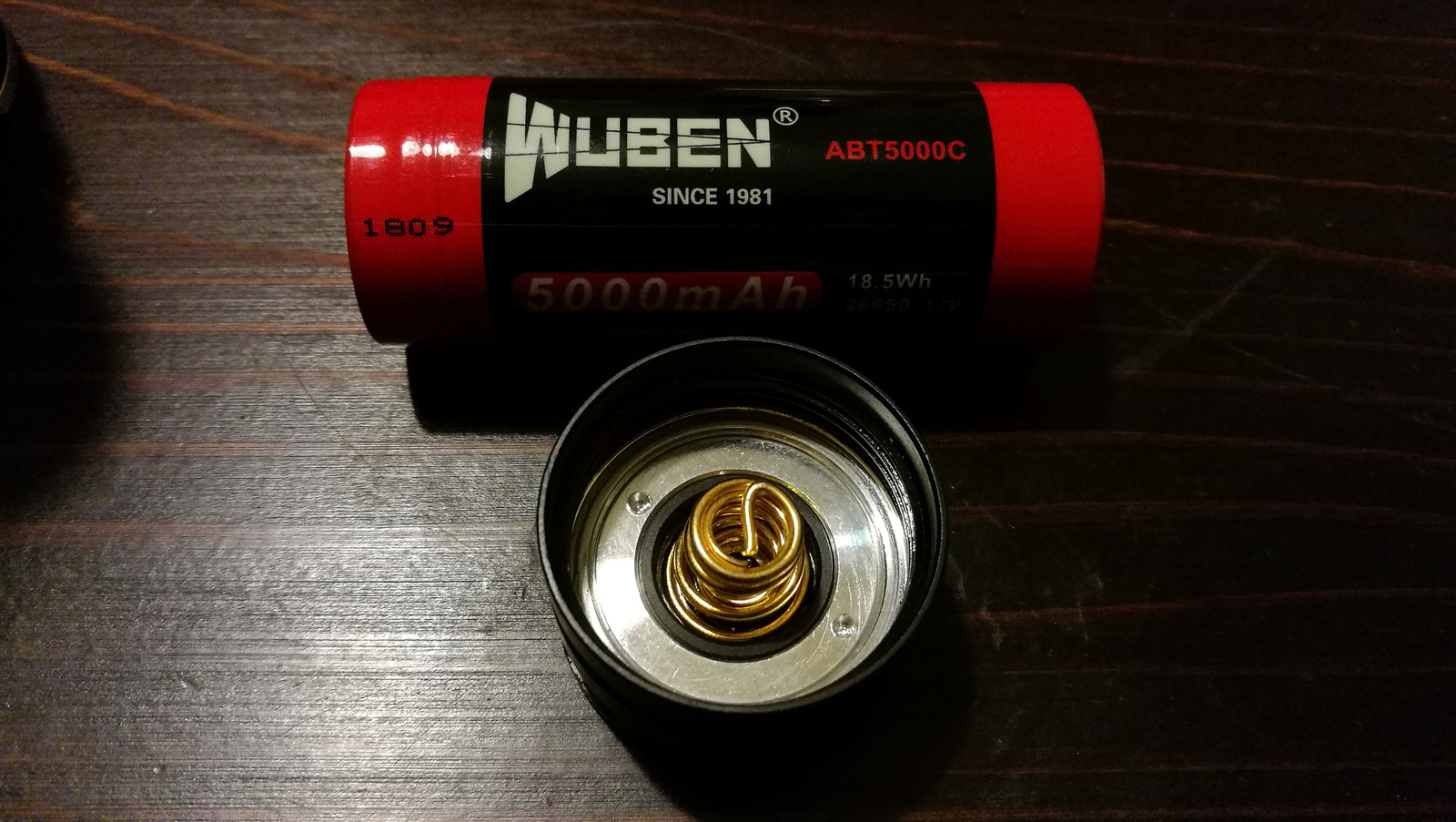 Also the driver: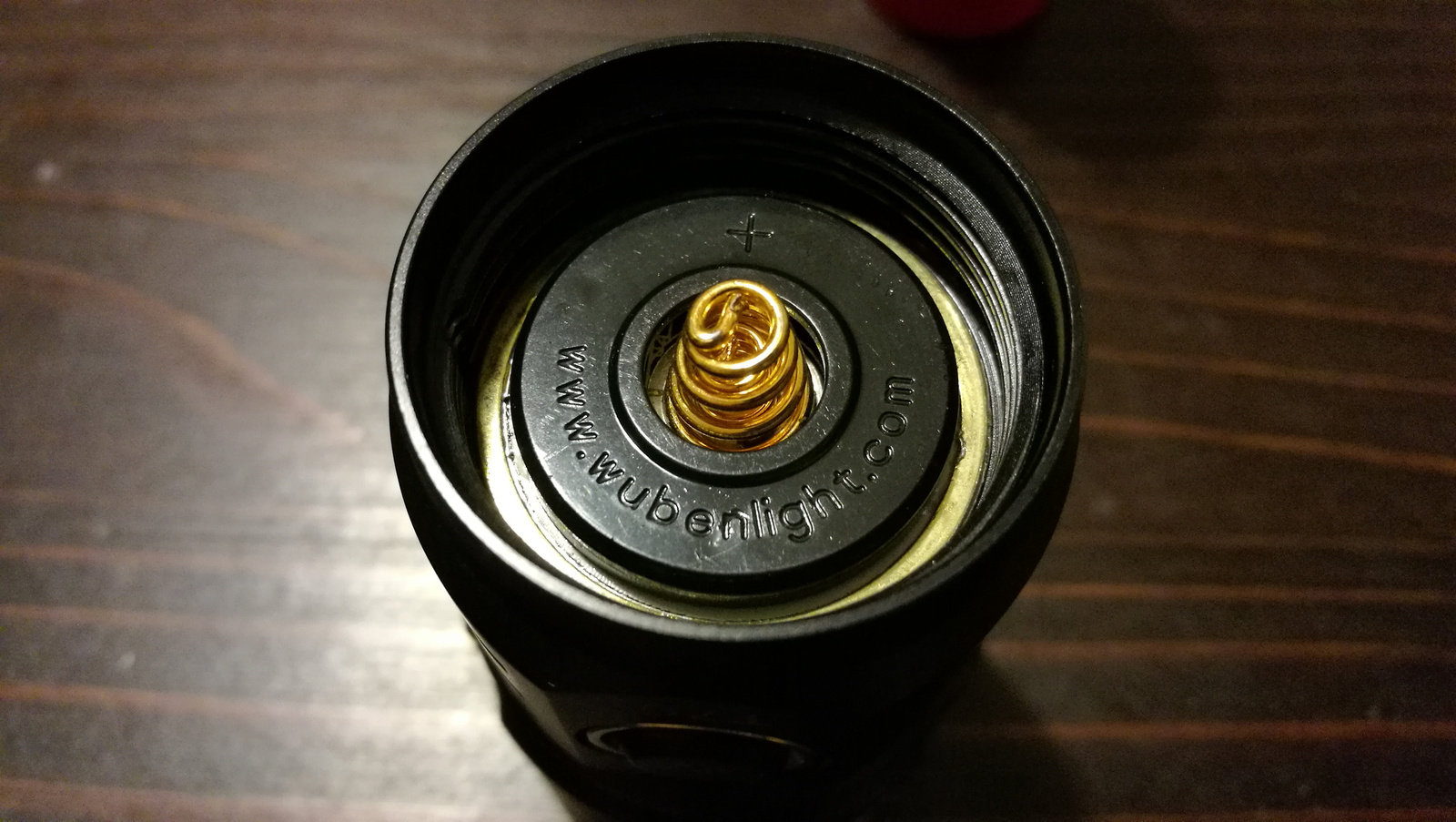 -Size: 139,7 mm length and 42 mm thickest diameter on head.
-Weight without battery: 164g
It has AR coated toughened glass lens and orange peel reflector.
It has a crenelated stainless steel bezel which is not glued.
It can tailstand very well.
The host was made from 6061 aircraft grade aluminum and coated with HAIII matte black anodizing.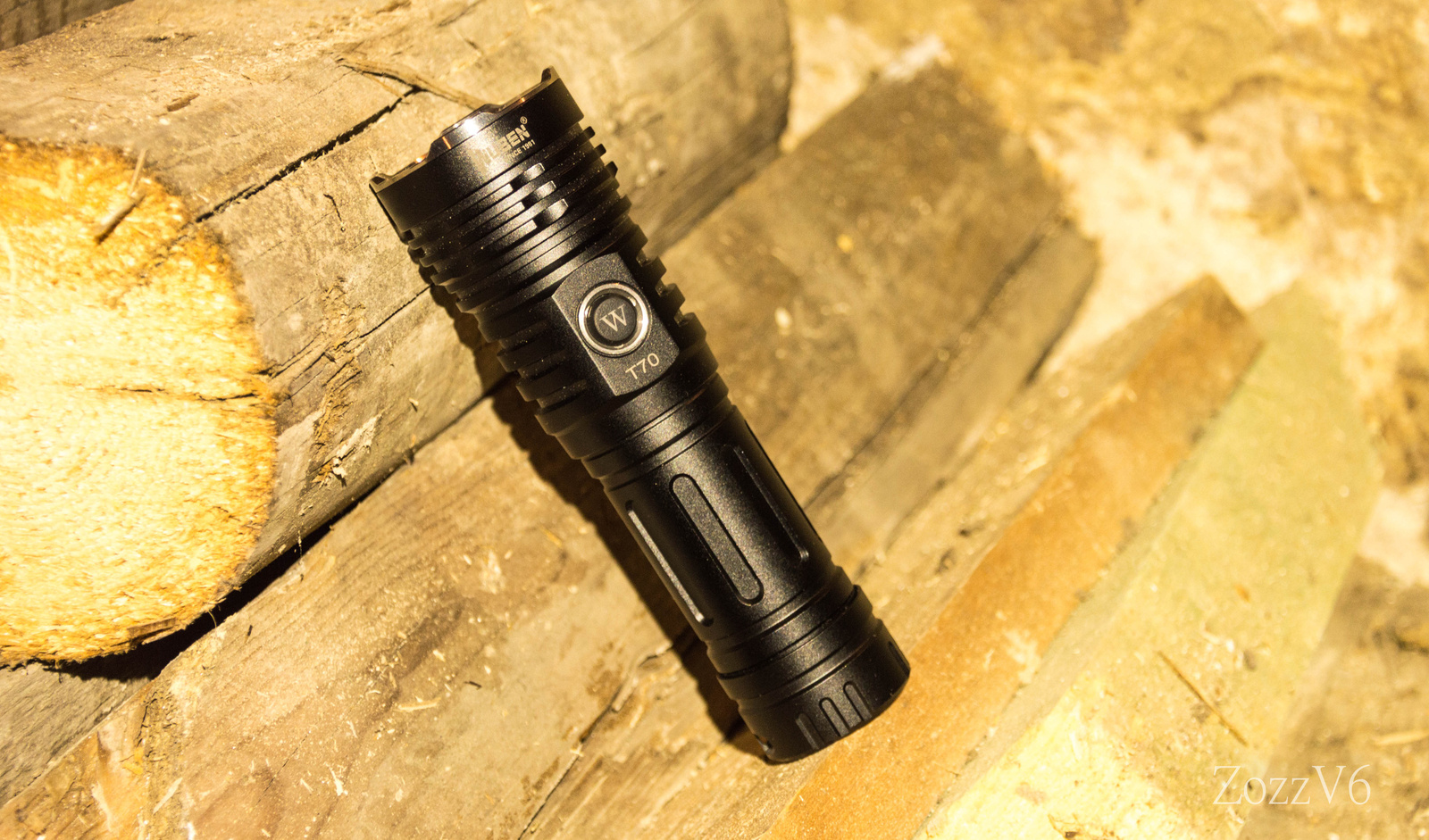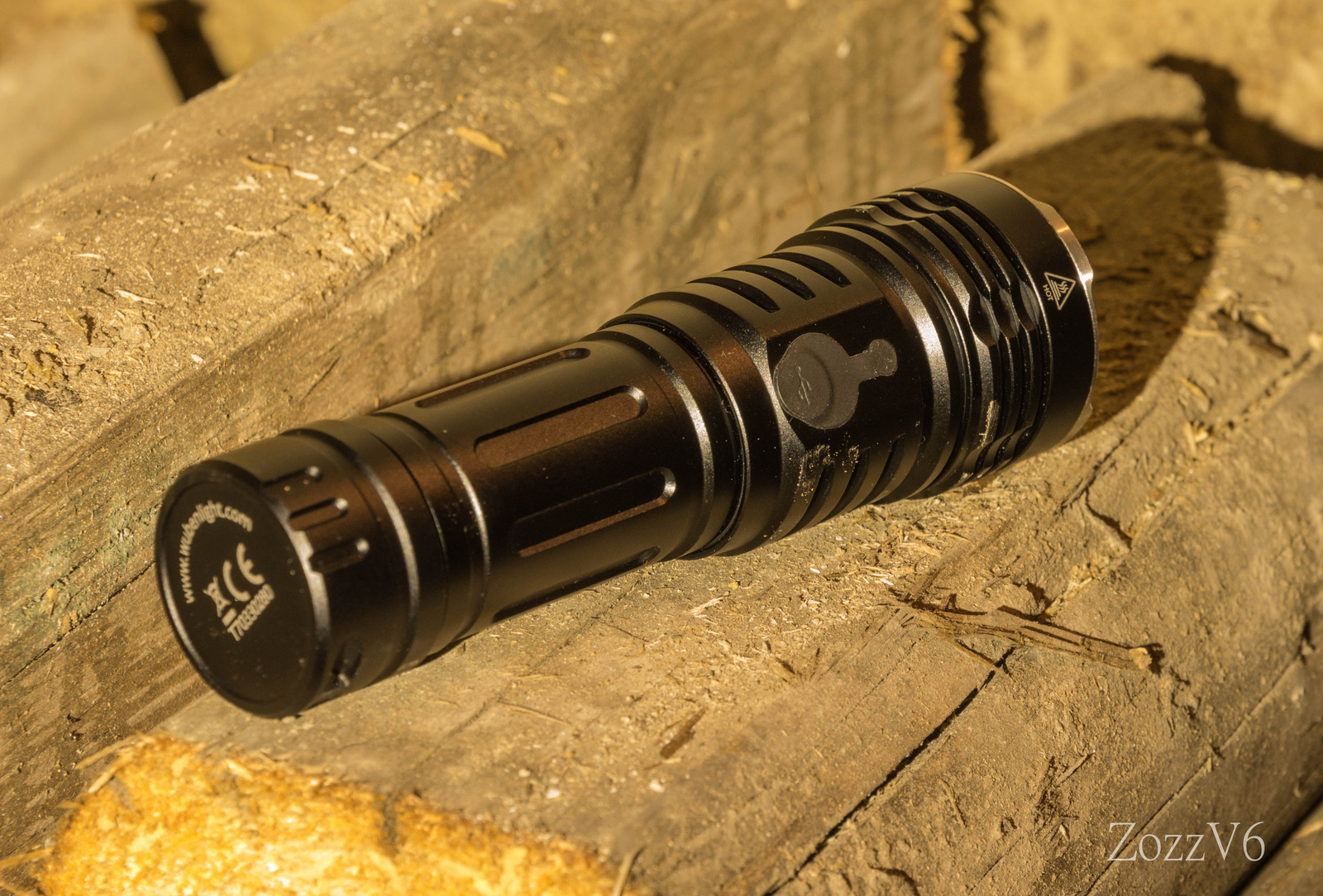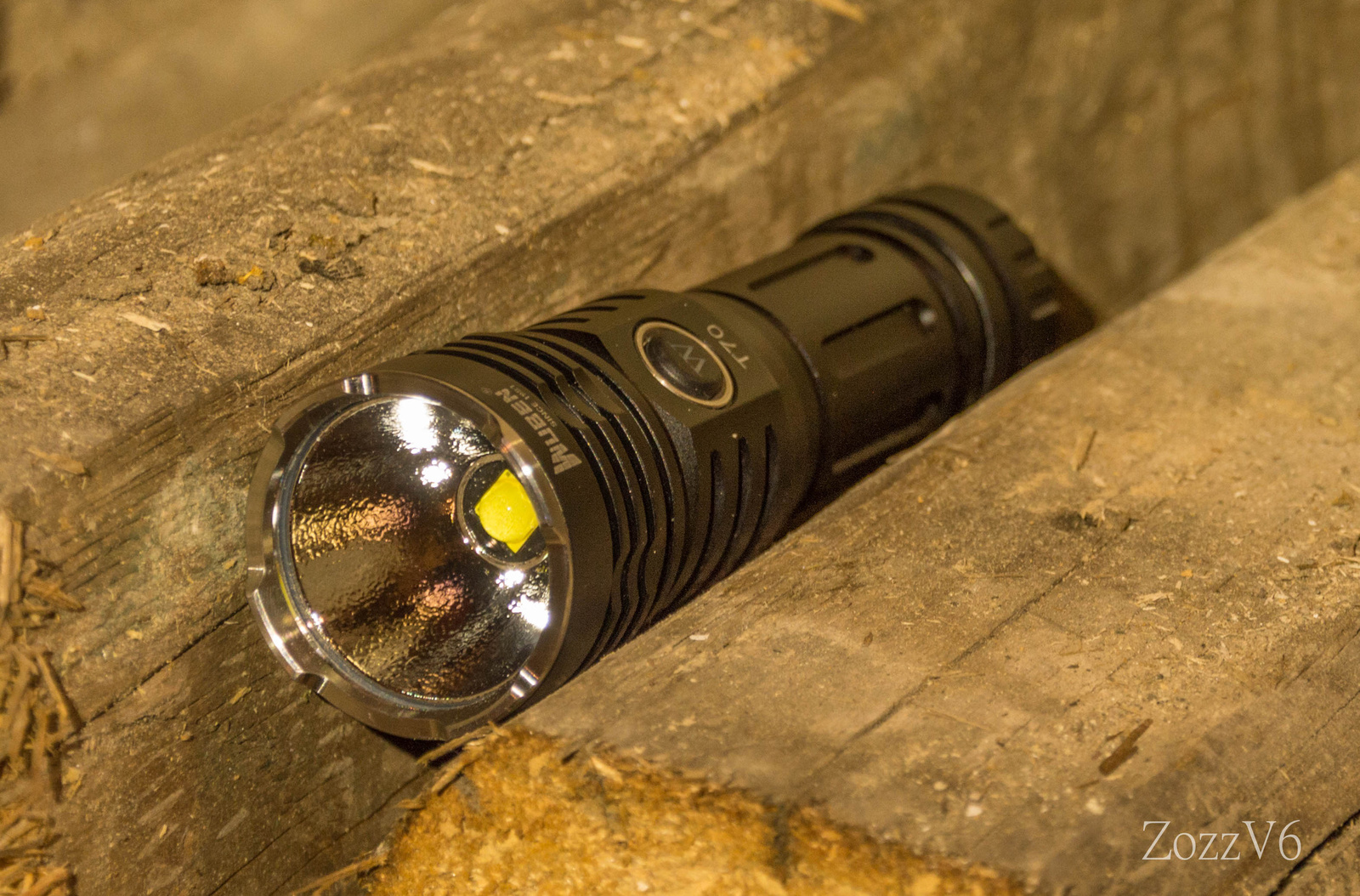 It is waterproof as well: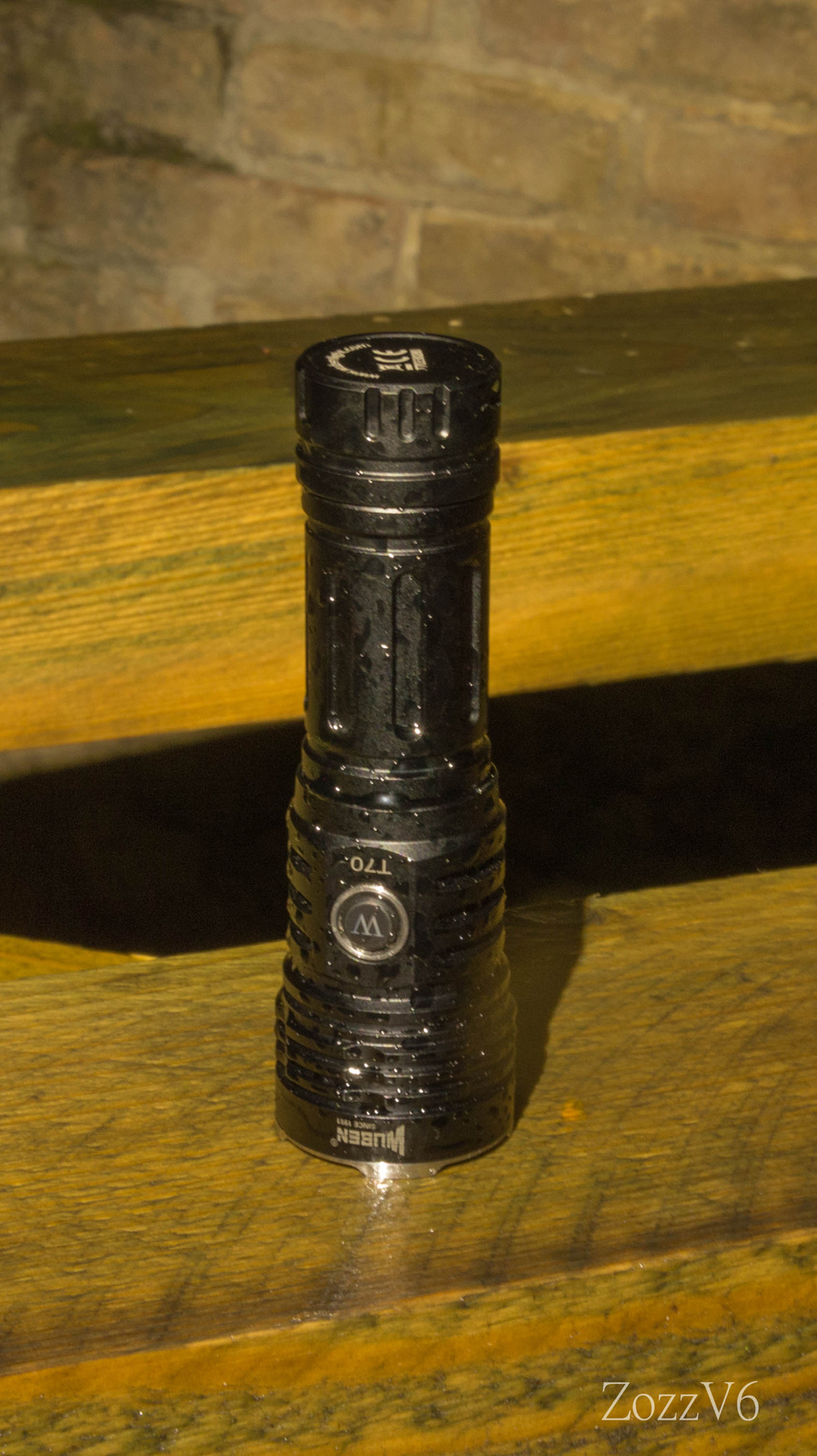 It has only a side e-switch. It has phisycal lockout with tailcap and electronic lockout with 3 fast clicks from OFF. Same to unlock. It show locking with 2 blinks. In locked state if button is pressed the button W logo blinks blue a few times.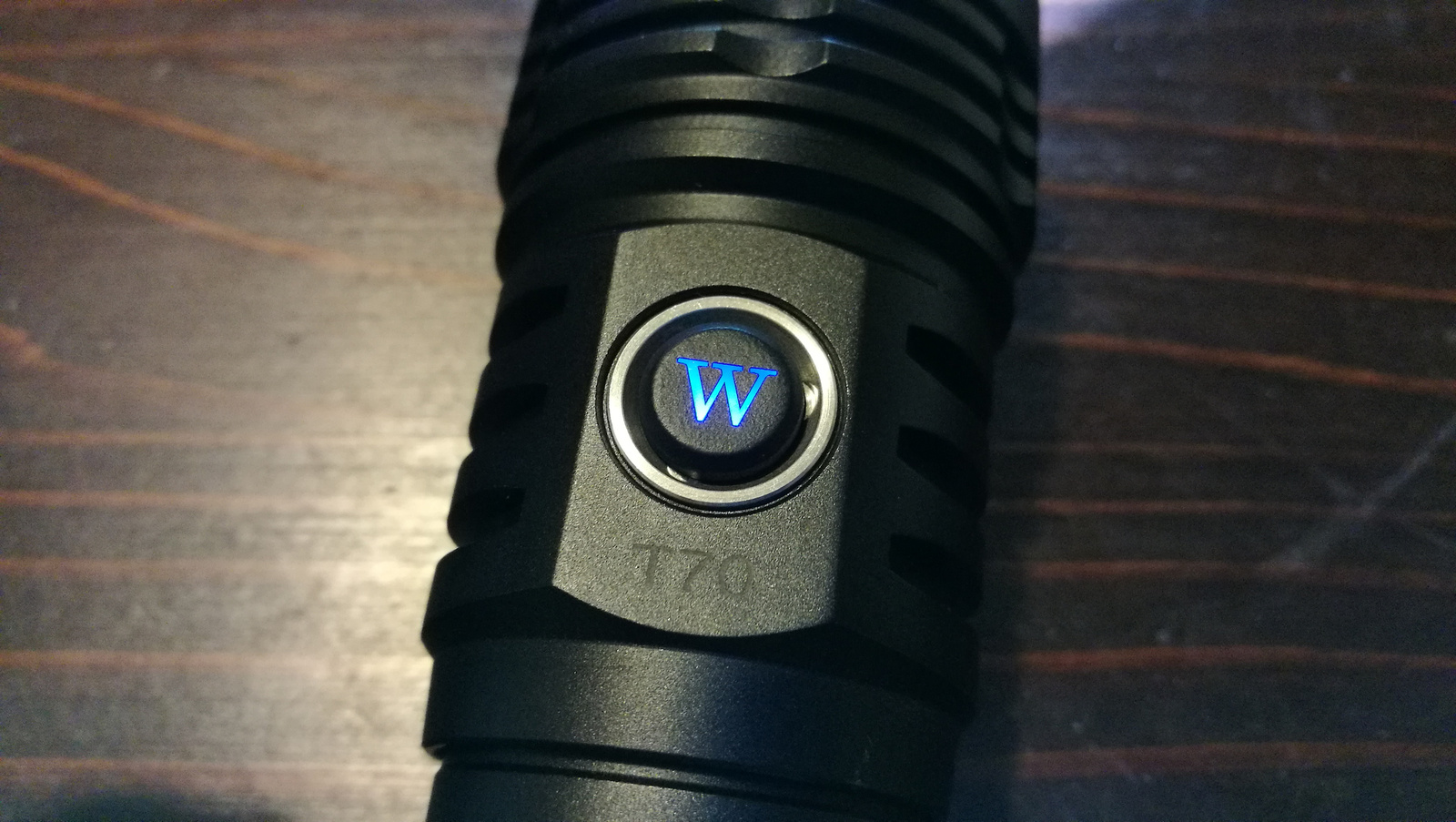 Short click to ON and long click to OFF.
It has 2 mode groups. One has 4 modes and a hidden strobe which is accessible with a fast doubble click. The other group is not a group but a ramping mode. The idea was good but it has some problem. The ramping is too slow. It takes 7 seconds to reach high from moon or reverse. There is a point where it stops a little in ramping. Thet is pretty annoying. And ramping down and up from-to moon is not the same speed every time. I don't know that this is a bug of my light or every other behave the same.
The ramping max is equal to the other mode group high mode so to reach turbo you also need to doubble click.
To change between the mode group and ramping you need to triple click from ON.
When the light is OFF press and hold the switch for 2 seconds to enter instant turbo. From this turbo single click to OFF
It has mode memory. It memorizes last used level.
The W logo in switch shows battery level for 5 seconds after turn on or button pressed: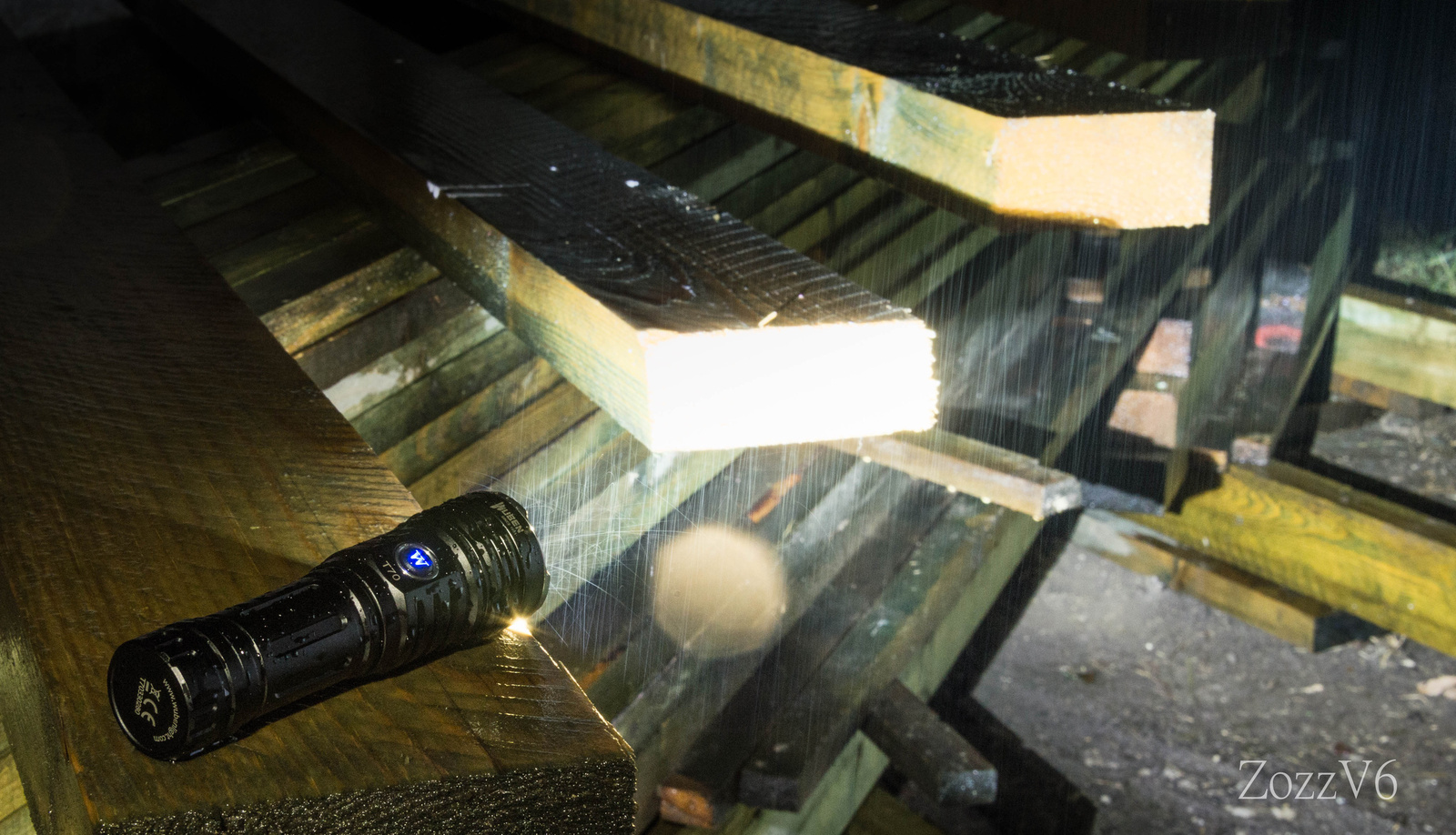 Battery level indication:
81-100%: Constant blue
31-80%: Blinking blue
16-30%: Constant red
0-15%: Blinking red
Battery level indication is a little different while charging:
91-100%: Constant blue
41-90%: Blinking blue
16-40%: Constant red
0-15%: Blinking red
Here are my measurement numbers:
-Turbo: 13.2A and 4188 lumens
-High: 2,35A and 1179 lumens
-Mid: 0,79A and 373 lumens
-Low: 0,31A and 54 lumens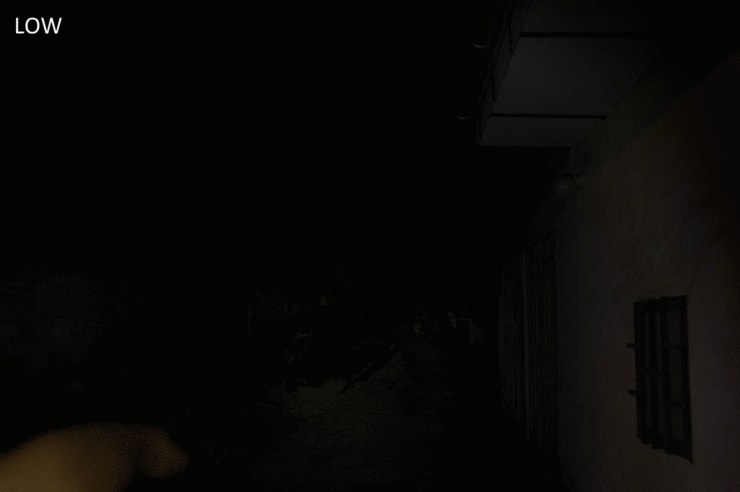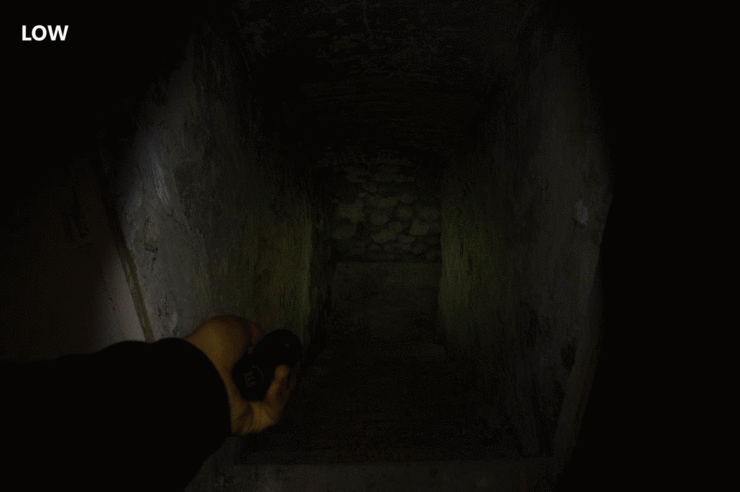 In ramping you can sweep from low level to high level without steps
-Intensity in turbo: 23500 cd
-Throw: 306m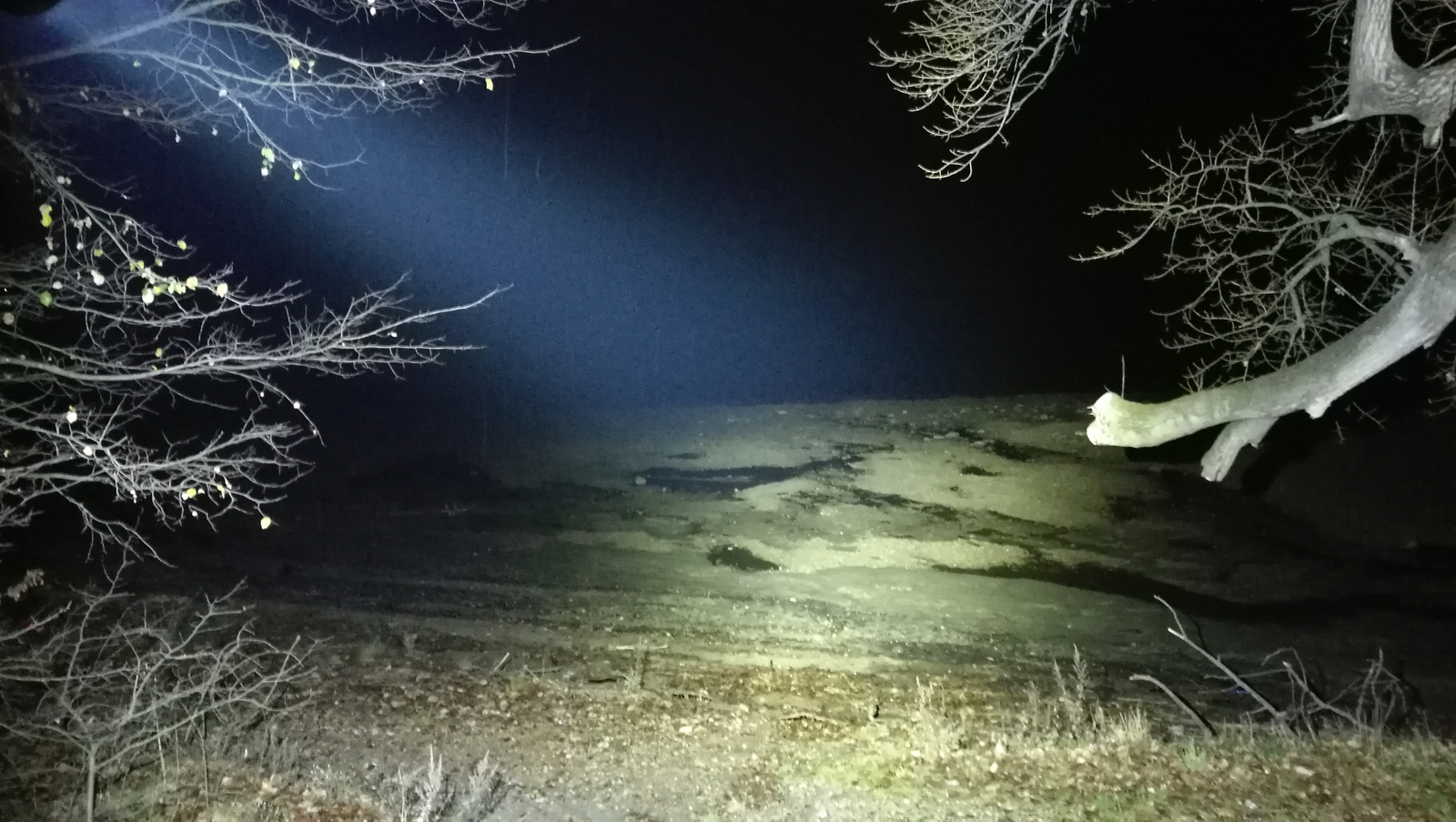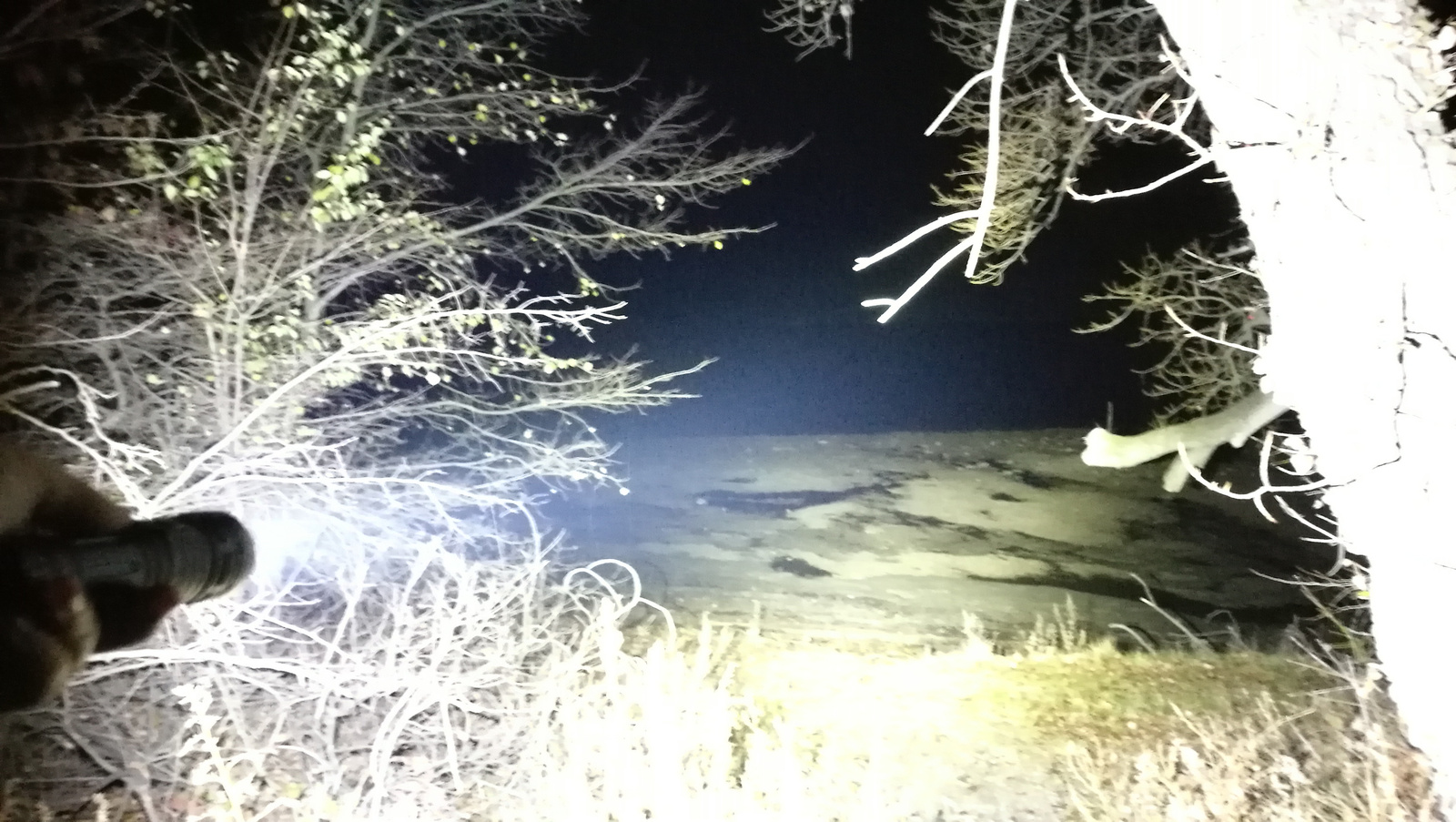 It has turbo stepdown. And also steps down from high to 500 lumens which is a little higher than mid mode.
The factory data and runtime graphs:


You can see my measurementof turbo stepdown on the graph below.
Cold start in turbo. Room temperature is 23°C and the flashlight in tailstand position.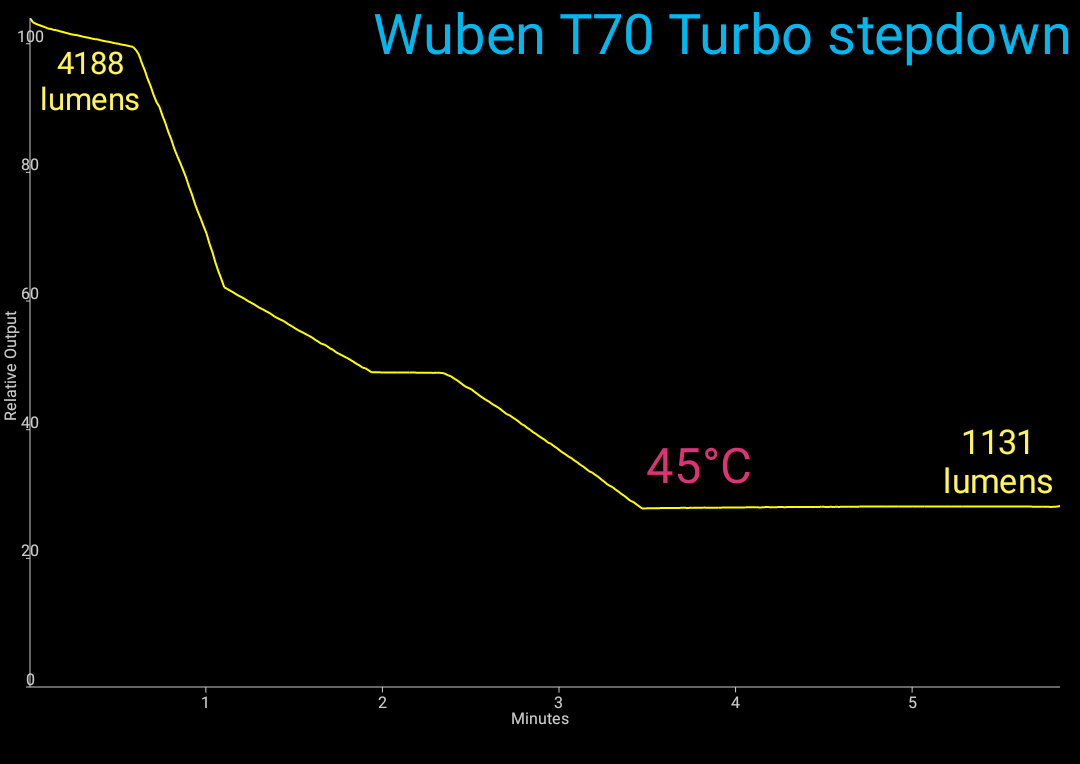 -Tailcap
The tailcap has a lanyard hole so you can put in lanyard and the light still can tailstand because the bottom is really wide and flat.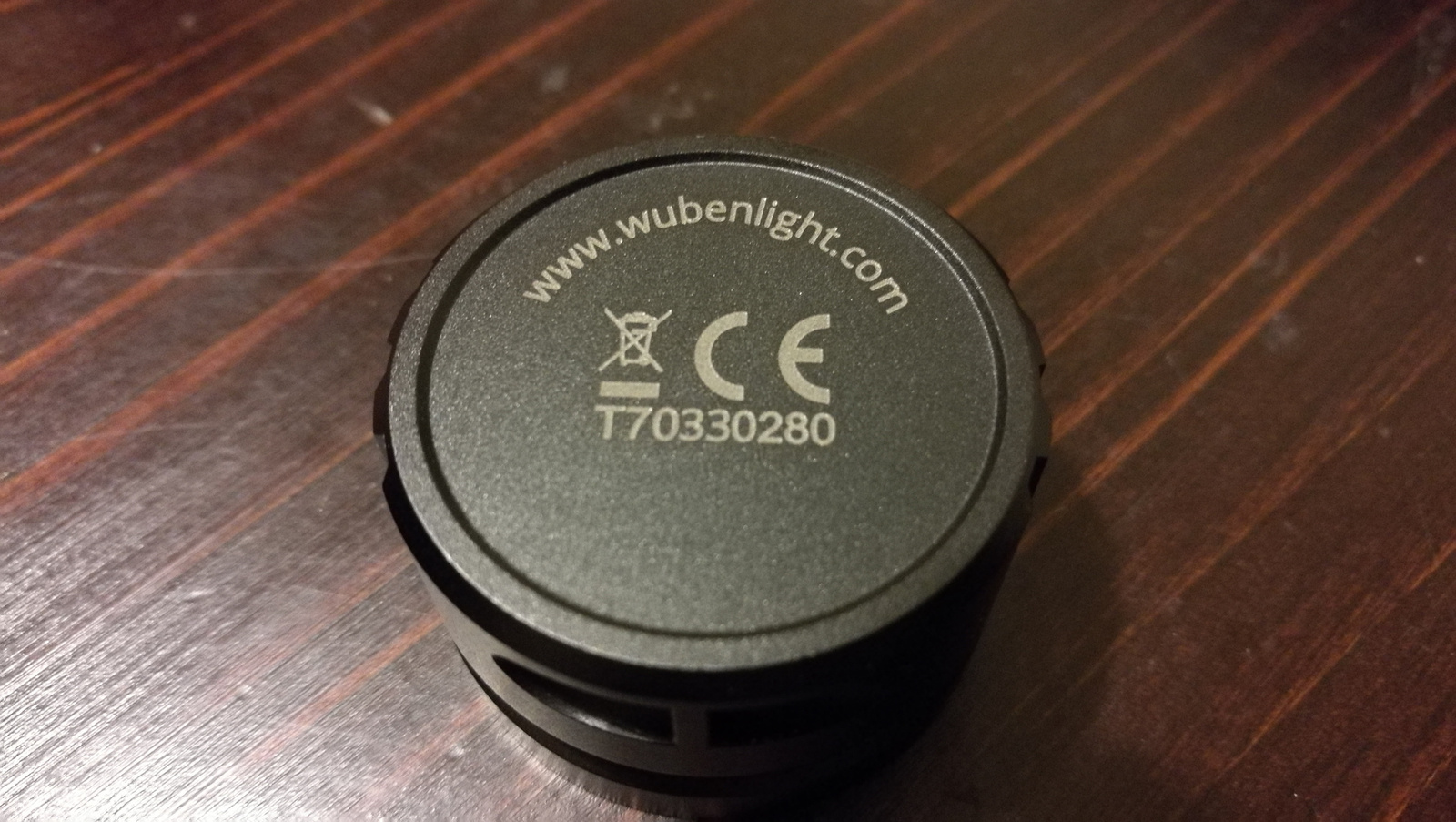 -Tube
It uses rectangle anodized threads on both sides so you can phisycally lockout on both ends. The head end came without lube but you will remove the tailcap side maybe. If you even remove because it has built in charging.
Head side: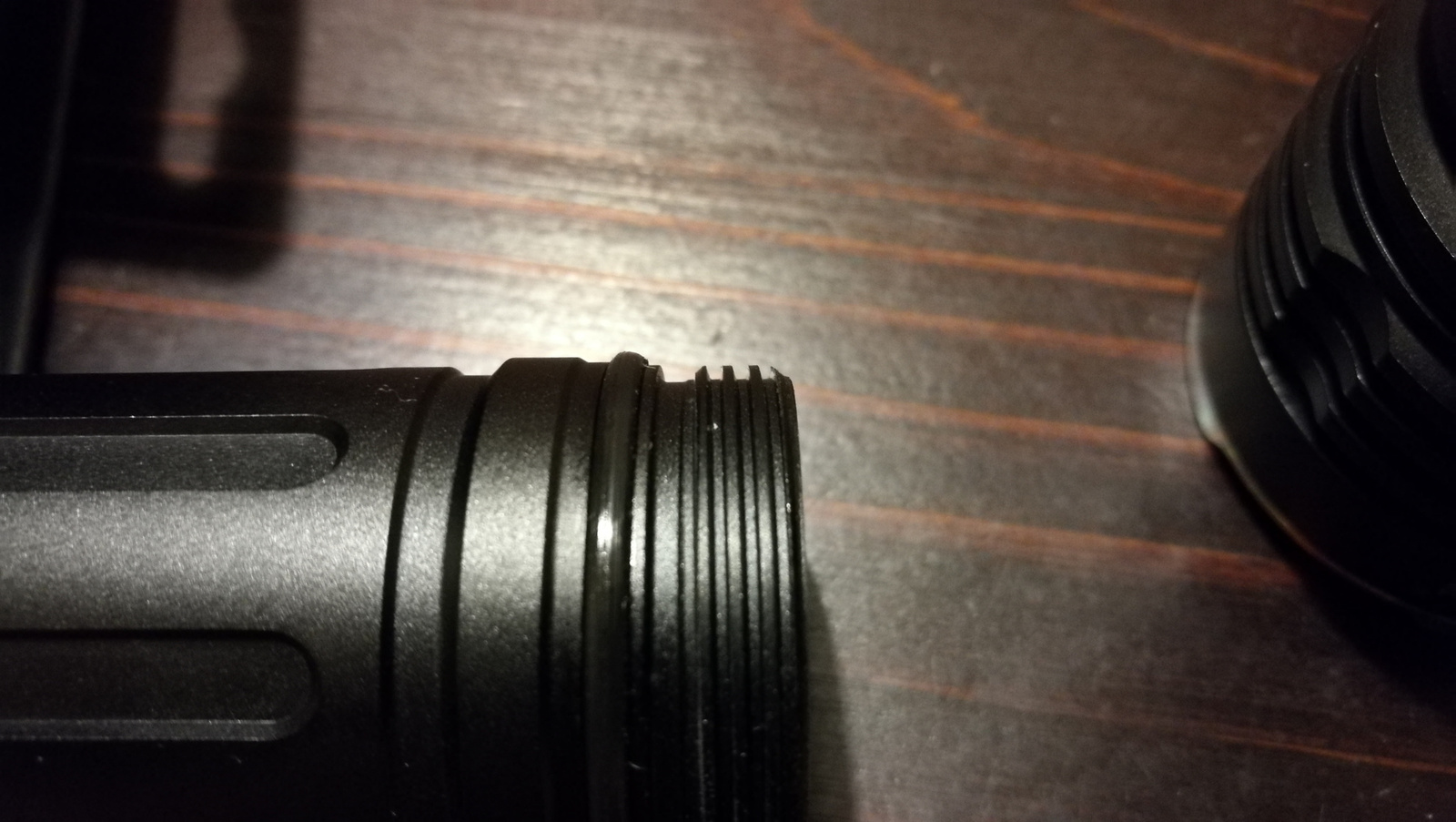 Tailcap side came well lubed: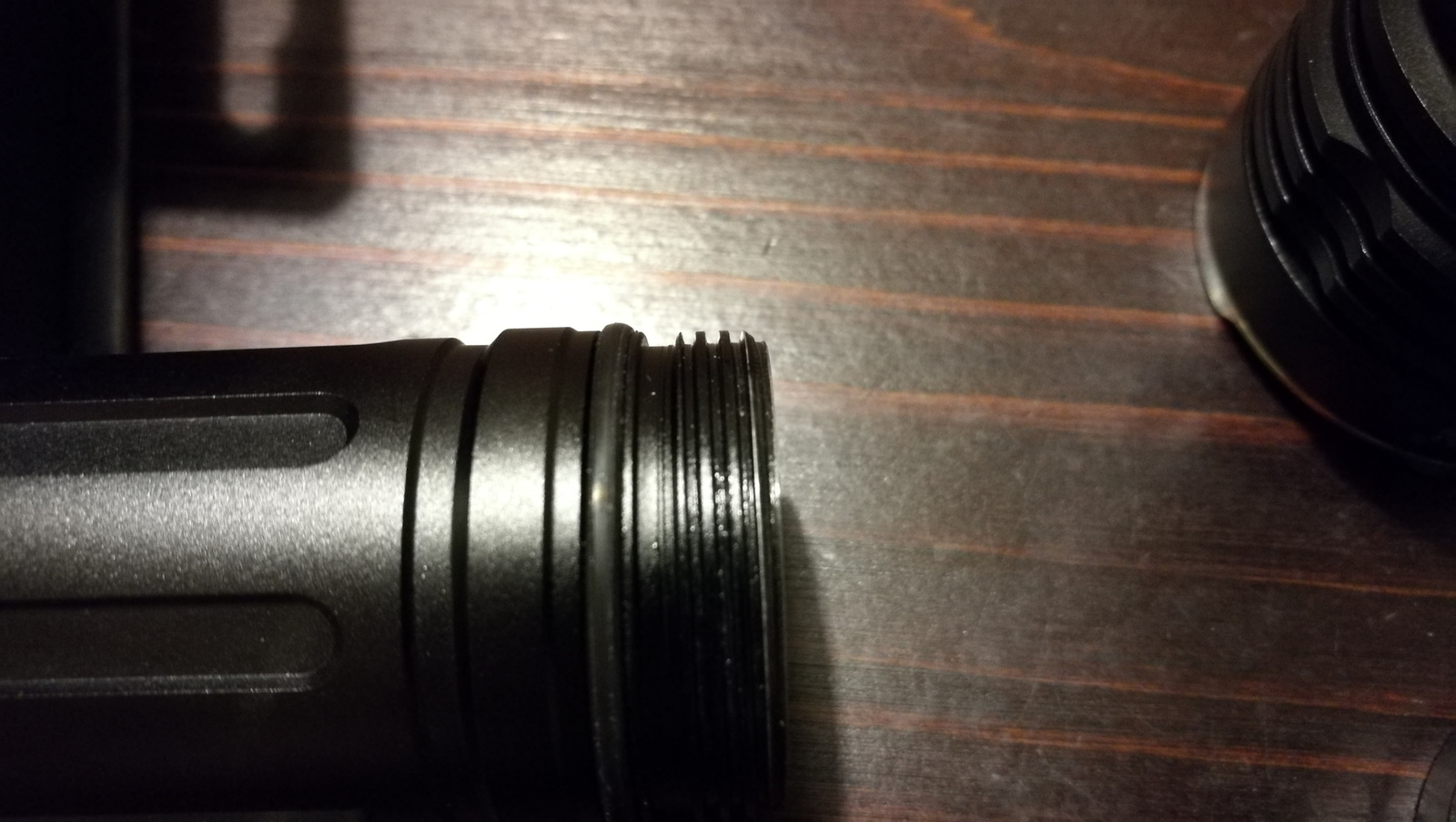 -Head
Look at the business end.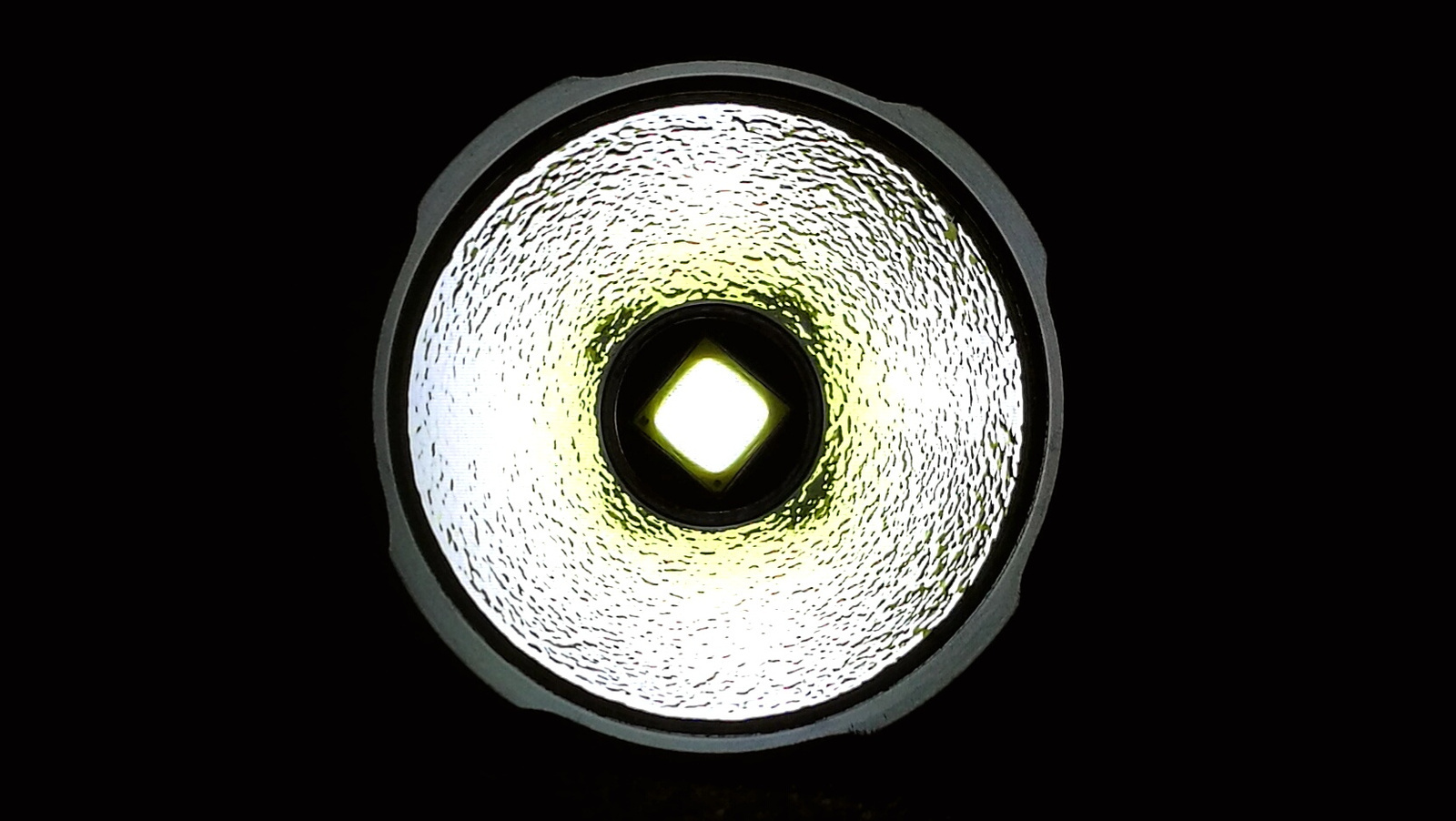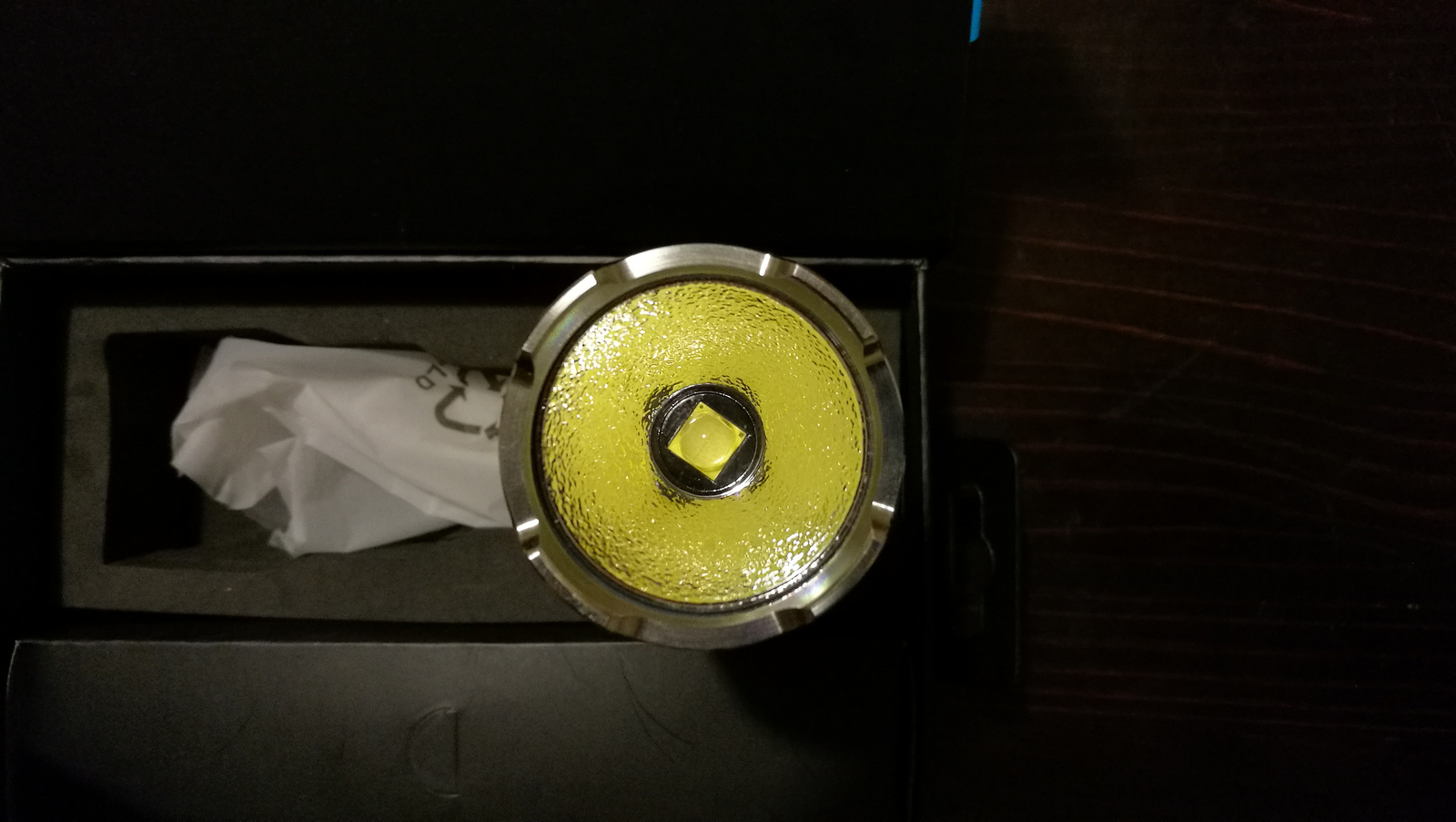 It has some thick fins and a side e-switch with red and blue indicator lighted W logo. The switch has a very good feel even with gloves: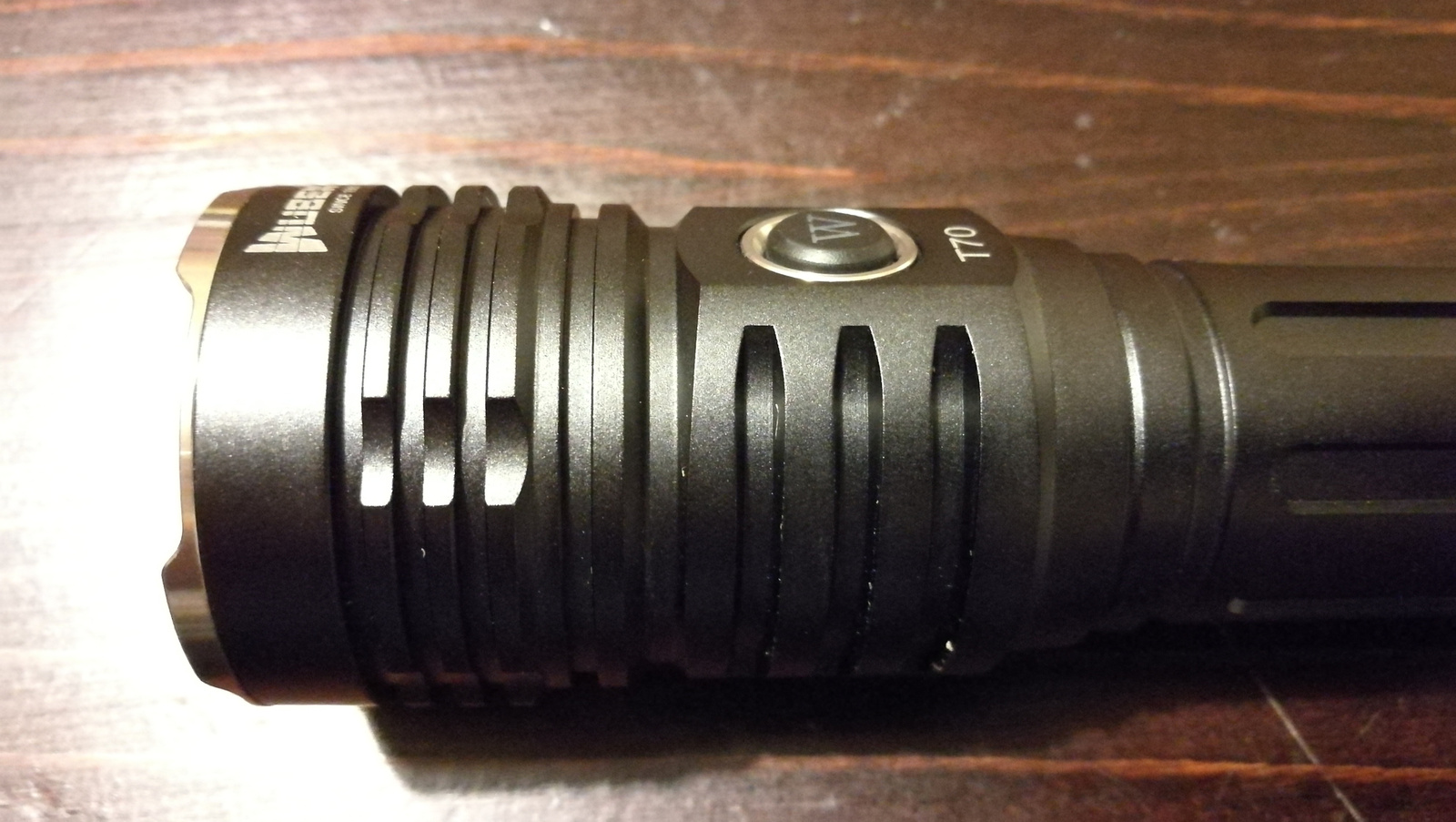 Size comparison:
From left to right:
Emisar D4S, Convoy C8, Wuben T70, Lumintop GT mini, Convoy L2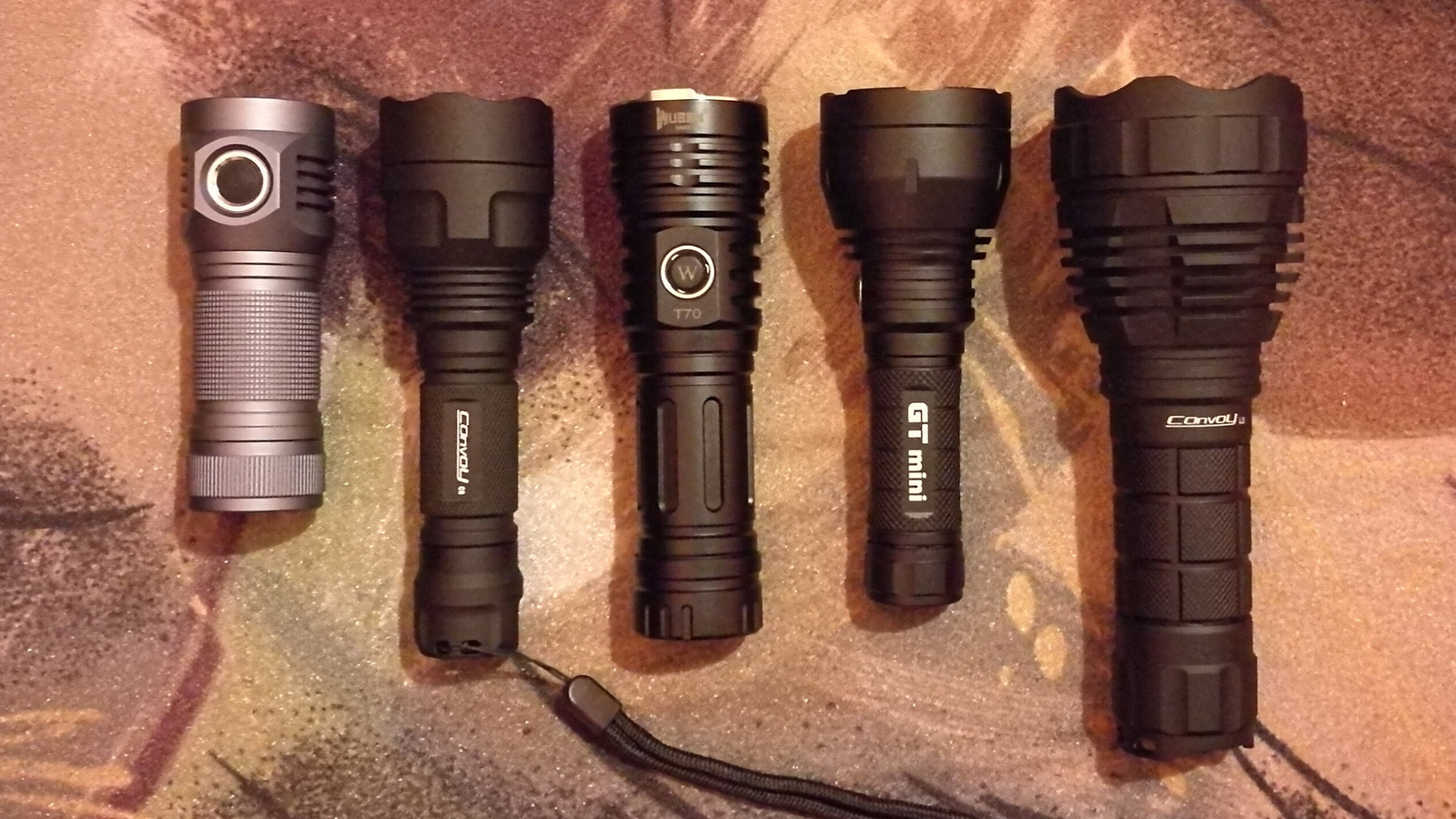 And in reverse order: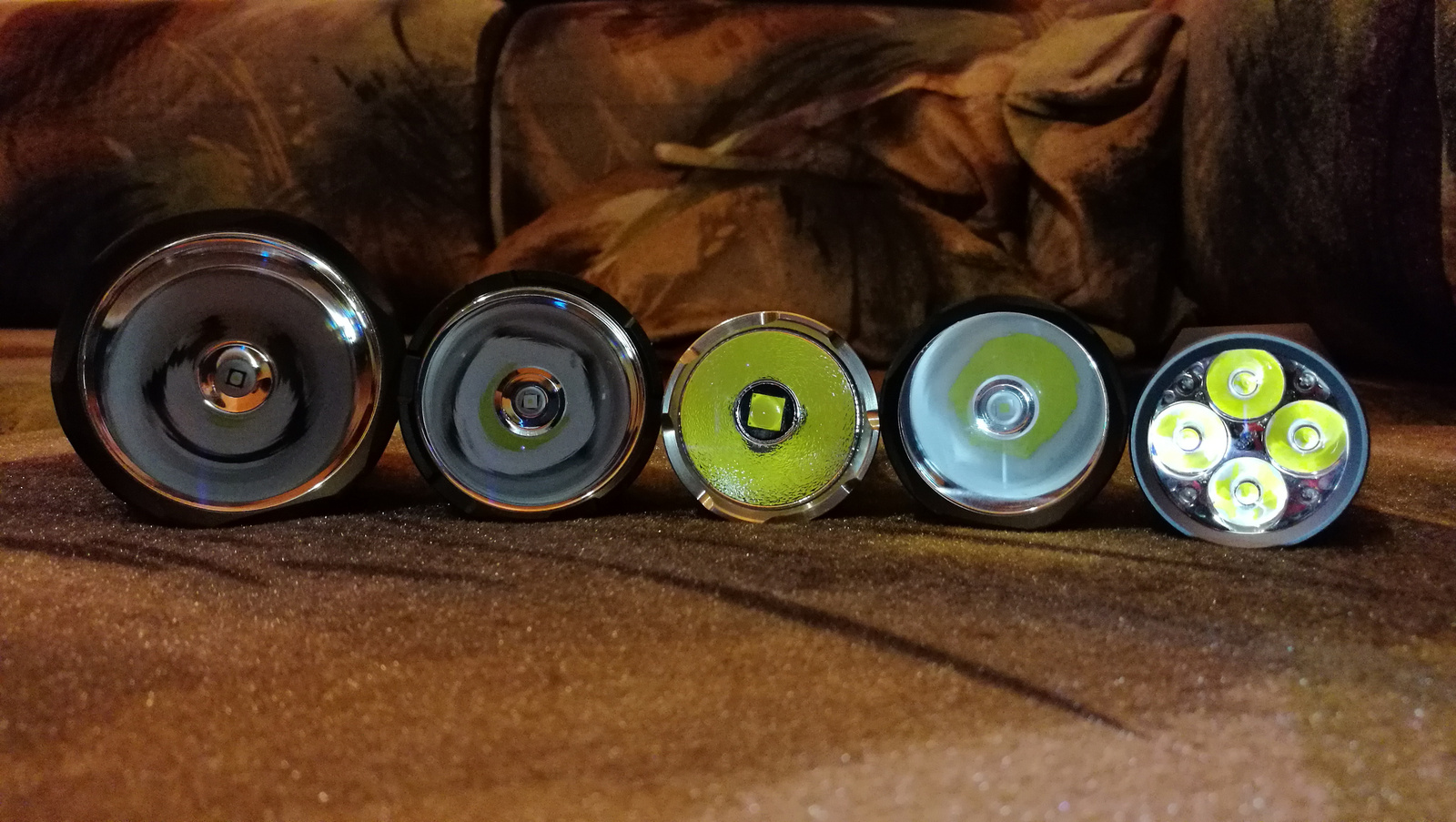 Head to head with Emisar D4S: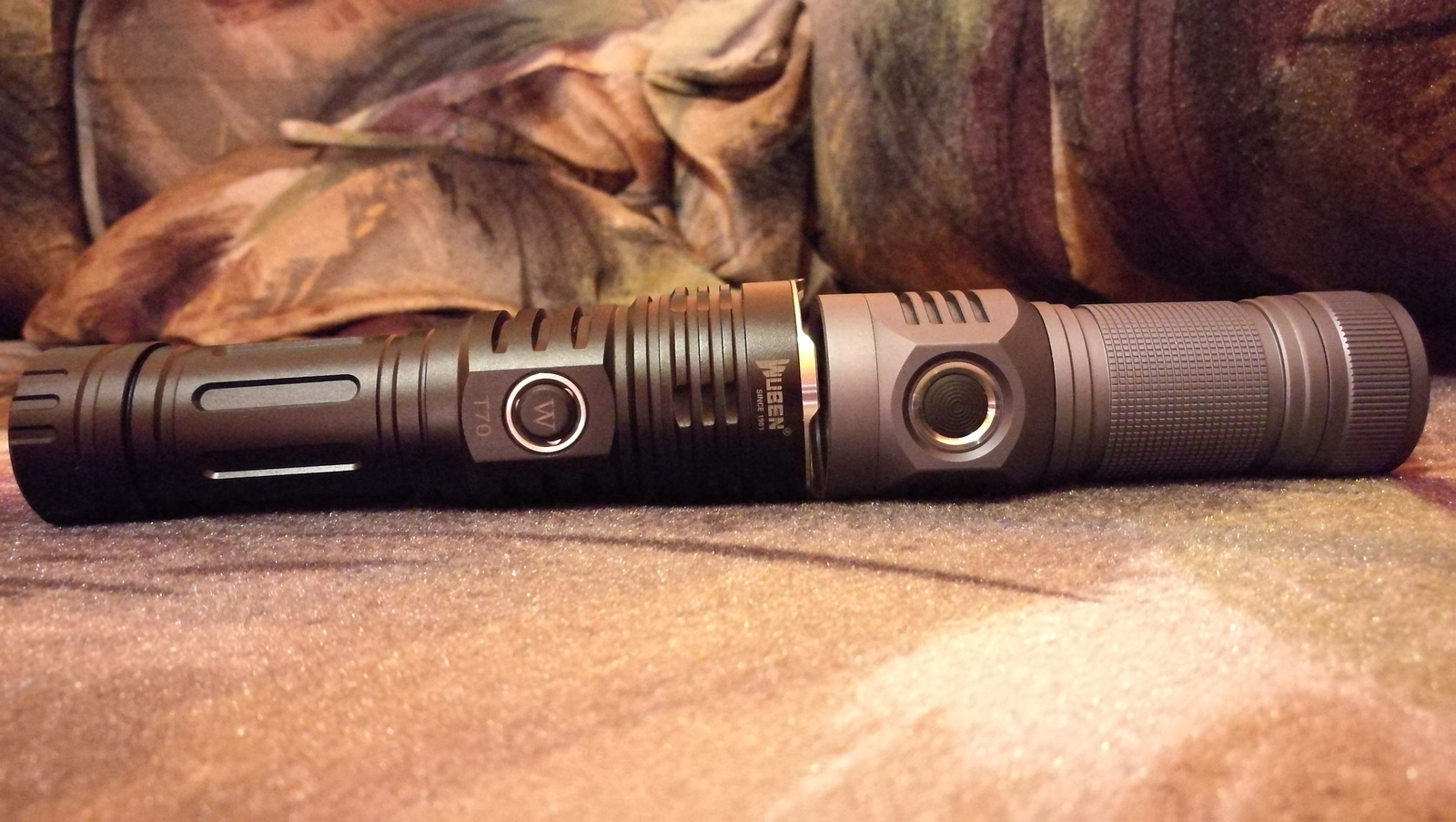 It shows charging status continuously while charging: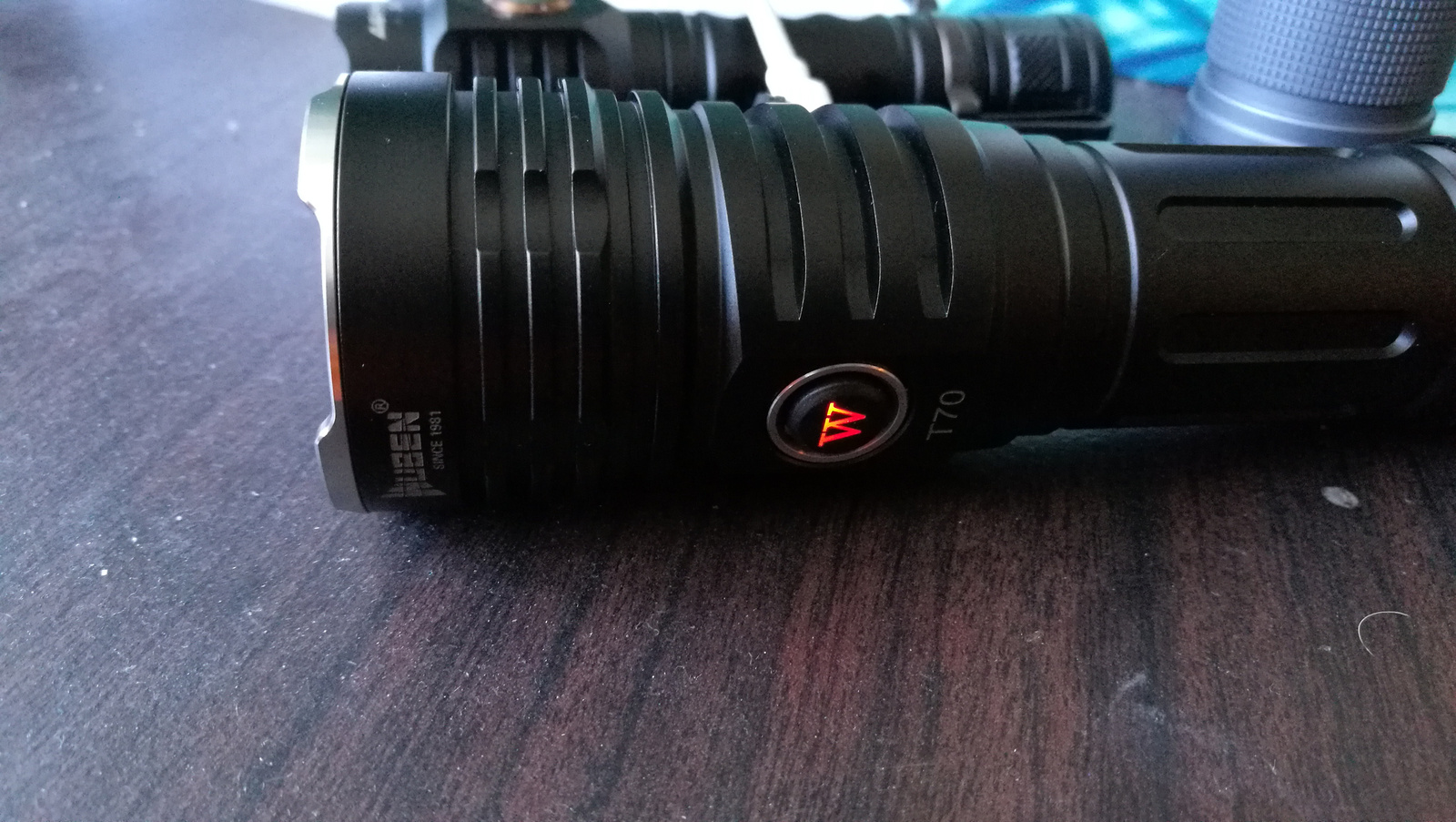 The bezel is removable with not much effort. And it has a thin plastic ring between glass lens and steel bezel to not scratch or damage the lens. This is a very nice indicator of attention to detail: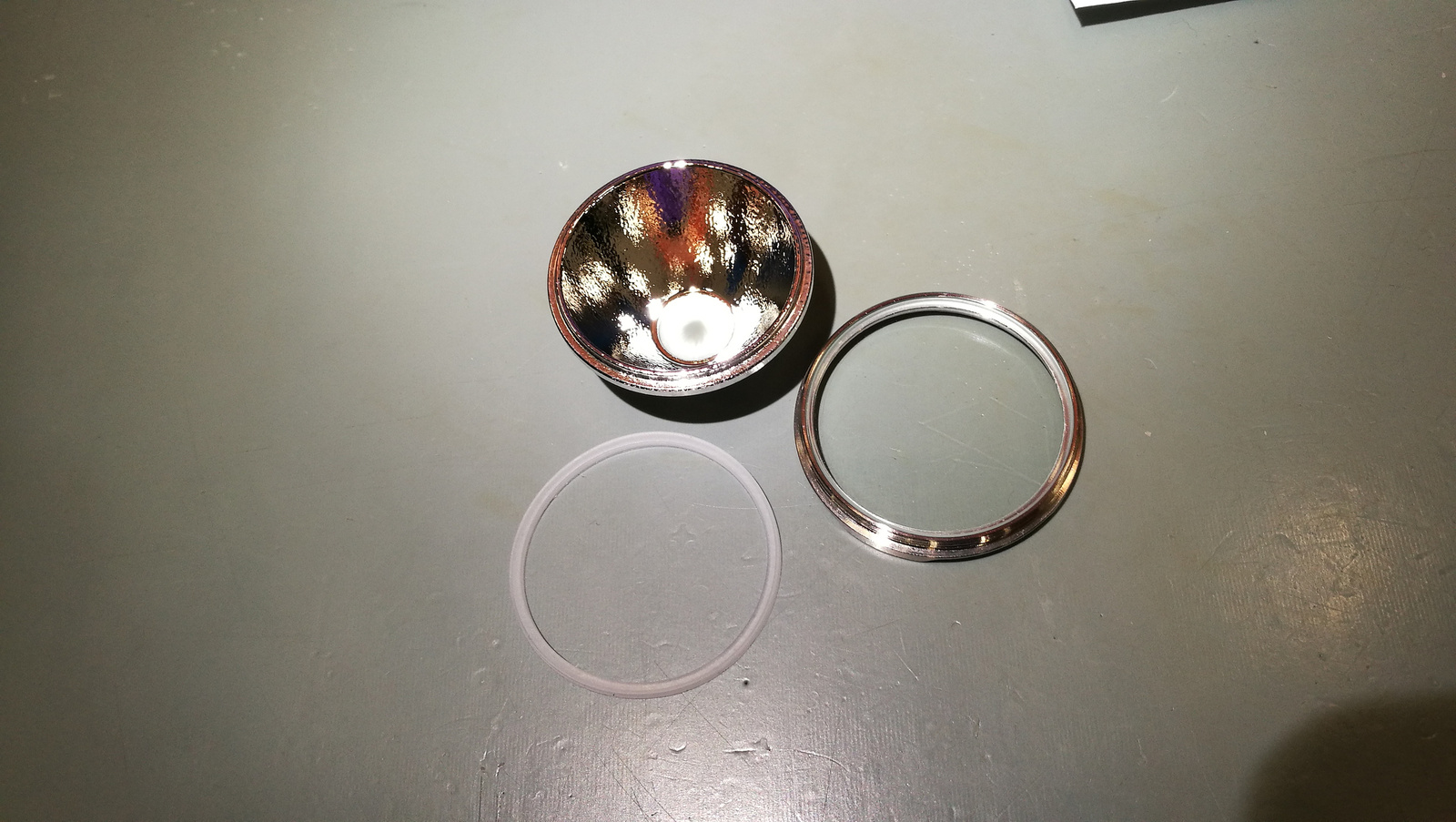 Reflector: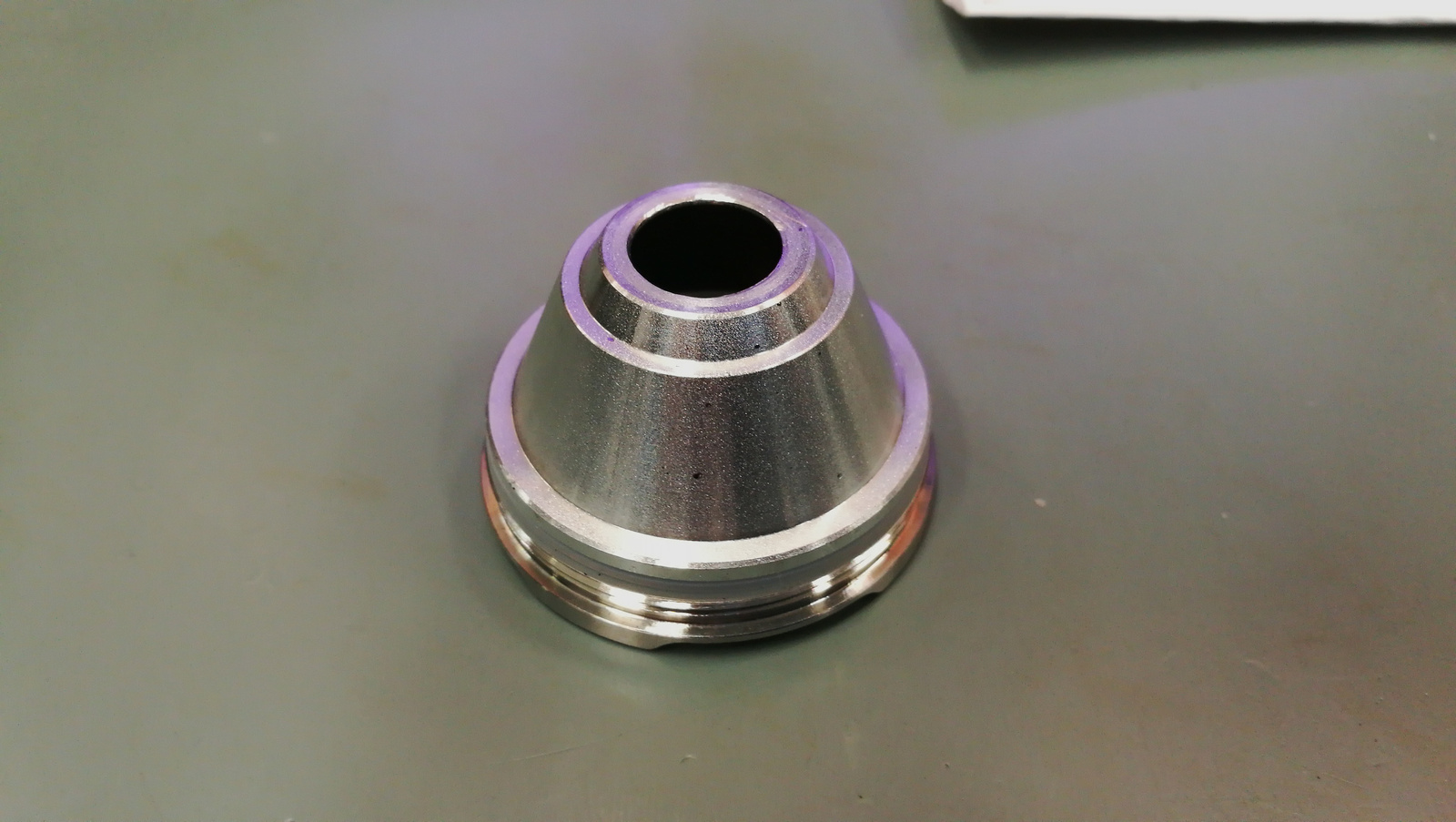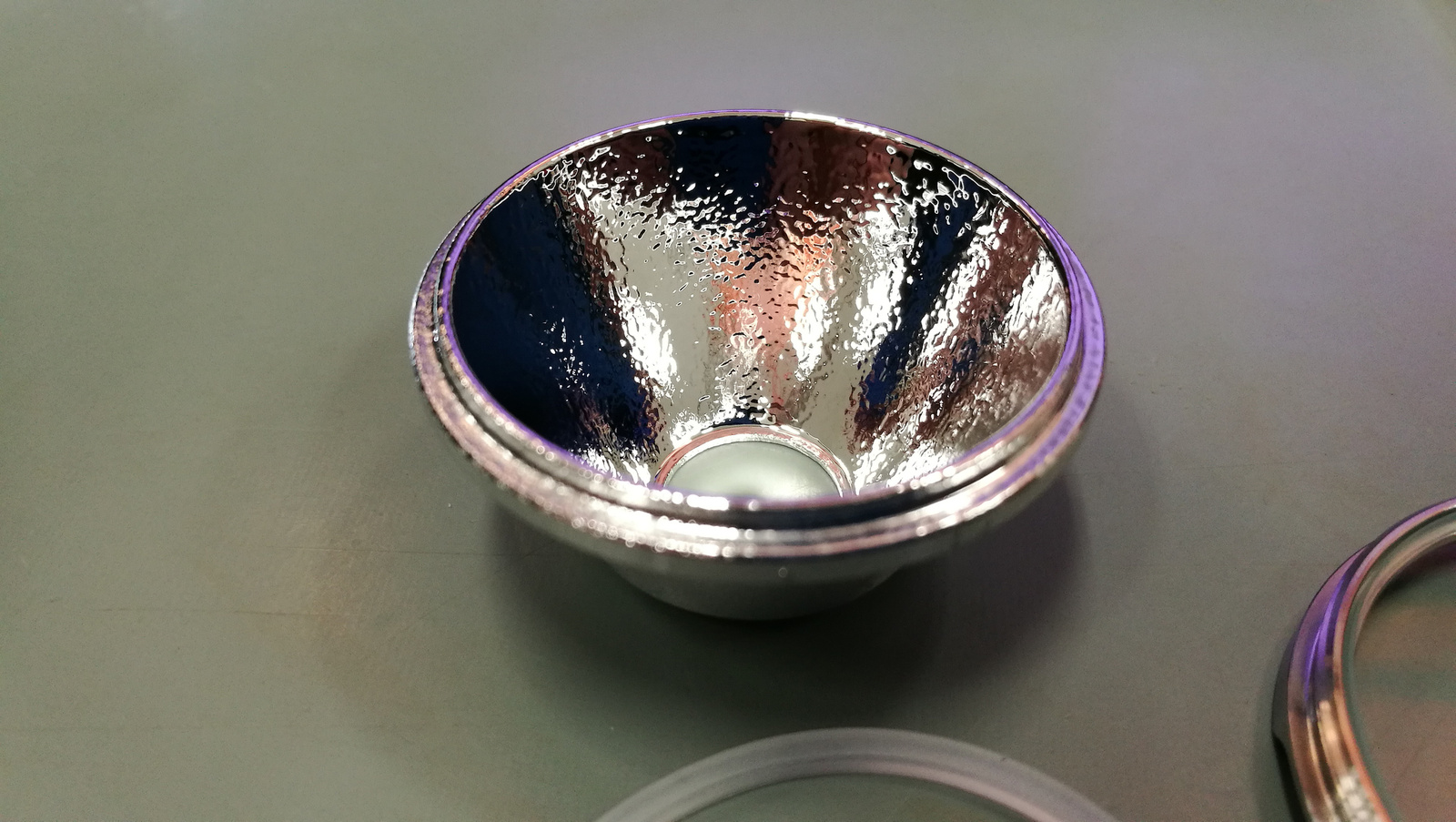 It has a very good led centering solution held in by screws and these also pressing the MCPCB down.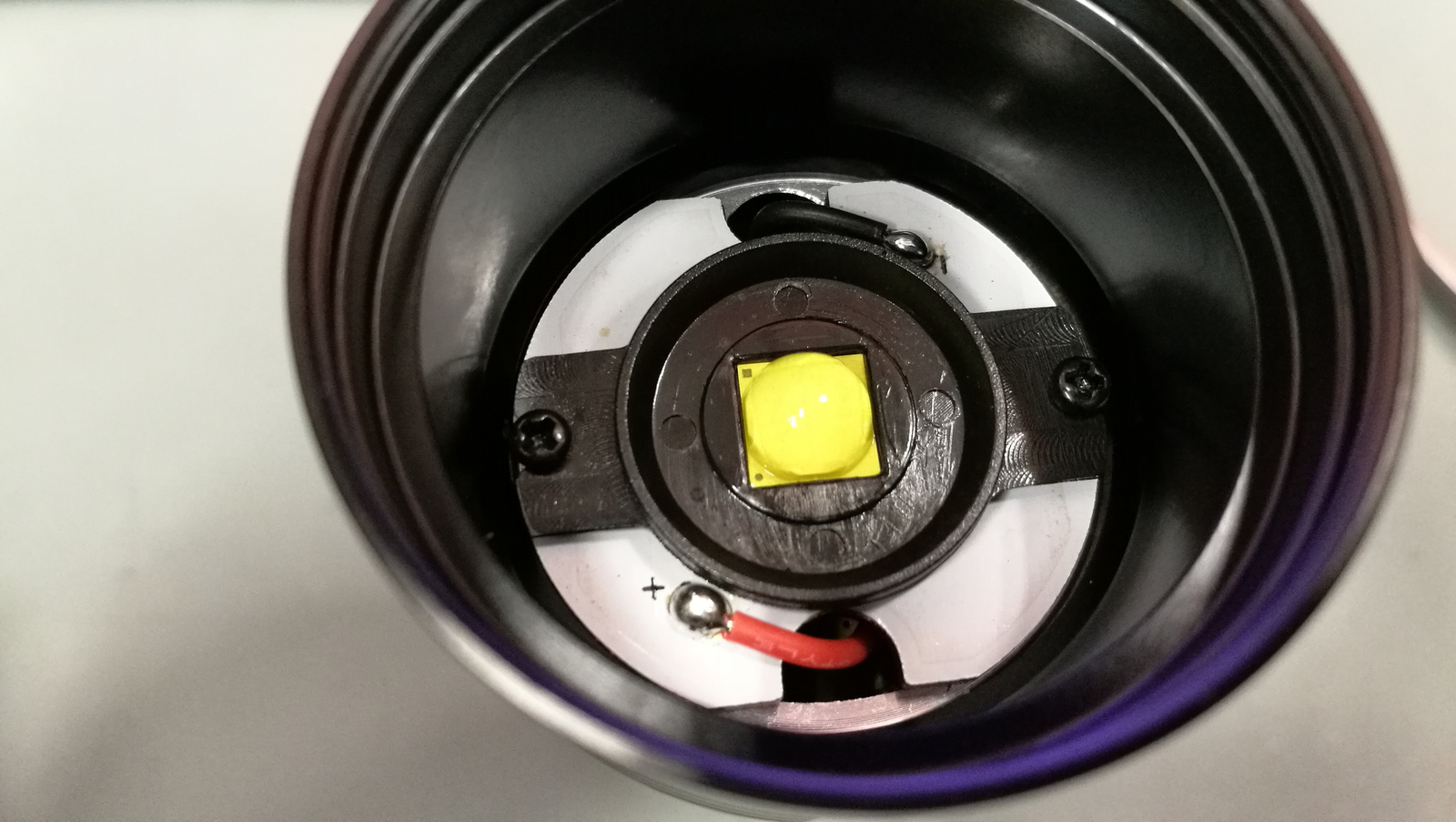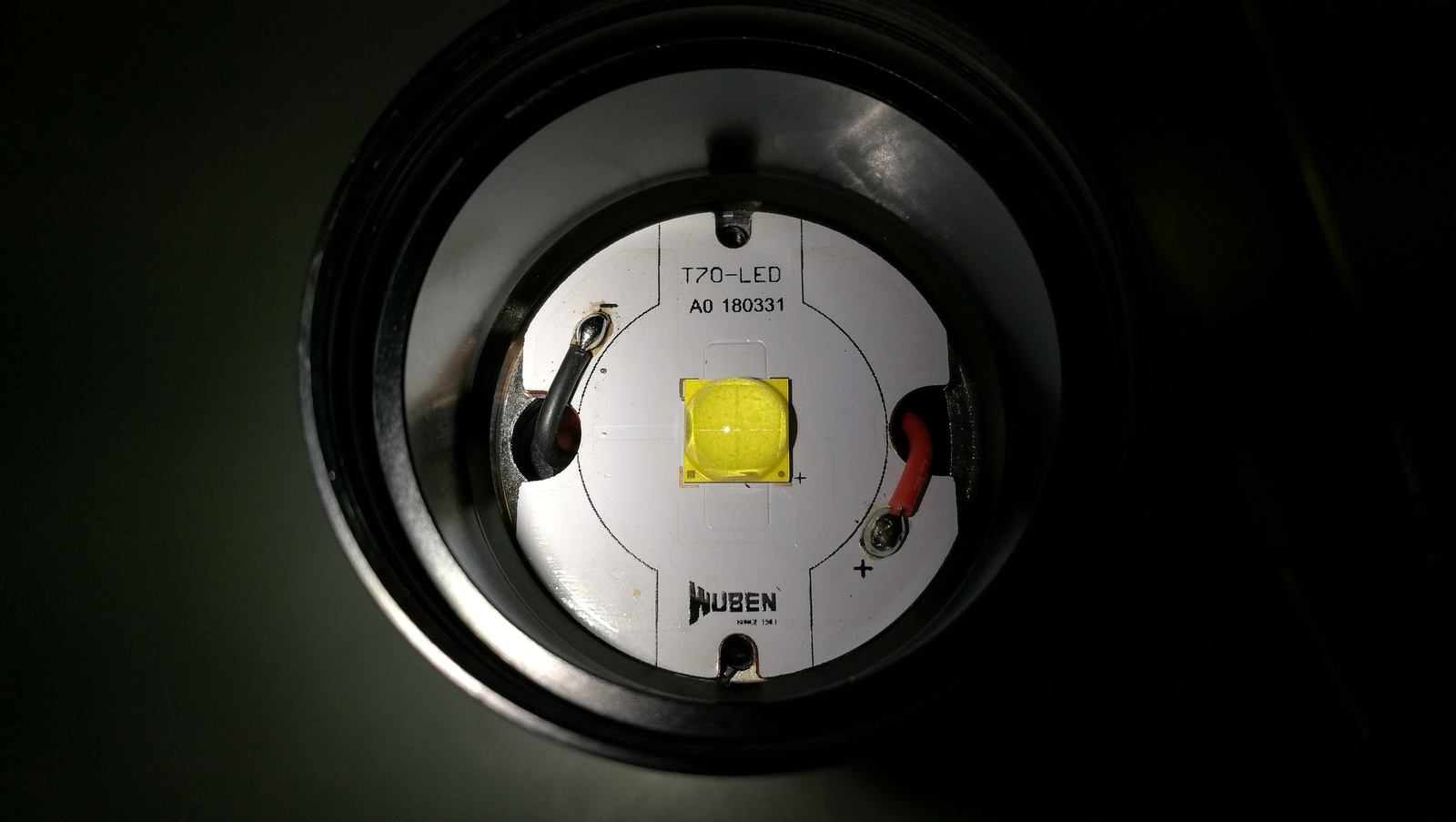 It has a good amount of thermal paste spread evenly on the 5mm thick led shelf: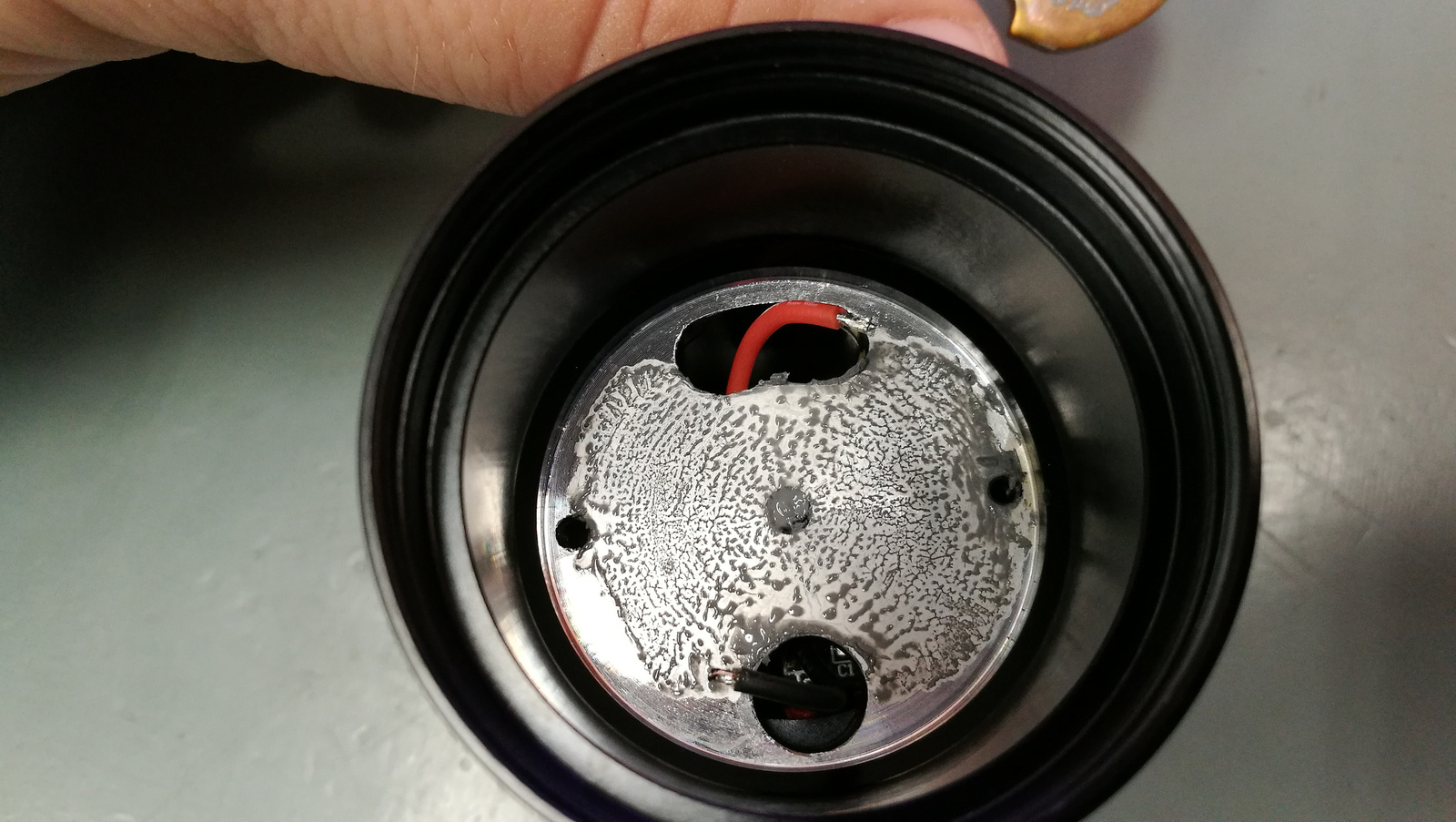 You can see some other PCB signs on the MCPCB bottom. I think the leds sended in a reflow machine with MCPCB on another PCB causing these marks. No problem with them just thought interesting to mention.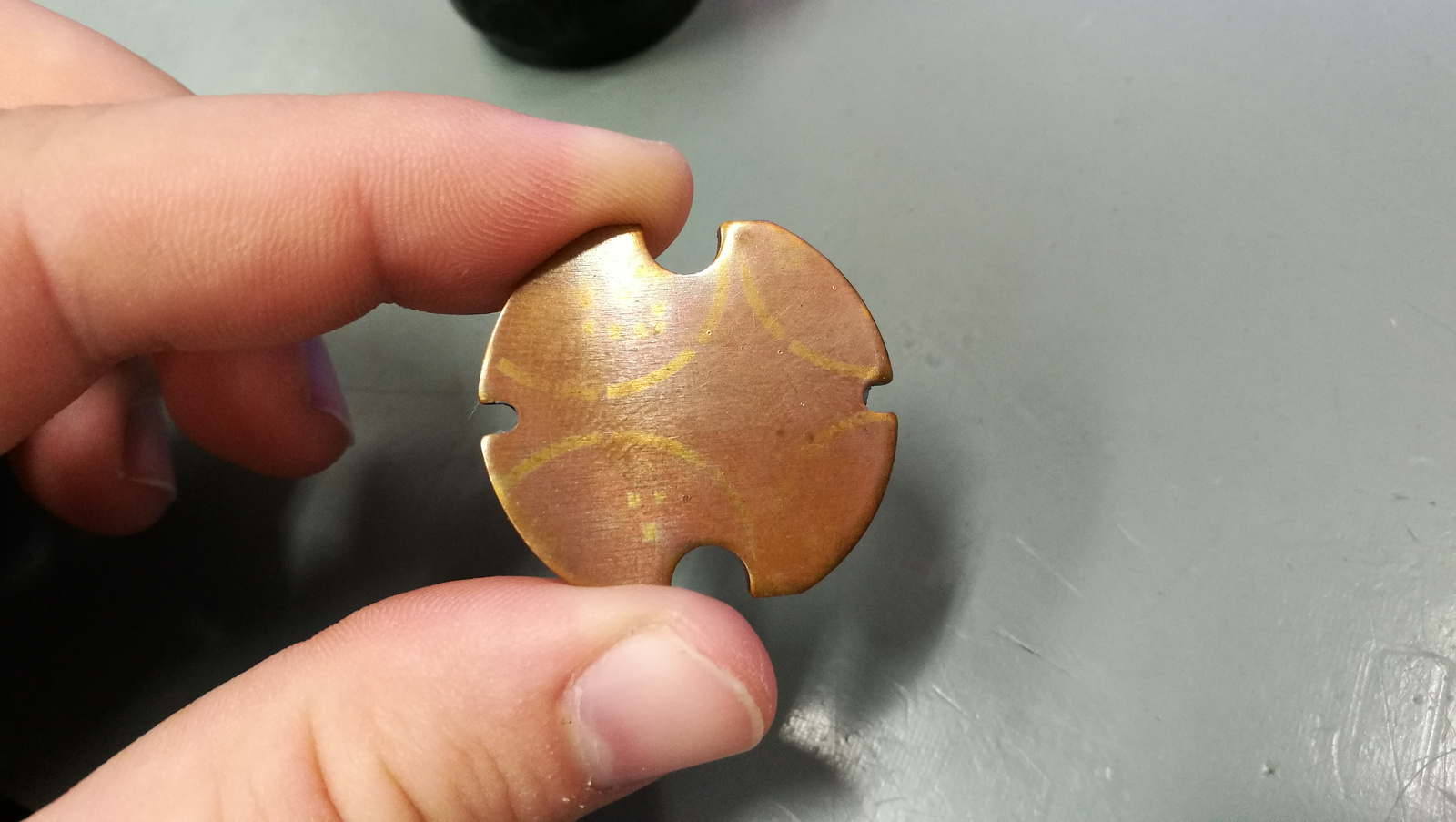 Thick shelf with a little machining dimple in center: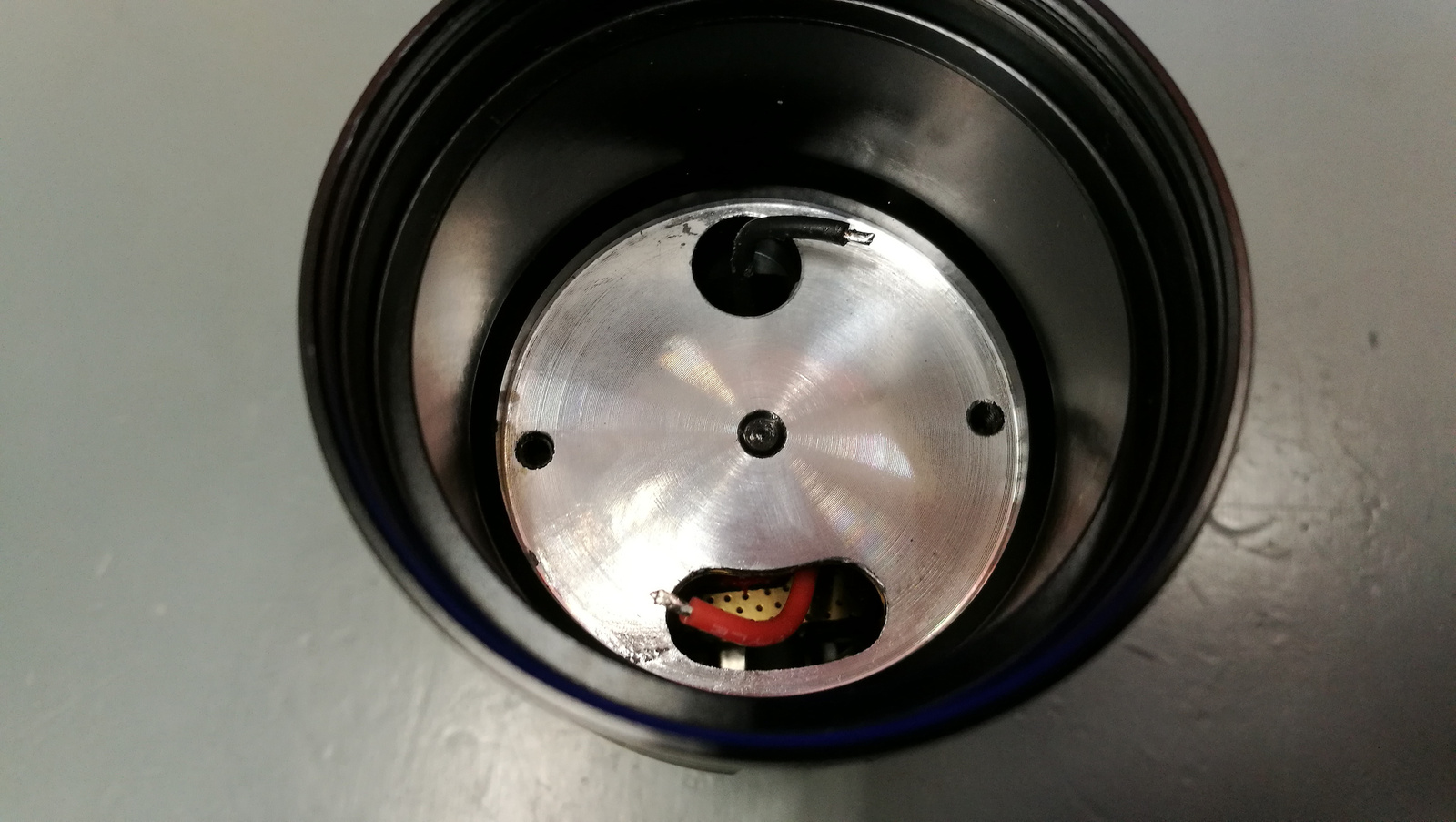 Some other nice images
Pros:
-high output very close or even more than factory ratings
-good machining
-nice UI
-electric lockout
-big tailcap
-stepdown for safety
-reverse polarity and over discharge protection
-double springs
-protected battery come with light
-really nice holster
-good grip and size
-spare O-rings and lanyard and holster
-copper DTP MCPCB
-built in charging with 2A charging current (USB-C)
Cons:
-Slow ramping and can't change direction just at the ends
-No really low moon mode
-too long click need to turn off
-No shortcut from off to lowest mode
-Neutral white led is a little on the cool side for me.
Summary:
It is a very bright flashlight and it is good all rounder for outside use. It has a very usable beam at 100-250m range with a big smooth hot spot and a smooth transition to spill so it is also usable at close range like 10-20m.
It only need a little polishing on the firmware to make ramping mode more usable. So If it will be faster at higher levels and make it able to change direction it will be a useful feature.
With the slow ramping it is more usable in mode group setting. It is made well and it has a place on a flashlight enthusiast's shelf.
Thank you for reading through and thanks to Wubenlight to sending me this great flashlight for the review!