Sad day for Star Wars fans, Carrie Fisher passed away this morning, at age 60.
http://www.foxnews.com/entertainment/2016/12/27/carrie-fisher-best-known-as-princess-leia-in-star-wars-dead-at-60.html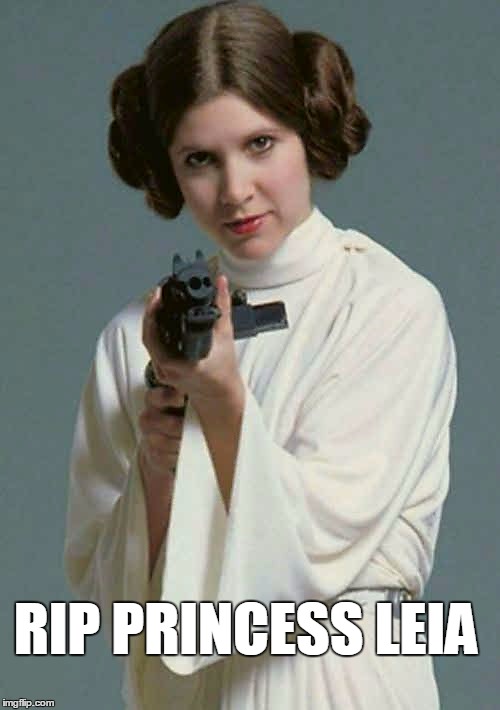 RIP :(

2016 took too many great people...
Sure doesn't seem that long ago when that first movie came out
True
I miss David Bowie
RIP
Damn… 2016 can suck a big hairy meatball. Too many great heroes of my childhood taken away…
rip Claude Gensac


Died today.
Very sorry to hear that Carrie Fisher died. She will be missed. Her career as a 'script fixer' was perhaps her most important but least known role. I've read that she worked on MANY films (un-credited by her own request). She was always in demand for her ability to 'fix' scripts/ writing/ director/ and actor 'improvs' and get a film back on track.
Carrie Fisher, too young...RIP-
Here is a list of celebrities that died this year : Muhammad Ali Carrie Fisher Prince Fidel Castro David Bowie John Glenn Jose Fernandez Nancy Reagan Janet Reno Arnold Palmer Antonin Scalia Shimon Peres Keith Emerson Alan Thicke Florence Henderson Garry Shandling Gene Wilder Patty Duke Edward Albee Harper Lee Joe Garagiola John McLoghlin Abe Vigoda George Kennedy Garry Marshall Robert Vaughn Doris Roberts Ron Glass Phyllis Schlafly Tom Hayden Kenny Baker Leonard Cohen Maurice White Merle Haggard Glenn Frey Sharon Jones Attrell Cordes Pat Summitt Craig Sager John Saunders Morley Safer Gwen Ifill Rob Ford Elie Wiesel Boutros Boutros-Ghali henry Heimlich Alan Rickman Anton Yelchin
I am old enough to know who all of these people are . Yikes .

… RIP
Ain't it the truth RobertB! I was just over 25 years old back in 1977 when it came out on May 25th.
That was about 39.6 years ago. Dang, where have the years gone………. :FACEPALM:
I guess that brings new meaning to the statement….
"Life is made up of two dates with a dash separating them. Make the most of the dash."

You should verify that copy/paste
You really think that people would go on the internet and tell lies ?



Is there a living person on that list ?
Hey Teach, I didn't know we're the same age. I was born in May, 1952. Anyway, it's scary when somebody dies younger than us. Even though I'm relatively healthy, I'm starting to feel my mortalility. That said, it's really sad about Carrie Fisher. I loved the first 3, but the newer releases did nothing for me.
Goldie Haws afaik is alive
Dang it all to heck , you're right !
oops
fixed it , thanks .
Who's Goldie Haws? You mean Hawn?
SOCK IT TO ME
SOCK IT TO ME
SOCK IT TO ME TIIIIIME !
Hi Glenn!! It seems we are about the same age…. I was born March 1952.

I'm trying to figure out all the "Medicare stuff" now in fact…… :FACEPALM:
To much paperwork for me, but I'll get it done…. got to.

PS…. Yeah I liked the first movies better myself. :THUMBS-UP:
I'm a little older than both of ya. LOL. Frankly, I had it WAY WAY WAY better on my previous group insurance…IMO Medicare sucks….but it's all I got left !!
Turn into a 62 yr ole Geezer and the previous insurances kick your butt out. $)