Nitecore P30 was really popular and affordable model that had a serious throw by standarts of 2016. 5 years passed and Nitecore totally updated this well-known bestseller according to geist of its "i" model line. Lets take a look what to expect from flaghship long-throw flashlight from Nitecore.
Nitecore P30i official page manual
you can buy Nitecore P30i at:
➤ AMAZON
➤ ALIEXPRESS
➤ BANGGOOD
➤ NITETORCH
SPECIFICATIONS
CREE XHP35 HI LED with a maximum output of 2000 lumens;
Crystal coated mineral glass ultra clear lens with Precision Digital Optics Technology (PDOT);
The peak beam intensity is 250,000 cd, the maximum beam range is 1000 m;
It is powered by a 21700 i battery, also a flashlight with CR123 rechargeable batteries providing up to 100 hours of operation;
Tactic button and metal side switch allow control of 5 brightness levels and 2 special modes;
There are dual power indicators to determine the battery charge; • Power indicators can also display battery voltage (± 0.1 V);
Anti-shock reverse polarity protection mechanism, specially for sport shooting;
Intelligent charging circuit for lithium-ion battery via USB-C port;
High efficiency constant current circuit provides stable illumination;
Built-in Advanced Temperature Regulation (ATR) module;
Supply of lithium-ion battery NITECORE 21700 (NL2150HPi 5000 mAh) and remote tactical button (RSW2i);
Op lenses with double-sided scratch resistant;
Made of military grade HAIII aircraft grade hard anodized aluminum alloy;
Waterproof and dustproof according to IP68 standard (submersible up to 2 meters);
Impact resistance when dropped from a height of up to 1 meter.
Dimensions:
length - 178 mm;
head diameter - 65 mm.
weight: 256 gr.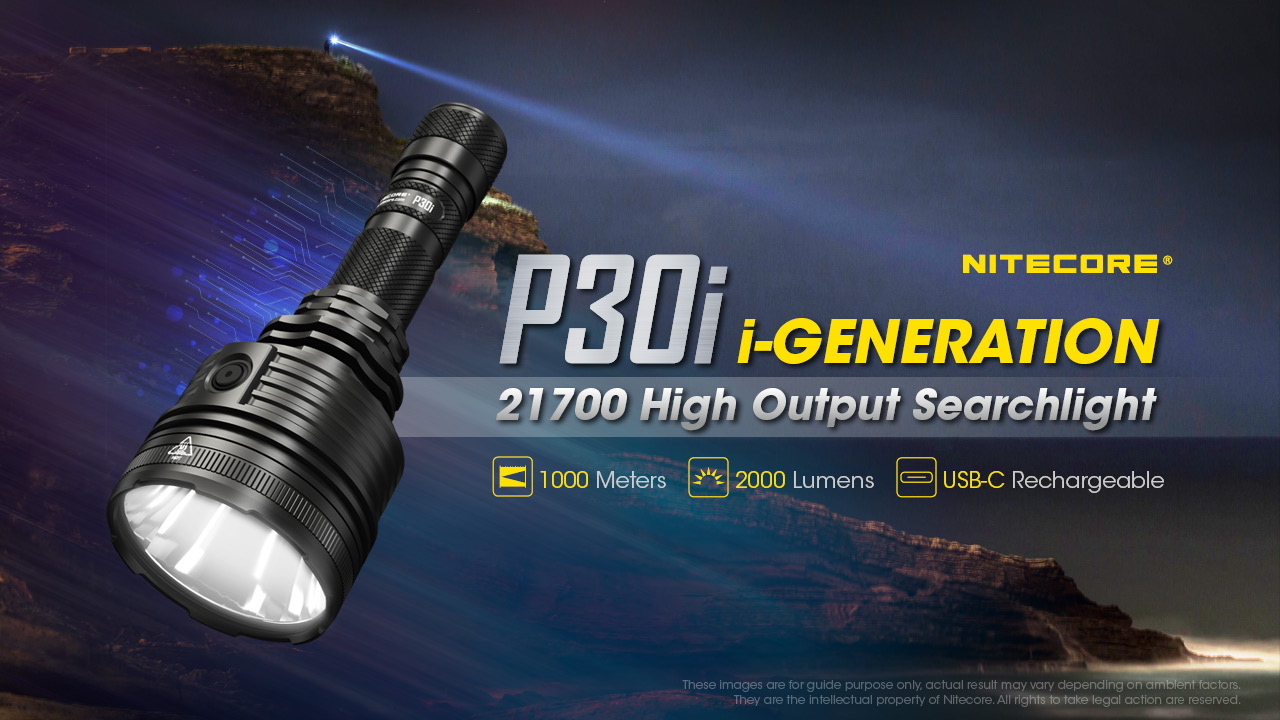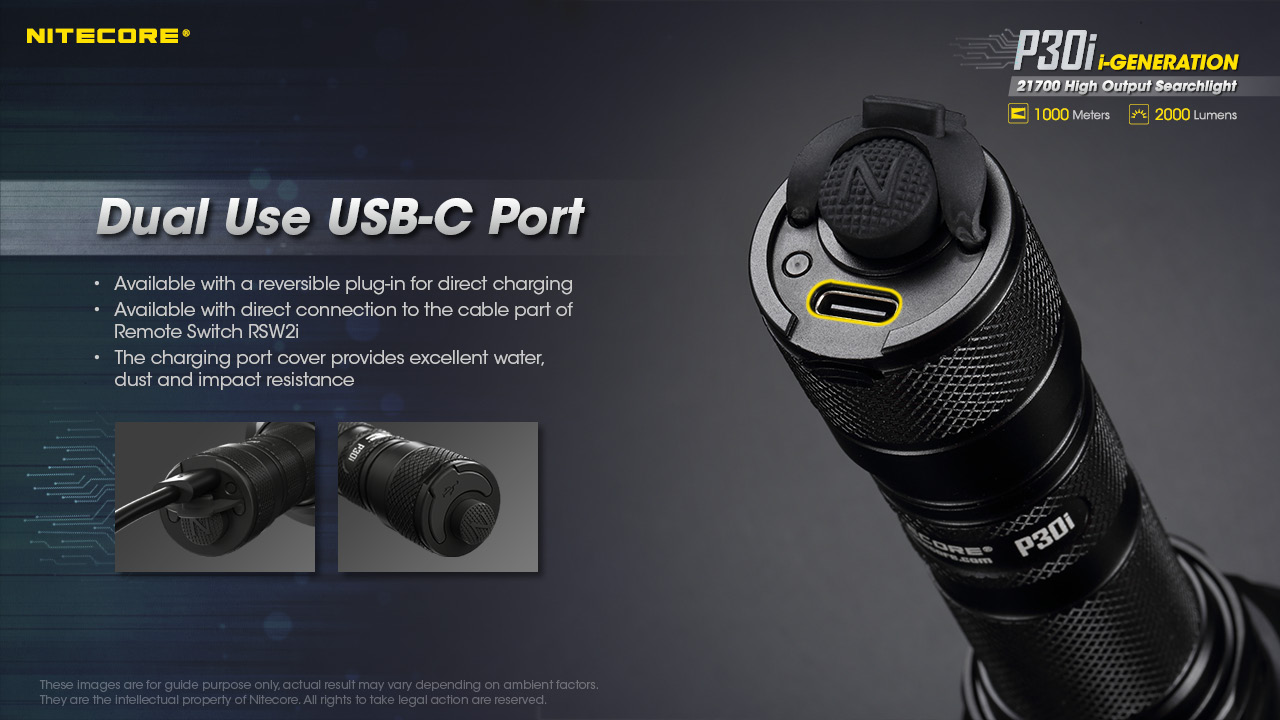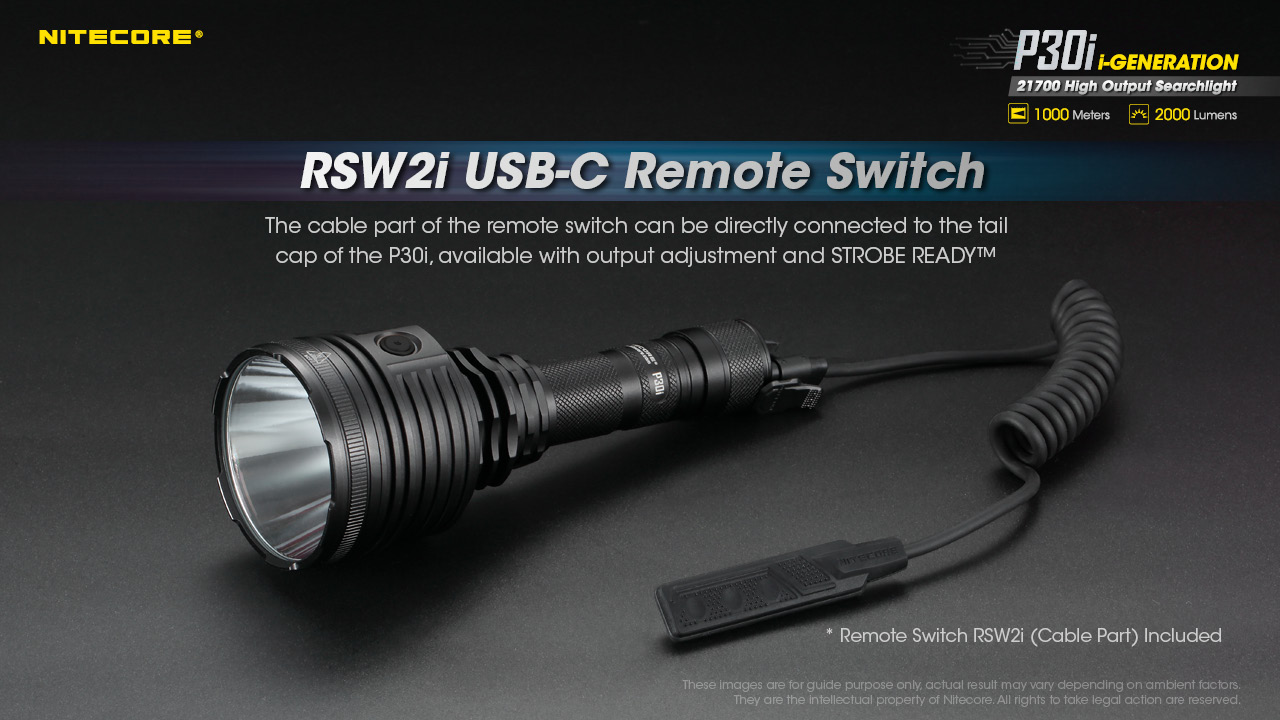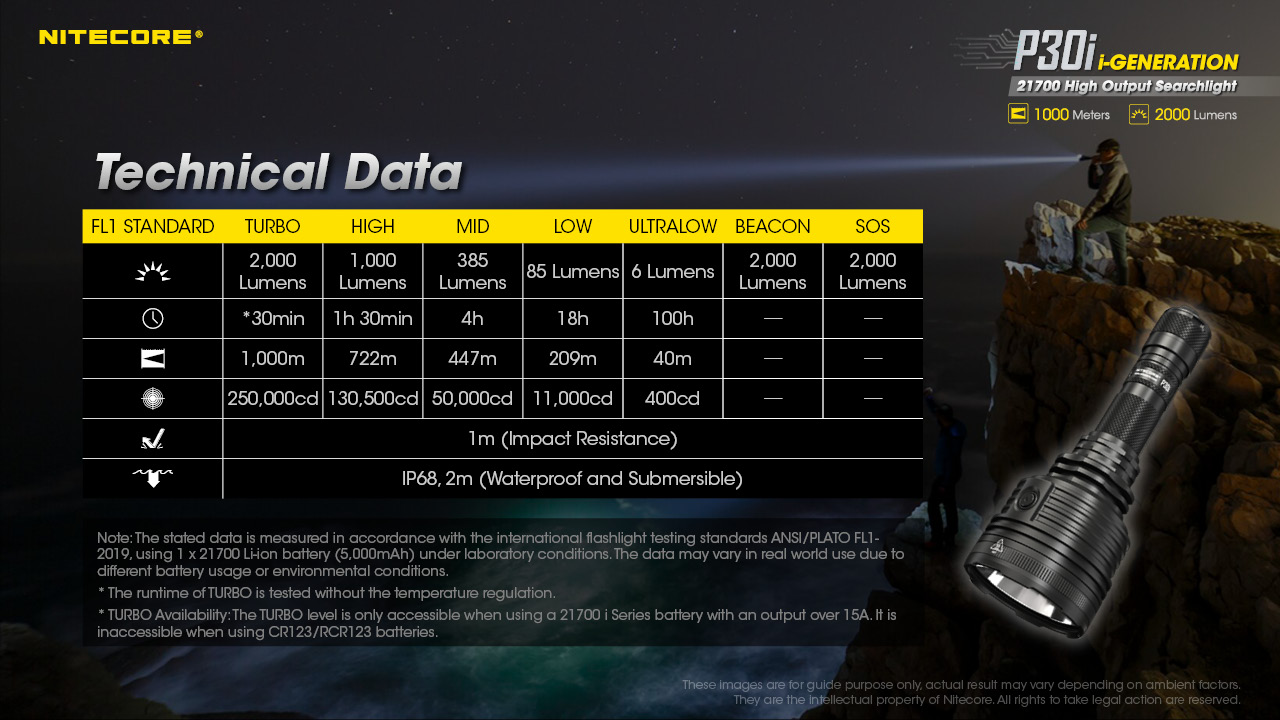 PACKAGE AND APPEARANCE
Nitecore P30i is one of the manufacturer's flagship models, so the package here corresponds to its status - it is a thick cardbppard box with excellent printing and a magnet cover. The gift potential is extremely high.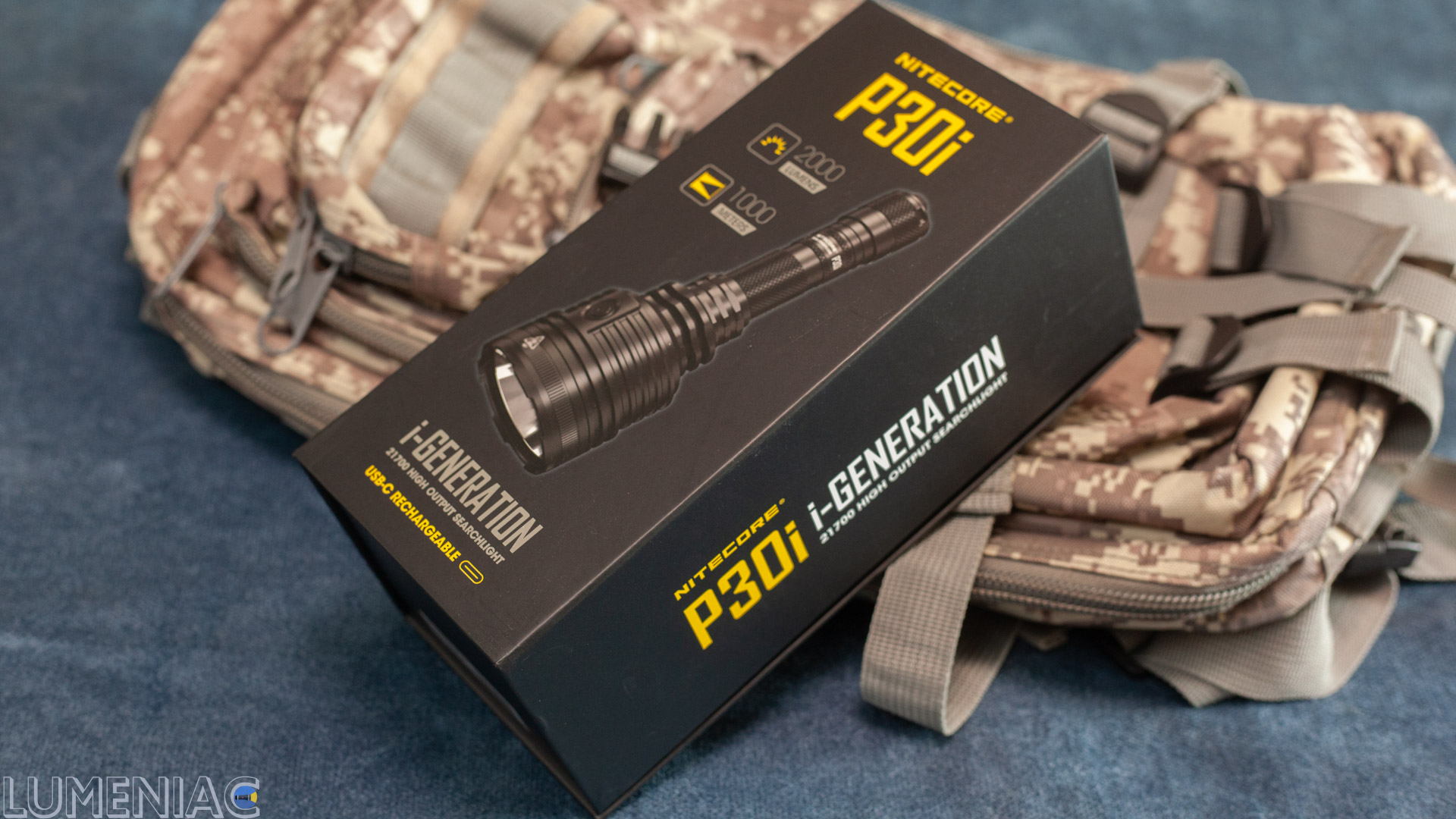 Kit includes a separate flashlight in a holster and 21700 5000 mAh battery. Nearby - separate box with a clip, an O-ring, a remote button, a charging cable, a manual and 2 * CR123 -> 21700 adapter. The kit is generous.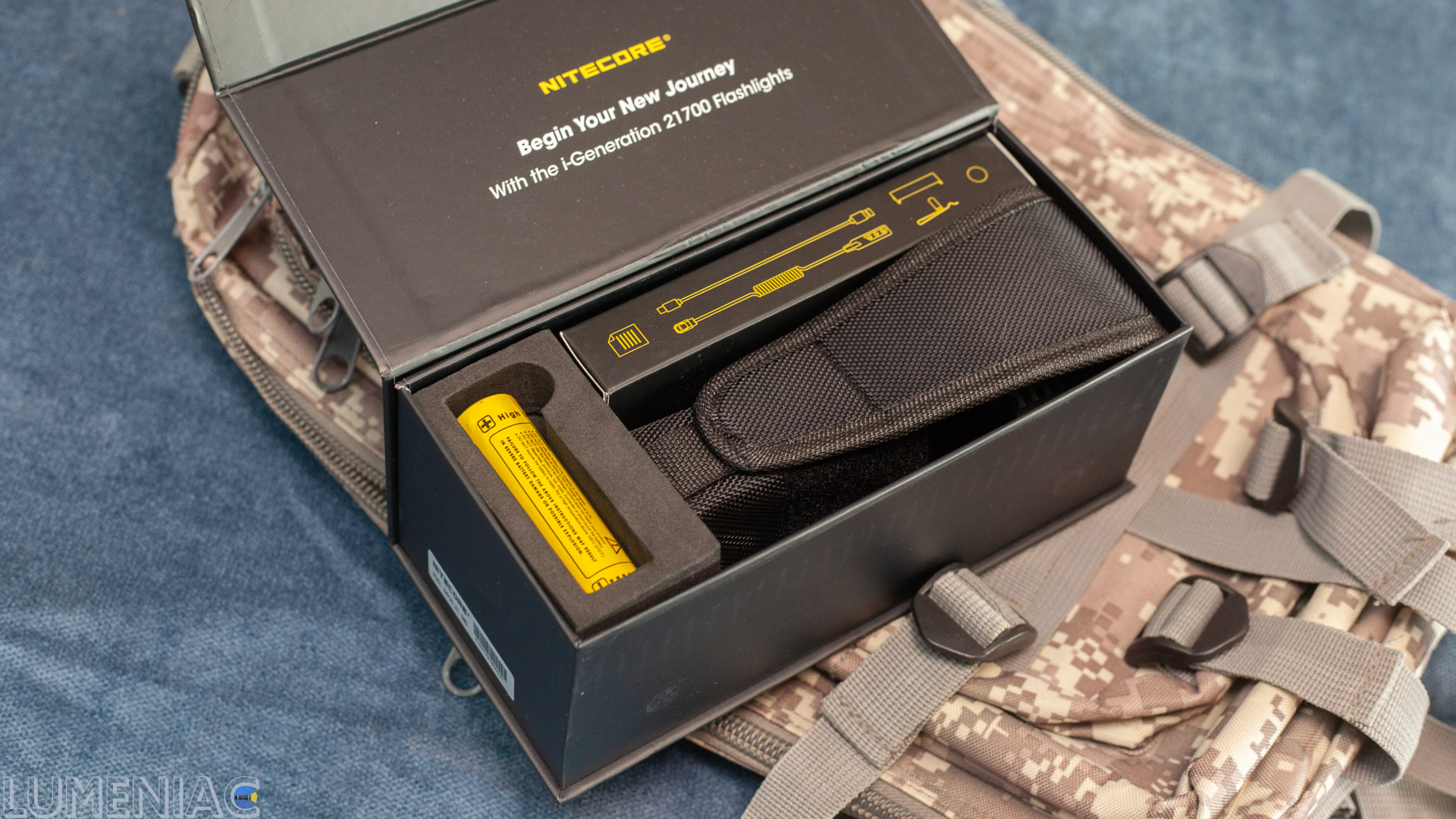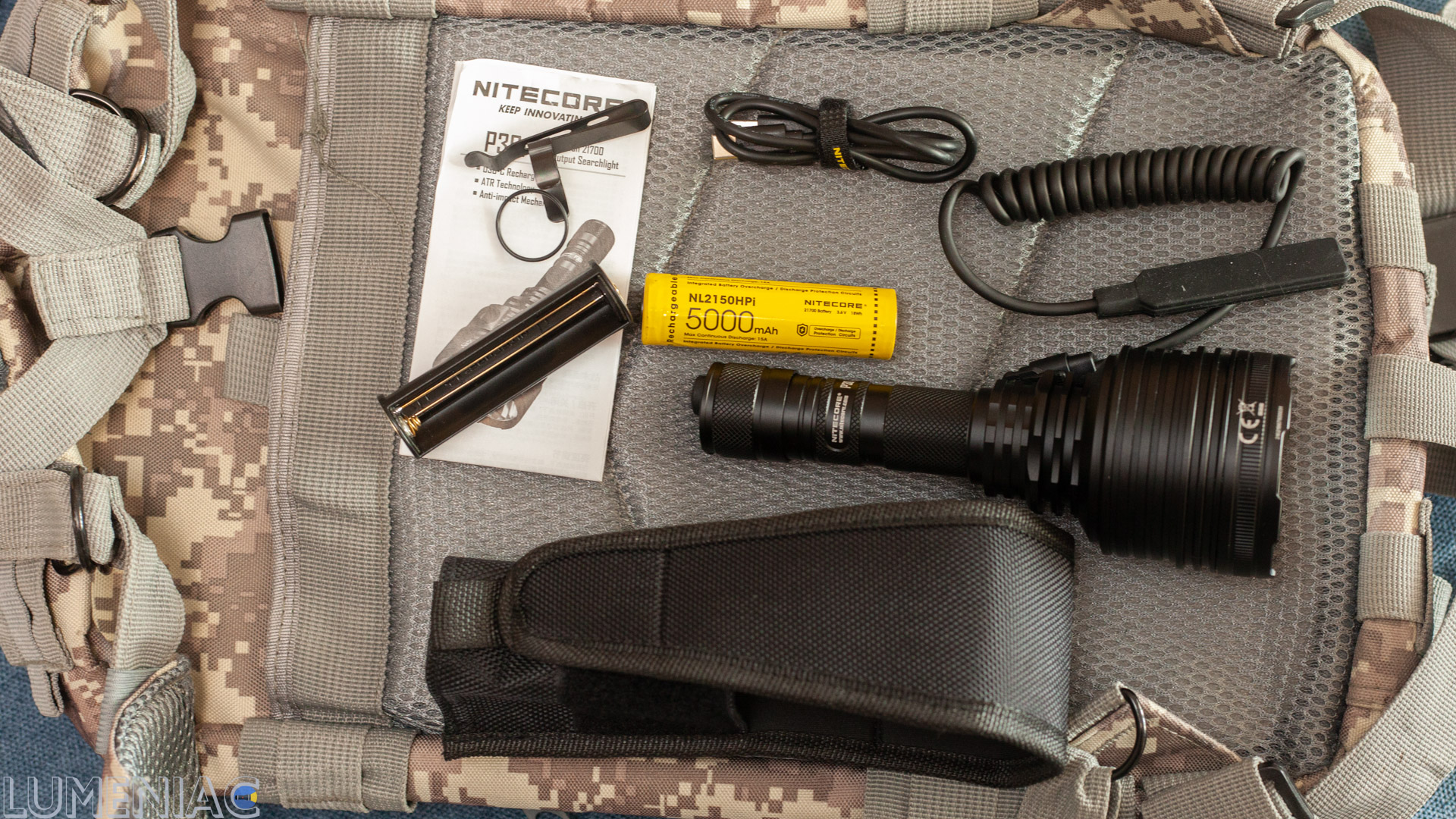 The holster is good, completely covers the flashlight.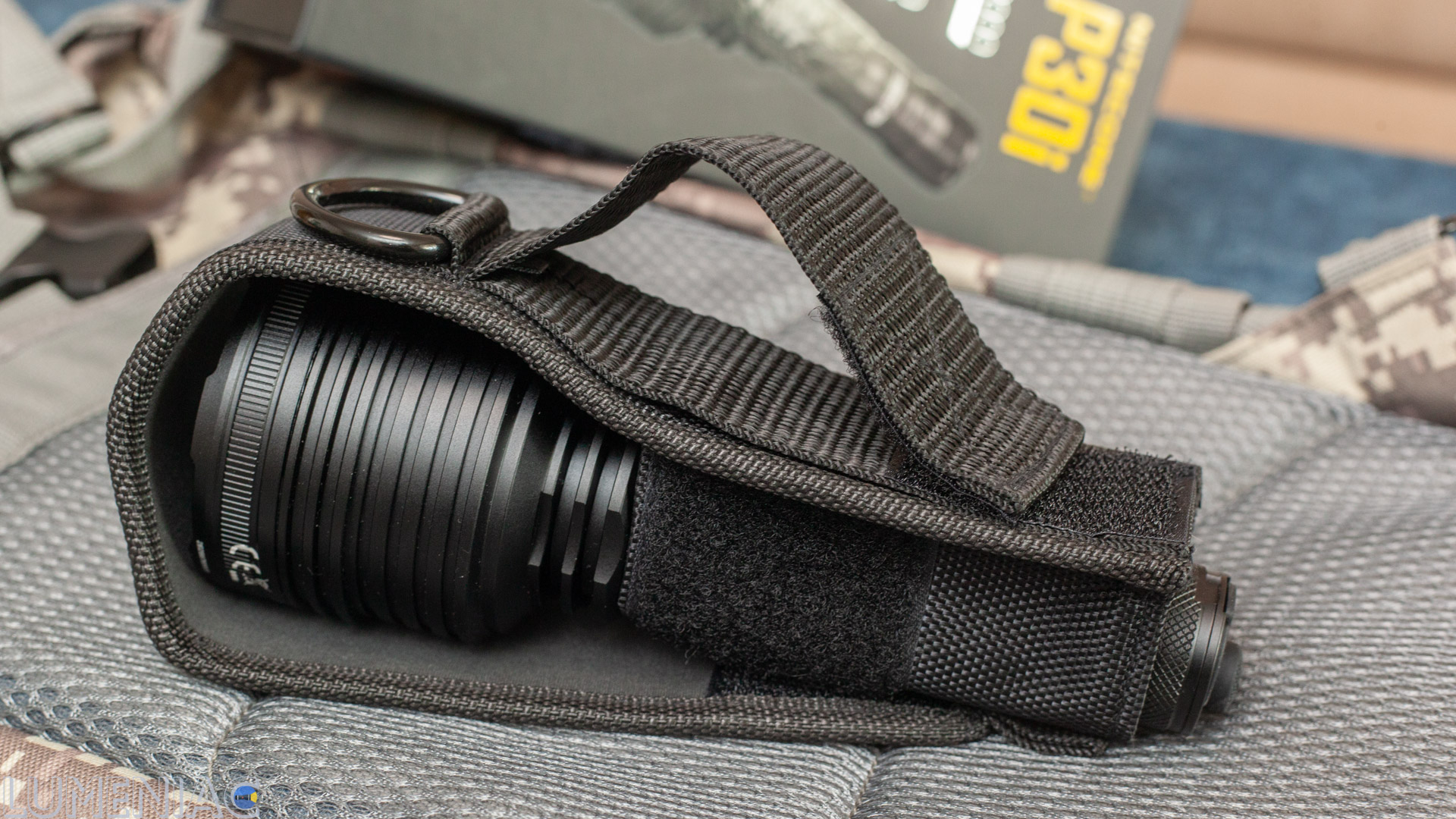 Here's the Nitecore P30i vs other long-range flashlights with a 21700 battery, you can estimate its dimensions.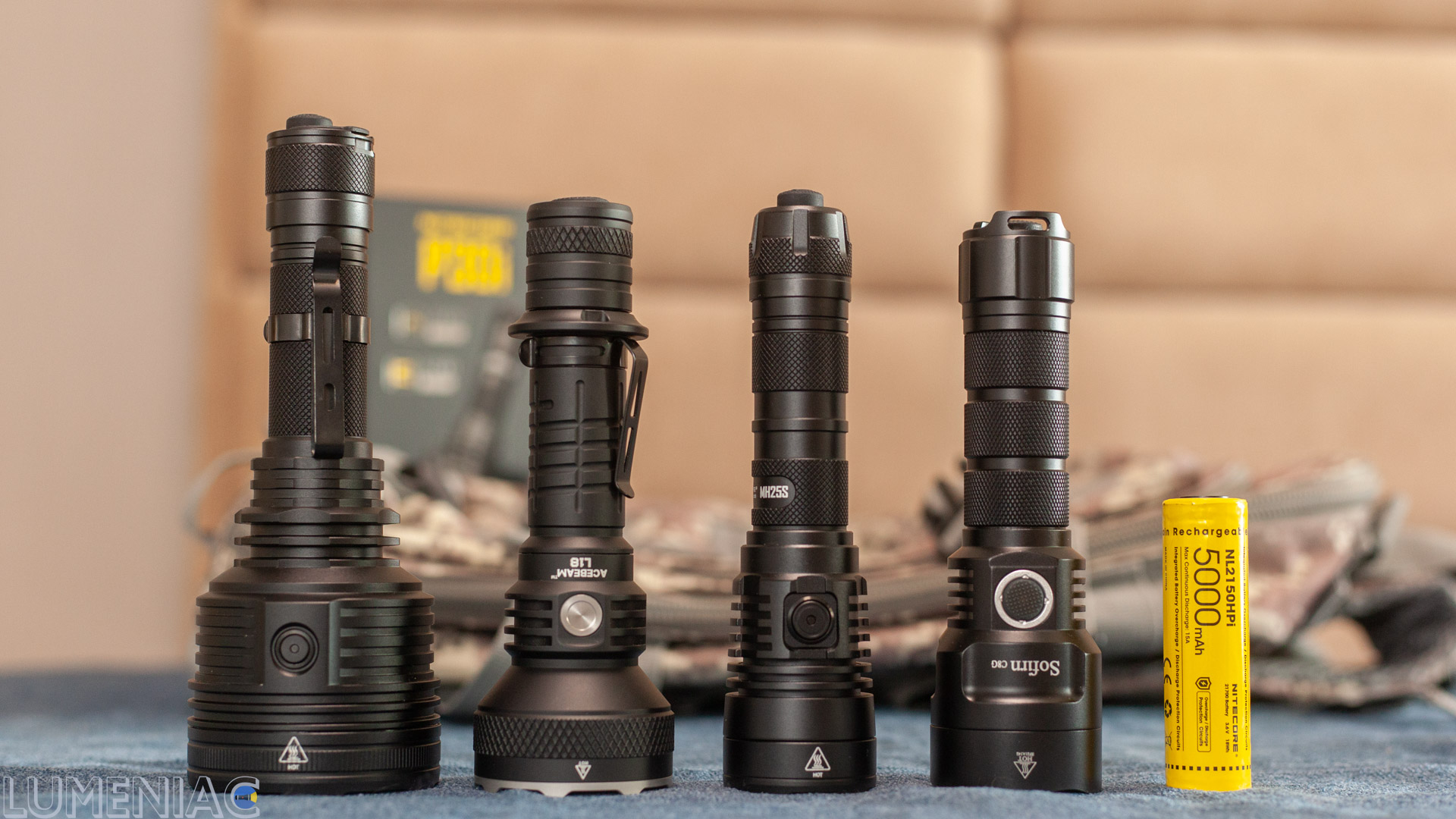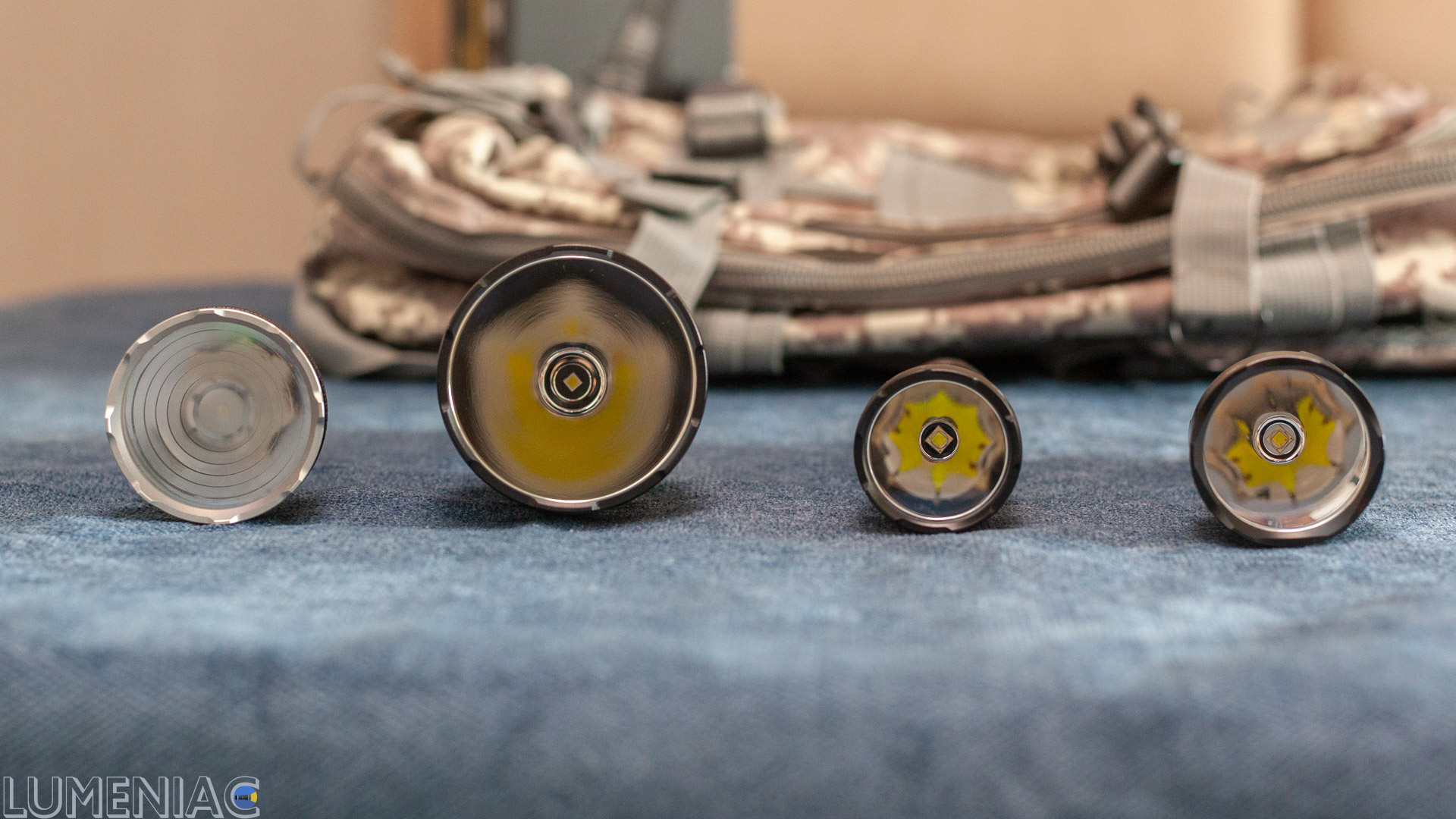 18 cm is not so much length - the flashlight head is the main difference. And 65mm of its diameter is already the size of a large flashlight that uses a pair of batteries.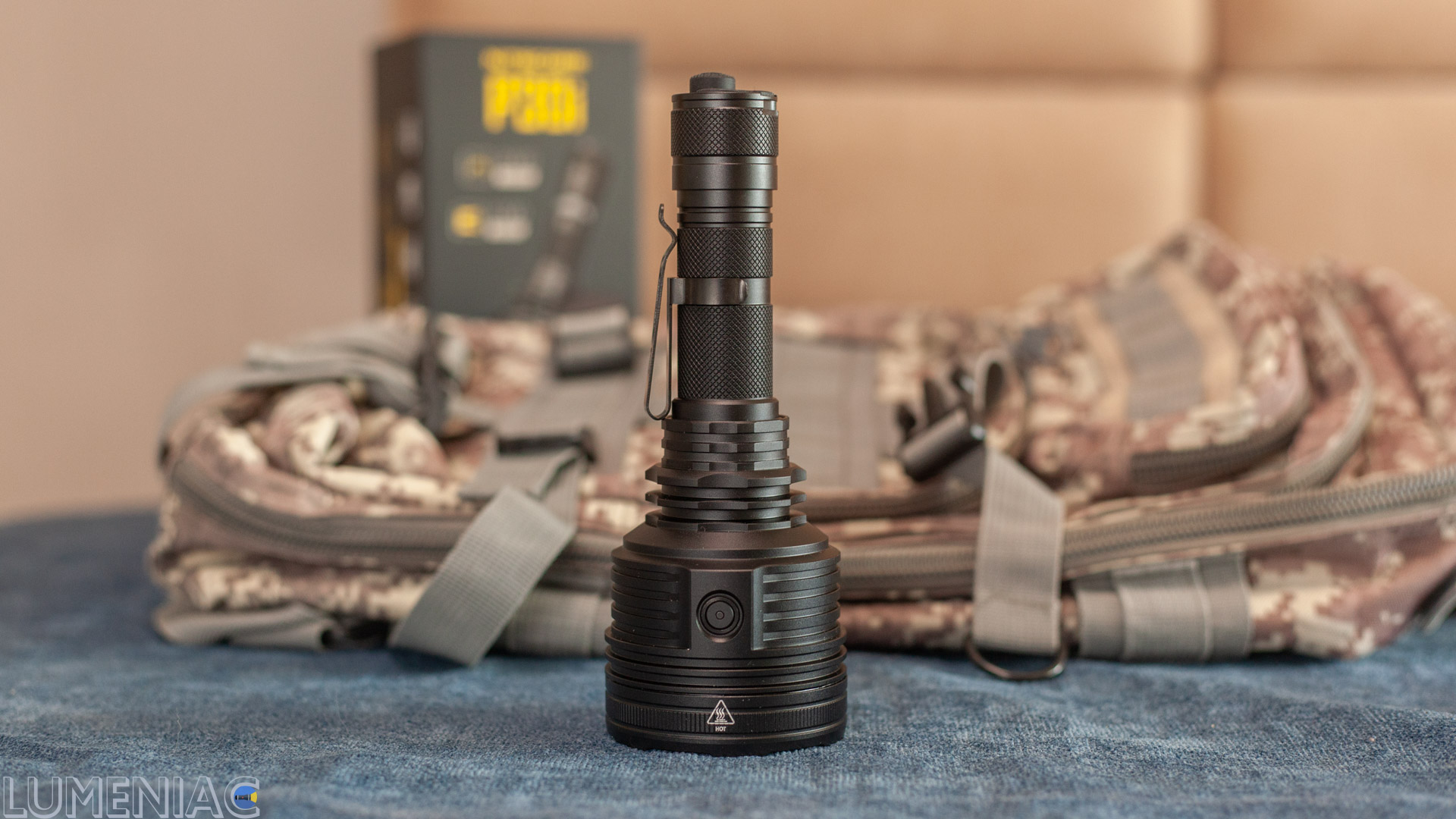 The design is sheer brutality. Almost half of the black matte body is covered with cooling fins. The rest is covered with a fine mesh of classic knurling. And due to the size of the head, the flashlight vividly reminds me of hand grenade. Of course, I like it. Good design from man`s standpoint of view.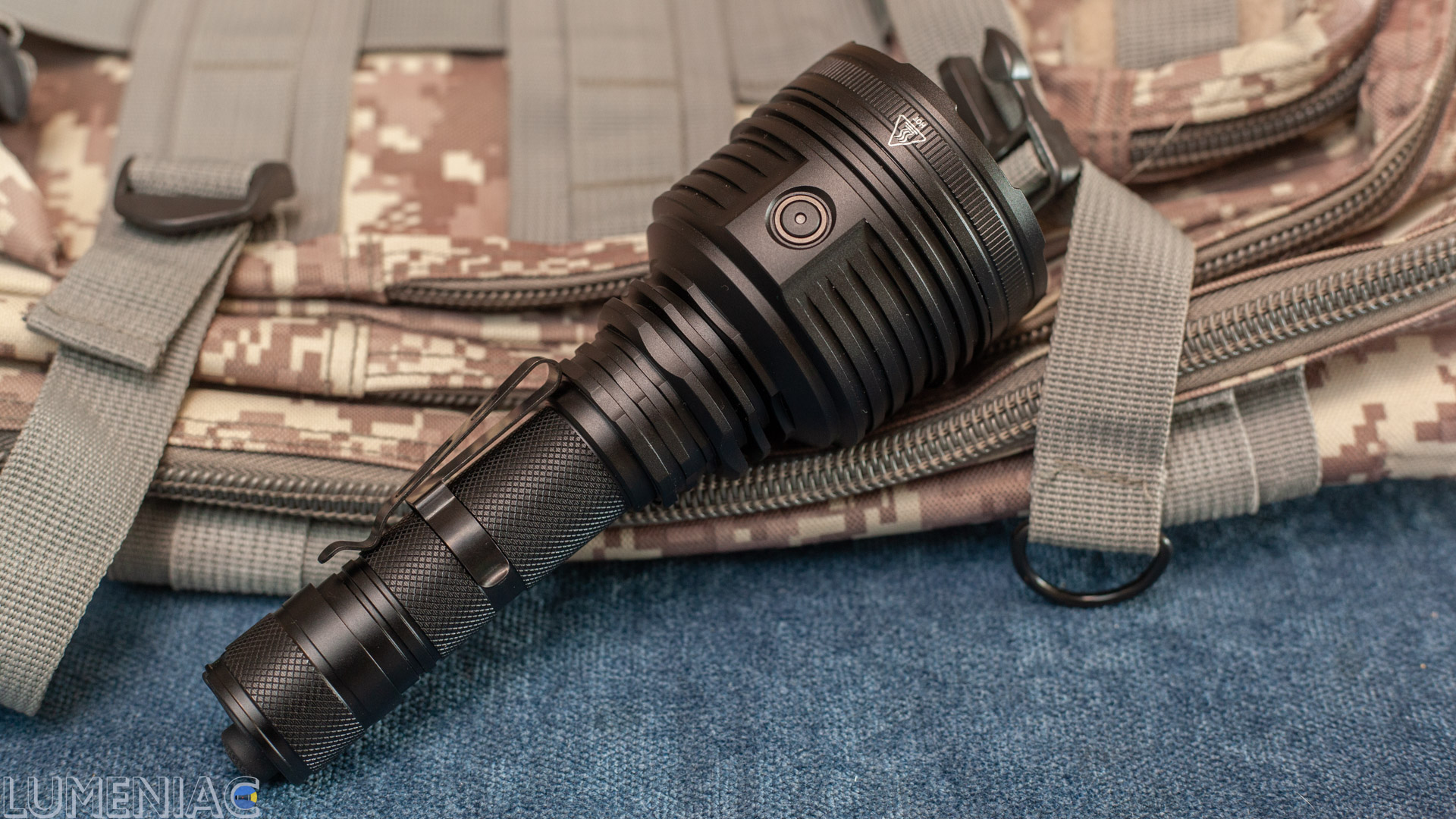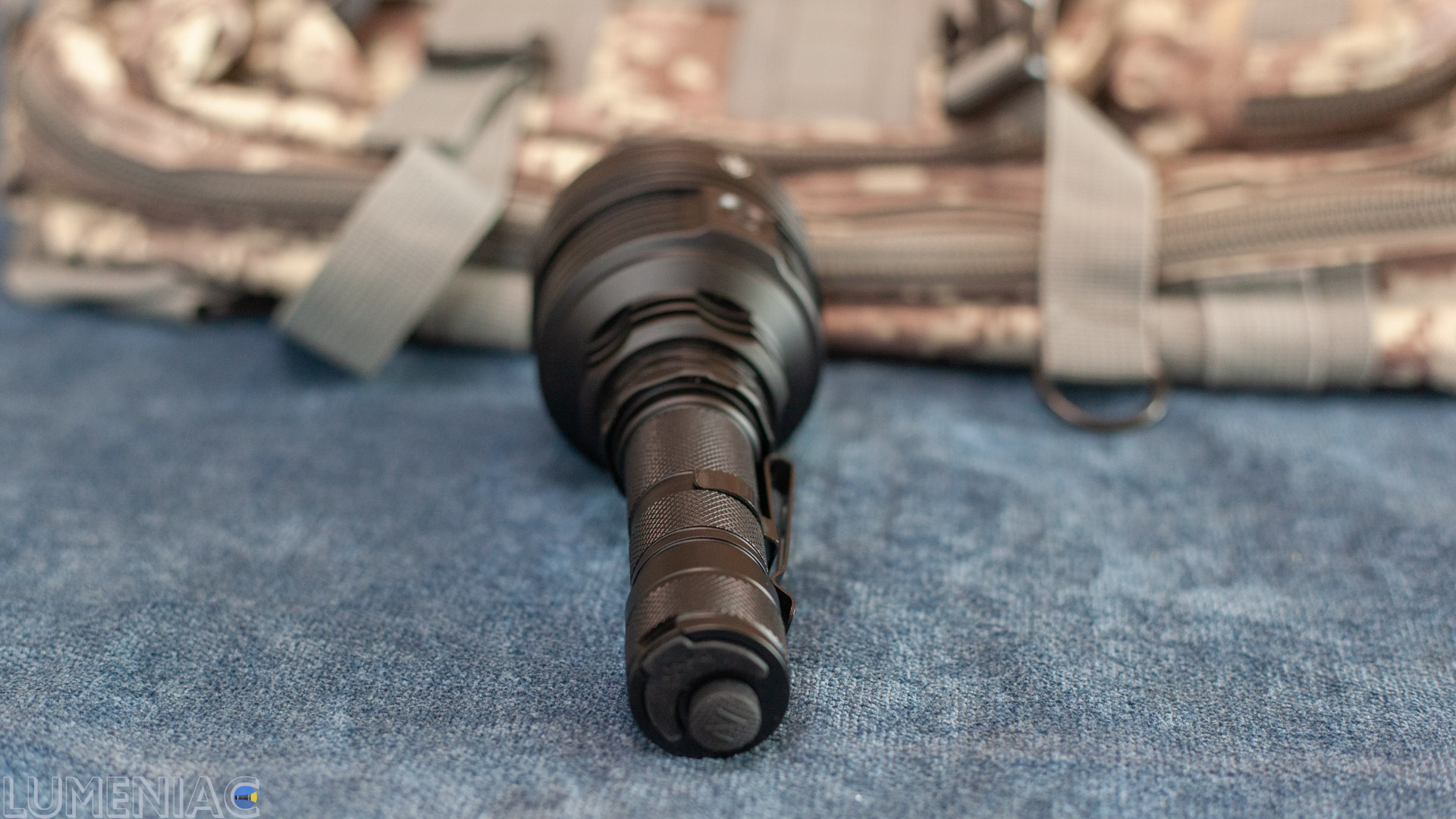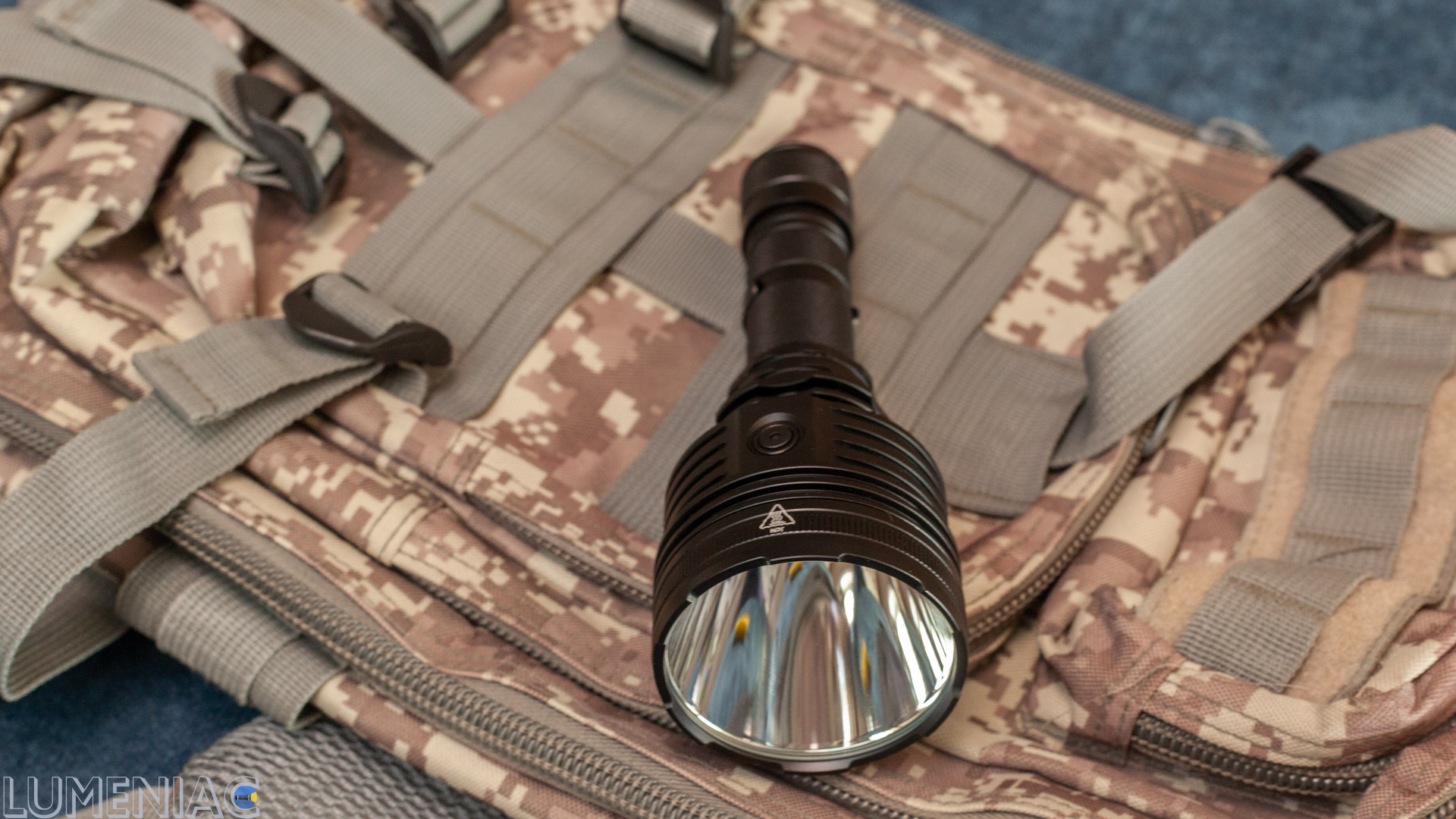 There is direct click button and the typec-C charging port.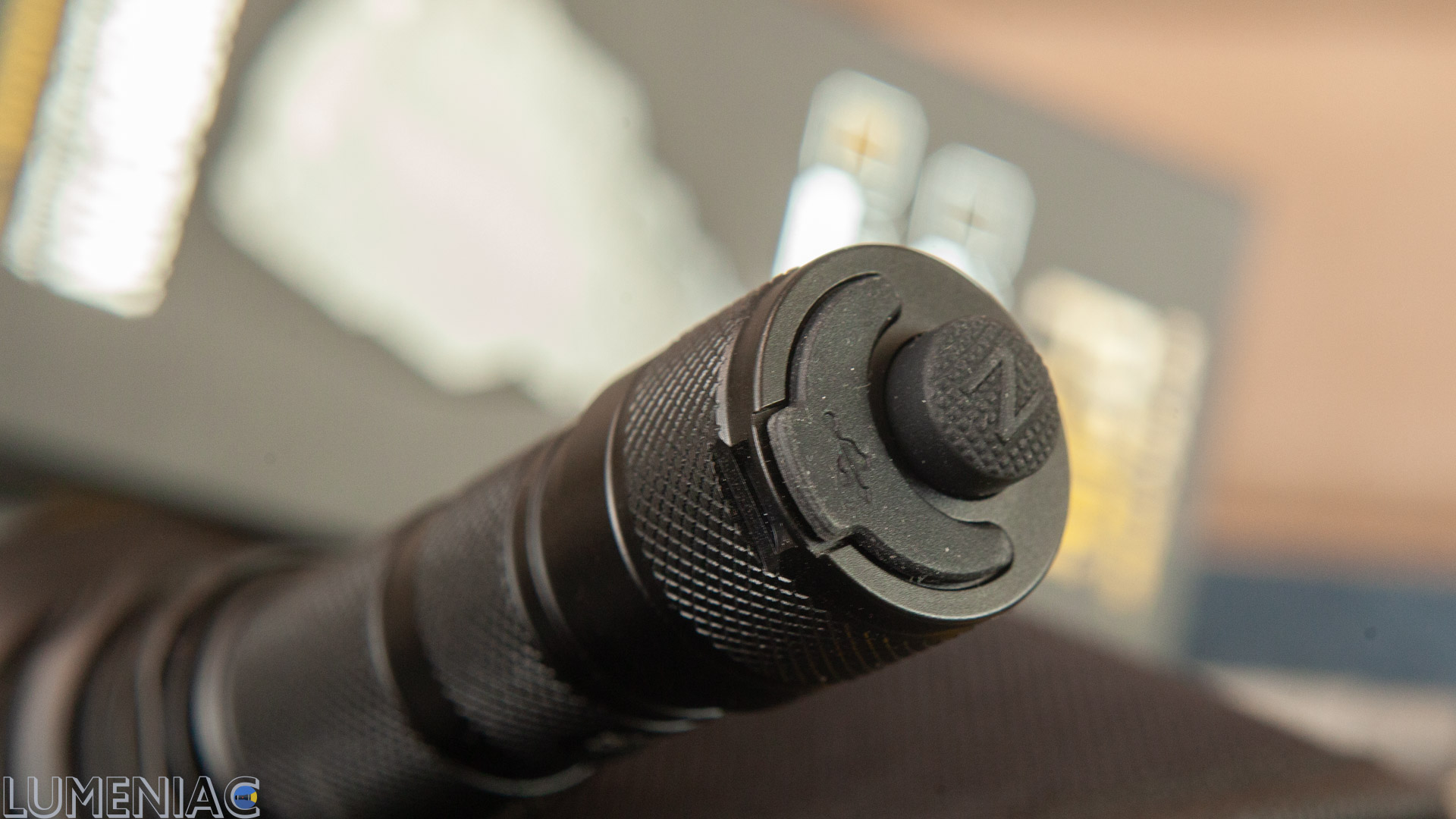 The plug cover is thin and a couple of additional millimeters would definitely fix the situation when you hold P30i with a reverse grip and the plug opens by almost any movement of the finger along it.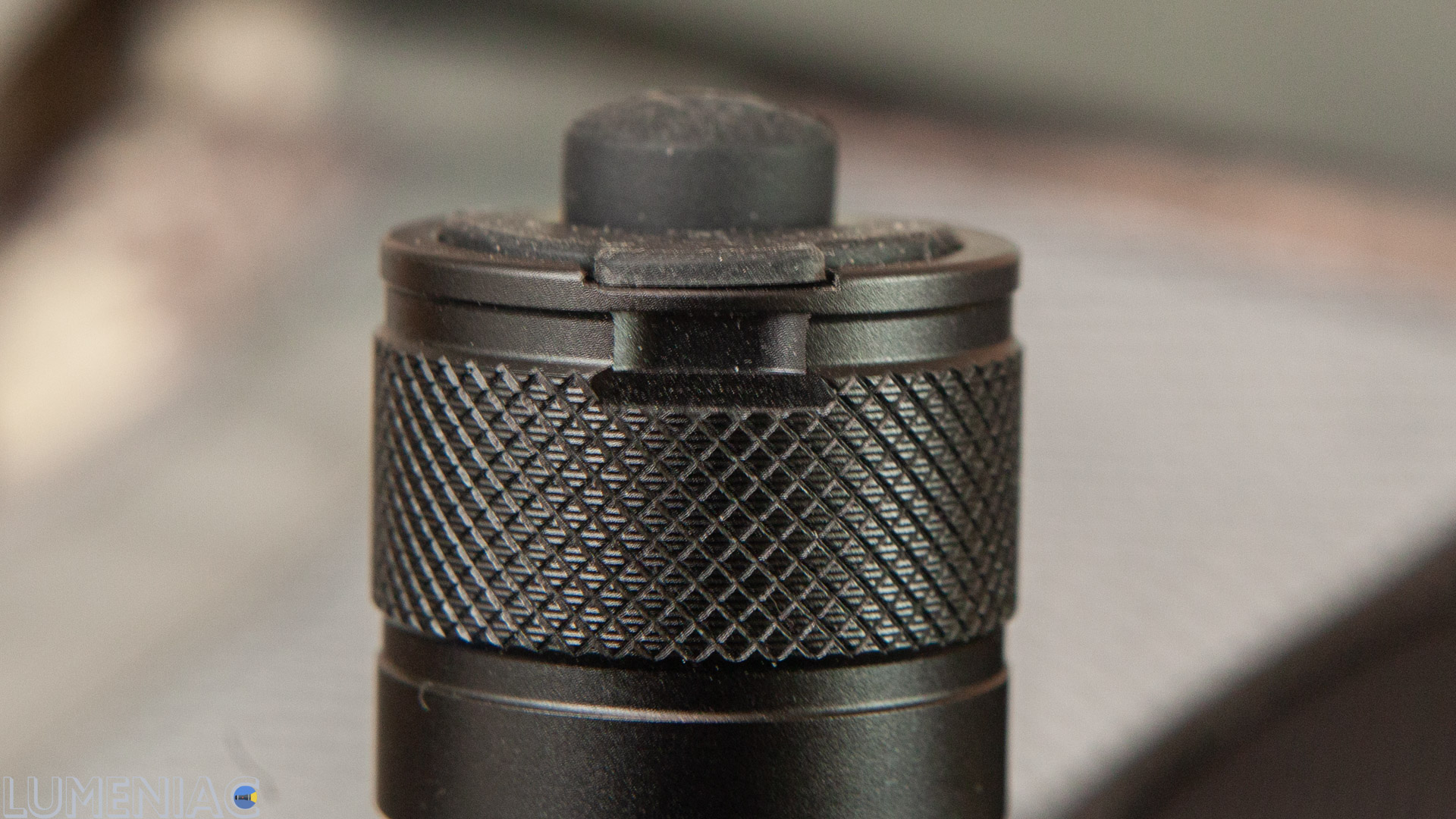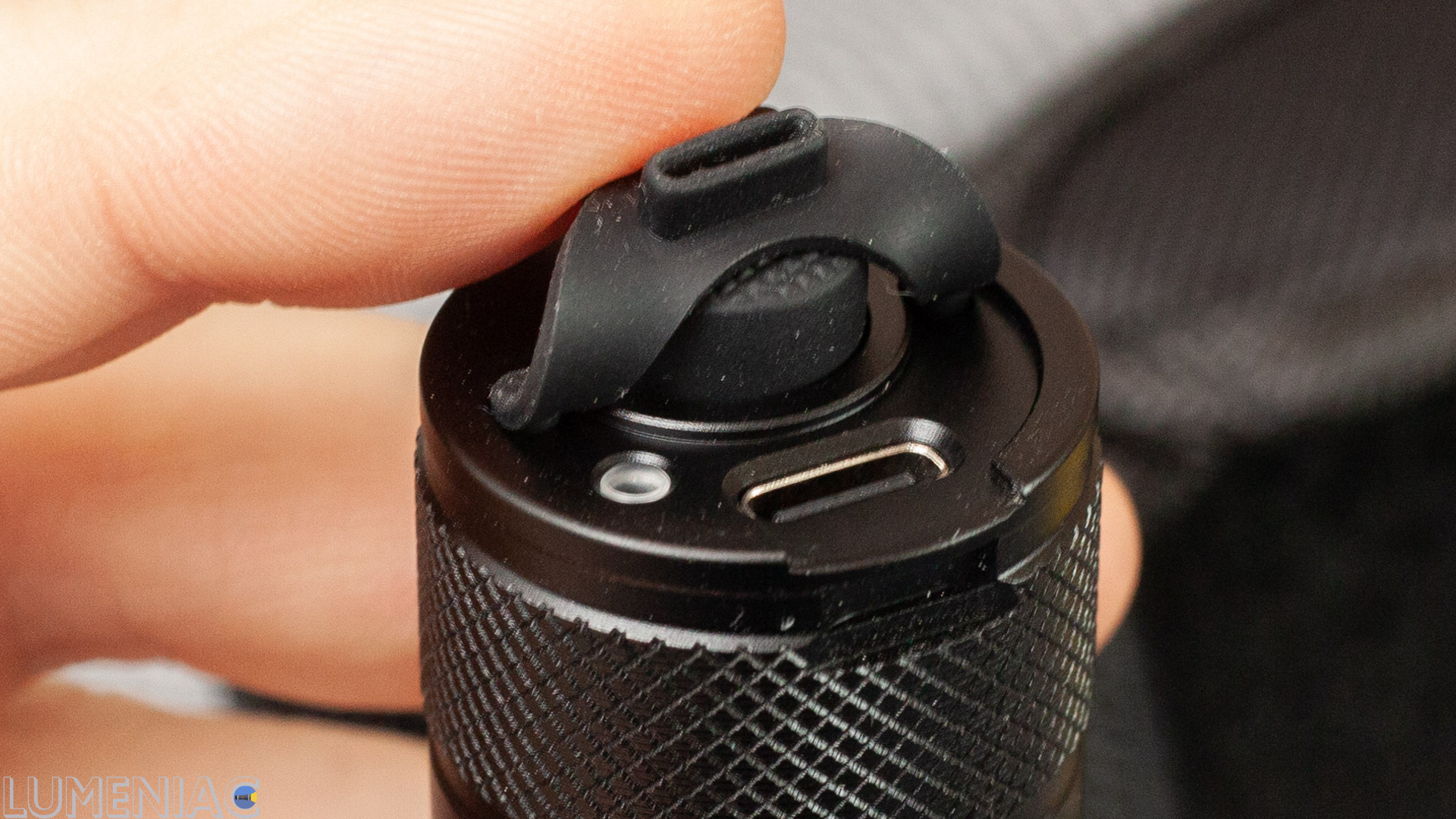 Next to the Type-C connector is a tiny blue charge indicator.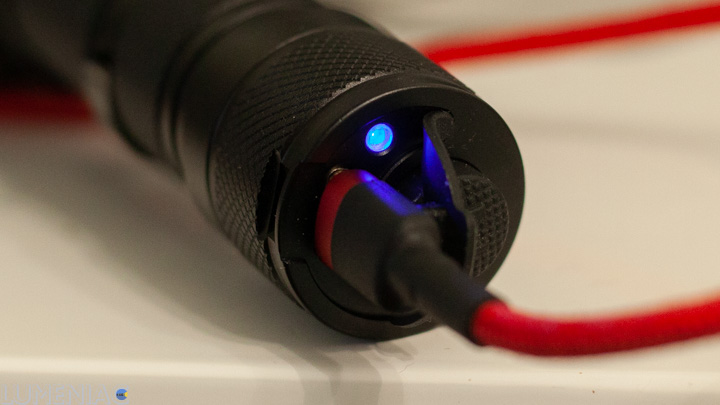 Let me remind you that kit also inludes a remote button. However, taking into account the size of the head, not every user will agree to gun mount a flashlight. Anyway, I like this button. It attaches quickly and easily and holds on tightly, thanks to the latch.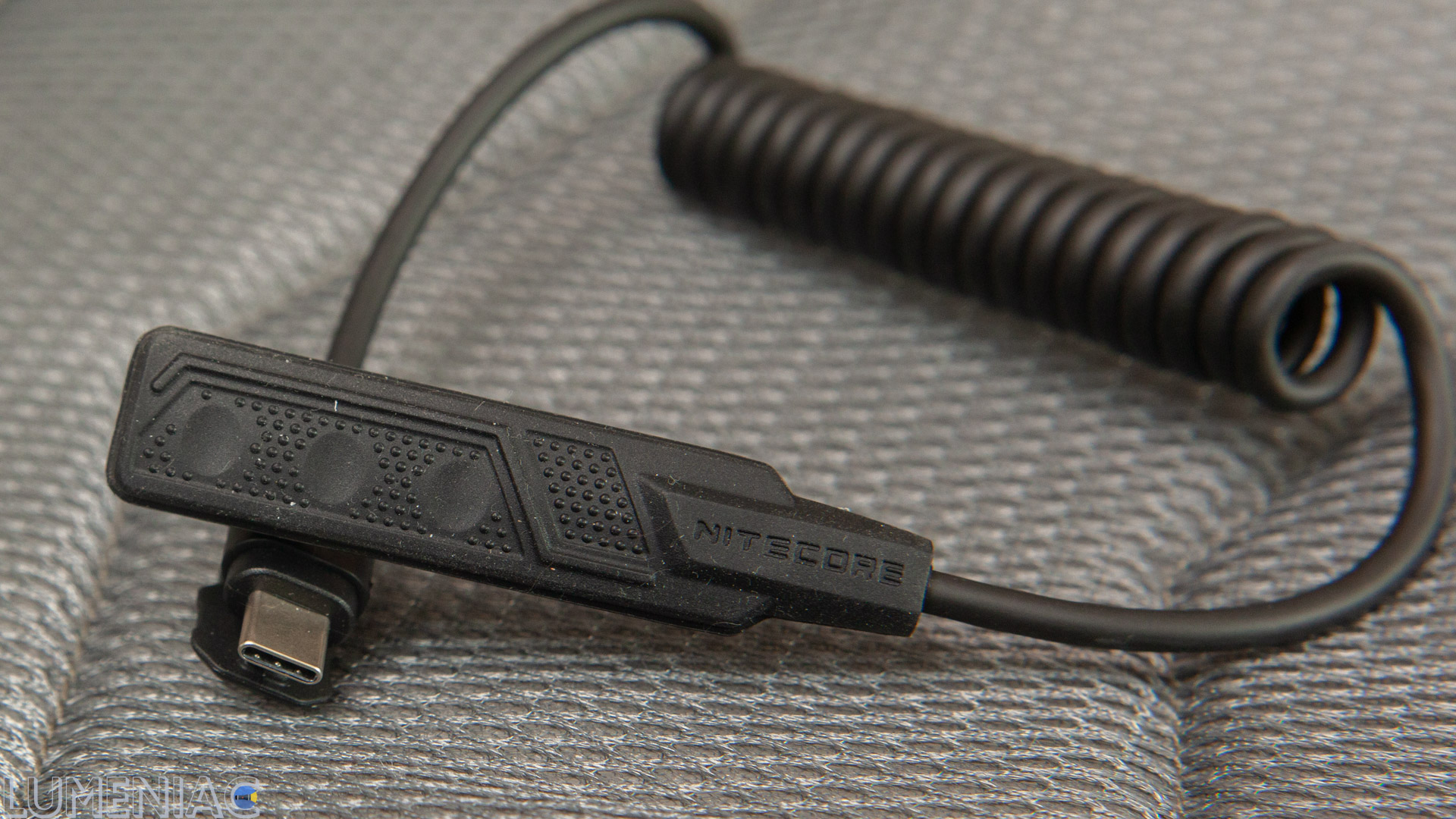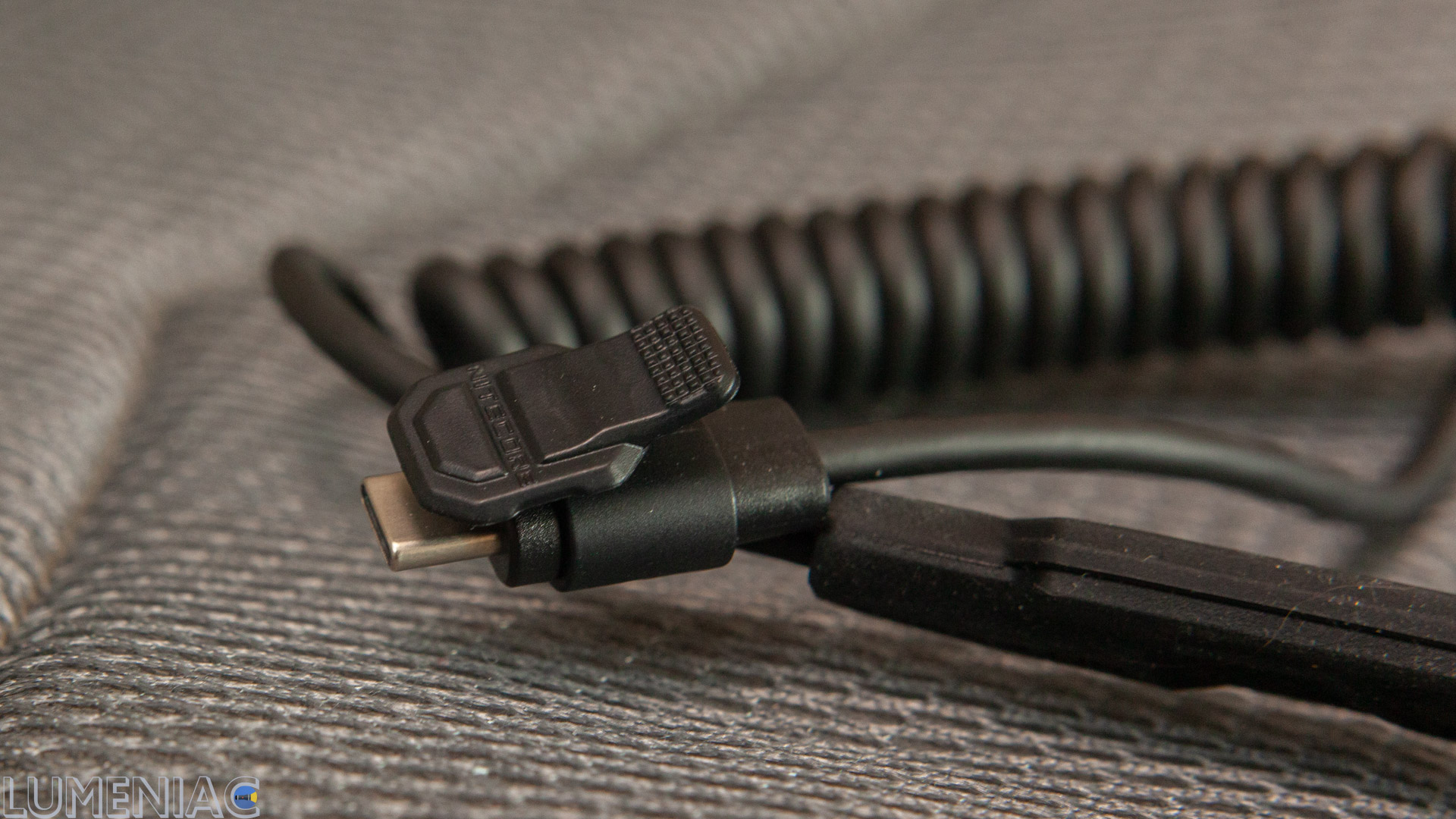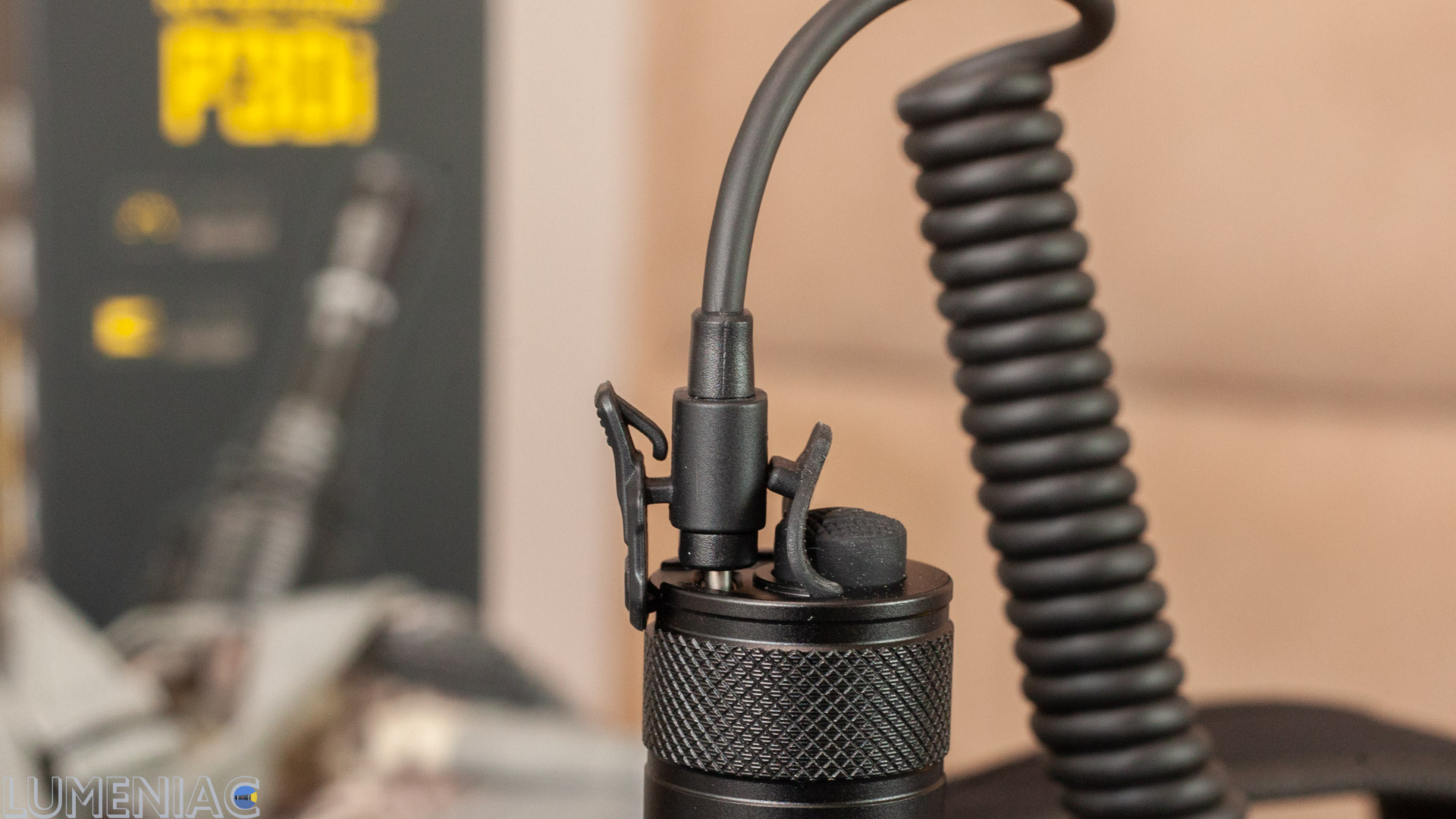 The initially high charging current of 1.7A drops quickly and eventually a full charge takes 5 hours. It's frankly strange considering that it takes Nitecore MH25S 3 hours to charge a battery of the same capacity.
Like the rest of the "i" flashlights, Nitecore P30i will not work with any regulr 21700 battery, but only with a proprietary one. 2 * CR123 adaptor is be practical only in North America, where such rare and expensive batteries are widely used. And for other countries 18650->21700 would be way better.
All the same functional benefits from such a specific battery can be achieved by simply installing the additional contact sleeve inside flashlight body. In general, you understand my attitude …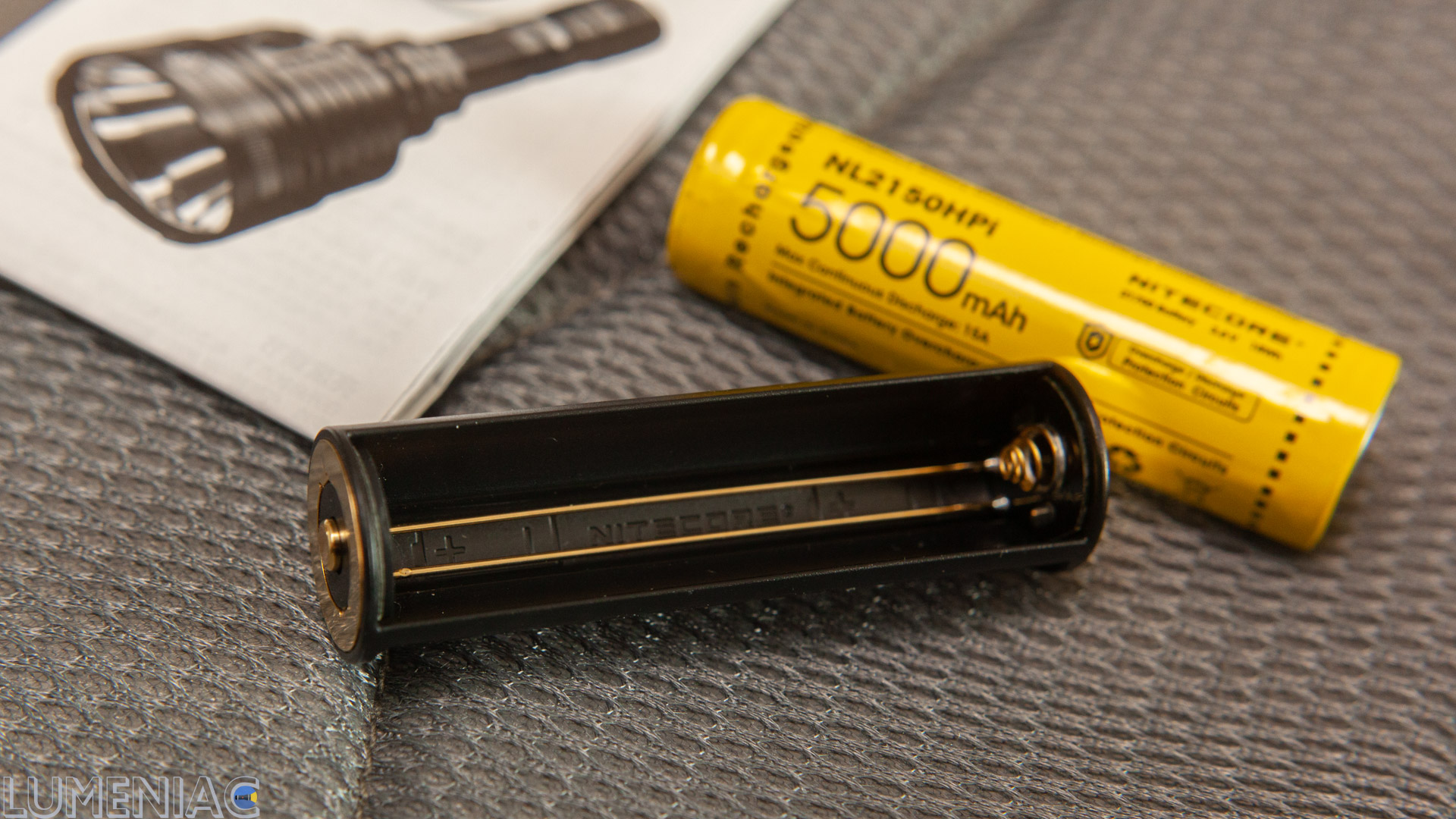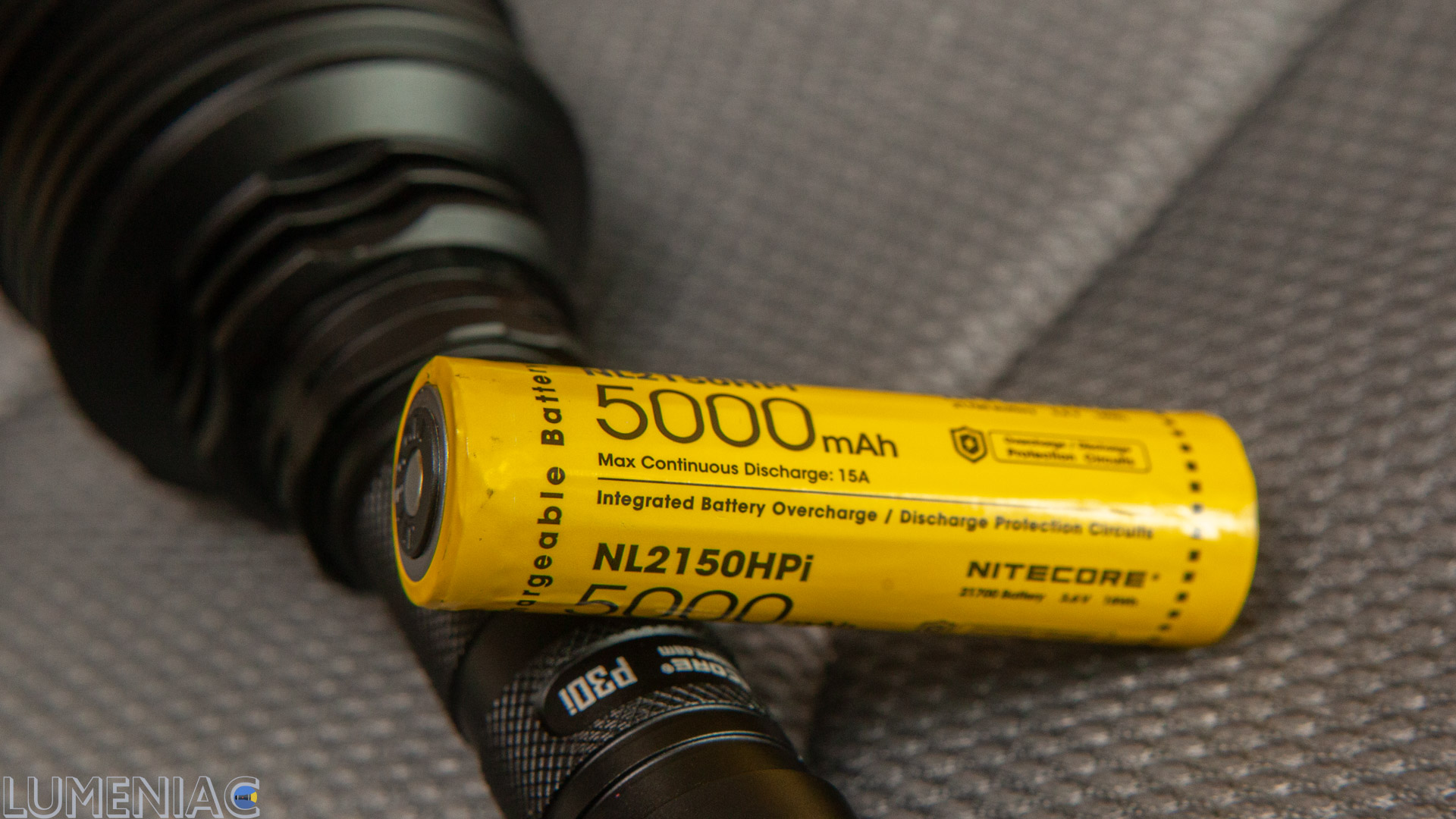 Accordingly, due to this design of the battery, tailcap contains a block of spring-loaded contacts instead of the usual spring.
There is a spring at the side of the head, but it is surrounded by an additional contact ring.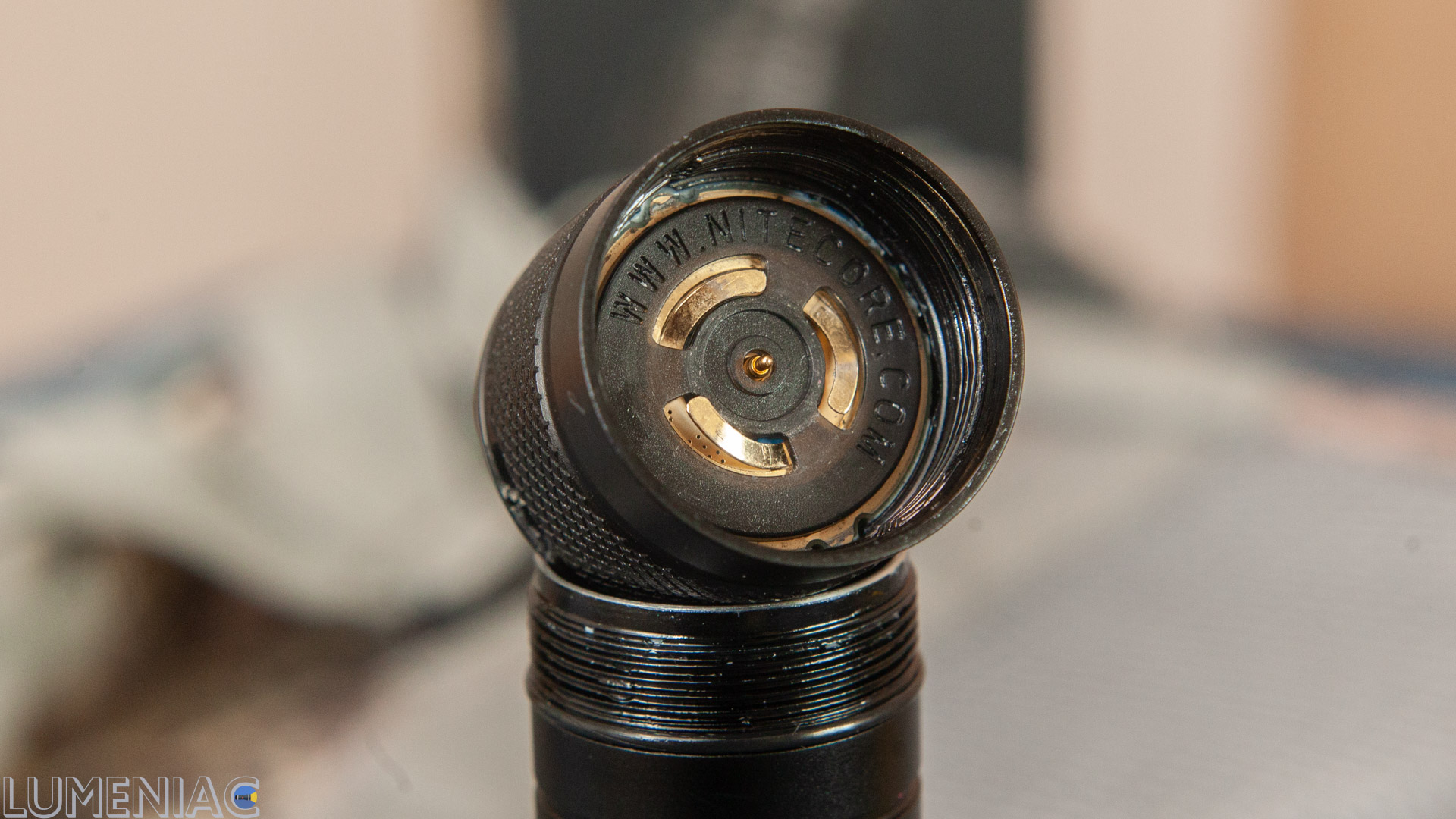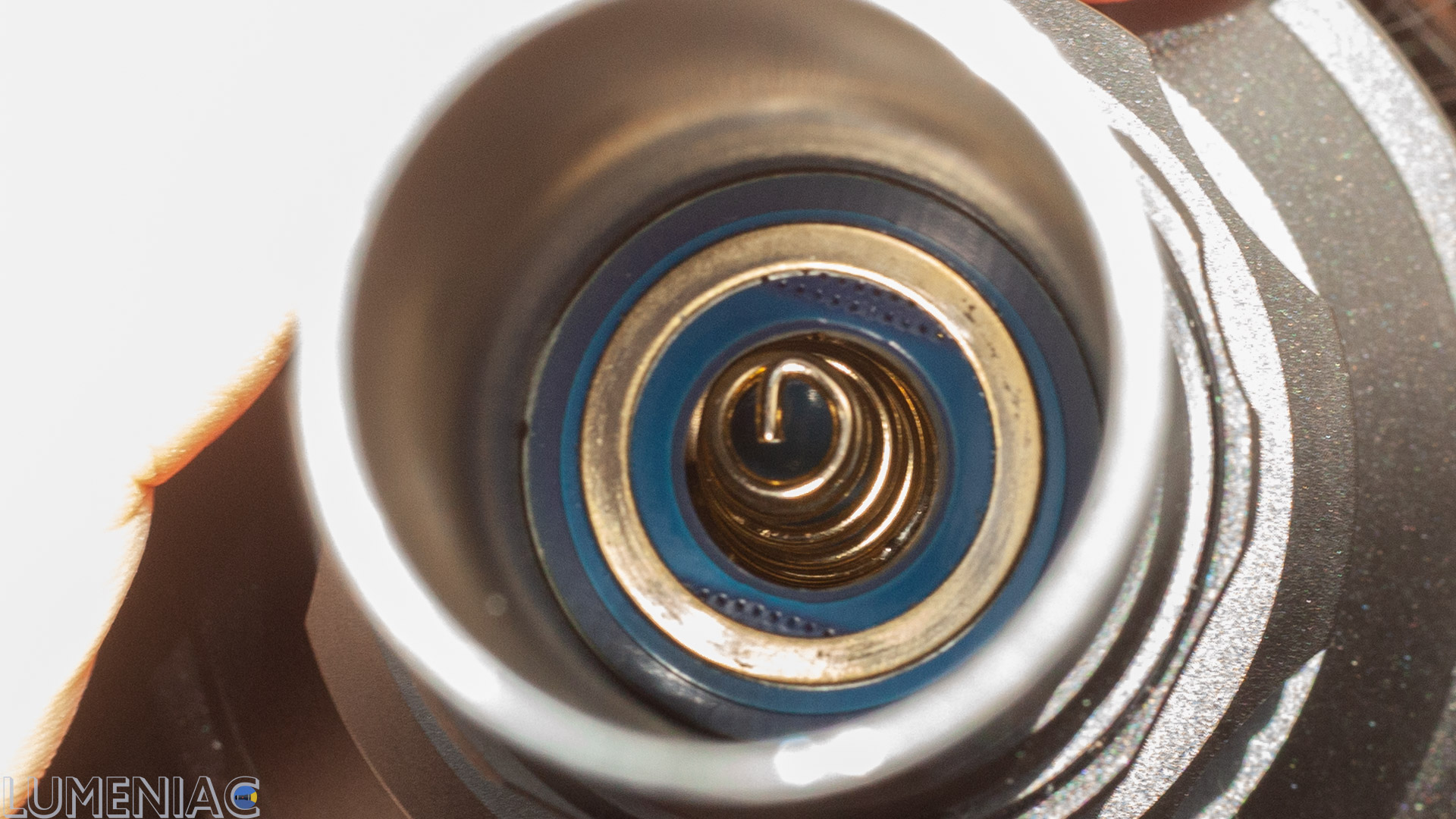 The knurling is the same as for other representatives of the "i" series. Nothing fancy, but I really like it, largely because of the neat window with the model name. The machining is, of course, flawless.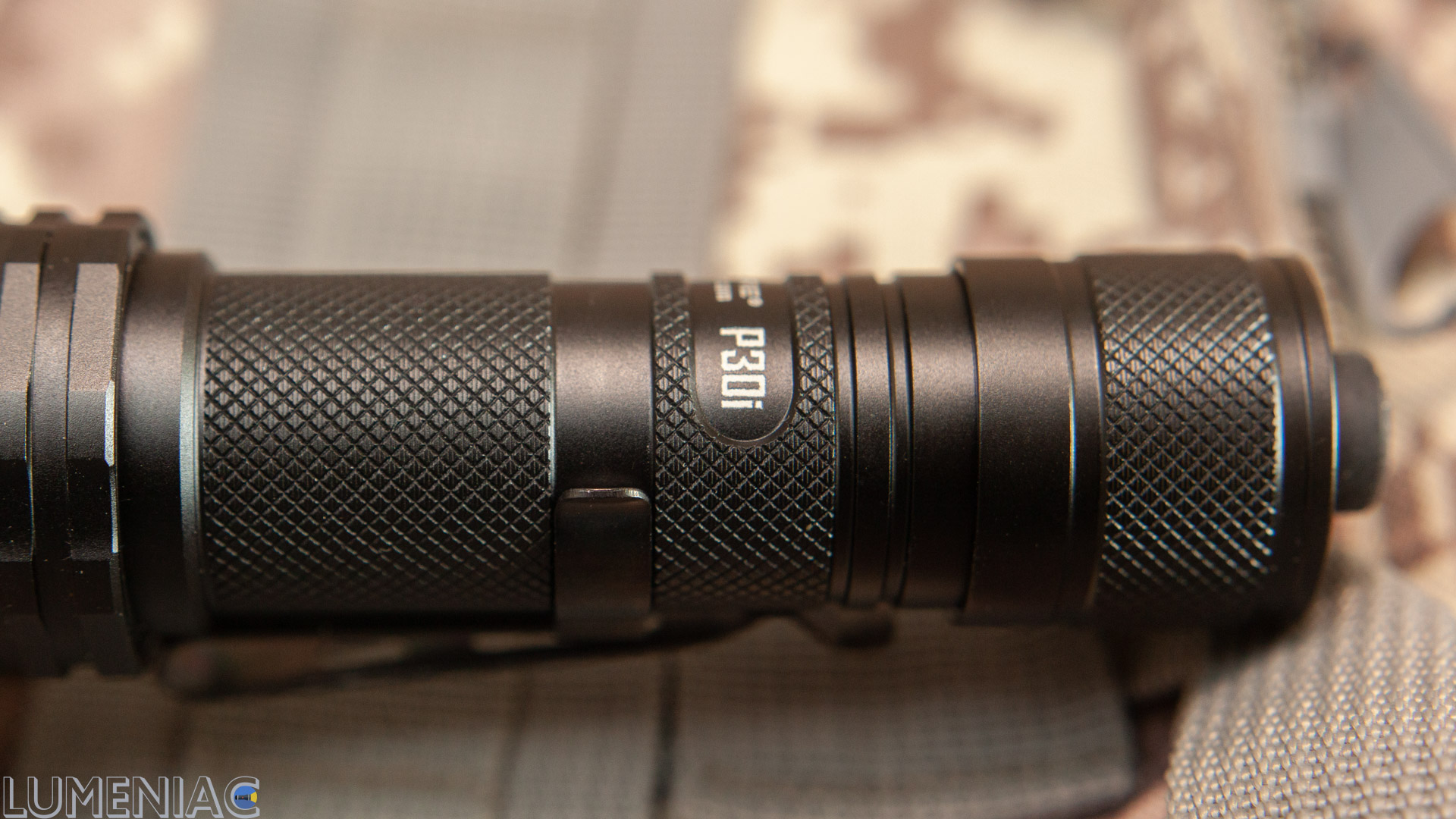 Oh yes, the clip is double-sided. It takes reasonable efforts to remove it.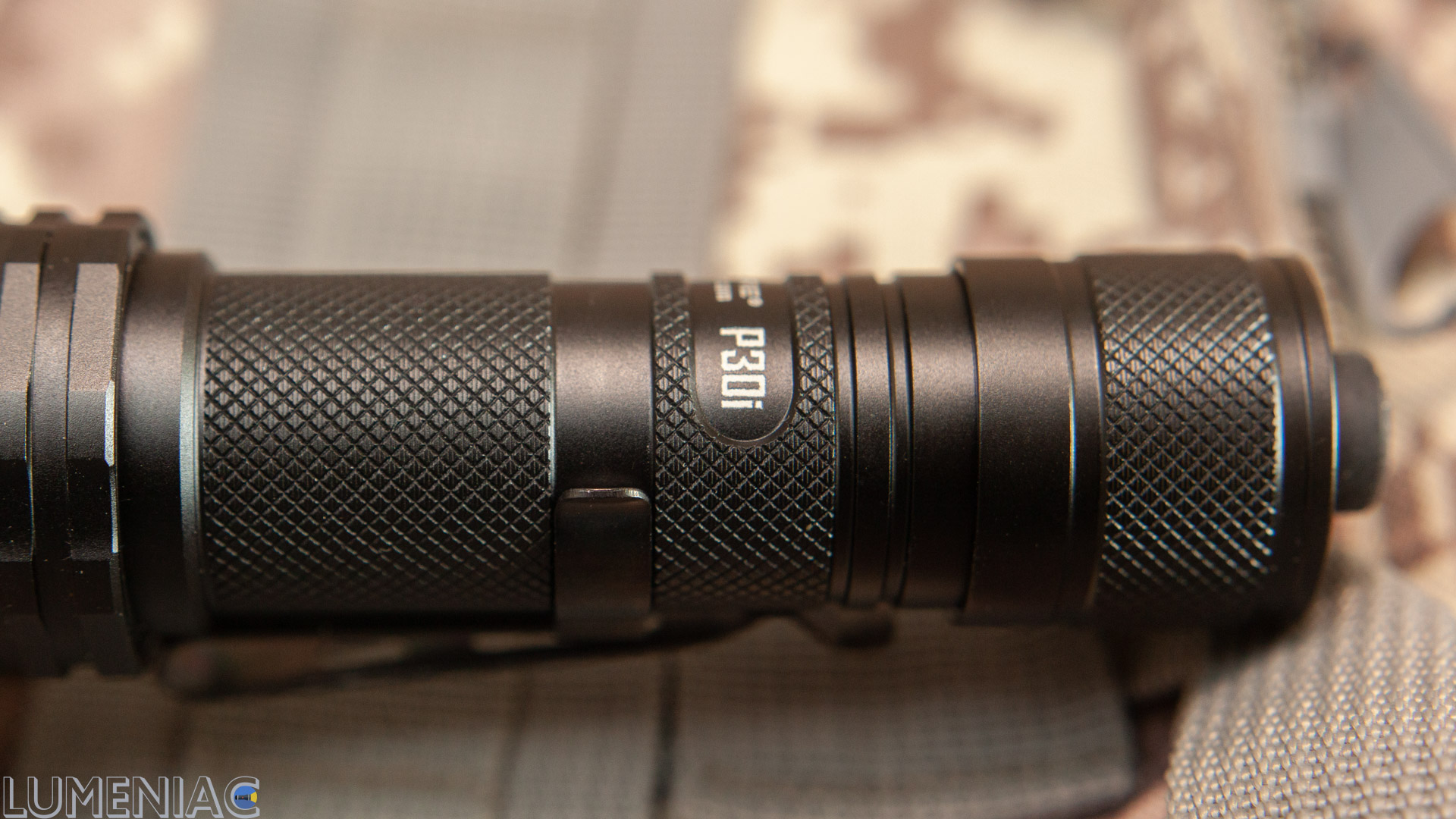 As I said, the head is huge in relation to its overall size. And for a long-range flashlight, this is a definite advantage. A large reflector will focus the beam better, and the additional volume of metal will be an advantage for heat dissipation.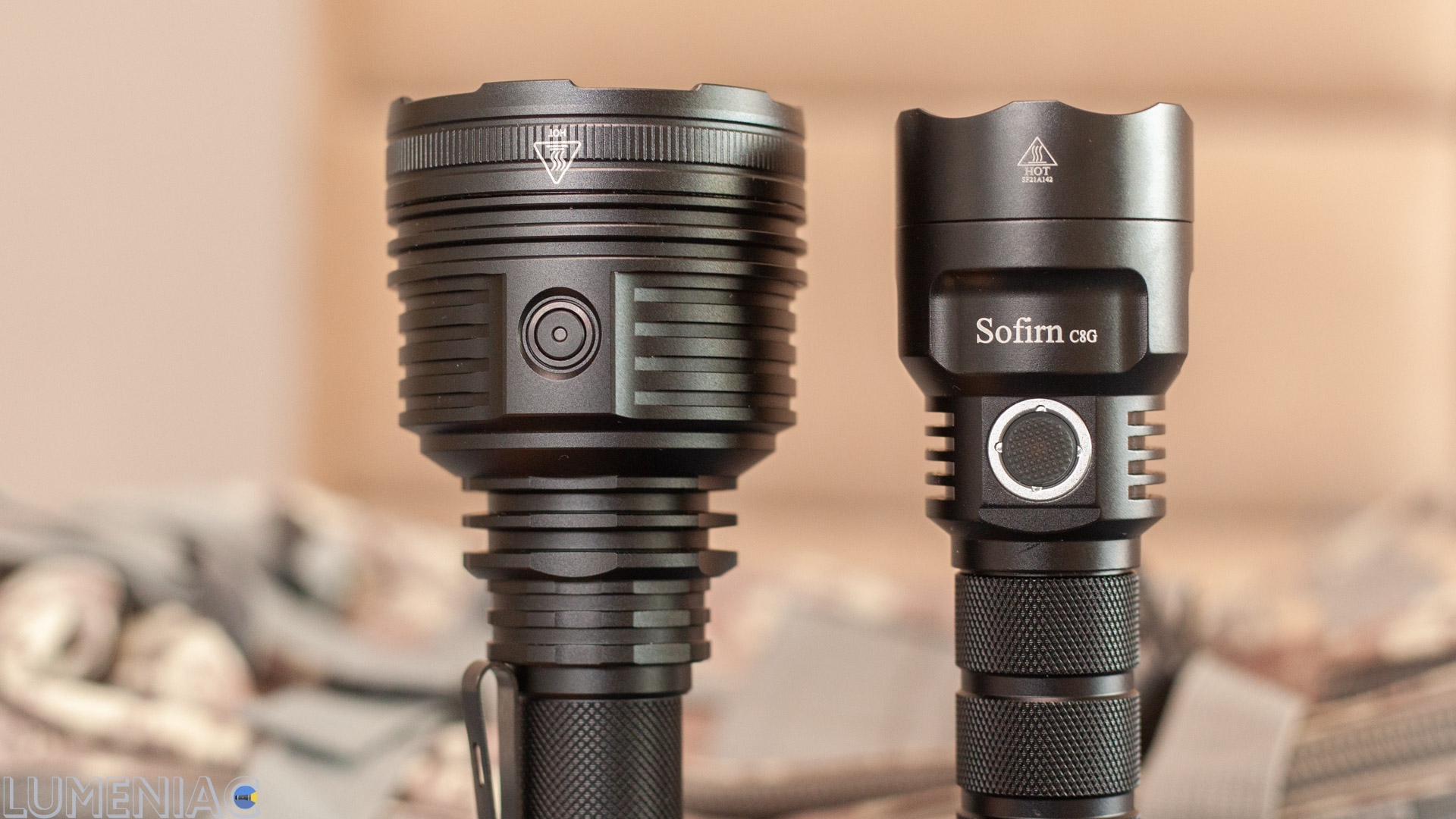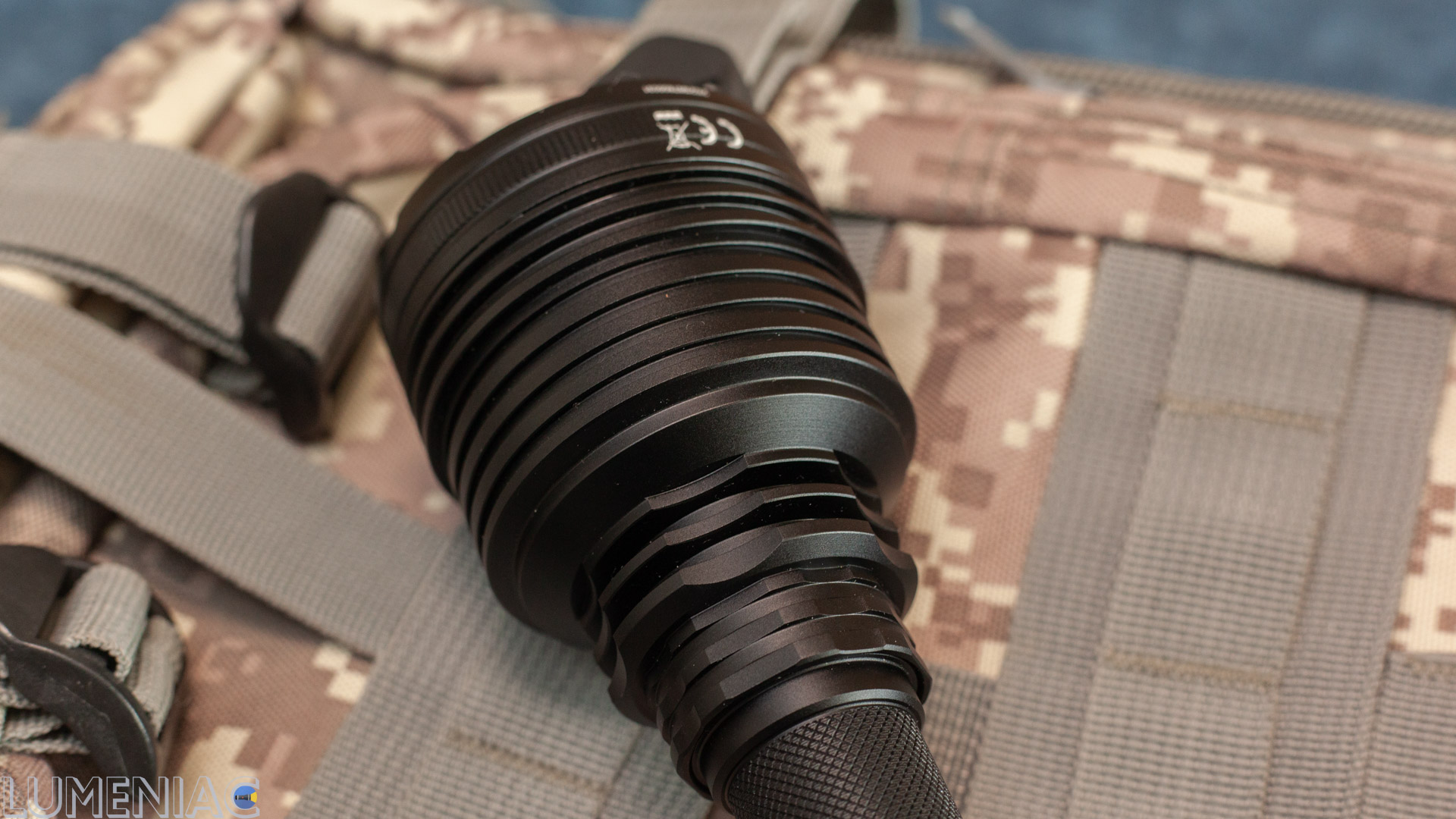 The question is again, that not everyone dares to put a flashlight with a head of this size under the gun. Although, I repeat, it is no larger than the head of some familiar 2x18650 model.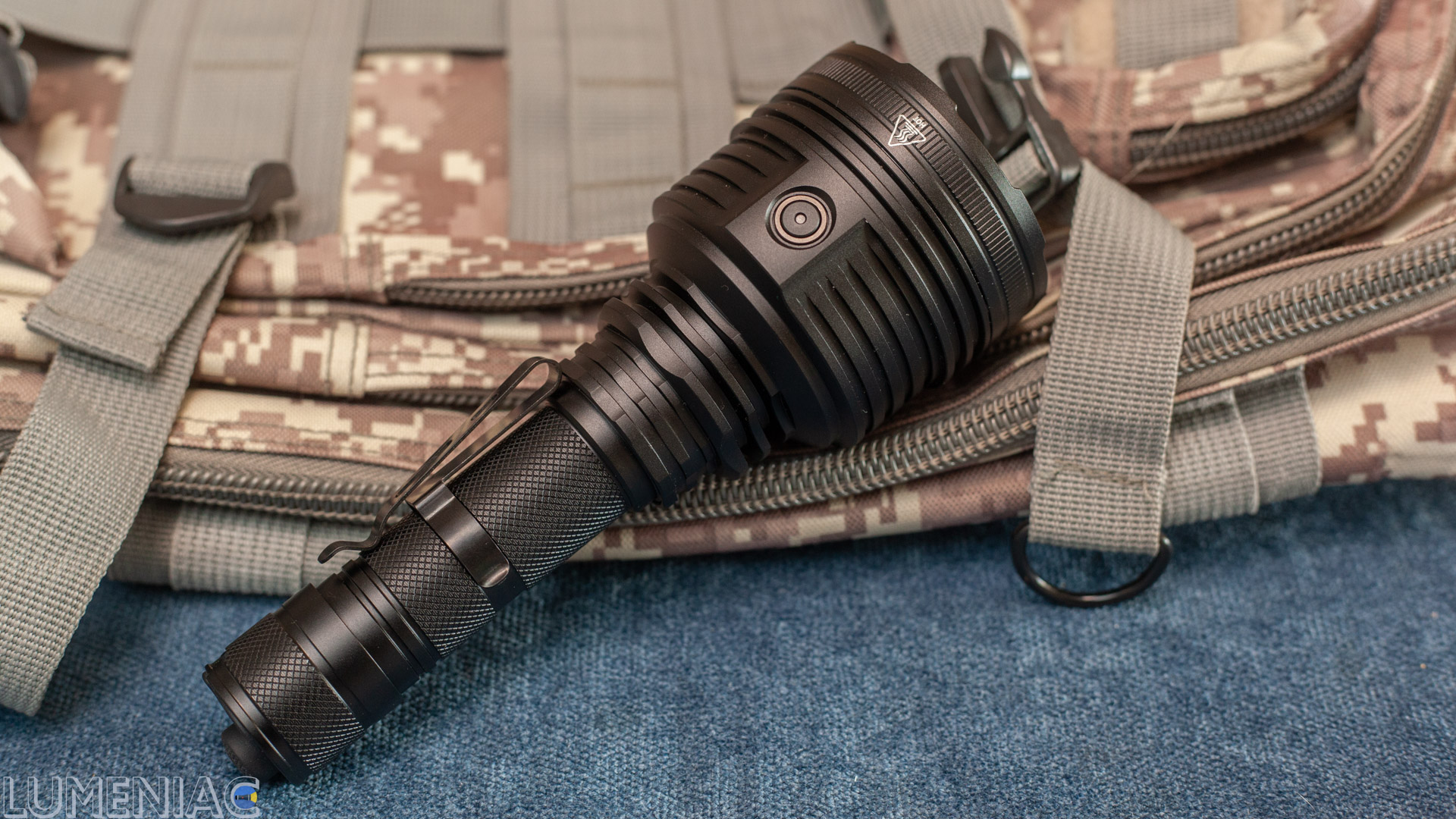 A separate advantage is the aforementioned impressive amount of cooling fins. It should be assumed that a head of this size will successfully remove heat in the higher modes. Below we'll find out if this is true or not.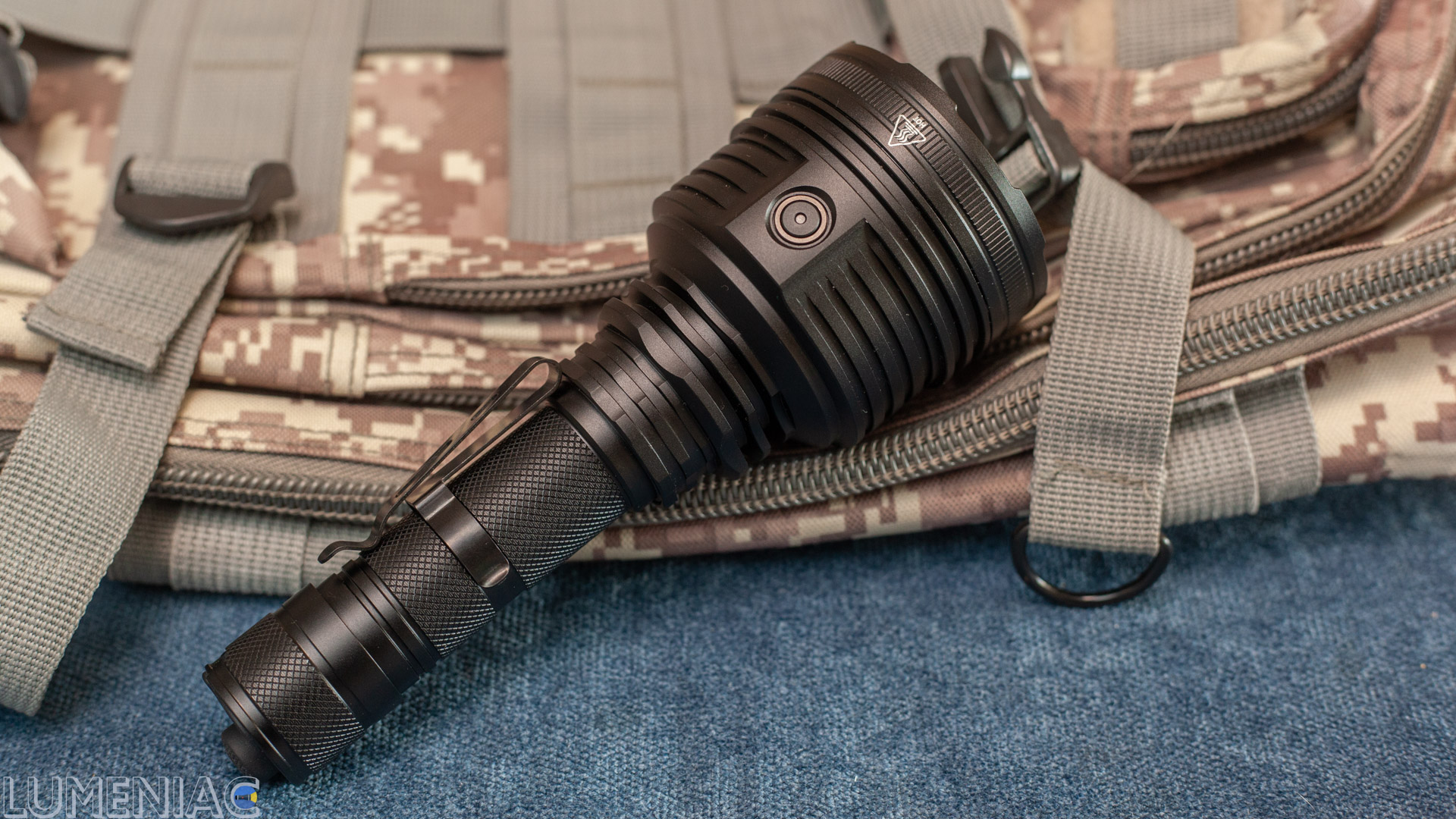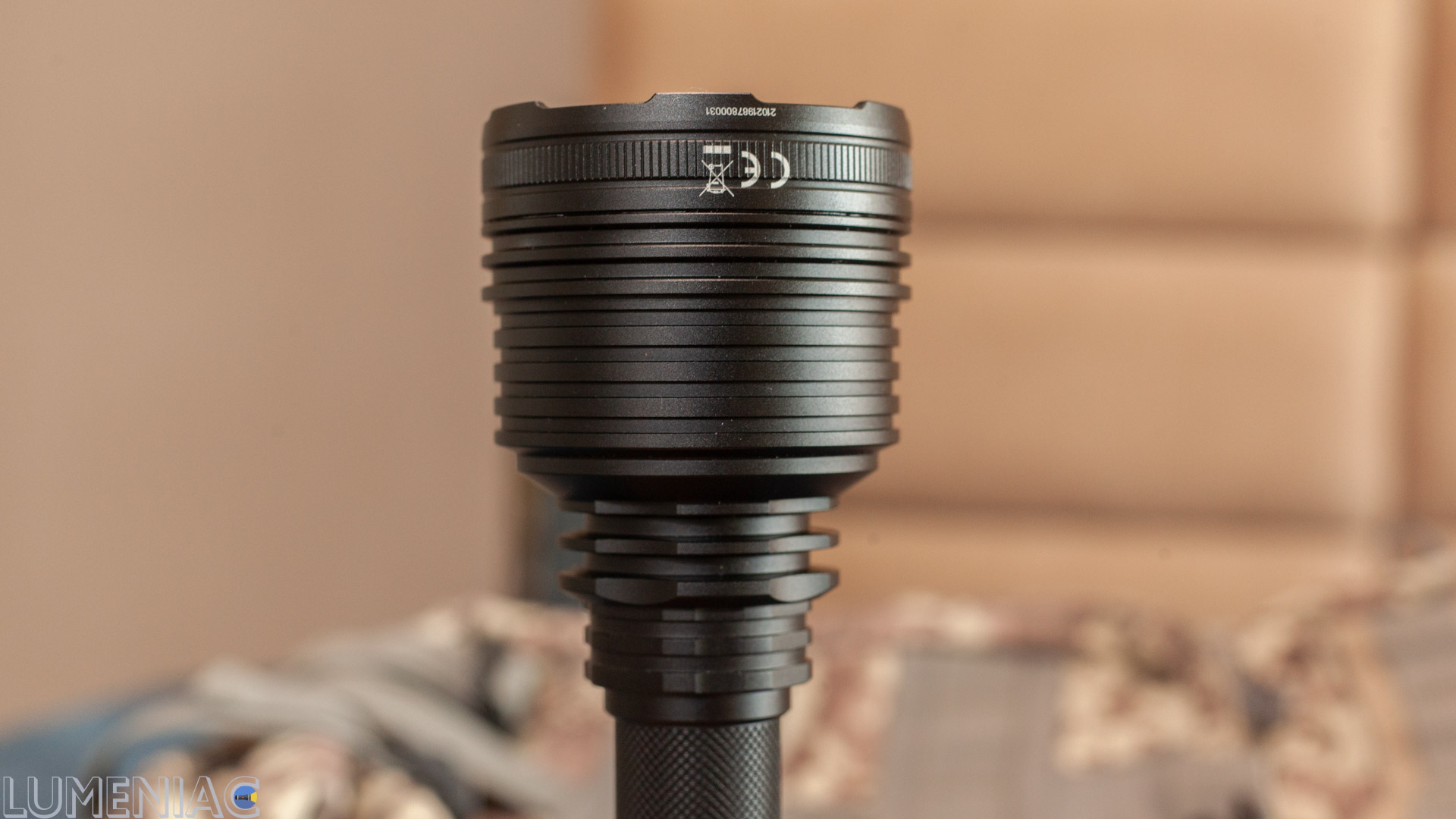 Button … hmm. Tiny, flush with the body. So, the only way to find button quickly is to place clip at opposide side of body. And if you are wearing gloves, then even when you place finger upon button, you have to press really hard. Exactly the same situation was with the first P30.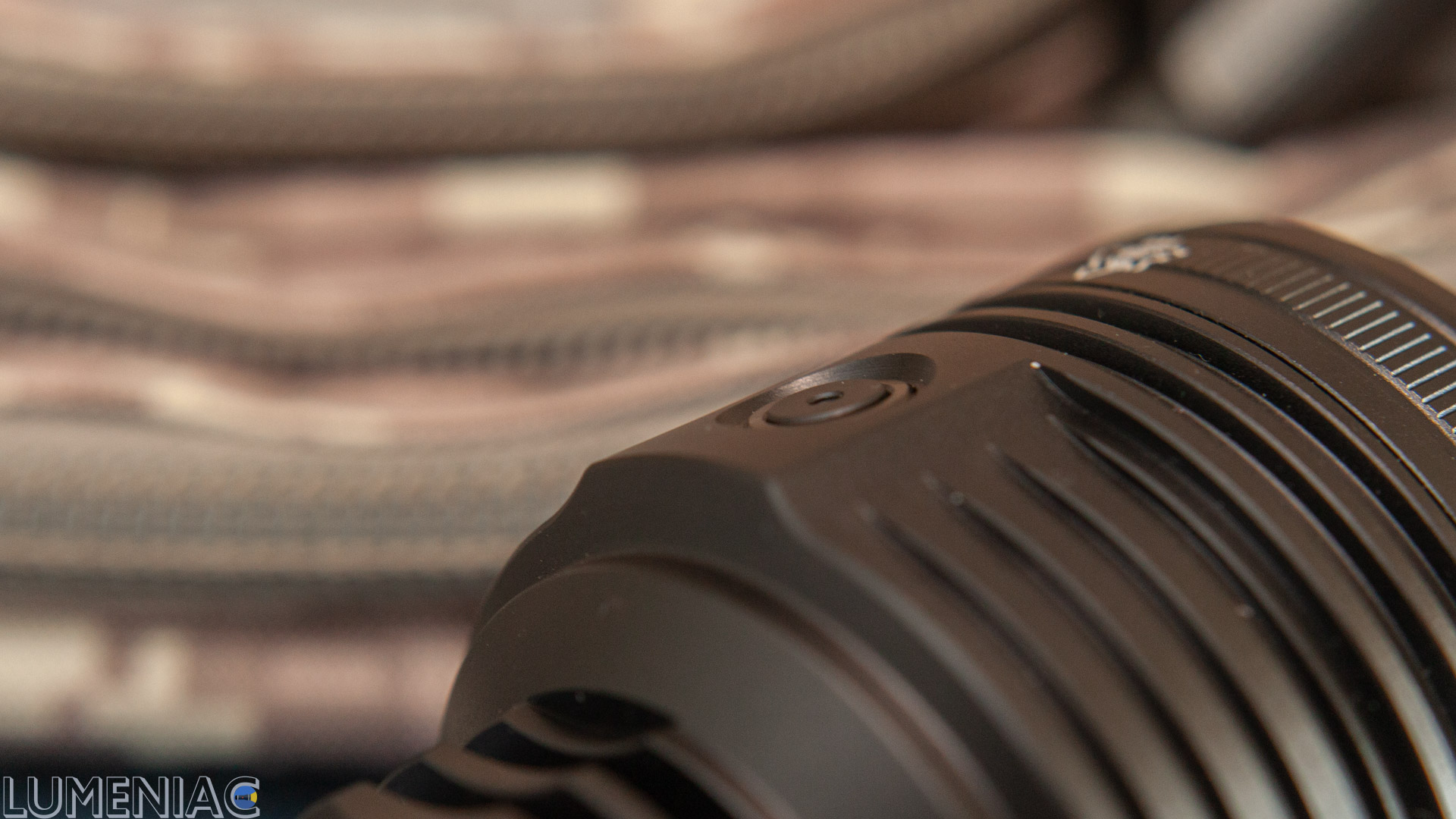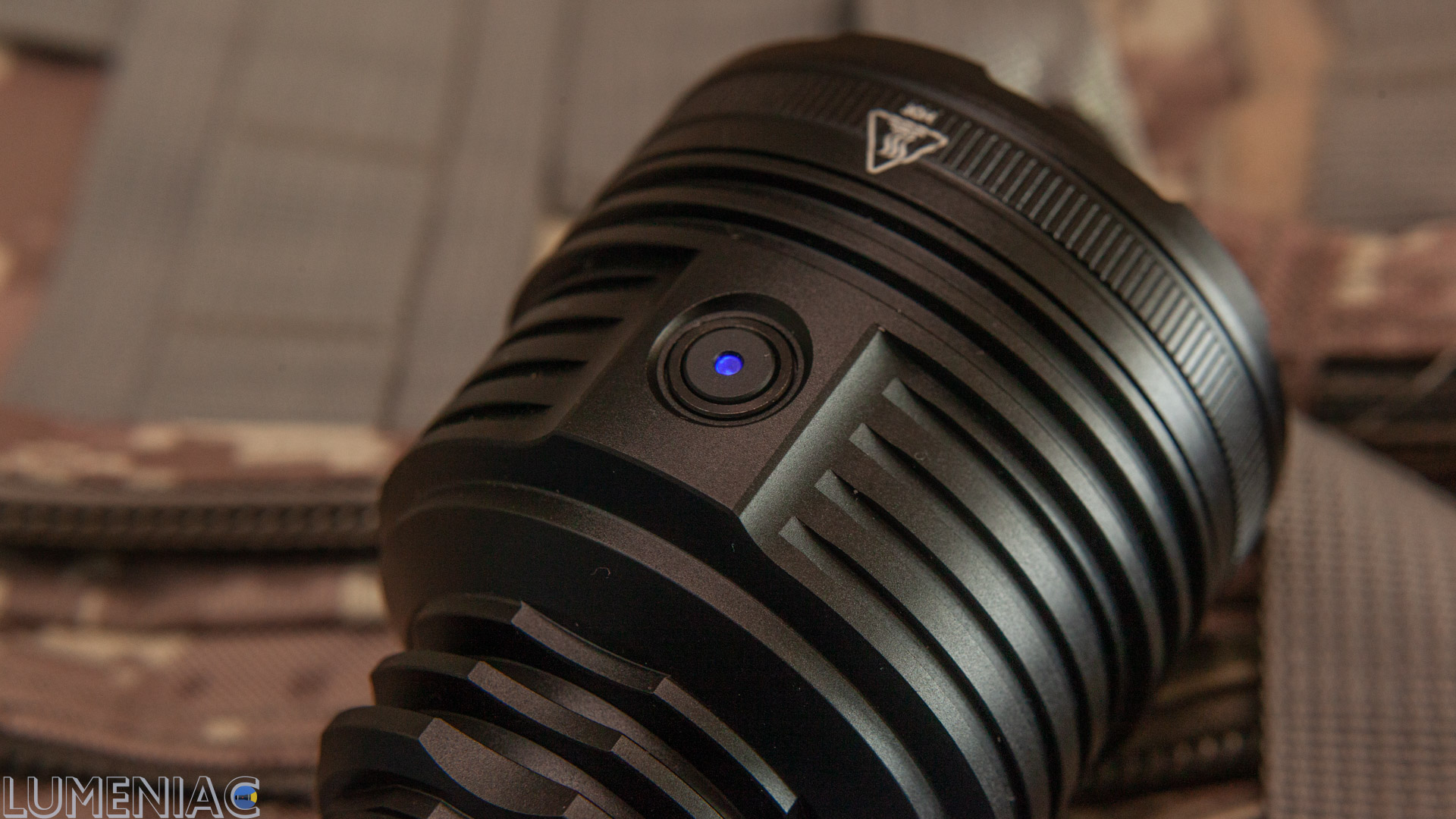 Nitecore MH25S has the same button but totally different and way more convenient access to it.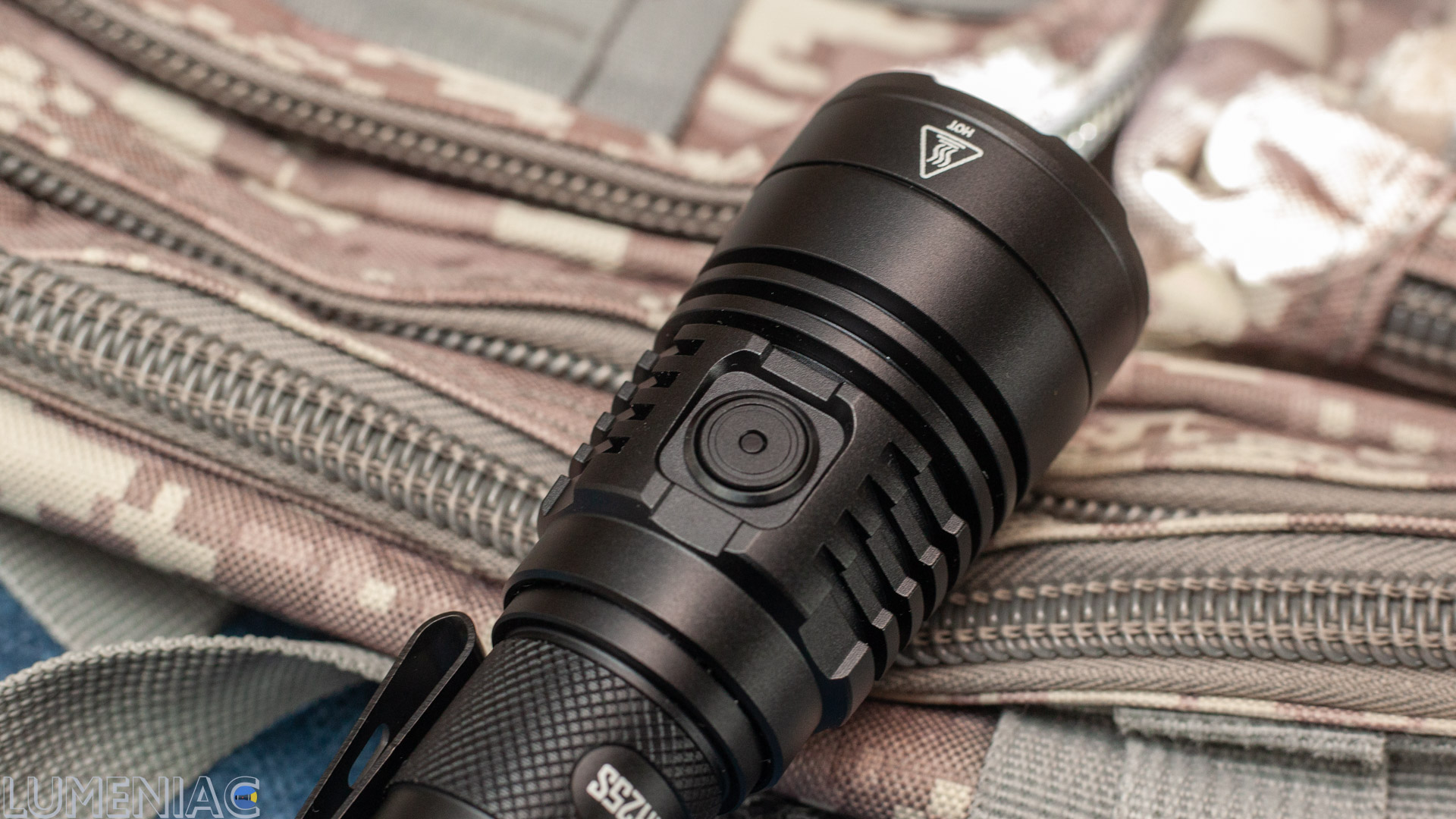 The reflector is, of course, smooth. It is very large and deep. I do not remember any other 1 attery model with such a large head. Of course, such dimensions increase main functional characteristic of the flashlight - its throw.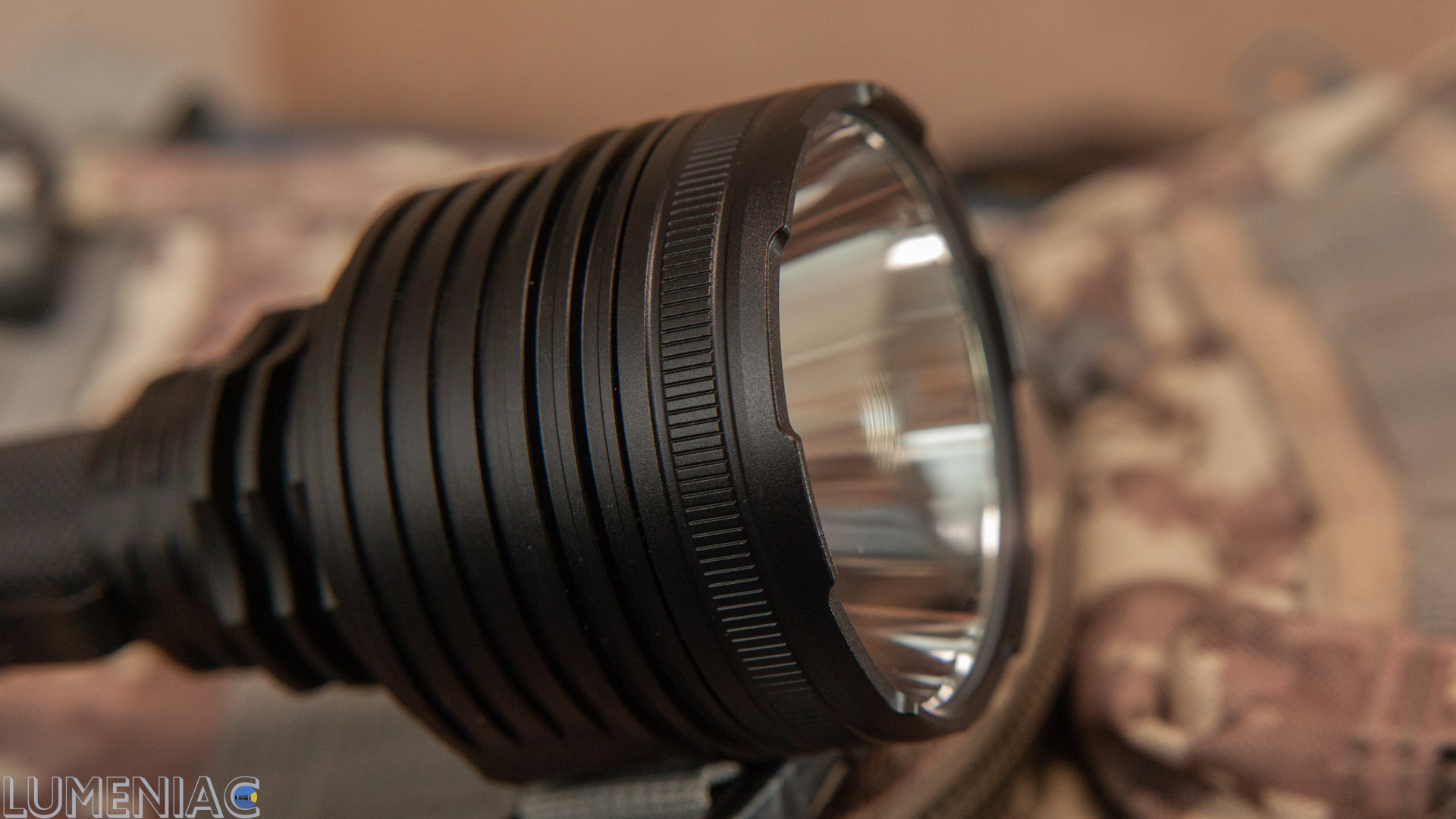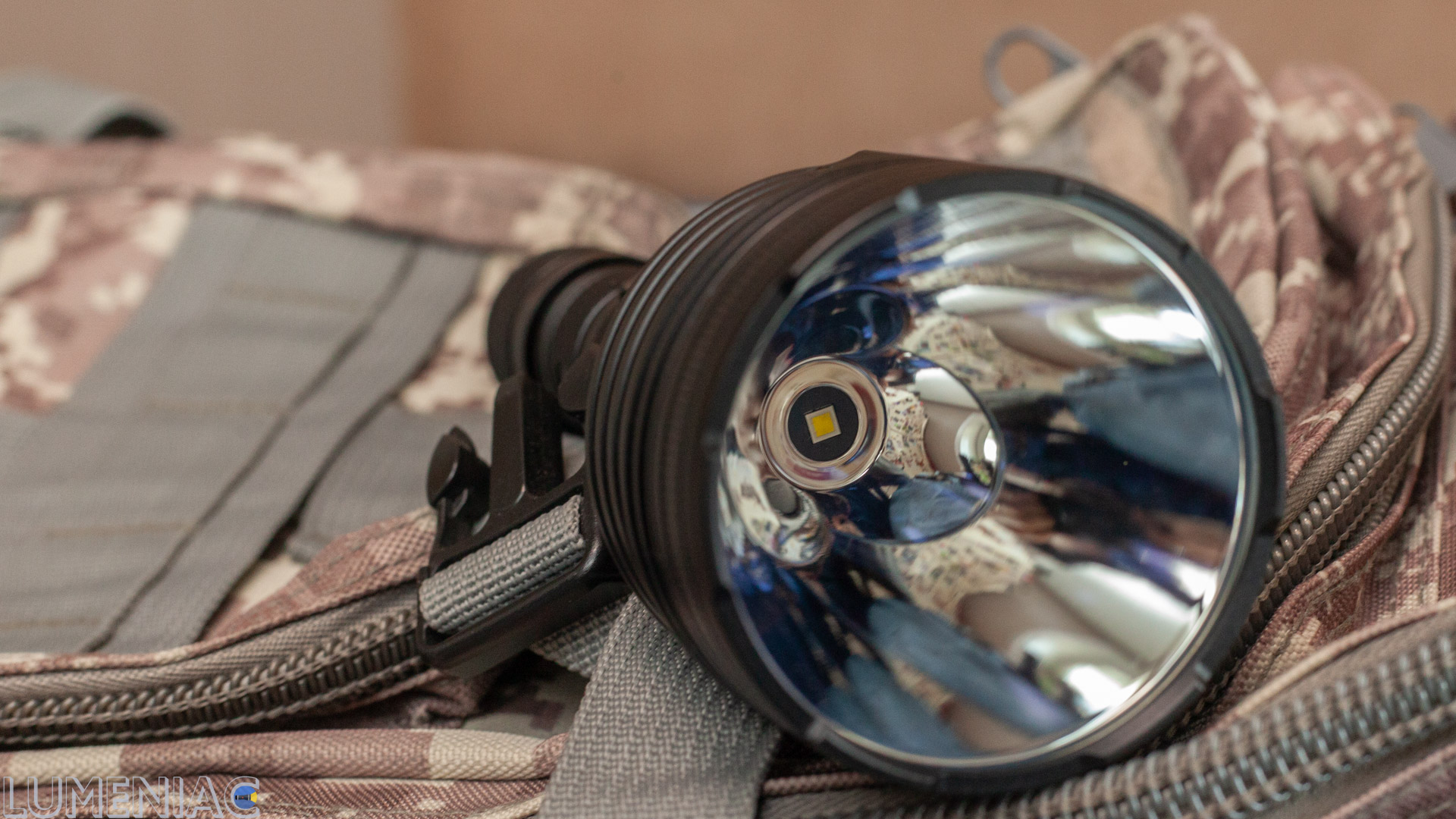 Nitecore P30i has XHP35 HI LED. I'm surprised that Nitecore didn't succumb to the modern trend and didn't stick some Osram instead. The very first version of Nitecore PЗ0, had a modest by today's standards CREE XP-L HI V3 (1000 lm, 95500 cd, 618 m). Now CREE XHP35 HI LED (2000 lm, 250,000 cd) is used. 250 kilocandels is a very good figure. Very.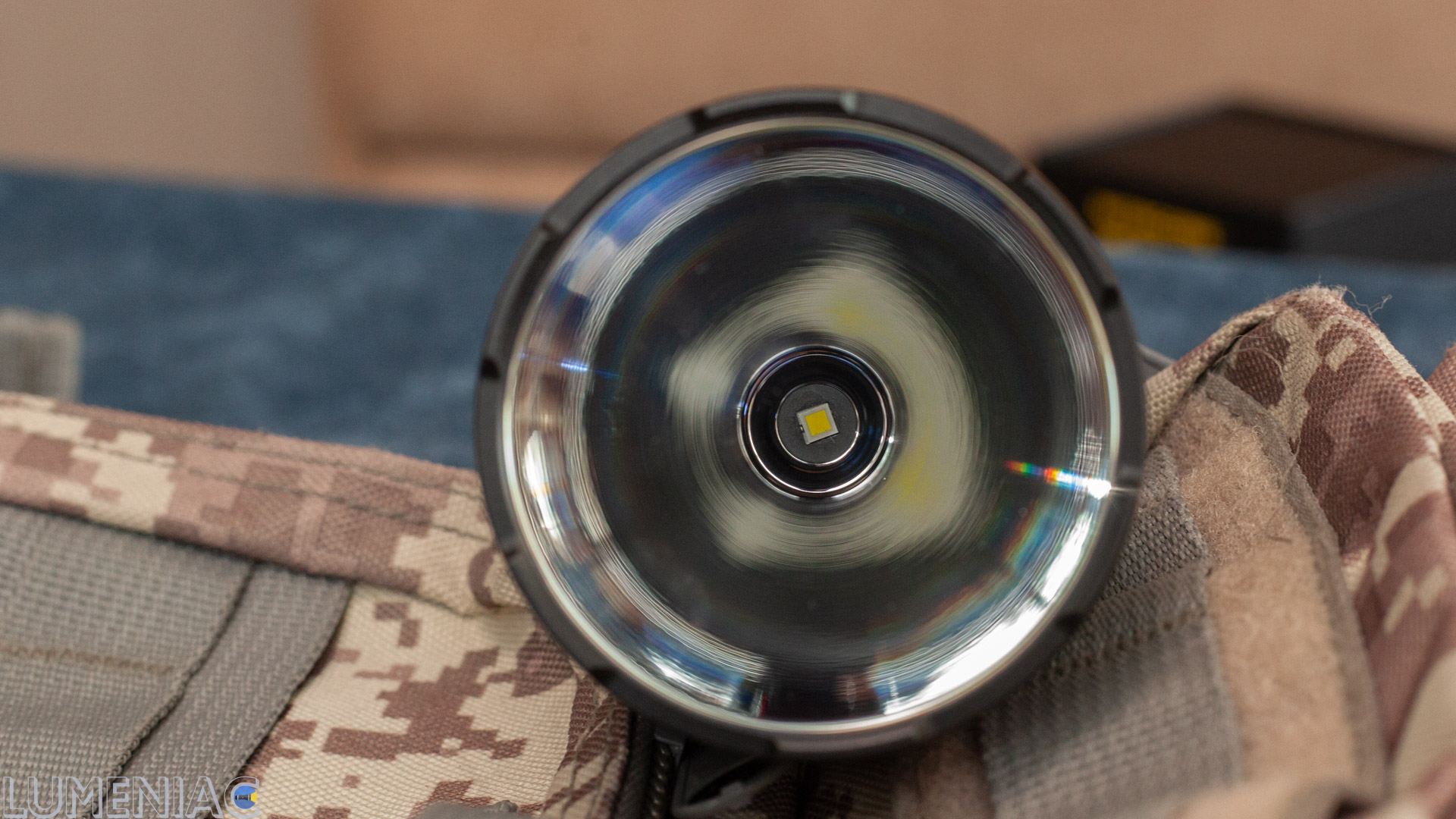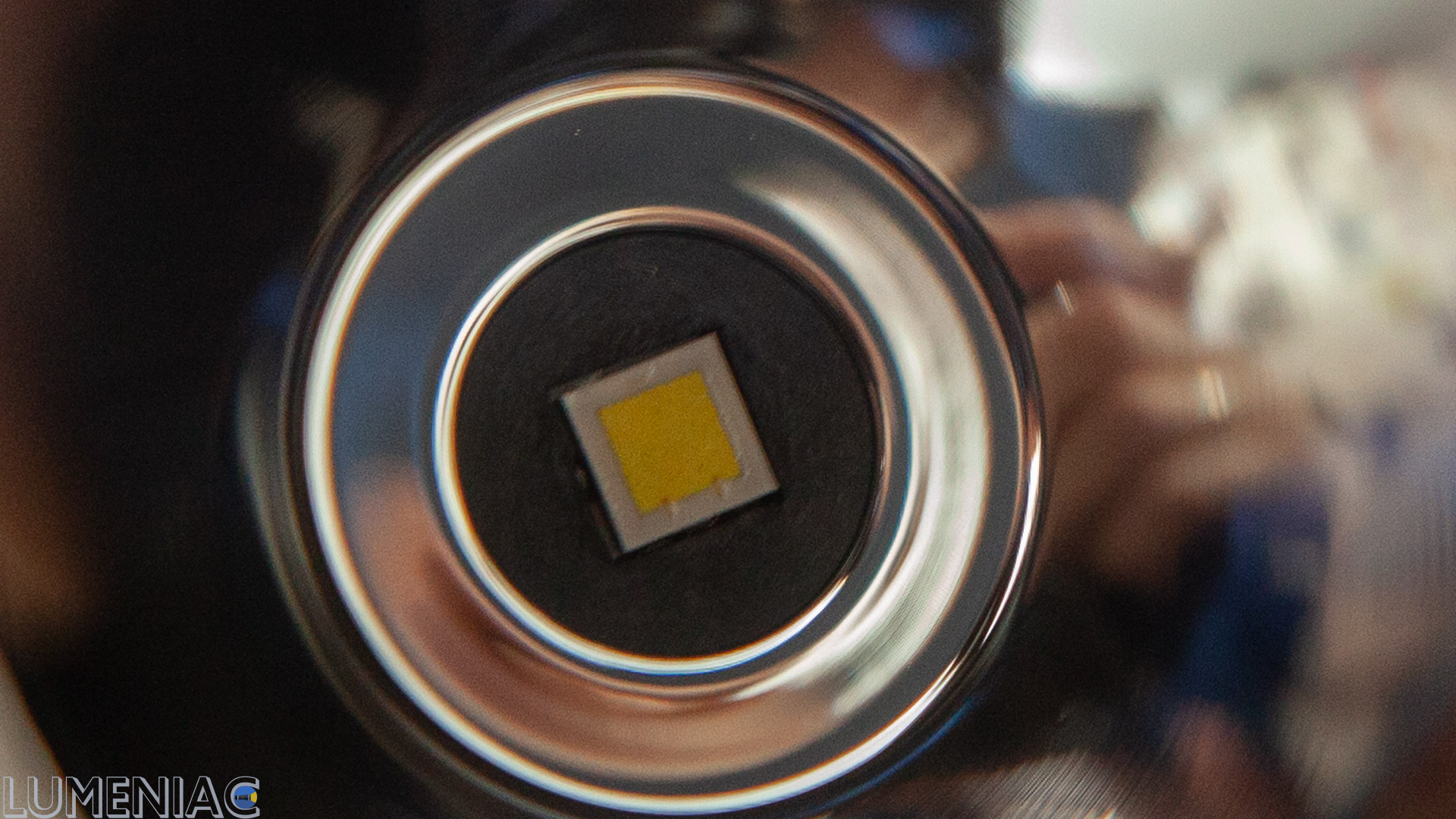 UI
You get instant access to Turbo mode with both buttons, which is good.
The remote button is also good. But taking into account the fact that clicking on the tail button launches the turbo, it would be logical to have a lock mode as well. Flashlight is powerful, light is focused, so you can easily burn pocket or hoster.
And such a specific battery makes it possible to get instant access to Low mode. This would be useful for preserving night vision in a situation where the flashlight is turned on in complete darkness.
Tail button from OFF:
Half-press: Momentary-On (with mode memory)
Single-click: ON (with mode memory)
tail button from ON:
Single-click: flashlight turns off
Side button from OFF:
Press and hold more than 1 second: Momentary Turbo
3 clicks: Beacon mode (in beacon mode, press and hold the switch for 2 seconds to change to SOS mode)
Side button from ON:
1 click: mode switching
Press and hold: Turbo
HOW NITECORE P30i ILLUMINATES
As you might expect, this combination of LED and reflector gives pure long-range "percer" with the brightest center and minimum sidelight. Trendy Osram LEDs are better in this regard , so a serious, clear advantage of the Nitecore P30i as a model built on the goode olde XHP35 HI could be neutral temperature, so good for throw. Osram LEDs are CW only, and such a light reflects all the dust and water scattered in air. As I expected, the light on the Nitecore P30i is as cold as in any other Nitecore model…
But what I did not expect is that without cooling flashlight with such a serious size, doesnt fully sustain HIGH with its modest 1000 lumens. The brightness immediately begins to slide down, eventually falling by 30% (around 700 lumens finally) where it stabilizes.
This is the more strange because when the brightness steps down from turbo, the flashlight keeps this level quite acceptable even without cooling. Nevertheless, in the exceptional majority of situations this flashlight will be used outdoors, where is usually some wind (not to mention use in winter) So, you`d better consider "fan cooling" lines of runtime chart of Nitecore P30i review.
The brightness in turbo mode drops from the very first second, but you have about a minute and a half of work at 85-95% level, which is quite enough for a maximum of needs. However, the thermal cut-off threshold should be raised higher, the brightness definetely could stay at the maximum level much longer - 2000 lumens is not so much for a flashlight with a head of this size.
Of course, if you re-activate turbo mode from such a hot mode as High, then the brightness will be lower than maximum. The situation changes for the better with some fan cooling, so the brightness stabilizes here at a good level after stepdown, exceeding the High level.
In general, of course, the rutime is long, thanks to the capacious 21700 battery.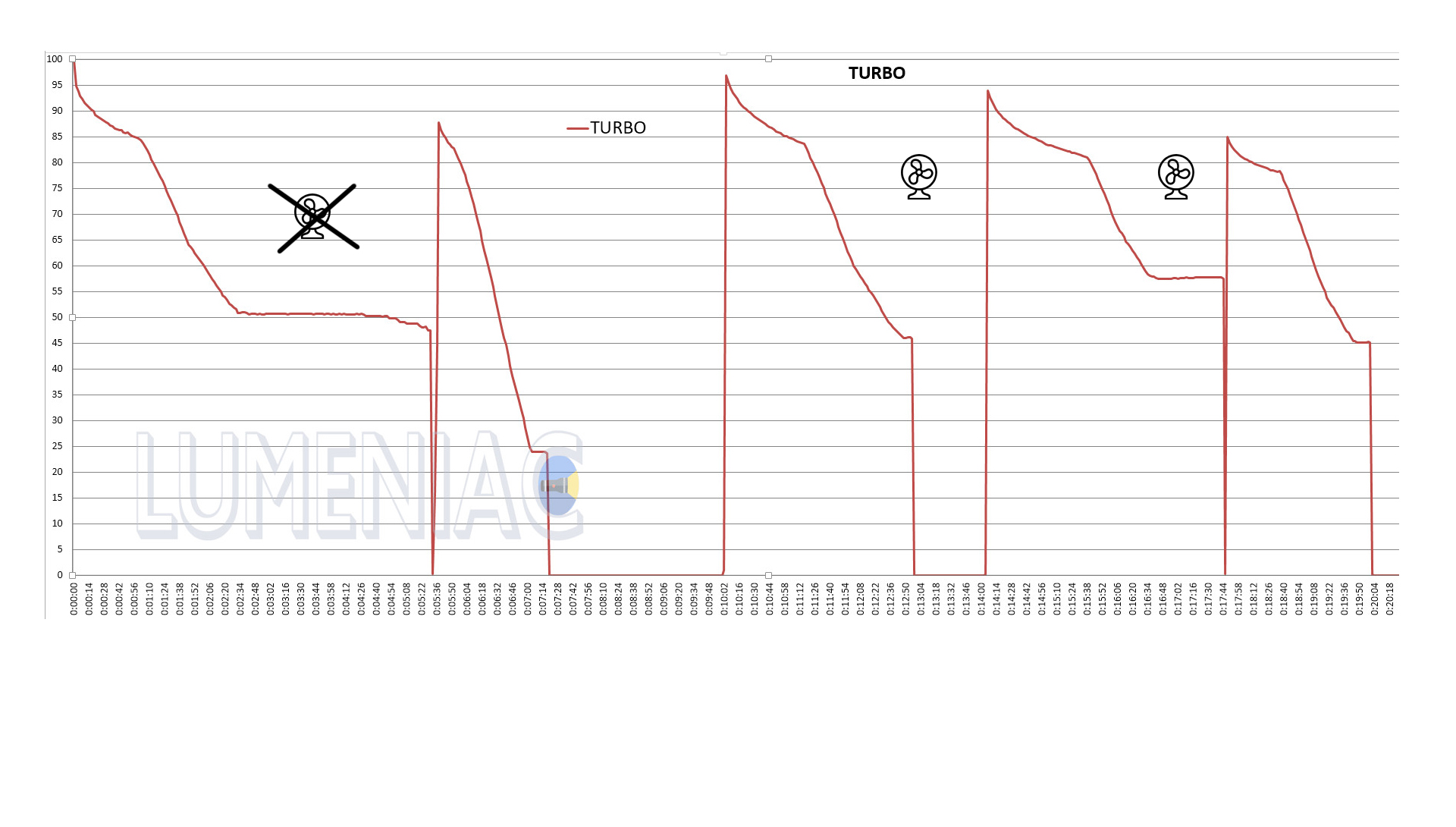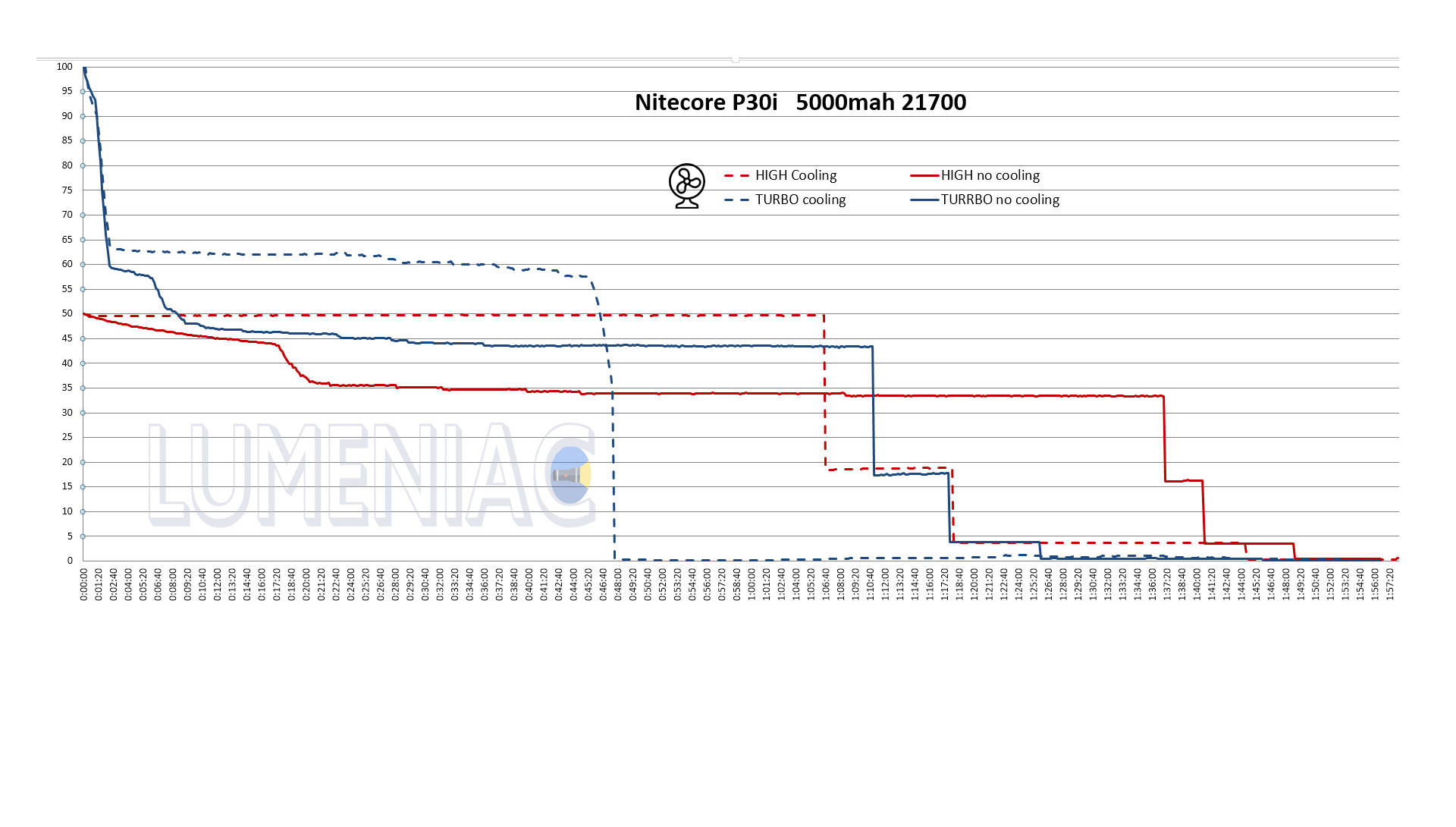 There are no complaints about the range. 250kilokandel is actually a lot, and Nitecore P30i has almost no competitors here among the models with the XHP35 HI LED and single battery.
Large models with multiple batteries or with a different LED (the same Osram or SBT90.2) will have a longer range, but I'm talking about a combination of 1 battery and an XHP35 HI LED.
Mode spacing is good and I am sure that it will fit for a maximum of needs.
well, this distance is not where you normally use long-thrower. but i made as many beamshots of Nitecore P30i as possible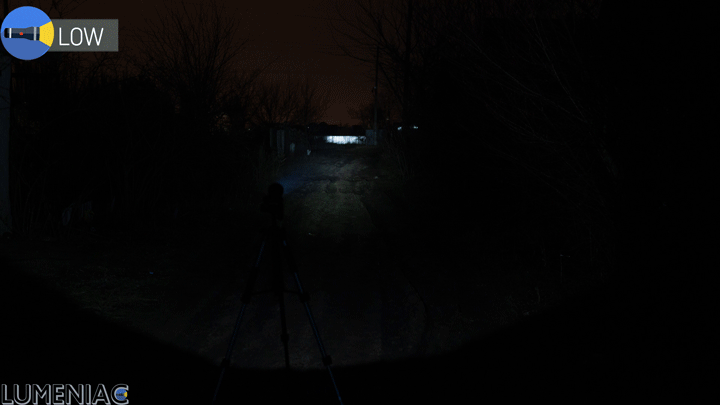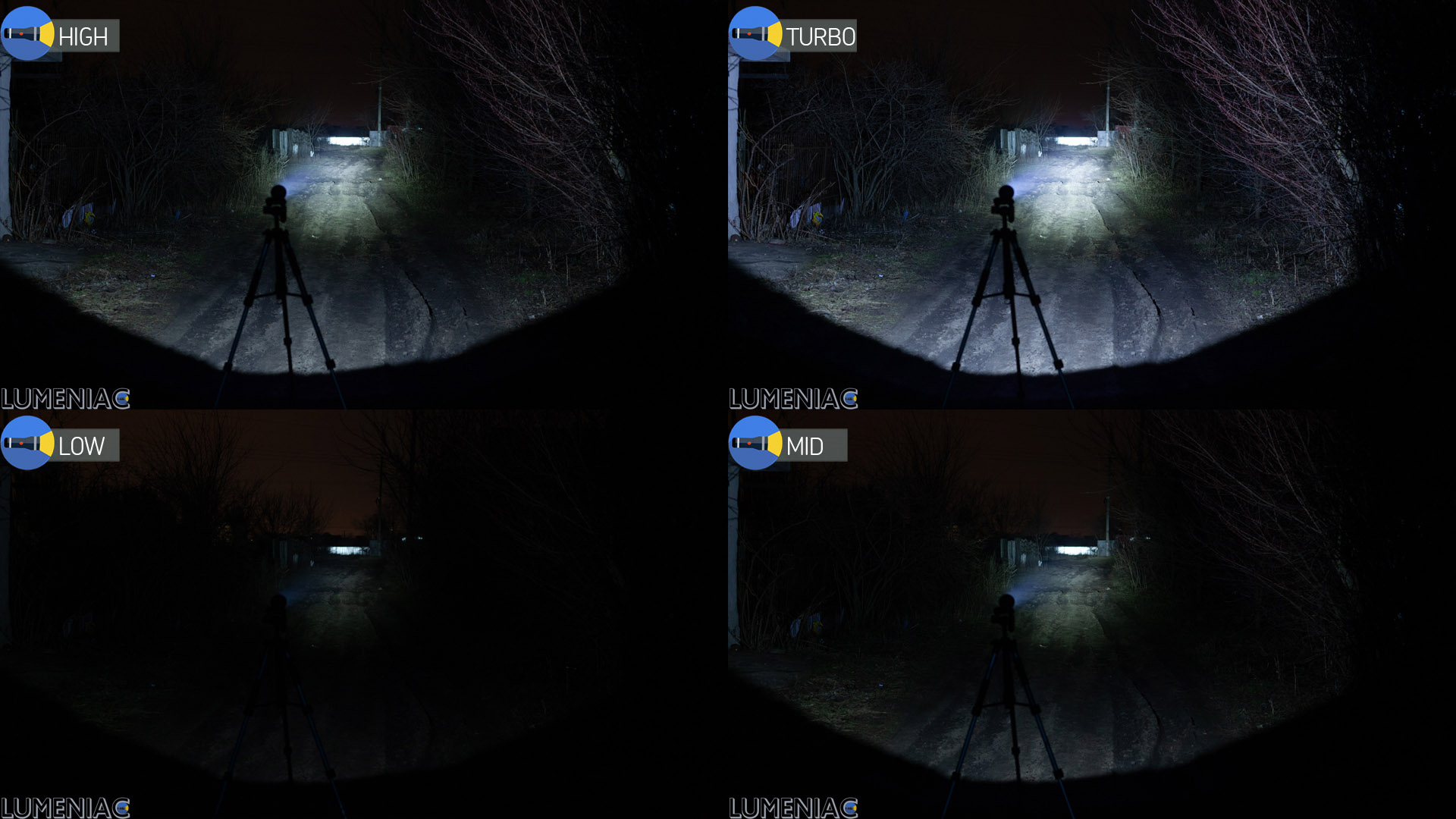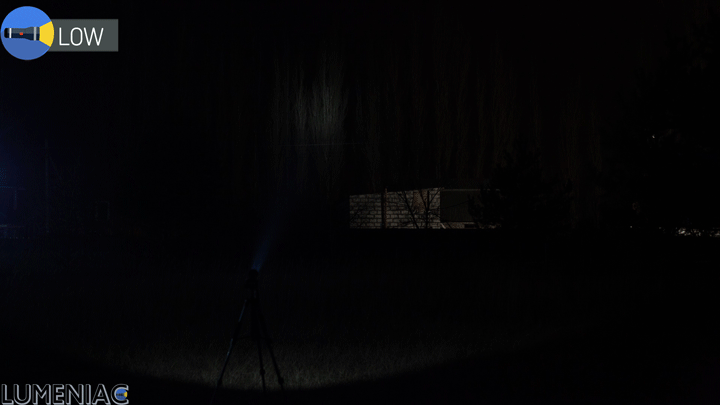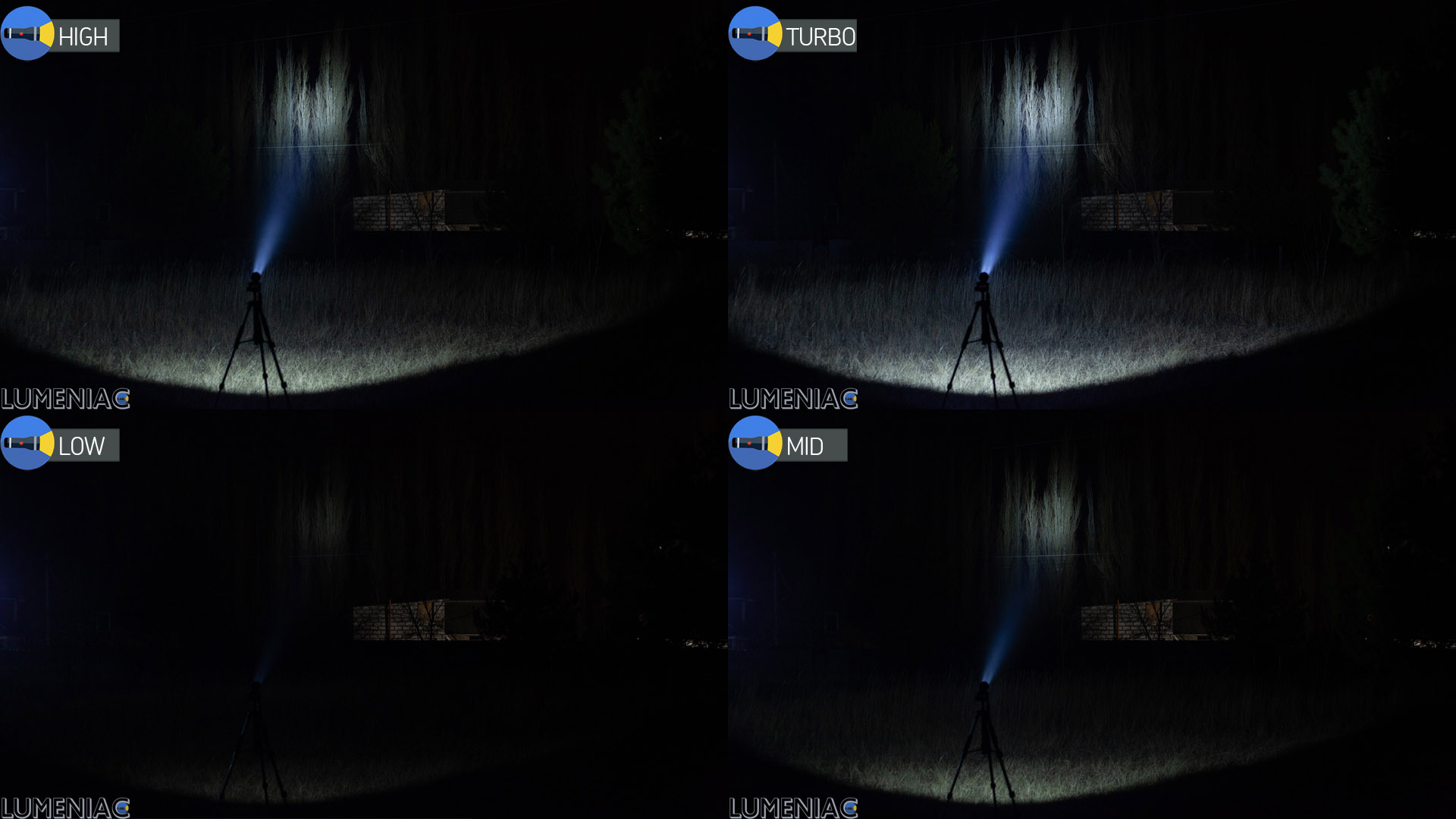 you can notice some light at 200m even when in LOW mode!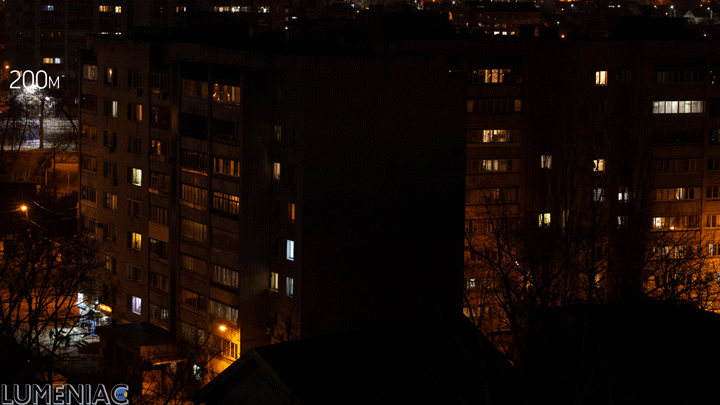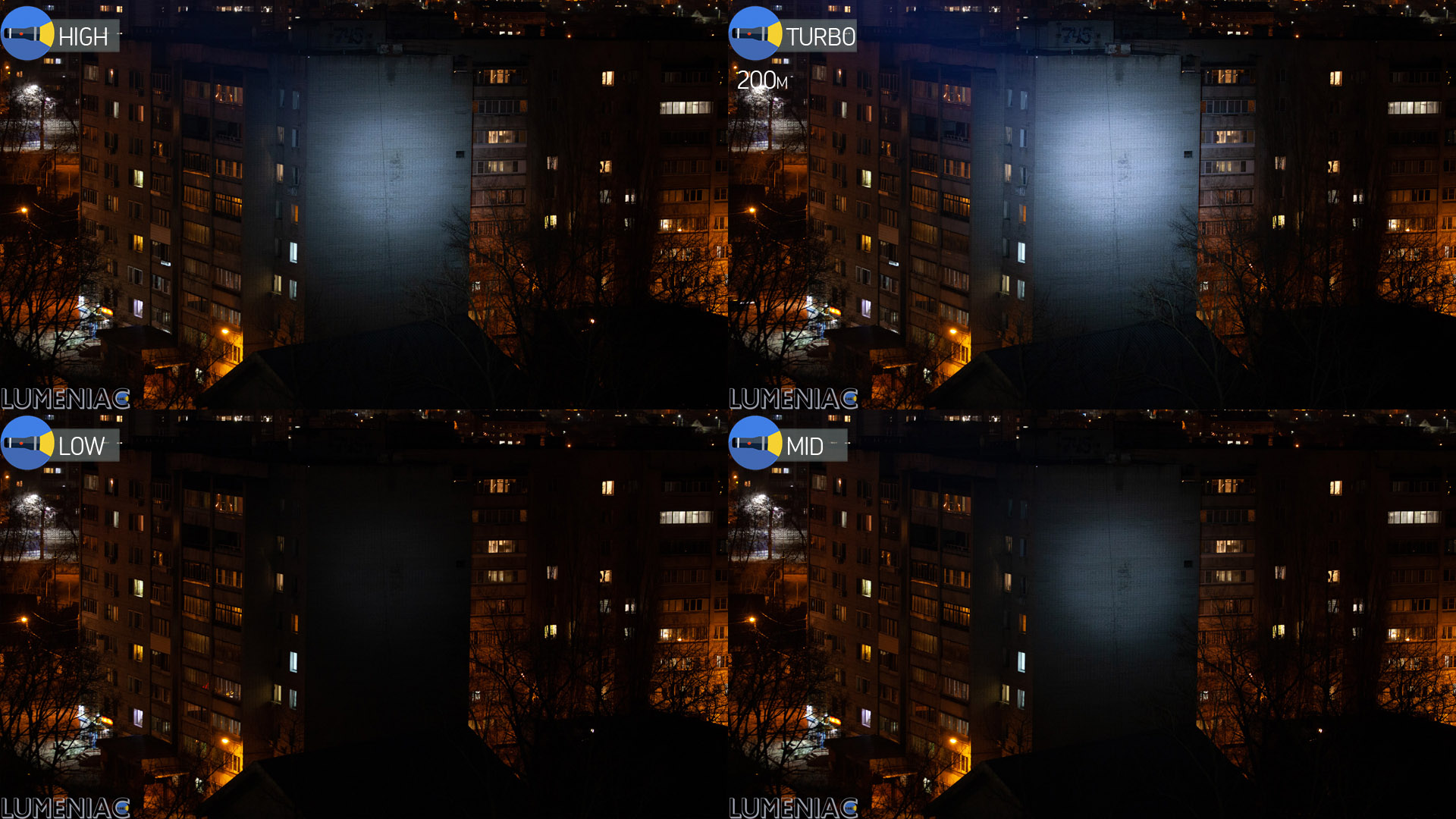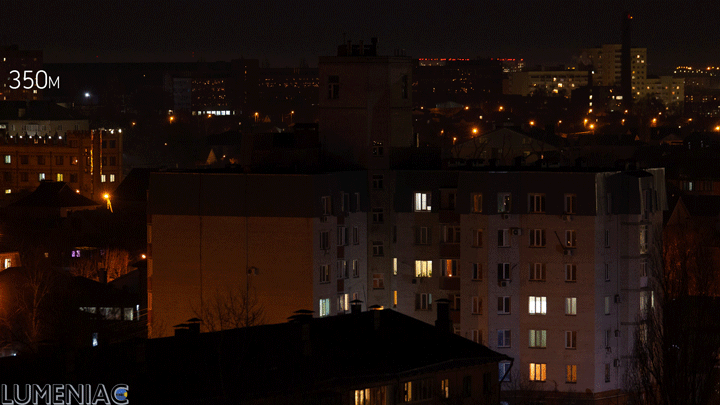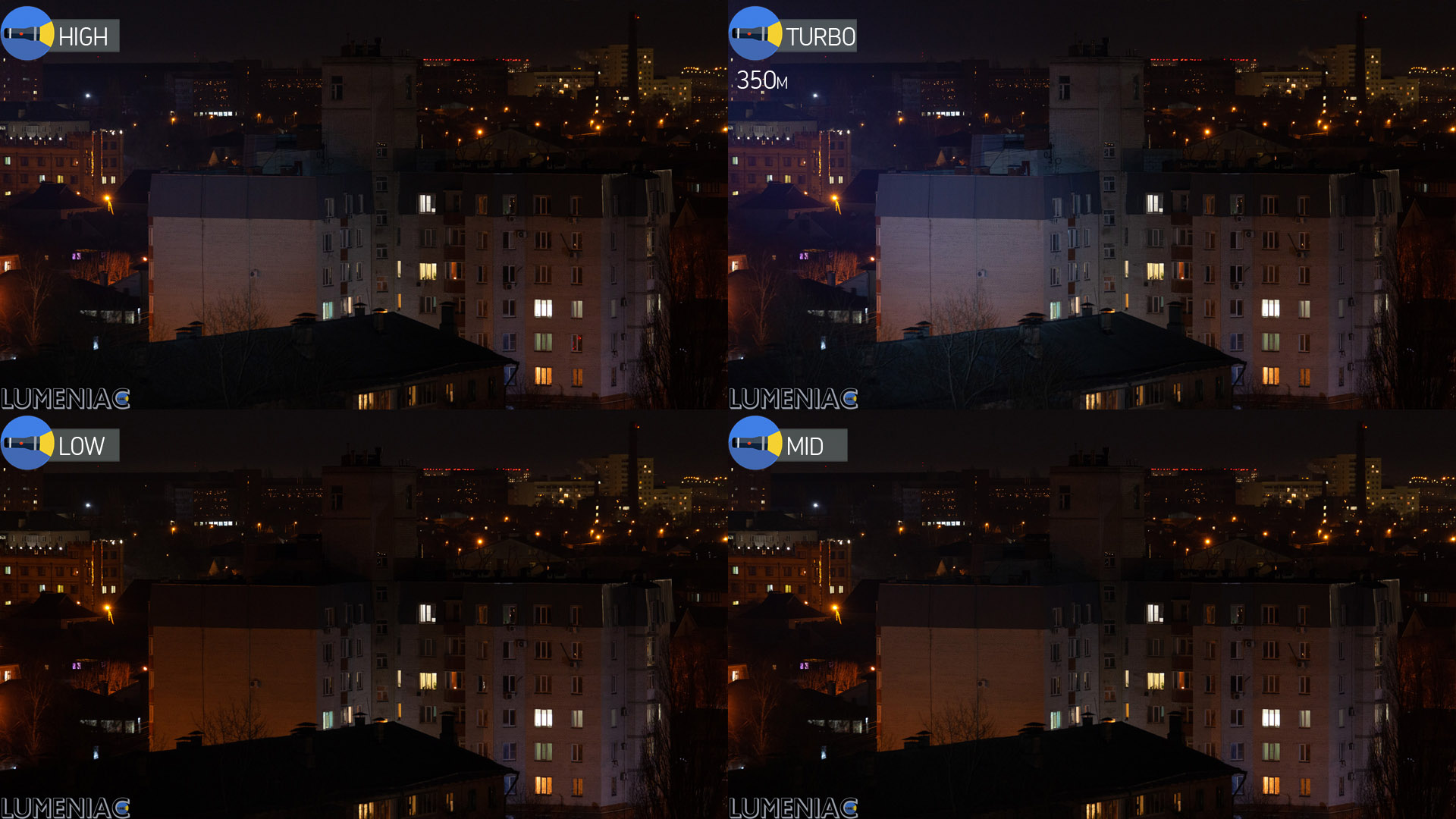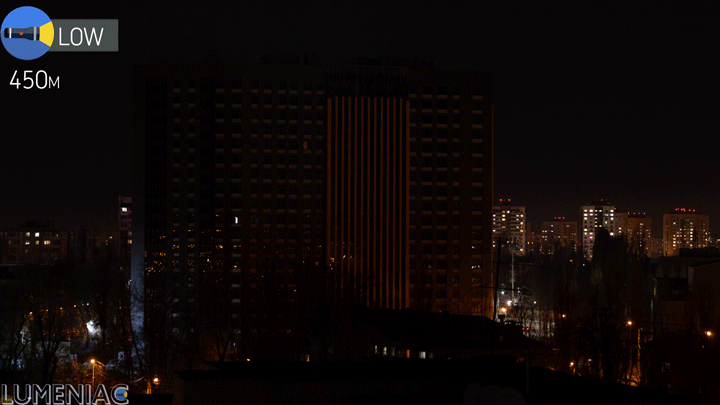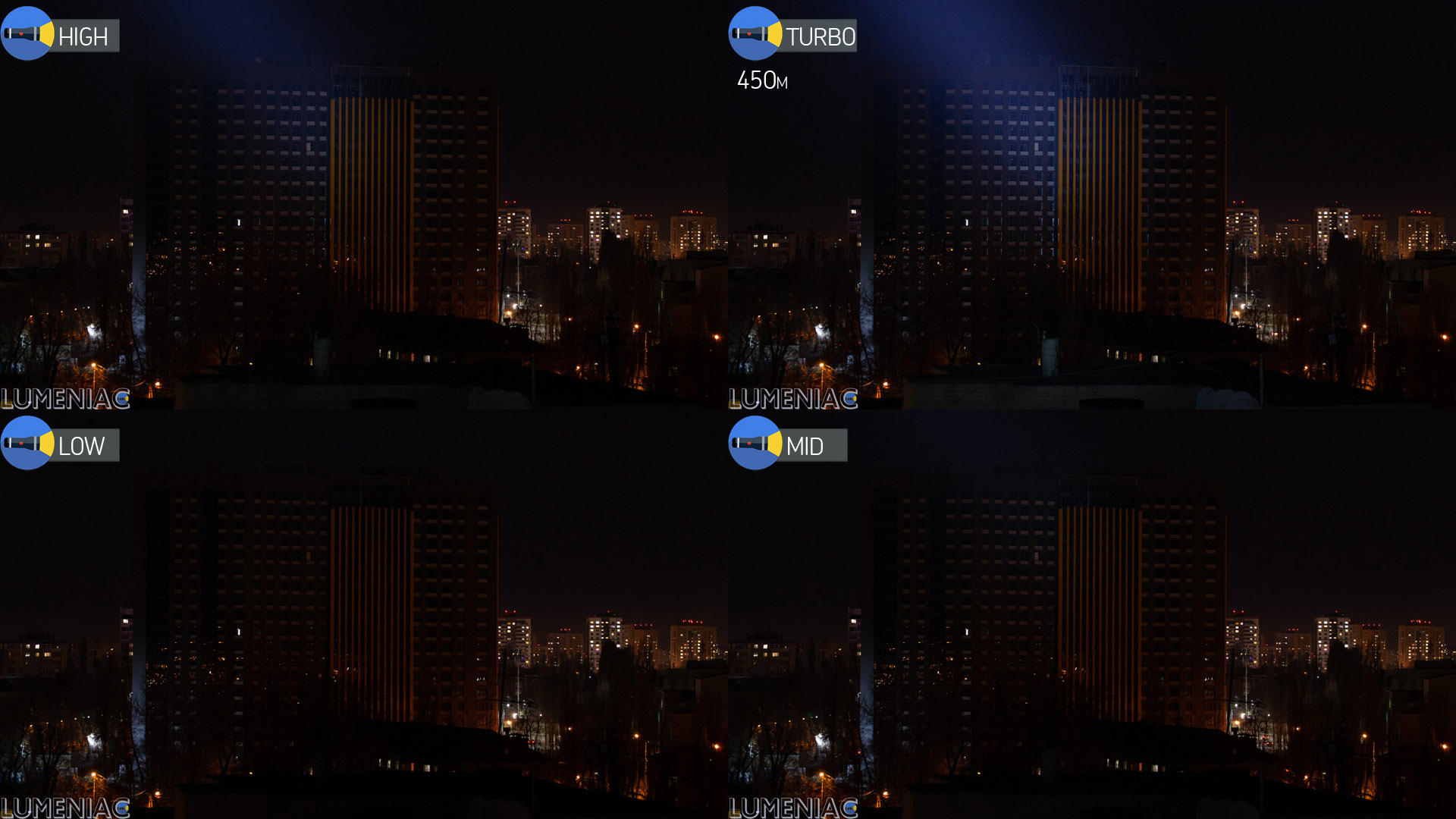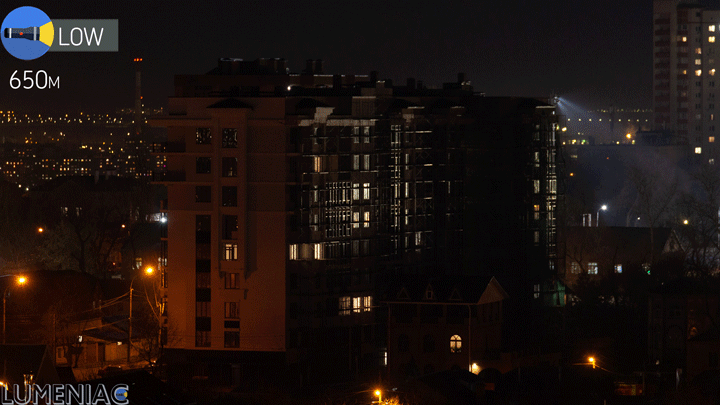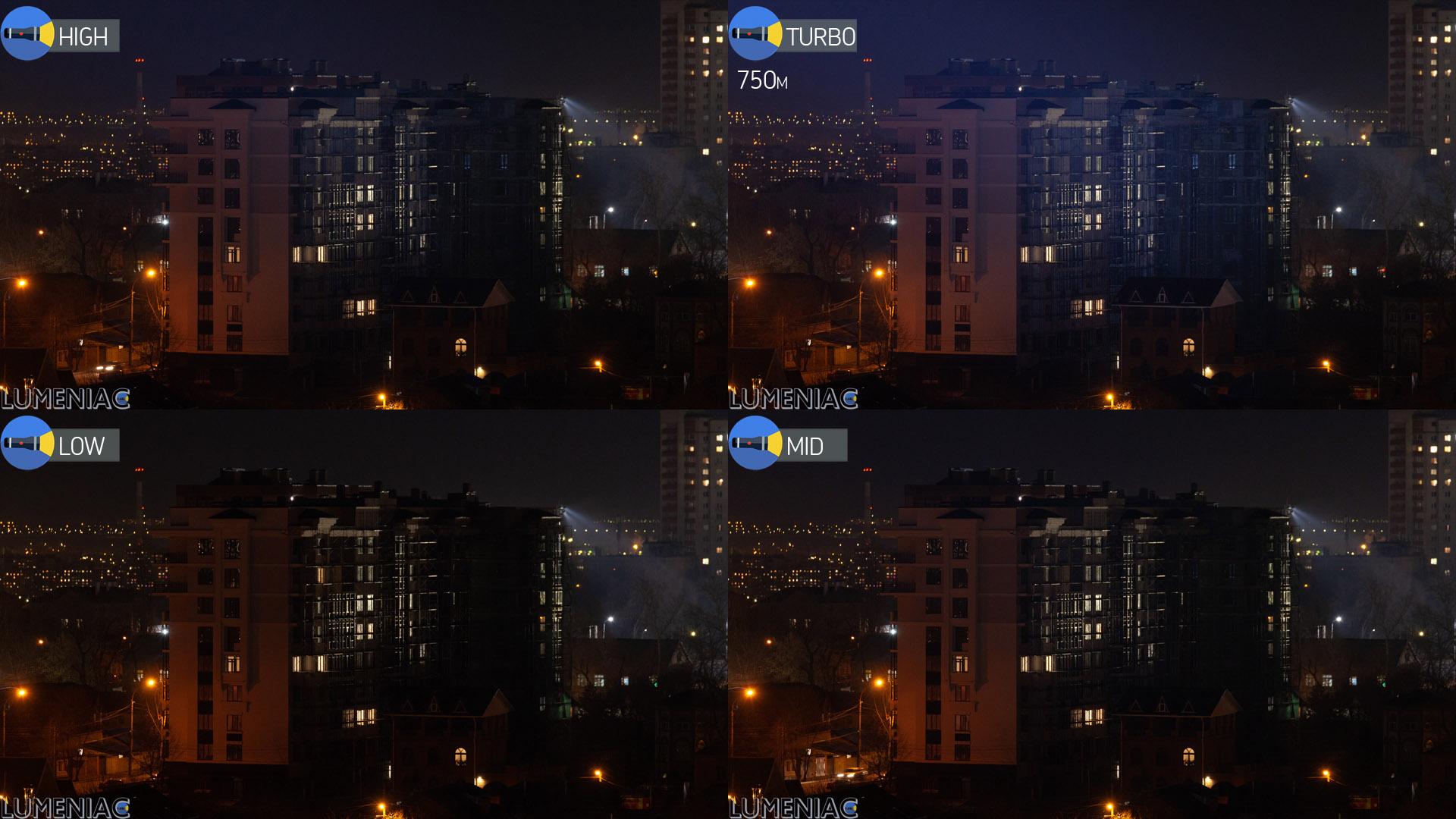 beamshot at 750m distance clearly illustrate awesome throw abilities of Nitecore P30i. As well as it shows how cold white light reflects from all the particles scattered in air. 4000K version will be so damn good at this distance, giving really clear pic.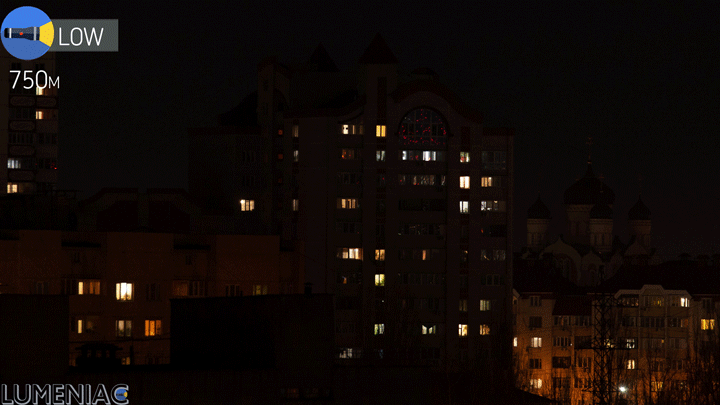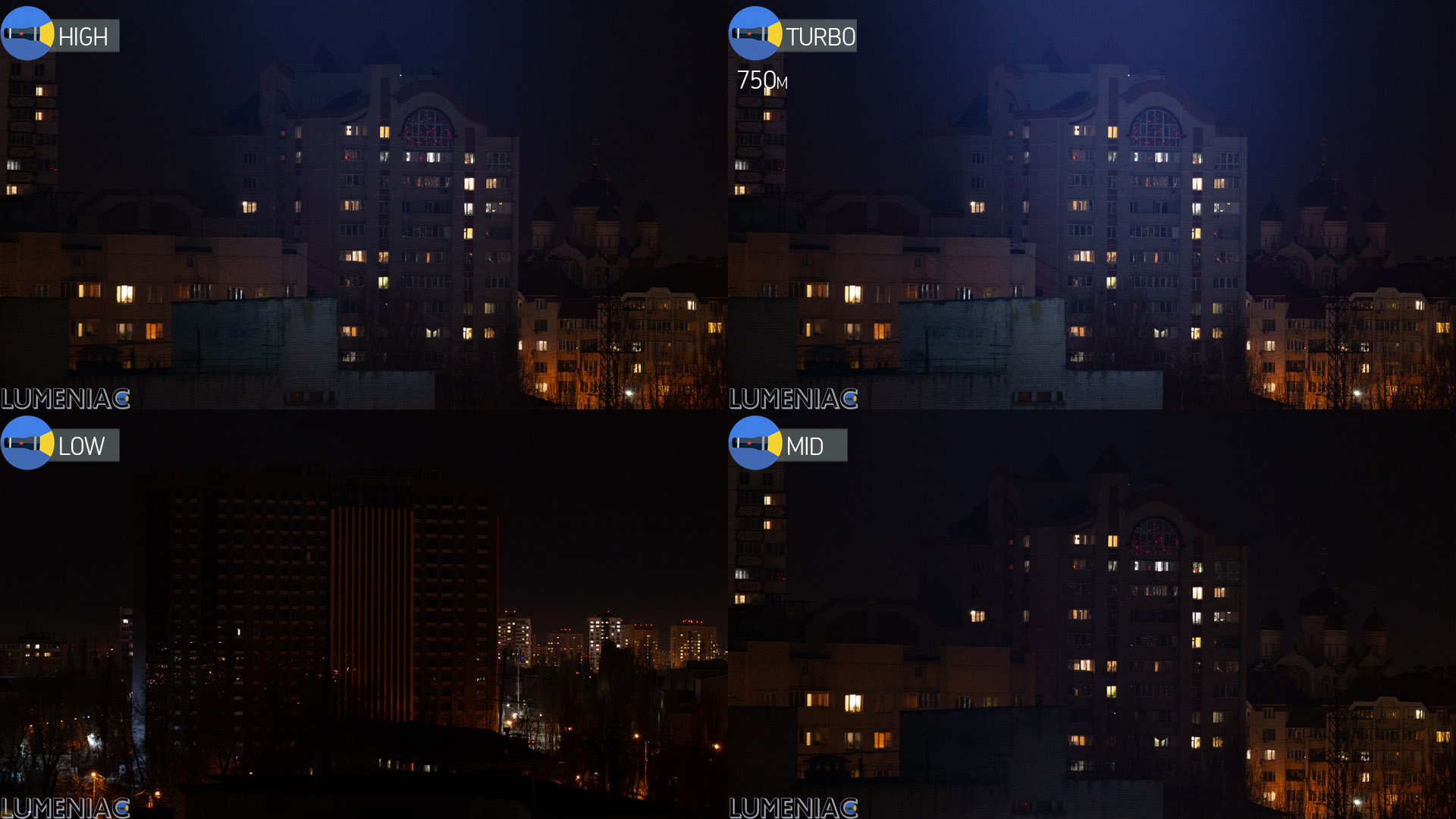 1350m is far away from throw stated in specs. Normally, what you really get is worse that specs promise. But in case of Nitecore P30i i can only show you that there IS definetely some light at much further distance. Not it will be really bright light, of cours. But you can count on it in case of urgent need. Throw is superb, especially, considering flashlight size.
OVERALL IMPRESSIONS
Nitecore P30i is currently Nitecore's top long-range flashlight and proves its status with excellent range, runtime, design and premium packaging that includes everything you need (and not even the most essential - the same remote button). Nitecore P30i is far from a decorative update of the previous model, it has been radically re-designed and updated. And that is completely another, higher level flashlight comparing to initial 1st version of P30.
And then the swing begins … the flashlight has a built-in charge, but charge amperage drops quickly and it still takes 5 hours to fully charge flashlight (3 hours in case of MH25S, for example). The capacious 21700 battery provides excellent runtime, but it is a proprietary, specific and extremely expensive battery. And the specificity of this battery could make UI more flexible, adding blocking and instant access to the minimum brightness. And as Nitecore P30i is a powerful flashlight with easy instant access to turbo via tailbutton, it must be blocked every time it is carried in the holster or pocket. It simply will burn through any fabric with such a bright and focused light.
The flashlight has an awesome, outstanding range, perhaps the maximum possible for such a combination of a reflector and an LED. That throw is beyond most of real needs. But the cold light does not allow the XHP35 HI to reveal its fullest potential and for this CW version it is difficult to compete with the significantly longer-range Osram LEDs, to which, I am 100% sure, Nitecore will switch in the next version of this model. Nitecore has never been afraid to step in a new direction, they experiment like no other brand, what i honor and praise. But neutral light for a long-range flashlight is not some kind of innovation, it is a well-known and real necessity for any thrower, fact that the brand should pay attention to. After all, an advanced user will take into account not only the figures in specs, but also the practicality of real use.
So it turns out that the Nitecore P30i has an excellent design, well known LED that squeezes all the possible throw, literall each meter even beyond stated in specs. It has built-in charging and the most capacious battery. But with the simplest changes (neutral color and higher thermal stepdown activation level - 1st, additional UI features and charging speed - not necessary), it could have become much better and this would greatly help Nitecore P30i in the competition with more and more numerous models based on damn long-range Osram LEDs. And the price tag expected for the flagship model (here, believe me, it is quite at the level of direct competitors) does not make the circle of buyers wider. Classical P30 (2016) was much more affordable and tempted many buyer to find strength to rise above the ultra-budget segment.
In general, P30i has it`s own PRO and CONs. And if weight `em and decide to buy, then I`m sure you you`ll like this flashlight.