As expected, almost any flashlight manufacturer tried their luck with the winning combination of an ultra-long-range Osram LEDs and a capacious 21700 batteries. Olight is no exception, and they have updated the Javelot Pro (2019) to the Turbo version. Capacity, runtume, throw and…alasp…price have grown significantly. The latter makes the Olight Javelot Turbo one of the most expensive modern long-range flashlights. Let's take a look in review at what a buyer, who is ready to fork out for $ 250, should expect to get.
You can buy Olight Javelot Turbo at
AMAZON
Important! This Olight Javelot Turbo review reflects the author's point of view. In the course of real long-term use, nuances may appear that, in general, a "sofa" review cannot be revealed.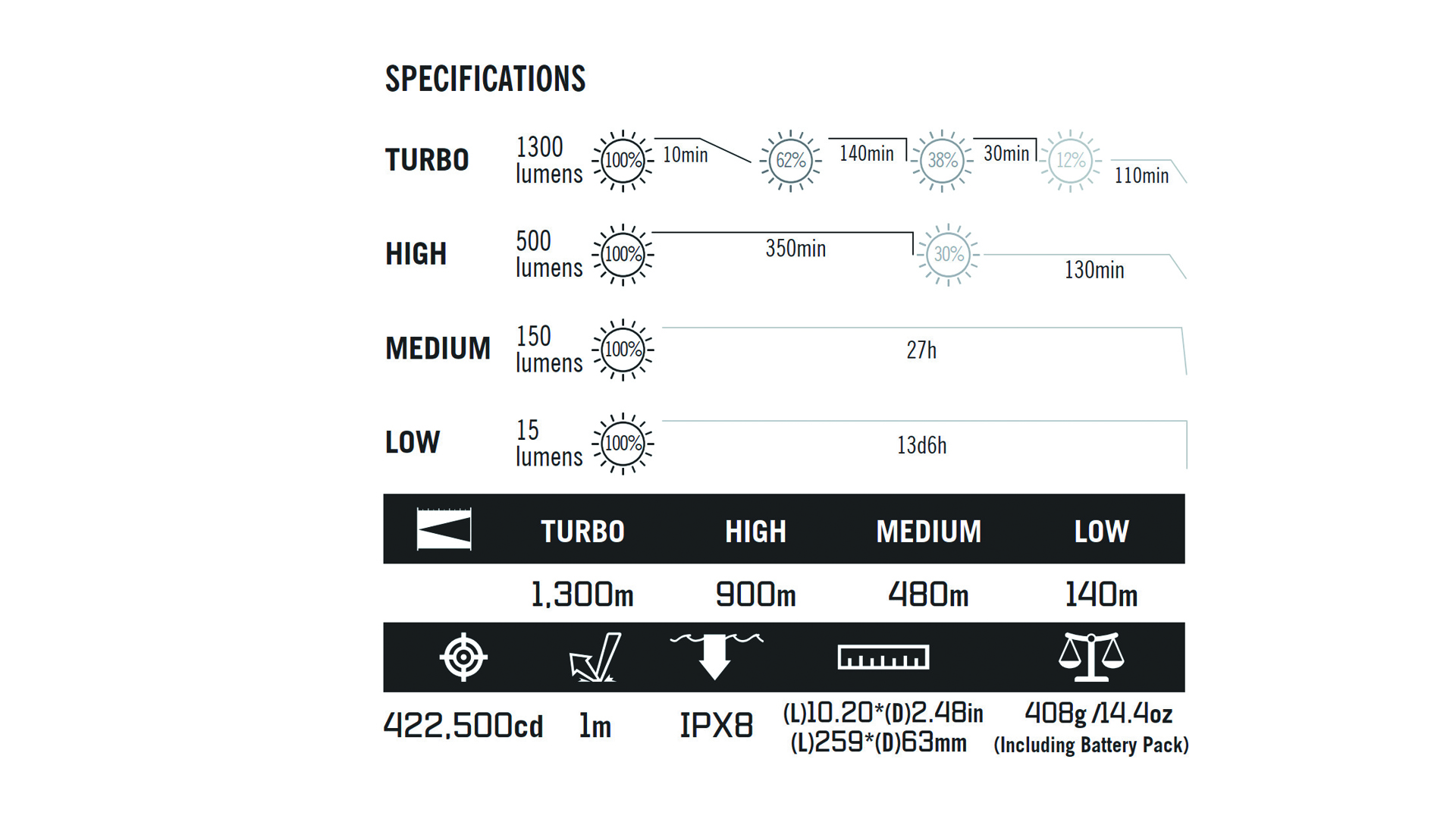 SPECIFICATIONS:
Light source - LED OSRAM KW CULPM1.TG 6500 K (in reality it is warmer).
The service life of the LED is 50,000 hours (about 5 years).
Luminous flux power: 1300 lumens.
Luminous flux range: 1300 meters.
Luminous flux intensity: 422 500 Candela.
Lens - mineral glass with antireflection coating.
Reflector - aluminum, parabolic, smooth.
The number of brightness modes 4: 1300, 500, 150 and 15 lumens.
Power supply: rechargeable battery pack 2 x Li-ion 21700 3.7 V. 10000 mAh.
The Olight BPJT-Turbo battery pack is charged by magnetic USB charging with a current of 2000 mA.
Turbo mode is recommended for use in a well ventilated area.
Metric anodized thread for long service life.
Impact crown made of stainless steel with a blue PVD coating will protect the flashlight from damage in case of accidental fall and can serve as a means of self-defense.
Rugged, ergonomic body made of T6061 T6 aircraft grade aluminum with grade 3 (maximum) hard anodizing.
Convenient ribbed knurling of the body allows you to hold the flashlight even in wet hands.
Shock protection according to FL1 Standard (falls from a height of up to 1 meter).
Increased body tightness according to the IPX-8 standard (submersion under water no more than 2 meters for 30 minutes).
Manufactured to US Army Mil-spec MIL-STD-810F.
CE & RoHS Certification certified.
Dimensions: 25.8 mm. x 63 mm. x 259 mm
Weight: 408 g (with battery)
PACKAGE AND APPEARANCE
To put it bluntly, there is no need to wait for significant external changes from the previous model, the main differences are inside.
Olight Javelot turbo is packaged in a sturdy and great looking plastic case that is exceptional in terms of giftability and overall usability.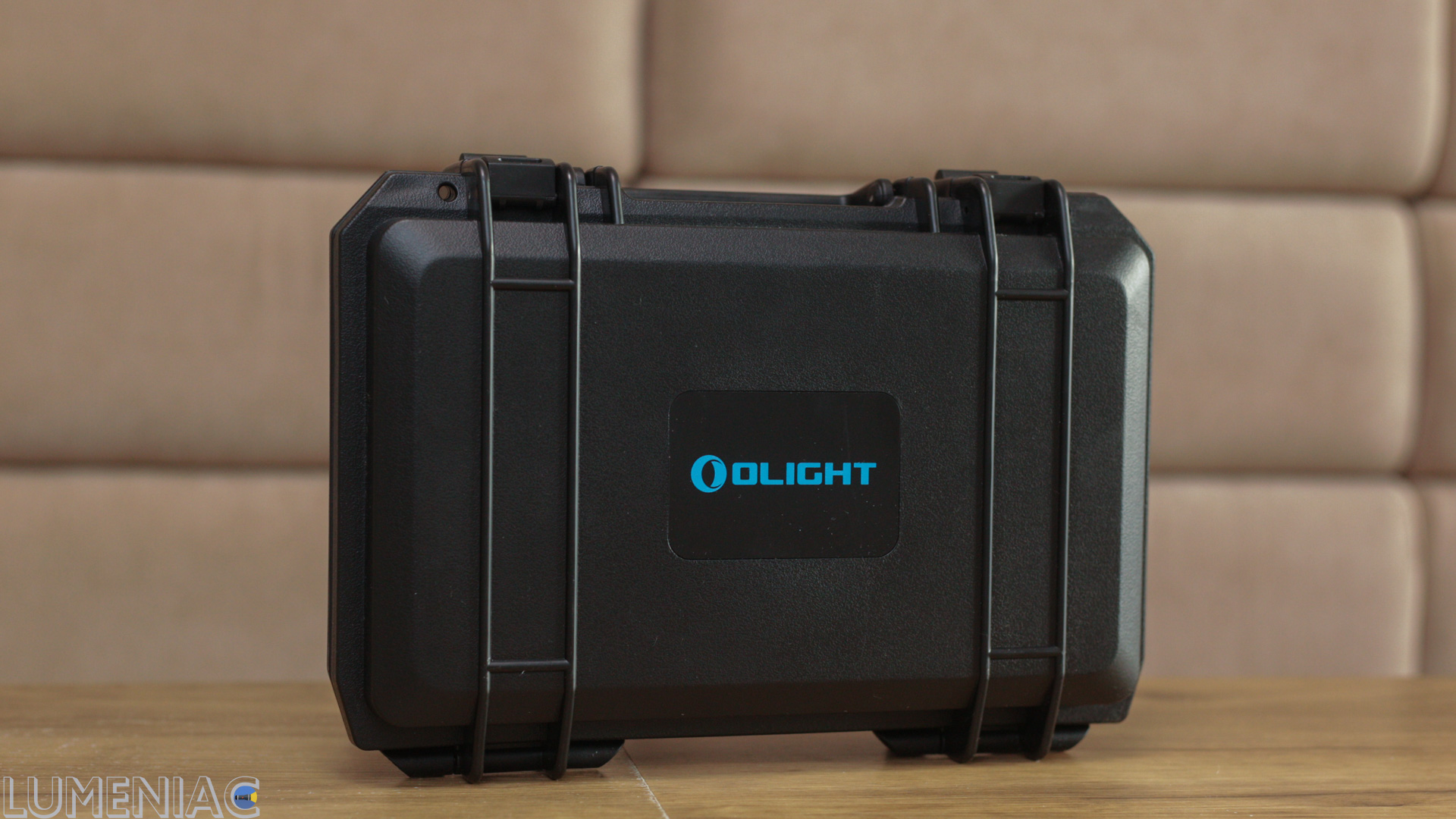 Inside the foam rubber is the whole modest set of flashlight, charging cable, holster and manual.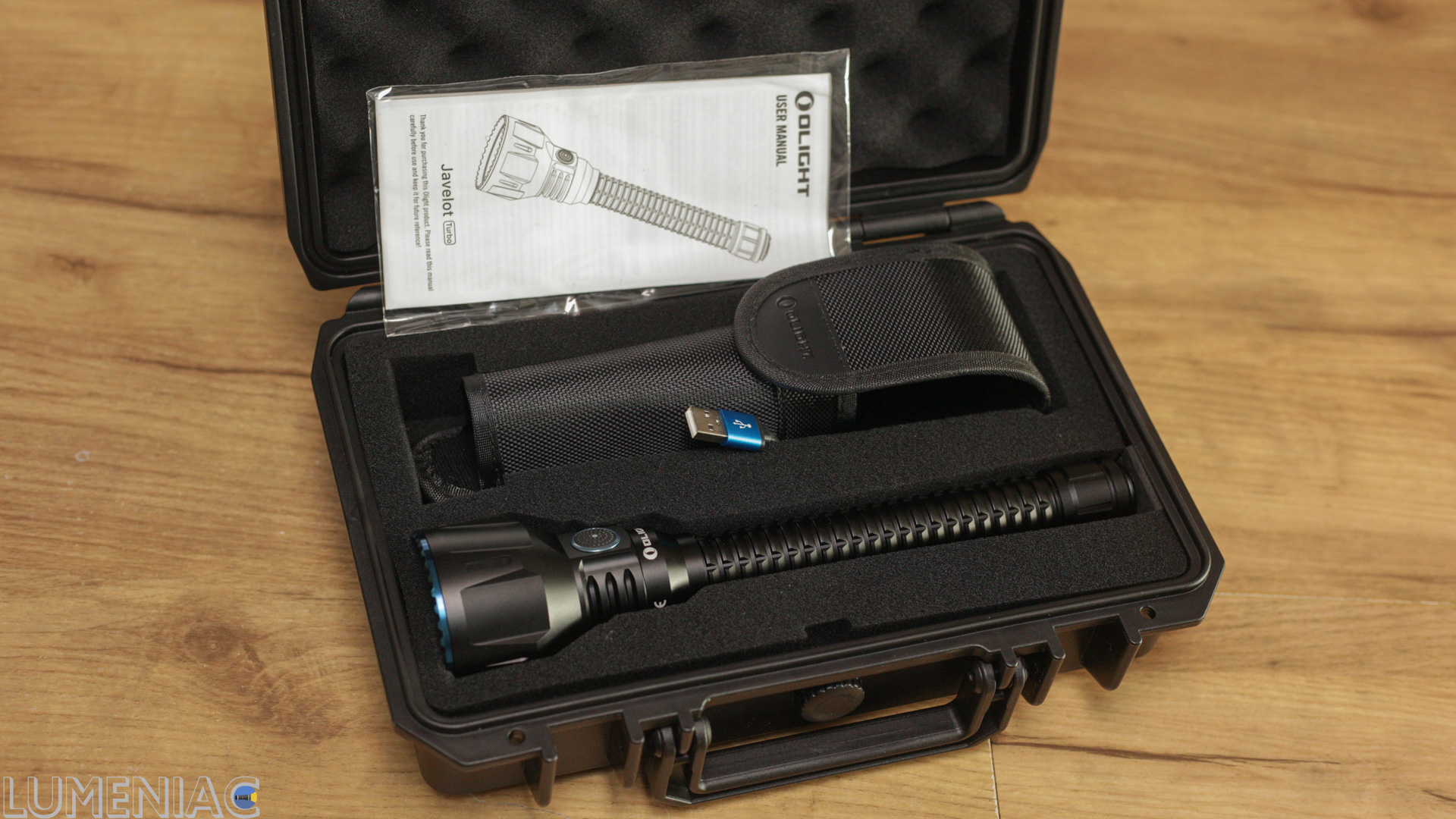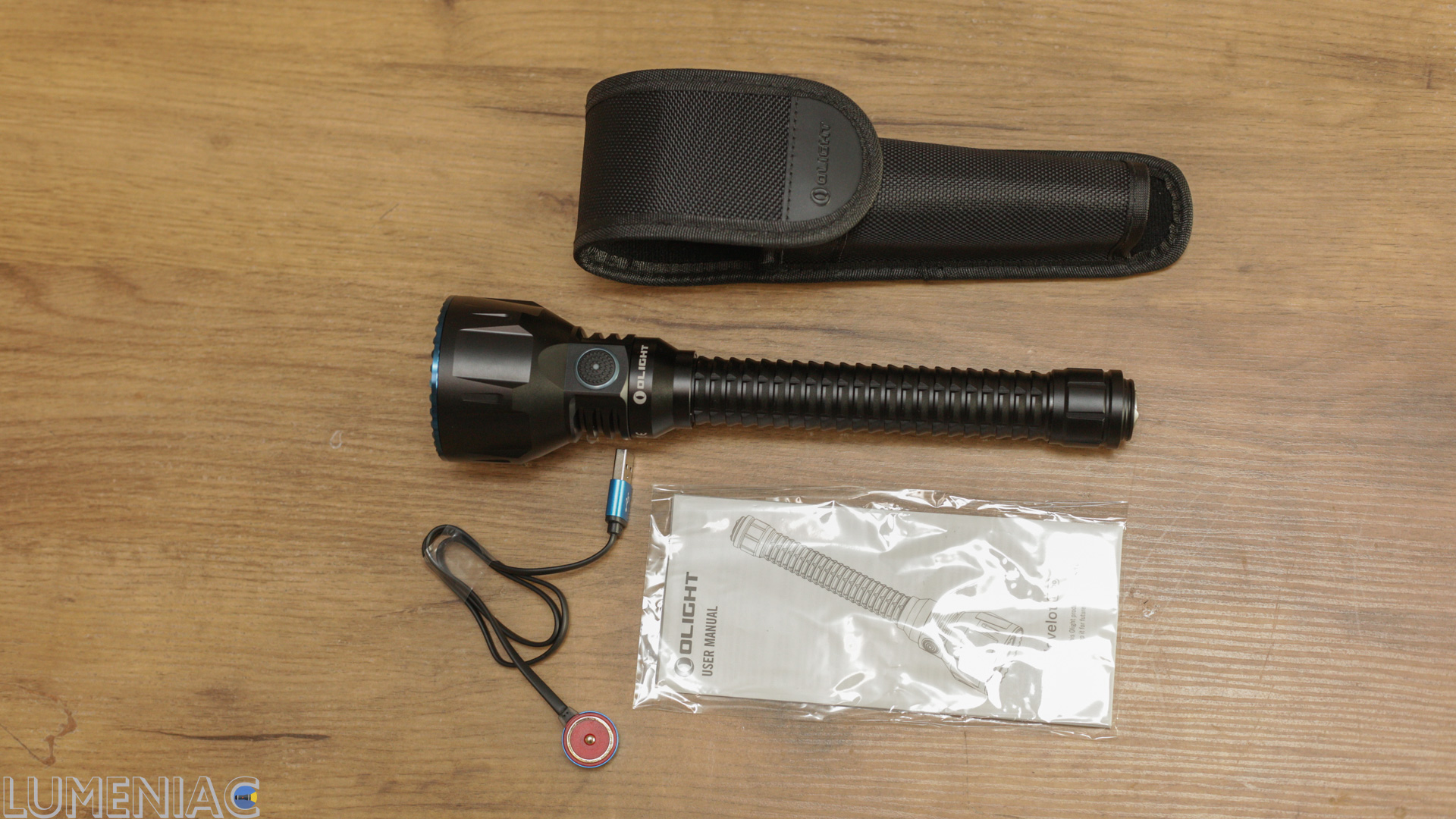 The holster is nice, with a magnetic closure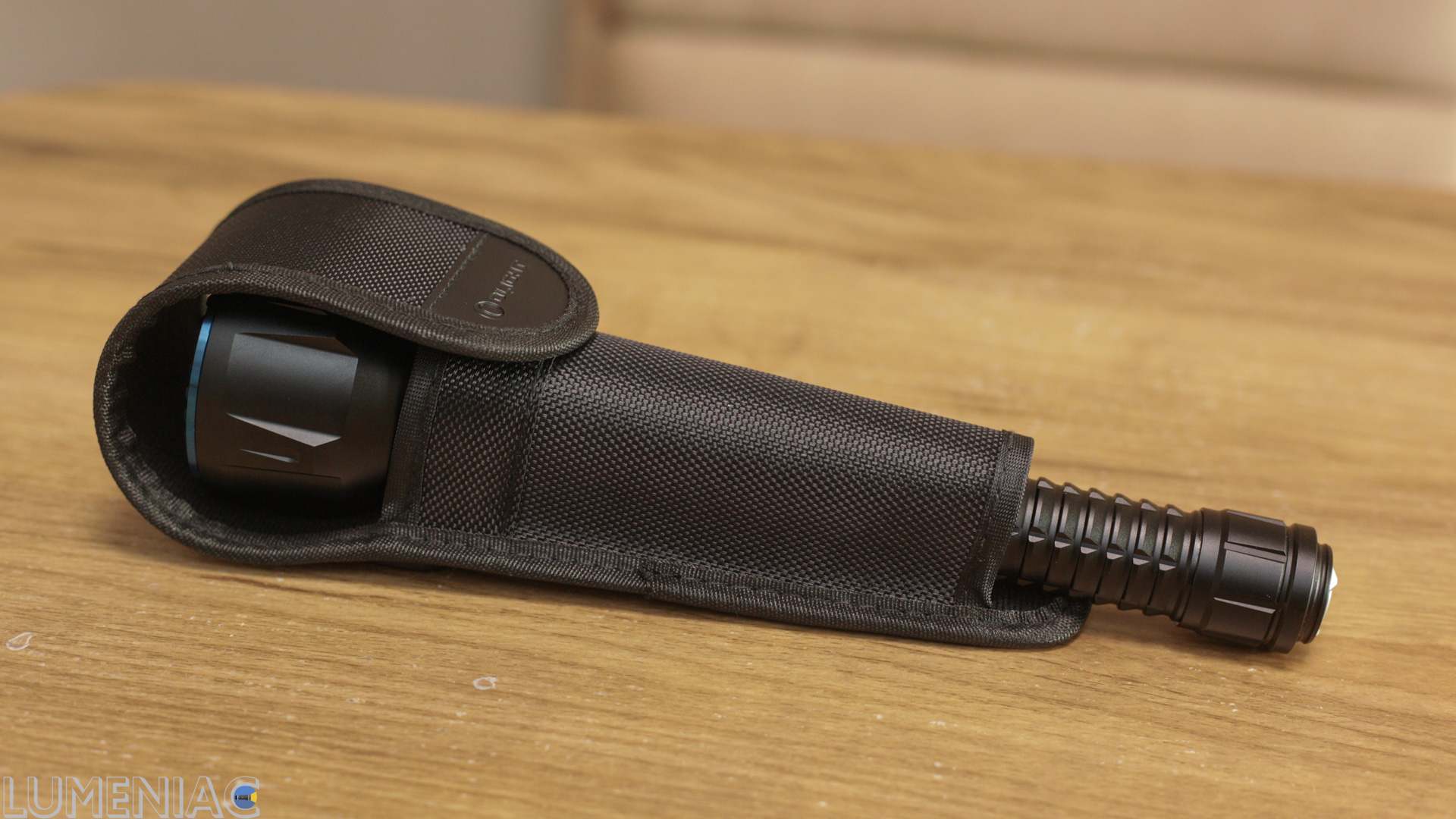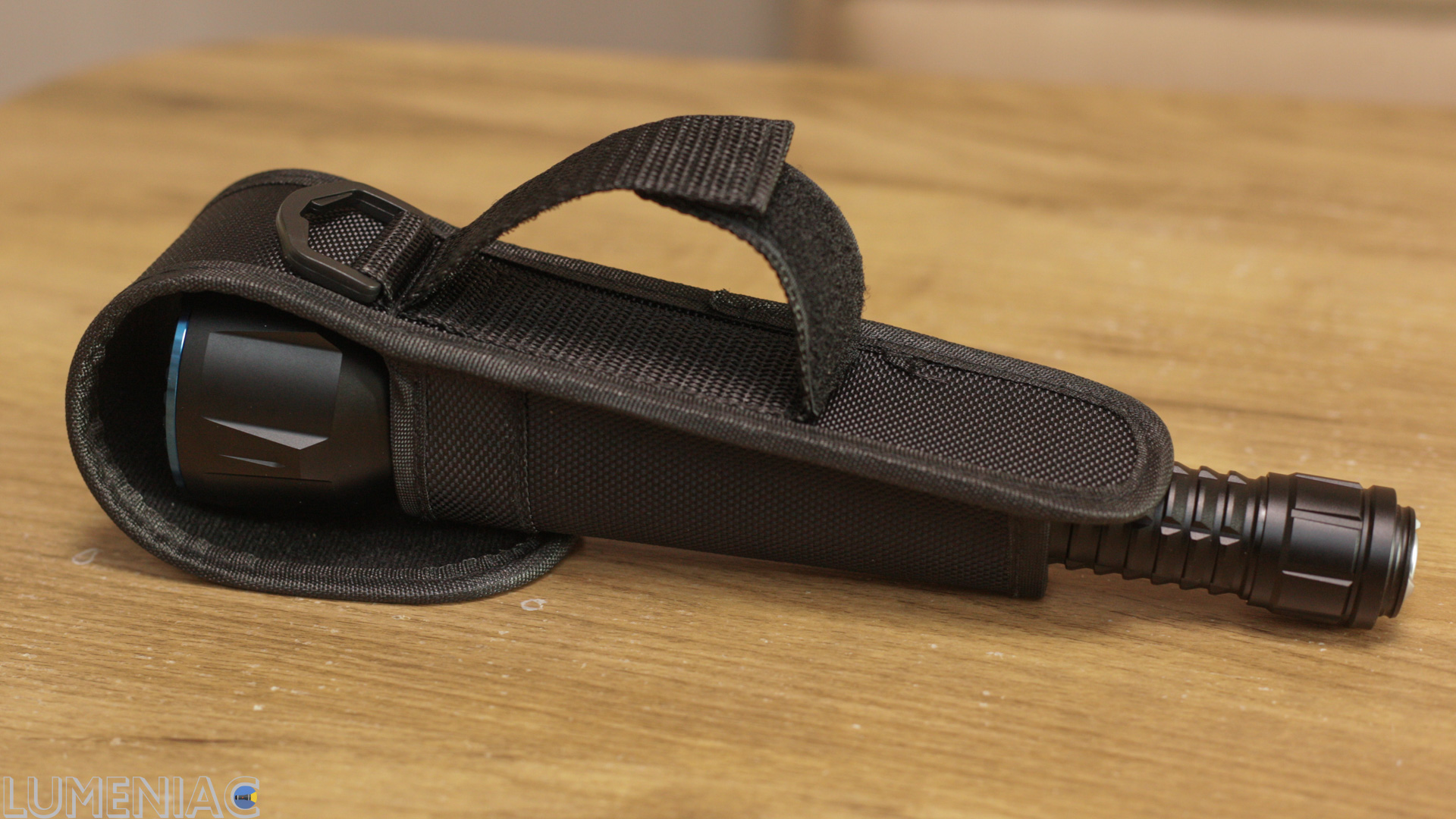 The flashlight itself is made in a long format, which is not very popular today. 26cm is not compact at all. On the other hand, you get a comfortable grip and double runtime. Great budget long thrower Sofirn C8G is used to compare size.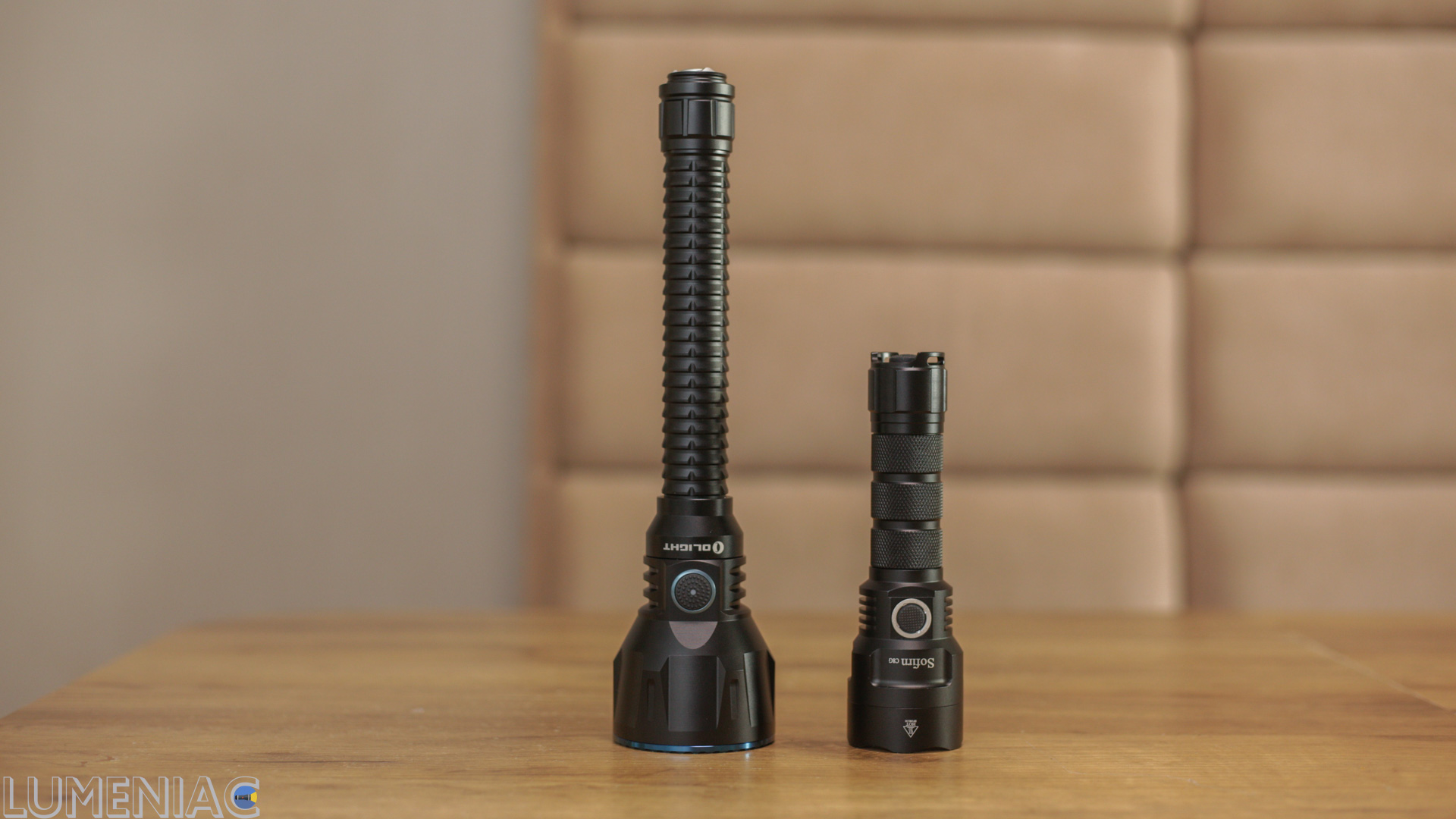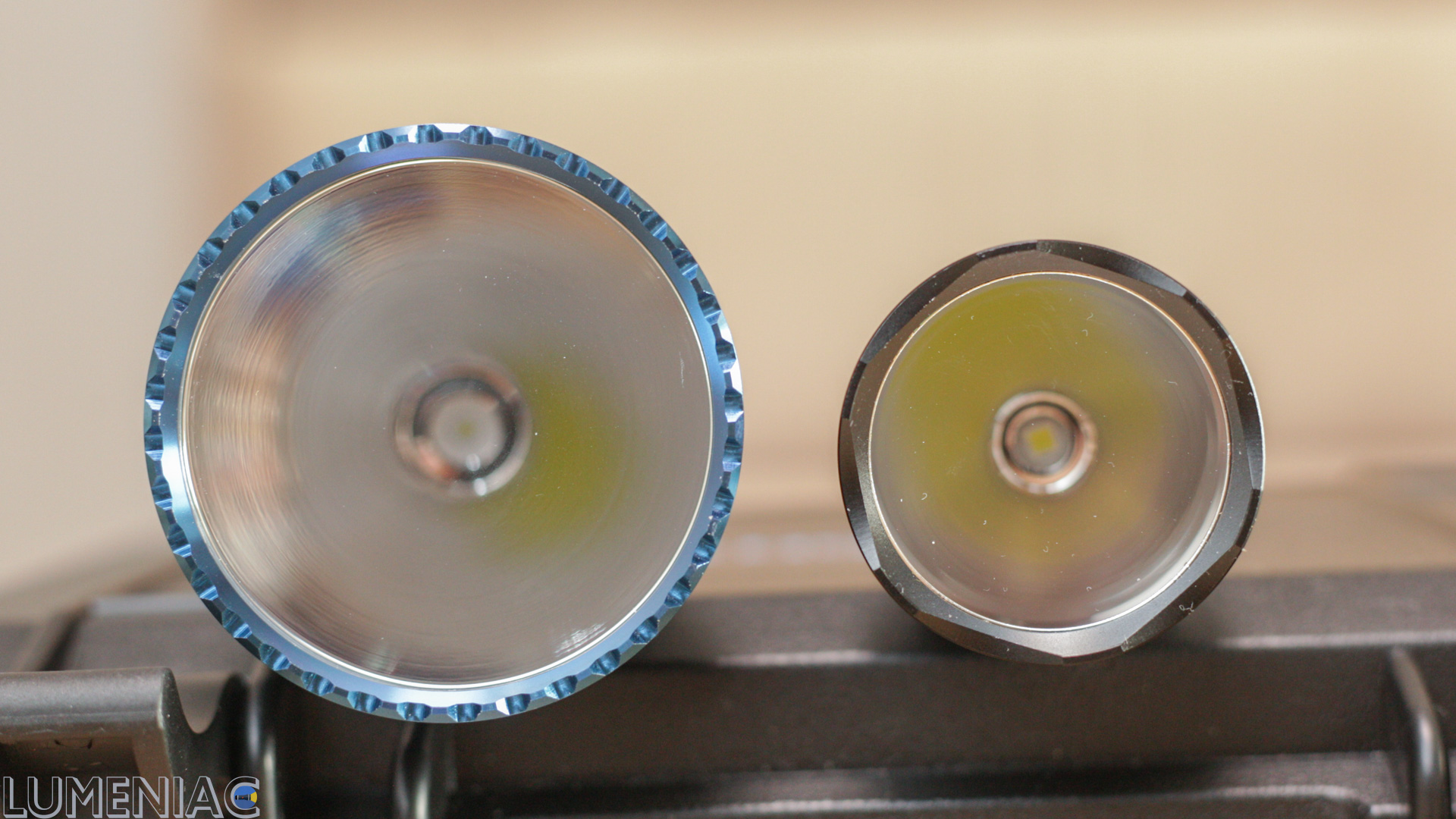 The design is the same as it was, that is, amazing. An externally unobvious difference will manifest itself only in a symbolic change in the knurling on the tail cap and an increase in the diameter of the body. The flashlight has its own instantly recognizable appearance.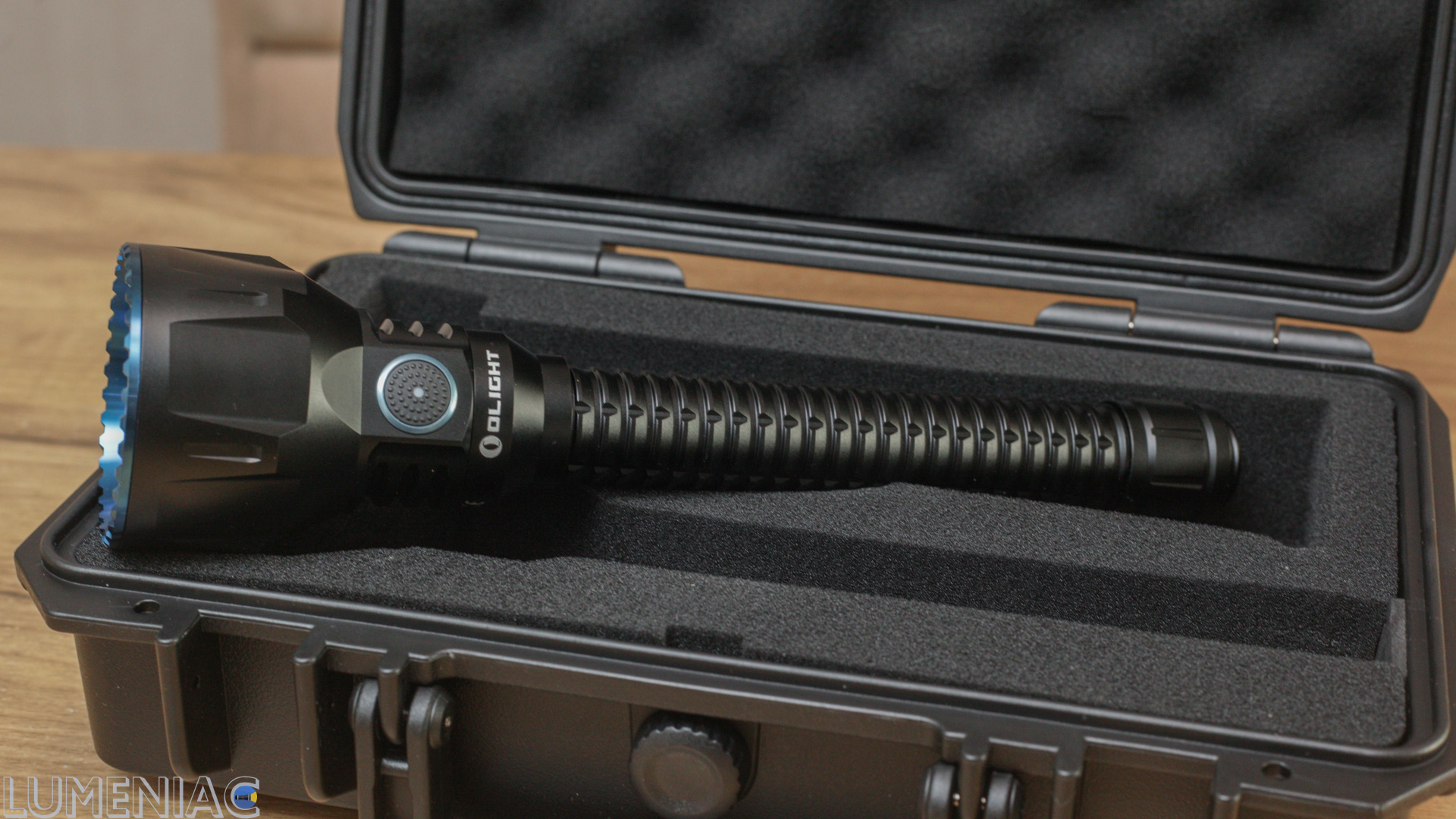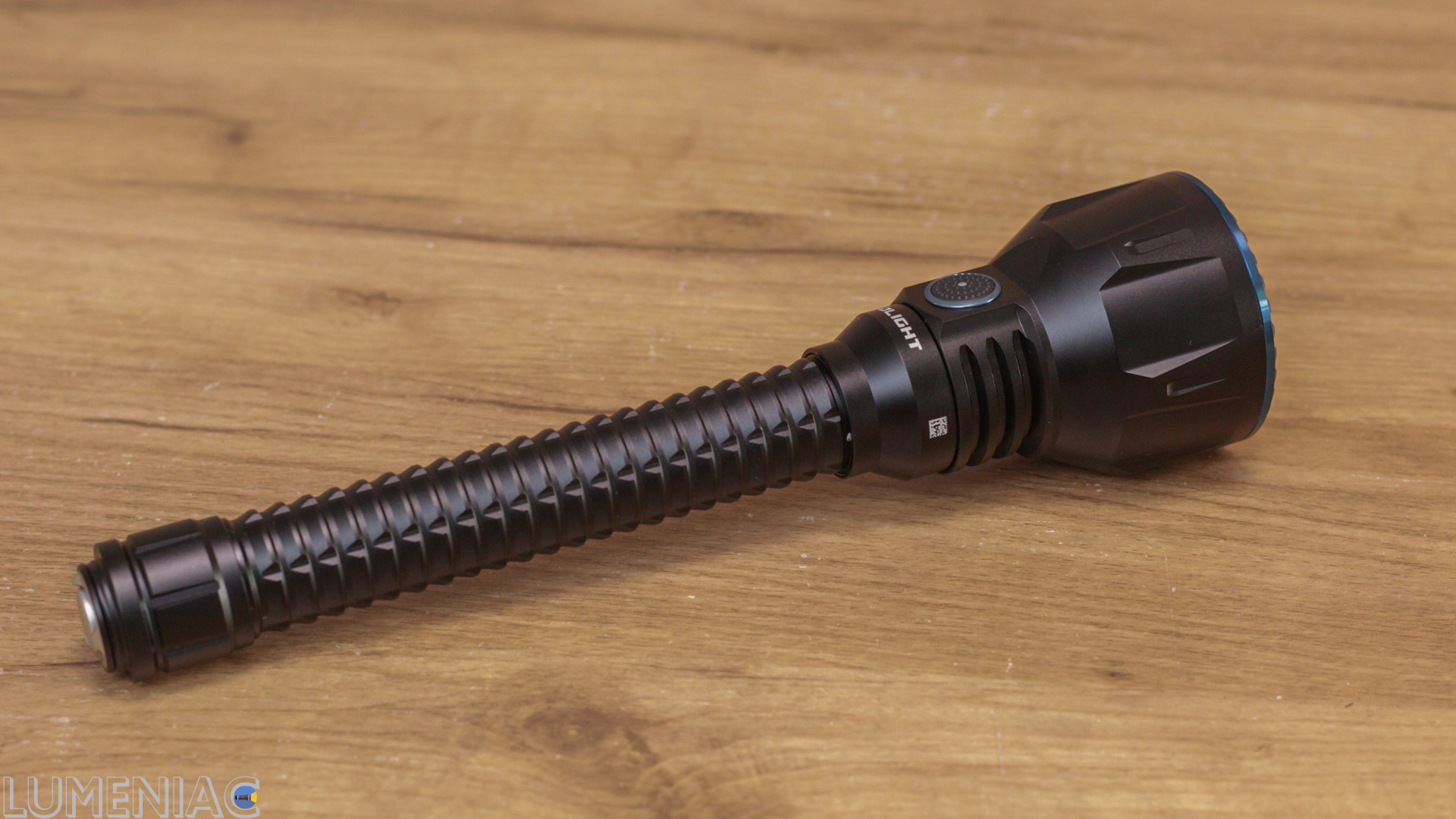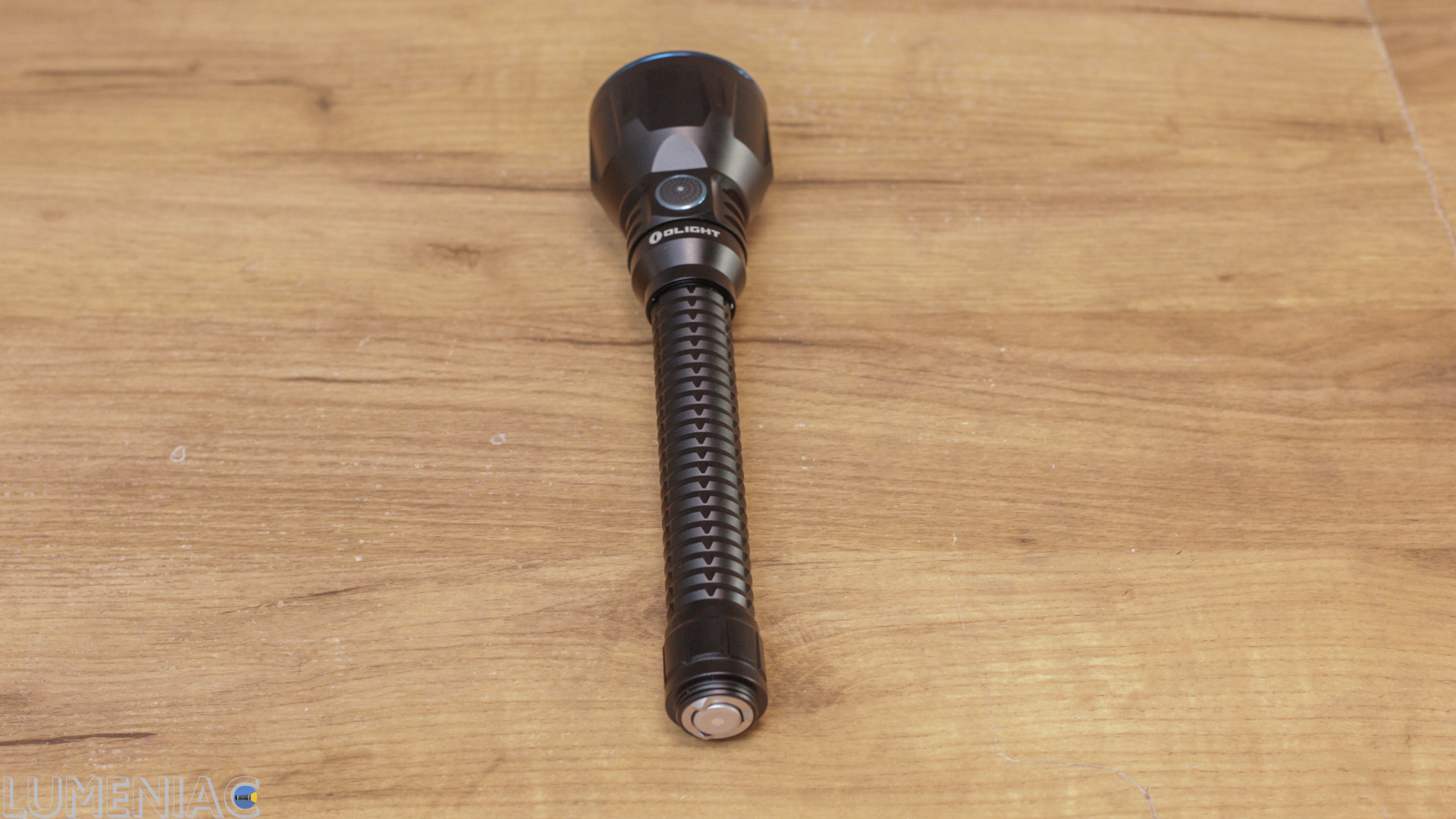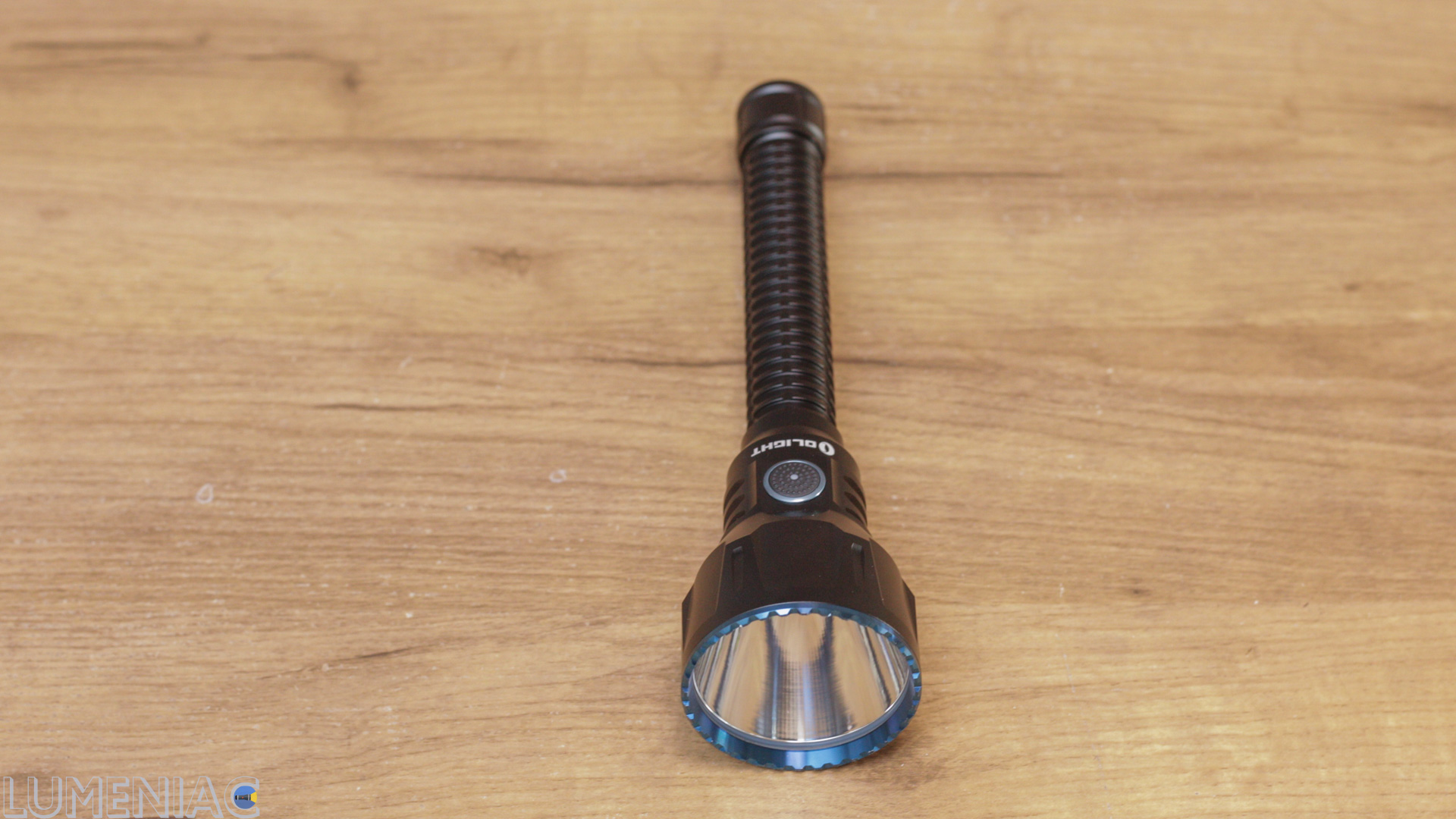 Olight Javelot Turbo can be disassembled into three parts: head, tailcap and a battery pack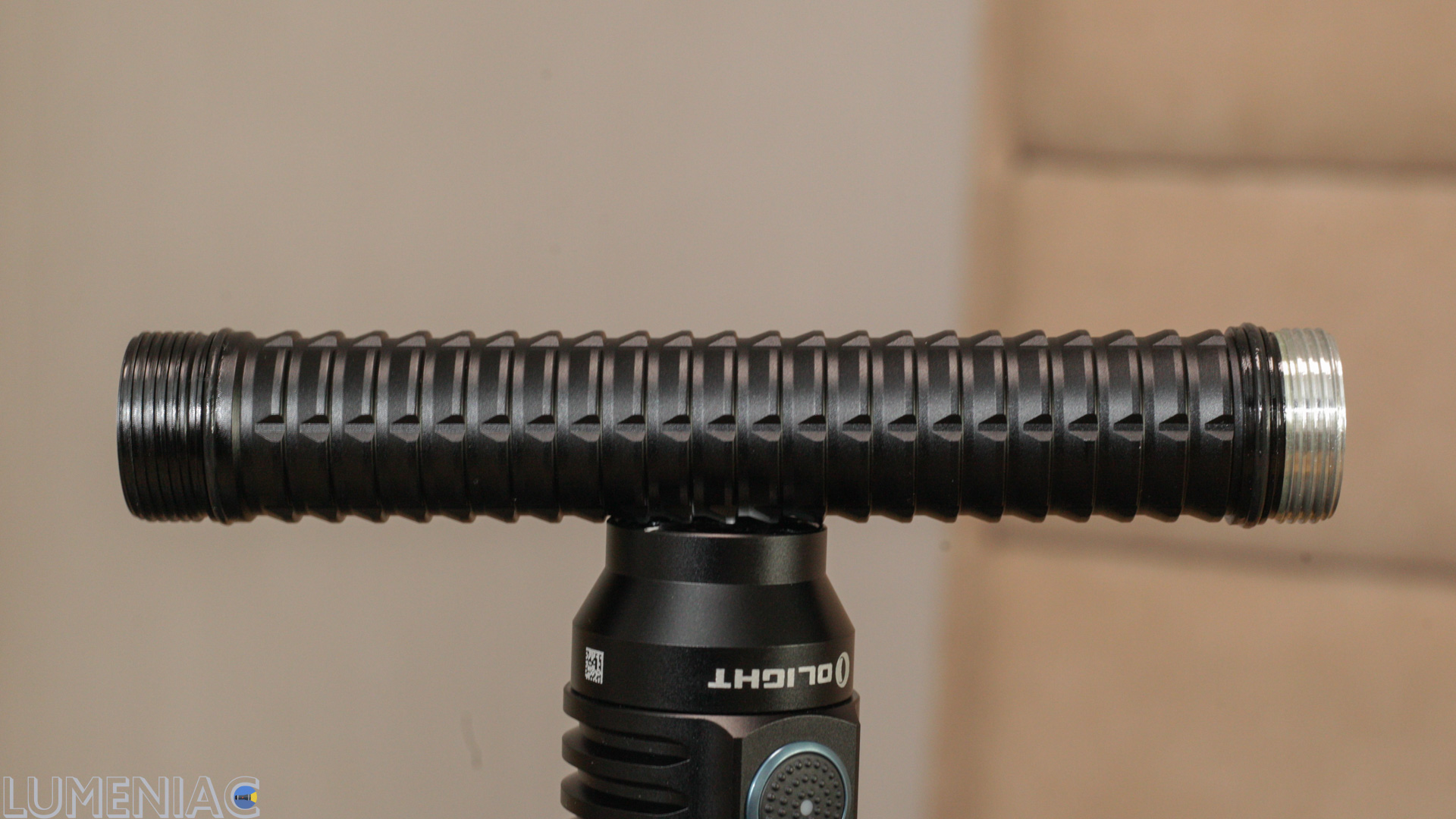 The tailbutton, as mentioned earlier, has two levels. As in other Olight models, it also serves as a contact for magnetic charging and a remote button.
This button was flat in the PRO version. Now a three-teeth button is a sort of standard.
How it was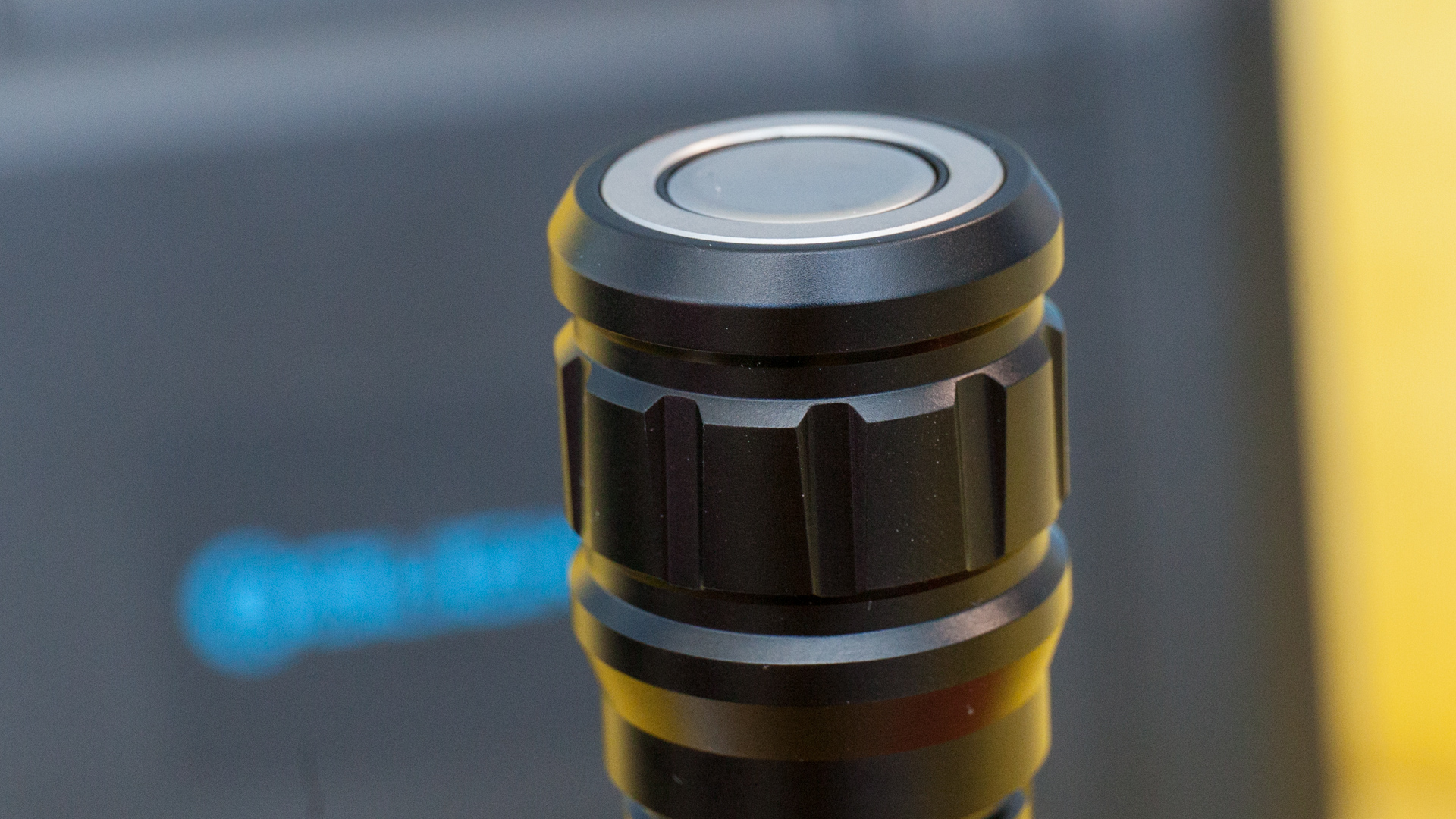 how it looks now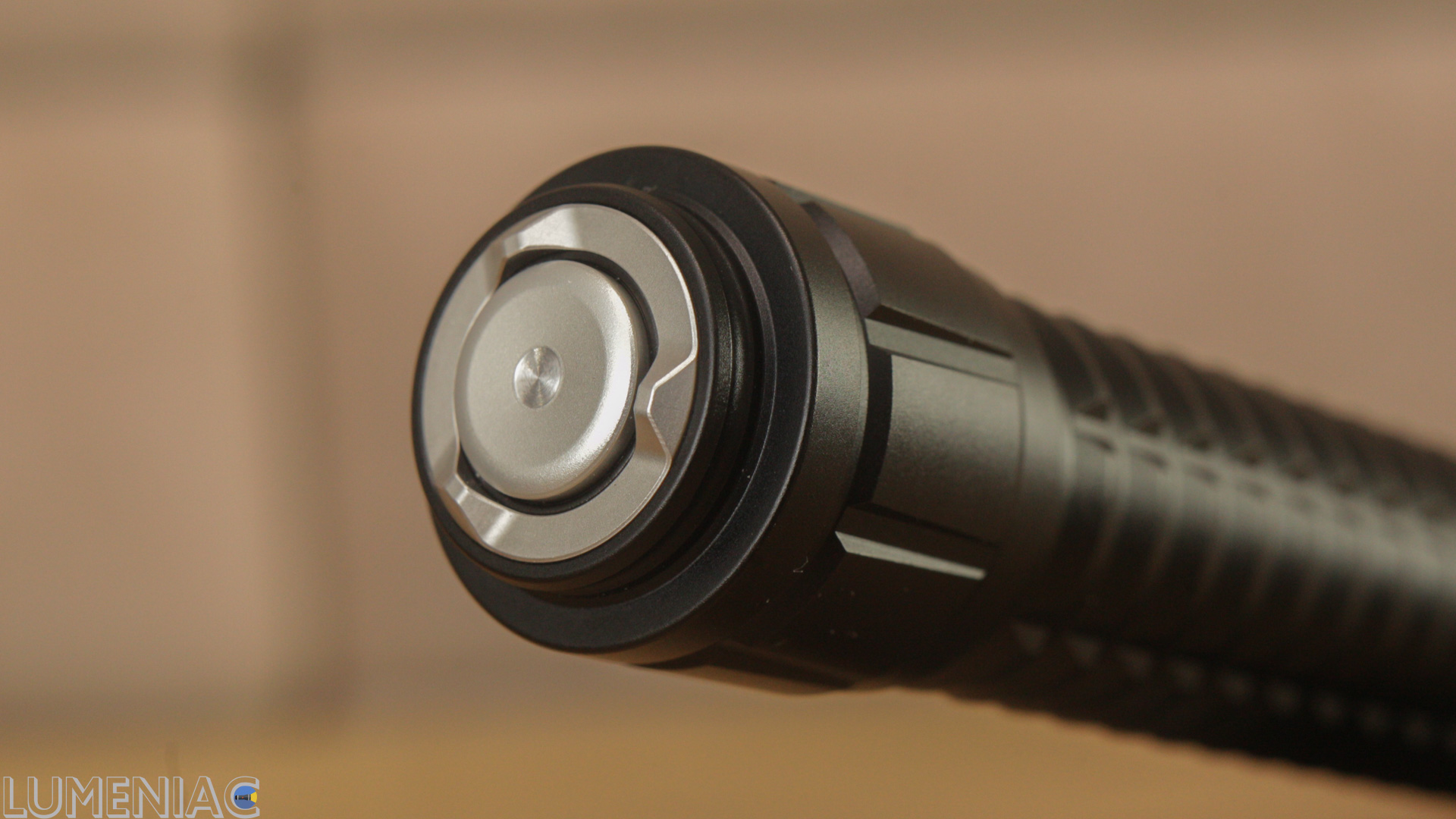 Charging is implemented in a strange way. I measured about 0.3 amperes even when the battery was, in fact, charged. It makes sense to periodically take off and put on a charge pad so as not to waste time. For ther reast, 6 hours for 10000mah is ok. Might be shorter, but OK.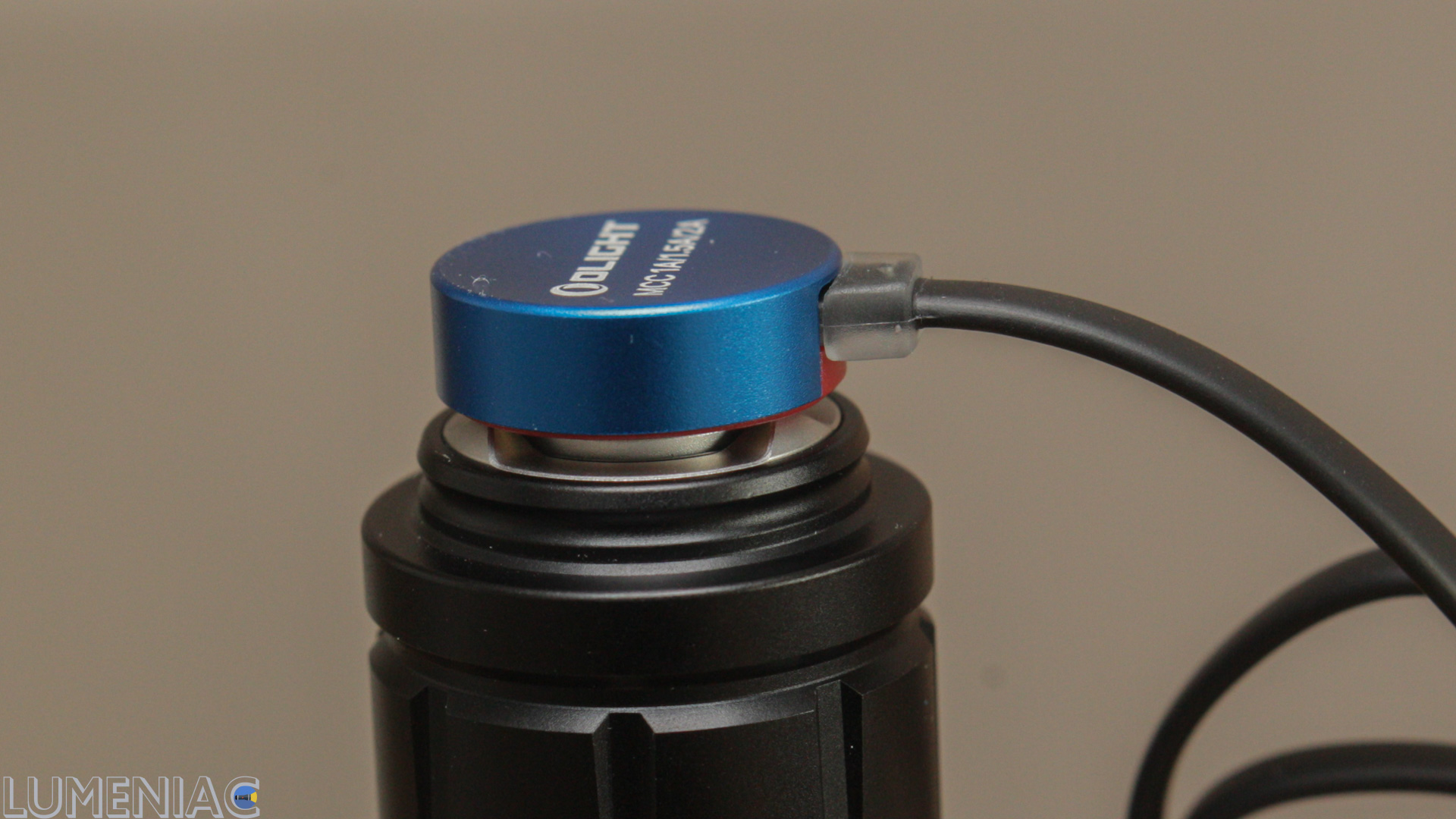 Anyway, i seriously dislike battery packs and would definetely like to be able to change discharged batteries with the fresh ones. To be honest, i have to mention, that you spare battery pack is also available. And if you`ve found 250$ for Olight Javelot Turbo, then extra 60$ for spare battery pack are unlikely to bancrupt you.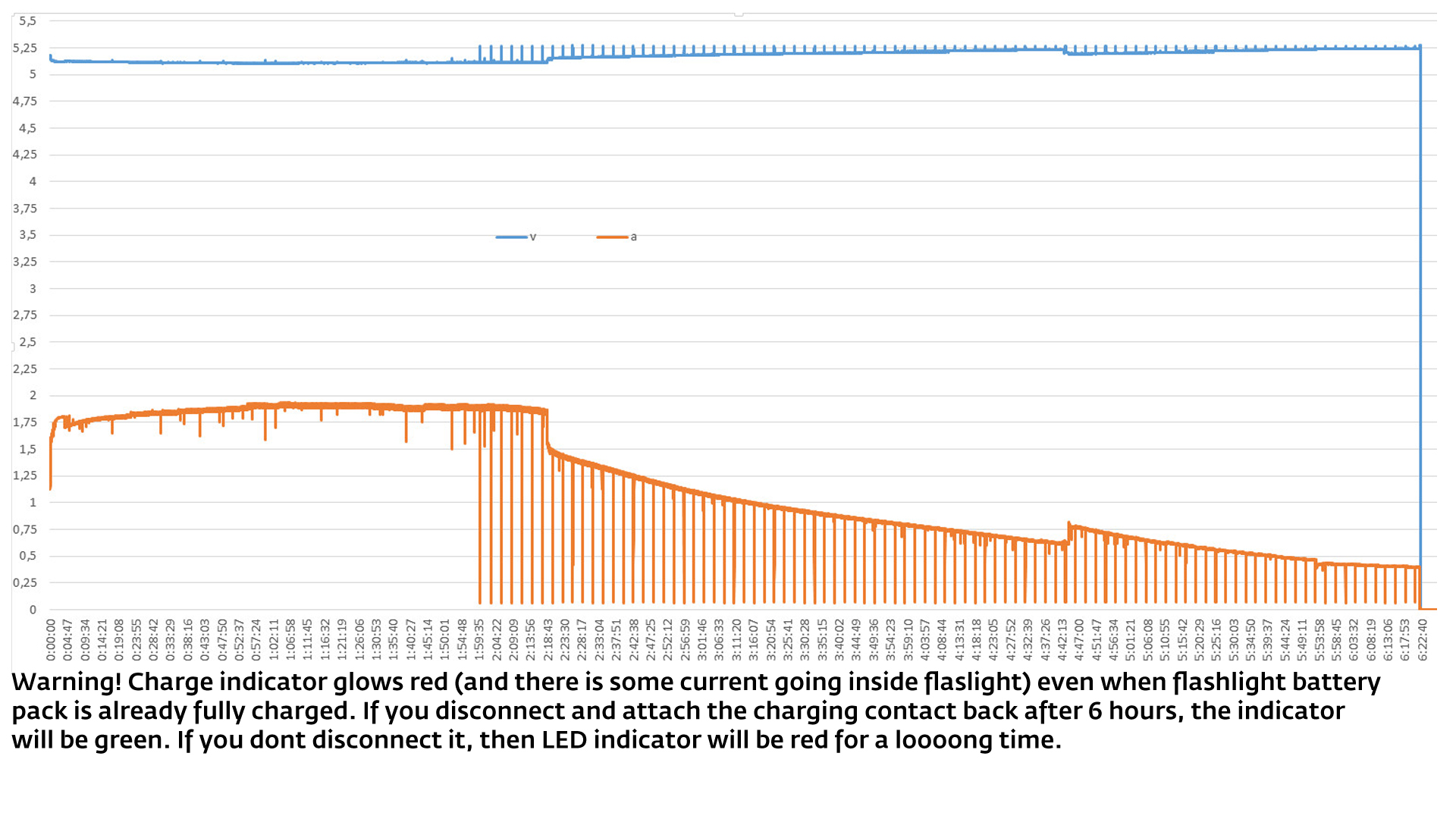 There is a spring-loaded contact on the inside of the tail cap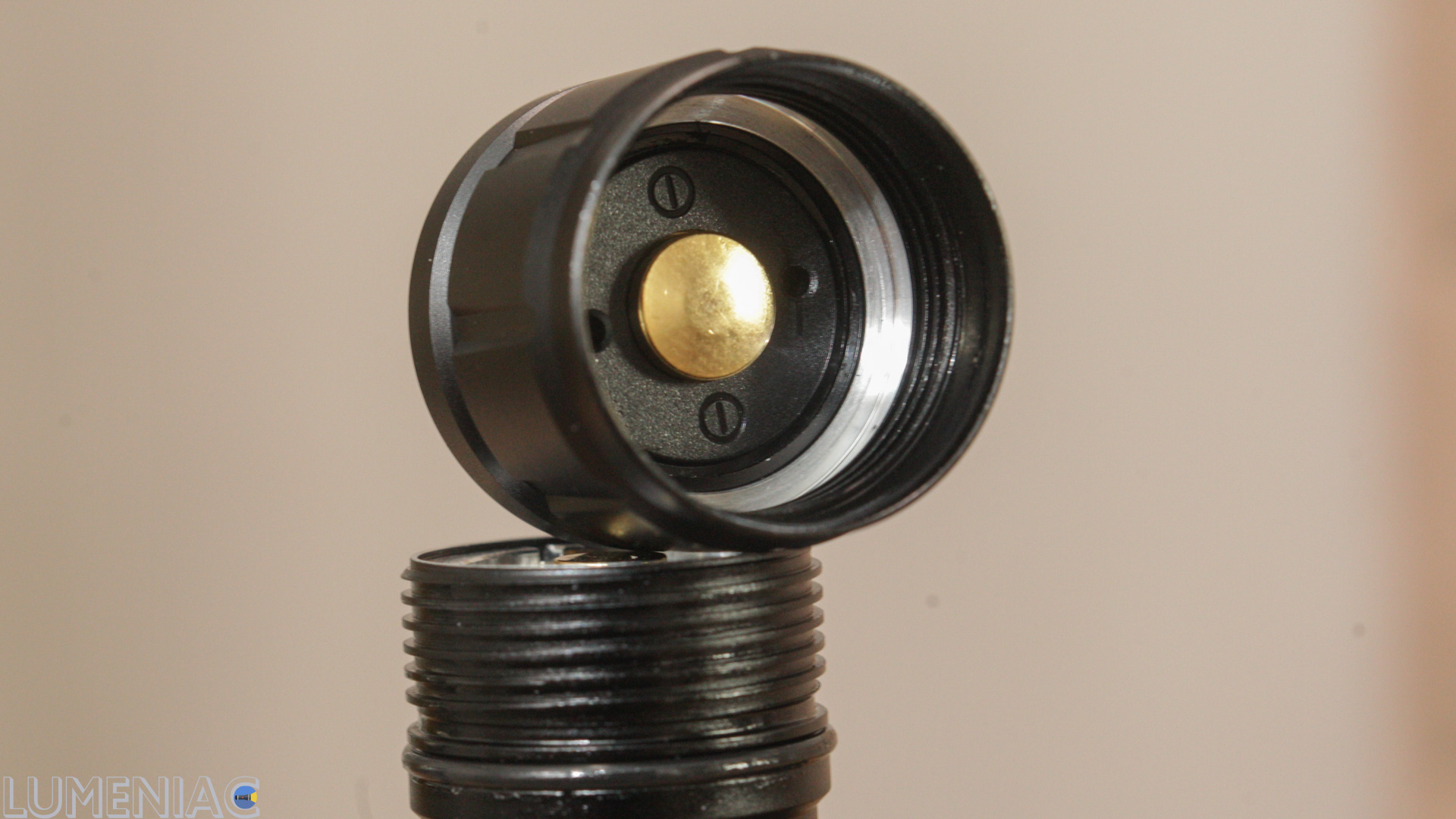 And a regular spring at the side of the head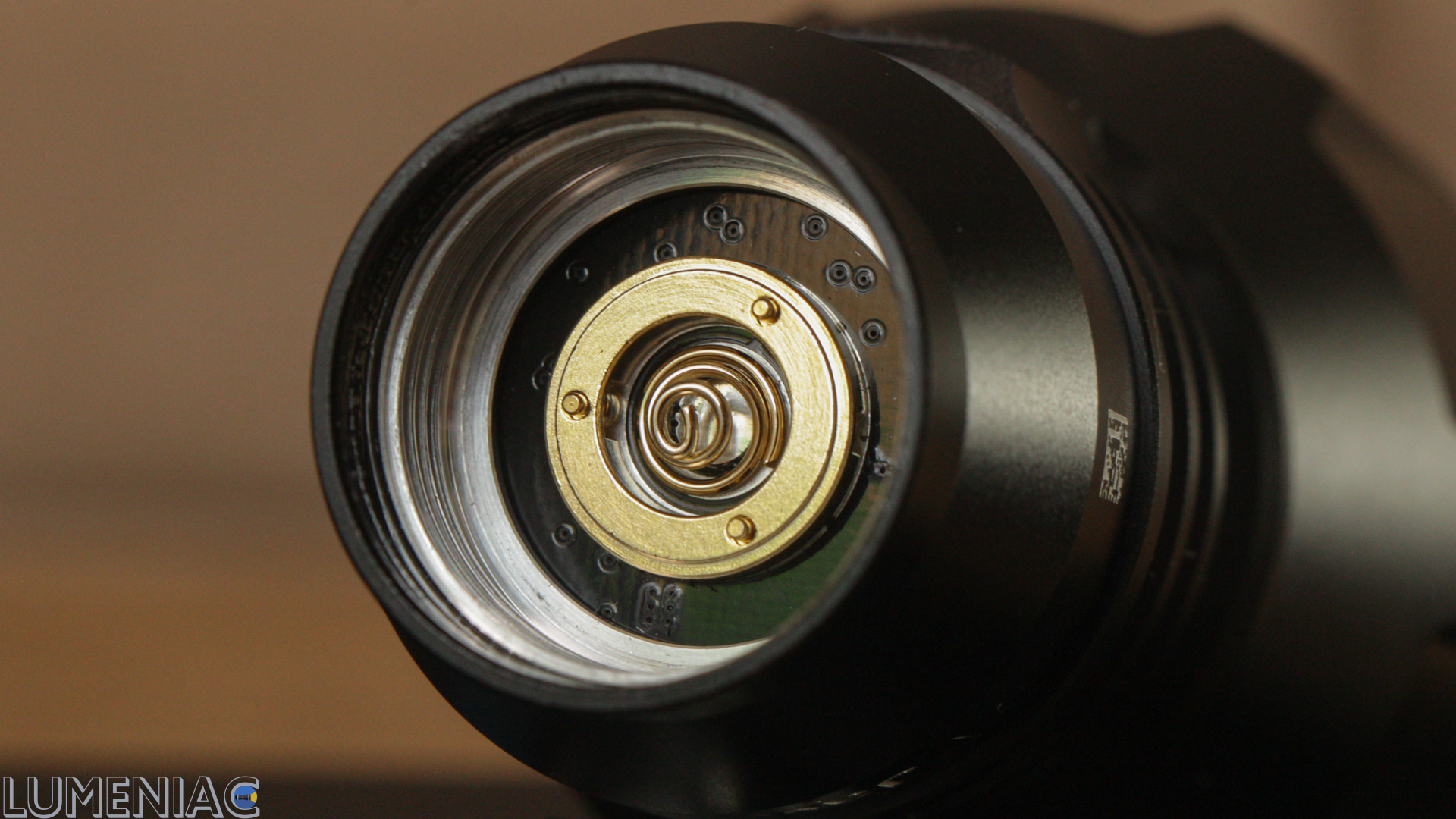 Contact of the battery pack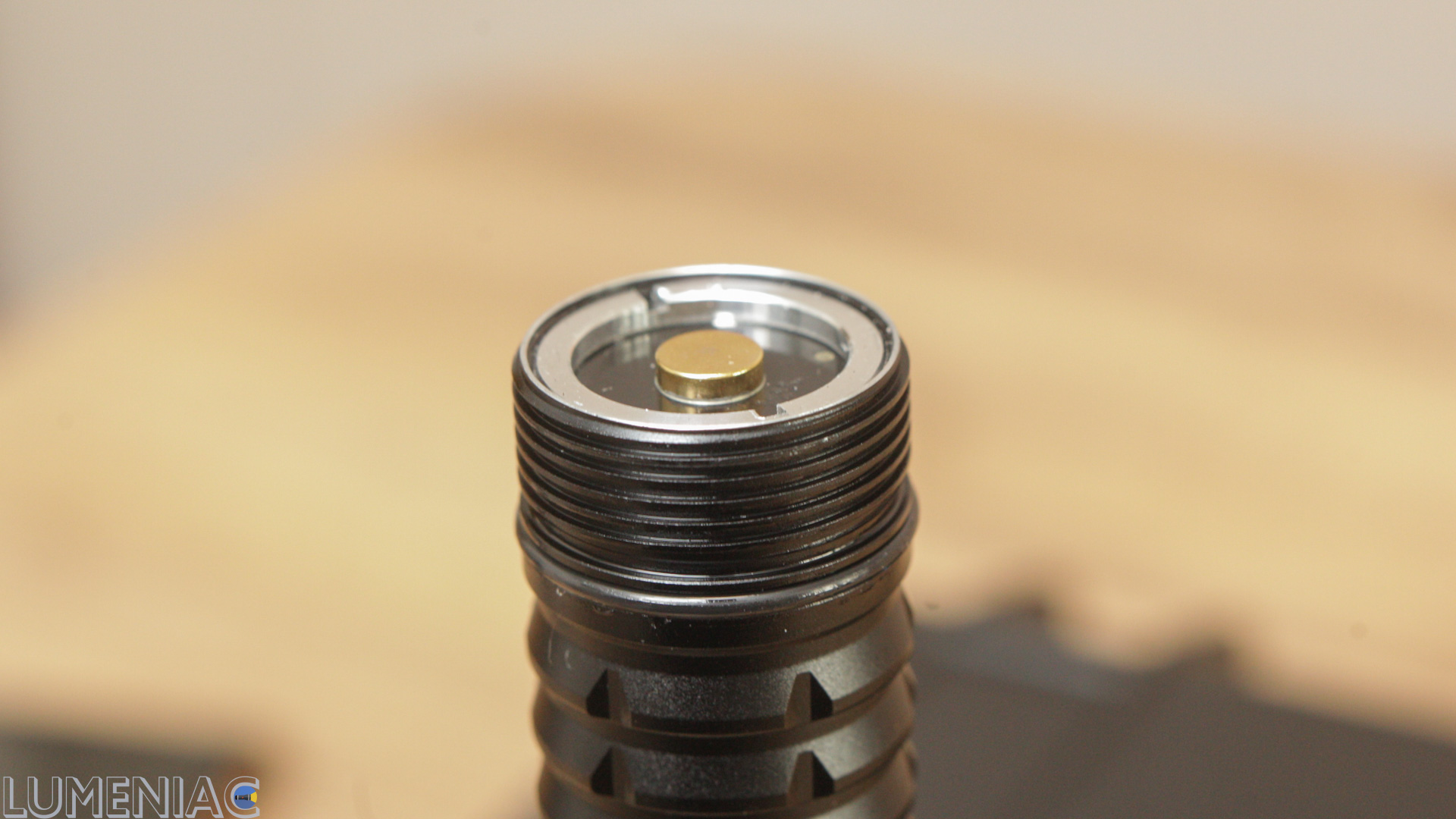 The knurling is incredibly tenacious. The flashlight fits like a glove in your hand.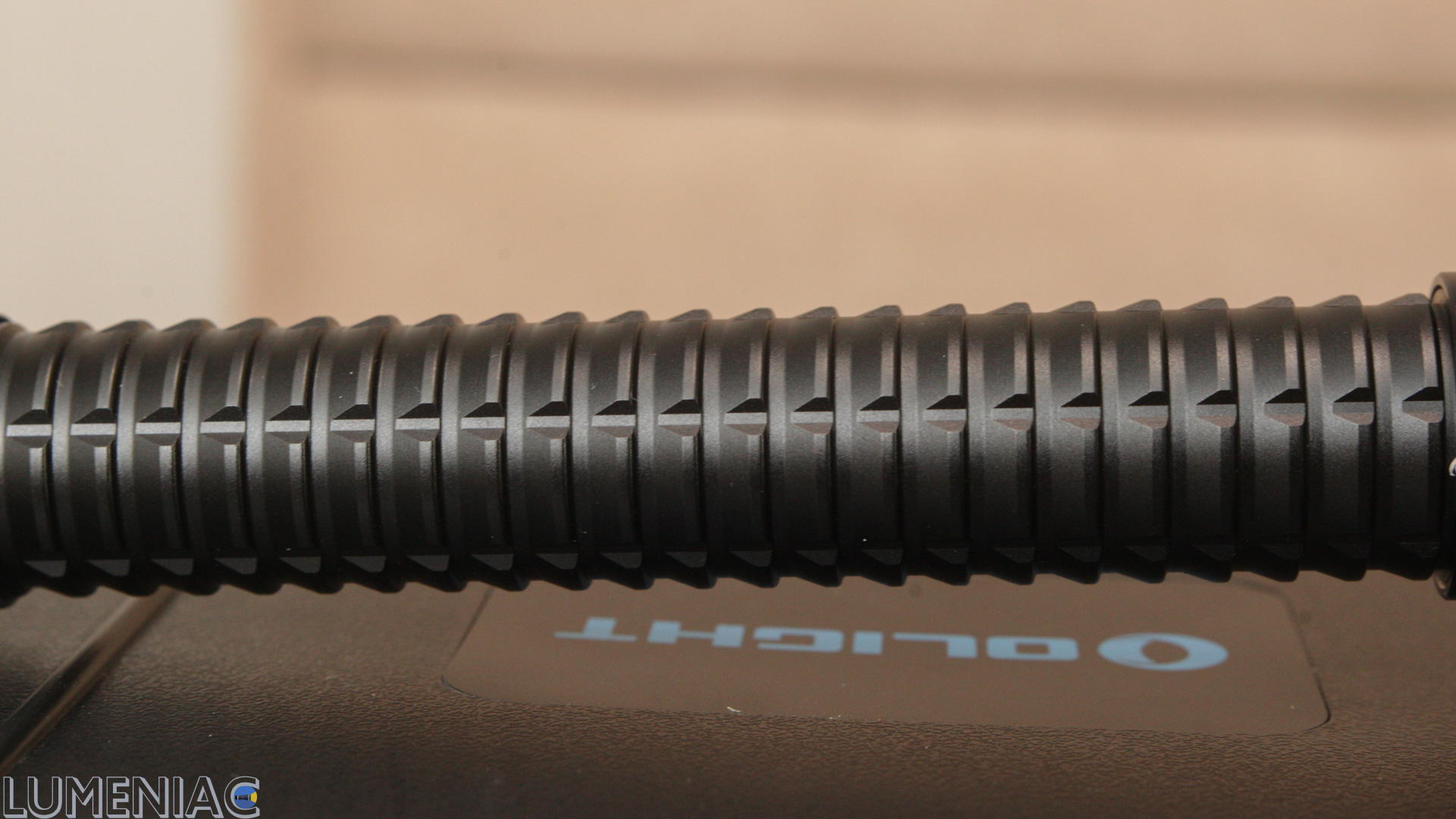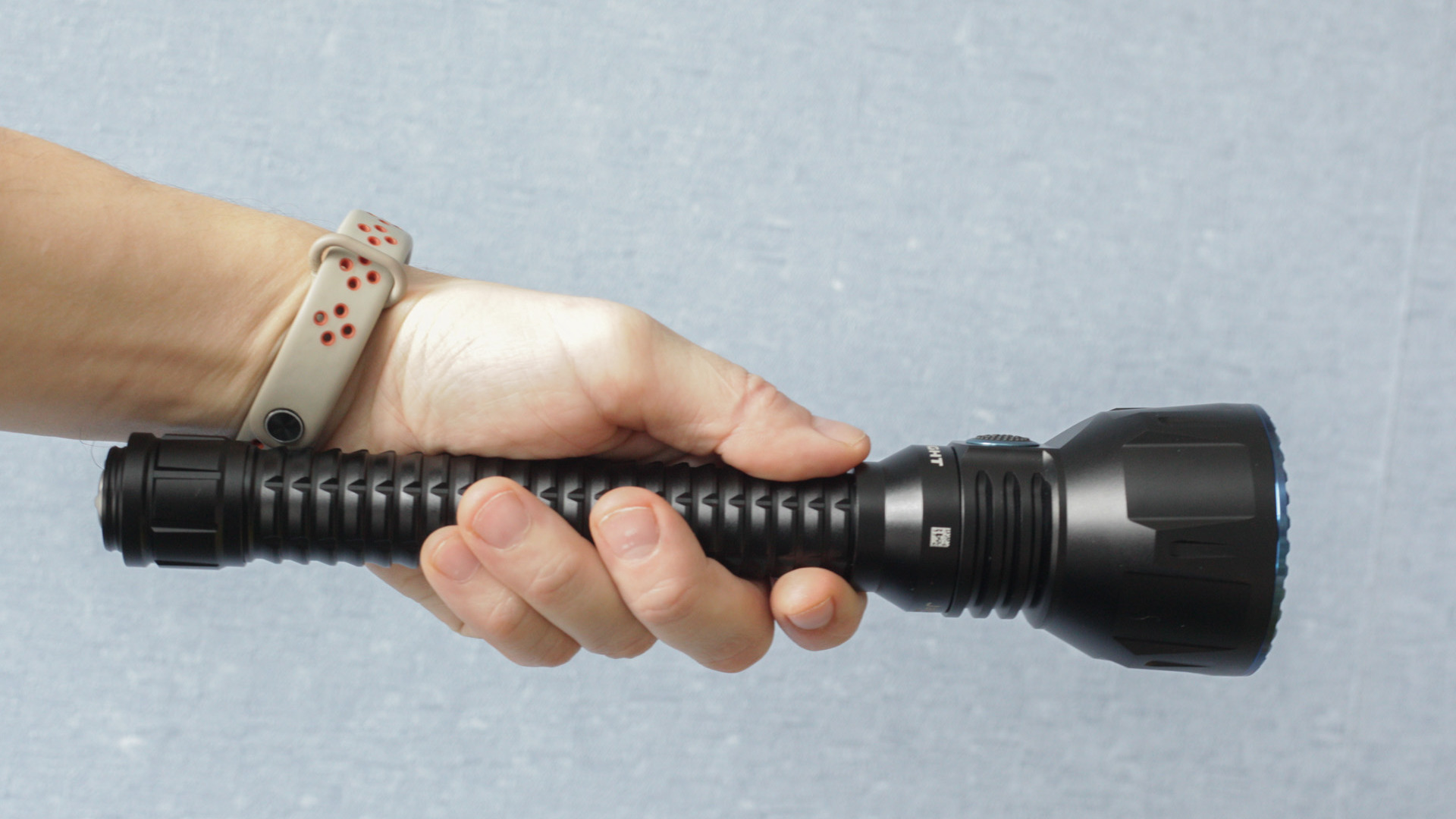 The head is quite (but not overly) massive. Usual size for such sort of flaslight. Nothing new at all.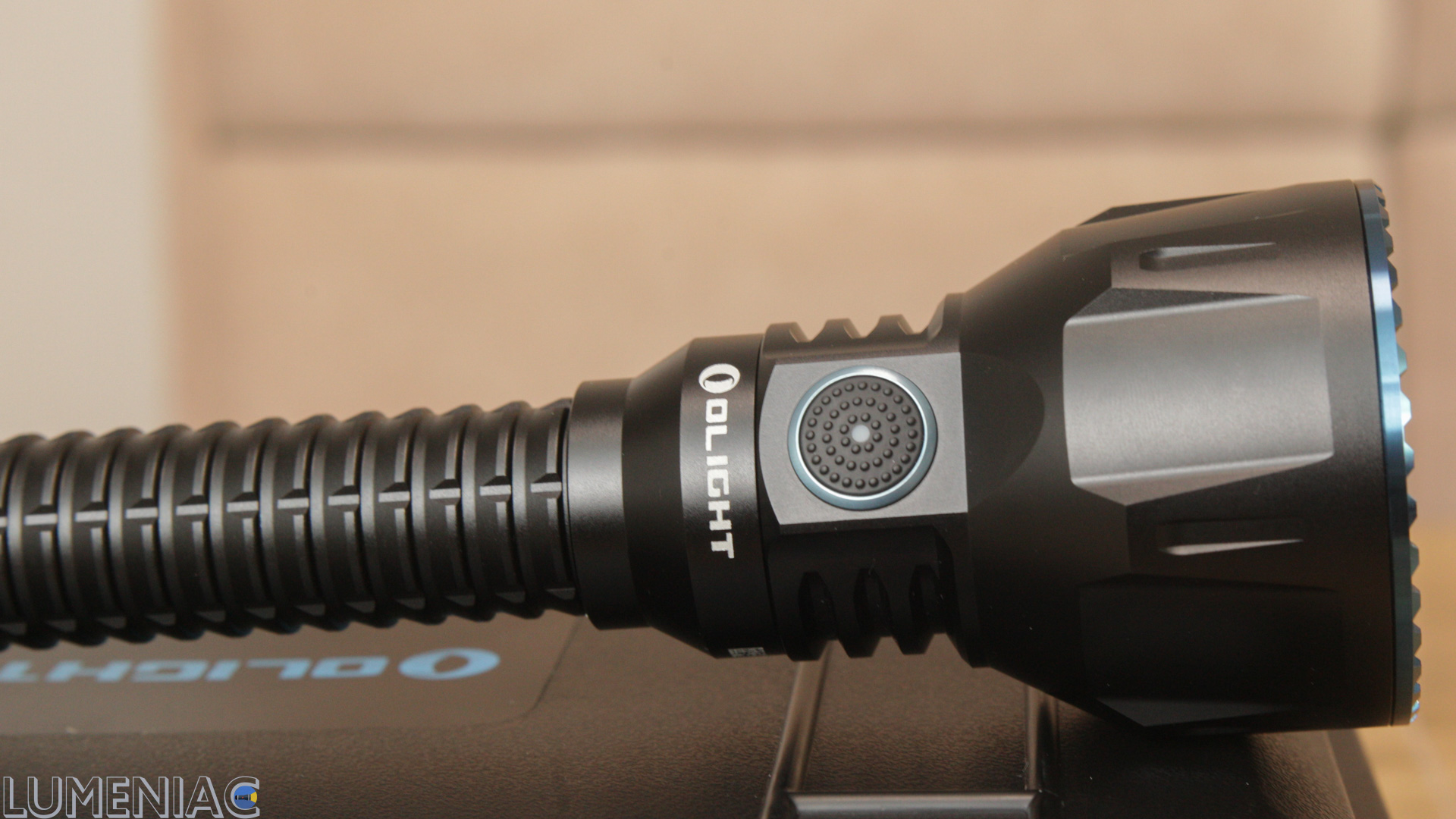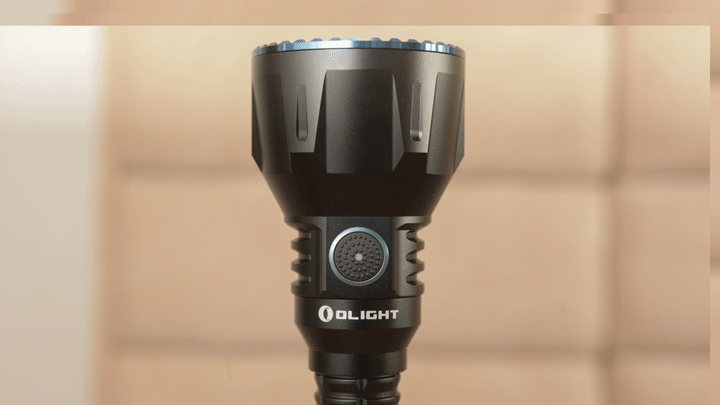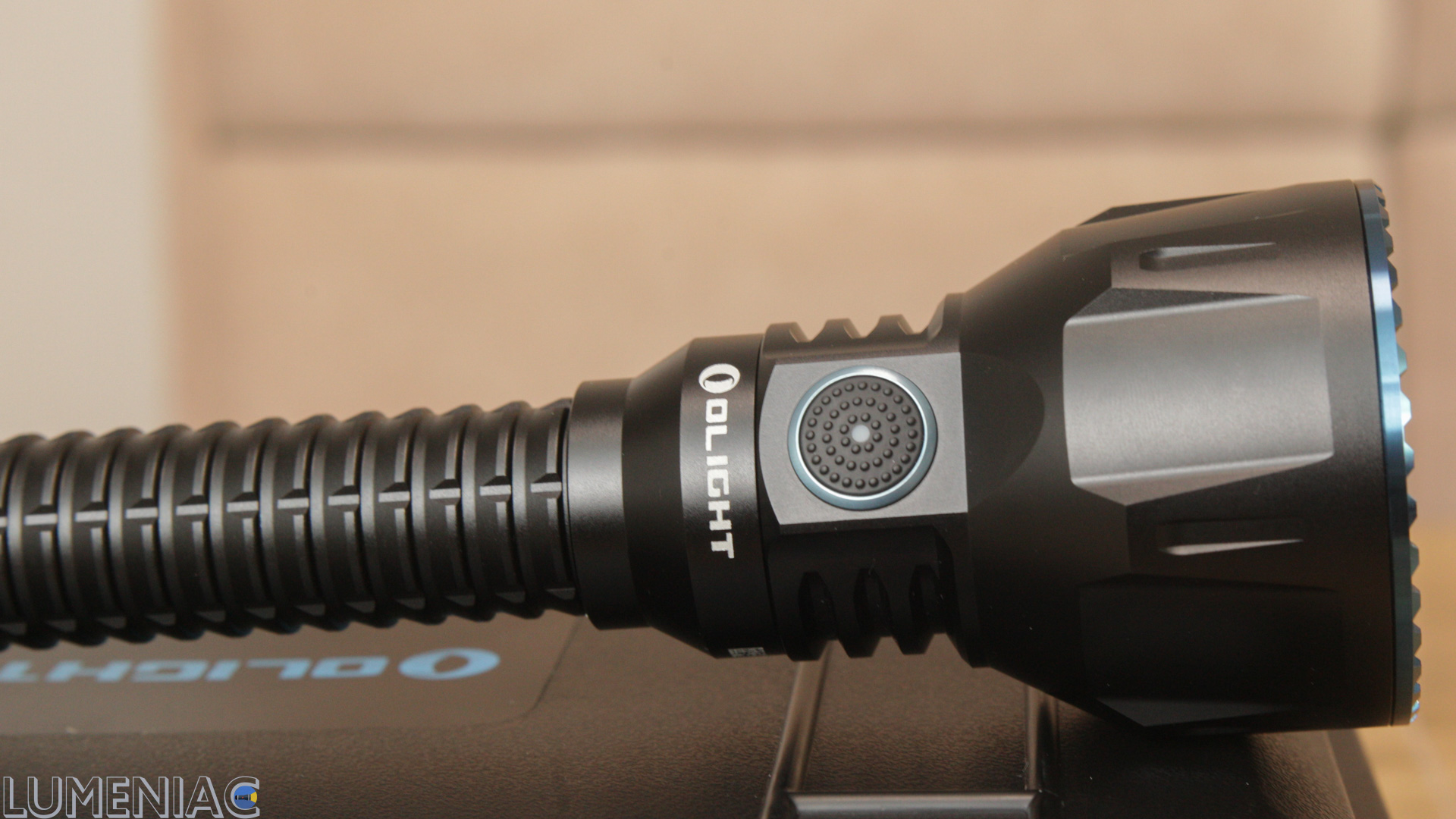 The button is convex and rough, very convenient for blind searching. There is small eye of charge level indicator.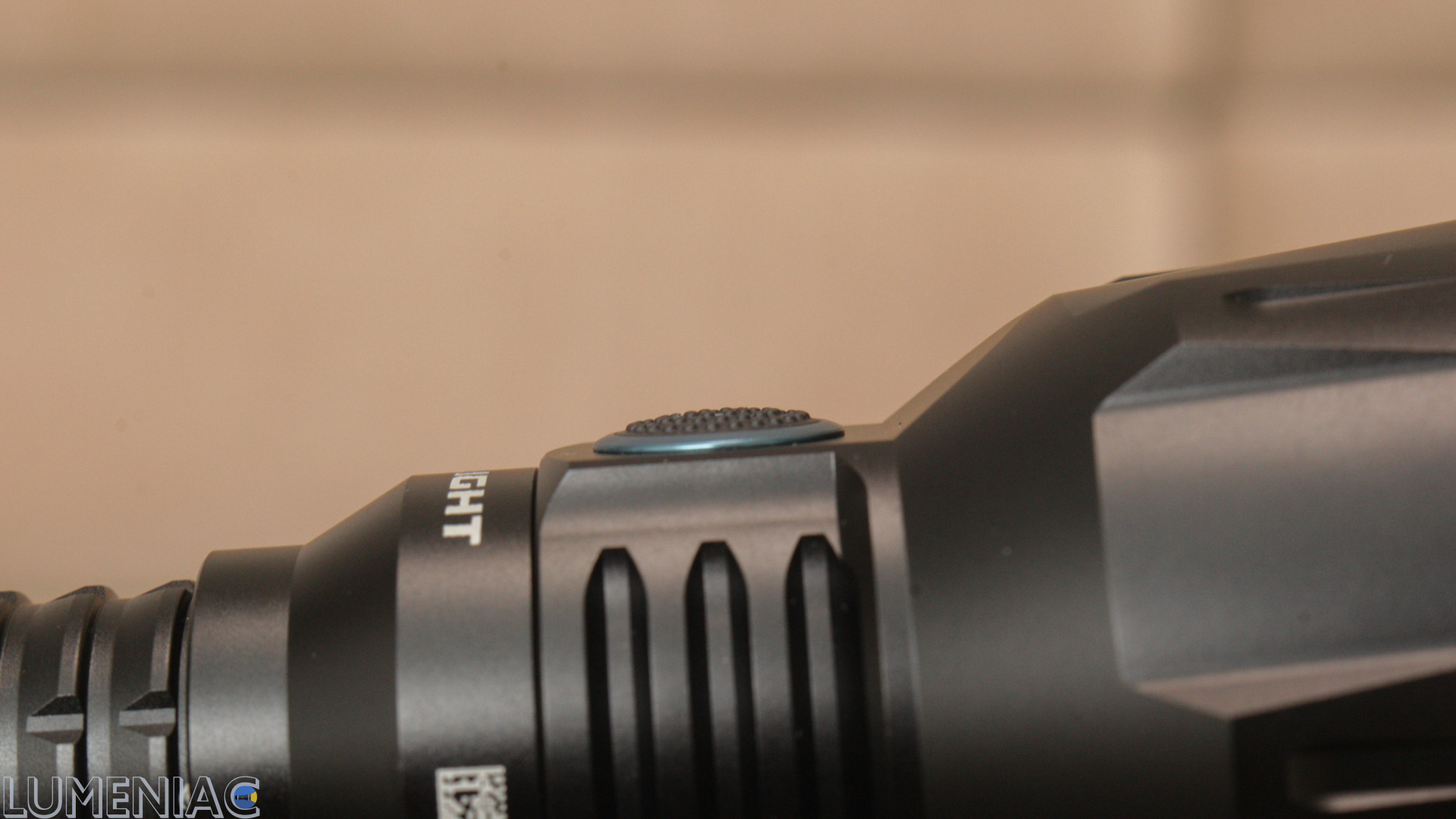 There are three sufficiently deep cooling ribs. Well, taking into account that brightness is not that high here, the head should successfully remove and dissipate excessive heat even without help of cooling fans. So or not - let's see further.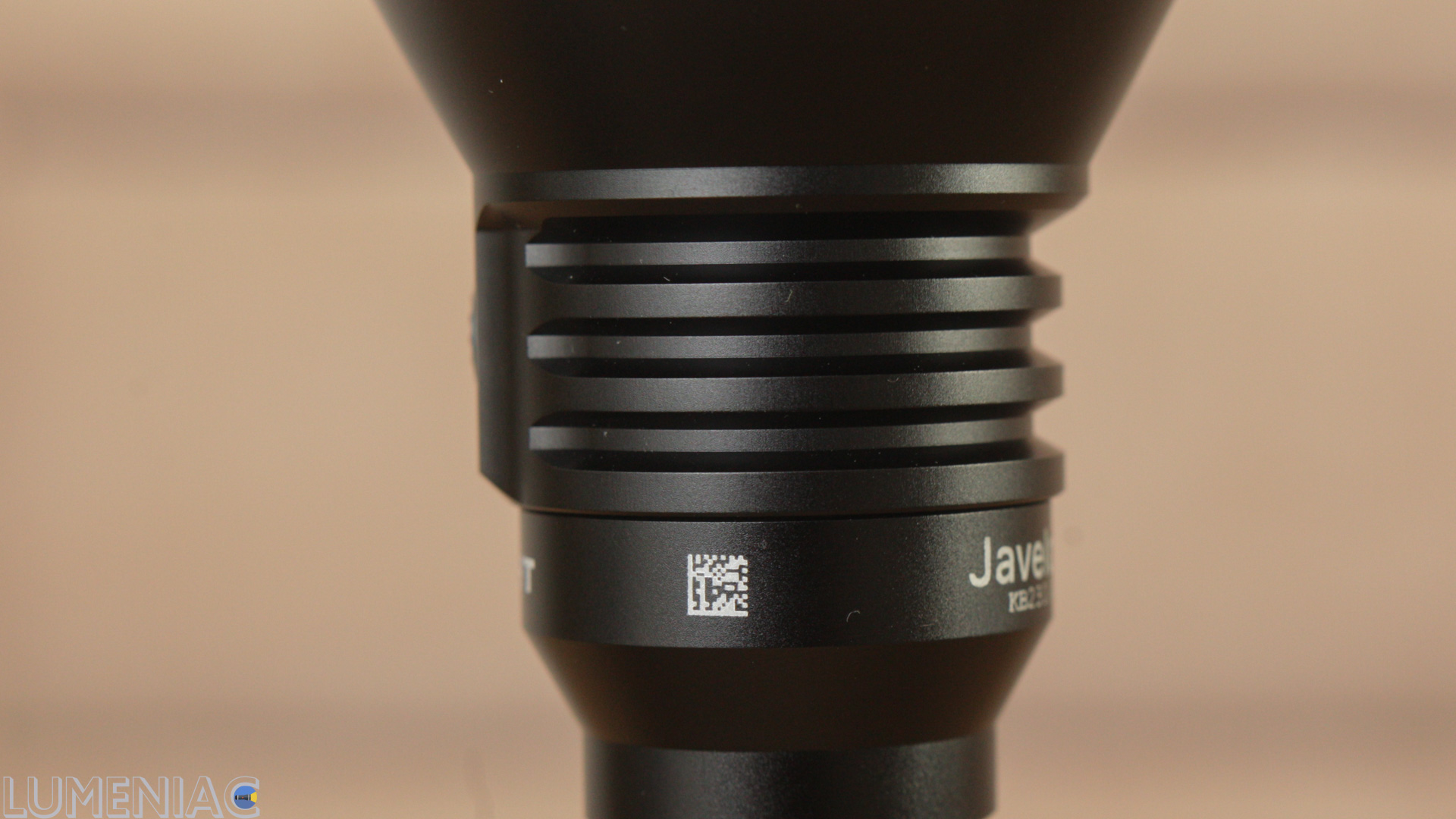 The bezel is anodized in the signature Olight azure color. With the abundance and sharpness of teeth, it resembles some kind of cutter. Looks damn good alive.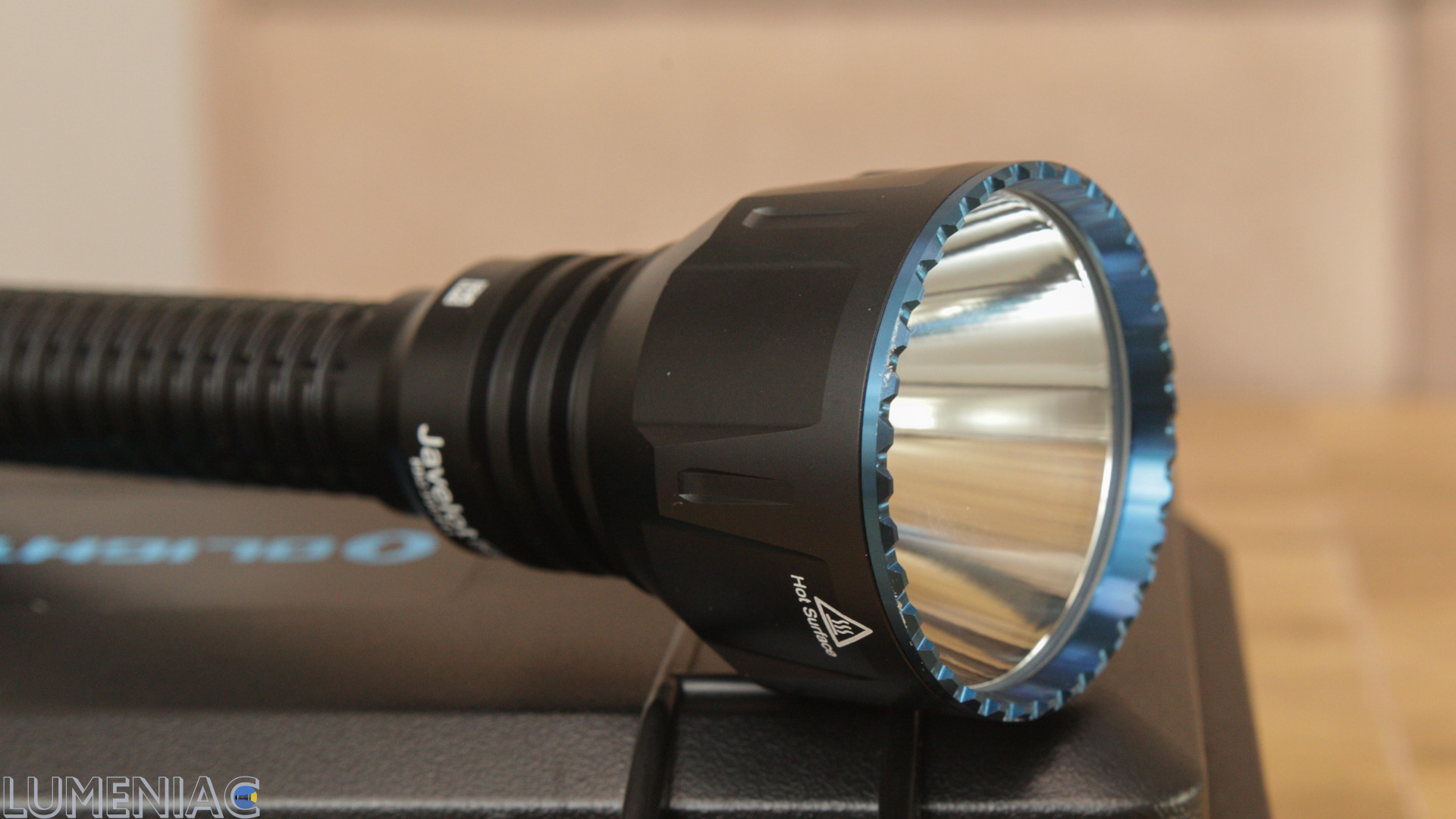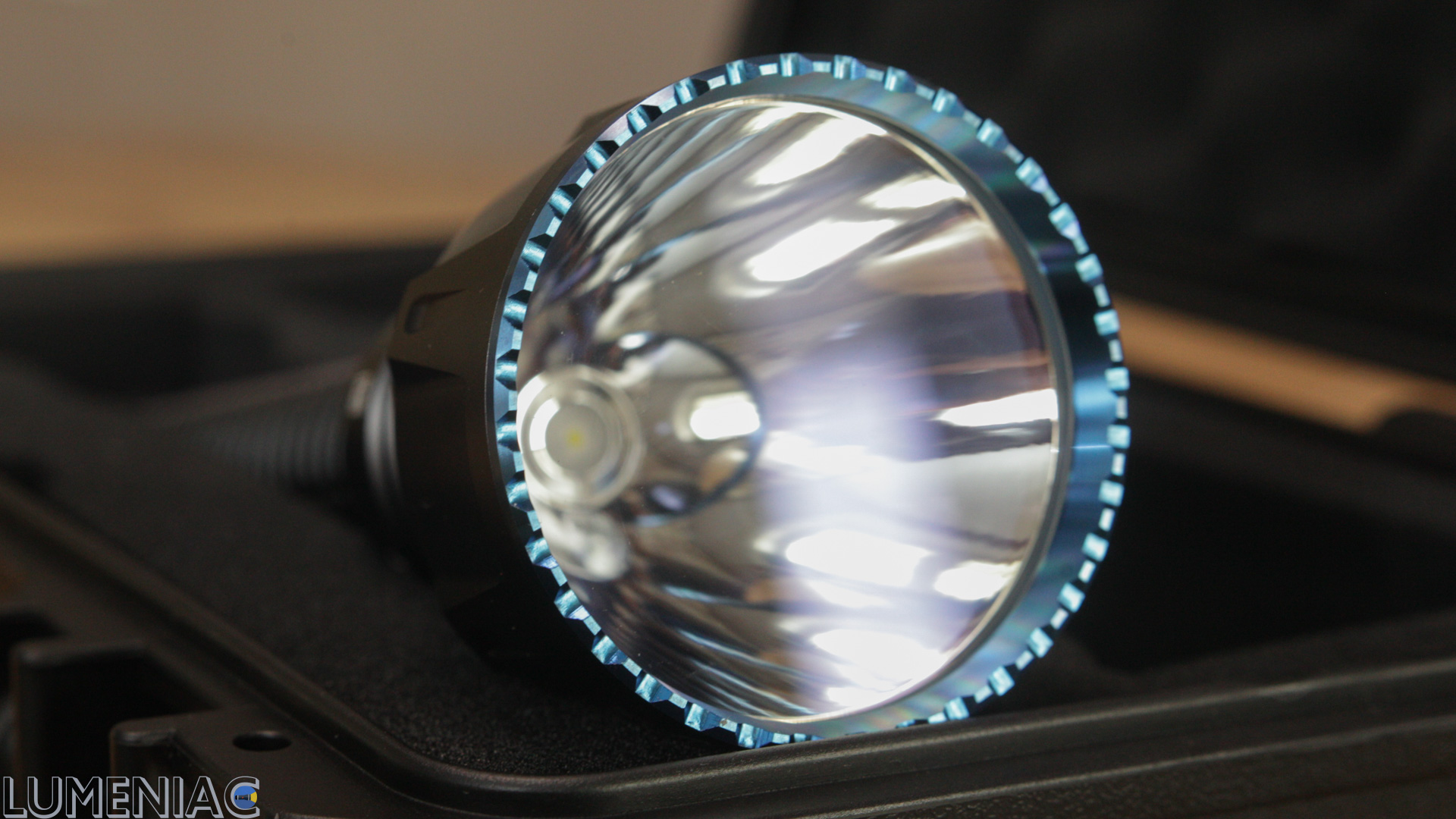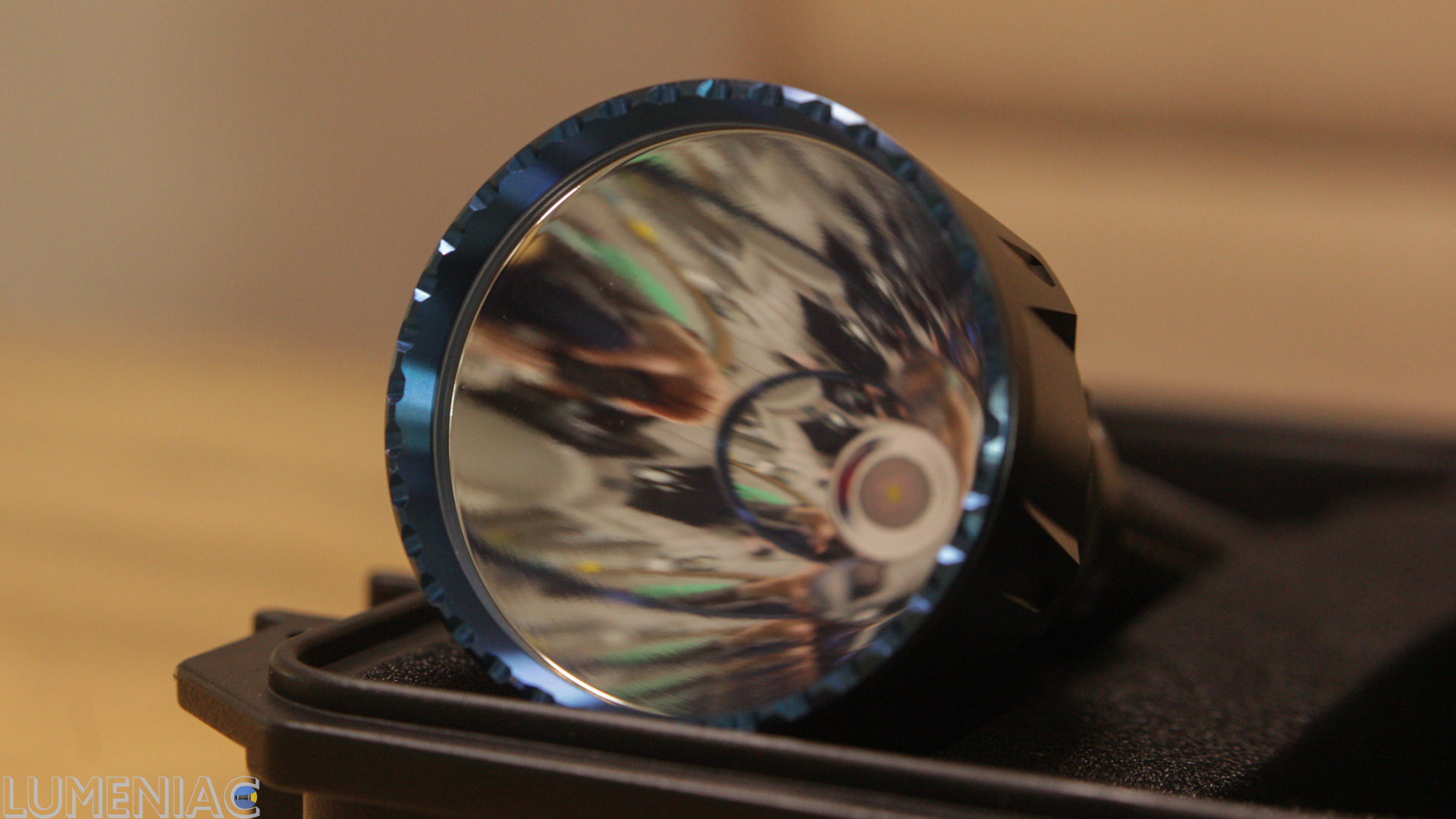 flashlught has smooth reflector, of course. And there is the hit of the season at the bottom - a tiny and ultra-long-range LED OSRAM KW CULPM1.TG.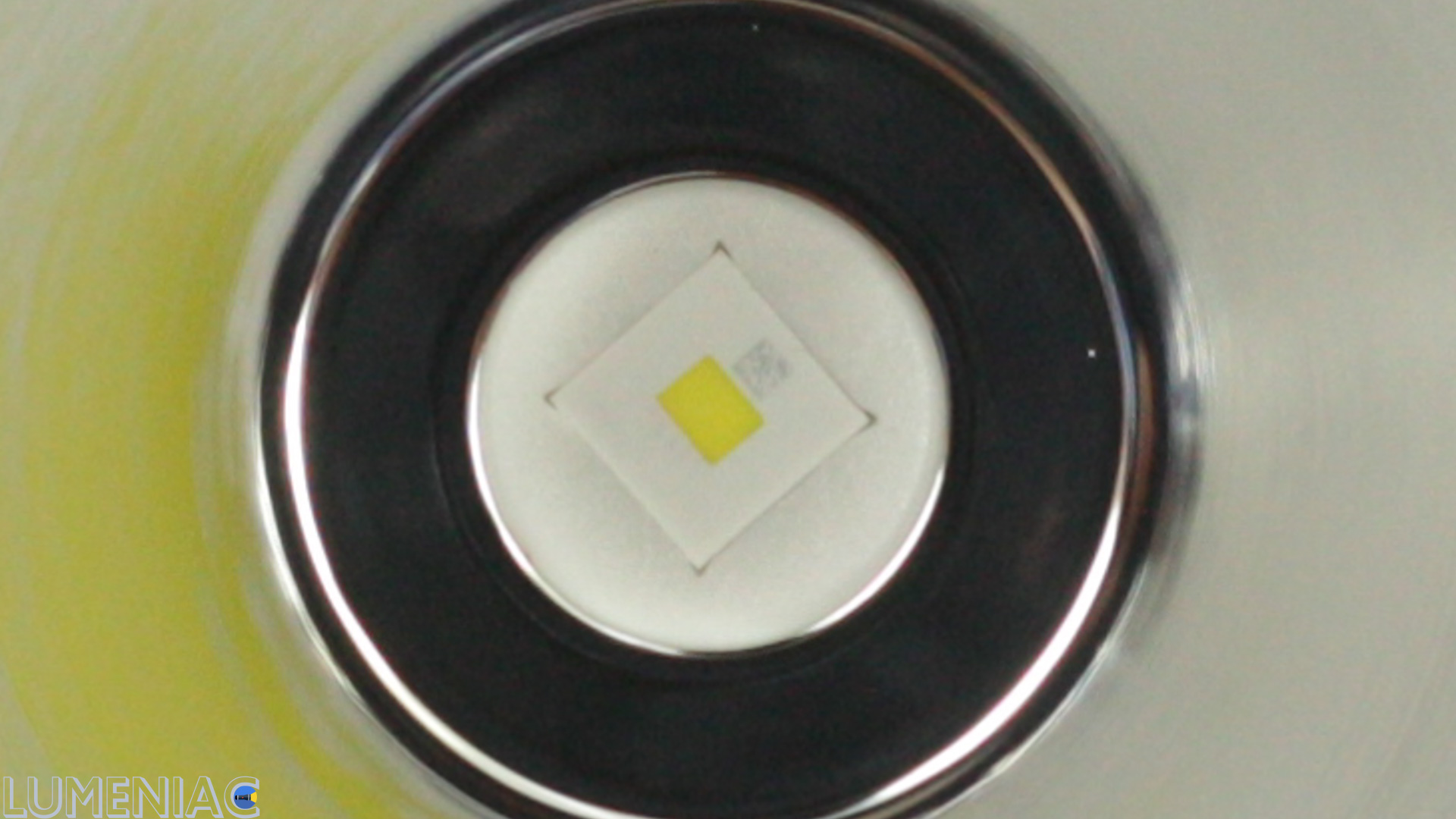 Javelot PRO, just to remind you, had another classic long-range standard - XHP35 HI.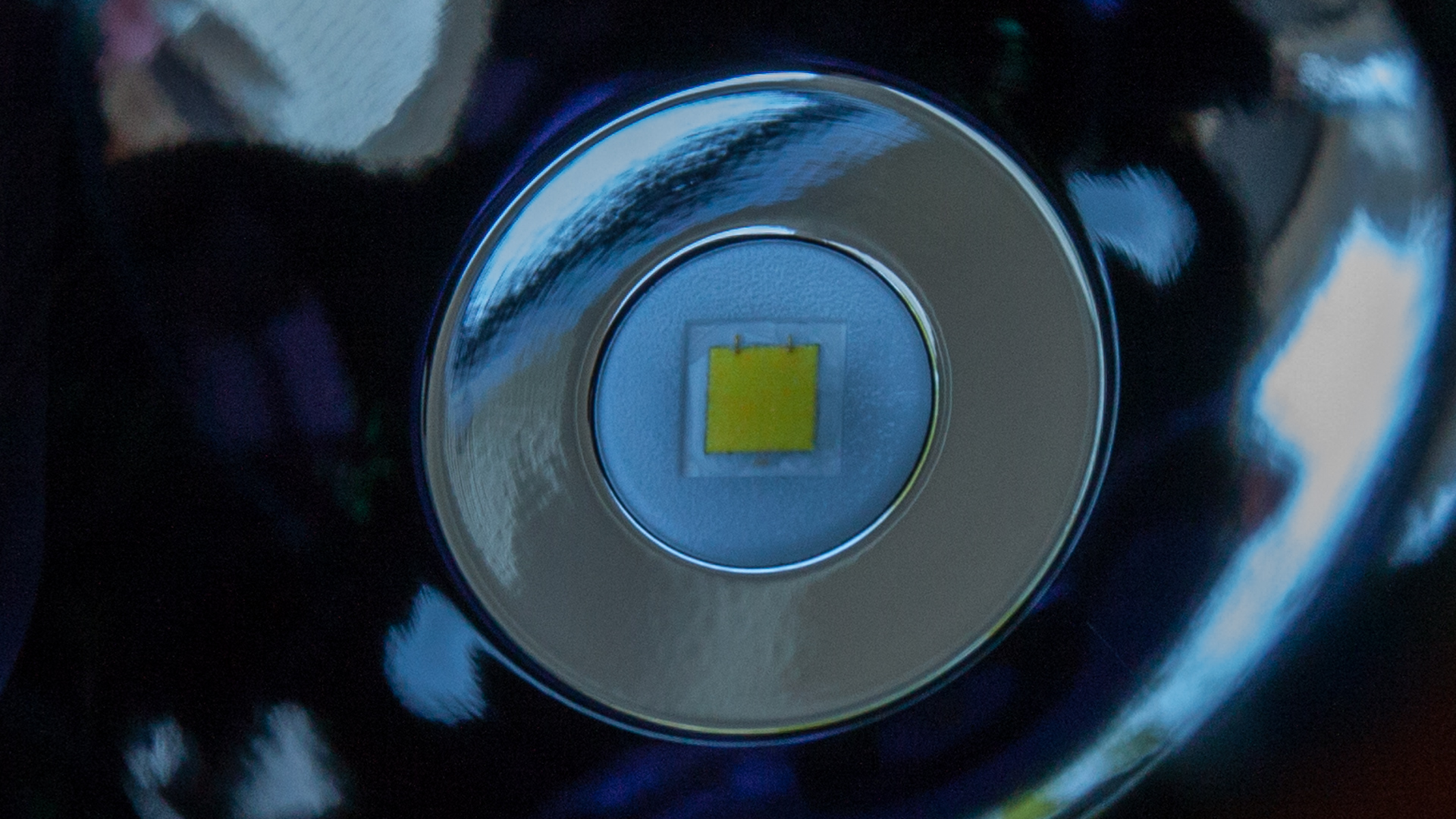 Unlike its budget competitor Sofirn SF47T, the LED is flawlessly centered here. Below you can see what you get by going to the budget segment. However, here everyone decides for himself which model is more suitable for the price ratio.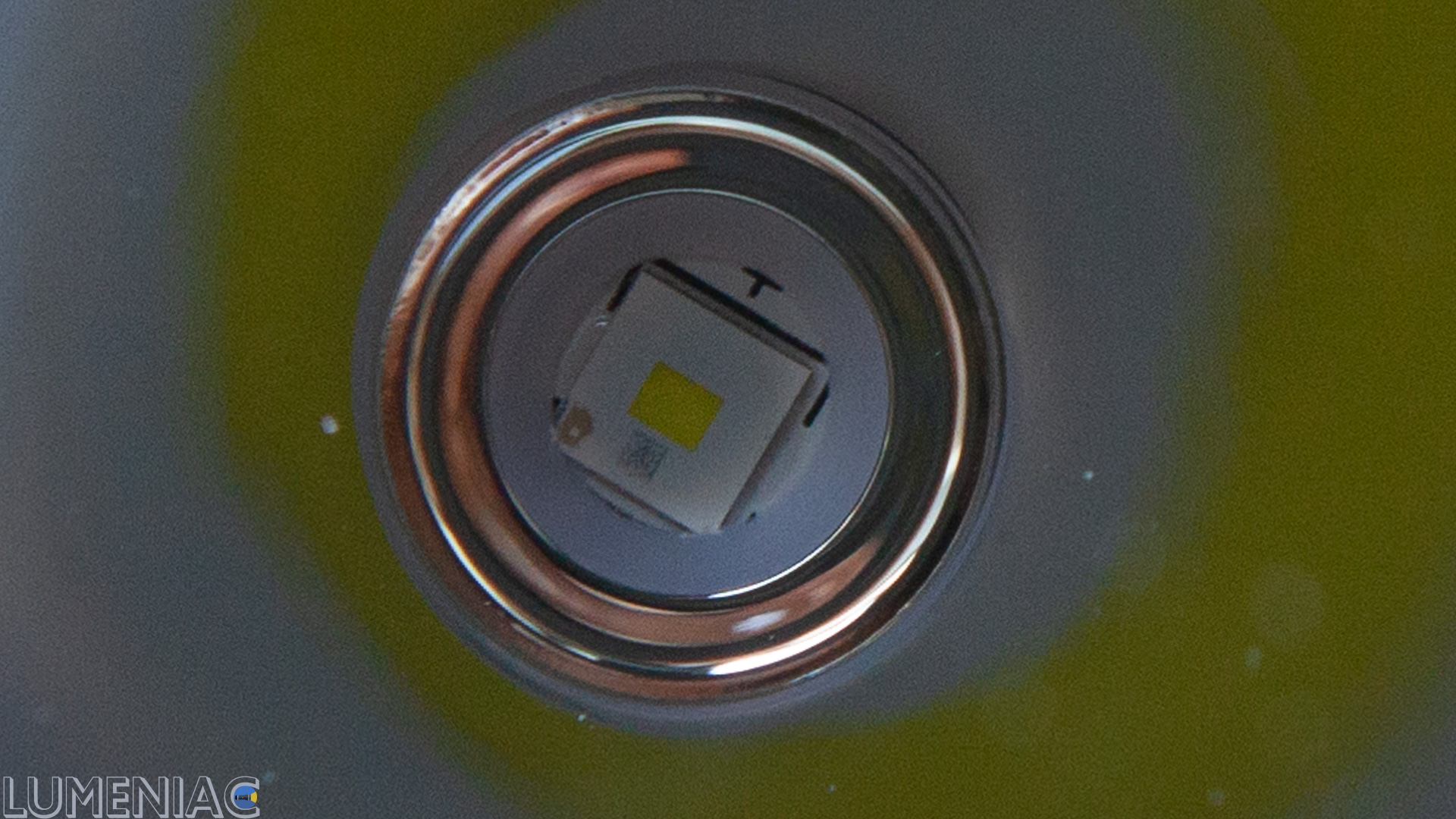 So, nothing new by now: excellent design, wonderful package and, even if it is not so easy to get inside, you should expect high build quality
UI
I really like the idea of ​​a two-level tail button, I was unpleasantly surprised that Olight 1st time regected it`s convenient brand UI and left user with the simplest Fenix-sort interface that leaves the instant acccest to low-turbo only via the tail button. I`m sure Olight users will have to get used to. Have no idea why Olight made such a step.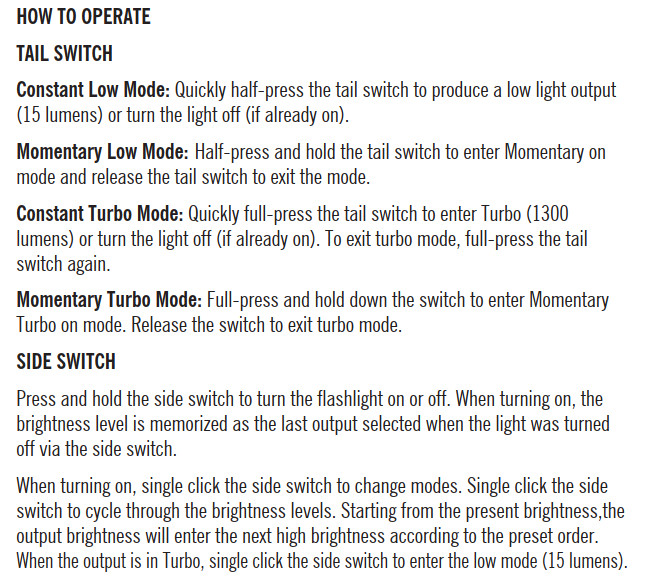 HOW OLIGHT JAVELOT TURBO ILLUMINATES
Reducing the maximum brightness seriously reduced the heating and, accordingly, improved runtime in the turbo. Switching to a pair of 21700 5000mah batteries also significantly increased the overall runtime. Javelot Turbo has good stabilization. Even the turbo mode, when cooled, reduce brightness just insignificantly.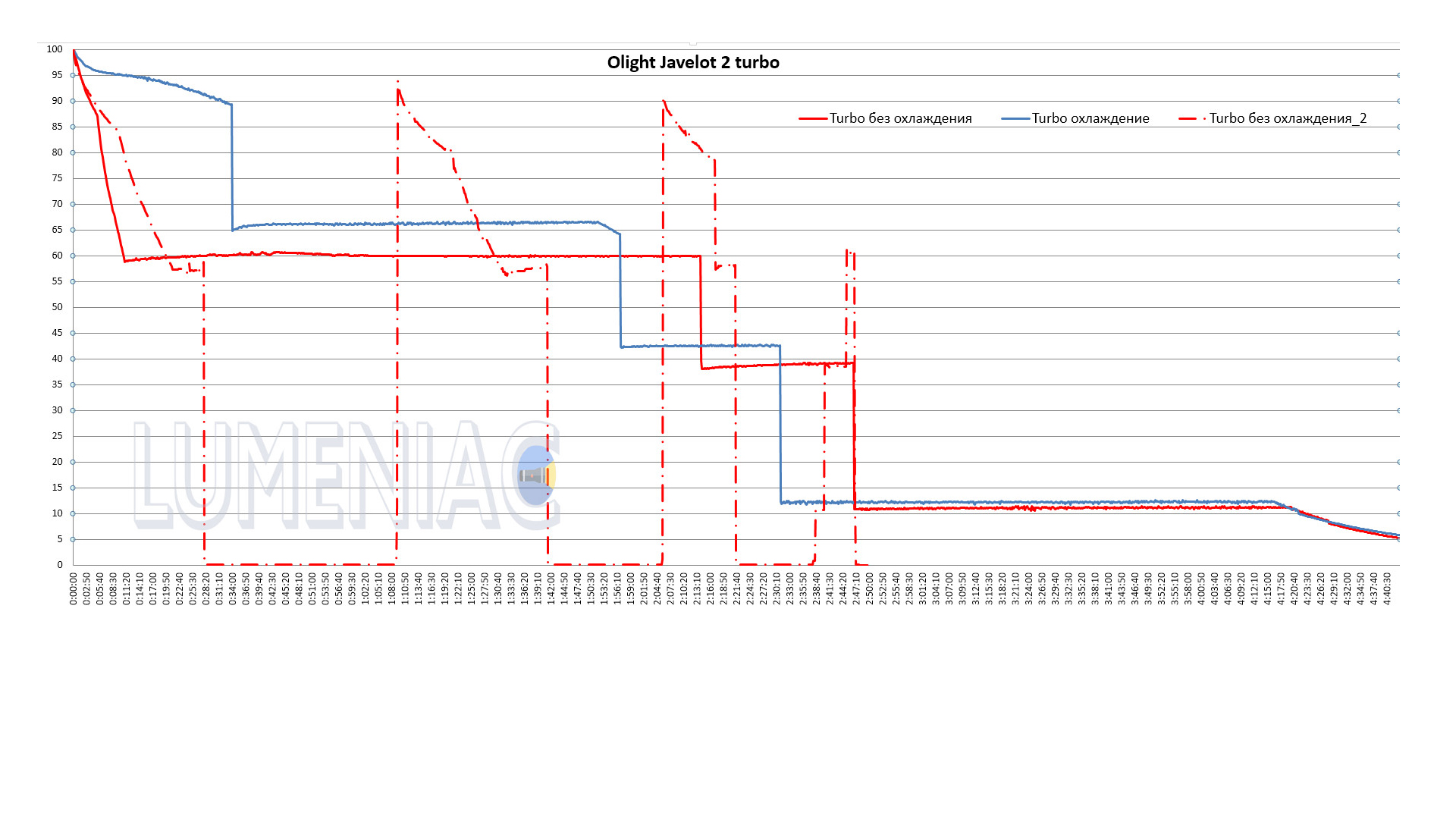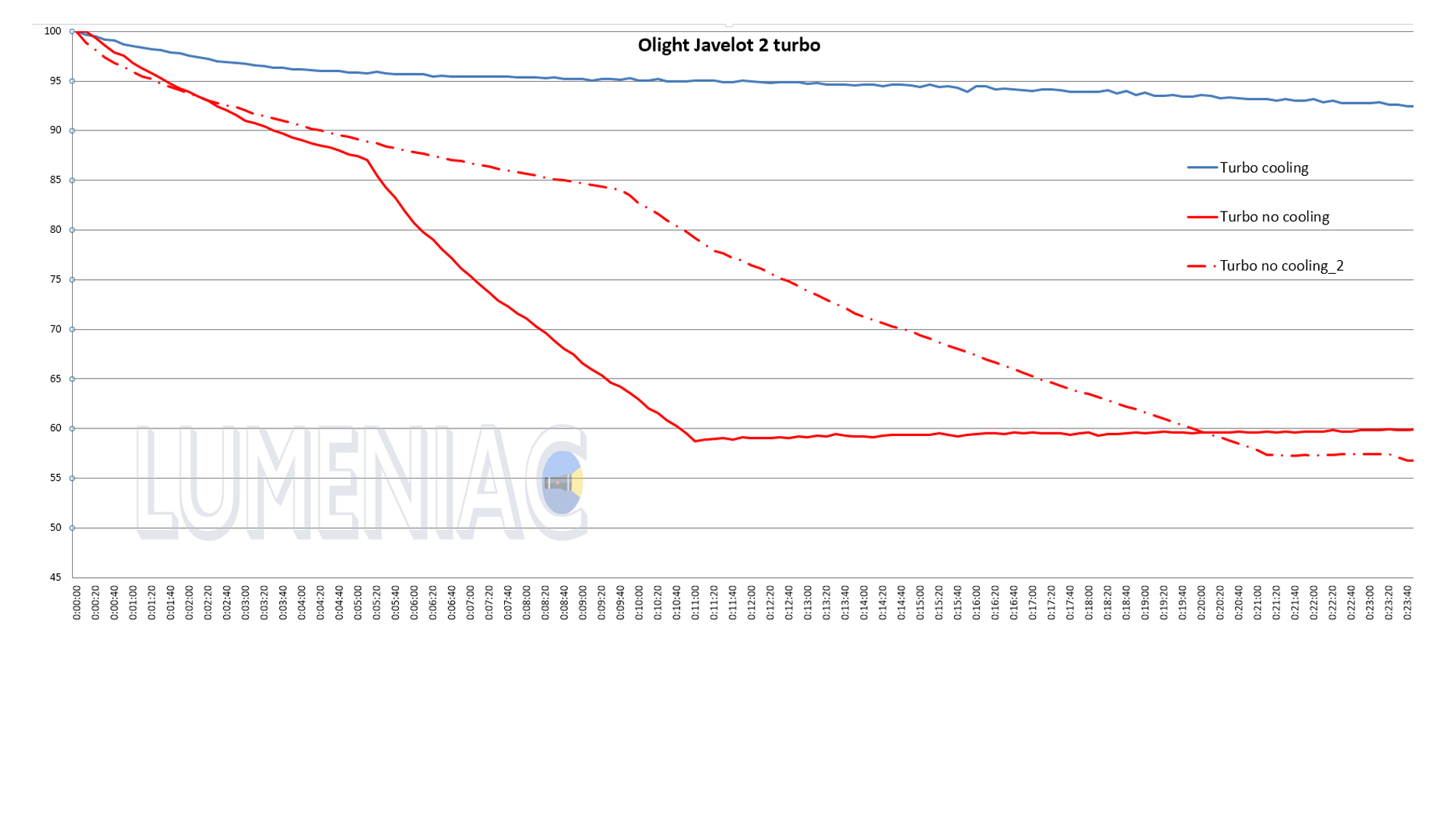 With a decrease in brightness by almost half, from 2000 to 1300 lumens, the flashlight has almost 1\3 more candels and declared throw increased from 1080 to 1300m. The price difference also shows the difference between the Javelot Turbo and the budget analogue Sofirn SF47T - you can buy like 4-5 Sfirn SF47T for the price of one Olight Javelot turbo.
Color temperature is quite tolerable. These are not way to get ideal for long-range 4000K from these throwy Osram LEDs (at least, by now), but, I repeat - color temprerature of Javelot Turbo is quite bearable alive, looks like Olight got best batch of LEDs.
In terms of light distribution - a long-range percer, with clearly better focusing relative to the budget Sofirn. Sidelight here is frankly symbolic, no surprise.
Within a couple of hundred meters, you can easily get by with MID mode, but for most purposes, HIGH, which lasts almost 6 hours, is enough for you.
200m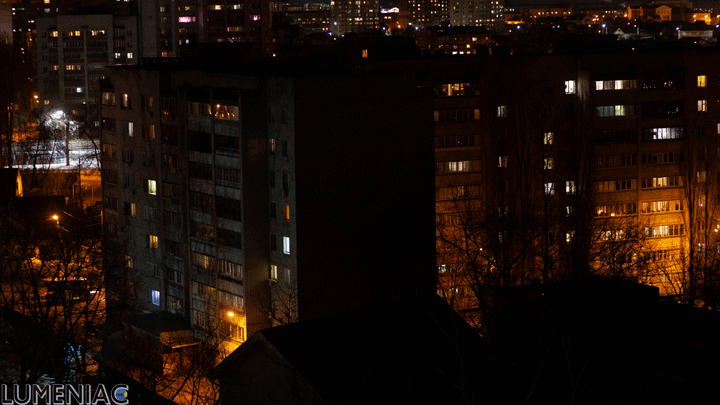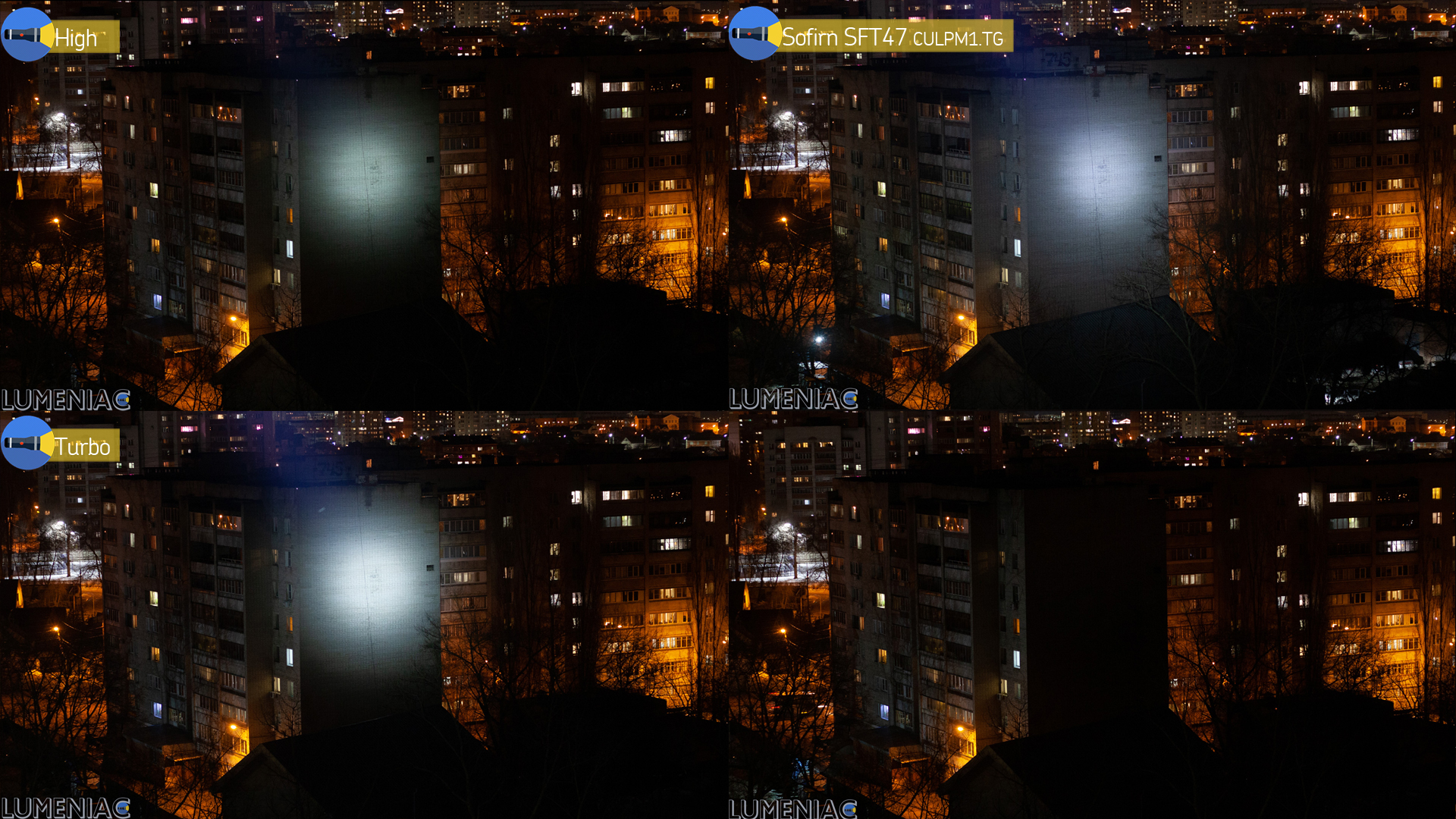 250m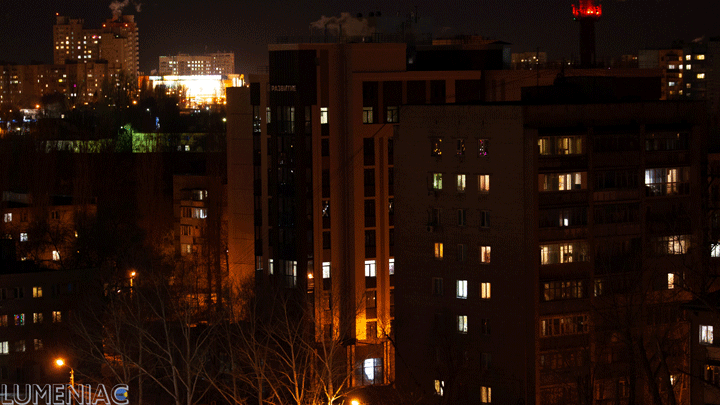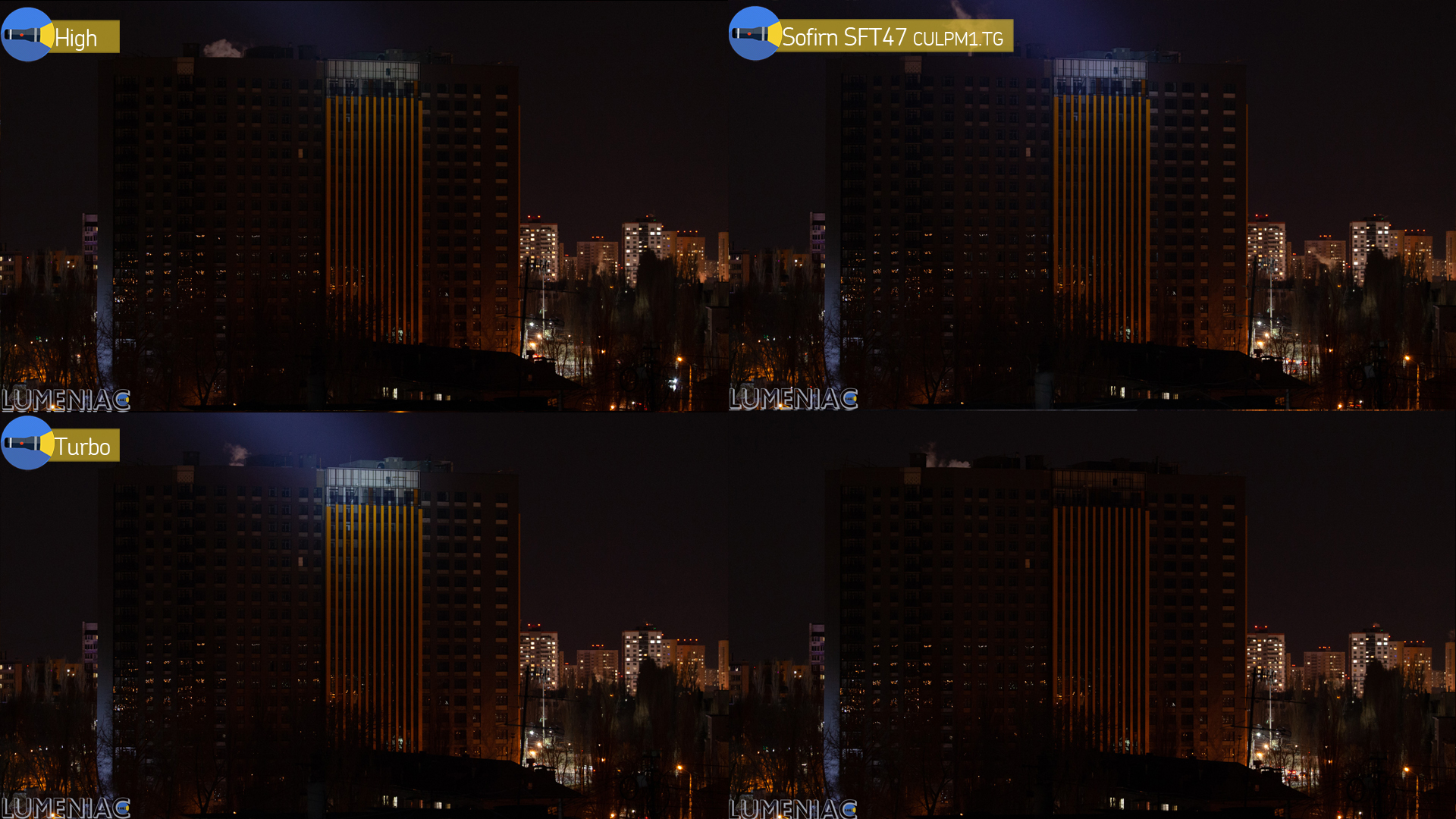 450m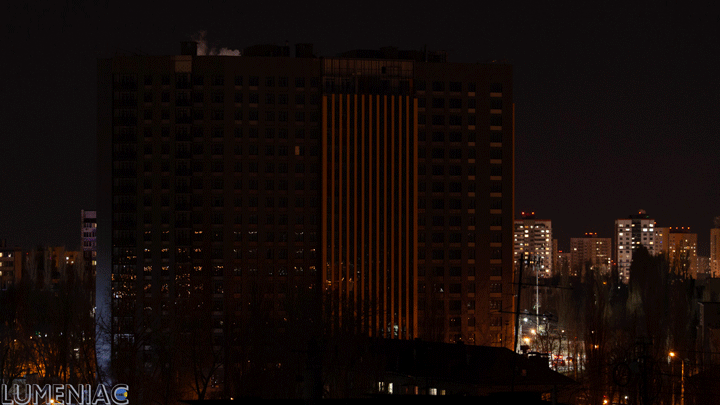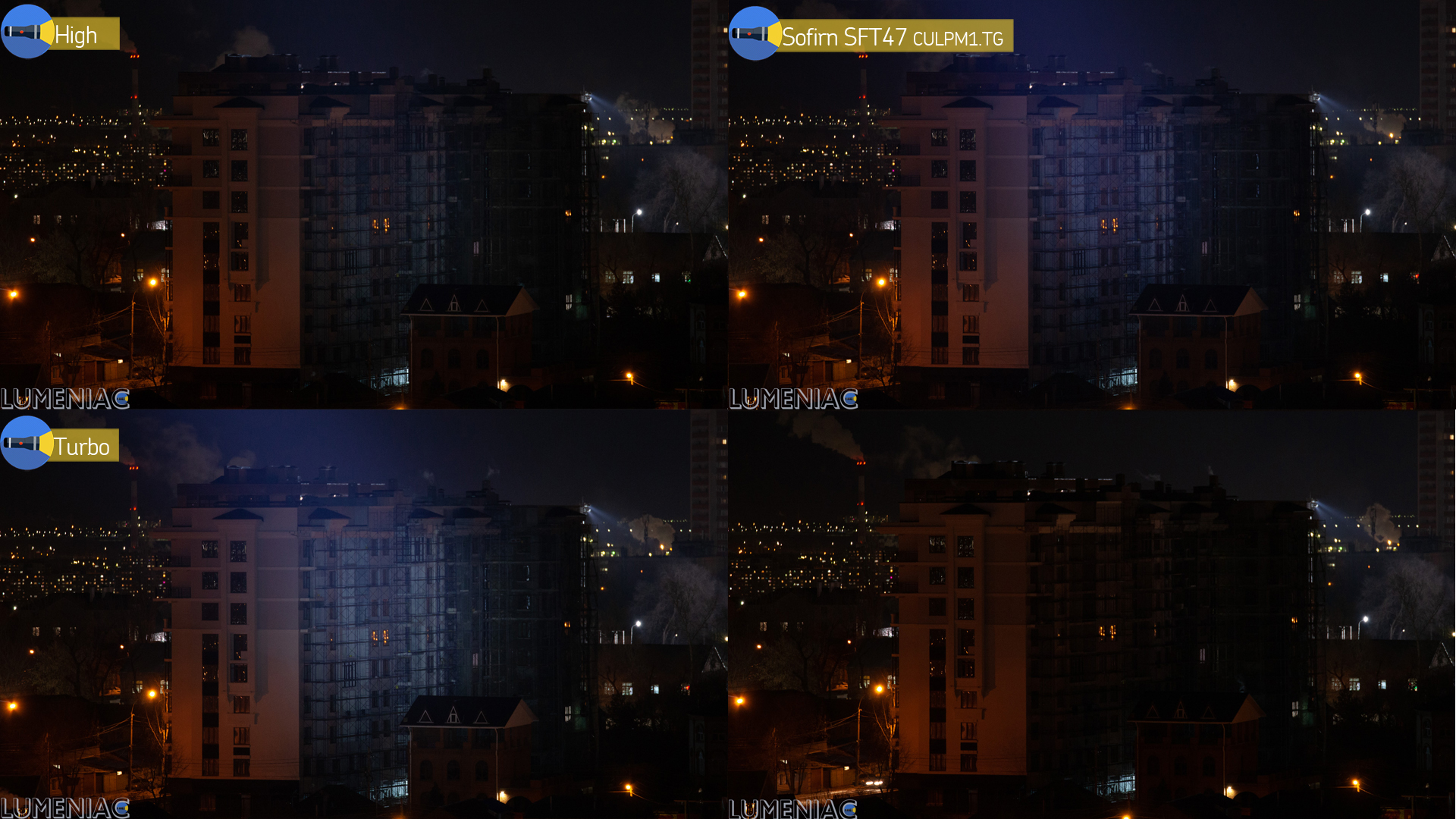 650m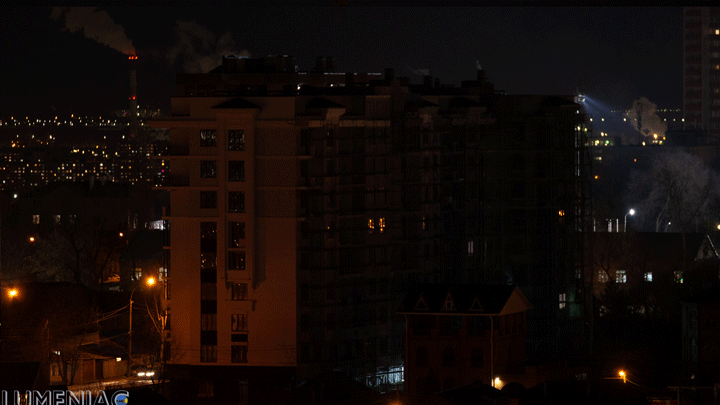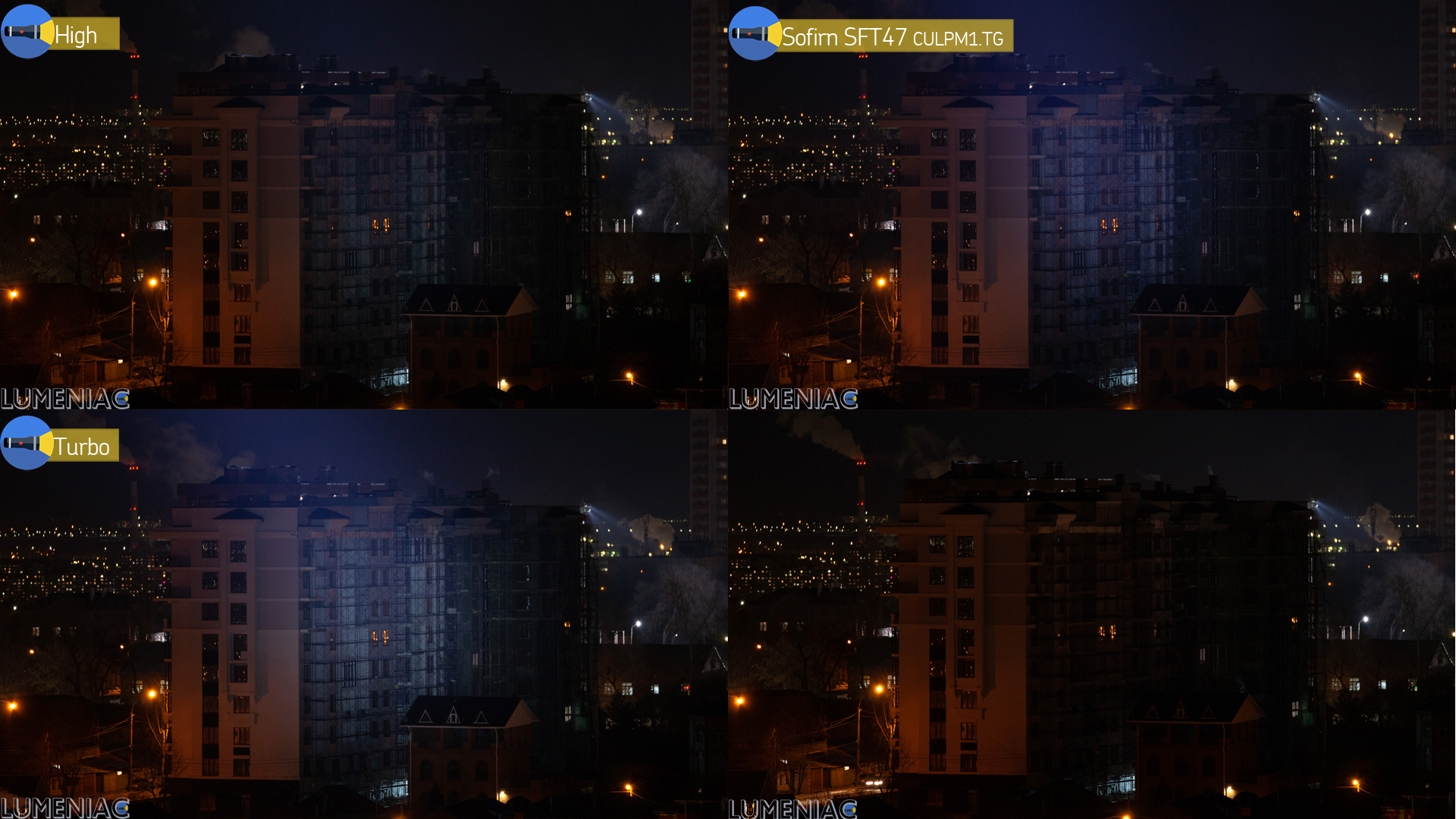 750m
here the angle is good, and the beam becomes wide enough to show how well the flashlight copes with work at such a distance. Live, believe me, there is almost nothing to be seen.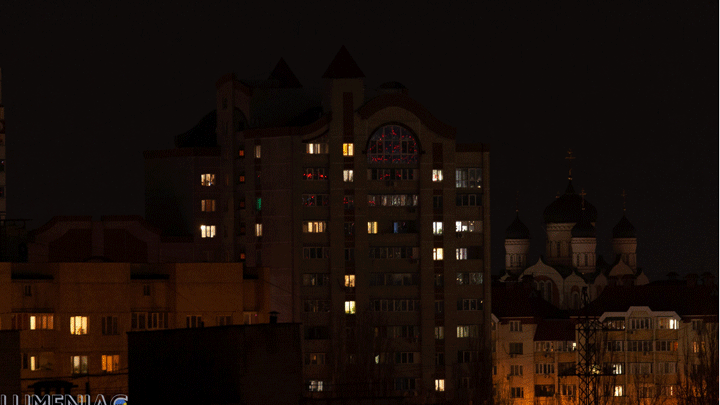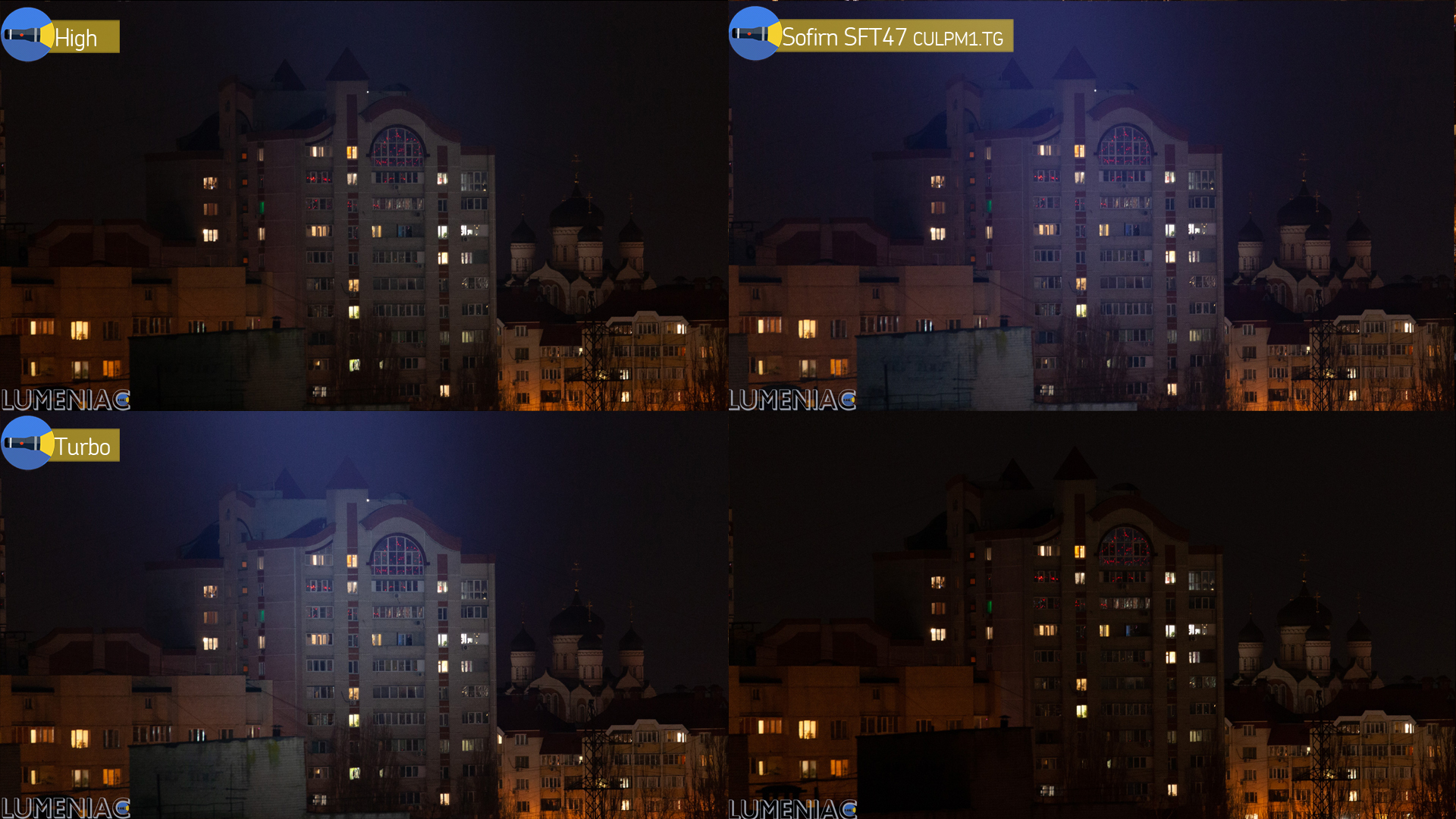 1300m
According to the specification, this is the limit, by the way, the distance. In my experience, it is usually worth talking about useful range at 2/3 of the stated range. In the same case, I believe that the live lantern can stretch even more, even one and a half kilometers. Without optics, you can't see anything at all, but the flashlight fulfills the maximum declared range definitely confidently.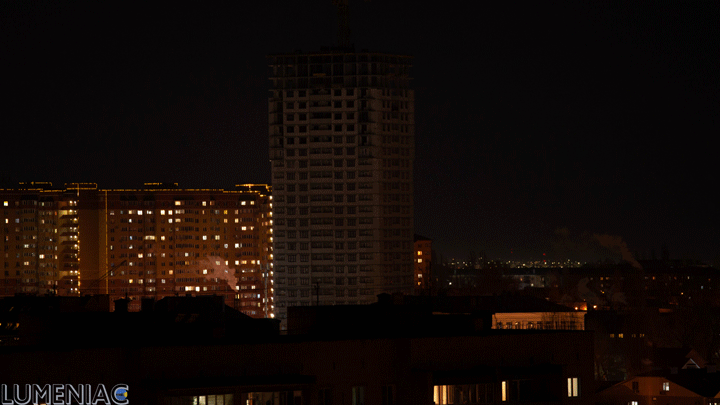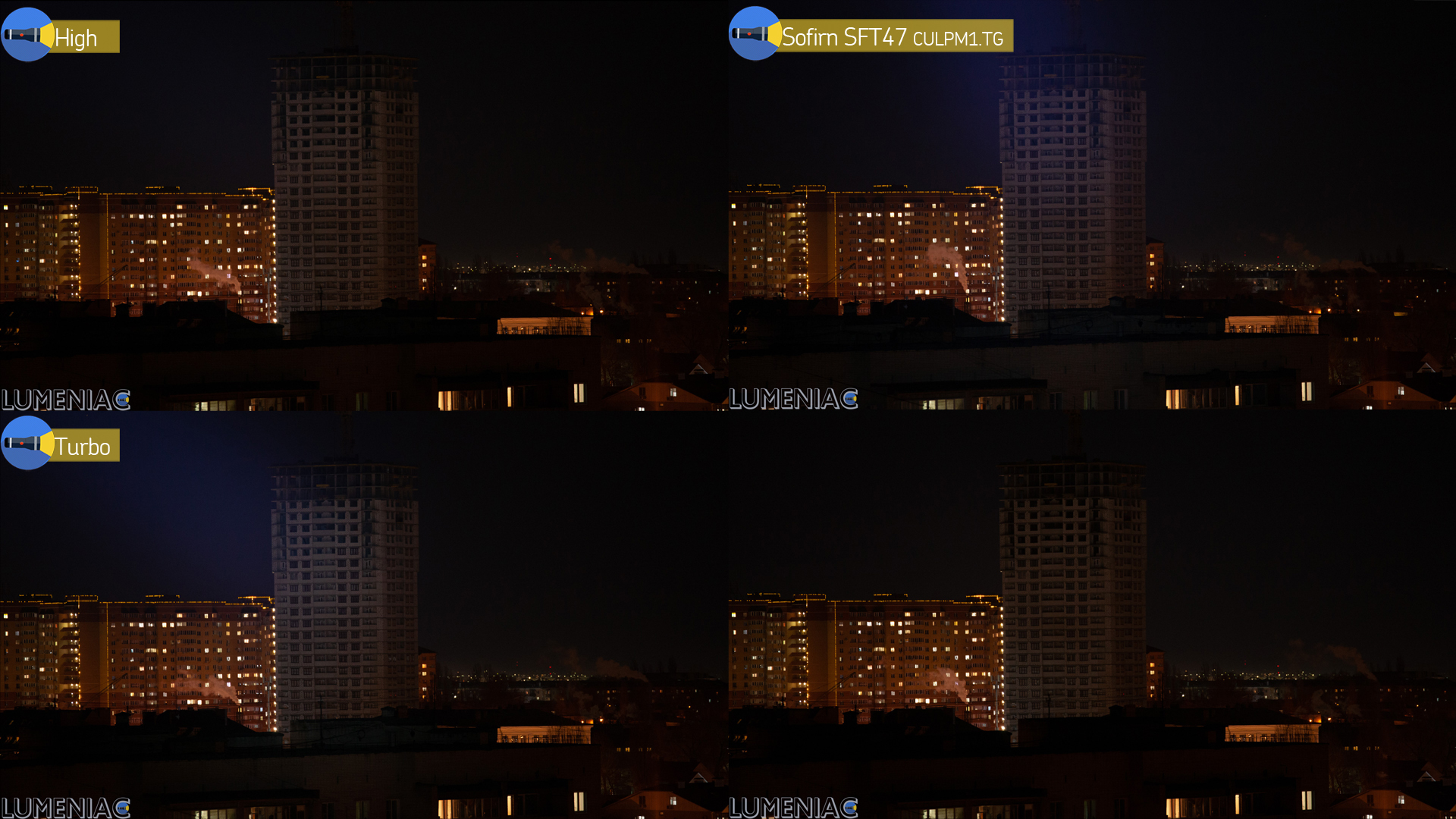 Of course, the video review contains many more examples of how this modern long-range flashlight shines. i`m not sure i have enogh time to make english version, but there is no need to undersnand Russian language when you look how Olight Javelot Turbo work at different distances.
https://budgetlightforum.com/t/-/65953
OVERALL IMPRESSION
Throughout its history, Olight Javelot Turbo series has successfully developed the main feature of a long-range flashlight - throw. And, in my opinion, Olight Javelot Turbo reached the limit, which will be difficult to cross in the near future. Replacing the LED with SBT90.2 in a reflector of this size would give an increase in sidelight, but throw will be the same (as you can see in my previous review of Imalent UT90). But power consumption and heating would have increased significantly. In the meantime, with all its low brightness, the flashlight shines extremely far. Once again, the brightness dropped by almost half, while the range increased by a couple of hundred meters. Taking into account the replacement of batteries with radically more capacious ones, this makes it possible to shine far and for a long time. With the OSRAM KW CULPM1.TG on board, the flashlight allows you to work within half a kilometer at a ridiculous 500 lumens with a 6 hour reserve of time.
It is difficult to say who needs further beam, as the naked eye simply will not distinguish anything at a greater distance . But if the need arises, this long-range flashlight will successfully cope with it.
If desired, Olight Javelot Turbo can also be gun-mounted, since there is a remote button. Another thing is that not everyone agrees to hang such a long flashlight under the barrel.
UI has changed and I see no logic in abandoning excellent Olight side button interface in the direction of a simpler Fenix-sort one. There are no complaints about the UI of the two-position tail button.
Moving to 21700 is a logical step. Unfortunately Olight again limited the user to a battery pack without the ability to change batteries. While the huge runtime means you don't have to worry about batteries running out quickly, I would still prefer to be able to swap them freely.
And here Sofirn SF47T, made in the same standard size, wins as much as it loses in design. For me, of course. For some, built-in charging will be more important than the ability to change batteries.
And here comes the last moment. Price. Yes, things are not getting cheaper with time. But even so, even taking into account the fact that this is a new model, I consider the price tag extremely high, even by the standards of the always non-budget Olight. There is nothing to justify such a price, there is no expensive LED or some extremely hard engineer work. All this is damn clear when you compare Olight Javelot Pro to Sofirn SF47T (the same size, LED and batteries).
So far, well, not everyone will be ready to open wallet for this new long-range flashlight from Olight, when the same Sofirn SF47T can be taken for $ 50. Yes, it looks much simpler, it does not have a built-in charger with a two-position button. It has significantly colder light and poorer focus. But it has, albeit somewhat shorter , but still excellent throw and the ability to change batteries. And UI is damn good.
I believe that in this situation, the audience of Olight Javelot Turbo will decrease to a small number of financially succesfull buyers who want and can afford an uncompromisingly top-end branded long-range flashlight in this form factor. That is, with the most capacious batteries and the longest-range LED.
In fairness, there are no competitors here, except for Sofirn SF47T and Speras T1 (and even then, last one has 2 * 18650) - at the time of the review release, all other lights with this LED use just one battery.
+
throw
appearance
package
runtime
stabilization
built-in charging
very good color temperature for this LED
-
price
battery pack
±
UI