If you need a very inexpensive and compact 18650 flashlight with high brightness, built-in charging and goof UI, then Sofirn has something for you - Sofirn SC32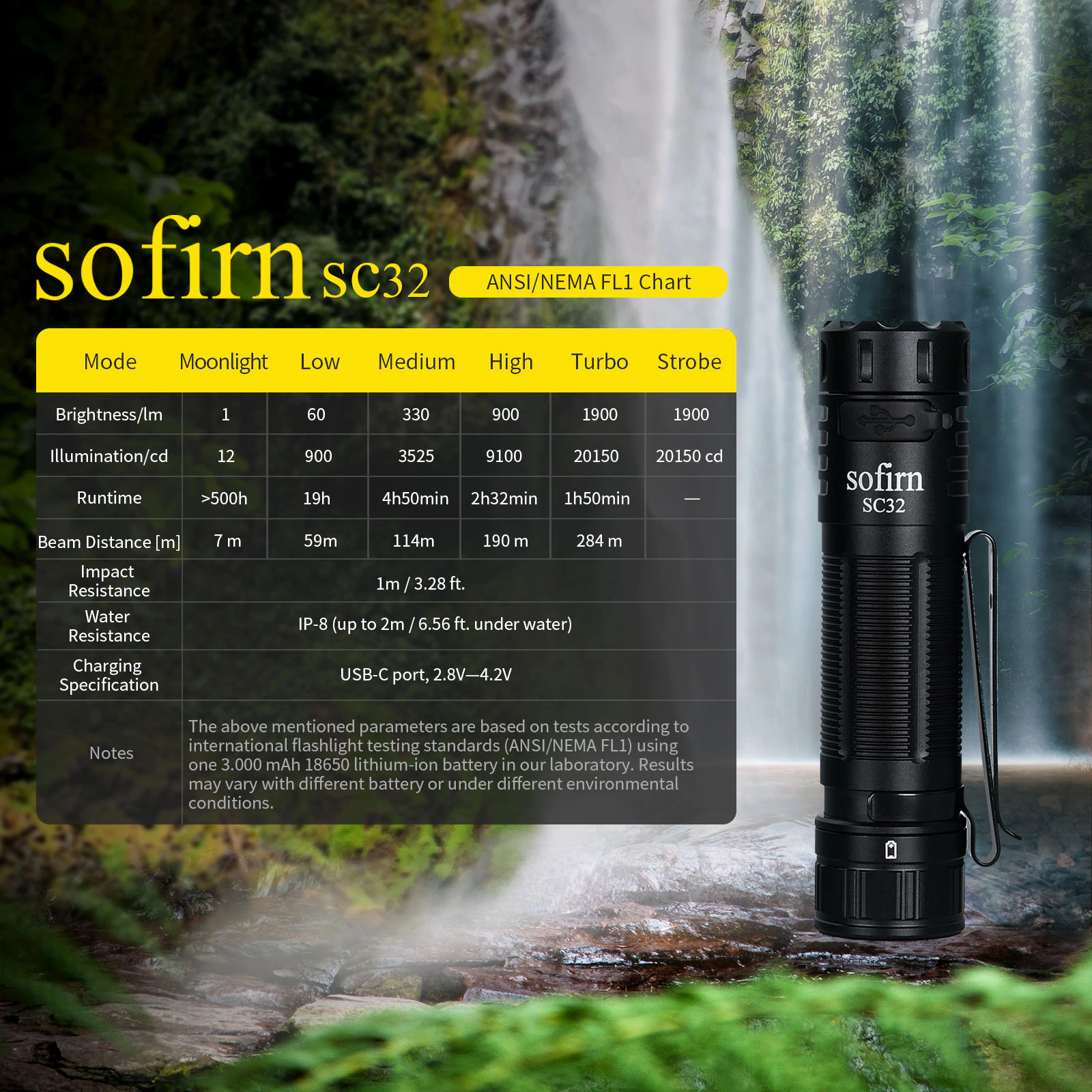 Buy Sofirn SP35 21700 at:
➤ ALIEXPRESS
➤ BANGGOOD
➤ AMAZON
Specification
LED: 1x LUMINUS SST40
Color temperature 5000-5300K
Maximum brightness and range: 2000lum \ 284m (20150cd)
Power supply: 1X 18650 Li-ion battery
Dimensions and weight: 100mm (length) × 25mm (head diameter), 57g (without battery)
TIR lens
IPX8 waterproof
Body: aluminum
Charging: USB Type-C (support PD)
Active thermoregulation
Reverse polarity and overdischarge protection
Package and appearance
As usual, frankly budget box. But in case of Sofirn \ Wurkkos, content of box is always much more interesting than what is outside.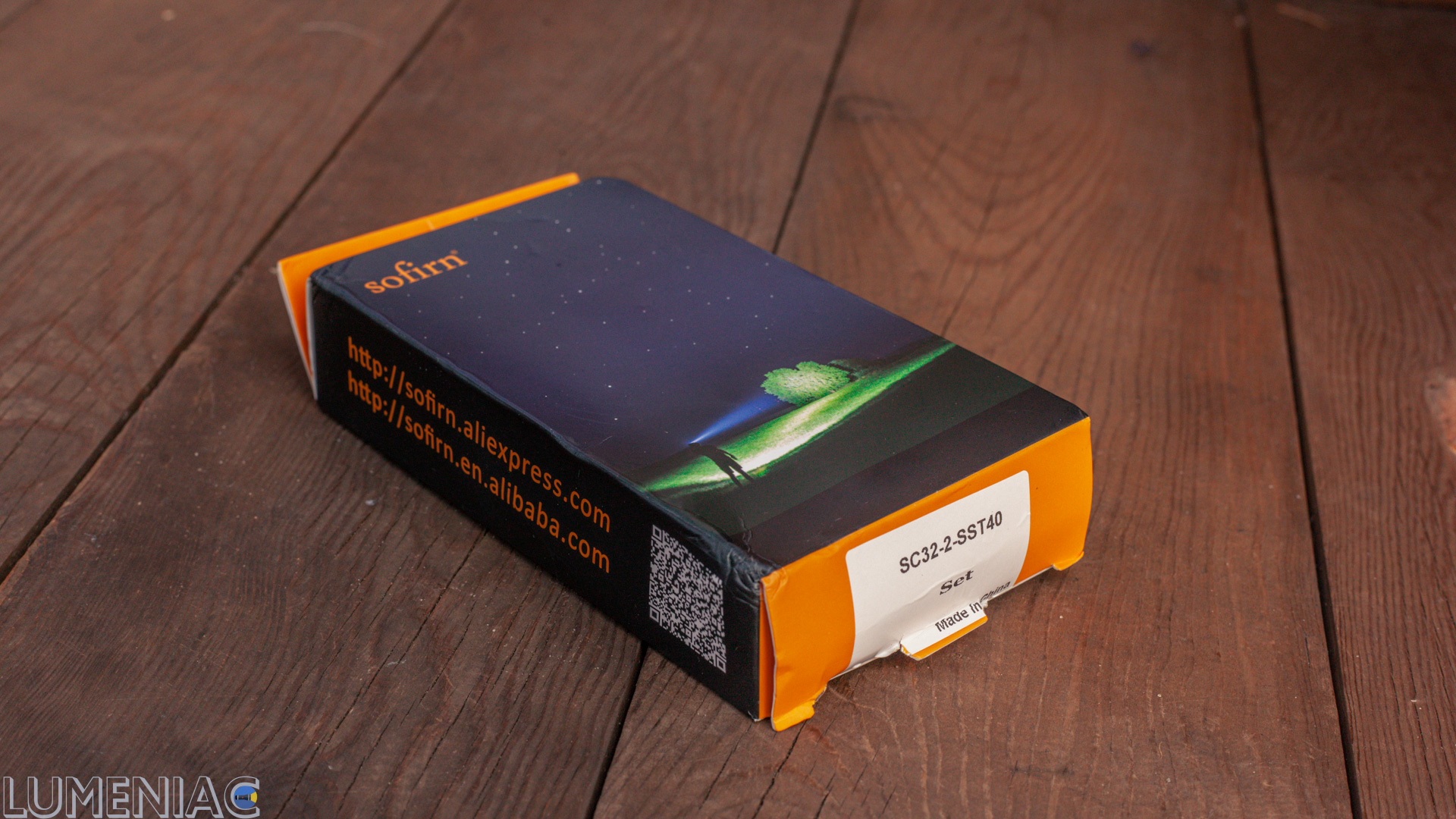 The kit includes the flashlight itself, a 18650 3000 mAh battery, a type-c charging cable, a pair of o-rings, a cheap lanyard and a manual.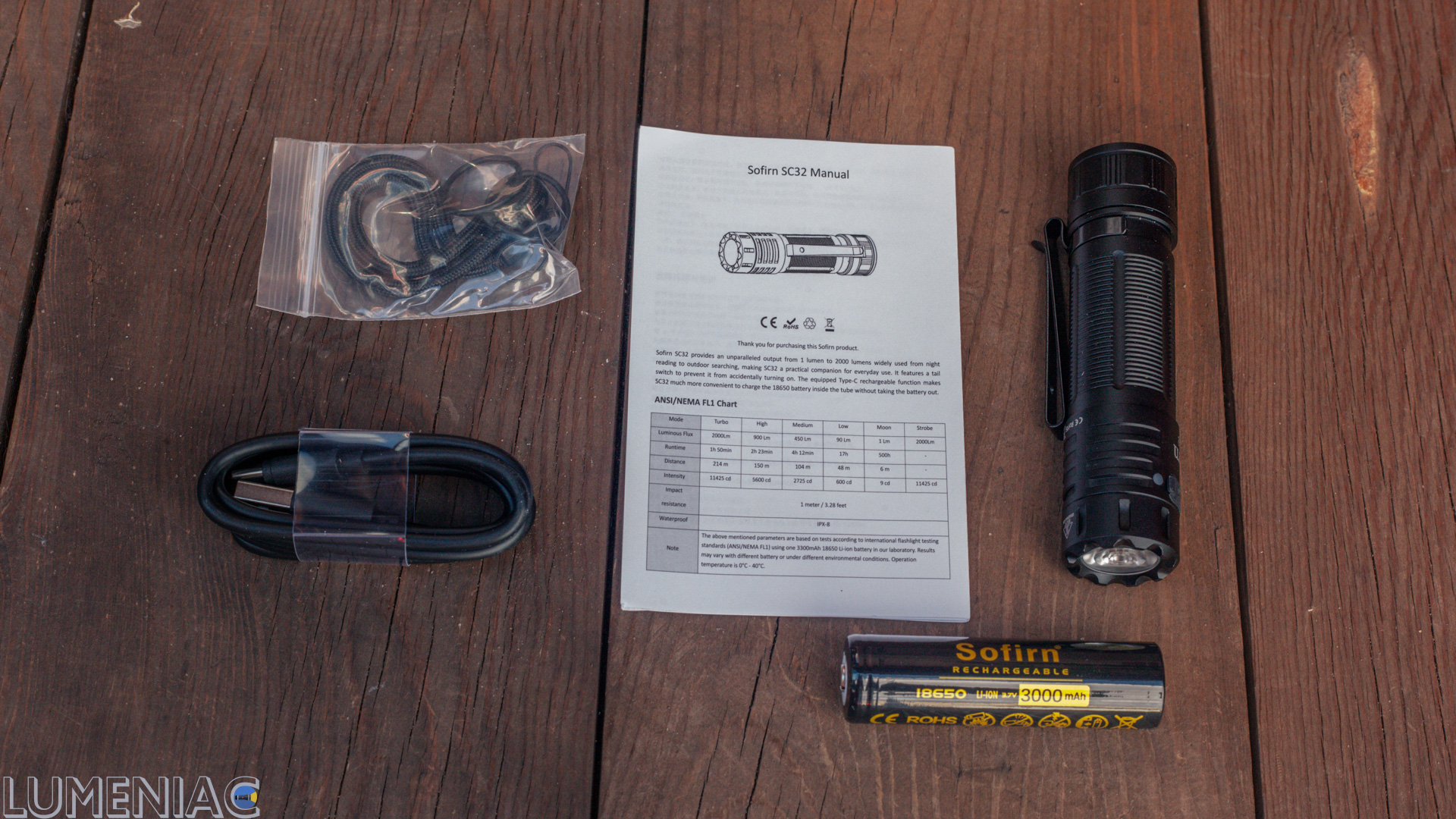 Exquisite attractive design is not about Sofirn at all. Their flashlight can be bright or long-range, has convenient UI and fast charging, but just any flashlight from a fat big brand will be more attractive in appearance. So is here - well, if Sofirn did square knurling and matte anodizing - then flashlight would look more respectable. Now design is super simple, only button and a lens looks attractive. Though, i got feedback from some owners and they wrote that they find design to be good. So, as always with design, this is matter of taste.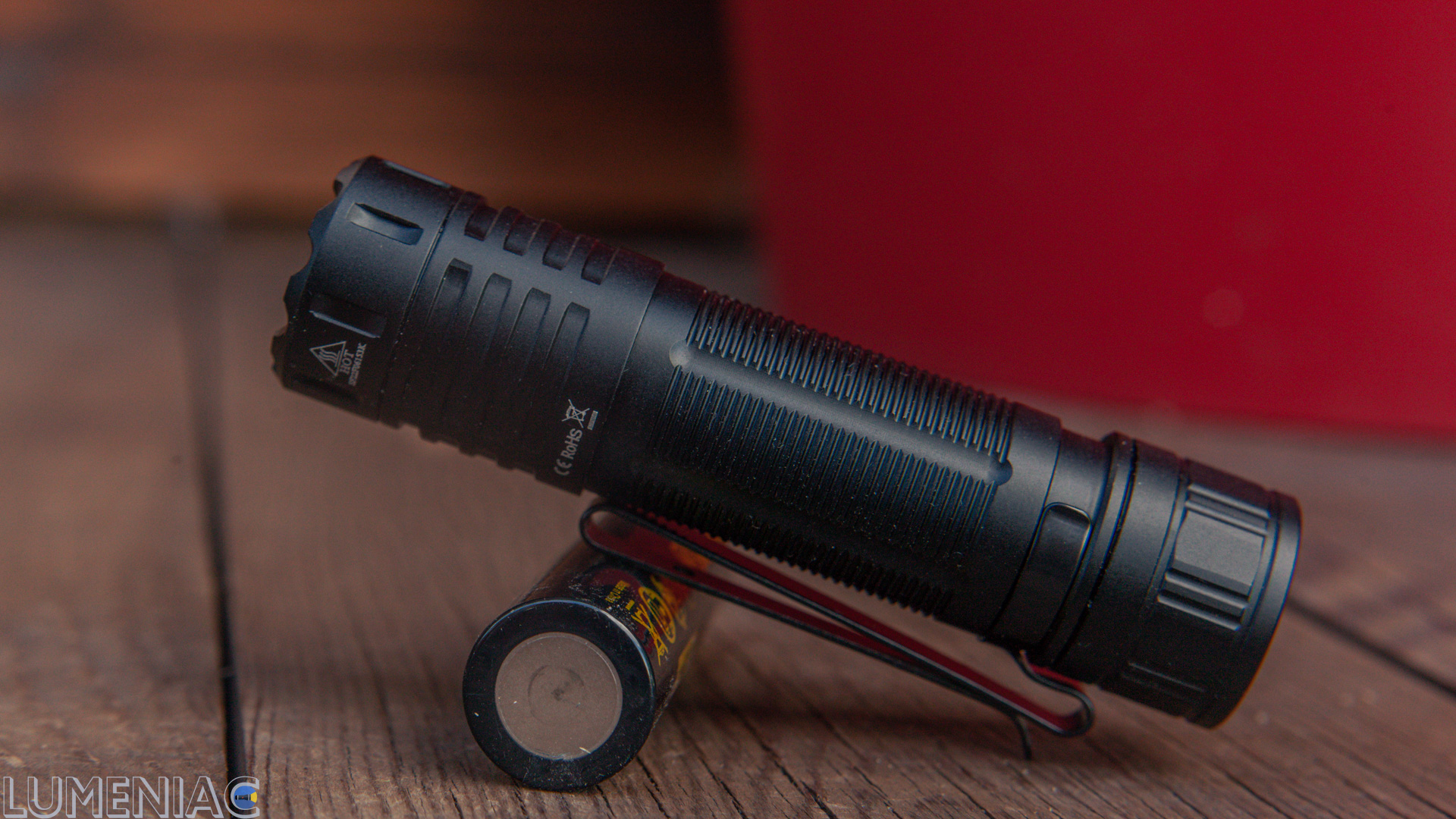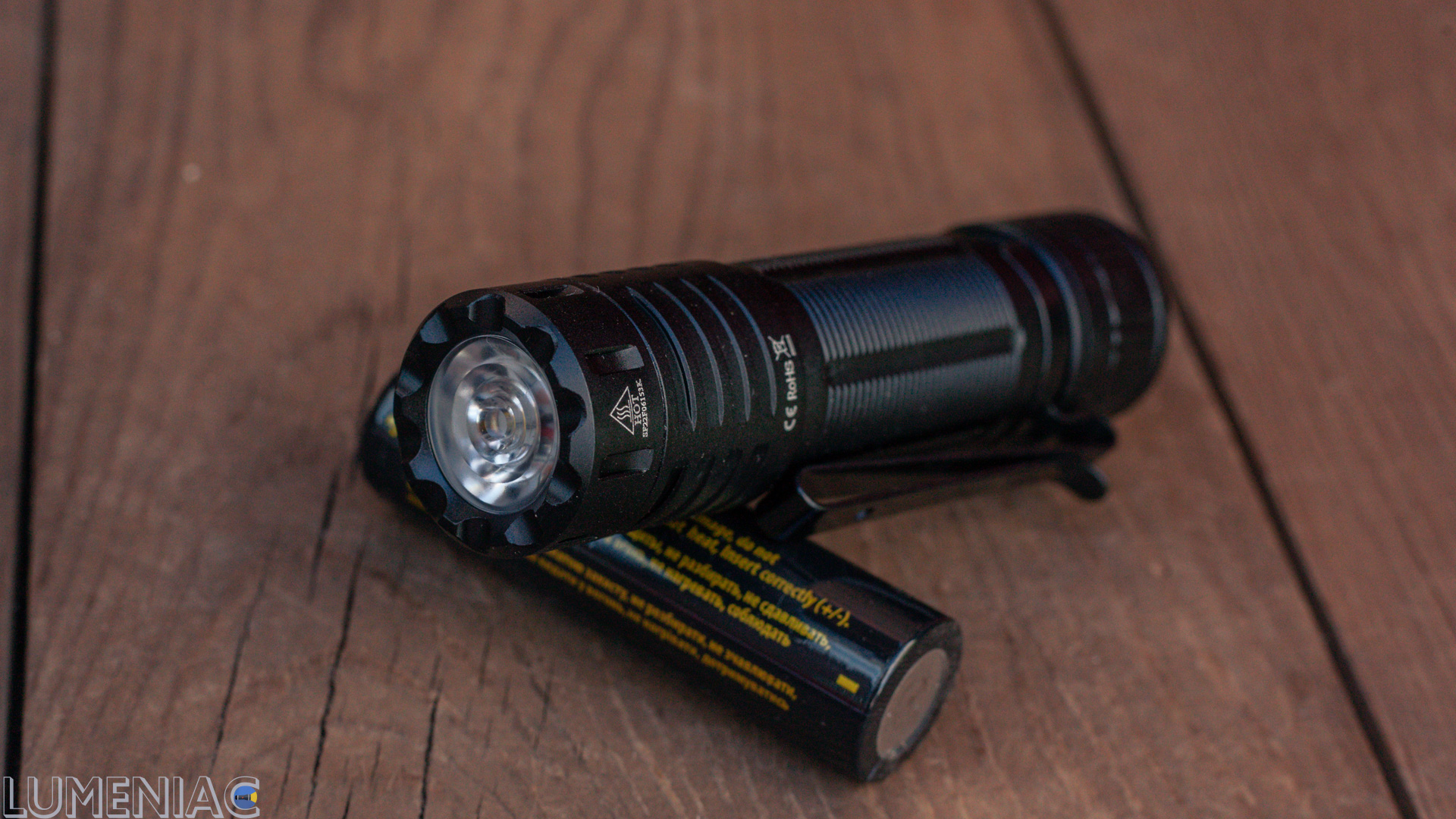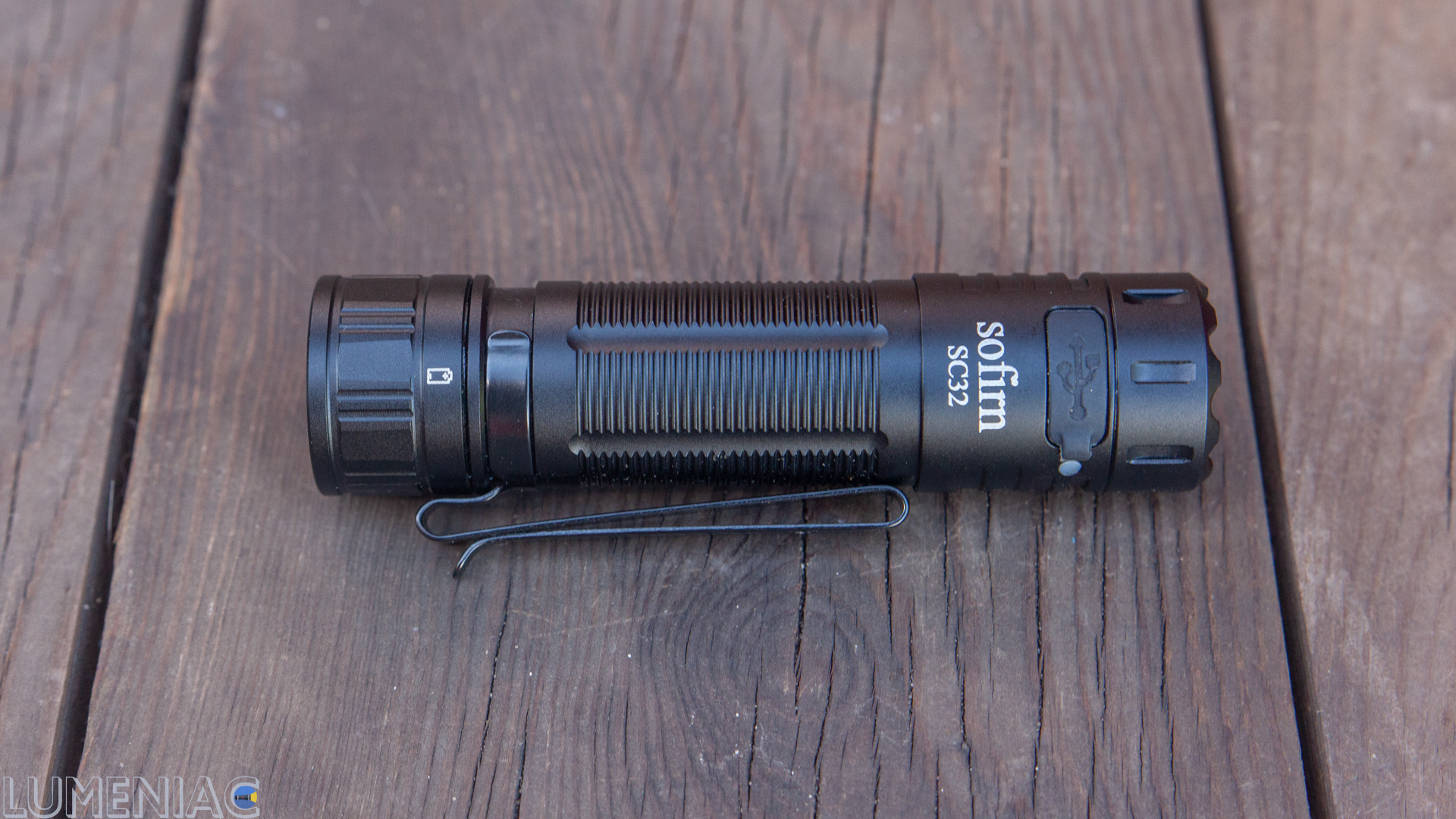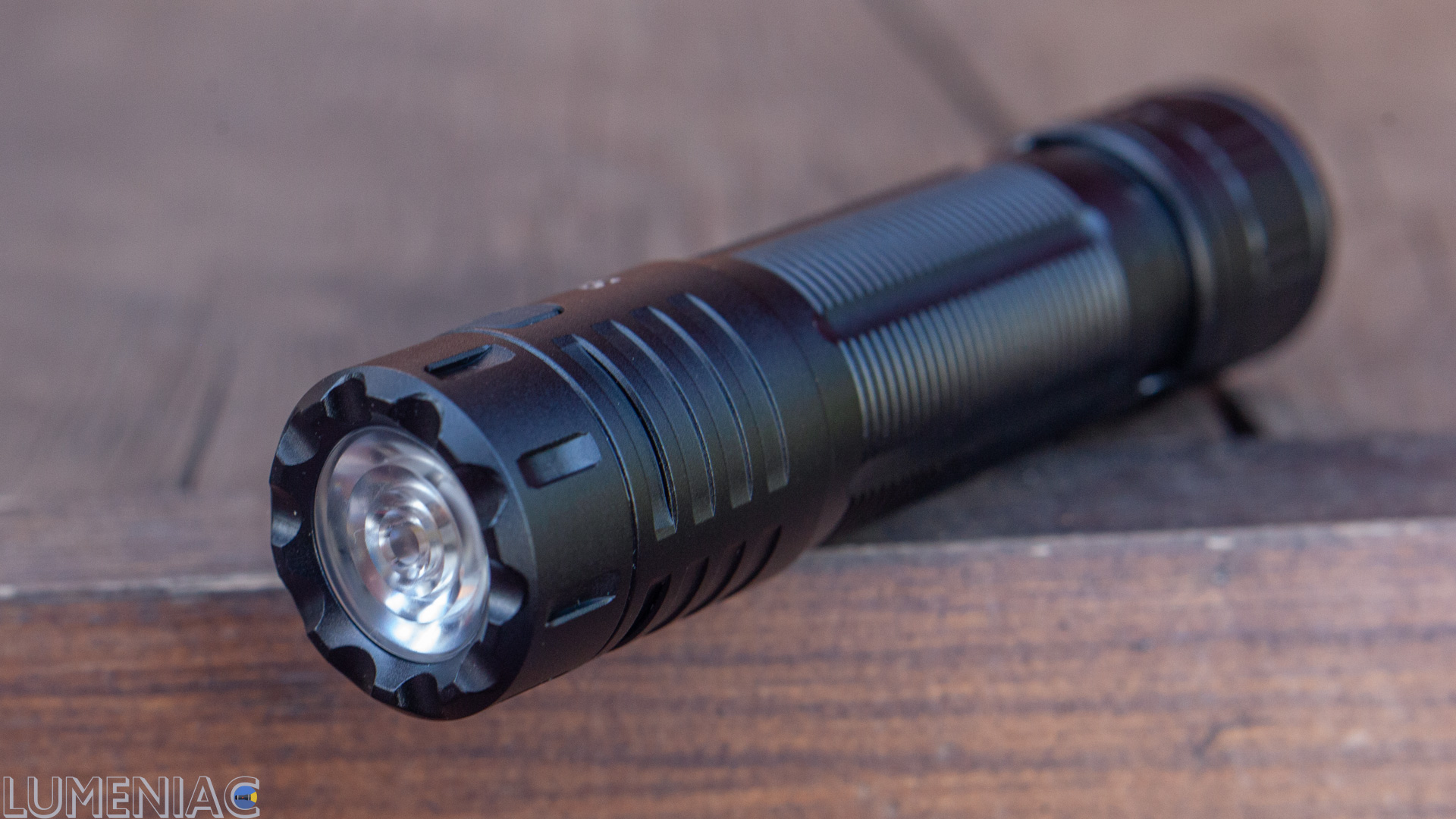 With it`s 10cm and 2.5cm in diameter, Sofirn SC32 is one of the most compact 18650-powered flashlights that I have here, only Lumintop EDC 18 \ Lumintop FW can be compared with it. There are also Emissar dv, DQG Tiny and so Zebra SC64c.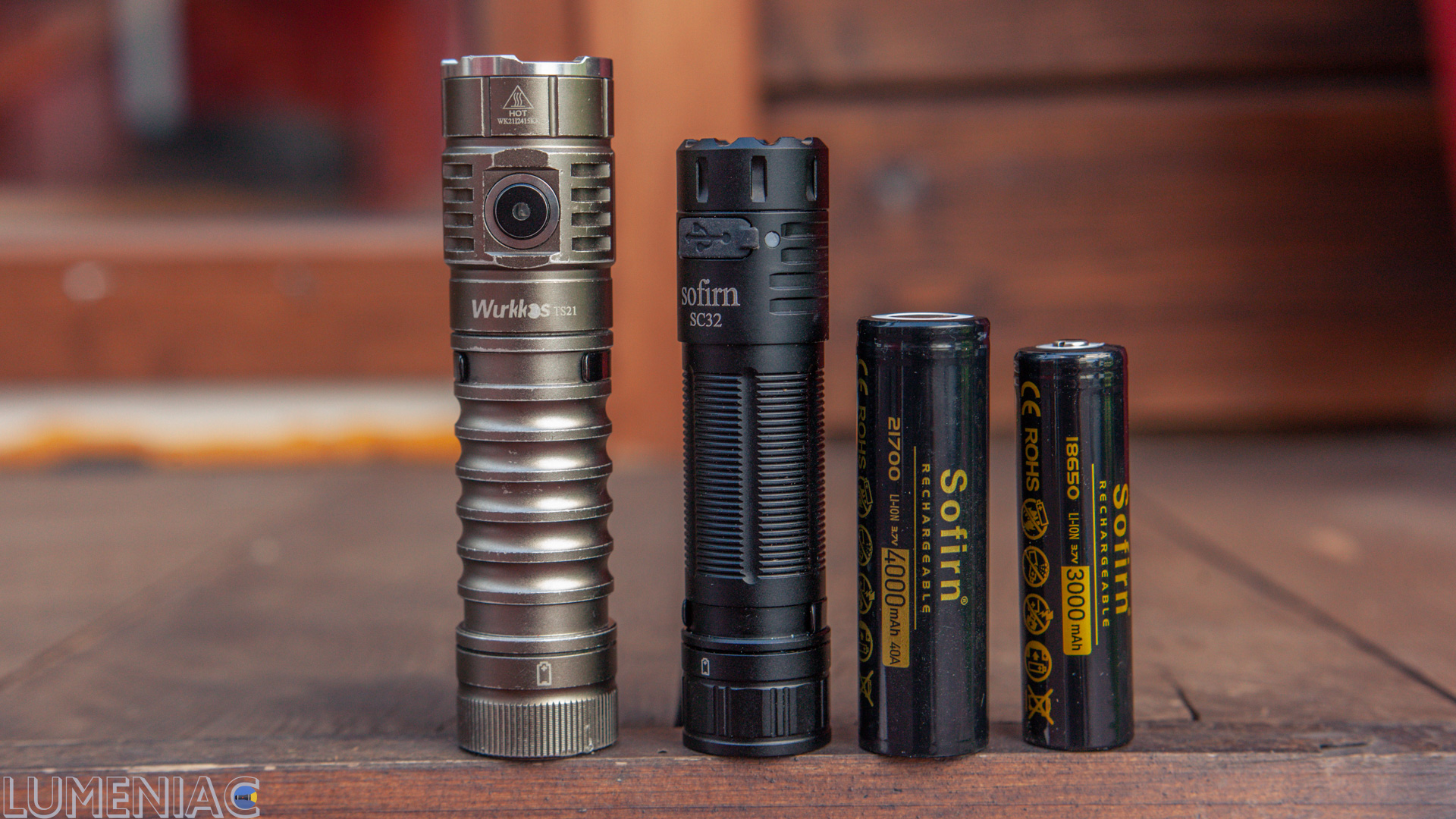 The tailcap button lies in a small depth, symbolically below the body. It is wide and very pleasant in touch, has a shallow elastic stroke.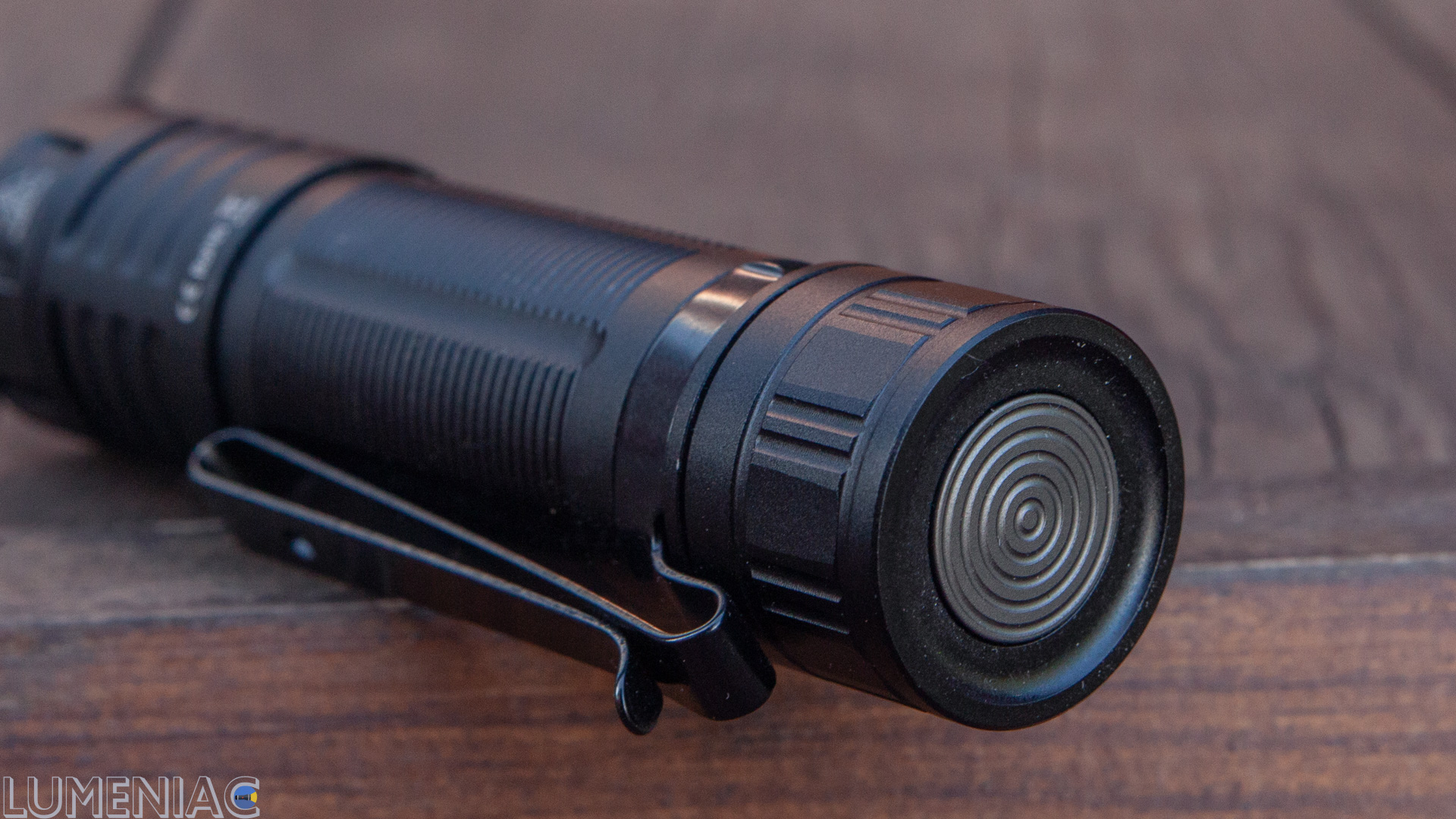 The spring in the tailcap is short and rather thick. What is surprising - you can expect contact pad in head, simply due to the body length, instead of a spring. But, damn Sofirn managed to install not only spring at head, but built-in charge module. Unbelievably!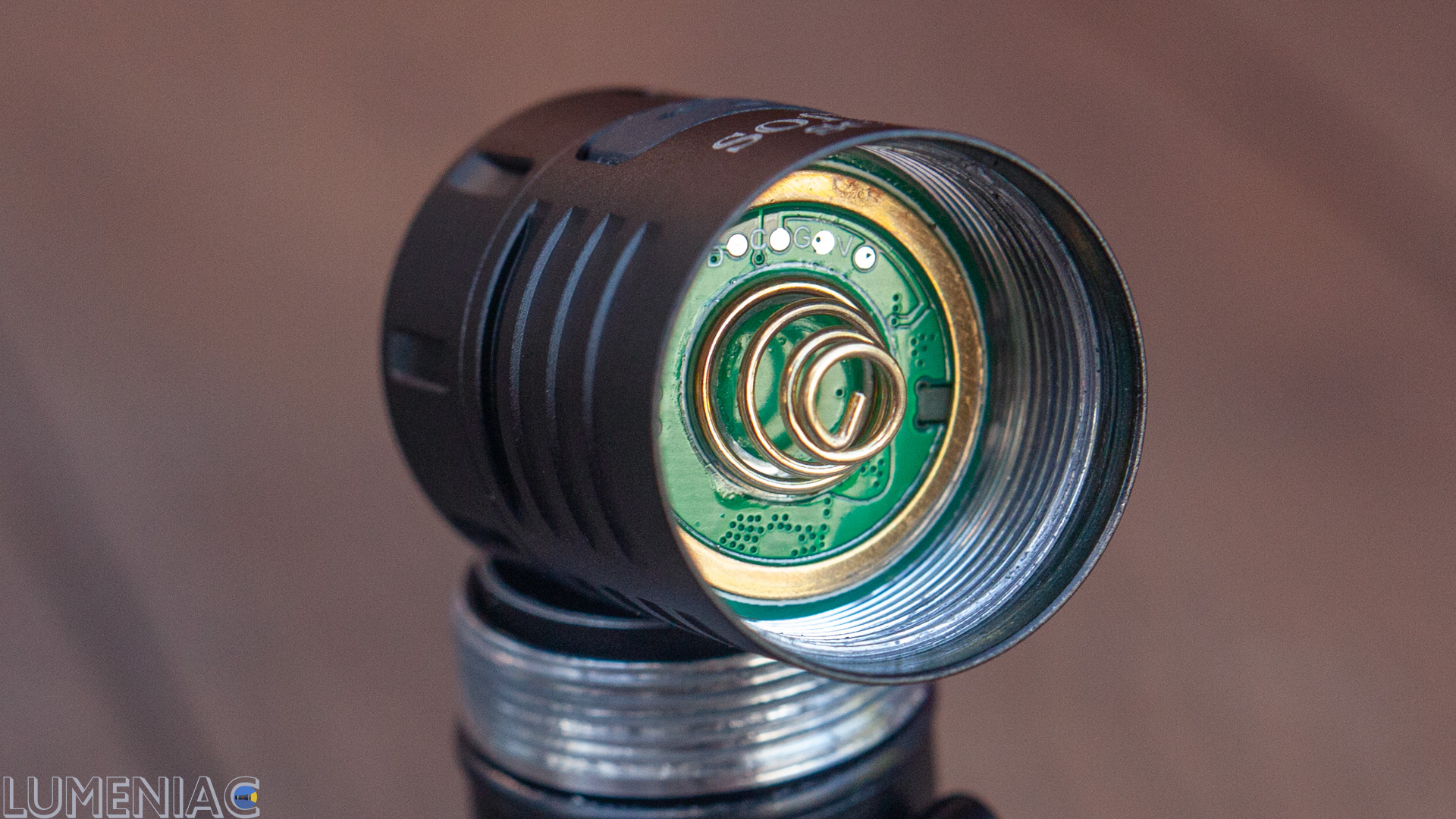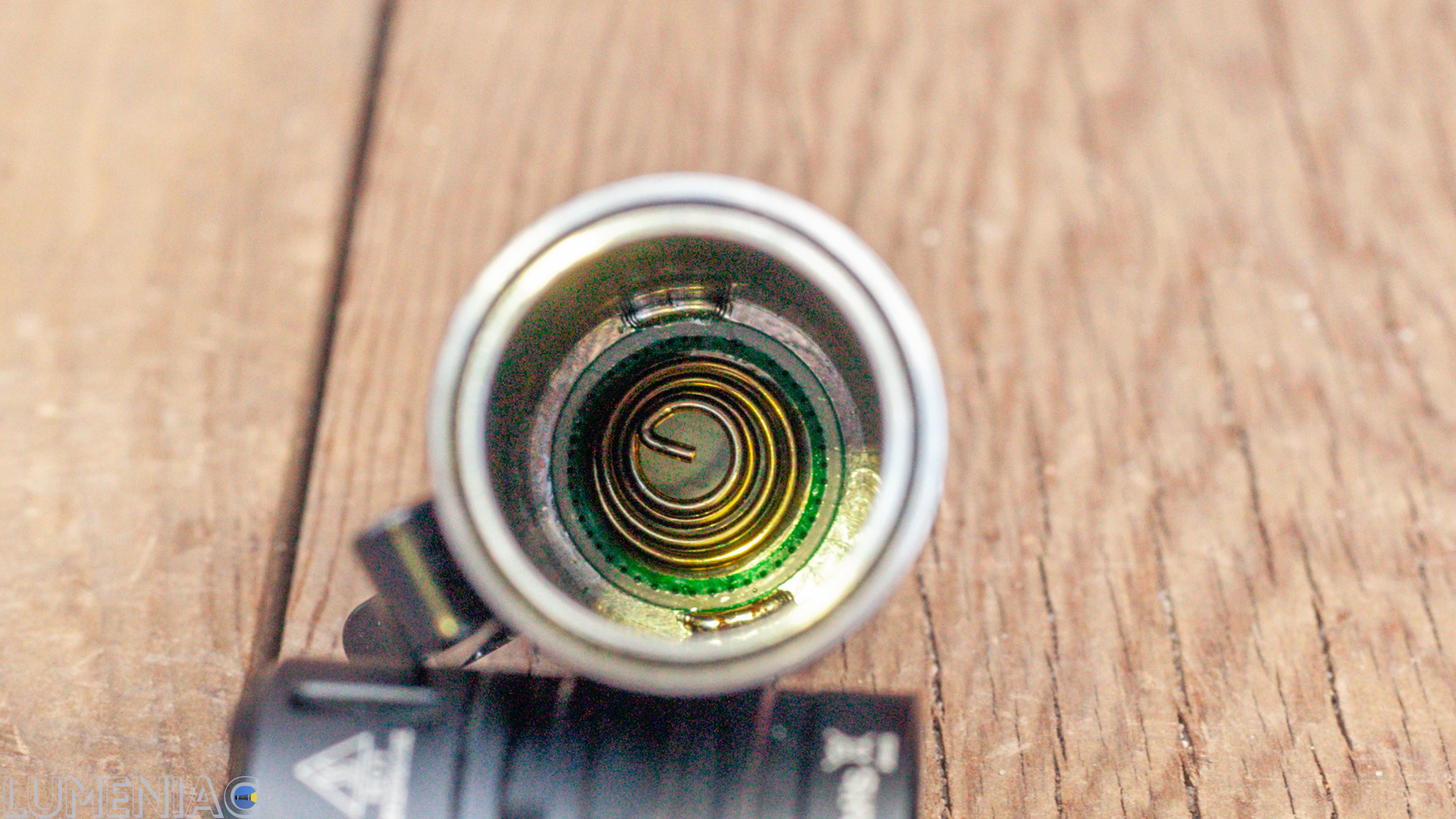 Next goes one more good surprise.
If I'm not mistaken, this is the first flashlight from Sofirn/Vurkkos with a double layer body that I've seen. Usually I've seen such a solution in a way more expensive segment, Acebeam, for example.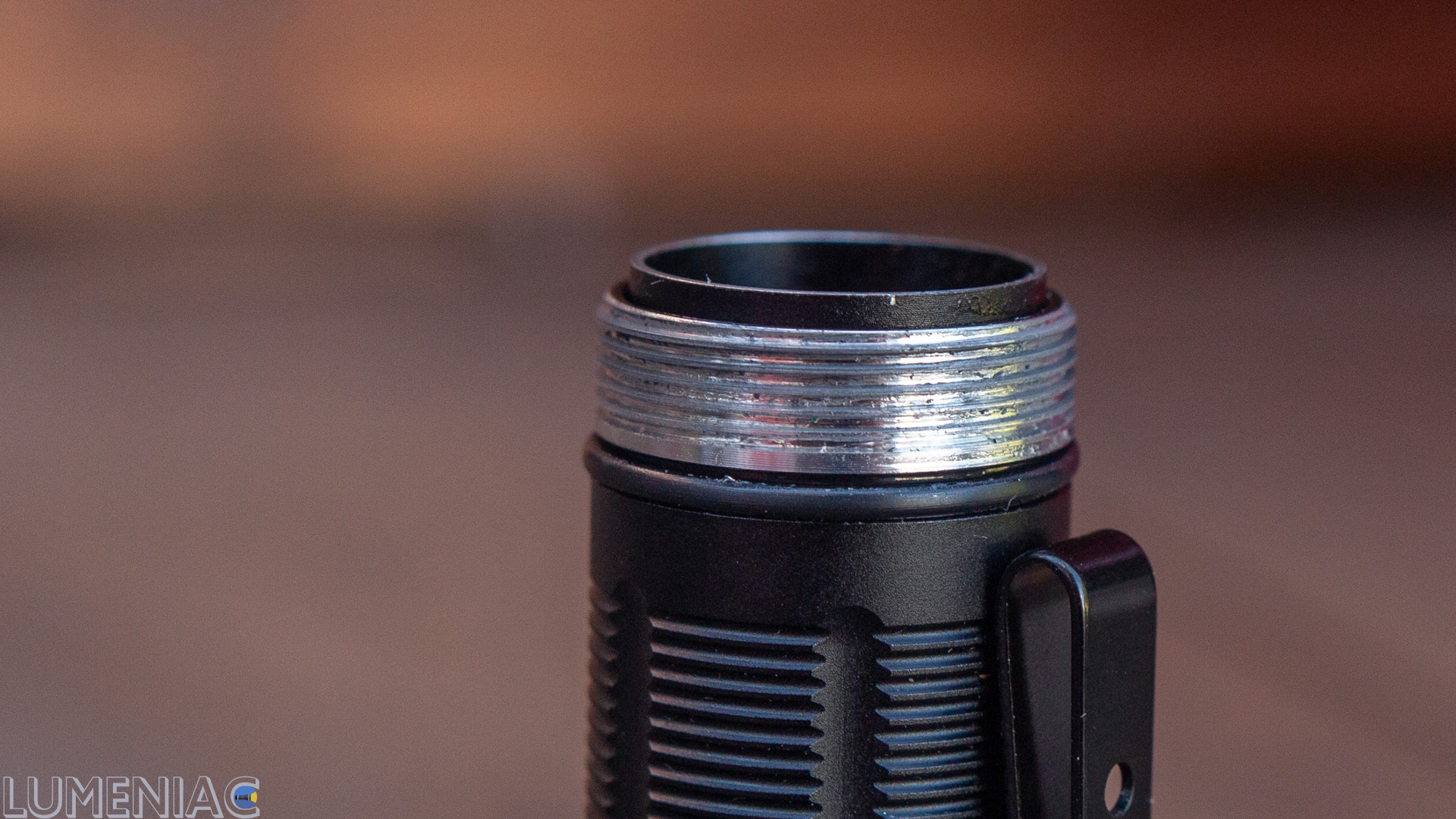 The knurling, as already said, is old-fashioned. Nevertheless, it is quite tenacious and from a functional point of view there are no questions.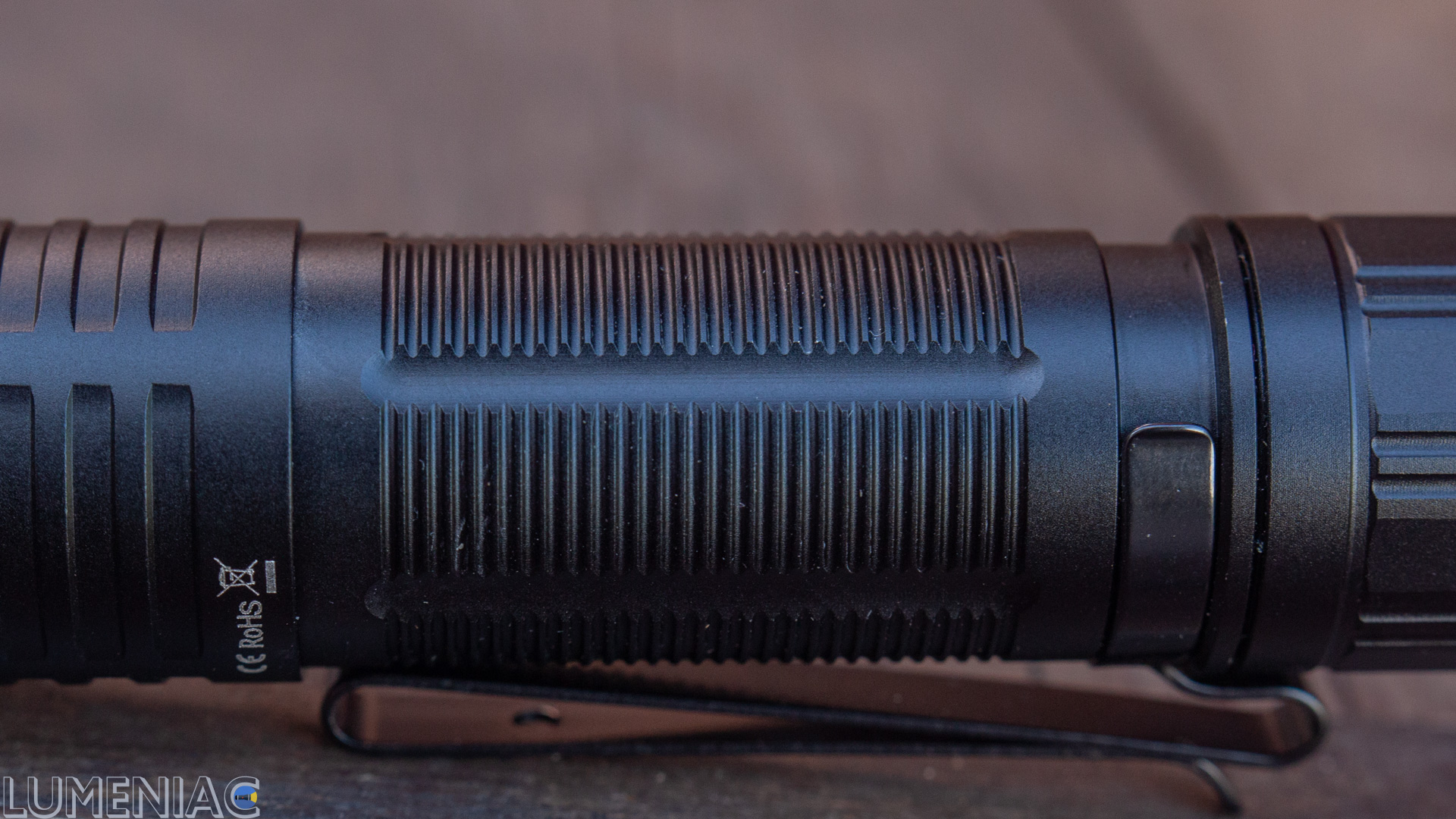 The clip is double-sided, sits tight on the body.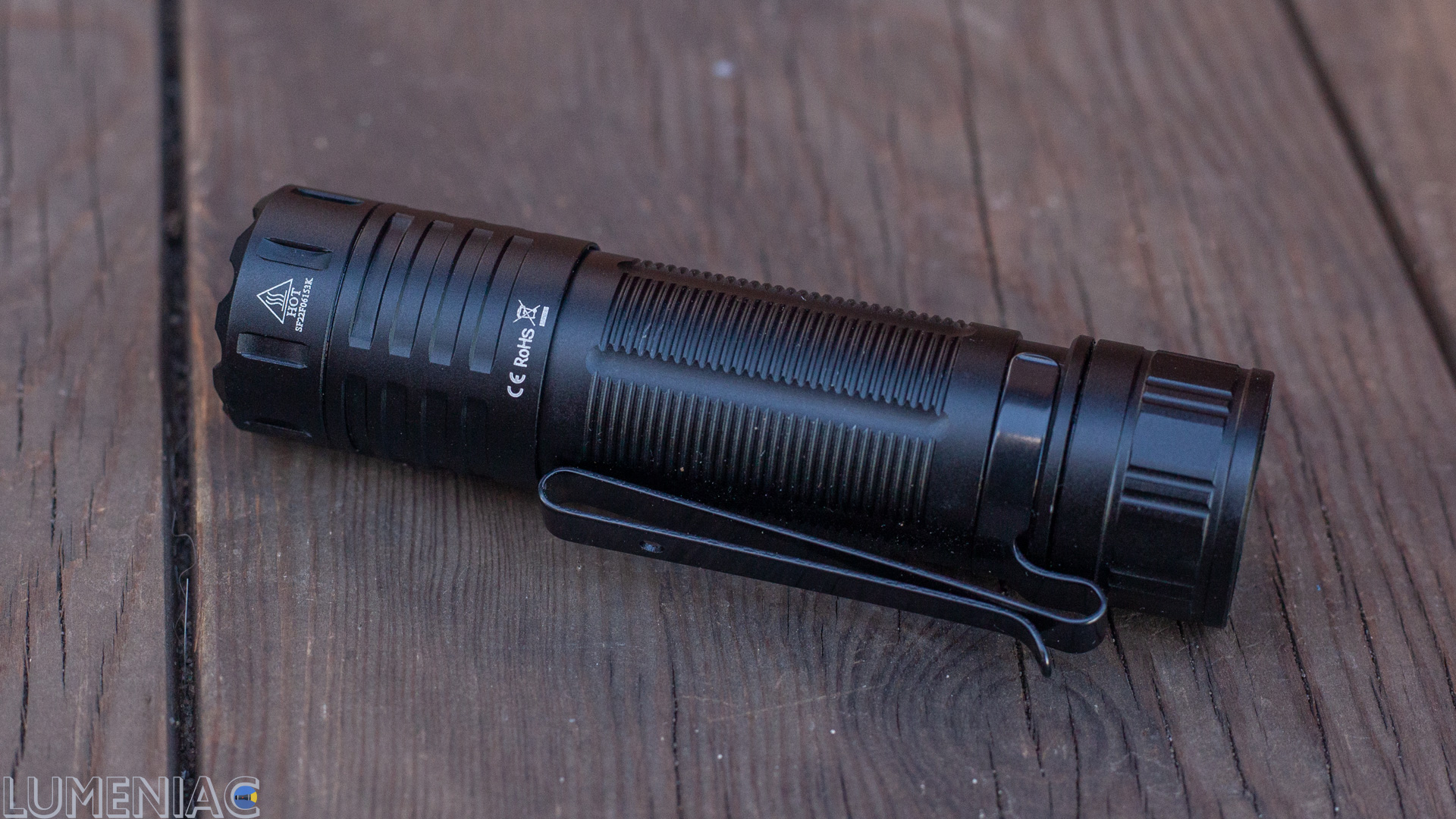 Sofirn SC32 is best in reverse or cigar grips. Although I can't call a direct grip uncomfortable, despite the short body, the flashlight can be used without having to put your fingers on a hot head.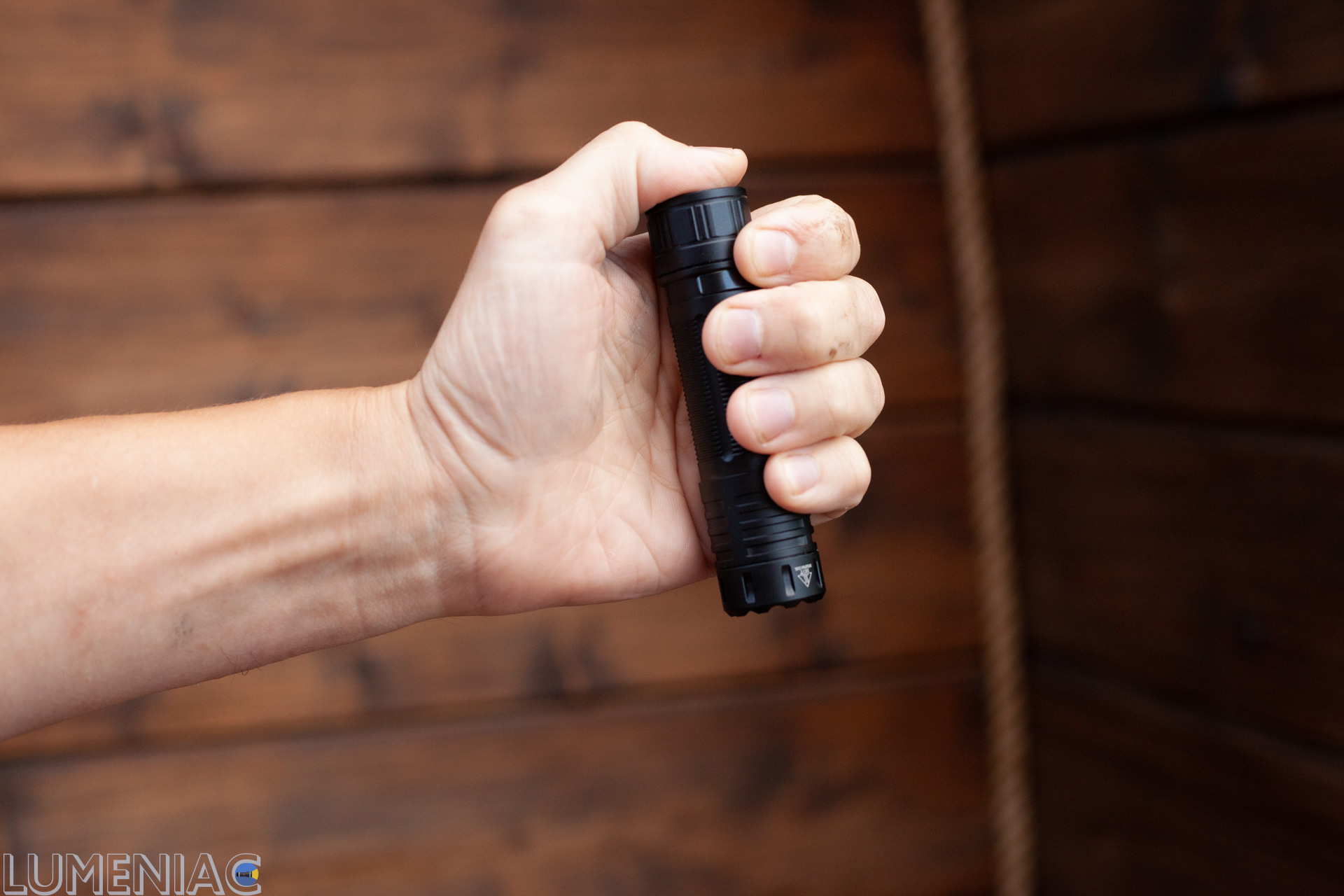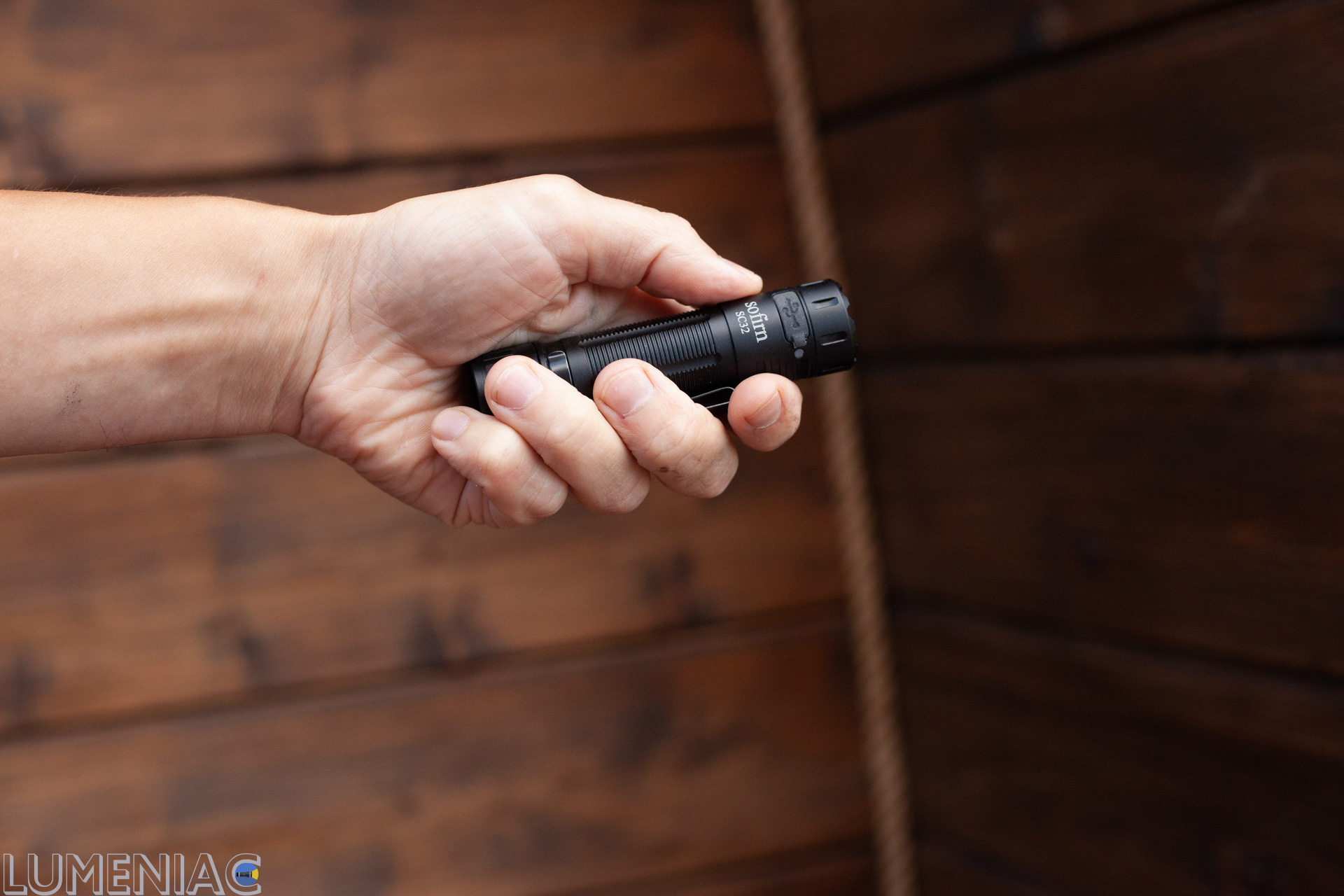 Actually, the head just continues the overall flashlight body. The cooling fins here are purely decorative.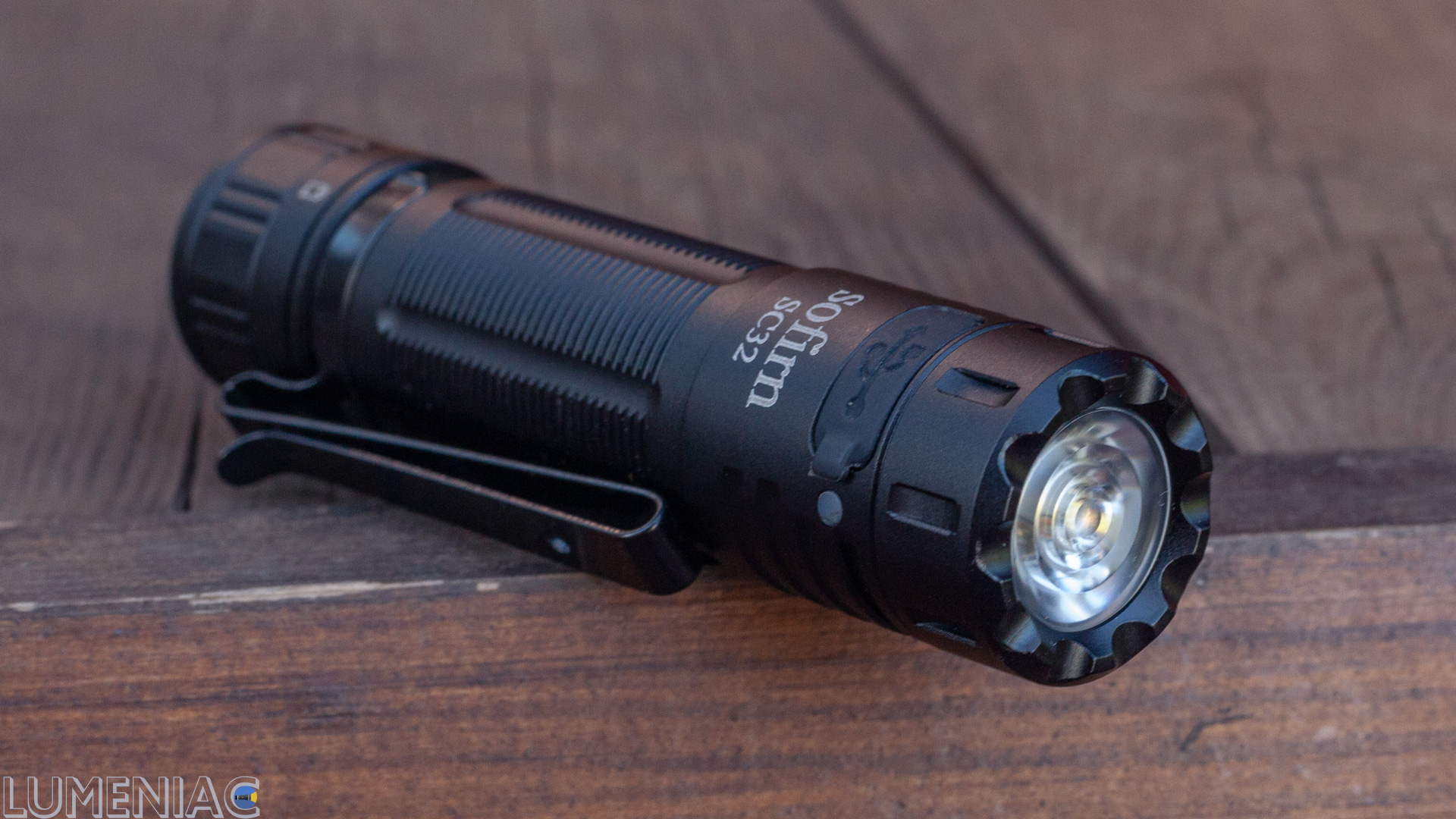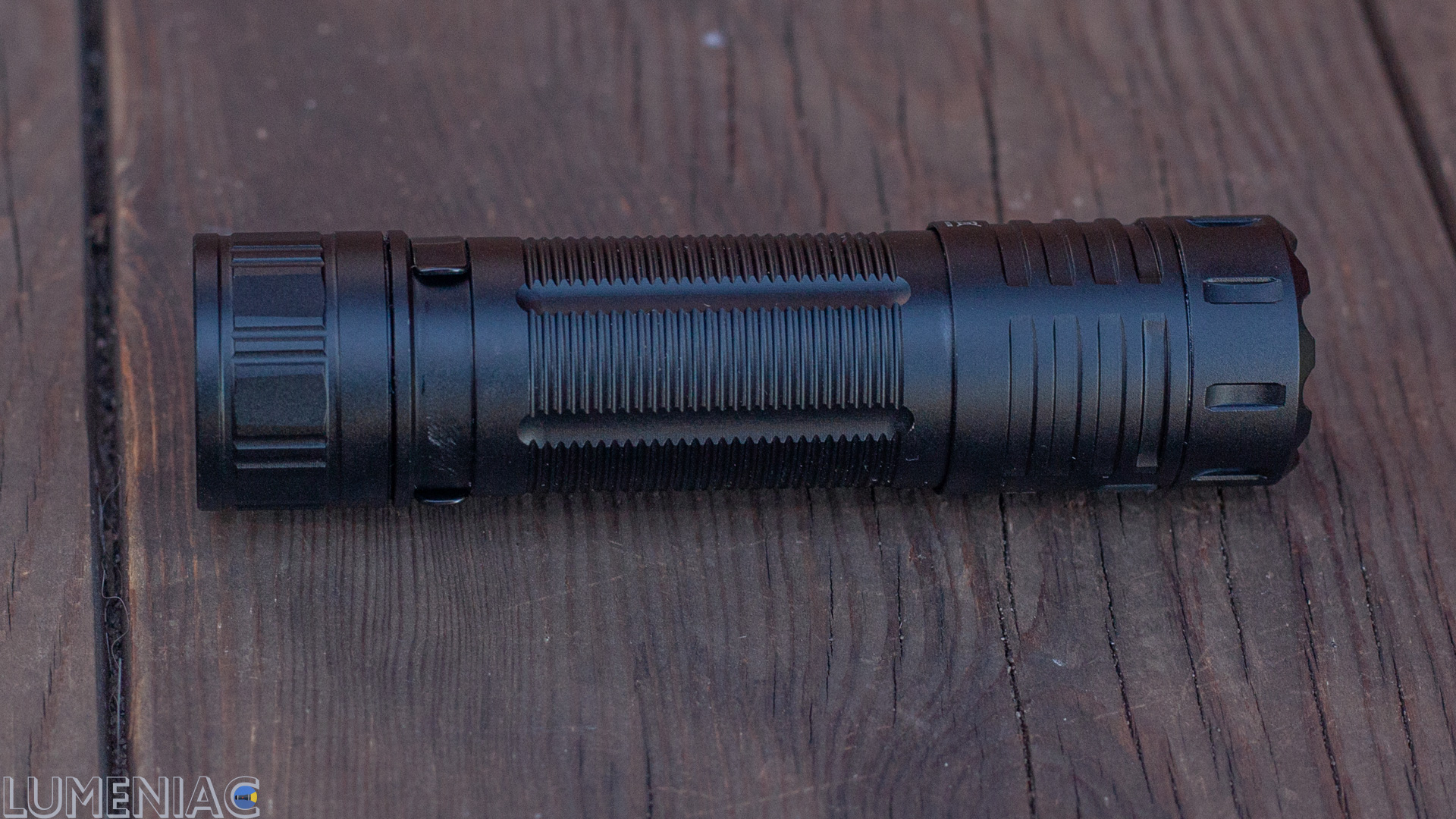 The Type-C charging connector is closed with a reliable thick plug. Small indicator window next to it. 5v2A charging, fast enough.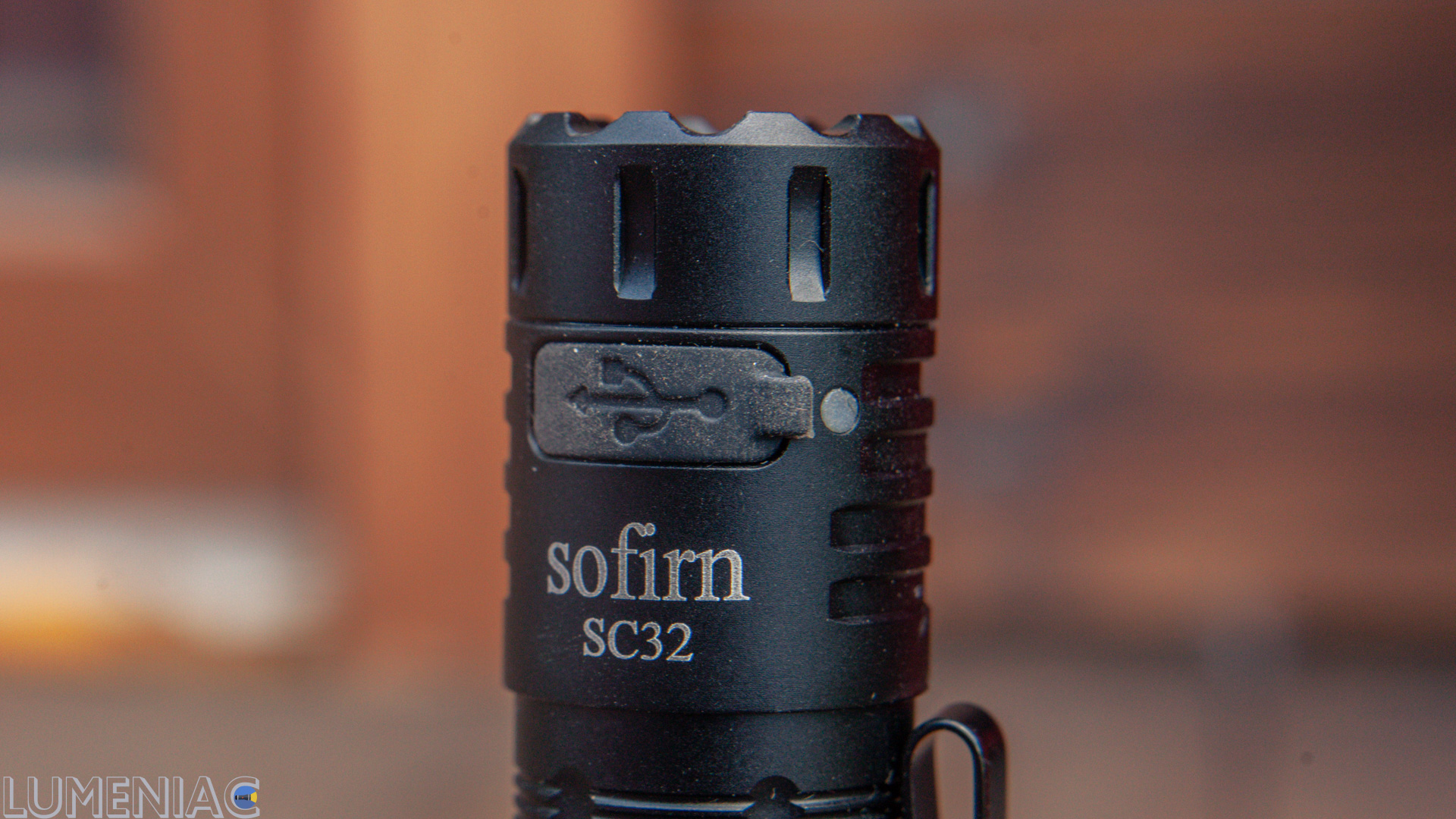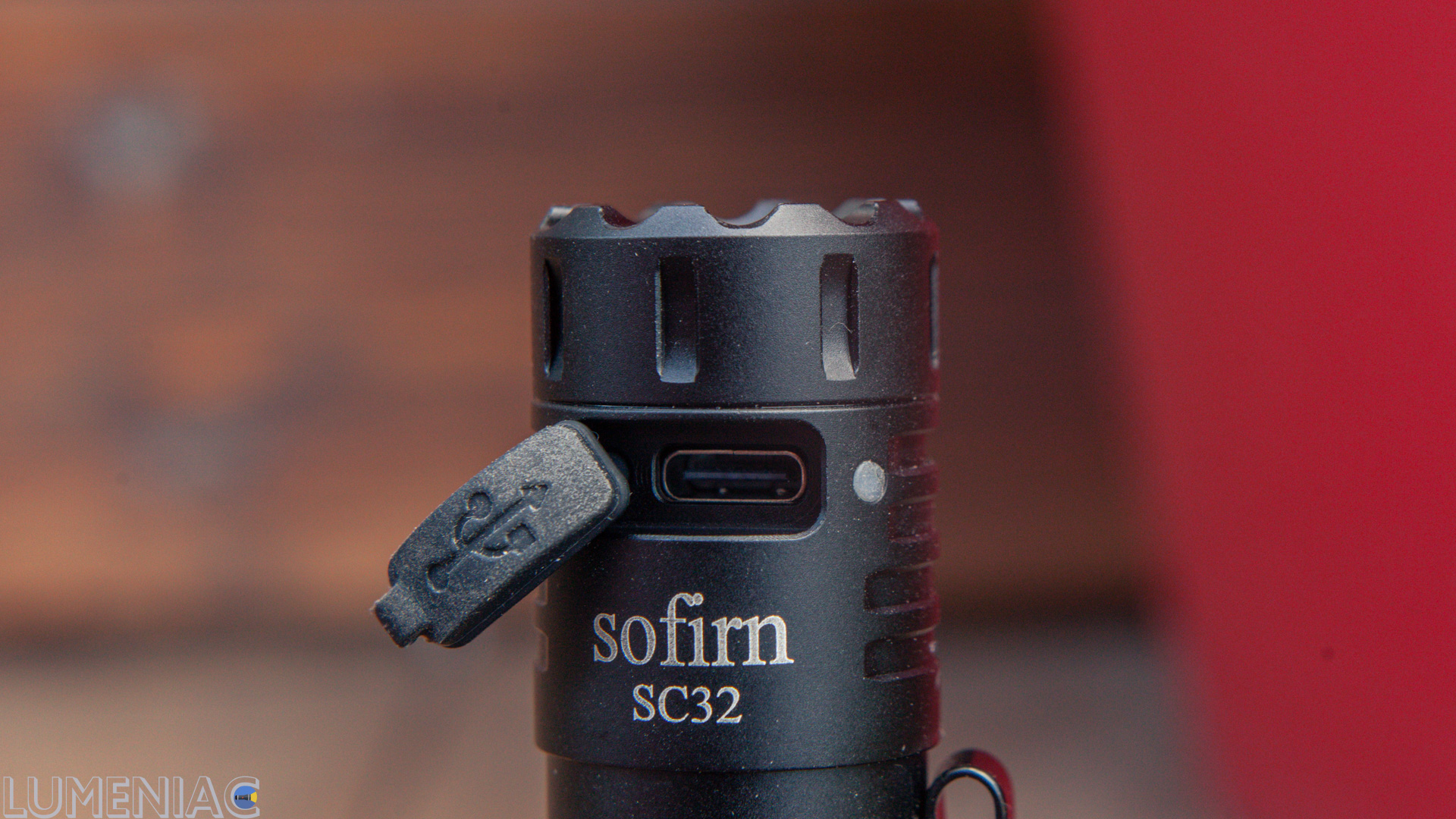 Quite unexpectedly, Sofirn installed a nice looking TIR lens here, which gives the flashlight a slightly more expensive look.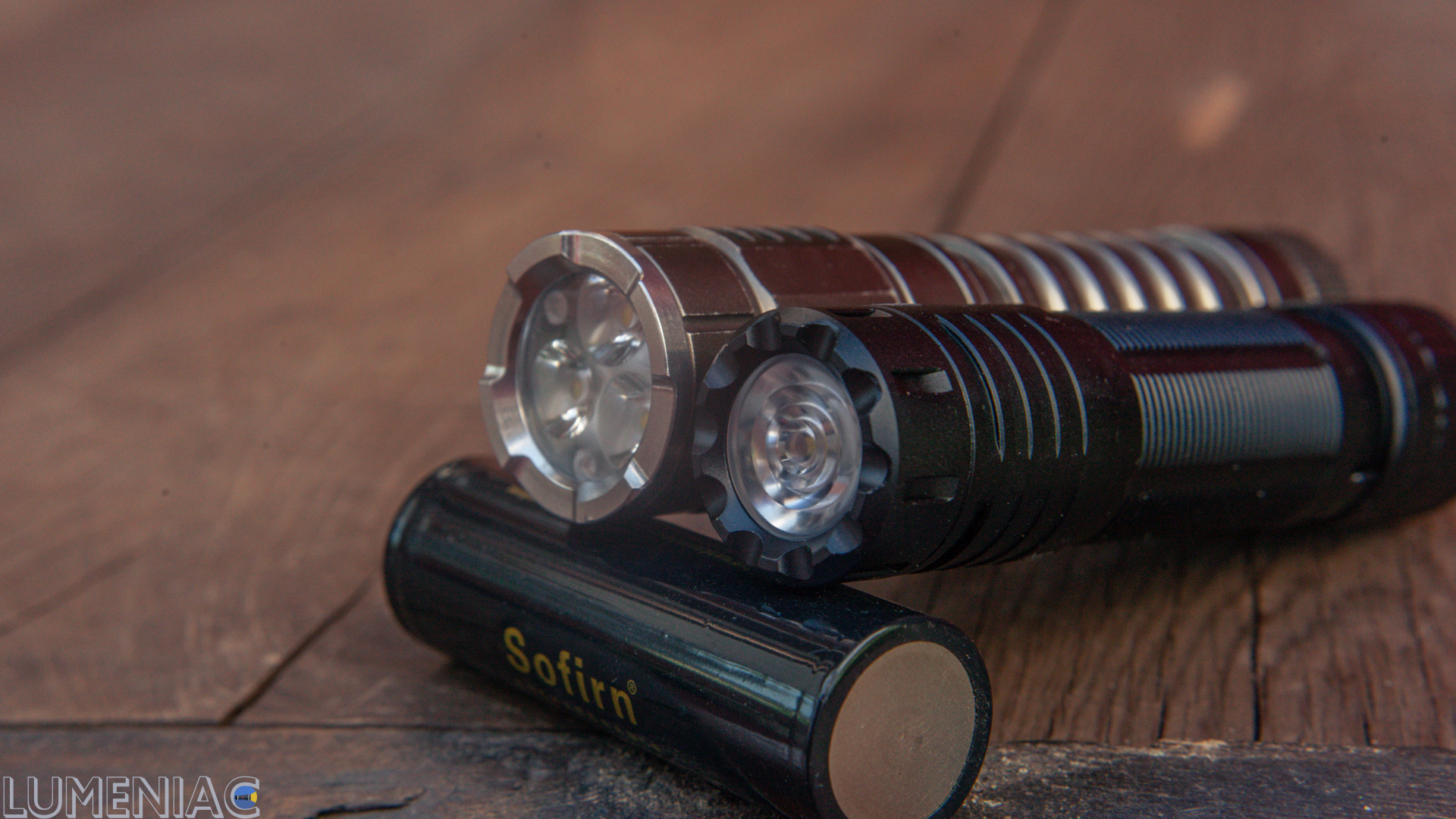 But we are not interested in what is outside. The most interesting thing is inside.
UI
the same good one
1 click - On / off.
2 clicks - turbo. What's interesting - 2 clicks in turbo launch moonlight from this mode (also can get to moonlight by usual button hold from off)
3 clicks - strobe
4 clicks - electronic lock/unlock
Switching modes - button hold from ON
There are memory modes and ramp mode
How Wurkkos SC32 illuminates
The flashlight has quite sane active thermoregulation without a visible saw. Well done. The flashlight, i suppose, due to its size, heats up faster than it cools down. But due to dimensions, there is sense to expect any constant work of modes above MID. However, this level is quite enough for ordinary purposes.
turbo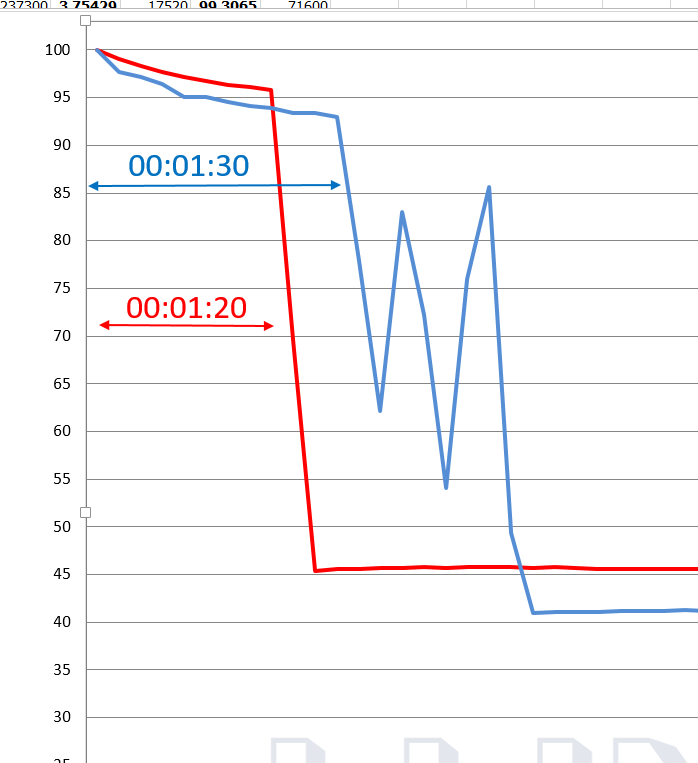 no stabilization -(
but i`m ok with it, lots of flashlights that i really use dont have stabilized light.
The flashlight has a _really _convenient light distribution from the standpoint of ordinary everyday needs. Do not expect any throw here, you can get some light in turbo no farther then 150m. Just a little bit light in short turbo. SFT40 model (discounted) has better throw, though.
The light is claimed to be 5000k, but in reality it looks much warmer. It can be comfortable from spring to autumn. But not when snow is around. I am sure that such an indistinct color temperature will only repel an experienced users, who acknowledged HiCRI.
Here is a clear difference with HiCRI light Acebeam Rider RX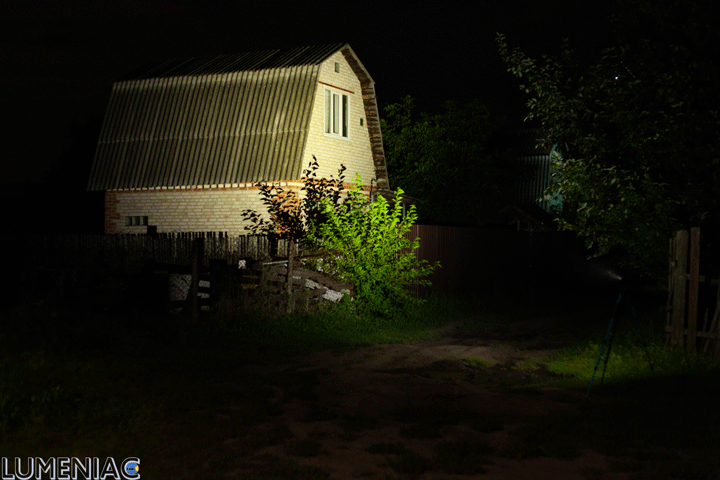 Although this ting is not disgusting, unlike for example Fenix ​​PD35v3 (this is one of worst looking green tint). Chances are high that you would just think this is 4000K, if you didnt know that this flashlight is claimed to be 5000K.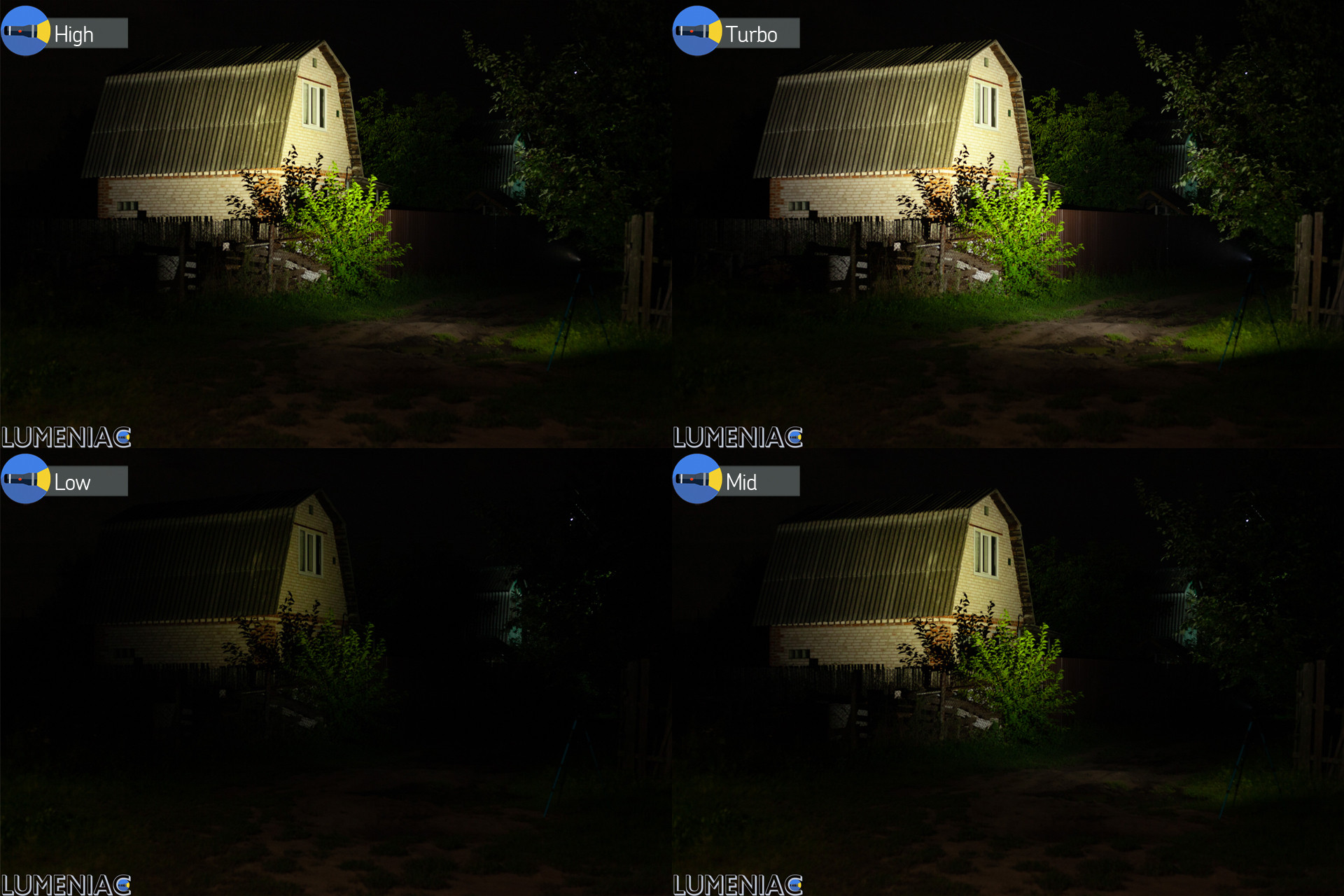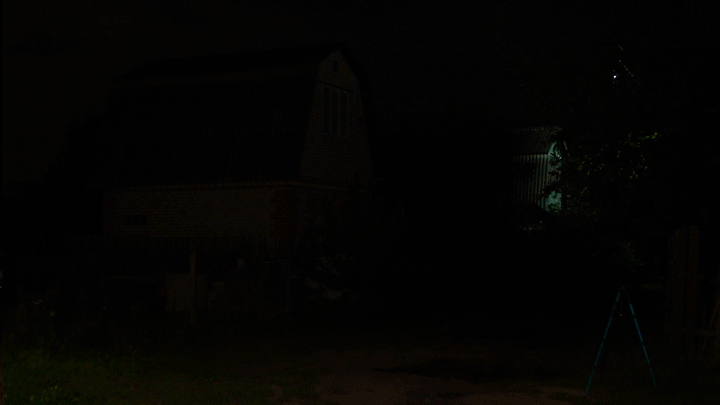 And here you can still see the classic cold light Convoy S2 + XML-2 3 * 7135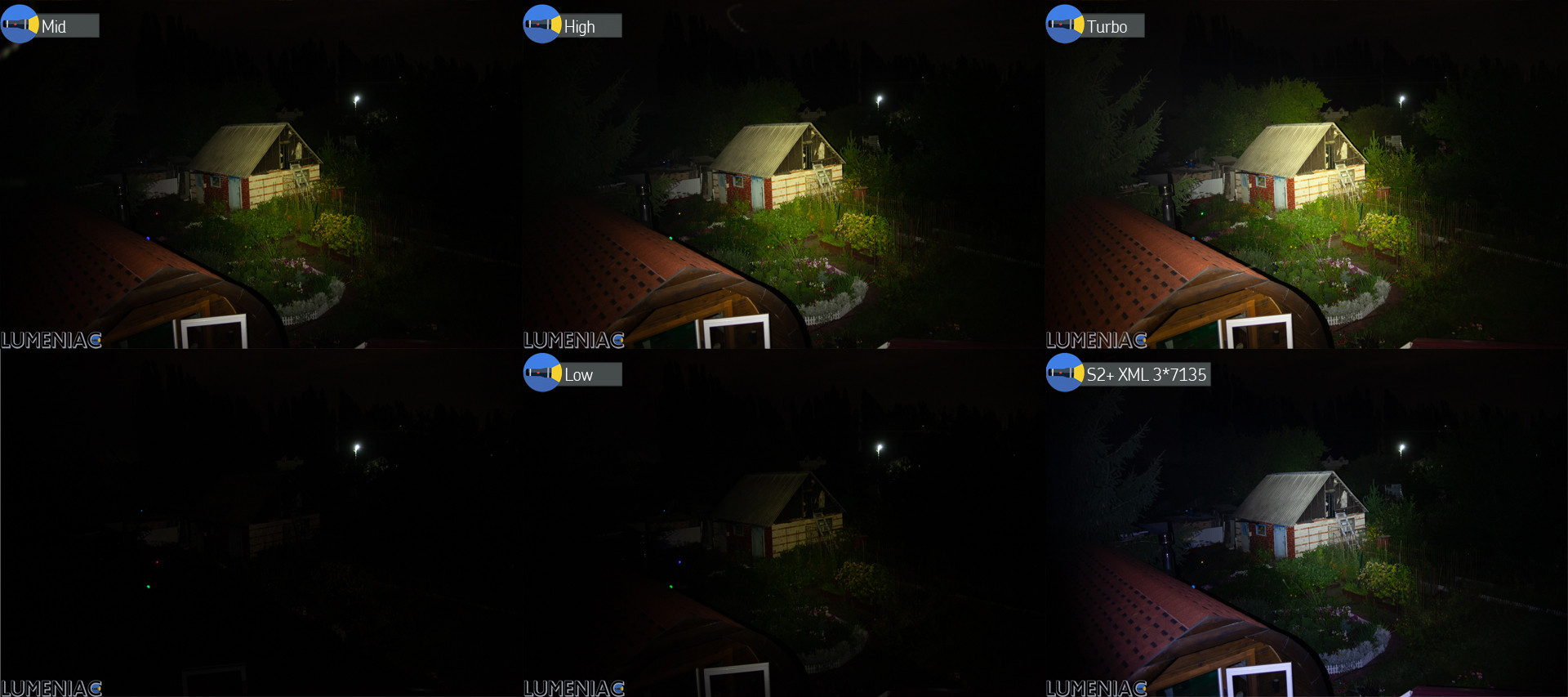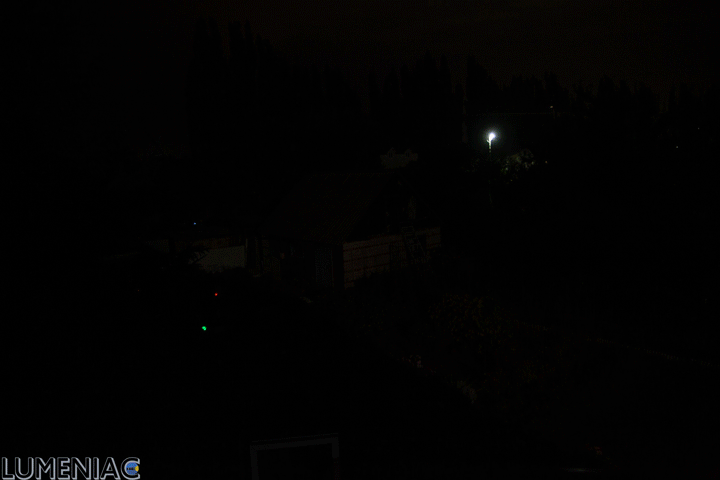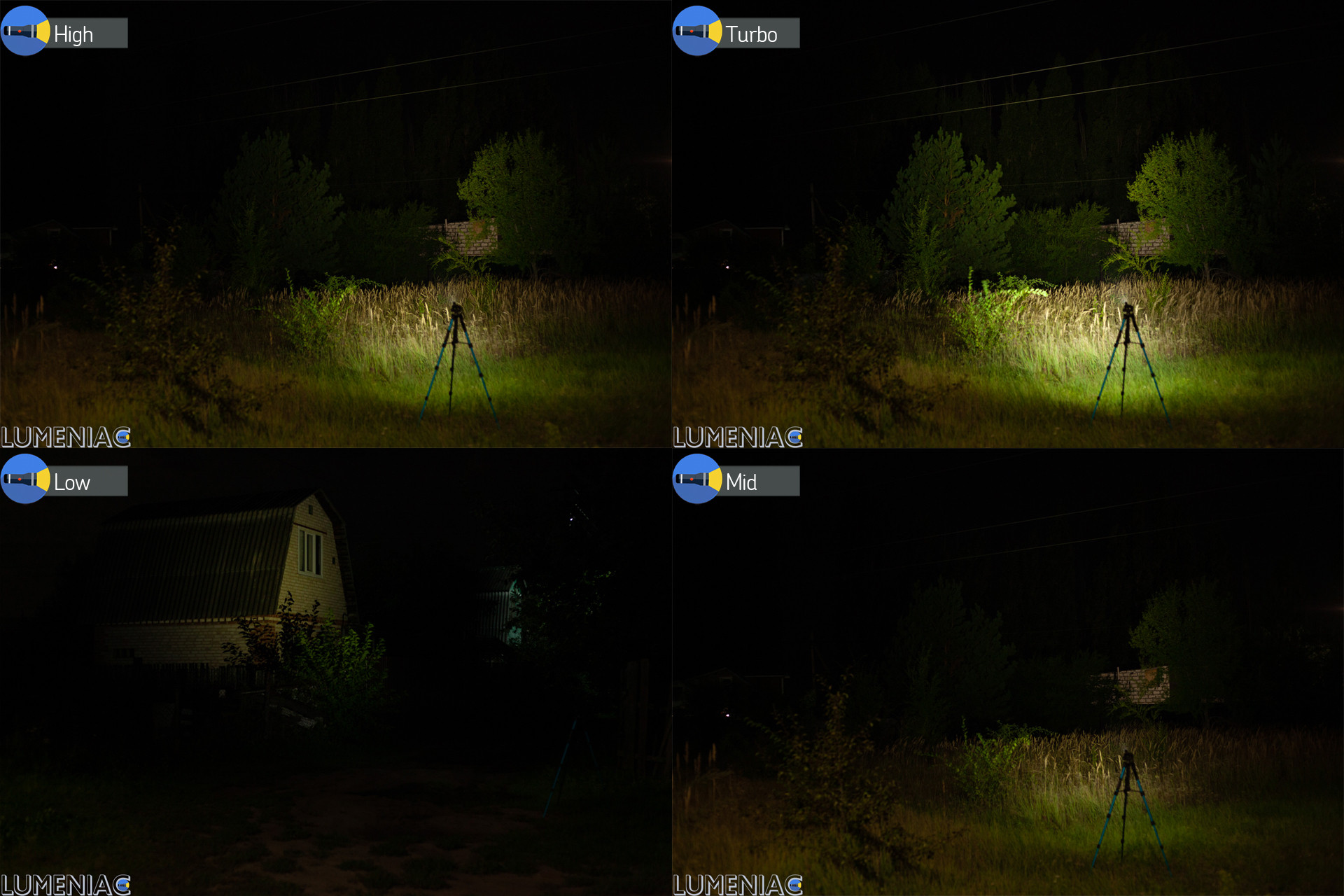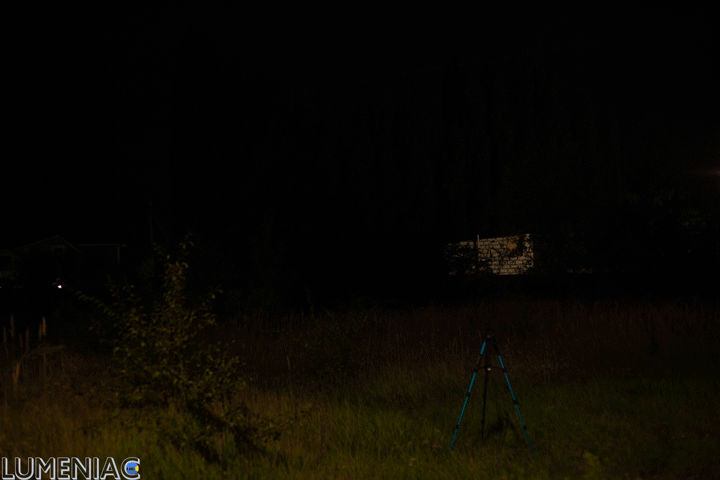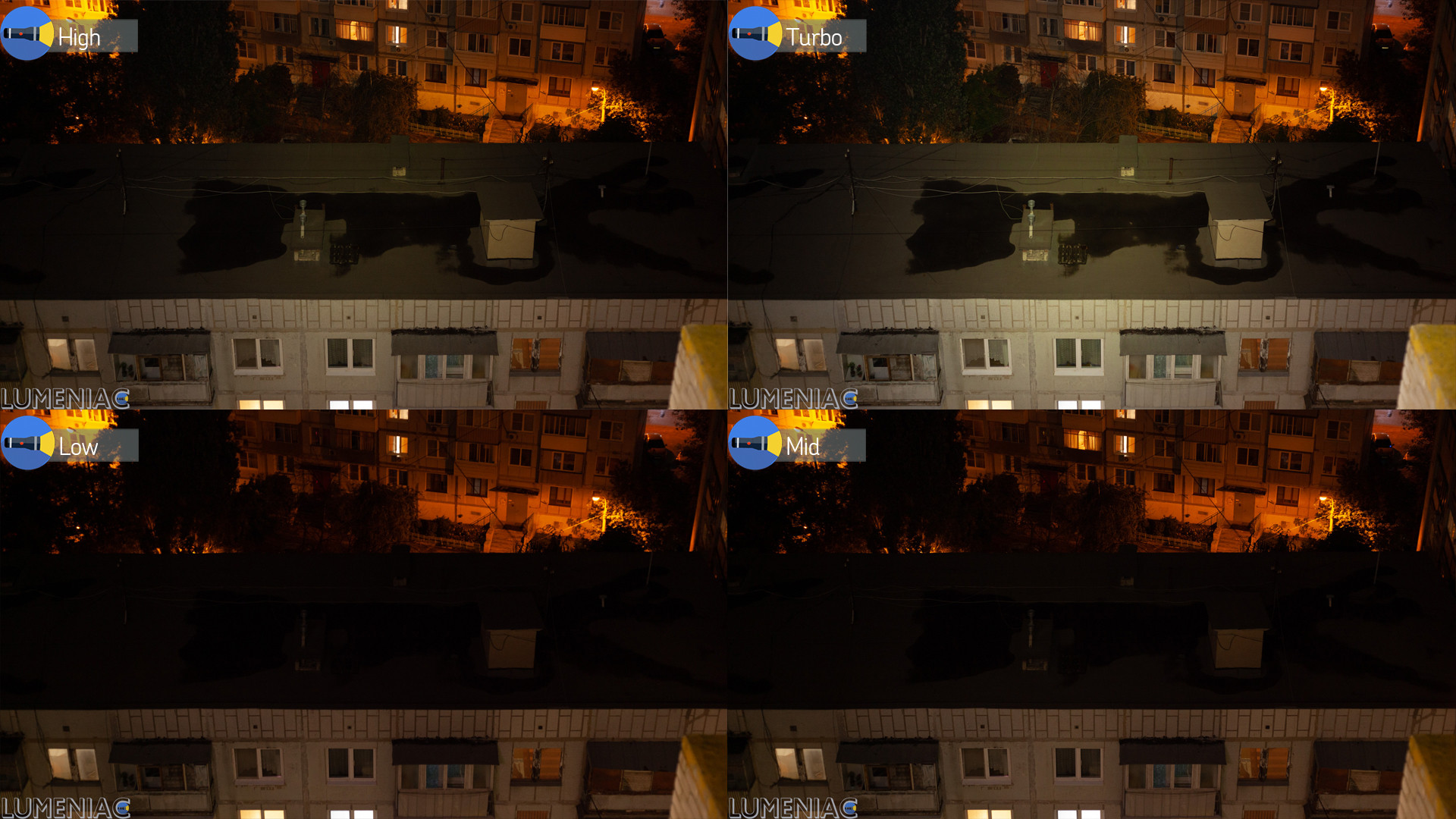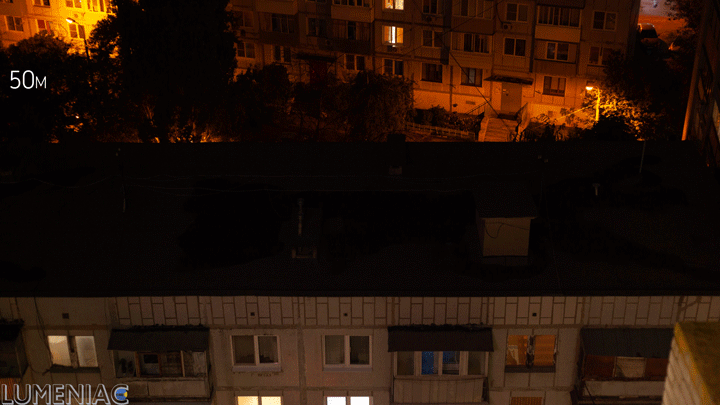 may be i will do video review later. not sure, tired of spending hours for 200-300 views.'
OVERALL IMPRESSIONS
Once again, Sofirn proves what this is possible to make a functional good flashlight 1\3-1\4 of price that big brands ask for 18650 EDC.
Actually, design here, as usual for Sofirn \ Wurrkos, is at the level of price. Though Sofirn SC32 certainly does not look like an basement craft, but if you put it with some EDC flashlight from Fenix ​​\ Nitecore and especially Olight \ Acebeam, then it is unlikely that your choice will fall on the SC32. But the mediocre appearance and super-budget package is actually the only drawback comparing to all these \big brands.
Because once you use Sofirn SC32, everything changes. The flashlight is unbelievably compact for 18650 model and so damn handy as a pocket flashlight. I see it primarily as an alternative to AA/14500 powered flashlights. It is symbolically larger in size, but at the same time it will work much longer (capacity of 18650, after all) and have a built-in charger that is *completely *unexpected for this size. Fast, Type-C with PD support. And not some kind of native, than some major brands sin. And the Sofirn SC32 will work confidently just at the level that you would expect from the AA \ 14500 model. Only it will work much longer.
The flashlight has a convenient UI with everything you need - from lock mode to instant access to the firefly and turbo.
Sofirn SC32 has bright light. Not cold, as usual with expensive brands. Addition of green and yellowness creates the impression that the light is much warmer than the declared 5000k and in summer you will not see this mixture at all. In terms of light distribution, the light is quite convenient at the most popular distance for EDC pocket flashlights - close range.
Thermal control here is surprisingly sane and does not drive the flashlight into the thermoregulation saw, as it could happen.
I note that the reverse side of such compactness is fast heating, and you should not expect a serious turbo in terms of runtime here, and flashlight will be able to fully sustain High only in winter. But! And this flashlight is not a turbopuff either, if necessary, you will have the opportunity to boldly reach out with a beam from the first to the 15th-16th floor
And all this, of course, most tempting advantage - low price. Sofirn SC32 cost like 18650 battery by big brand.
Tail button may be another feature that is matter of taste. I know this may be "STOP!" for some people and "Time to open wallet!" for other .
In general, I like Sofirn SC32. If we consider it exactly as the most compact 18650 flashlight, as an EDC with built-in charging for the most common needs, then it turned out quite well and the flashlight should go to its audience of ordinary users. It will likely repell an advanced audience with it`s only, but alas, critically important drawback for a lamp gourmet - an admixture of yellow-green light. Well, if you are not a gourmet and your goal is to get the most compact pocket flashlight with an 18650 battery for a small price, and not to sacrifice functionality and convenience, then I am sure that Sofirn SC32 will not disappoint you.
If compact dimensions are not the main thing for you, then you should look at something else, because compactness is expected to turn into a short operating time in higher modes. Here Sofirn SP35 or SP33S or Wurkkos TS21 look much more interesting.