A short while ago I voted "over three volts" in the "how low do you go" forum poll. The idea was to give the standard low voltage recommendation of the major manufacturers a fairly wide berth. Having ripped my fair share of laptop packs and tested my fair share of cells I am well aware that initial voltage is no indicator of the potential health of the cells. A BLF member (EAS?) has opined that the danger of internal shorts occurs in cells that have been discharged past the manufacturers recommended safety limits under load and that cells that fall into this danger zone due to self discharge may not be vulnerable to the development of internal shorts and spontaneous thermal runaway. I did some reading and I believe battery university agrees. I am not entirely sure where the low voltage limits may lie as protected laptop packs should never over discharge under load.
Some folks who presumably know more than I, have use two volts as their lower limit and found well behaving cells. I decided to go back through my buckets of rejected cells and pull out those between 2 and 3 volts that I had previously discarded as being too low a voltage and test them for general health and capacity. I ended up with 44 cells between 2 and 3 volts for further testing.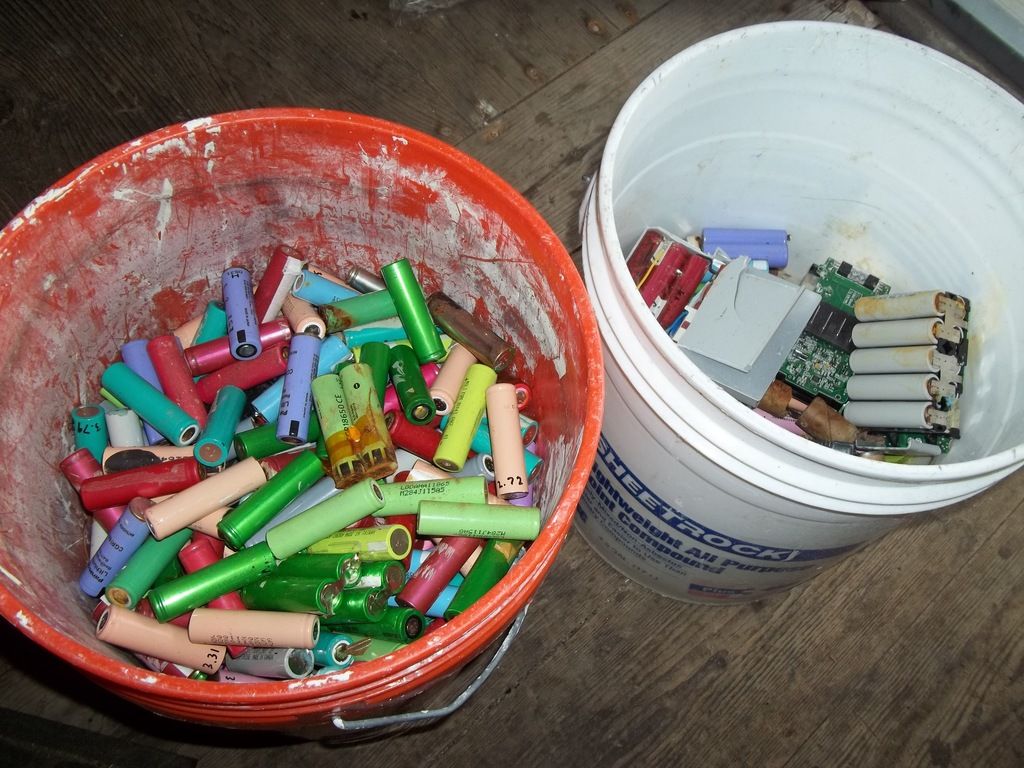 I then ran the cells through my standard testing procedure which consists of:
-Charging a subset of each pack's worth of cells.
-Checking for high cell temperature while charging. Hotties get tossed.
-Test for amp draw capability in a standard light. I test on a triple XP-G2 convoy S2 with BLF17DD and separate cells into three groups based on performance. Less than 4 amps gets tossed. 4-5 amps gets put in a box of marginal cells cause they're too good to toss and too crappy to use. Over 5 amps get set aside for use or storage. Now that I have an OPUS I add a discharge test. Of the cells kept so far:
-Cells registering over 2000 mah get kept
-Cells between 1400 and 2000mah get put in the "meh" box.
-Cells under 1400mah get chucked.
Here's what I ended up with.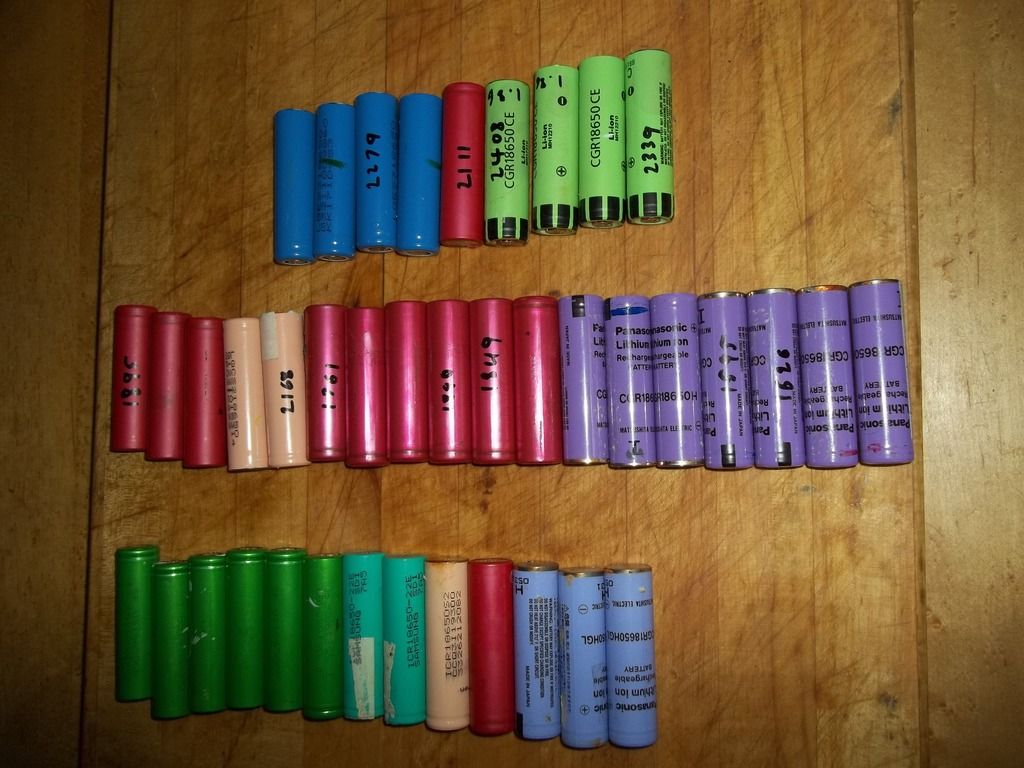 The 9 cells on the top were keepers plus six more I didn't photograph for no particular reason. The two lime panasonics turned out so well I dug back through the bucket and pulled out the pair at 1.86v to test. They were great too. 15 good cells total.
The middle batch of 18 were in the marginal group including the two peach LGs that tested over 2000mah but gave less than 4 amps on the draw test. Weird.
The last batch of 13 went back in the buckets.
I'm not sure this post can help anyone but I have decided to use 2v as my new cutoff and can't decide whether to recycle my buckets of duds or start an Ultrafire business.