Can somebody tell me what those lights on the very left are??
Hi cornholio,
The first picture on the left is Apex 5T6 which it handle been stick with Carbon-Fibre look-alike sticker.
Second picture on the left most is Zebralight SC31Fw, which I also wrapped with Carbon-Fibre look-alike sticker on its body, same as it sibling on the right, a SC51w
Feel free to ask & welcome to BLF

in process of buying these:
Nitecore TM 15
Thrunite TN 31
I've begun with the TN 31… if needs be then, the Tiny Monster.
Also a charger… Jetbeam I think… Nitecore, Jetbeam, same same.
Pictured are the Fenix E21,Solarforce l2,l2m,Sipik sk68 Heat treated and sanded,Mxdl 3w heat treated, mxdl, Solitaire. Have some homemade paracord lanyards on a few as you can see.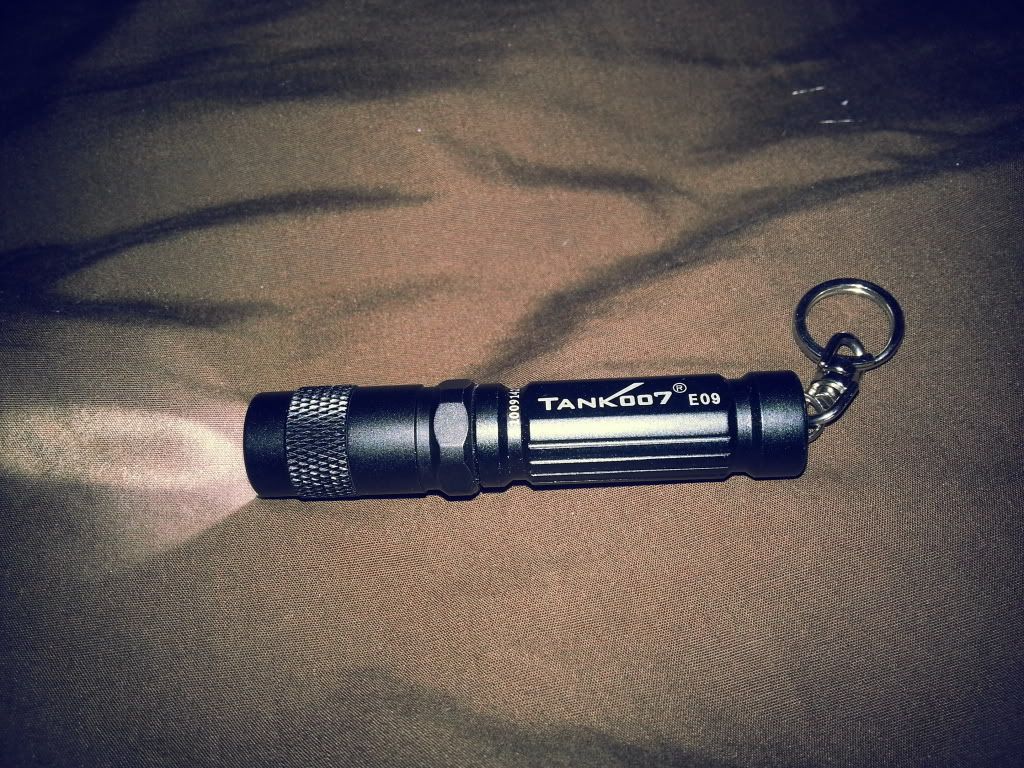 1. Nightwatch NS59 v2 9x SFQ 60.3
2. Astrolux MF01 18x Nichia 219c
3. Astrolux S42 Nichia 219
4. Astrolux S42 XPG2 CW
5. Astrolux Copper X5
6. BLF Sofirn LT1
7. BLF Q8
8. BLF Q8
9. BLF GT
10. BLF GT 70.2 3000K
11. BLF GT mini CW
12. BLF GT mini NW
13. BLF Chronos X5/X6 Boxed Set
14. Convoy C8 mod Mtn Ele XinTD 5+A XM-L2 U3 dedomed
15. Convoy S2 Nichia UV
16. Emisar D18 18x SST-20 3000K
17. Emisar D18 18x Oslon Reds
18. Emisar K9.3 9x E21A 2000K 3x SST20 6500 WW Switch
19. Emisar K1 SBT 90.2 5700
20. Emisar KR1 All Cu W2 6500K
21. Emisar K1 W1 CW
22. Emisar K1 W1 Green
23. Emisar D1S
24. Emisar D1S modified with W1
25. Emisar D4 V2 WW 4x SST-20 3000K RGB aux
26. Emisar D4 V2 CW 4x SST-20 6500K RGB aux
27. Emisar D4 S NW 4x XPL HD 5000k Red aux
28. Emisar D4 S NW 4x XPL HI 4000K Cyan aux
29. Emisar D4 S NE 4x XPL Hi 5000K Green aux
30. Emisar D4 S WW 4x SST-20 3000K Amber aux
31. Emisar D4Sv2 CW 4x SST20 6500 multi aux Cyan host
32. Elektrolumens FireSword IV
33. Elektrolumens Big Bruiser Tri DeDomed 90CRI XM-L2s
34. Elektrolumens Big Bruiser Tri XM-L2 CW
35. Fire Foxes FF5 100W HID
36. Fire Foxes FF5 100W HID
37. Fire Foxes FF4 60W HID
38. Fire Foxes FF3 40 W HID
39. Fenix HL55 NW headlamp
40. Fenix LR35R
41. Fenix Tk16 V2
42. FireFlies E07 7x XPL HI 4000K Purple aux
43. Haikelite MT09R NW 3x 70.2
44. Haikelite SC04 4x SST-20 4000K
45. Jetbeam RRT-M1X Raptor LEP
46. Jetbeam M2S Raptor LEP
47. Lambda VL Hydra 4XM-L 4D
48. Lambda VP Hydra 3XM-L CW
49. Lambda VP Hydra 3XM-L NW Optics
50. Lambda VPT Prototype 5700
51. Lambda VPT 3 SMO SBT-90 MB
52. Lambda VPT 2 4D 6500 SBT-70
53. Lambda VP2000 6500
54. Lambda VP2000 6500 DeDomed
55. Lambda VPT 4500
56. Lambda VPT3 4500 DeDomed LOP
57. Lambda VP1000 DeDomed SST50 Custom Host
58. Lambda VPT2 XM-L
59. Lambda VPXM-L 3c
60. Lambda VPXM-L 3c
61. Lambda 2D XM-L
62. Lambda 2D XM-L
63. Lambda VPT2 XPG2 Dedomed
64. Lambda XML 2c
65. Lambda XML 2c
66. Lambda Keyring Locators (many)
67. Lumintop CL2 (lantern)
68. Macs SST50 Drop in 4500 4DMag
69. Mag*64656* 275W 24V bulb powered by 7 26650 IMR cells (No.2 on most powerful Mag mods)
70. Maglite MagCharger
71. Manker T01
72. Neosekian Legion II SST50vn 4.6A modded w/ WWI XM-L2
72. Neosekian Legion II MCEvn modded to 4.5A WW XM-L2
73. NiteCore Tube
74. Noctigon M43 Stone White 12x Nichia 219c
75. Noctigon M43 Sand 12x Nichia 219c
76. OMG DEFT with XPE2l and pre collimator OMG upgrade


77. OMG DEFT with R2 pill
78. ThruNite TN42 NW
79. ThruNite TN40S NW
80. ThruNite TN40S CW
81. ThruNite TN32 CW
82. ThruNite Cat 6 NW
83. ThruNite Cat Mini
84. ThruNite TH-20 NW
85. ThruNite Archer 2a v3
86. ThruNite Ti NW
87. ThruNite Ti3 V2 NW
88. Solarforce L900 SST P7
89. Supbeam K40VN
90. Tiabo A10
91. Vesture of Blood HiCri 3c XML2
92. XANES KT XP-G3+UV 350LM 3Modes Rechargeable Mini LED Keychain Flashlight
93. Xeno E03 WW
94. Xeno E03 WW
95. Xeno E03 NW
96. Xstar D31 Howitzer
97. Mateminco FT01 SFQ 43
98. Mateminco FT02 SFH 55.2
99. Malkoff XPG2 Maglite drop in
100. Kel-lite 7D
101. Maxtoch L2k LEP
102. Noctigon KR1 W1 red
103. Noctigon DM11 W2 blue
104. Nightwatch NS59v2 9xSFQ60.3
105. JETBeam RRT2 Raptor SST70
!
!
!
!
Some of what goes into Varapower Lights, Copper works wonders

This is a comparison of this light (camo VPT3 SBT90 MB VS a top binned and dedommed , old P bin (now called N bin) VP2000 both direct Cu mount


The light on the Left is the VP2000 and still is around 1800 Lumens OTF— Oh my what a difference a few bins and reflector will due. Both are 6500k, but dedoming lowers the appearant Kelvin temperature
Mag LED VPT2 XP-G2 OSTS modded TN31 and VPT2 XM-L


The modded TN31 was sold because the VPT2 XP-G2 modified with DEFT Lens and CF bezel like picture below was much much better thrower. I am one the few not a big fan of the body of the TN31. I think it's way too big in the hand because of the battery carrier and switching mechanism (LegionII style carrier-less, for example, and the teflon bushings and light spring return switch are significantly more ergonomic)
VPT SST90 5700K Prototype with OMG Lumens DEFT Carbon Fiber bezel and Aspheric

I would not recommend the Aspheric VPT in SST90, SBT90, or XM-L, only in XP-G2. Because the others are too large of a die. I know the SBT90 version has been tested to be over 360K lux, but the XP-G2 version is so much better that it's not even funny. The VPT2 XP-G2 with reflector alone throws about the same as an unmodified DEFT.
There are 2 of these DEFTs, they look the same, the one has an a R2, this one with the 5A. The other has been upgraded by OMG to XPE2 LR

OMG Deft X-RE and upgraded OMG Deft X-PE2 DeDomed LR

---
**Fire Foxes FF3,FF4— 4,000 and 7,000 Lumens of Incan like light in a light that is easily the brightest for it's size. 225K and 428K Lux

Lamdalights Keylight Locator, still running well remaining on only a few Months(runtime with some of my other units has been well over a yr)! with dedomed SST90 4500K VPT3
I'm very impressed by southland's collection. It's very very great

I have a few lights: Armytek Predator, Armytek Barracuda, Olight M21 and Olight T20. I think it's the beginning of my collection :bigsmile:
I am almost embarrassed to list my modest collection in such company but we all need to start somewhere.
LED lights owned:-
Thrunites
Ti (x10)
T10
Saber 1A
Archer 1A
Scorpio
Neutron 2A
TN31 XM-L2
TiKey

TrustFire
T2 CREE XP-G R5 (ordered)
I have more so I will update this list as and when I get round to it.

Incandescent
Pink polyethylene Eveready 2D, from the 1980s or earlier, with krypton bulb from the 1990s, recently sorted as my worst flashlight, heavily scarred, looks corroded but works with no recent attention
Tekna Monolith, waterproof and zoom, 1x Li 123, the plastic window or "lens" extends down inside the head so the whole light is sealed by a single sliding O-ring, krypton bulb, in day pack (My other two backpacking flashlights were a similar Tekna Microlith not zoom and with a longer lithium cell replaceable by two N cells, and a 69 cent 1x AA light. I also carried a stub of a candle and built a fire when allowed.)
Mag Light 2x AA, in the tool box of an old non-running sports car
Orange 2D cell Eveready with halogen bulb upgrade, from when my son rode home in the dark and forgot to bring flashlights back, very sharp focus
My wife's Mag Instrument Solitaire 1x AAA, focuses, left behind by some Stanford student
RayOVac focusable plastic 2D from Goodwill, krypton incandescent as acquired, sedan trunk
Solid copper screw head focus, 2D, "RAY-O-VAC CASE NO. CS22 BATTERY 2 NO. 2 UNITS LAMP NO. 1. PAT. DEC 3, 1929 MADE IN U. S. A." on a plate above the switch, "SOLID COPPER" on the body, "MADE IN U. S. A." and "T. NO. 1,774,722" on the switch, E10 krypton bulb now (not sure what the older one is but certainly not original), not quite as bright as expected, $10 on EBay, worked after cleaning and working the switch
~
Small led, button cells
Pen with white led and red laser
Red laser
4x Inova micro lights: red from Fry's, white from OSH given away, red from Inova lost by kids, a third red, 2x 3V 2016 Li, they survive spit and hand sanitizer even though they have no O rings. 3 mode
Shake light with large clear case, to illustrate that a changing magnetic field causes an electric field. Does not work well.
Crank light that doesn't work well, white led, from Goodwill
5-3+10 changing color rgb keychain lights, non-waterproof switch, cheap source of 2016 Li button cells, 2x 3V 2016 Li, from KD
1-1+1 UV keychain lights, from KD
White, black key chain light, maybe from locksmith
Eight Titanium Innovations button lights from Battery Junction, 2 UV, 2 red, 2 white, one green, one blue, all very nice.
Silver and purple rectangular light in travel briefcase
Keychain mini-Leatherman-like tool, takes all of one side, similar to key chain light
Red led on a cigarette lighter, acquired accidentally
Joke red and green led wedding ring with big plastic purple jewel
Most of the button cell lights are about as bright as the 2D incandescents.
~
Small led, flashlight batteries
4D lantern style with led conversion, narrow throw, dark body with glow in the dark paint added in depressions, will be good for long power outages
Plastic light from REI with 2x 1.5 V Li AA cells and (unnecessary) large head, hybrid trunk
Inova multi-led light stolen from sedan glove compartment, Li non-rechargable
Small very cheap multi-led light, silver color Al, 3x AAA
Small very cheap multi-led light, red color Al, 3x AAA
Nebo A10G combination light, 1 white (unknown type) intermediate output, 5 green, 5 UV, 1 red laser, beautiful exterior, 3x AAA
Big head multi-led light, yellow, rubber on body, 3 xAAA
Wife's pink 1x AAA from OSH hardware
1 x AAA (acid) stainless steel Ray O Vac, with o-rings, 1 led with lens and reflector but fixed focus flood beam with spill, larger than Mag Light Solitaire, as bright as button lights, forget where I got it.
2 pack of old type plastic Eveready 2D lights converted to 1D led for $3.60, including batteries— super budget flashlights (labeled as marked down from about twice that price). These are almost identical to the orange incandescent listed above. Similar to the silver multi-led light in output and probably vanishing wholesale price, but narrow throwy beam and much longer run time and lower operating cost by about the ratio of sizes of AAA to D cells.
I got them with the intention of converting one to a liquid cooled 2D XM-L light.
I suppose the conversion from 2D to 1D was to save the cost of a second dry cell. Perhaps one of you in a less wealthy part of the world can tell us if these are common there. It is a little surprising to find something so economical in the Silicon Valley.
~
XP-E and such
Nebo Red Line AT10J from brother, 3x AAA metal ring XR-E led, nice Flash Gordon exterior, showing off skill with NC tooling, shiny finish, my first high output flashlight (ignoring the Nebo that was lost right away)
Sipik SK68 type, XR-E or XP-E, AA/14500, shape copied from Nitecore Extreme:
1 Mode Sipik, bright silver, XR-E
3 Mode UltraFire with next mode memory and longer lens motion, wider flood, Q5, clip removed, in hybrid glove box
3 Mode UltraFire, starts on high, Q5, sedan glove compartment
Sipik, black, 1 mode, gave to my son
No-brand silver, 1 mode, rougher shape, gave to a friend
Green Sipik, Q3, for giving away when camping
2 x Black Sipiks, Q3, for giving away when camping
Silver Sipik, Q3, for giving away when camping
Red XR-E "Q5", 3 mode, a few minutes of next mode memory but eventually goes to high, very large lens but no better throw or flood, small flood, ring around spot
Blue XR-E "Q5", 3mode, no memory, very large lens but no better throw or flood, small flood, ring around spot
Black XP-E Q5, 3mode, From Ali Express (Michael Blue), large lens, good knurling, O ring slide, no mode memory, best AA light
Most of these have been given away now.
Smiling Shark SS-8027 AA/14500, moving led (so better not 14500) but good fins on ring, XR-E "Q5", square knurling, similar brightness and current as SK-68, my most unusual led light
Sipik SK58, Ozram Golden Dragon led, AA only, nice square knurling, grey, less bright than and draws more current than an SK-68, small throw spot as bright as a 68- given away
Sipik SK58, Q5, from Alibaba.com, 3 mode, zoom is stiff
Big no brand movable led light, green ring, externally very nice but poor heat transfer and big for a XP-E Q5, 3xAA/18650, best throw before the big 18650 but small flood, wife has it. From DHgate, advertized and priced as T6.
My wife's Maratac solid copper, 1x CR123, Cree XP-G, 1.8, 50, 260 lumen, starts on low
~
XM-L T6?, 14500
TrustFire Z8, stainless steel and black anodized Al, trapezoidal threads everywhere, from Tmart. With the cheap Li ion cells I have, these are about the same brightness as SK68s with the same cells.
Second TrustFire Z8, from Alibaba.com. Appears identical but a bit cheaper and took longer to arrive.
~
XM-L T6, 18650
Sipik 73, warm silvery 5 mode, no memory, very compact. Best medium sized light. Does not fit protected Li cells.
Sipik 73 clone, no markings, not more fins but deeper, next mode memory, black Given away
UltraFire (not mentioned in description), longer, bronze color with shiny Al crenelated bezel and tail, 5 mode. From Meritline. This one disproves the idea that UltraFire pays attention to what their name goes on. It works as a cheap LM-L should, but the pill will cross thread when unscrewed just a turn or two. It is worse than any no-brand that I have. The pill is in my Eveready 3D XM-L.
No brand, longer, wider, silver or gold colored, best throw and best flood, head wobbles, 8 square fins on head, so big and heavy that the limited heat conduction to the fins on the head doesn't matter much. The pill is very long, most of what makes the light so long. It screws into the body and the head slides on it, but the screw and slide sections are short. From Meritline. Best light for home, lost, don't know where.
Raysoon RS-TD398, Sipik 98 clone, 3 mode, scaled up Sipik 68, black, next mode memory, spring and o-ring in slide. Smaller than the no brand and better cooling and wider flood than the 73s. Very nice knurling and finish.
UltraFire Sipik 98 clone, 5 mode, no memory, brown, slightly larger lens, slightly smaller throw but slightly smaller flood, a little brighter, knurling shallow. Given to daughter.
~
*= maybe 60*
Here are my multi-LED lights.
6 D Mag with TLE-300M Terralux LED Upgrade Bulb for 4-6 D-Cell Maglite®
Trustfire Tr-J12
Trustfire Tr-3T6
Dry cool white
Dry neutral
Dry warm tint
Fenix TK45
VPX light
SkyRay 3 X T6 three mode, no blinkie
Old Lumens Maglite special, 3 X XML neutral tint, powered by 6 AA nimhs
Fenix TK70
My non-budget lights.
Fenix TK40
Eagletac M3C4 single XM-L (2x18650)
4Sevens Maelstrom S12 Cu
Dereelight CL1H-T with XML warm tint
Dereelight Dereelight DBS-T with XR-E R2 EZ900 LED in an aspheric lense
Dereelight DBS-T with XML warm tint
Zebralight SC600w
ZebralightSC60w
ZebralightSC600
Xeno G42 v2 with neutral tint
Front row
2 x 4Sevens Preon 2 Ti limited run with serial numbers for first 1000 sold
Preon 2 Blue
Preon Blue
Preon
Fenix LD20 with diffuser
4Sevens Quark X AA2 Tactical with diffuser
4Sevens Quark Mini
4Sevens Quark AA2
Fenix LD01
Fenix LD01 SS
The entire last column of nine Preon(2)s are two neutral and seven Hi CRI tints

My budget lights.
Solarforce L2T
Solarforce L2T
Solarforce L2T
UltraFire UF-980L
The next three are Sipik SK68s red blue and green
Ultrafire Sipik SK68 clone
Ultraok Zoomie 1 X 18650
E1320 modded UF 2100 5 mode .002 candle mode with 5c tint
XinTD L2
Front row
Solarforce L2 with ThruNite P60L Style XML Neutral drop-in
Solarforce Blue L2P with UV drop-in
Trustfire X6
Solarforce Gold L2P with warm tint drop-in
Solarforce L2T with warm tint drop-in
My lanterns and headlamps.
4 X Rayovac Sportsman LED Lantern (SE3DLN)
Rayovac SP1W3AALN-BA Sportsman 65-Lumens LED Mini Lantern
Sipik SK51 with TIR lens
Solarforce Frankenstein L2T with Solarforce lantern attachment
Front row
Generic Rayovac headlamp mounted to Optical Industries Magnifying Visor
5 X Energizer Trailfinder Micro
Zebralight H501W headlamp
Zebralight H51 headlamp

-Maglite Solitaire( :bigsmile: !!!(my first light in ma'collection)).
-Fenix E01
-TANK007 TK-703
-Fenix LD01
-Ultrafire M5-R5
(I also have 4 Ultrafires 10440 (Greys), one Efest 10440 and a Trustfire TR-001 charger.)
Geia Xara, john.
This thread makes my wallet hurt!
I will have to take a group shot later tonight.
Convoy S2 DIY XML2 4500K
Convoy M2 2800mA 3c
Convoy C8 DIY (in progress…)
Maglite 2xAA
Maglite 2xAAA
Nitecore EA4W
Nitecore P25 grey
Nitecore TM11
Sigma sport ellipsoid
Zebralight H51w
Zebralight SC600
My group shot didn't work. Need a wider angle lens!

That's a really good suggestion .

Thanks!
Not even close to what some of you guys have. But you gotta start some where.
Goddamn guys. So many flashlights…
wow there are some great collections here ! maybe i should do a photo set of my lights after the new year. im guessing i past the 200 mark by now.
My collection in my display case. (Around the house and in my pockets are several more lights spreaded)
Not as nice as some of you, and as of now most of them are cheap, but since the last couple of months I'm more focused on better quality and brands.
Picture is not so great as I just took a quick snap shot with my cellphone.
Instead of buying better ones, you could fix what you don't like in the ones you have. That would be more fun for less money.