My brother(manxbuggy1) and I have just received a few of our lights back after having several mods done to them. These were done by a another member - unfortunately we don't have the skills needed. The mods were as follows -
——————————————————————————————————————————
SR90 - a SBT-70 (NA123) was directly bonded on a custom copper heatsink. The reflector was trimmed and adjusted on the base to allow for the thick copper
Sinkpad and for focus. Wires and connections was inspected/replaced as needed
.
TN31 - a XM-L2 U2 was installed on a copper Sinkpad. All wires and connections were inspected/replaced as needed.
.
TN31 - a XM-L2 U2 was dedomed and installed on a copper Sinkpad. All wires and connections were inspected/replaced as needed.
———————————————————————————————————————————-
Here are a couple shots of the nice work done on the SR90 -
.


.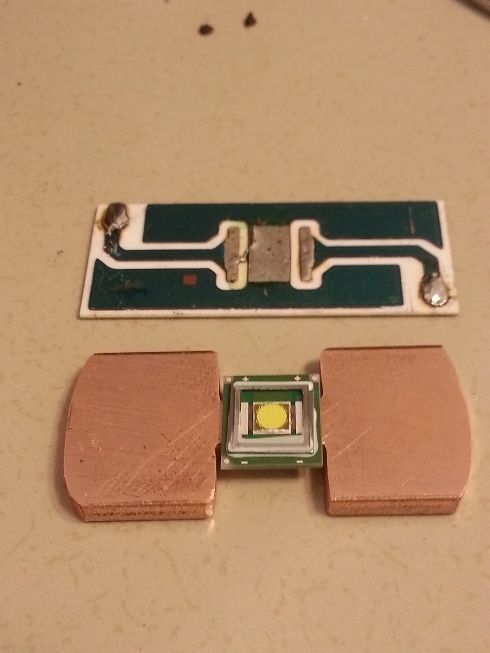 .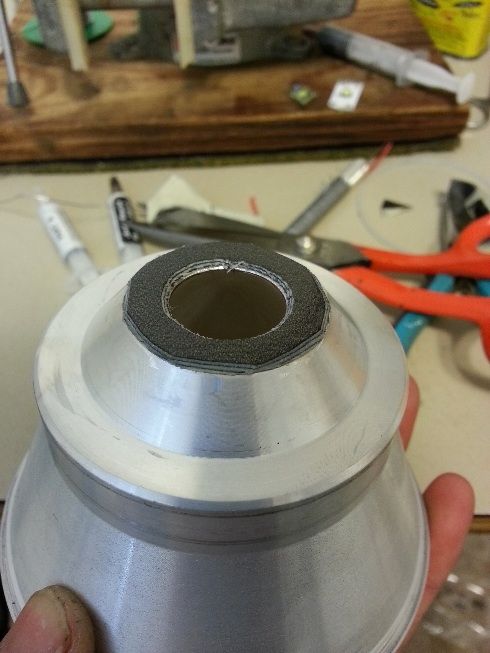 .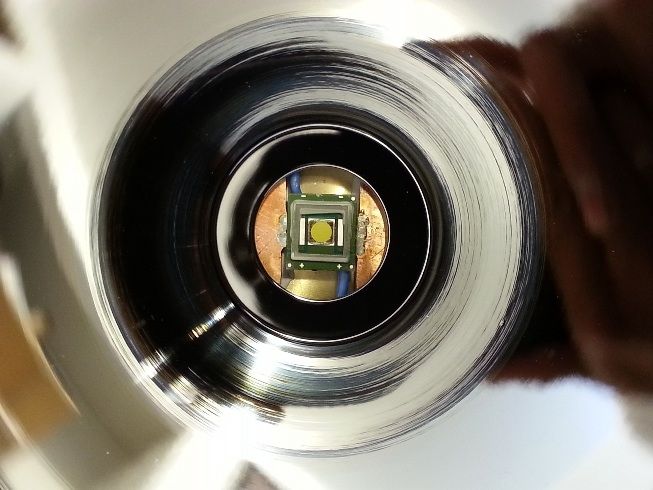 .
The results were nothing short of phenomenal. Check out the beginning and finished stats for each light -
—————————————————————————————————-
SR90 (SST90) 1950 lumens @ 30sec & 144kcd (stock light)
.
SR90 (SST90) 1275 lumens @ 30sec & 192kcd (dedomed by me)
.
SR90 (SBT70) 1685 lumens @ 30sec & 325kcd (new mods)
—————————————————————————————————
TN31 (XML U2) 1075 lumens @ 30sec & 122kcd (stock light)
.
TN31 (XM-L2 U2) 1275 lumens @ 30sec & 157kcd (new mods)
—————————————————————————————————-
TN31 (XML U2) 1130 lumens @ 30sec & 126kcd (stock light)
.
TN31 (XM-L2 U2 dedomed) 1115 lumens @ 30sec & 313kcd (new mods)
———————————————————————————————————
We couldn't be happier with these results. The SR90 is a freaking beast now. It took awhile getting the SBT70 with the best bin and it cost me $62 shipped, but I think it was well worth the effort. With my bigger reflector and higher bin, it is easily surpassing the SR95SUT now. And brothers dedomed XML2 TN31 looks almost as impressive as my TN31mb. The tints are very similar, but the TN31's xpg2 gives a slightly tighter beam. And the other TN31 with dome intact even had a nice increase. 200 lumens and about 35k - not too shabby.
And as a side note, we did the throw tests at 1m, 5m, 15m, 25m, and 50m. The 1m test was a joke - the SR90 SBT and TN31mb both test just over a 100k when so close. We were also noticing spots on both dedomed TN31's at 1m - both have a easily noticeable hole at the center of their spots - like a donut. Check this little shot at to see what I mean -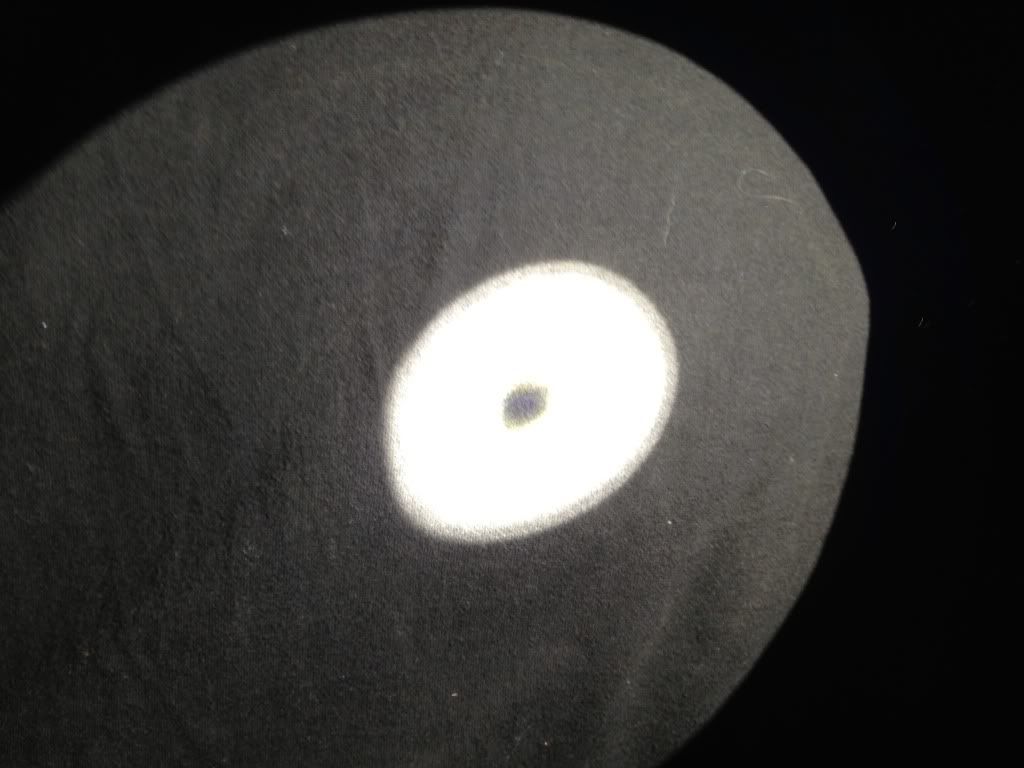 So way too close and no way you could get a proper reading at that distance. Next we measure at 5m - all were getting closer to columnated, perhaps 90% there, but not quite enough distance. By 15m all were getting the same basic peak readings as the 25-50m tests. So, with lights in this serious throw level generally I'd say 10-15m minimum is needed.
Since it is similar and also to verify a accuracy of my meter and lightbox, we also tested my TN31mb (758 lumens @ 30sec & 422kcd per tonite's testing), and its results tested within a percent or so of OSTS's official test numbers. So we know are numbers are correct and our testing method was done properly.
So next we decided to take all 4 of these beasts out and see what they would do with some quick beam shots.
Quick little note before I get to the shots. The first set we decided to try was a nice tree in a field that brother likes to shoot at on his way into work. It's on the side of a small highway. So 11pm at night we park on the side of the highway, jump out, get the tripod, getting ready for the first shot. Well 30sec later a cop in a patrol car with a spot light blazing pulls up behind us. It was a small town cop, and in this town they don't have so great of reputation. So the cop walks up wanting to know what we were doing. We explained our plans, showed him our lights, and even demonstrated a couple. We'll the cop was impressed and interested. He then pulls out his light, a Stinger I think, and shot at our same tree 300m away. Well, not spec of light got to the tree that any of us could see. The cop says looks like I need to charge up my batteries. He then started asking about our camera, more about the lights, and continued to talk a couple minutes. Eventually he just tells us to have fun, he gets in his patrol car and took off. This is now our 3rd encounter with law enforcement officers and all 3 were surprising pleasant. Nice to know we have some cool cops in the area.
So, now with the shots. First set is at 300m. A little more ambient light than we prefer, but was a nice tree to shoot at. Shots were not zoomed in. And we were on the side of a highway, doing quick shots - so some of the beams were not centered good on the tree. Here they are -
The contestants (note the colored bands so we could tell one TN31 from the other) -
.


.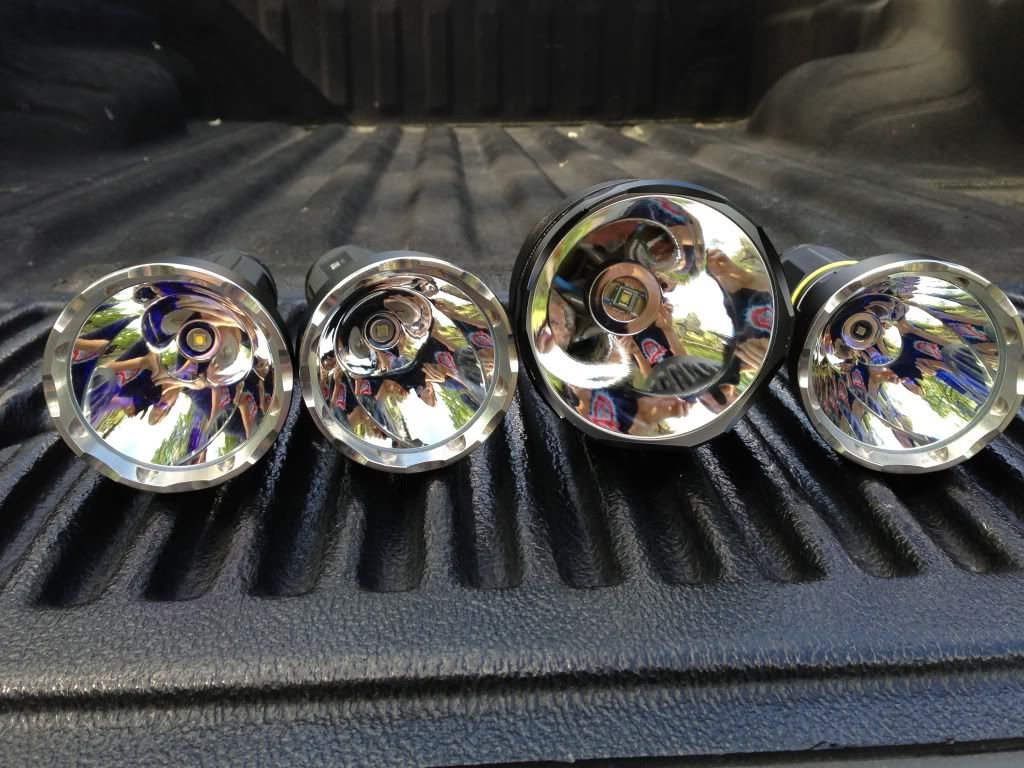 .
Control shot -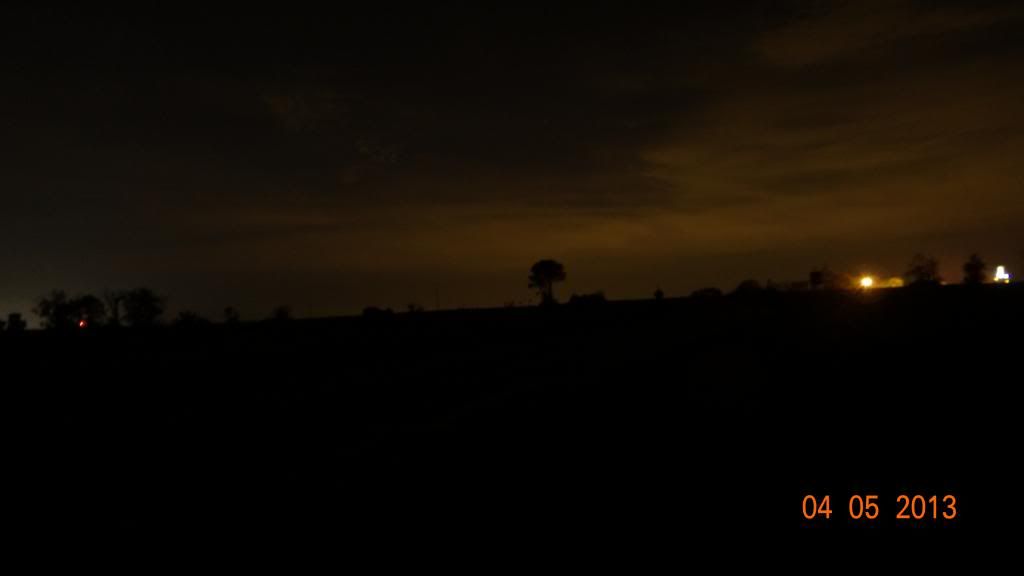 .
TN31 XM-L2 -


.
TN31 XM-L2 dedomed -


.
SR90 SBT70 (you can see our pretty Texas bluebonnets with it) -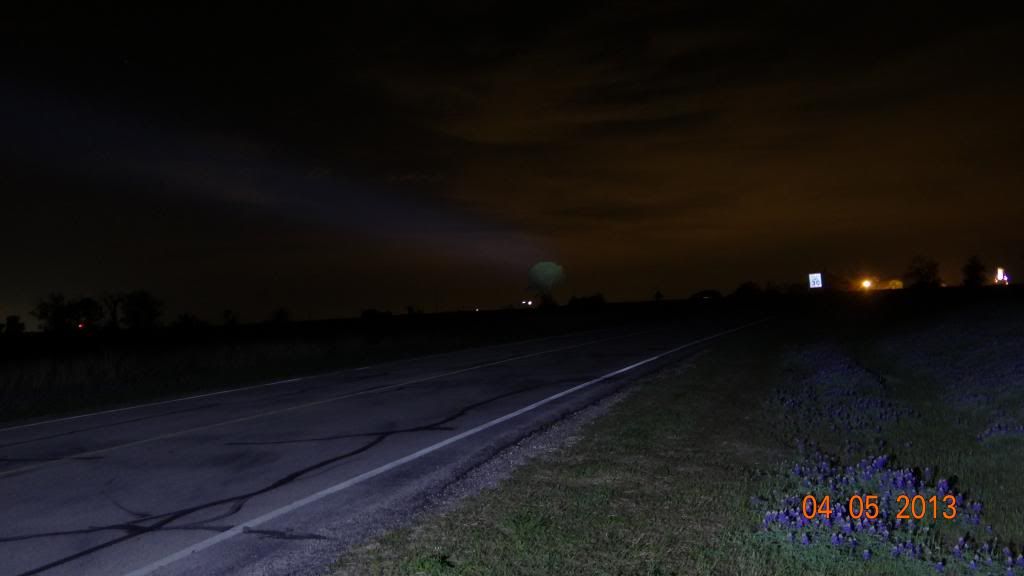 .
TN31mb -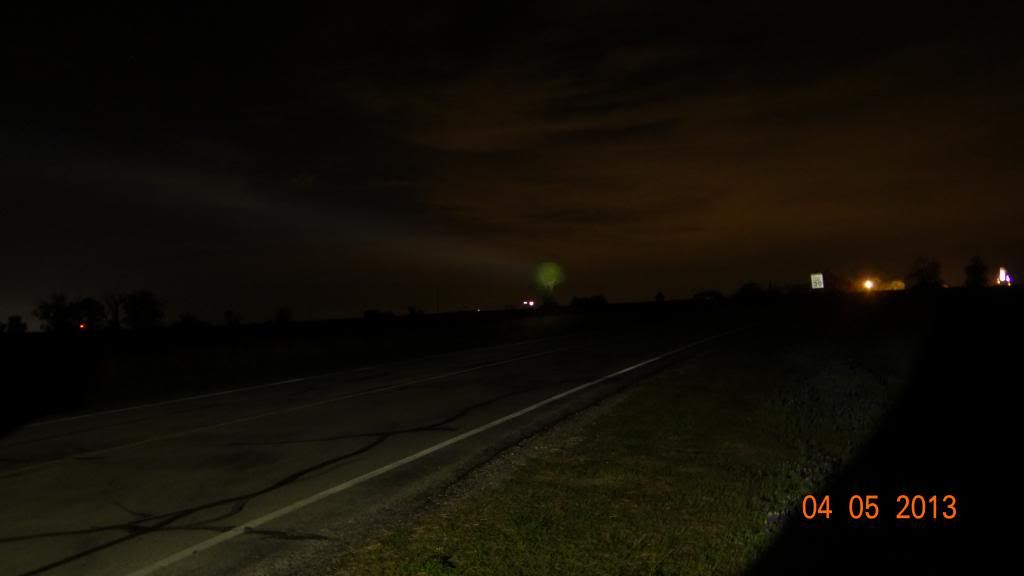 .
.
The next set was done in a nice dark park. Tree was about 110m. Taken in same order -
.
TN31 XM-L2 -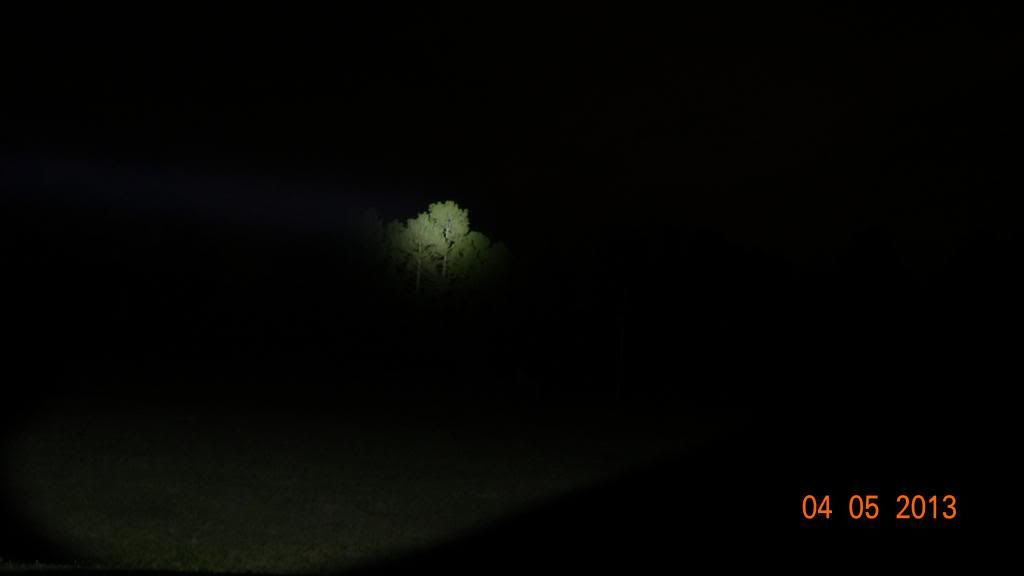 .
TN31 XM-L2 dedomed -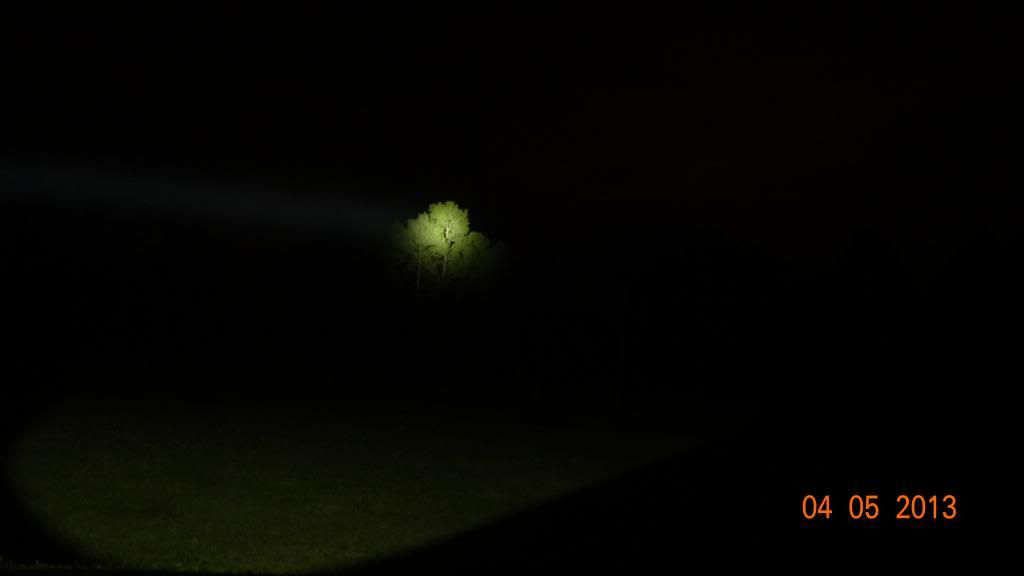 .
SR90 SBT70 -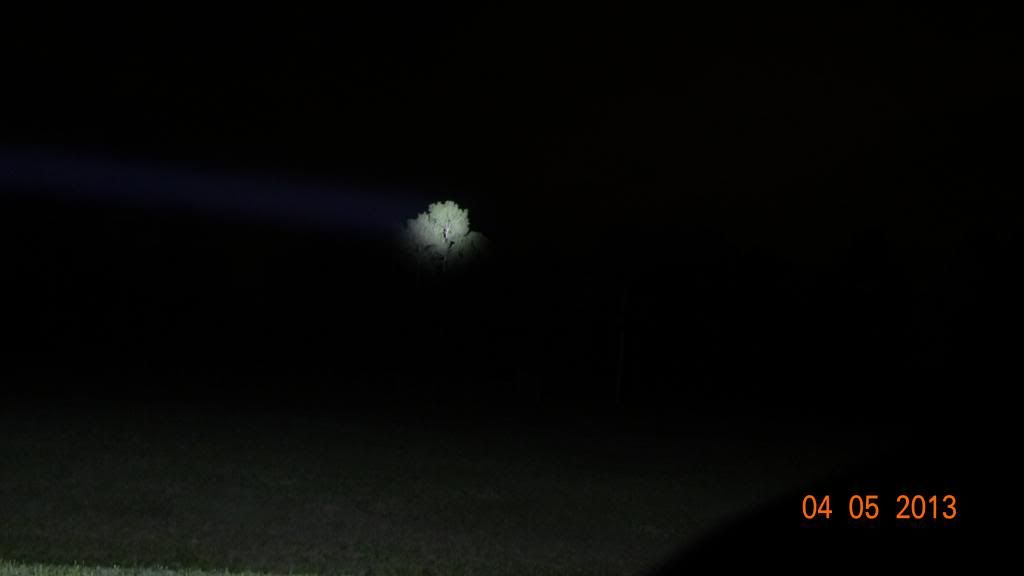 .
TN31mb -


.
.
The final set was another tree in the park. This one at about 150m. Camera was at more of a side angle to catch the beams themselves better. Pretty cool beams this time. And the camera was at the same settings. Again same order -
TN31 XM-L2 -


.
TN31 XM-L2 dedomed -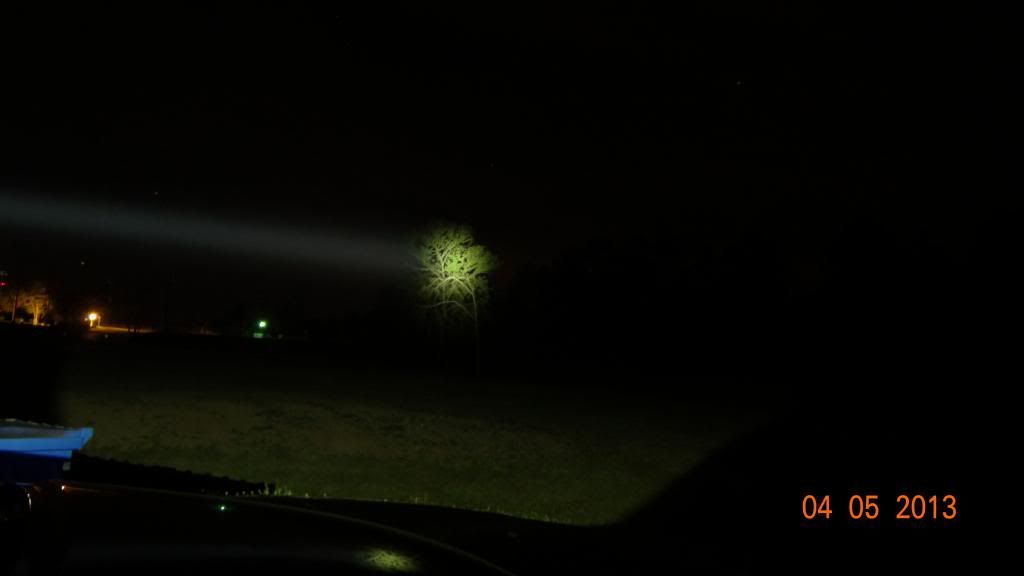 .
SR90 SBT70 -


.
TN31mb -