Hey everyone,
Just thought I would pass my little story along to anyone who's interested. About a year ago I bought some 18650 Ultrafire 3000's cells off Ebay, They turned out to be about 2200mah but for $3ea shipped I didnt complain much. So last month I bought 6 more. 2 where DOA and the rest went from 700-1400mah. Needless to say I was a little upset. After reading this post I figured I would try and get my money back https://budgetlightforum.com/t/-/881 Now if you read through it I think this is the same seller under another name.This is how our conversation went.....
"hello I bought a total of 6 of these batteries and 2 of them are completely dead and the other 4 only test to about 750-1400mah these are totally useless for me. Please send a refund."

He replyed back.... "HI, could you please test the batteries from multimeter to check their voltage?
Would you mine to send me a photo to show the problem of the defective item? I will do my best to resolve the problem for you.
Please send the photo to my email address: recyclepowers_cs@yahoo.com
These batteries were made for manufacturer use. The quality may not as good as the branded batteries, but the difference of capacity should not be this much.
Could you please return the batteries by the cheapest method if they are not working properly? I will full refund your payment + the returning shipping postage for you.
Or would you like to keep the batteries for partially refund your payment which can save from return postage and time from posting back the item?
Thank you"
My reply..... "Sorry I don't have a digital camera to post pictures, One of the dead ones read 0v and the other reads .43v after trying them on 2 chargers the results where the same they would not take a charger. The other 4 batteries only would put out between 750mah - 1400mah
I can not ship them back, The post office also has rules stating they will not ship batteries.

I would like a full refund, the batteries are fakes and are of no use to me, in fact I cant even throw them away they will need to be taken to a recycling center. The auction numbers are 160498935487 and 160498935395 My paypal email account address is ------- The paypal transaction numbers are Unique Transaction ID #6YF6016072967 and Unique Transaction ID #4YK64564AN061 Thank you for your quick reply.
I got a refund today
anyway I decided to take a few apart since their ALL getting recycled now that I know they are potentially very unsafe. The first picture of the "new" cells with the protection circit. Note the numbers do not match and they are put together very poorly. On one of them the PCB was lead was not welded on the negative end so it fell off when opened up. The plastic was very brittle and tore easially.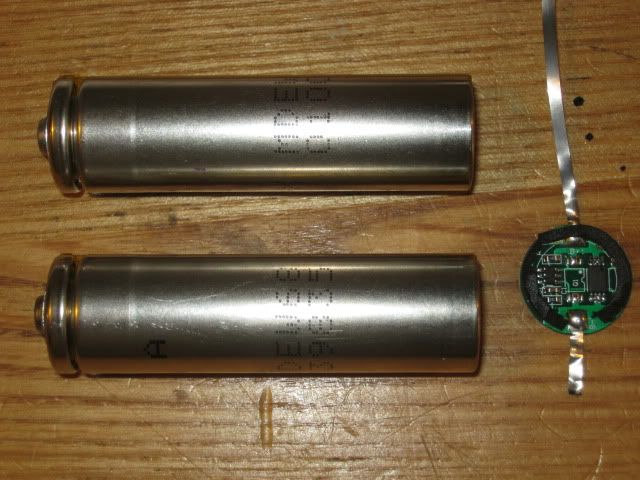 I won't be buying any of the "junk fire" cells again. I'm a pretty cheap guy but after all this hastle I am sticking with the Hi-Max cells. I don't think anyone has reported fakes on the Hi-Max cells. For only a few $ more I don't think you can go wrong.