There's a new small Triple XM-L form factor on the market.
http://www.ebay.com.au/itm/Ultrafire-UF-T70-3x-Cree-XM-L-T6-LED-18650-Flashlight-/330676024683?pt=US_Flashlights&hash=item4cfdd3b56b
Size: Length 17.5cm, Diameter 6.5cm
Weight : 830g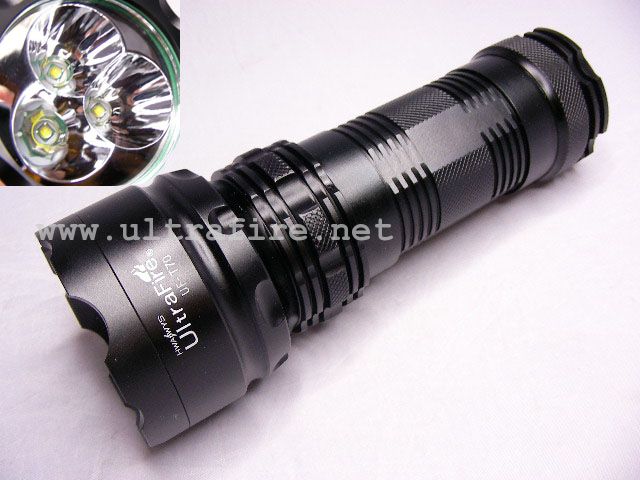 Bun of a sitch! And I just bought my DRY!! This body is SO much nicer than the DRY with the knurling and finning details. If the driver is up to snuff this would be one hell of a light. I wonder what it will end up selling for? Could always put a DRY driver in it and have performance AND looks.
I'm going to have to start saving up now to get one by summer time. I really like the looks of this over the DRY/Brynite. With the larger head it may throw better too if the individual reflectors are wider.
The design is definitely a nice one.
HKE says Max 2500 Lumens (factory rated)
Ultrafire says 2400 Lumens (Manufacturer rated) ...
This photo says 1800 lumens (1800流明)
The DRY is the budget model in this segment because it's the easiest to manufacture, the machining time is short, so the price is accordingly, fortunately.
That light is awesome. I just ordered a couple extra Dry drivers from Ric because I can see this one in my near future plus they are the best triple x driver I have found and only 5 bucks each.
Seems like a 350m throw as well. nice...
HKeq says H-L-Strobe but Ultrafire.et says H M L. I hope its H M L!!!
Looks great, let´s see how good is the heat management, I will keep an eye on it.
This one is supposed to be 830 grams, quite much more heavier than the DRY, 350grams. It will be very interesting to know how is it dealing with the heat, but considering the 2.6A, probably it will be fine.
That must be it. 830g seems too much.
They say 2000 lumens. Appear that everybody specs lumens differently for this flashlight.
Here is the descripition on ultrafire shop
Description

UltraFire UF-T70
CREE T6 XML White LED x 3
2400 Lumens (Manufacturer rated)
Emitter Color: White
Smooth Reflector
Tailcap Switch
Model: High , Mid, Low
3 mode Change
Lens:Coated Glass Lens
Type III hard-anodized finish
Battery Configurations:UltraFire 18650 x 3
177 mm(L) x 65mm (Diameter) Head
Mode Lock
Battery cap fully close - mode lock
Battery cap not fully close - mode change
If it has the same beam characteristics as the Jetbeam RRT3 XML, i will be buying one. it has similar head diameter: 65mm vs 67mm (UF:JB).
Wow…very nice! Price is not too bad if it turns out to be a good one.
Mode lock sounds pretty cool, but I'm guessing that would be lost of stock driver was swapped for dry driver?
Having toyed with my DRY for a few days, I no longer think the turbo is just for wow and wasting batteries - it is actually quite useful, despite the limited duration.
I like the look of this light, but would have preferred they just round out the body of the T60 for the additional cell :)
Hmm that is nice, hopefully the price will come down though.
Anyone order this yet? :D
great! do keep us updated!
Looks like Ric has the best price so far.
$82 ($10 off) if you purchase 5+. Maybe someone should try to setup a GB? I really like the look of this light but it's more than I can justify spending right now so I wouldn't be interested; maybe others would though once a couple of members have posted their impressions...