Today I have a newer light from Klarus the XT11 GT Pro. This is an update to a light that Klarus has made previously. Klarus (Affiliate) sent this to me earlier in the year for review, and I appreciate their patience as it took me a little while to get to it.
Watch this review on YouTube: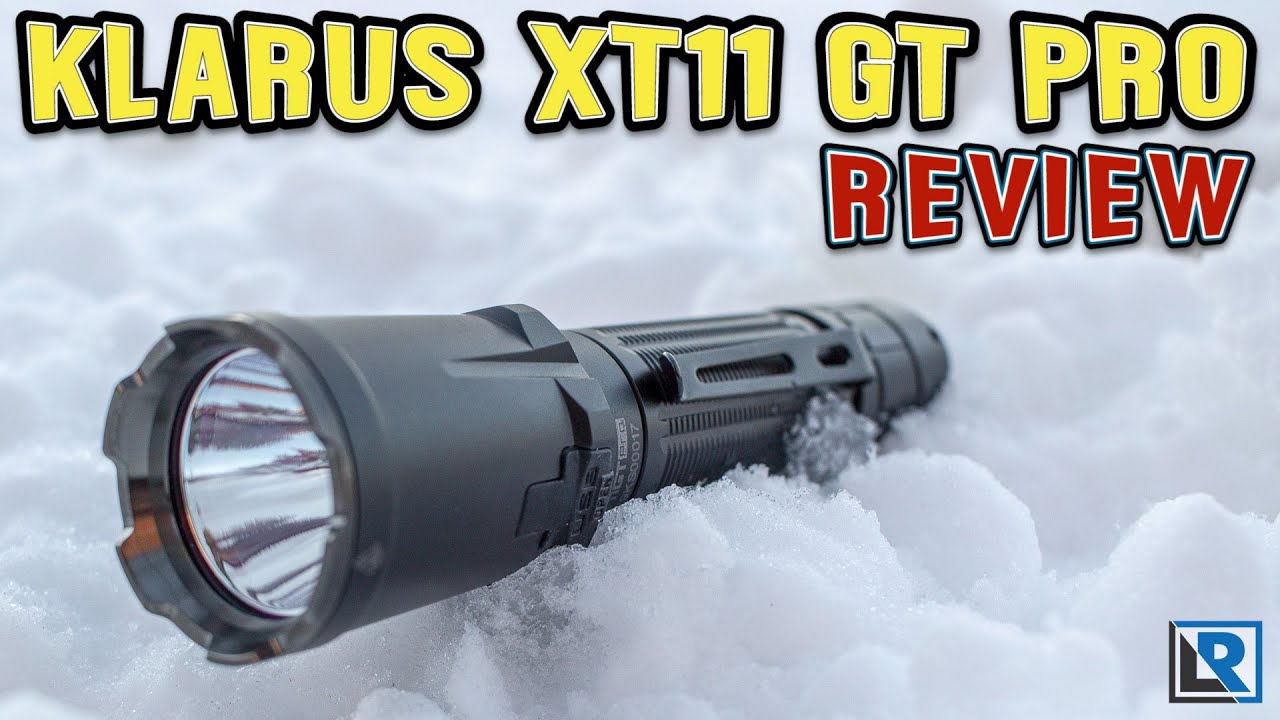 Follow me on Instagram: Jon (@liquidretro) • Instagram photos and videos
Join the Facebook Page: Liquidretro Gear & Reviews
Enjoy this review? Buy me a Coffee: https://www.buymeacoffee.com/Liquidretro
Construction
The XT11GT Pro is made from aluminum and is anodized in a smooth medium gloss black anodizing. Visually it's different then the standard XT11GT. It features the same tactical tail cap, with the large center button being a mechanical switch with a grippy silicon cover and the paddle on the side to allow for mode selection. The paddle was upgraded to aluminum here for incredibility. The clip is a clip on, non fixed and rotates around the body of the light. It's not deep carry with it leaving about 32mm exposed from a pocket.

The body is milled with small horizontal lines going around the body of the light and then it has small relieves milled in. It's a nice change from traditional knurling and provides a good amount of grip. The threads are nice and square cut and it's a dual wall construction. The head and body tube appear to be once piece. As we get to the head of the light it grows in size, It's got a built in anti roll ring that adds some style and nicely disguises the USB charging port cover. This is definitely one of the better designs I have seen for this.

The bezel is a little aggressive and the outer edges have some sharper sides. It's a gunmetal color and stainless steel I believe. It's easily unscrewed by hand. Inside is a anti reflective coated glass lens, a fairly deep smooth reflector

Size and Weight
I measured the length at 139mm, minimum diameter on the body at 25mm, maximum diameter on the head at 35mm. Weight with the included battery and clip was 169.2g.

For an 18650 light it's a little on the long side, but that's not unexpected with the deeper reflector. Here are some comparison shots with the light and some others.

Retention
Your 2 Retention methods on this light is with the included pocket clip. Unfortunately this isn't deep carry carry with about 32mm of the light exposed if you do decide to use the clip. With the size of this light that's ok, as I think it's more of a bag or coat light myself. The included holster does the job pretty well too, no complaints there.

LED & Beamshots
The XT11 GT Pro is using the Cree XHP 35 HD LED in cool white at 6500k. This is an interesting choice of LED"s since it's officially been discontinued by Cree. That said plenty of existing stock still exists and Klarus must feel like they have enough to meet the expected demand of this light. The beam it's self is a good all arounder. The deep smoother reflector means the light has a fairly small hotspot and it throws pretty well but there is also spill to allow for short and medium range light. So a good all around beam.

The light will run on 18650 batteries which is how I will use it, but it will also run on 2x CR123a batteries which is nice as a backup. As a result the working voltage is 2.8V to 6.4V/ No PWM was observed.
Runtime & Heat
I measured runtime with the included 3100mAh battery. Turbo runtime was 50 seconds before stepping down to 90% and then it ran for another 2 minutes 10 seconds before settling at 30% relative output where it ran for an additional 1:37:00. Total runtime was 2 hours. Max Heat I saw was 42C at 1:35.

UI
Like many of Klarus recent lights this has 2 modes of operation, a Tactical and a Outdoor setting. The tactical mode allows the main button on the rear of the light to go to turbo, and the paddle to be a shortcut for strobe that you can lock on by holding for 2 seconds.

I primarily tested the light in it's outdoors setting though. When in this setting the primary button on the rear is a shortcut to turbo both as momentary or locked on. Once on you can use the paddle to decrease the modes from turbo, high, Medium, and low. You can also use the paddle when the light is off to start in moonlight mode and then increase in output for each push. It's a system that works better then I expected and is pretty intuitive once you use and get it.
Recharging
One of the updates the XT11 GT Pro has is USB-C charging. Unfortunately it doesn't support USB-C to C or USB-C PD charging. So you need to use the supplied (or similar) USB-A to USB-C cable to charge the light. The port cover here is nicely shaped and fits well into the side of the head. It's one of the better executions I have seen of this in 2020.

I charged the included 3100mAh battery from LVP to full in a total time of 3:23:10. It wasn't the fastest charging rate, as the maximum I saw was right at 1A. There is a small LED indicator light built into the side of the light to act as a battery charge state indicator. Green is anything more then 70, orange is between 30-70, and red is less then 30, red flashing is less then 10.

Packaging
My light is a super early production light (Serial number 17), and doesn't have a box so I can't comment on that. I can tell you the accessories it came with. My light came with a 3100mAh button top protected IMR 18650 battery, a Klarus branded lanyard and a USB-A to USB-C charging cable. It also came with a nylon, Klarus branded holster. It has a Dring and velcro belt loop. It seems to be solidly made.

Pro
I like the outdoor UI setting here once you get the hang of it but it's a little different.
Nice size in the hand for an all around light if you want your buttons on the rear.
Cons
No true moon light mode, lowest is 10 lumen output
No USB-C to C compatibility and slow charging
Conclusion
My conclusion for the Klarus XT11GT Pro is that it's a good all around light general purpose light. The 2 UI modes allow you to use it tactically if you want or use it in the outdoor mode which is more appropriate for everyday uses like power outages and camping. The beam is useful with enough throw and spill to do both jobs pretty well. What I don't care for is the asking price I am seeing at the time of filming. It's high in my opinion currently. Around $50-60 would make it a good value but at nearly double that I would struggle to pay full price. So if you're interested I would watch for a sale or coupon.