BlitzWolf 48W 4-port smart car charger C1
Official specifications:
Model:BW-C1
Input: DC 12-24V Max
Output: DC 4x2.4A/5V Max
Size: 45mm * 86.7mm * 21mm (3.46 x 1.77 x 0.79 in)
Weight: 32.4g
I got it from Banggood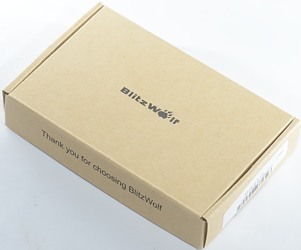 I got this charger in a fairly plain cardboard box.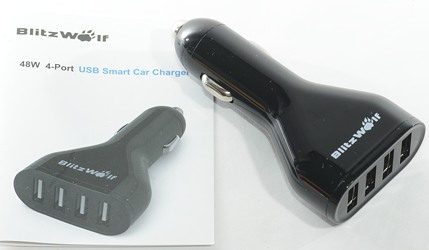 The box contained the charger and a instruction sheet.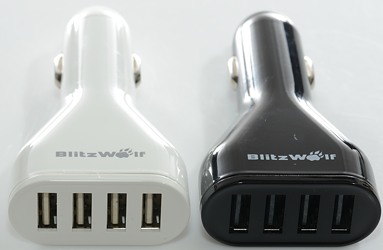 The charger exists in black and white versions.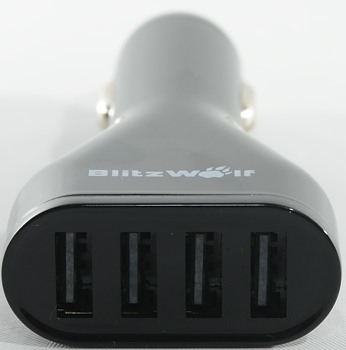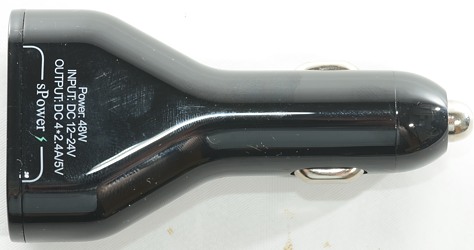 What cannot be seen on the pictures is the blue led inside the charger, this means there is a blue glow from the two center usb ports when the charger is powered.
Measurements
Power consumption when idle is 0.2 watt at 12V and 0.4 watt at 24V
All outputs are in parallel.
No individual port overload protection.
Usb port coding is automatic selected (Up to Apple 2.5A).
A load sweep on a single channel, there is no overload protection on the output. The efficiency in the charger is good.
The above is minimum and maximum voltage in a typical car with all four outputs in parallel. The charger has a common overload protection that trips at about 10.5A, this matches fine with the rated 9.6A total current.
With four cables the connection and cable loss is lower and the efficiency looks even better.
I did also try with 24 volt input, this also looks good.
The other charge, there is a small difference in overload trip current.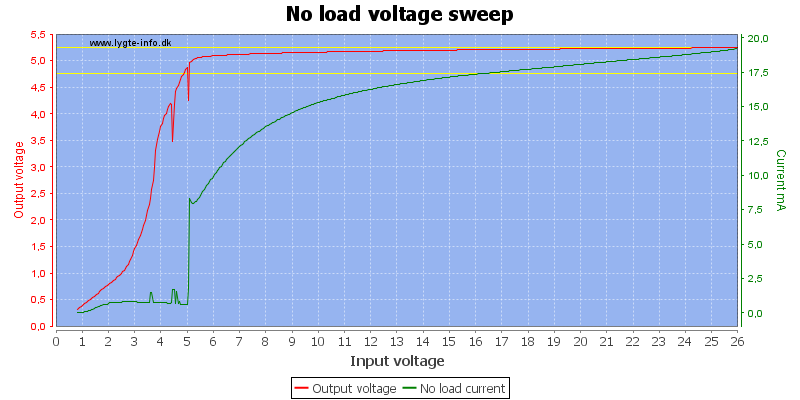 The charger needs a bit of idle current, it is nearly constant in the rated range and will drop at lower voltages.
At full load the charger turns off somewhere between 9 and 10 volt. The input current varies with voltage, about 4.5A at 12 volt and 2.2A at 24 volt.
Output voltage and efficiency is fairly stable over the specified range.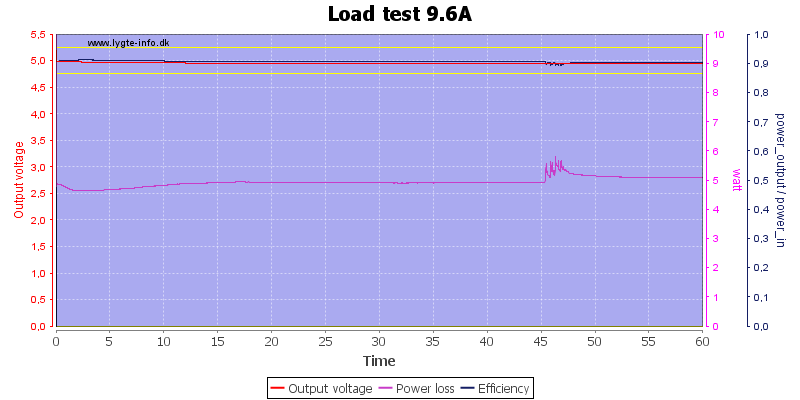 The charger can also maintain full output for one hour, the noise at 45 minute is because I moved it to take IR photos and a car power socket do not give a complete stable power connection with movement.
The temperature photos below are taken between 30 minutes and 60 minutes into the one hour test.
M1: 51,9°C, M2: 72,2°C, M3: 50,4°C, M4: 46,1°C, HS1: 77,1°C
HS1 is probably the inductor.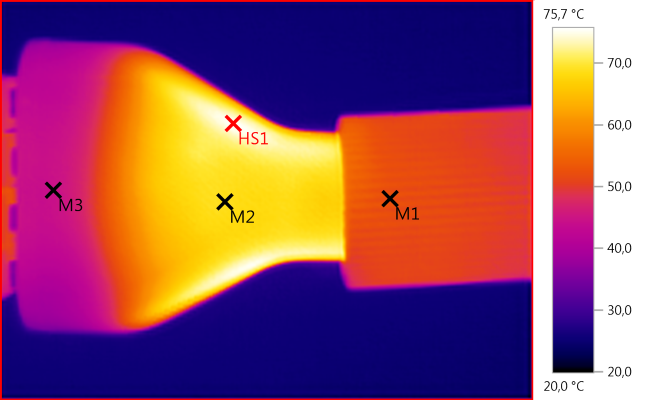 M1: 51,8°C, M2: 68,9°C, M3: 44,7°C, HS1: 75,7°C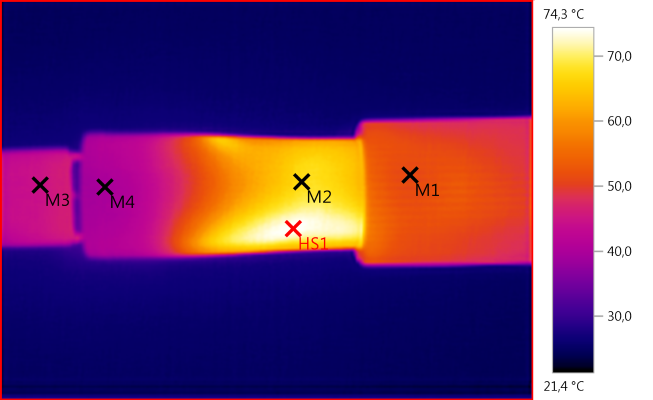 M1: 51,2°C, M2: 67,4°C, M3: 44,8°C, M4: 39,6°C, HS1: 74,3°C
At 0.5A with 12V input the noise is 12mV rms and 60mVpp.
At 2.5A with 12V input the noise is 12mV rms and 56mVpp.

At 2.5A with 24 volt input the noise is 14mV rms and 61mVpp.

At 10A with 12V input the noise is 17mV rms and 66mVpp.

At 10A with 24V input the noise is 21mV rms and 84mVpp.
Tear down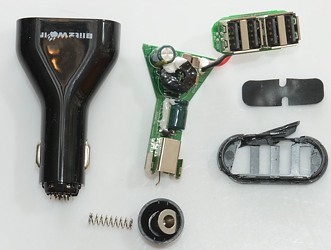 It was fairly easy to open with my vice, but I did damage it.
There are two circuit boards, one with usb connectors and one with the buck converter.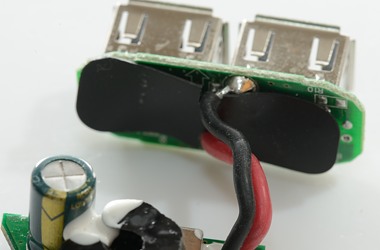 The circuit board with usb connectors had some isolation on the backside.
Inside the tip is a spring.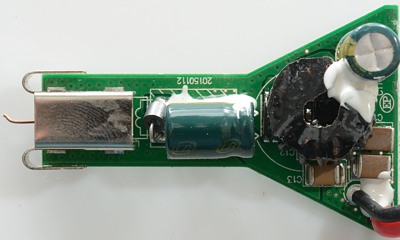 On the topside of the circuit board there is not many parts: A ferrite bead (L2) at the input, some capacitors and a inductor (L1).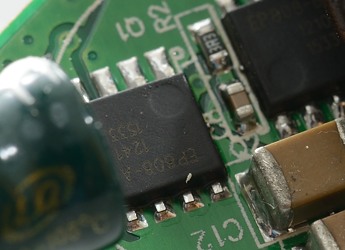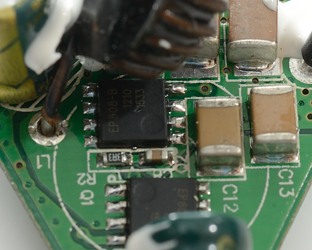 But hidden below the inductor is two transistors (Q1 & Q2).
On the other side is the controller IC. It looks like the transistors and the IC is a set, the type numbers are: EP809, EP808-A & EP808-B.
There is no rectifier diode, this means that one of the two transistors must be used for synchronous rectification. This is one of the reasons for the high efficiency.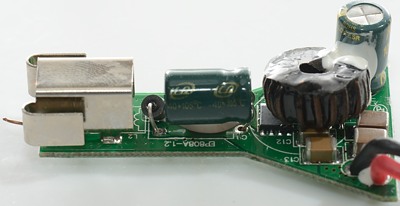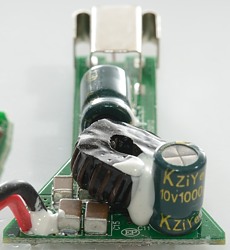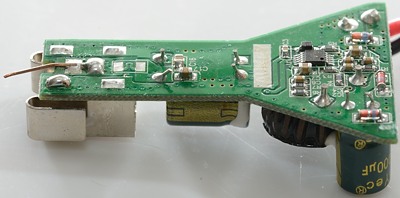 The circuit board for the usb connectors has space for 3 leds, but only one is mounted.
On the other side of the circuit board is two chips for the automatic coding.

In this side view the led between the two usb connector blocks can be seen.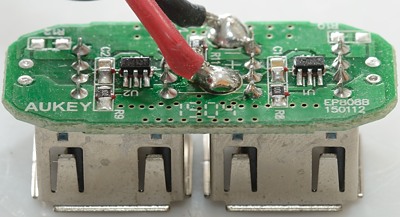 Beeing a 12/24V device there is no need to test with high voltages.
Conclusion
I am fairly impressed with this car adapter, it can deliver a lot of power with good efficiency, but as usual I have a few details that could be improved:
I would have liked the blue led visible from outside, even with all four usb outputs in use.
The charger can deliver up to 10A into a single usb plug, this is too much.
I will call it a good charger (If each output had been limited to about 3A I would have called it very good).
Notes
The usb power supply was supplied by Banggood for a review.
Index of all tested USB power supplies/chargers
Read more about how I test USB power supplies/charger