Bought this light because Im looking for viable alternative to chemical glow sticks and this appeared like interesting candidate, when I ordered it there was no written review on it(theres some more info now if you google) and only couple of videos which I didnt find enough to find out more about this lights performance in real life.
Im most interested in red mode and some green mode, but the addition of UV light means that even if this light doesnt live up to my modest requirements and fails as glow stick replacement, at least I will still have quality light with UV mode.
(Those who just want to buy it and be done with it without reading this review click here and apply GBFL1A coupon during check out to get discounted price 26.99$)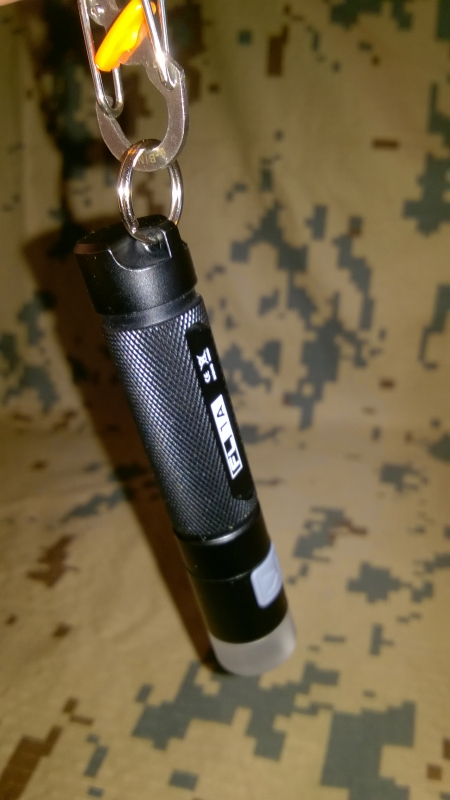 Comes in a nice, compact box, carabiner, attachment ring and spare o-ring are under the foam insert.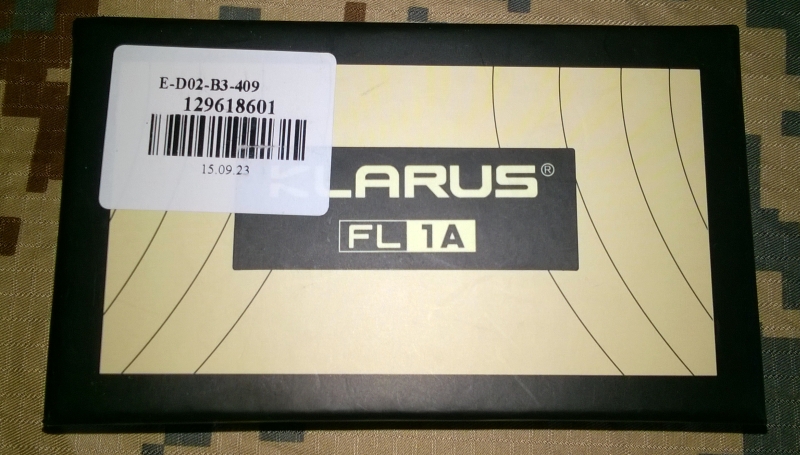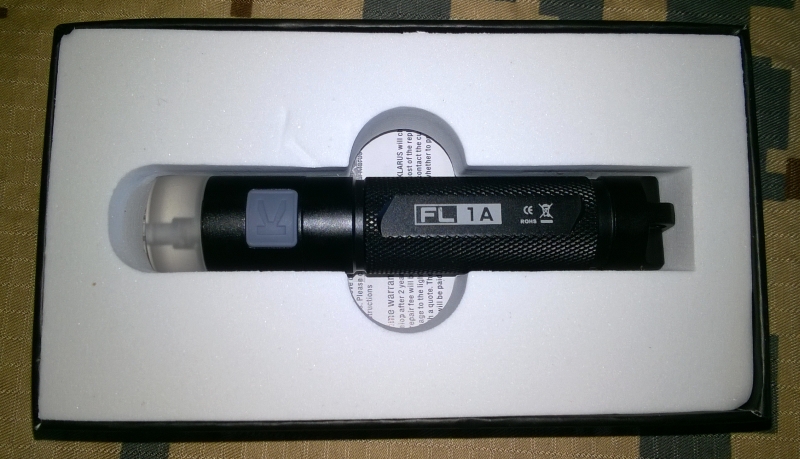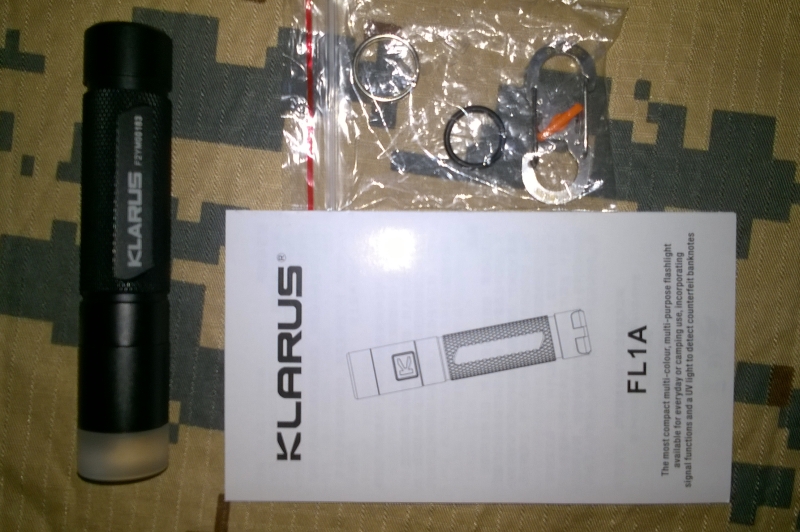 Ill cut straight to the usability of this light - red should be brighter, its barely usable in total darkness in close proximity, around 40-50cm at best.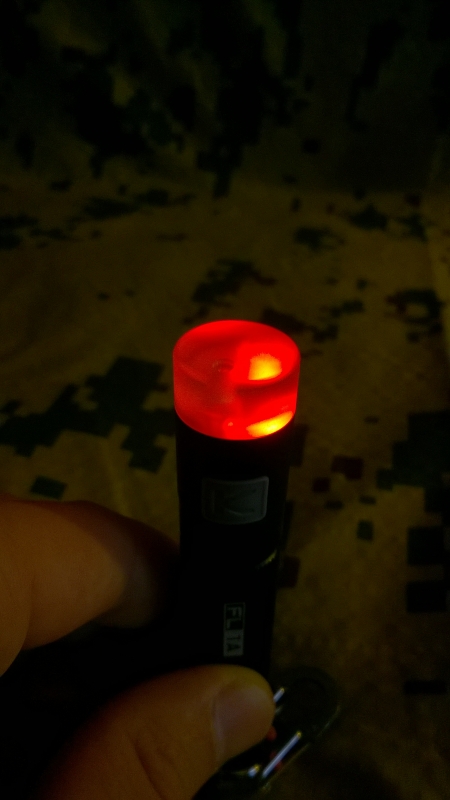 (automatic setting do their job well so it doesnt seem much of a difference between red and green, so I just posted them for reference)
Green on the contrary, could be slightly dimmer, because its plenty bright and if used for map reading or any other activity that involves using light in close proximity will cause too much light reflected back into eyes thus blinding.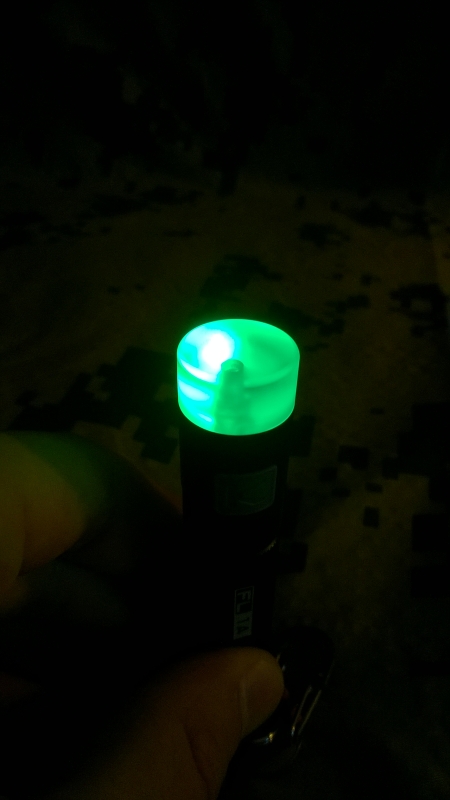 Another, lower, mode for white light would be recommended both to extend runtime as well as give user choice between very low white output and red for night time activities.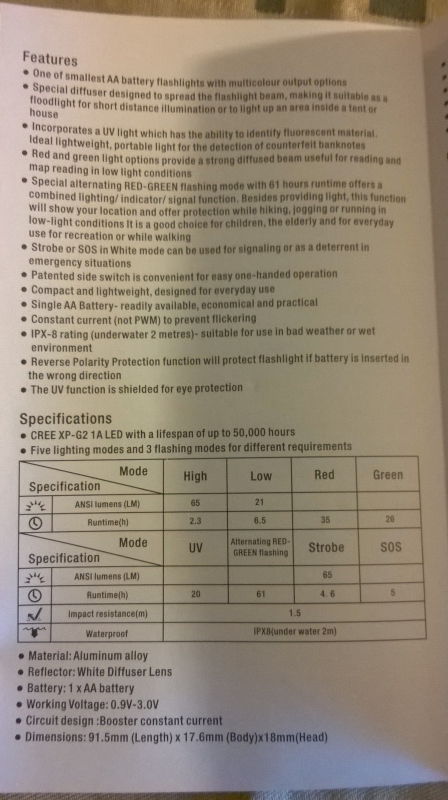 Diffuser itself needs to be reworked, because it projects the light not less or more uniformly into all directions, lions share of output in all modes goes out the front, just like with regular flashlights that use reflectors, I would say that regular diffusing wand on regular flashlight works more efficiently at dispersing light.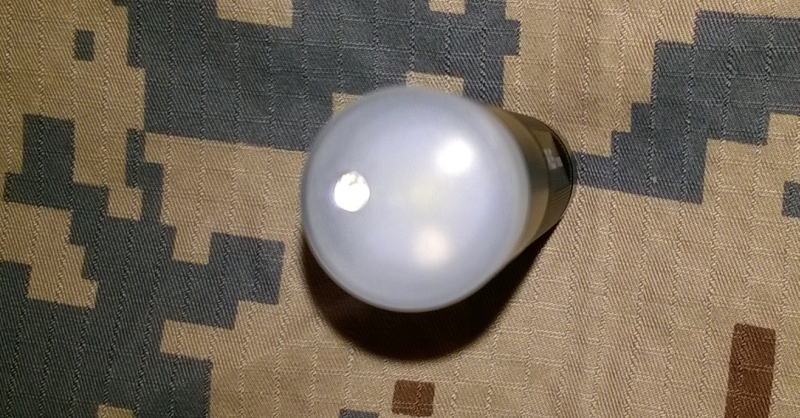 (Those three reflected dots are UV, red and green LED's, main white LED is hidden deeper under the dome, but you can clearly see that the dome is pretty transparent)
Light has included strobe that runs for 2 seconds of high rate blinking and 2 seconds of slower, around 10 flashes, blinking and so on.
Unfortunately my current camera couldnt catch it in video, neither could my phone, so I will leave it to your wild imagination :D!
Strobe and SOS can be accessed directly with quick double click from either off state or from any of the white modes. Id prefer something more useful, this one looks more like epilepsy inducing craze, rather than thought out feature.
SOS mode is also included and can be accessed after activation of strobe, simply click once and it will switch to SOS, click one more time and the light will turn off(or long press from either strobe or SOS to turn it off).
Mode memory is partial only – it works for white light, when you turn it off on high, it will start on high, when on low, it will start on low, no problems here. But when turning the light off from red or green, it will start only on low white, not red or green. If you turn off the light from either blinking red-green or UV, it will start on high mode.
Thus, accessing night preserving red or night map-reading(or whatever youre gonna do in the dark) green will always take you from either all modes starting from high or at least starting from low.
Direct access into color mode sequence would be more logical choice for this type of lihgt. Ofcourse, even direct access into any of the color modes would be even better letting user to get directly into any color mode required but the situation avoiding blinding oneself in the dark with white light at all.
 Mode sequence is this – long press starts on either high or low white, one click will advance from high to low, from low to red, from red to green, from green to high. Double click from white modes will launch strobe, from red will launch red-green flashing, from green will launch UV light.
Long press in any mode will turn the light off.
Build quality is good, annodization seems solid.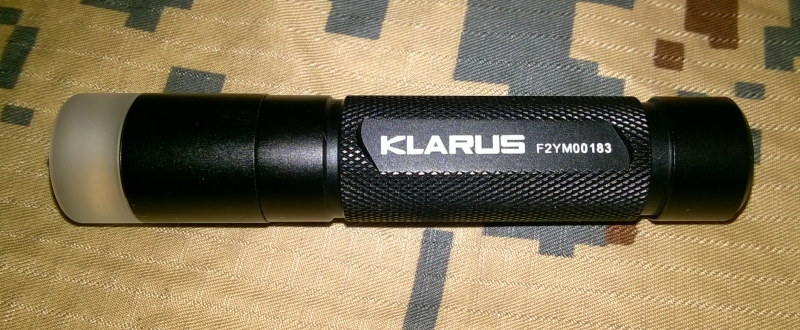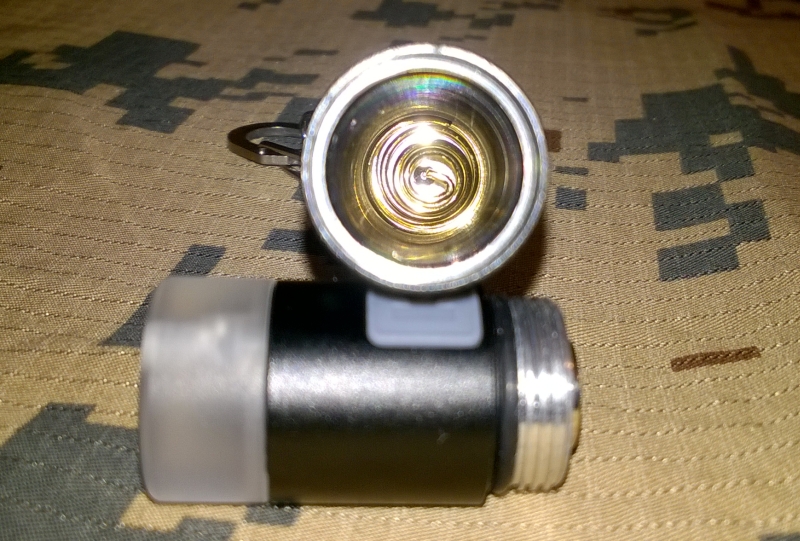 Light is small and comfortable in hand(Thinner than Olight S15R and few mm longer).
Will tail stand no problems, even with included carabiner(ORLY?! So where the picture?! Didnt make one, it just tailstands, you know).
Included carabiner appears to be of reasonable quality given its small size.

( However, slight hit of the tail end on the table made the light turn off, happens pretty easily when putting the light on the table. Happens in white modes only! Thats odd, will contact GB or Klarus to see what could be the issue,  becasue Klarus ignored my e-mail so far. Gearbest got back to me and according to Klarus it is because white light needs more voltage and amperage and with slight knock it basically deprives the driver from much needed current flow while color modes are less demanding in this regard and are not affected by this hit/knock issue)
Doesnt use PWM, is current controlled in all modes. 
Comes with IP-X8 rating, meaning that water shouldnt be a problem unless decide to go diving with  this light. Just make sure that threads are well lubed.
Threads are square cut.
UV light isnt of the brightest, but given this light intended use – close area illumination with low output, its plenty usable in close distance, the darker it is, the farther it will illuminate, worked on  euro bills pretty good from close distance of 5-10cm in dark room.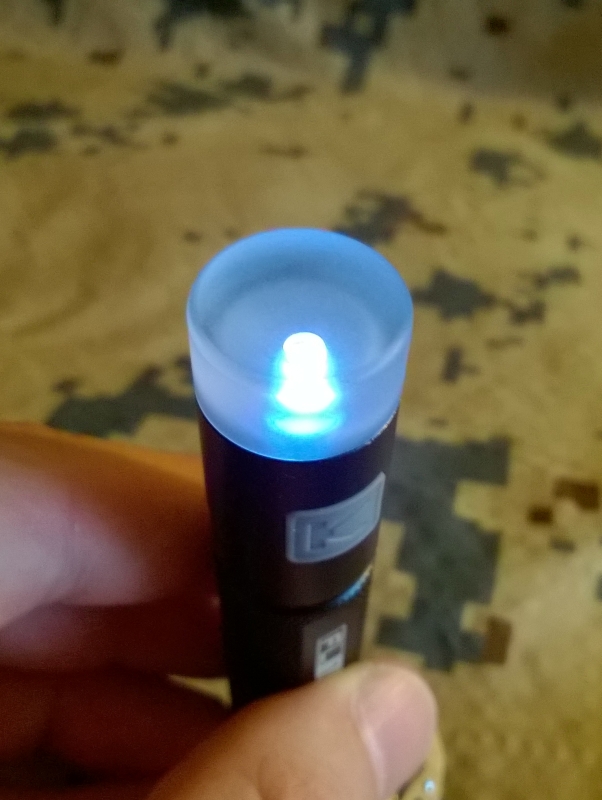 Around 5cm from bill: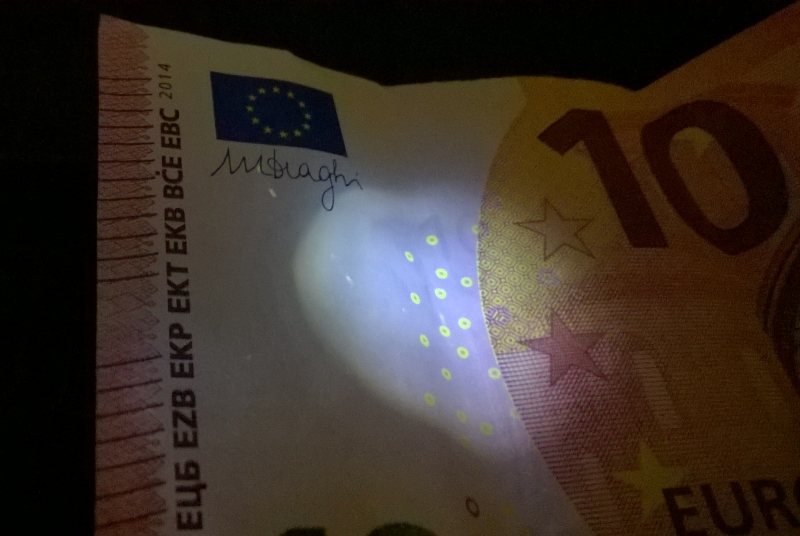 Around 10-15cm from bill: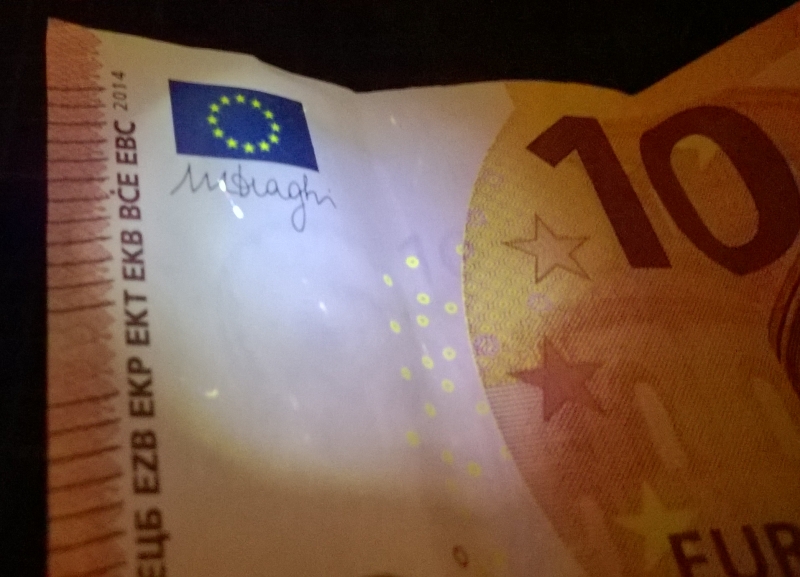 Would be nice, actually, crucial for its usability, if Klarus:
-added direct access at least into color modes, direct access to any of the 4 color modes would be preferable.
-redesigned diffuser to allow for more efficient, uniform, output.
Not so crucial, but still welcome changes would be:
- lower white mode for those who prefer longer runtimes and use white light instead of red for night vision.
-reworked that annoying super fast strobe into more usable one and also added beacon mode
-red blinking mode instead of red-green blinking mode would make this light more usable IMHO, because if used on the backpack or behind bicycle it would be useful as rear light when commuting(only if diffuser reworked+red brithness increased).
-added magnet in the tail would be welcome addition for a camping light like this
-another observation - scratched Eneloop Pro(former XX) battery's wrapper! So be careful what kind of batteries you put in!
Is it worth original asking price of 42$? Absolutely not!
26.99$ with Gearbest's GBFL1A coupon? Well, it depends on factors that I described above.
 This light will remain in my rotation despite its flaws, major ones being no direct access to color modes(especially red one for night vision) as well as poor design of diffuser which projects most of the light forwards just like regular flashlights with reflectors instead of sperading the light equally into all directions which this light, given its design and intended use, should be doing.
 Despite my criticism, I will keep on using this light for specific tasks, hopefully Klarus will release updated version of it.
More likely than not, I have probably forgotten to add some other piece of information, so if you feel theres something missing, dont hesitate to ask me, I will do my lazy-best to add more to this review :D!
That would be it, thanks for reading!