Ladies and Gentlemen, like several others here, I have now received an unsolicited complimentary Olight S1A from Lydia at Olight in Marietta Ga. and she has asked that I write a review.
I am aware that this particular light has been reviewed up, down and sideways by some very competent reviewers and trying to add anything of value is going to be difficult indeed – everything that needs saying has already been said, and very well at that.
I will, therefore, try to keep this brief and to the point. If anyone has questions I will cheerfully try to answer them to the best of my ability.
Packaging – has already been well described. There is some information on the back of the plastic box that may bear relevance. It describes:
"Cree XM-L2, with TIR optics and a maximum beam of 600 Lumens."
"Conventional output of 0.5 / 5 / 50 / 220 lumens, strobe at 10Hz, and turbo mode of 600 lumens available with a 14500 battery".
"Stainless steel bezel and switch ring with stylish blue coating"
"Flat magnetic tail cap and recessed silicon switch to avoid accidental activation"
"Built in timer, and lanyard with perforating tool."
The front of the package advertises a high of 220 Lumens, maximum run time of 25 days, and a throw of 71 meters.
To Olights credit, the package is seriously tough. Getting it open without resorting to a Swiss Army knife is a challenge, and the light itself is held within by means of a rubber O-ring. There is a lithium primary cell already inside the light, protected by a plastic insulator to prevent accidental activation in transit.
Scanning the bar code on the side of the box took me directly to the S1A on Olights website and another comprehensive description.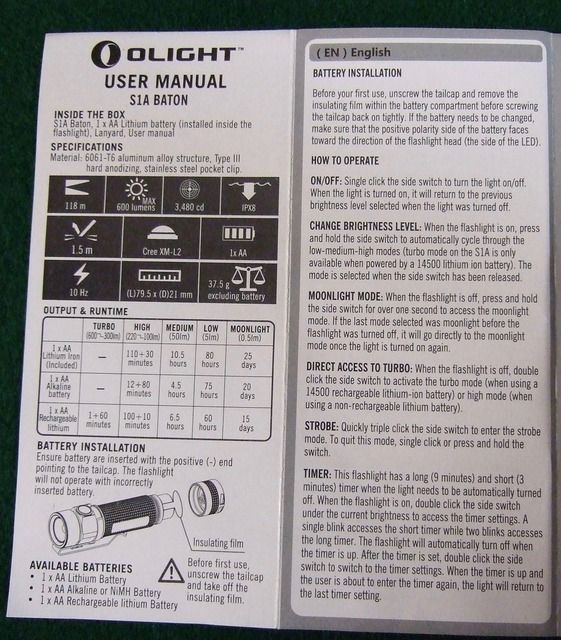 Contents are the light, a users manual in every language under the sun and a lanyard with the 'perforating tool' which is in fact a miniscule cotter pin. Still, it's a great idea and would reduce the 'lanyard installation fumbles' a lot.
First Impression is of a delightfully small, beautifully crafted light. I was mildly shocked to find that it is, in fact, 1.5 mm shorter that Olights earlier i2eos and only about 1 mm longer than FourSevens Mini AA. Make no mistake, this is a small light! My beloved vintage Fenix L1P looks positively clunky beside it.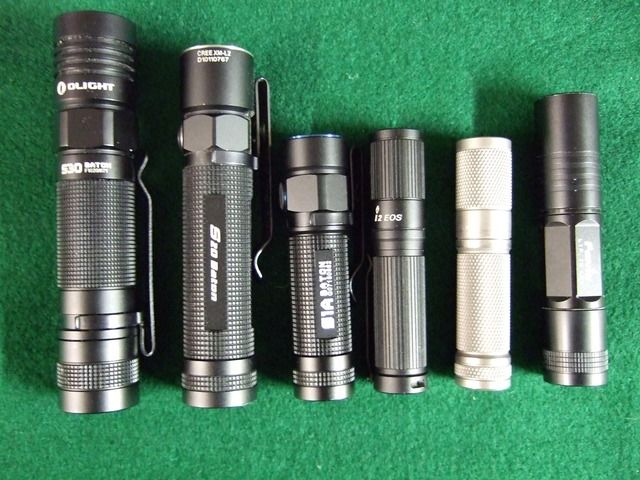 S30, S20-L2, S1A, Olight i2eos, Mini AA, Fenix L1P
The switch is crisp and quite firm. I doubt it would come on accidentally. It is made of soft silicone, and I hope it won't get too much wear and tear from the other junk I carry in my pockets.
Output & Beam has also been previously discussed at length; suffice it to say that all of the outputs appear to be as described by Olight.
I have attempted to photograph the beam angles; all are on 'low', and are, left to right, an Olight S20-L2, FourSevens MiniAA, Olight i2eos and the S1A.
The S1A is noticeably more 'floody'. Tint appears to be close to the S20-L2 or perhaps a bit closer to neutral. I have been vocal in my earlier complaints about green tints in Olights offerings but I think they're trying to correct that – my first S20 was horribly green, the second is a lot better, my S30 is really white, although still quite cool, and the S1A doesn't seem green to me at all. To my (admittedly very old) eyes it seems to shift a bit from cooler to warmer as the output increases, which is no doubt a function of the driver.
There is one anomaly that I will point out – both the S20 and the S1A are advertised as having a low of 0.5 Lumens. In the case of my individual lights, the S1A is much lower than either of my S20s. It compares very closely to the low offered in the Q-Lite Rev. A driver, advertised as .09 Lumens. I know there can be variations from copy to copy, but this particular S1A has a very low moonlight indeed and that pleases me greatly.
'Moonlite' Lows, left to right, S30, S20, S20-L2, S1A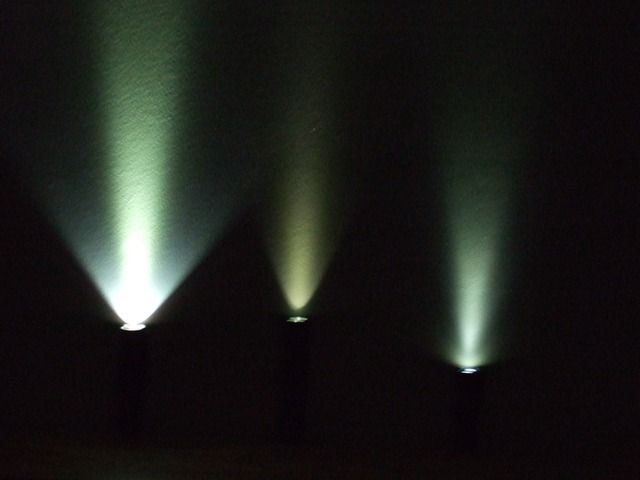 'Moonlite' lows, Olight S20-L2, Convoy S2/Q-lite Rev.A driver, Olight S1A
Conclusion – There's nothing here to not like, and nothing to criticize. This is an impeccably crafted, delightfully small 1 AA light that puts out a formidable volume of light in well spaced increments. I think it's going to be very popular.
Again, although I lack the technical expertise of our more modern reviewers, I will cheerfully try to answer any questions you might have. For the record, I do not intend to make a habit of doing reviews – at my age and level of expertise I'm more comfortable scratching pictures in the dirt with a stick. Still, Lydia informs me there is another very special light on the way. What's a man to do?
Olight Official : https://olightworld.com/store/s1a-baton.html
US Amazon : https://www.amazon.com/S1A-Flashlight-Magnetic-Portable-Emergency/dp/B01...
UK Amazon : https://www.amazon.co.uk/dp/B01IN27P9U
CA Amazon : https://www.amazon.ca/dp/B01J0NL6HS