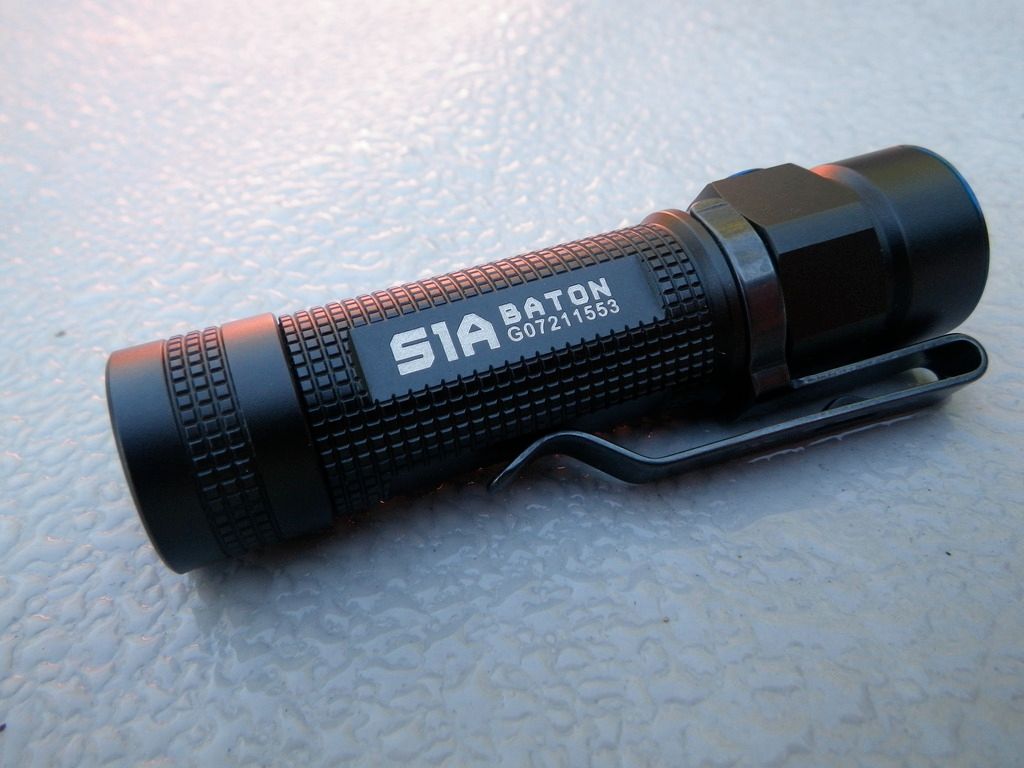 Alright, a couple of housekeeping things straight away.
Olight provided this light in exchange for a review. It was very generous of them and I have enjoyed the light quite a bit despite not normally being a AA light user. Thanks so much for the opportunity to try a light I might not otherwise have gotten to.
I'm a decades long flashlight user and if you'd like to see my flashlight collection- which provides some insights into my history and usage- it can be found here. Knowing where I come from and what lights were involved illustrates, I think, why I have the perspective I do.
There have been a dozen or more reviews of this light on various platforms recently as Olight sent out lots of them for T&E. Because I'm not comfortable opining until I've actually used something, this review is coming to the interwebs after the saturation point has probably been reached. In fact, as I write this, the S1A has been carried as a stand alone EDC item or as the backup light to my normal 18650 torch for six weeks.
It's a little unfair to say it was a backup as I went out of my way to reach for it first. Truth be told, there was never a time when I needed the extra oomph provided by the bigger light. Make of that what yo will.
Besides the experience and insight that extensive use brings to the table, I also have the fairly unique perspective of someone who once carried an Olight i2 EOS AA light for many years as a redundancy to my then EDC P60 light. Comparing the two Olights provides for an interesting discussion. I think so, anyway.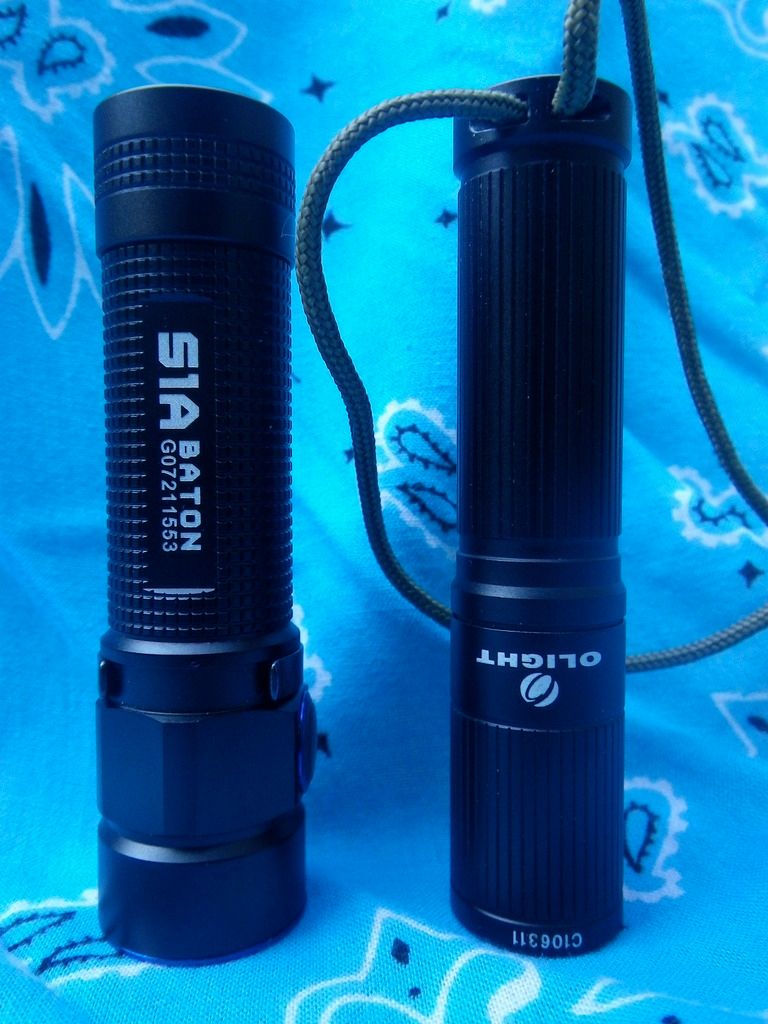 But, before we get to that, let's take a look at this S1A, shall we?
The Olight S1A Baton comes out of the box with an installed lithium primary battery (you must remove the insulating film before you use it), an owner's manual in 17 languages that is easily understood, and a quality lanyard with a fantastically innovative, but yet so simple, "perforation tool". Be sure to unscrew the tail cap and remove the insulating film that is preventing the battery form making contact with the rear (negative) spring.
I'll just say right here that this is the first time I've seen a perforation tool. I'm a budget light guy, so perhaps I don't get out often enough, maybe they come with all the better brands' lanyards. In some ways, this perforation tool is the most novel thing about this light because it highlights the thoughtfulness and attention to detail that Olight has put into this product overall.
What I mean is, when a company shows this level of concern over a lanyard, you get the feeling that the rest of light will have likewise received a high level of attention to detail. When i first saw that little piece of wire, I thought, "Wow, Olight is really on top of their game".
The perforation tool made a great first impression and the light didn't fail to live up to it.
The S1A is a XM-L2 equipped, 6061-T6 Type III hard anodized light with an innovative TIR optic that replaces the normal two part lens and reflector configuration and provides a very consistent and smooth beam profile. Long gone is the dedicated hot spot coupled with some spill on the periphery.
I have to imagine that all lights will be heading in this direction in the future as the TIR optic provides such a balanced beam. You probably give up a little in regard to maximum throw, but for real world use, I think this new style of optic performs better overall for the way most people use their lights.
Look how nice and smooth the beam profile is (this happens to be on turbo).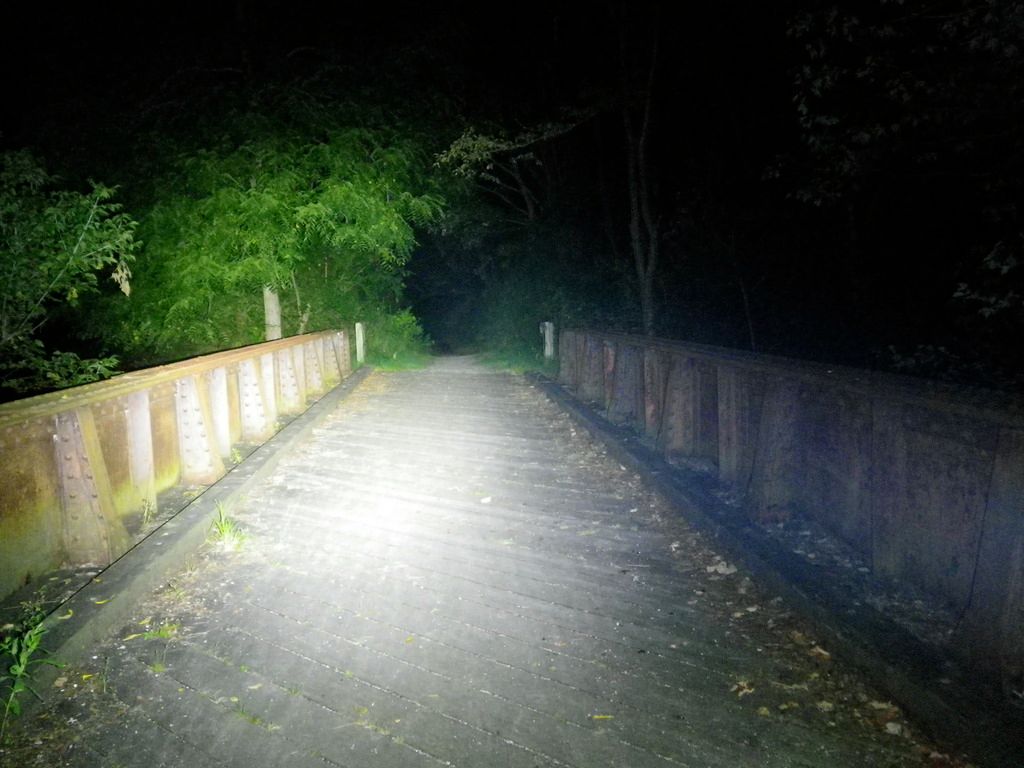 It has a stainless steel pocket clip that positions the light bezel up and the fairly simple UI is handled via an electronic side switch. It also has a removable magnetic and tailstandable tailcap which can be a real benefit during a power outage or a vehicle incident as it allows you position the S1A Baton on any ferrous metal so you can go hands free. BTW, the pocket clip can also be used to clip the light to a ball cap for another hands free option.
Because the light's circuitry can recognize and handle a wide variety of AA sized power sources, this light has outputs that range from 0.5-600 lumens. You have a Moon of 0.5lm, a Low of 5lm, a Medium of 50lm, a High of 220lm, and a Turbo of 600lm. There is also a hidden strobe.
Now, it's going to get a little confusing, so bear with me, OK? For starters, Turbo is only available if you use a 3.7 volt rechargeable lithium ion cell. Runtime on Turbo is only a minute, after which output steps down to 300lm and will run for a further 60 minutes.
I should add that my sample will stay in full blast Turbo for far longer that one minute with a fresh IMR cell. I'm talking like five minutes plus. YMMV.
The light will also step down while in High from 220lm to 100lm. Just how long it runs at 220lm and at 100lm varies considerably depending on what battery is powering the S1A, but the following picture lays it out clearer and more concisely that I, so let's take a minute to look it over.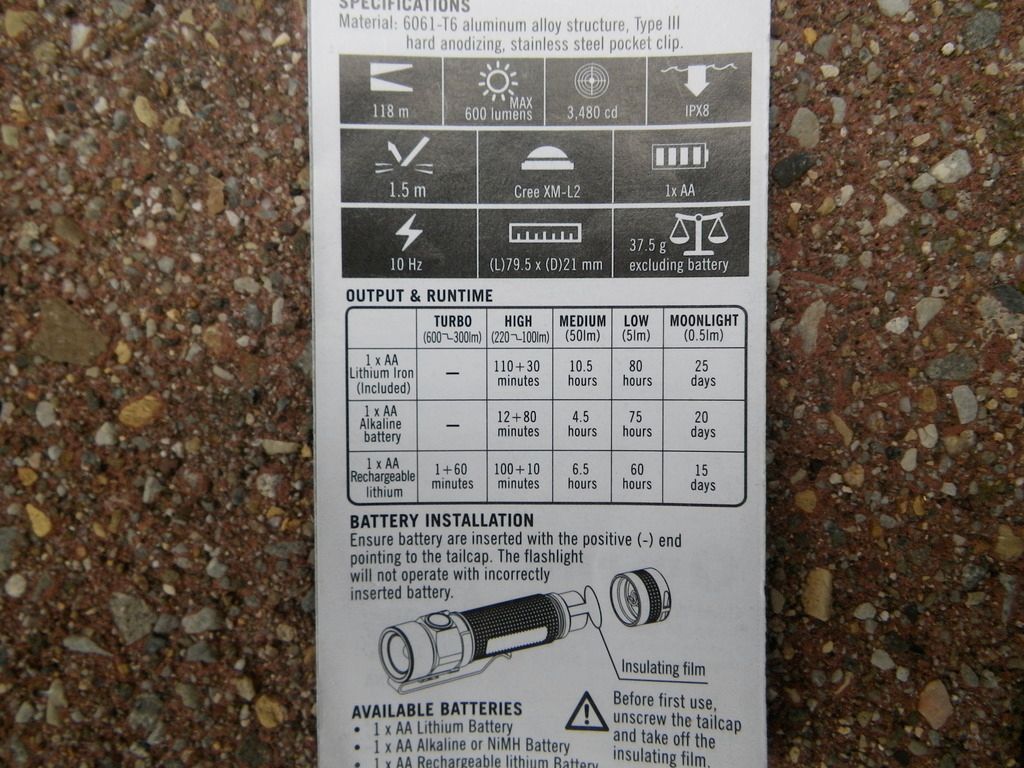 Note too that the picture also has the runtimes. All these numbers are obviously Olights.
Other salient specs you might like to consider.
The light is 1.3 ounces empty and 2.0 ounces with the included LI primary battery; the numbers are off my personal scale. The light is 3 1/8 inches long and 7/8 f an inch wide (1 1/16 inch wide if you include the pocket clip) as measured by me. It is IPX8 water proof and can handle a drop from 1.5 meters. MSRP is $50, which is about where the street price seems to be ATM, but someone alerted me to a sale at Olight a few weeks ago where the price was down to $38. Price is back up as of today. As always, shop around. With the holidays coming, I'm sure there will be deals to be had.
Even at full MSRP, this light is quite the value. I wouldn't feel bad about spending hard earned money on this light as there is very little chance of buyer's remorse.
I mentioned before that I was a heavy user of the three mode Olight i2 EOS which is basically the same size as the S1A Baton but only had a meager 75 lumens on high and an MSRP of $25 and a street around $22. Compared side by side, the only thing you give up with the S1A is the theoretically more reliable twisty switch/head. What you gain is eight times the power output, the ability to handle any AA, better pocket clip, better aesthetics thanks to the blue anodizing (so says my wife), hidden modes, more modes, and a Moon mode. All this and the price is only double what is was about a decade ago.
Personally, I'd happily pay the difference. Eight times the light at only twice the price and I have to argue that that is real progress.
Let's talk UI. The light is turned on and off via quick presses. There is mode memory, so it will come on in the mode it was on when you turned it off.
Moon is access with a long press form Off. Once on Moon, you can cycle through the modes in the normal way by holding down the button, but the light will not cycle back to Moon.
You can go directly to Turbo from Off with two quick presses. You will cycle through Turbo, assuming you are using a 14500 cell whether you start there or not.
There is another, probably unintentional, way to get to both Moon and Turbo. Because of mode memory, if you turn the lights off in either of these two modes, a single quick press of the switch will bring you back to either of them.
You gain access to the hidden Strobe mode with three quick presses of the switch from the Off position. Unlike Moon and Turbo, you can not get back to Strobe via mode memory.
There is a timer function that will turn the light off after three or nine minutes. It's not a feature I need and, honestly, even thought the owner's manual is very good generally, I couldn't figure it out enough to fell confident enough to try it. Other's have mentioned it, but I have yet to see someone do it on video.
Who is the S1A Baton perfect for?
Well, obviously, AA flashlight fans, EDCers who favor smaller gear that still want high performance, guys like me who carry backup lights, and women who like a little bling on their lights (as my wife was not the only woman who commented on the little bit of blue bling around the switch and the optic).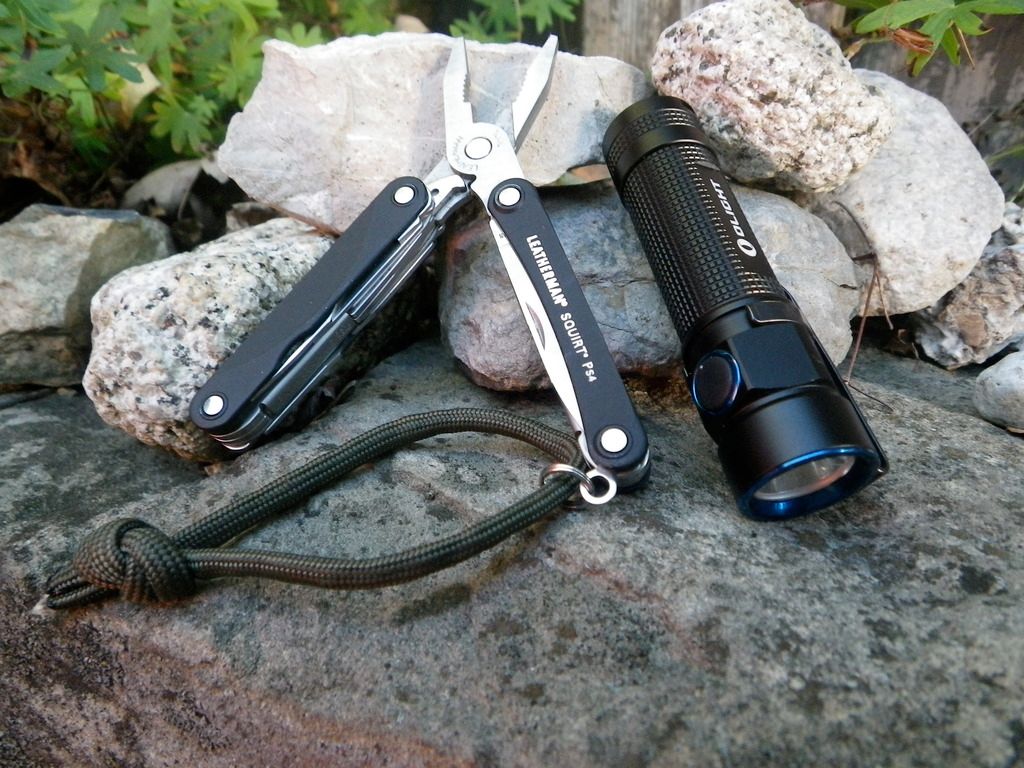 It is as small as possible in the AA platform and it's able to handle any AA power source. Add to that that the UI is easy to understand and the modes are are well spaced and useable. Finally, it is very pocketable thanks to the clip. All this makes the S1A Baton worthy of consideration if you are in the market for a new light and prefer the AA form factor.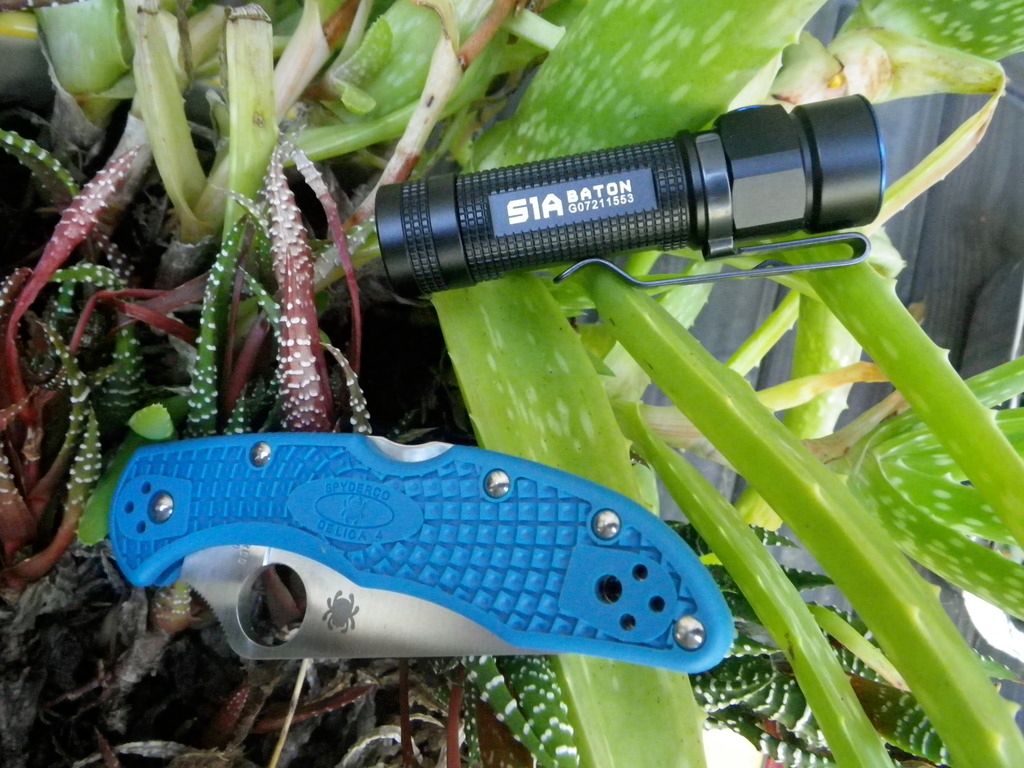 Now, nothing is perfect. Here are a few things that I think are downsides to this light. Some of these are more subjective than others, but all are based on on my personal preferences and pet peeves. We'll move from the "sort of objective" to the "purely subjective" so the further down the list the gripe, the more it may just be me.
http://i1288.photobucket.com/albums/b500/THCone/flashlights/IMGP4025_zps...
I really dislike the fact that this light carries bezel up. The optic always has dirt and grim on it. Also, I've been carrying this light in the front "knife" pocket on 5.11 or LAPG shorts and the way I draw the light, I sometimes inadvertently turn the light on. For me, the switch is right where I tend to pinch the light. This happens with the switch 90 degrees to the pocket clip. Turning the pocket clip 180 degrees to the switch puts the switch right against the thigh where it is safe from inadvertent activation on the draw, but it is more likely to get turned on accidentally from the thigh. If it were bezel down, I don't think this would happen quiet as often.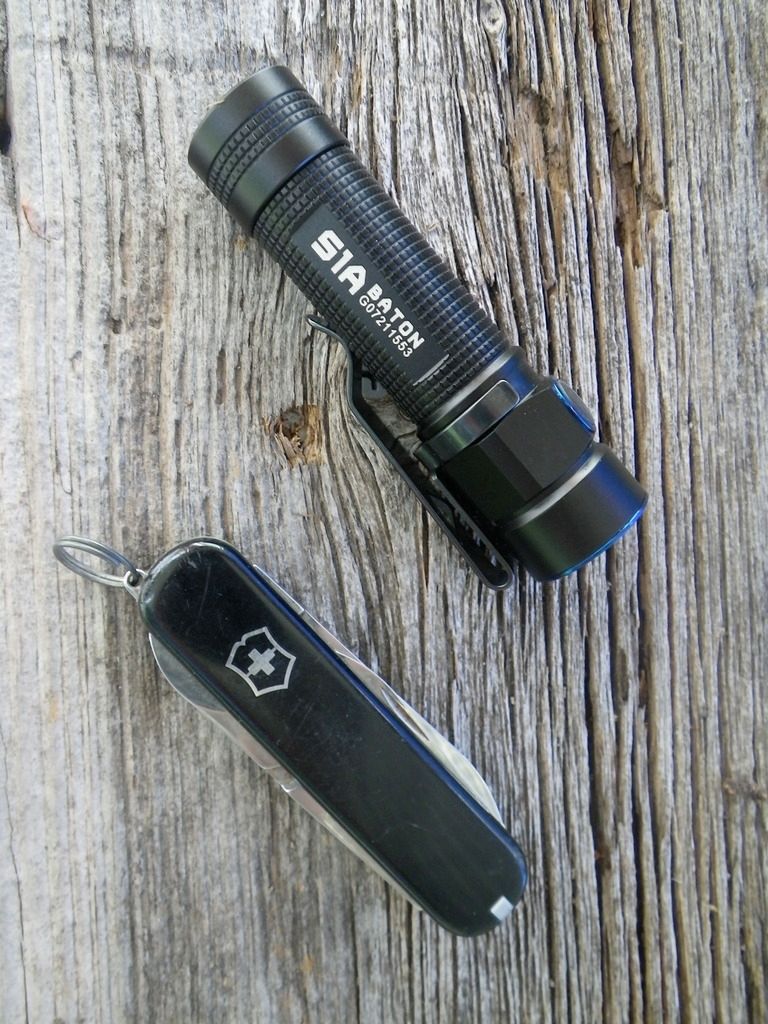 Speaking of the switch, it is not recessed (Olight claims it is) and it will turn on in the pocket on occasion regardless of pocket placement or where the switch is relative to pocket clip. It has happened once or twice a week during my usage. Granted, you could position the pocket clip over the switch or unscrew the tail cap a little to lock the light out, but they are imperfect solutions. When positioned over the switch, the clip can also depress the switch enough to turn it on, though not as often, and in either case, who wants to fumble around with manipulating flashlight components before you can turn on a light?
Not me, that's who.
Six hundred lumens is fantastic, but when it only lasts a minute, it starts to lose some of its luster and value. The reality is this is more like a like a 300 lumen light. That said, lots of high power lights step down from their initial maximum, so I guess my issue is more philosophical than anything else.
There is no getting around it, but runtimes for AA powered lights, by necessity, suffer when compared to, say, an 18650 light. If you are a heavy light user, this means you are dealing with more maintenance in the form of charging up cells when you run the smaller batteries. Not to mention, when you start with less fuel in the tank, you're more likely run out of juice at the most inopportune time.
Murphy is always lurking.
On to the magnetic tail cap. OK, it's removable, so perhaps I shouldn't say anything, but it is both a blessing and a curse. In one sense, it is great and performs the way it should. In another, having it also means you can't just toss the light on your desk or kitchen island if they are the least bit cluttered as it will attach itself to pretty much everything- key chains, loose cells, pocket knives, etc. It's more of an annoyance than anything, but it is constant.
This last one is the most subjective of all.
The light is too small. After many, many years of carrying full sized gear- my typical EDC is an Endura, and 18650 light, and a large MT- this S1A just seems too small to me. For sure, you can't use it as an improvise self defense tool. In hand it is very tiny. So while it goes unnoticed when you carry it, it is also easy for it to go unnoticed permanently if you know what I mean. I'm a little surprised I haven't permanently misplaced it.
If you would like other opinions or feel like you'd like to see a more scientific review, feel free to check out this one from Unknown00101 or DBSAR. Hey, it's always good to get a second opinion, right?
As for this review, thanks for taking the time to read and or watch it. Obviously, feel free to ask me questions.
—
fidem, prae caeteris omnibus praeter honestatem
Don't be confused, my Username has been changed from "Cone" to "T.H.Cone".  I'm still the same clown.