DMM Southwire 16040T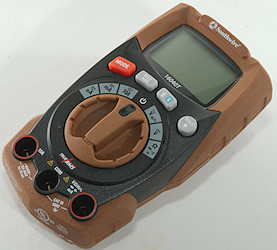 Southwire is an American wire and cable company and have a couple of DMM's in their range. This is a fairly compact meter with most of the common DMM functions and a few extra.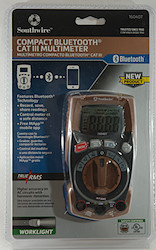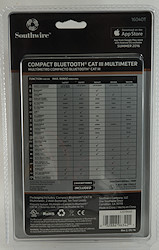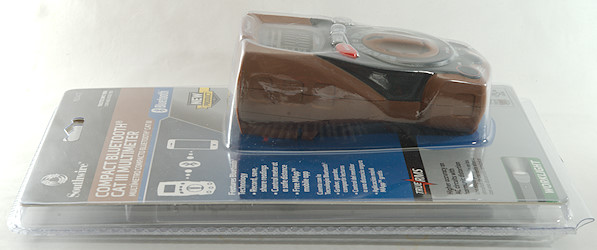 The meter is sold in a clamshell box with comparison to other Southwire meters on the back.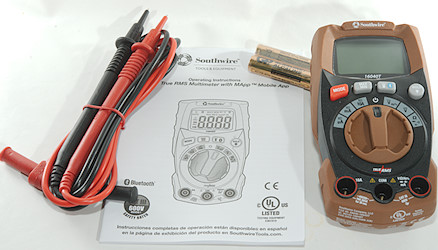 The box contains the meter, probes and a manual, it is also possible to download a manual.






The probes are rated for 600V and 10A in CATIV environment, this is a very good rating.





The removable tip must be on for best safety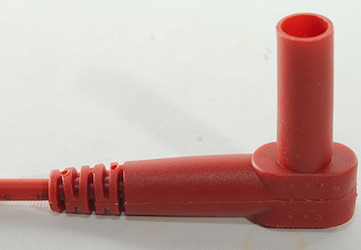 The standard size plug is fully shrouded.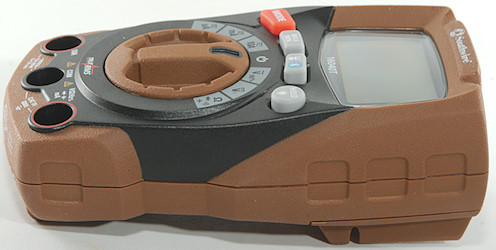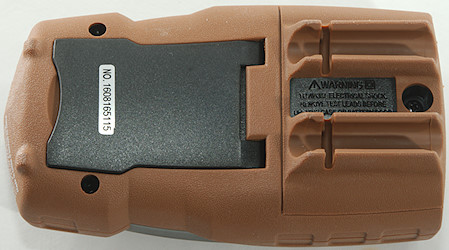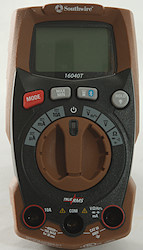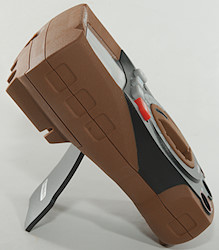 The tilting bale locks in both position (in and out). It might be possible to switch range on a non-slip surface, but it is difficult on a normal table.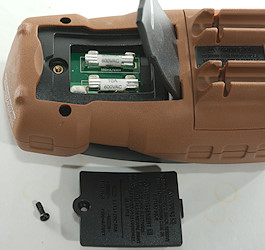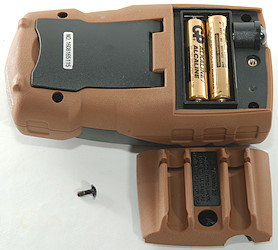 Both fuses and batteries can be replaces by removing a lid.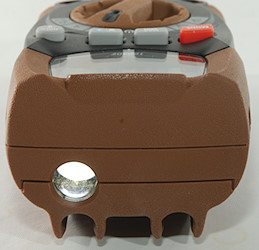 The flashlight.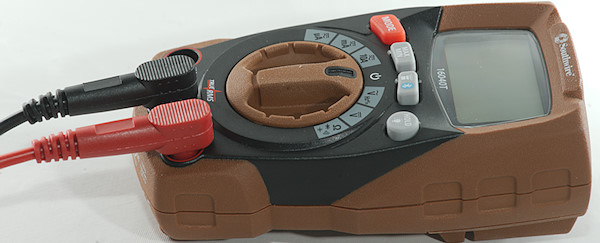 The probes looks fairly large on this small meter.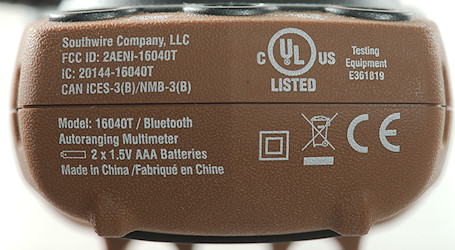 Display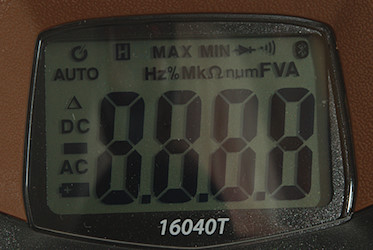 The above picture shows all the segments on the display, not all are used by the meter.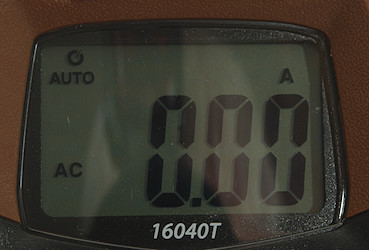 Typical display during usage, it will show the number and what measurement is selected.
The circle with arrow shows that auto power off is enabled, hold down MODE when turning on to disable this.



Functions




Buttons:



Mode: Selects secondary ranges for each position on the range switch.

Max/Min: Starts recording min/max. values, press the button to change between min/max, hold down to exit.

: Turns on the flashlight, hold down to turn on Bluetooth.

Hold: Will freeze the display, hold down to use turn on backlight.

Rotary switch:


uA: Current DC and AC, use MODE for DC.

mA: Current DC and AC, use MODE for DC.

A: Current DC and AC, use MODE for DC.

Off: Meter is turned off

VAC: Volt AC, frequency and duty cycle.

VDC: Volt DC

: Resistance, continuity, diode and capacitance

Input



10A: High current, it can only withstand 10+ ampere for 30 seconds time (Fuse is 10A).

COM: The common terminal for all ranges.

xxx: All other ranges, included mA and uA. Having current range on the same terminal as voltage will increase the risk for mistakes.

Measurements


Volt and frequency




Frequency input requires a zero crossing.

Max/min needs about 280ms to capture a voltage.

At 0.1Vrms input frequency range is from 1Hz to 3kHz

At 1Vrms input frequency range is from 1Hz to 43kHz

At 7Vrms input frequency range is from 1Hz to 540kHz

1 VAC is 5% down at 2.1kHz, rms will not work at this frequency

Input impedance is 6Mohm on DC and 10-11Mohm on AC, also in mV range.

Ranges rated to 600V AC/DC




Current




Ranges rated with 10A/600V and 0.5A/600V fuse




Ohm, Continuity, diode and capacity




Ohm is 0.97V open and 0.49mA shorted

Continuity is very fast (About 10ms).

Continuity beeps when resistance is below 50ohm

Continuity is 1.0V open and 0.49mA shorted

Diode range uses 3.2V, max. display is 3.000V at 0.19mA, max. current is 2.4mA shorted

3900uF takes about 7 seconds to measure.

Ranges rated to 250V AC/DC




Miscellaneous




Current consumption of meter is 11mA (18mA with backlight), Bluetooth adds 7mA.

Flashlight uses 120mA with fresh batteries, at 2.4V the current is 160mA

Meter works down to 1.8V where meter turns off, battery symbol show at 2.4V.

Display loses contrast and viewing angle when battery drops in voltage also before the battery low symbol is shown.

Backlight is independent of voltage.

Reading is stable when battery voltage changes.

The meter a few display update to reach the final value.

Viewing angle is good

Display updates around 2 times/sec

Backlight will automatic turn off in 30 seconds.

Flashlight do not have a timeout, but will turn off together with the meter (i.e. 15 minutes).

Will automatic turn power off in about 15 minutes.

Standard probes fits perfectly.

Weight is 206g without accessories, but with batteries.

Size is 121 × 66 × 47mm.




Probes




Probe resistance 24mOhm for one

Probe wire is soft and 80cm long.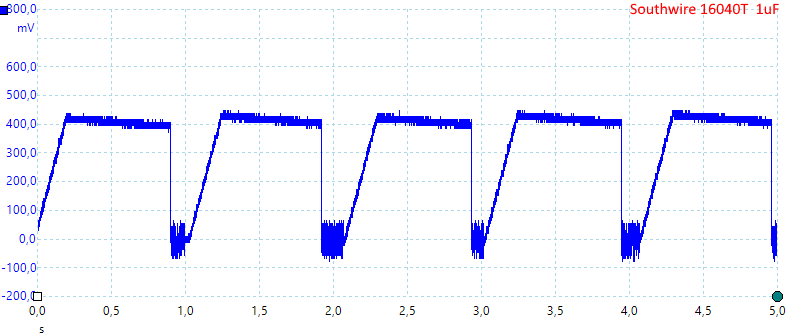 A look at the capacity measurement waveform, it is non-polarized.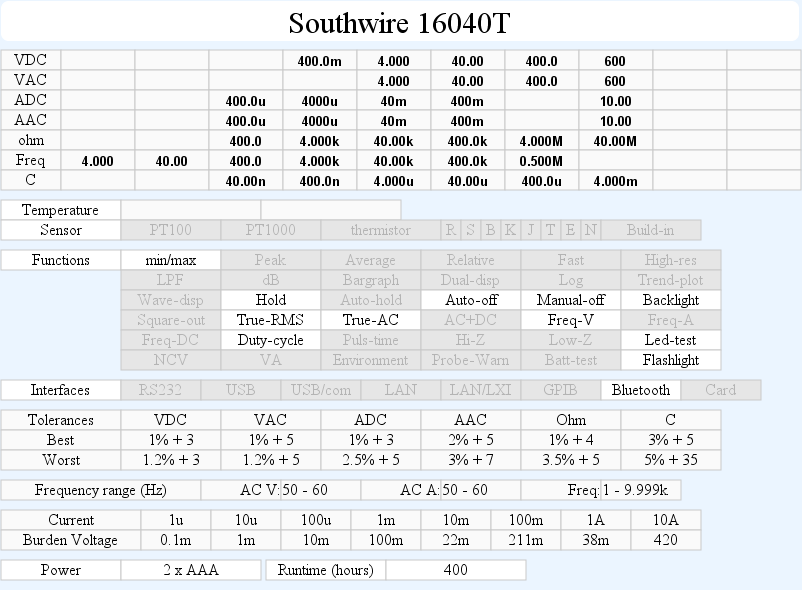 Application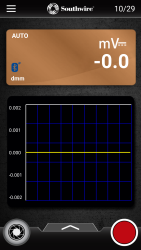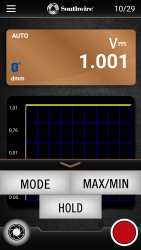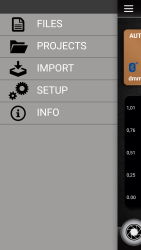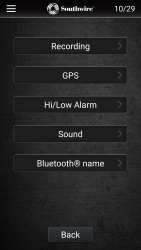 The application will show the meter reading and can record the values. It is also possible to control the meter (Only the buttons, not the range switch).
The curve on the screen is moving fairly fast and will only show the last few seconds.
Tear down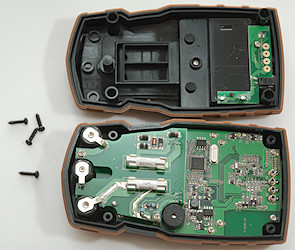 I had to remove 4 screws to open it.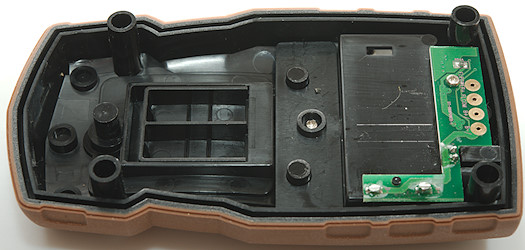 The back contains a circuit board with the flashlight led and connections from the batteries.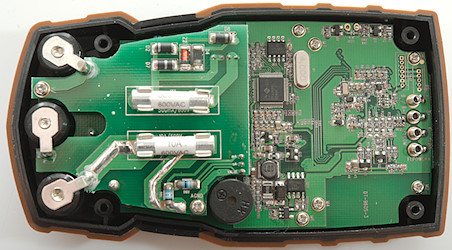 The circuit board is build to fit exactly into the DMM.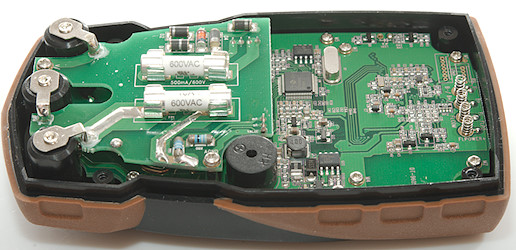 There is two layers of circuit board, the top layer with fuses and the input connections.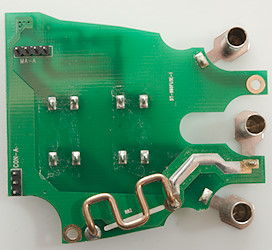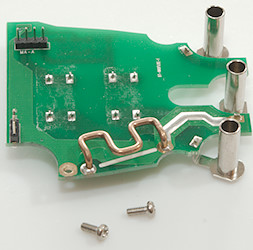 It was mounted with two screws and connectors for the signals.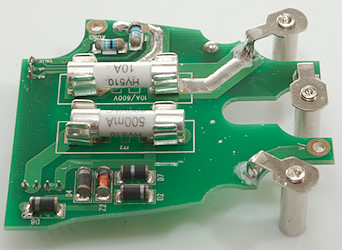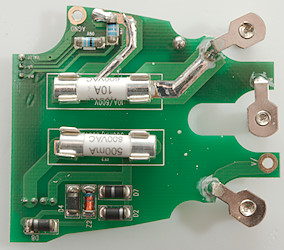 The two resistors (R80 & R81 99ohm & 1ohm) are the uA and mA shunts. At the connector is a mA, uA and a value connections, the value connections makes it possible to measure the voltage ignoring losses in the connector and switch.
The diodes (D2, D4, D7, D8 and Z2) are protection for the shunt resistors.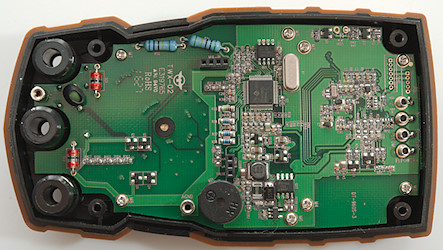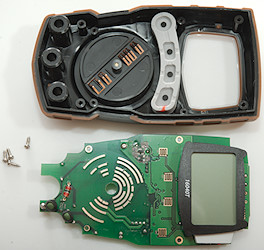 Four more screws and the circuit board could be removed.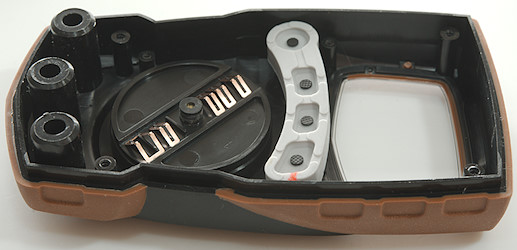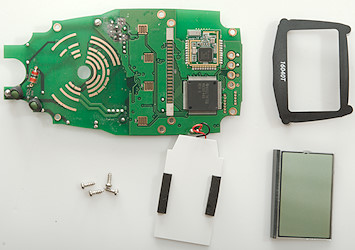 And four more screws to removed the lcd display.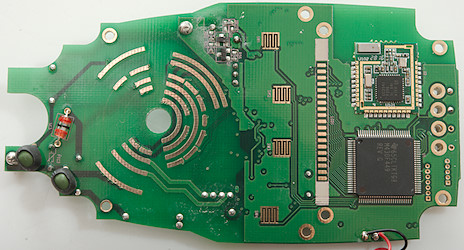 On this side is a microprocessor (U1: MSP430F449 16bit, 60+256K flash and 2K ram) and a Bluetooth module.
The input voltage is connected to this circuit board via a screw and there are a couple of PTC's and a gas discharge arrestor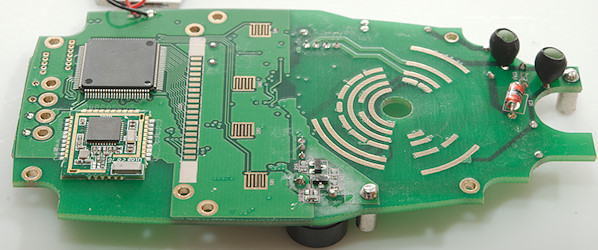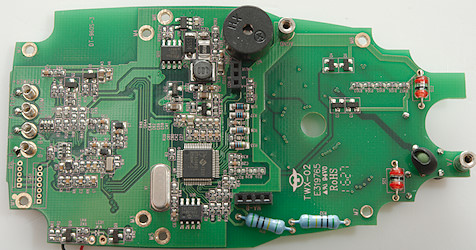 On this side there are a few more gas discharge arrestors and a PTC more. There is also some transistors used for protection (Q4 &Q6, Q3 & Q5). There is a resistor chain with smd (R103, R104, R105, R106, R107: 15Mohm) and one with through hole resistors (R31 & R32: 10Mohm).
The square chip is the multimeter chip (U9: DTA0660L) with its EEPROM (U10: 24LC02).
It looks like a boost circuit near the buzzer: U16 is the controller and Q22 and D3 the switching parts, this must be the reason for the stable backlight and flashlight.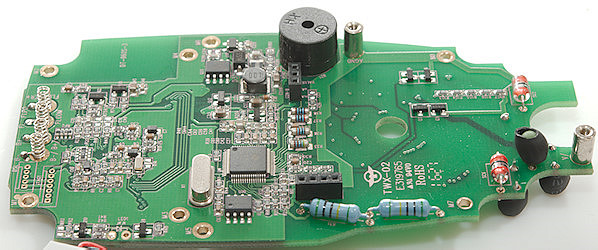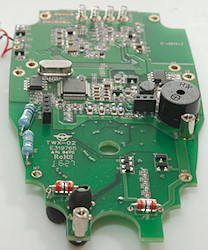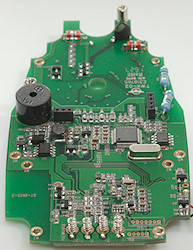 Conclusion
This is a rather small meter, but fairly thick. It has the most common functions for a DMM, it is only missing temperature. It adds Bluetooth and a flashlight. The shared voltage/current terminal is necessary for this small size, but is an added risk for mistakes.
The safety looks to be good, but I wonder about the fairly small fuse size.
I like the Bluetooth, it makes it easy to read the display from a few meters distance, but I am missing some alligator clips with the supplied probes.
It is not rated for high precision, but it is fairly precise, with exception of the low capacity range everything was only a few counts out.
This is a good meter both for mains related stuff and for hobby, it is easy to put into a pocket or toolbag, but I would keep it away from really high current stuff.
Notes
How do I review a DMM
More DMM reviews