This is it.
I'm overly tired of the "CRI averagish" LED bulbs I have home (looking at you LIFX, Osram, Philips) and what is commonly offered in retail / online stores (...for the ones that do know what is CRI, geez). I'm no steampunk, I do not want to get back to incandescent bulbs nor do I want to consider halogen right now.
At a time we can have über great Optisolis (Ra99 & Rf98 R9 99, R12 95) in our hands, why can't we have über great bulbs hanging from our ceilings?
And so for the nth time I've browsed the web for great bulbs. Seems I'm still shy of long results, even if it's better now. There are results.
And here they are, so far, in a regularily updated table thanks to our wonderful participating community: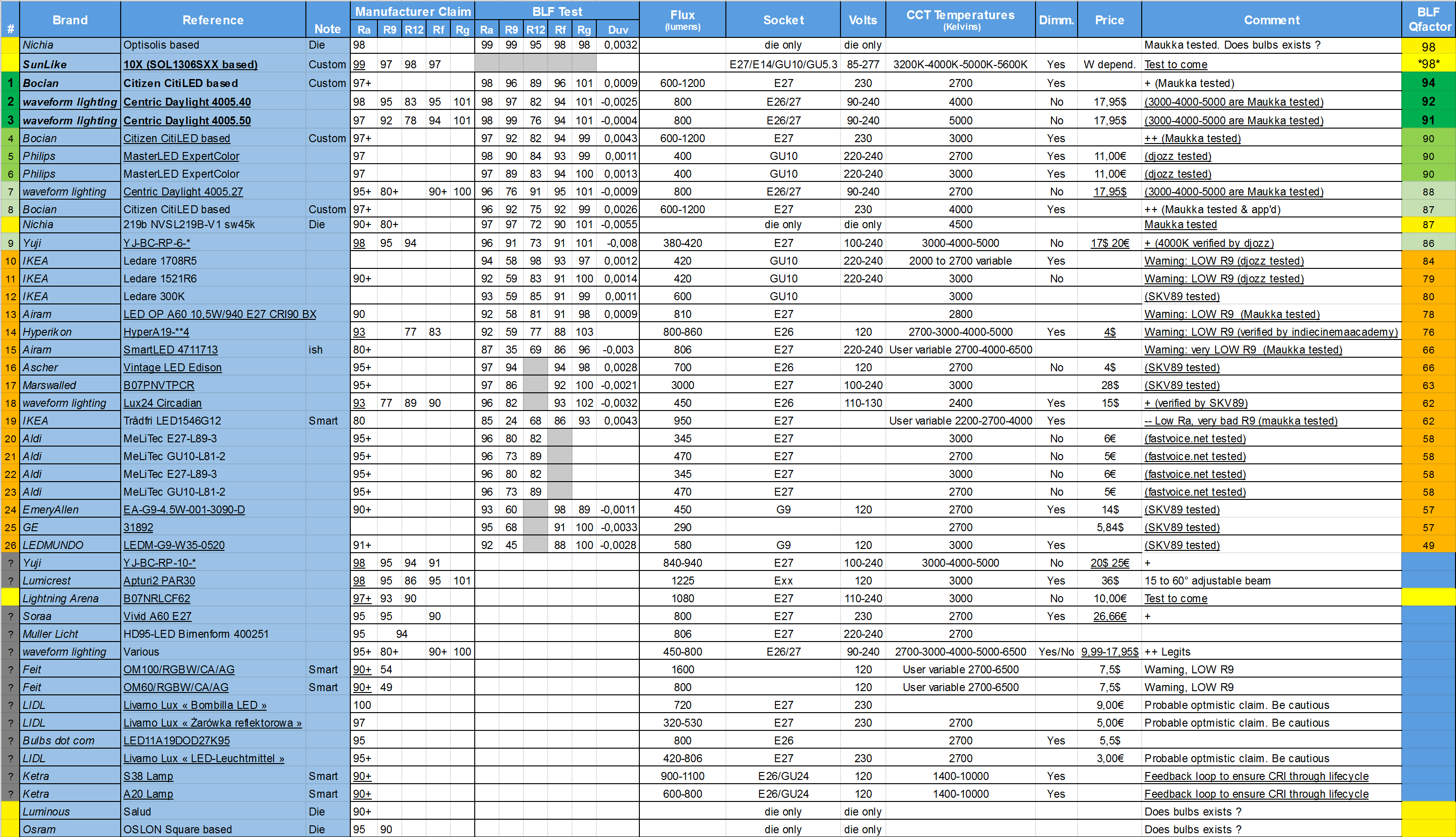 >> Click here to access the complete and UP TO DATE table <<
Note :
The "BLF Bulb Quality factor" that helps order this table is following this formula :  Qf = [(Ra *1)+(R9*3)+(R12*3)+(Rf*3)] / 10
This is a community topic, everybody is welcome to provide new bulb constestant, values and suggestions
We expect to create here a small bible of respectable references that will be useful to the community and everyone online.
Do you share this urge to find quality lights? What have you found so far?
Let the hunt begin !
Reference :
Remarquable manufacturer of High CRI LEDs dies:

Nichia : Optisolis

Yuji : VCT

Osram : Oslon square

Citizen : CitiLED

Luminous : Salud (only the 3000K flavour)

Seoul Semi Conductor / Toshiba : SunLike LED
—
Rise and Shine my precious...