Hi!
My review is about Fenix FD65.
It's not the first review on BLF about this interesting flashlight, but I hope it will be useful for you too.
Here it is! Mighty flashlight Fenix FD65.


Shortly about it's features:
— 3800 lumens of newtral white light
— Changable focus (from 10 to 90 degrees)
— Triple diodes XHP35 HI with TIR-lens
— 5 hours of constant work at the 1200 lumen's mode
— Changing of brightness in both ways
— Over 400 g. weigth
— $145
— Case included;)
You can slice the darkness by pieces, drain swamps, raise the ducks on it's wings and spy for the cats from the 400 meters.
Here you can see the Fenix's mean about powerful can of cola. GIFs, video, graps, usecases – included.

Specifications
Diodes: 3 х Cree XHP35 HI LED Neutral White
Brightness: up to 3800 lumens
Light angle: smoothly changable from near to far:
— Near mode: 90 degrees. Even light
— Far mode: 10 degrees hotspot, 54 degrees of side light
Maximum beam distance: 410 meters at "far" mode, 86 meters at "near" mode
Batteries: 4 elements in 18650 formats. Flat top batteries also works well
Modes: 50 lm, 150 lm, 400 lm, 1200 lm, 3800 lm
Stobe: 3800 lumens
SOS: 150 lumens
Working time: up to 86 hours in 50 lumens mode, 5 hours in 1200 lumens mode
Dimensions: 152,5 мм – lenght, 50,5 мм — diameter, 61 mm — head diameter.
Weight: 431 g
Waterproof: IP68 (up to 2 m underwater)
Shockproof: 1 meter
Packaging

The flashlight has came to me in big hard carton box, where it was lying in foam lodgement.
It's not a hard case from plastic, like some other flashlight have, but it looks also very well. It could defend the flashlight in case of beating at post office.


You can find the working chart on the box, characteristics of the flashlight and it's most interesting features.


Inside the box


— Flashlight itself
— Hard case for your belt or backpack
— Strap
— Spare O-ring
— Manual and warranty paper


What's interesting from the box? It's hard case for the flashlight.
Hard case for the flashlight impressed me – it's hard, compact-size and well-made.


In that case you can hide flashlight's body, and fix it's head with velcro. It holds the flashlight really reliably.


I've found some protruding threads, but I'll fix it with help of the lighter with ease.
The case has some options – you could choose how to use it: on the belt with solid or velcro loop, or on a backpack with carabiner.

Appearance
At the first look I thought that this flashlight is giant. But, in my case, it was like with smartphones – I get used to it's size really quick. Moreover, Klarus G20 became like EDC for me now;)
Here you can see these guys face to face


In my opinion, Fenix FD65 looks good. It's a little brutal flashlight, but looks in harmony.


By the length – close to the typical flashlights on 18650 batteries. By the thickness – look at this picture:


The tailcap has no buttons at all, but it has two holes for lanyard. It's not the best way, because if you will use lanyard, flashlight will stand on it's tailcap not very well. It will be better, if two holes are made near each other.


There are deep longitudinal ribs on the tailcap – I have no difficulties with unscrewing it. On the inside of the tailcap – movable contact pad. There is a guide pin for normal positioning of contacs. But, if you don't care about it and screw the tailcap as you wish, it aslo works – this pin will find a hole for itself near the battery. I didn't find any marks about this feature in the manual.


A thread, like always Fenix has, is very deep and anodized. On FD65 I've found a lot of thread, you could be tired with unscrewing it;) More than 4,5 full turns!


Battery compartment – for four 18650 elements. It also has separators. Two of that separators equipped with holes for the pin in the tailcap. These holes are also using for correct positioning batteries, in case of using only two 18650.


As you can see, there are contacts with springs inside the case. That's good, and you will have no difficulties with using both types of 18650 batteries: button-top or flat-top.
There are special marks on the сircuit board for correct orienting of the batteries, but if you will make a mistake, don't worry, flashlight will not start – it has built-In protection for that situation.
In case of emergency you can run the flashlight with only two batteries, but you should position them correctly – as on that picture:


Fenix FD65 will work as usual, but it's not recommended to use max and turbo modes – flashlight could switch off instantly, when using this modes. It's possible to fix that – you should reload the batteries.
There is a transverse knurling on the body of the flashlight. In comparison with other my flashlights, it's the deepest knurling. But it's not the most tenacious, because it's only "one-way".


Transition from the body to the head of the flashlight is made with insignificant thickening with two cooling ribs.


There are two buttons with logos and notches on the reverse side of the body.


These buttons are not the same:


Buttons has clear click, right one is louder than other:) My fingers are using these buttons "securely" – they are not trying to slip off.
Next element – main feature on this flashlight – rotating ring, which could regulate the focusing of the flashlight. It's width – 1,5 cm. I have no problems with it's searching and using. This ring also covered with deep ribs – It's very comfortable to use it.


It's possible to hold the flashlight and to rotate this ring by one hand, but it's better to do it with both.

Movement of the ring was rather tight at the beginning, but now it works as it should – smoothly.
Also you can find special marks on the ring, that tells you which mode is set. There are little pictures on the head of the flashlight – like rabbit and turtle on the outboard motor;) I didn't need to use manual to understand how is it works))
The head of FD65 is slightly wider then it's body – it looks better for me, then "plunger-look" flashlights.
It's bezel made like on the tactical flashlights – with teeth. But these teeth are smoothed and will not hurt your pocket or backpack.
Fenix used
TIR
-lens in that flashlight, it looks amazing:
By rotating the focusing ring, flashlight's head is moving forward and the flashlight itself becomes longer. You can see, how is it looks like, on the previous video.
Great, that with that type of construction, IP68 is available – Fenix FD65 survive with easy after little "diving" to a bucket of water.
Here is it's weight with batteries installed:
Control
Power management is served by two buttons.
Left button "L":
Long press (longer then 0,5s) will power on the flashlight in Low mode (150 lumens)
Short press will decrease the working mode by one step
Long press while the flashlight is on – switching it off
Very long press (longer then 2 s) – SOS mode
Right button "H":
Long press (longer then 0,5s) will power on the flashlight in High mode (1200 lumens)
Short press will increase the working mode by one step
Long press while the flashlight is on – switching it off
Very long press (longer then 2 s) – Strobe mode (3800 lumens).
If you are thinking, that Strobe and SOS are useless, here is my example – this summer Stobe mode really helps me to mark our camp for friends, which were searching us in twilights.
Lock Mode: Long press for both buttons simultaneously will lock the flashlight. It will blink twice and lock out. You can block it by one finger:) Unlocking is the same.
Huge advantage of this controlling scheme for me – availability to increase or decrease flashlight's brightness instantly. You shouldn't switch it by cycle – you can only select what you need.
It's also good, that flashlight has possibility to lock the buttons – your pocket will be safe and will not burn by it's light;) (Unscrewing the tailcap will not lock the flashlight).
There is no memory for the last used mode.
And one more thing – rotating ring. It's rather tough and don't rotate by itself. With rotating clockwise we can decrease the angle of light and increase the beam distance. With rotating counter-clockwise we can increase the angle and decrease the beam distance.
But this rotating ring has a con: when it's moving from the most right position (when the lens is close to the diodes), flashlight's head sounds like a frog;)
Light
In Fenix FD65 you can find XHP35 HI diodes – it's the first model it XHP line.


HI – High Intensity – without silicone lens on the diode.


Let's begin from the main feature of this flashlight – focus regulation. With help of rotating ring you could choose the focusing: from harrow light angle to wide. Like this:


And it's working. Here is the beam in real life:


There are some "parasitic illumination" in narrow-mode. Focusing ring has no fixed positions – we can choose the "intermediate" focusing. Here are the available modes:


Let's go ouside! Here are some situations and different light modes. I've used only max-distance and max-wide modes.
First location:
Narrow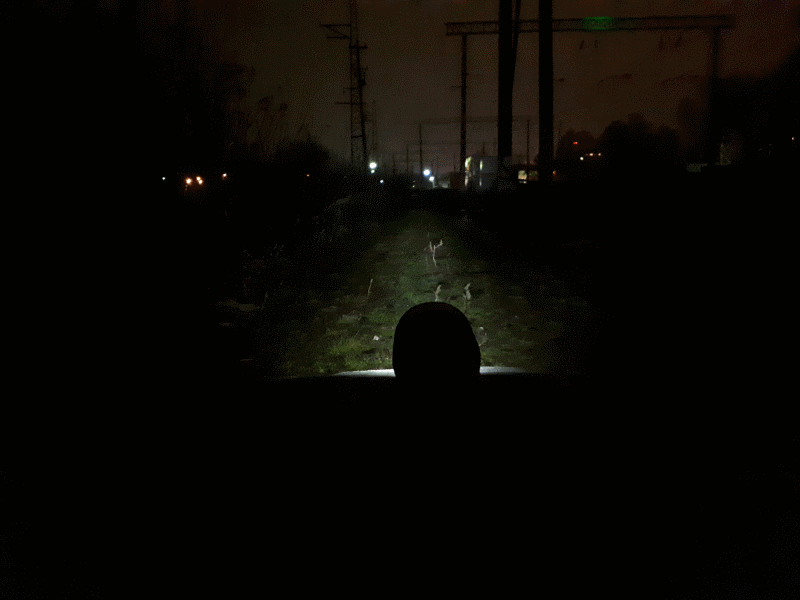 Wide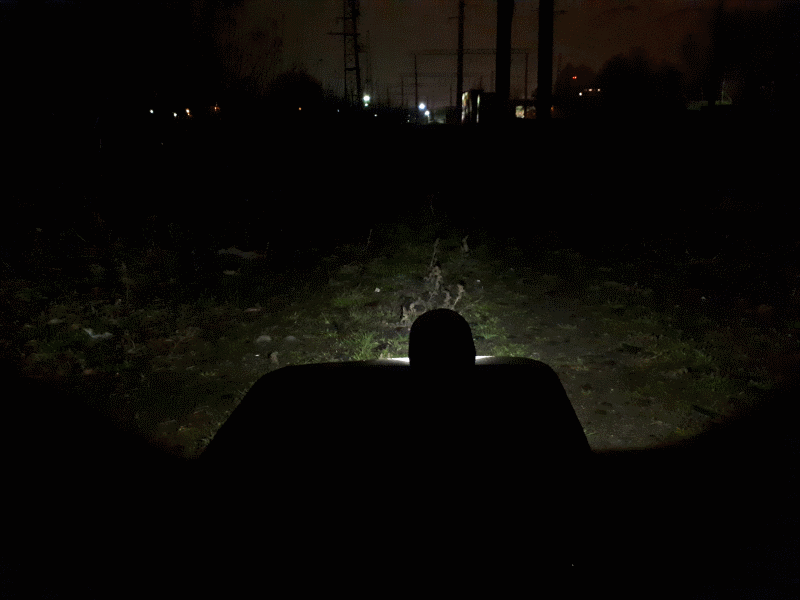 Second location:
Narrow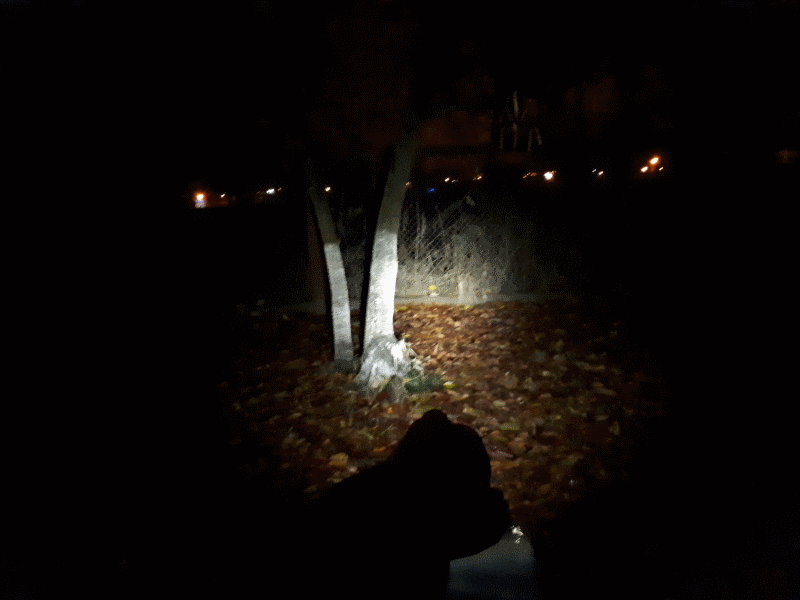 Wide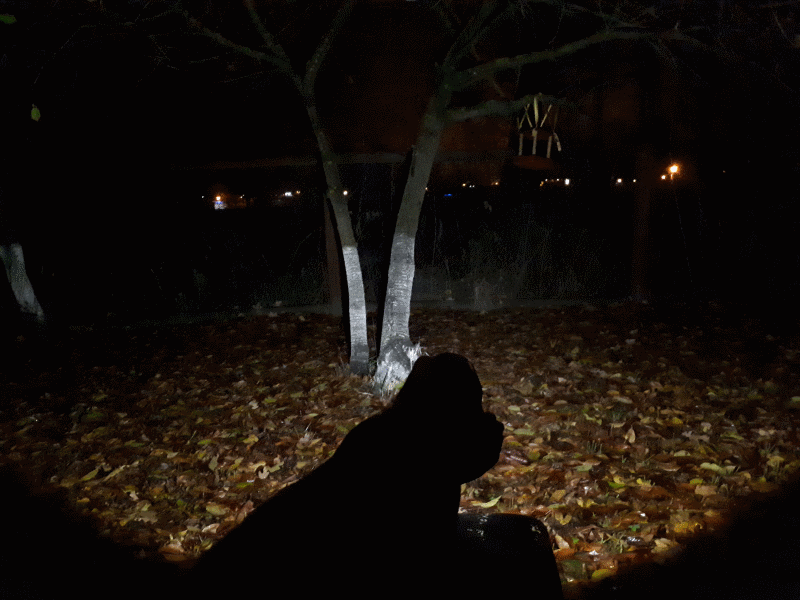 Third location:
Narrow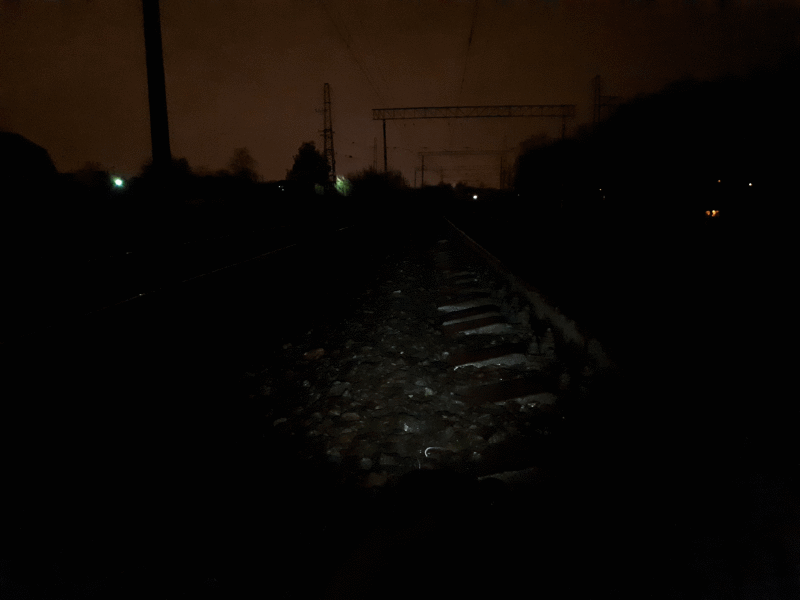 Wide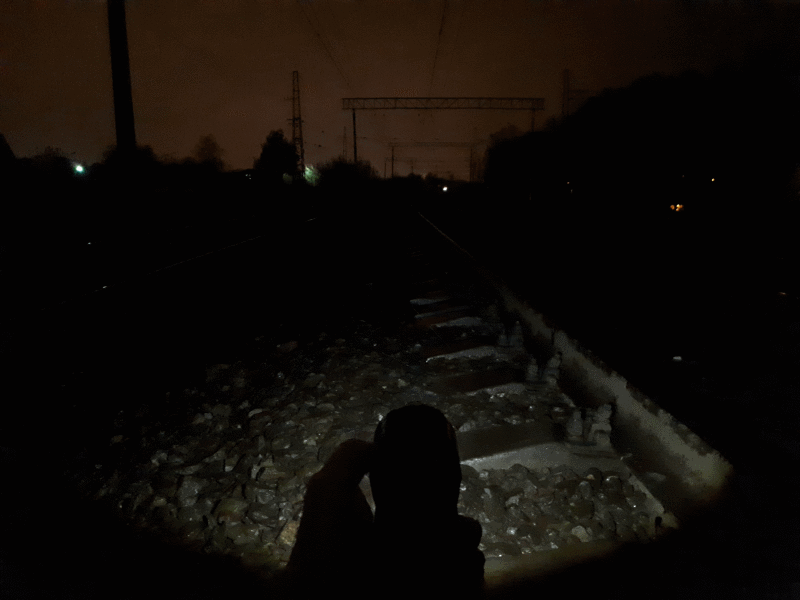 And one more example – at the parking lot with light: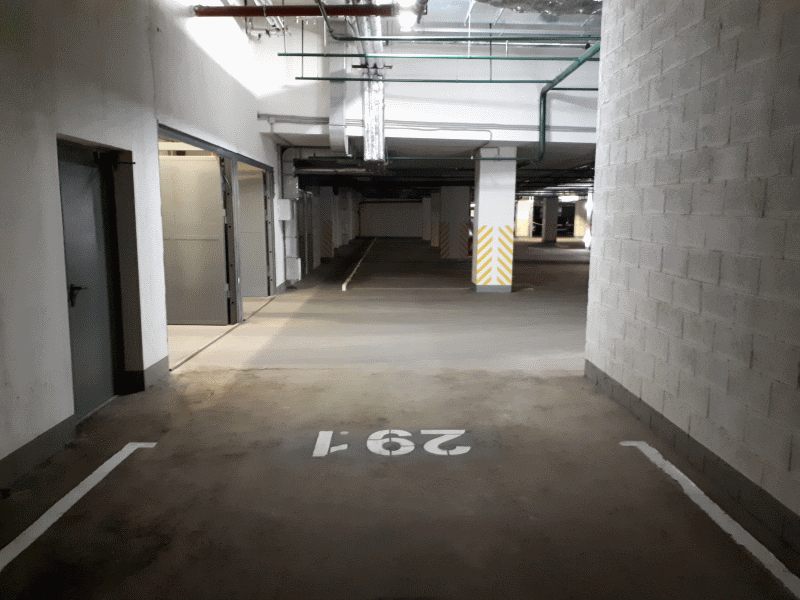 Fenix FD65 works confidently – you can see a person by 200 meters with ease.
Short video with demonstration:

Here is the Fenix chart of flashlight's work:
As you can see, not all of the time positions are marked;)
Here is the real chart from the professional integrating sphere (I've used 3400 mAh batteries):
Measured max amount of lumens was higher, than Fenix mark! (About 4450 lumens).
Measured graph is looking like on the package, that's good.
Big advantage of Fenix FD65 – neutral white light. In pursuit of lumens, Fenix did't use cold diodes. Look at this comparison with "lumen-hunter" Klarus G20:
Here are the real data from the laboratory:
Measured color temperature is about , it's well for eyes.
Light has at all on any mode, as usual in Fenix flashlights.
Fenix FD65 has – brightness will automatically decreased in turbo-mode if temperature will raise by 65C.
is also available, but flashlight will switch to the previous mode when it will have no energy to power higher modes. You can see it's work on the chart.
When voltage on the batteries became critical, flashlight will switch to
ECO
mode and it will blink 3 times every 5 minutes, telling you to change the batteries. In that case, flashlight will work in direct-drive mode and it will work until batteries work. It's good for survival but not very good for unprotected cells – that's why I recommend using protected batteries with that flashlight.
Total
What do we have in result? In my opinion, Fenix FD65 is bright, with cool optics system, great looking and using. Focus regulation will give a freedom in choosing beam distance and angle – it's very comfortable to walk through the night forest: you can light out all the rustles and don't step to a snake:)
Flashlight is also feel pleasant in hands, don't want to throw it out. It is well balanced.
Maximum brightness is more that Fenix mark for this flashlight, case is very cool, long runtime – more than 5 hours in 1200 lumens mode without stepdown or smth like that. And final advantage – customer service from Fenixlight.
What do we have in cons? Croaking lens, big weight and lanyard holes – that's all that I could find.
Who will benefit from this flashlight? It's not an EDC, it's a tool. And I think it will be useful for foresters (walking throw forest with it is a pleasure), farmers (walking to to the yard, check whether somebody tries to steal a hen, potato or "where is my dog?", water-tourists (you can check a place to stay even from the center of the river, and also you can light up all the camp for a long time with Fenix FD65). Maybe it will be useful for photography: it has very pleasant light and a hole for the tripod mount. For office worker this flashlight is redundant I think;)
If you decide, that Fenix FD65 is for you, let it work into the wild more often.


Good luck!