Hi everybody!
Gearbest asked me for a review and I choosed the Haikelite SC26 XHP35 HD version of this flashlight. I only got the flashlight and no other compensation for the review.
You can buy it HERE
Please use my link because gearbest watch how many sold over my link and if they happy they will give me more lights to test review.
I choosed the dark blue version which has a nice deep blue color but the tailcap a little bit different shade than the rest of the light.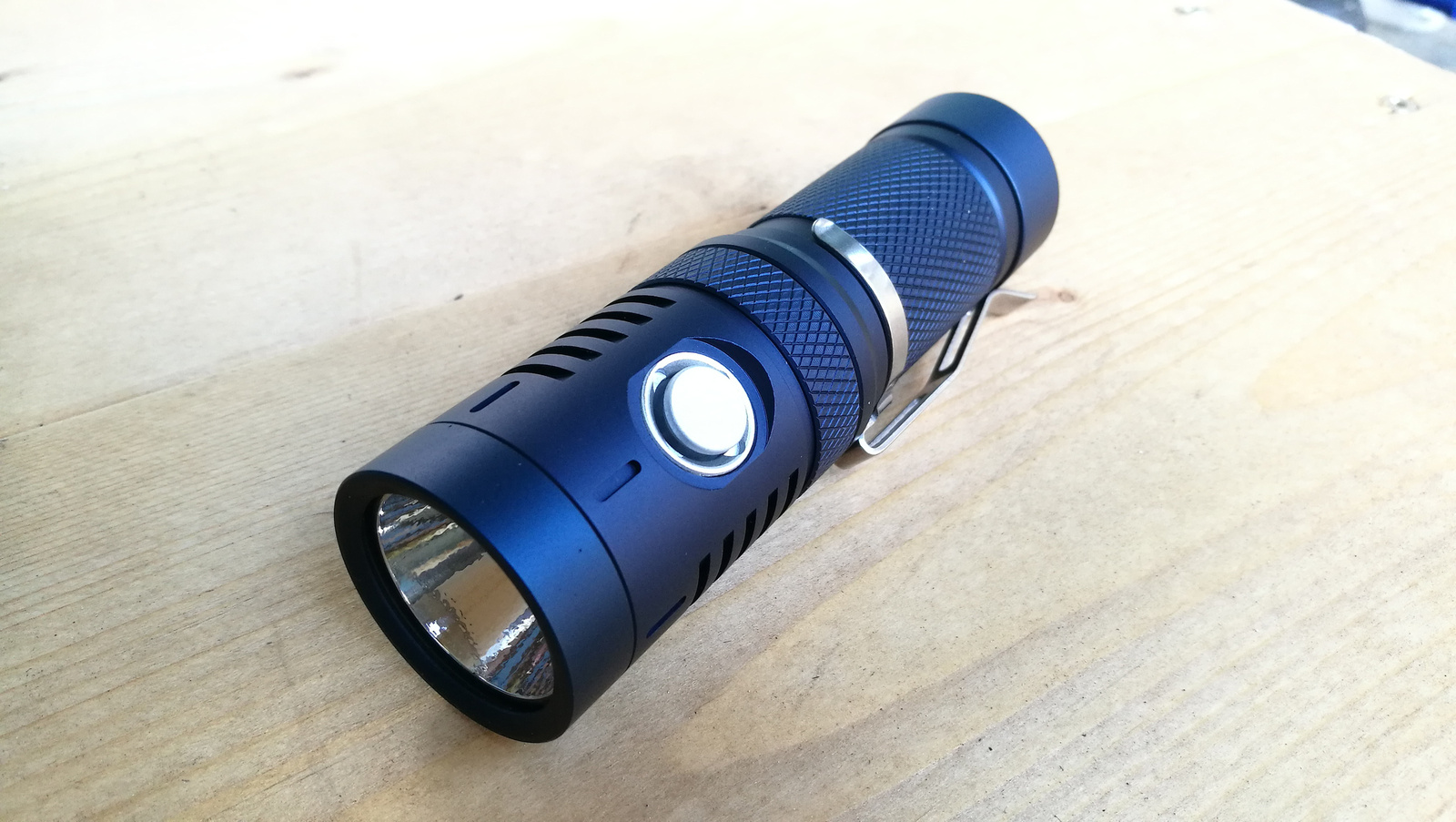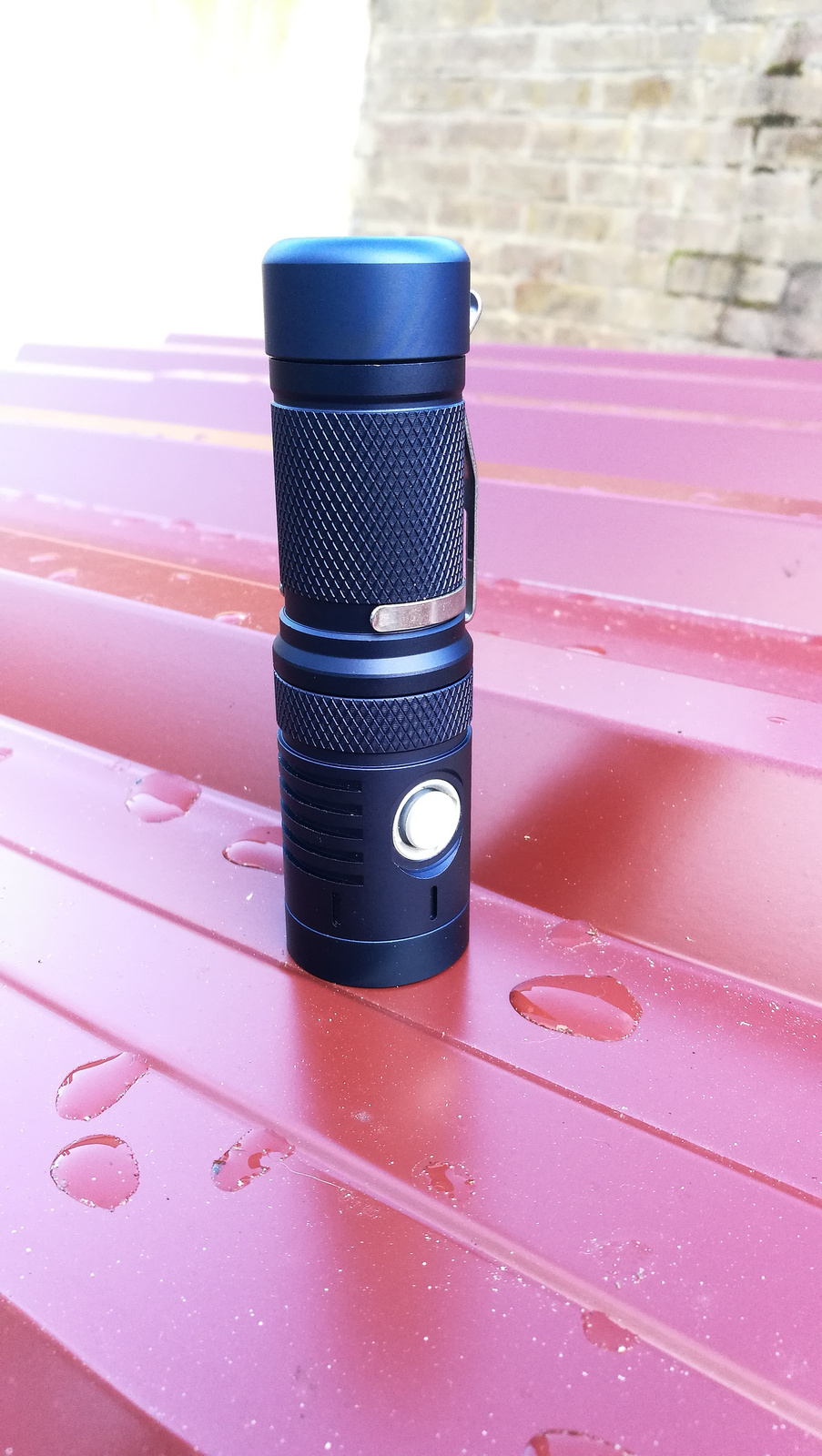 The tailcap has the Haikelite SC26 engraving a little off-center and it has a very thick spring. It has no magnet.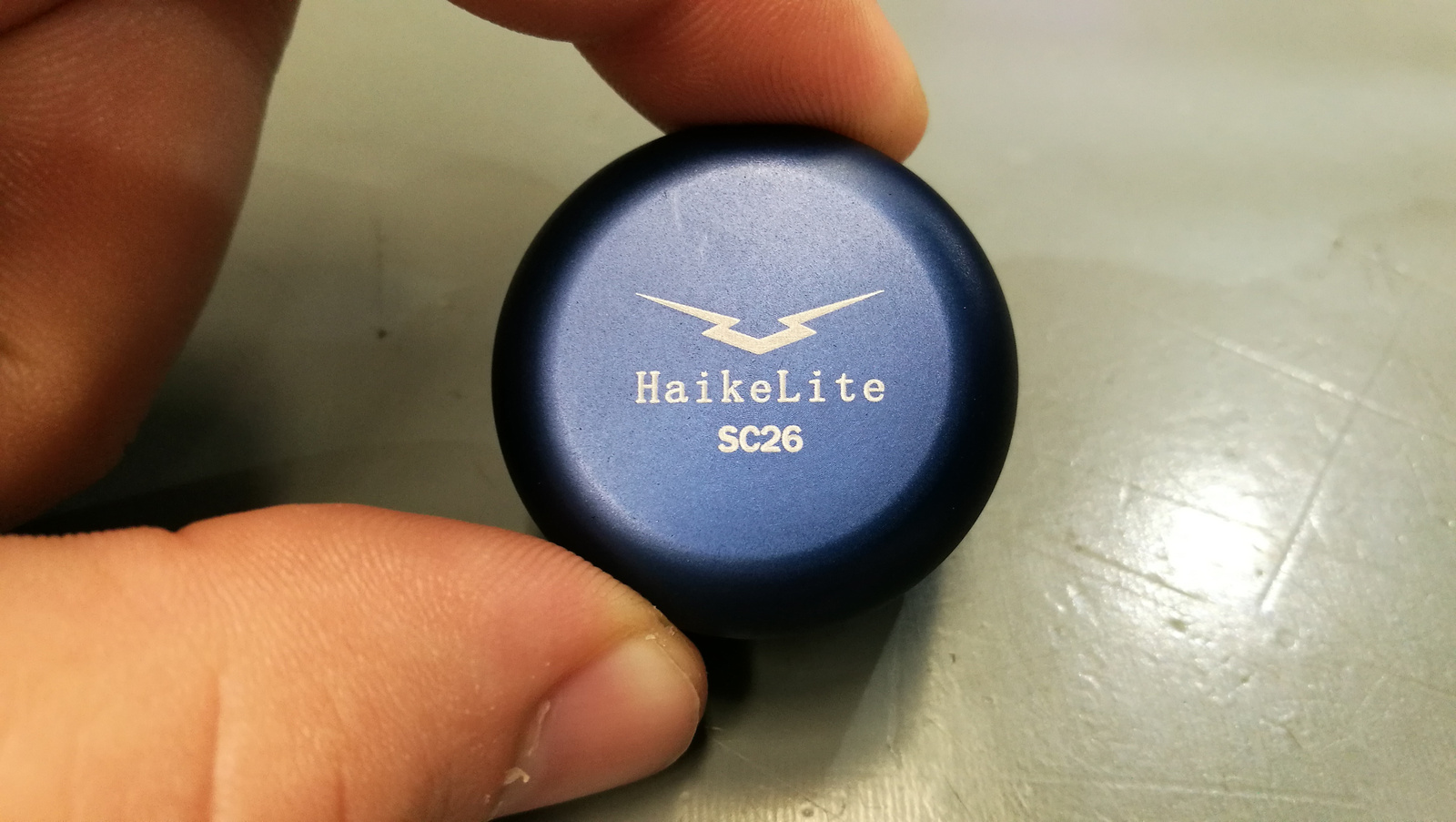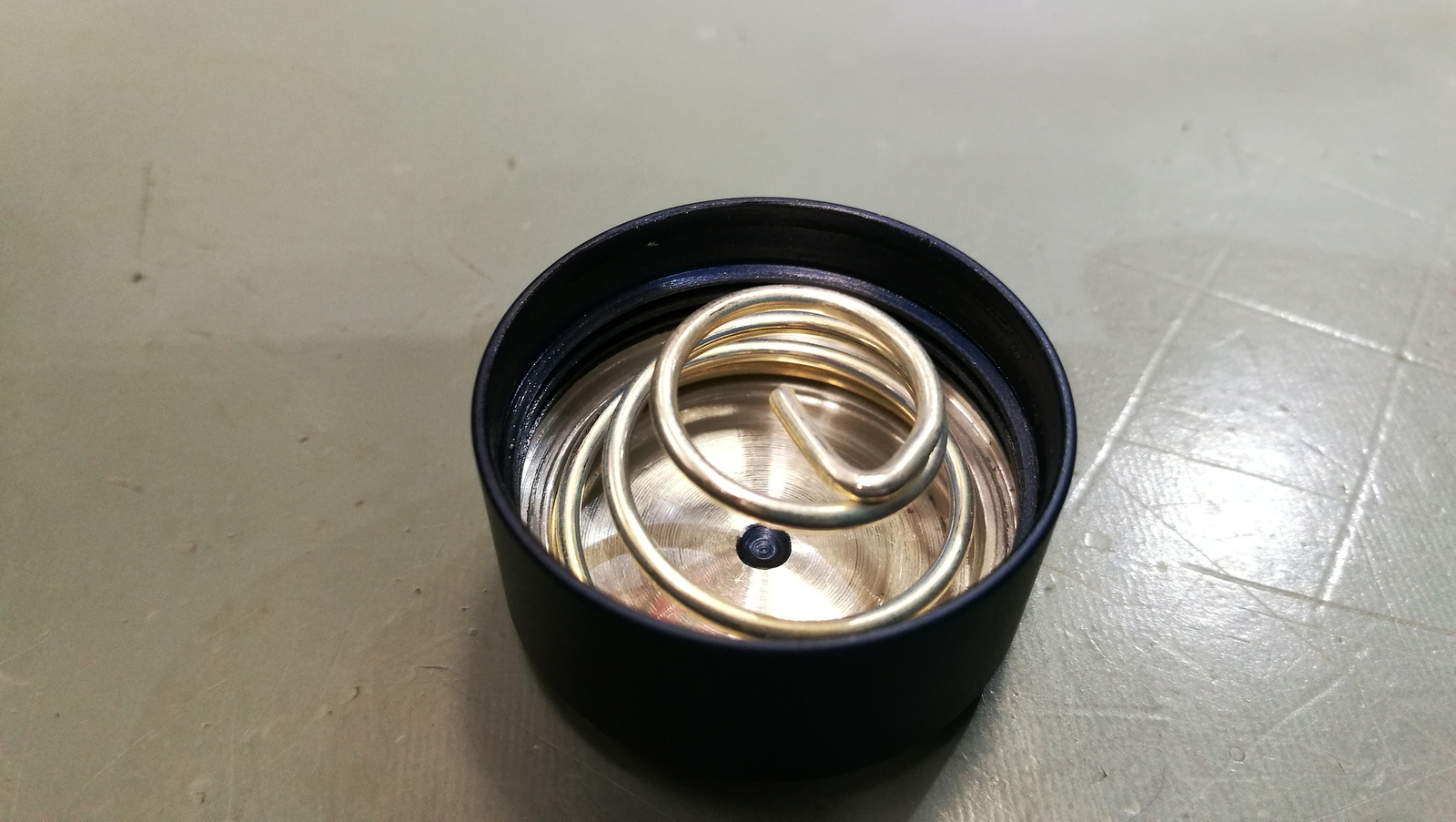 It came with a 26650 and a 26350 short tube, two spare O-rings, User manual and a clip. The light doesn't have any Anti roll cutout so the clip is useful for anti roll purposes but sadly not as a clip. It fits only with long tube and the top is at the flashlight's half and opens from tailcap. So it is very head heavy on a belt or in the pocket the whole head is out of pocket. The tubes have smooth and well lubed square threads.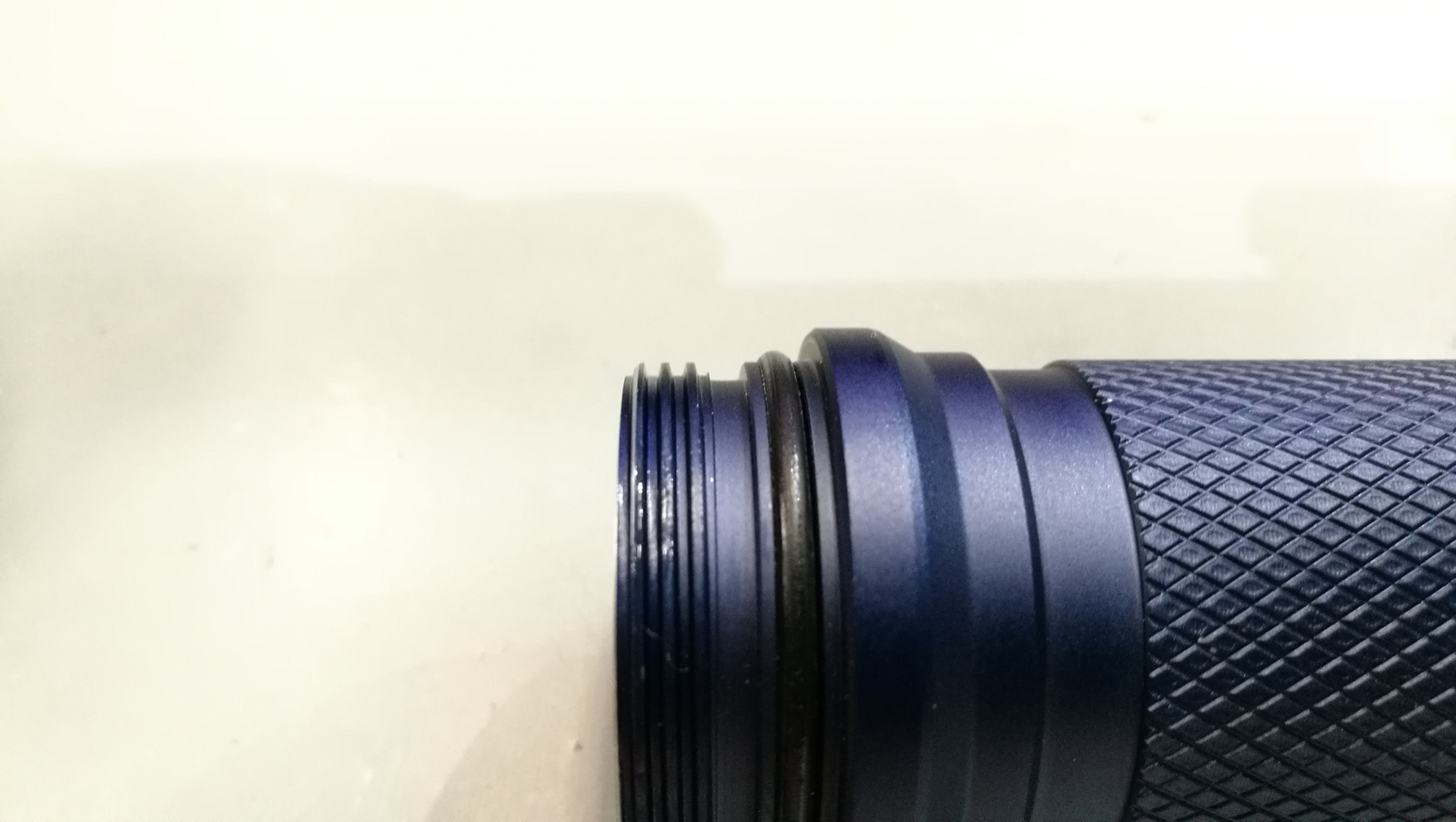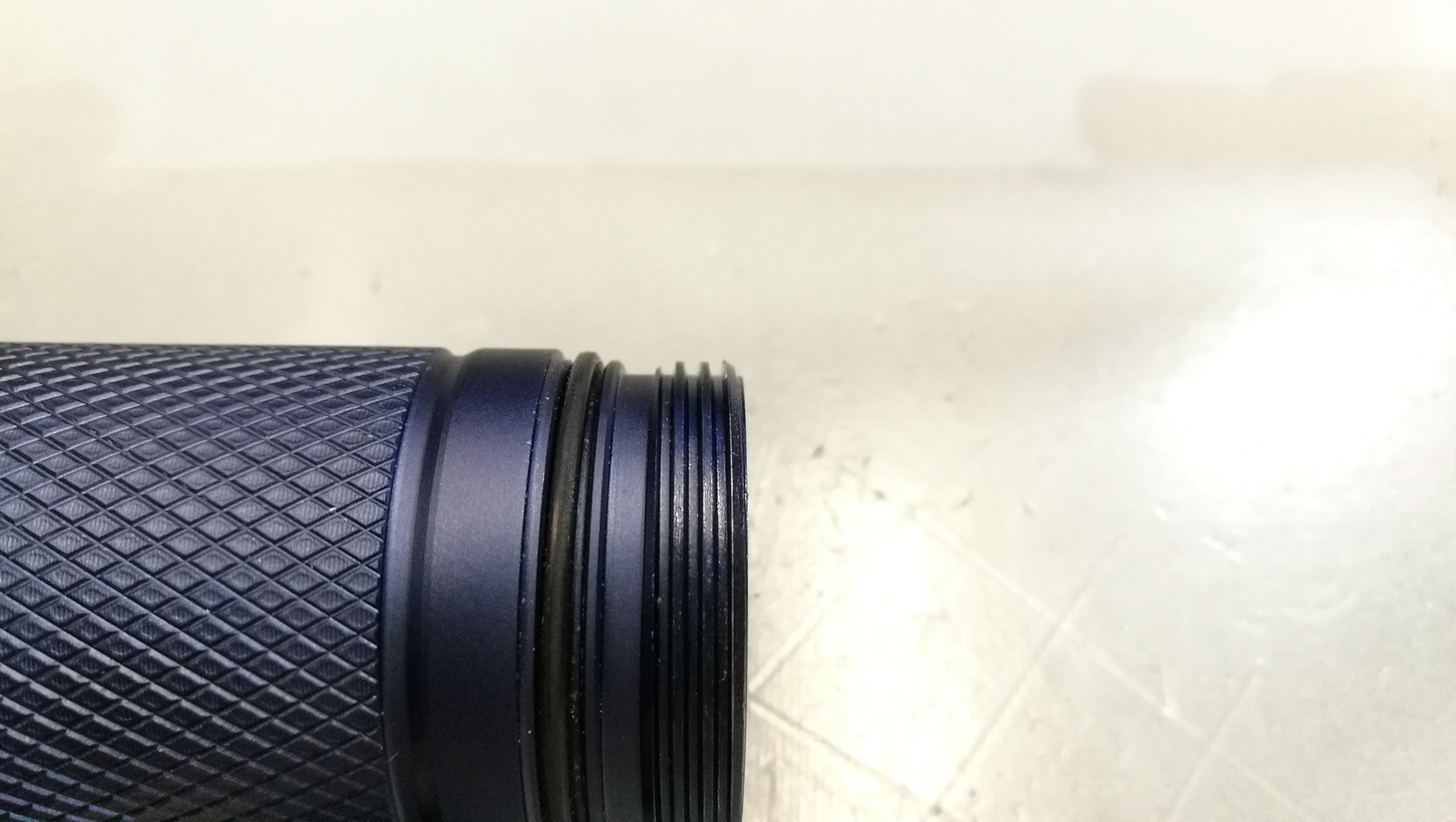 The head has some heatsink fins cutted almost full around. Only the switch stops the fins.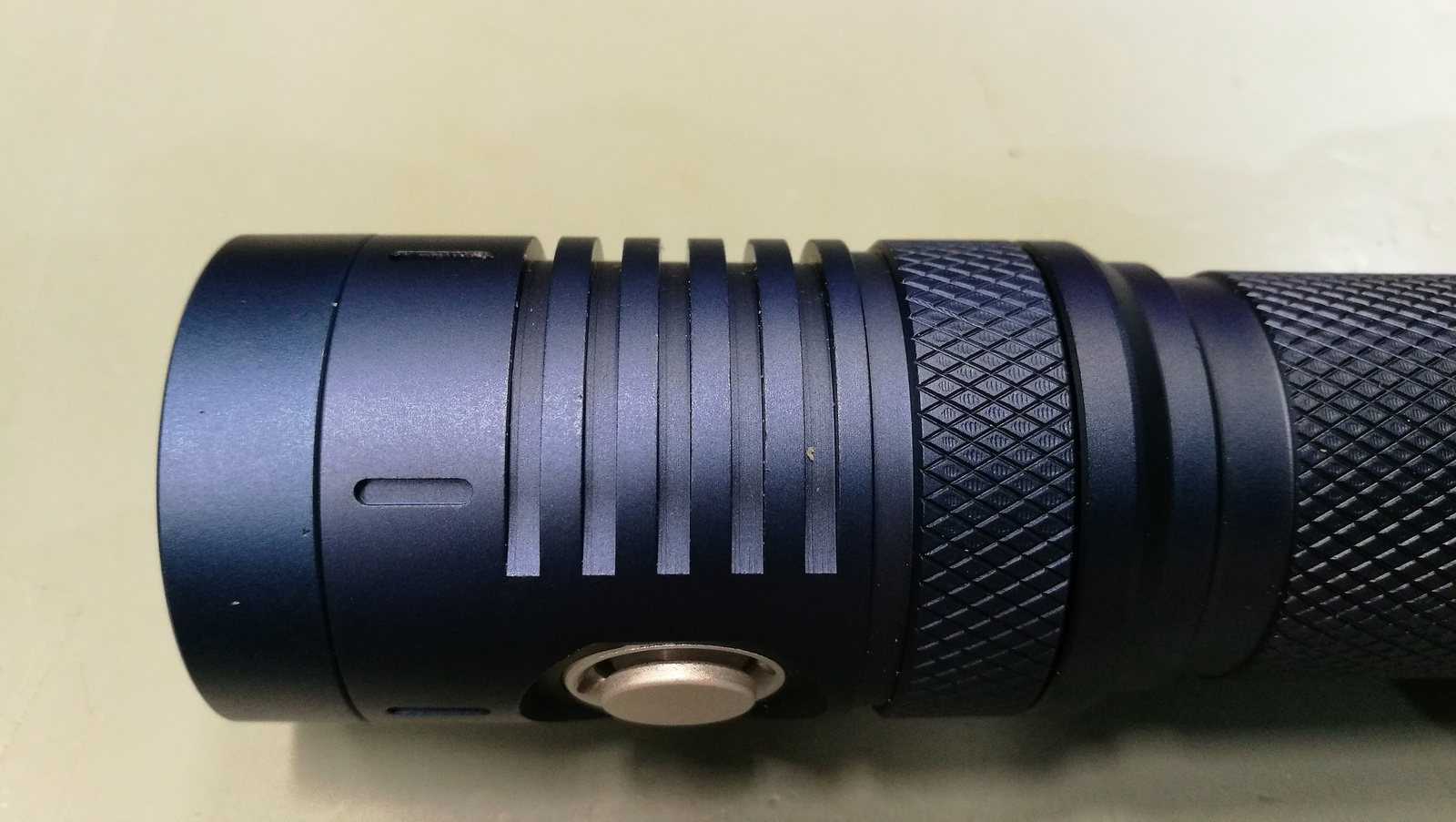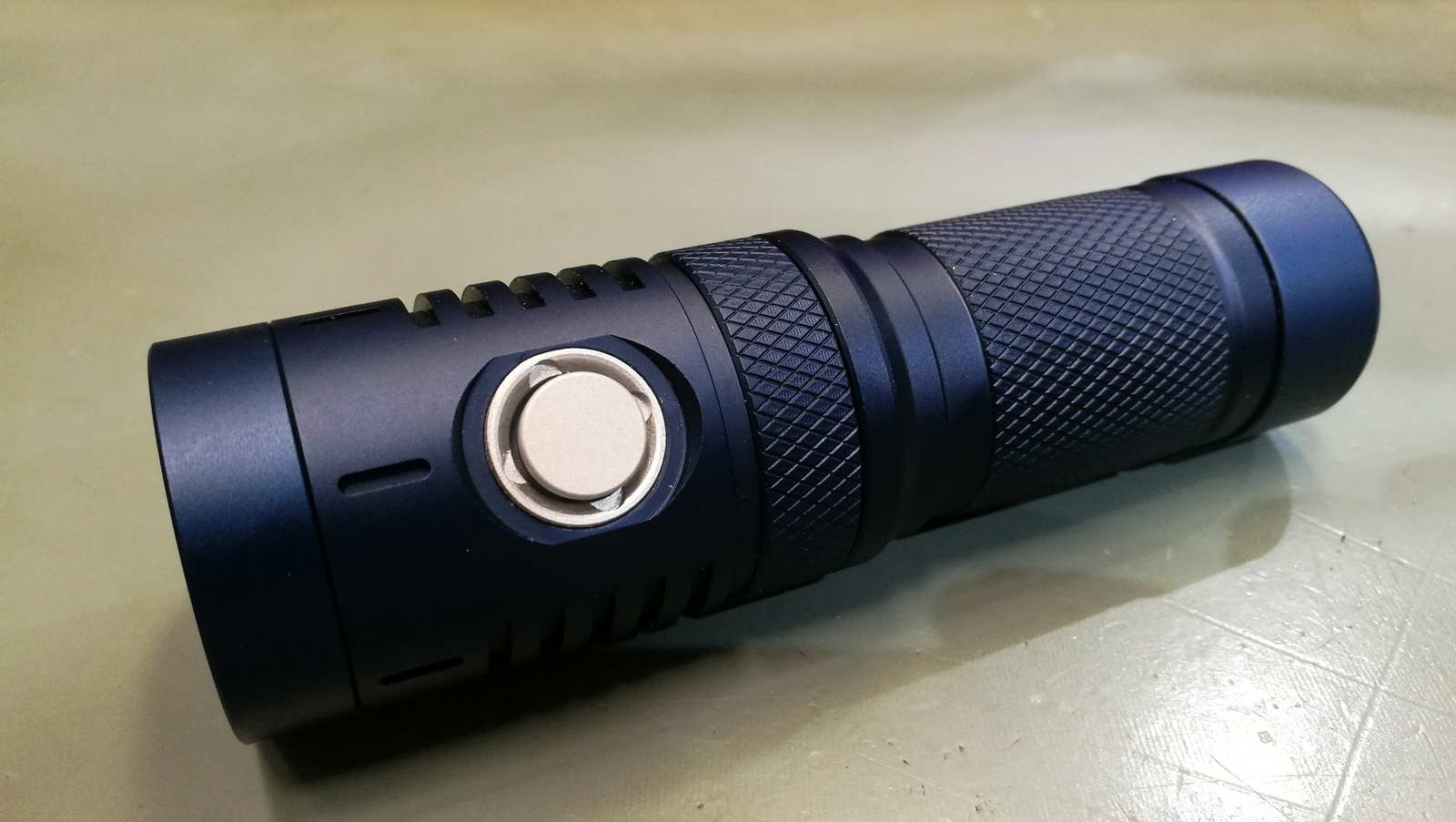 The switch has blue lighting when the light is on and it turns red under 3,4 volts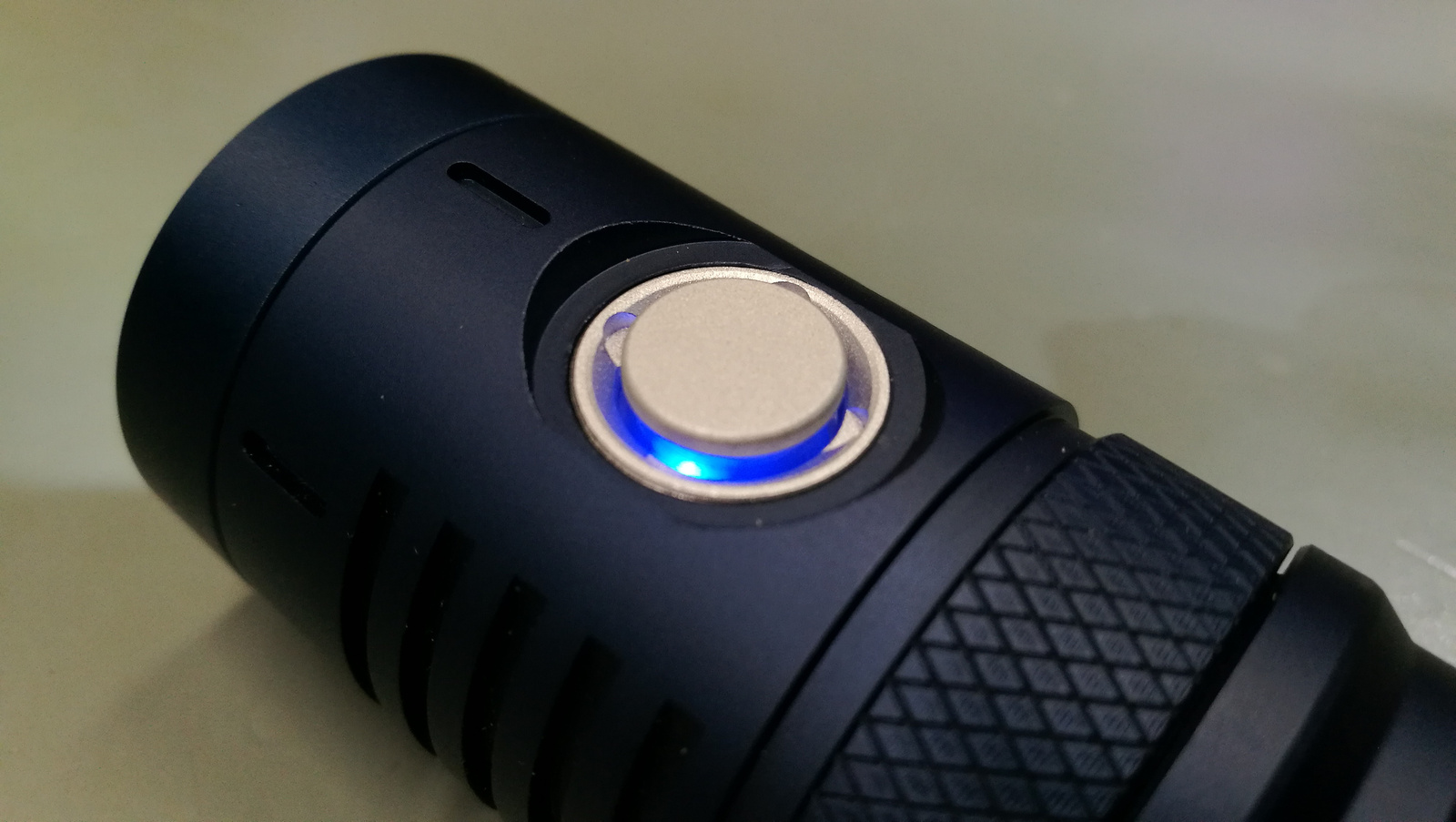 It has a slightly orange peel reflector around the XHP35 HD led.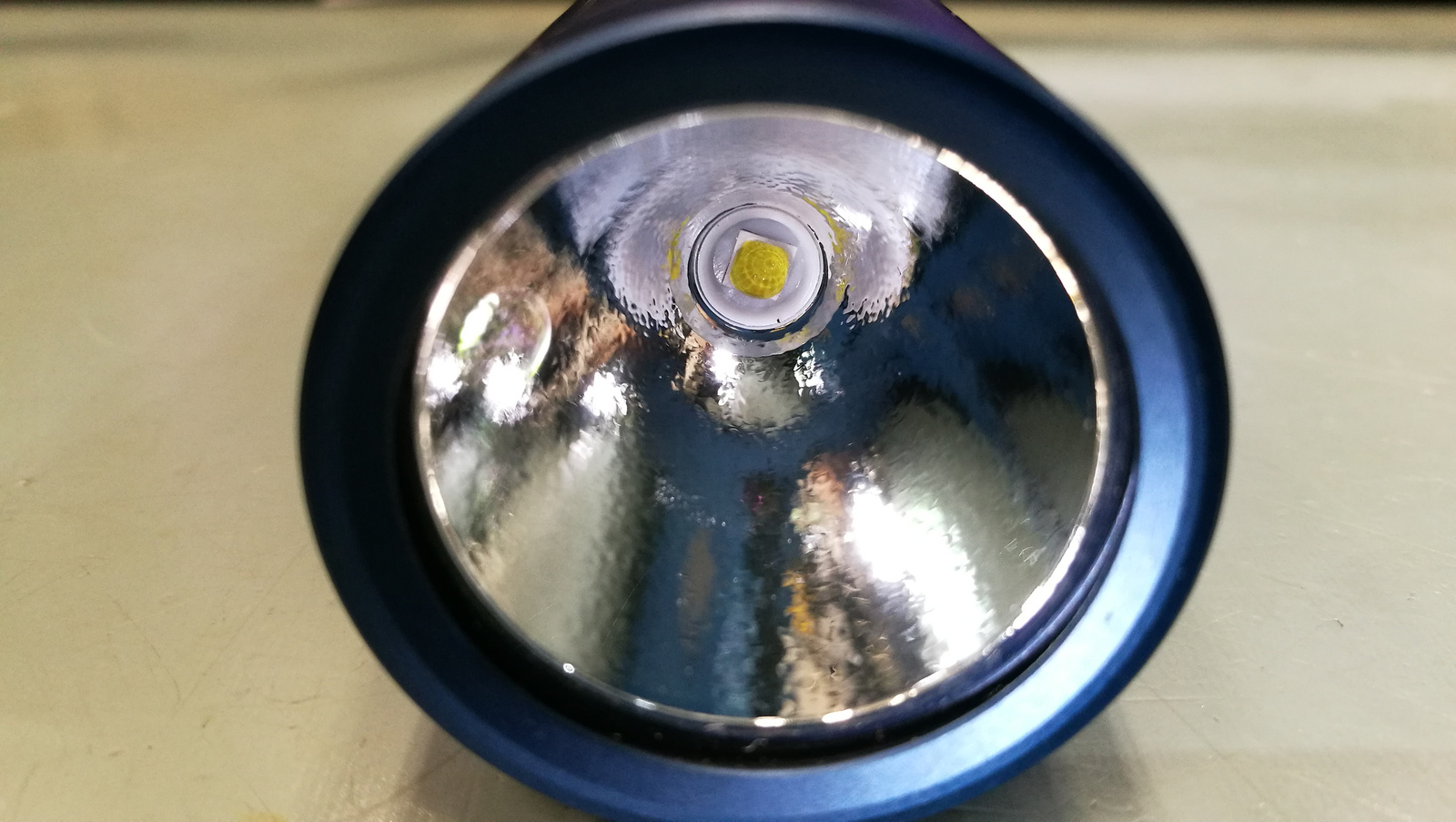 The bezel is not glued so I removed to see the internals.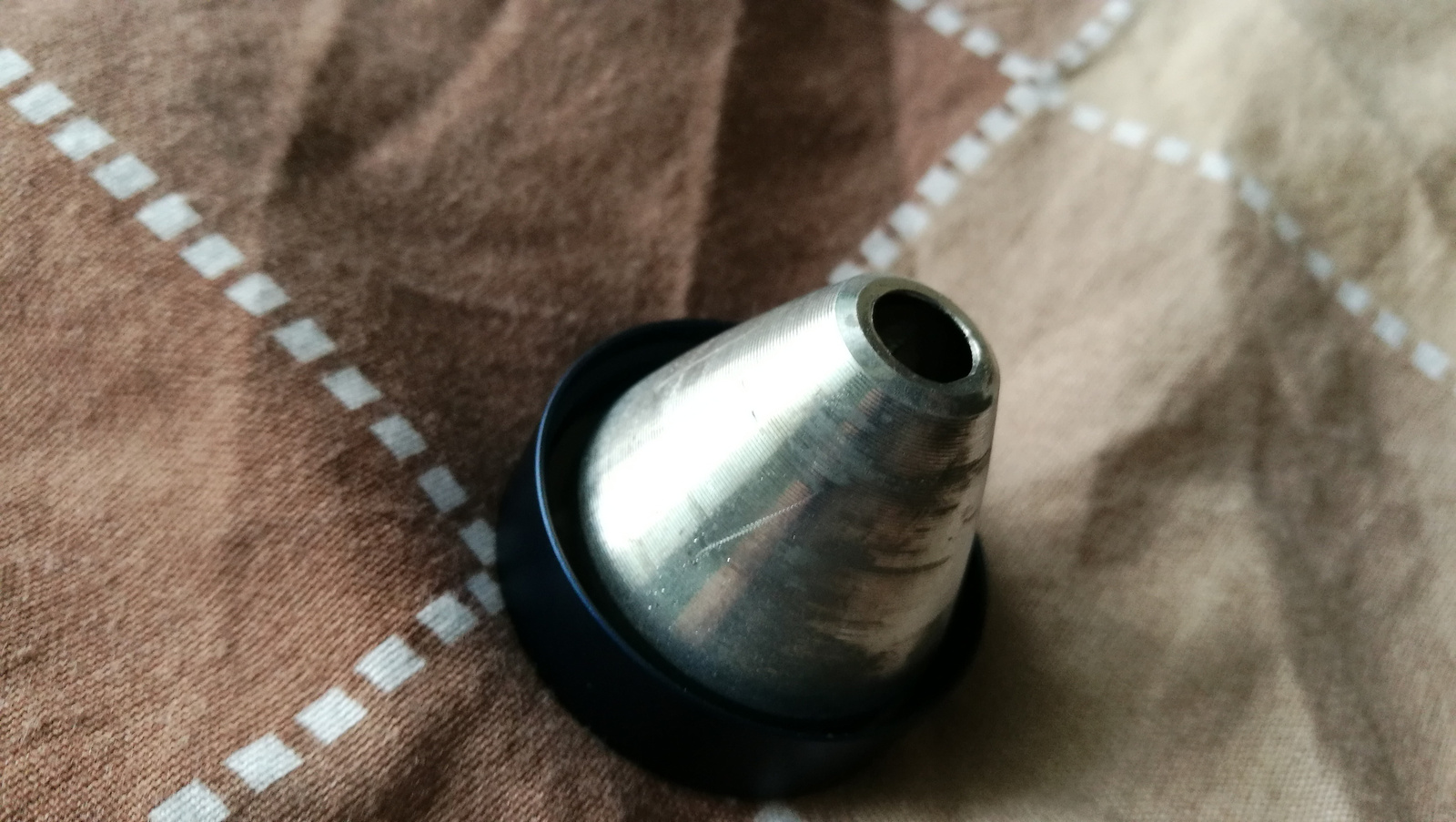 The led has a little foil ring on the centering ring maybe for short protection for reflector with wires because they used a very small 16mm copper DTP MCPCB. It has more space. I don't know why they used so small MCPCB.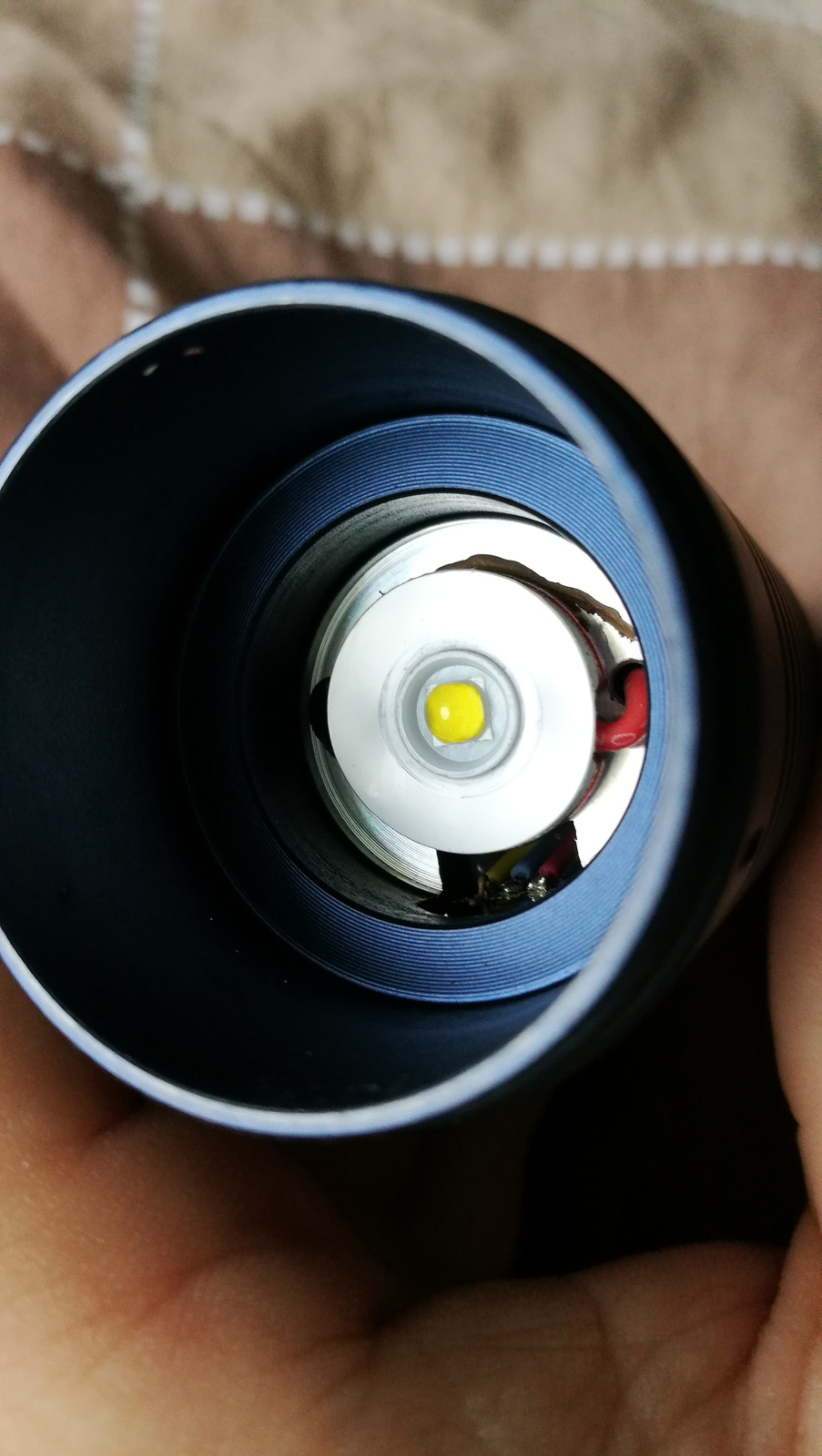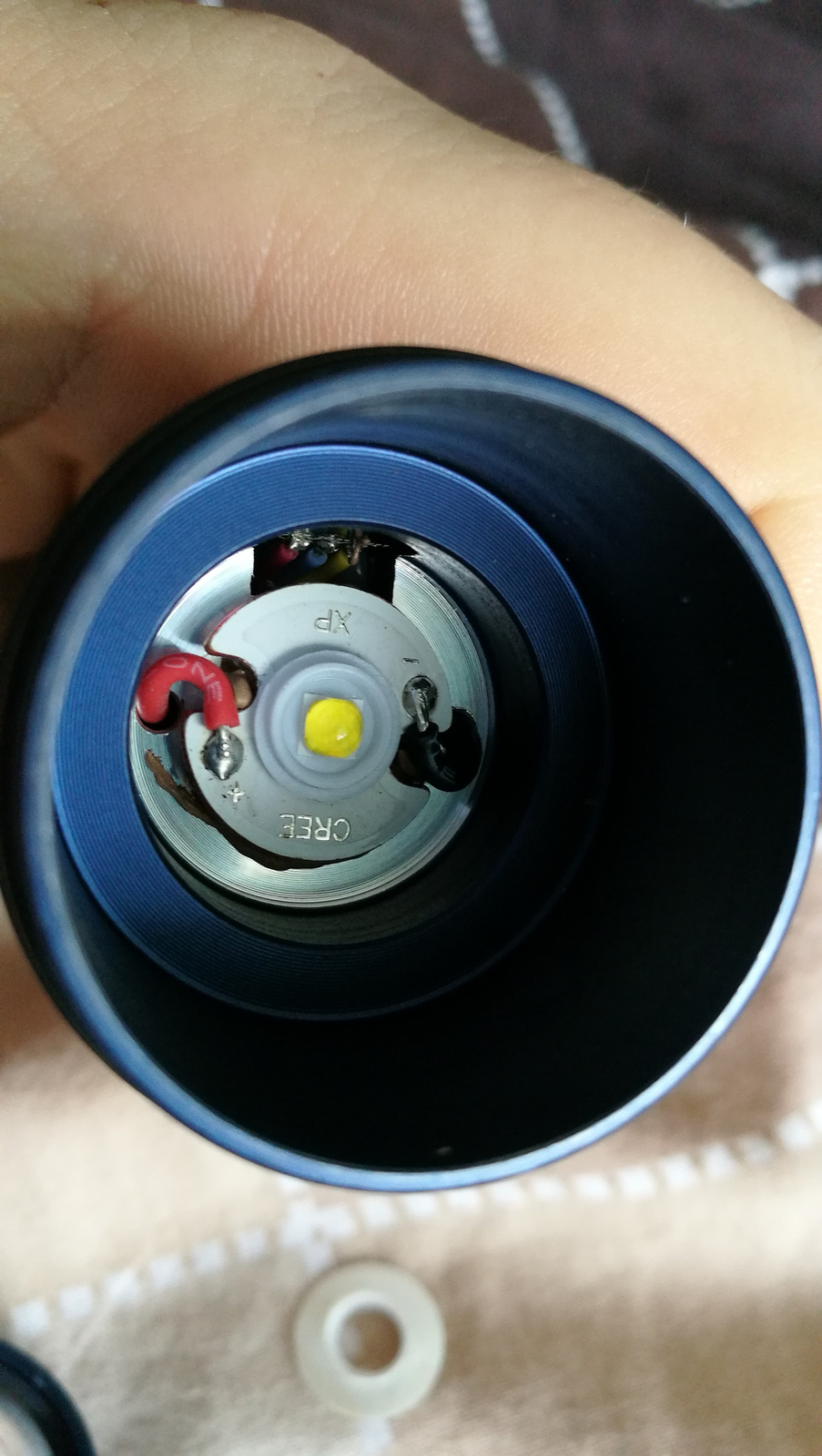 The driver held in by a retaining ring. It is also without glue so I removed that too.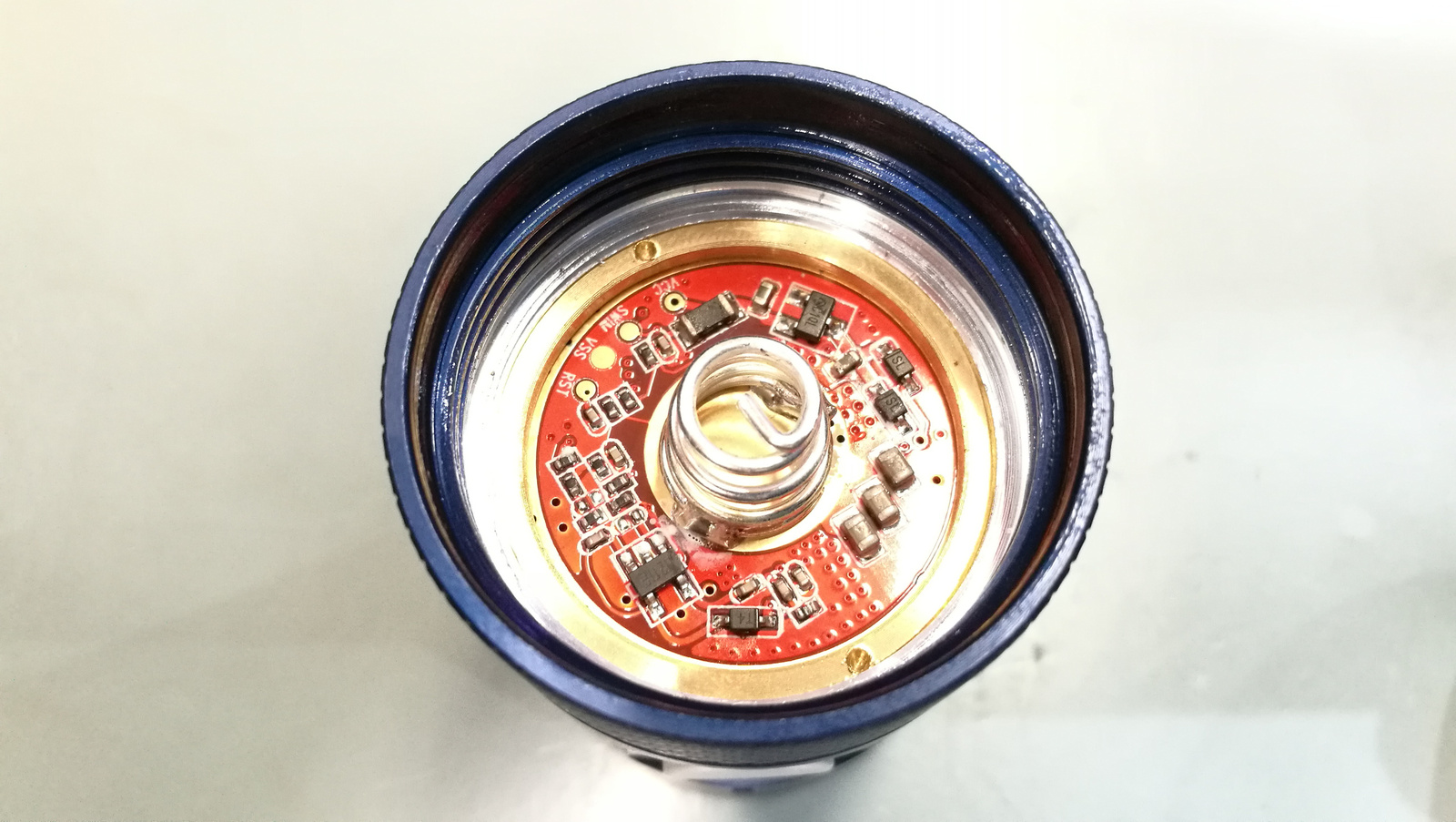 The switch PCB has some hot glue.
it has good 4mm thick led shelf.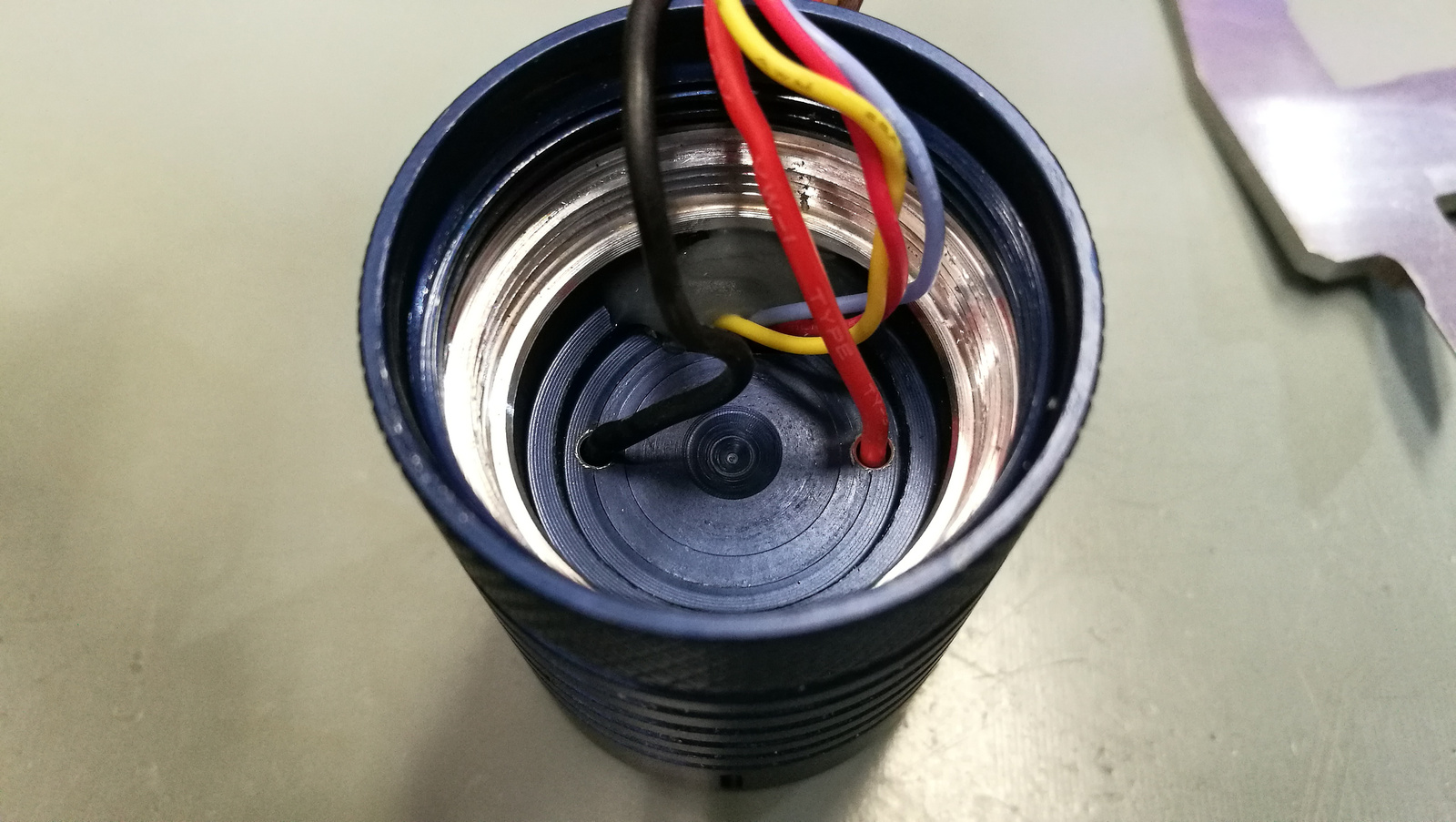 The driver's other side. It is 28mm in diameter.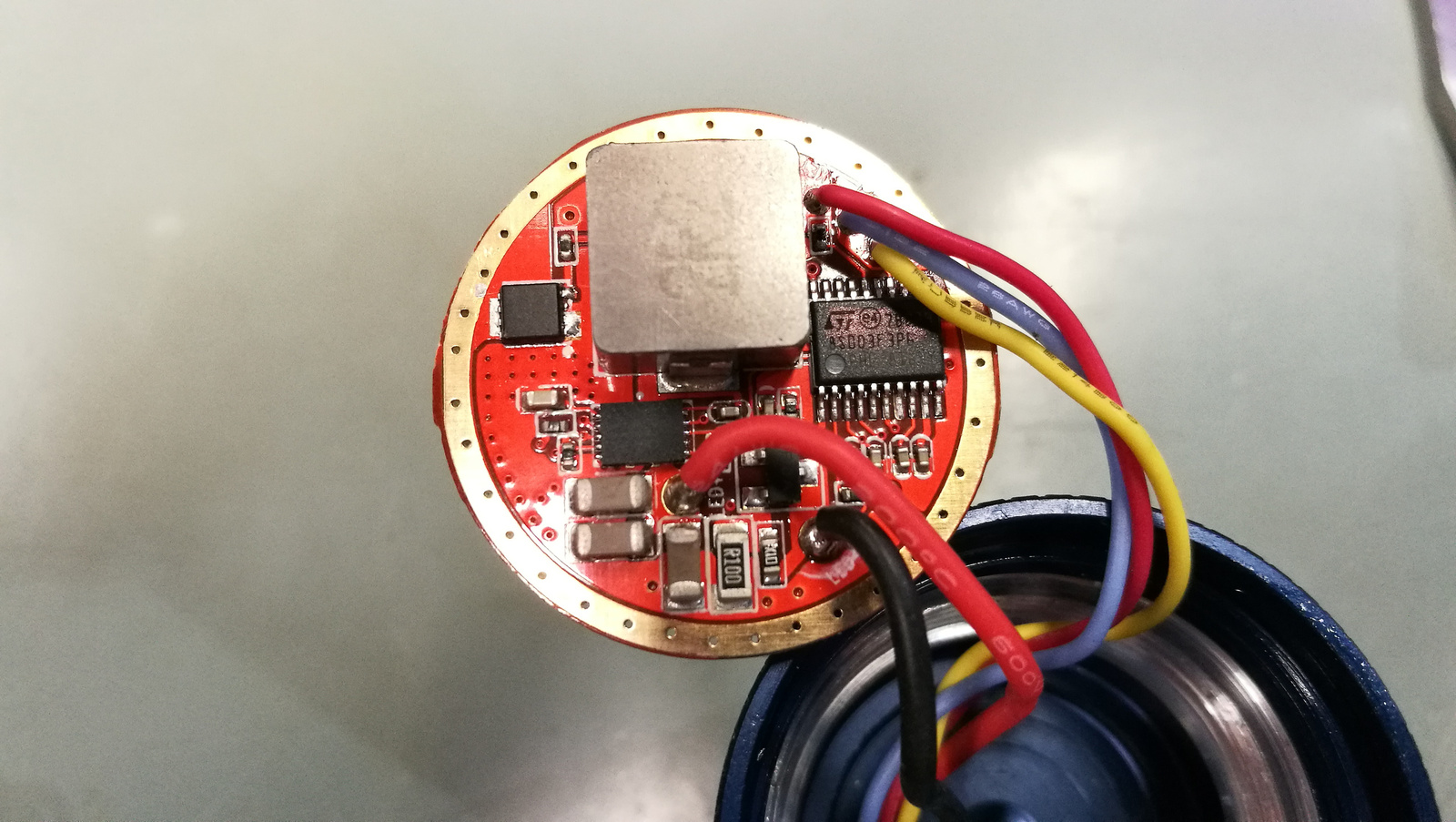 It feels comfortable in hand. It is much smaller than the older SC01.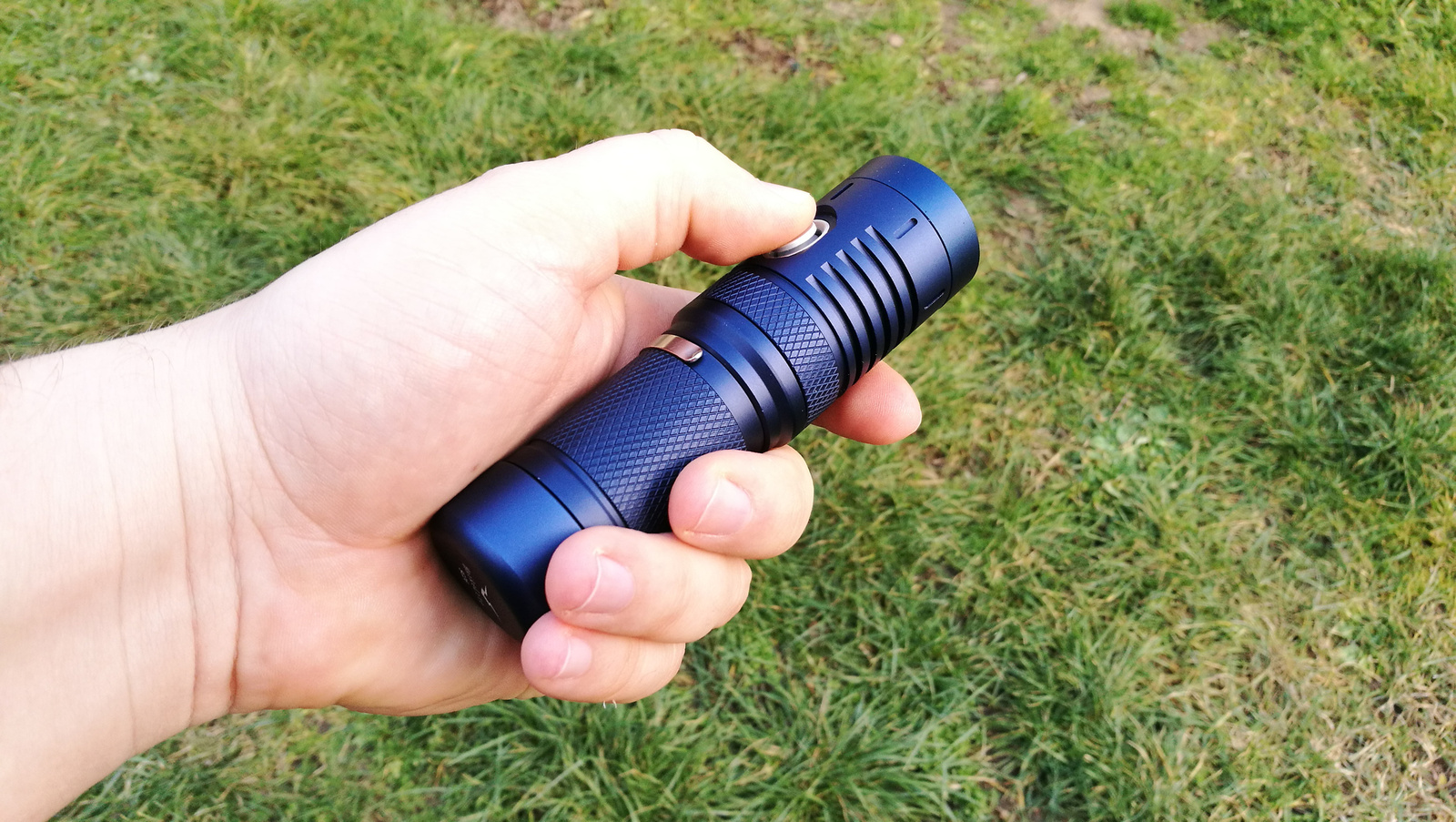 Size comparison with short 26350tube. From left to right:
Haikelite SC26, Emisar D4S, Lumintop ODF30, Sofirn SP33, Wuben T70, Convoy C8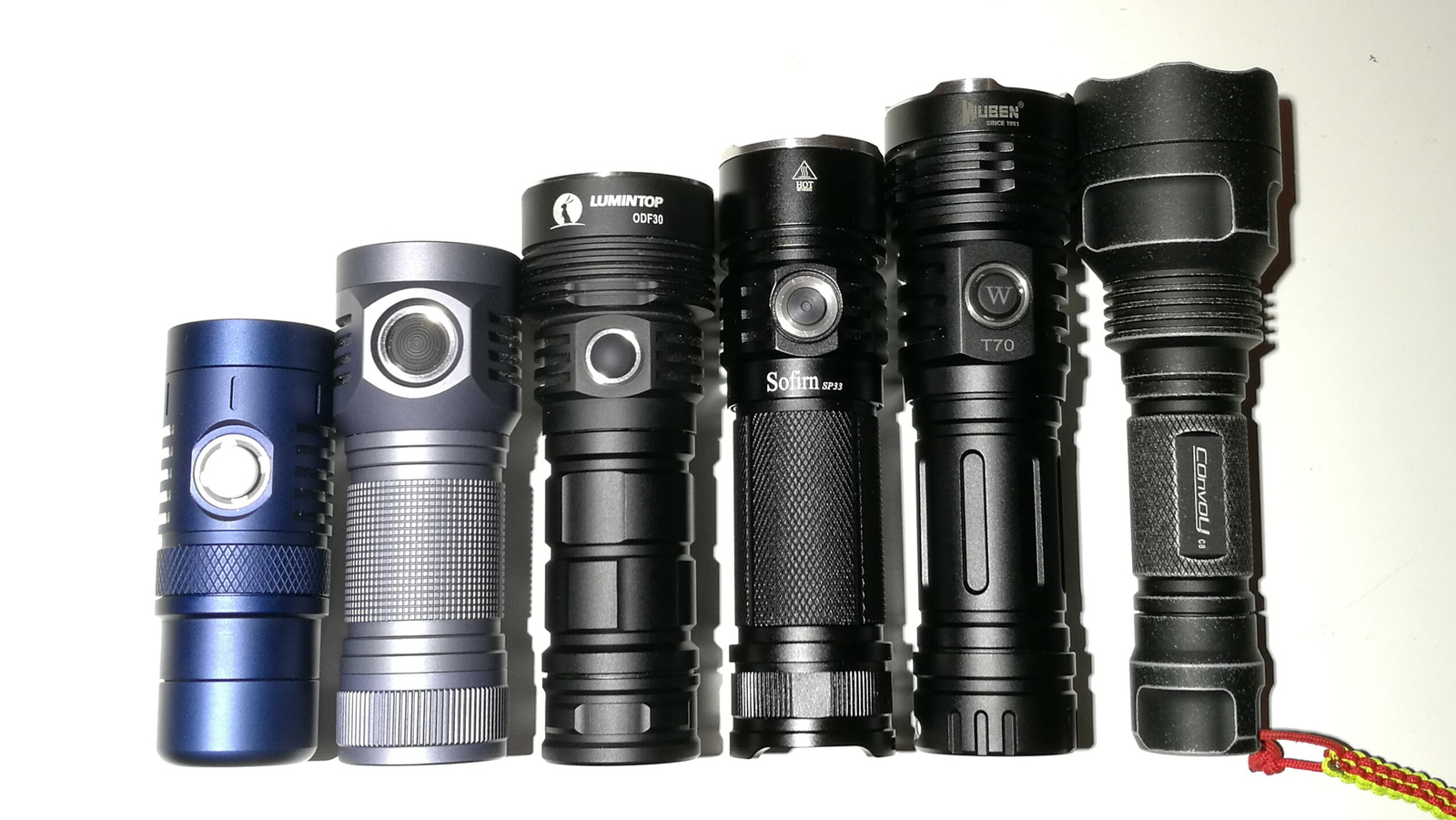 Size comparison with long 26650 tube. From left to right:
Emisar D4S, Lumintop ODF30, Haikelite SC26, Sofirn SP33, Wuben T70, Convoy C8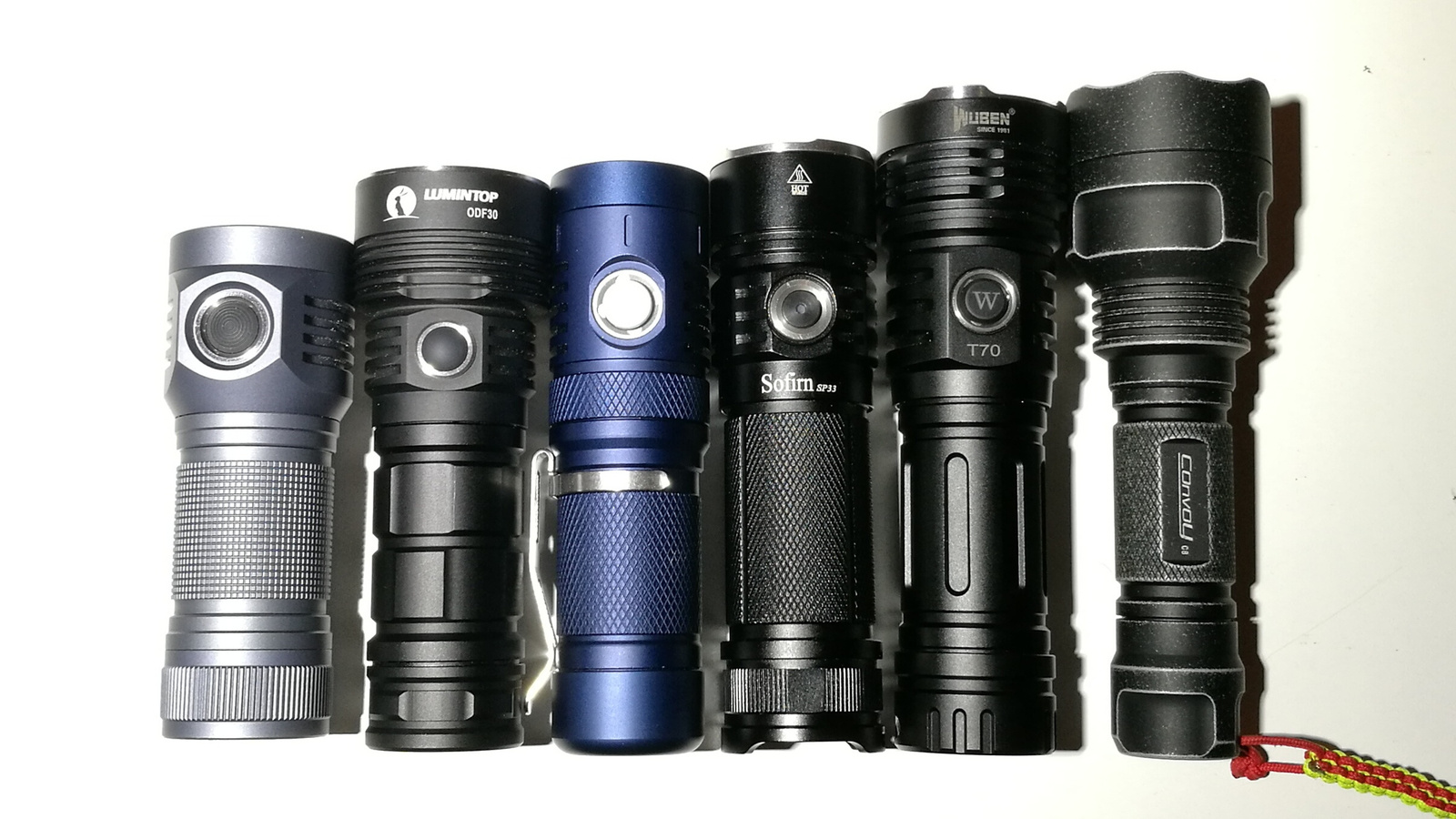 Front ends: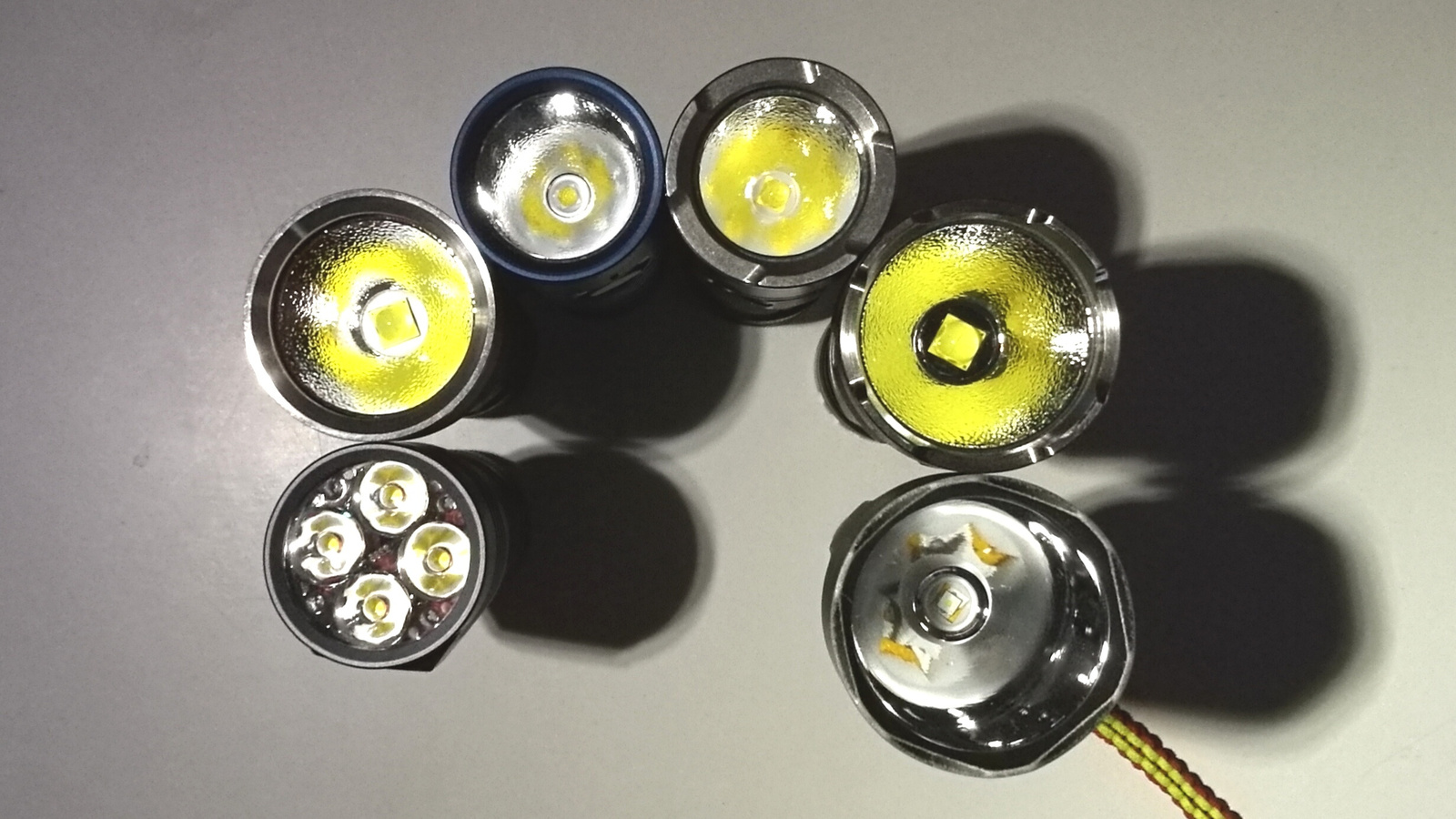 Firmware and using the light:
My bad because I didn't read the description carefully… I thought that this flashlight has the beloved Narsil firmware because I read ramping and 8 click setting and because Haikelite has Narsil in other models. But no. It is a ramping firmware and it has mode sets also but it is toooooo simple so I call this a dumbware. Even if they not have ramping it would be better if they use the MT07S or SC01 firmware. Sorry but I saw many flashlights try ramping because Narsil was so succesful but they forgot the keyfeatures. Narsil was not successful because ramping. It was great because how it ramps and it has tons of switch combinations and features like temperature, battery level blinking, multiple stepdown options and more features. So lets move to the SC26:
You can lockout the flashlight only by unscrewing the tailcap half turn.
From off:
Short click to on. That is all! I'm not kidding. It doesn't have long click for moon or double click to turbo or a button lockout. Nothing!
From on:
8 clicks to switch between ramping and mode sets
Double click to turbo.
In ramping: hold to ramp. Release and hold again to change direction.
Ramp max is same as turbo.
In mode sets: hold to cycle through Low-Mid-High
Double click to turbo
five clicks and led blink five times. Don't ask
Manual doesn't say 5 clicks anywhere but when you do it it blinks five times. Not in ramping. If somebody know what is this please tell me!
Here you can see the mode set levels and a control shot: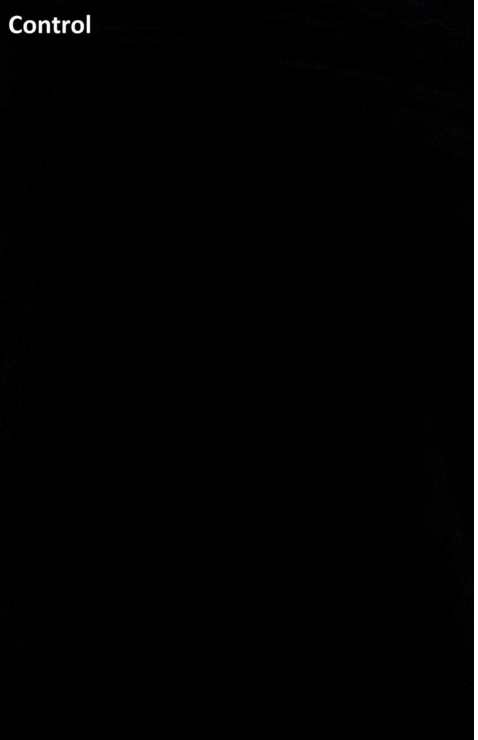 It has 55°C thermal stepdown protection but I measured 45°C at head when stepped down.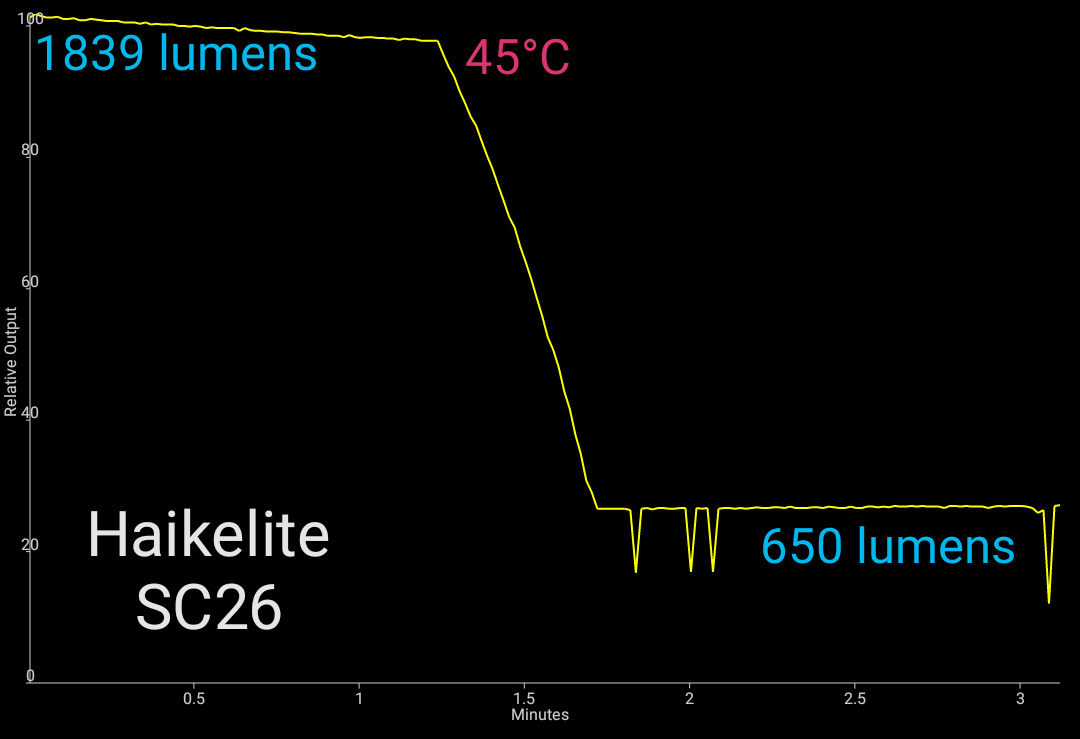 Numbers:
As you can see it puts out 1839 lumens in turbo instead of 2050 manufacturer rated but we saw worse than that at other lights so this is OK.
To refer title no matter how hard I searched nobody made an intensity measurement of this flashlight so finally I made one. The more interesting that Haikelite doesn't stated anywhere an intensity measurement also.
My number is 24400 cd
The current draw in turbo is 6,1A
All measurements done with fully charged Liitokala 26650 battery.
And for the end:
I recently got a few compact 26650 lights so I made a comparison video. I know it is long but please watch it. Beam compares in end part.

It is sad that the host was pretty good but this firmware is too simple for me. Maybe this light was built for beginners and because of almost 2000 lumens it has a nice useful beam it was OK for them and for modders it is a nice host. But for a host only it is a bit pricy. So it is a good and safe light for beginners but more advanced users will find it a bit boring. I think I will replace the led with an SST40 or Samsung LH 351D or an XP-L HI and put in a fet driver with Andúril firmware and use it that way.
Thank you for reading this through!
I hope you found it interesting in some way. Please subscribe to my youtube channel to not miss any videos.
Have a nice day!
—
Reviews: Olight Seeker2 pro, Lumintop GlowI, Sofirn SP36, Convoy 4X18A, Convoy M21C, Brinyte SR8 Rescue Angel, Astrolux MF01 mini, Astrolux FT03S, YLP Sherp S15, Sofirn SP40, YLP Panda 3R and Unicorn, Armytek Prime C1 Pro, Acebeam M50, Imalent MS18, Convoy M3, Nitecore TIP2, Imalent RT70, Wuben T70, Sofirn SP32A, Thorfire VG15S, Thorfire VG10S, Thorfire TG06S
Mods: Imalent MS18 dedoming, Astrolux MF01-20K, Small sun T08 MT-G2, Eagle eye X6 triple XPL, Ultrafire F13 MT-G2, Convoy C8 XHP70, Solarstorm T3 triple XP-L HI
Big flashlight measurement and beamshot collection
3D printing stuff for flashlights
My flashlight related Instagram