LiitoKala 26700 4000mAh Lii-40E (Orange)


Official specifications:


Battery Type: Rechargeable Lifepo4

Nominal Capacity: 4000mAh , Real

Nominal Voltage: 3.2v 3.3v

Battery Dimension: 26.5×71mm(±0.02mm)

Battery Weight: About 93g

Internal Resistance: less than 20 mohms

Cycle life: More than 2000 times,

DOD

at 80%

Input Charging Voltage: 3.65v/cell

Input Charging Current: 2A

Continuous Discharging Current: 3C

Max Current Discharge: 5C

Discharge cut-off Voltage: 2.50v/cell

Charging Temperature: 0°C ~ 45°C

Discharging temperature: -20°C ~ 60°C

Storage temperature: -20°C ~ 45°C

A LiFePO4 in 26650 size with fairly good capacity.
The two cells matches very nicely and can deliver the rated 3C or 12A.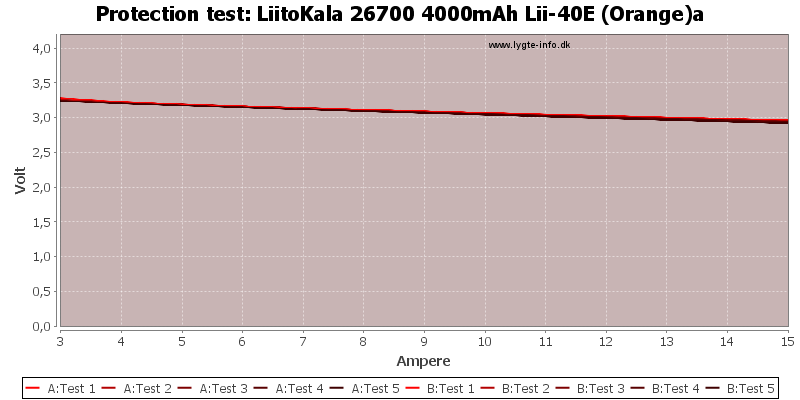 Conclusion
This is a good LiFePO4 battery and as usual for this type it has very stable output voltage and less energy contents than the more common LiIon types, but longer life.
Notes and links
The batteries was supplied by a reader for review.
How is the test done and how to read the charts
How is a protected LiIon battery constructed
More about button top and flat top batteries
Graphical comparison to 18650 and other batteries
Table with all tested LiIon batteries