Bronte is a relatively new flashlight manufacturer on the scene, based out of China. From some quick searching it looks like these are going to be in the "budget" price range. I'm sure many will have already formed an opinion about a Chinese company they haven't heard of before, but let's take a look and see how Bronte stacks up. I've been sent two lights from their "EDC" series and two from their "Outdoor" series for review, and the RA02 is from their EDC series.



Thanks to Bryan at Shiningbeam.com for supplying the RA02 for review.

I'll be reviewing the RA02 in two sections: first, I'll discuss the light objectively (the facts about the light itself), then I'll discuss the light subjectively (my impressions about the light's performance when used for specific applications). This light seems to be designed as a pen-light EDC, so I'll be reviewing it as such. If you have any other specific applications you'd like the light tested for, let me know and I'll see what I can do. 

Below is a video "quick review" you can watch in just a few minutes, if you're not up for reading the full review right now: 



Objective


Spec-Check


In this section, you can see a quickly if I found the claims made about the light to be true. These specs are taken from the packaging of the light. As I test the light, when a spec is confirmed to be accurate (or close enough to be within the limits of experimental error), I will highlight it in green. If I find a spec to be inaccurate or misleading, I'll highlight it in red. Grey will mean that I can neither confirm nor deny it. Blue will be my comments added.


--------

-
LED: Cree XP-G R5,
with life span of 50000 hours
-
Three Output Types:
---
Medium 
(30 lumens 4.5H)

---
High
(95 lumens 1.2H) 
this may be true at the emitter, but I'm measuring about 80 OTF while regulated, and turning off at 1.07H

---
Low
 (10 lumens 60H)

-Uses one AAA battery 
either alkaline or NiMH
-
19 gram weight (excluding battery)
-113mm (Length) x 14mm (Diameter)

-Impact Resistant at 1m

-Waterproof to IPX-8
 at 1.5m
-Rear reverse switch
-Efficient, superior 
dimming circuit
--------

Packaging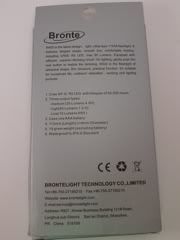 The RA01 came in a pretty basic package with the Bronte logo and the specs, with a cutout displaying the light. Inside the package you'll find the light held in a plastic seat, with the spare O-rings and instruction/warranty card tucked behind it.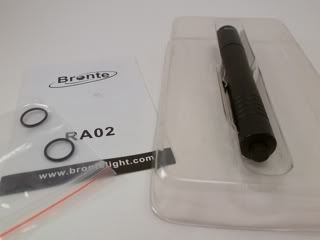 Construction Quality

The RA02, being powered by a single AAA, is obviously going to be pretty small. However, the clicky switch does add a significant length to the light, making it longer than the average AAA light. 


The RA02 has an overall good construction quality. There are a few things that could be done better, but this is a well made light. 


This light a little over twice as long as a AAA, and very slightly wider.


Let's take a closer look, starting from the front...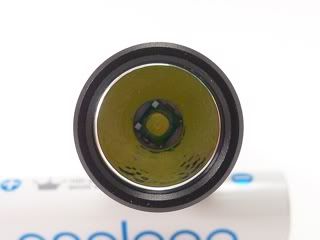 The RA02 features a Cree XP-G R5 emitter. The XP-G is currently the go-to choice for giving a light good throw from a small reflector. The R5 flux bin (brightness group) is the third brightest available for an XP-G, topped only by S2 and S3. This XP-G sits inside a small reflector with LOP (light orange peel) texture, which serves to smooth out any imperfections in the beam at the cost of a little throwing distance.


The emitter and reflector sit behind a small lens and O-ring, held against a solid head with no bezel.


The Bronte logo is simple, and clearly printed on the head.


The head flares out slightly from the body.


A few ridges cut into the tail of the light give it a little bit of grip and style. The clip and clicky switch seem designed to resemble those of a pen, so that when clipped in your pocket it can pass as an ordinary pen.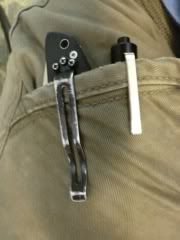 Also, the clip is removable by hand, with no tools, if you so desire.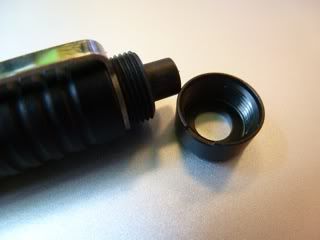 Simple unscrew the end of the tail and pull out the clip. To put it back in, unscrew the tail again, put the clip on, and make sure to line it up with the notch in the tail as you screw it back together.


There are no flat parts on the body, it's completely round. So, if you choose to remove the clip, you will have no anti-roll and very little grip.


Being designed to resemble a pen, this light is prevented from a stable tail stand by the switch. The end of the switch is flat, so the RA02 will do a tail stand if you are very careful, but it will fall over very easily, so it's not much use as a candle.


Now let's open it up!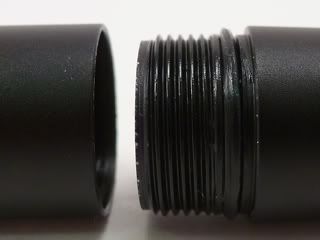 The head removes from the body smoothly, to reveal triangle-cut anodized threads. Because the threads are anodized, you can loosen the head slightly to lock-out the light and prevent accidental activation when you won't be using it for a while. Anodized threads also last longer. An O-ring is in place to help prevent moisture from entering the light.


On the left is the inside of the head, showing the positive battery contact. On the right is the inside of the tail, a little dark in there but you can see the spring that act as the negative battery contact and keeps the battery firmly pressed against the head as well.


Here you can see the battery sticks out a bit when inserted, but it will be pressed in further by the head as you screw it on. The body seems to be just 1-3 mm thick, and this is possibly the reason for the flared head: so that the head can screw on over the threads on the body, without making that area too thin.

Dimensions

Length: 101.6mm
Head Outer Diameter: 14.1mm
Body Outer Diameter: 12.7mm
Inner Diameter: 10.5mm

Clip Length: 31.6mm
Clip Width: 4.2mm
Clip Thickness: 0.7mm

User Interface

The UI of the RA02 is very simple. It has three output levels--Medium, High, and Low, in that order. You turn the light on by clicking the switch, and off by clicking it again.. To change the output level, when the light is on you quickly off then back on within a few seconds, and the light will move to the next level in the sequence.

This light does not have mode memory, so each time you turn on the light after leaving it off for a while it will start on Medium.

The switch is a reverse clicky switch, which means when you press and release the switch, the light turns on when your release. Compared to a forward clicky switch, it is more reliable and robust, but it lacks the ability to give momentary on during a half-press.

Also, because the threads are anodized, you can operate the light as a twisty if you desire, but it's difficult due to the lack of grip on the head.

If you'd like to see a video of the UI, you can look at the video at the top of the review.


Action Shots

Light in Hand



White Wall (Low, Medium, High)
ISO 100, f/3.3, 1/10"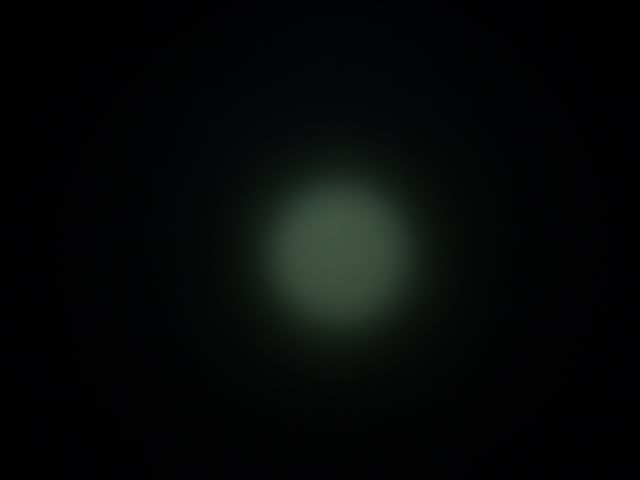 BeamSlice



Indoor Shots (Control, Low, Medium, High)
ISO 100, f/3.3, 1"




Outdoor Shots (Control, Low, Medium, High)
ISO 100, f/3.3, 2.5"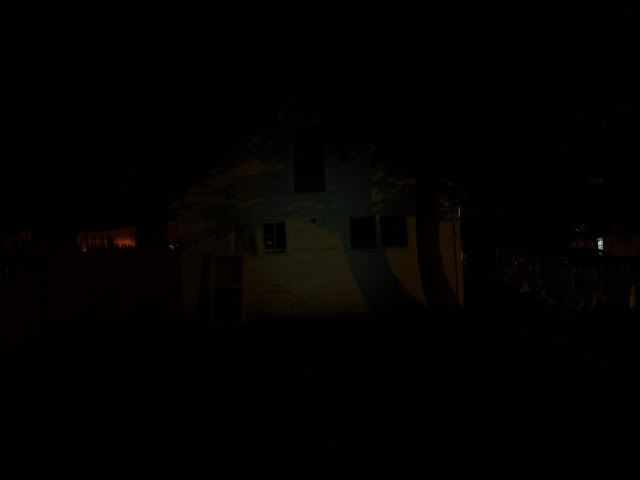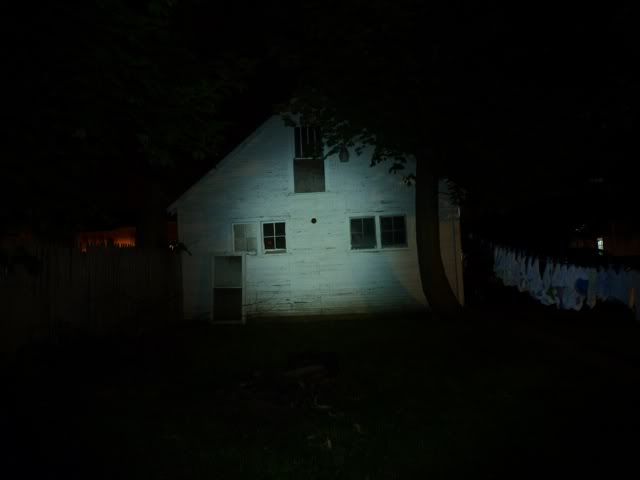 Performance

PWM: Pulse width modulation is used to make an LED appear dimmer by flashing it very quickly (thousands of times per second). I found that the RA02
uses detectable PWM on the low and medium mode, and I could not detect any PWM on high mode. The PWM is only noticeable to me when I move the light quickly; it does not show up in normal use.

Drop: I dropped the RA02 from a distance of about 2 meters onto several surfaces, including carpet, grass, packed dirt, and wood, and I can find no affect on the operation or performance of the light.

Reverse Polarity Protection: I can find no claims of reverse polarity protection by Bronte, so I have not tested this. However, the positive terminal of the RA02 on the circuit board in the head is not raised in any way, so it would be difficult (but not impossible) for the negative terminal of a battery to make a solid connection if the battery is inserted backwards.

Over-discharge Protection: The RA02 is not cleared for use with lithium ion batteries, so there should be no need for over-discharge protection.


Submersion: I submerged the RA02 under about a foot of water for about an hour. During that time I twisted the light on and off repeatedly. Afterwards, the light had no change in operation or performance and I could not find any evidence of water having entered the insides of the light.

Heat:
I have not found the RA01 to build up any substantial heat during normal use. The light does get noticeably warm, though not hot, when used on high mode for extended periods of time.

Spectral Analysis

All light that we see as white is actually made up of several different colors put together. The relative intensities of the different colors in the mix are what determine the tint of the white we see. For example, cool white LED's have a lot of blue, and warm white LED's have more red or yellow. This measurement was done on a home made spectrometer. Note: the peak in the 900nm region doesn't really exist, it's a piece of the second-order spectrum that's showing up here because of the high intensity of the light source.





Runtime

Note: The vertical axis of this chart represents a relative brightness measurement using a home made light box. The horizontal axis is time in hours:minutes:seconds. Runtimes are stated in hours:minutes:seconds.



High
Time Regulated: 0:27:24
Time to 50%: 0:40:32
Full Runtime: 1:04:15



Medium
Time Regulated: 0:50:00
Time to 50%: 2:00:57
Full Runtime: 2:35:05

Coming soon...
Low
Time Regulated:
Time to 50%:
Full Runtime:

Subjective Review

General

Quick break down:

+Slim profile, looks like a pen when in a pocket
+AAA in clicky format
+Great regulation
+Decent throw for AAA, maintaining smooth beam
+Removable clip

-Noticeable PWM

I enjoyed testing the RA02, because clicky-style AAA lights aren't that common. If you're looking for one, and don't want to spend a ton on something custom, this could be a good choice. The build quality on this light is nothing special, but it's definitely satisfactory.

Overall, I thought the RA02 was a fine light, considering it will most likely weigh in at the "budget" category. I'll wait to see the selling price to make a firm judgement here, but my intuition says this a good light for the price you'll pay for it. Good regulation, reliable, good mode spacing, with PWM being the only drawback. If PWM bothers you, this isn't the light for you, but if you don't mind it, then go for it!

EDC/Pen Light

Not only is this light a clicky-style AAA light, but it can also masquerade as a pen. Over the past few weeks, I've found this camouflage gives it an edge as an every-day carry light, because you can take it into places and situations where most people would consider you a bit weird to be carrying a flashlight. If you're tired of hearing "Why do you carry a flashlight during the daytime?", then this could be a great option. When in your pocket, the RA02 really does look a lot like a pen, but then you've got light when you need it. This is the first big requirement for an EDC, that you can easily have it with you when you need it.

The other big requirement for an EDC is that not only it be present when needed, but that it can provide the right amount of light needed. For me to be comfortable carrying just one light, I need to be sure that it can give me as much or as little light as I am likely to need. For this reason, I always go to a multi-level light for an EDC. If for some reason I EDC a single level light for a period of time, I don't carry just it, but pair it with another light. The RA02 has well spaced modes, which I've found to be high or low enough output for most common tasks I need to do in the dark. Of course, being a AAA it can't handle the big jobs, so when night comes I add something bigger, but during the day this light covers it.

Long Term Impressions

I'll fill this part in after carrying the light for a while. If nothing get's added here, either I find nothing else worth noting about the light, or I end up not using it often.