Efest IMR18650 1600mAh V1 (Red) 2014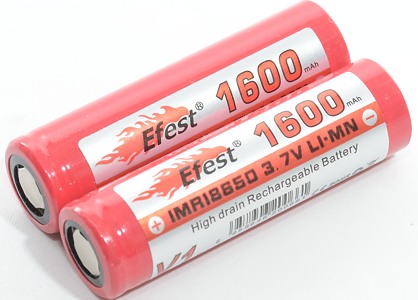 Official specifications:
Top: flat top
Bottom: non-procted
Typical Capacity: 1600mAh
Min capacity: 1600mAh
Max discharge current: 30A (20C)
quick charge current: 1600mA (1C)
Quick discharge current: 1600mA (10C)
cycle life: 500 times
Charge cut-off voltage 4.2V ± 0.5V
Charge cut-off current 0.01C 5A(at CV mode)
Initial Impedance Max: 18mOhm
Discharge cut-off voltage 3.0V
Temperature: dishcarge temperature range:-10°C—60°C
Charge temperature range: 0°C—40°C
Storage: 1 year:-20°C—25°C, 3 months:-20°C—45°C, 1 month:-20°C—60°C
Weight: 50g
Length: 64.91 mm
Diamter: 18.34 mm
A IMR cell that can deliver a lot of current.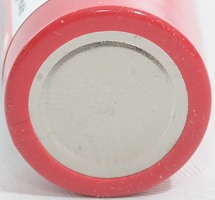 The cell is rated for 30A, but it does struggle at 20A and above.
Conclusion
The cell is acceptable for a high power IMR cell.
Notes and links
The batteries was supplied by Efest for review.
How is the test done and how to read the charts
How is a protected LiIon battery constructed
More about button top and flat top batteries