Hey guys, been working on this a while now. This is a drop in replacement for a TK61 and can be set up to 8A. The driver runs an ATTiny13A so anyone can flash the normal AVR FW (runs standard momentary switch FW such as "werner's UI" or "STAR-MOM") however there is also a second MCU, a PIC 10F322, this MCU runs very simply on/off code, its job is simply to cut power to the rest of the board since the MAX16820 chip doesnt have a low power standby (and also allows the second button to do a different function instead of just running them both in parallel to do the same thing), it will also have VERY LOW standby draw. The other reason for doing it like this is so no coding is required, any standard tiny13A FW can be ran and the second button will still function (the FW on the 10F322 simply turns a enable [non-PWM] signal on or off to the P-FET powering the rest of the board). Because of how simple the PIC code is you will never need to change that so I can provide the 10F322 MCU's for this for people who arnt yet doing PIC.
THESE ARE NOT READY TO ORDER!
This is the very first version, I'm happy with the progress (ratsnest = nothing to do and it passes DRC!) but I'm sure I'll need to make changes, plus as you can see the silkscreen is needing some attention right away.
All components on top! Components (if bought one set at a time) will be about $15 (good discounts on bulk tho) and the boards are ~$13 for a set so not the cheapest driver to build but should be worth it in the end. Another thing I plan to do is make the SW connections use the factory plug-in connector so you dont have to cut it off to solder (does anyone have a source for those so the original doesnt have to be removed from the factory board?)
The SOT-23 top left is a voltage regulator to power the 10F322 from the battery pack (I debated powering it from a coin cell)
below that is the 10F322, below that is 2 cap's
below that is the ATTiny13A
below that is a gate resistor on the MAX16820's DIN input
below that is the MAX16820 (the buck regulator)
Left DPAK is the power cut-off P-FET, right is the N-FET (AOD510)
Above the P-FET is a POWERDI5 package diode
top middle is the 2512 Sense resistor (surrounded by thermal via's) and the Inductor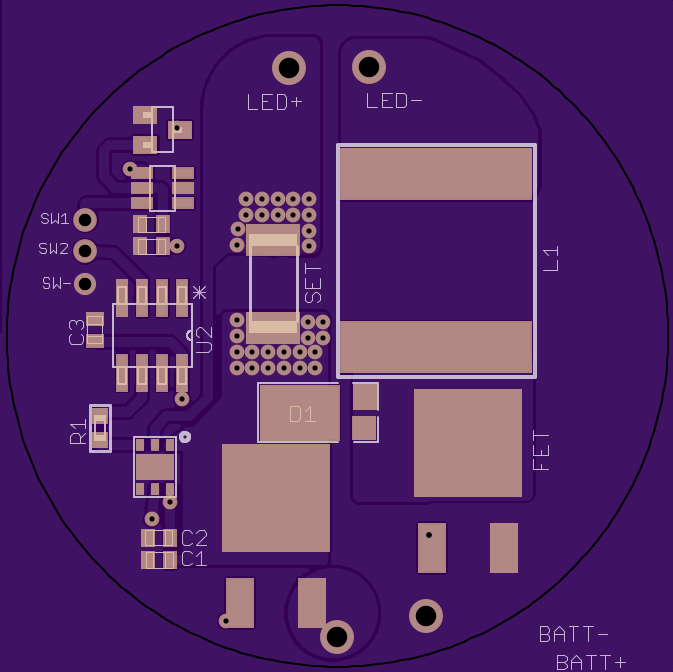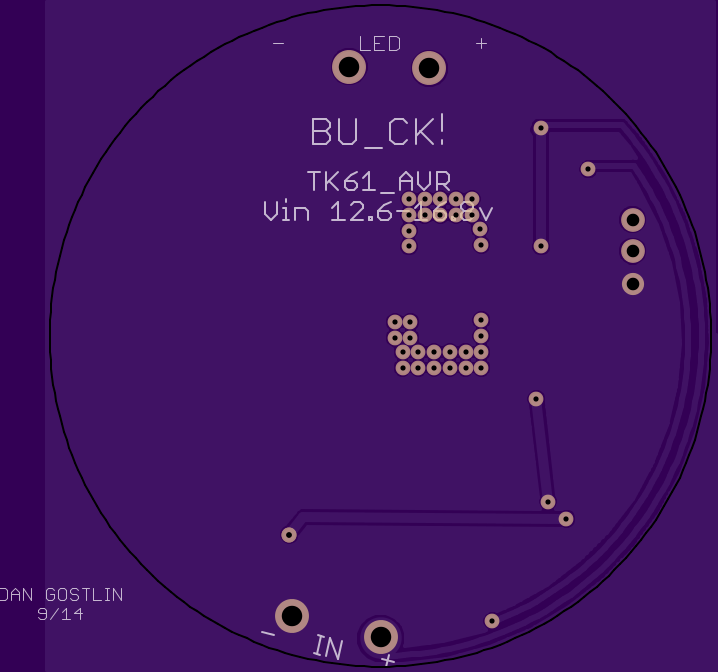 —
 RIP  SPC Joey Riley, KIA 11/24/14. Now I am become death, the destroyer of worlds.