New Driver: PD68 "DoubleDown" – 17mm FET+4
Whenever I am modding a light, it is always a struggle for me to decide if I want the all-out power of a FET driver, or if I want the consistency of a Linear driver. If I choose the linear driver, I then have to mess with stacking 7135's to get the high mode where I want it.
To make things easier on myself, I decided to mix the two of them. Medium is my most-used mode, and for me the sweet spot for medium is always in the 1-1.5amps range. This driver will let you stay in regulation for moon, low, and medium, then access the FET for the highest mode. It will also function as a normal single-sided FET+1 driver if you don't populate the pads on the back.
I wanted room to fit a 7.5mm spring, so the 7135's on the bottom are pushed out a bit. This could cause retaining-ring issues, but it was a sacrifice I was willing to make.
I also included pads for a Bleeder Resistor for my Lighted Tailcap project.
The design is heavily influenced by wight's designs, and others helped answer questions along the way.
This is my first time at making a driver. So if you see something that looks off, please let me know. It is untested as of now, I just placed the first order.
17mm Revision 2 and 2.1 (Current)
Revision 2.1 is the same as 2, but with the MCU and FET pushed more outwards to accommodate a 2.1mm pass-through for an LED+ wire.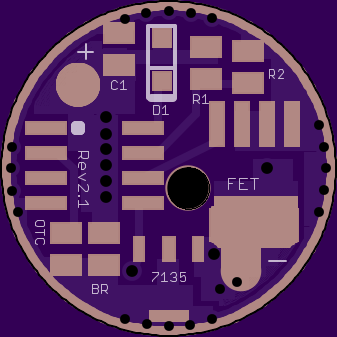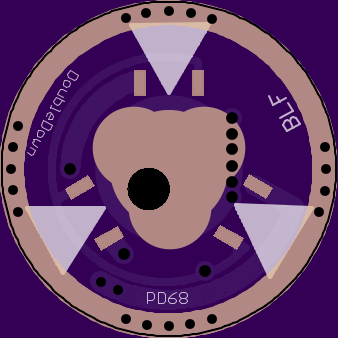 20mm and 22mm Revision 2.1 (Current)
These boards are identical except for the outside diameter. They have all the same features as the 17mm board, plus:

LED

+ hole is now directly in the center
Attiny45/85 ready
Separate pad for Pin 3
Zener ready
Gate pulldown resistor for

FET