Well, gang, Rusty has been feeling the downsize pinch lately, and as it is the case that minimalism is (nearly) as addictive as lumephilia, I have decided to part ways with a number of luminaries and the parts thereof.
I've been walking across the house cleaning on a day when everyone else is out partying and having family time. With that said, Happy 4th, everybody! But holidays have never been for me. It's just beer and tacos tonight, and then some fooling around, and then sleep. Haven't felt good all week, so rather than travel, I've decided to take my partially crippled self across this undecorated hole I call an apartment and clean. But I keep seeing these unused devices and know I need to pass them on to folks who can use them.
So, here they are, separated by the center dividing line of the table of what doesn't work (LEFT) and what works (RIGHT)…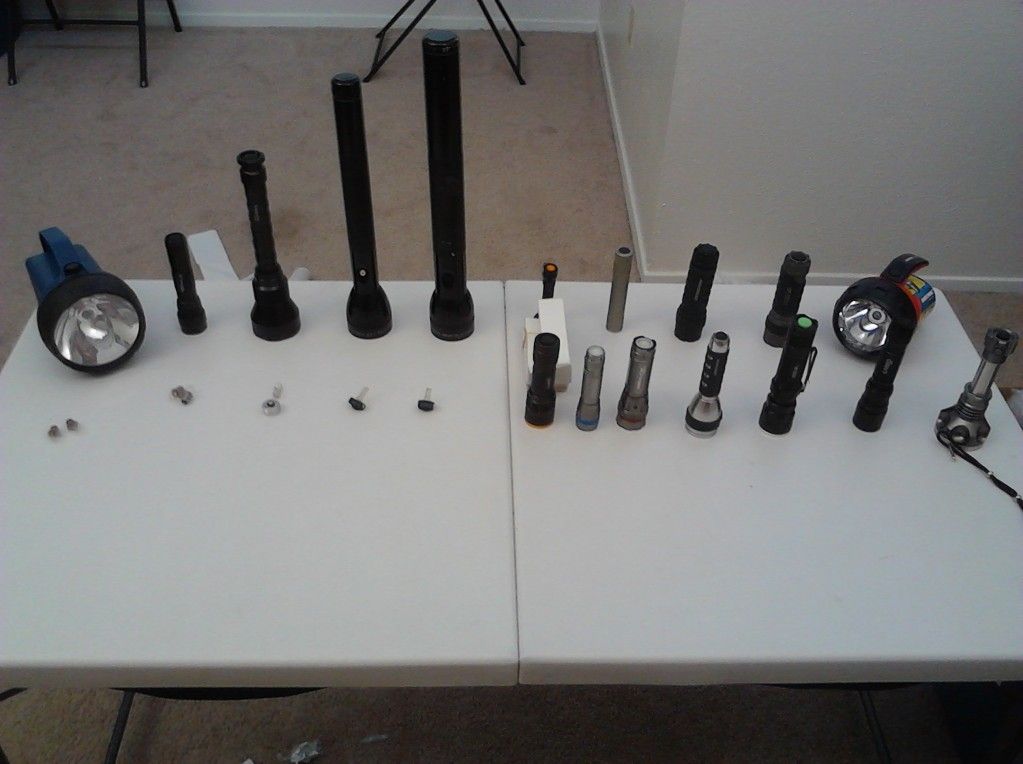 I am NOT looking to make money off of this stuff. I'm just looking to any on shipping costs. Just give me a decent amount to send this stuff off and I have protected shipping packets for my part-time ebay business to ensure that everything gets where it's going safe and sound. This is Contiguous US only, but if you by chance really, really want something and are international, PM me and I can work something out (though it may be prohibitively expensive).
OK…starting from right to left in back row, we have…
1) a Rayovac 4AA single LED 35 lumen spotter. Great throw, freaking lousy output. A standard LED MAG on 2 alki C cells will clean it's clock nearly three times over. But great mod project.
$4.50 ships
2) A Brinkmann 3W 3AAA LED of 45 lumens. I purchased it at Target back when the Brinkmann Maxfire with its whopping 71 lumens and the Surefire G2 of 65 lumens were all the tactical talk. Bad, throwy, holey, artifacty, dimming output, no heatsinking—total mod project all the way.
$4.00 ships
3) Same light body from a company called Armormax. This has what looks like an R5. Produces 140 lumens on fresh cells only, and I think it puts out about that. But no heatsinking and dims quickly. Like the gray Brinkmann, I used this one a while, but unlike the gray one, the body is in great shape. This has been modded with a KD dropin, which I de-modded shortly after due to high resistance from the battery tray. Lots of potential with both of these for real modding, as everything comes out and apart.
$4.00 ships
5) Four Goulin C8 Minis; remember those "world's smallest C8s" from BuyinCoins a while back that run on 1AAA? I bought a few to cell on ebay, but upon discovering how crappy they were (maybe 40 lumens) and really dinky, I realized I couldn't in good conscience sell them. $5.00 ships all (if you want less, PM me).
6) Skyray A0. This is a nice budget XM-L thrower I got just a few weeks ago. I'd be keeping it if it weren't for the "coming on in next mode with every click" thingy. I decided I couldn't live with that. This is one of 2 items I will be asking to make what I spent on since it's basically unused and in perfect shape. Will come with lanyard and original box. $27 ships – will include priority mail
7)

CANSO

XM-L Zoomie 1 × 18650 in near-perfect condition. Maybe one scratch. If I don't sell numbers 6 and 7 here, they'll be on ebay for more. Great light, 630 lumens, but I don't like XM-L zoomies. Will never own another and have no need for this one. $28 ships – will include priority mail
9) Brinkmann Legend LX, 70 lumen incan. Bought in 2005, and to date, one of the smoothest flood beams available. Runs on 2 CR123s only. 6 volt max. Great mod project, but will take some work. Will NOT fit 18650. Dad loved this light, but it goes through batteries too fast. I'm still barely letting go of it.
$5.00 ships
………………..AND NOW FOR THE BROKEN STUFF AND/OR MOD PROJECTS, AGAIN GOING FROM BACK TO FRONT AND RIGHT TO LEFT…………………SIZE IS AN ISSUE WITH LARGER ITEMS AND FEWER LARGER BOXES……………
14) 4 C Mag with switch cover missing and no reflector. Battery is stuck inside. The reflector went to Maggie! Good host for modding.
$8 ships
17) Walmart Valuebrite 6 volt lantern. Doesn't work, for some reason. 70 lumens on fresh cell. Big hole in the beam. Mod it or melt it! It's getting tossed if it doesn't move.
$4.50 ships
18) Trigger switch (from Easy Light Buy). I was unable to get the tailcap off in fixing my HD2010. New tailcap is on the way, so there are two of these, just the clicky mechanisms themselves.
50 cents ships
19) – See Last Entry -
20) Bug Bear Out LED drop-in. Purchased in 2006. About 115 lumens or something. P60 drop-in. Pill only. Spring is broken off. Very blueish tint. Last used 2 years ago.
50 cents ships
21) 2 5D Mag incan Krypton bulbs.
$2 ships
22) 2 6D Mag incan Krypton bulbs.
$2 ships
Please understand, I don't want to ruffle any feathers, so this will be first-come-first-serve. And again, I'm not looking to make anything. I just don't want to lose anything, and if I'm over by a couple bucks, that's fine, too. These can be useful to someone, I know.
I will combine multiple orders, so PM me with any requests or concerns you have, and (obviously) with what you'd like. Paypal is the method of payment.
And so we begin.