Up for sale is a compact 18650 Skyray G5 host, 2.5-4.5V Driver with Moonlight-Medium-High with last mode memory. 3.04 A on high. Warm XML, Lens Diffused, , all flood beam, tint is super easy on the eyes. Super smooth, warm beam. Will tail stand, reverse clicky.
Light is in good condition – 2 or 3 very very minor dings (size about 1mm)
*Yours shipped CONUS with delivery conf for $42 now 37
Worldwide shipped for $47 now 42
NOW OPEN TO OFFERS*
paypal jmpaul320 at gmail dot com
size comparison to solarforce l2t for reference only

UPDATED 12-8-12
Adding a light to this sales thread rather than making a new one.
Up for grabs is a modded Olight SR90 with MA bin SBT90 led (modding done by vinh) Throws 52% MORE than a stock Olight SR90!!!
Details of this mod can be found in this thread
Comes with Case, Battery pack, wall charger & car charger (battery pack has been cycled 3 times since it was bought NEW in May) Everything is in 9.5/10 condition with only a very very small spec of annod missing on the head. Was the king of throw in my modest collection until receiving the new varapower turbo 3.
I paid $300 for the olight stock and then another $100 for the SBT90 & install
ONLY ASKING $275 shipped CONUS – I am looking to move this light this weekend if possible as I need funds for other projects.
pics added
——original sales thread below——-
Also
Up for sale is the following MAG 85 pictured below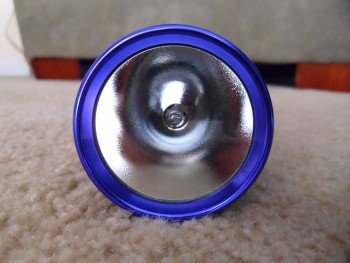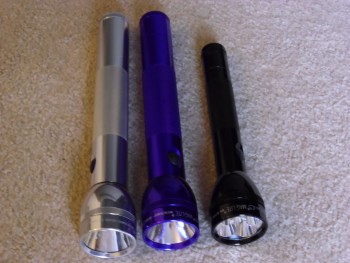 (pictured in the middle)
Included:
3d Purple Mag host (6.35 FM socket, prooftech MOP reflector & boro lens)
9aa->3d Fivemega Battery holder
9aa new eneloops (cycled once for testing)
Tenergy smart charger with barrel connector & temp sensor (charges packs of 6v-12v @ 1A or 2A)
3 extra unused WA1185 bulbs
Everything is in 9.5/10 or better condition. I did this build over the summer along with several other mags for fun. I tested this mag out for maybe 20-30 minutes total at the most and did a few beam shots. Otherwise it has sat quietly in a foam pelican case until now.
This would make a great gift for the holidays as it includes everything one would need to get started. Easily over 1000 lumens of beautiful incan goodness
I'll take it gets priority – followed by a prompt paypal payment (within 12 hours) to jmpaul320 at gmail dot com
*
$120 shipped CONUS with delivery confirmation now 110
$130 shipped worldwide now 120
NOW OPEN TO OFFERS*
Pm me for any questions
—
Would you mind keeping the wrong flashlight?
Best wish, May
Tmart service team

 

PLEASE HELP ME GEARBEsT! IM LITERALLY CRYING!