Tank007 ES12
kresil's Overall Rating: 
★

★★★

☆
Summary:
| | |
| --- | --- |
| Battery: | 1x AAA/10440 |
| Switch: | twisty |
| Modes: | 3 w/ mode memory (—Med—Lo—Hi—) |
| LED Type: | XP-E R3 |
| Lens: | glass |
| Tailstands: | yes |
| Price Paid: | 25$ |
| From: | WB |
| Date Ordered: | April 2013 |
Pros:
measured 90+ Fenix lumens output, bright spill, tight bright hotspot
good regulation with constant current driver
very good looks, superior fit and finish, feels very expensive
Cons:
low frequency PWM (as common with all Tank007 models)
heavy
LED/driver not improved over 2013 E09
Features / Value: 
★★★

☆☆

The ES12 tries to build on the, for the Tank007 Co., highly successful E09, a model which was released to market in autumn/fall 2011 and continues to be produced in mass quantities in 2013 and probably more years to come. Attentive buyers could notice the gradual design improvements in the E09 and from 2012 on the design had reached a mature final state. I still like to keep my 2011 model in order to make myself aware of the refined 2012 design. I used to use the E09 as my favorite EDC keychain light and it is still my favorite one. However, after seeing how the early E09 evolved into an even more likable refined E09, i stopped carrying it on my keychain: it had simply become too nice of a cute little product.
Nowadays i exclusively carry the Ti or the scratch-resistant Titanium ITP A3 because I don't mind if they get some rough treatment between the keys. I had leviewed the E10 too and i do appreciate some features of it, such as the SS switch (modded by me to be less jammy) and the hosting of 47mm+ long Protected 10440's, but it never became a crowd favorite and i certainly like my E09's (i am keeping 3 copies for my own personal enjoyment: 2011 black, 2013 black, 2013 gungray) much more than the tankish design of the E10.
Design / Build Quality:

★★★★★
If you know the E09's performance, and most readers do, then you also know ES12's performance. The ES12 uses the same reflector, LED and driver as the 2013 E09, so performance, runtime, brightness, beam pattern, tint, etc etc has to be the same, and it is.
On my sample, the reflector is clean as always and the LED is perfectly centered. Beam looks good, just never expect an artifacts-free round hotspot such as the 65$ expensive LD01's. There are minimal differences in the machining or dimensions, for example the original E09 o-ring is too thin on the ES12, so a bigger o-ring is supplied, with same dimensions as the LD01 o-ring, but on the whole not worth babbling about.
Battery Life: 
★★★

☆☆

People who are a little interested in the ES12 are most likely previous E09 owners, similar to me. Rightly so. Both torches enthuse the buyer for the great feeling, looks and top brightness. With a mininum of 1.6A current draw from an Eneloop, the Tank007 remains one of the brightest in the Eneloop AAA class, see also the technical details and Fenix lumens measurements by UPz. Lemme copy paste data from my comparison review:
Perdon con permiso i am pasting the Fenix lumens measurements (no silly ceiling bounce!) from the UPz sphere, with typical current measurements on a fully charged cell:
10440 Lo, 21mA, 3.1lm — 15h
10440 Med, 0.321A, 51.7lm — 67min
10440 Hi, 1.062A, 154.9lm — 22min
Eneloop Lo, 51mA, 1.8lm — 17h
Eneloop Med, 0.5A, 29.5lm — 95min
Eneloop Hi, 1.6A, 92.2lm — 33min
Light Output: 
★★★
★★
The ~92 Fenix lumens on Eneloop are impressive and could in future only be beaten by newer LED's (XP-E2, XP-G2, etc), the ~155 Fenix lumens on Li-ion are not too impressive since stuff like Brontä, Baldä or XXXFire do reach 200 Fenix lumens. 33min on Hi-mode, is that considered short? It is, because your Eneloop AAA s*ck sorry no offense. I had done repeated runtime tests with rather new and 1.54V overcharged Eneloops, my C9000 had measured capacities of up to 884mAh wtf, so the above numbers represent the absolute top runtimes you could ever possibly measure in your own continuous runtime tests.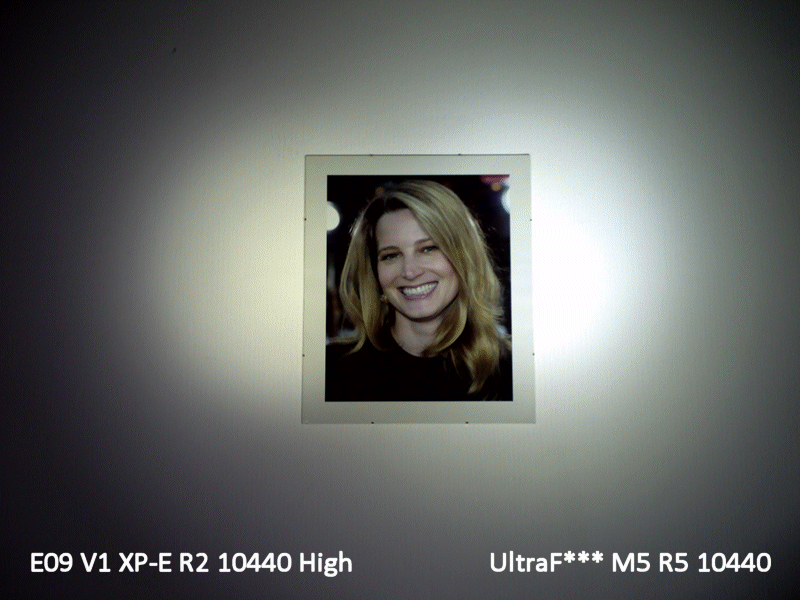 (actual size 800x600)
In a more typical testing environment, your charged Eneloop will have 1.46xxV and an average capacity of say 784mAh. Doing a runtime test with such a cell, you'd end up with a runtime of maybe ~27min on Hi and ~85min on Med; and indeed, that's what UPz monitored in his singular test Hi/Med runs.
Summary: 
★★
★★★
In my collection of 1xAAA lights and that includes premium stuff such as Fenix LD01, Lumintop Worm SS, ITP A3 EOS Upgraded Titanium, and Klarus MiX6, and of course several copies of the inexpensive highly lovable E09's plus the well-known Ti, this Tank007 ES12 has advanced to the top ranking of my best loved 1xAAA flashlights. I always liked the E09 and now i am liking the ES12 even more. Both of them, i won't use them for keychain duty anymore. While the popular Sipik SK68 1xAA flashlight is a cheap well-working product, i would never consider it as something nice, likable or desirable. The Tank007, probably the cheapest power LED 1xAAA flashlight on the market, on the other hand is something very nice, cute yet powerful, an instant crowd pleaser, and I surely enjoy cherishing it. It makes me wonder, how could an inexpensive SS mini torch feel so expensive? Is it the saturated yet smooth twisting of the head, the SS finish similar to Parker pens, the weight, or the esthetic design? Well, come in and find out!
 ( disclaimer: i am not serious with calling this a review. it's for proving a point, so stay tuned for a real kreisl work! )